To be honest, I wasn't too excited about this place at first. I had seen pictures of it a few times on my Facebook feed but I never felt compelled to go.
Whenever we travel, I prefer going to places that are unique to that destination, attractions that you can't find anywhere else, like a Gardens by the Bay or a Night Safari. Exploding in popularity in recent years, these Trick Eye Museums have opened several branches throughout Asia. They aren't exclusive to any particular place or culture so in my mind, they wouldn't be as interesting nor as cool.
I was wrong.
Something happened when we went, something I didn't really expect. I had FUN. Lots and lots of fun. 😆
Just a couple exhibits into the museum and Ren and I were already laughing hysterically. I had no idea how much fun it would be to see ourselves in all the pictures! Hamming it up more and more with each exhibit, I felt like a kid again just letting go and having a blast. Admission is normally SGD 25 for adults and SGD 20 for kids, though discounts are available. More information at the bottom of this post.
Trick Eye Museum
Here's Ren going crazy and climbing all the way up to the first rung. 😆 See that round sticker on the floor? There's one at every exhibit. Look for those to know where to stand to take pictures and create the best illusion.

Kid be like, "you ok there lady?" 😆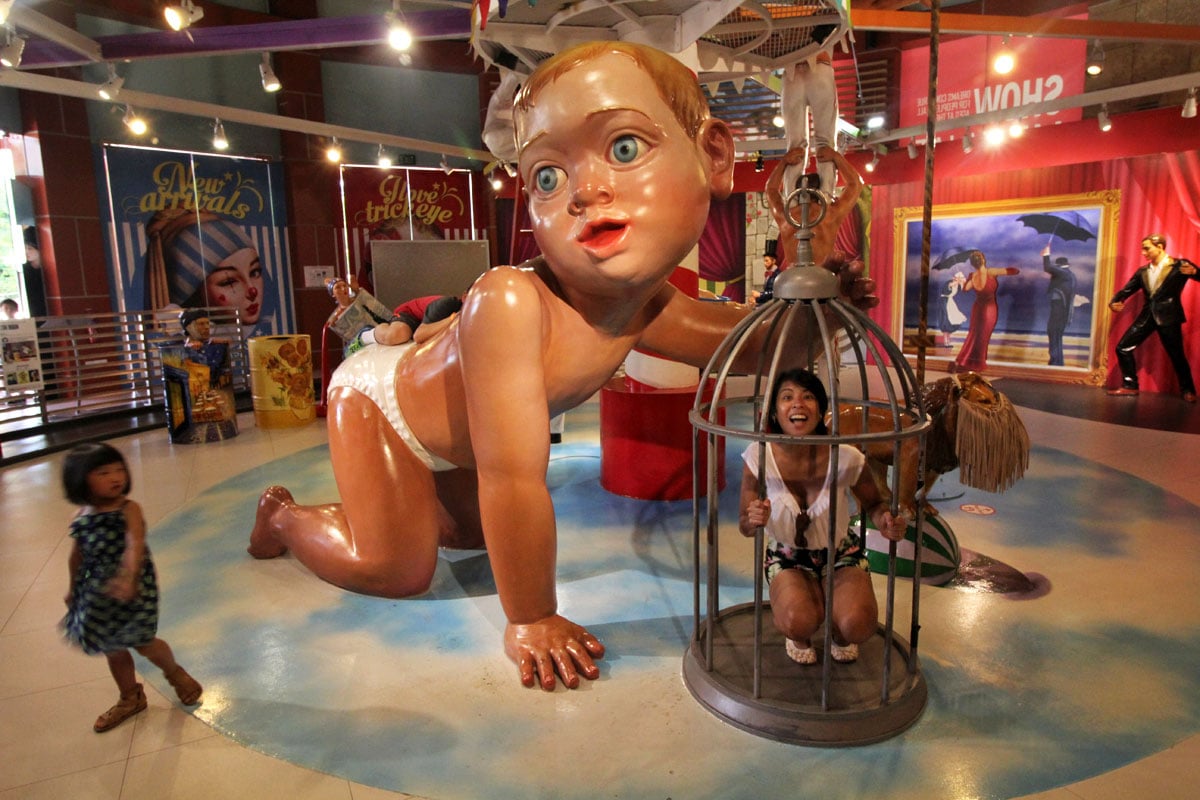 L: A boy, in a barrel, with Van Gogh's sunflowers, asking you to love him. ♥
R: Ren getting swept off her feet by some statue. Hey, watch those mitts buddy.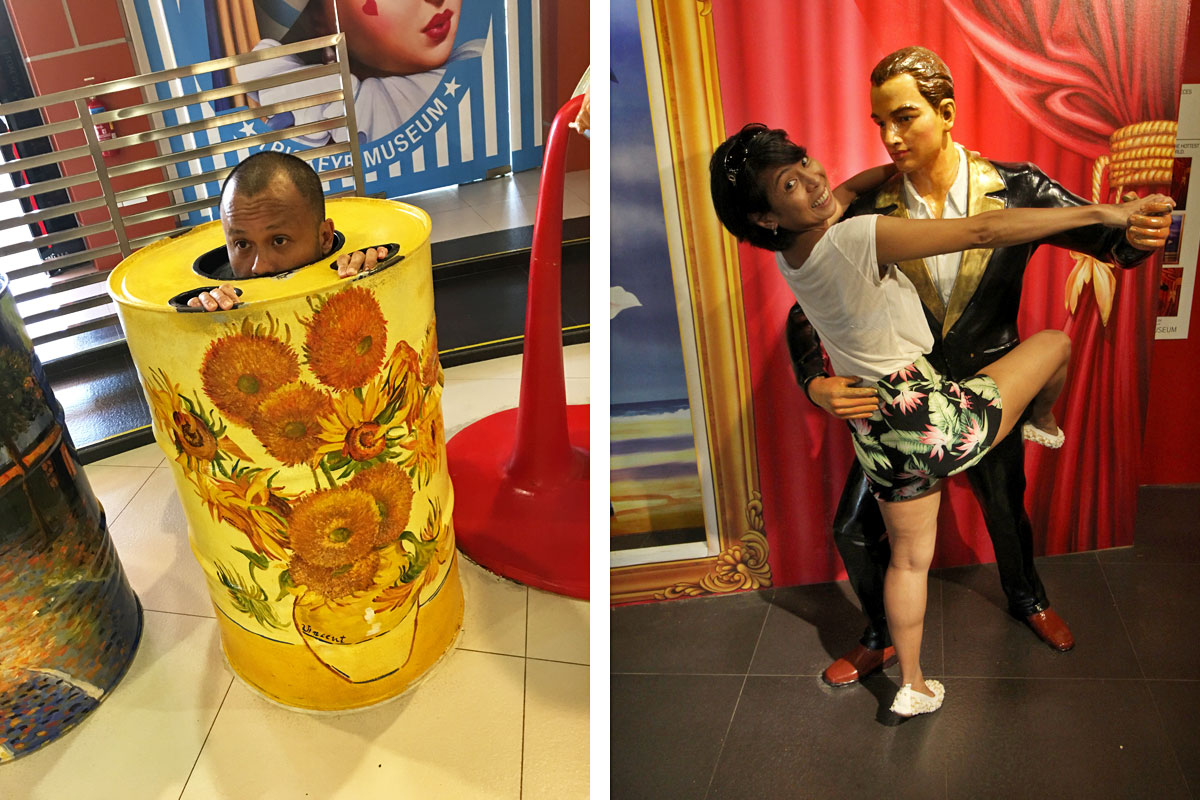 Can I have this dance m'lady? No, you're dressed like a dork. *elbows me away*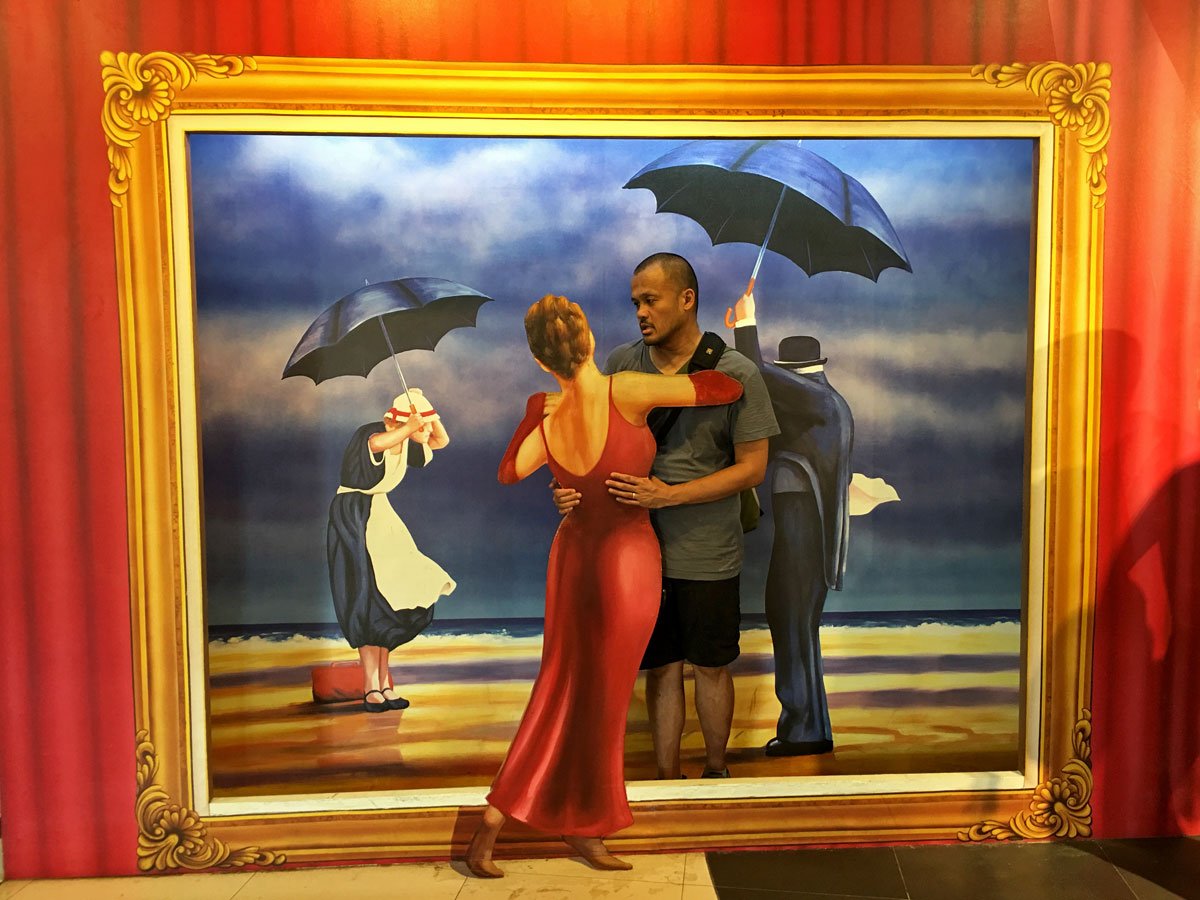 L: Not sure what I was going for here. Mock trepidation maybe?
R: Sunday funday with Seurat. Do you get the point of this painting? What's your impression? Badum-tssh.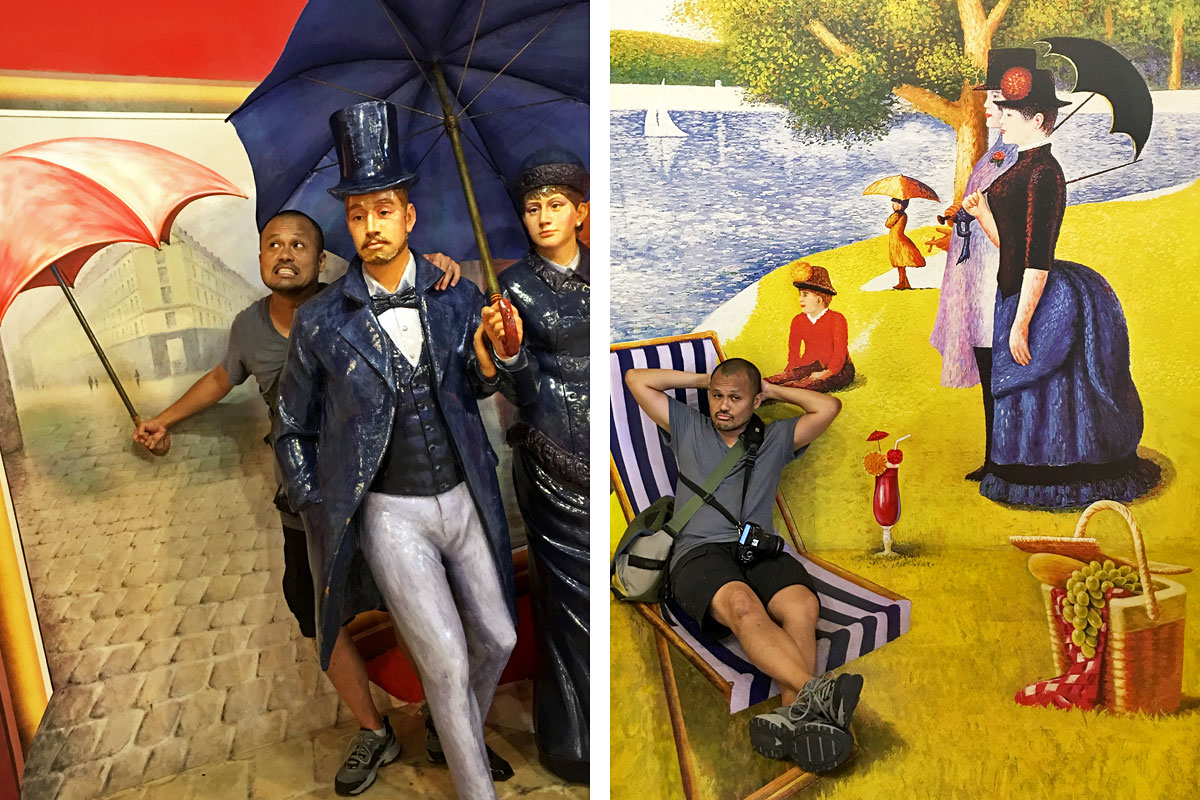 Though fun with two, the Trick Art Museum is best enjoyed with three or more people. Take this exhibit for example. One person is meant to stick his/her head through the table while another pretends to hold the cloche from behind the picture frame. If there are just two of you, then who snaps the photo? 😉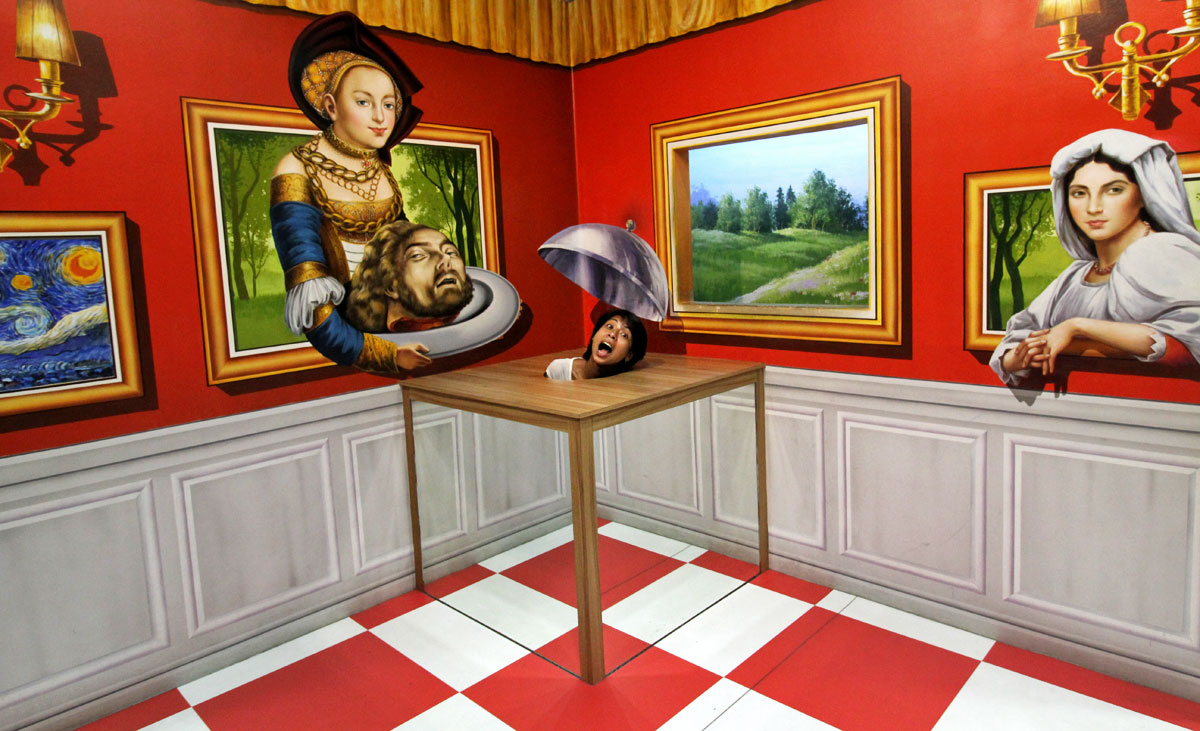 L: Another example of why it's best to go with at least three people.
R: Hmmm, did I just ruin this illusion by touching the book? *facepalm* There's a guide for each exhibit so it's best to look at them before posing.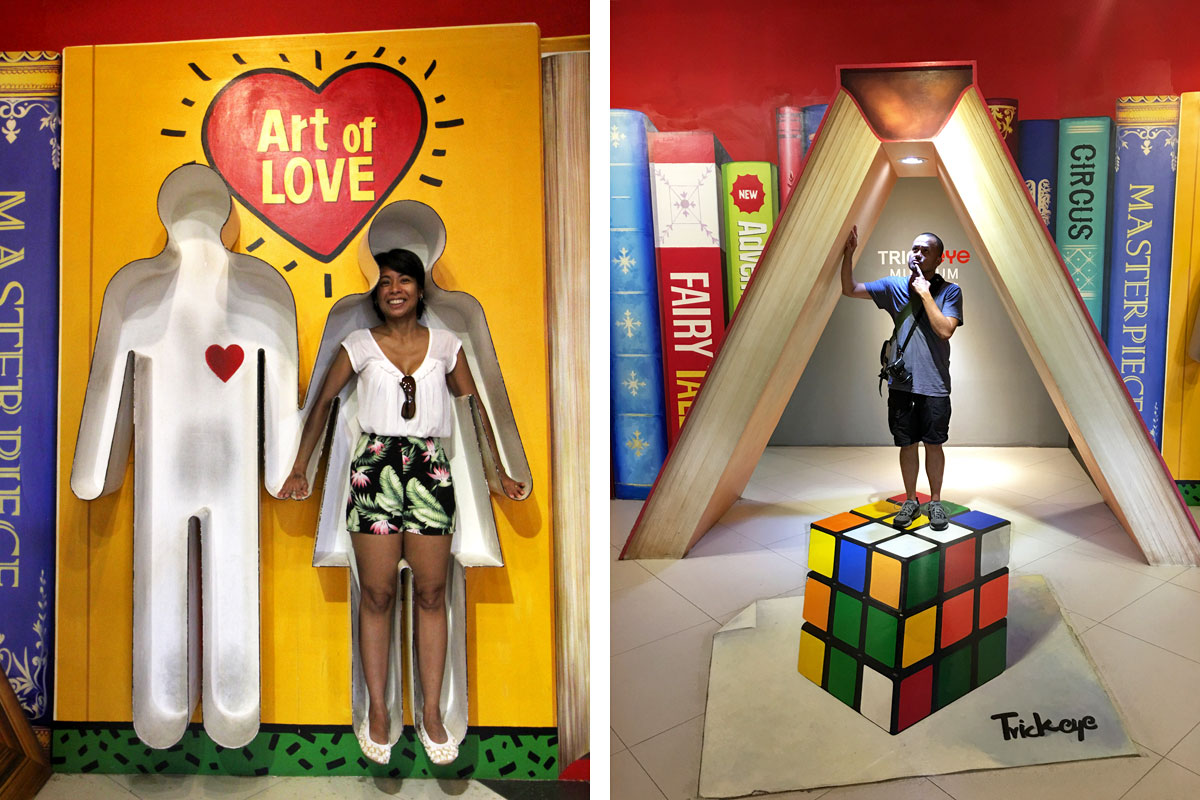 H-h-how did you get in my house giant viper? And do I really think I can get away from you hanging from the ceiling like this?! Gaaaah!!

L: Ren getting ahead of herself.
R: And here she is showing off her grip strength at the bamboo grove. #stickylikespiderman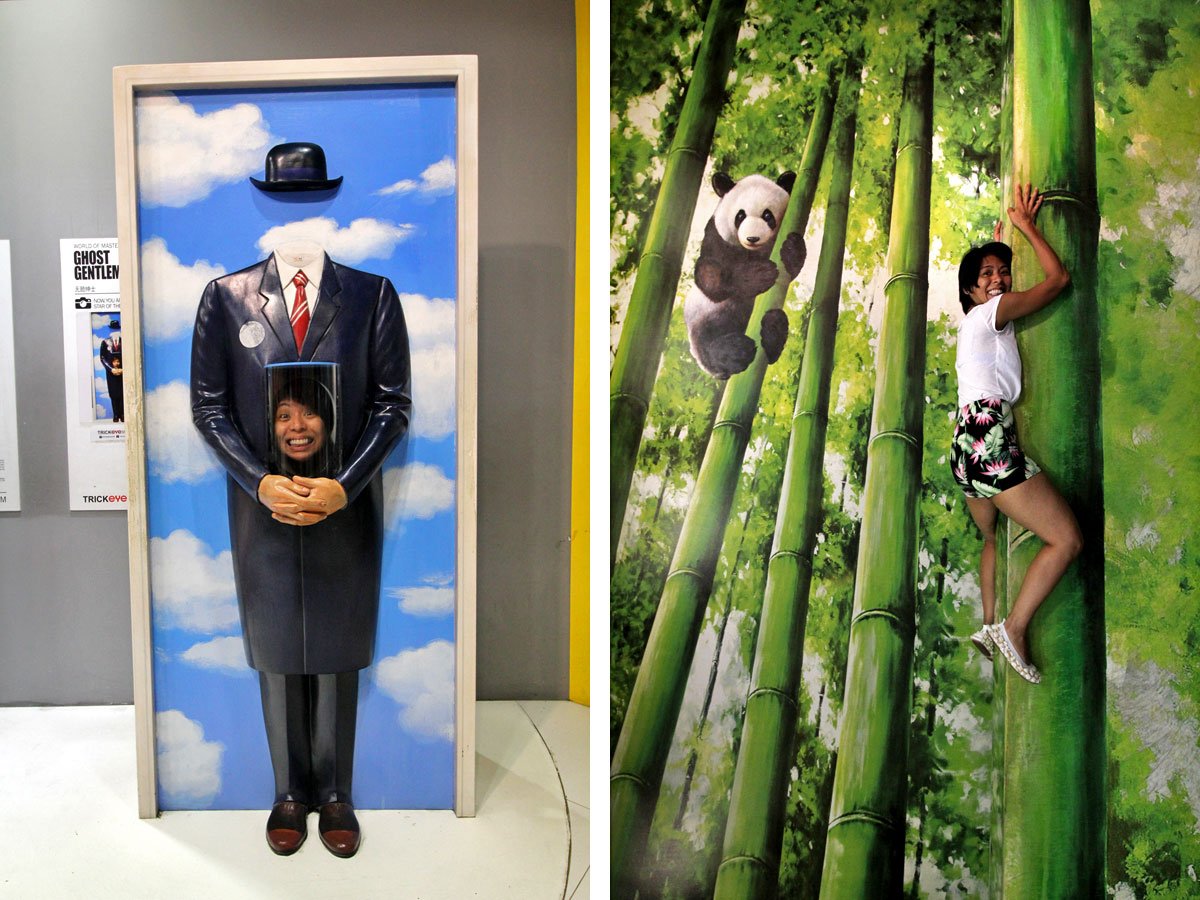 Ren with her new friend. ♥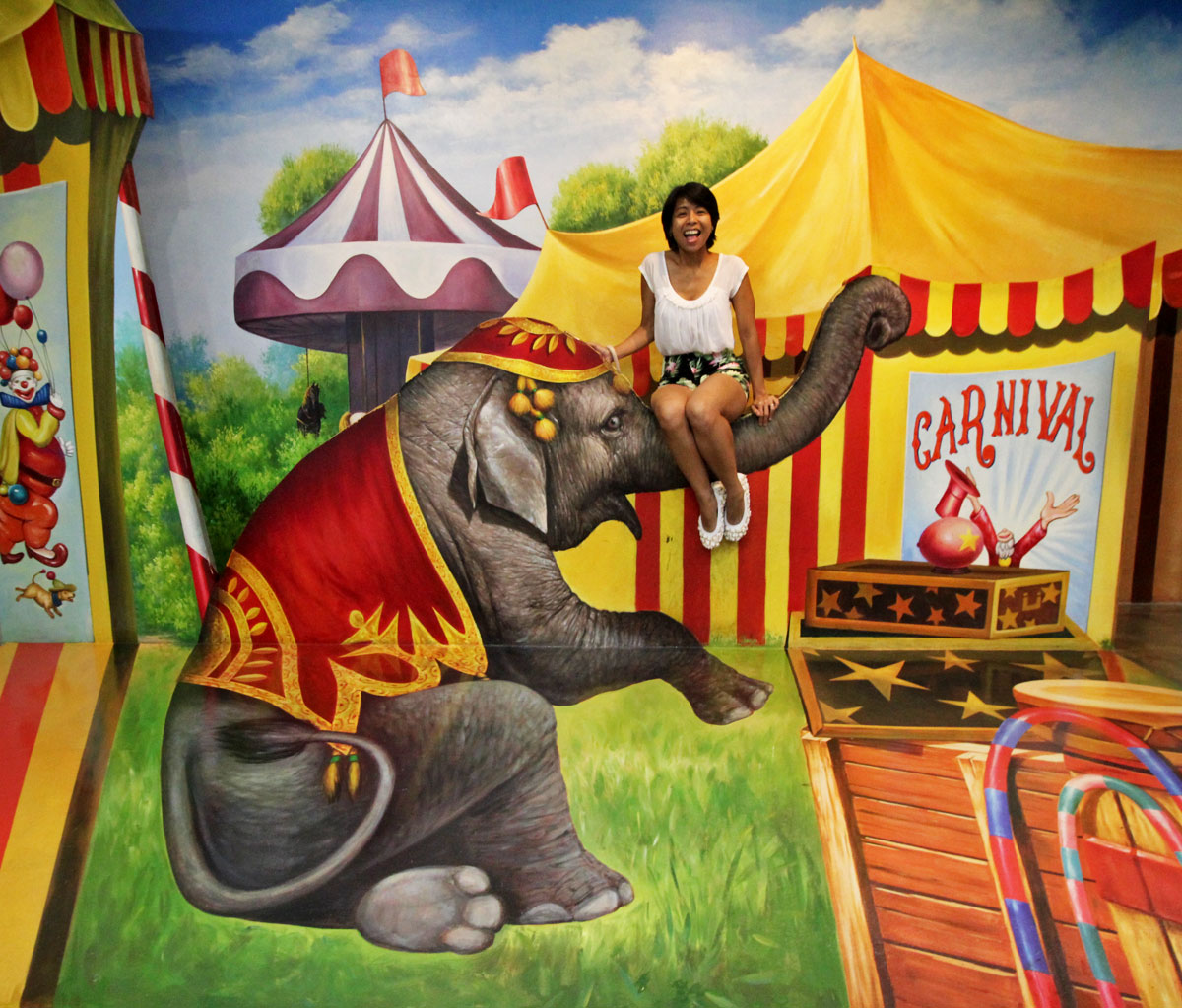 There's me taking a picture of you taking a picture of me climbing this glacier without the proper equipment or attire. #andimstillbeatingthisdude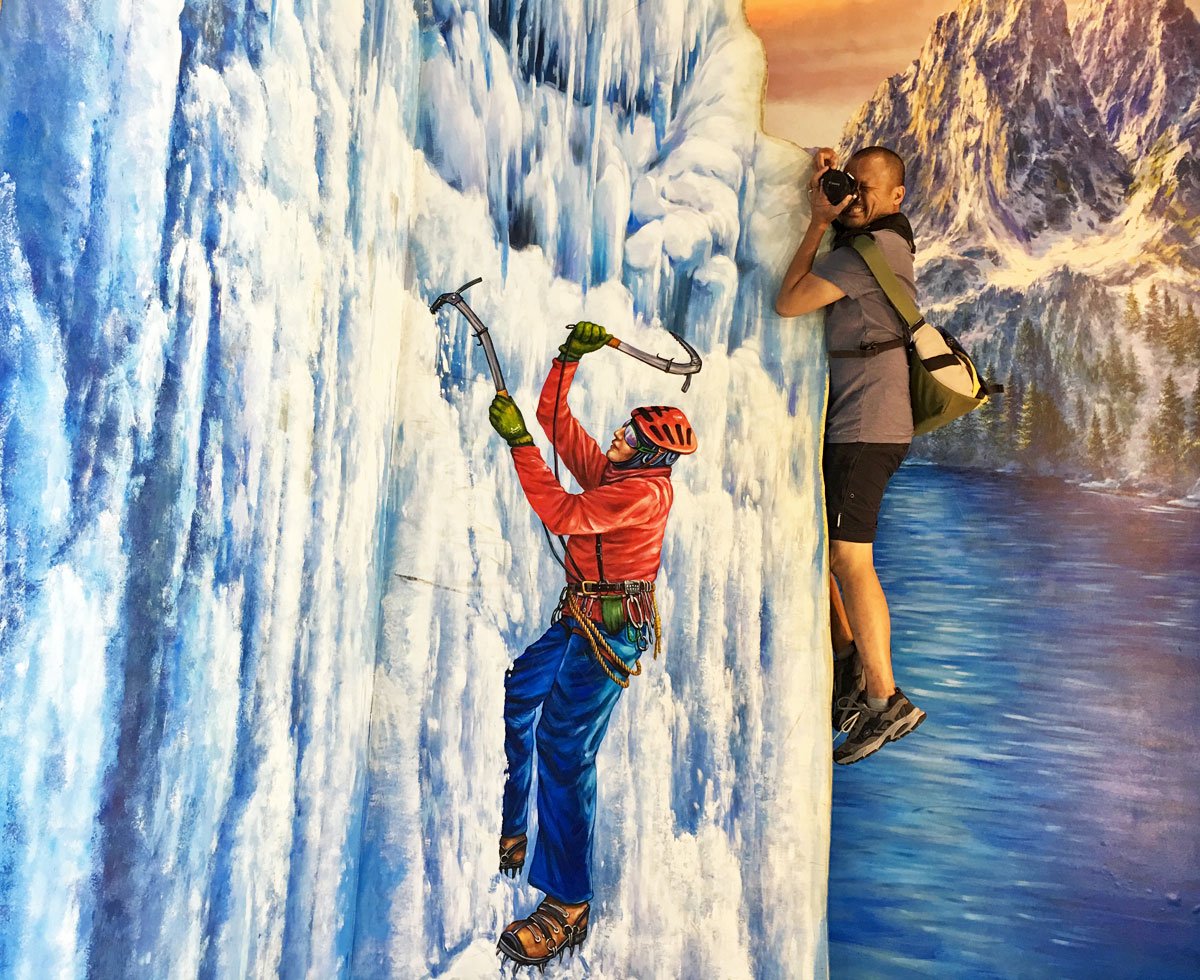 What's your breaking point? Ren went surfing and robbed a bank after this. 😉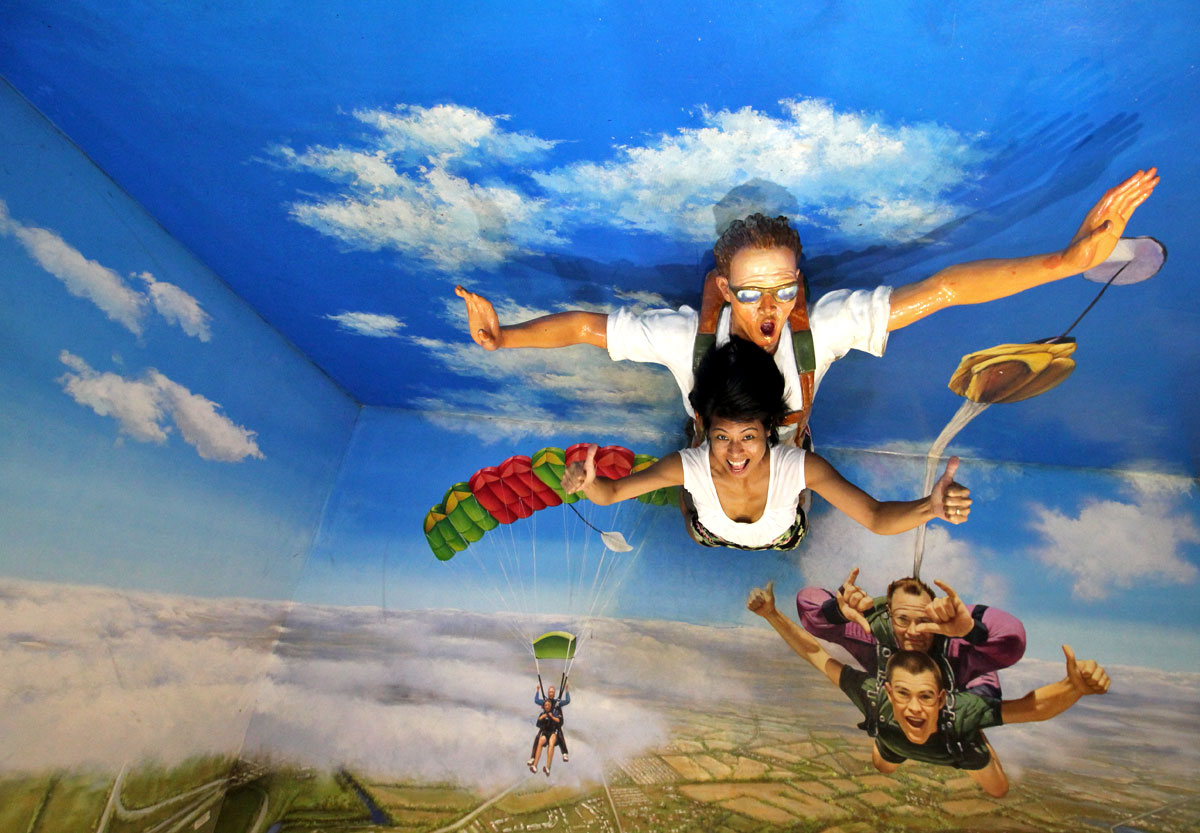 Me shooting an episode of River Monsters without Jeremy Wade.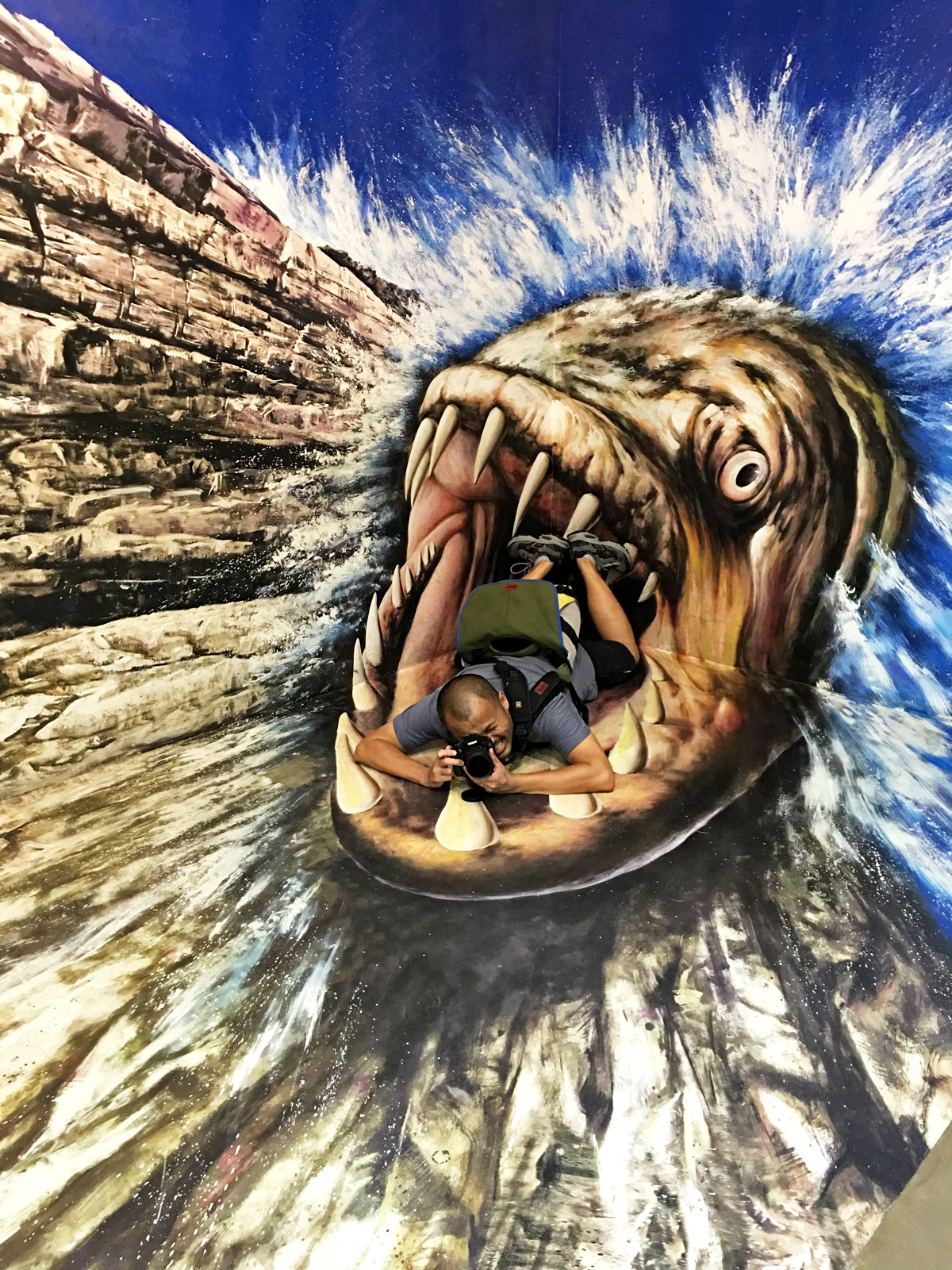 L: My inner diva ruining another illusion. *sigh*
R: Ren caught in the sands of time. At least she knows how to follow instructions.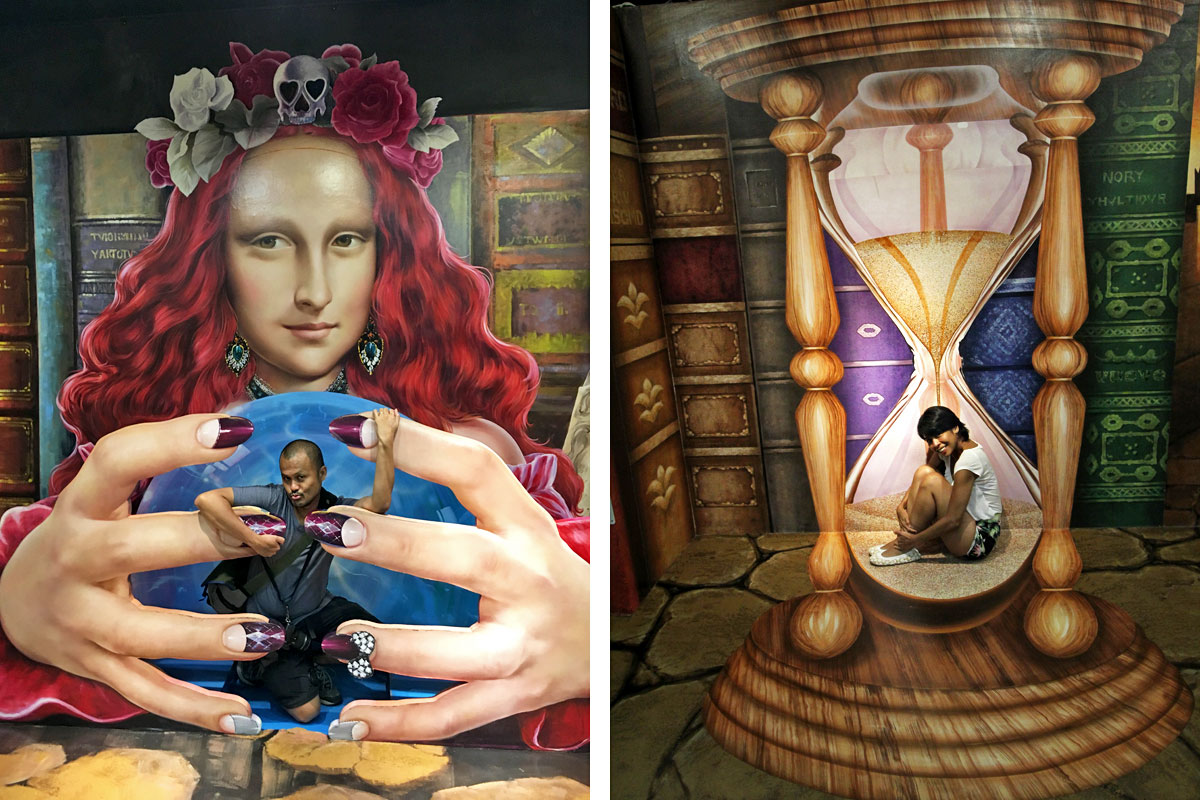 This giant quill is mine. It's all mine. Yes, it's mine.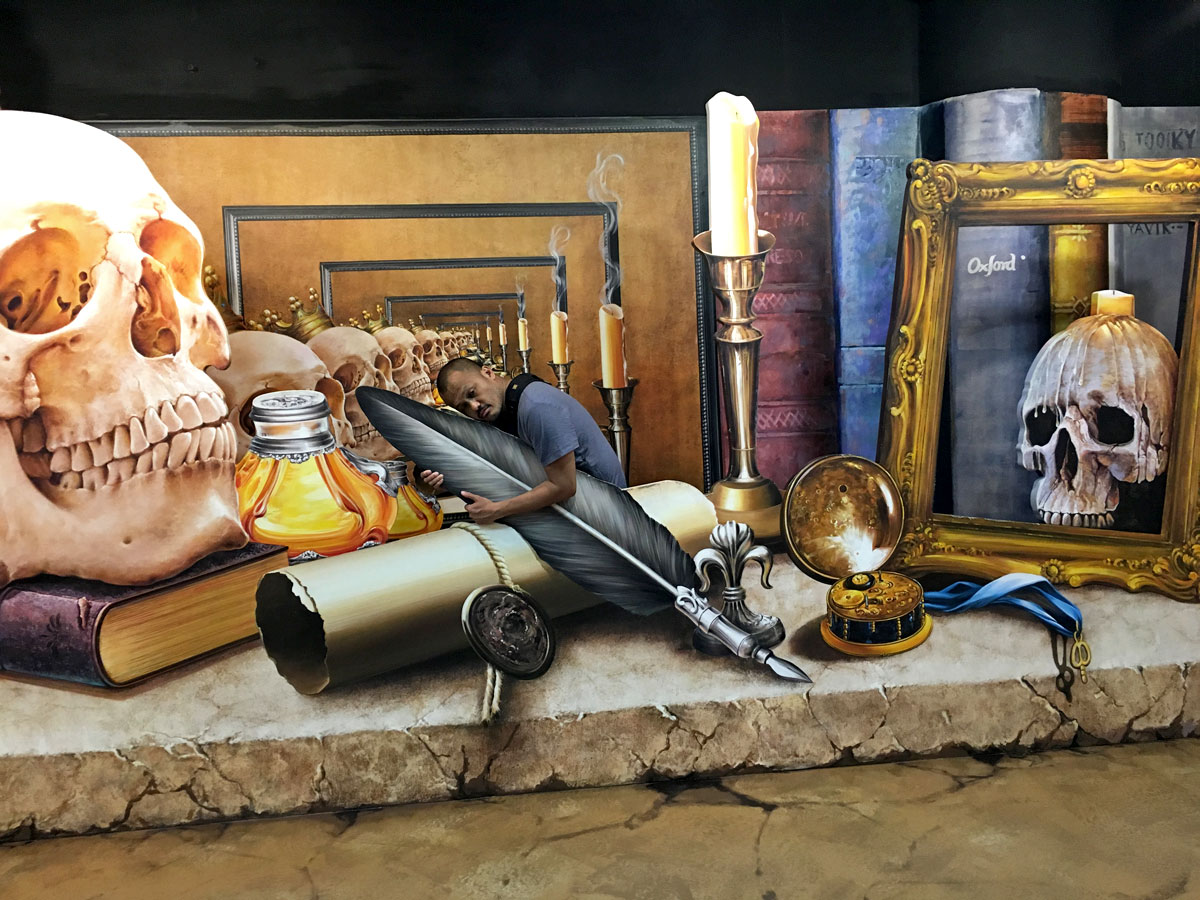 Help! I'm about to get staked through the heart by Willy Wonka!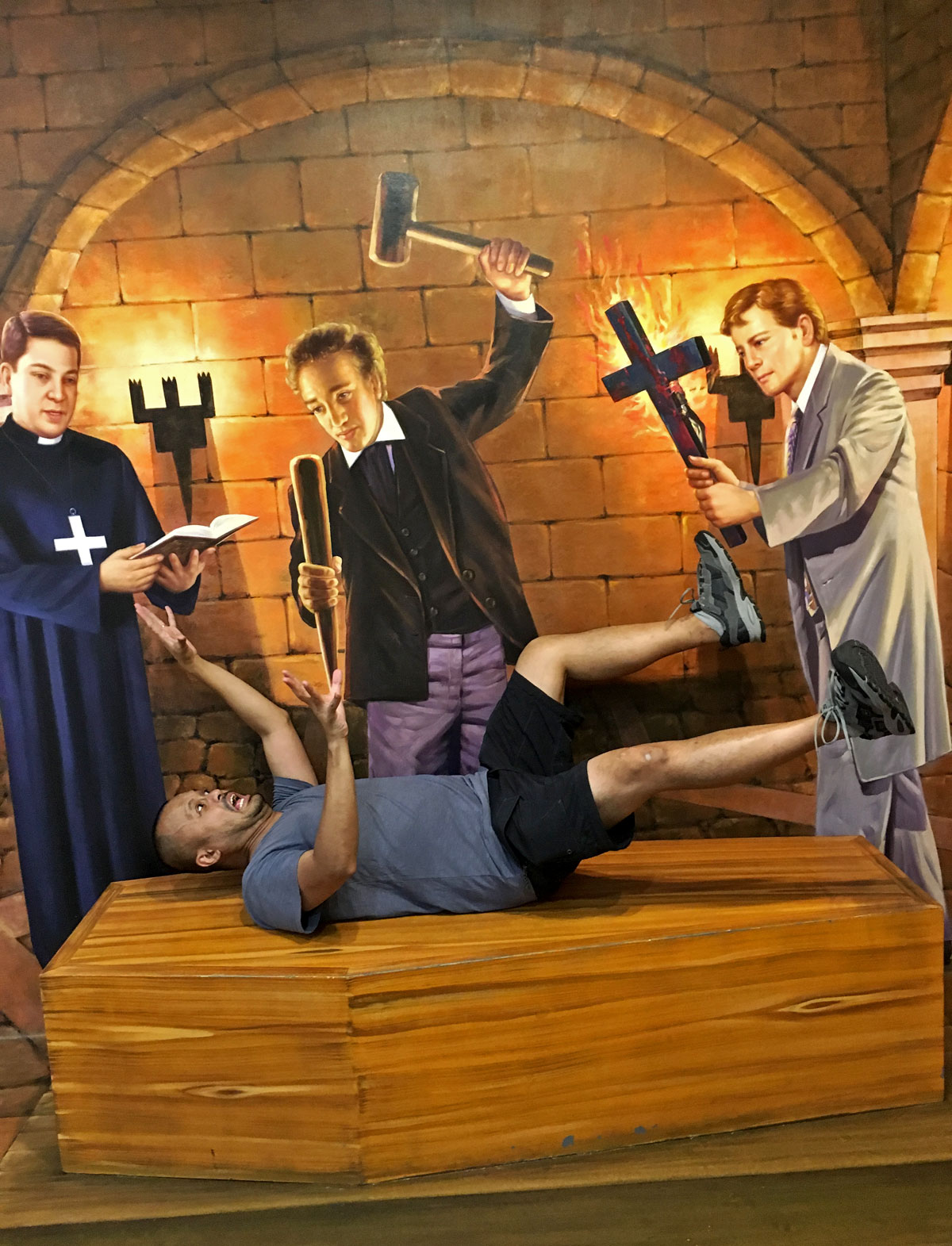 L: The little known reason behind The Scream. 😆
R: Ren doing her best David Blaine impersonation.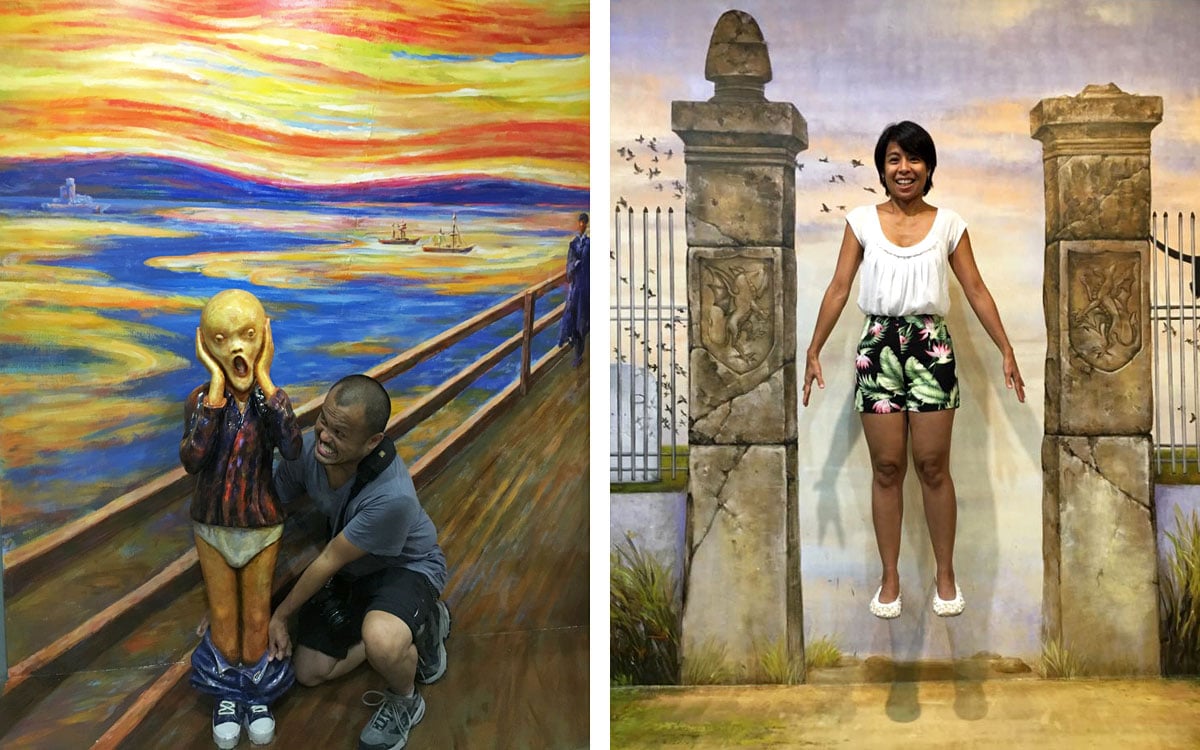 Vroom vroom! Look ma, no eyes!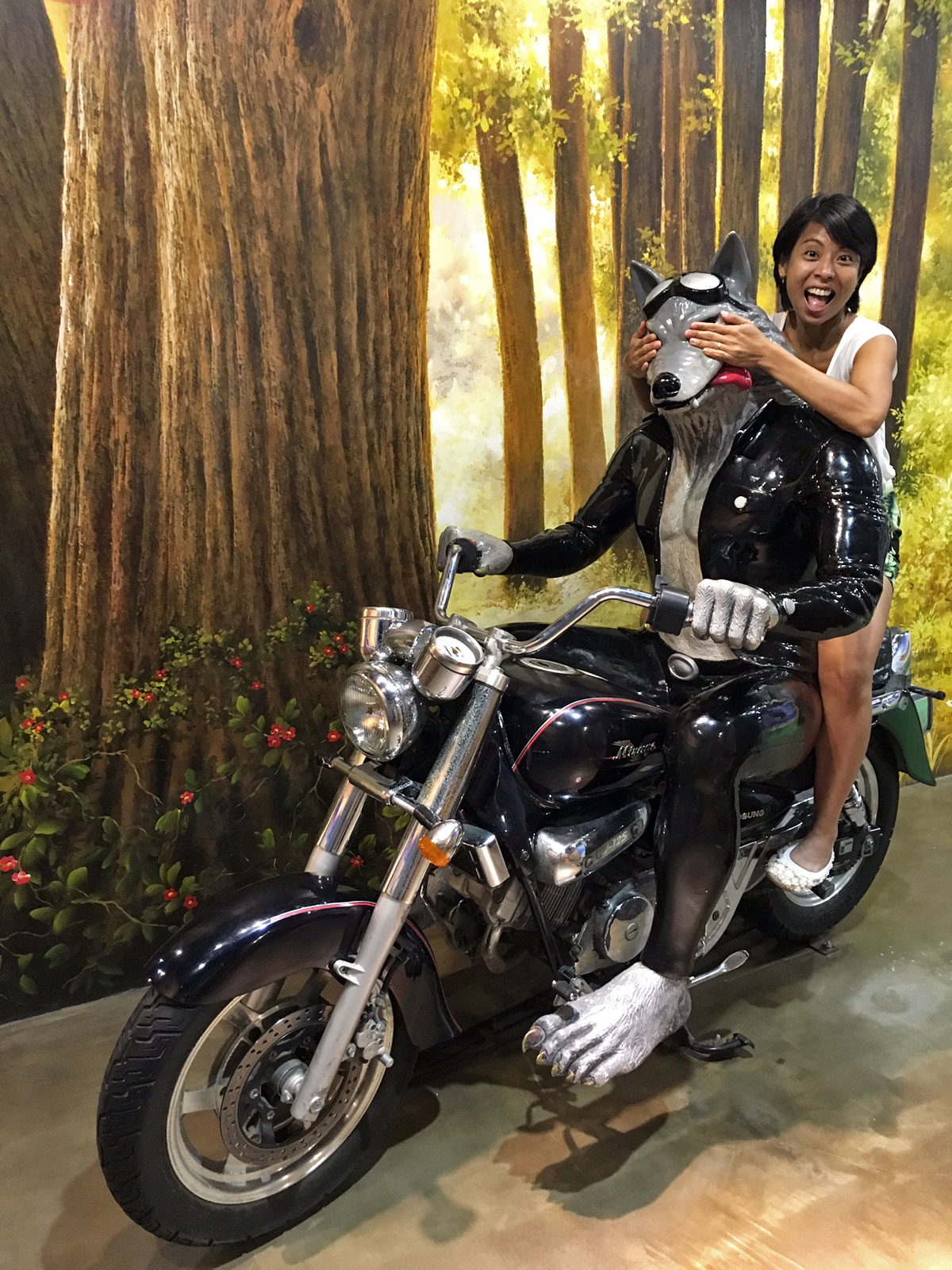 It's getting hot in here! Judging from my increasingly theatrical expressions, it looks like I'm having a little too much fun here. 😆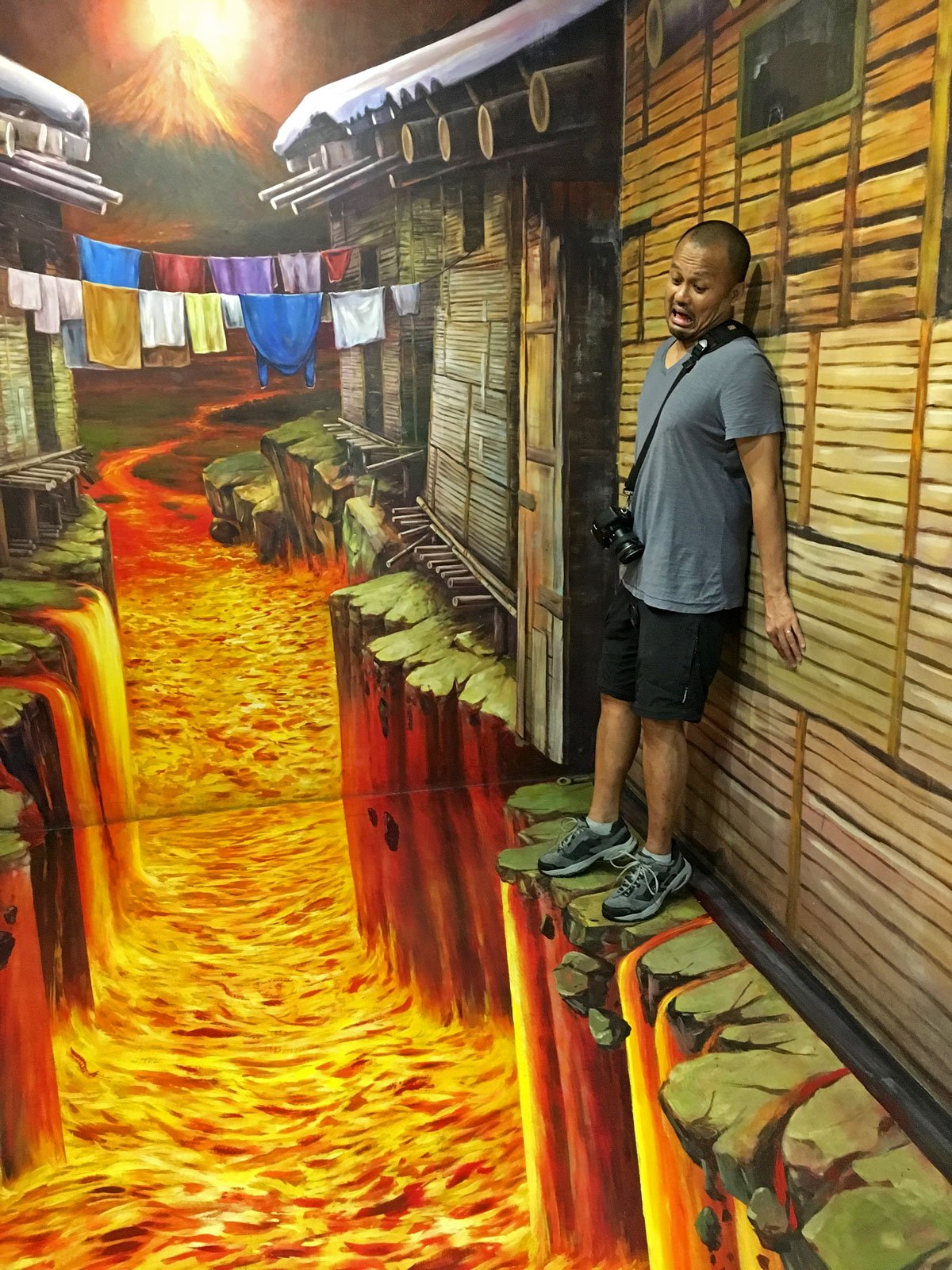 Oh no, my bag! My long johns are in there!!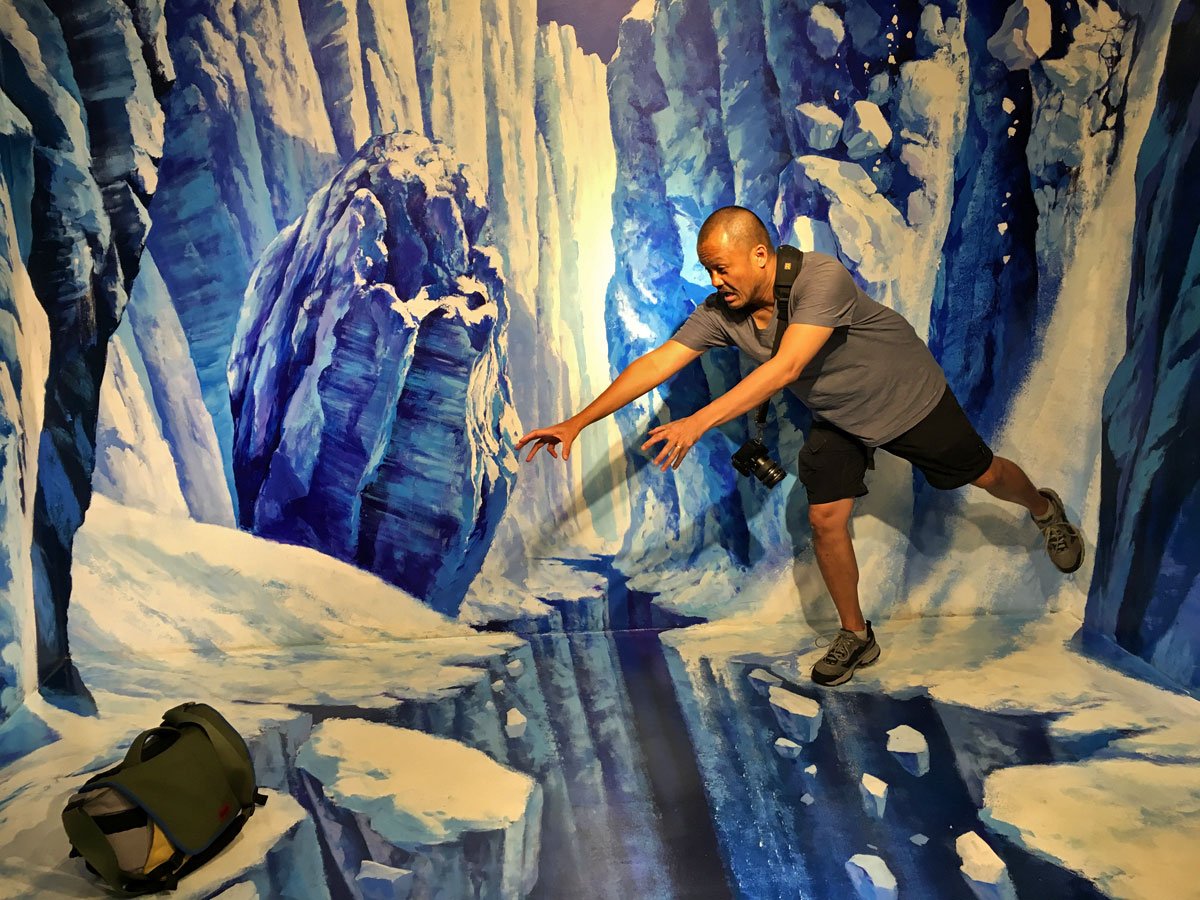 Let's play a game oh who wore it best. Does Ren look better as a mermaid?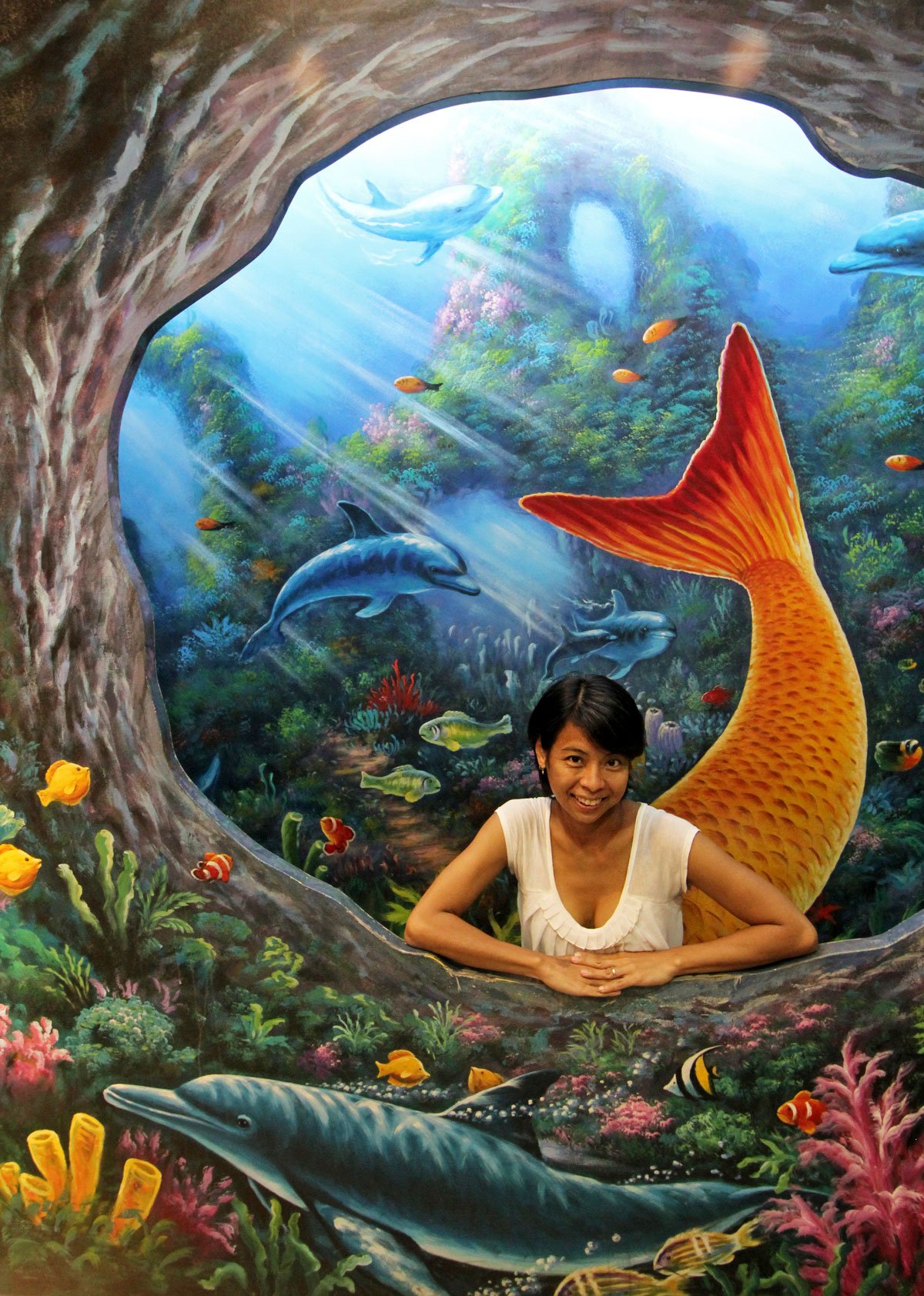 Or do I? 😆 #duckfacewins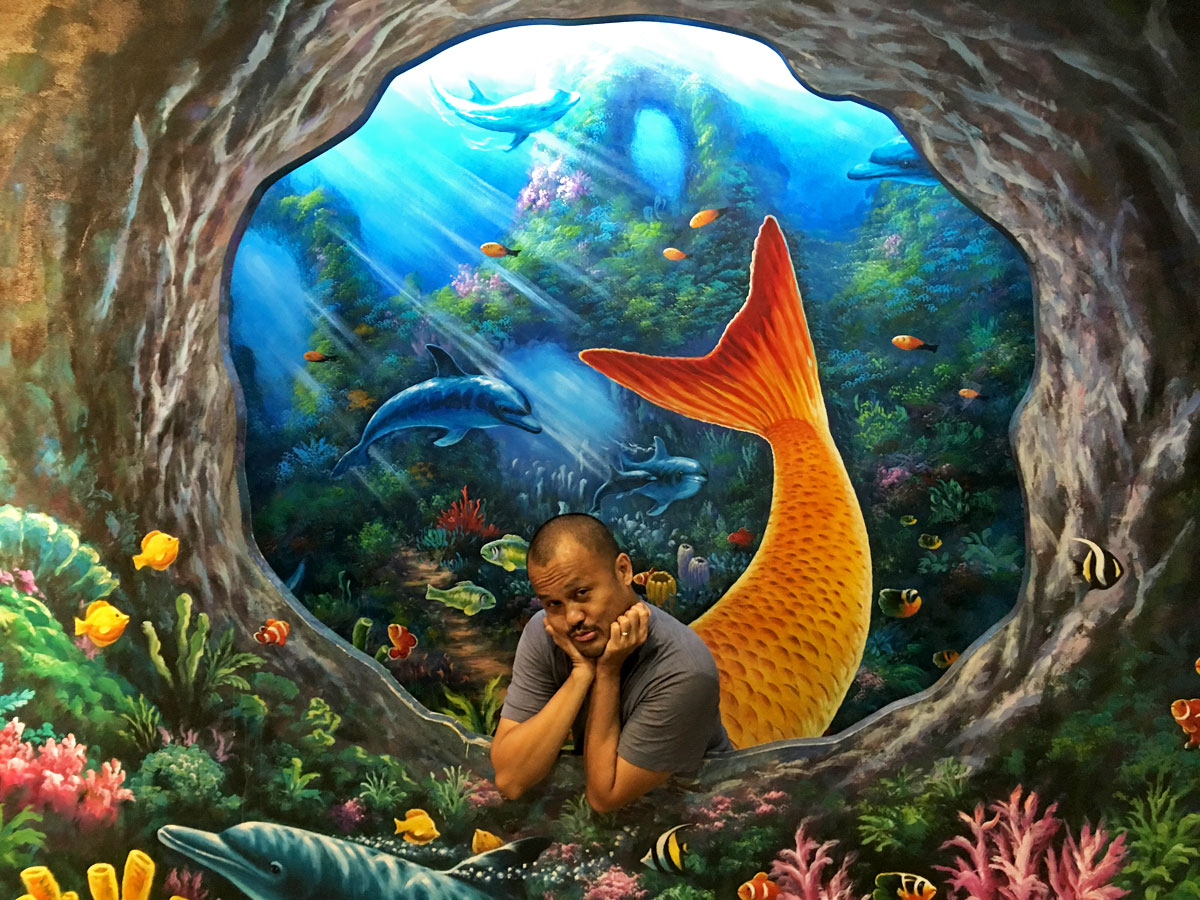 Silly Ren, doing yoga everywhere…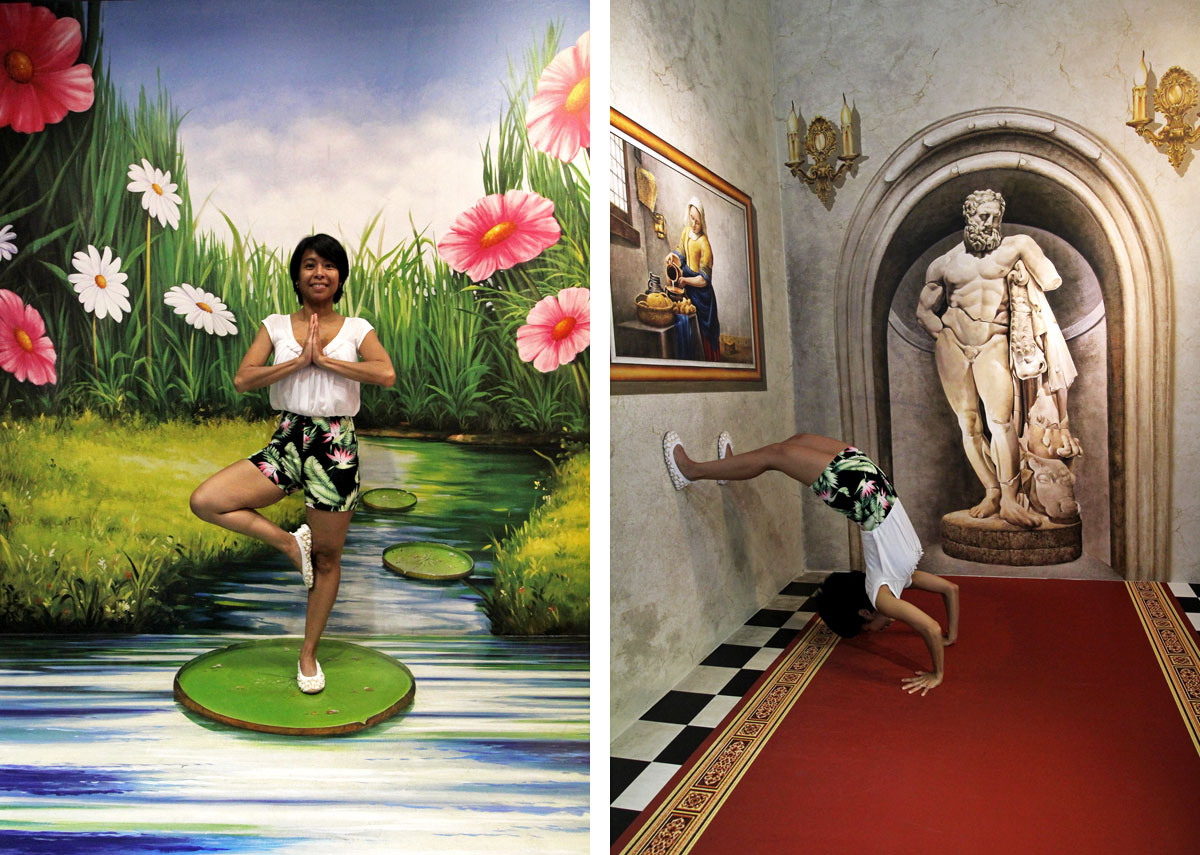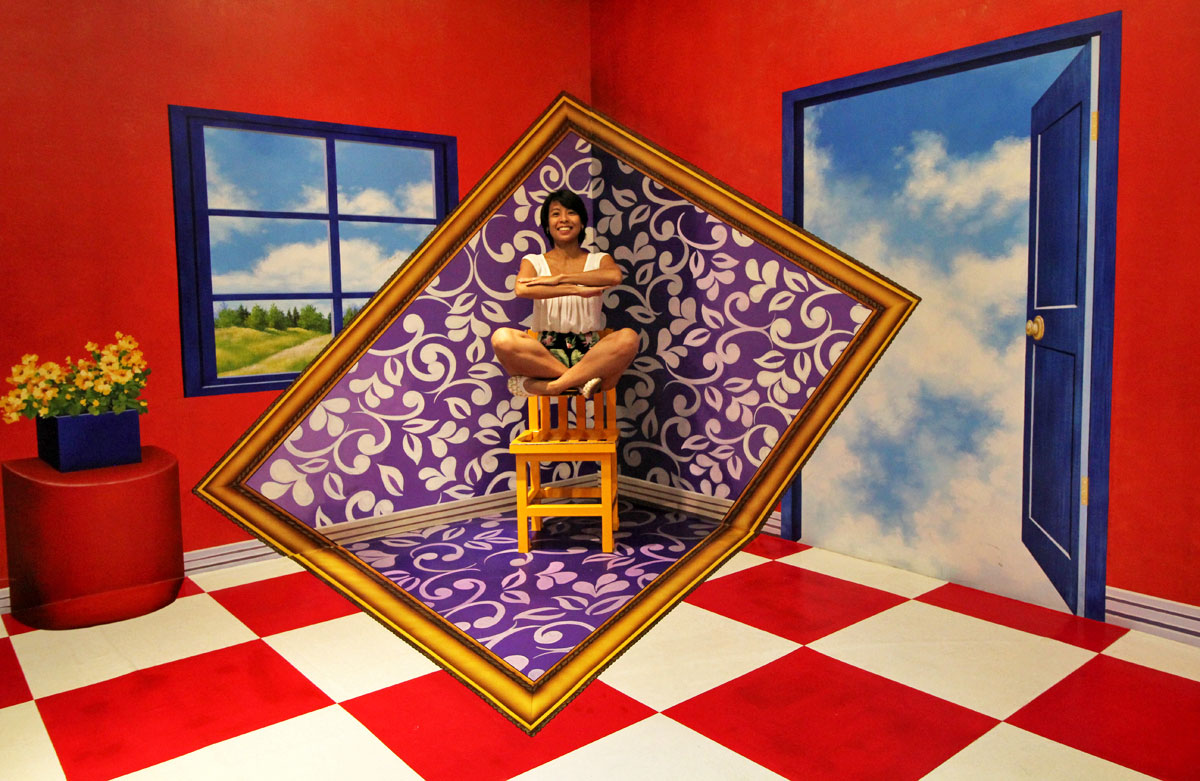 Don't lose your footing Ren! A perfect example of why you need to stand on those aforementioned circles to create the best illusion. It looks weird if you take the picture from anywhere else. So cool!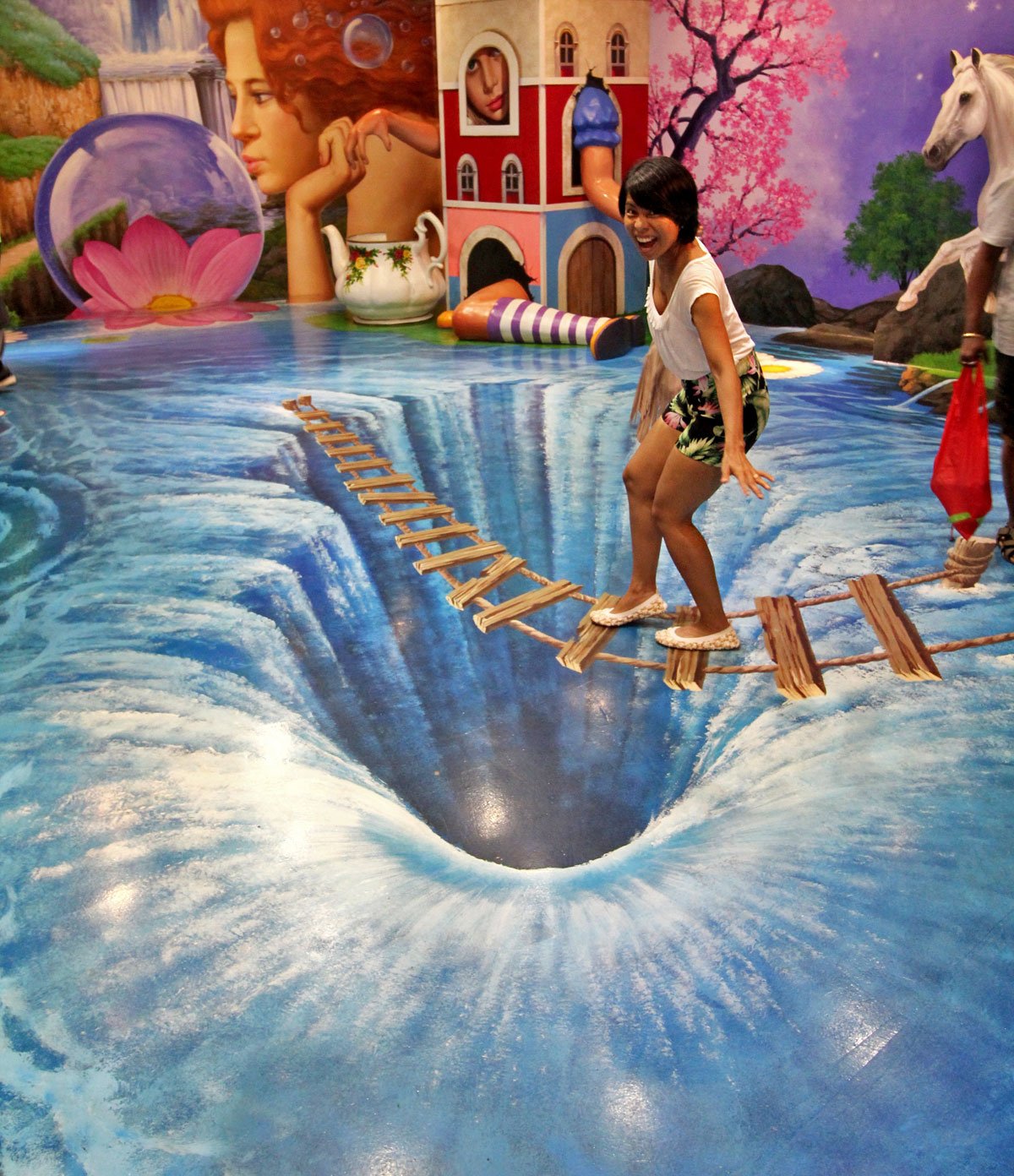 Alice invited Ren over for some Filipina tea. 🙁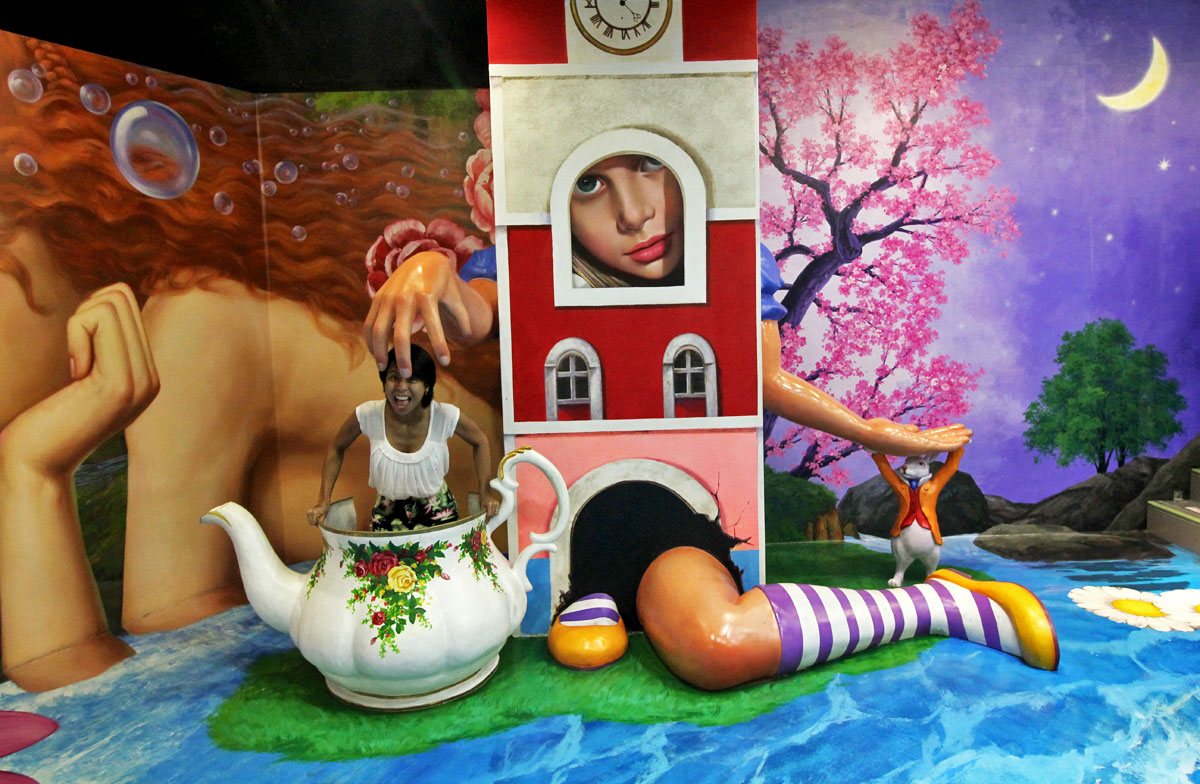 Let's go Seabiscuit!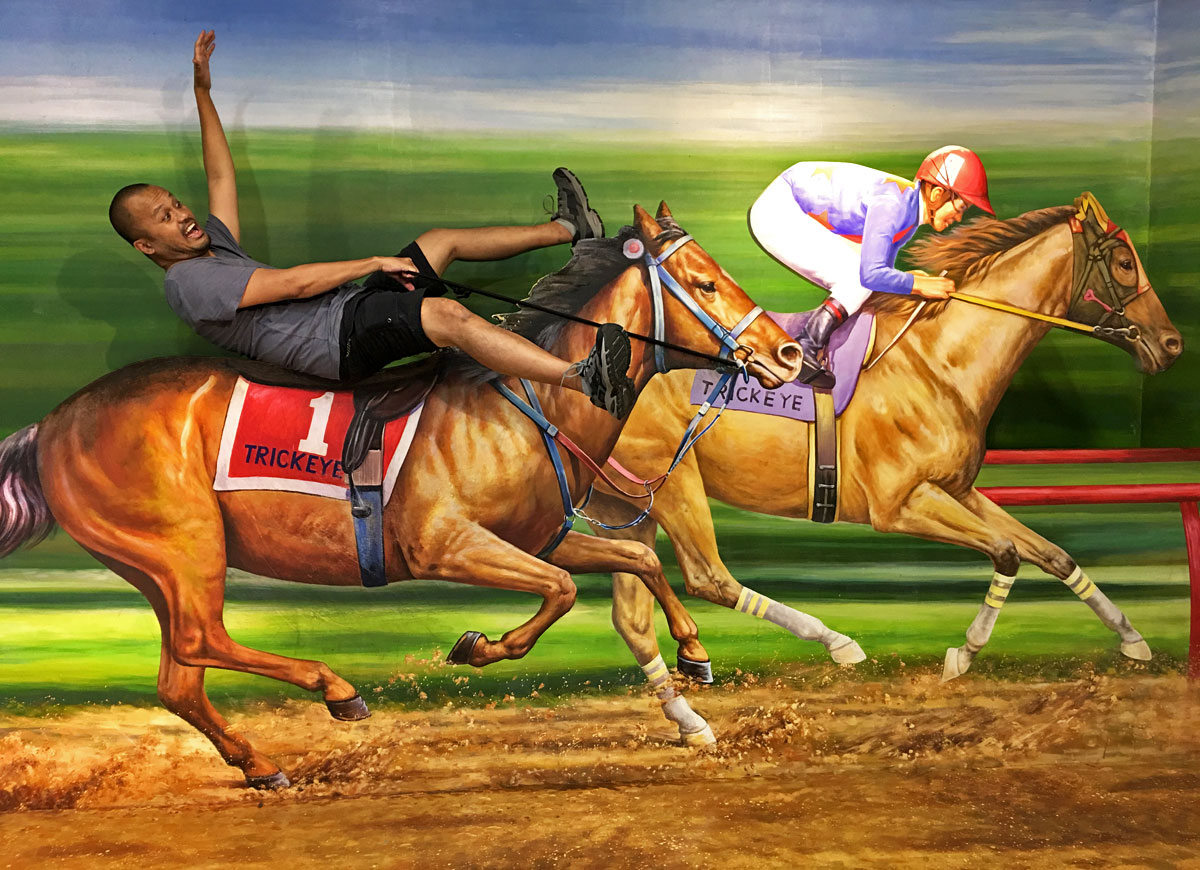 Another round of who wore it best. Who rocked the tutu better? Ren?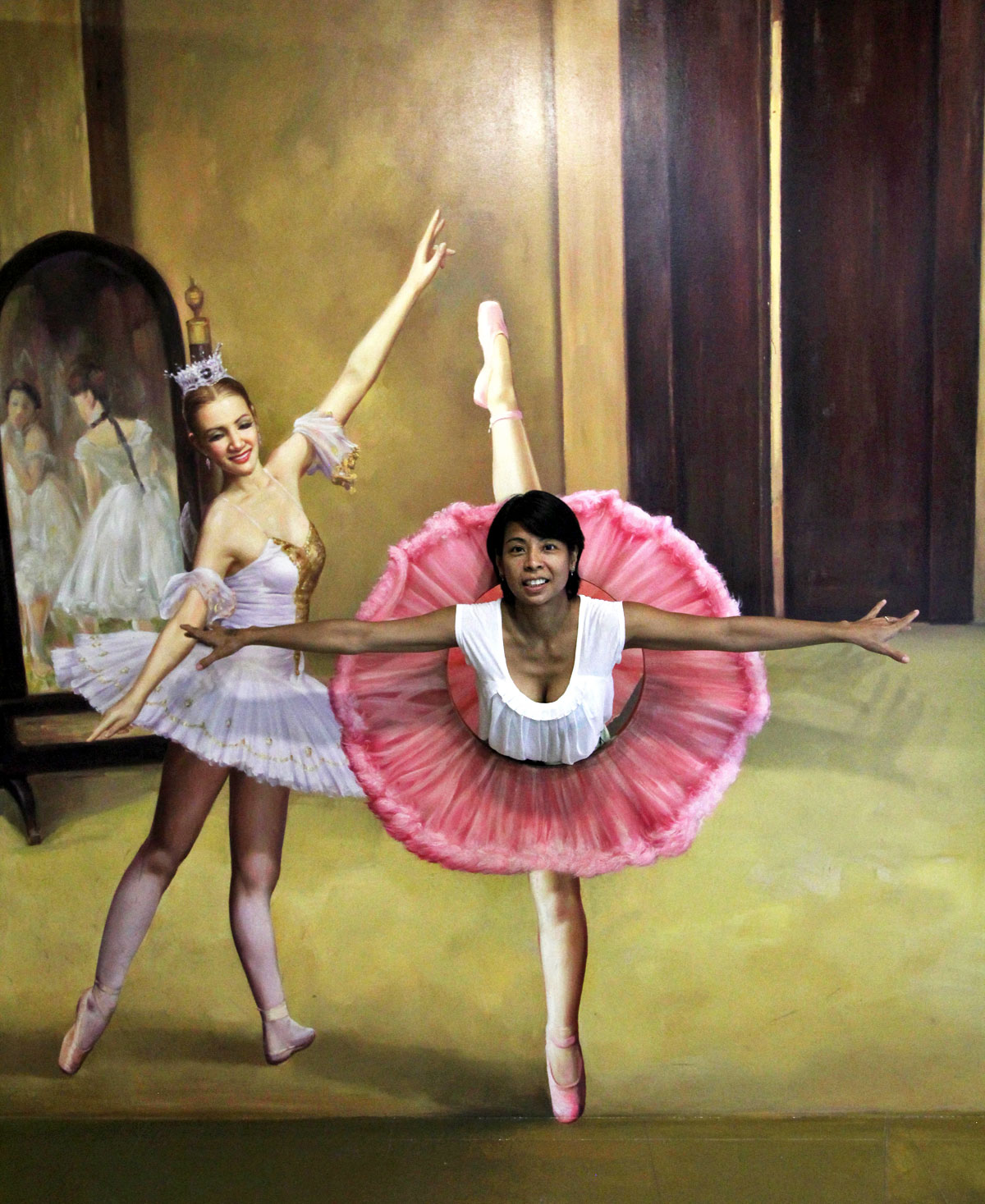 Or me? 😆 Seriously, why does Ren always looks so much better in these pictures?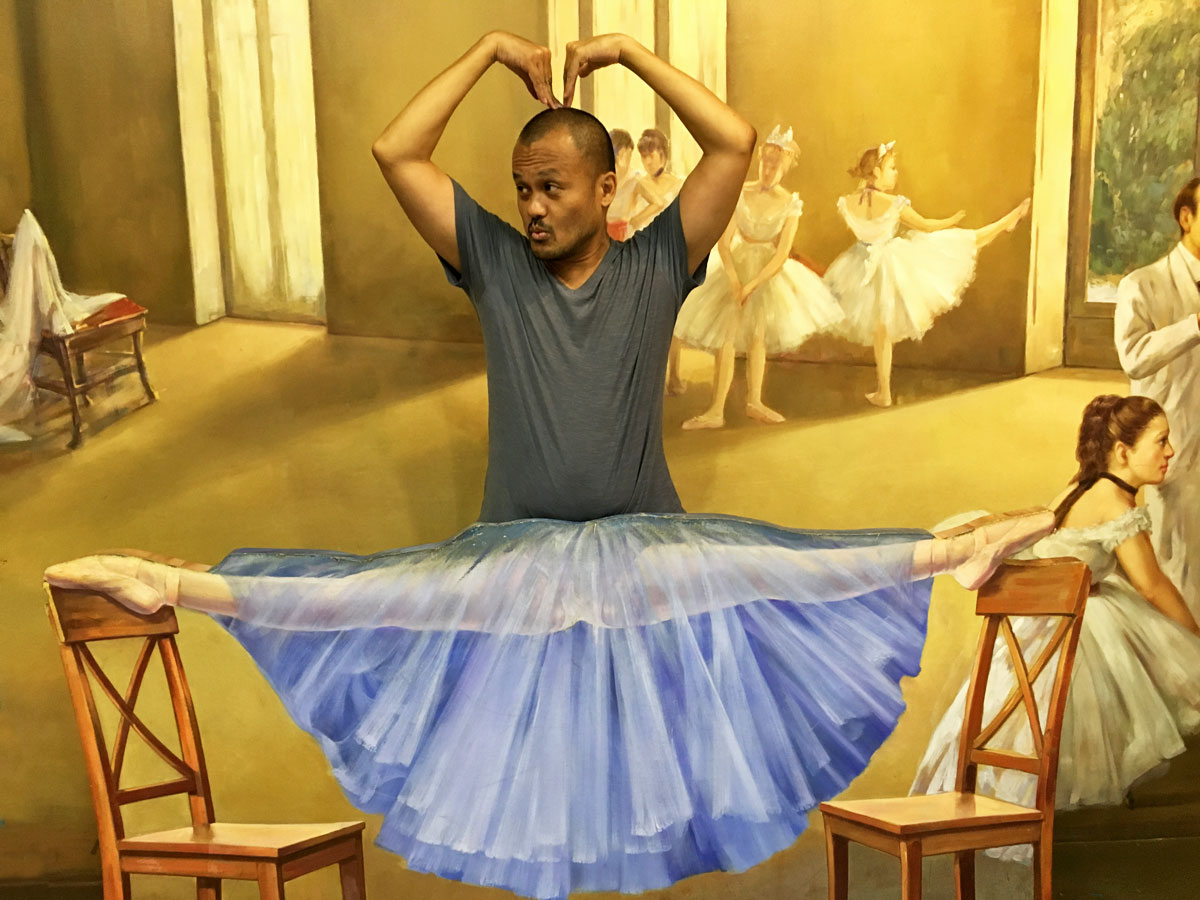 Ok, enough of this girly crap. Let's fight! Settle down little man, or I may go all Ralph Macchio on you! 😆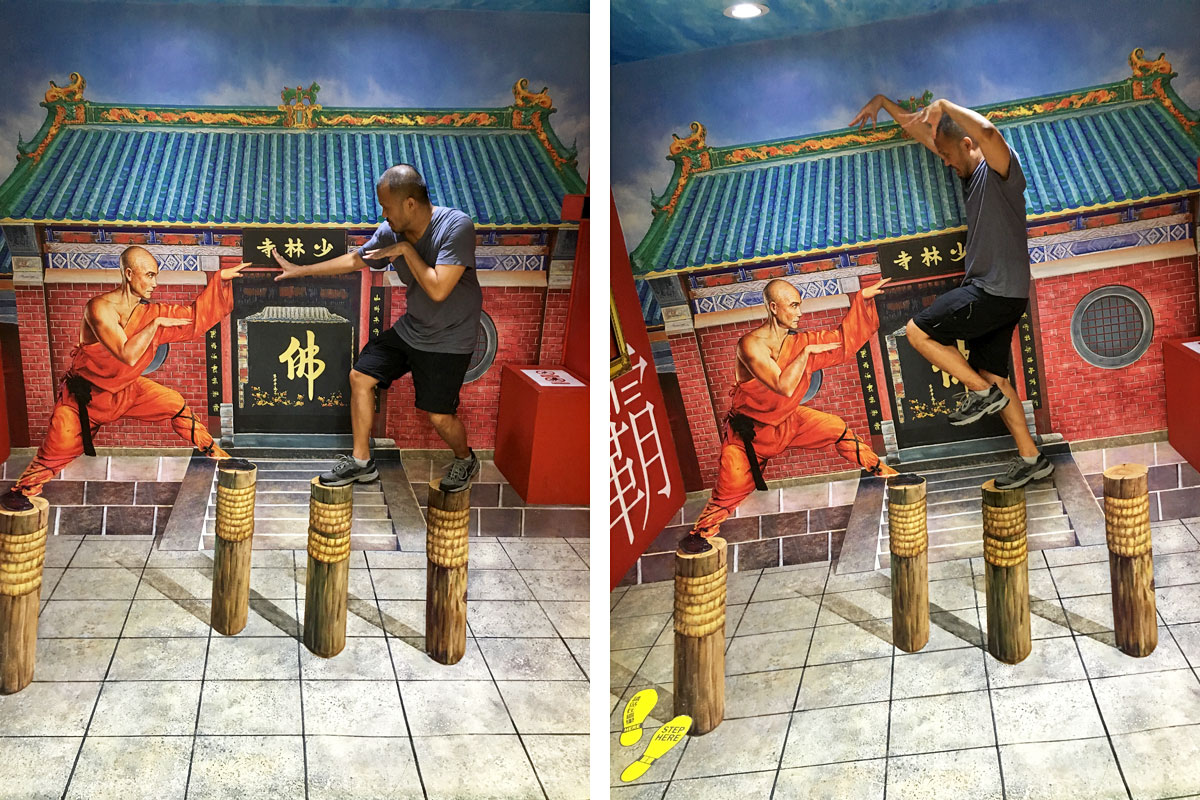 As you can tell from these pictures, we had an awesome time here. It made me realize why these Trick Eye Museums have become so popular — they're fun. And not just for kids either. They're fun for everyone. It felt great to let loose and act like a kid again. I may have had my reservations about this place at first, but this day turned out to be one of our funnest in Singapore. 🙂
Admission to the Trick Eye Museum is normally SGD 25 for adults and SGD 20 for children ages 4-12. You can save on the entrance fee by purchasing a Sentosa FUN Pass. For just SGD 48, the PLAY 3 pass gives you access to 3 out of 20 Sentosa attractions, including S.E.A. Aquarium. You can also get a PLAY 5 pass for SGD 65 and a PLAY MAX pass (20 attractions) for SGD 115. You can follow this link for more information on the Sentosa FUN Pass.
If you don't want to get a Sentosa FUN Pass for whatever reason, then you can get a discount to Trick Eye Museum by purchasing your ticket from Klook or Kkday. Follow these links to buy tickets to Trick Eye Museum from Klook.
Trick Eye Museum, Resorts World Sentosa, Singapore
Tel: +65 6795-2370
Website: trickeye.com/singapore
Instagram: trickeyemuseumsg
Twitter: trickeyemuseum
Email: [email protected]
ADMISSION:
Adult (ages 13-59) – SGD 25
Child (ages 4-12) – SGD 20
HOW TO GET THERE:
There are many ways to get to Sentosa Island but the most popular for tourists would probably be by monorail or cable car. First, take the MRT to HarbourFront station. From there, you can follow the signs to go either by Sentosa Express (monorail) or by cable car. Sentosa Express costs SGD 4 per person (unlimited rides) while the cable car costs SGD 29 for adults and SGD 18 for kids ages 3-12 (round trip). If you've got energy to burn, you can even walk to Sentosa if you like.
For more Singapore travel tips, check out our First-Timer's Travel Guide to Singapore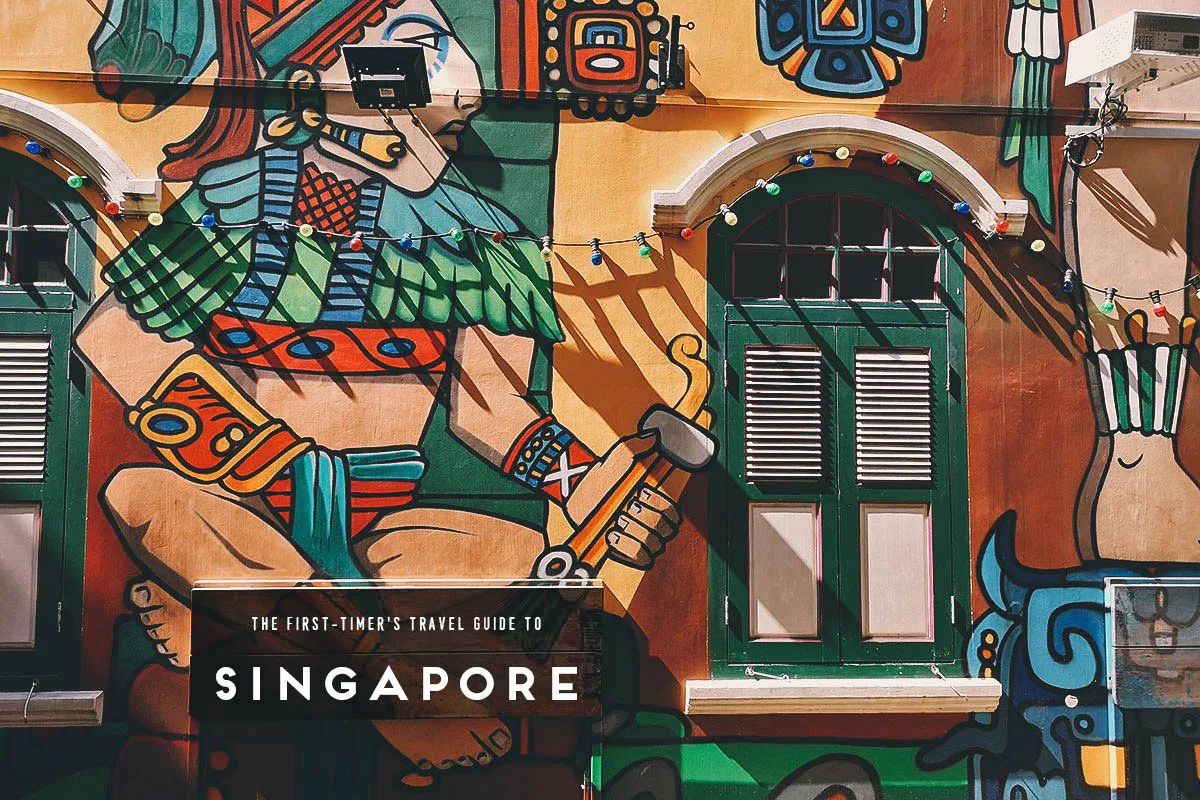 Disclosure
We were here as guests of Trick Eye Museum Singapore and given free admission. As always, all the photos, words, and opinions on this post are mine and mine alone. Some of the links in this post are affiliate links, meaning we'll get a small commission if you make a purchase at NO extra cost to you. We really appreciate your support as this helps us keep this website going. Thank you!