Do you remember that dining room scene in Tim Burton's film Beetlejuice? The one where the dinner guests became possessed and started singing and dancing to Harry Belafonte's Day-O (Banana Boat Song)?
That's what dining at Helga's Folly was like. I felt like at any moment, I could look up from my bowl of asparagus soup and find a frizzy-haired Michael Keaton sitting across the table from me.
"Beetlejuice…Beetlejuice…Beetlejuice."
"It's SHOWTIME!"
I didn't stay at Helga's Folly but I had read enough to want to see it for myself. I hopped into a tuk-tuk and rode into the jungle hills of Kandy so I could explore this unusual hotel that's become one of the city's most intriguing attractions.
Save This on Pinterest!
No time to read this now? Click on the red save button and pin it for later!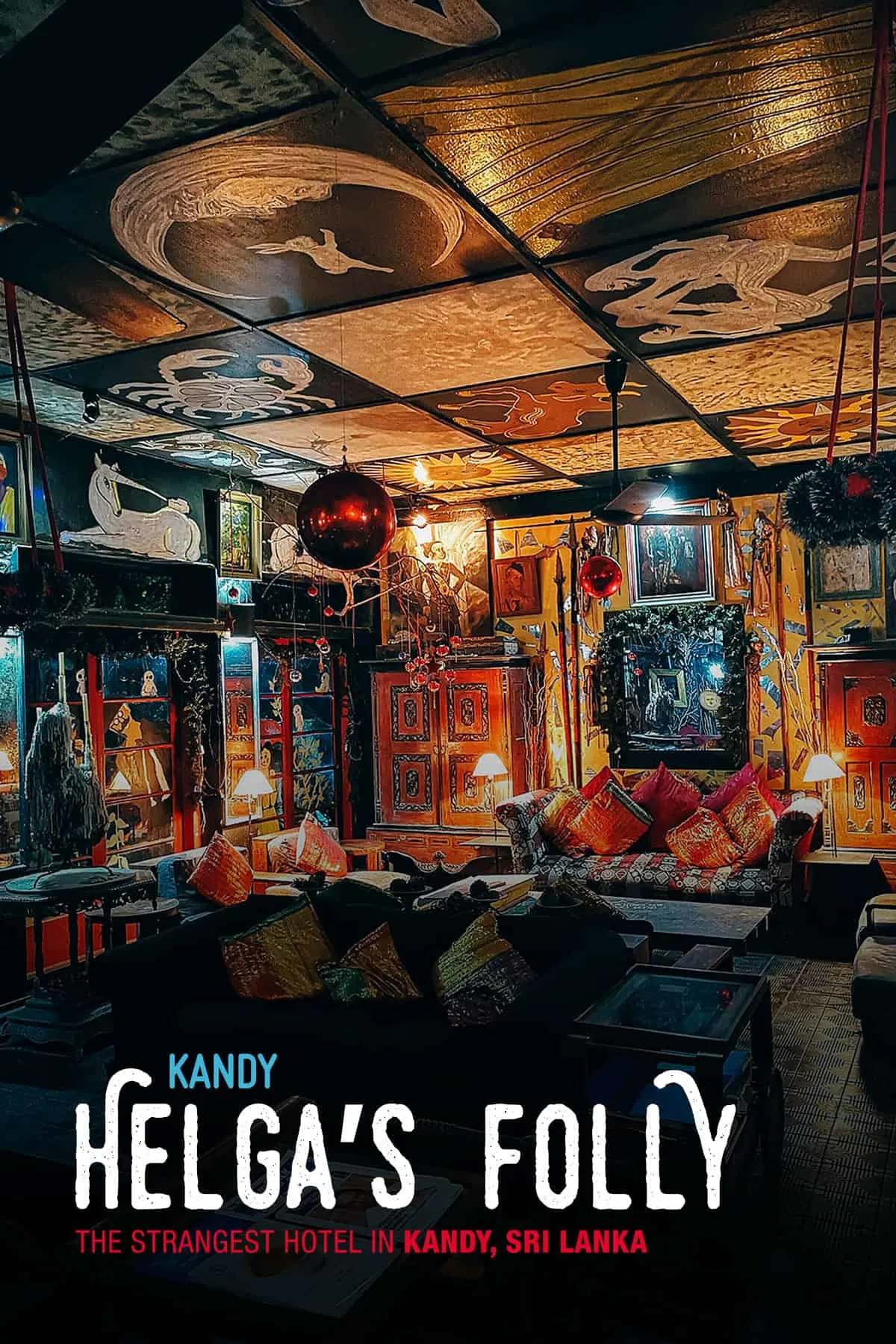 What is Helga's Folly?
Helga's Folly is a hotel / acid trip located in the mountains surrounding Kandy, Sri Lanka. It's owned by Helga De Silva Blow Perera, a Sri Lankan socialite and eccentric who started painting on the walls of the hotel as a form of therapy after going through a traumatic divorce.
She painted the first room entirely in black before warming up to colorful murals that soon covered every square inch of wall and ceiling space in her family's 40-room hotel. In her 70s now, she'd been painting and doodling on the walls of the hotel since she inherited it in 1994, only slowing down a few years ago when she was doodling on the ceiling and had an accident which landed her in the hospital. Though most of the artwork in the hotel is hers, all of the newer paintings are created by staff members and guests.
The hotel has hosted many famous guests through the years including Sir Laurence Olivier, Vivian Leigh, Gregory Peck, and Sir Alec Guinness. British rock band Stereophonics was so inspired by their stay at Helga's Folly that they released the single "Madame Helga" in honor of its celebrated owner.
Helga Blow lived an extraordinary life that was equal parts colorful and tragic. I'll recount the most interesting snippets throughout this article but if you'd like to read more about Madame Helga and her fascinating hotel, then you can do so on The Daily Beast.
Reception Area
The moment you walk in, the murals begin. Helga's Folly is located in the mountains about 4 km east of central Kandy. It's a little too far and hilly to get to on your own so it's best to hire a tuk-tuk from the city. I paid the driver LKR 600 each way. He dropped me off at the hotel before coming back for me about two hours later, which was just enough time to explore the hotel and have dinner.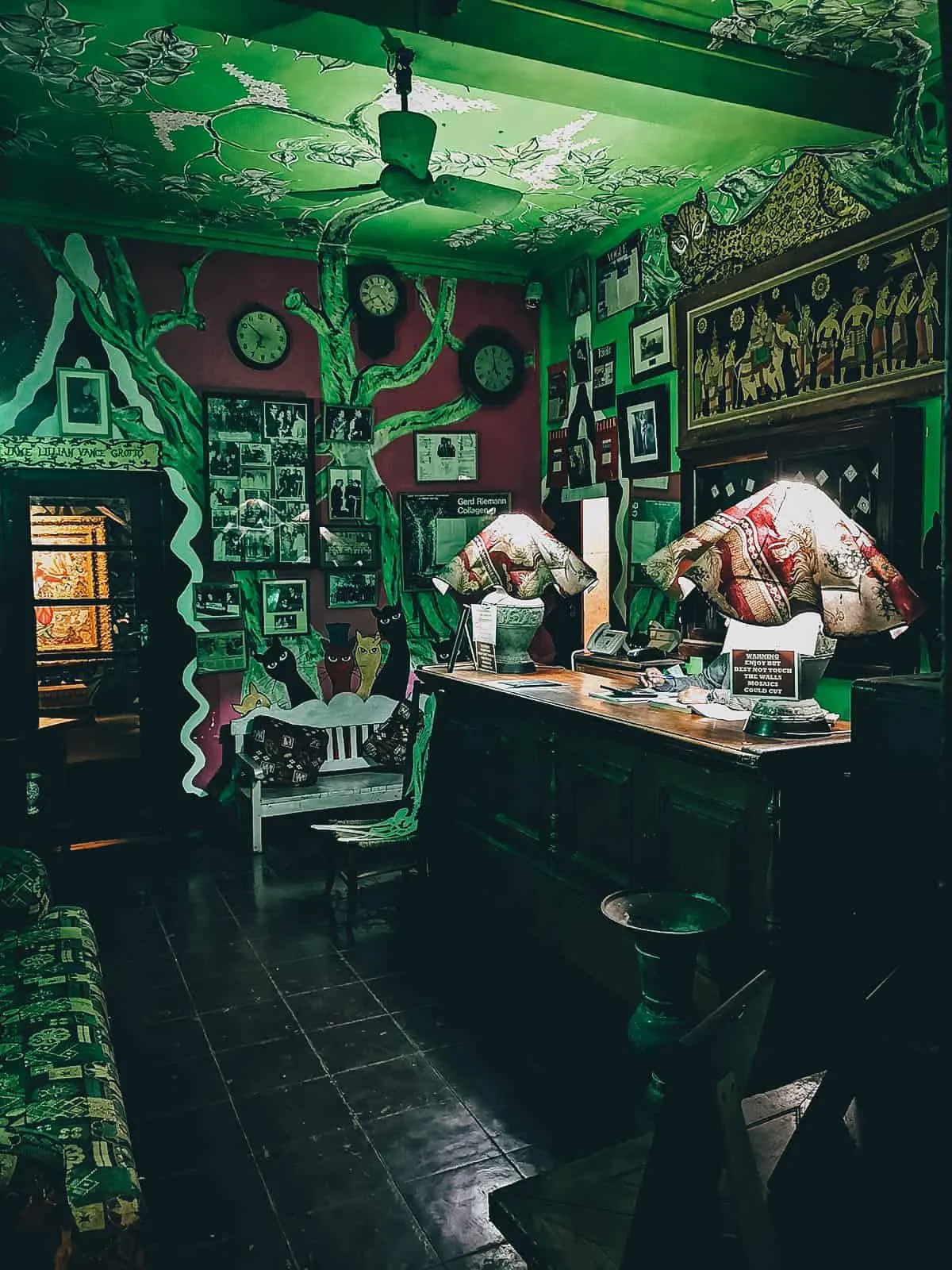 Helga's Murals
The hotel offers set meals that change everyday. It takes them a while to prepare the food so I went around to explore the hotel first.

I started upstairs and found many paintings that seemed to be Sri-Lankan-inspired. I'm guessing these were done by Madame Helga herself. As you can probably guess, Helga Blow was born into a wealthy family. Her father was Edmond Frederick Lorenz De Silva, a celebrated Sri Lankan politician who was the former Sri Lankan ambassador in Paris.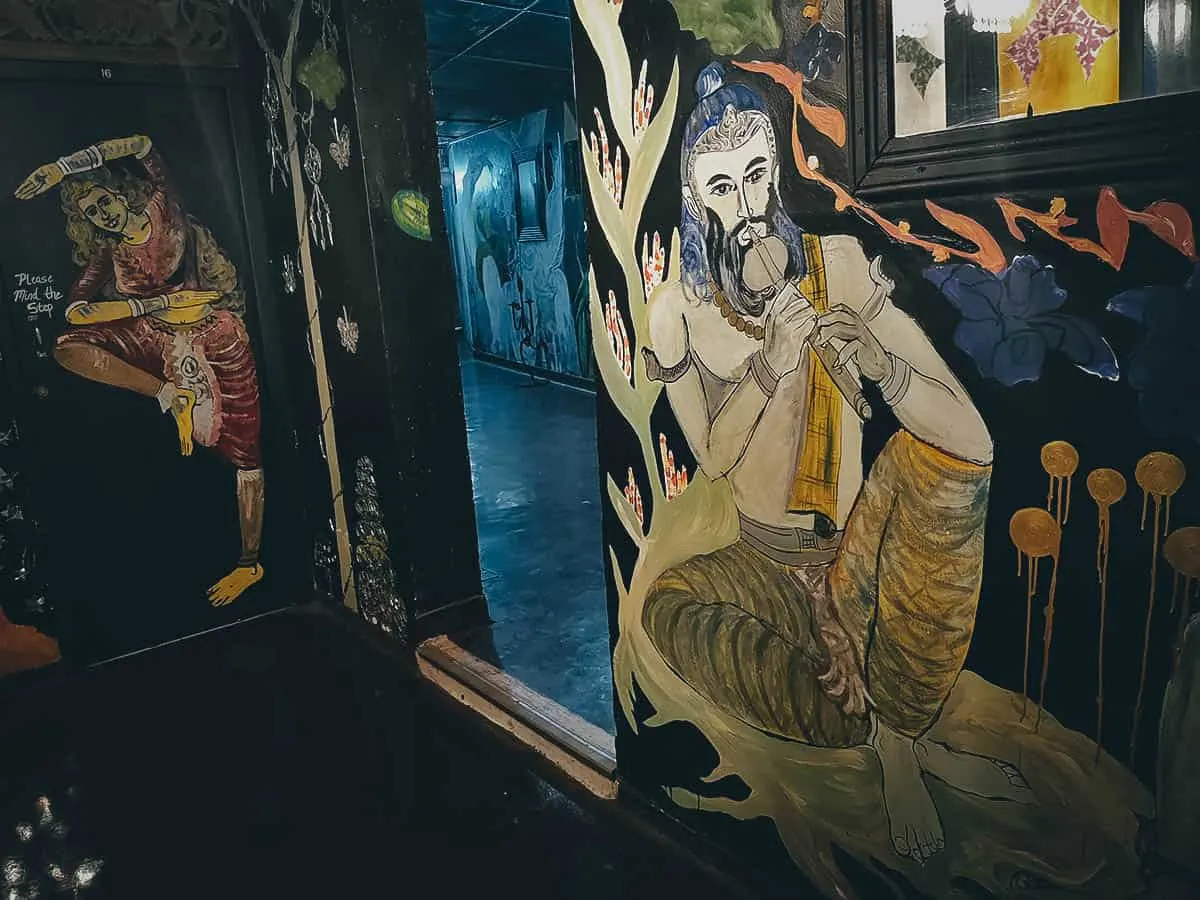 Take a closer look and you'll often find two or more distinct styles of painting sharing the same space. This section looks to have been done by more than one artist. I read that writers and artists can stay at the hotel at half off for a minimum of six nights. I don't know if painting on the walls during your stay is part of the arrangement.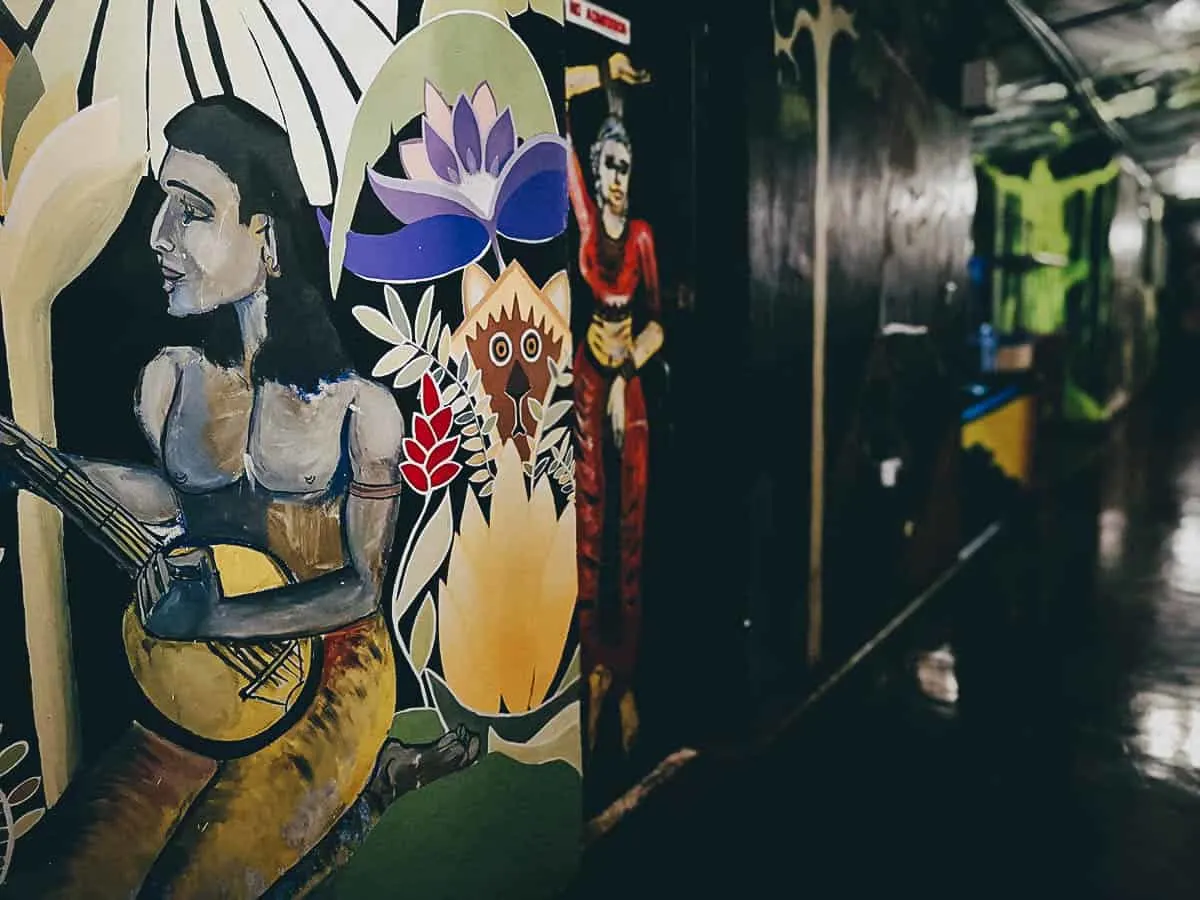 Rooms
I asked if I could see the rooms and one of the staff members brought me up to this one. I think it's safe to assume that each of the forty rooms at Helga's Folly is unique.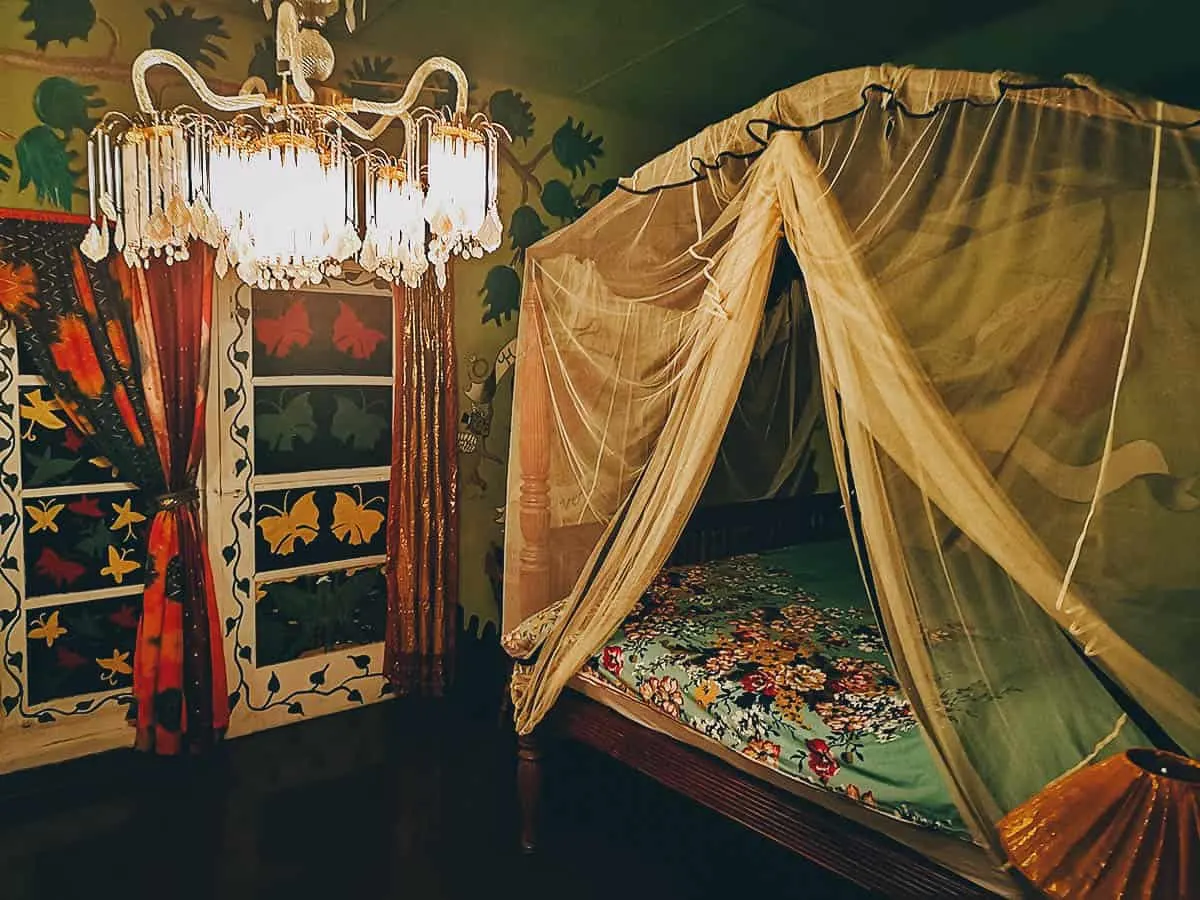 I checked on Booking.com and it costs about USD 100 a night to stay here. A little pricey but you're paying for the history I guess.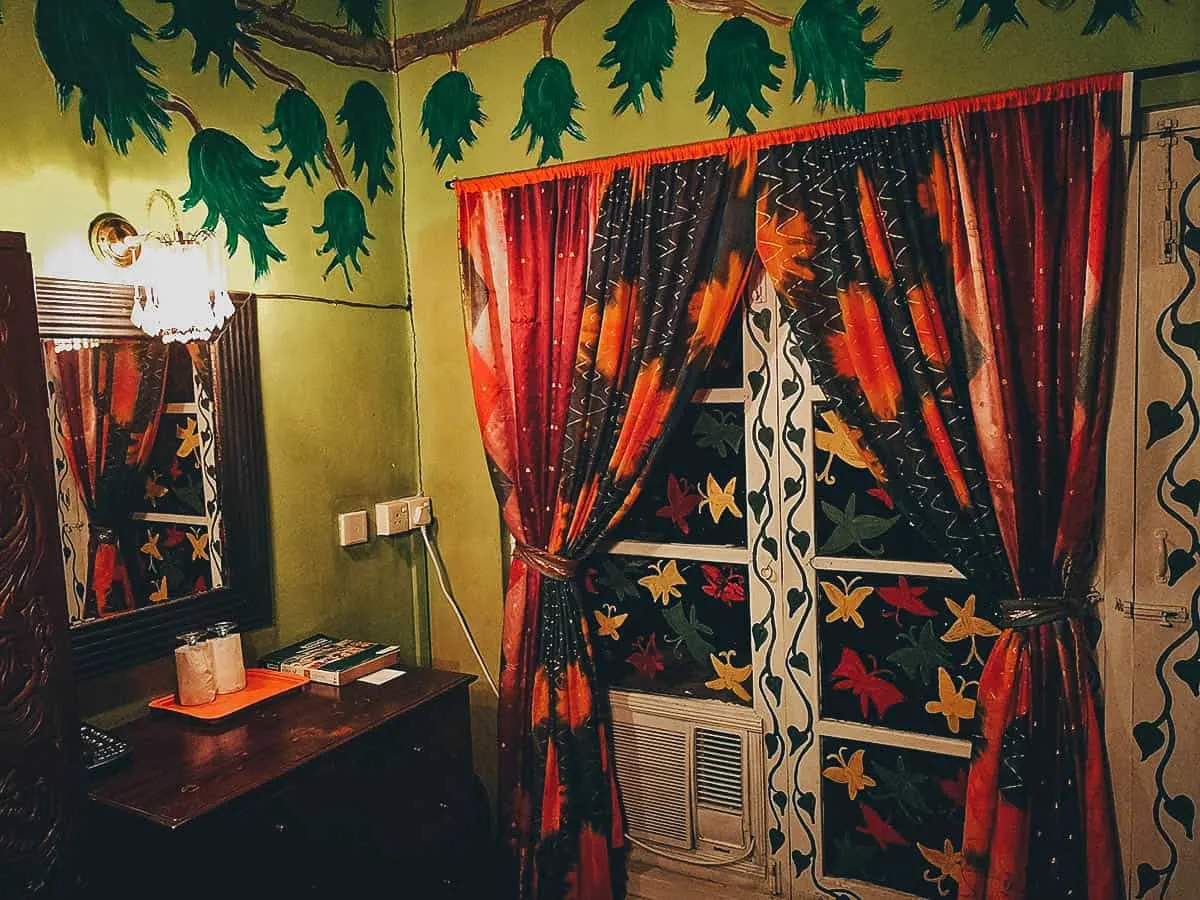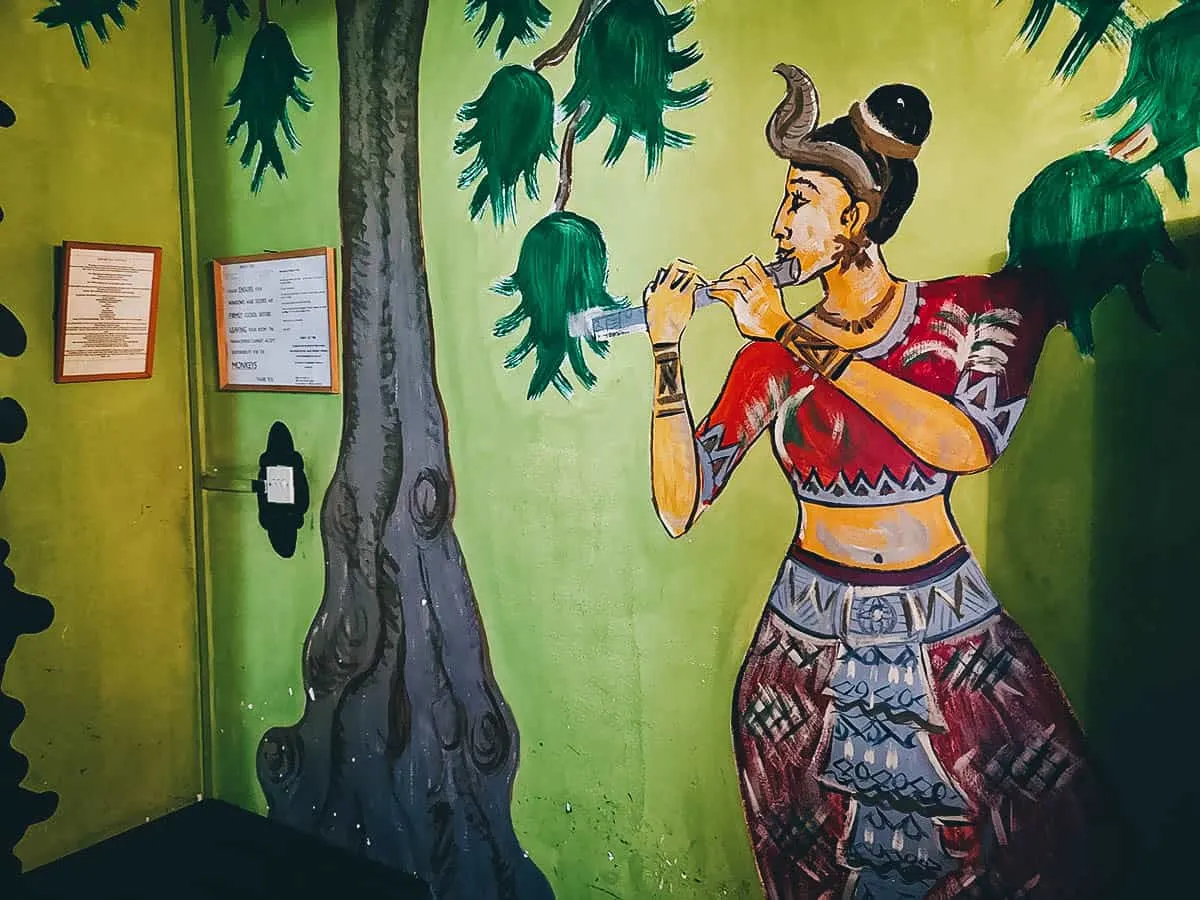 Dining Areas
People weren't exaggerating when they said that nearly every square inch of the hotel was covered in murals. As you'll soon see, the dining areas were the most elaborately painted and decorated parts of the hotel.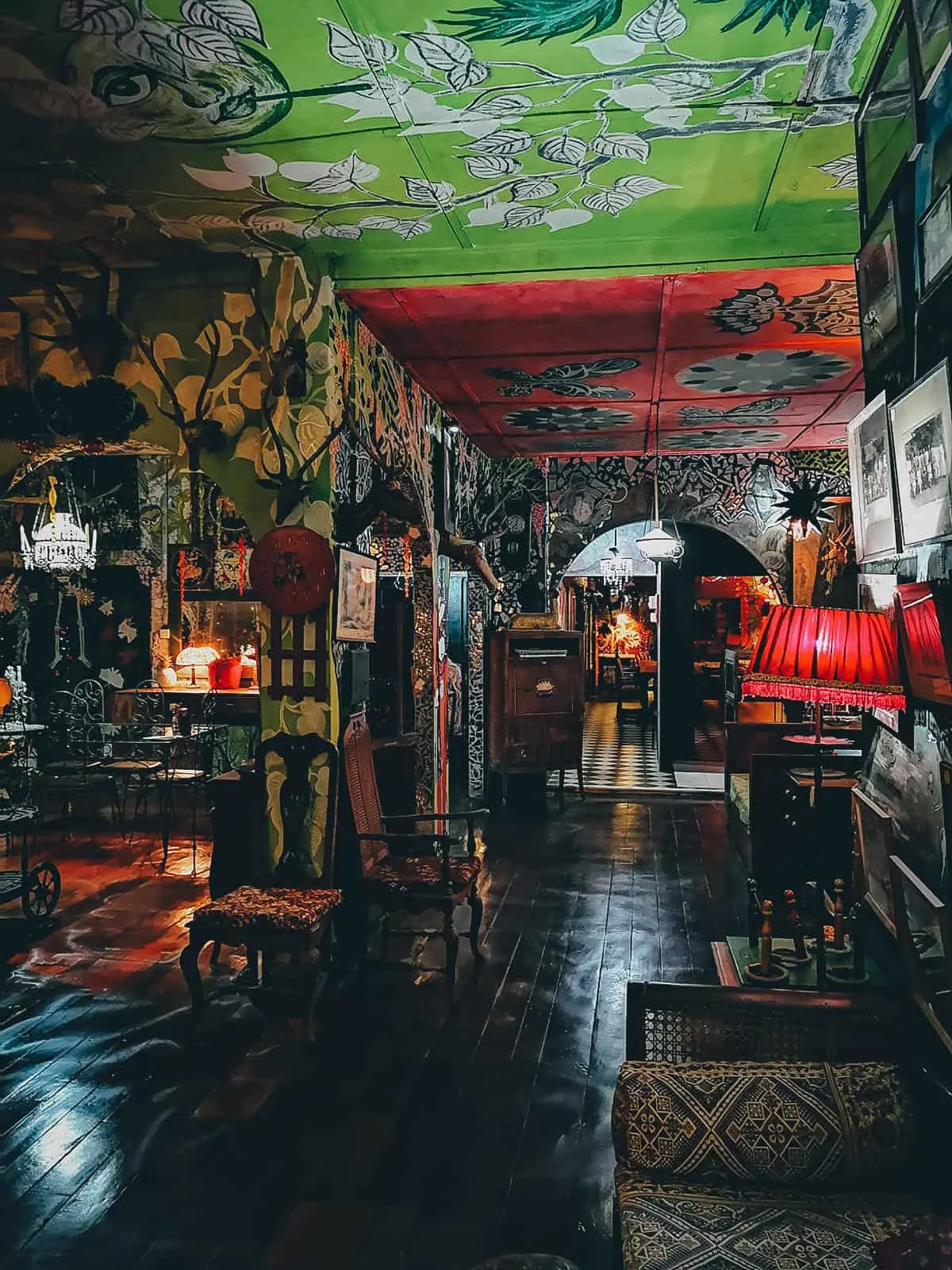 Was I kidding? At the head of that glass table was where I sat for dinner. I dined alone but in my mind, I was breaking bread and sharing shrimp cocktail with Winona Ryder and the Deetzes. "Daaaaaay-O!"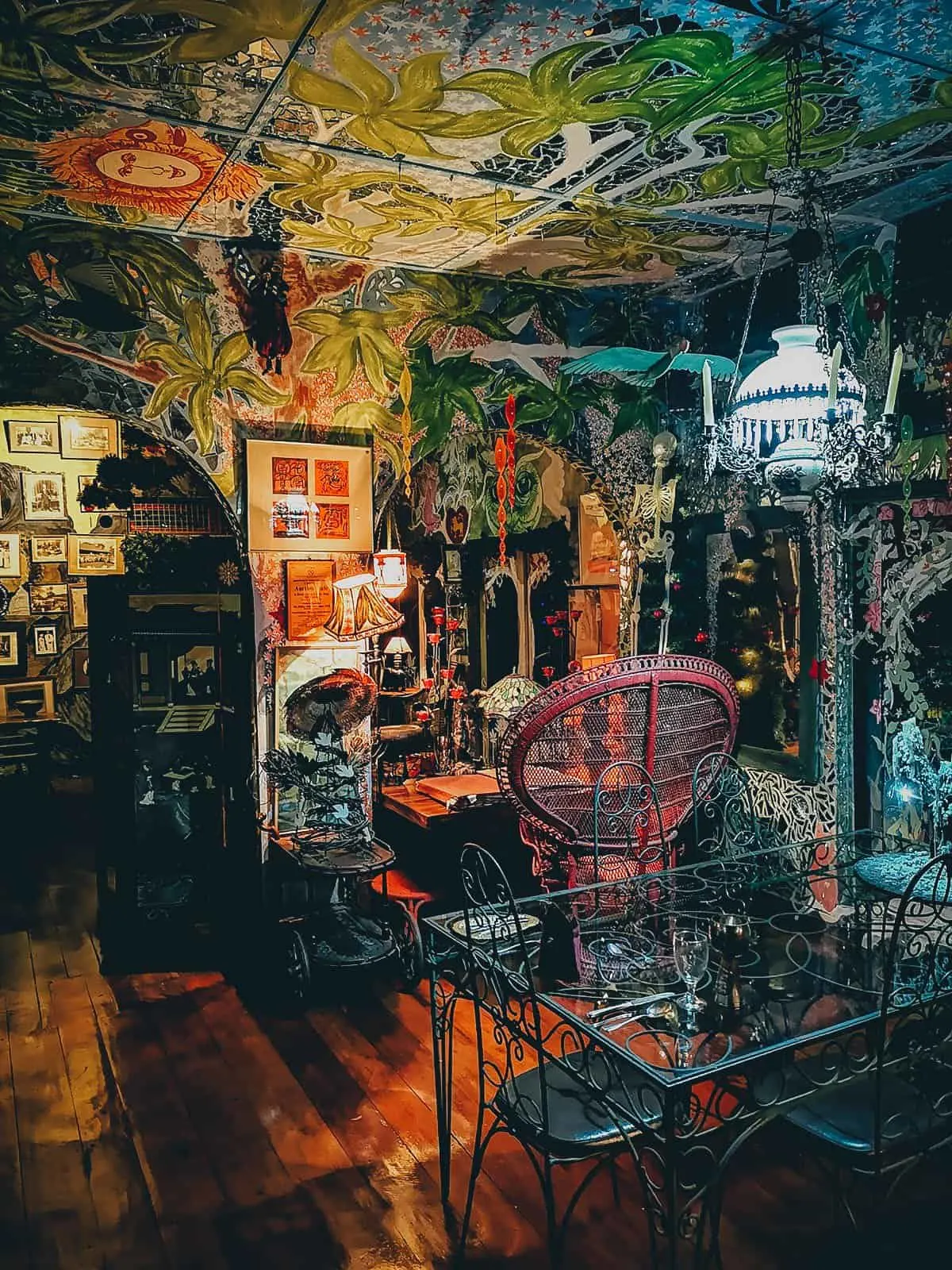 Look closely at the table settings. Dinner at Helga's Folly wouldn't be complete without taking swigs out of a metal goblet.
According to the Daily Beast article, Helga Blow was married three times and had three children by the time she was 21 years old. Her first husband, Jonathan Blow, committed suicide by drinking a fatal dose of weedkiller at his ancestral home in Gloucestershire, England. In an ironic twist, her daughter-in-law, fashion icon Isabella Blow, would also take her own life at the ancestral home using the exact same method.
When asked about their suicides, Madame Helga had this to say: "She was just like my first husband. He was absolutely determined [to kill himself]. Whatever anybody would say, 'You've got young children,' it just did not go in. The saddest thing is that this is an illness that affects the clever and the talented people."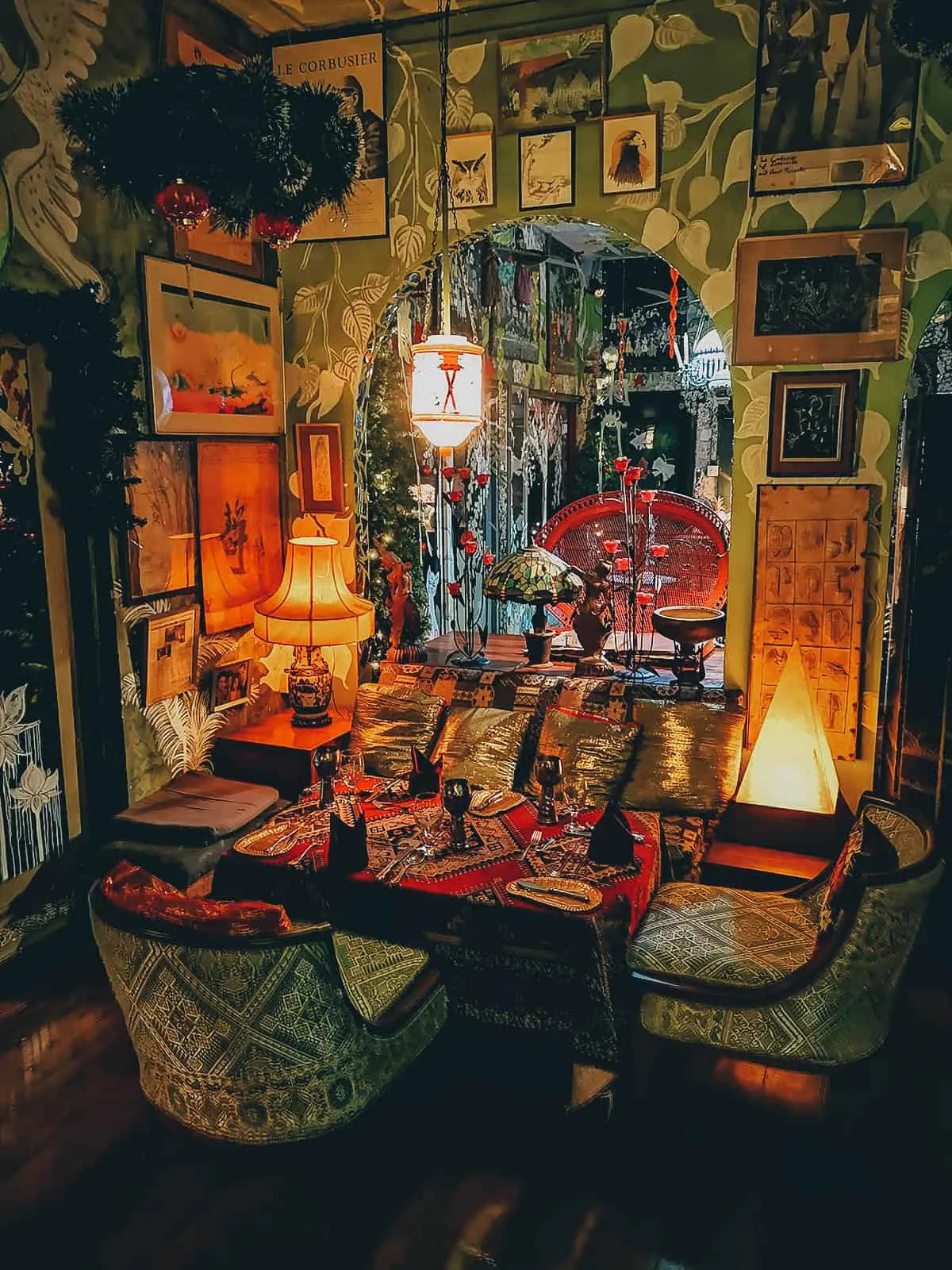 This was my favorite room in the hotel. Can you see that shadowy figure on the left? Can you make out what it is?

It's a candelabra with what looks like a decade's worth of wax. All the candelabras at Helga's Folly look like this, like ever-evolving pieces of art that only get better and more storied with time. Much like the hotel I guess.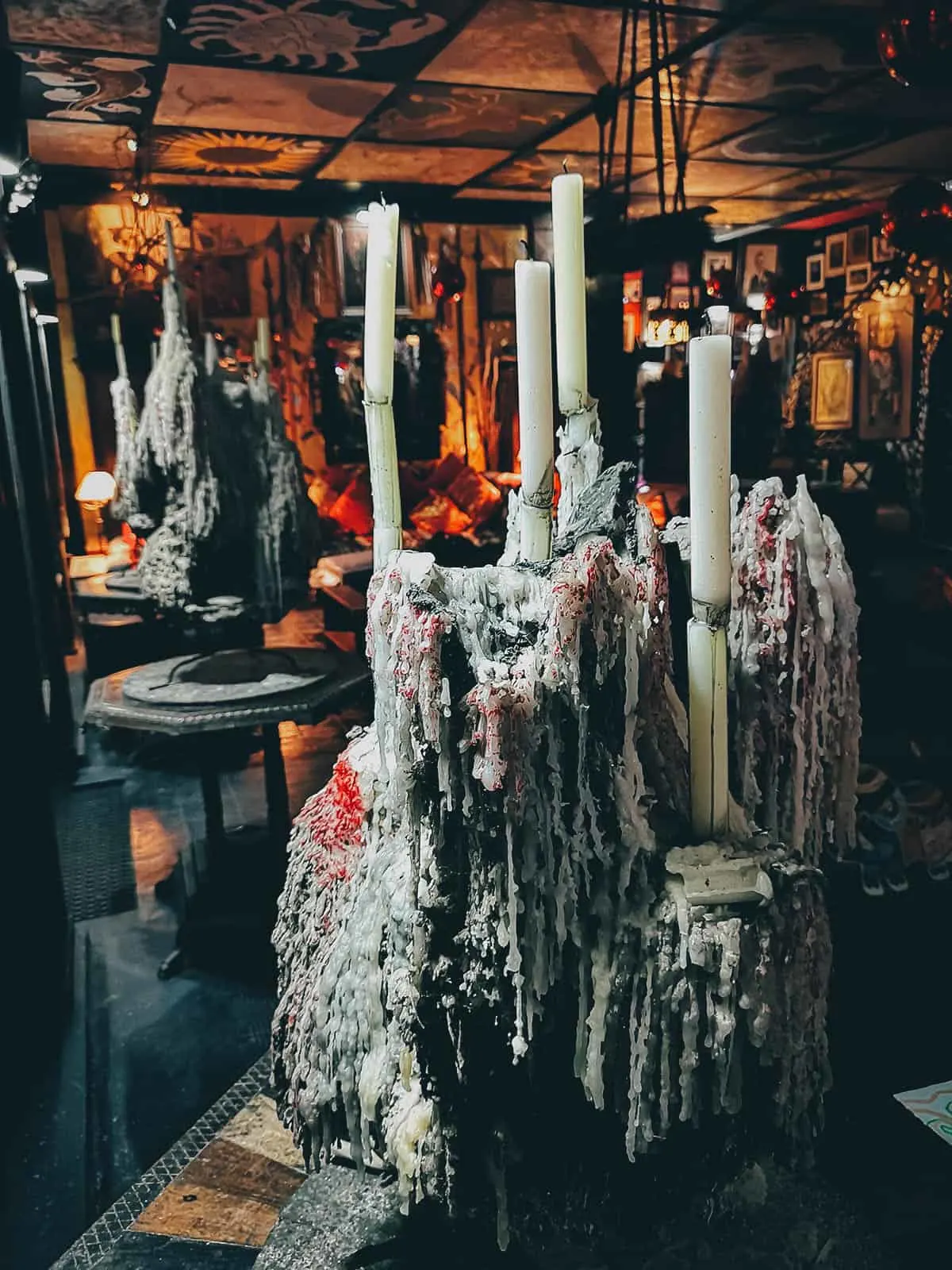 I believe this is where the ghouls go to disco. Madame Helga says that she'd love for her hotel's story to continue, but she wouldn't want it to be a burden to anyone.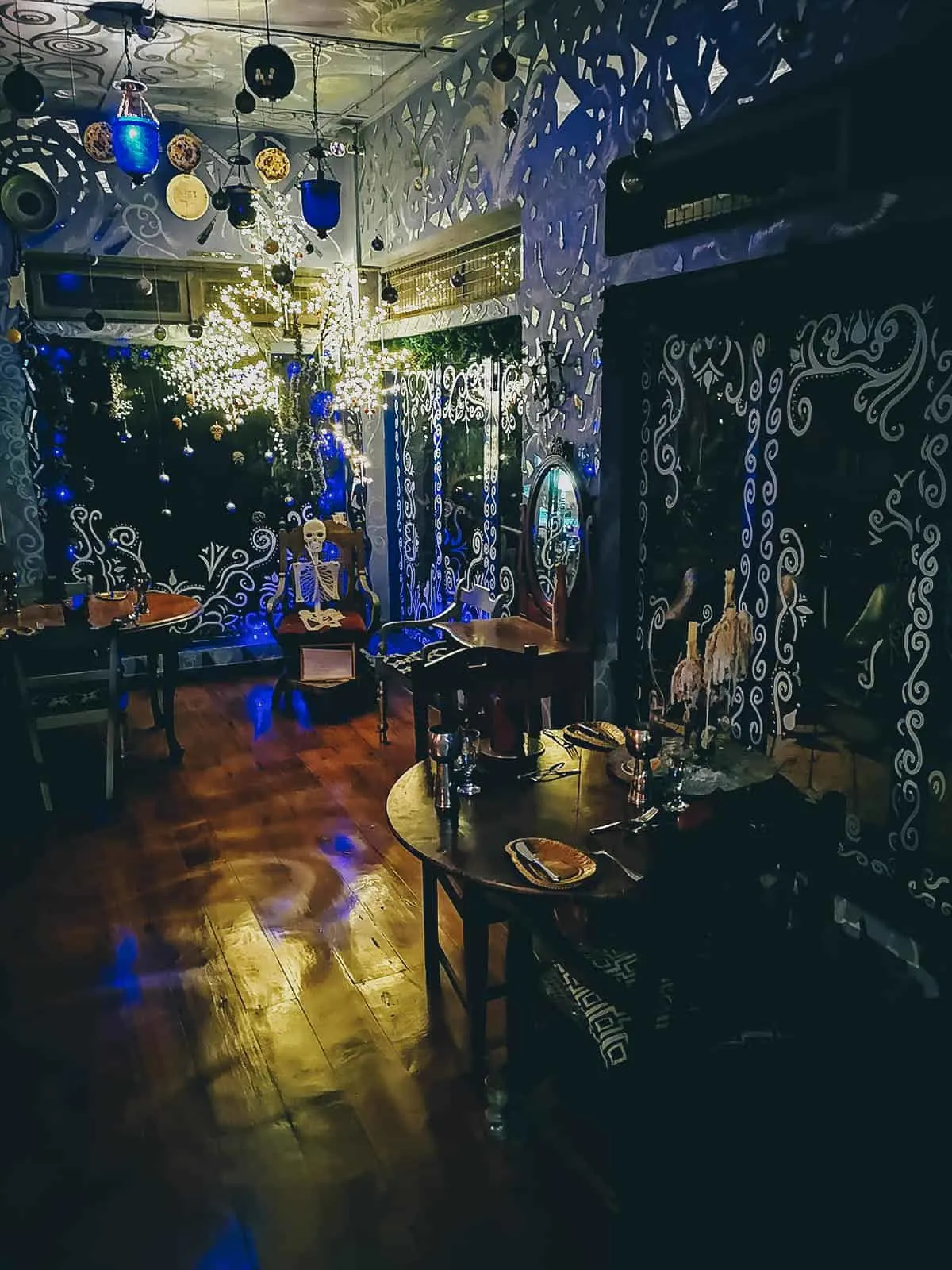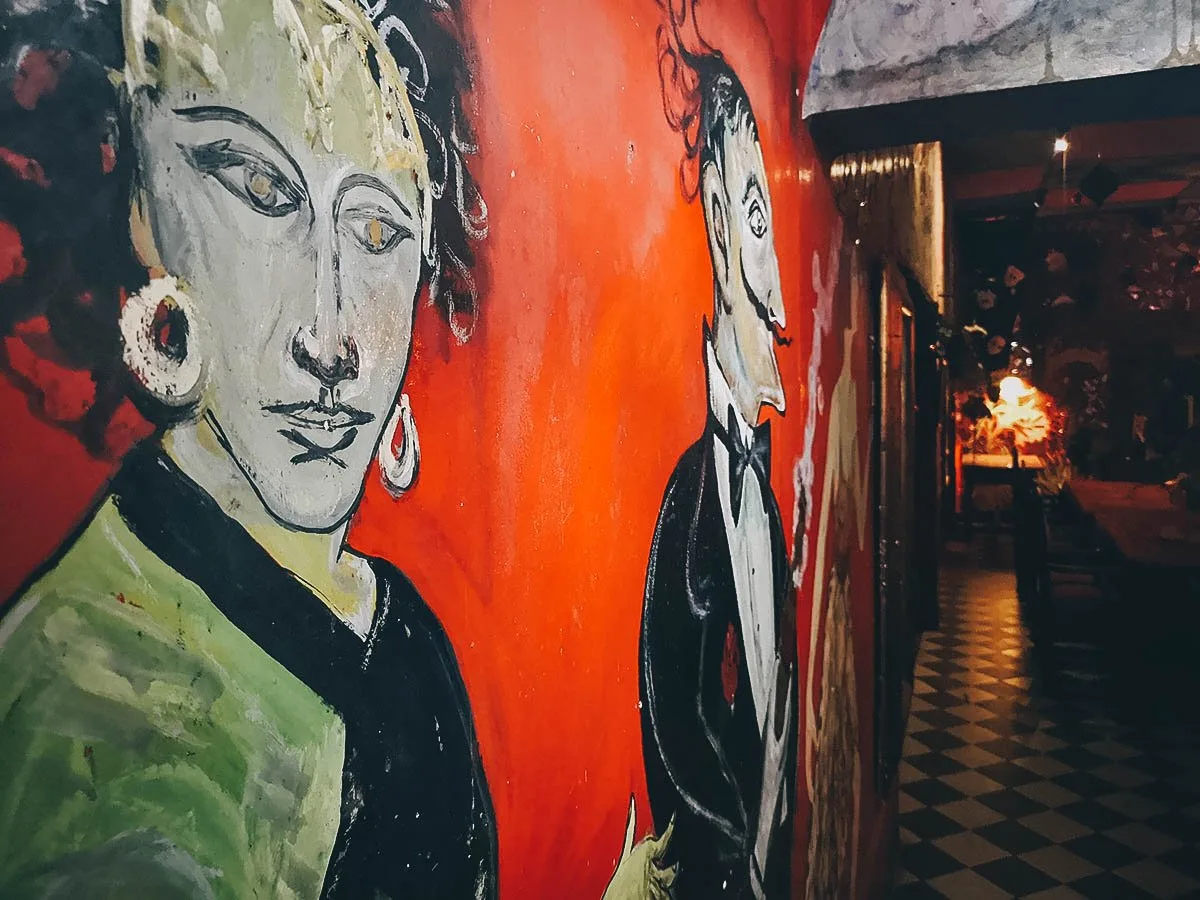 I loved this room too. It made me feel like I was in Gauguin's Tahiti.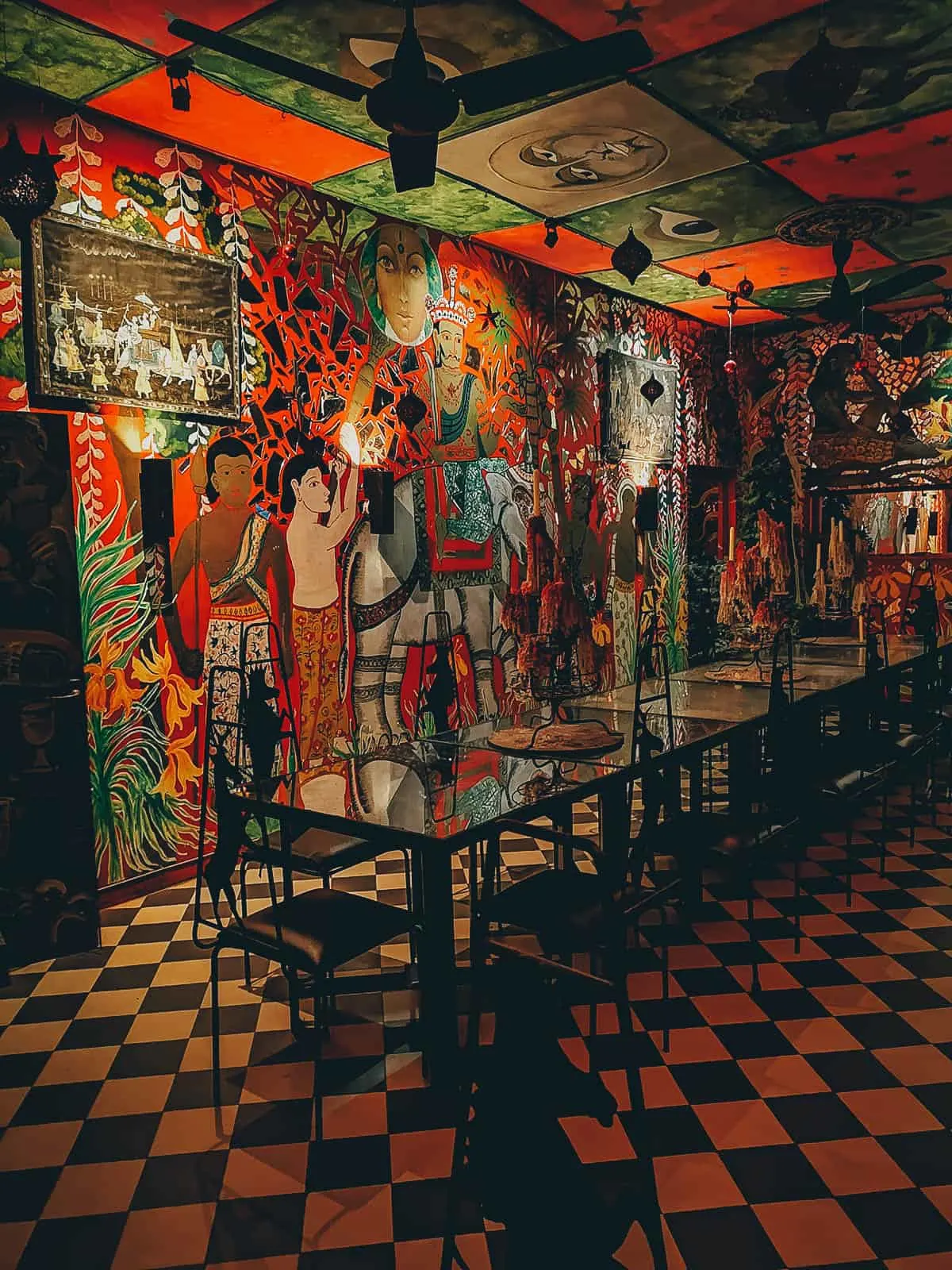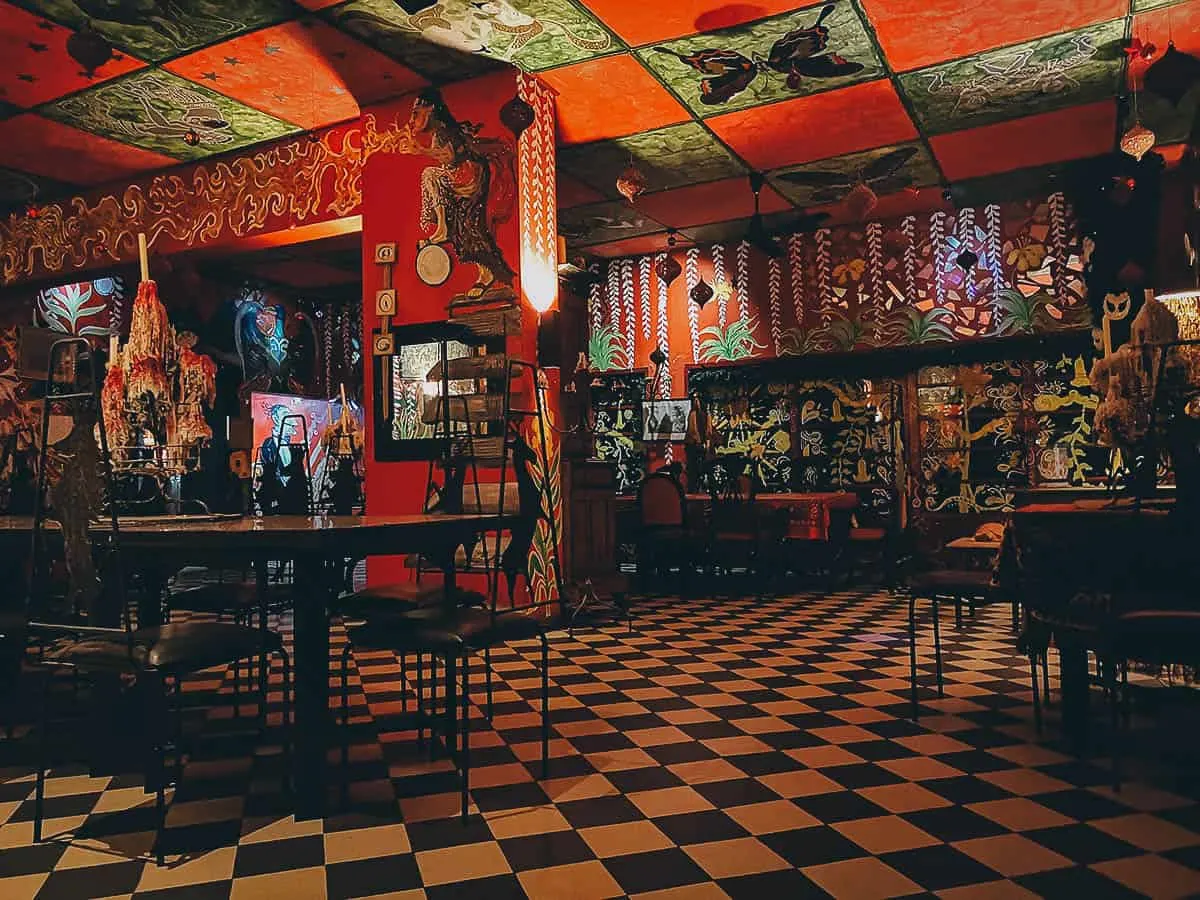 Set Dinner
I didn't make a reservation so it took the kitchen about an hour to prepare my food. Helga's Folly doesn't have an ala carte menu. Instead, they offer set meals with three choices of mains that change every day.
For USD 20, you'll get a three-course meal with a basket of bread, mulled wine, and either coffee or tea. For my first course, I was served this cream of asparagus soup.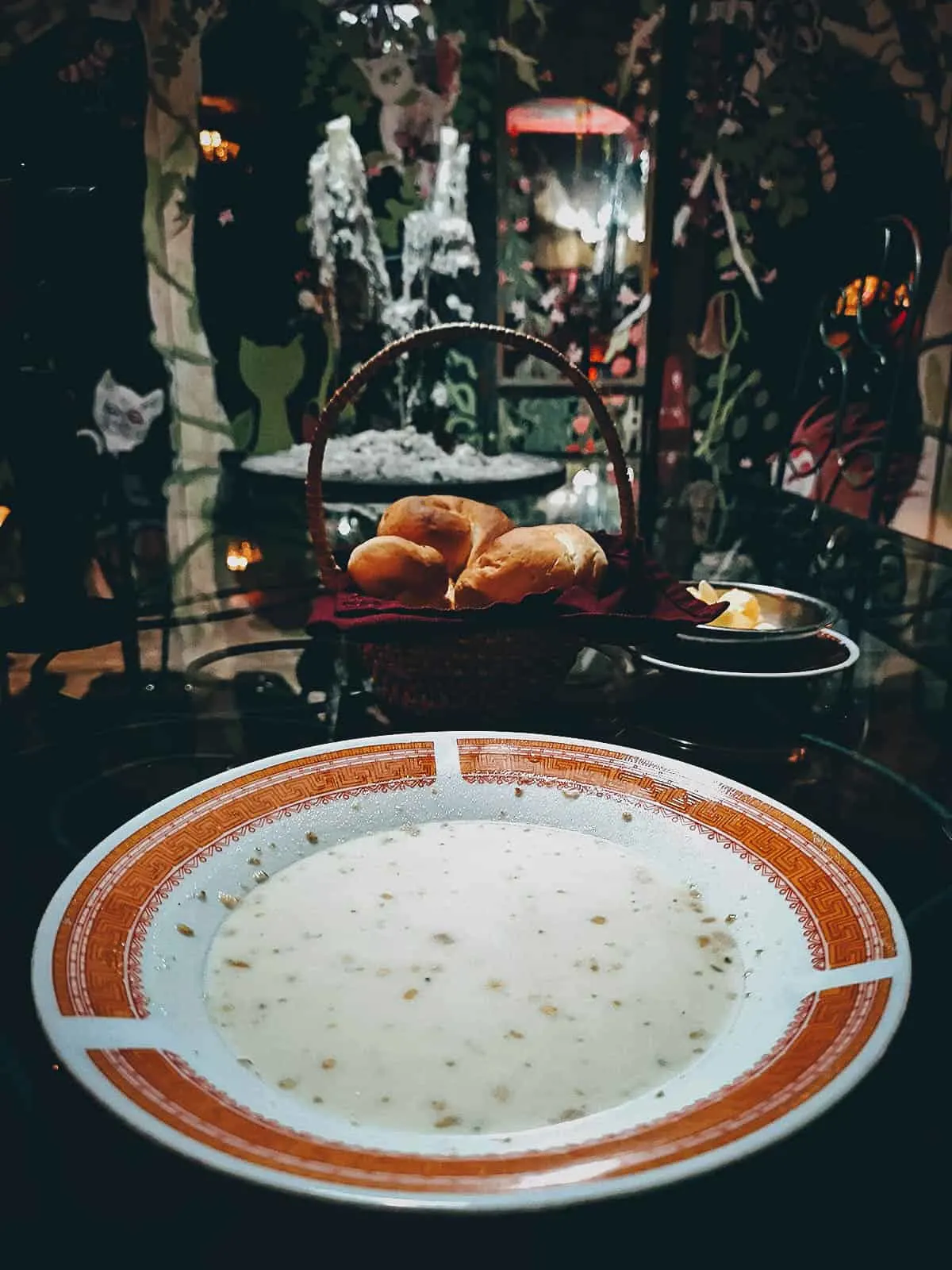 I was here on a Thursday night so I had a choice between lemon rice served with different curries, chicken in coconut cream, and fish in a spicy crumble. I went with the chicken in coconut cream.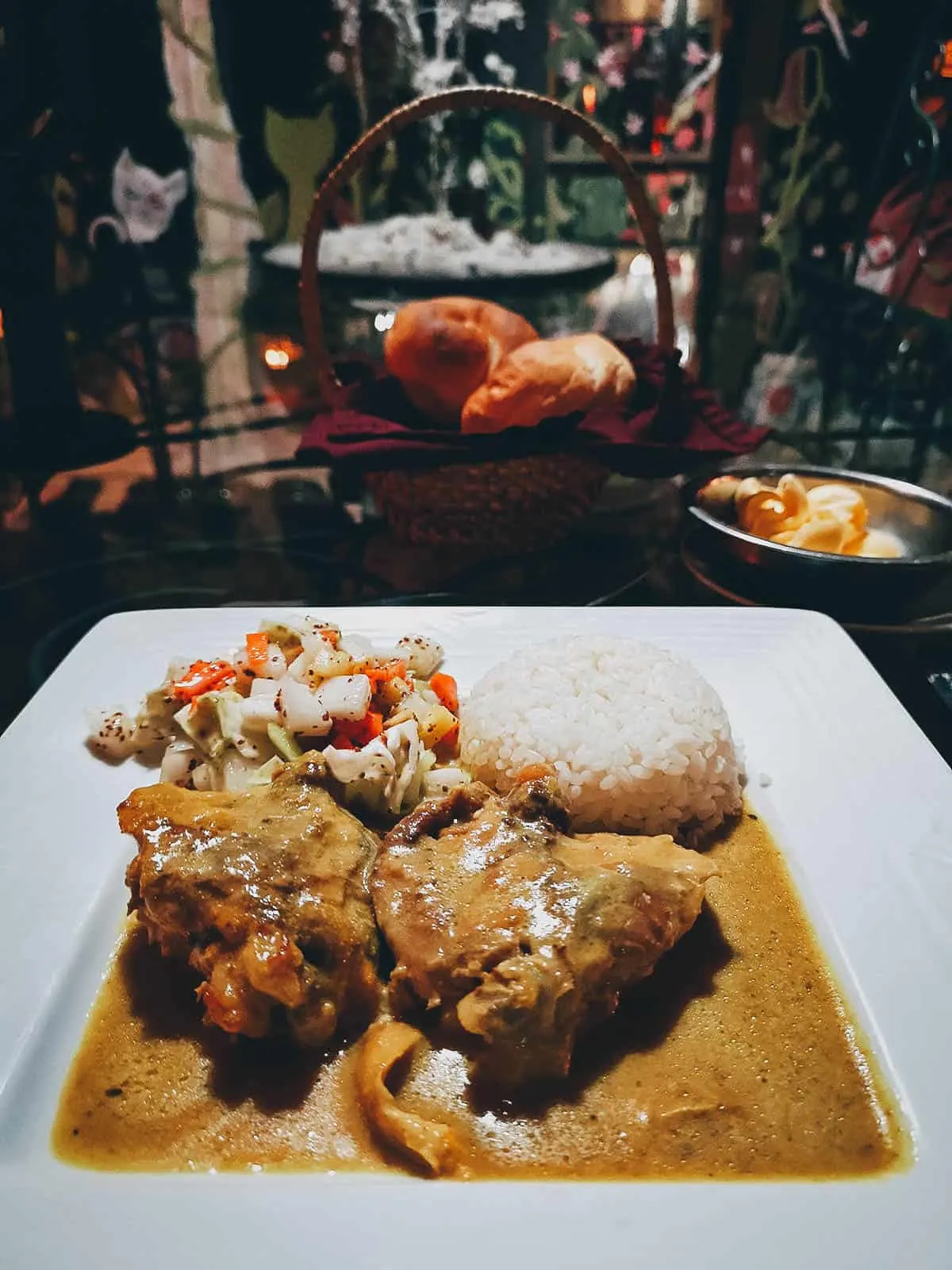 I don't remember exactly what this was but for dessert, I was served some type of cake bar topped with ice cream.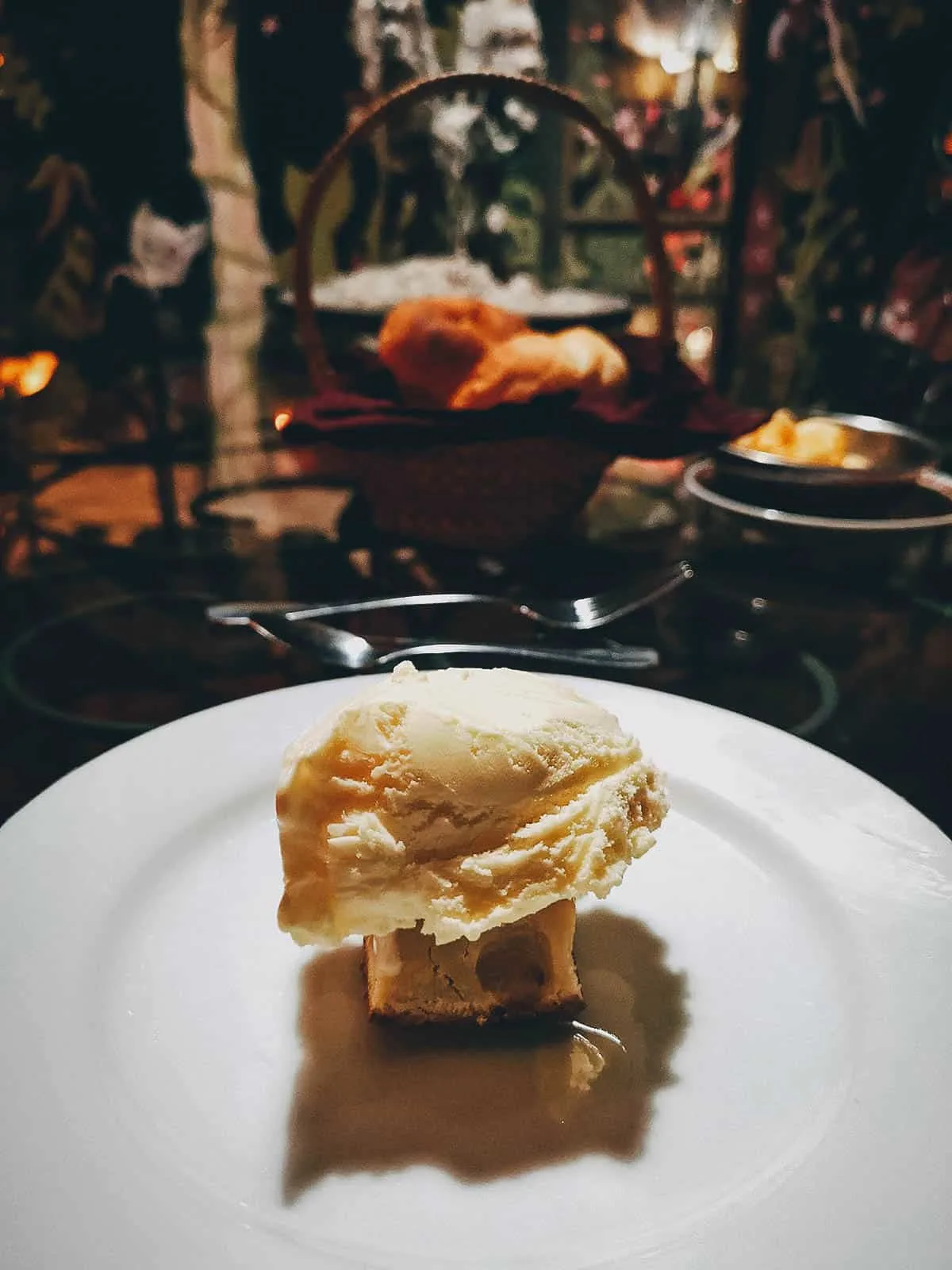 Conclusion
To be honest, my dinner at Helga's Folly was average at best and pricier compared to other places in downtown Kandy. But what you're paying for here is the experience. It really is quite a fascinating (and sometimes frightening) hotel, the likes of which I had never seen before. I've been to hotels with murals but none to this degree.
As visually interesting as it was, the hotel did feel a little old. I smelled mold here and there and the one room I entered felt like grandma's bedroom. Not the most stylish or modern but full of character, if that counts.
Helga's Folly is a fascinating hotel, though I think I'd have trouble staying here because it's a little too far from downtown Kandy. I like to spend the day exploring so being at Helga's Folly means you'd have to take tuk-tuk rides to and from the city. It isn't the most conveniently located hotel for travelers like me, but if you want seclusion – a place where you can disconnect, enjoy nature, and perhaps paint on walls – then you'll love it here.
Like Madame Helga and the many artists, musicians, and creatives who've stayed here through the years, it's a great place to recharge and be inspired.
Helga's Folly
70, Rajapihilla Mawatha, Kandy, Sri Lanka
Tel: +94 812 234 571
Website: helgasfolly.com
Facebook: HelgasFolly
Instagram: helgasfolly
Twitter: helgs2012
Email: [email protected]
Expect to Pay: USD 20 per person for dinner
Approximate Room Rate: USD 100 per night (as of April 2019)
HOW TO GET THERE: Helga's Folly is located about 4 km east of downtown Kandy so it's best to go there by tuk-tuk. I paid LKR 600 each way.
MAKE A RESERVATION: Booking.com | Agoda