When we travel, I rarely splurge on accommodations. The way I see it, we're out most of the day anyway so what's the point in paying a lot for a room that we'll hardly spend any time in? Ren will beg to differ but personally, I'd rather spend that money on good food. As long as I have a soft pillow to lay my head on, then I'm usually happy. But my standards may be changing after this recent trip to Sri Lanka.
I was in Sri Lanka earlier this month to attend Cinnamon TBC Asia 2018, a conference for travel bloggers, social media influencers, and tourism industry professionals. Before the event, we were sent on a 5-day press trip that had us visit multiple destinations throughout the country. We were put up at several Cinnamon hotels and resorts, each as luxurious and astounding as the one before it. Needless to say, the experience blew me away and it could very well change how I view accommodations when we travel.
Cinnamon is a chain of 13 luxury hotels and resorts in Sri Lanka and the Maldives. Here are the four that I got to experience during my brief stay in the country.
Save This on Pinterest!
No time to read this now? Click on the red save button and pin it for later!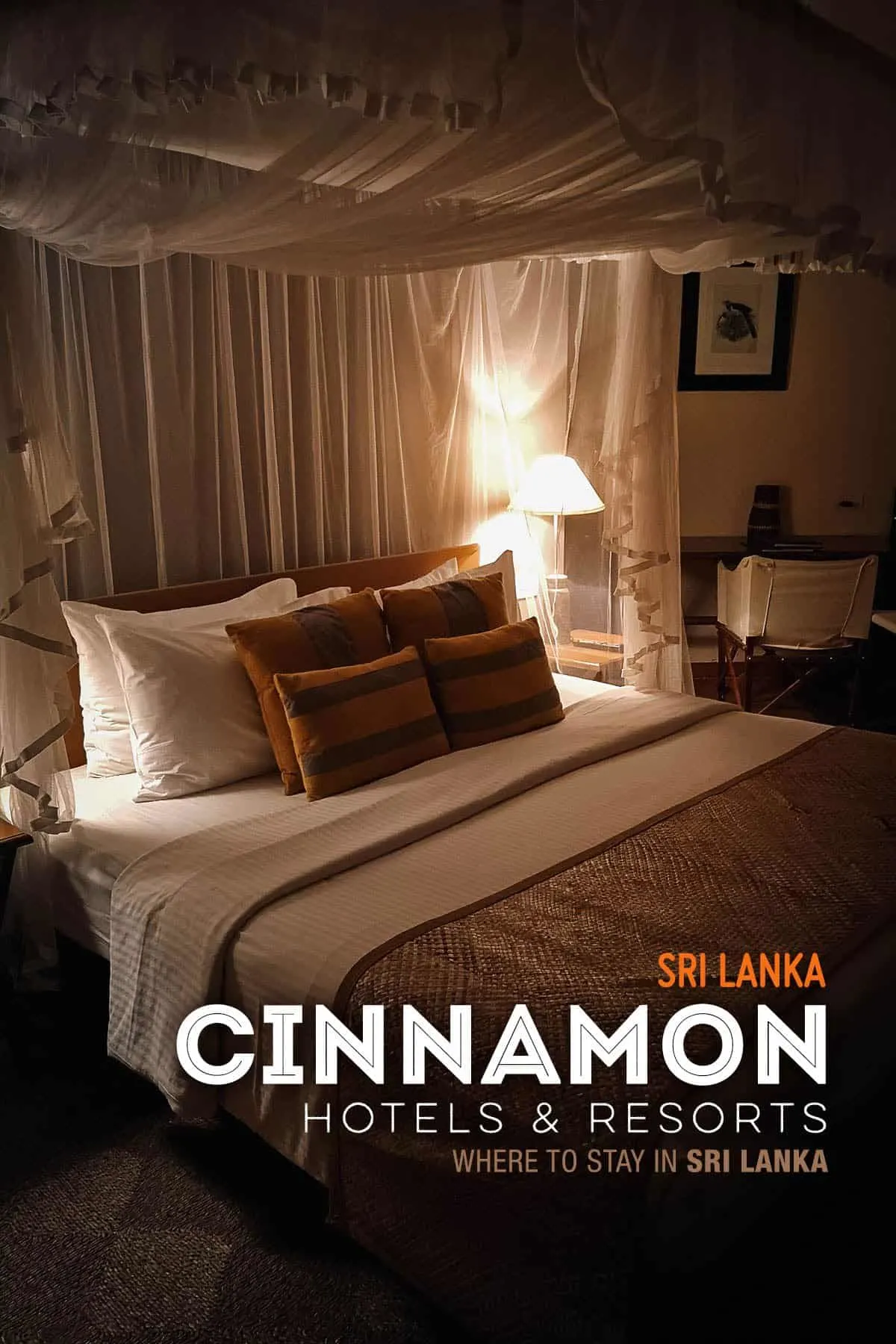 CINNAMON BEY BERUWALA
Cinnamon Bey Beruwala is a 5-star resort located along the southern coastline of Kalutara district. Located just 55 kilometers south of Colombo, it boasts 200 rooms and offers 6 specialized dining options. We stayed here for one night and used it as base to visit Siddhalepa Ayurveda Health Resort, the Ariyapala Mask Museum, and Madu Ganga.
Superior Room
My swanky Superior Room with a terrace facing the ocean. The hotel has 170 of these rooms, each measuring 420 square feet. Nice huh?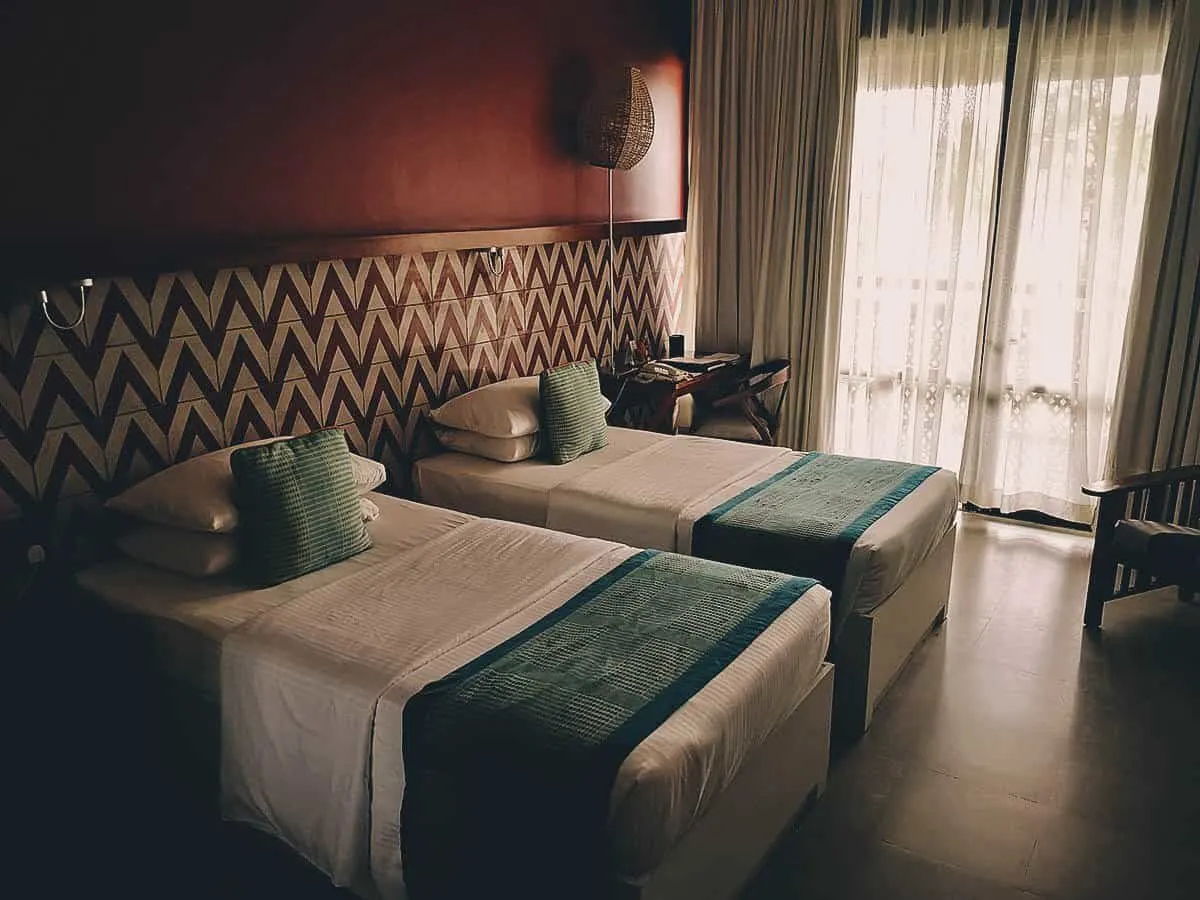 I loved the patterns and textures of this hotel. According to their website, the hotel's Turkish-inspired design pays homage to Arabian traders who first made contact with Sri Lanka in the 10th century.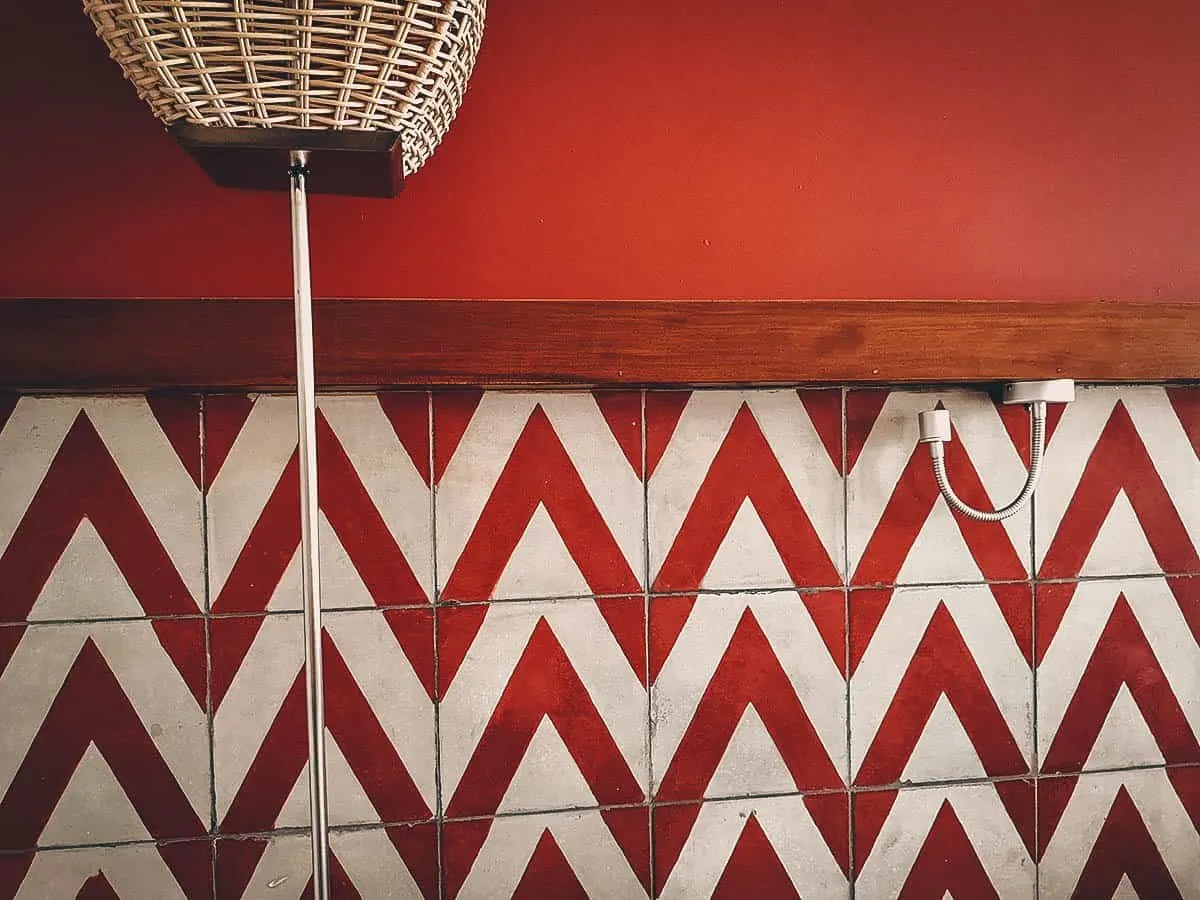 Stylish, fully amenitized bathroom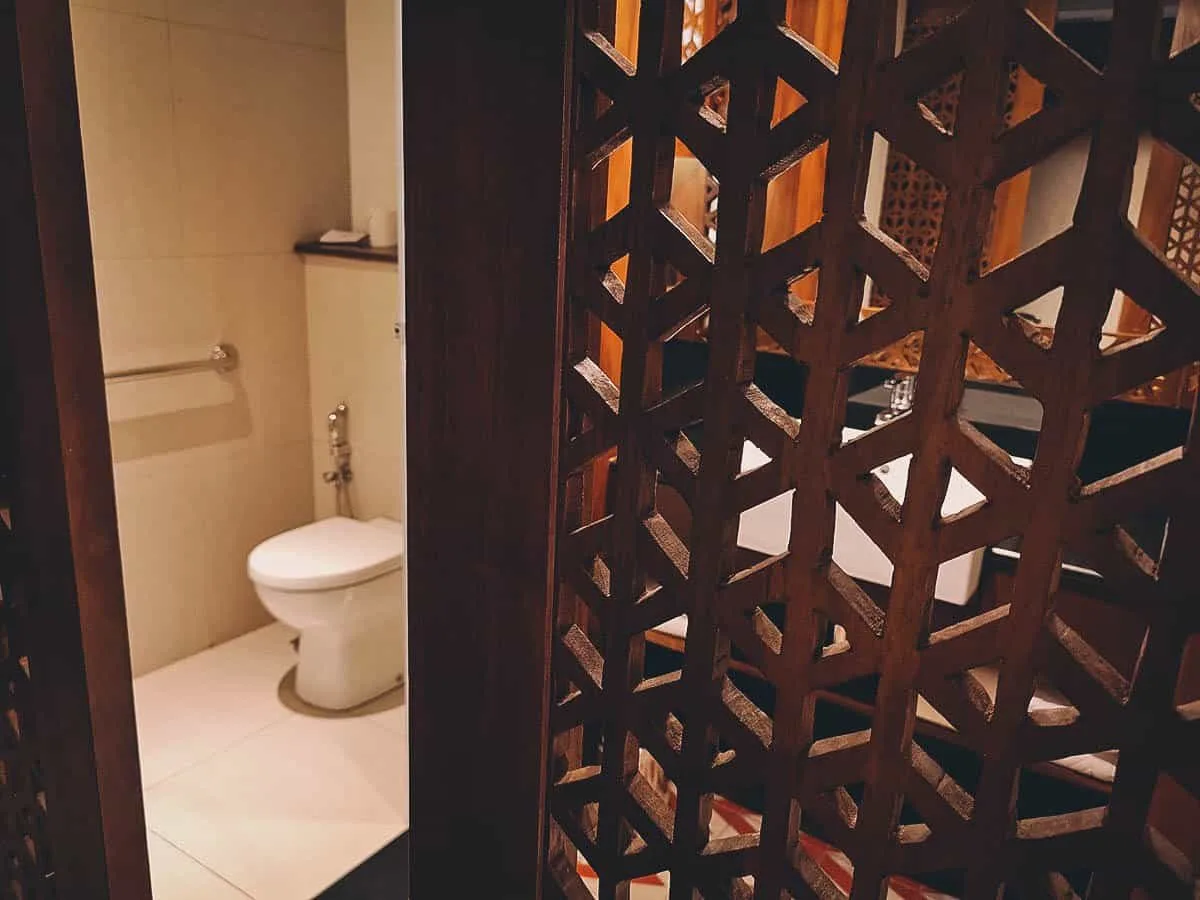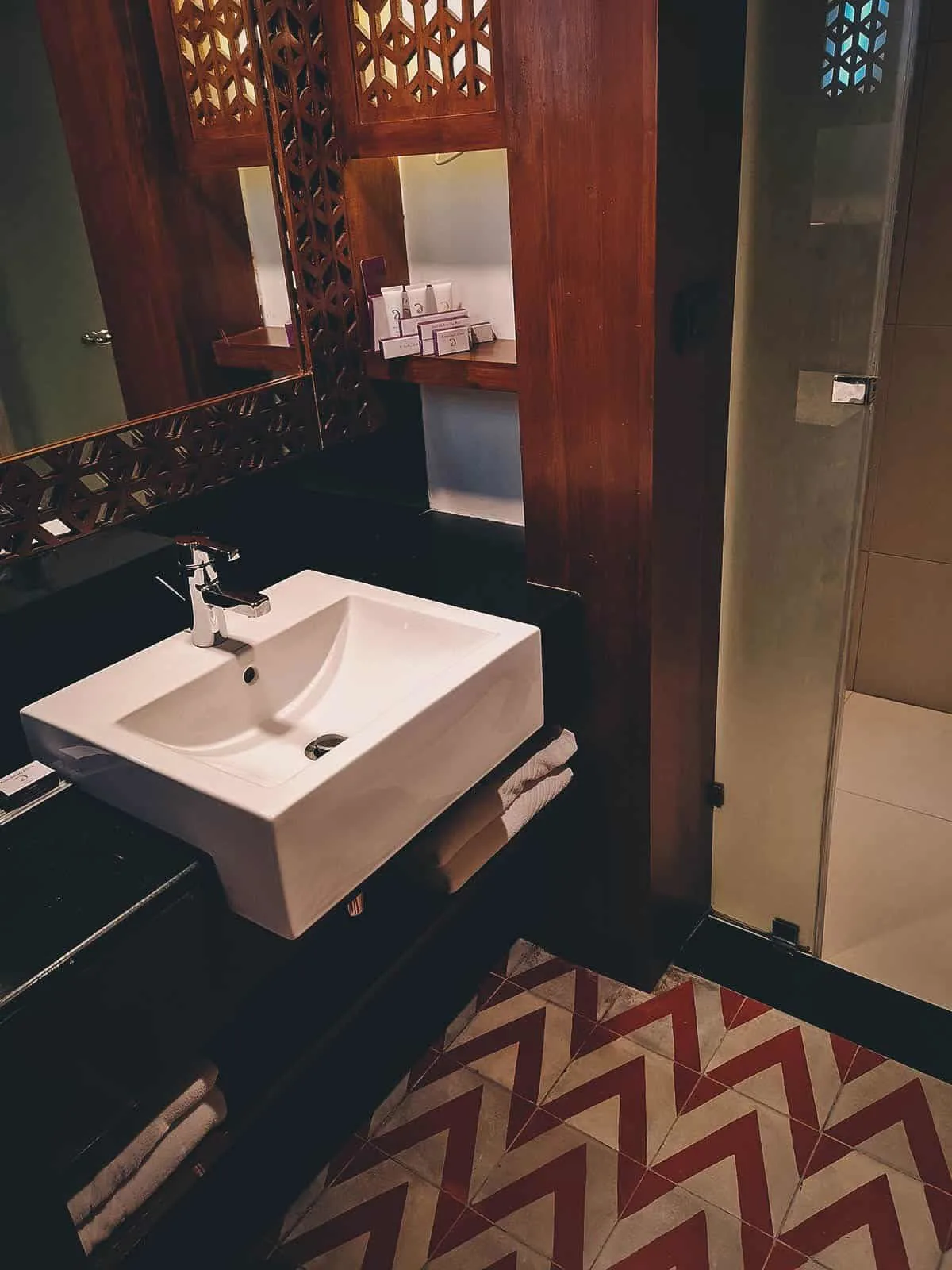 The view from my room's terrace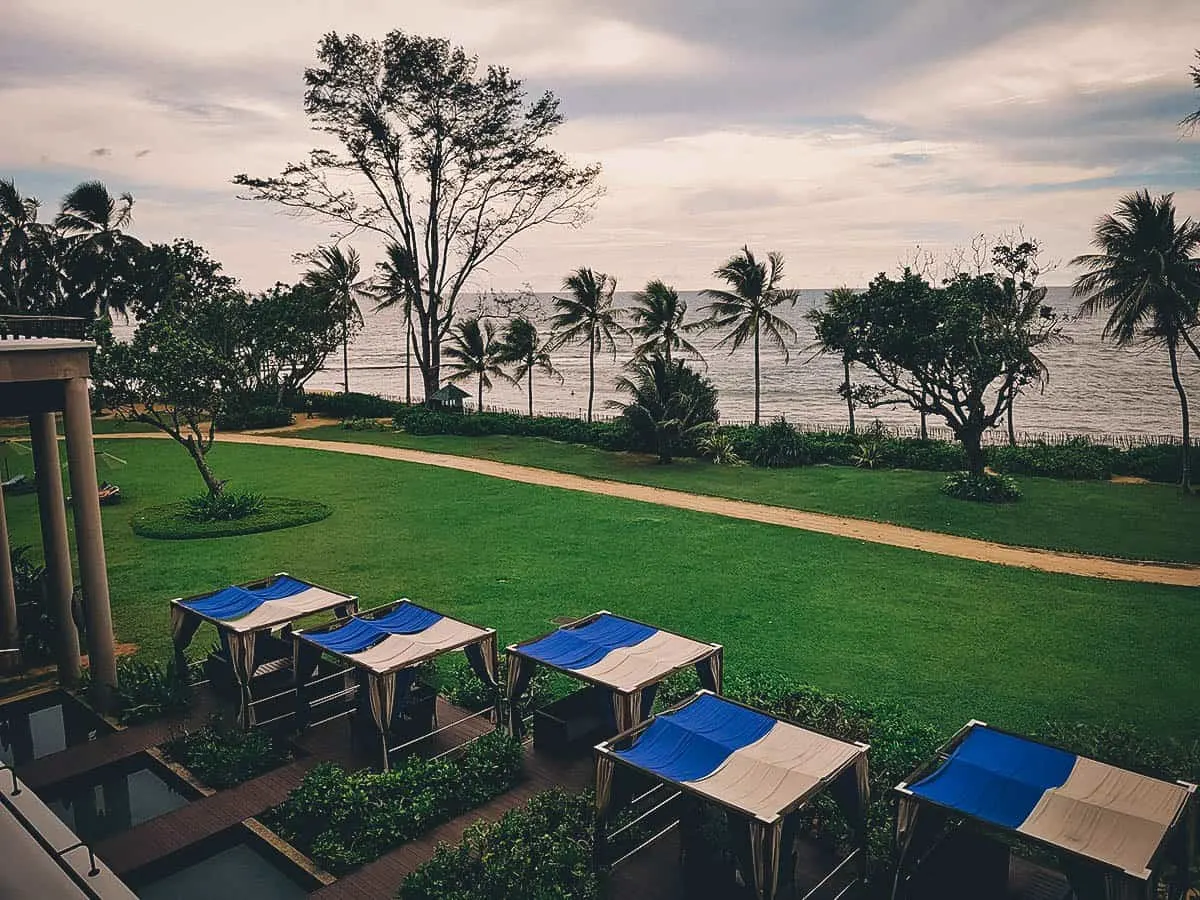 Fire Restaurant
We didn't eat here but Fire is one of Cinnamon Bey Beruwala's six restaurants. It's a fine dining pizzeria and grill.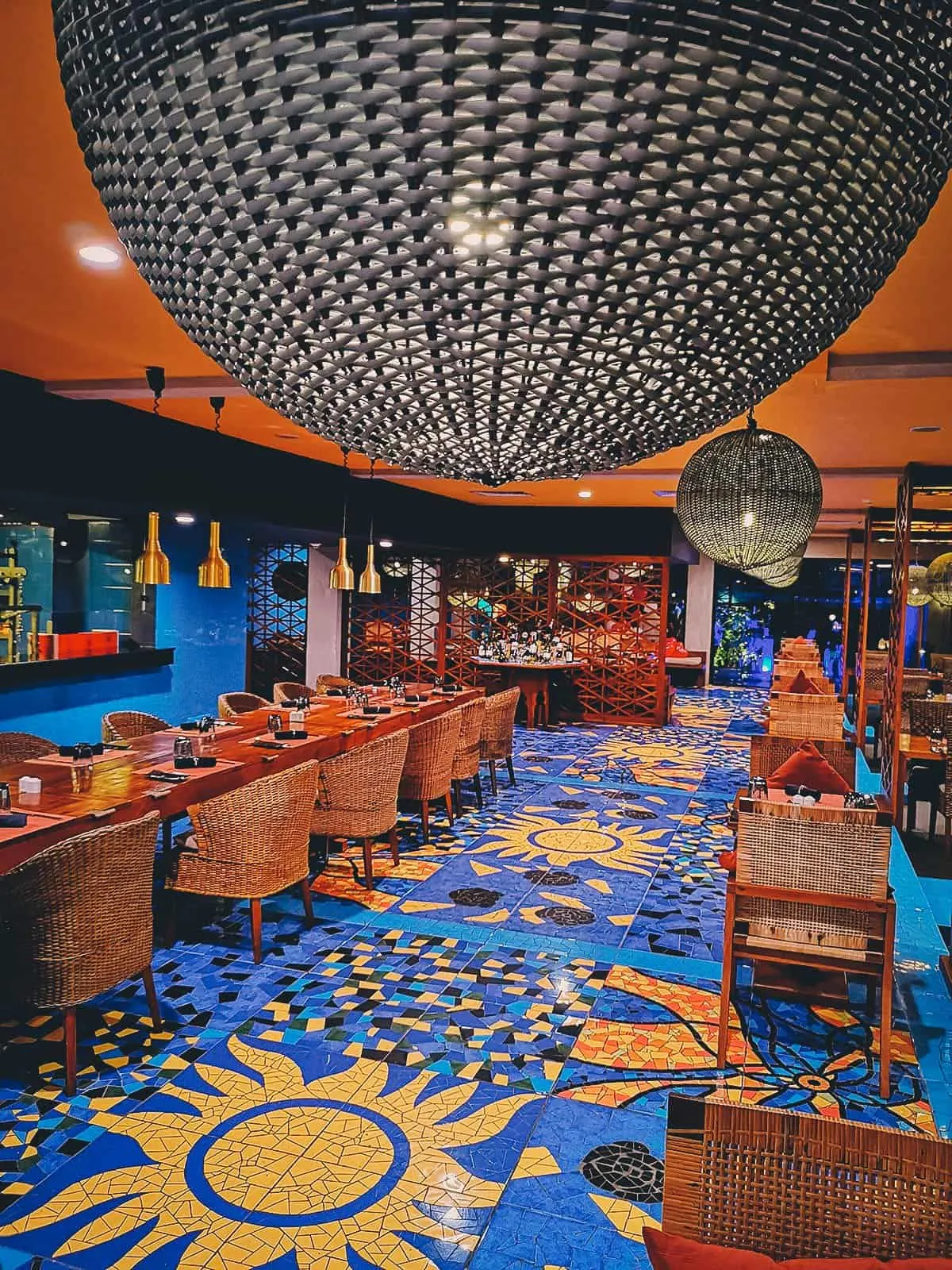 Rock Salt Restaurant
This place is awesome. Shortly after checking in, Rock Salt's chef took us to a seaside market to buy fresh fish which he'd prepare for tonight's dinner. It was the absolute best meal I'd have in my two weeks in Sri Lanka. Rock Salt is known for lava rock cooking, and is alleged to be the first restaurant in the country to offer that type of dining experience.
To start, they served us this delicious platter of breads with a duo of dips.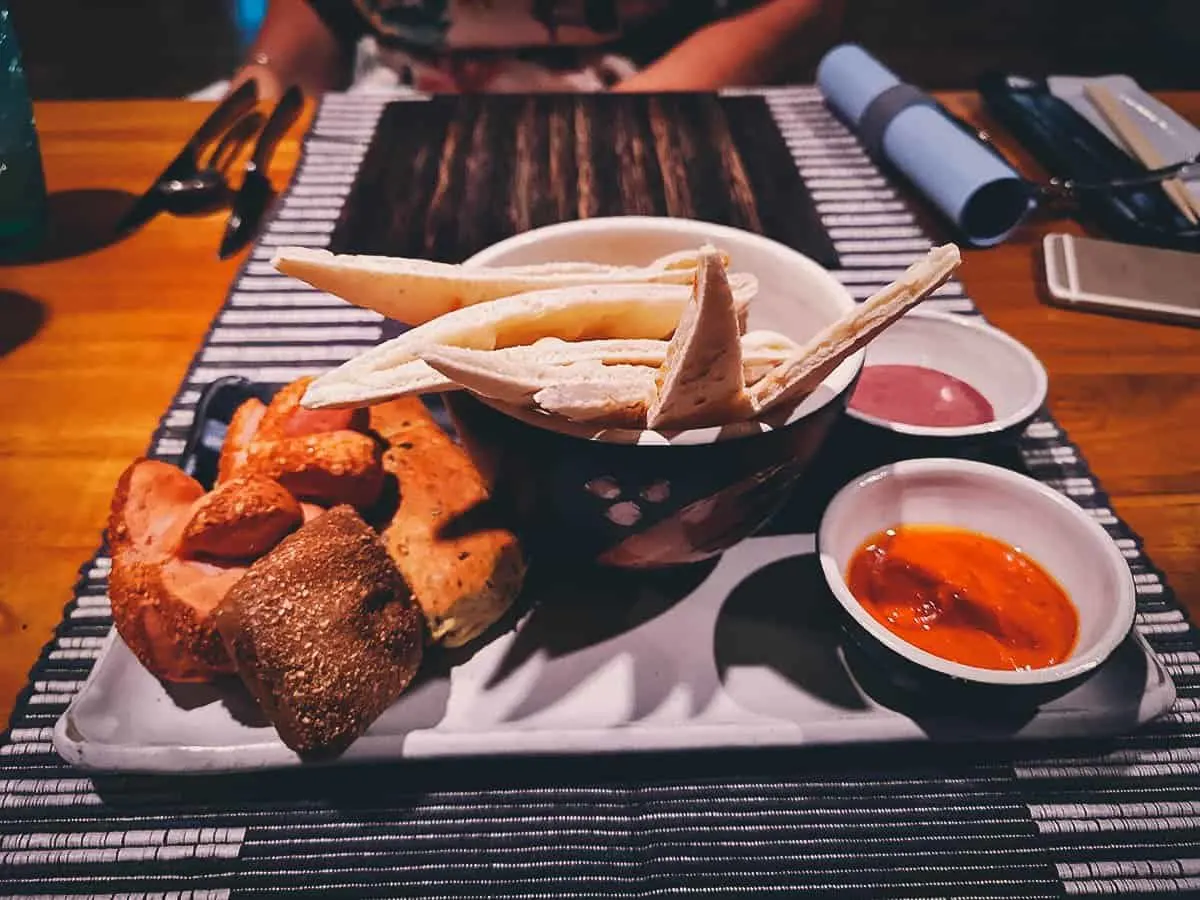 This wasn't tonight's main event but it was a show stopper. Housed in these personal igloos were the most delectable pieces of sashimi and sushi made from the fish we had bought from the market. Isn't the presentation sensational? I've never seen anything like this before!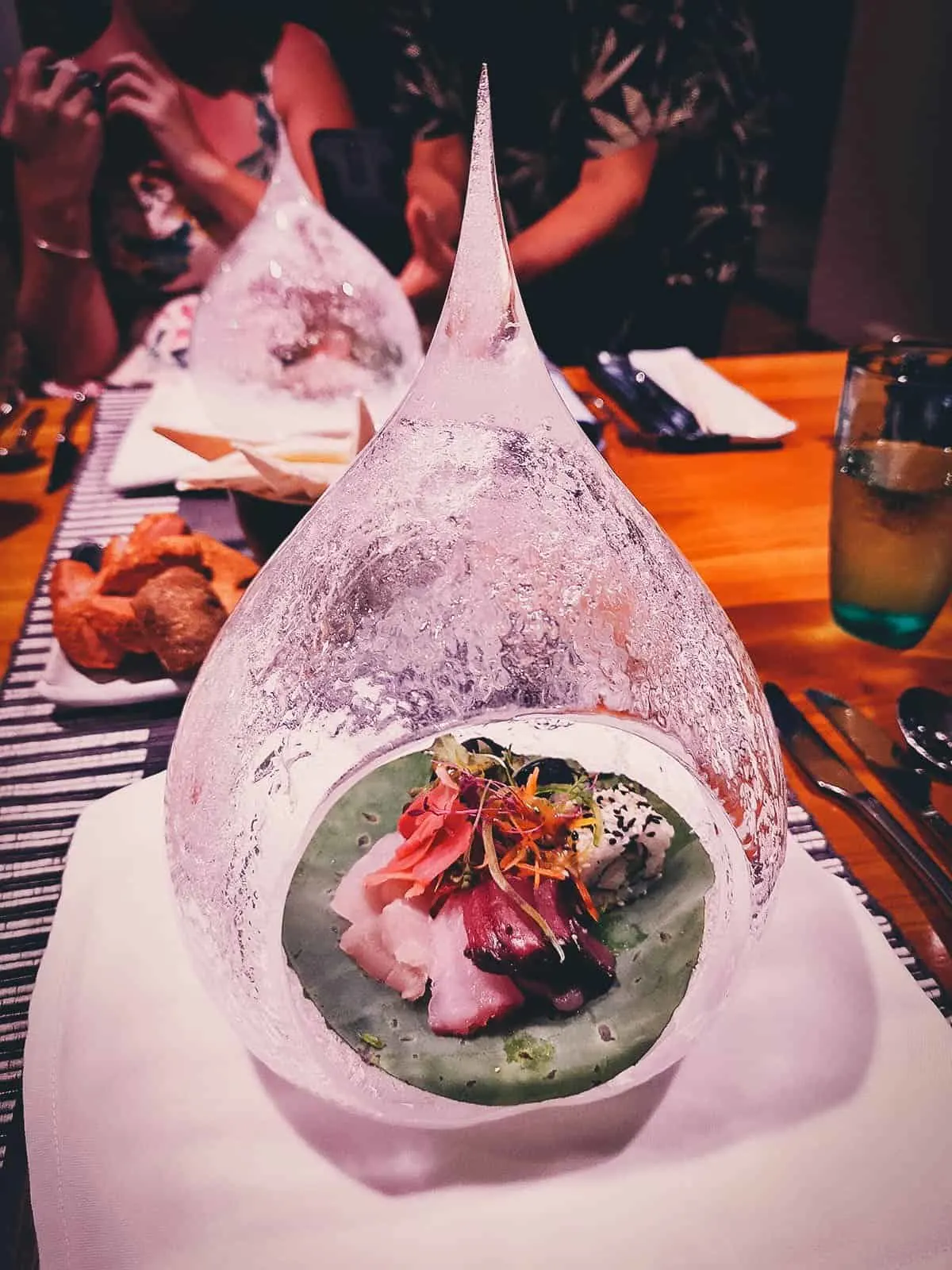 The sashimi and sushi were fantastic, kept nice and chilled by this mini-fortress of ice. Best of all, I got to enjoy three servings of this since two of my blogger seatmates didn't eat raw fish. Happy to take them off your hands!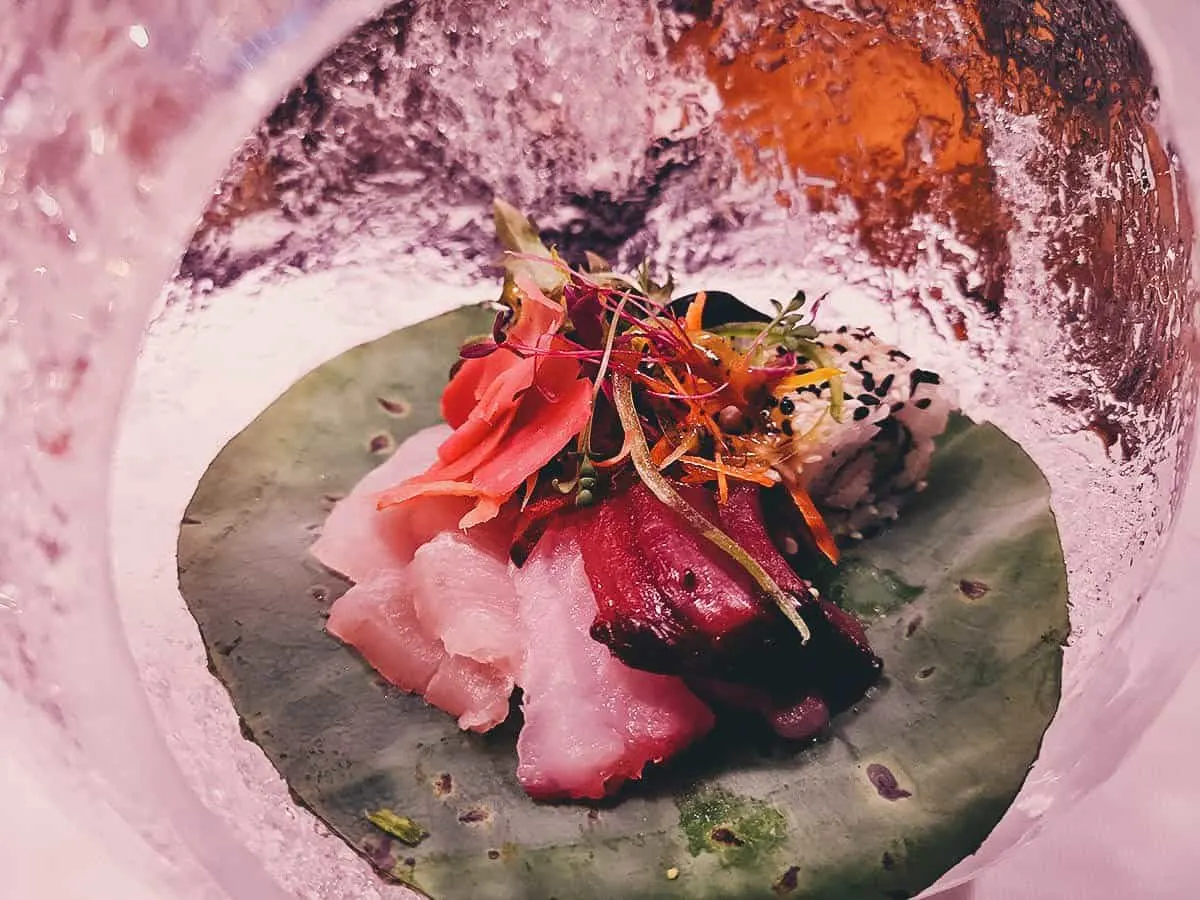 For our next course, we were served this seafood miso soup made with squid, fish, and mussels. Delicious!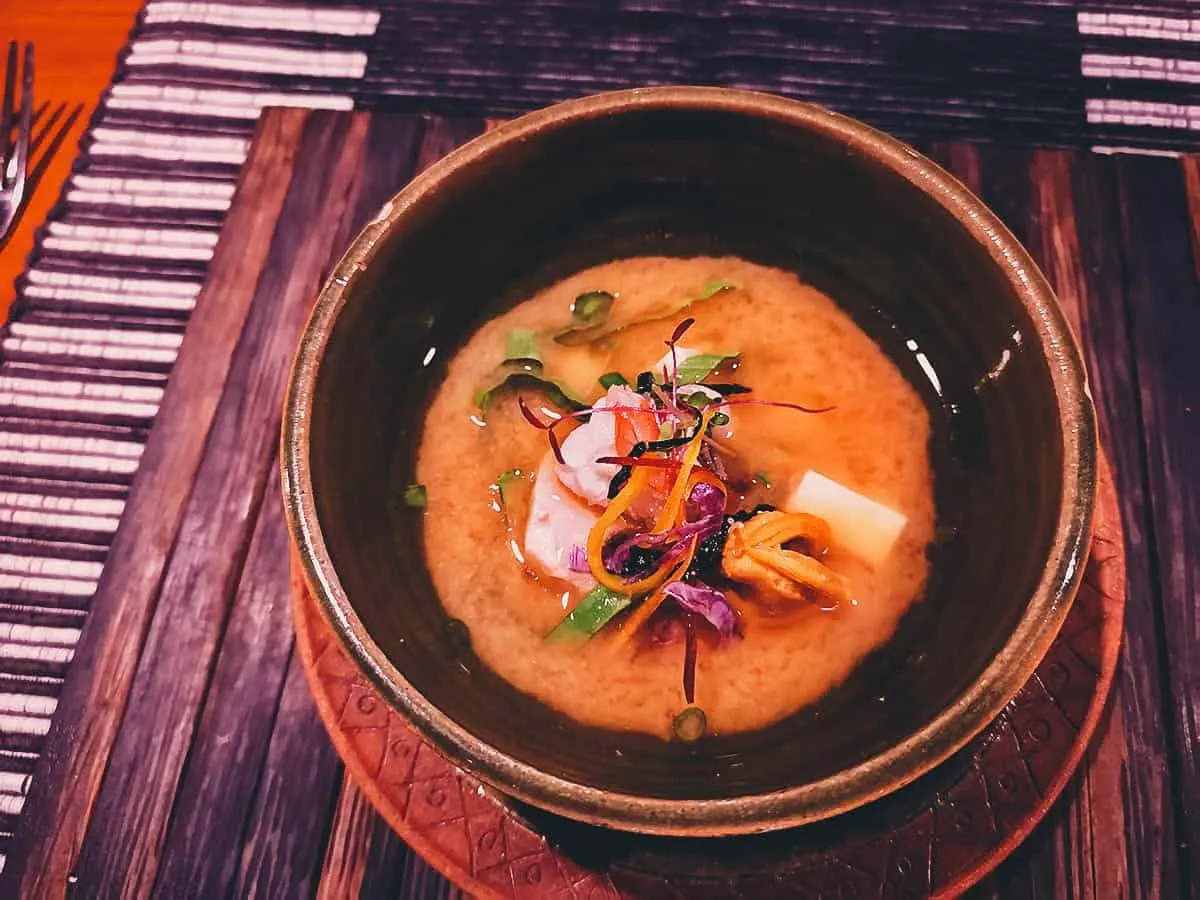 And now for the main event. As described, Rock Salt is known for its lava rock cooking. They gave each of us chef's hats and bibs, and set these scalding hot slabs of stone in front of us. We were served pieces of raw fish, shrimp, chicken, and vegetables which we'd cook ourselves on these stones. It was amazing and made for an ultra fun dining experience.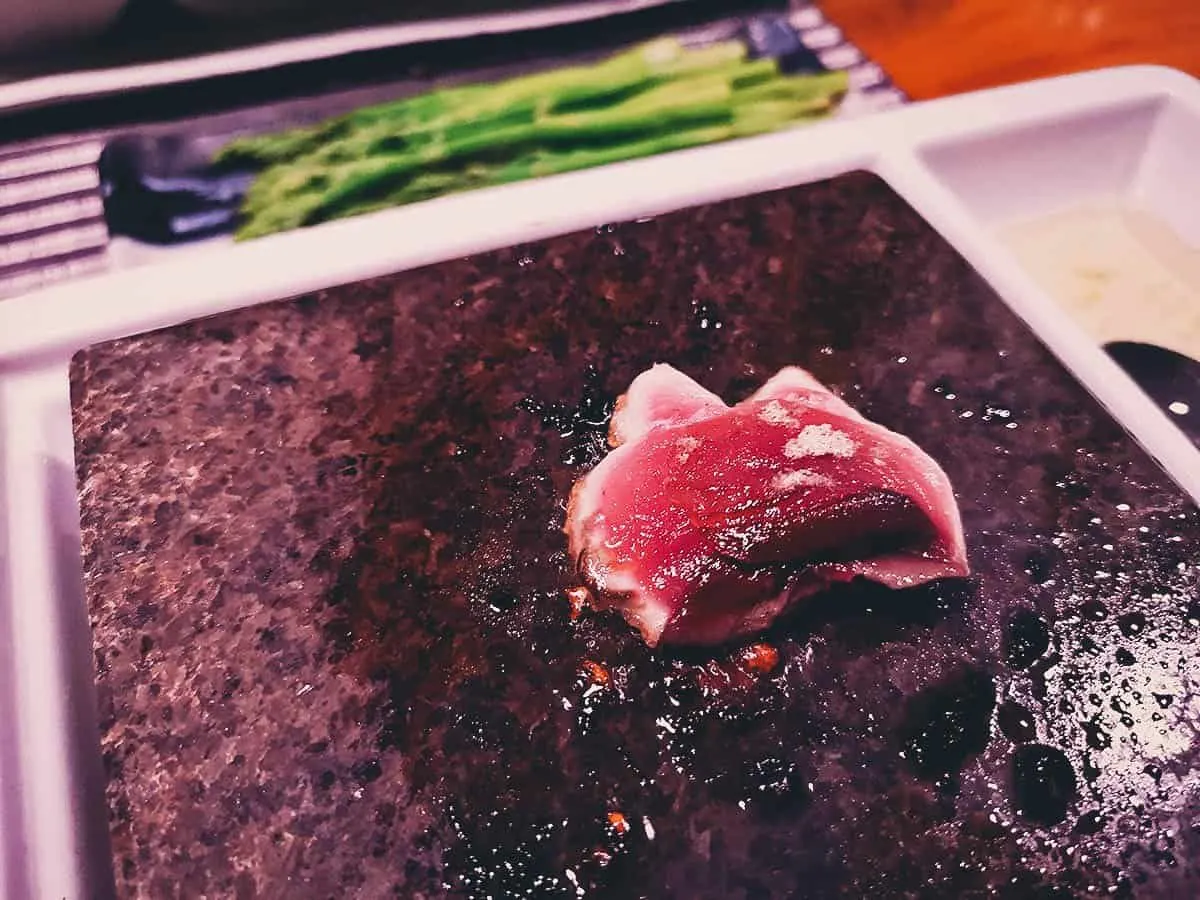 Grilling up a shrimp on me bar-b. I'm partial to seafood, especially sushi and sashimi, so tonight's dinner was easily the best meal I had in Sri Lanka. Thank you chef and Cinnamon Bey Beruwala for the fantastic dining experience!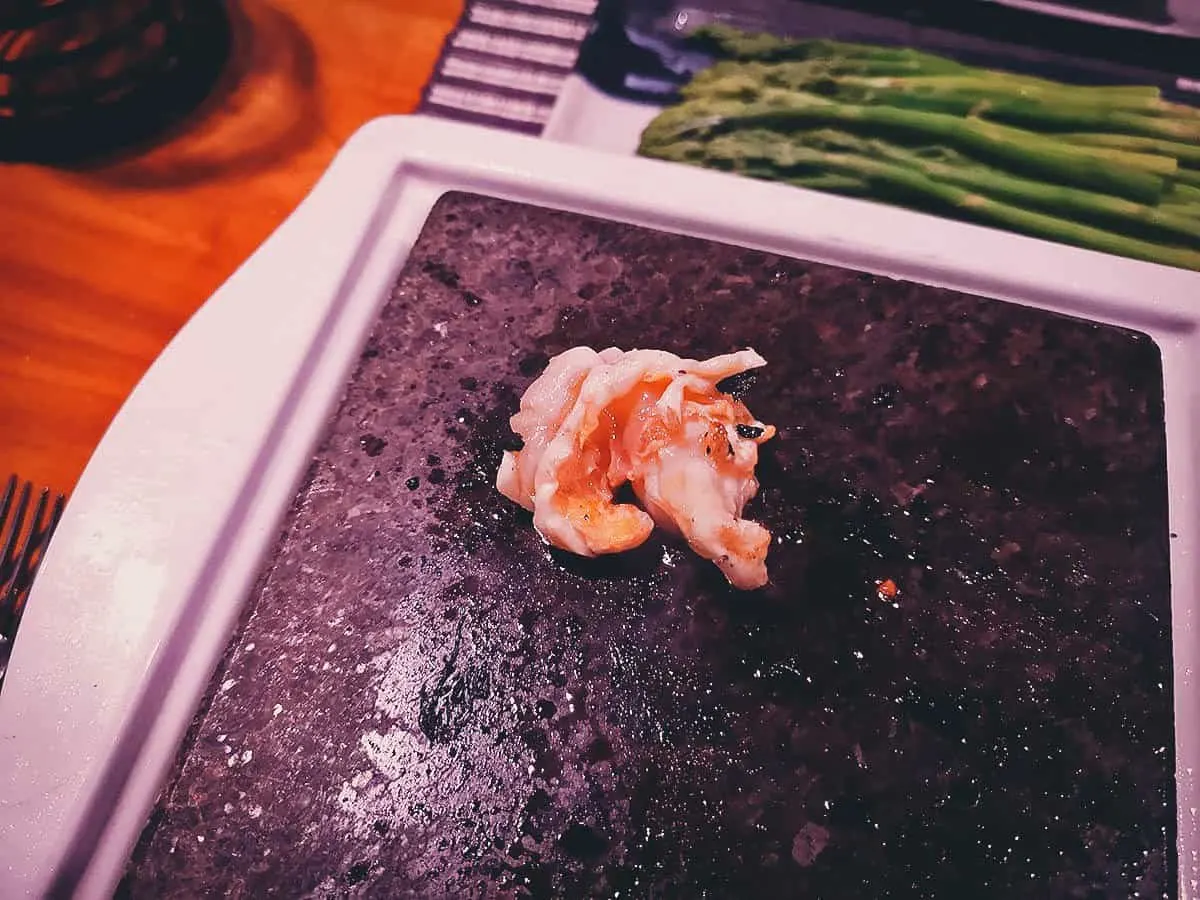 HIKKA TRANZ BY CINNAMON
Hikka Tranz by Cinnamon is a 4-star resort in lively Hikkaduwa, an area long been recognized as party central in Sri Lanka. Unlike Cinnamon Bey Beruwala which is more traditional and subdued, Hikka Tranz feels younger and more energetic. It's got a flashier color scheme and features a wall-to-wall mural in the lobby reminiscent of Jean-Michel Basquiat.
According to our guide Dharmin, Hikkaduwa was discovered and made famous by hippie travelers. It's nice to see you can enjoy luxury like this in a hippie beach haven like Hikkaduwa. Like the previous hotel, we stayed here for just one night and used it as a base to visit Galle and go whale watching in Mirissa.
Superior Room
My spacious superior room with a balcony overlooking the ocean. Each of these rooms measures 404 square feet.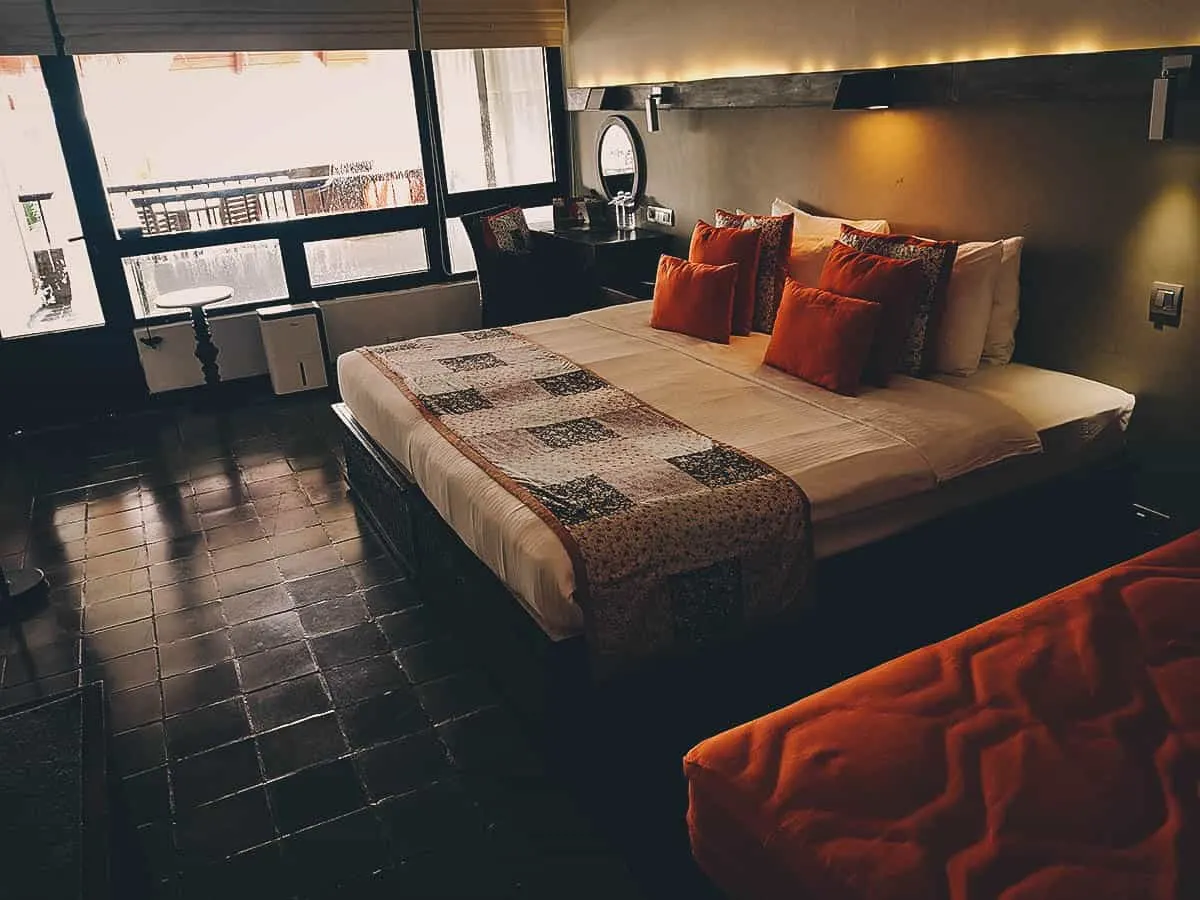 Nice bathroom, though not as interesting as the one at Cinnamon Bey Beruwala.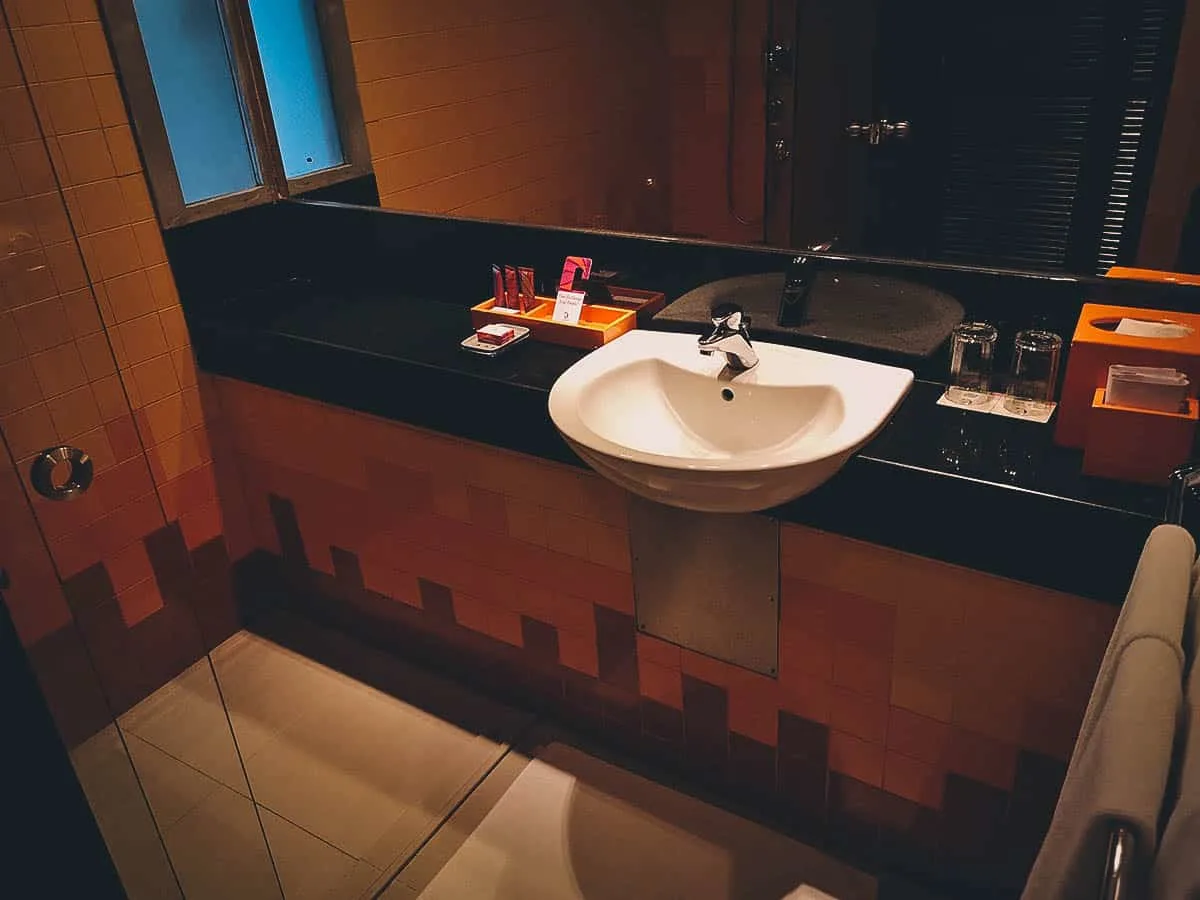 Isn't this balcony awesome? With more time, I would have loved to just lounge and have coffee here. Would have been a cool place to launch my drone too.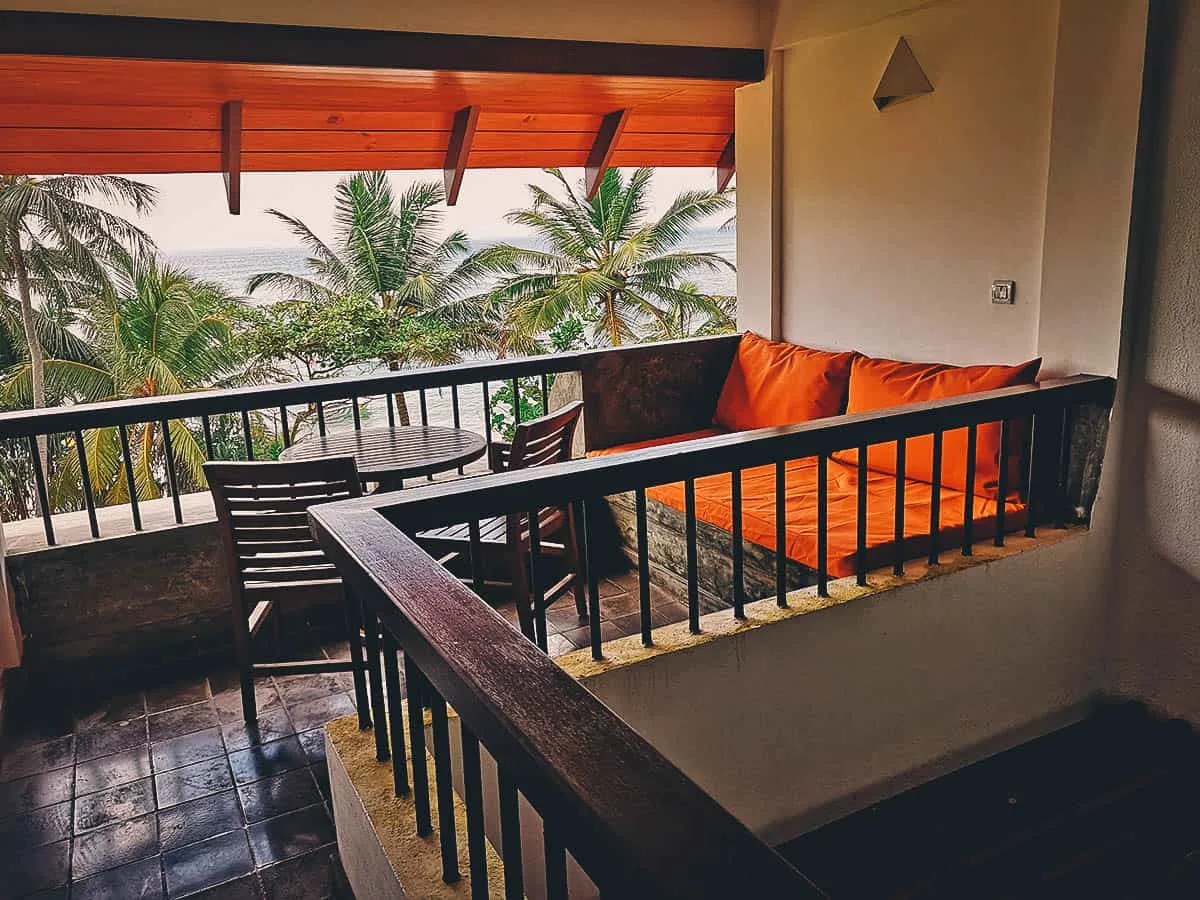 Check out my view! Like Cinnamon Bey Beruwala, Hikka Tranz is located right by the ocean so you get sweeping garden and ocean views from your room's balcony.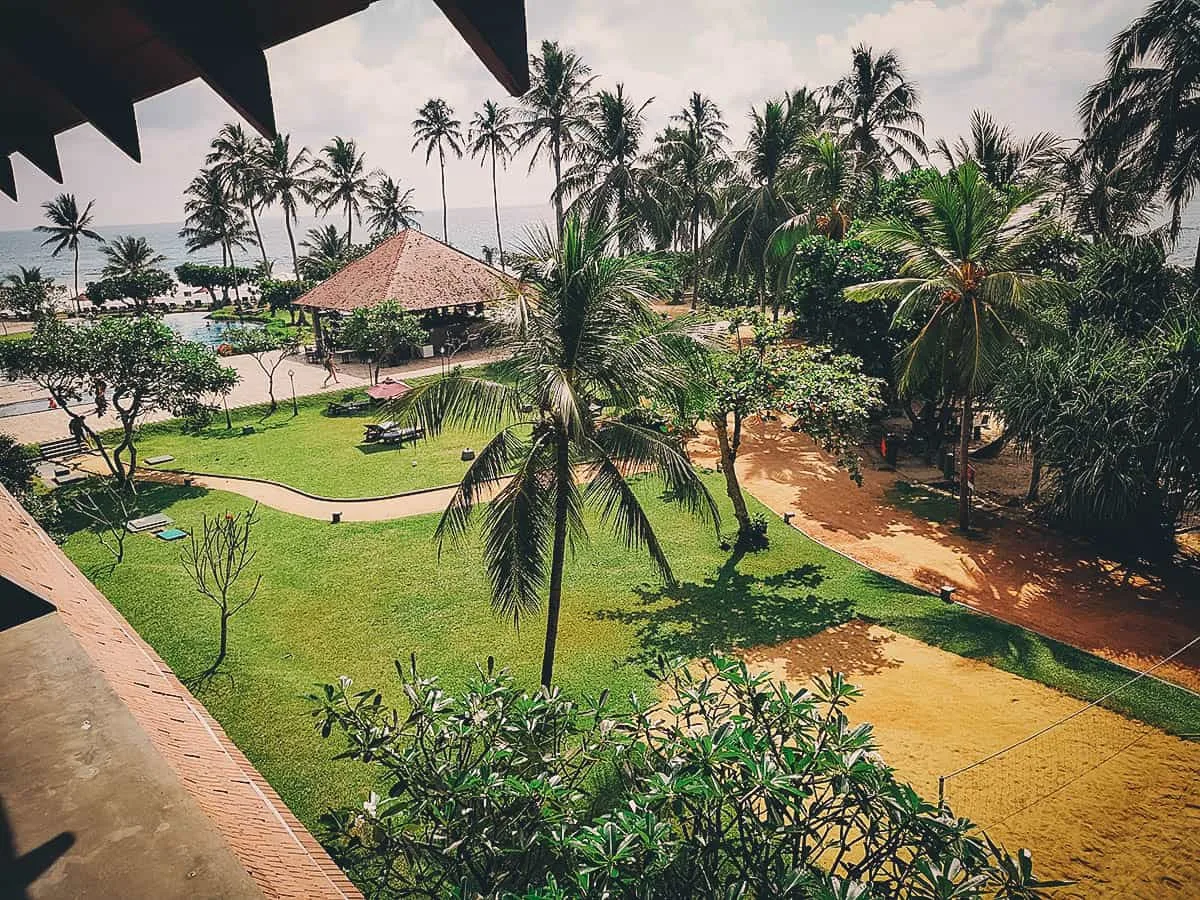 Tranzfusion Restaurant
Tranzfusion is the hotel's main restaurant. We enjoyed two meals here – lunch and dinner. Lunch consisted of an extensive buffet while dinner featured both a buffet and grilled-to-order dishes. There was even a shawarma station! The restaurant is located just a stone's throw from the ocean so you can enjoy the sound of crashing waves while you eat.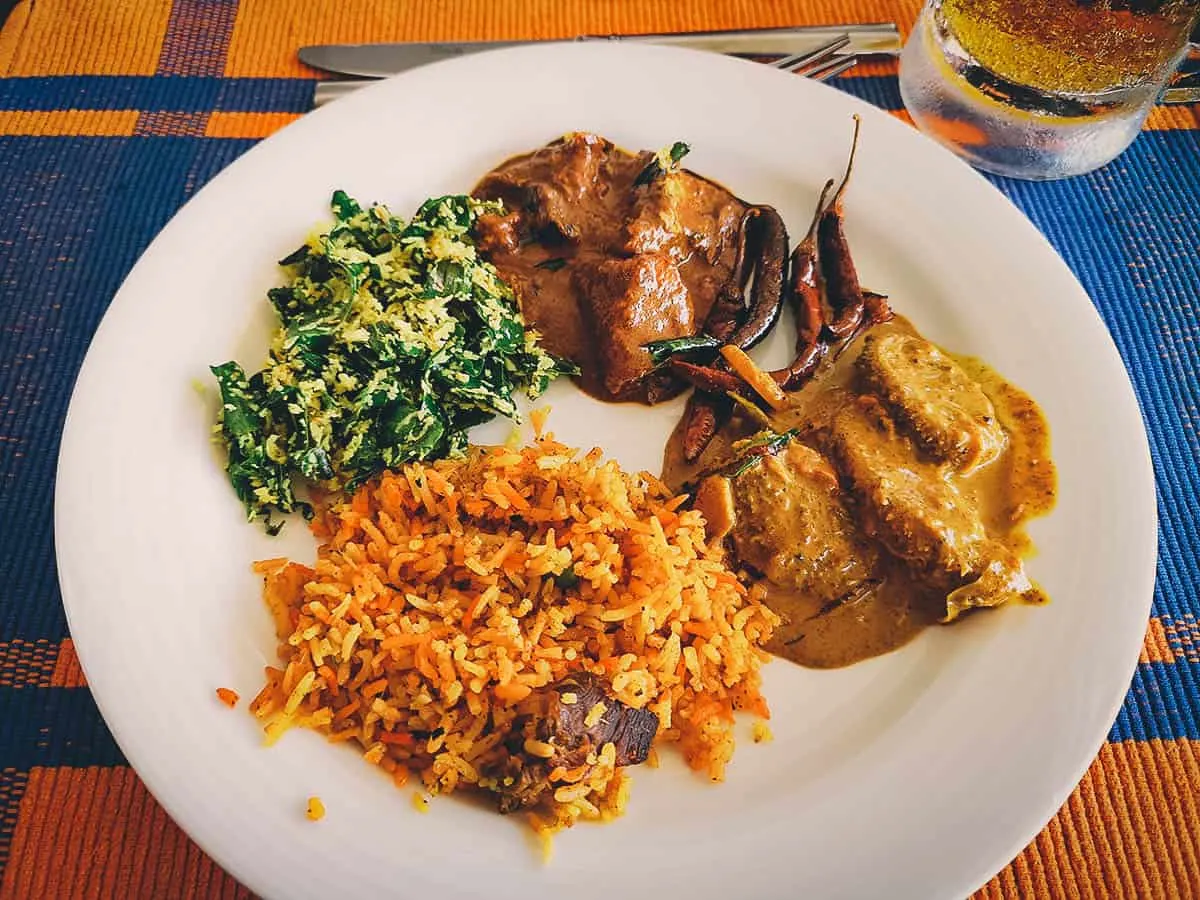 Check out this overflowing platter of grilled lobster! Being guests of the hotel, they served us two platters of these scrumptious, perfectly cooked lobsters. Thanks you so much Hikka Tranz!

CINNAMON WILD YALA
This was my favorite hotel from the four we stayed at. I enjoyed it not because it was the most luxurious or beautiful, but because it was the most interesting. Cinnamon Wild Yala is a 4-star resort in Tissamaharama, a town often used as a base for Yala National Park safaris. We stayed here for two nights and went on safari once. It was awesome.
Jungle Chalet
Unlike the previous two hotels where the rooms are located inside a main structure, Cinnamon Wild Yala is comprised of these detached bungalows consisting of four rooms each, two on either side.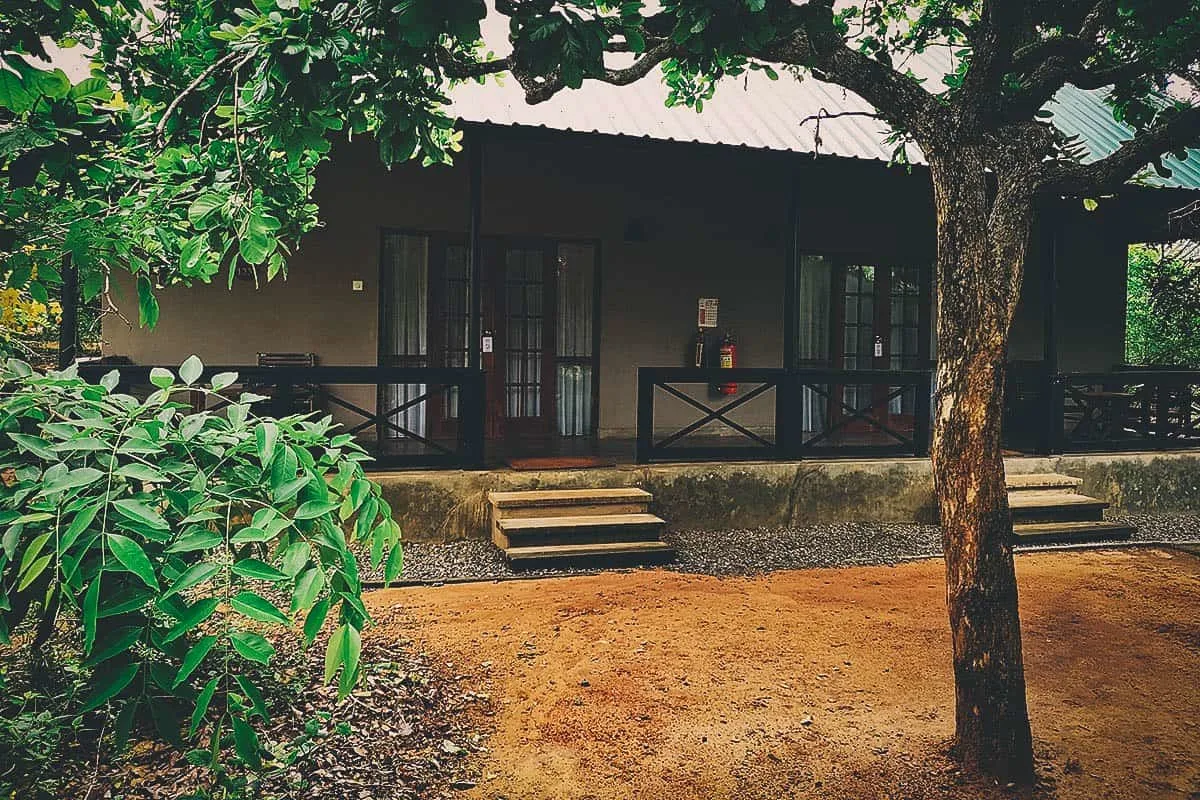 Check out my fantastic jungle chalet. It's even got a canopy with mosquito net which I didn't need at all. Not sure what it's like in other seasons but there were no mosquitos or bugs when we were there. The earthy, natural styling of the room really does make you feel like you're on safari. These jungle chalets measure 484 square feet each.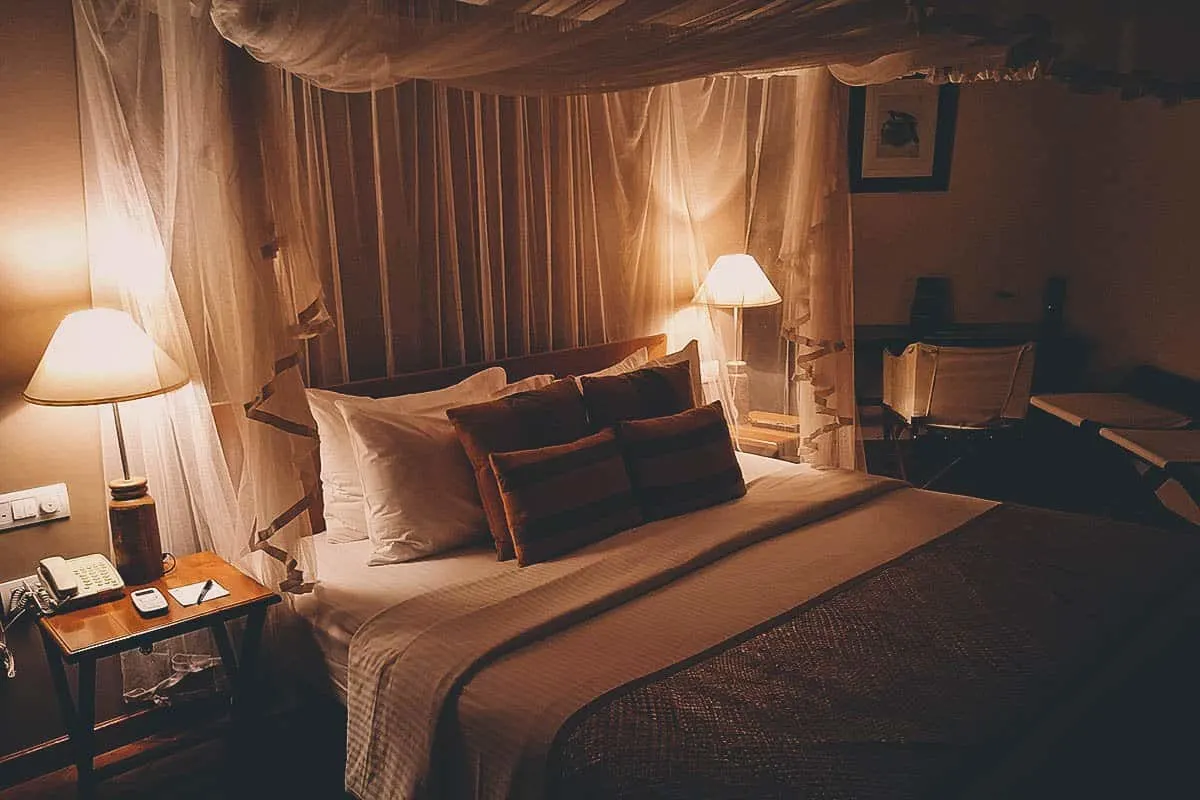 LOVE the bathroom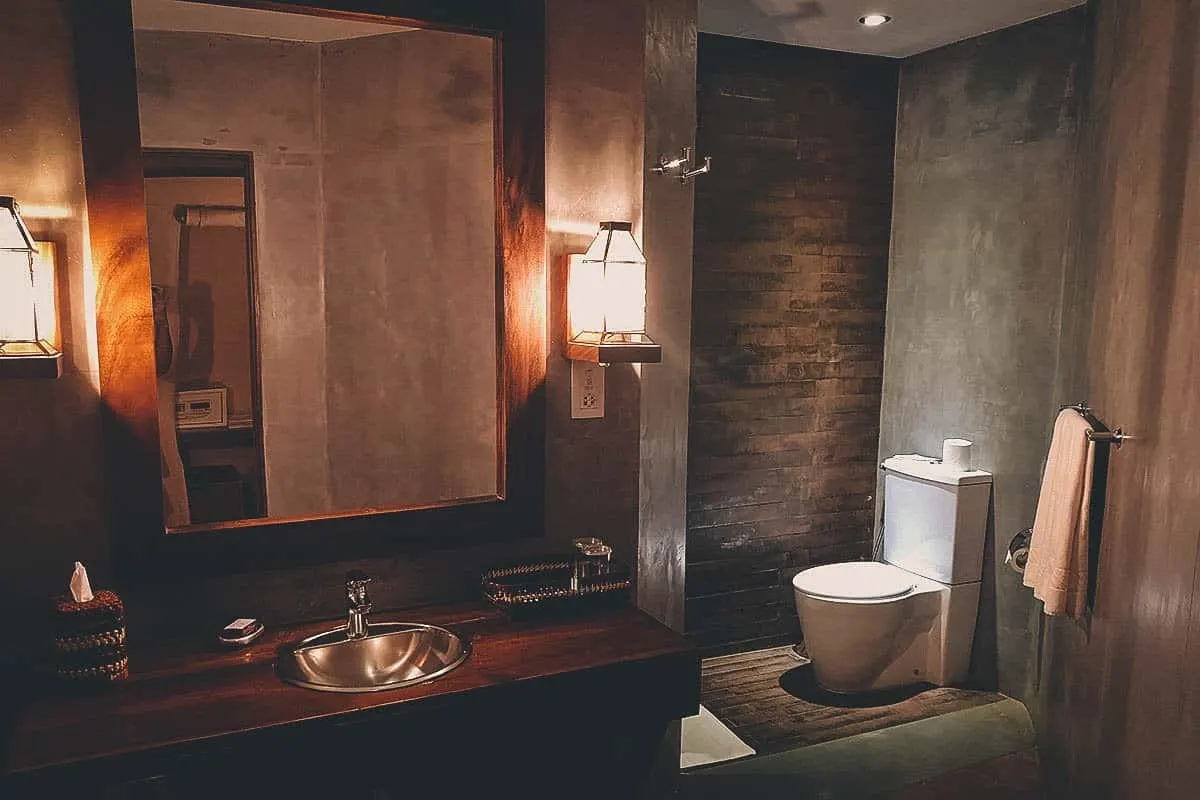 Tuskers Restaurant
Tuskers is the resort's main restaurant offering Sri Lankan and continental cuisine in a buffet setting. On the right side of my plate below is a Sri Lankan egg hopper, which is a rice and coconut crepe made with egg. Garnished with a spicy sambal, it's absolutely delicious and probably my single favorite Sri Lankan dish. Serious yum!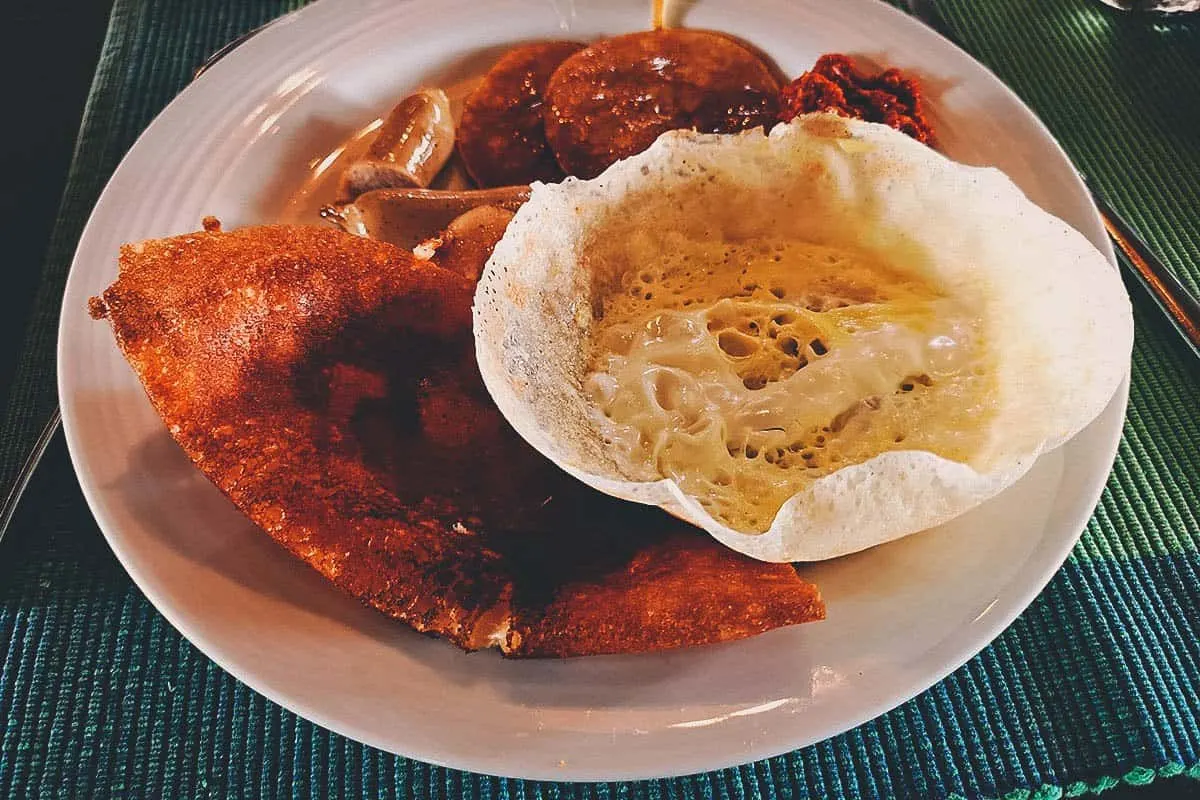 Reservoir
That reservoir in the distance is one of the reasons way I loved this resort so much. This picture was taken from the roofdeck of the main reception building, but you can easily walk to the reservoir from your jungle chalet. It was about a five minute-walk from mine.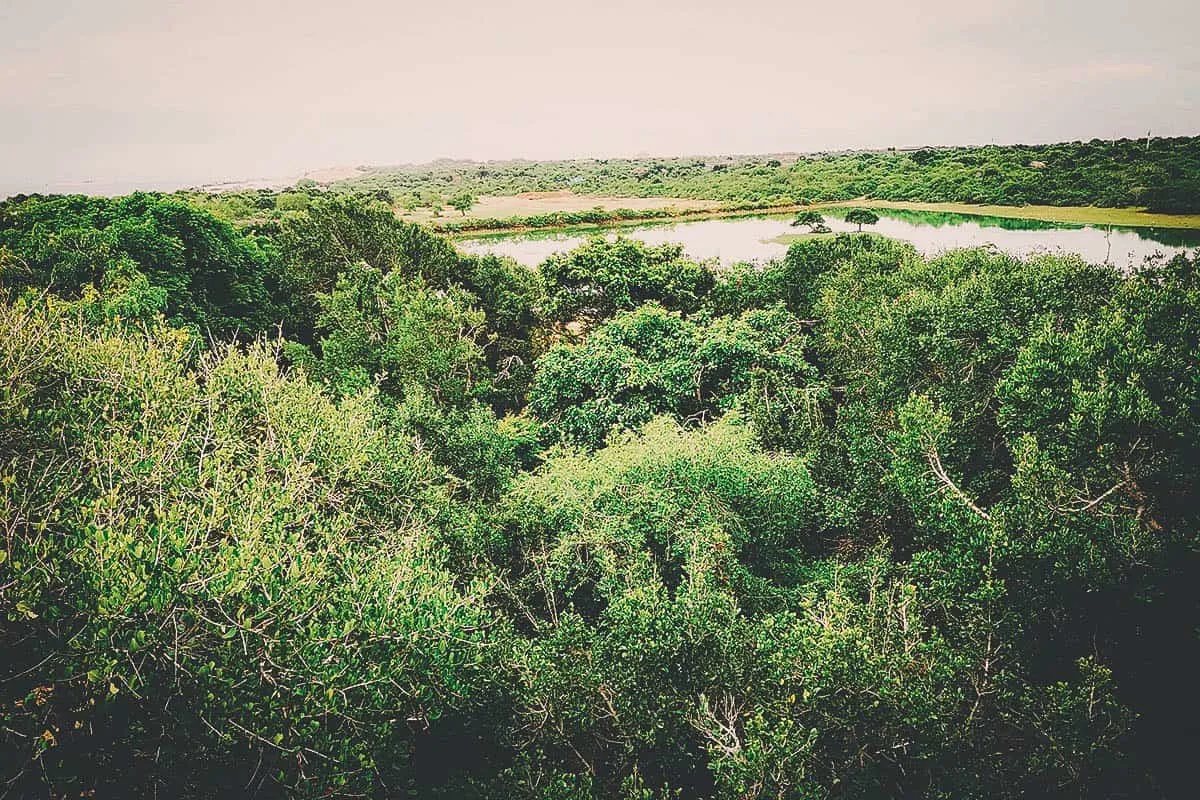 Here's the reservoir from up close. Do you see those horizontal objects in the water? They aren't logs or branches. They're crocodiles. Yes, live crocodiles. There are crocs in the reservoir and wild buffalo on its banks. It's crazy to think that I walked here from my chalet without any barrier separating the crocs from me. I could freely stroll into the water or them to me. Awesome but crazy!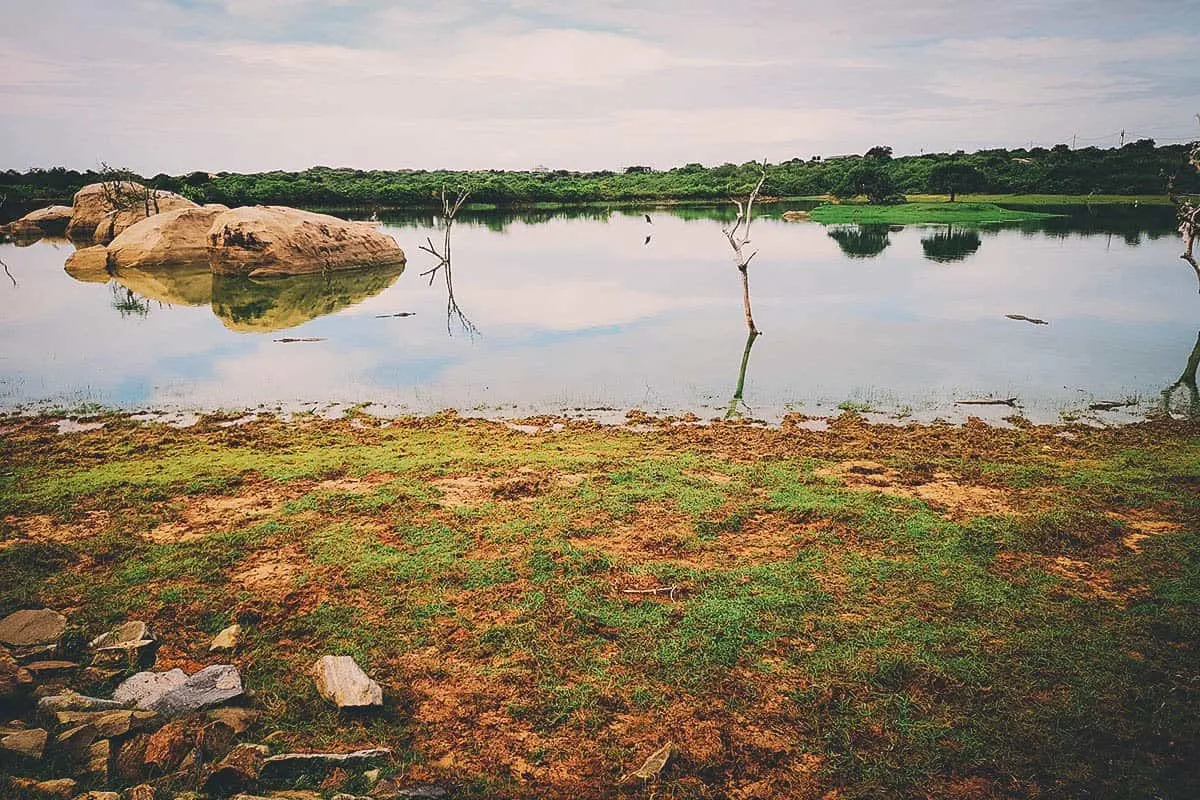 Here's a better look at one of the crocs. I'd never seen anything like this before so I had to fly my drone. You're allowed to fly a drone here with a permit from the CAA, but just don't get too close to the wildlife.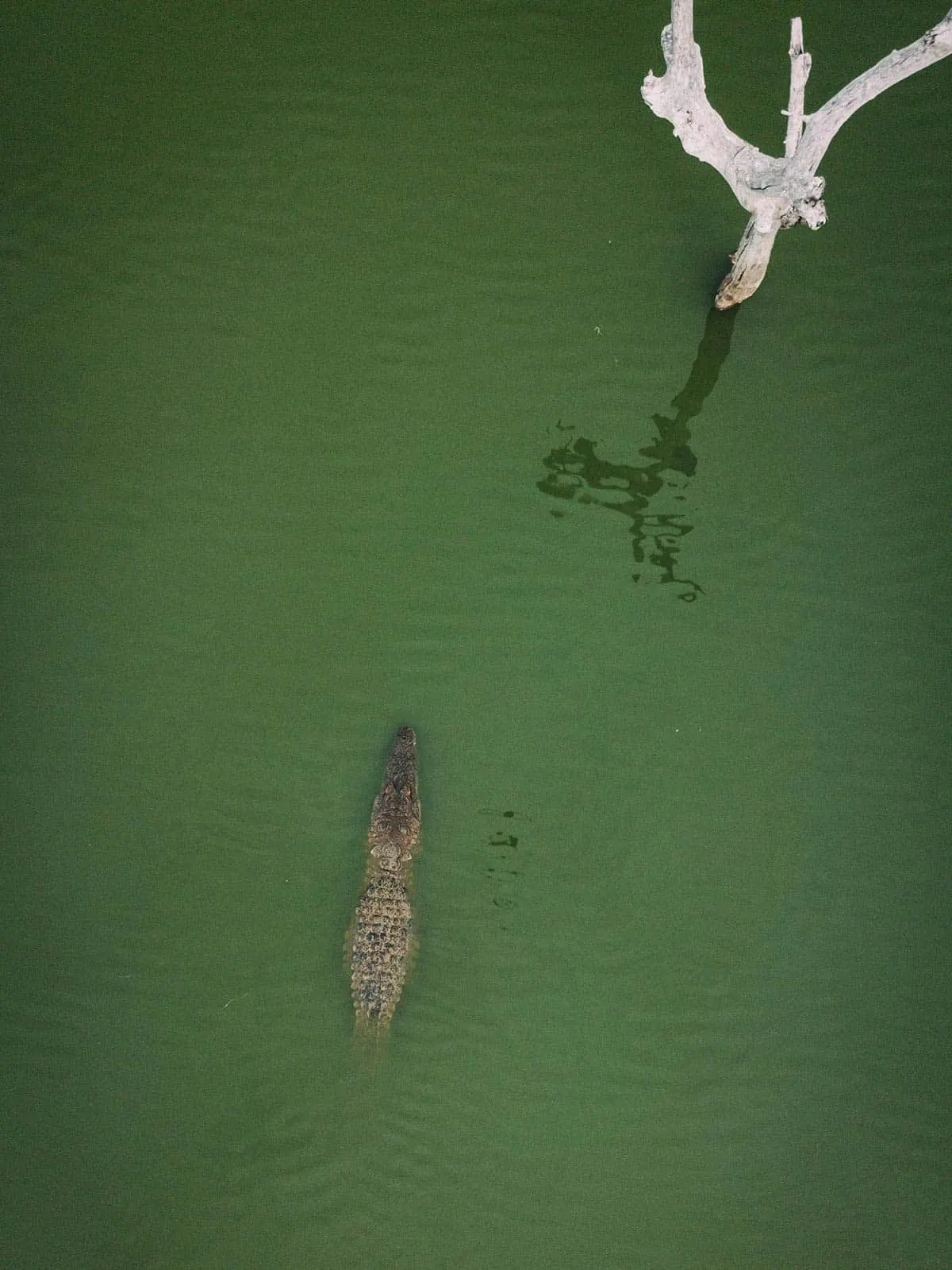 If you think crocs and buffalo are scary enough, check out this sign close to the water's edge. I'm sure they didn't mean for it to be funny but it's absolutely hilarious, especially the last paragraph.

Beach
I love reptiles so I was happy to spot monitors throughout Sri Lanka. Cinnamon Wild Yala is located not too far from the beach. I passed this little guy on my way there one morning.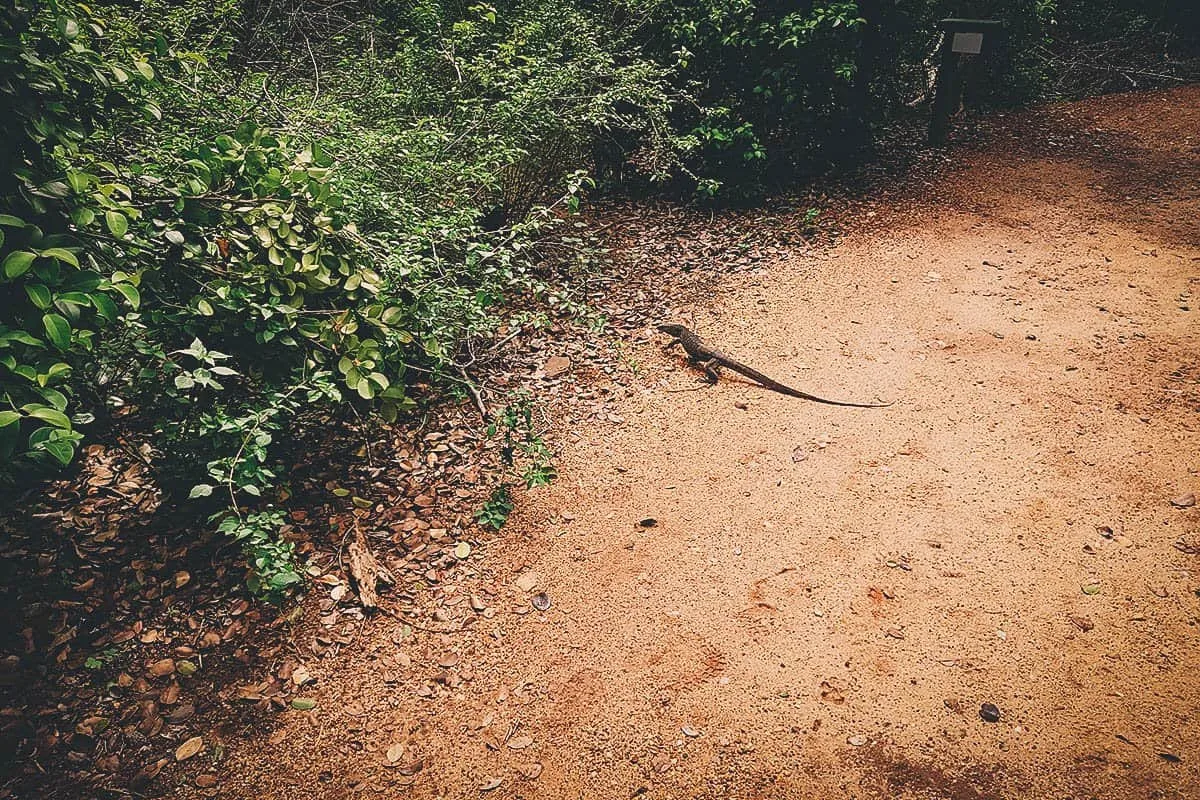 Through the jungle is this long stretch of beautiful sandy beach. Unfortunately, you can't swim here because the waves are too strong but feel free to take your shoes off and go for a stroll. There's hardly anyone around and the sand is fine. There's Archana of Travel See Write about to get soaked by a crashing wave.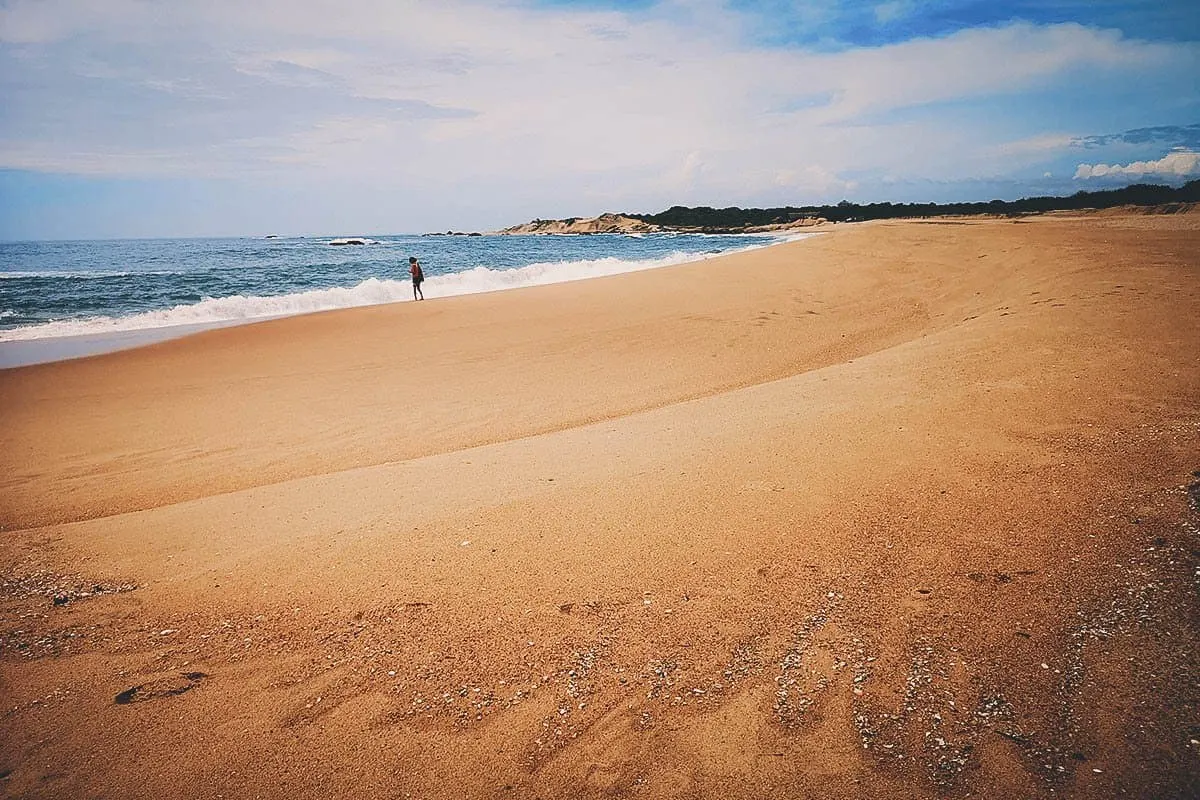 Here's an aerial picture of the coastline taken with my drone. Absolutely stunning landscape here.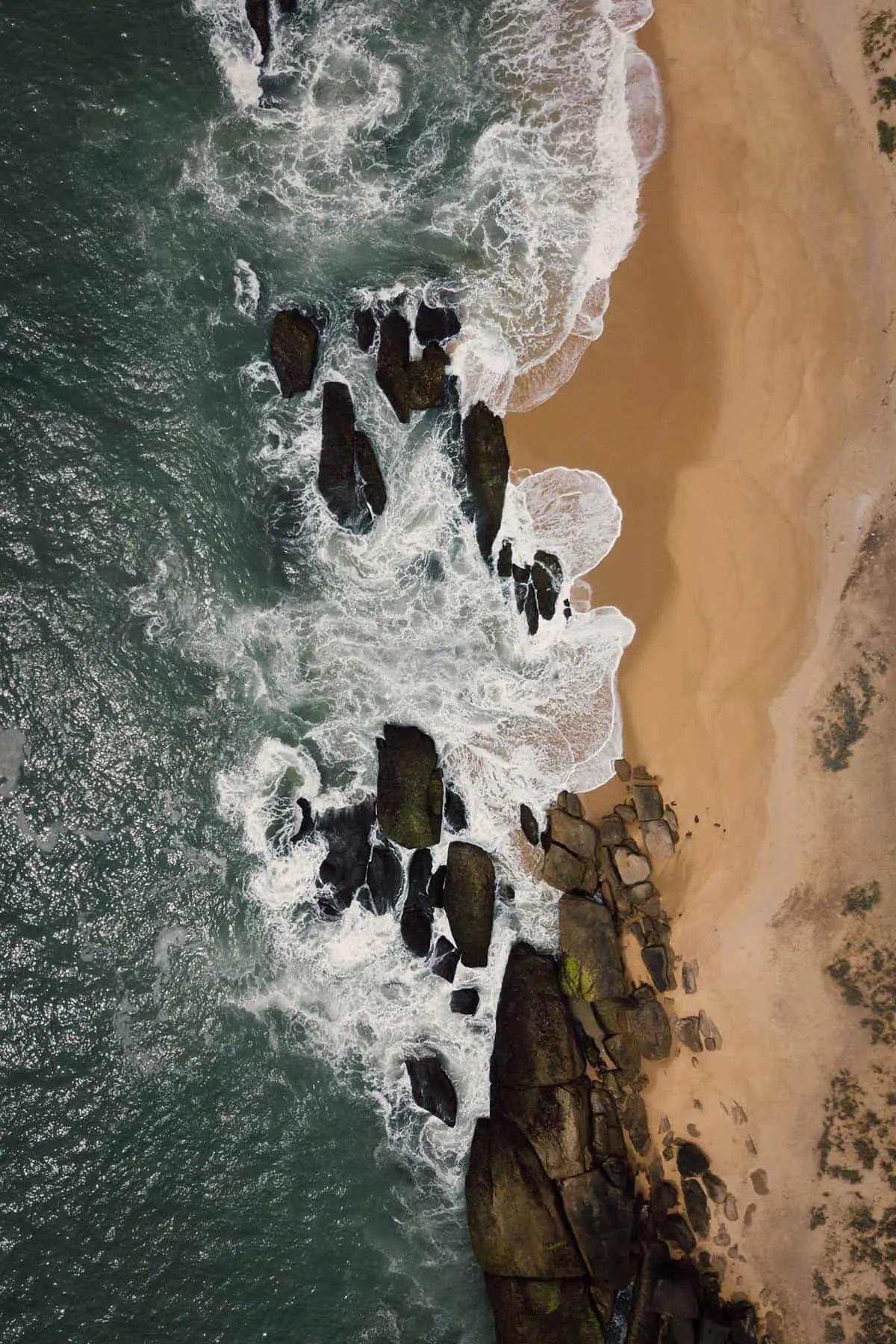 CINNAMON GRAND COLOMBO
After our press trip, we proceeded to Colombo for the conference. We were put up at Cinnamon Grand Colombo, a 5-star hotel which is known for being the biggest in Sri Lanka. It boasts 501 rooms, 14 restaurants, and 10 event spaces, making it the ideal venue for TBC Asia 2018.
Cinnamon Deluxe Room
My snazzy deluxe room. It doesn't have as much personality as the others but it's arguably the most luxurious of the four.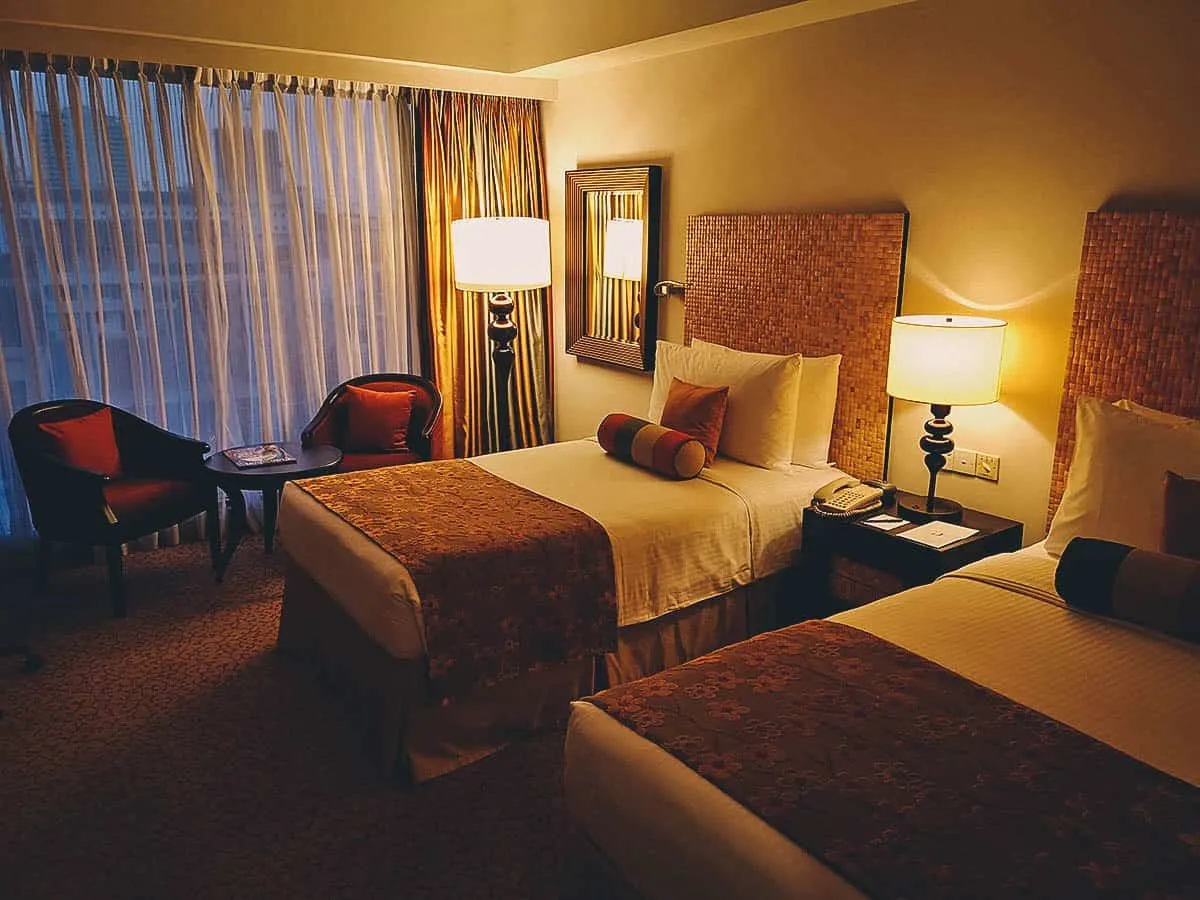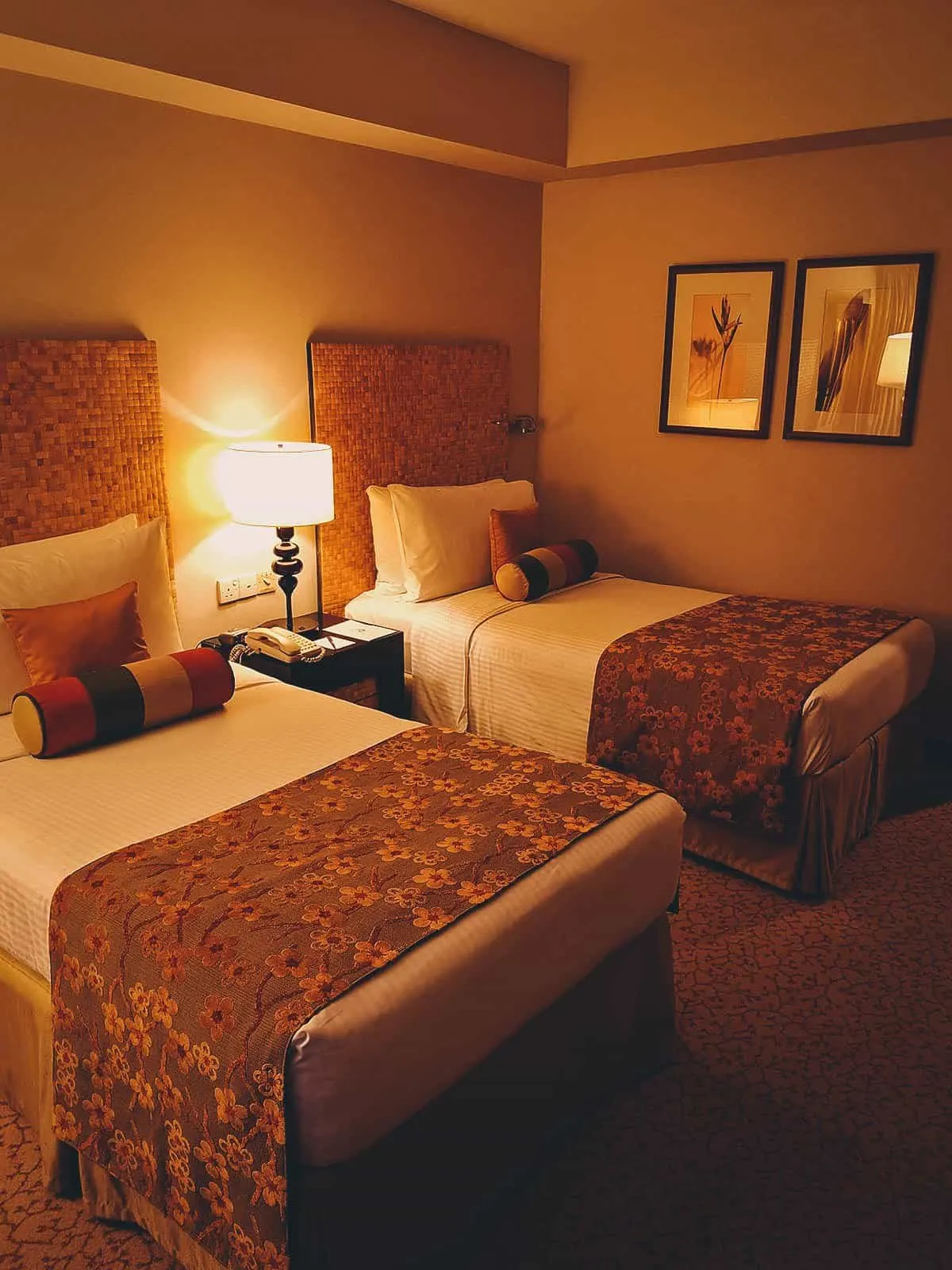 Nuga Gama Restaurant
The night before the conference, Cinnamon Grand hosted a special dinner for us at Nuga Gama, an open-air restaurant made to look like a traditional village with its wattle and daub huts. It's an impressive space, at the center of which is a towering 200-year old banyan tree. We enjoyed many buffets during our press trip but the spread offered here was by far the best and biggest.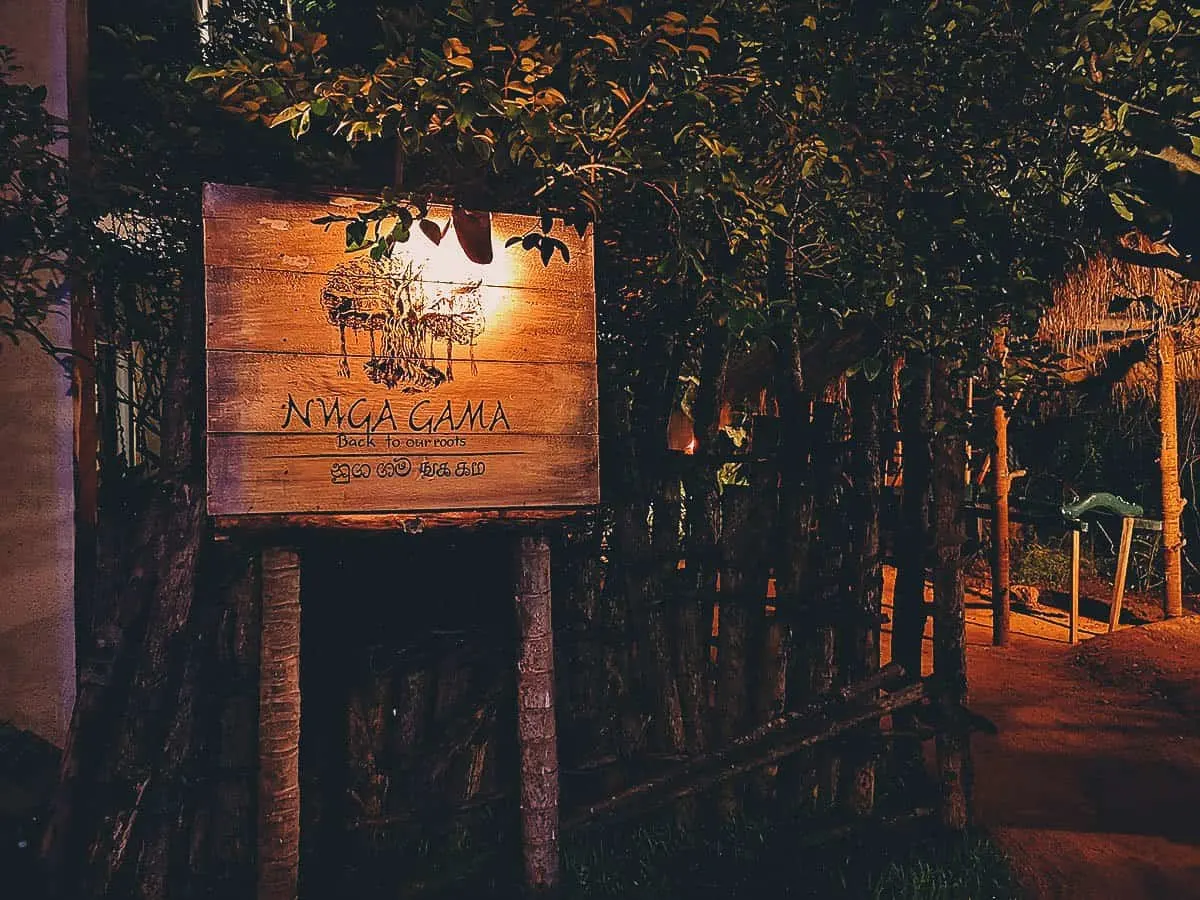 As if the food and venue weren't impressive enough, they treated us to a cultural show over dinner. There were traditional dancers and musicians, even this fire breather! It was a terrific meal and show that capped off a perfect week in Sri Lanka. Thank you so much Cinnamon Hotels!

Disclosure
I was in Sri Lanka on an all-expense paid trip to attend Cinnamon TBC Asia 2018. We were sent on a 5-day press trip and we were given free room and board. As always, all thoughts and opinions expressed in this post are mine and mine alone.
The hotel booking links in this post are affiliate links, meaning we'll get a small commission if you make a reservation at NO extra cost to you. We really appreciate your support as it helps us keep this website going. Thank you!