I was in Sri Lanka recently to attend TBC Asia 2018, a tourism conference that connected industry professionals with travel bloggers and social media influencers from around the globe. Before the day of the conference, all sixty bloggers and influencers were sent on a 5-day press trip to different parts of the country. We were given a choice of four tours – central, south, north central, or east. I chose the south tour, all because of this safari.
I didn't know this at the time but Yala National Park is home to one of the highest if not the highest concentration of leopards in the wild. It's also home to mega fauna like elephants, wild buffalo, and sloth bears, as well as a slew of bird species and smaller mammals and reptiles.
I'm an animal lover and it's been a dream of mine to go on safari in Africa, so for me, choosing this tour was an easy decision to make.
Save This on Pinterest!
No time to read this now? Click on the red save button and pin it for later!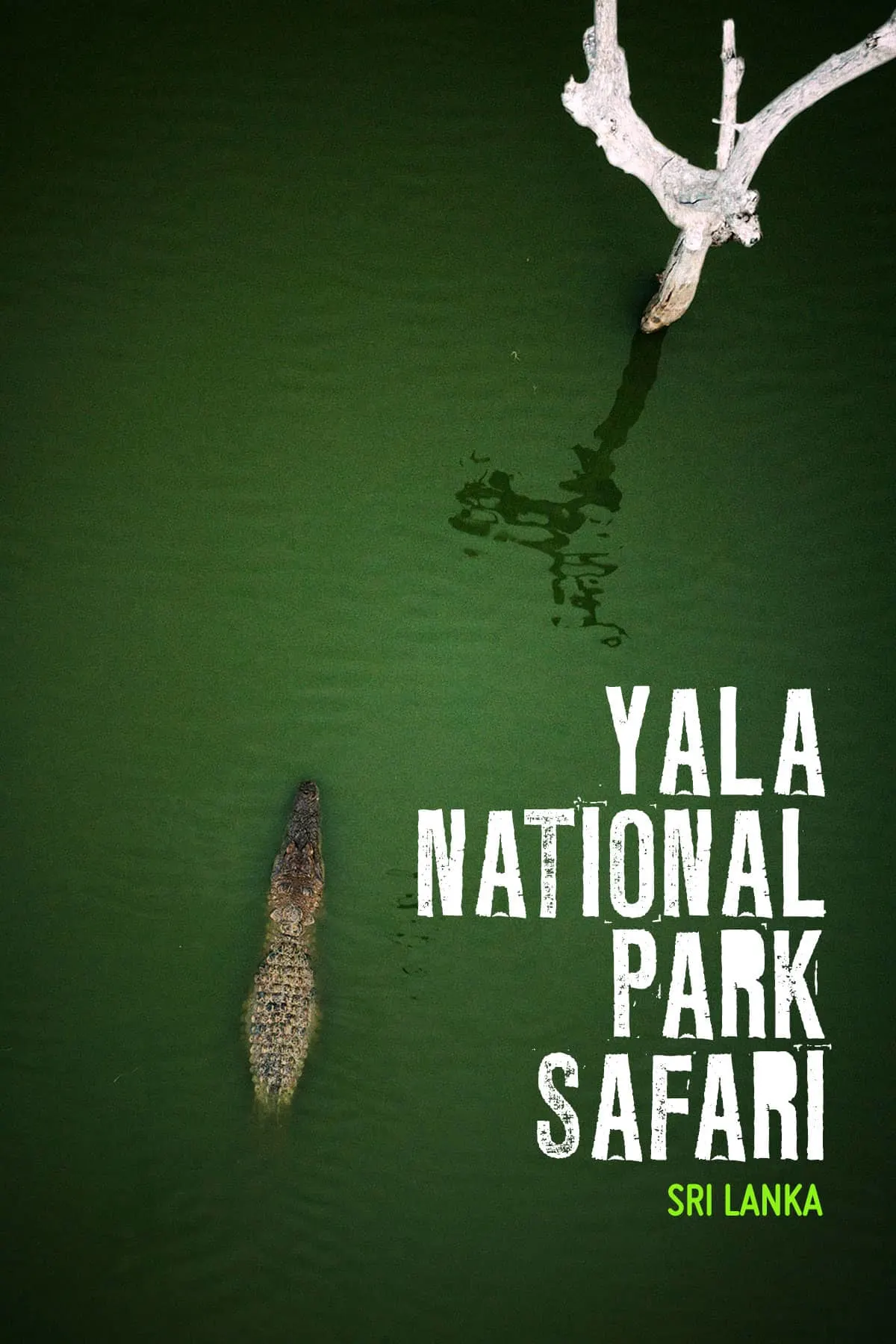 ABOUT YALA NATIONAL PARK
Yala National Park is the most visited and second largest protected park in Sri Lanka. It consists of five blocks, only two of which I believe are open to tourism (Blocks 1 and 5). It borders the Indian Ocean in the southeast region of the country and covers an area of 979 square kilometres (378 square miles). It was designated a protected reserve in 1938, and together with Wilpattu, was one of the first two national parks in Sri Lanka.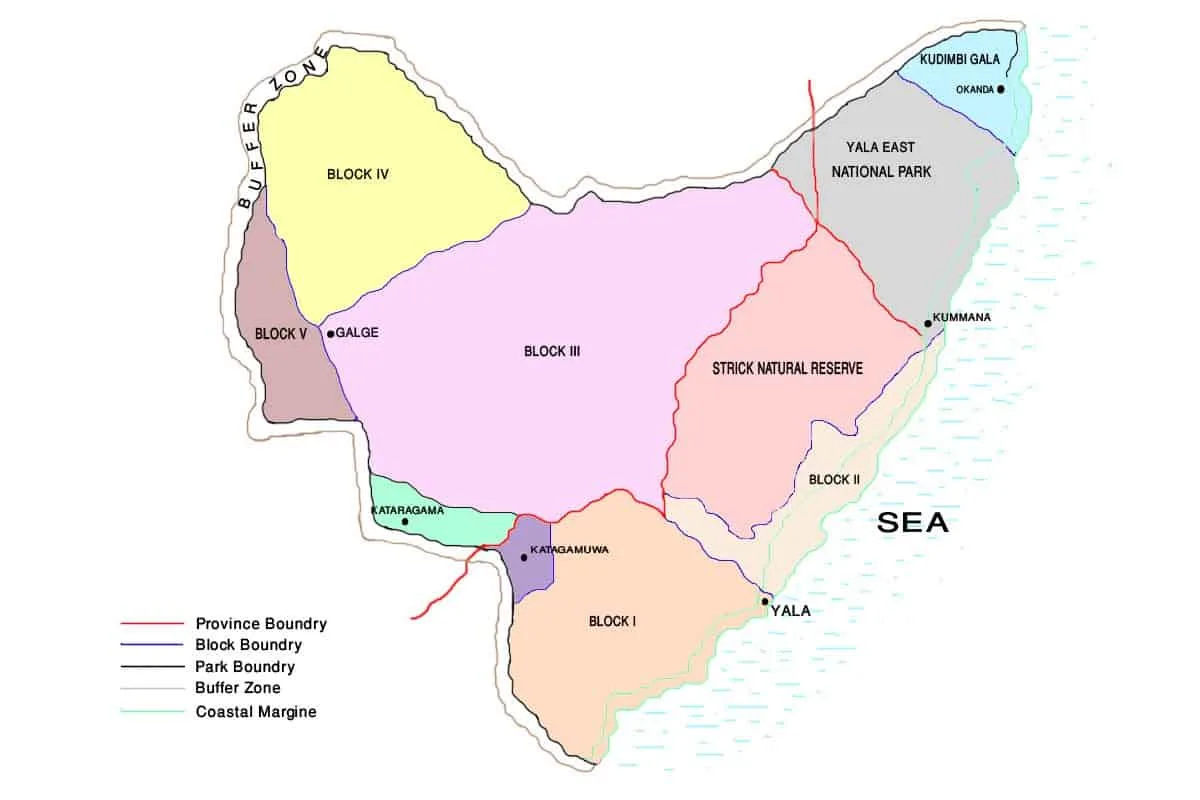 Map of Yala National Park by Damitha Pandithage, CC BY-SA 3.0, via Wikimedia Commons
Lunugamvehera National Park
They took us on safari at Lunugamvehera National Park. At first, I thought it was part of Yala National Park but it looks to be a separate reserve located near Block V. According to Wikipedia, there are six national parks and three wildlife sanctuaries in the vicinity of Yala, among the largest being Lunugamvehera National Park.
Lunugamvehera is described as an elephant corridor between Yala National Park on the east and Udawalawe National Park on the west. It facilitates the movement of animals from one to the other and provides a favorable habitat for elephants coming from the nearby Uva and Southern regions. It's for these reasons why Lunugamvehera National Park is a popular destination for elephant sightings in the Yala area.
I don't know why we were taken to Lunugamvehera but many online reviewers seem to prefer it to the more popular Yala. According to them, it's less crowded which results in a more authentic safari experience. Jeeps were few and far between so I definitely got that feeling here. Many people do describe spotting elephants and leopards at Lunugamvehera, so I guess it doesn't really matter where you go as long as you have a good chance of seeing the animals.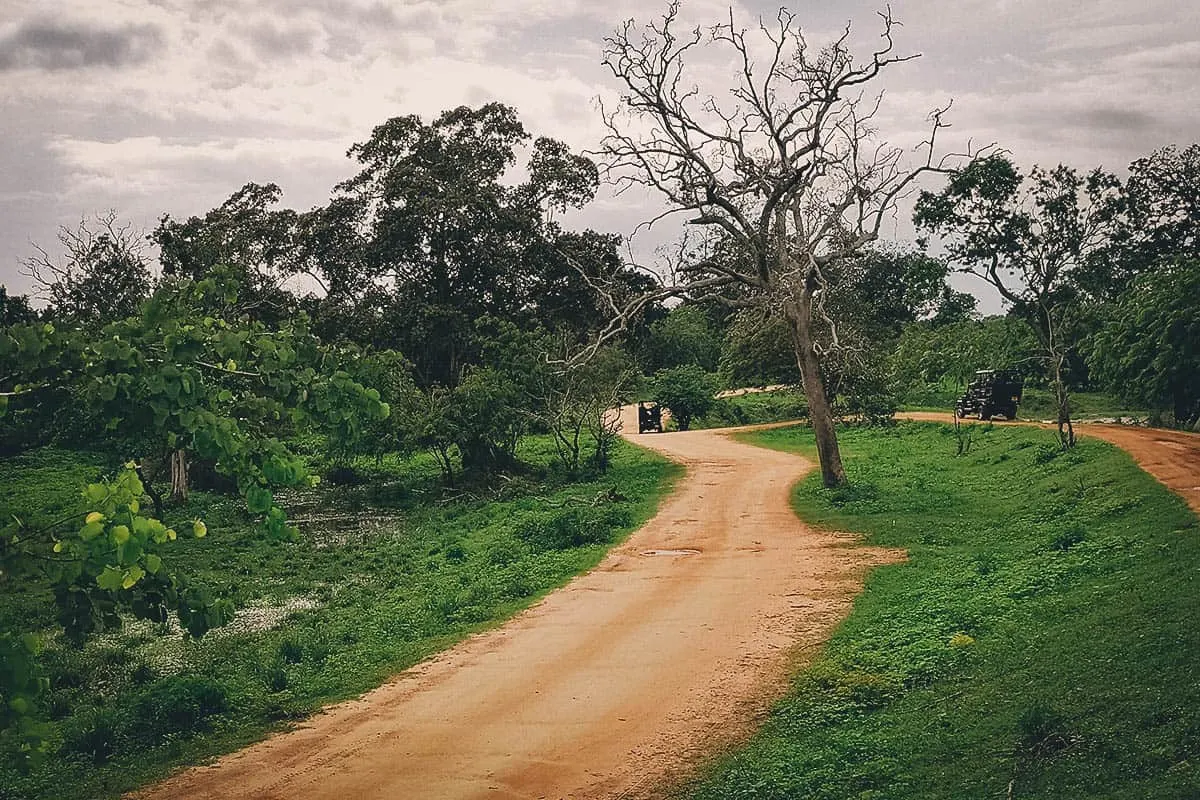 This is how safari jeeps look in Sri Lanka. There are six seats per jeep, each row slightly higher than the one in front to give everyone a clear view, so it doesn't really matter where you sit.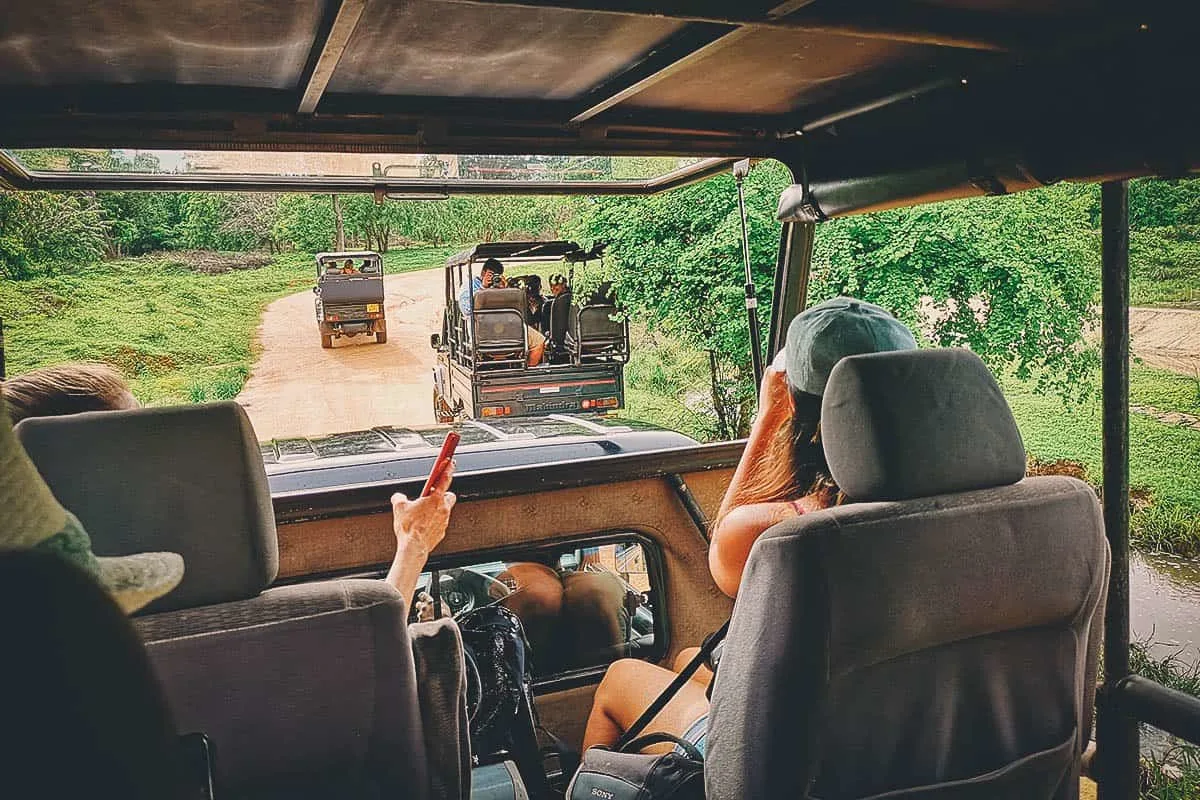 Best Time to Visit
Based on what I've read online, there isn't really a best time to go on safari at Yala. The parks are open year-round and you can enjoy animal sightings throughout the year. Just remember that April to June and September to November are the wettest times of the year, so you may want to avoid those months if you don't like too much rain. We went in late October and we were lucky not to have any rain on our safari.
Here's a magnificent peacock strutting its stuff. This was probably the one animal we spotted the most on our safari.

What Animals Will I See?
As described, Yala and its neighboring parks are home to mega fauna like leopards, elephants, sloth bears, and wild buffalo. People come hoping to see the bigger animals but the area is also home to 215 species of birds and many smaller mammals and reptiles.
On our safari, we spotted different types of birds, deer, jackal, hare, wild boar, monkeys, monitor lizards, mongoose, and crocodiles. Unfortunately, we didn't see any leopards but I wasn't too hopeful anyway. It's rare to see these elusive cats even in areas known for them like Yala. Thankfully, we did see elephants, but only on our way out of the park. Check out my video at the bottom of this post to see what I mean.
To be honest, I wasn't disappointed in not seeing more mega fauna. Just being in that safari jeep with the anticipation of seeing these animals was excitement enough. The entire experience from start to end was just super cool.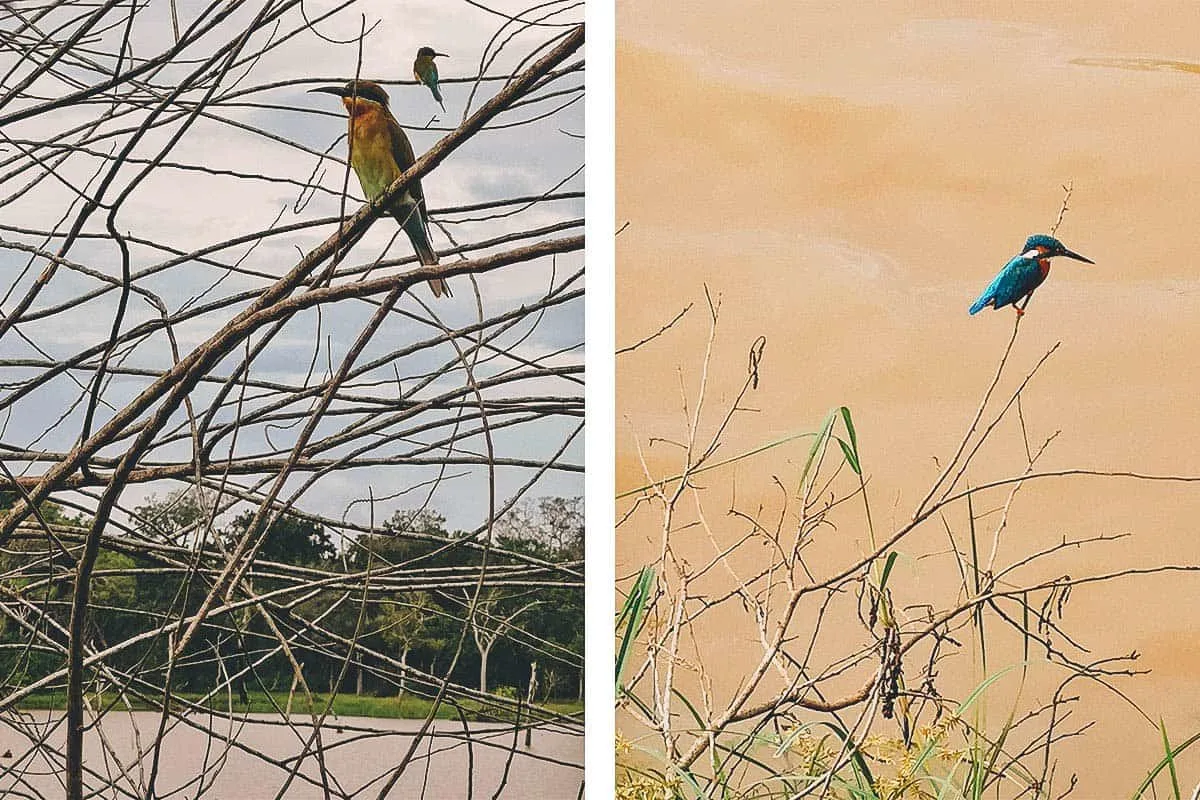 How Many Days to Stay?
From what I understand, two safaris are held everyday – one early in the morning and another late in the afternoon. We only had time to go on one safari, which is what many people traveling through Sri Lanka do. Some don't even stay the night. They arrive at Tissamaharama, go on safari, then move on to their next destination. But the longer you stay and the more safaris you go on, then the better your chances of seeing the animals. So it's really up to you.
If you have time to spare and really want to see a leopard, then you should go on as many safaris as you can. But if you're short on time or traveling on a budget, then you can go once and pray for the best.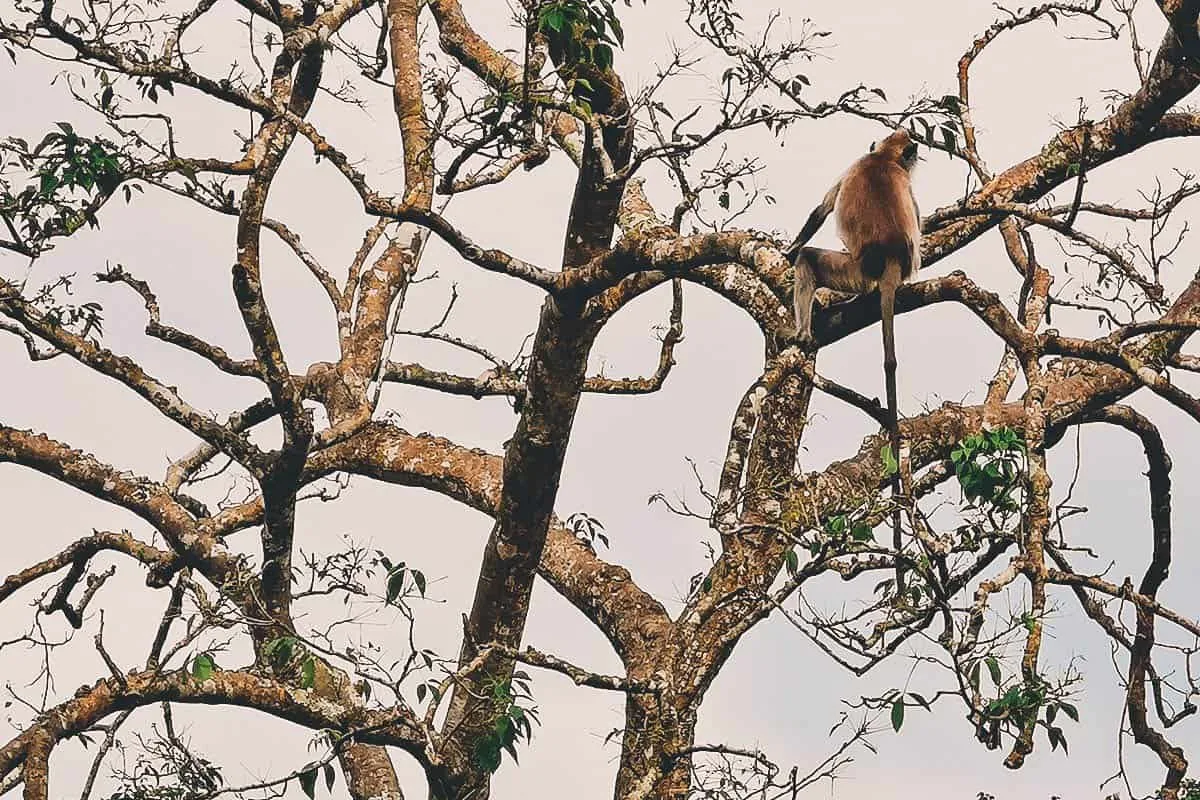 This was sad to see. This little guy was separated from its herd. Without the safety of numbers, its pretty much destined to be snatched up by a predator like jackals or a leopard. Heartbreaking to think about but such is the way of nature.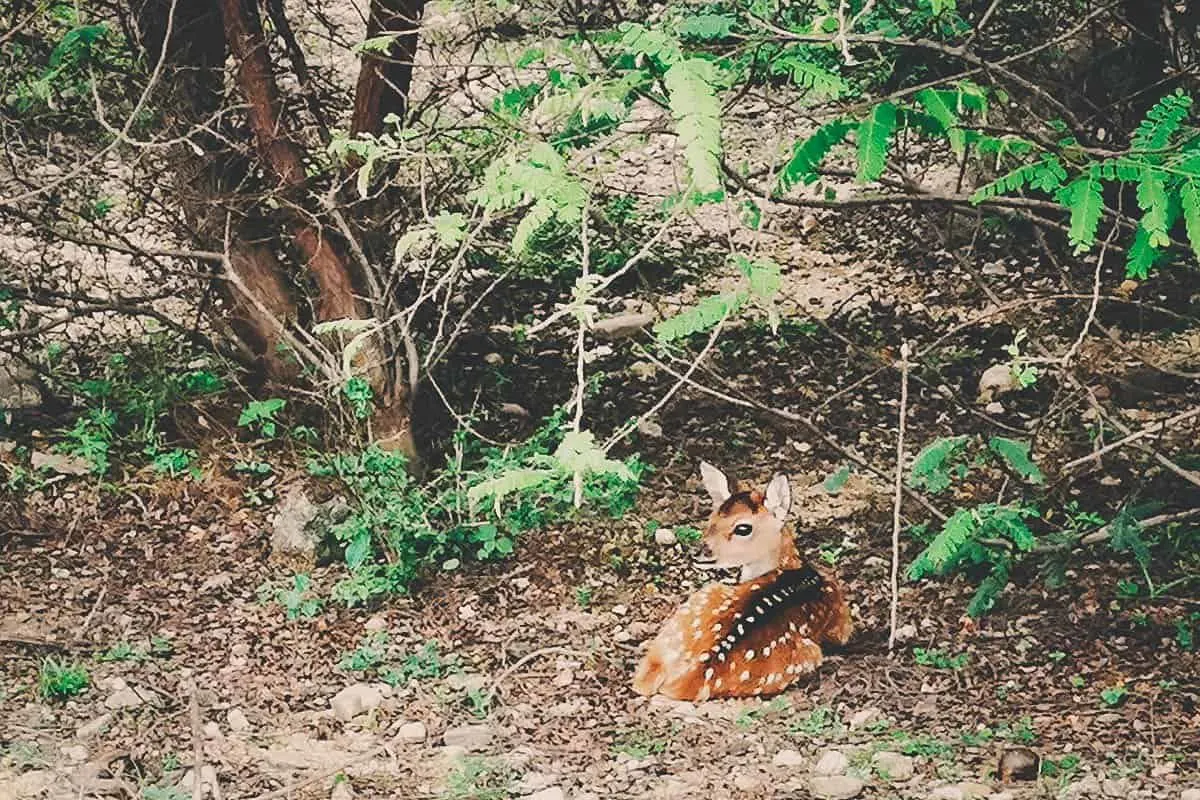 How to Go to Yala National Park?
This is the tough part. Being on a press trip, we were shuttled in by bus but it's a little harder getting there on your own. I had done my research before this trip and unlike the central part of Sri Lanka where it's easy to get around by train, there are no trains that can take you into Tissamaharama which is the town closest to Yala.
Based on what I've read, many travelers go to Tissamaharama either from the mountain town of Ella or one of the seaside southern towns of Tangalle or Mirissa. The easiest way to get into Tissamaharama is by private car, especially if you're carrying big luggage. The reason for this is that the public buses which ply these routes are almost always crowded and don't have air-conditioning. They don't have any luggage compartments either so large suitcases won't be allowed onboard. I took one of these buses from Sigiriya to Polonnaruwa and I was standing the whole way.
If you do decide to hire a private car (or taxi) with driver, then you can shop around to find the best price. Ask your hotel or AirBnB host for help as well. Many of them can arrange this for you. I hired Nawshad Tours Lanka to take me from Ella to Haputale and back for LKR 9,000. My AirBnB host in Ella quoted me LKR 11,000 for the same tour. I didn't hire a private car to take me into Tissamaharama so I can't speak from experience, but you can try getting a quotation from Sri Lankan Personal Drivers. They seem to have a stellar reputation on TripAdvisor.
If you'd prefer to go by bus, then I wish you good luck. I won't even try to tell you which buses to take because no one seems to really know. The information online is confusing and conflicting. I suggest asking your hotel or AirBnB host for help. They should be able to assist you with that.
Yala National Park
Hambantota, Sri Lanka
Tel: +94 11 2 888 585
Website: yalasrilanka.lk
Facebook: yalanationalparksrilanka
Twitter: YalaSriLankalk
Pinterest: yalasrilanka
Google+: YalasrilankaLkofficialsite
WHERE TO STAY: Cinnamon Wild Yala
If you're looking for a place to call home on your Yala safari, then Cinnamon Wild Yala is one to seriously consider. It's a beautiful 4-star resort which, from what I understand, is more reasonably priced than other comparable resorts in the area. We stayed at four beautiful Cinnamon hotels and resorts on our press trip and this one was by far my favorite. I absolutely loved staying here.
Jungle Chalet
Cinnamon Wild Yala offers jungle and beach chalets. Nestled within a heavily planted area are these detached bungalows consisting of four jungle chalets each, two on either side. I didn't take a picture of them but the beach chalets are a little different. They're on stilts so they rise above the canopy to give you sweeping views of the ocean. Both are spectacular.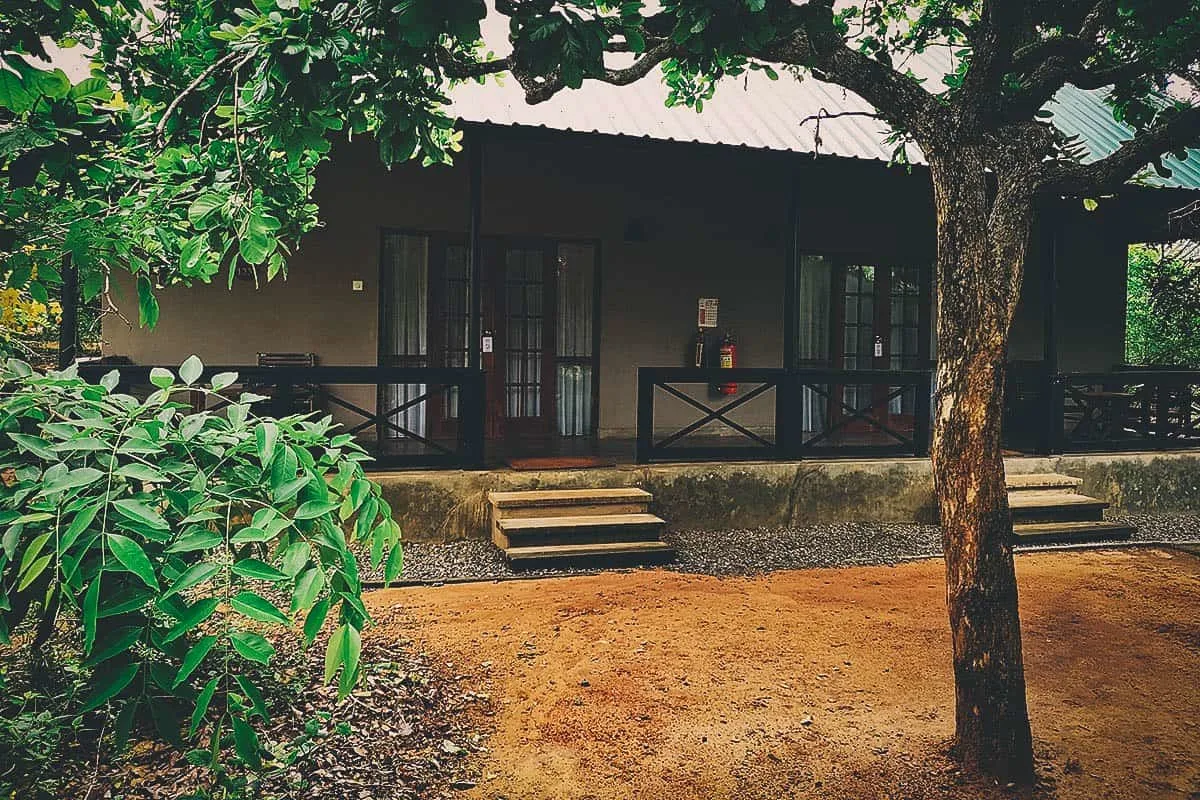 Inside my fantastic jungle chalet. It's even got a canopy with a mosquito net which I didn't need at all. I'm not sure what it's like in other seasons, but there were no mosquitos or bugs when we were here in late October. The earthy, natural styling of the room really does make you feel like you're on safari.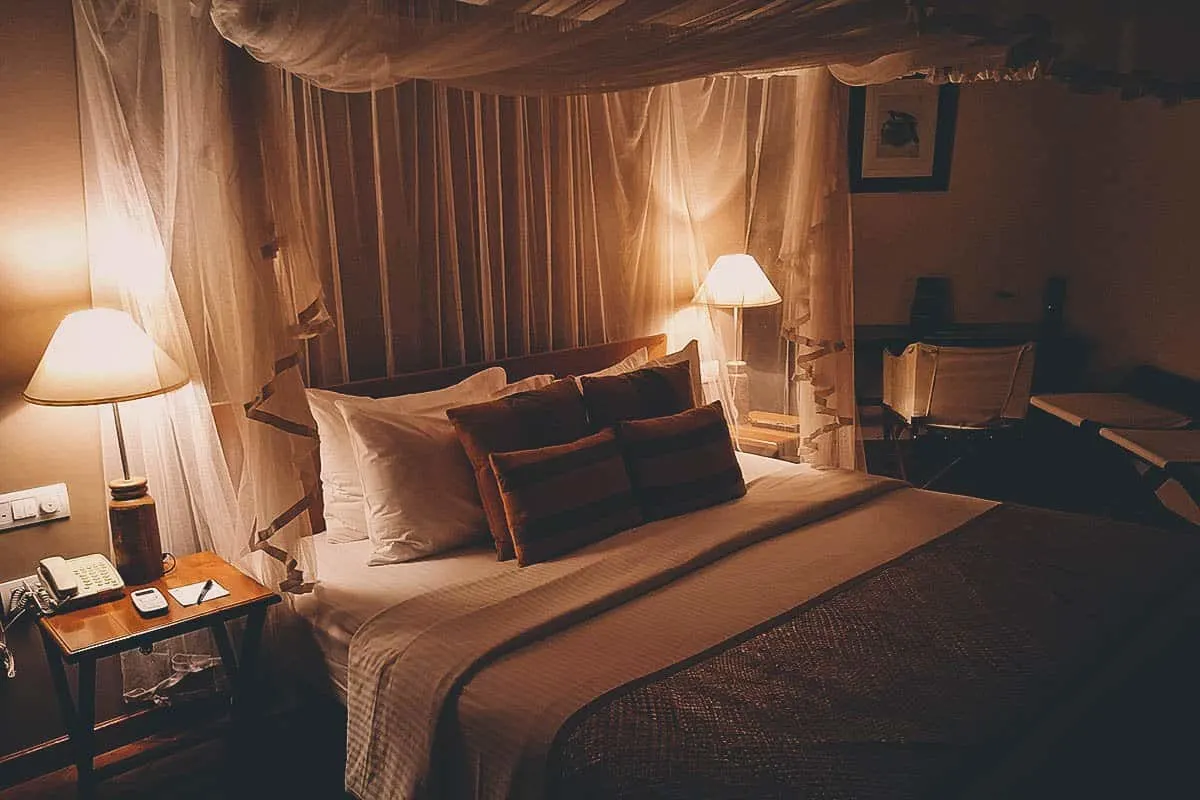 I love the bathroom. When you're doing your business and leave only the toilet light on, it feels like you're under interrogation. "So tell me, who does number two work for?"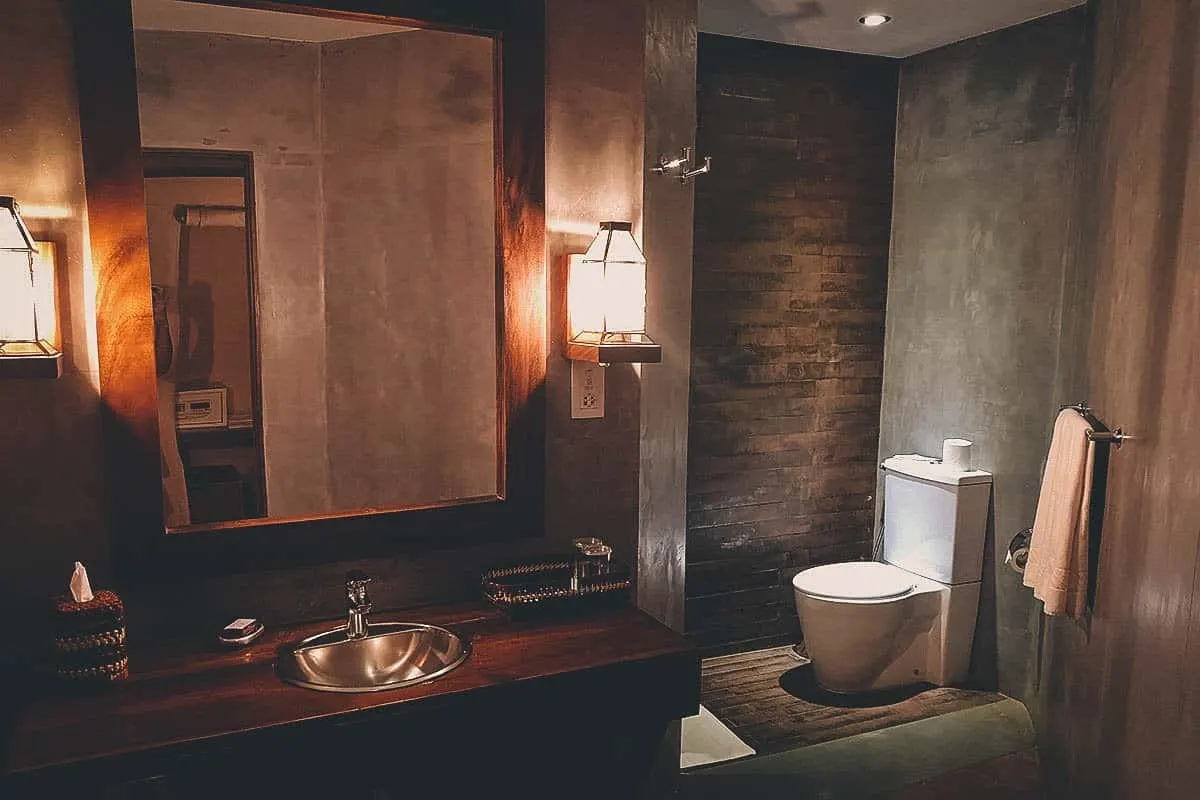 Tuskers Restaurant
Tuskers is the resort's main restaurant. They offer mainly Sri Lankan cuisine served in a buffet setting. On the right side of my plate below is a Sri Lankan egg hopper, which is a rice and coconut crepe made with egg. Garnished with a spicy sambal, it's absolutely delicious and probably my single favorite thing to eat in Sri Lanka. Serious yum!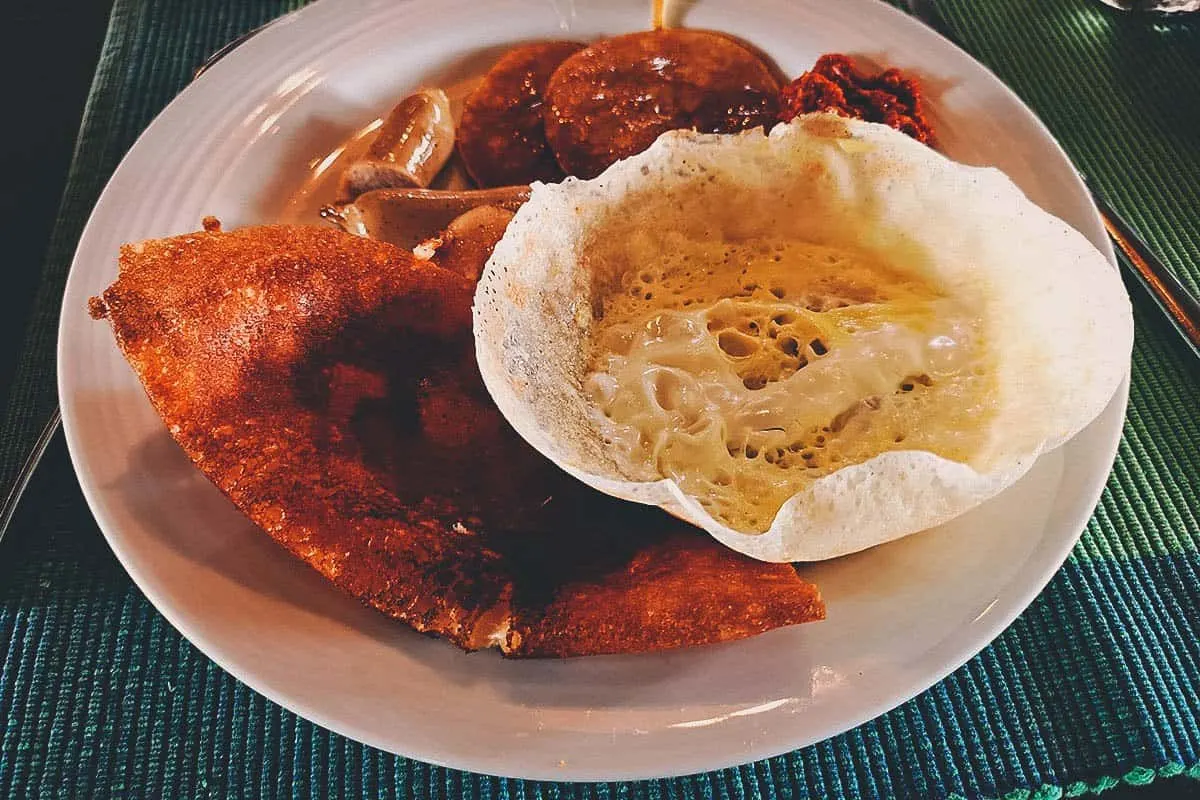 Reservoir
That reservoir in the distance is one of the reasons way I loved this resort so much. This picture was taken from the roofdeck of the main reception building, but you can easily walk to the reservoir from your jungle chalet. It was about a five minute-walk from mine.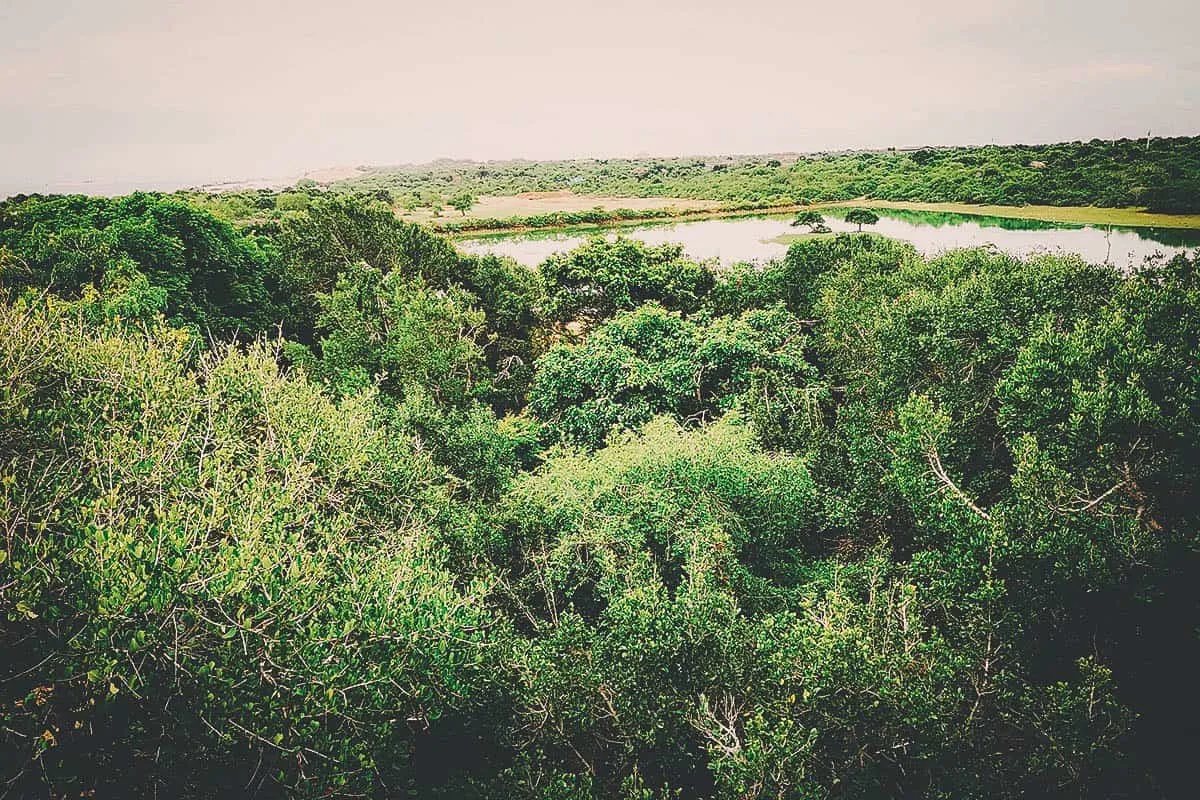 Here's the reservoir from up close. Do you see those horizontal objects in the water? They aren't logs or branches. They're crocodiles. Yes, live crocodiles. There are crocs in the reservoir and wild buffalo on its banks. It's crazy to think that I walked here from my chalet without any barrier separating me from the crocs. I could stroll freely into the water or them to me. Insane!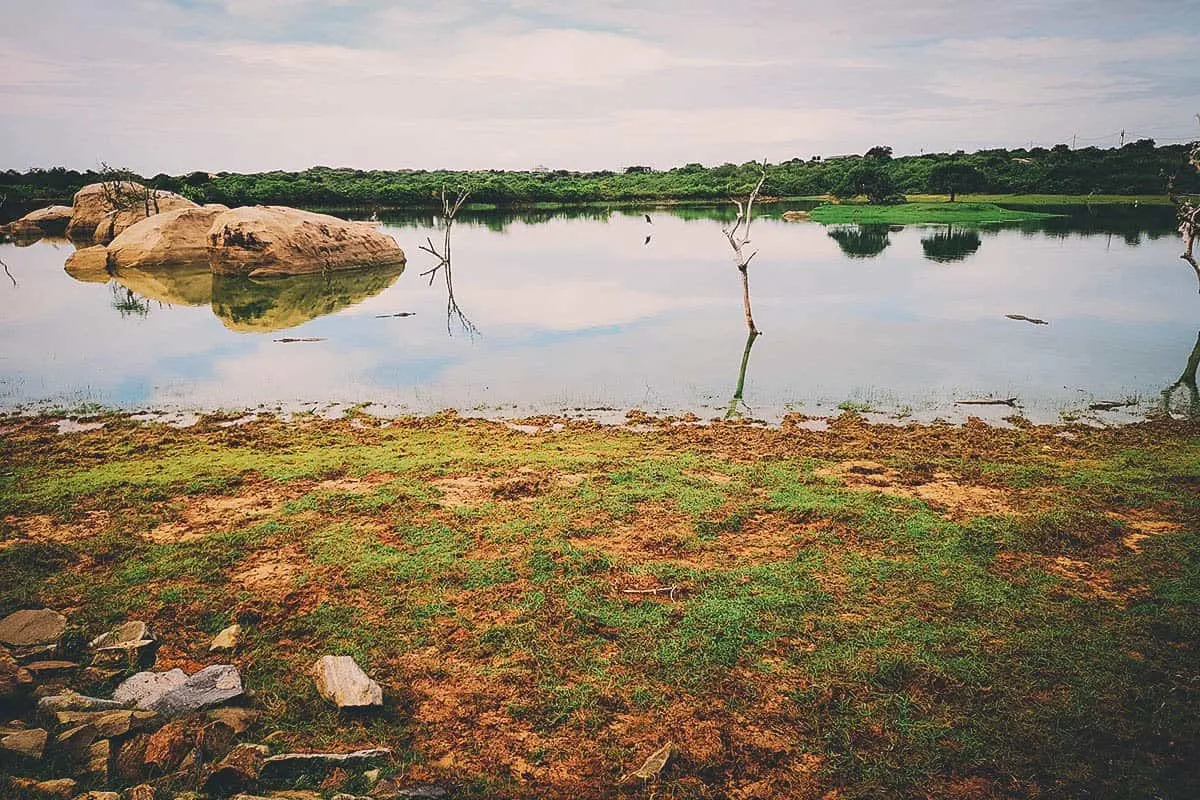 Here's an aerial shot of one of the crocs from my drone. You're allowed to fly drones here as long as you have a permit from the CAA, but just don't get too close to the wildlife.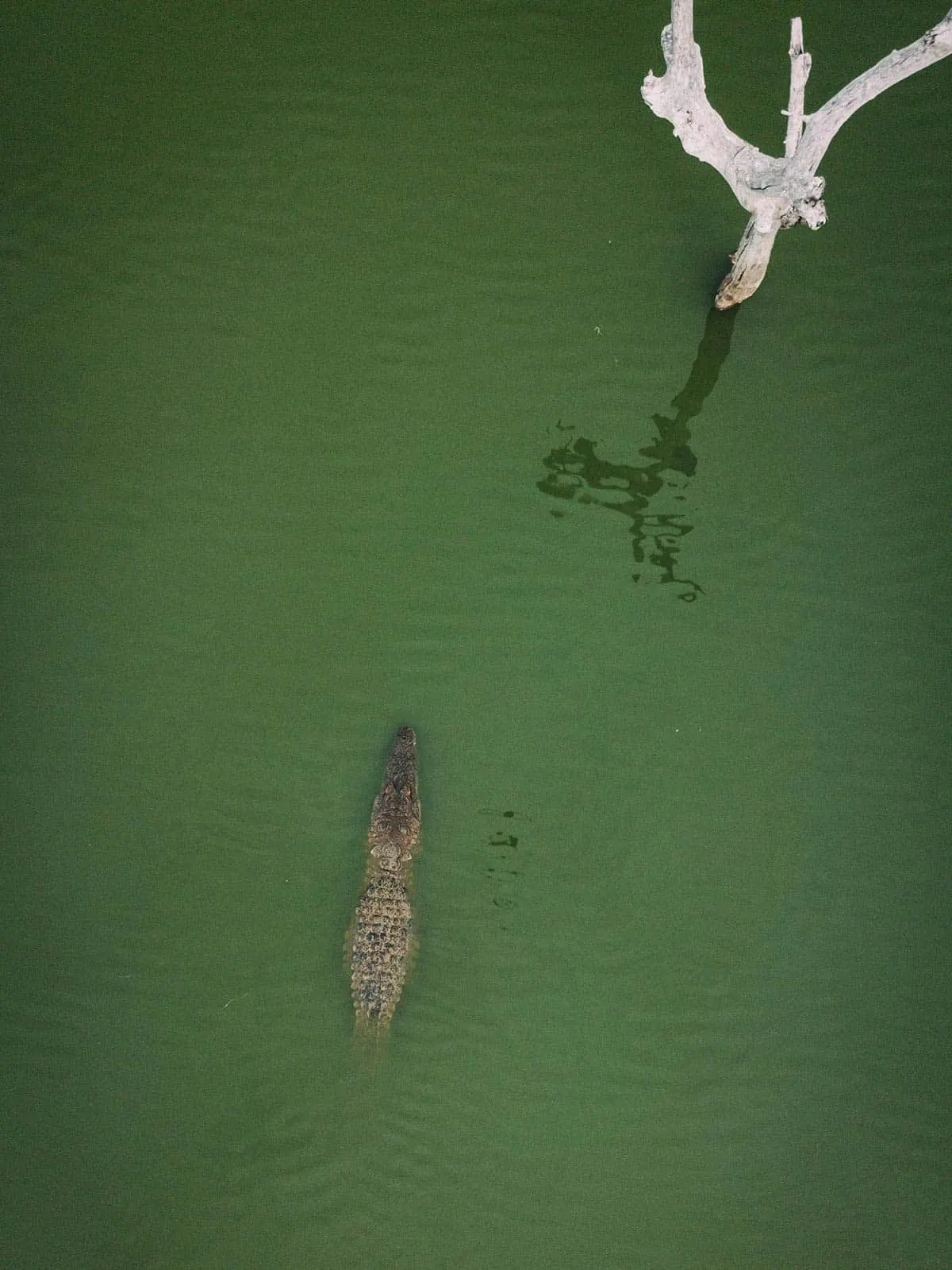 If you think crocs and buffalo are scary enough, check out this sign close to the water's edge. I'm sure they didn't mean for it to be funny but it's absolutely hilarious, especially that last paragraph.

Beach
I love reptiles so I was happy to spot monitors throughout Sri Lanka. Cinnamon Wild Yala is located not too far from the beach. I passed this little guy on my way there one morning.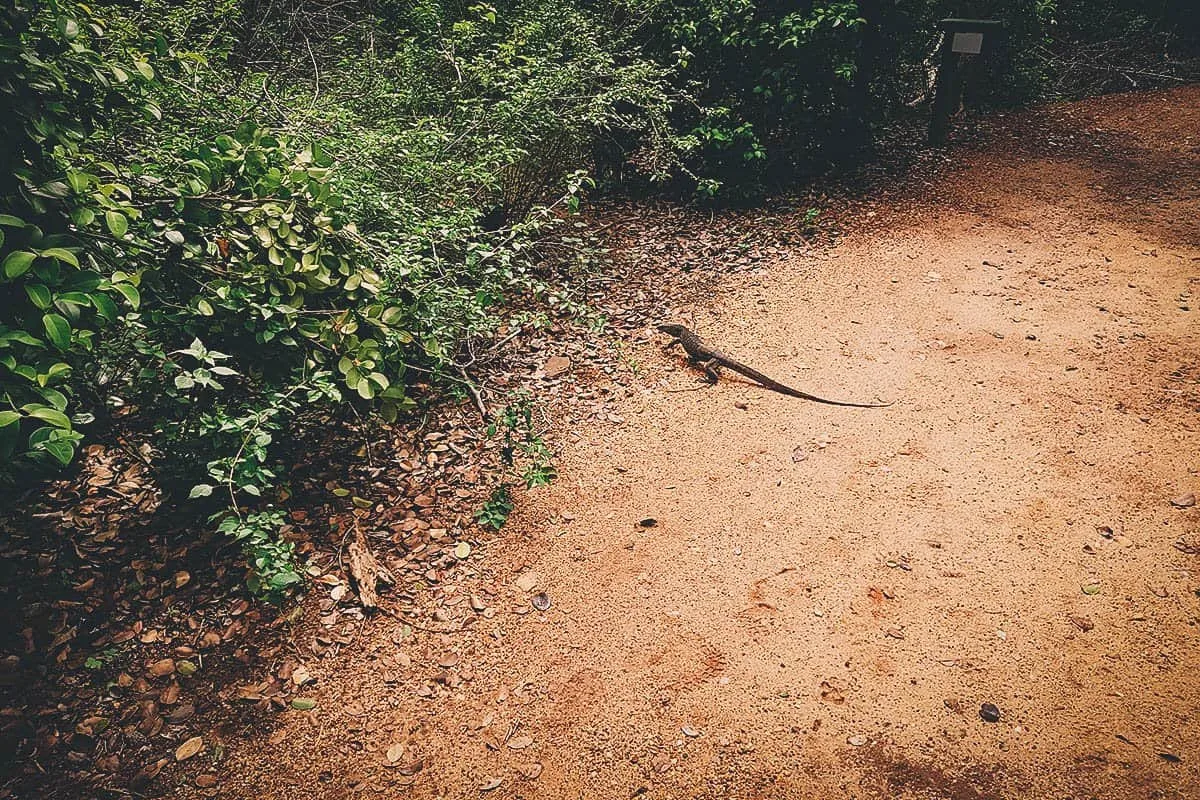 Through the jungle is this long stretch of beautiful sandy beach. Unfortunately, you can't swim here because the waves are too strong but feel free to take your shoes off and go for a stroll. There's hardly anyone around and the sand is super fine.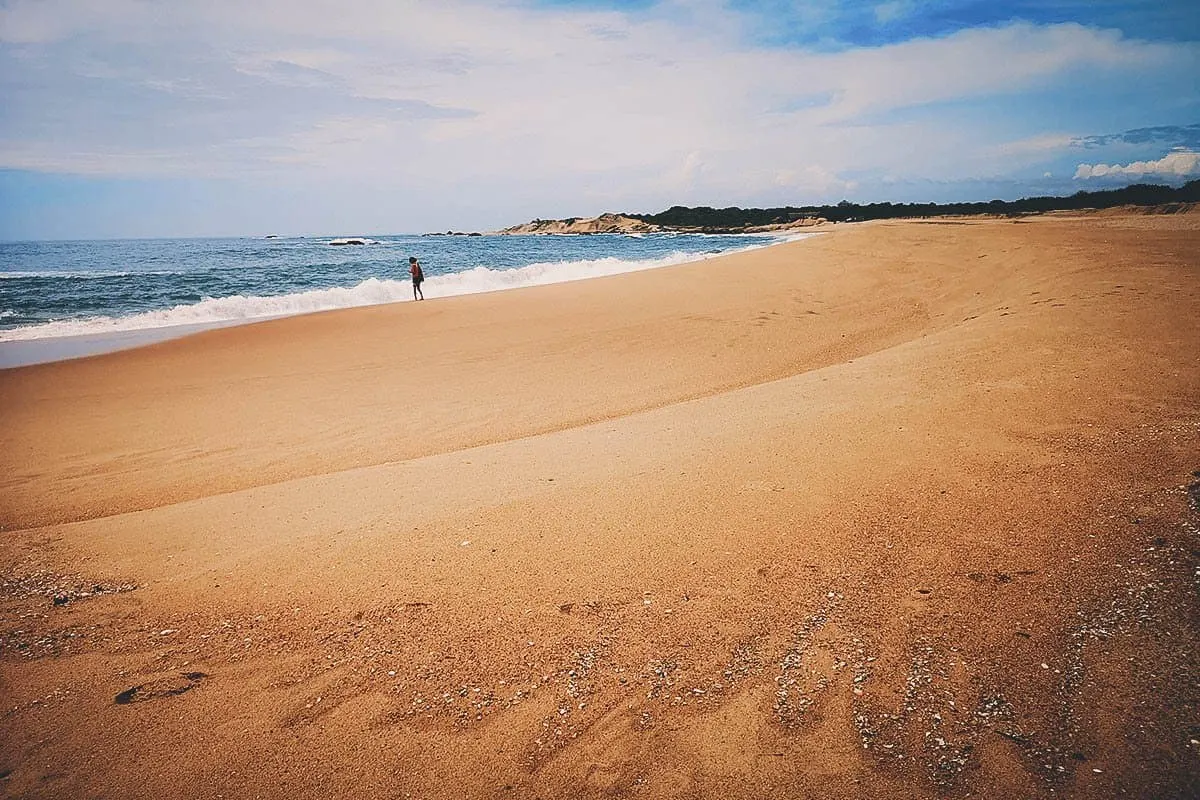 Here's an aerial picture of the coastline taken with my drone. Absolutely stunning landscape here!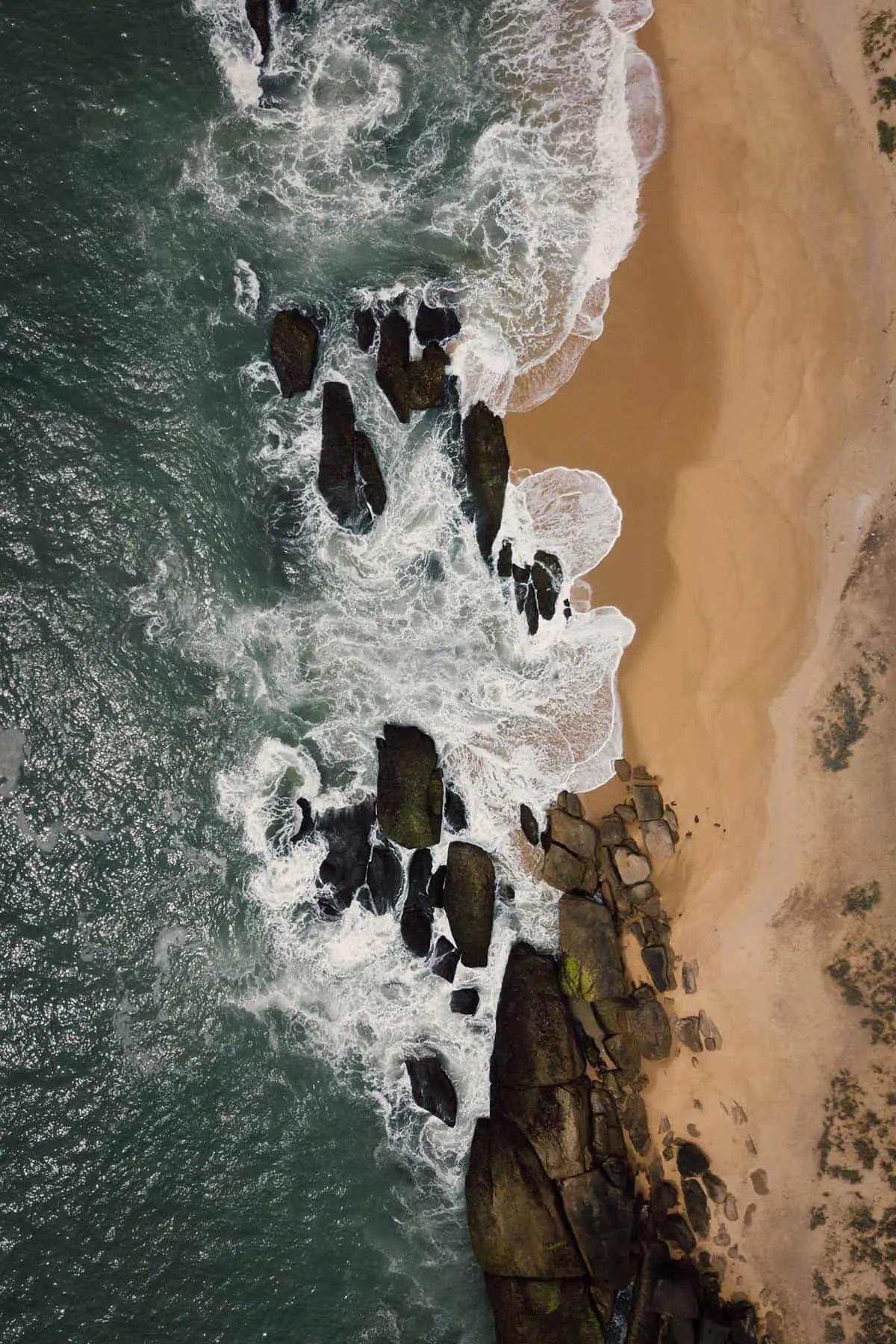 Cinnamon Wild Yala
Kirinda, Tissamaharama 82600, Sri Lanka
Tel: +94 472 239 449
Website: cinnamonhotels.com
Facebook: CinnamonWildYala
MAKE A RESERVATION: Booking.com | Agoda
CONCLUSION
Going on safari is one of the best things you can do in Sri Lanka. And because of its high density of leopards, Yala National Park is one of the best places to do it.
We didn't see any today, but like I said, it didn't make the experience any less rewarding. I had so much fun getting tossed around inside that jeep, not knowing what wild animal might be crossing our path. I think in many ways, the anticipation of seeing can sometimes be better than the act itself.
In any case, Ren wasn't able to join me on this trip so we'll surely be back. And when we do, we'll definitely go on safari. Many of my fellow travel bloggers who've been everywhere kept saying that a safari is one of the absolute best things you can do when traveling. After today, I believe them.
Disclosure
I was in Sri Lanka on an all-expense paid trip to attend Cinnamon TBC Asia 2018. We were sent on a 5-day press trip before the conference and one of the places we visited was Yala National Park. As always, all thoughts and opinions expressed in this post are mine and mine alone.
The hotel booking links in this post are affiliate links, meaning we'll get a small commission if you make a reservation at NO extra cost to you. We really appreciate your support as it helps us keep this website going. Thank you!