I recently visited Sri Lanka to attend Cinnamon TBC Asia 2018, a conference that connected tourism industry professionals with travel bloggers and social media influencers. We were here to promote Sri Lanka as a premier tourist destination, an easy job really considering how Lonely Planet ranked Sri Lanka as the top country for travel in 2019.
After a fantastic press trip and conference that sent us to different regions in Sri Lanka (and some fabulous Cinnamon Hotels along the way), everyone either went home or flew to their next exotic destination. Some moved to Bali, others continued on to Europe and South America. But not me. I stayed right here in Sri Lanka for an extra week, mainly for this.
It was my first time ever in this beautiful country and I just couldn't leave without experiencing what many have called "the most scenic train ride in the world."
Save This on Pinterest!
No time to read this now? Click on the red save button and pin it for later!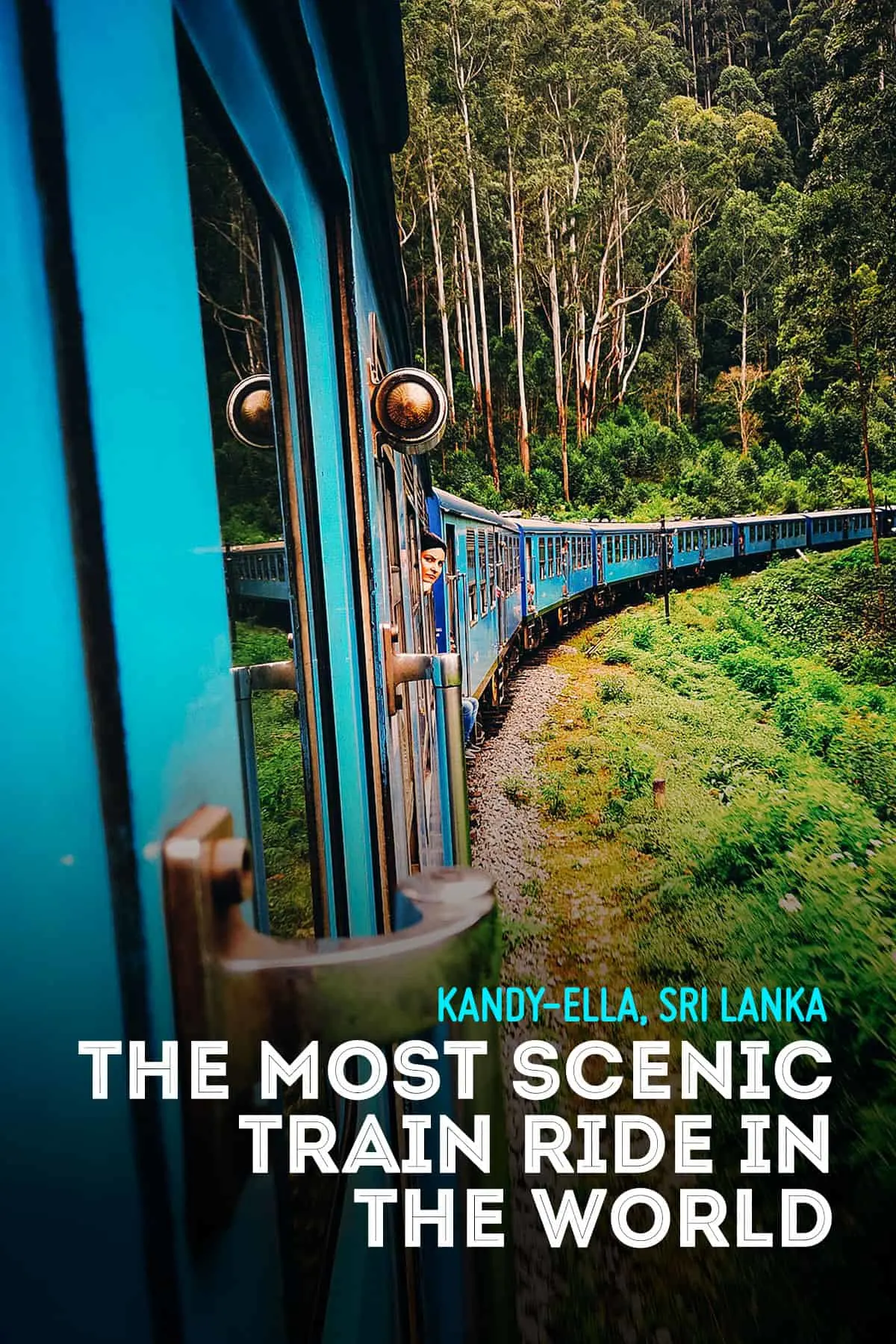 KANDY TO ELLA BY TRAIN
This epic train ride begins in the city of Kandy and ends in the small mountain town of Ella (or vice-versa). It's a 7-hour train ride that takes you through a lush mountainous terrain with tea plantations as far as the eye can see.
I read that this train route was originally built in 1864 by the colonial British to transport tea from the hills to the capital city of Colombo. I'm not sure if it's still used for that purpose today, but this train route has become one of the most popular attractions in Sri Lanka, a definite must-do for any first-time visitor to the country.
Pictured below is Kandy railway station. That's not the train I took. I rode on one of the newer Chinese-built blue trains that were introduced to Sri Lanka's railway system in 2012.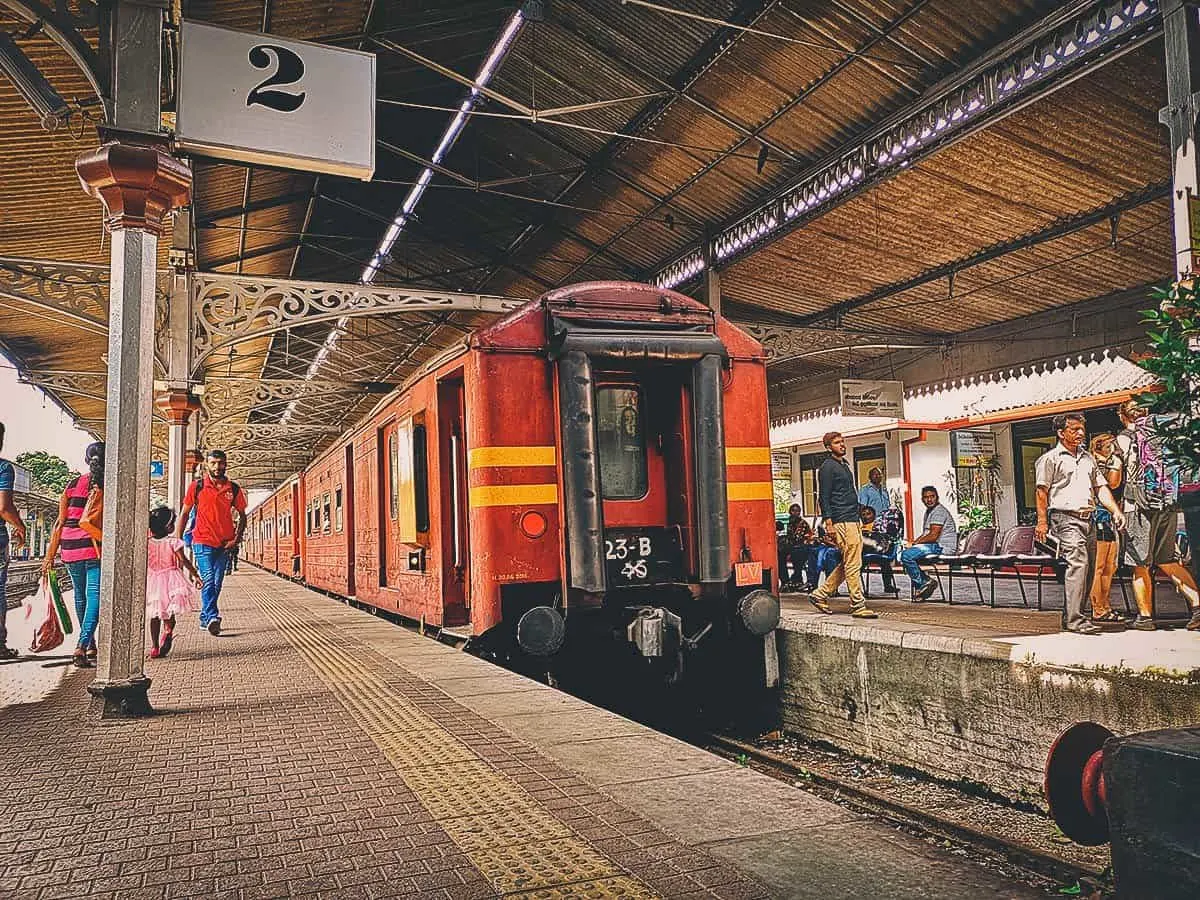 How Do I Buy Train Tickets?
If you're planning on taking this Kandy-Ella train ride, then you absolutely need to purchase your tickets as soon as possible. This route is incredibly popular, even in low seasons, and often sell out a month in advance.
This is because travel agencies buy up all the tickets as soon as they become available so you virtually have no chance of purchasing reserved seats on the spot.
The best way to purchase train tickets is through a third-party provider or travel agency like Bookaway. You can click on the link or use the widget below.
There are two trains per day – the first departing from Kandy station at 8:47AM and the second at 11:10AM. I tried purchasing a reserved second class seat on the 8:47AM train over a month in advance, but it was already sold out. It wasn't even high season yet!
That's how hot these tickets are, and you can expect it to get even more difficult with Sri Lanka being Lonely Planet's top country to visit in 2019. Luckily, I was able to get a reserved second class ticket on the 11:10AM train.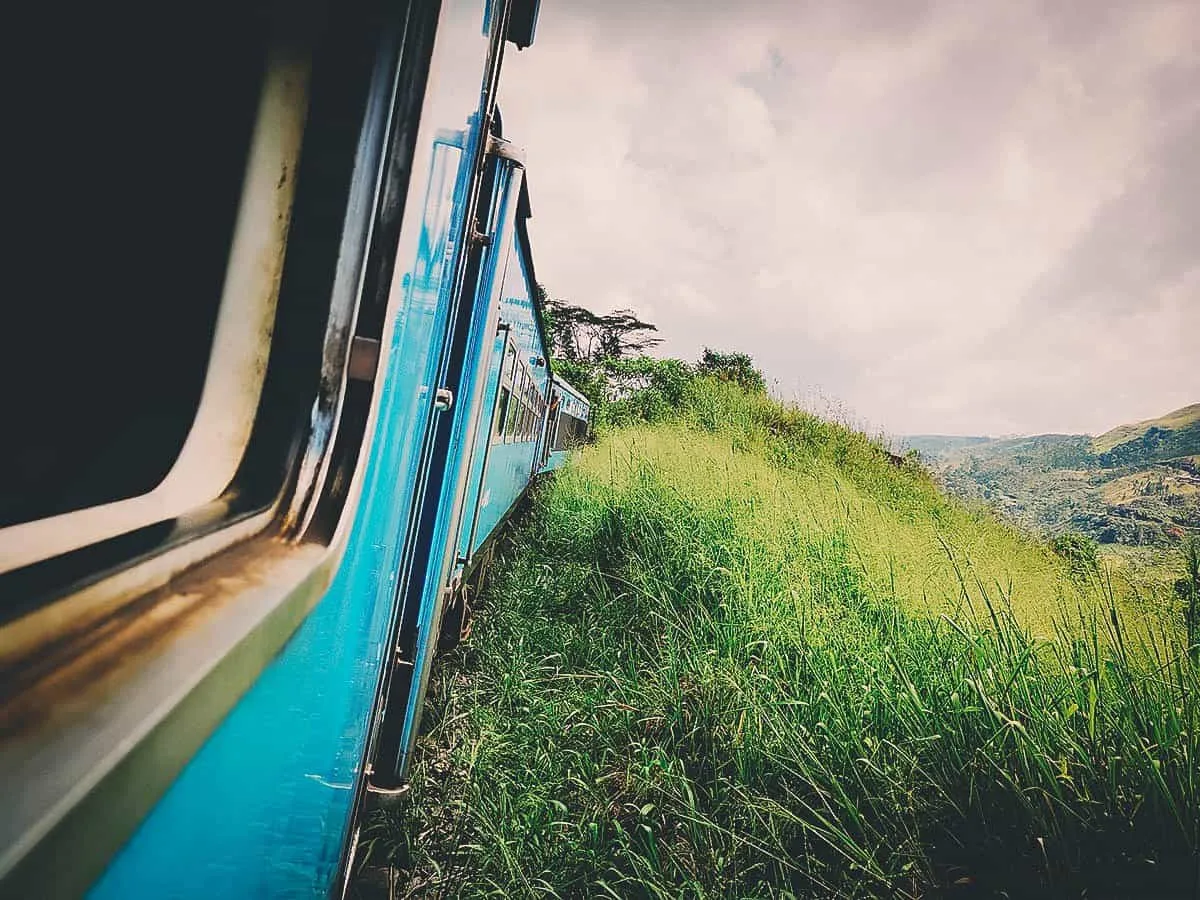 Which Train Class is Best?
From what I understand, there are three train classes – first, second, and third – but I'll only talk about the first two since those are the most popular. All train classes should be available on Bookaway.
The main difference between the two is that first class is air-conditioned so you can't open your window. Travelers who take this train ride often take tons of pictures and video, so riding in first class isn't ideal because you'll wind up shooting through a grimy window.
For that reason, most first-time travelers take second class. The windows are larger and you can open them up to give you unobstructed shots of the breathtaking scenery.
As described, trains from Kandy to Ella depart twice a day – 8:47AM and 11:10AM. I can't stress enough how important it is to buy your tickets as early as you can, especially if you'll be traveling on a tight schedule.
It's worth noting that you can buy tickets at any railway station in Sri Lanka. However, I wouldn't recommend that unless you'll be in the country for an extended period of time and you can buy your tickets well in advance.
If you do that, then you can get second class unreserved and third class tickets as well. Those are obviously cheaper and won't be as difficult to get as reserved first and second class seats.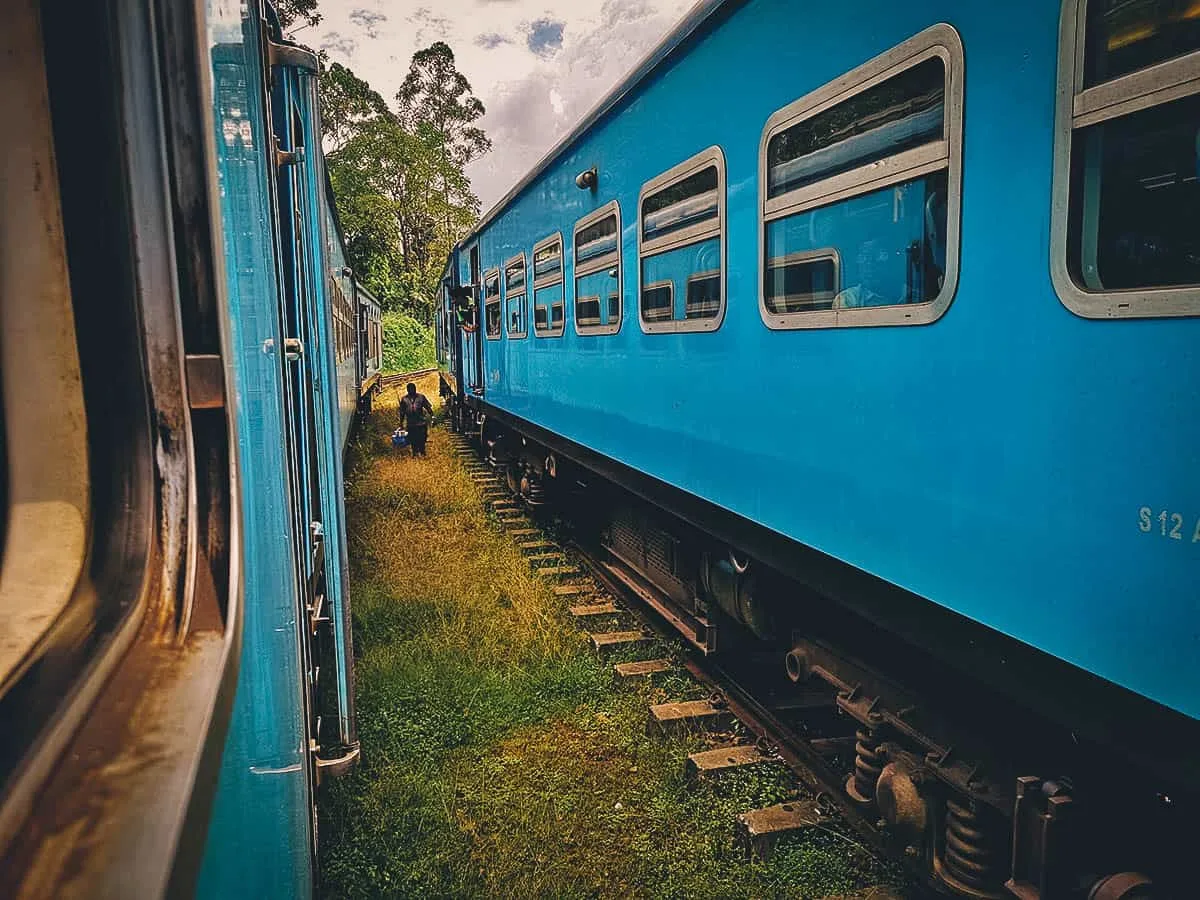 Now that we've gotten the nitty gritty out of the way, let's talk about that train ride!
As described, your journey begins in Kandy. The train will stop at three major stations – Hatton (for Adam's Peak), Nanu-Oya (for Nuwara Eliya), and Haputale – before dropping you off at Ella en route to its final stop of Badulla.
Along the way, you'll travel through a lush landscape of mountains, forests, rivers, waterfalls, and terraced tea plantations. The entire ride takes over seven hours but it feels shorter than that. There's so much to take in.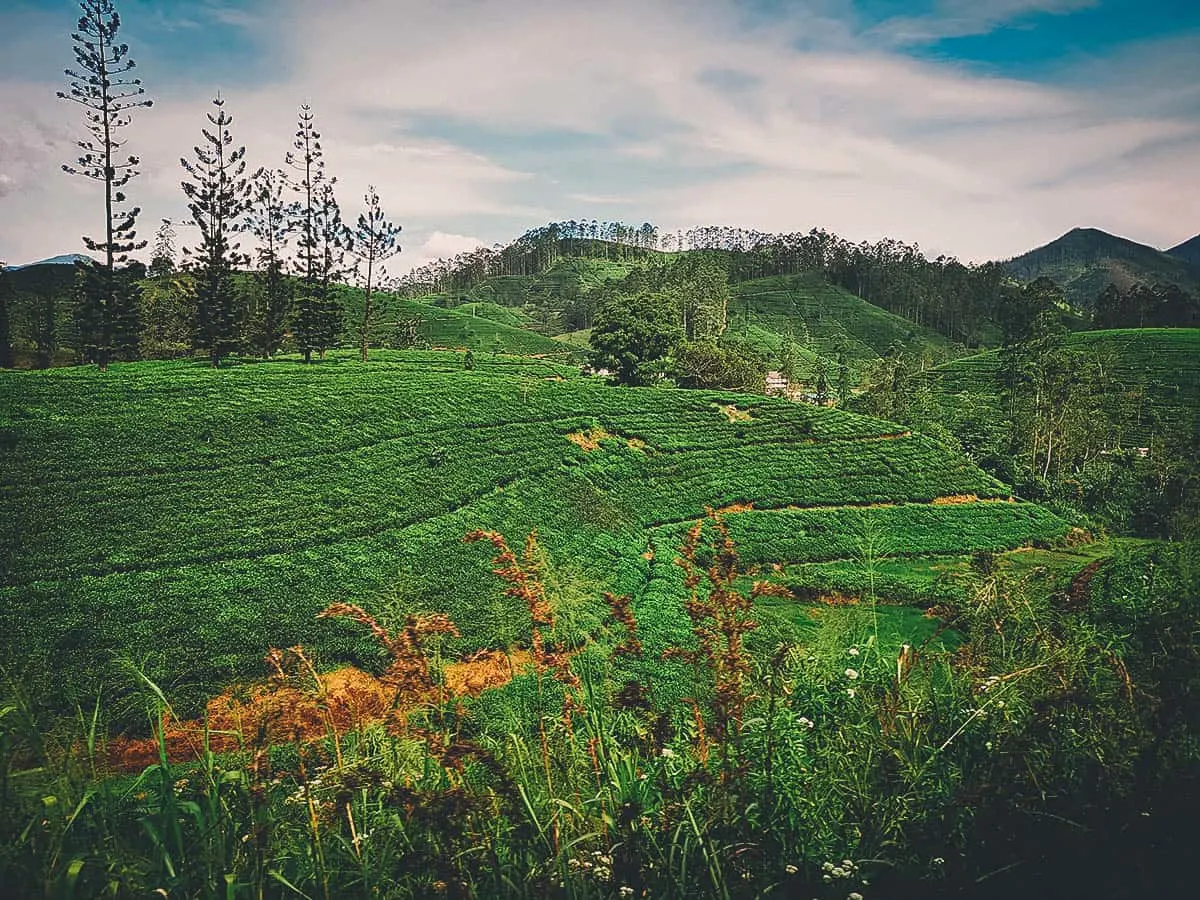 The ride started off slowly at first. The scenery was nice but nothing to get too excited about. But then the tea plantations came into view and that's when things started to get really good.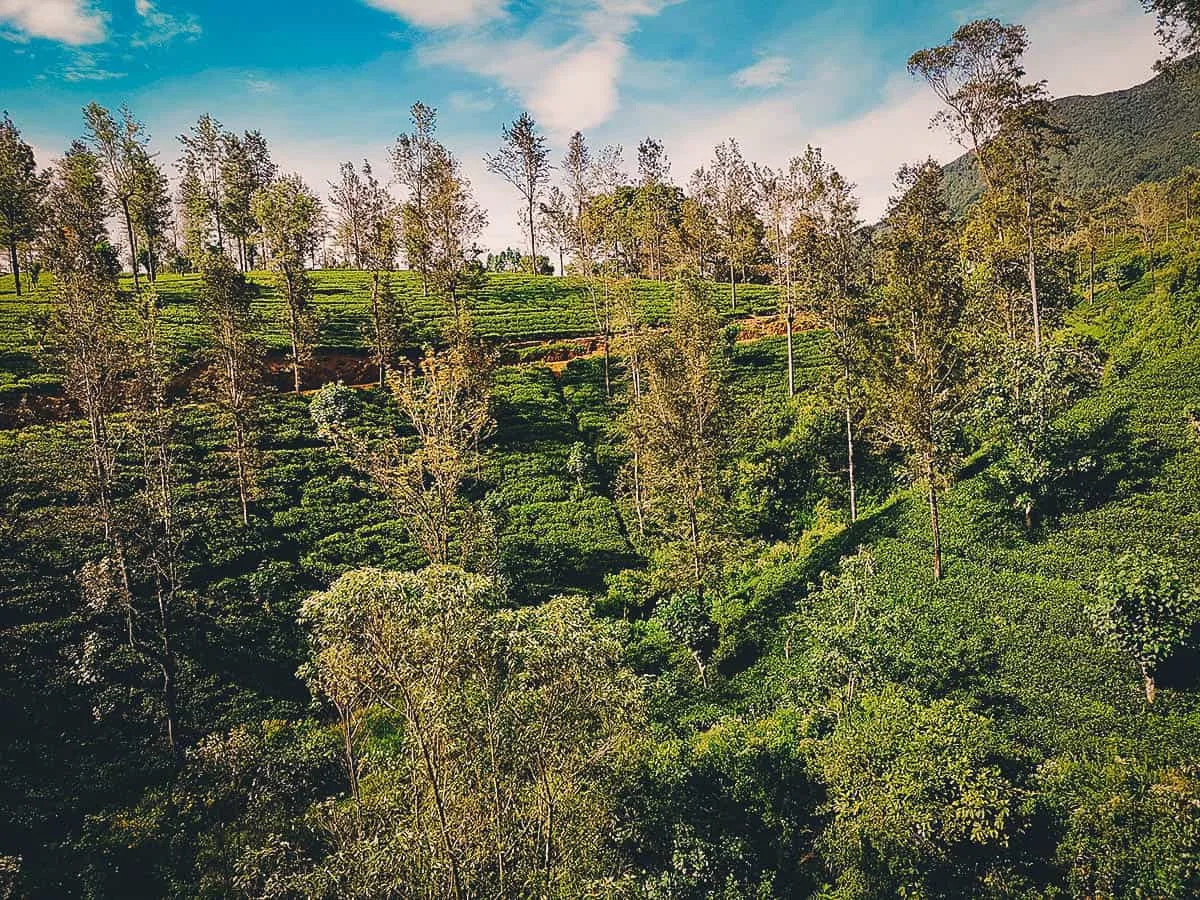 For hours, we rode through a lush landscape of tea plantations on rolling hills as far as the eye could see.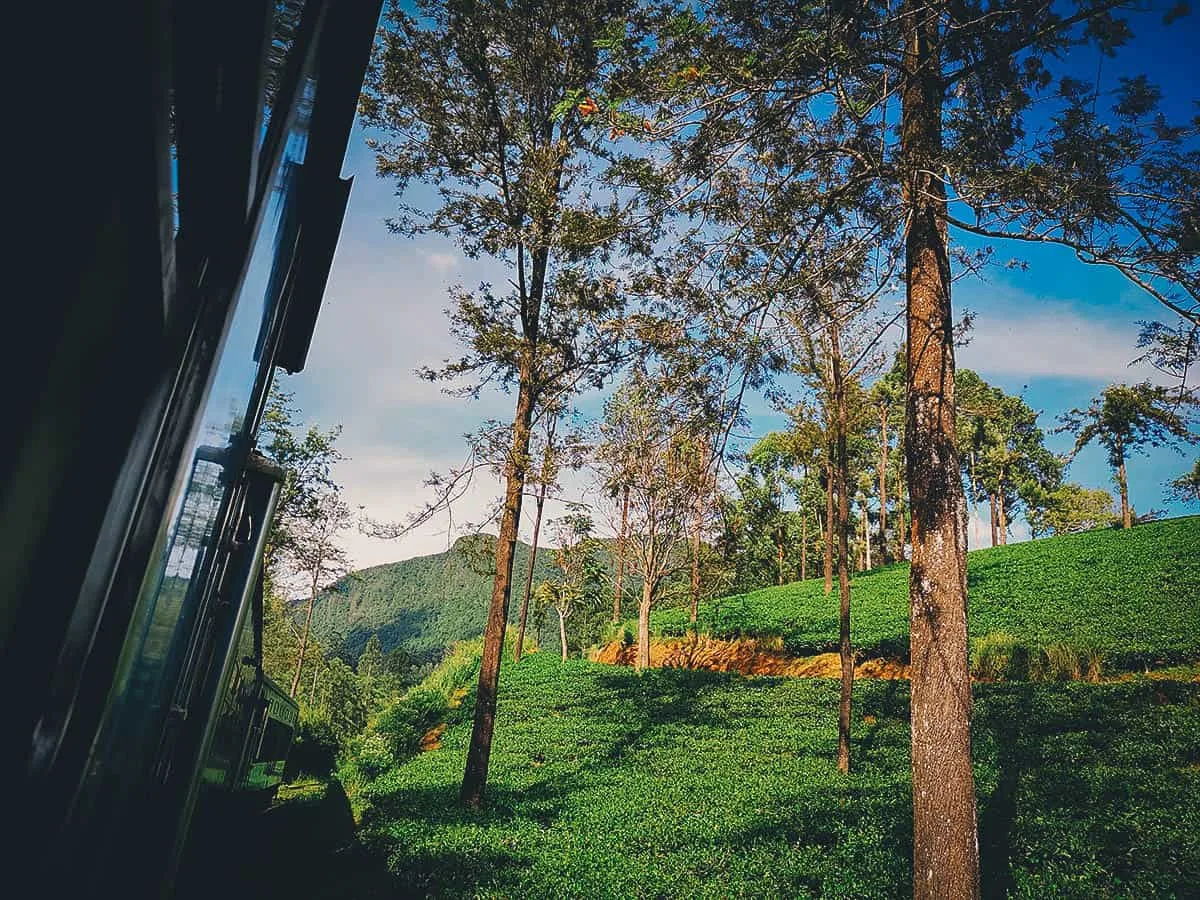 The train would often ride along cliff sides and treat us to spectacular sweeping views of this colossal tea estate.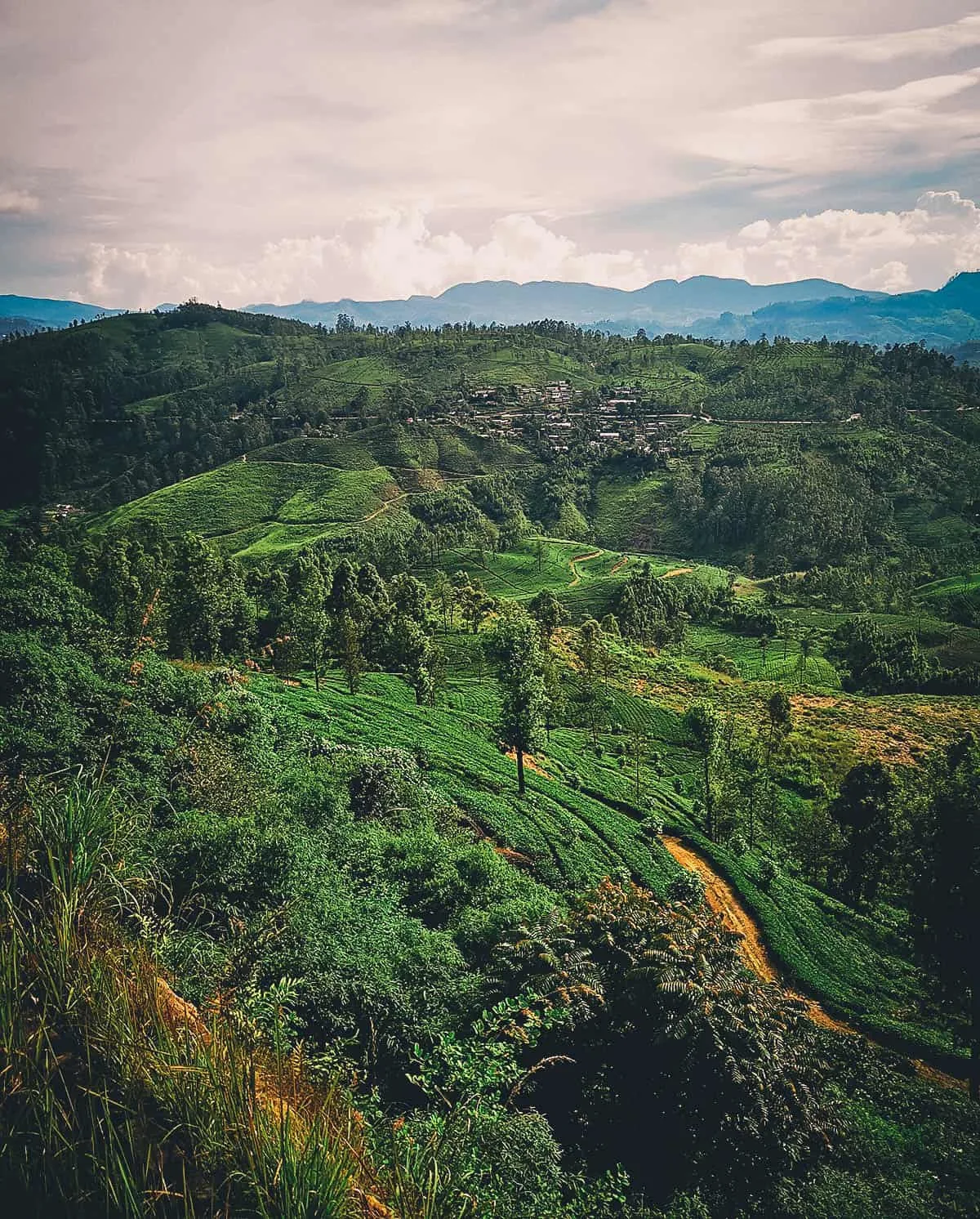 Other times, it would cut through valleys where we'd be riding between hills and looking up at terraces of tea plantations.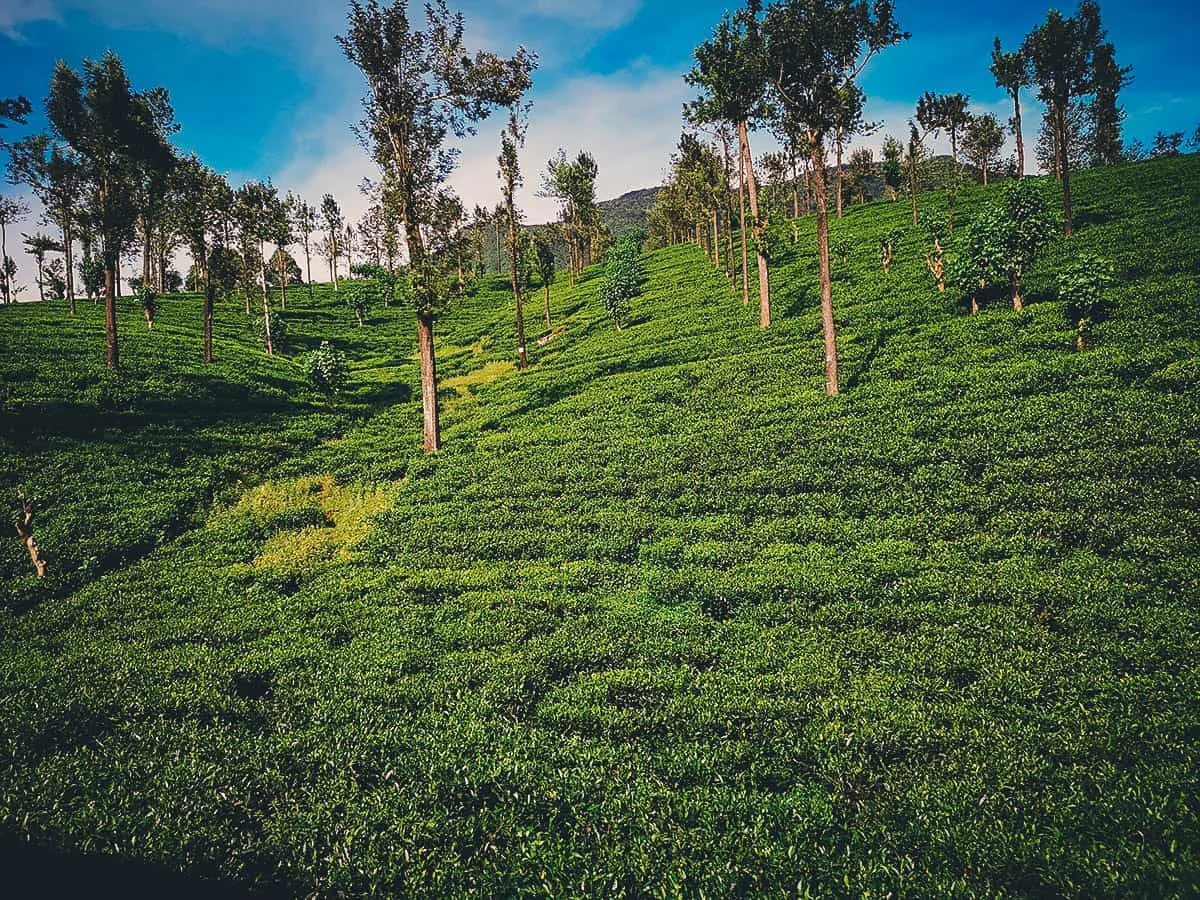 I read that tea needs warmth, altitude, and a sloping terrain to thrive, all of which are characteristic of Sri Lanka's Hill Country and make it an ideal place to cultivate tea.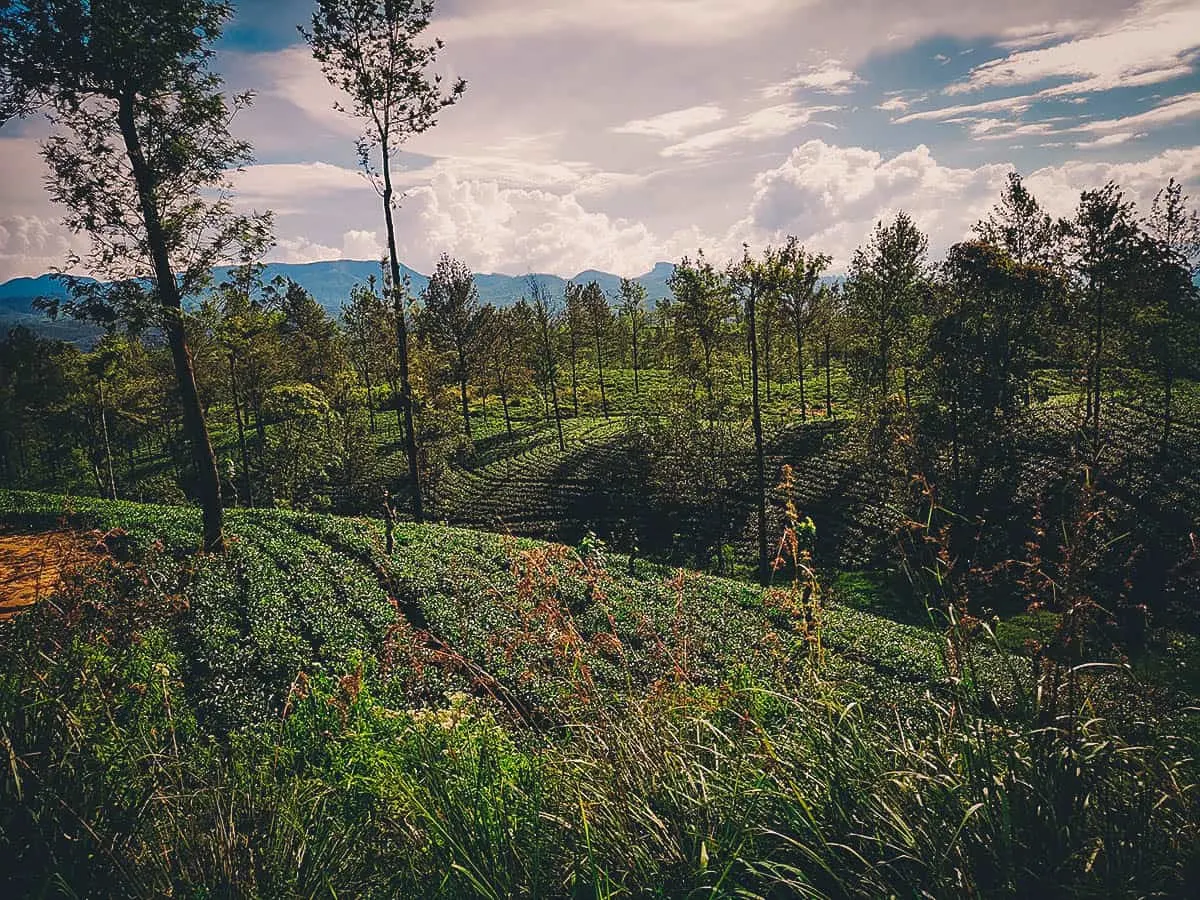 I overheard a conversation between a British woman and two German travelers and she was telling them how the best tea leaves grow at the very top of tea plants. It's because they get the most sunlight. Interesting.
Apparently, the locals have a name for tea made from those tea leaves as well, but I didn't quite catch it.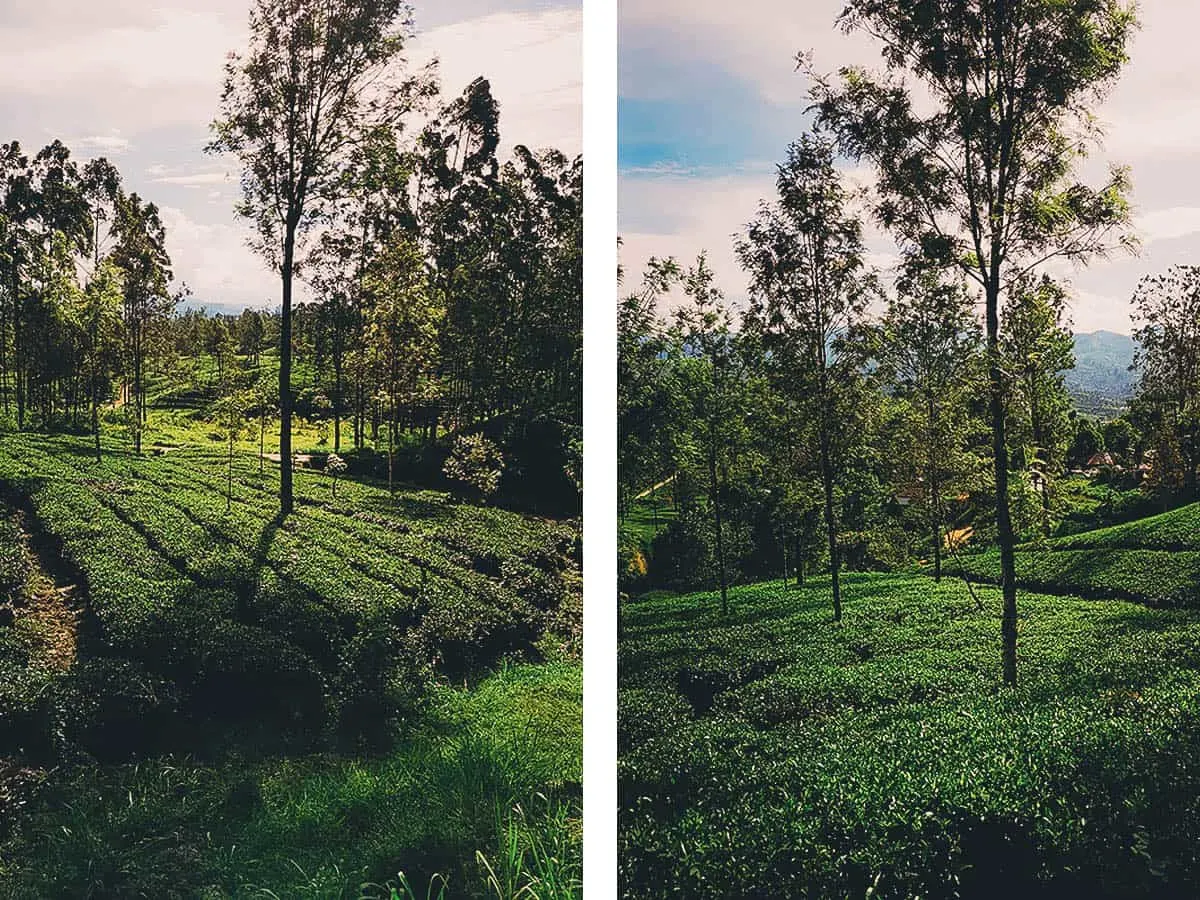 I went straight to Ella but the areas around the aforementioned stops of Hatton, Nanu-Oya, and Haputale are worth visiting so you're welcome to get off and do some exploring if you like. Many travelers do get off and stay the night before continuing on to Ella.
It's also worth mentioning that most tourists come from Colombo so the majority of people do the Kandy-Ella route. Ella-Kandy runs along the same set of tracks so it doesn't matter which way you go, the views are identical.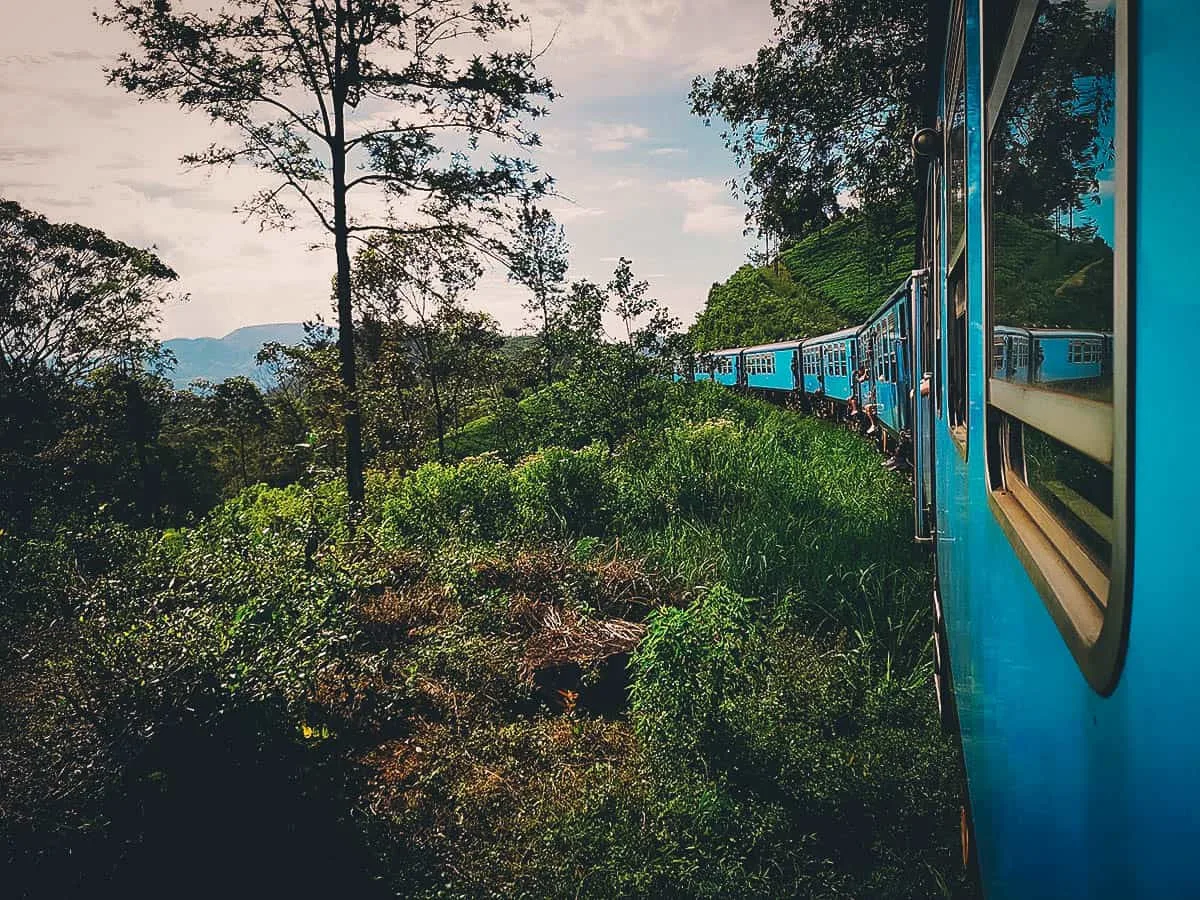 The morning after I arrived in Ella, I went to Lipton's Seat in Haputale and my guide told me that Sri Lankan tea is still harvested by hand by Tamil workers originally from India. They're descendants were brought into the country by the British specifically to work in these Sri Lankan tea estates.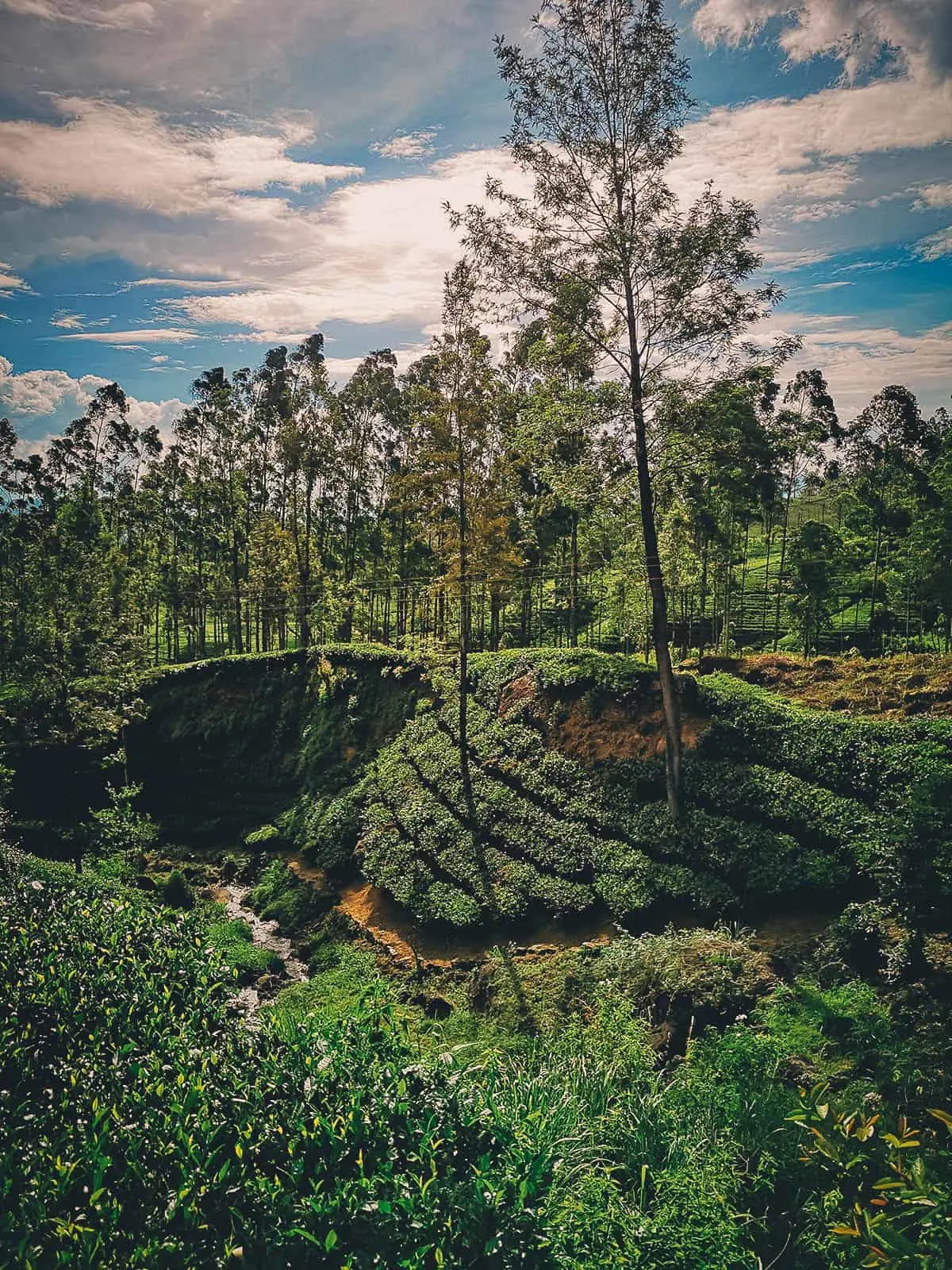 You may have seen them on social media. This train ride is famous for these open doors that let you hang from the sides, even while they move at full speed!
Many people do it for the gram as it makes for some pretty spectacular photos. Do be careful though because there are many hazards along the way that could potentially decapitate you.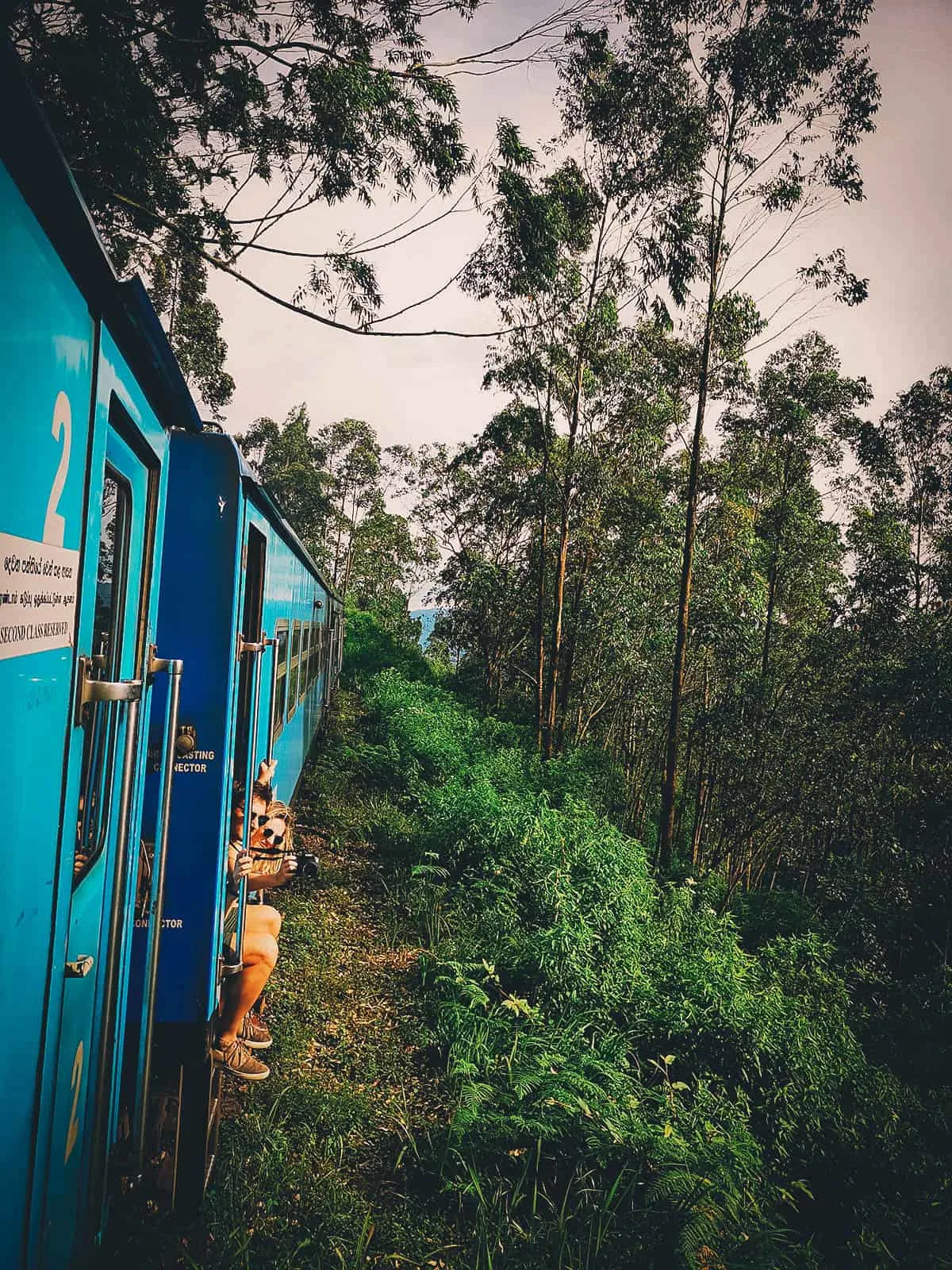 Look towards the front or rear and you'll find tourists hanging their heads out from every open orifice of the train. Trying to get that perfect Instagram shot has become a must-do on these train rides.

Nearing Ella, we passed this beautiful waterfall in the distance. The leg between Nanu-Oya and Haputale is widely considered to be the most scenic part of the journey.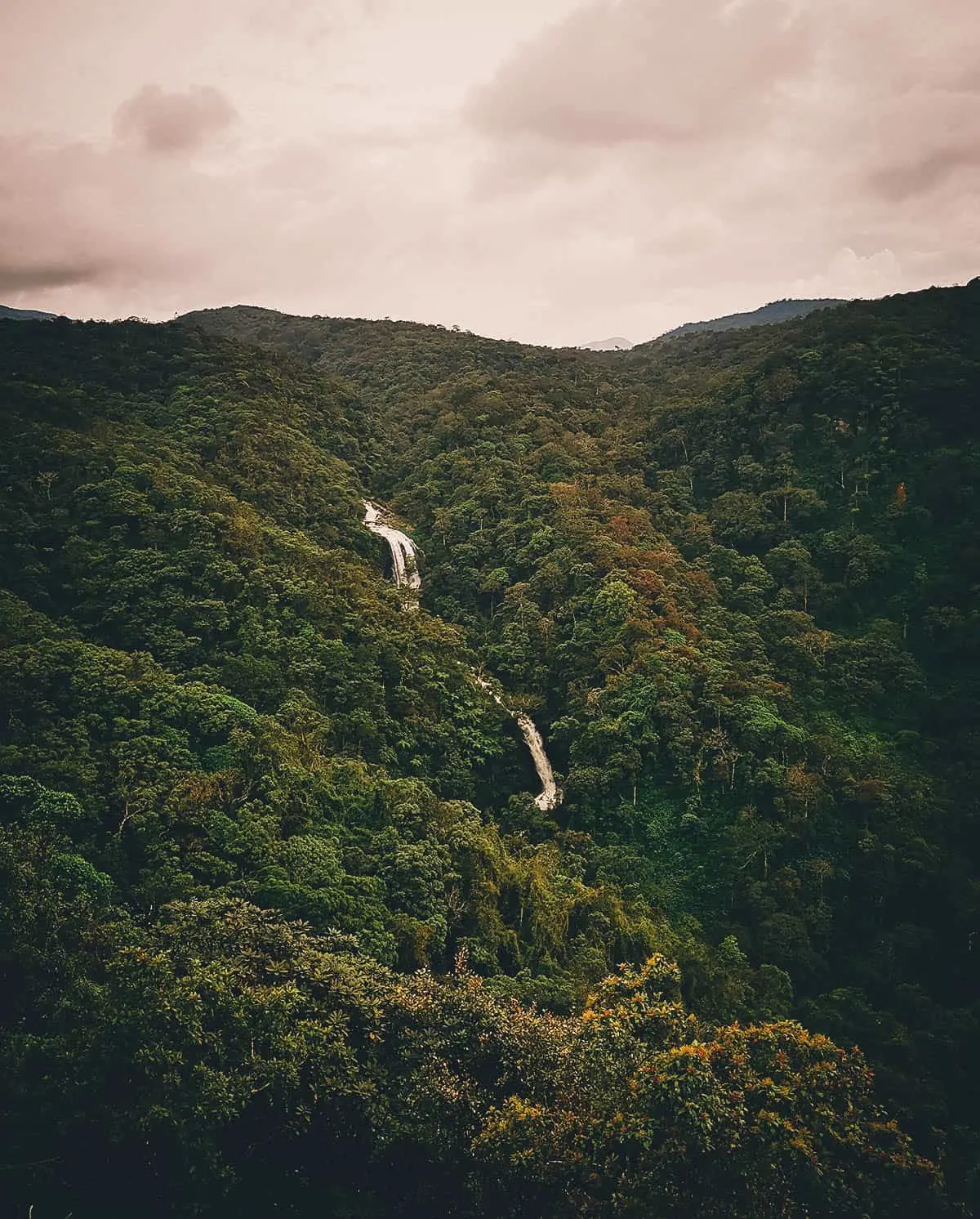 This is one of my favorite photos from today's epic train ride. For me, it perfectly encapsulates what this journey is all about – blue trains, endless green, and people sticking their heads out of windows. Relax lady, I'm not taking a picture of you.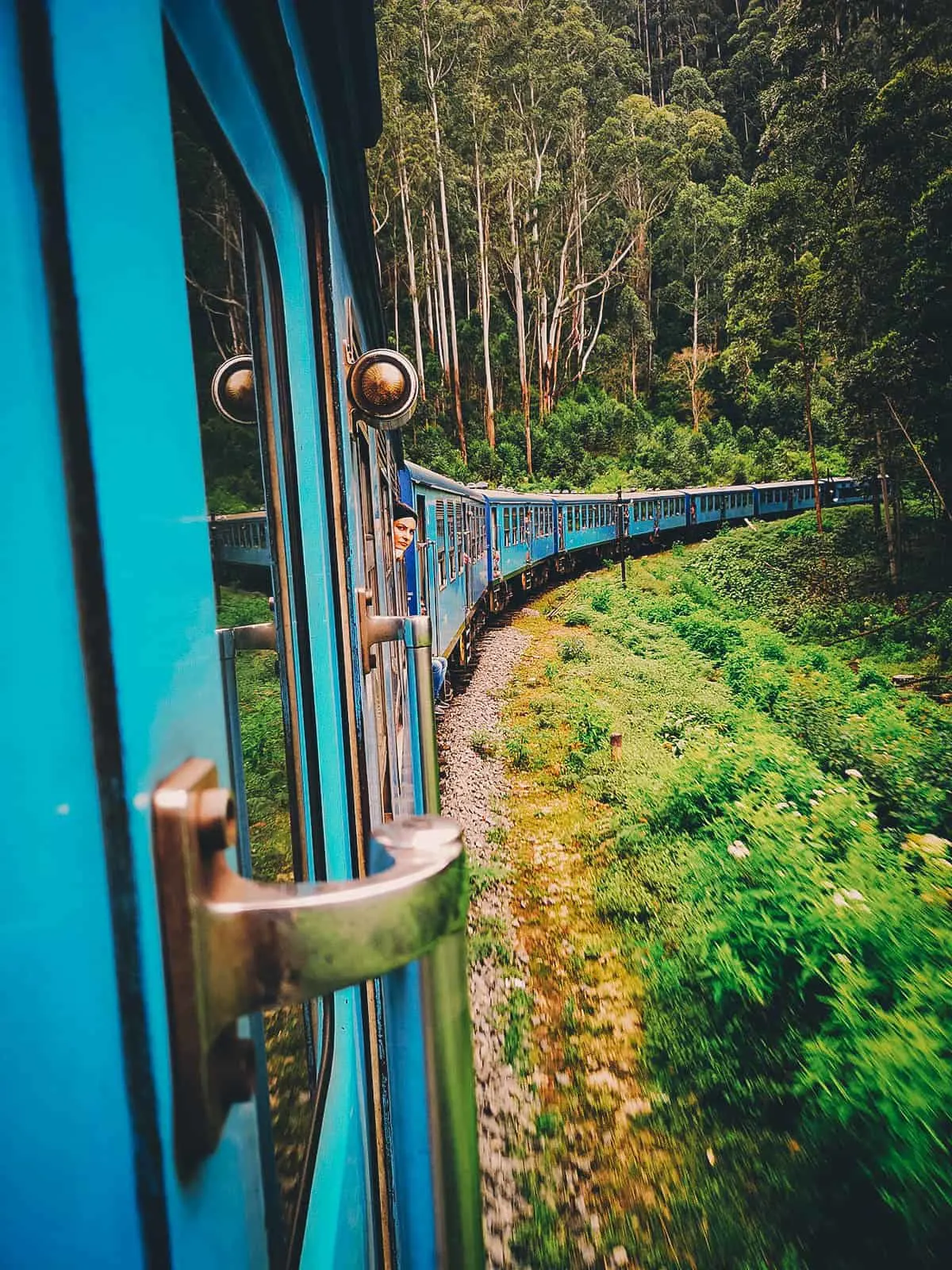 Speaking of taking pictures, I was advised to inject myself more often in our pictures to make our Instagram feed more personable. These millennials make it look so easy but it isn't! Here's me making multiple attempts to take a decent selfie.
(1) Too gloomy. (2) Nope, too dopey. (3) Hell no, too chin-y. (4) Ok, I think we're getting there…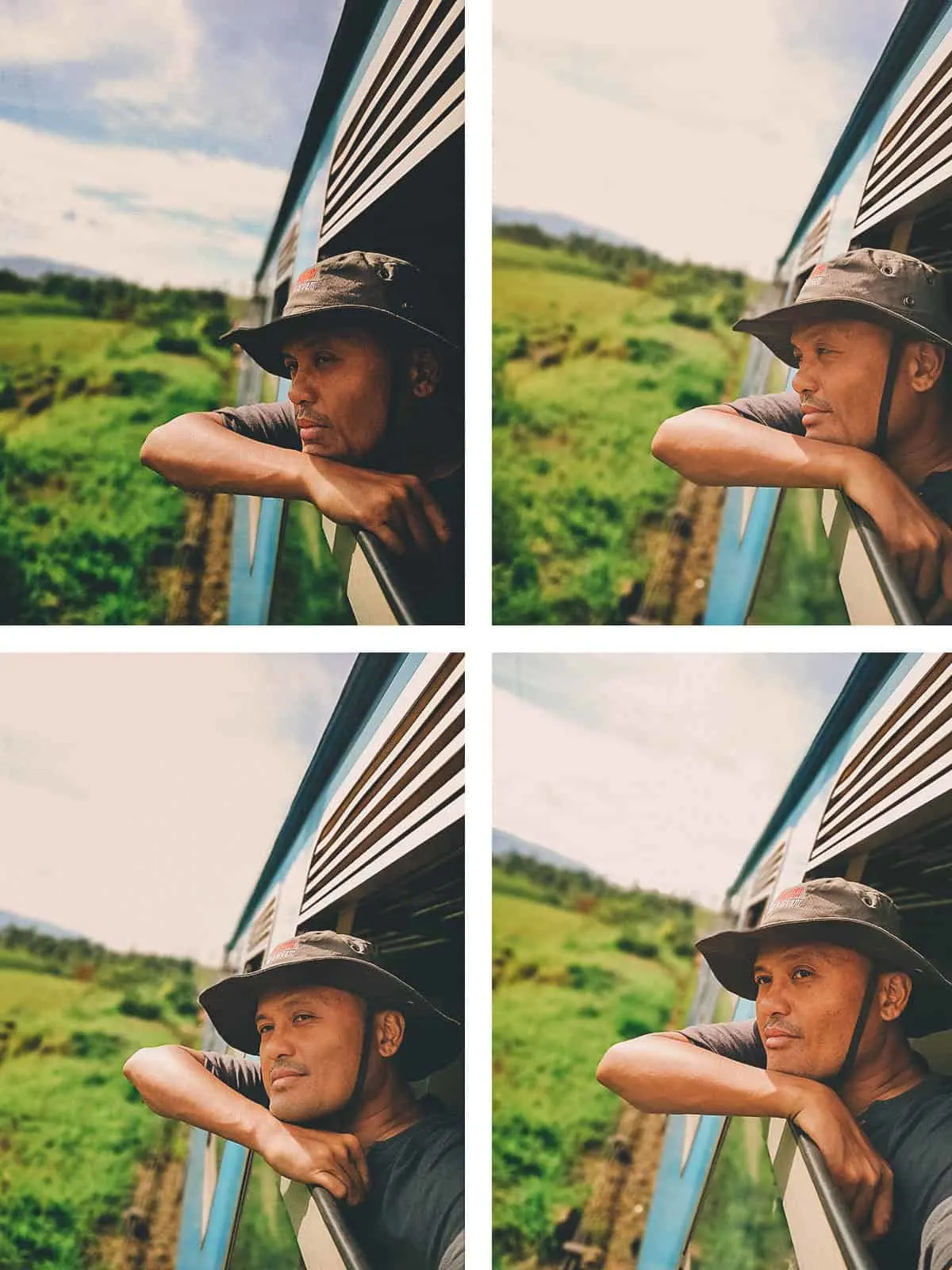 After like 50 snaps, I finally came up with a selfie that's halfway decent. I had been going hard in Sri Lanka for over ten days at this point so I was getting pretty tired, but I didn't dare sleep a wink and miss any part of this epic train ride. I'm not an authority on scenic train rides but one thing's for sure, this was absolutely the most beautiful train ride that I have ever been on.
If you heed Lonely Planet's advice and visit Sri Lanka for the first time in 2019, then you absolutely need to go on this train ride.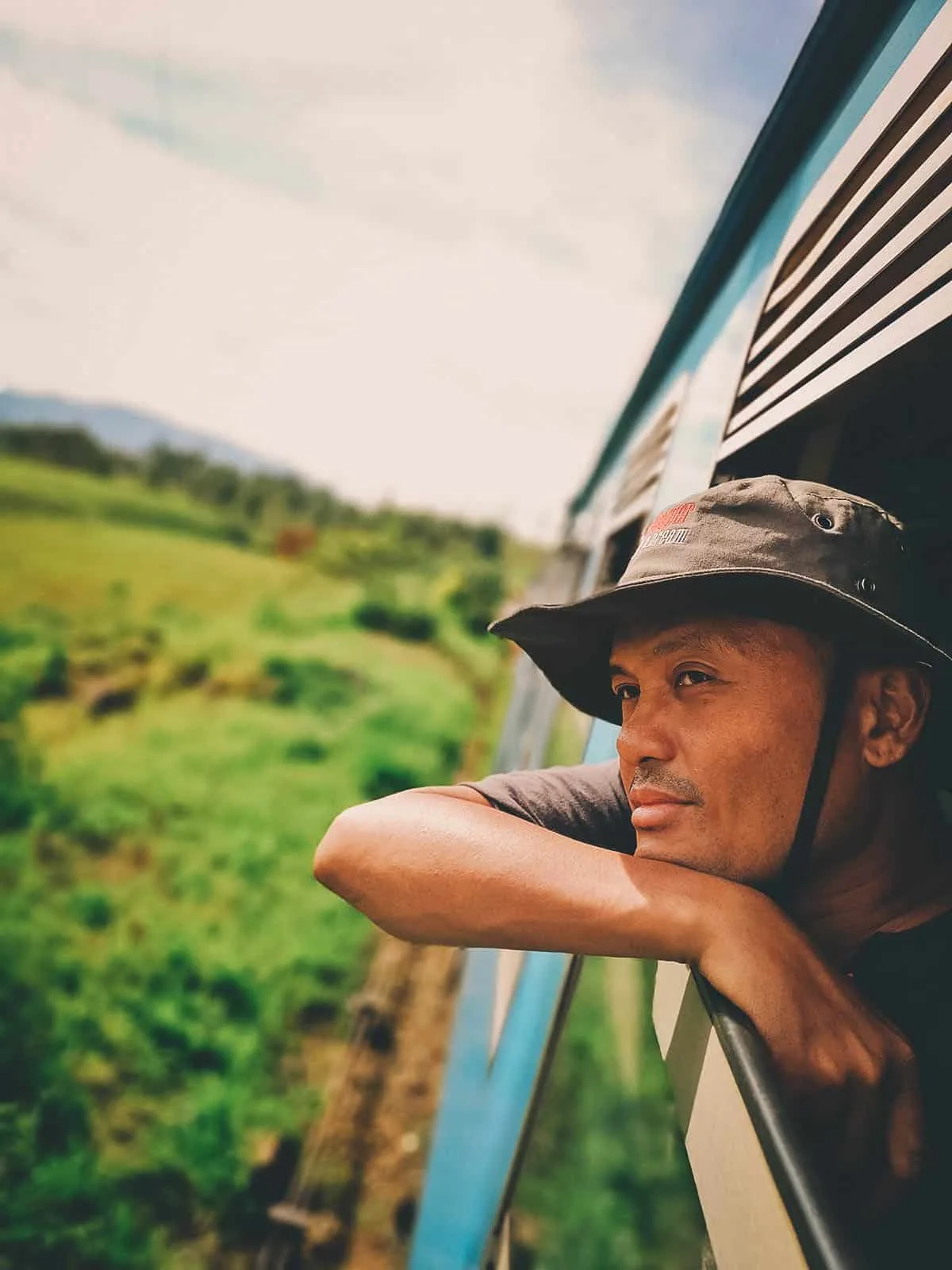 This was taken a few days later in Ella. Nine Arch Bridge is one of the most popular attractions in this sleepy mountain town, and it isn't hard to see why. It's such a photogenic bridge, especially when you're lucky enough to catch a train passing through. I believe Nine Arch Bridge is part of the final stretch of rail that goes from Ella railway station to Badulla. Don't miss it.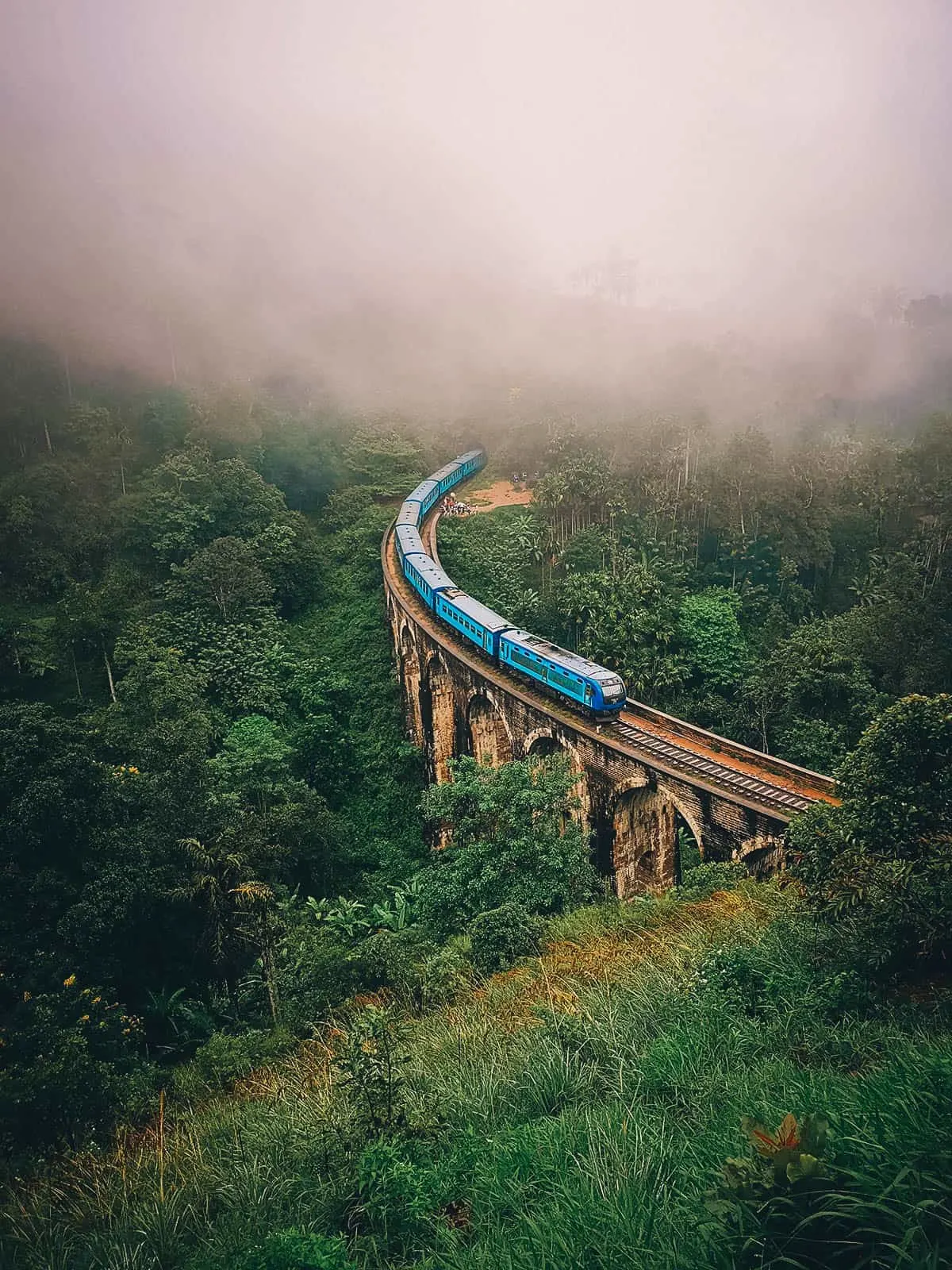 CONCLUSION
I spent a little over two weeks in Sri Lanka and this train ride was one of the best things I did. It's up there with climbing to the top of Lion's Rock and going on safari at Yala National Park. It's become one of Sri Lanka's most iconic attractions and a must-do if it's your first time visiting the country.
If you're traveling on a budget and aren't following a tight schedule, then you'll probably be fine purchasing an unreserved second class or even a third class ticket in Sri Lanka. You may find yourself standing the whole way but honestly, it isn't too bad.
The scenery is so beautiful that you'll wind up walking around the train anyway looking for free windows to take pictures from. I had a reserved second class seat but I spent a good amount of time on my feet taking pictures and video.
I even sat for a few minutes on the floor by one of those open train doors. It seems to be something everyone needs to do on these train rides.
But if you'll only be in Sri Lanka for a limited time and are following a tight schedule, then I can't stress enough how important it is to reserve your tickets in advance.
Be sure to reserve them as early as you can, about 30 days from the date of your intended journey. As described, you can do so through Bookaway.
Have an epic train ride everyone and don't fall asleep. Trust me, you won't want to miss a thing.