Like Palawan and Boracay, Bohol has long been one of the top tourist destinations in the Philippines. From its beautiful beaches and churches to its unique attractions like the tarsiers and Chocolate Hills, there's something for everyone in Bohol.
Hundreds of thousands of tourists visit Bohol every year, so it only follows that there's plenty of good food and fresh seafood to be found on the island. If you're planning a trip to Bohol, then here are thirteen restaurants and cafes that you may want to visit.
BOHOL RESTAURANTS QUICK LINKS
To help you plan your trip to Bohol, we've compiled links to popular hotels, tours, and other travel-related services here.
HOTELS
Top-rated hotels on Panglao Island, one of the best areas to stay for first-time visitors to Bohol.
TOURS
OTHER SERVICES
BOHOL TRAVEL GUIDE
Before visiting Bohol, be sure to check out our in-depth Bohol travel guide. It'll have all the information you need – like when to go, what to do, where to stay, etc. – to help you plan your trip.
Save This on Pinterest!
No time to read this article on the best restaurants on Panglao Island, Bohol? Click on the save button and pin it for later!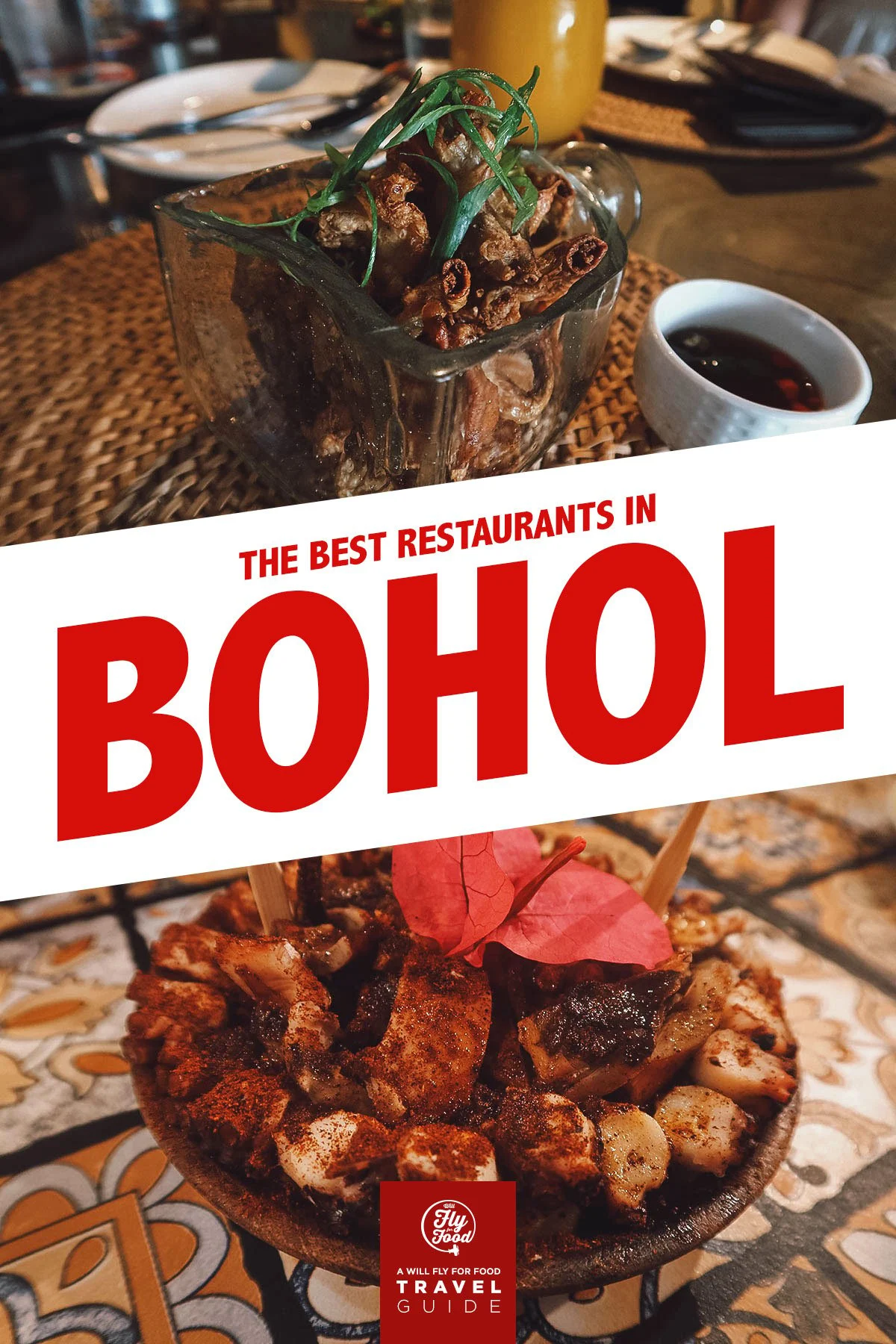 THE BEST BOHOL RESTAURANTS
The term "Bohol" refers to a province in the Philippines comprised of Bohol Island and several smaller surrounding islands, most notably Panglao Island. Tagbilaran City is the capital of Bohol province but most tourists stay and spend the majority of their time in Panglao.
As such, this guide focuses on restaurants in Panglao, but I will give a few recommendations on where to eat in Tagbilaran City at the end of the article. You can jump to the location map to see exactly where these restaurants are in Bohol.
1. The Glebe Coffee
What better way to start your first full day in Bohol than with a cup of good coffee? Many reviewers have called the coffee at The Glebe to be the best in Bohol. They may be right.
I stick to Americano but their flat white comes highly recommended. The iced Spanish latte was excellent too.
The Glebe Coffee is located along the main road, near Henann Resort and Alona Beach. They open bright and early at 7AM.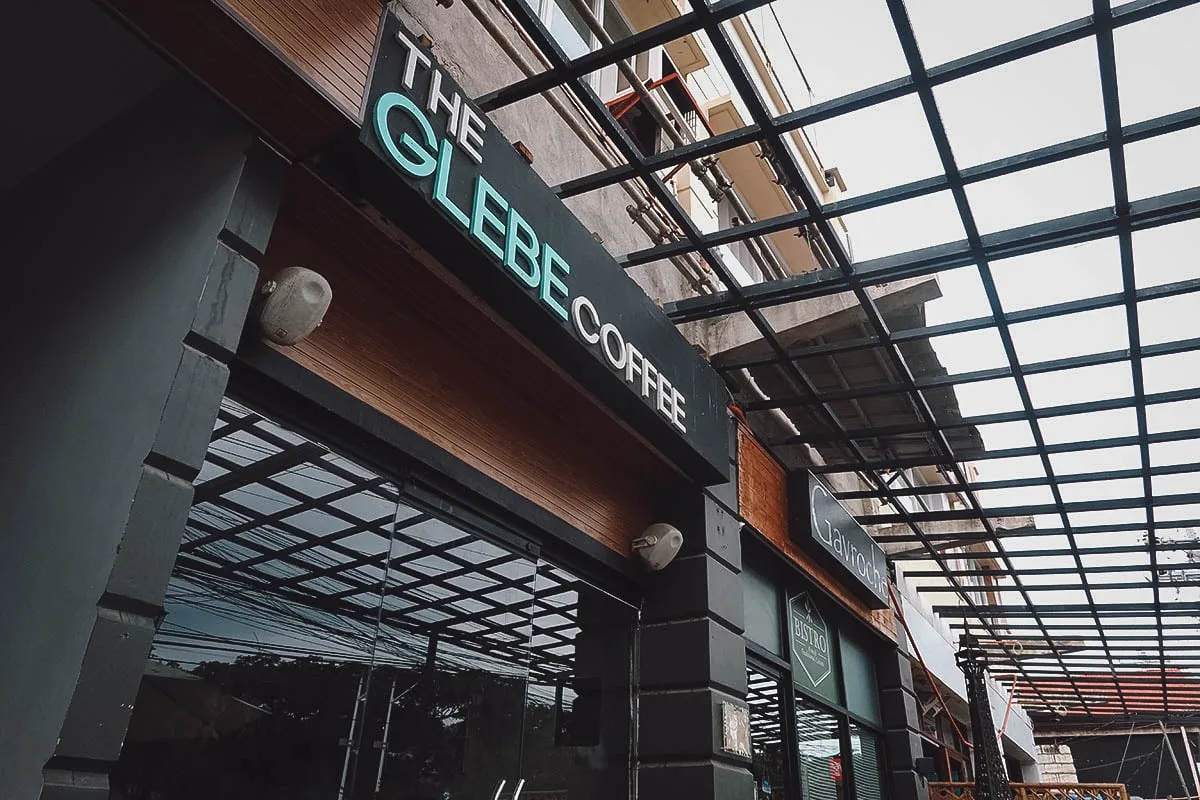 The Glebe Coffee
Address: 6340 Panglao Island Circumferential Rd, Panglao, Bohol, Philippines
Operating Hours: 7AM-10PM, daily
What to Order: Coffee
2. Overgrown Cafe & Bar
Located right next to highly-rated Garlic n' Lemon Bistro (#5), Overgrown Cafe and Bar is a relatively new coffee shop that makes excellent coffee and cocktails.
We came here after lunch so I had the affogato while my significant other started the weekend early with a gin and tonic. They make their gin and tonic with Tanqueray gin.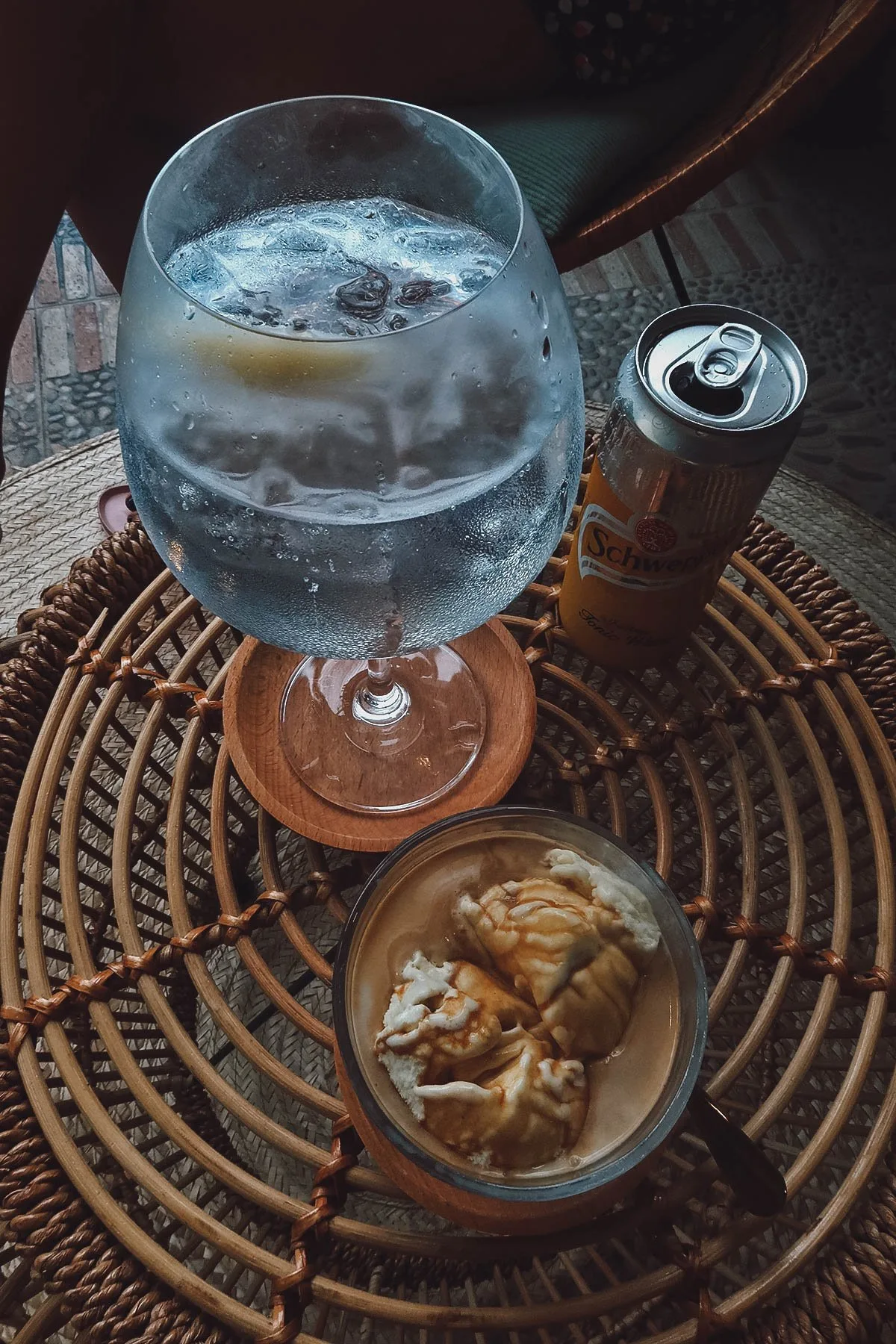 Here's a closer look at my affogato. If coffee or cocktails aren't your thing, Ovegrown offers tea and shakes too.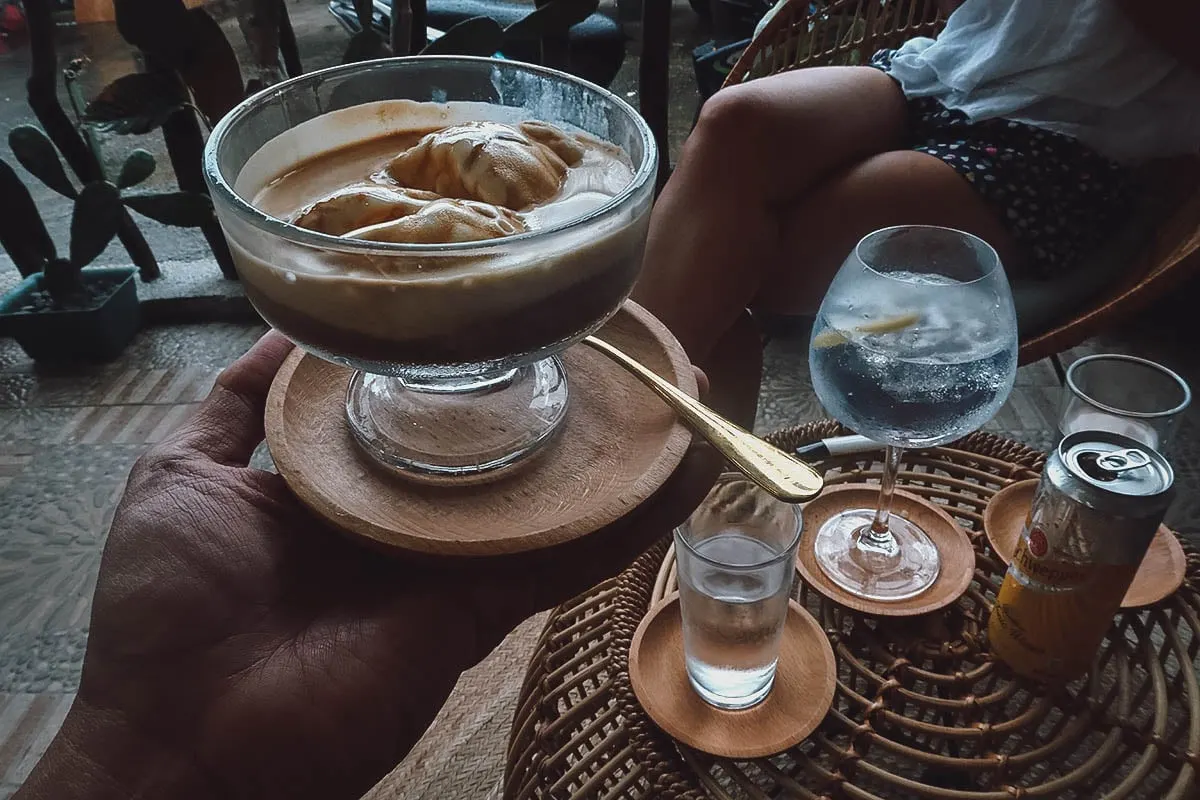 Overgrown Cafe & Bar was one of the most artfully decorated places we visited in Bohol. You'll understand why it's called "Overgrown" in the next picture.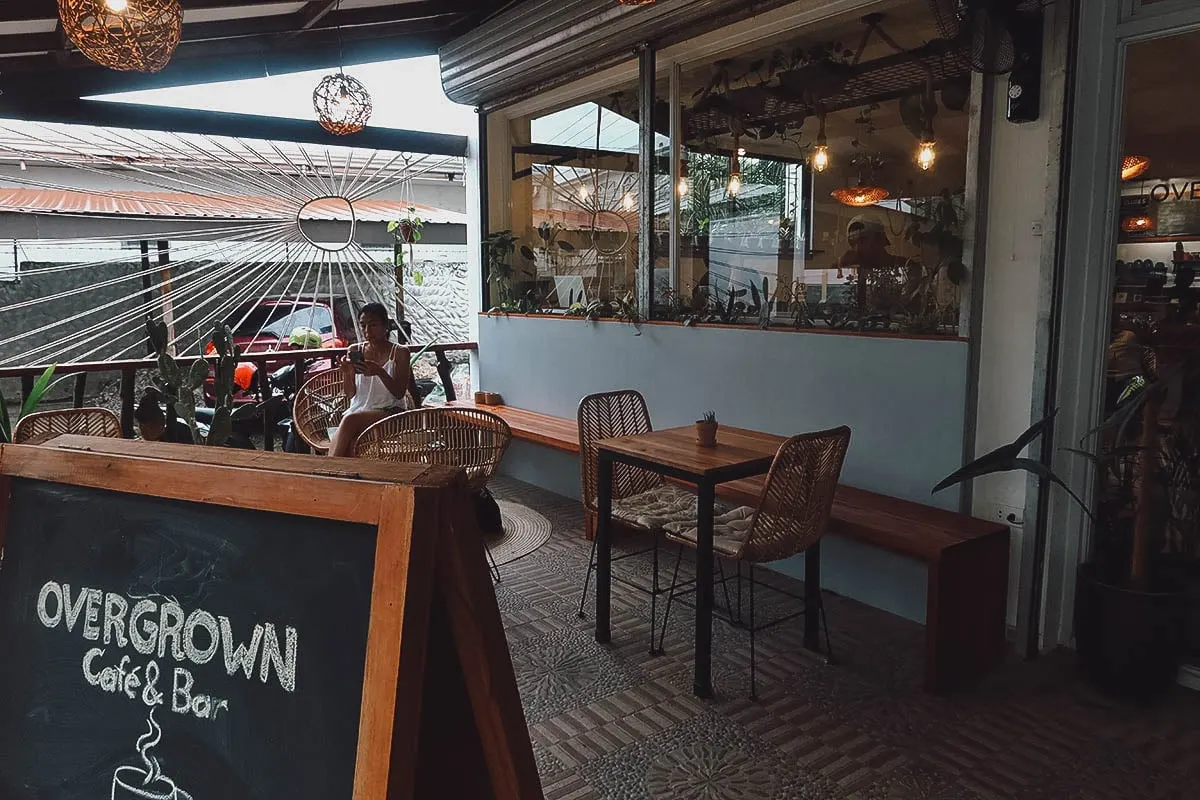 One wall of the cafe was filled with plants. I loved the natural textures and wabi-sabi feel of the place.
Overgrown seems to be a popular cafe with digital nomads. At the time, there were several people there working on their laptops.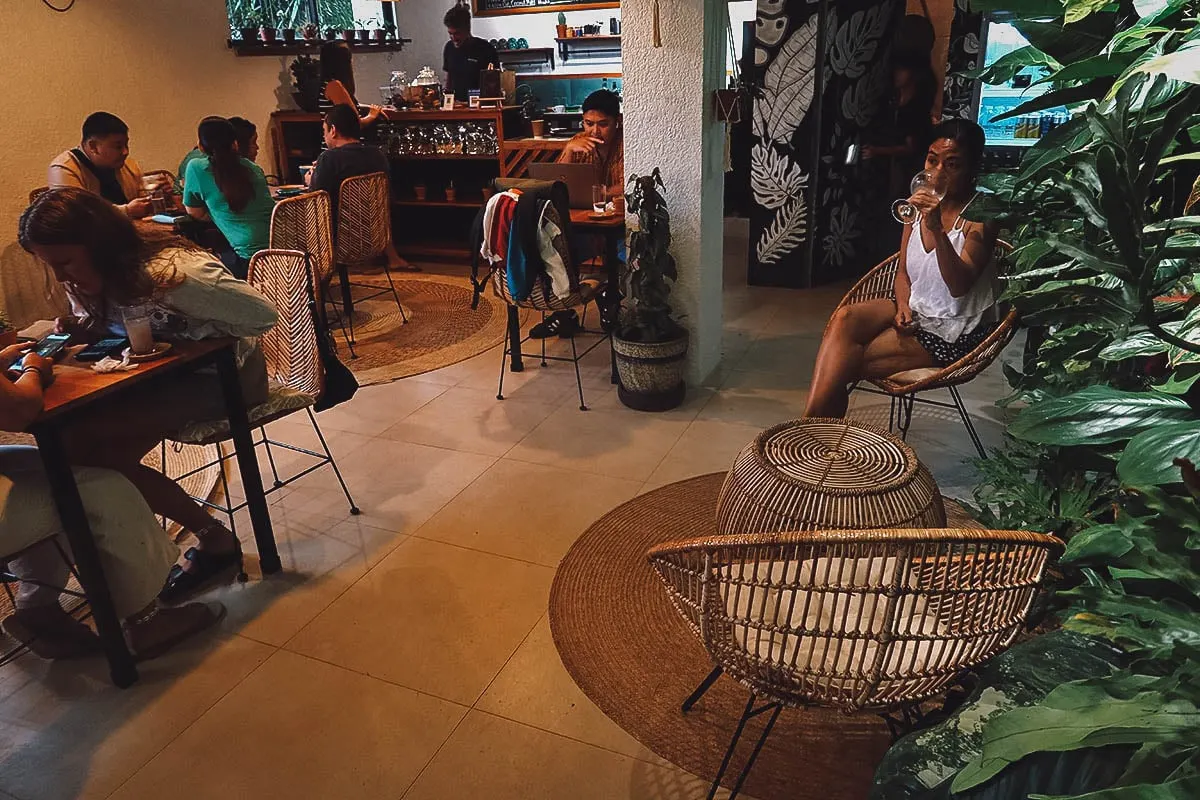 Overgrown Cafe & Bar
Address: Ester A. Lim Drive, Panglao, Bohol, Philippines
Operating Hours: 6AM-10PM, daily
What to Order: Coffee, cocktails
3. Common Crew Coffee Roasters & Brewers
Speaking of digital nomads, people looking for a good place to work need to check out Common Crew. It's a co-working space located along Tawala Road, in a quieter part of Panglao Island.
We recently visited Boracay and I was frustrated by the island's poor internet and lack of co-working spaces. No such problems in Bohol. At Common Crew Coffee Roasters & Brewers, digital nomads can work for 3-6 hours while enjoying excellent coffee and pastries.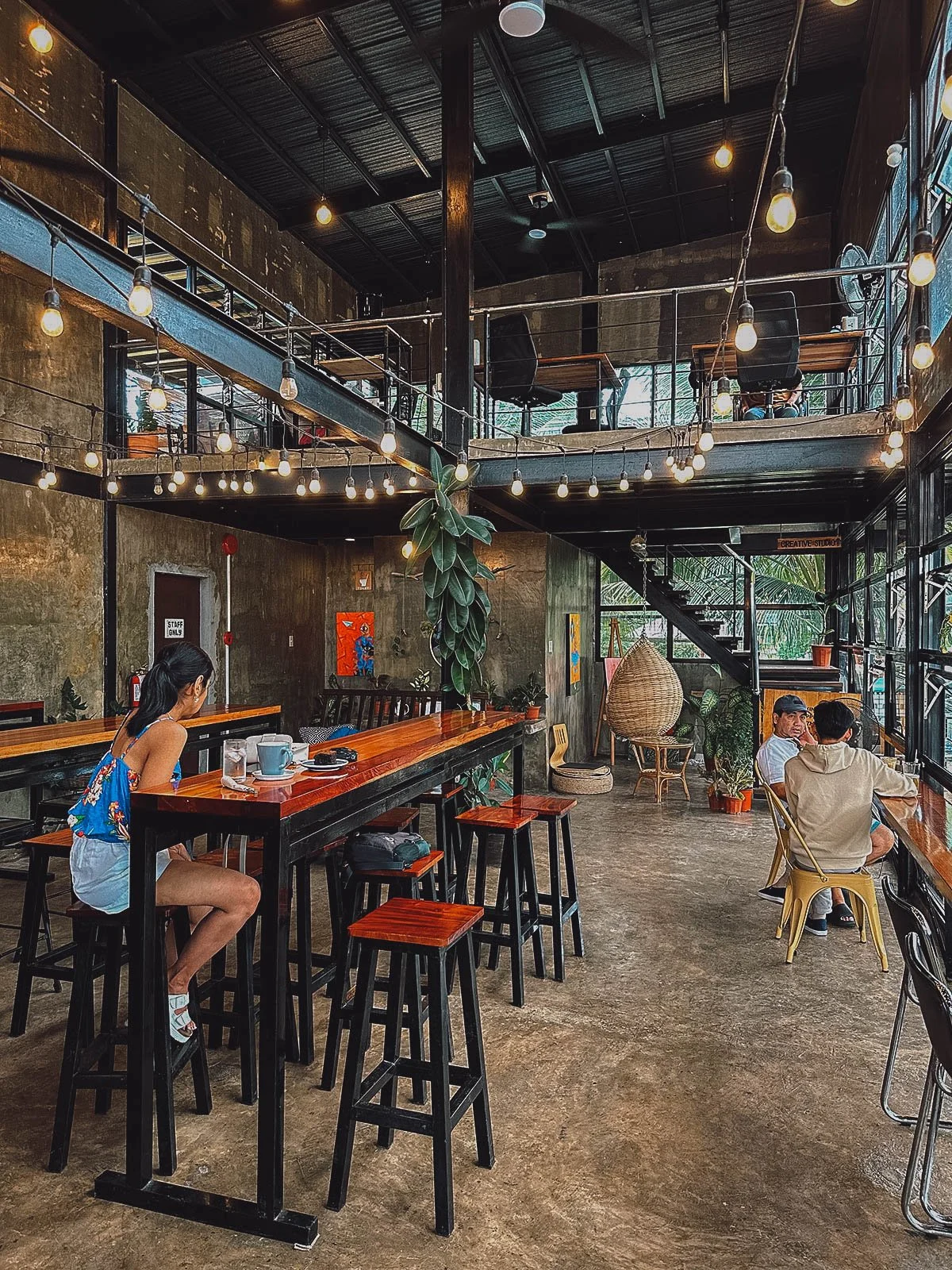 I had a long black and a brownie, both of which were very good. This was probably the best cup of coffee I had in Bohol.
Common Crew offers two co-working packages – 3 hrs for PHP 200 and 6 hrs for PHP 350. You'll have the option of getting unlimited brewed coffee or a cup of barista-prepared coffee with either package.
Common Crew Coffee Roasters & Brewers is located along Tawala Road. You can check out the location map at the bottom of this article to see exactly where it is on the island.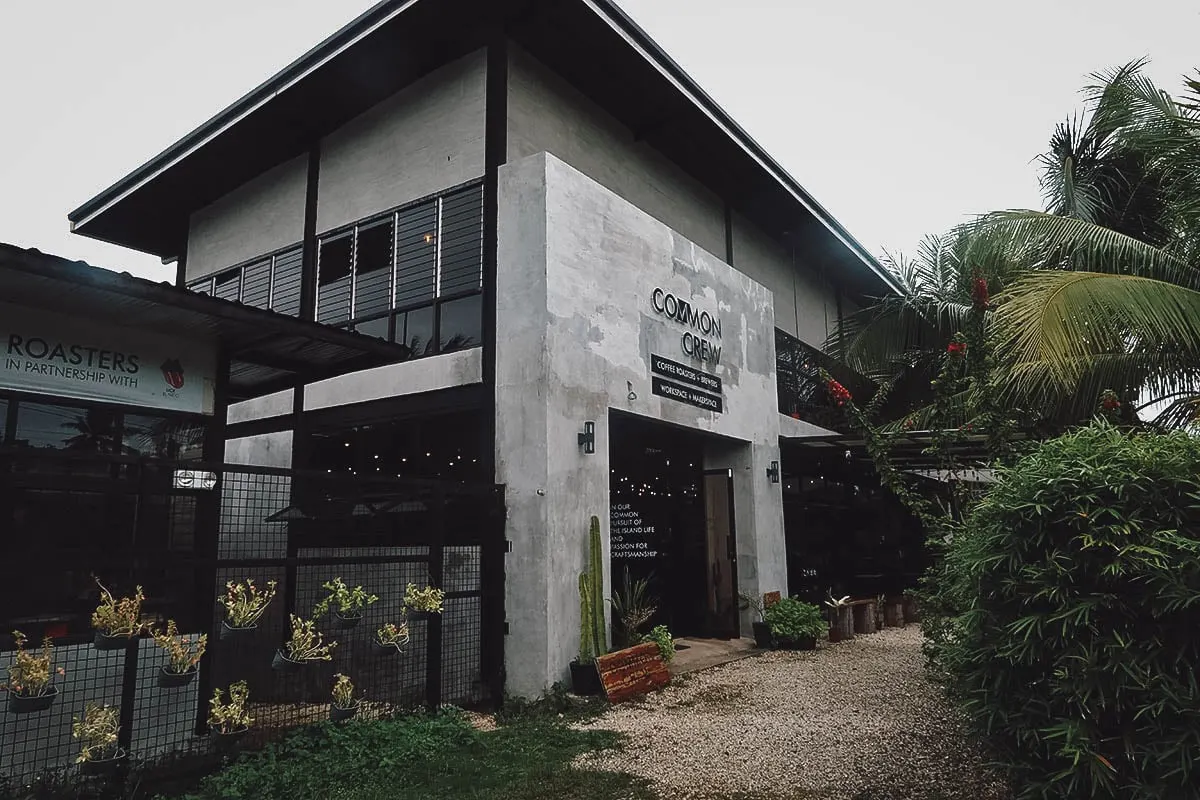 Common Crew Coffee Roasters & Brewers
Address: Tawala Road, Purok 2, Panglao, Bohol, Philippines
Operating Hours: 10AM-6PM, Thurs-Tues (closed Wednesdays)
What to Order: Co-working packages
4. Bohol Bee Farm
Bohol Bee Farm is one of the most iconic restaurants in Bohol island. More than a restaurant, it's an eco-resort that offers accommodations and an opportunity for curious guests to learn about beekeeping and organic farming.
We didn't go to Bohol Bee Farm on our most recent trip but pictured below are a few dishes from a previous visit, starting with this free appetizer of cassava chips with bread and two dips.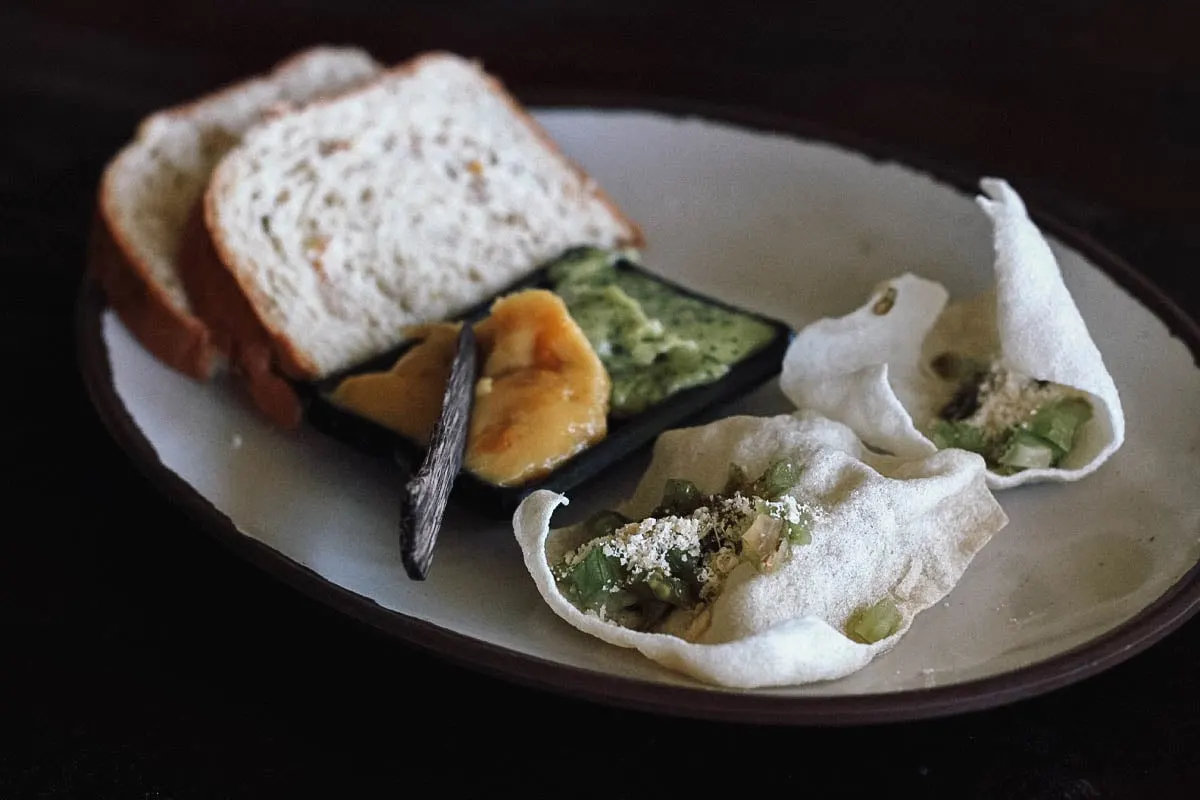 It may not look like a classic taco but this cassava fish taco was fantastic. Many of the dishes served at Bohol Bee Farm are made with ingredients grown in their very own organic garden.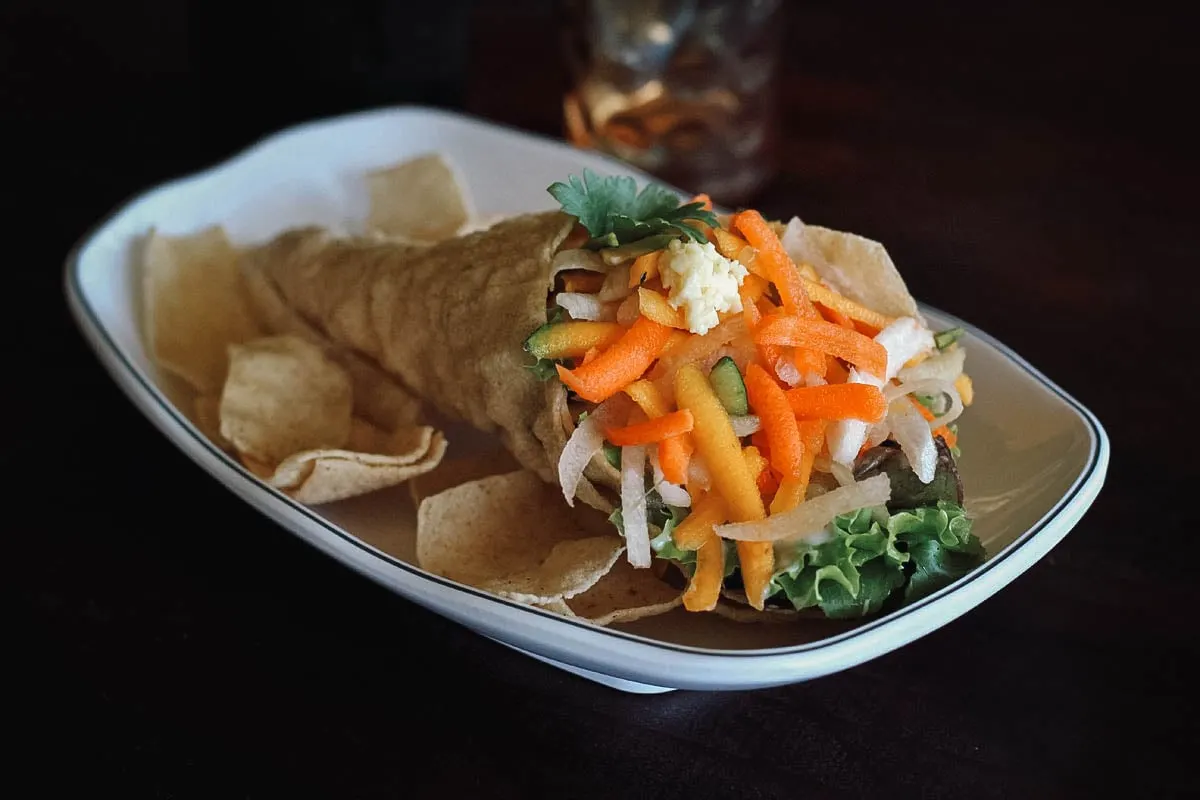 Bohol Bee Farm has great salads and vegetable-centric dishes, but they do have many other offerings as well like brick oven pizzas, burgers, pasta dishes, and sandwiches.
This cheese pizza was decent but you may want to go to Giuseppe Pizzeria & Sicilian Roast (#6) instead for any Italian food.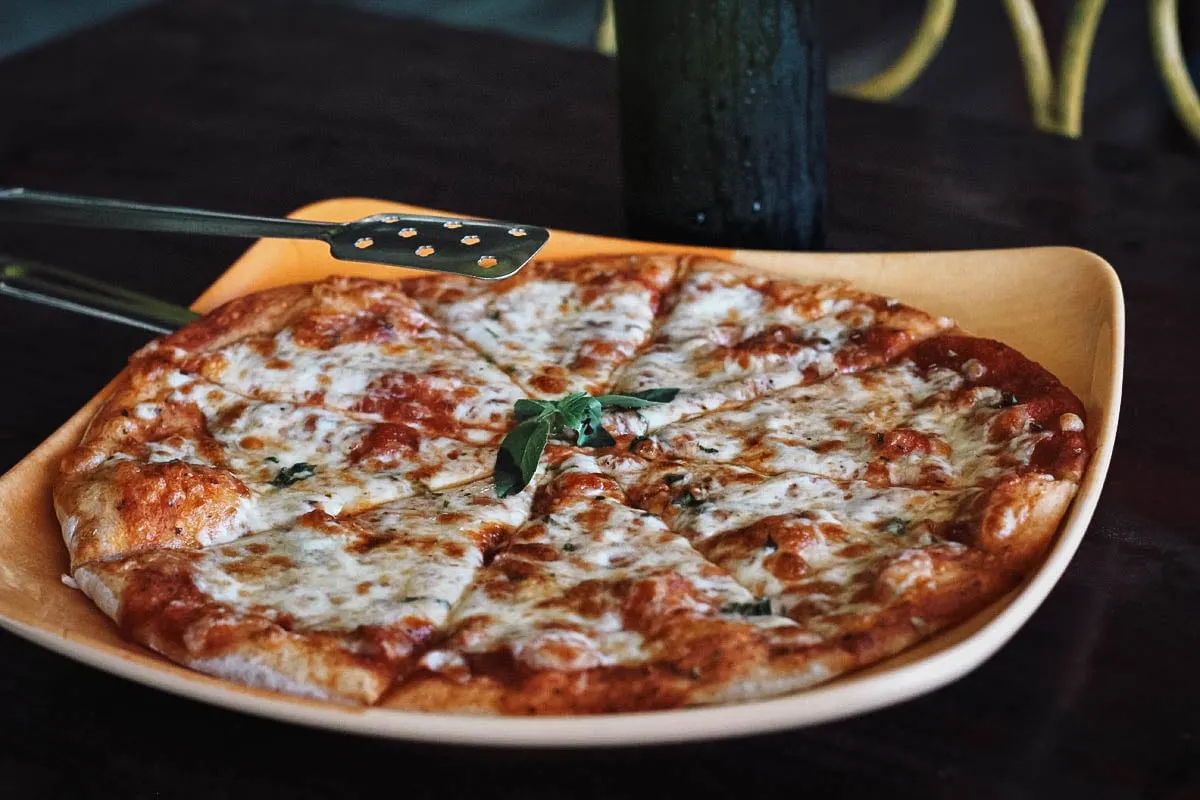 If you need ice cream in your life like I do, then you have to try Bohol Bee Farm's malunggay ice cream. Served in a cassava cone, it's the restaurant's house specialty ice cream.
Malunggay is the Filipino word for "moringa", a type of tree whose leaves are used as a vegetable in many savory Filipino dishes. Malunggay isn't commonly used in Filipino desserts so it's something you should try if you're looking for something a little less conventional in Bohol.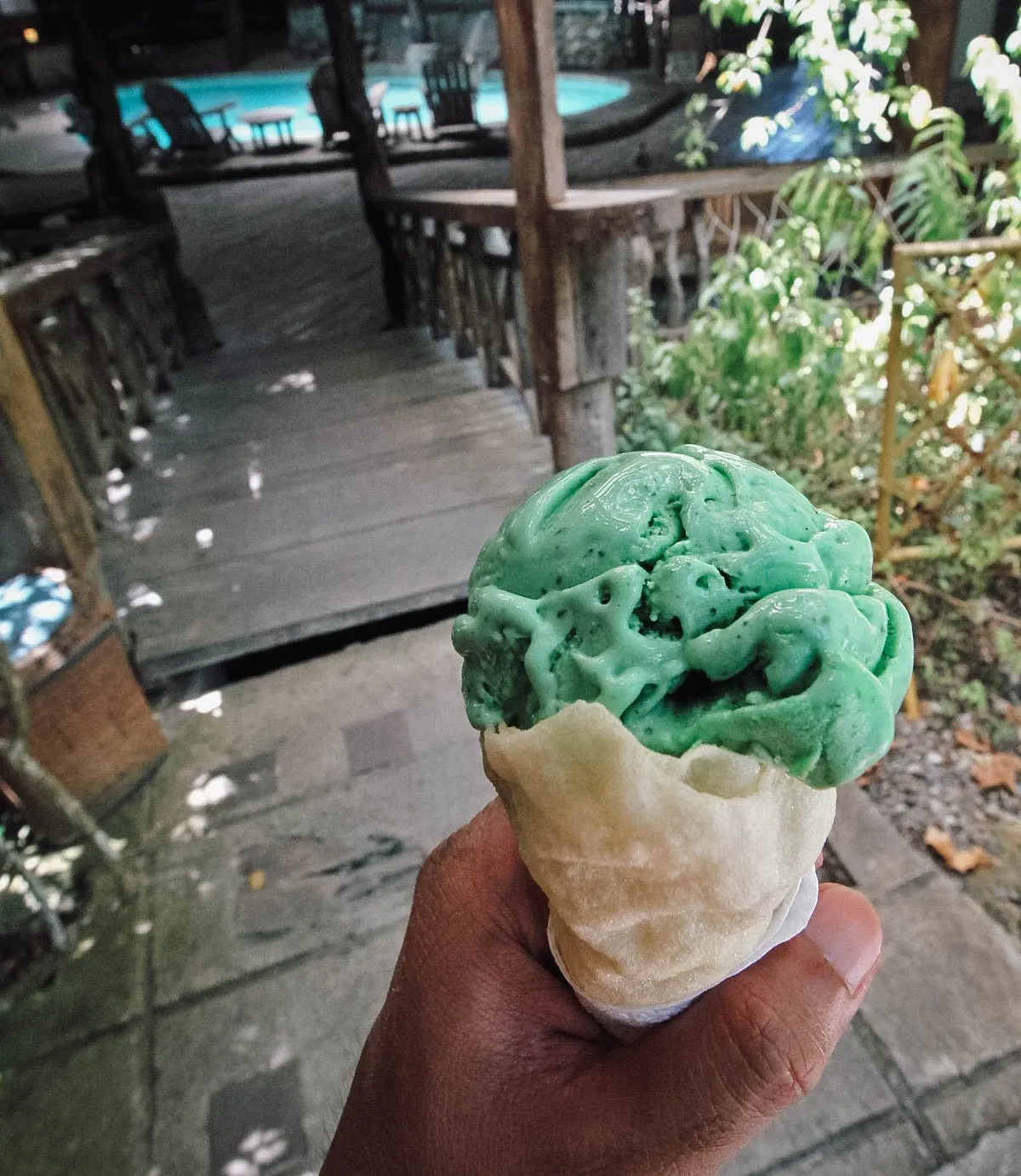 Aside from the interesting food, what makes Bohol Bee Farm special is the space itself. Wait until you see the view from the restaurant.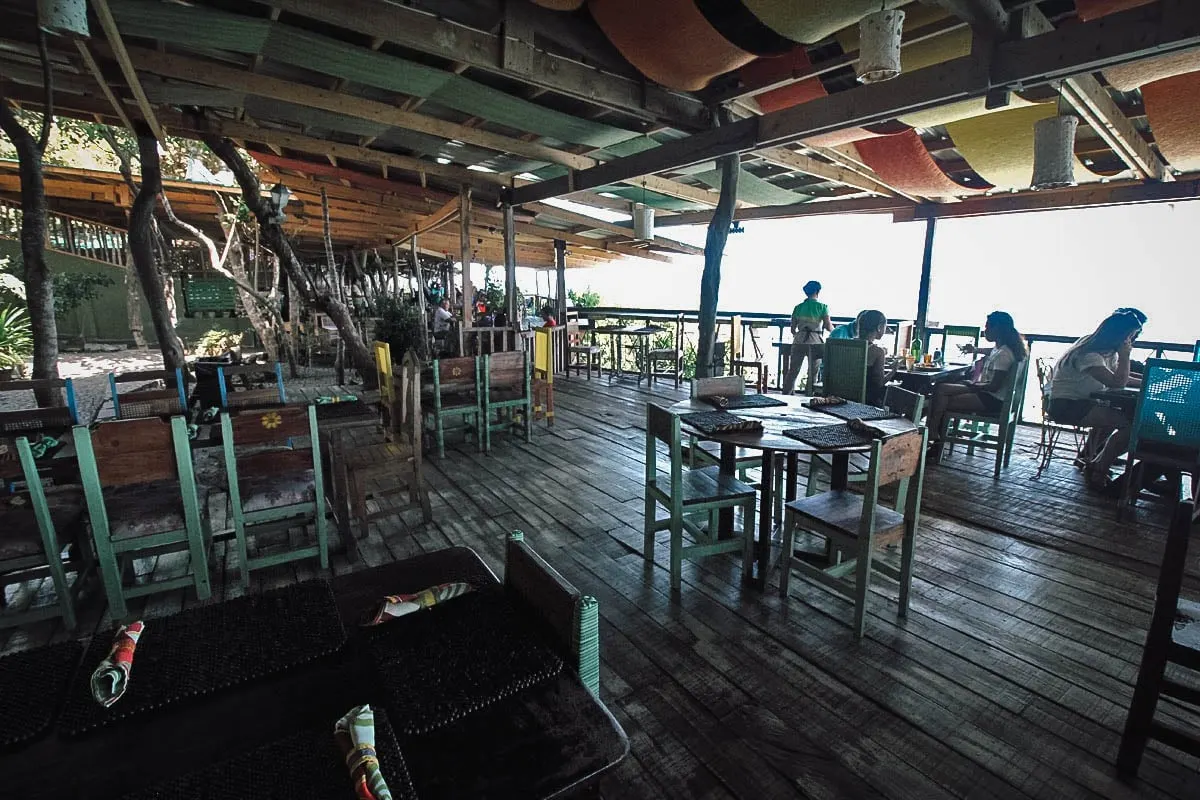 If you come early enough, then maybe you can get a table that offers this view. Isn't it breathtaking?
There's lots more to see at Bohol Bee Farm so check out the full article for more pictures and information.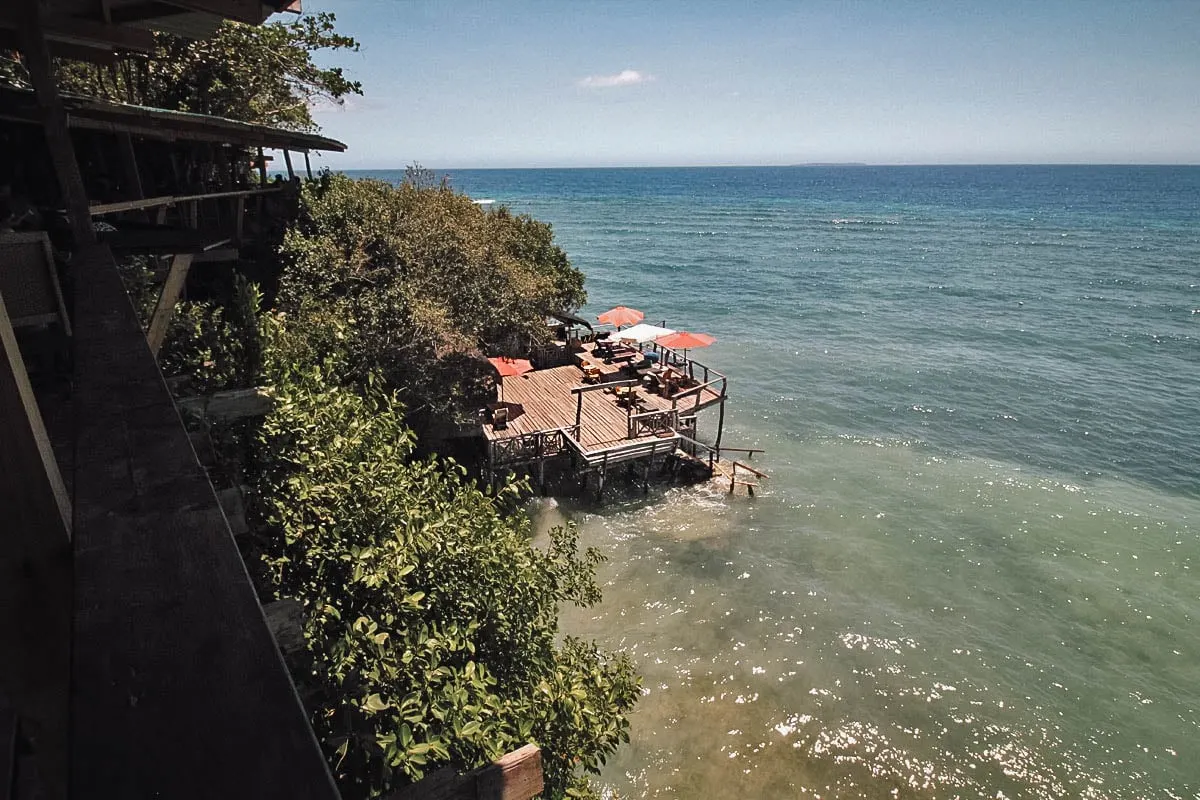 Bohol Bee Farm
Address: Dao, Dauis, Bohol, Philippines
Operating Hours: 8AM-9PM, daily
What to Order: Farm saladas, vegetables, roasted chicken, malunggay ice cream
5. Garlic n' Lemon Bistro
As of this writing, Garlic n' Lemon Bistro is the number one rated restaurant on Tripadvisor. They serve delicious food – mostly from different parts of Southeast Asia – but they do offer a few salads and pasta dishes as well.
This appetizer of calamares with chili sauce was very good.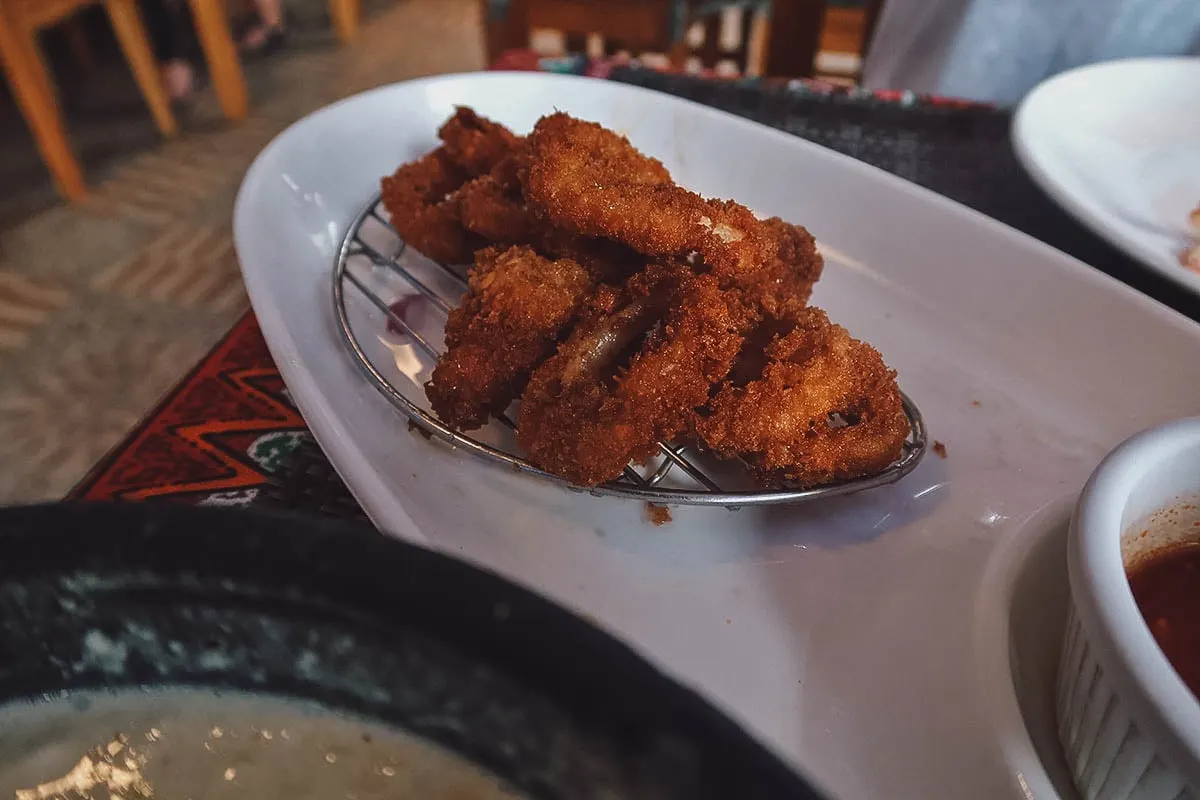 This red curry was delicious. We had it with shrimp but you can get it with chicken or a mix of fresh seafood as well. Rich and creamy, they pair it with rice but I would have loved it served in a sourdough bread bowl ala clam chowder.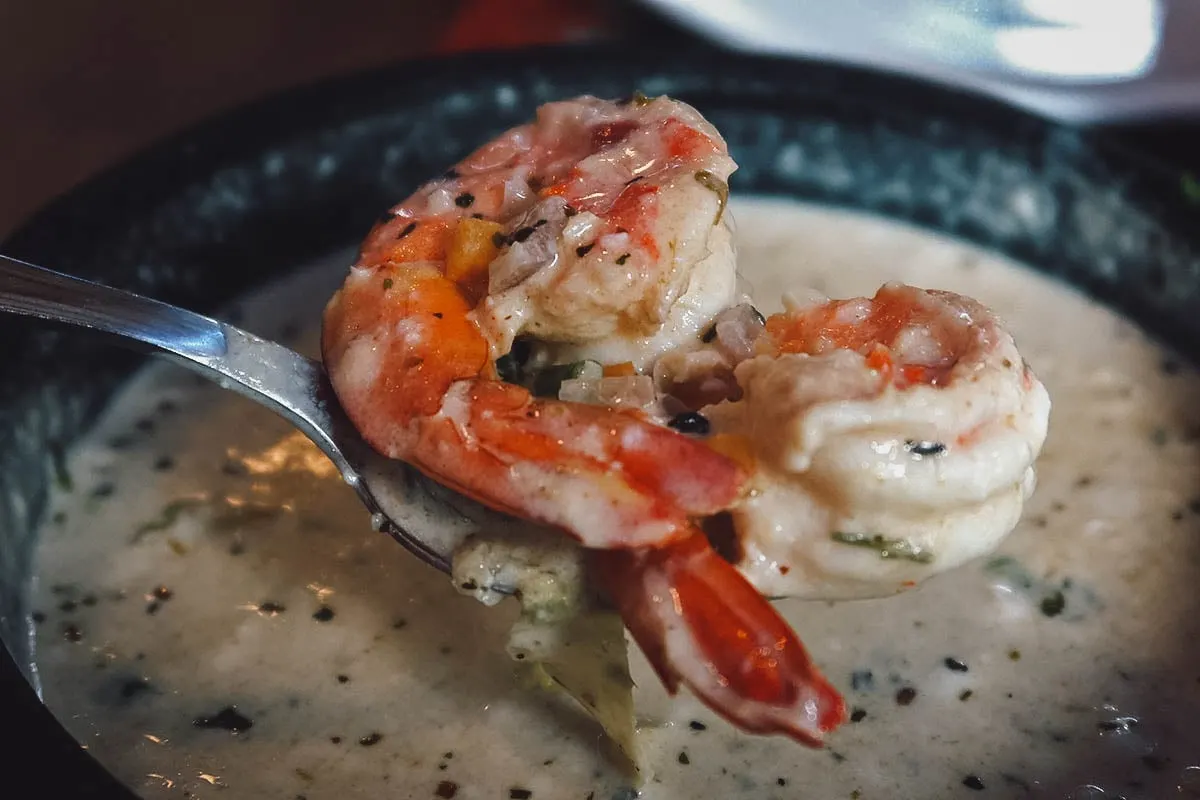 Garlic n' Lemon Bistro is a small restaurant tucked away on a side street just off the main road.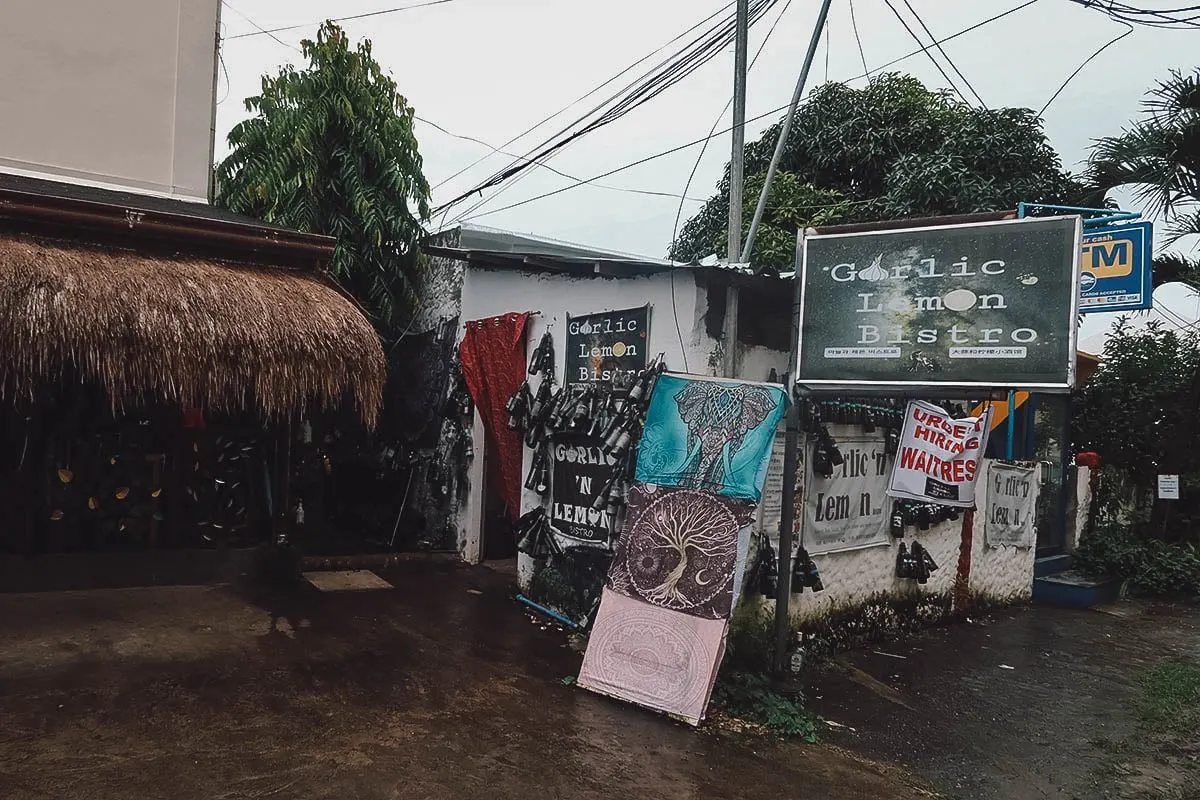 I wish we had gotten a picture with him but the restaurant is owned by a super friendly guy who loves chatting it up with his customers. At the end of the meal, he asks everyone what they thought of the food. Clearly he cares, which is always a good thing.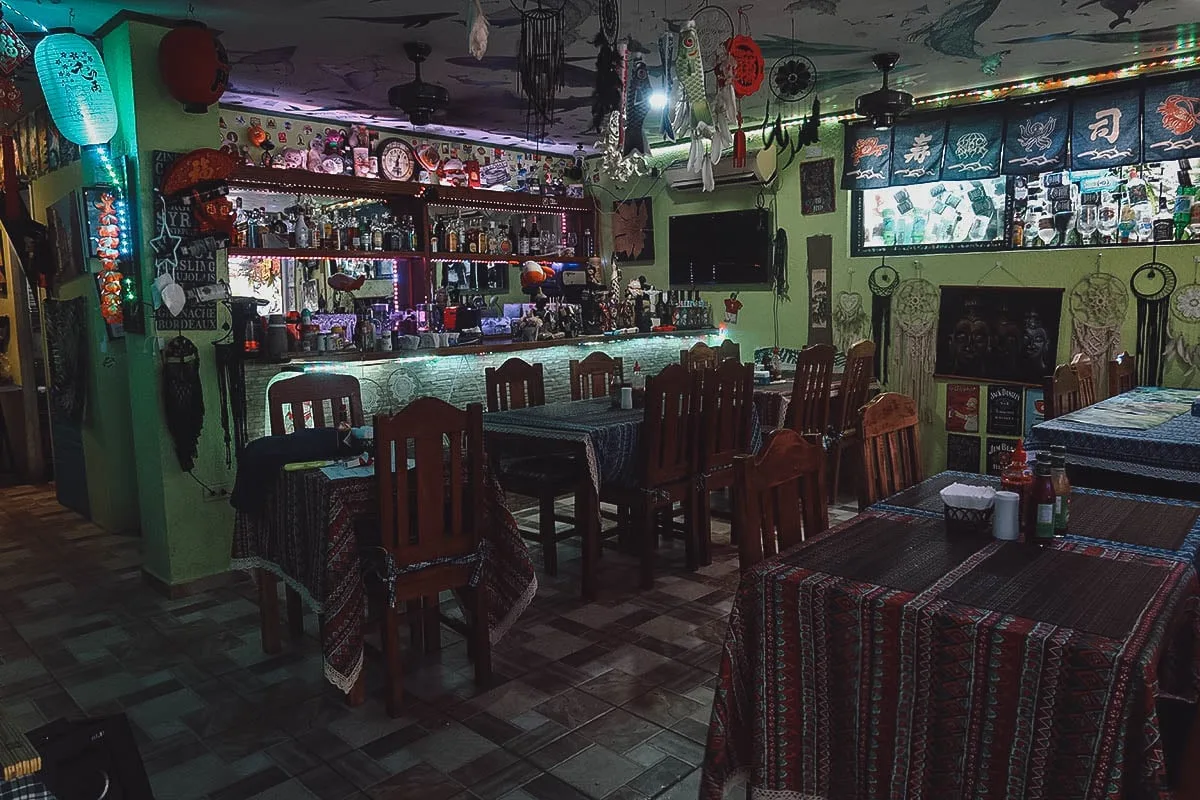 Garlic n' Lemon Bistro
Address: Easter lim drive, Aluna, Panglao, 6325 Bohol, Philippines
Operating Hours: 11:40AM-3PM, 5:30-9PM, daily
What to Order: Asian food
6. Giuseppe Pizzeria & Sicilian Roast
We enjoyed our first meal at Giuseppe several years ago. Back then, they already had a reputation for being the best Italian restaurant and pizzeria in Bohol. Fast forward to 2023 and by many accounts, they still are.
Giuseppe Pizzeria & Sicilian Roast is owned and operated by an Italian chef from Sicily. They do typical Italian fare like pizza, parmigiana, and pasta and they do it very well.
I don't know if this dish is still available but pictured below is Giuseppe's carpaccio di bue. It's a delicious starter of thinly sliced raw beef topped with iceberg lettuce, olives, capers, marinated mushrooms, Parmesan cheese, extra virgin olive oil, and balsamic vinegar.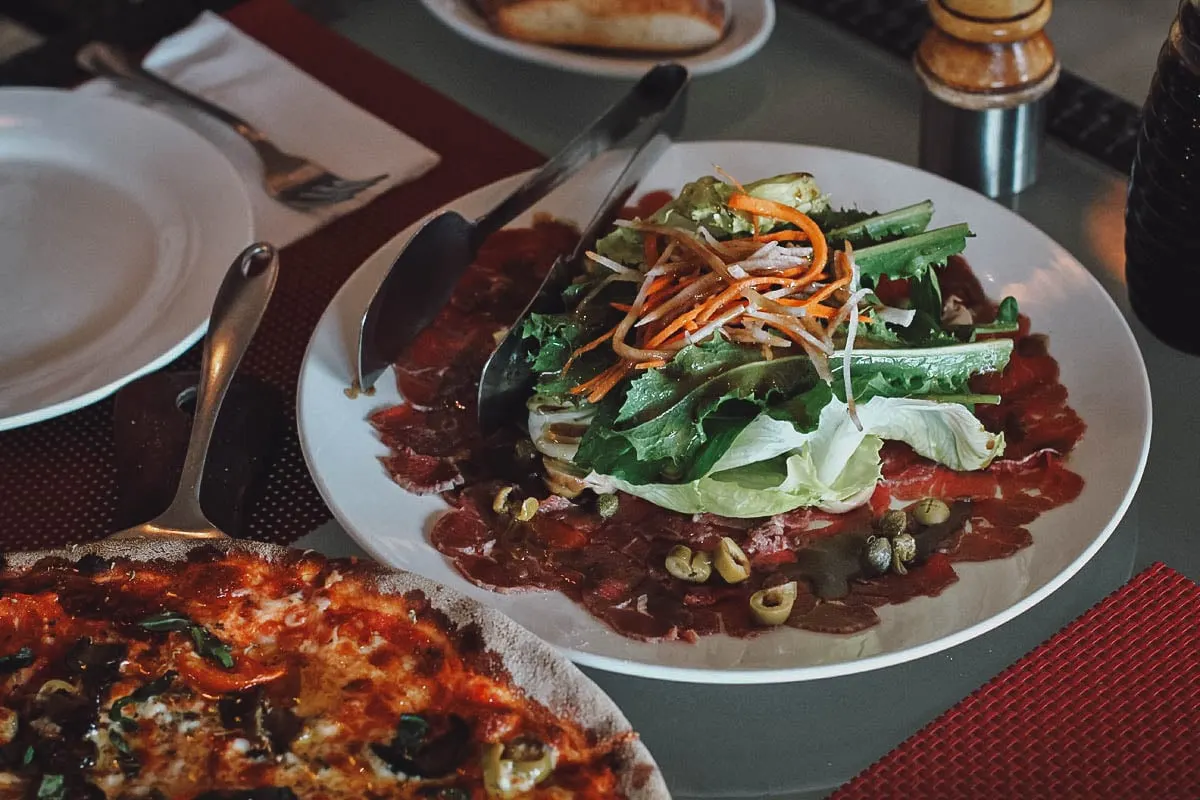 I usually go for tomato-based pasta dishes but I can never refuse Giuseppe's eggplant parmigiana. It's another tasty starter made with eggplant baked with tomato sauce and mozzarella and drizzled with Parmesan cheese. Serious yum.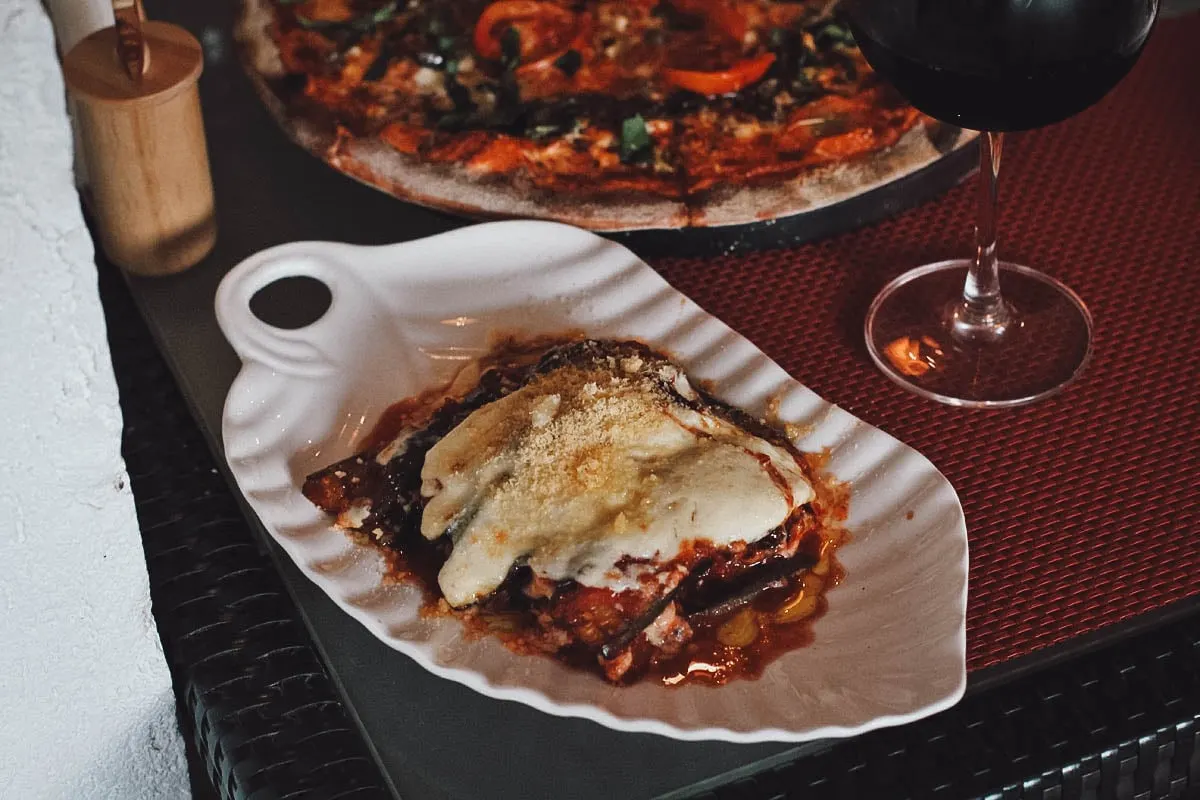 Giuseppe offers many delicious wood-fired pizzas but if you like anchovies, then you may want to get the Lorenzo. It's made with mozzarella, anchovies, fresh tomatoes, artichokes, olives, and basil.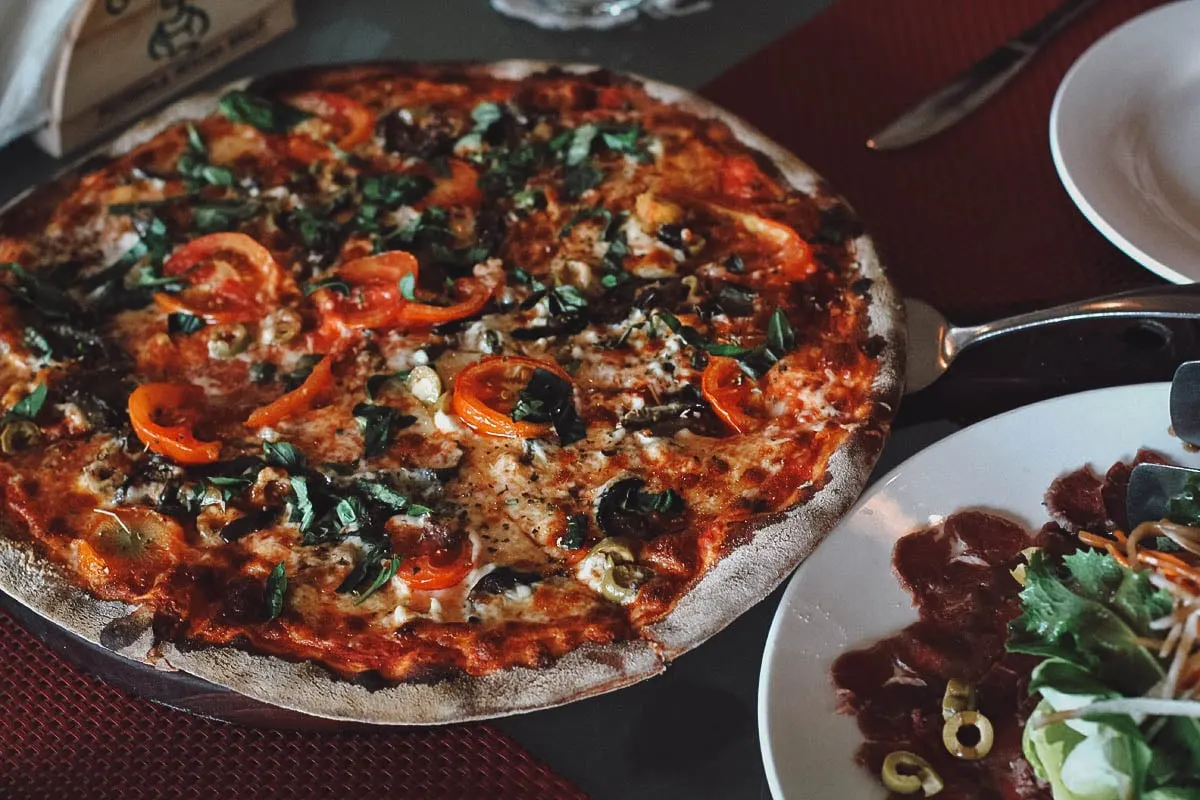 The restaurant is in its own building along the main road so it shouldn't be hard to spot. This picture was taken a few years ago so the interior may have changed since then.
You can check out my article on Giuseppe Pizzeria & Sicilian Roast for more pictures and information.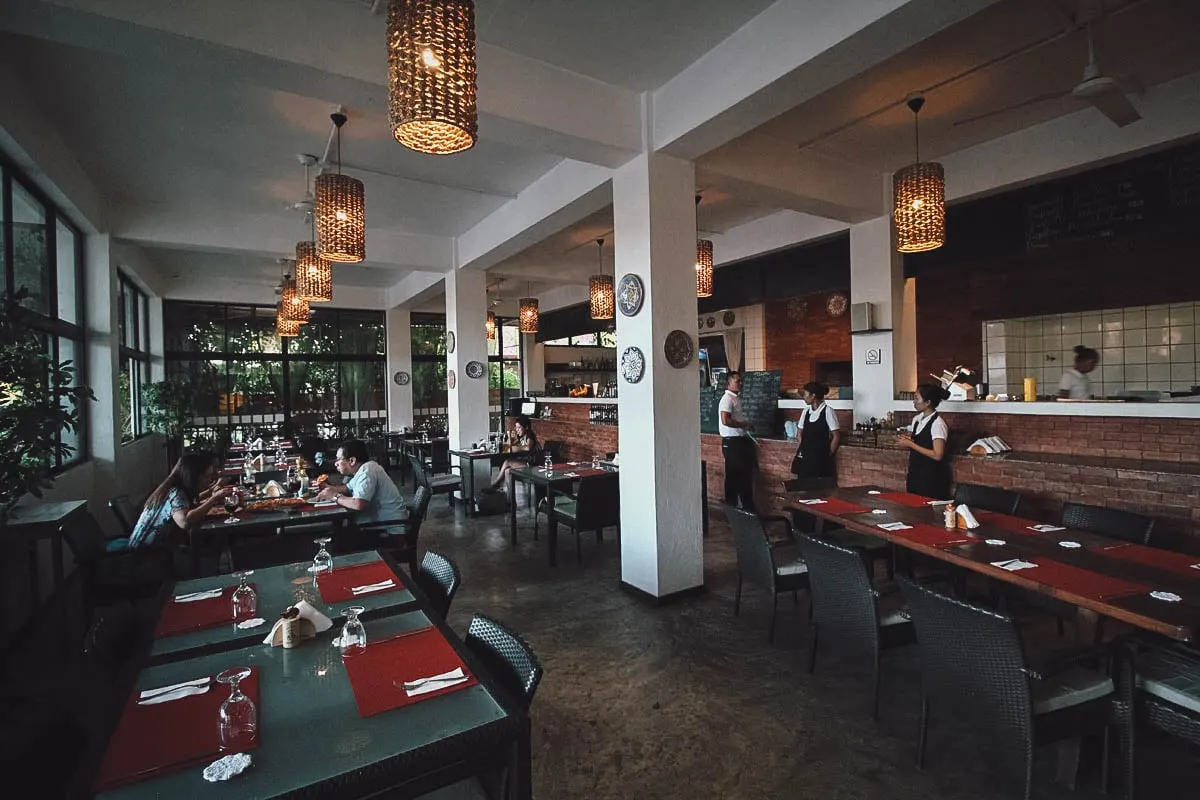 Giuseppe Pizzeria & Sicilian Roast
Address: Fonacier Circumferential Road Tawala, Panglao 900 meters from, Alona Beach Rd, Panglao, Bohol, Philippines
Operating Hours: 11:30AM-10PM, Tue-Sun (closed Mondays)
What to Order: Pizza, pasta, parmigiana
7. Sisa Bistro
I loved this restaurant. If you're in the mood for familiar Filipino cuisine, but with a twist, then Sisa Bistro is the place to go in Bohol. It's the type of restaurant we'd go to again and again until we've tried everything on their menu.
Thankfully, we ate at Sisa with my family so we got to try many delicious dishes, starting with this chicharon bulaklak appetizer they call Chichay. If you've never heard of chicharon bulaklak, it's a popular Filipino bar chow dish of deep-fried pork mesentery. Not the healthiest dish but absolutely delicious, especially when paired with ice-cold beer.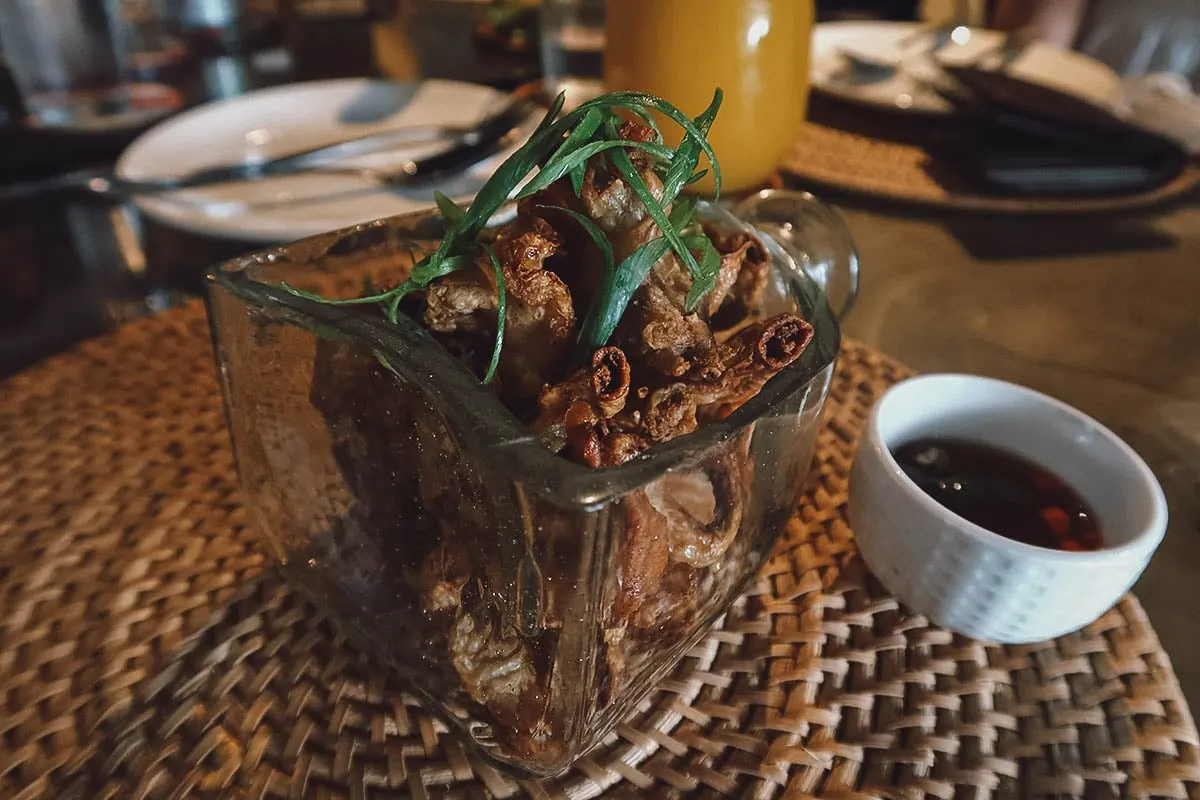 If fried pork mesentery is too extreme for you, then perhaps you'd like to try this starter called Cha Pusit instead. It consists of deep-fried whole baby squid served with a wasabi mayo dip.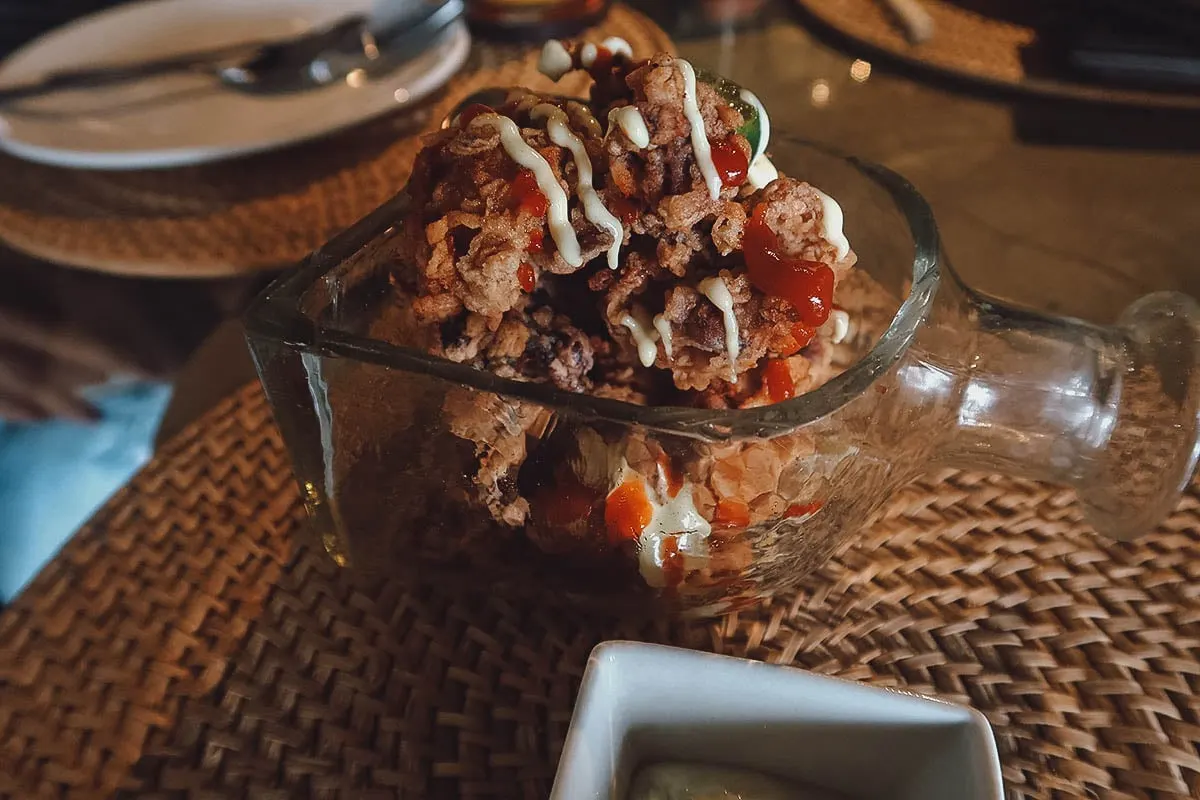 This spicy main dish called Leonor is made with pork strips cooked in coconut cream, chili, and bagoong (fermented shrimp paste).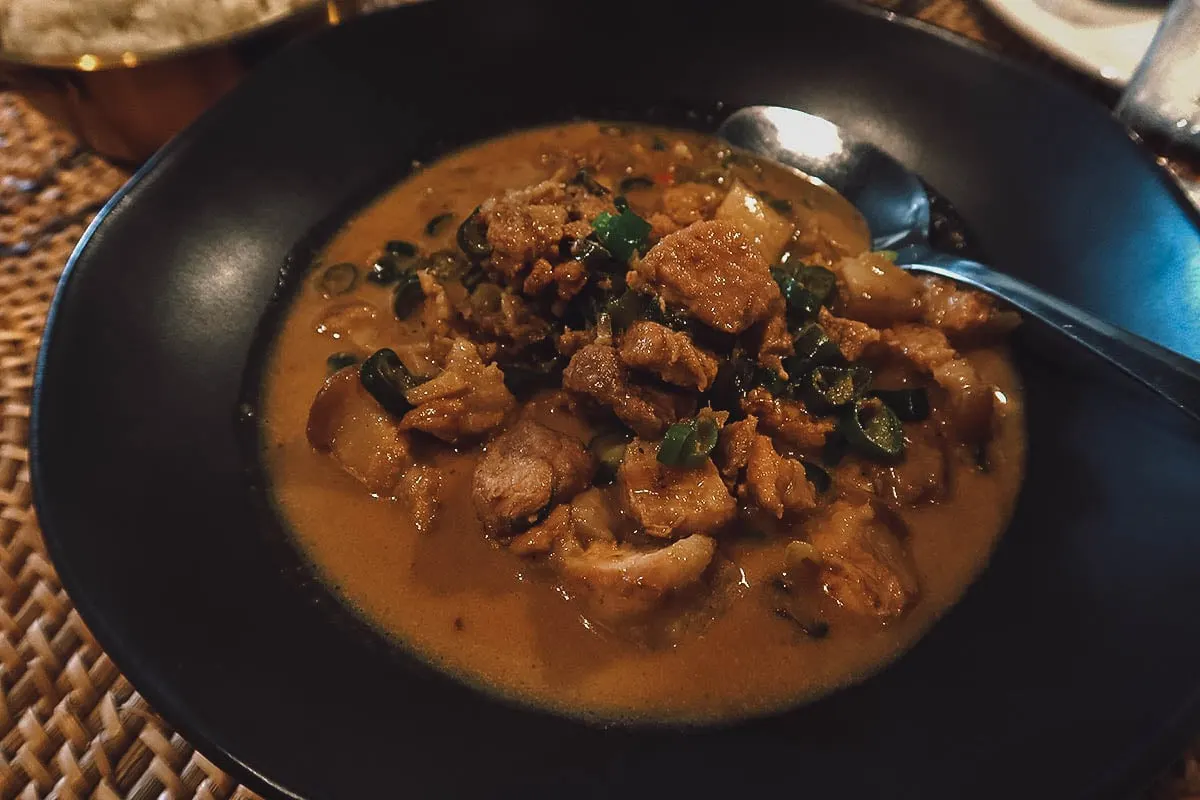 If I remember correctly, this next main dish is called Caridad. It consists of beef chunks slow-cooked in a red curry sauce and then served over rice.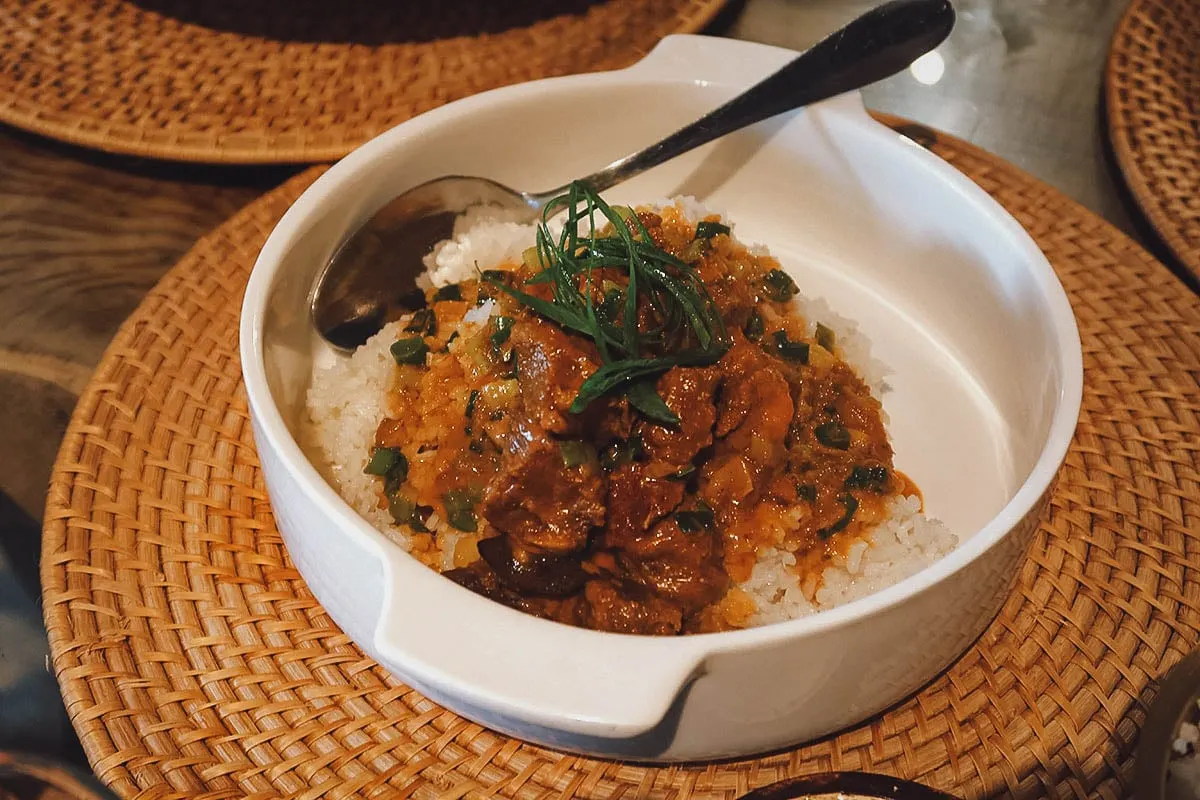 This is the restaurant's house specialty. It's called Corazon and consists of fresh bamboo blossoms cooked in coconut milk. We got it with shrimp but you can have it with tofu as well.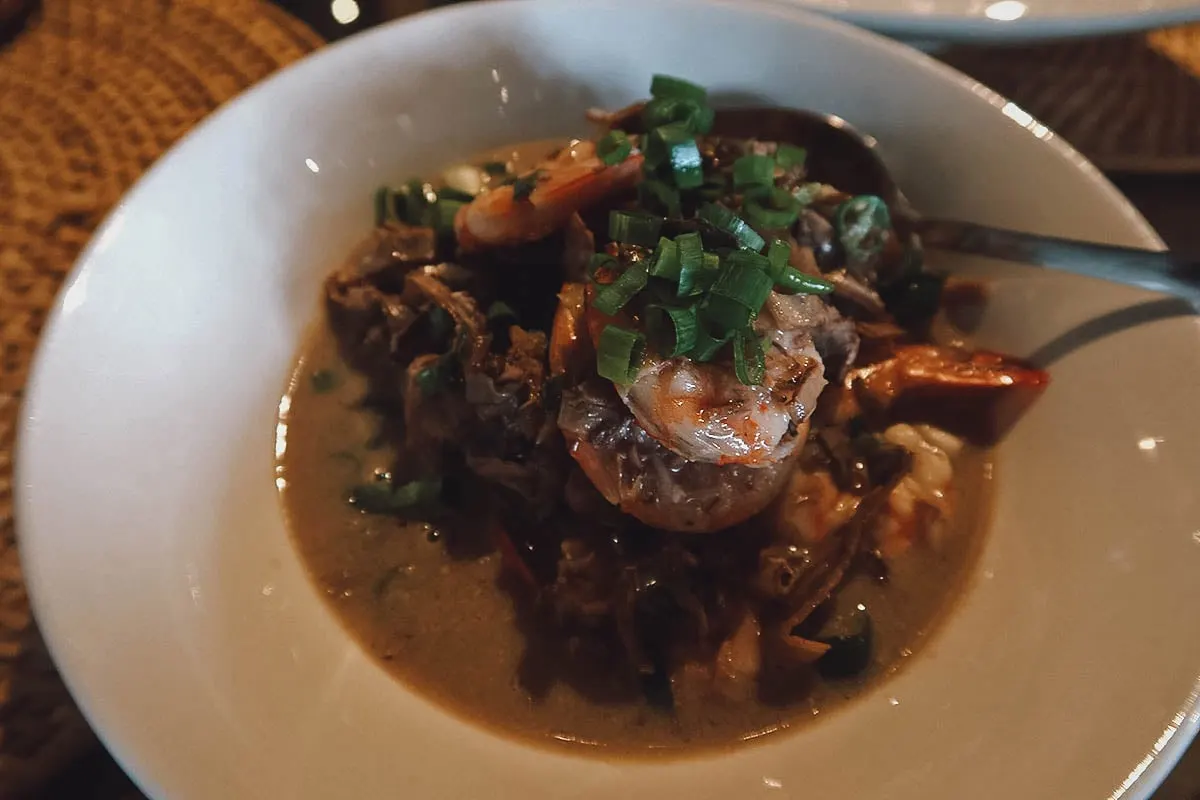 This is another Sisa specialty. Called Adonis, it's the restaurant's take on classic Filipino adobo.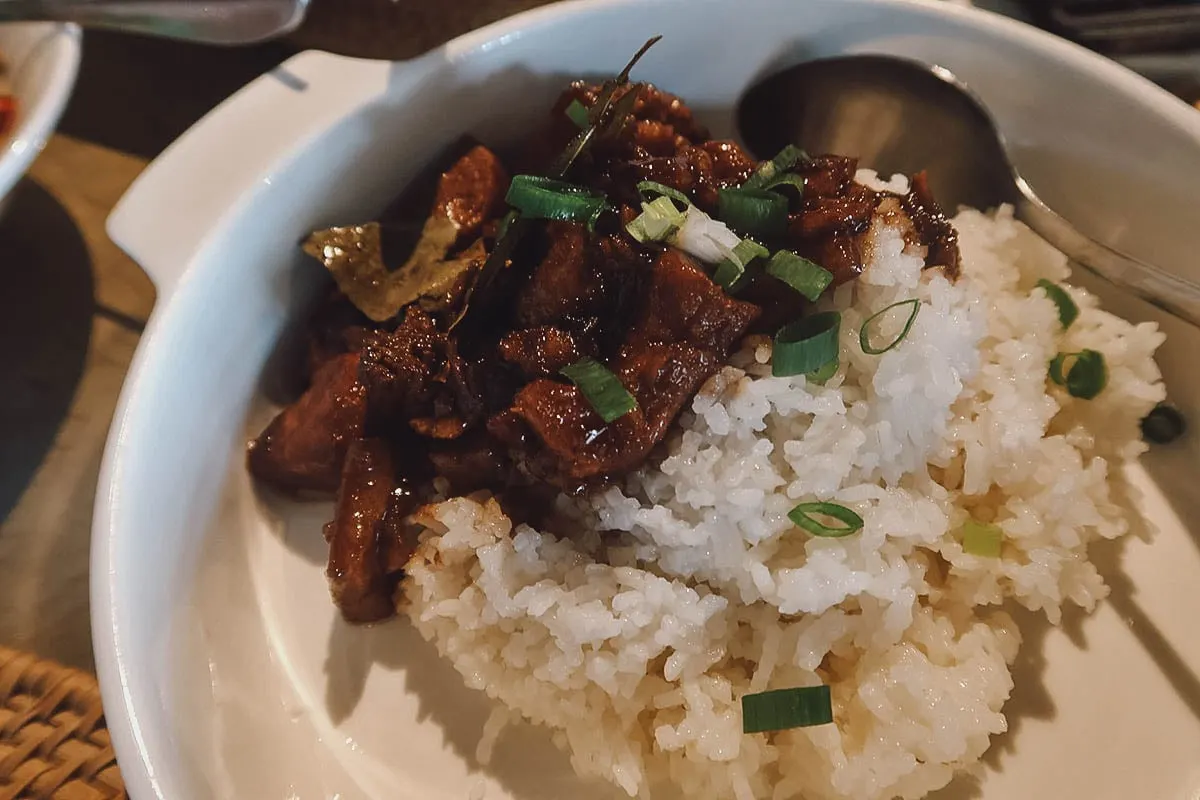 Unless I'm mistaken, this next dish is called Tiago. It's made with tofu and eggplant stewed in a green curry sauce.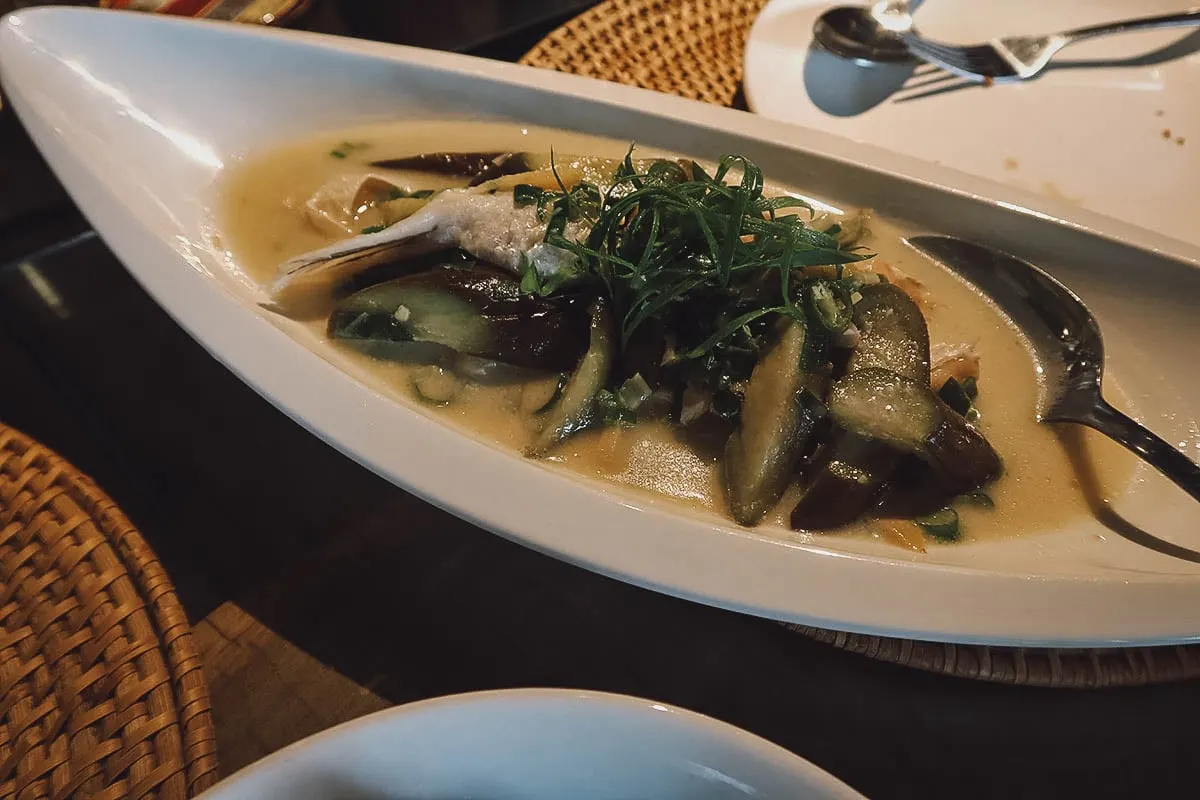 For dessert, we had the Flora which is Sisa's take on panna cotta. It's flavored with kafe barako (coffee from Batangas) for a jolt of caffeine after a coma-inducing meal.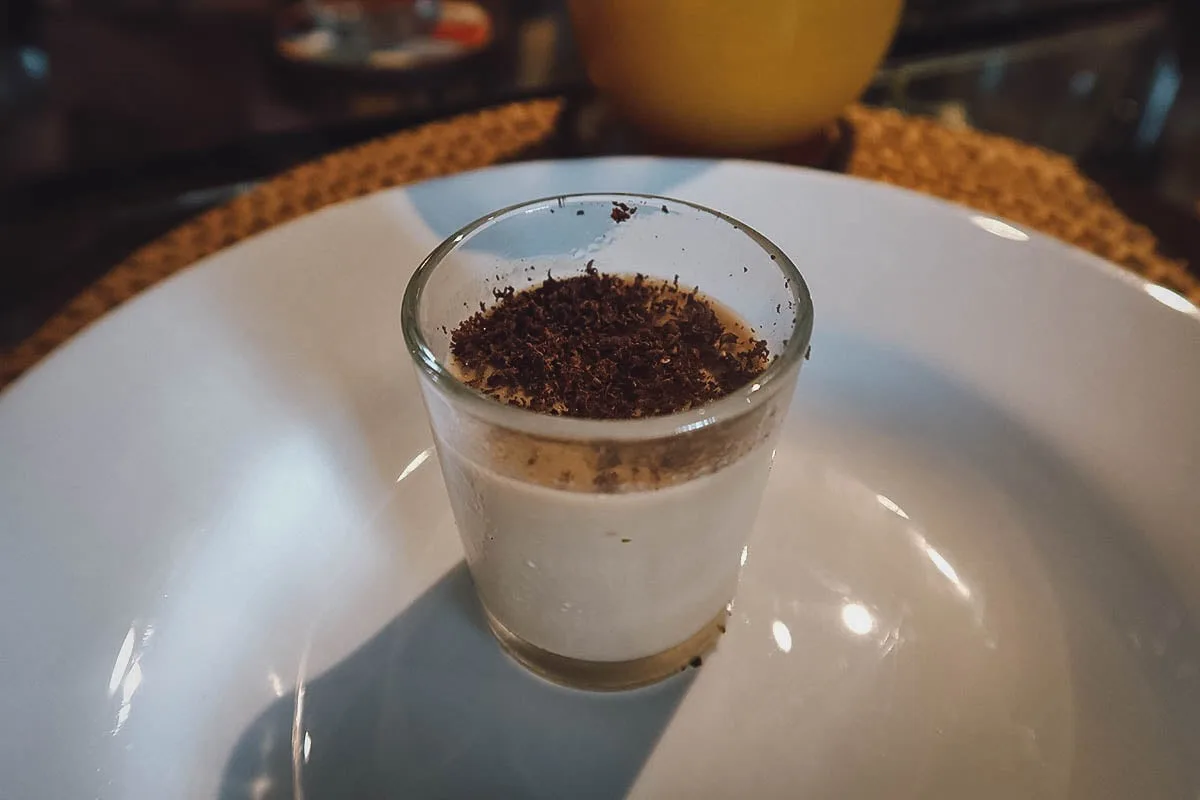 Sisa Bistro is located along New Airport Road, in a small strip-mall-like building not too far from the airport. Unless you were looking for it, you'd probably never find this place which is a shame because it's arguably the best Filipino restaurant in Bohol.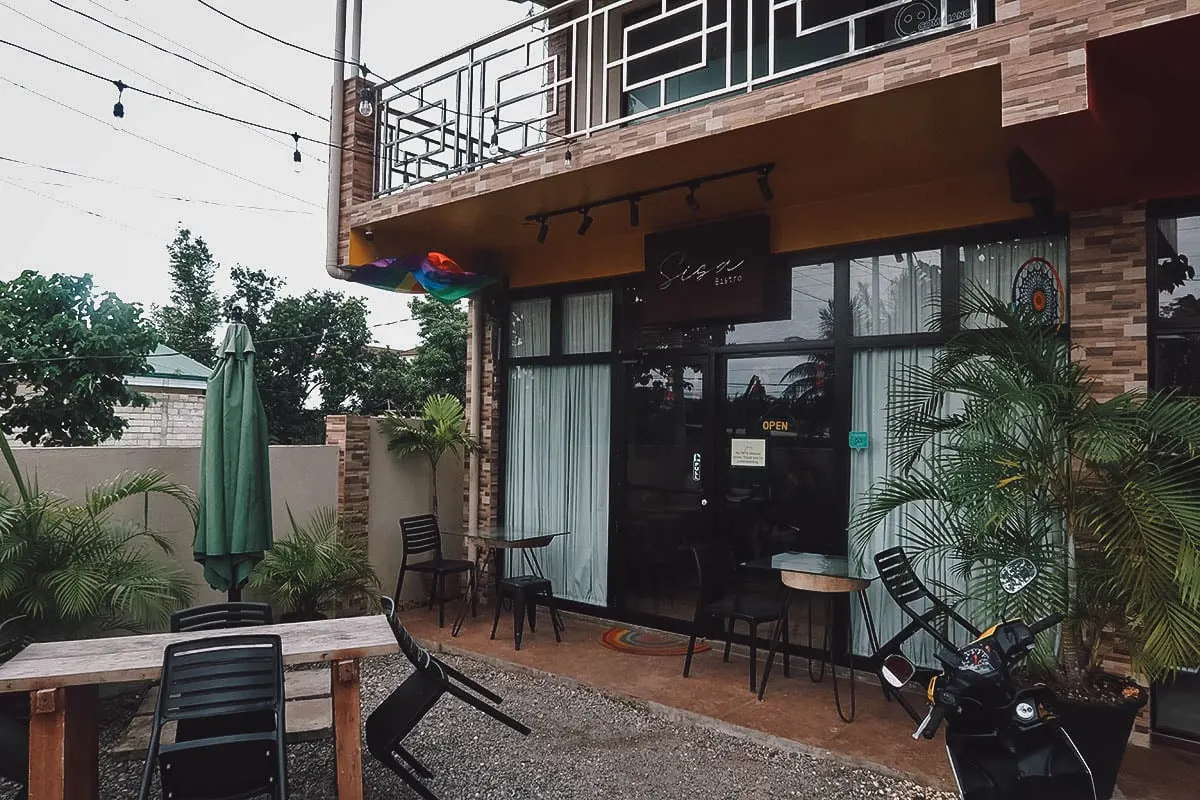 Sisa Bistro
Address: Buona Vita Plaza, Purok 2, New Airport Road, Panglao, Bohol, Philippines
Operating Hours: 11:30AM-9PM, daily
What to Order: Chichay, Corazon, Adonis
8. Pearl Restaurant (Linaw Beach Resort)
We ate at this restaurant a few years ago but I still remember it like it were yesterday. Pearl is the restaurant at Linaw Beach Resort, an off-the-beaten-path hotel along Danao Beach, about 3 km (1.9 miles) west of Alona Beach.
Pearl Restaurant has an extensive menu with good food, but what makes dinner here truly special is the view. You'll see what I mean below.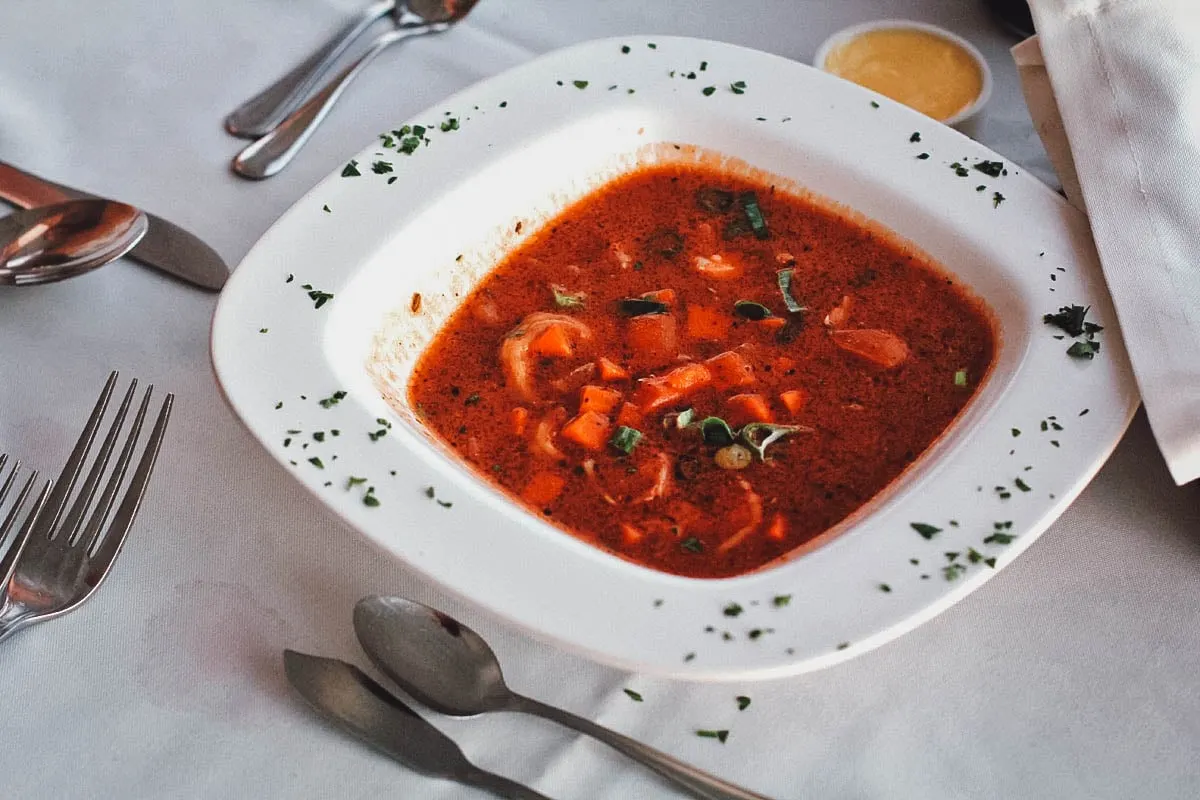 What you're looking at here is a juicy chunk of ostrich steak drenched in mushroom sauce and served with a side of boiled vegetables.
Pictured below is their Australian rib eye with a side of boiled vegetables and potato croquettes.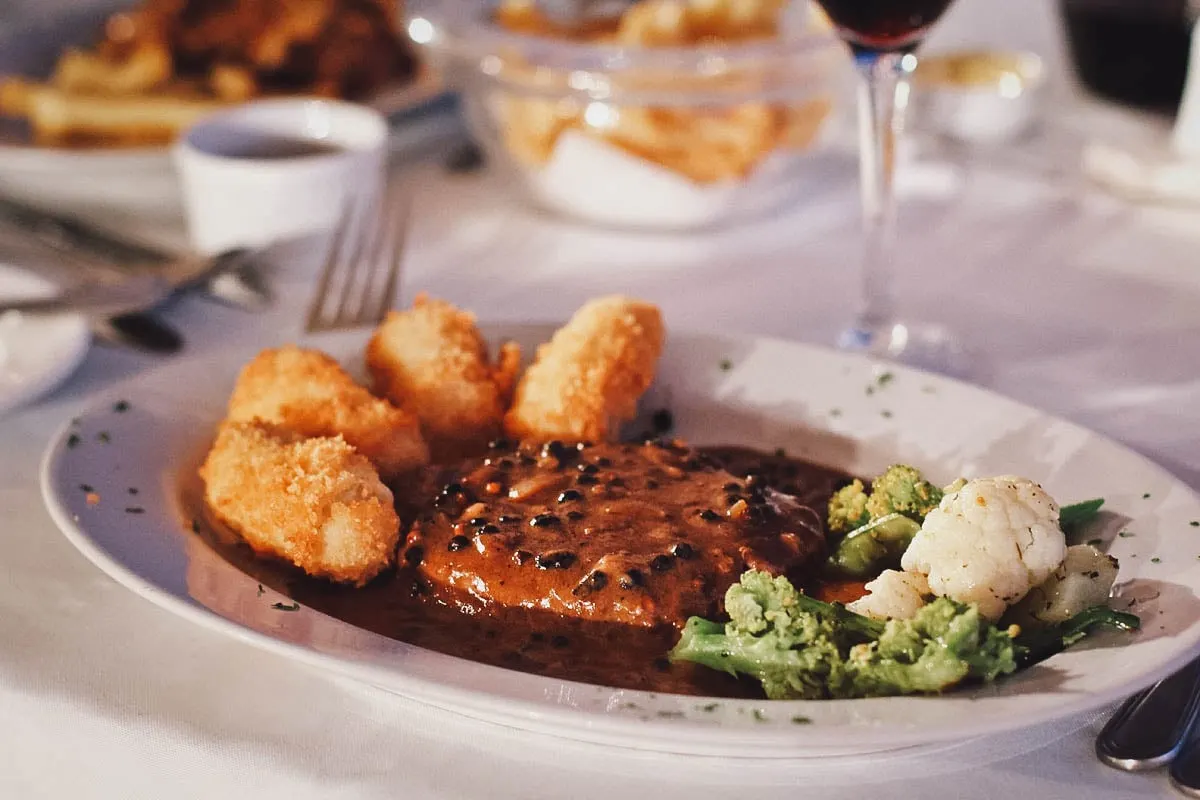 This is what makes dinner at Pearl Restaurant memorable. Located far enough away from the crowds of Alona Beach, you can enjoy a quiet romantic sunset dinner with your significant other right on the beach.
Pearl doesn't serve fine dining cuisine but you can enjoy a good steak with a bottle of wine while gazing out at the Bohol sunset. You can check my article on Pearl Restaurant at Linaw Beach Resort for more pictures and information.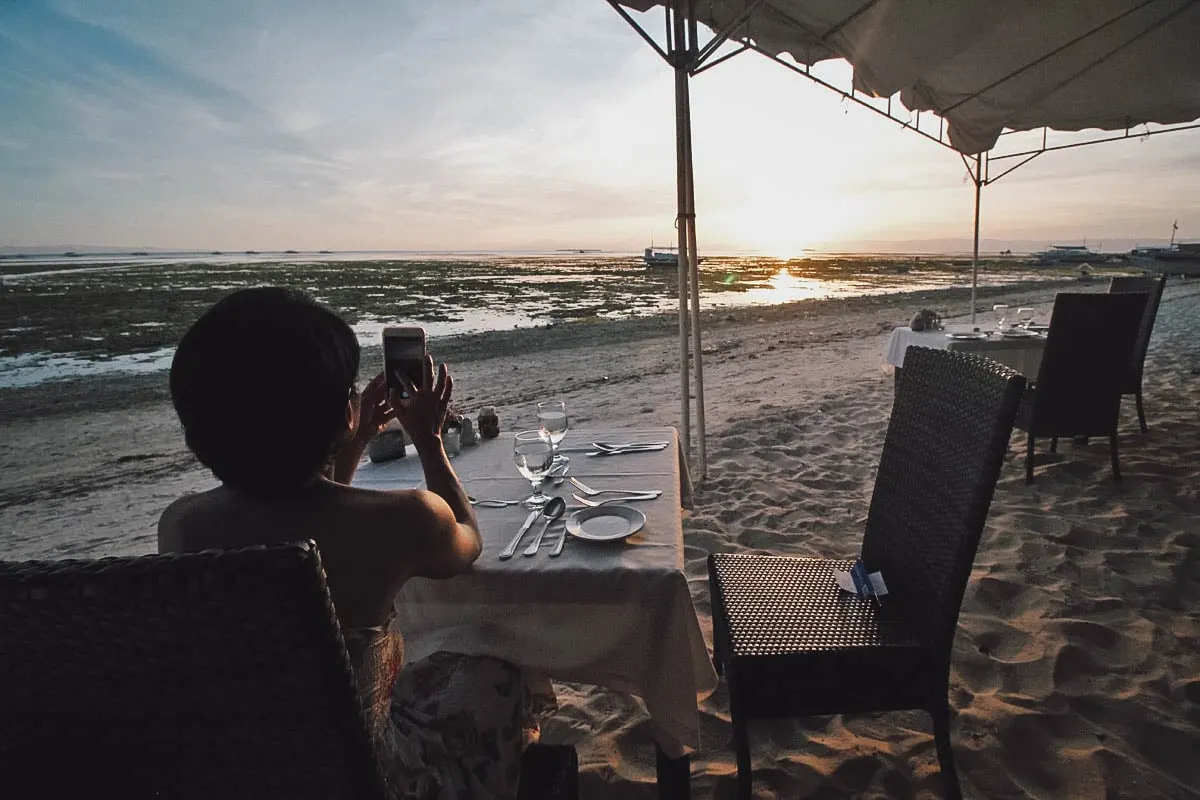 Pearl Restaurant (Linaw Beach Resort)
Address: GQX2+5VF, Linaw Rd, Panglao, Bohol, Philippines
Operating Hours: 6AM-11PM, daily
What to Order: Continental food
9. Bollywood Resto & Bar
We asked a friend who frequently vacations in Bohol for restaurant recommendations, and the first place she mentioned was Bollywood Resto & Bar. Indian food is one of our favorites so we were more than happy to go. As it turns out, she was right.
Bollywood offers many meat and vegetarian Indian options like biryanis, curries, and tandoori dishes. They even have pani puri which I haven't seen too often at Indian restaurants in the Philippines.
They offer several biryani dishes but we went with our favorite mutton biryani. It was delicious.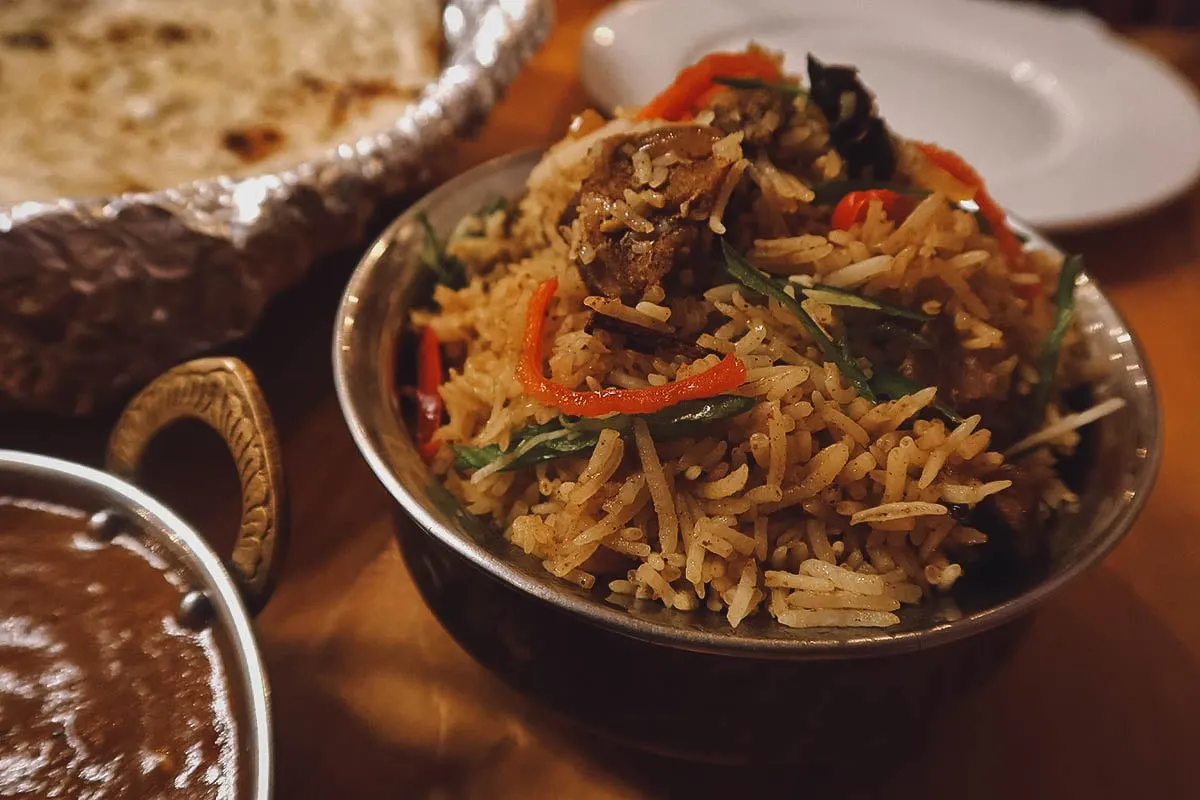 I'm a predictable guy. If I see tikka masala or butter chicken on an Indian restaurant's menu, then I'll order it. Tonight, we went with the chicken tikka masala and it didn't disappoint.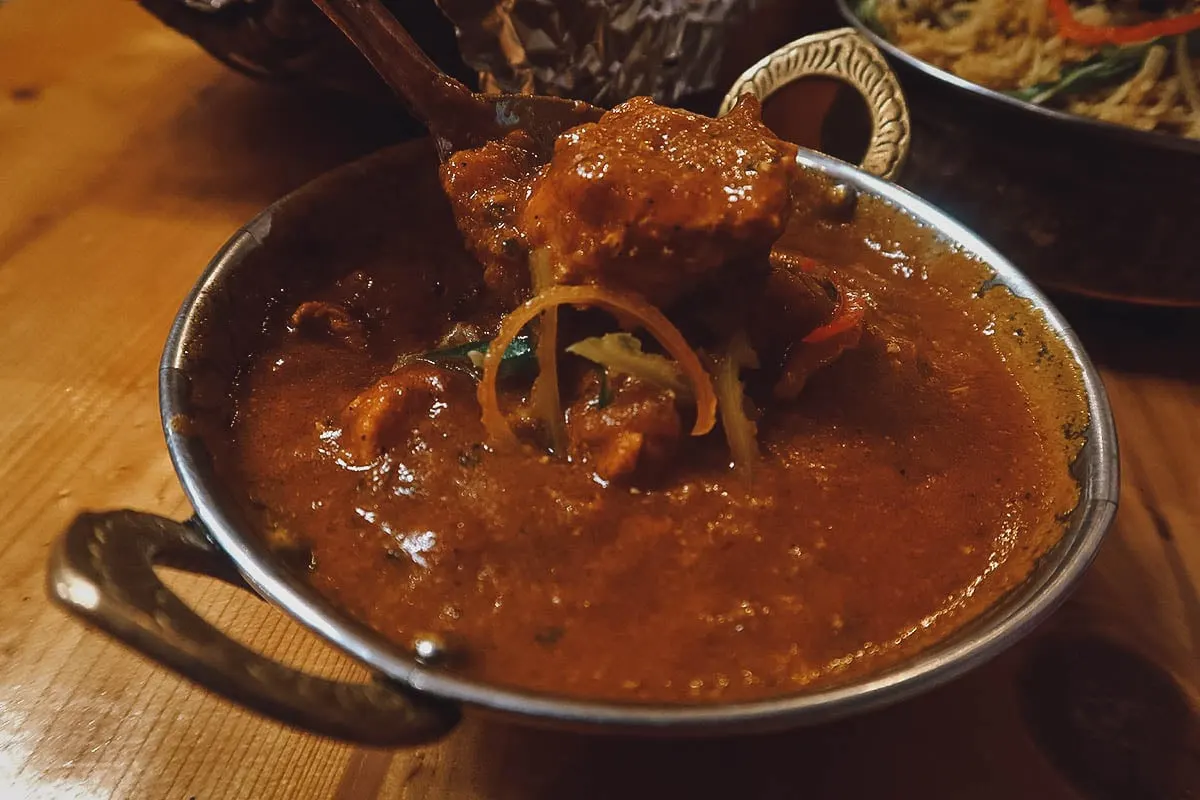 No Indian curry is ever complete without good naan bread to dip into it. The trio of curry, biryani rice, and naan bread is a menage a trois made in heaven.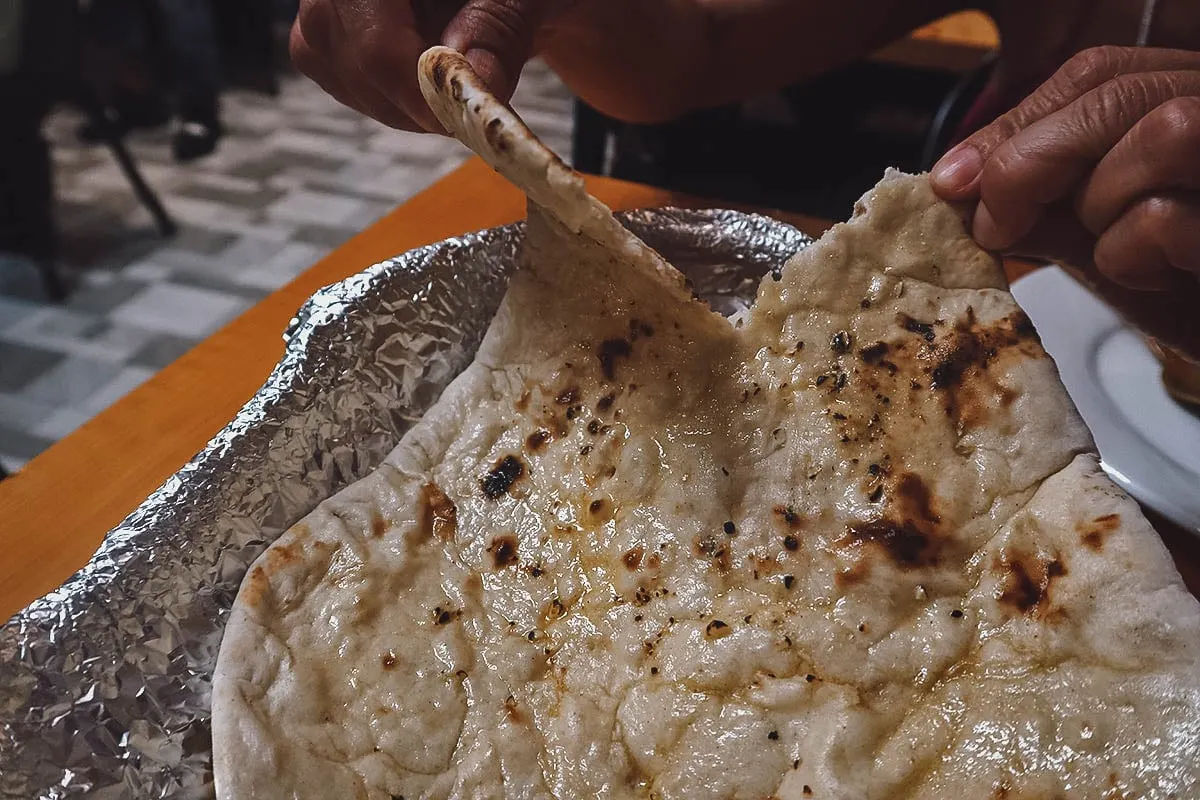 Bollywood Resto & Bar is conveniently located along the main road, not too far from Alona Beach.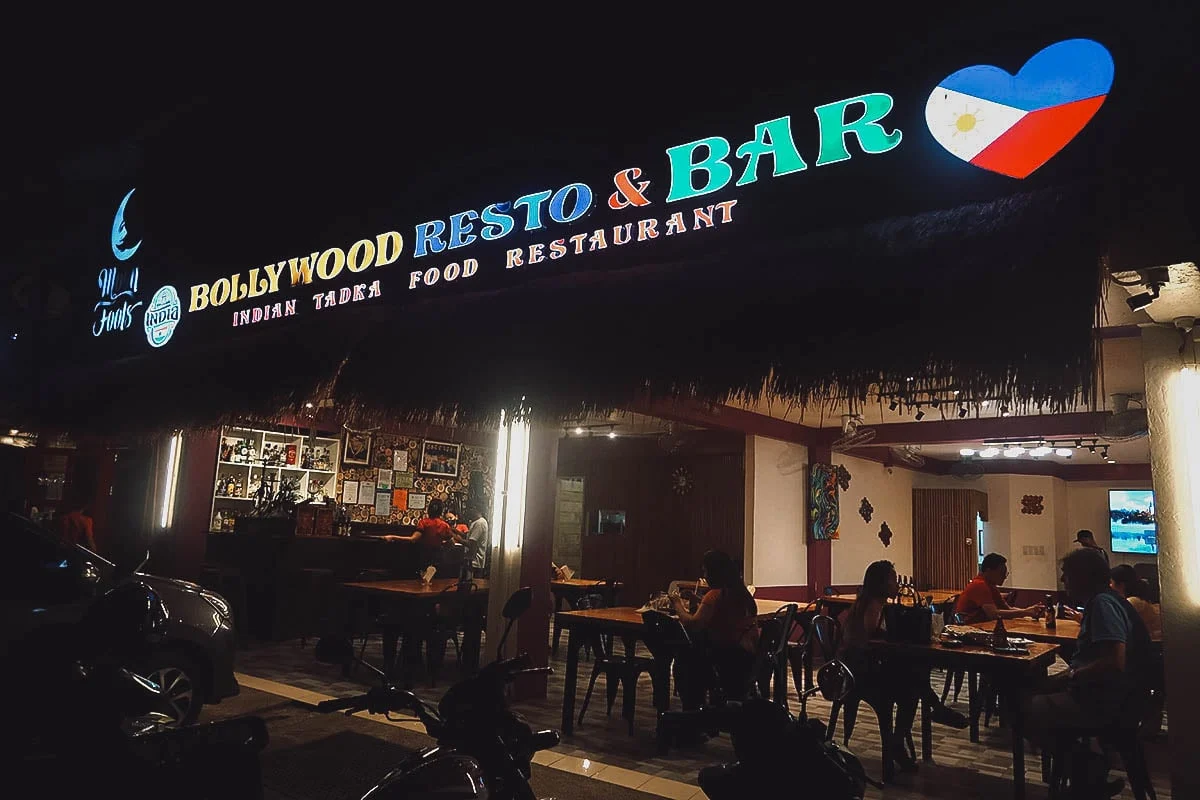 People looking for authentic Indian food will be pleased to learn that Bollywood appears to be owned by an Indian family. The person who took our order was Indian, and at the time, most of the customers were Indian as well.
A common thread in their reviews is that they serve good food but in small portions. I can't argue with that but we enjoyed the experience nonetheless. The service was great too.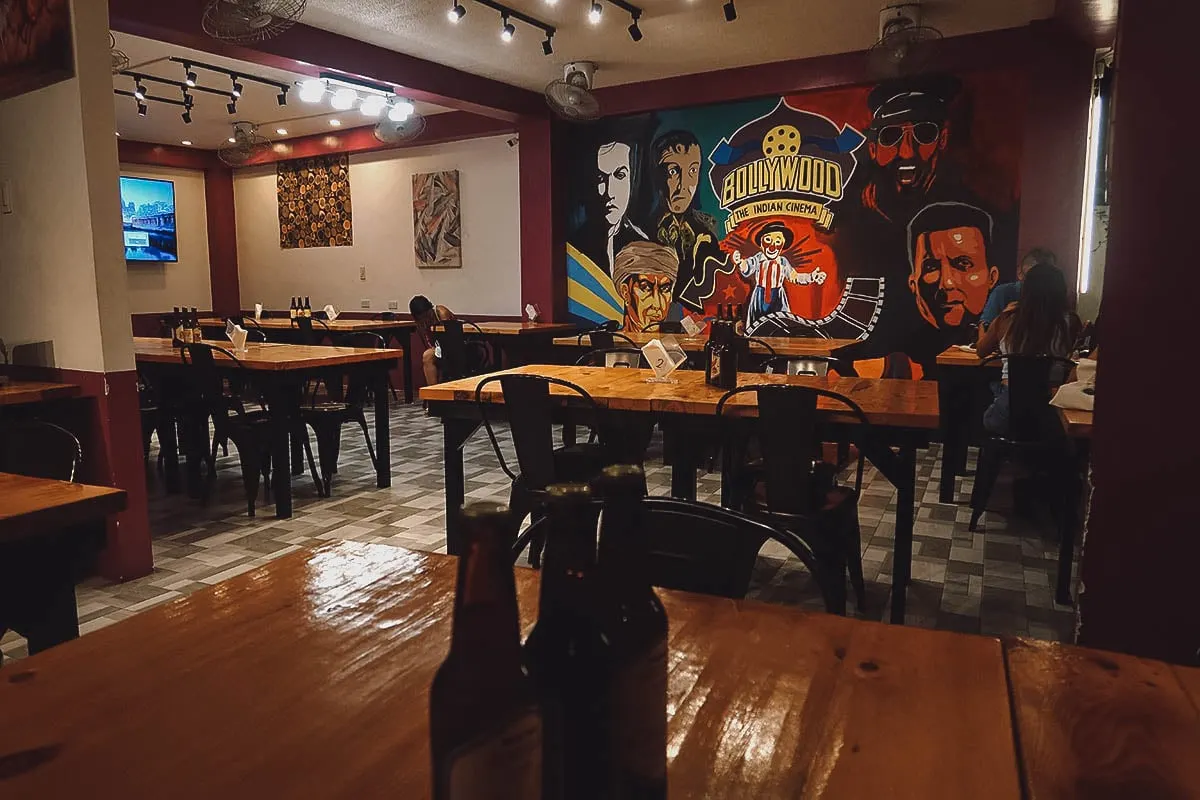 Bollywood Resto & Bar
Address: HQ2F+XCV, Panglao, Bohol, Philippines
What to Order: Indian food
10. Kun's Stick and Bowl
Spend a day on Panglao Island and it becomes clear that Koreans are the dominant nationality of tourists in Bohol. You can't walk 5 minutes without passing a restaurant that serves Korean cuisine!
We love Korean food so it was important for us to add a Korean restaurant to this guide. Thankfully, we found Kun's Stick and Bowl, a restaurant that offers ala carte Korean dishes and unlimited samgyupsal for just PHP 390 per person.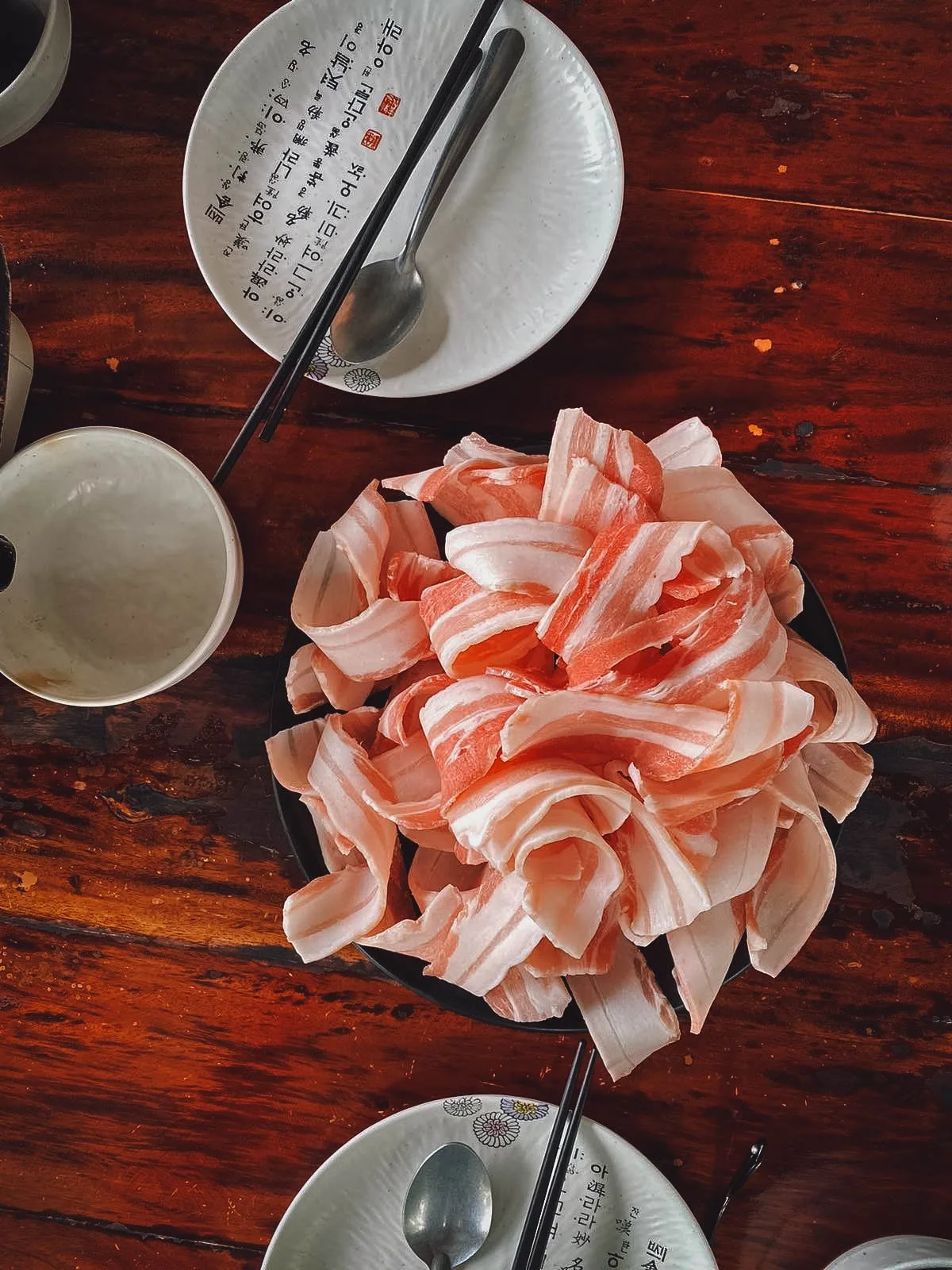 Unlimited samgyupsal is a popular and hugely successful concept in the Philippines so it wasn't surprising to find it here, especially since so many Koreans visit Bohol.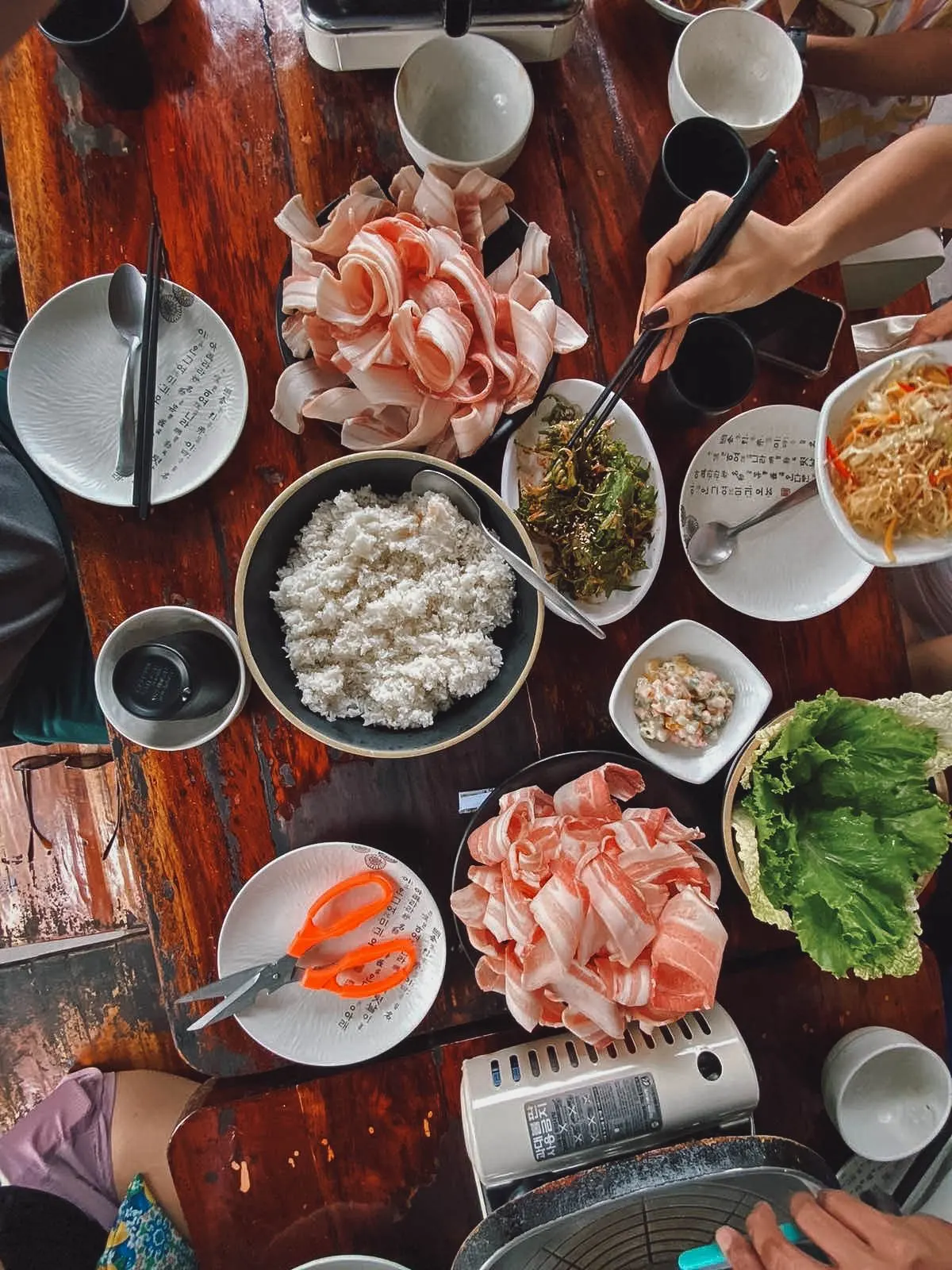 Kun's Stick and Bowl is located more inland, in a quieter part of Panglao Island. You can walk from Alona Beach but it may be better to hire a tuk-tuk to take you there.
We were in Bohol in December and it was very difficult to secure a reservation at Kun's Stick and Bowl. I suggest calling ahead before going.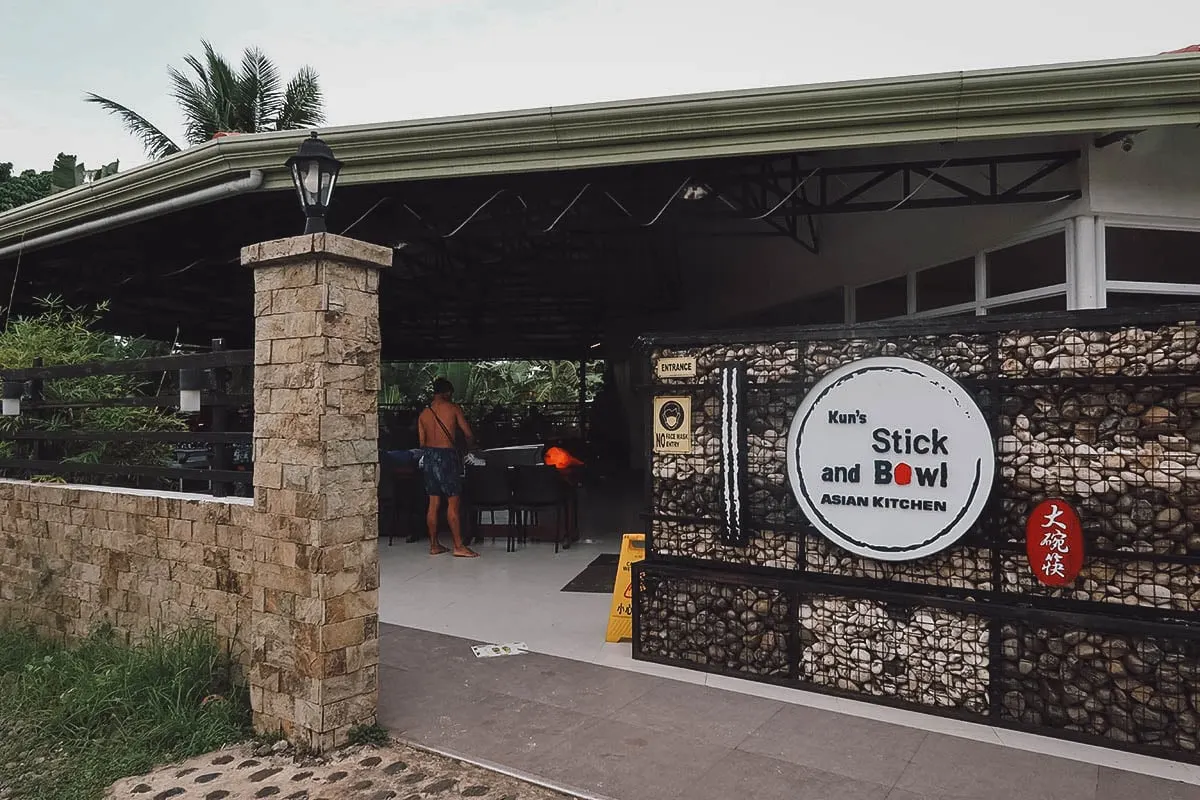 Kun's Stick and Bowl
Address: Purok 2, Brgy. Tawala, Municipality, Panglao, Bohol, Philippines
Operating Hours: 11:30AM-9PM, daily
What to Order: Unlimited samgyupsal
11. Sushihan
Sushihan is owned by the same group as Sisa Bistro. As their name suggests, they offer different types of specialty sushi rolls along with sashimi and a few rice bowls.
On their sushi menu are the usual suspects like California maki, Philadelphia roll, dragon roll, and rainbow roll. If I remember correctly, the two rolls pictured below are the spicy tuna roll and spicy salmon roll. Most of the rolls at Sushihan are made with tuna, salmon, crabstick, or shrimp.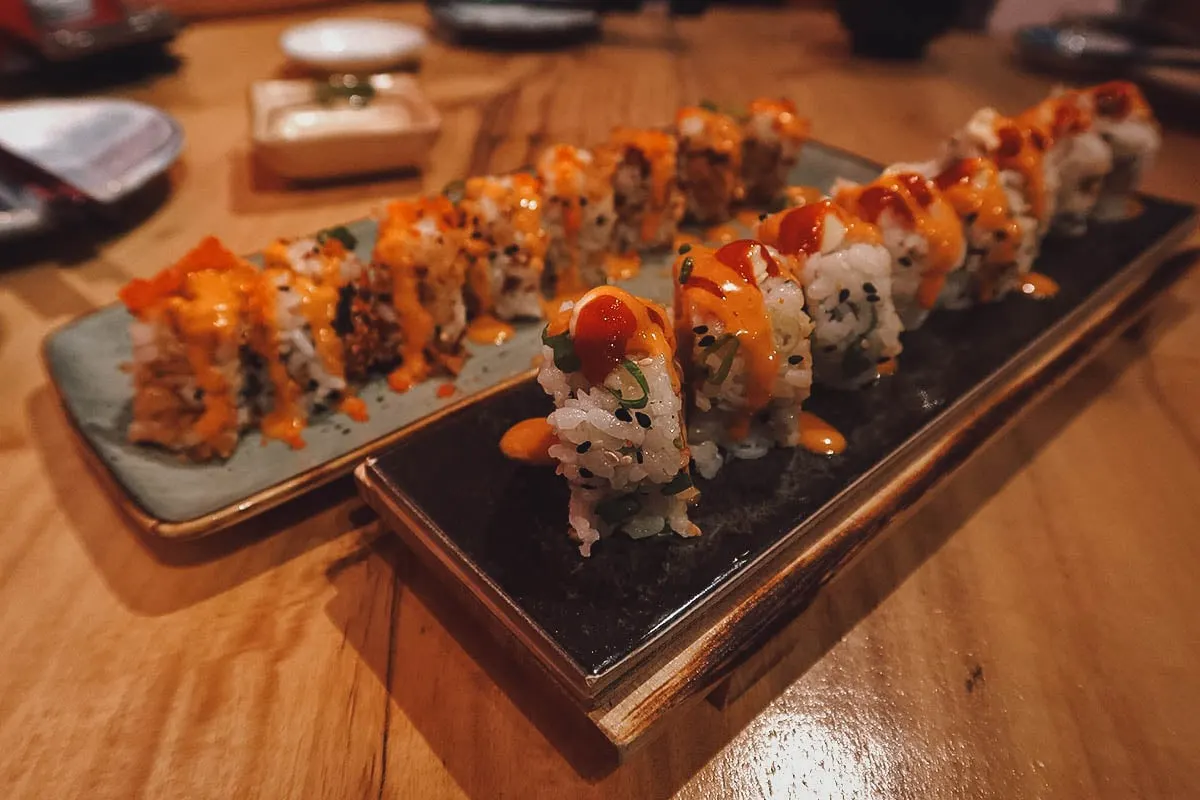 Sushihan's rolls are decent but what I really enjoyed was this tempura bowl. It contains four pieces of shrimp tempura along with some okra and eggplant tempura served over rice.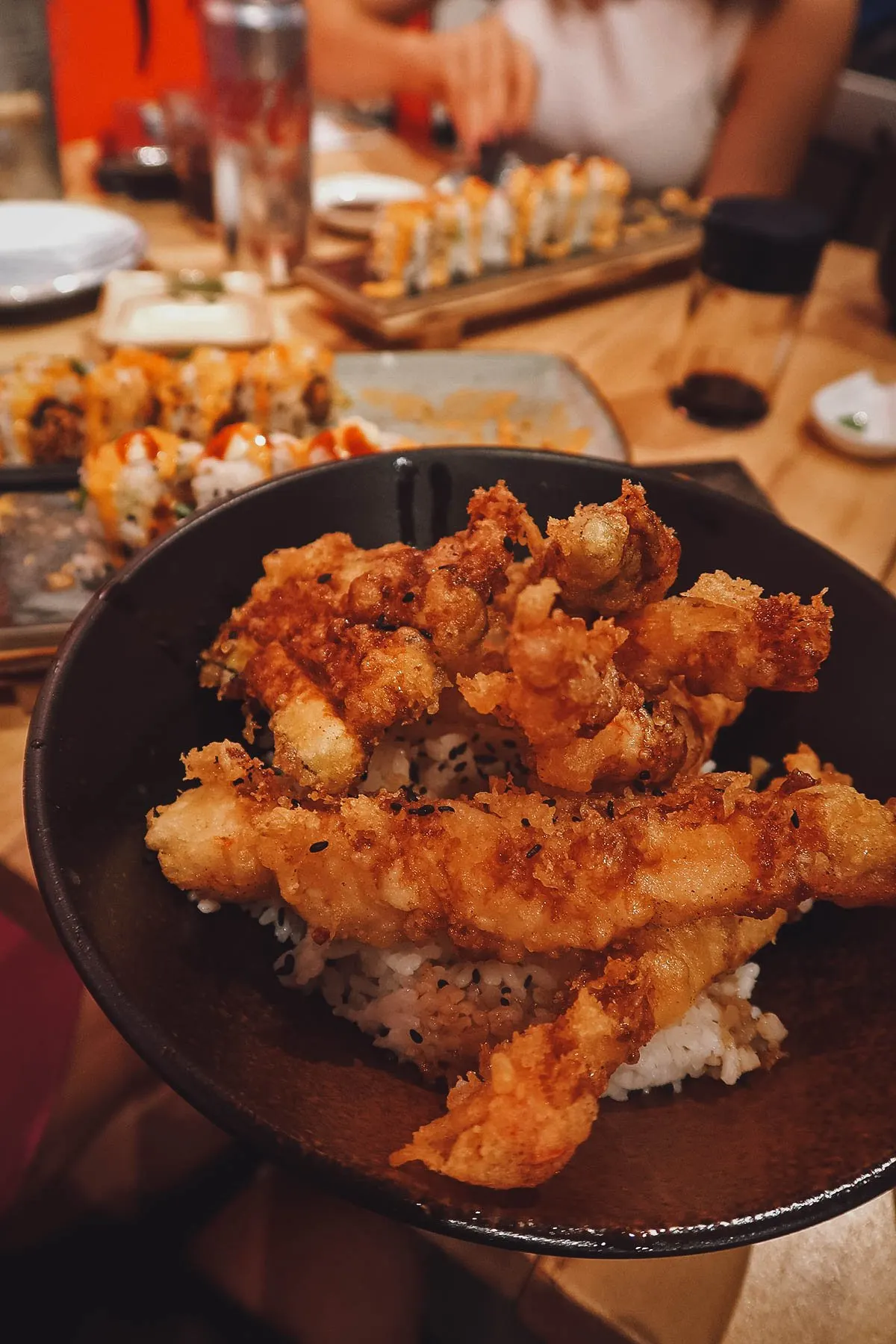 Sushihan is located in this building along the main road, in one of the busiest parts of Panglao Island.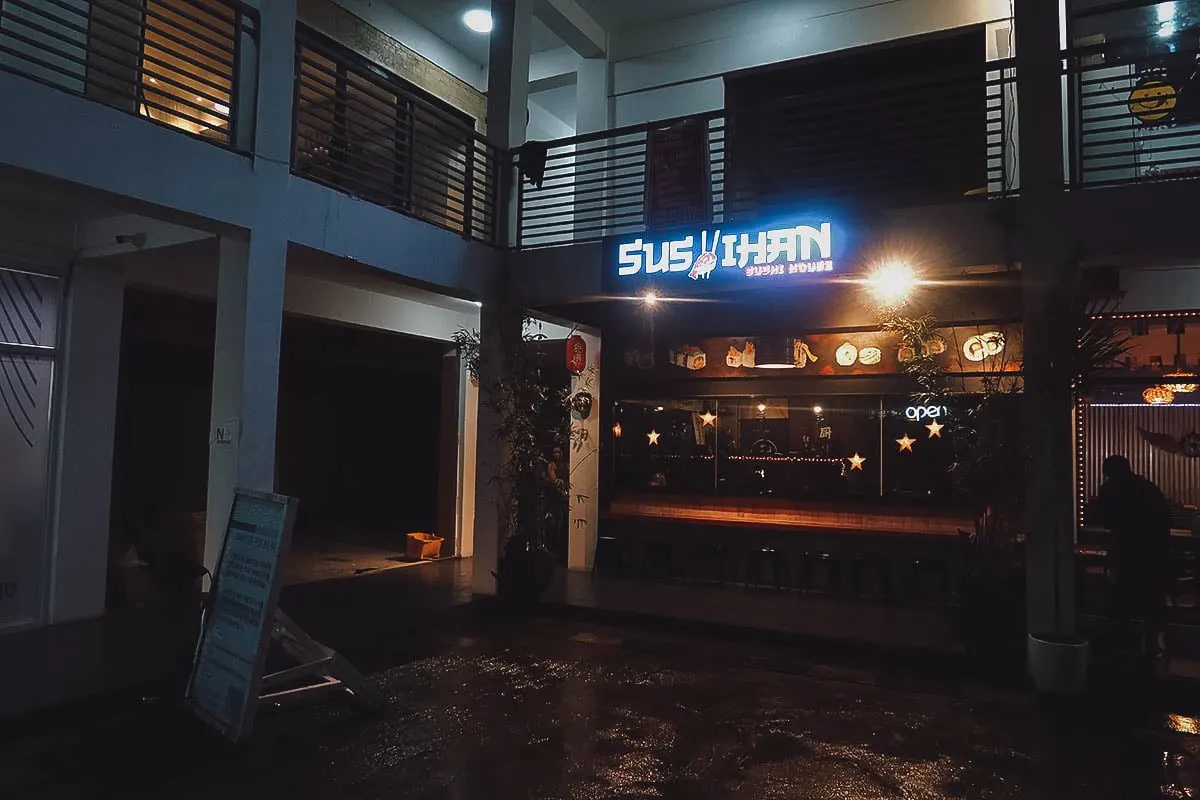 Sushihan is a lovely restaurant but it's small and can fill up quickly during peak seasons. I suggest going at slightly off-peak hours for a shorter wait.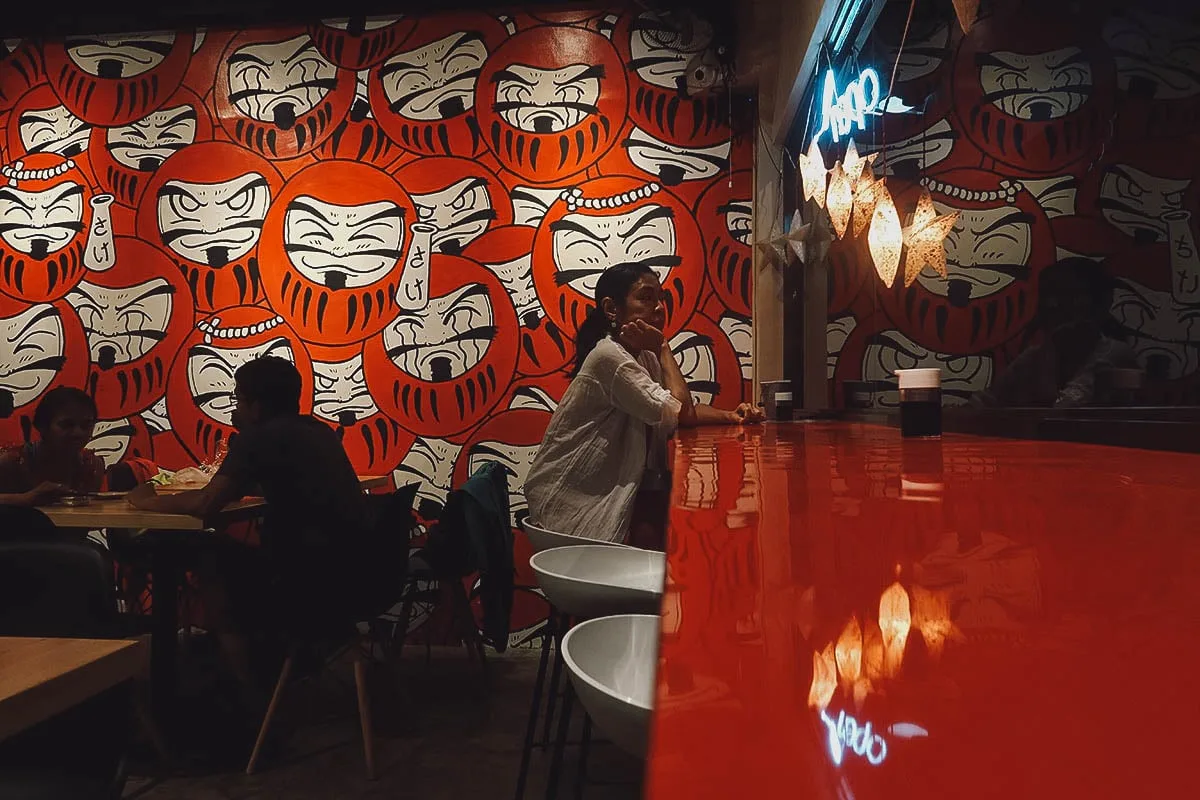 Sushihan
Address: Panglao Island Circumferential Rd, Panglao, Bohol, Philippines
Operating Hours: 11AM-9PM, daily
What to Order: Sushi rolls, tempura bowl
12. Bougainvillea
There's no shortage of delicious food on Panglao Island, but Bougainvillea was hands down our favorite restaurant in Bohol. It's a tapas and paella restaurant owned by two Spanish guys (from Seville if I remember correctly) who import many of their ingredients from Spain.
We were celebrating our wedding anniversary in Bohol so we wanted to have dinner at the perfect restaurant. From start to finish, Bougainvillea delivered.
We started our meal with this chorizo Iberico platter. It contains 100 grams of cured Iberian pork chorizo served with toasted bread and a tomato spread.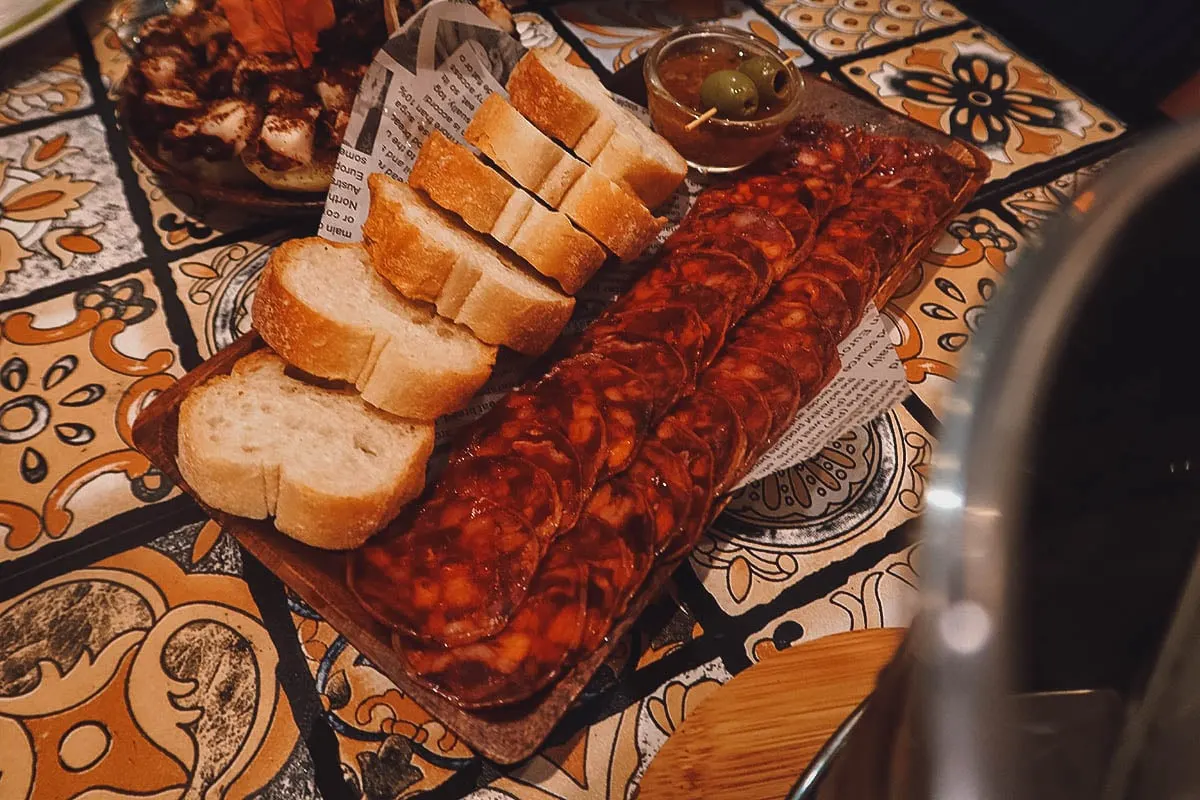 When we visited Santiago de Compostela, one of the Spanish dishes that made the biggest impact was polbo á feira. It refers to a Galician-style octopus dish seasoned with loads of paprika. Also known as pulpo a la gallega, the version at Bougainvillea was just as good as any we had in Spain.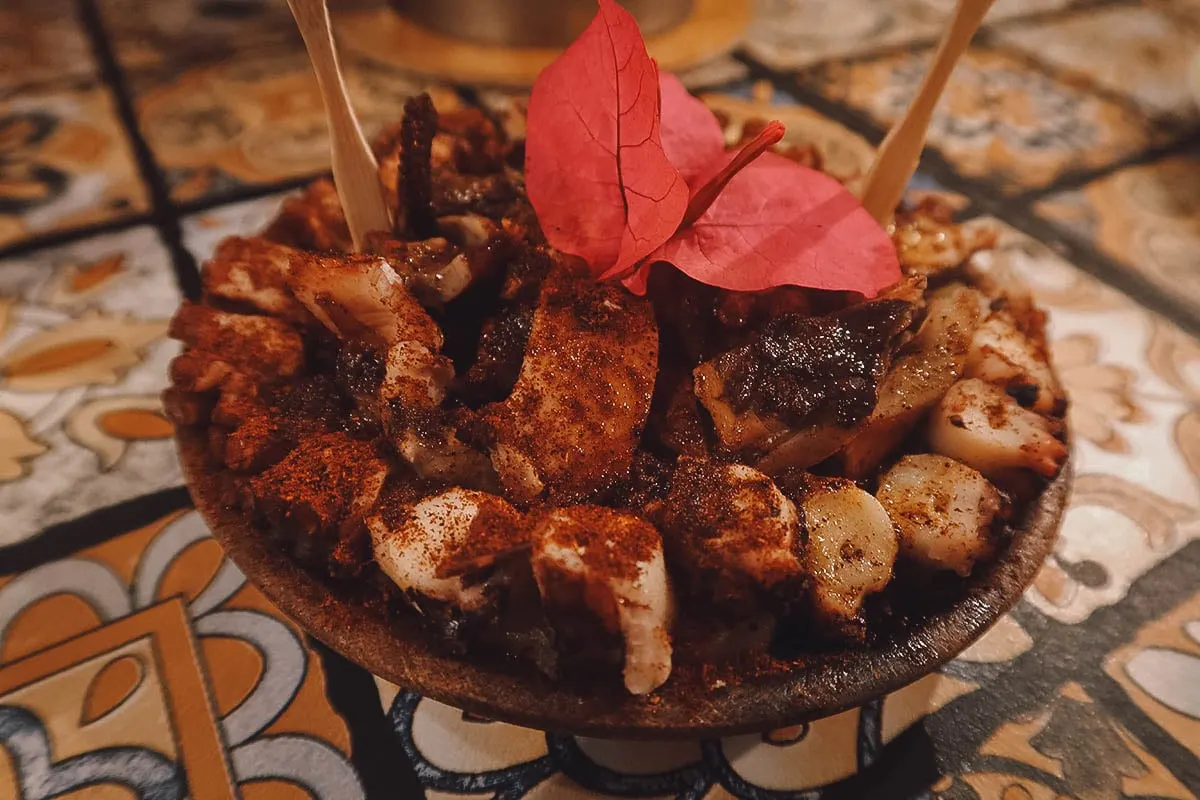 There are many interesting tapas dishes at Bougainvillea but it's hard to go to a Spanish restaurant and not order gambas al ajillo!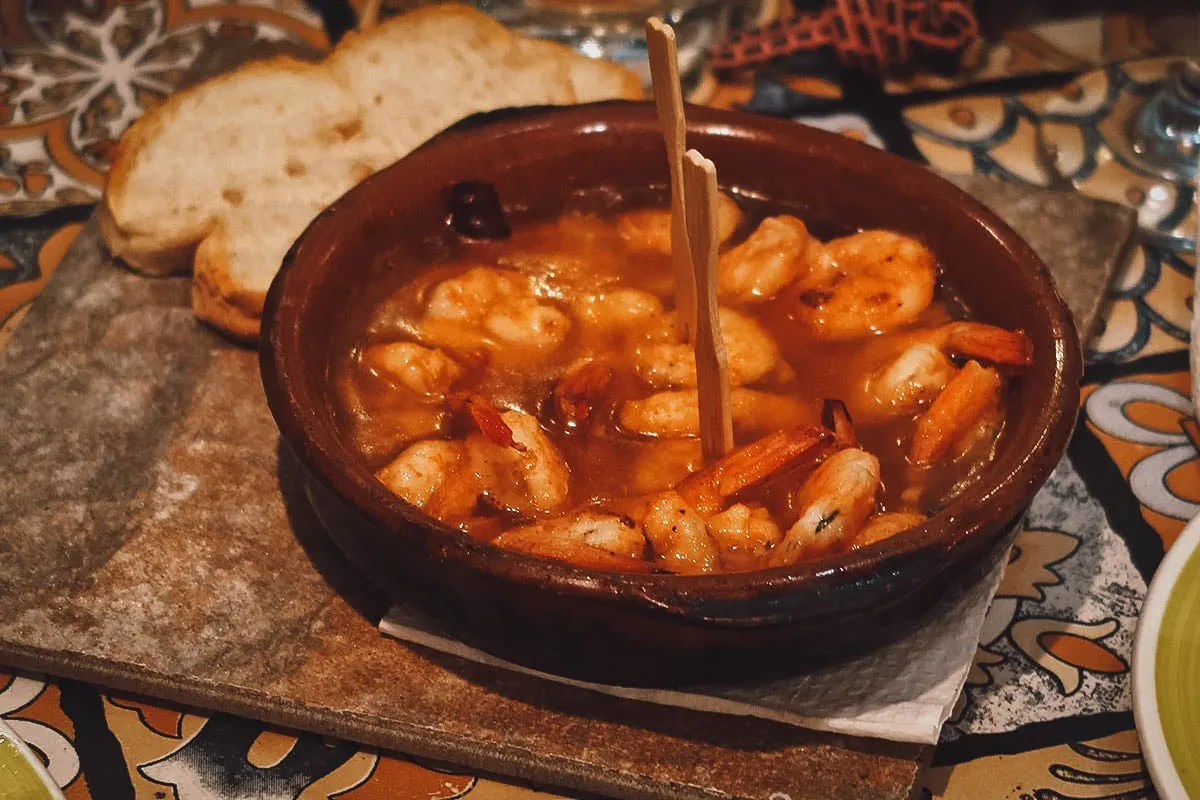 This is another must-try. It's called fritura and it consists of Andalusian-style fried baby squid and marinated sardines served with aioli. ¡Riquísimo!
Bougainvillea offers four types of paella served in three sizes. What you're looking at below is the classic paella de marisco (seafood paella).
This is arguably one of the best paellas you'll find anywhere in the Philippines. They make it with a thin layer of rice so it cooks perfectly and creates a layer of crunchy socarrat (scorched rice) at the bottom. This was AMAZINGLY delicious.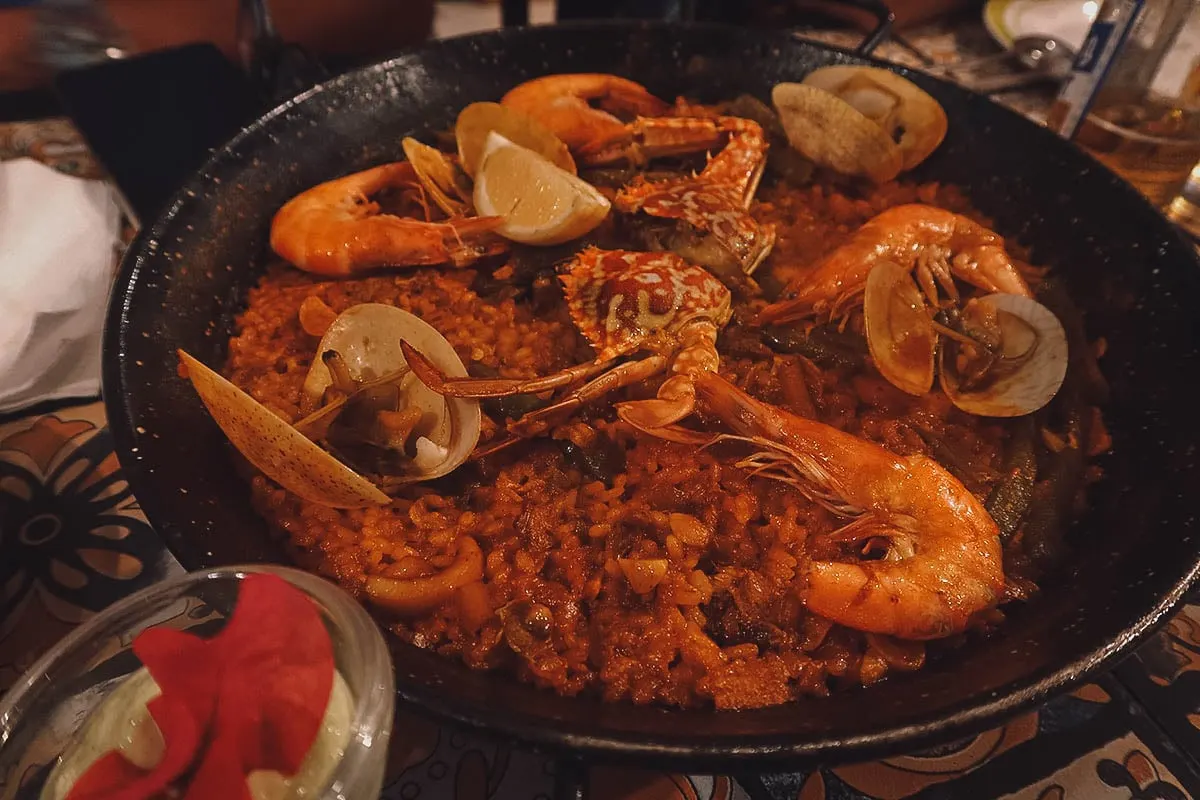 Bougainvillea is one of several restaurants located in a plaza near Alona Beach. When you have two Spanish guys running the place, you know it's going to be good. I highly recommend enjoying at least one meal here.
Something to note, reviewers who know Spanish food heap praises on Bougainvillea but people who aren't as familiar with tapas often complain about the small portions. Just know that the tapas portions here are the same as what you'd find anywhere in Spain.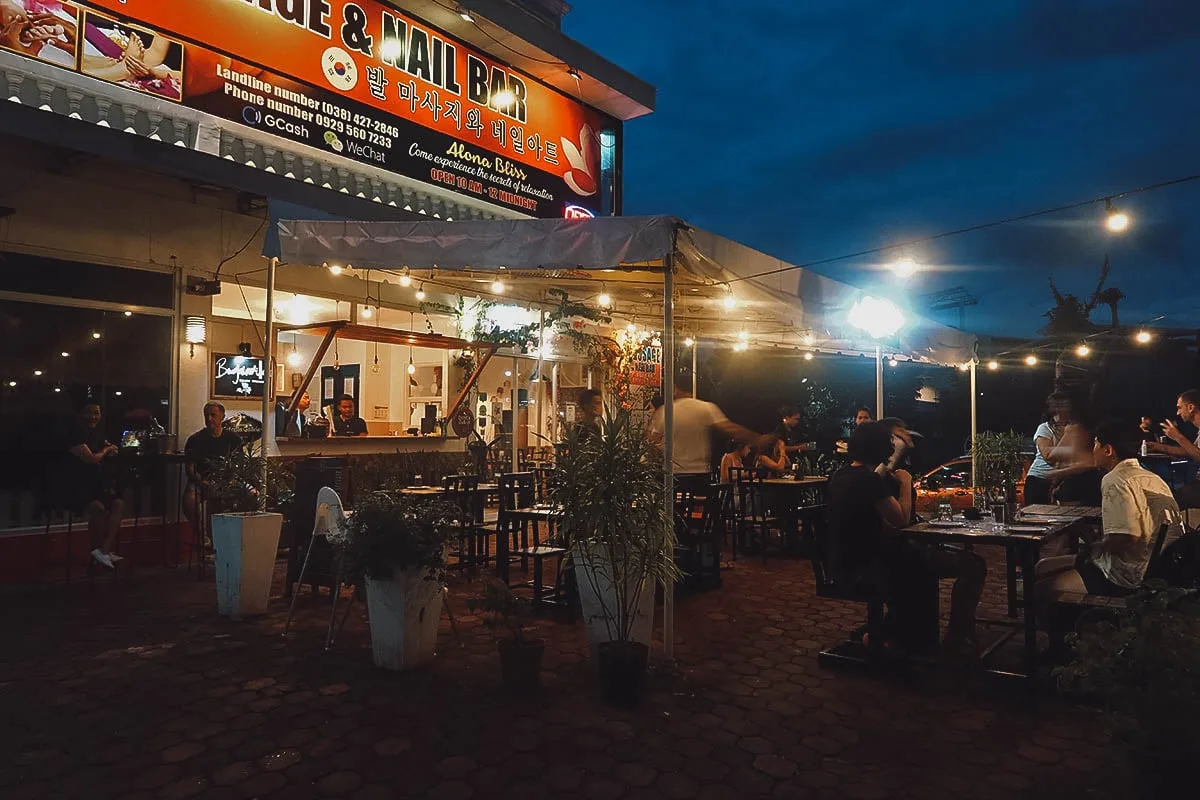 Bougainvillea
Address: Rue de premiere Near Alona parking lot, Panglao, Bohol, Philippines
Operating Hours: 5-9PM, Tue-Fri / 12-12:30PM, 5-9PM, Sat-Sun (closed Mondays)
What to Order: Tapas, paella
13. Cafe Snow Park
Korean food is delicious, but so are Korean desserts. When it comes to Korean sweet treats, there's no dessert more popular than bingsu. It's a delicious dessert made with finely shaved ice topped with different ingredients like fresh fruit, red beans, syrup, and condensed milk.
Philippine mangoes are world-famous so the mango bingsu was an easy choice. As expected, it was delicious.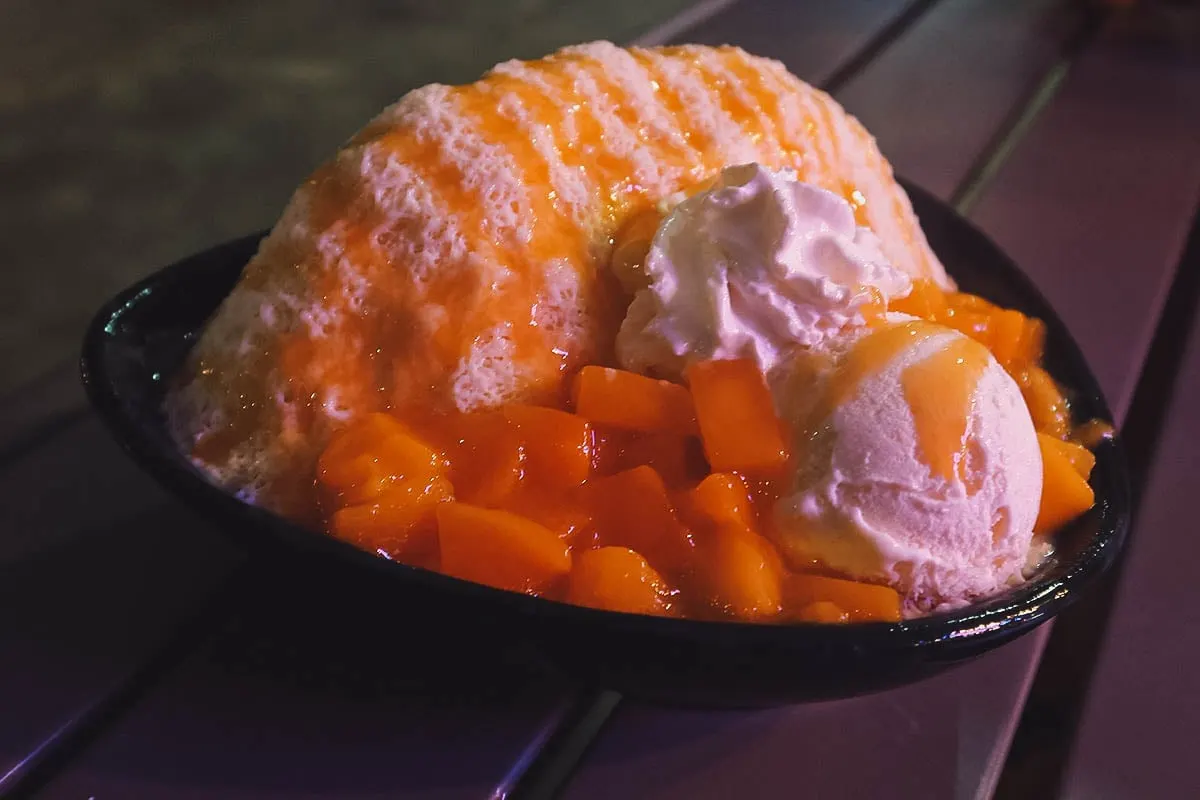 We went back a second time and tried the milk tea taro bingsu. It was good too though I still preferred the mango.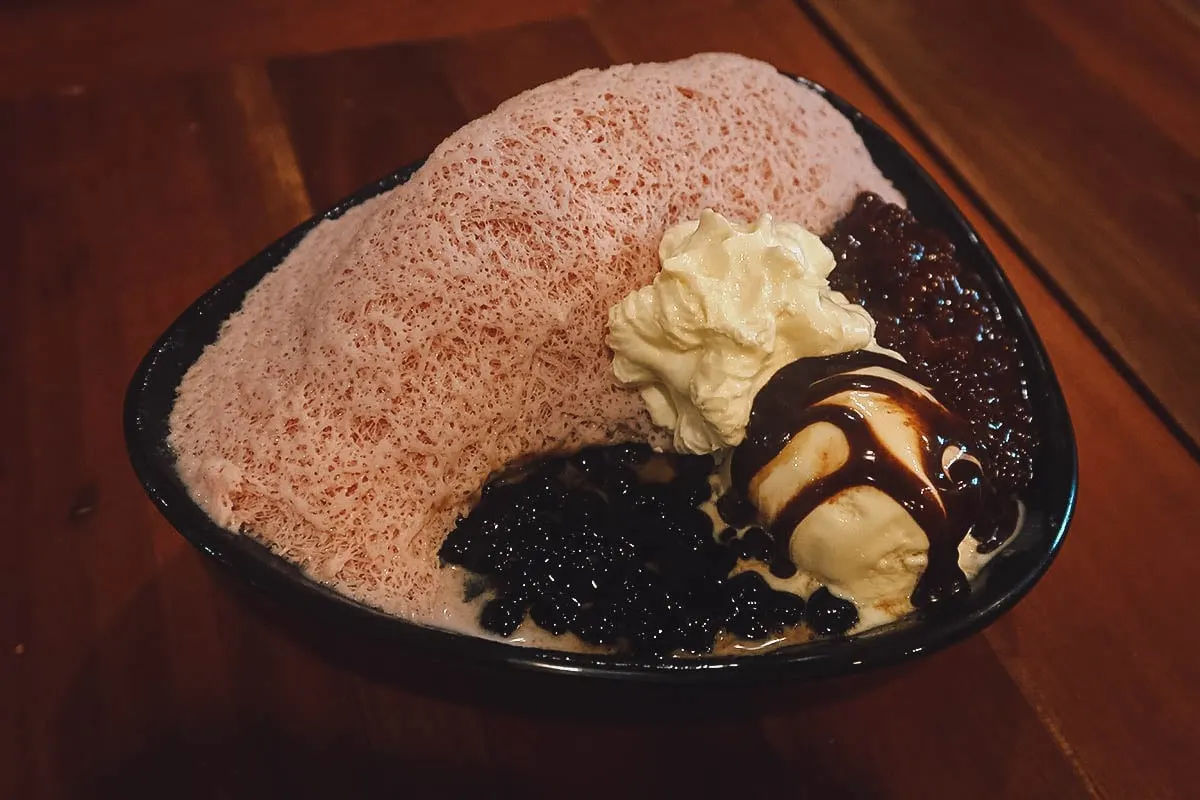 Cafe Snow Park is located on a busy side street just off the main road. Filled with restaurants on both sides, it's the street people usually take to get to the beach.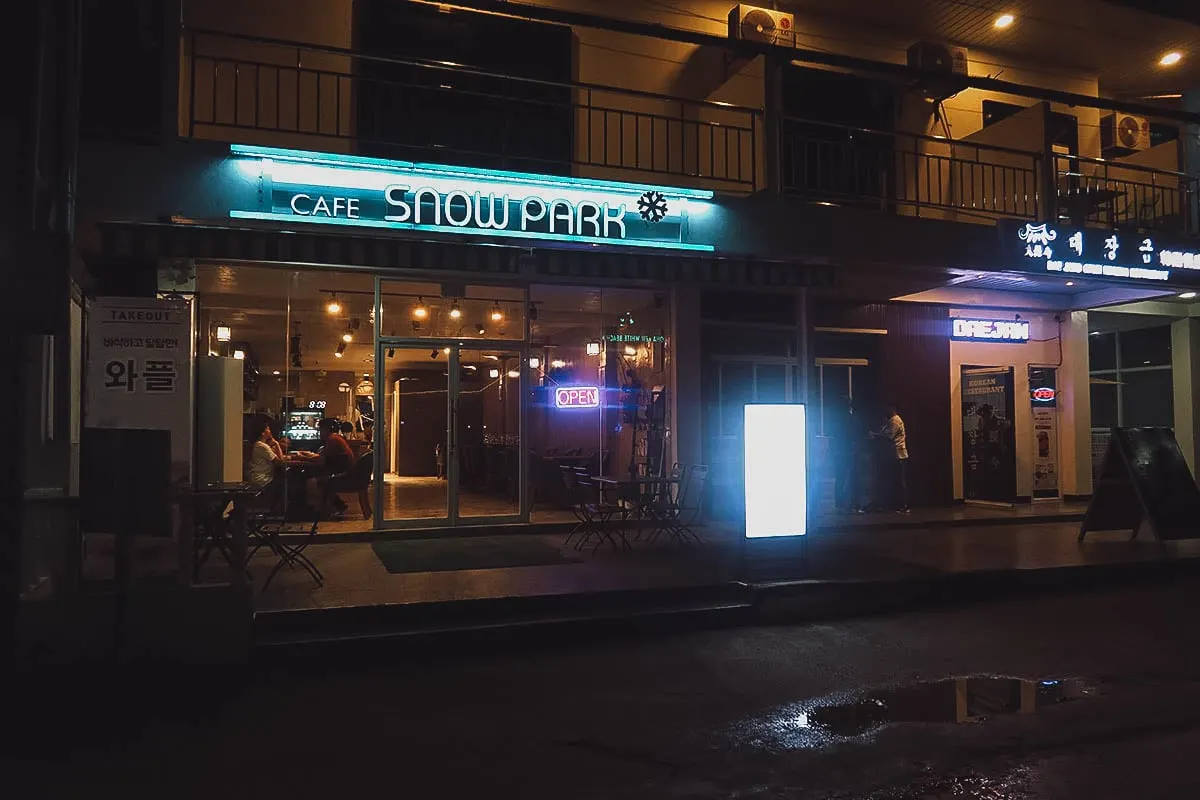 It's worth noting that my sister-in-law ordered mango bingsu the very next day and said that the mangoes weren't as sweet. Just something to keep in mind if you'd like to try anything made with fresh fruits.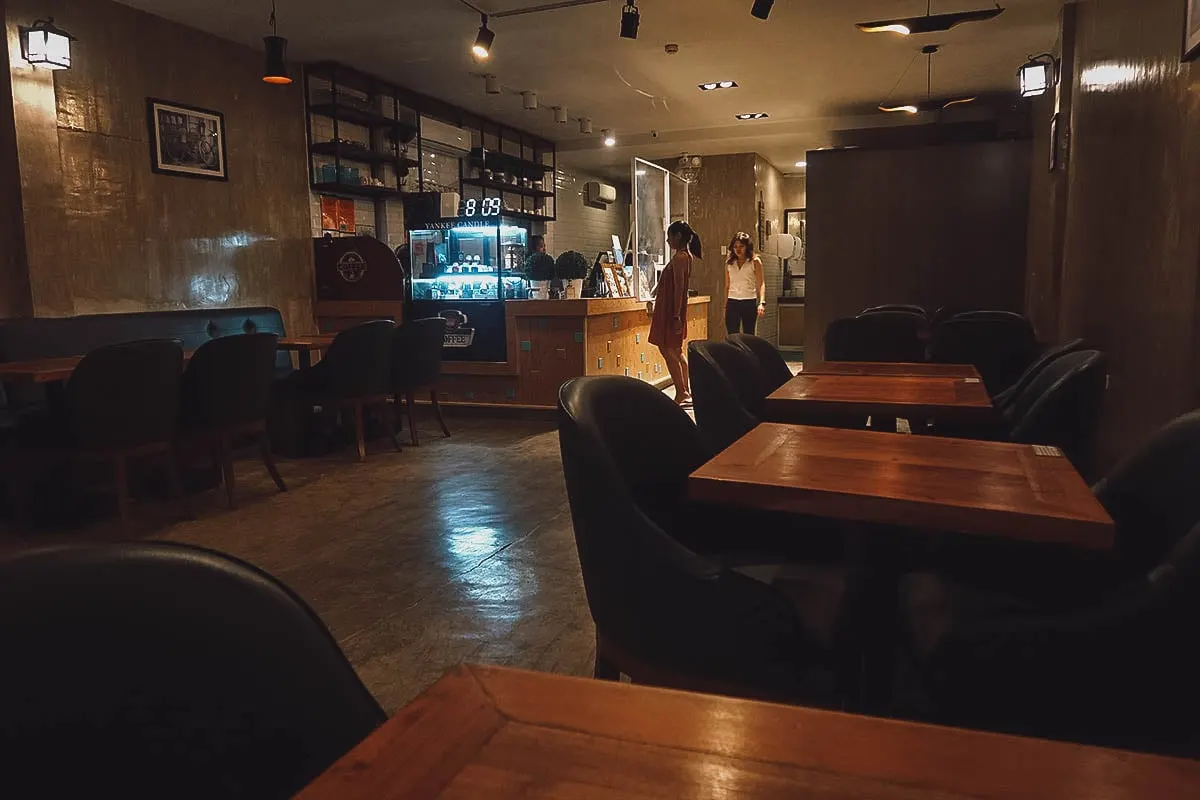 Cafe Snow Park
Address: GQXC+QR5, Panglao, Bohol, Philippines
Operating Hours: 9AM-10PM, daily
What to Order: Bingsu
LOCATION MAP
To help you find these Bohol restaurants, I've pinned them all on a map. Click on the link to open a live version of the map in a new window.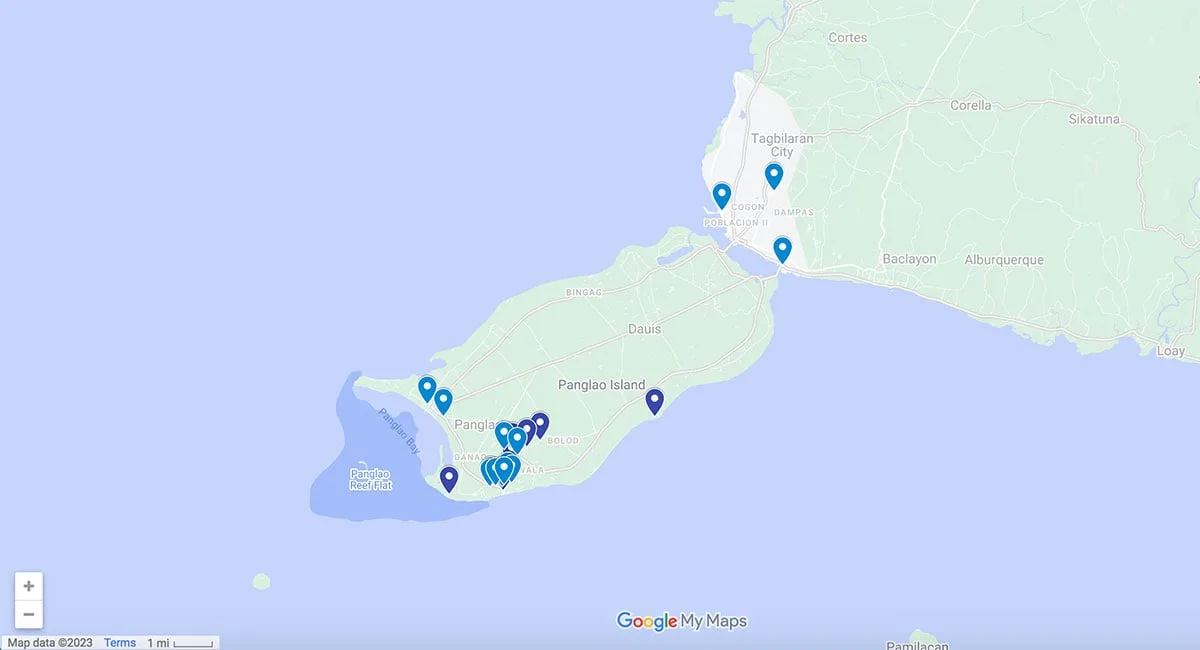 FINAL THOUGHTS ON THE BEST RESTAURANTS IN BOHOL
Aside from the restaurants featured in this guide, you'll find many more options pinned on the map above.
If you're a vegetarian, then you may want to visit Shaka. This vegetarian restaurant serves delicious smoothie bowls, burgers, and sandwiches made with vegan ingredients.
If you want Italian food but don't eat meat, then another good vegetarian restaurant to visit is Luna Rossa. They're known for many delicious vegetarian dishes, including the popular Spring Lasagna made with homemade pasta sheets filled with eggplant, pumpkin, and mushroom.
One restaurant we wanted to go to but couldn't find the time for was Barwoo. It's an interesting Asian fusion restaurant that serves Korean food and other Asian-inspired dishes. Their seafood fried rice is a bestseller, as is their jjampong pasta which is a type of Korean spicy seafood noodle soup.
This Bohol restaurant guide focuses on Panglao Island but if you plan on exploring the capital, then we have a few recommendations for Tagbilaran City as well.
The Prawn Farm restaurant inside Island City Mall is a local favorite. All-you-can-eat buffets are popular in the Philippines and the lunch and dinner buffet spread served in Prawn Farm's large and comfortable space is an excellent option.
If you'd prefer something a little more rustic, then the signature grilled chicken barbecue dish at Chicken Ati-Atihan is something you may want to try. People curious about boodle fights can experience one at TNTS Boodle Fight & Seafood House. It's a bakery and cake shop that oddly enough, became famous for their seafood and boodle fight spreads.
Wherever you go, it's clear that there's no shortage of delicious food in Bohol. Its restaurant scene isn't quite as developed or refined as Boracay, but it's well on its way.
Thanks for reading and have a delicious time in Bohol!
Disclosure
This article on the best restaurants in Bohol island contains affiliate links. If you make a purchase or booking, then we'll earn a small commission at no extra cost to you. We only recommend products and services that we use ourselves and firmly believe in. We appreciate your support as it helps us make more of these free travel and food guides. Thank you!