The world feels so different at that hour. It's sluggish and grainy. Every movement takes more effort.
It's hard enough to wake up at 5AM but on holiday, it's near criminal. In a daze and hardly speaking, the ride on the back of our boatman's motorbike did little to perk us up. Coffee would have been nice but it wasn't a possibility at that hour. Instead, we trudged along the sand like two pissed off coconuts, all the while dreaming about our hotel bed and the three hours of sleep we were losing because of this.
But soon as our feet touched the seawater to get into our boat, the universe shifted. Like a jolt of caffeine, it reminded us why we had gotten up so damn early to begin with. It told us we were here to see dolphins, and that was something to get really, really excited about.
Dolphin Watching
Dolphins are most active at dawn and at dusk to feed so you'll need to start bright and early. They picked us up from our hotel at 5:30AM and took us to Alona Beach. Expect to pay PHP 2,000 for two people for the boat, and an additional PHP 300 each as an environmental fee to go snorkeling on Balicasag Island. Full details and reservation number towards the bottom of this post. Alternatively, you can book an island hopping and dolphin watching tour through Klook or Kkday as well.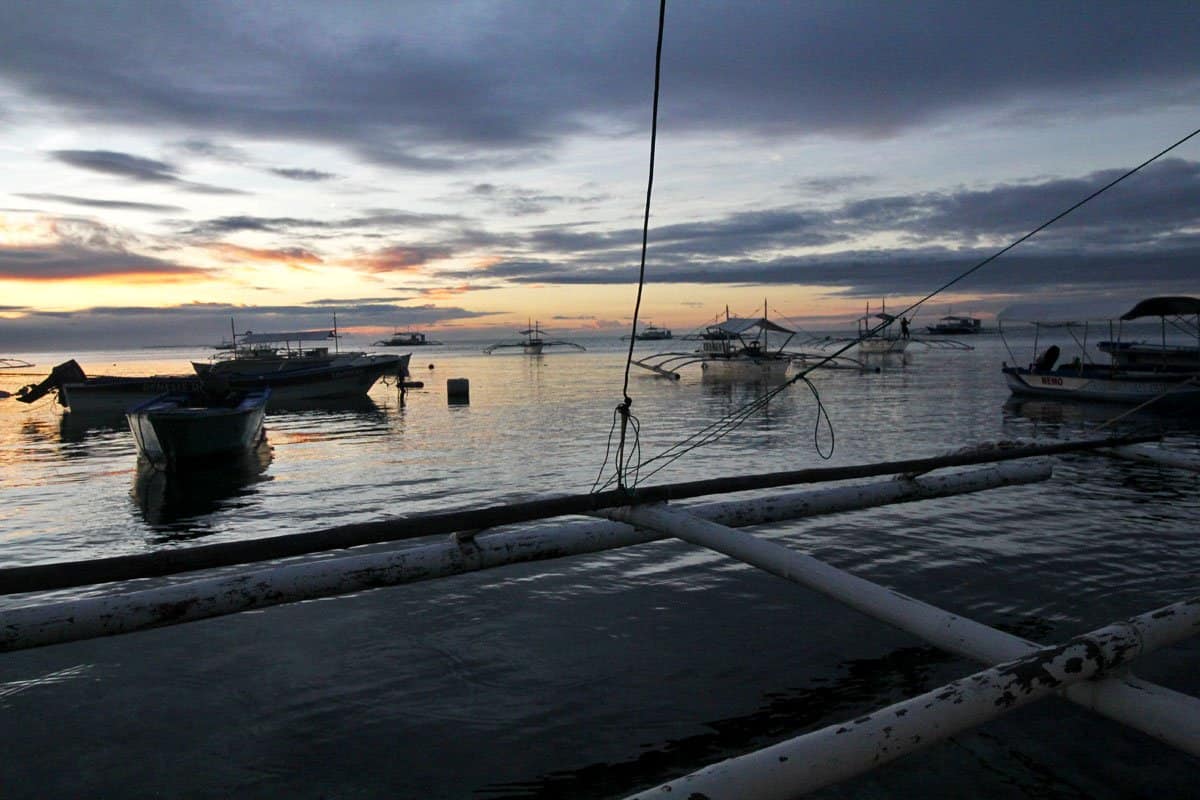 Soft and dreamy, the light at this time of day was out of this world.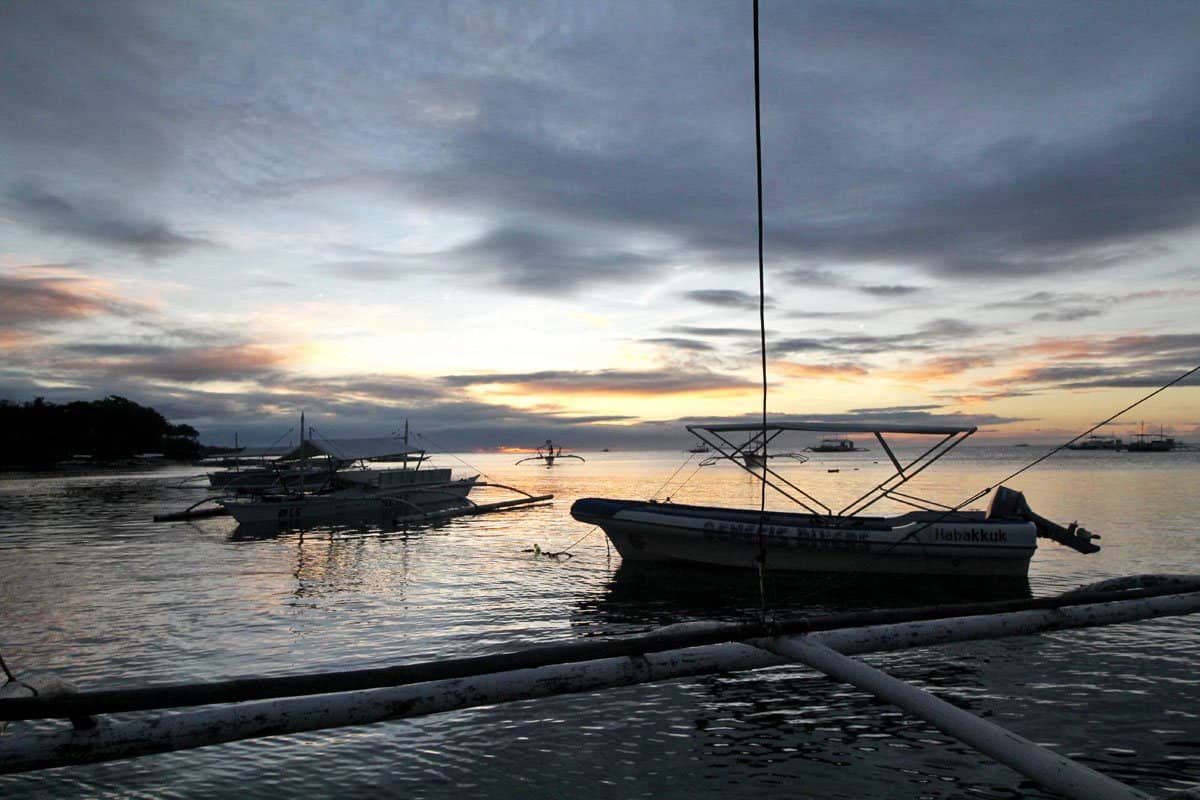 Weaving through morning traffic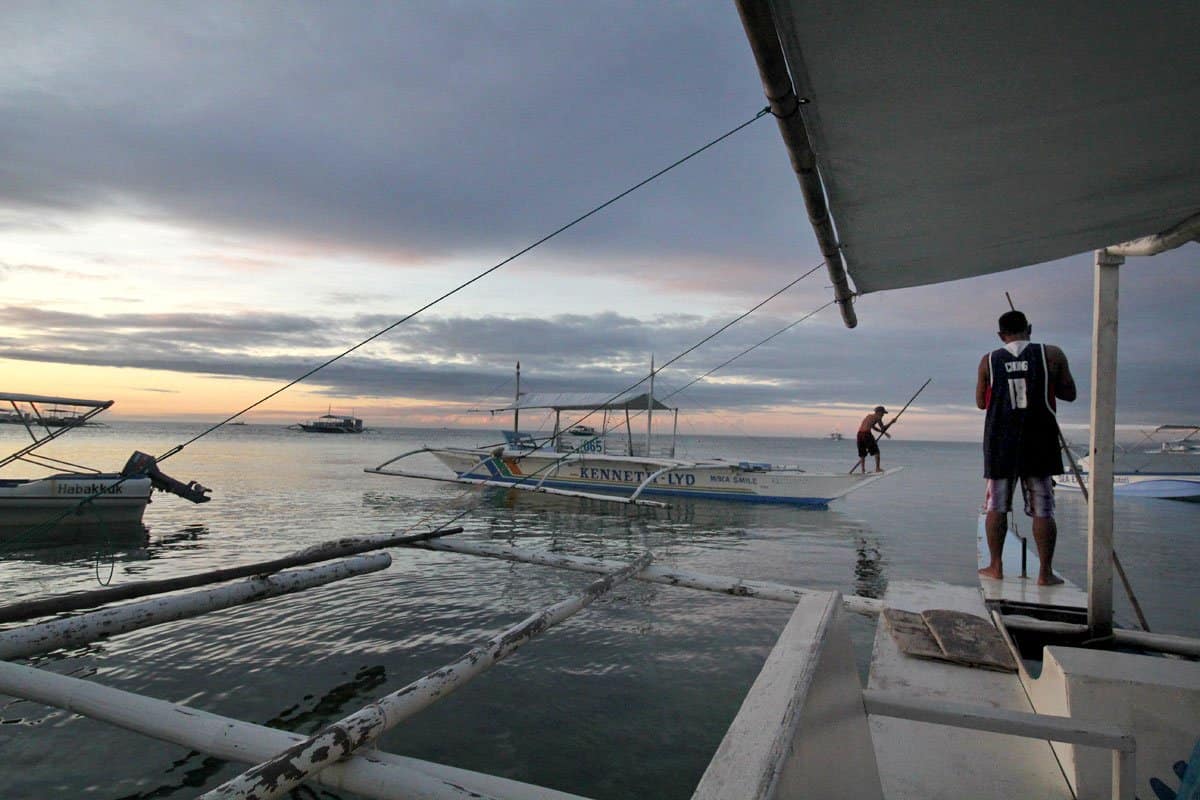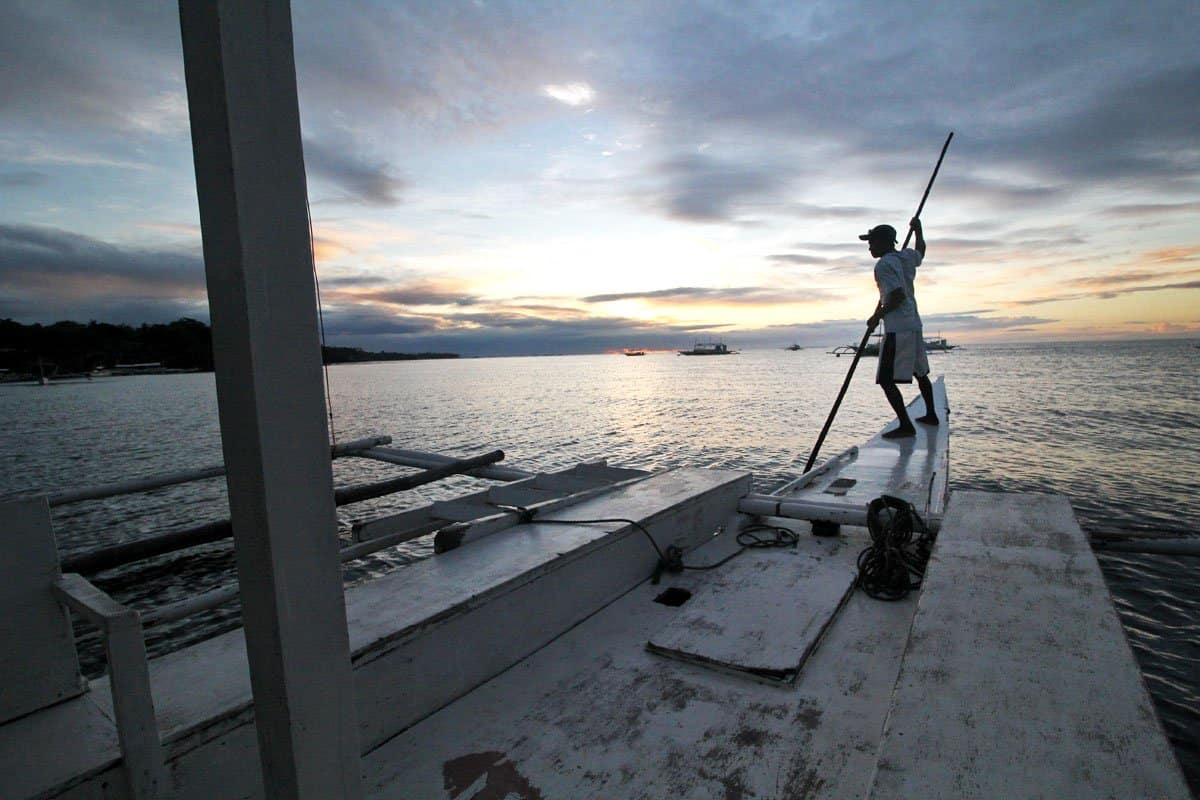 And away we go! Looks like we have competition though…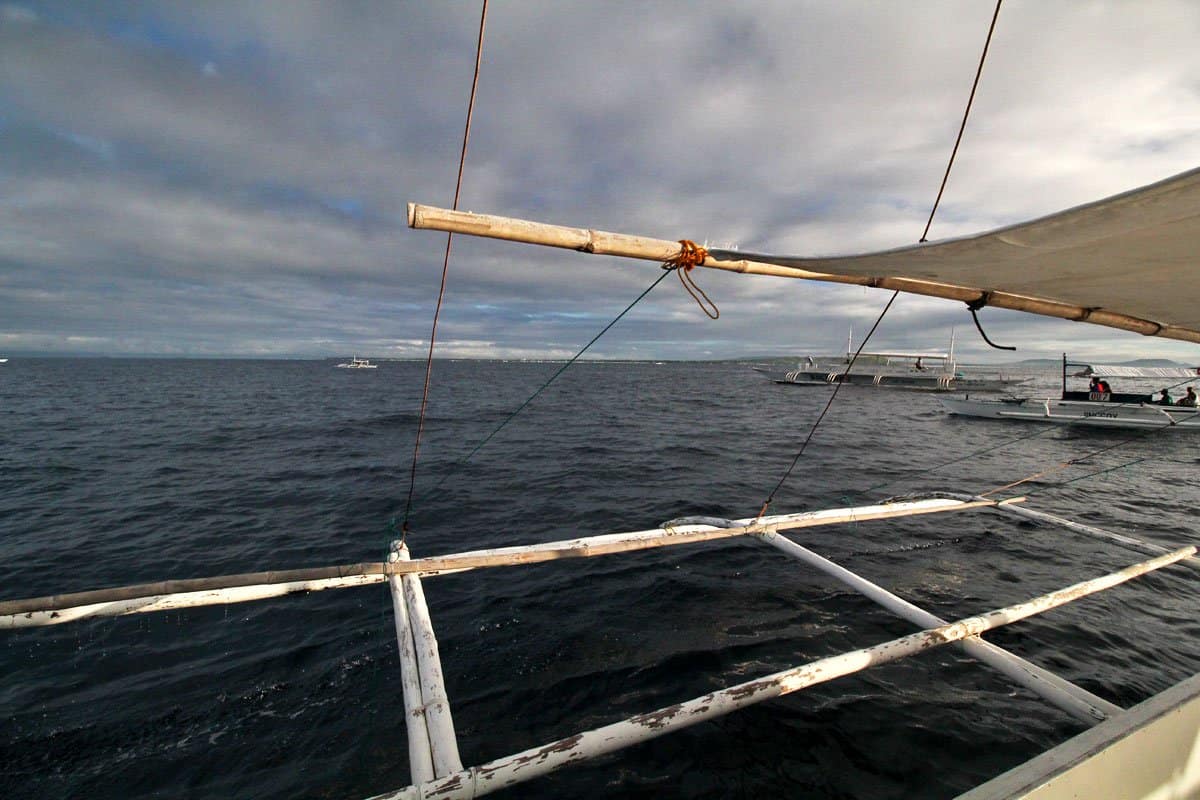 Last one to see a dolphin is a rotten tourist!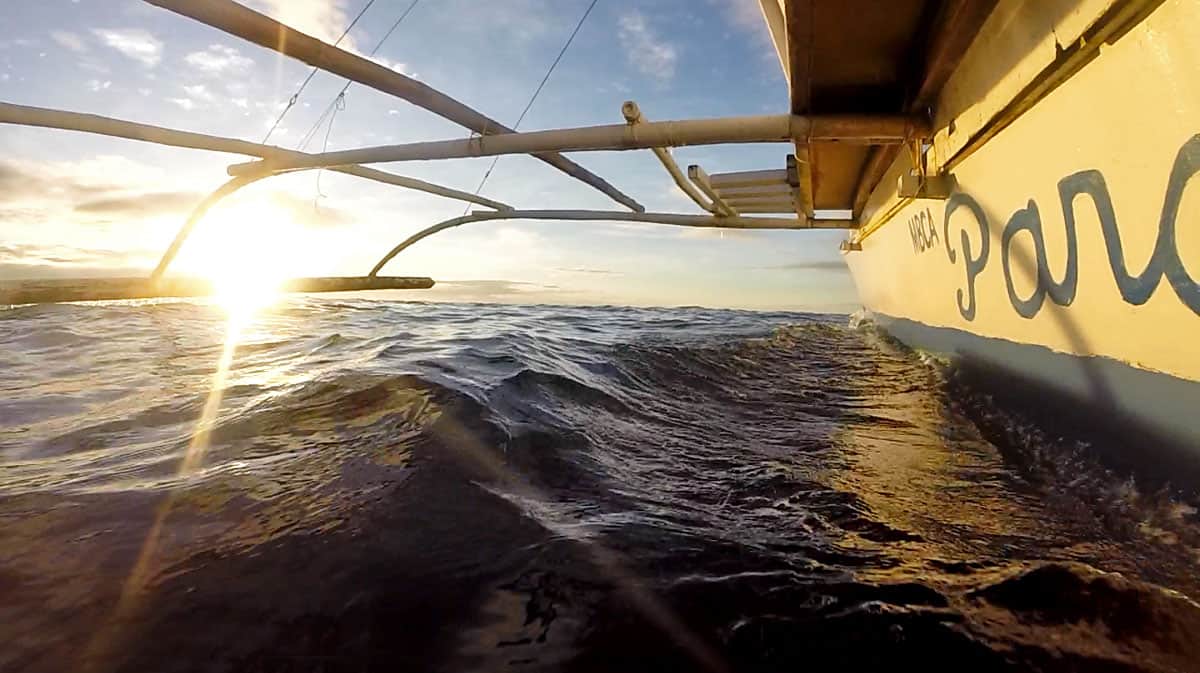 I appointed myself as this expedition's unofficial spotter. As you can tell, I took my job very seriously.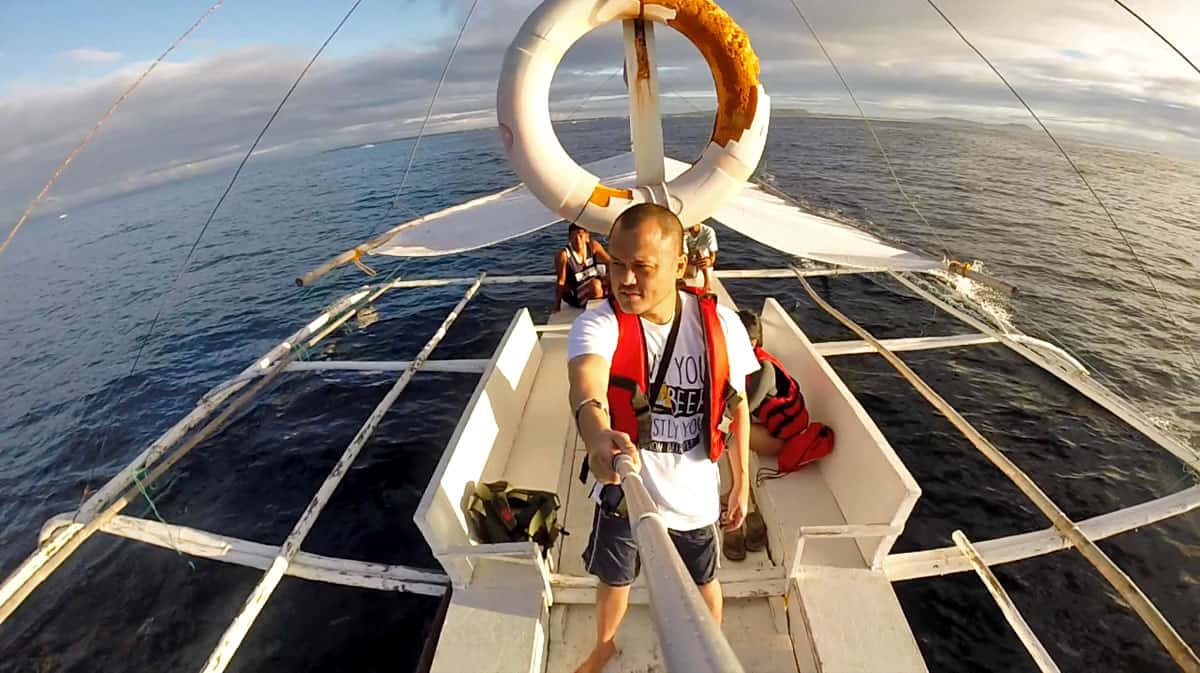 And no thanks to me, we got dolphins! We spotted our first dolphins around an hour after setting off from Alona Beach. What beautiful animals. We even saw a couple of cute juveniles keeping up with the adults.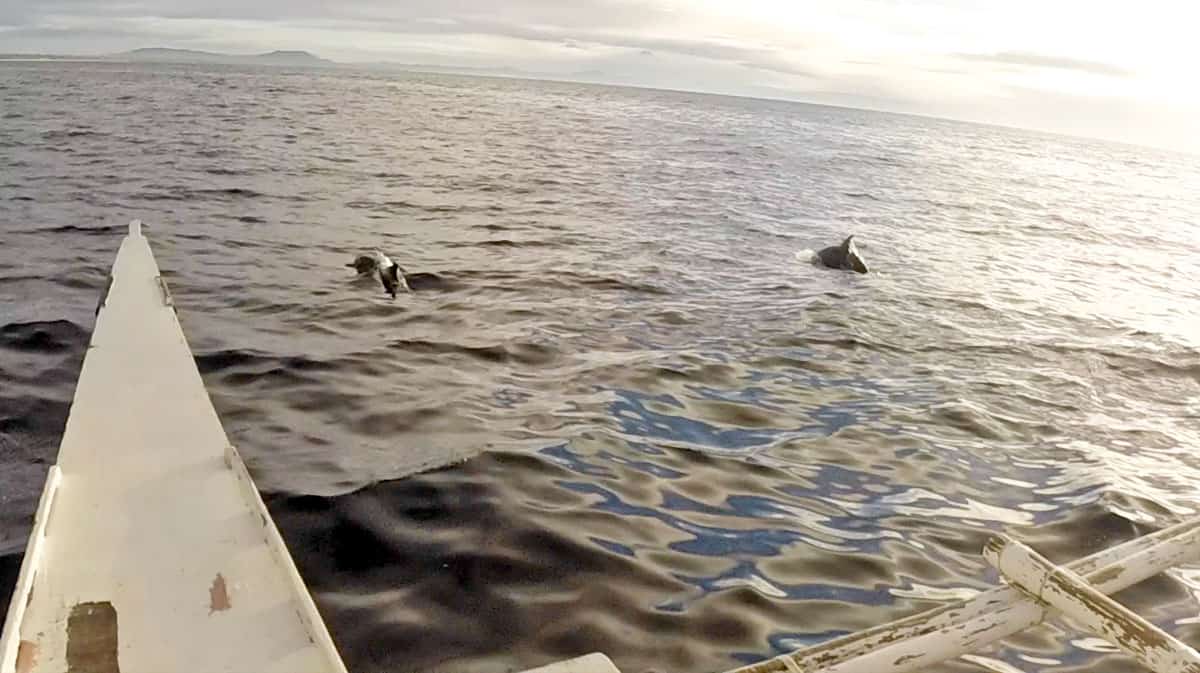 Ren and I had done this separately before and we both remember seeing larger pods of dolphins swimming together. We weren't as lucky today because the most we saw was maybe four or five. Still a wonderful experience though. Scroll down to the video at the bottom of this post to watch them in action.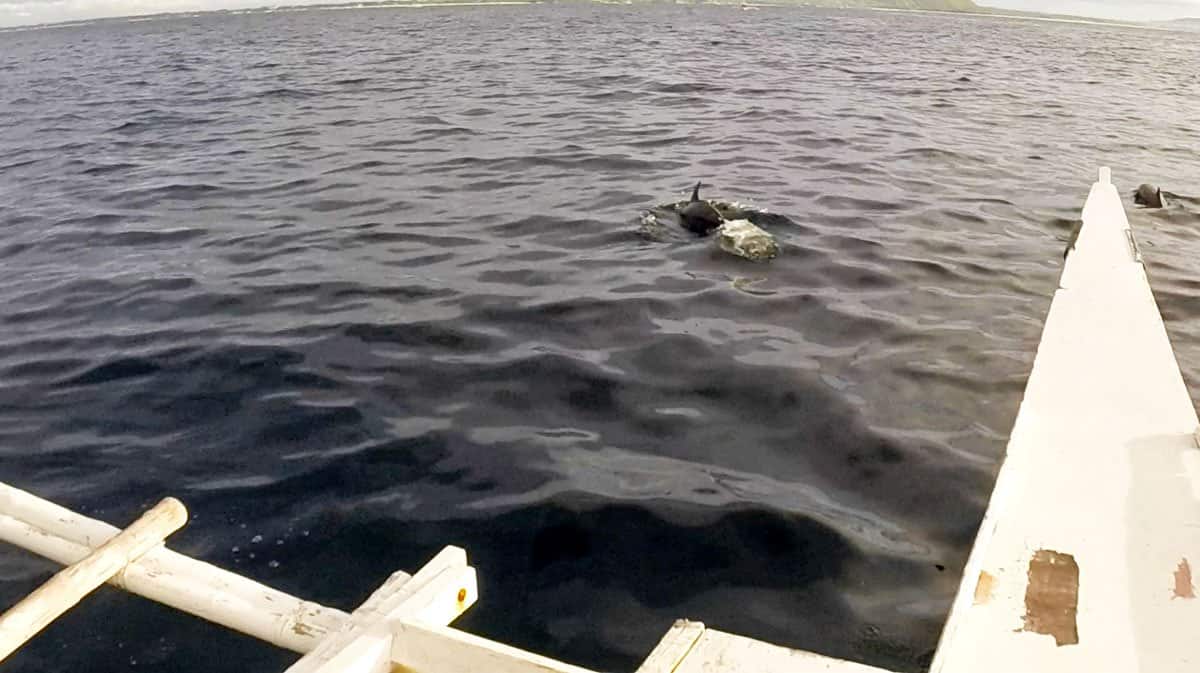 Balicasag Island
After about an hour chasing dolphins, we make our way to Balicasag Island. You'll dock at the island and set off on a canoe to go snorkeling. As mentioned up top, there's an environmental fee of PHP 300 per person to go snorkeling here. We brought our own but you can rent snorkeling equipment for an additional PHP 150 each.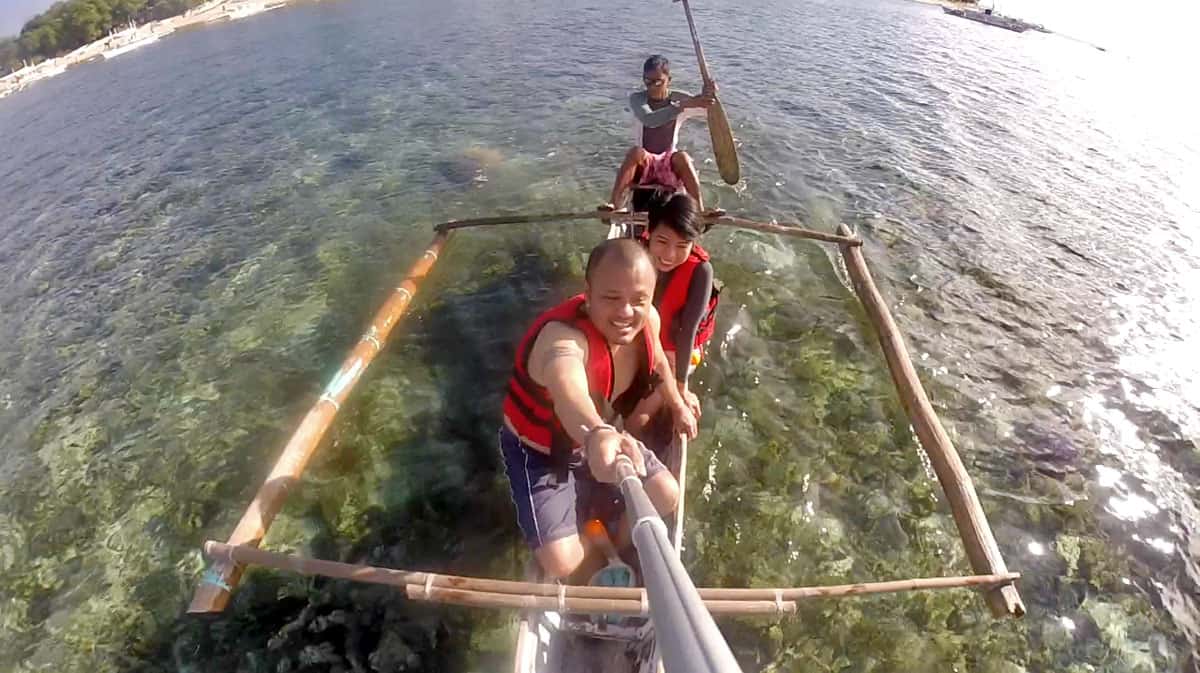 Ren trying out her Easybreath mask for the first time. If you've never heard of it, it's a new design by Tribord that merges the mask and snorkel into one piece. It's a lot more comfortable than the traditional mask and snorkel set. Highly recommended.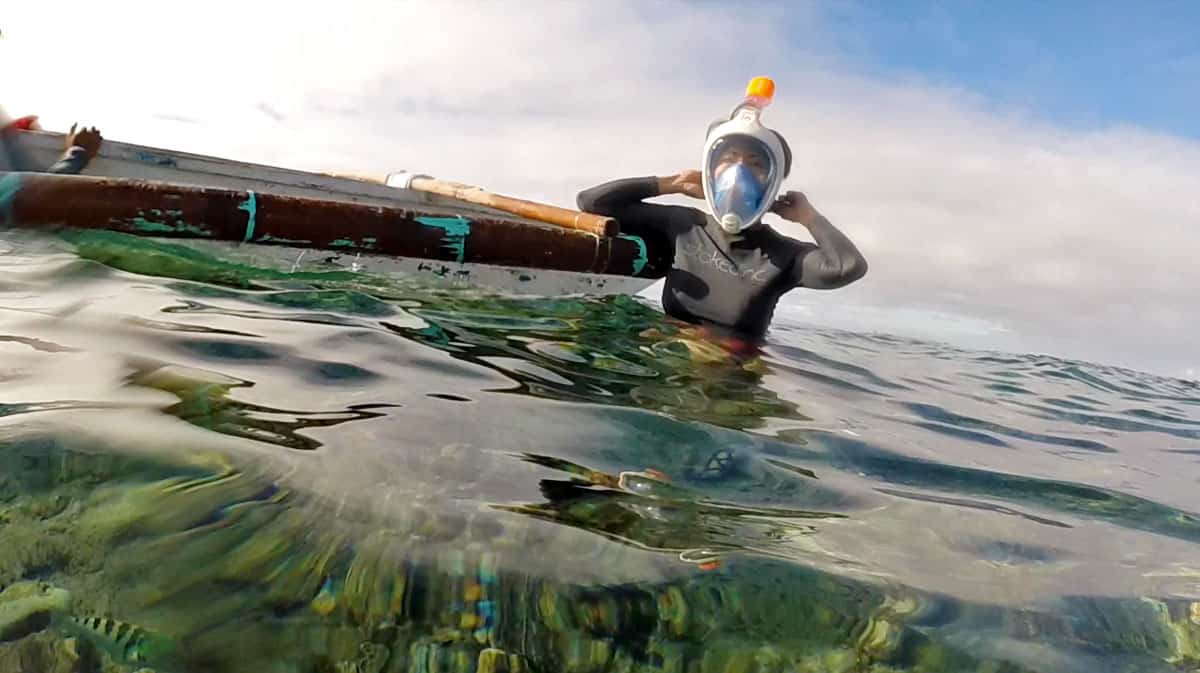 Time to eat fishy fishies! For PHP 10 a pack, you can buy crackers on the island to feed the fish. Your boatman will snip a corner off the packet and crush the crackers so all you have to do is squeeze to release the food. So easy! I love simple ingenuity like that.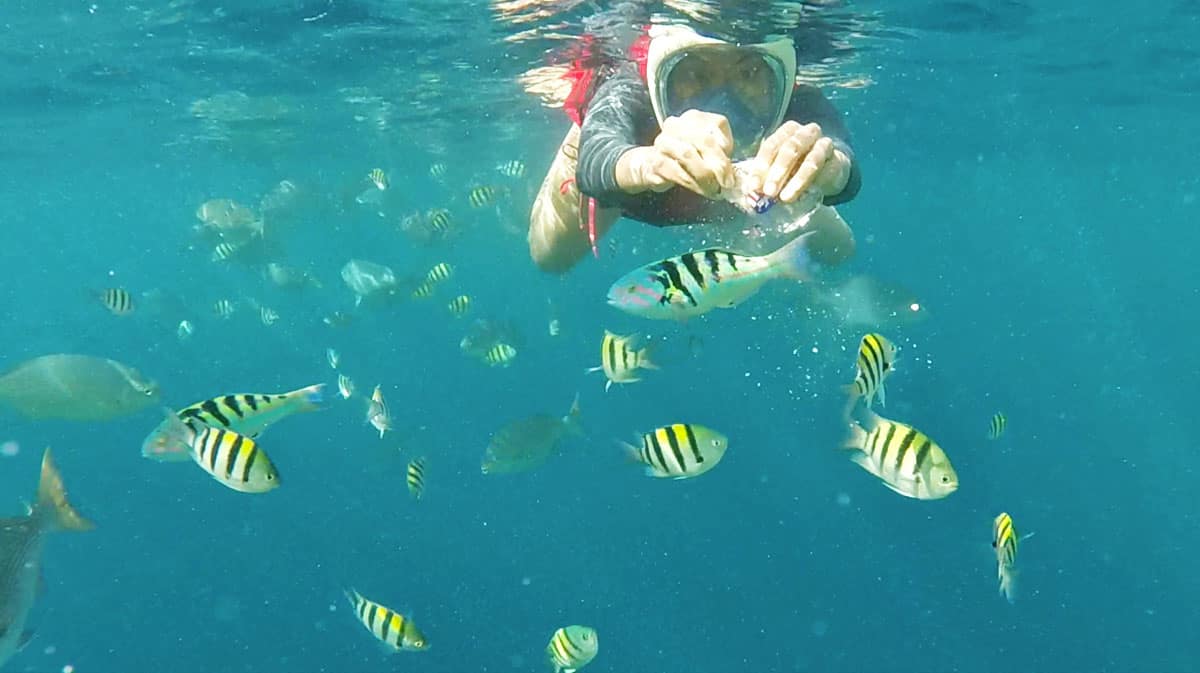 Working them up to a frenzy. Feeding fishes like this may be frowned upon by environmentalists who see it as unnatural. It conditions the fish to expect food from humans. Though I do believe that to be true, I think it's a smaller sin in the greater scheme of things. I think the ability to feed the fish and interact with them in this way brings much tourism to the island. In my opinion, the positives outweigh the negatives in this case.
A bigger concern for me is the plastic. Our oceans are too polluted as it is so if you feed the fish, then be sure to put the empty wrappers back in the canoe for proper disposal.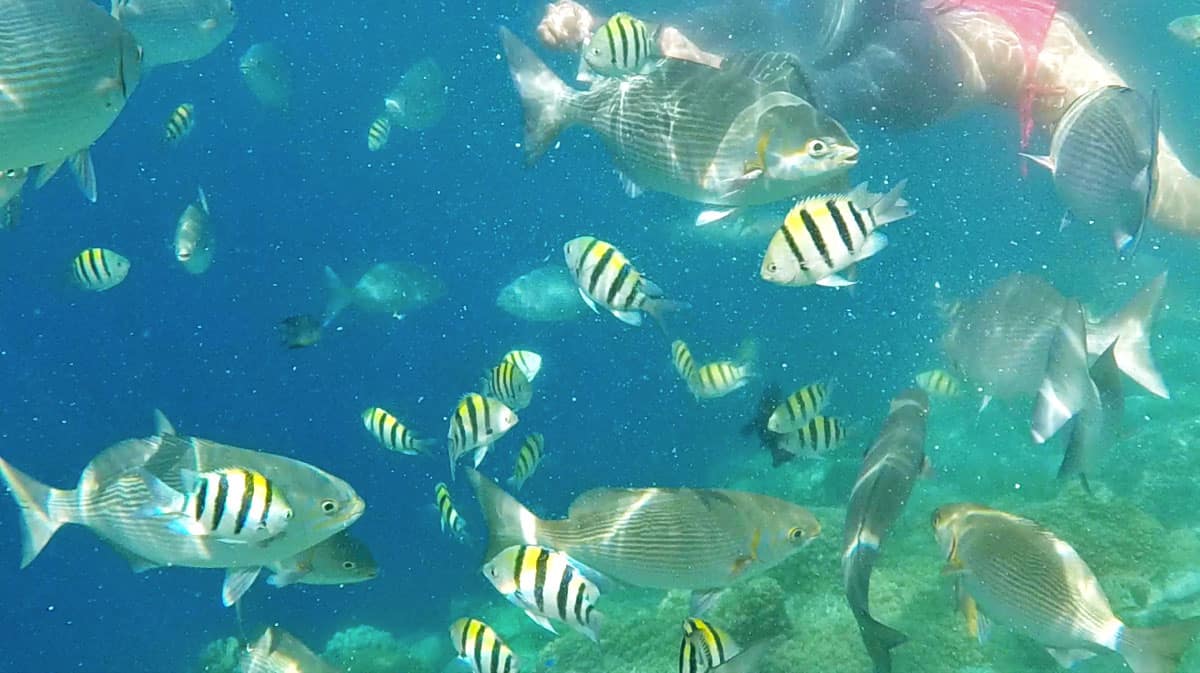 A closer look at the Tribord Easybreath. A full face mask with the snorkel attached to the top, it frees up your mouth and allows you to breath more naturally through your nose. There's a mechanism in the snorkel as well that keeps water from entering when submerged. Again, I can't recommended this enough.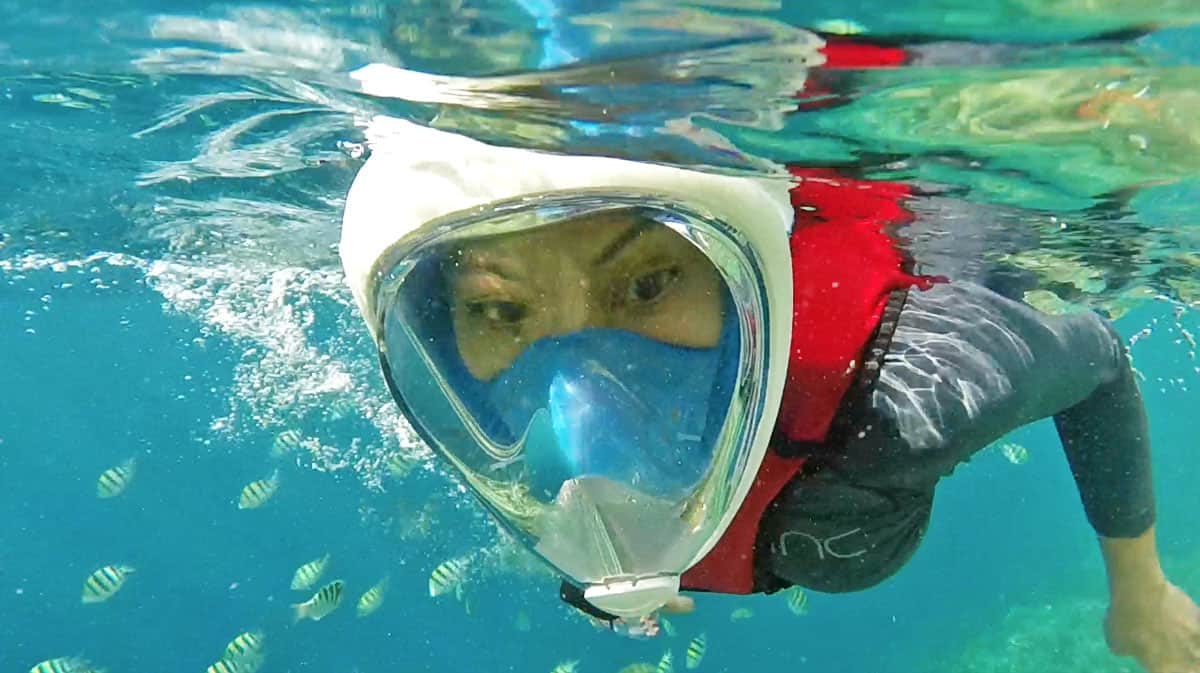 This was really cool and something we had never experienced before. For an additional PHP 250 each, our boatman took us to the other side of the island to observe marine turtles feeding on the sea grass. We must have spotted around six or seven in the span of half an hour. Some were huge, maybe four to five feet long! Awesome!
For PHP 250 more, he offered to take us to another protected area to see giant clams. Ren was feeling a little seasick from the choppy waters at this point so we opted to head back.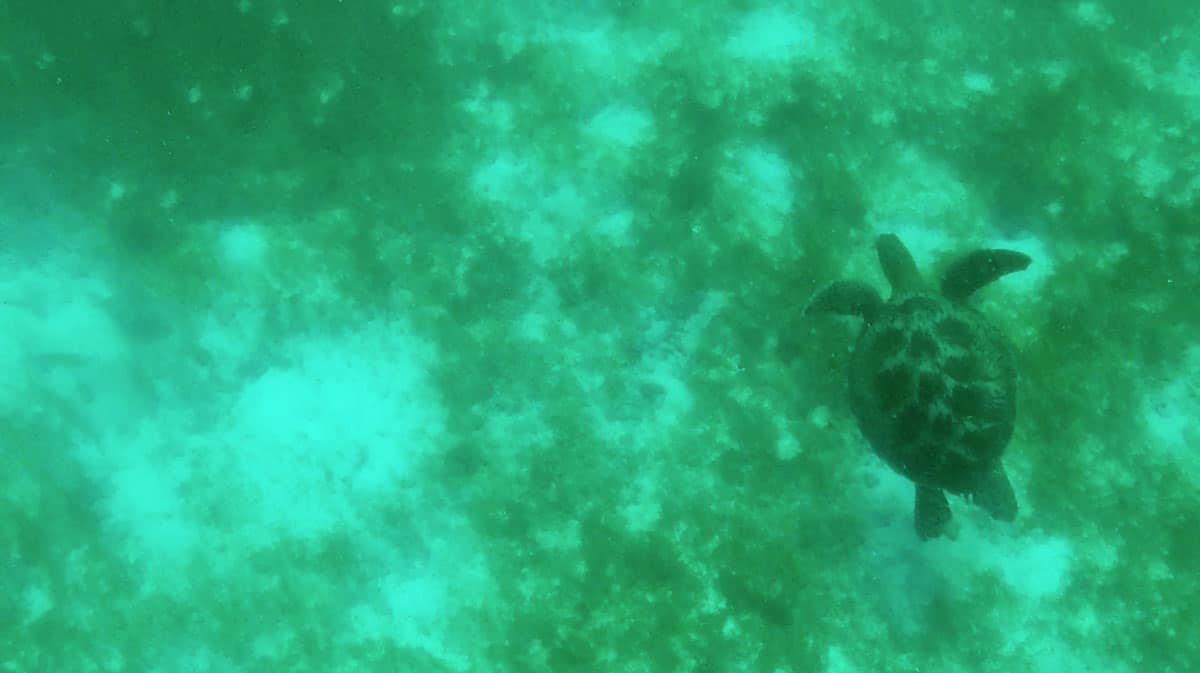 Virgin Island
We thought our day was done after Balicasag but we were told we had one more stop to make — Virgin Island. Our boatman described it as little more than a sandbar so Ren and I weren't expecting much. It turned out to be our favorite part of the trip. There it is up ahead.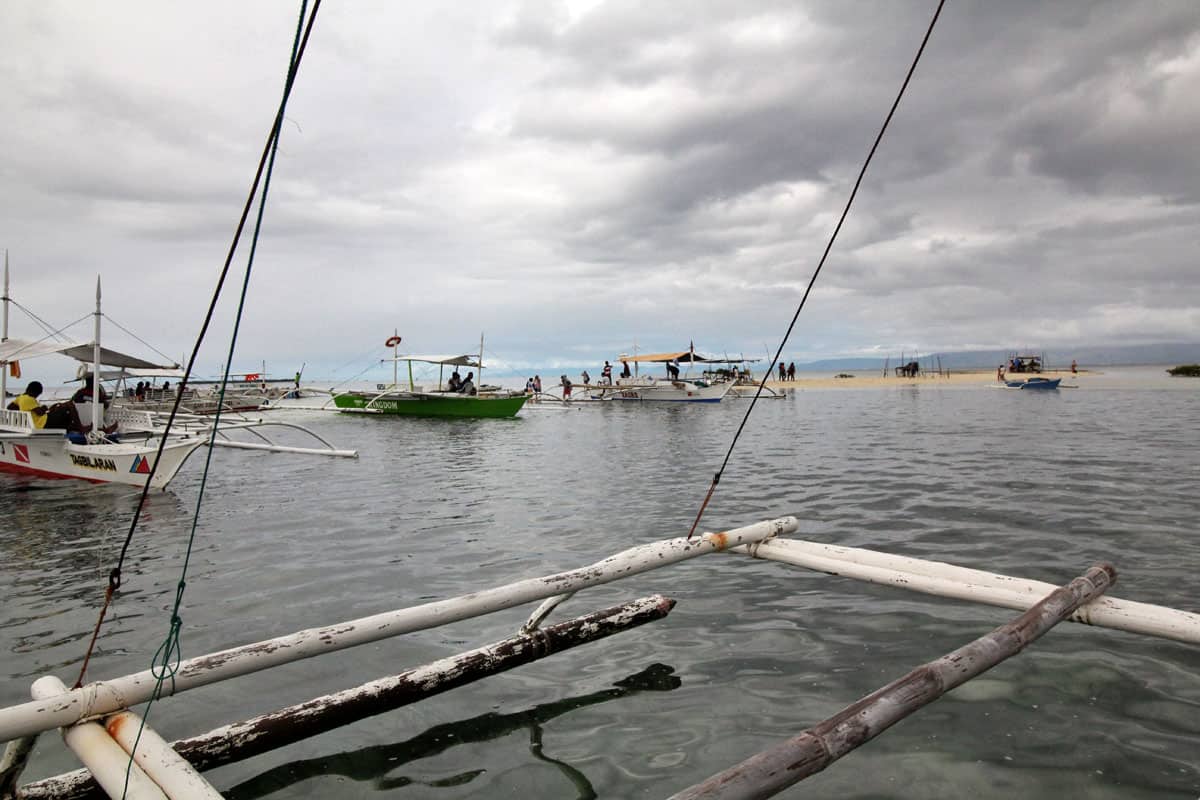 Beautiful stretch of sand. It must be awesome to have this all to yourself. Entrance fee to land on Virgin Island is PHP 30 per person.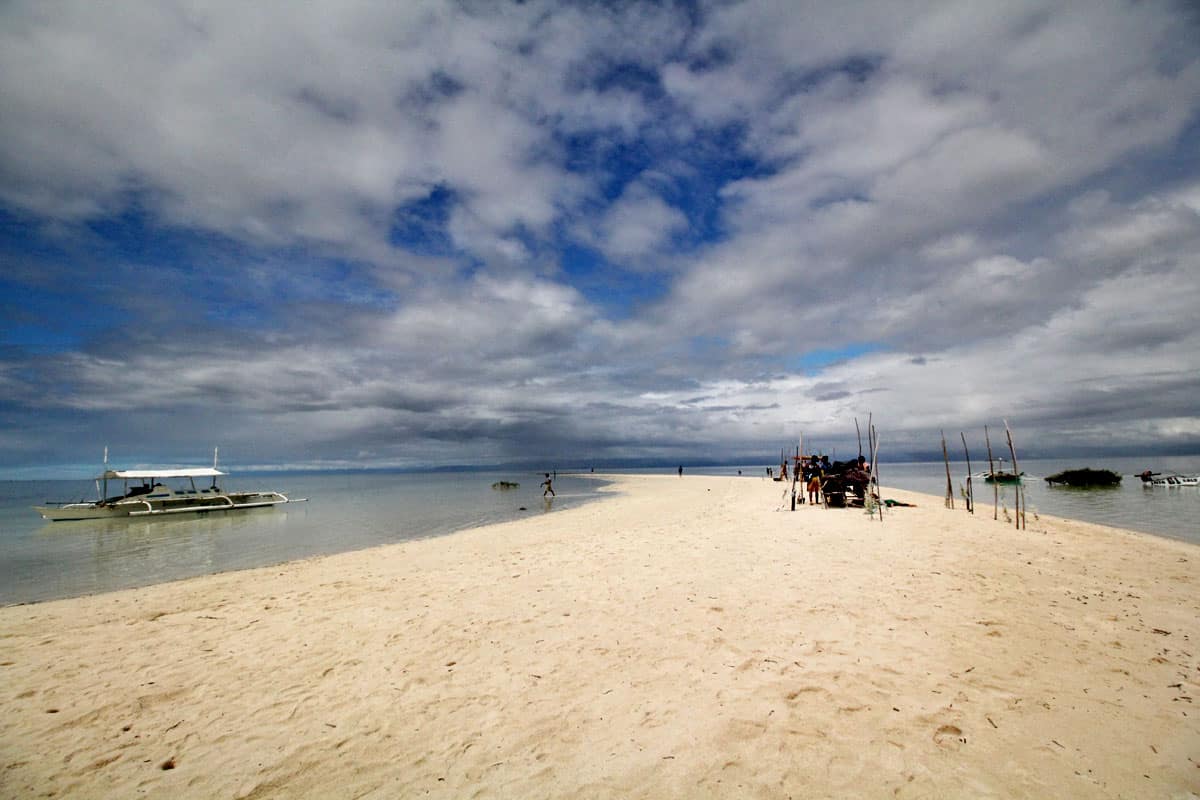 A sandbar in the middle of the ocean, there's nothing on Virgin Island but sand, this sign, and a few vendors selling freshly caught seafood. And I'm not talking about just any old seafood either. As you'll see in the next few pictures, I was SO happy we stopped here.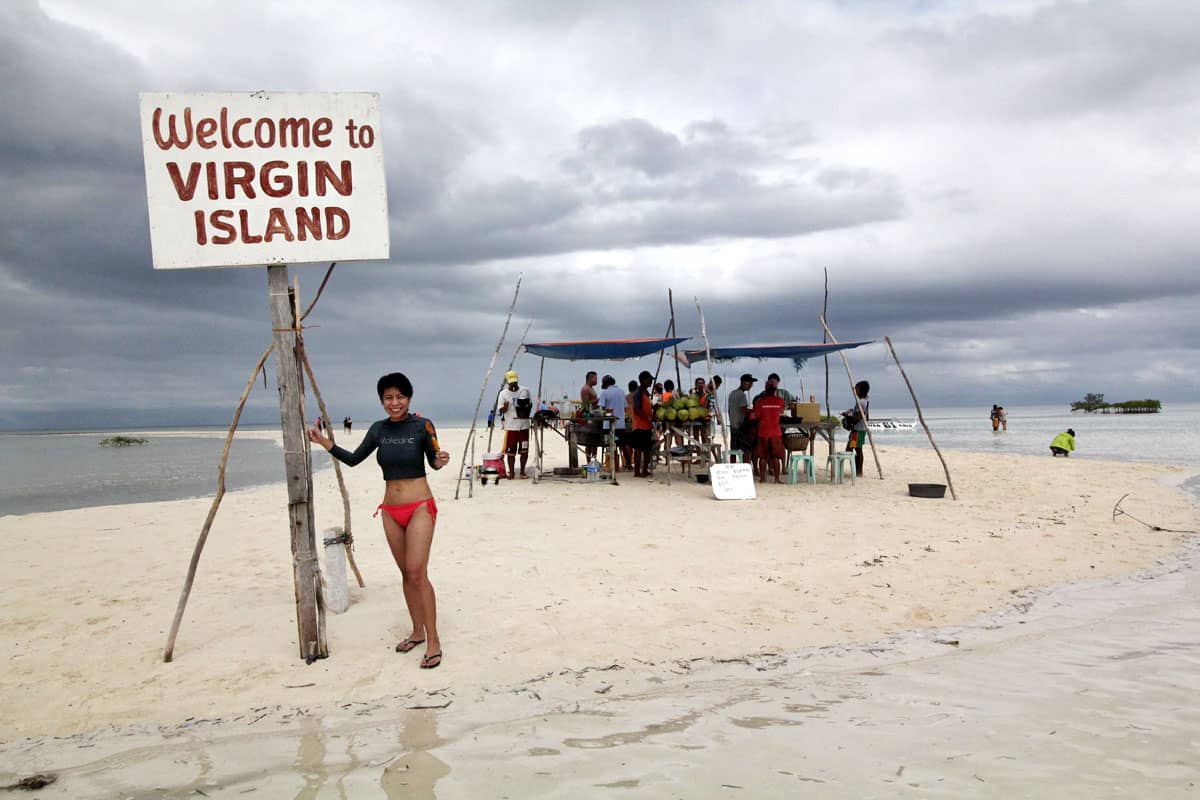 Pop-up seafood bars. There were two or three of these makeshift stalls where vendors would sell and cook live seafood for tourists. They'd set them up in the morning and take them down at the end of the day.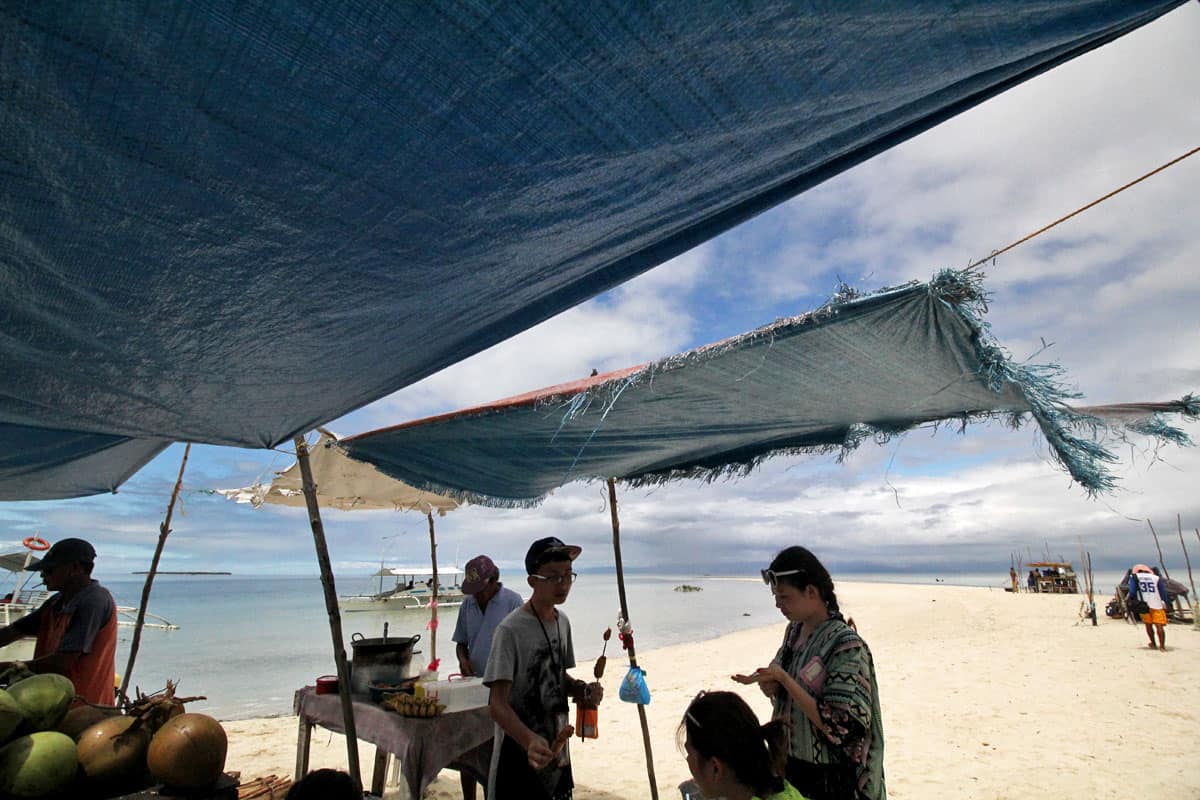 A tub full of live uni. If I remember correctly, they were selling these for just PHP 100 per five or six pieces. My memory is hazy so I may be off but with the prices in this post, but none of the seafood here were expensive.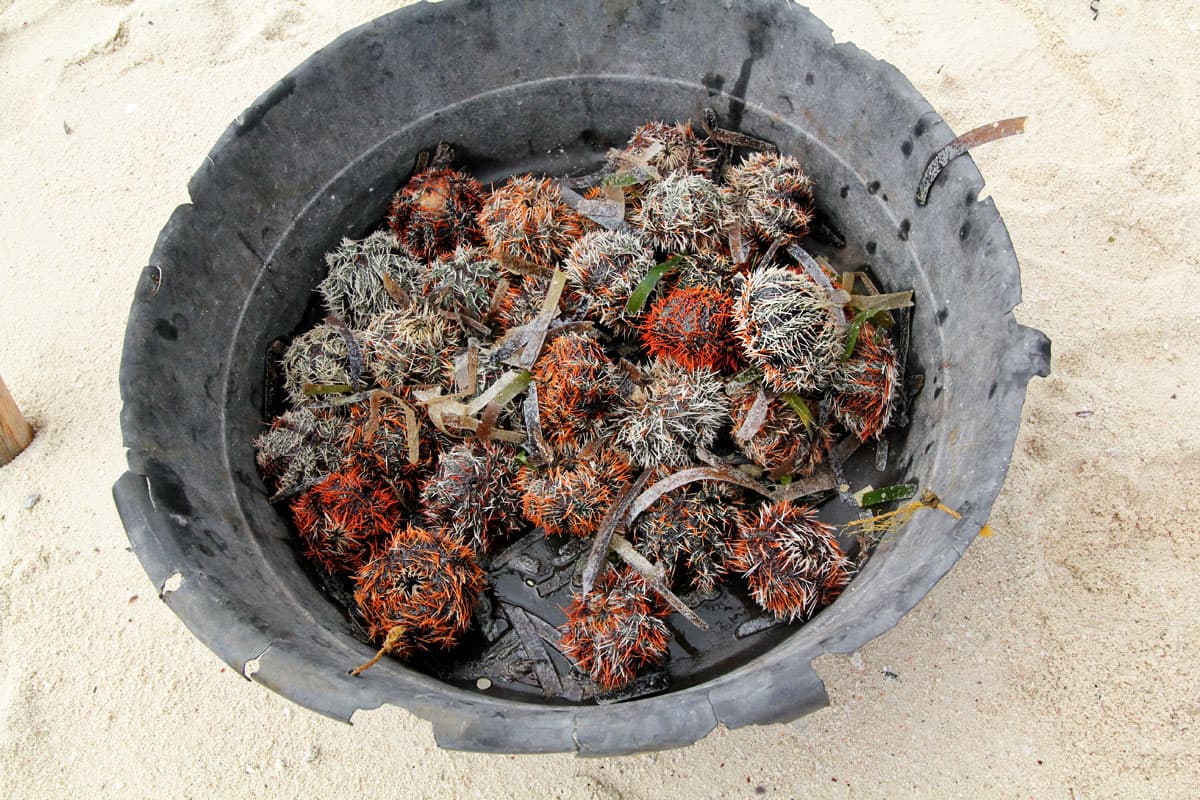 Have you tried fresh uni like this before? It's divine. They'll crack it open for you so you can scoop out the roe. If you're wondering what those things are in the green tub, they're live abalone. 😉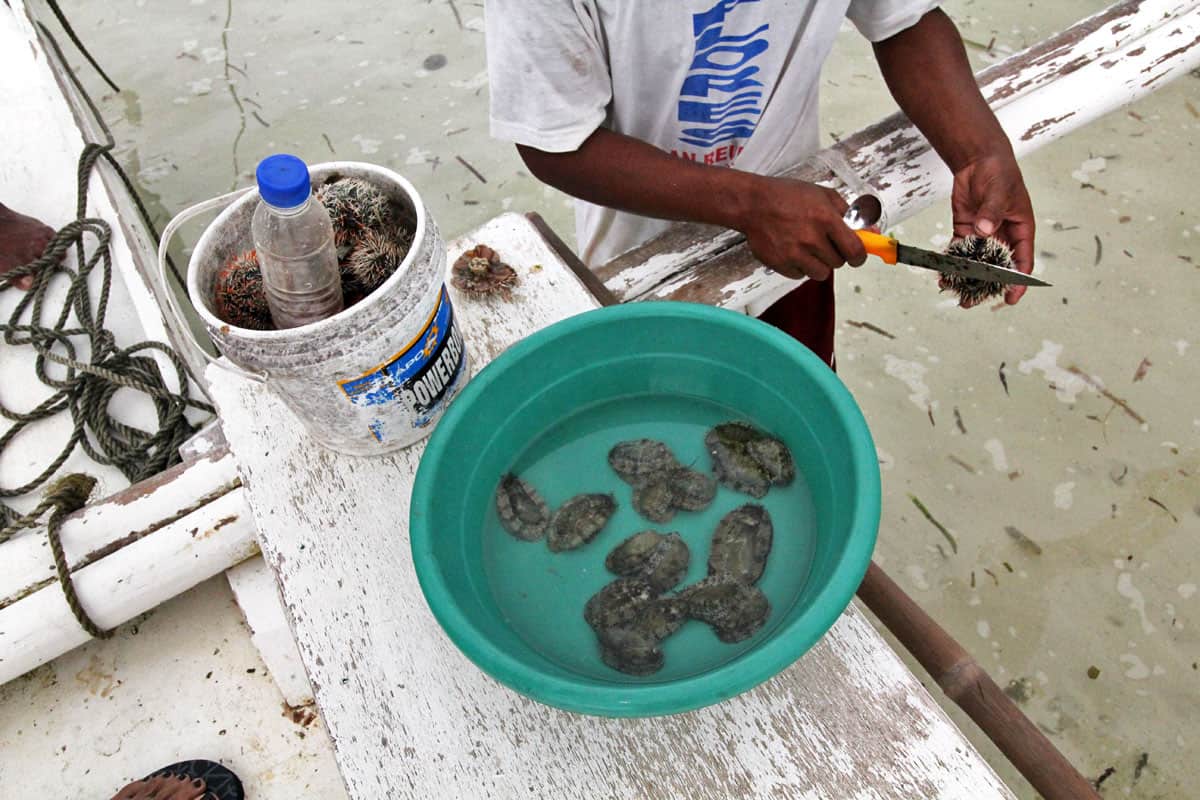 Magnificent golden roe that's sweet and briny. So effing good.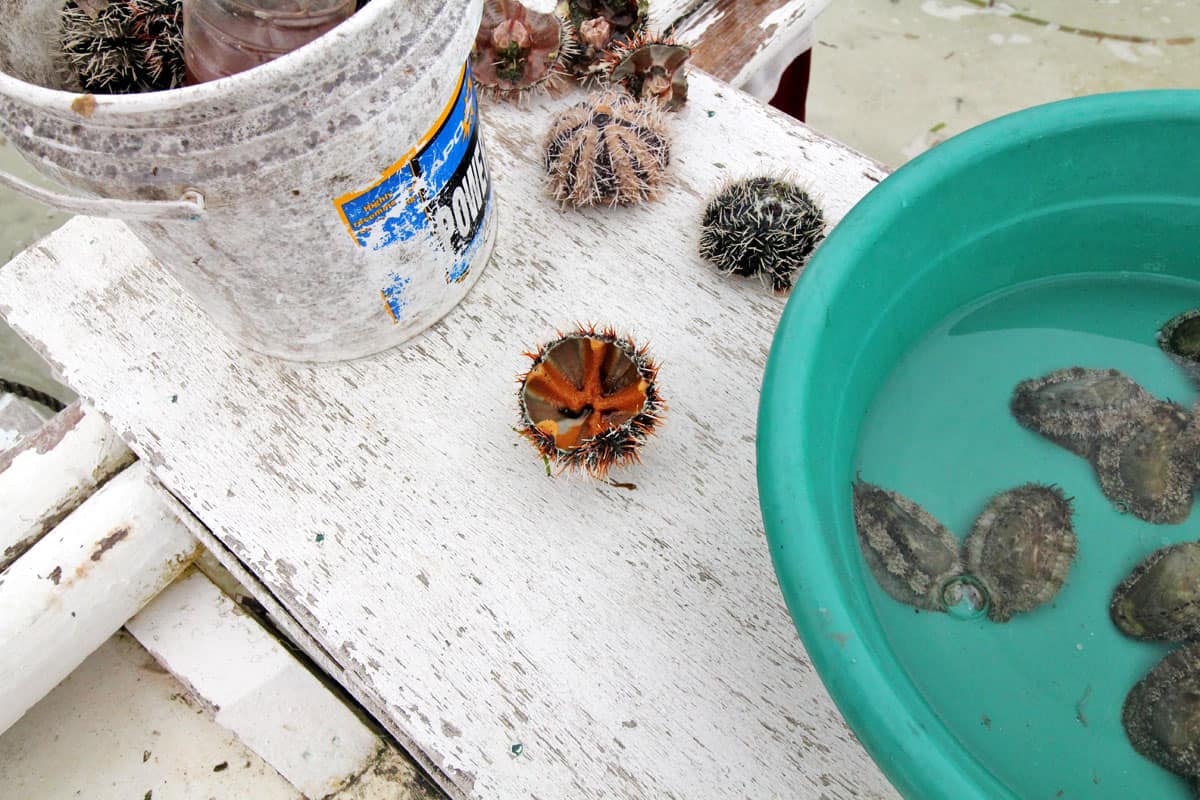 Of course, we picked up a few other things as well like this abalone. I believe they were selling them for PHP 50 apiece. How much would you pay for abalone at a Chinese restaurant?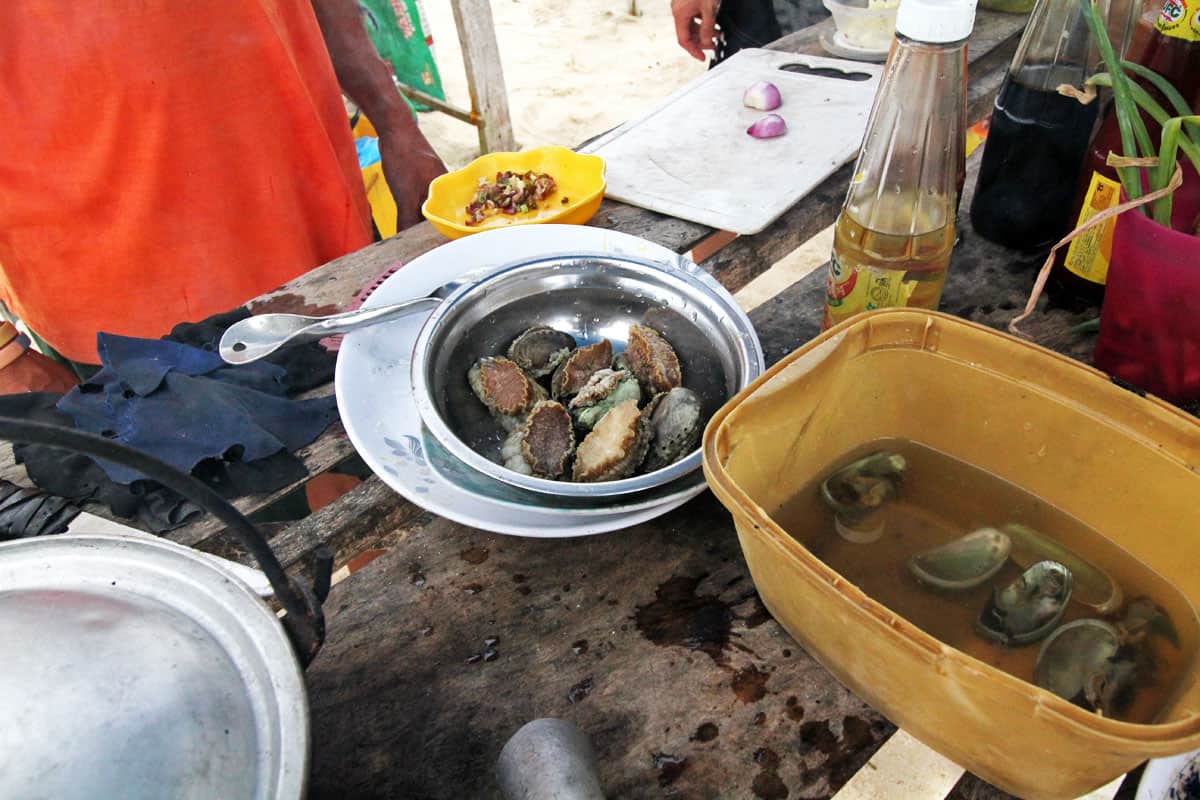 Waiting to be grilled and mixed with an adobo-style sauce.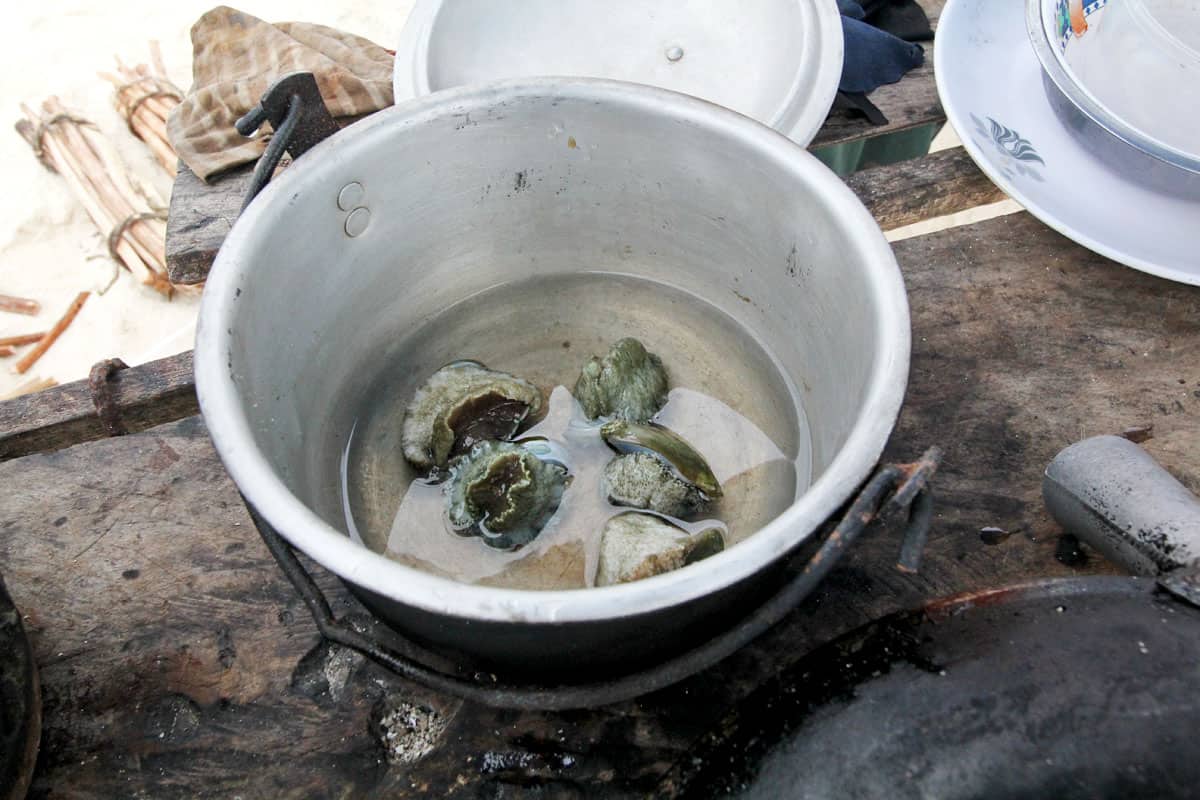 Like so. The adobo sauce was tasty and the abalone sweet with a soft chewy texture. Oh so good.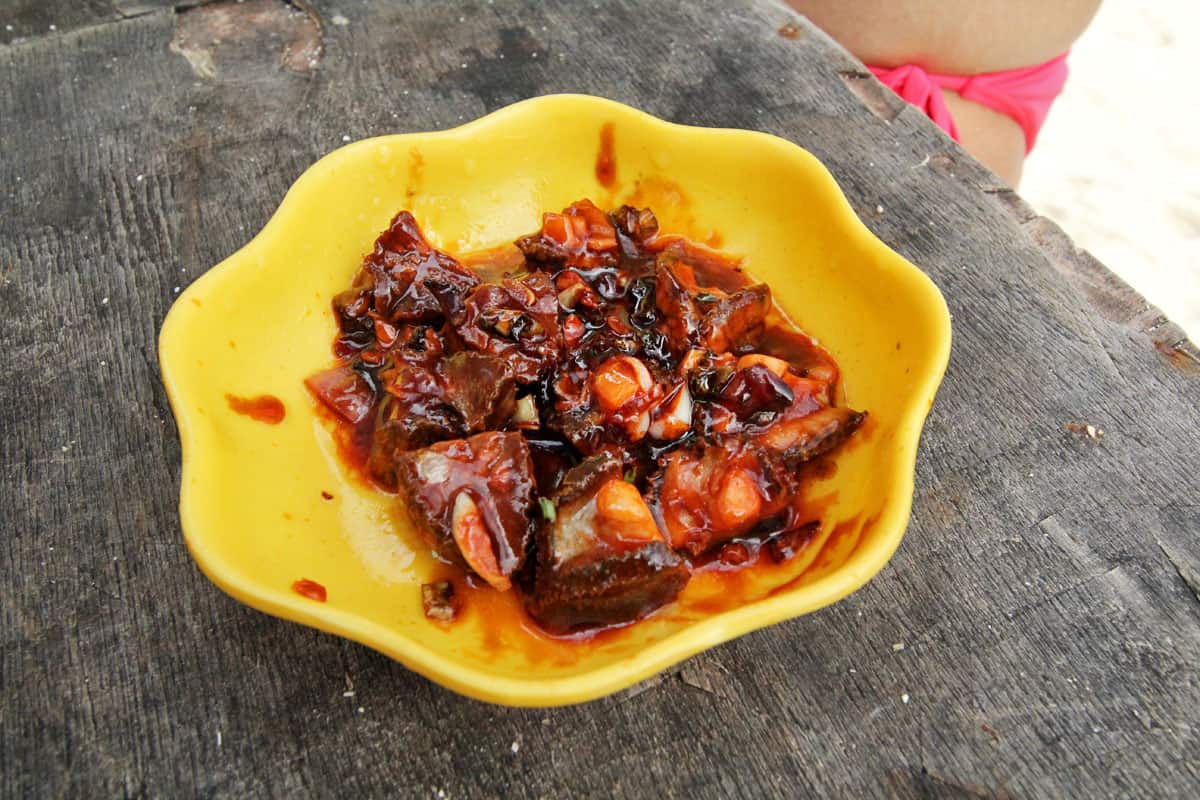 More seafood on sale like spider conch, sea cucumbers, and giant clams. More on the giant clams later.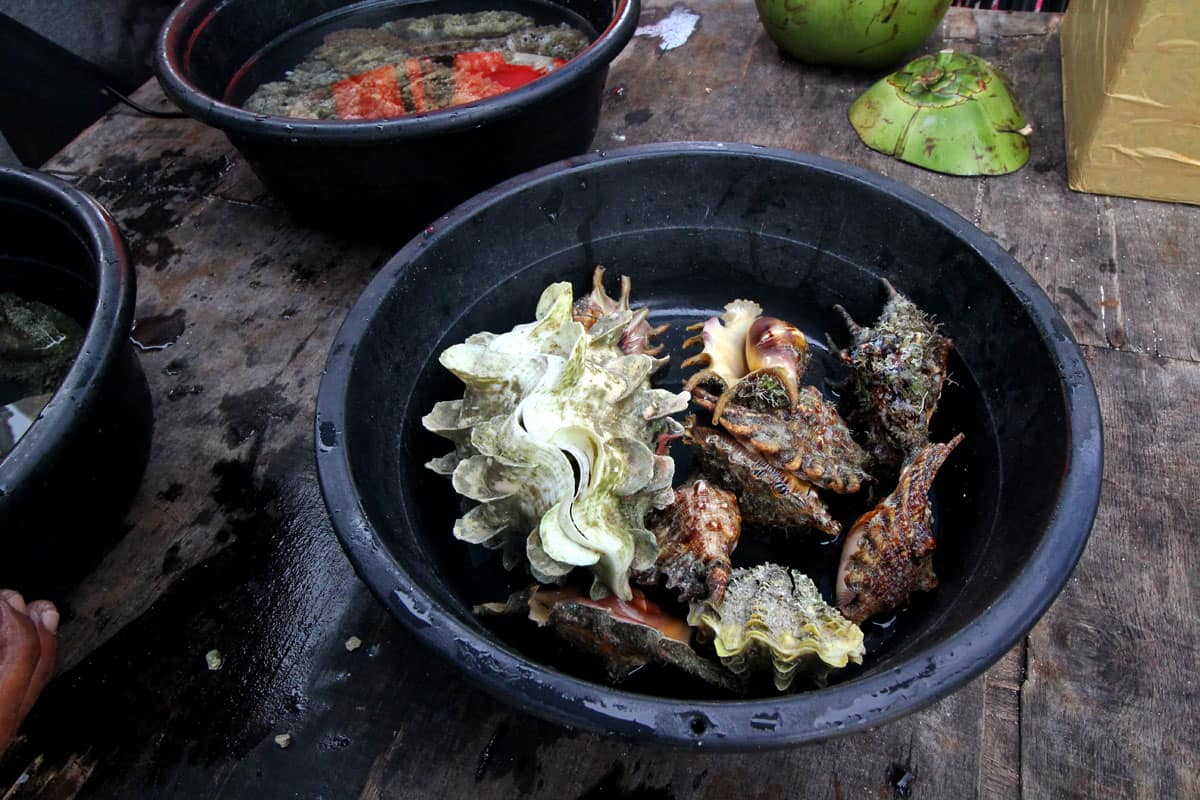 Neither of us had tried spider conch before so we were really looking forward to this.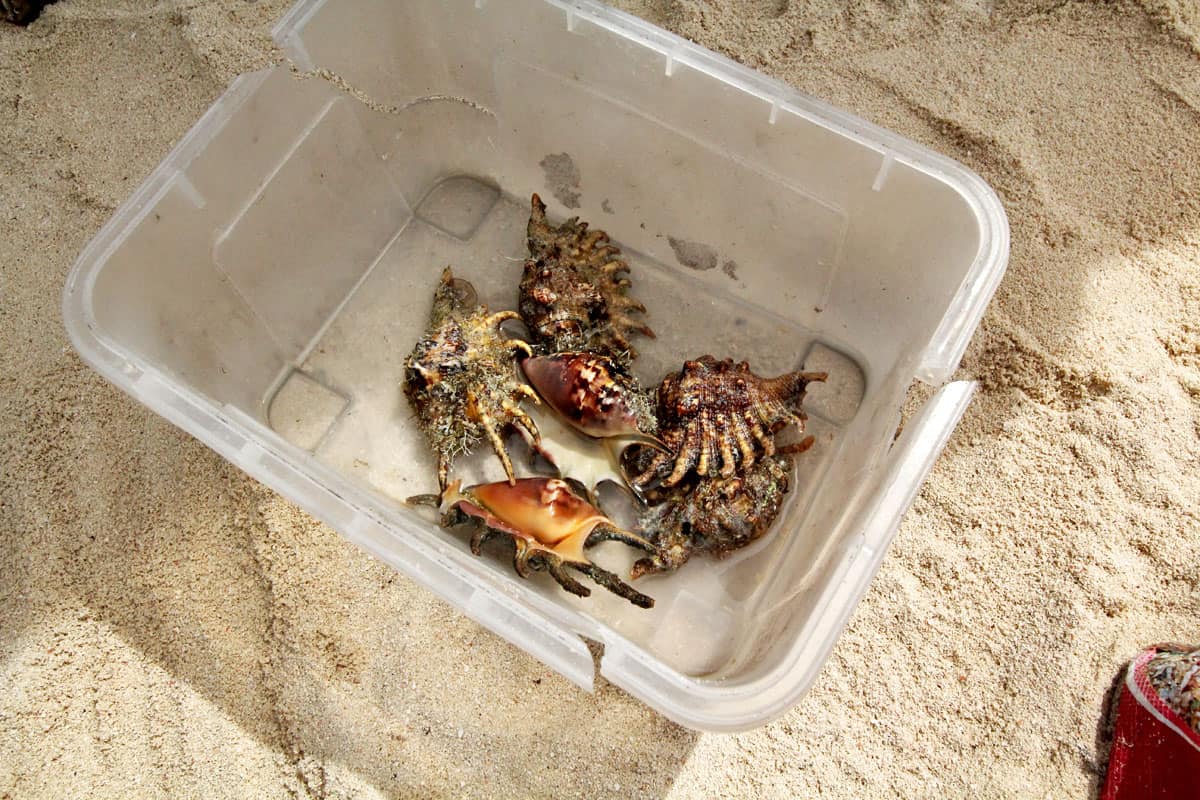 The spider conch is grilled and eaten as is.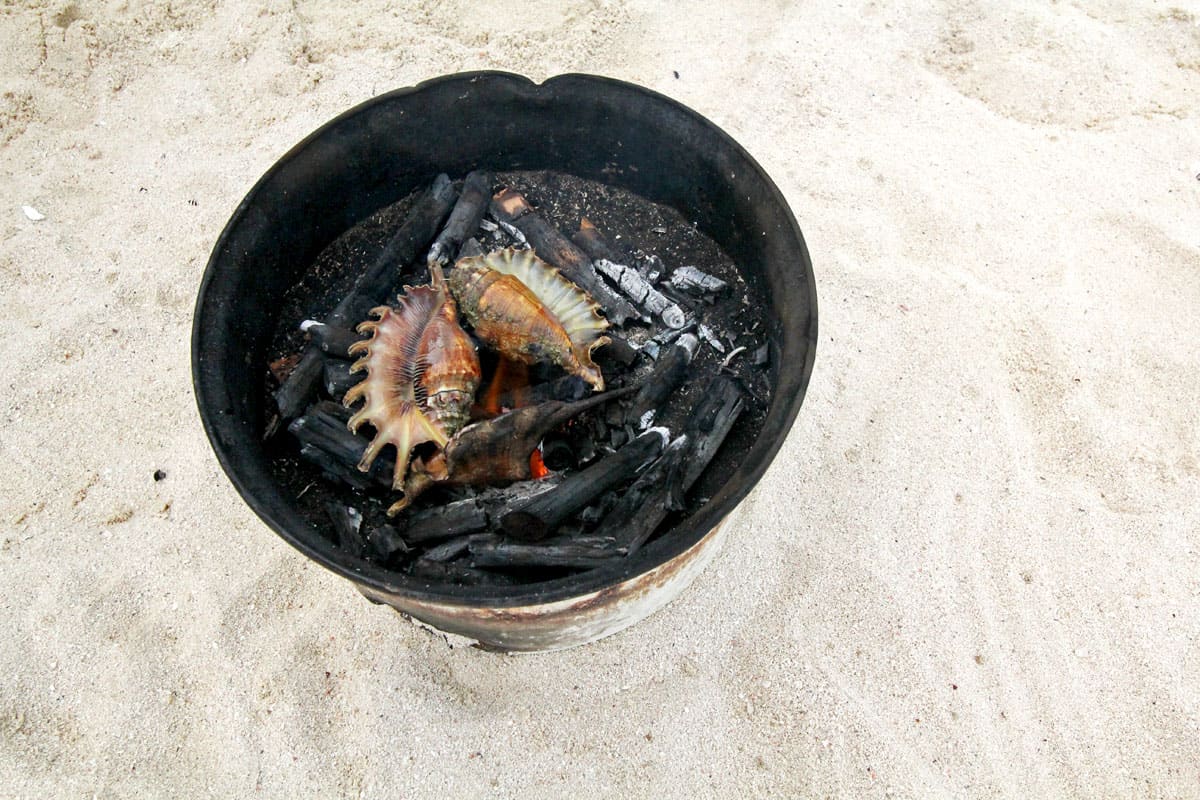 Cracking the shells and extracting the meaty snail.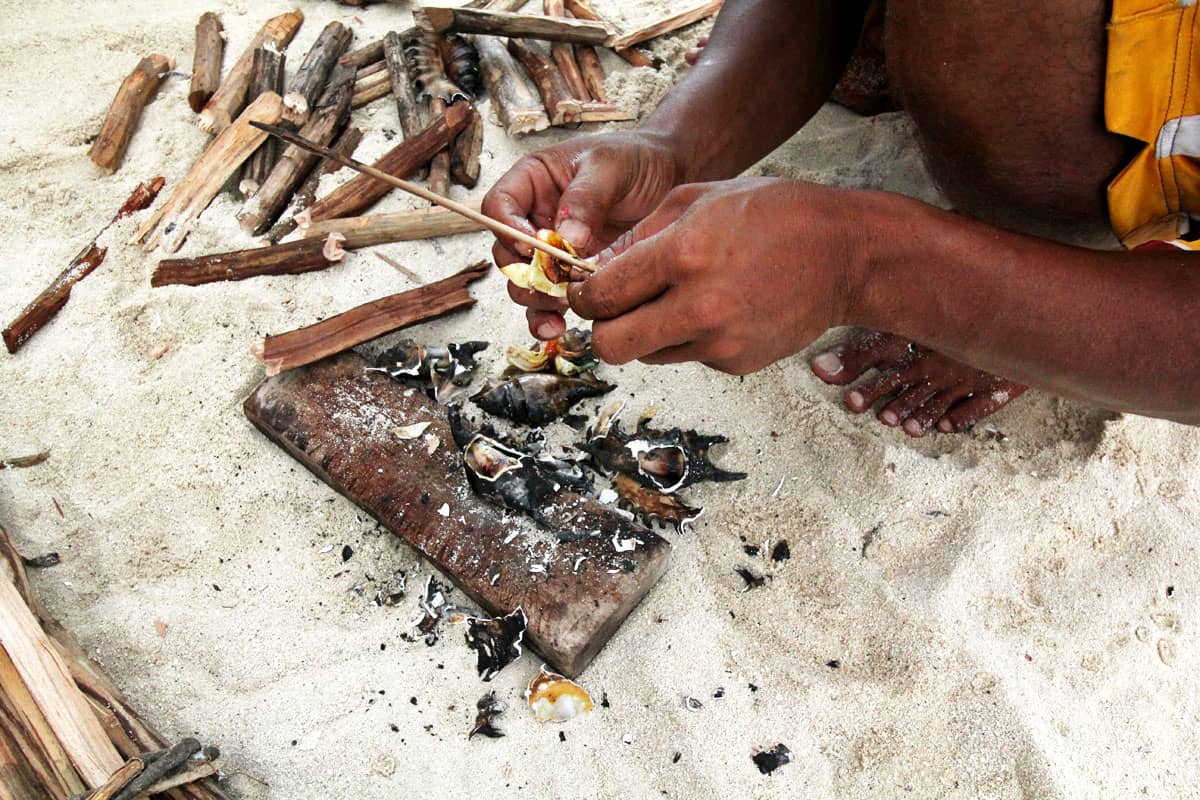 I think these were priced the same as the abalone — PHP 50 apiece.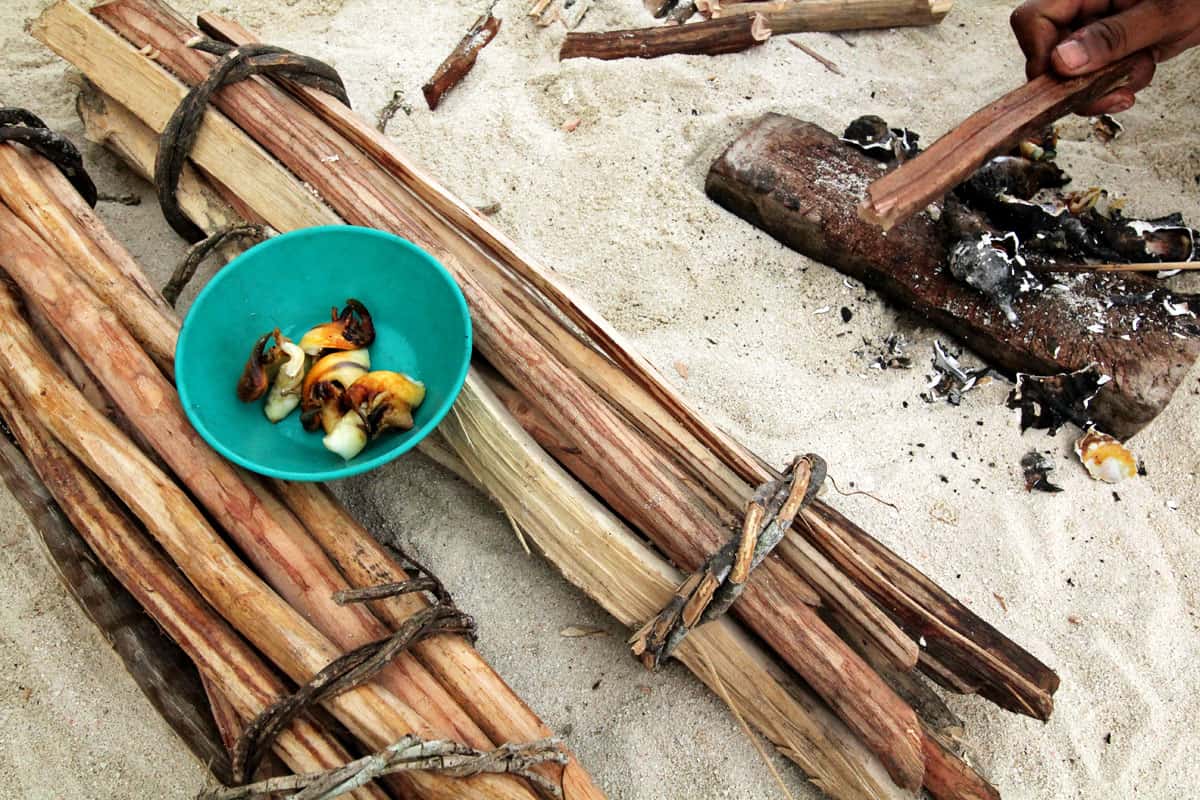 And down the hatch you go my pretty. Naturally sweet and smokey from the charcoal, this was delicious and may have been my favorite from everything that we tried today.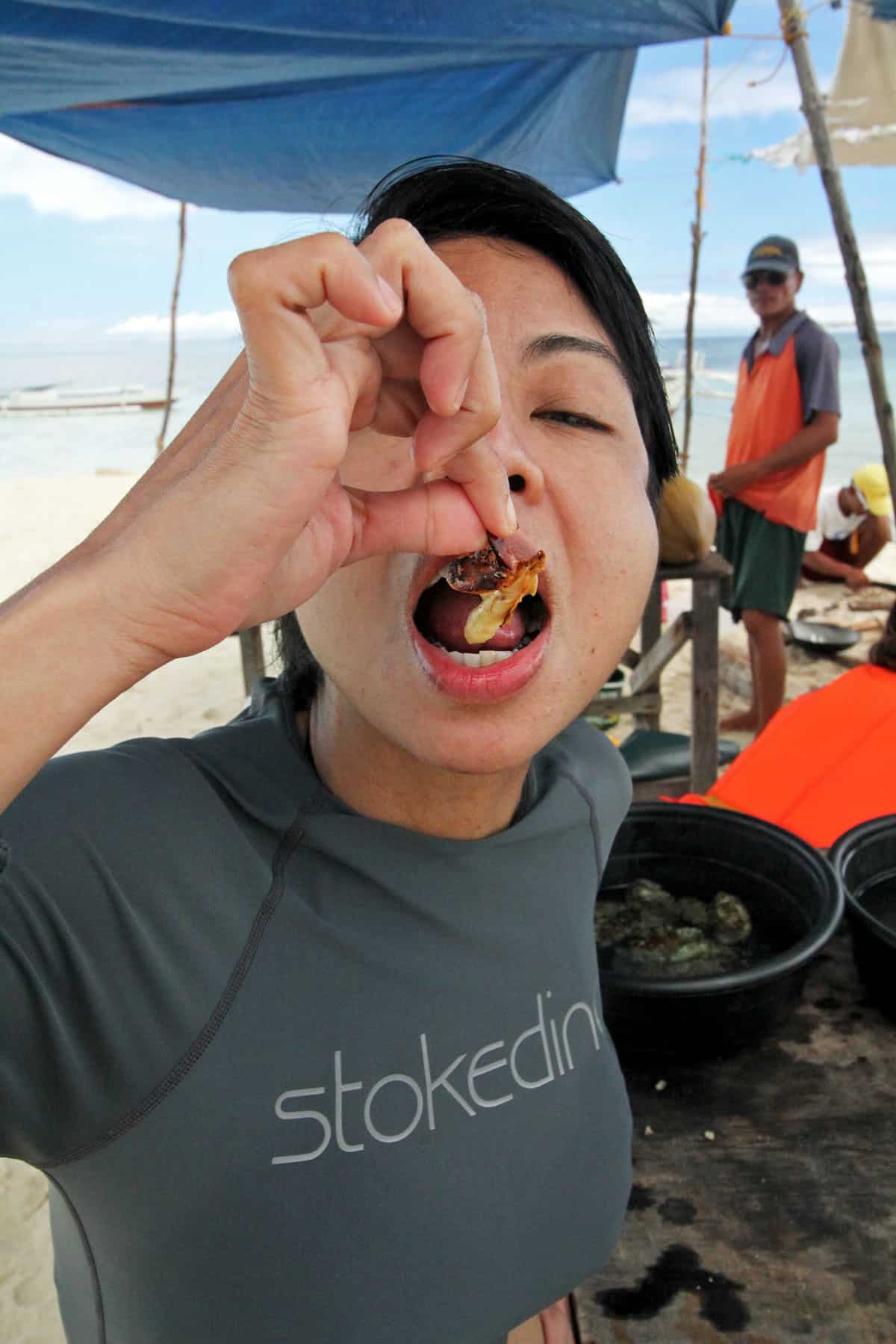 Did you enjoy all that seafood Reneelicious? Yezzzzzz!!!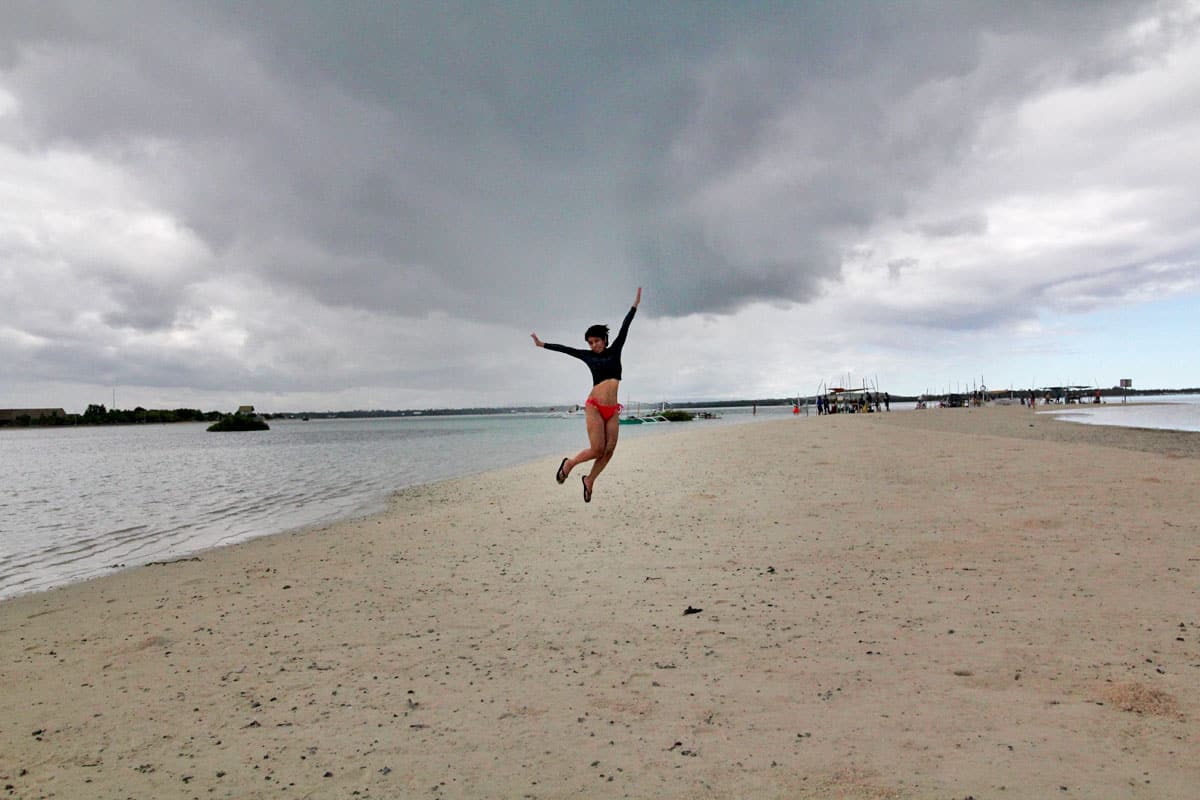 There are many operators with whom you can book this dolphin watching / island hopping tour. You can can even arrange for it at Alona Beach. I'm not sure if they all visit the same islands so be sure to ask before booking.
My sister vacations in Bohol regularly so she was happy to recommended her trusted contact Lisa whose husband was one of our boatmen. As described up top, you can expect to pay PHP 2,000 for the boat for two people and an additional PHP 300 each to go snorkeling at Balicasag Island. Lisa can provide mask and snorkel rental as well for PHP 150 apiece. To make arrangements, you can contact her at +63 910-259-0398. Communicating with her was easy and we were very happy with the tour. As previously described, you can book an island hopping and dolphin watching tour through Klook or Kkday as well.
Like the Countryside Tour, dolphin watching / island hopping is a must-do and quintessential to a complete Bohol experience.
On Giant Clams
It was the way he said it.
When I asked the vendor what he was selling, it was the way he said "giant clam" that told me something wasn't right. He said it somewhat sheepishly, like an apology, almost as if he was embarrassed.
It wasn't until we got back to our hotel and I googled "giant clam endangered philippines" did I confirm my suspicion. I felt like an idiot. And an asshole. I support sustainability so for me to consume something wild caught without knowing it's conservation status was irresponsible and stupid. I'm sorry for that.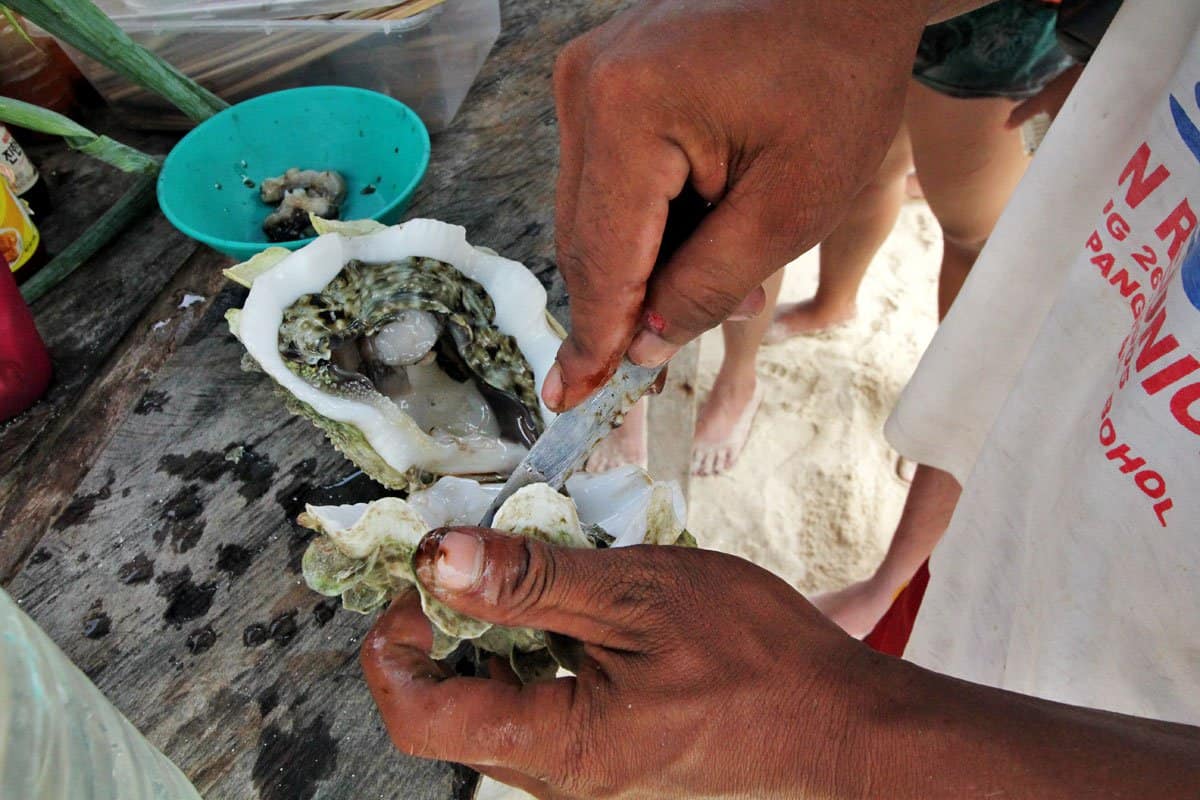 As bad as I felt, I'm not going to lie and tell you that it didn't taste good. It did. But you know what else? It wasn't much different from the abalone. Or sea cucumber. You can even say that it's reminiscent of squid. If it were farmed and plentiful, then I obviously wouldn't have any problems with it. But until then, I won't be making that same mistake again. And that goes for anything new that goes on my plate.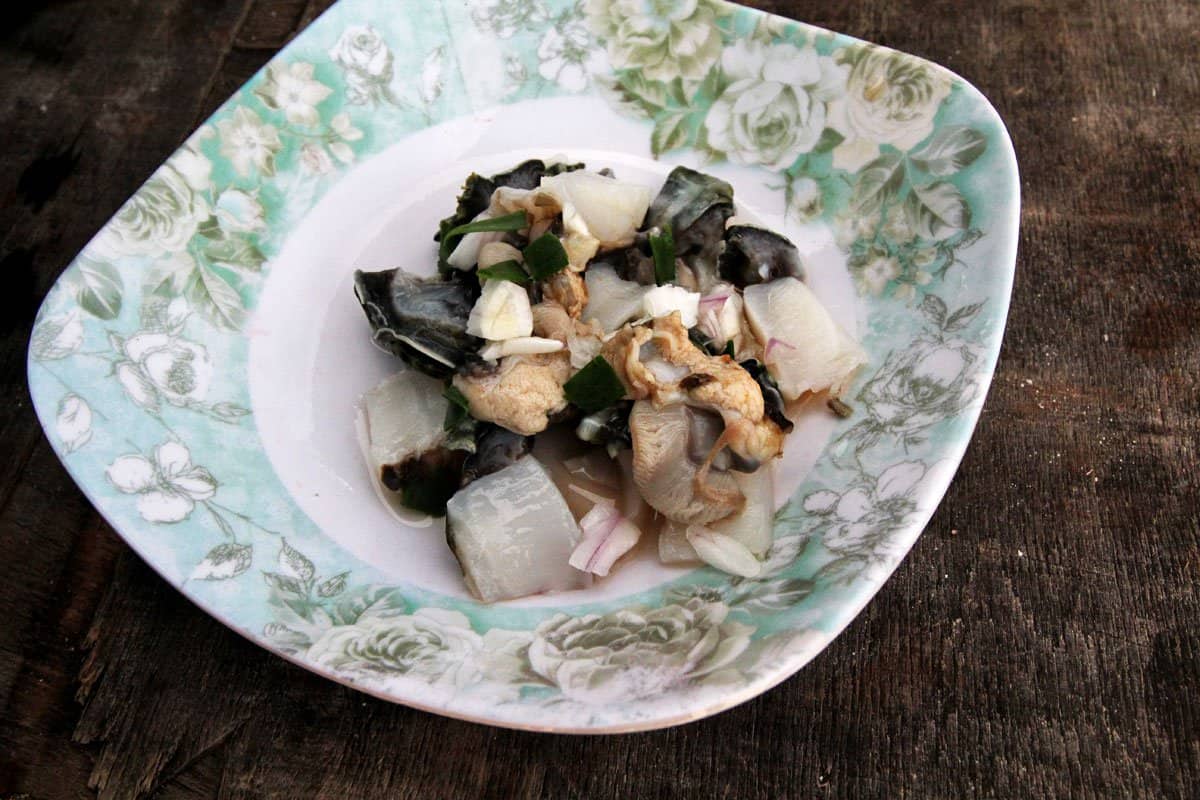 For more Bohol travel tips, check out our First-Timer's Travel Guide to Bohol, the Philippines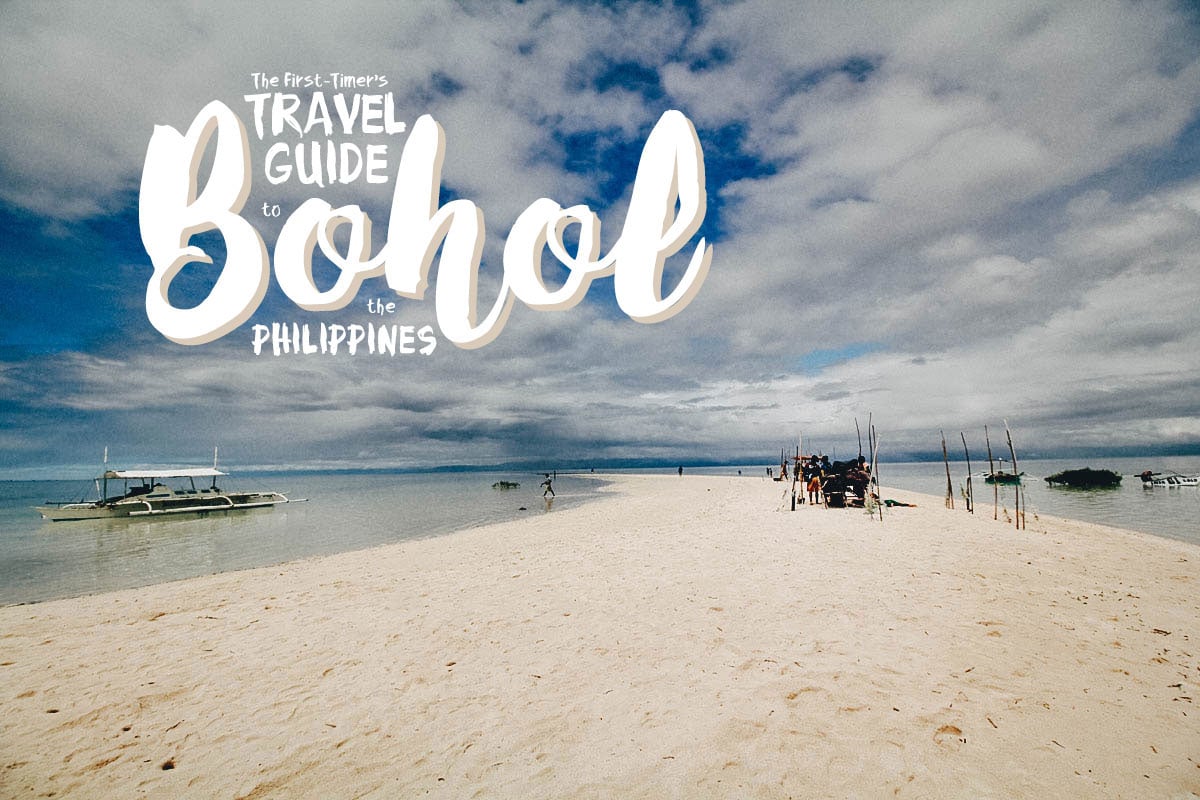 Disclosure
Some of the links in this guide are affiliate links, meaning we'll get a small commission if you make a purchase at NO extra cost to you. We only recommend products and services that we use ourselves and firmly believe in. We really appreciate your support as this helps us make more of these free travel guides. Thank you!