Before stand up paddleboarding became popular, the riverboat lunch cruise was basically the only way tourists could enjoy the Loboc River. It takes you up and down the river in a floating restaurant that serves mediocre lunch and bad karaoke. Eventful if you're pushing eighty, it's a pleasant but passive endeavor that doesn't allow you to dive in and really enjoy the river. Which is a shame because on hot summer days, that emerald green water can look mighty inviting.
Thanks to SUP Tours, now you can.
Spending an entire day with SUP, we went mountain biking in the morning and got our feet wet with stand up paddleboarding in the afternoon. It was a fun-filled day that gave us a closer, much more intimate look at the Loboc River, minus the karaoke.
Mountain Biking
We arrived at the SUP Tours paddle center at 8:30AM and rode off shortly after. There's our guide JR leading the charge. The paddle center is about 45 minutes away from Panglao so you'll need to arrange for your own transportation. Details at the bottom of this post.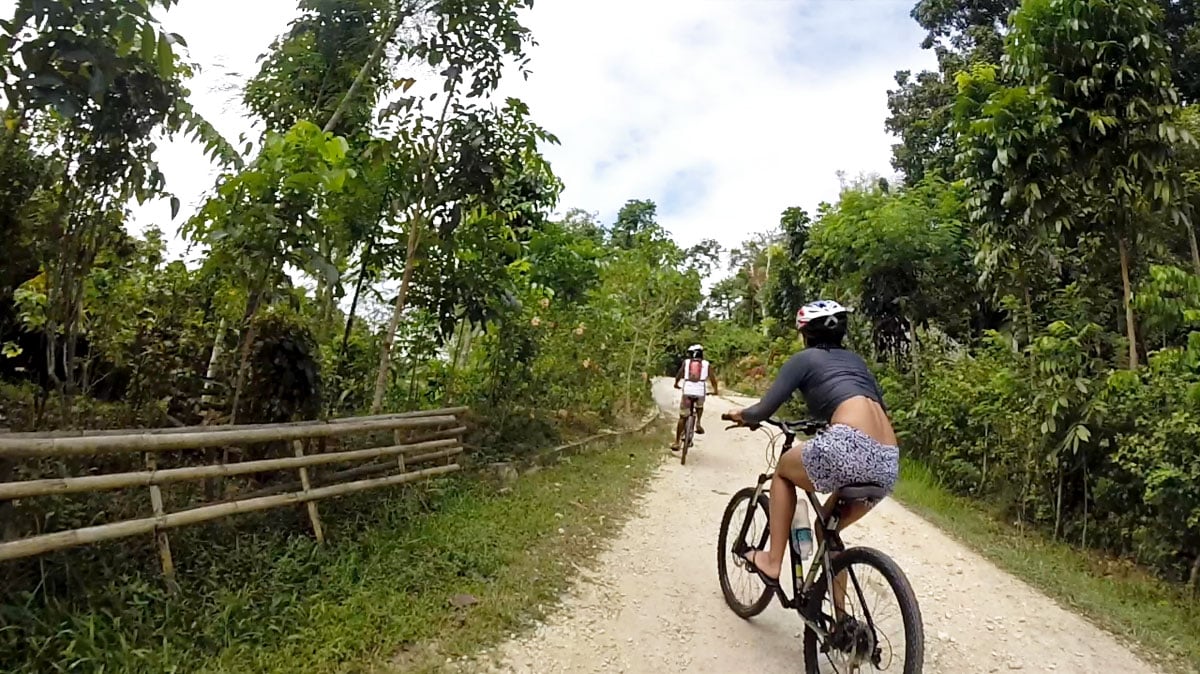 It doesn't seem to be available anymore but we did the one day combo MTB/SUP tour — easy MTB + half-day waterfall SUP — for PHP 2,300 per person with lunch. You can check the SUP Tours website for available tours in Bohol. I'm not sure if it's by the same company but you can book mountain biking and stand up paddleboarding tours on the Loboc River through Klook as well.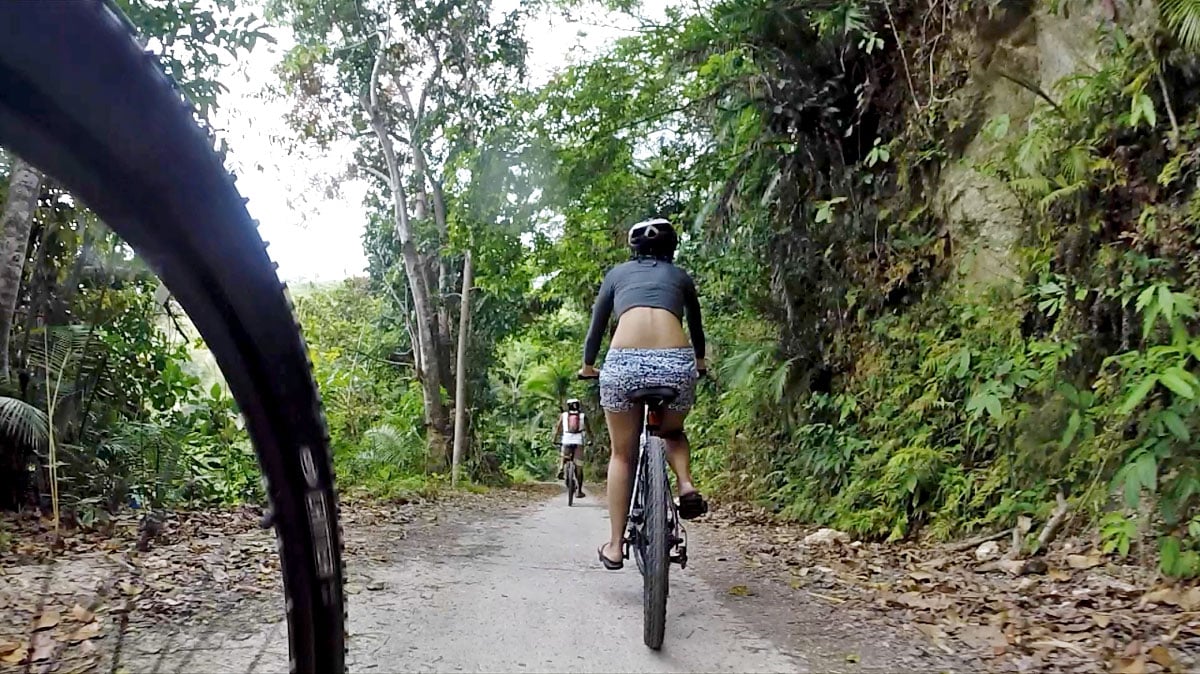 Here's me trying to keep up with Ren and JR. I suck.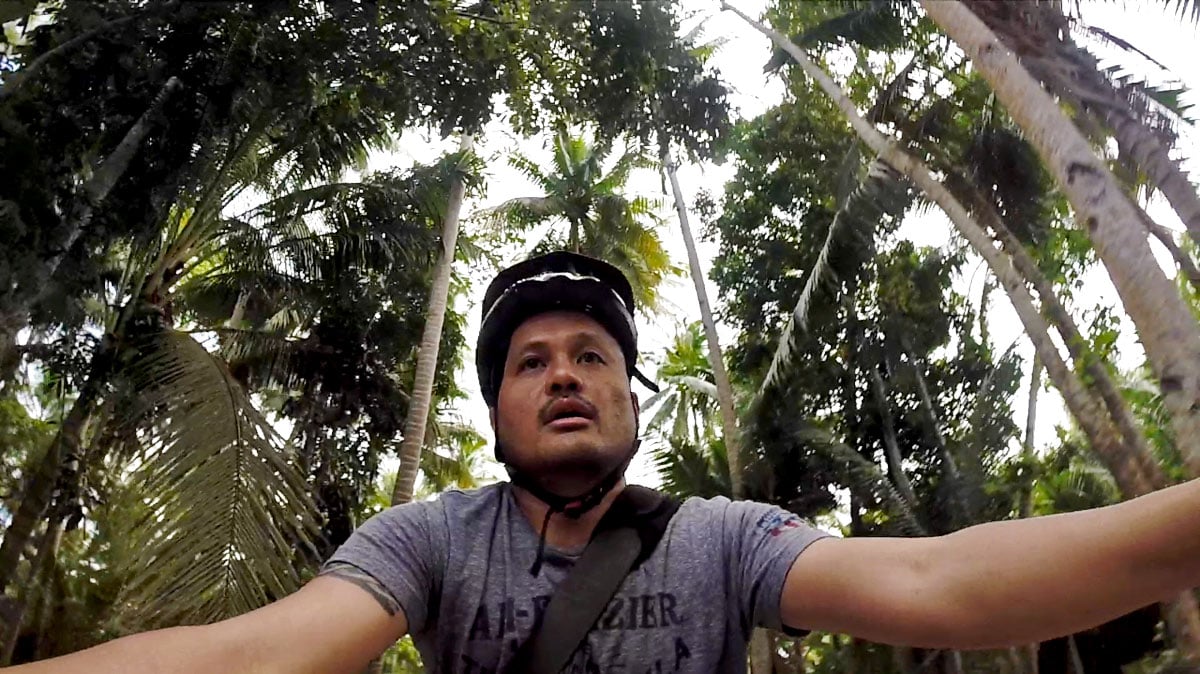 The easy MTB tour takes you on a scenic 1.5-2 hour ride along paved and off-road routes. You'll ride through the forest and pass several villages along the Loboc River. You'll also visit the ruins of two Spanish churches as well as an ancestral house turned museum. Unfortunately for us, the museum was closed at the time.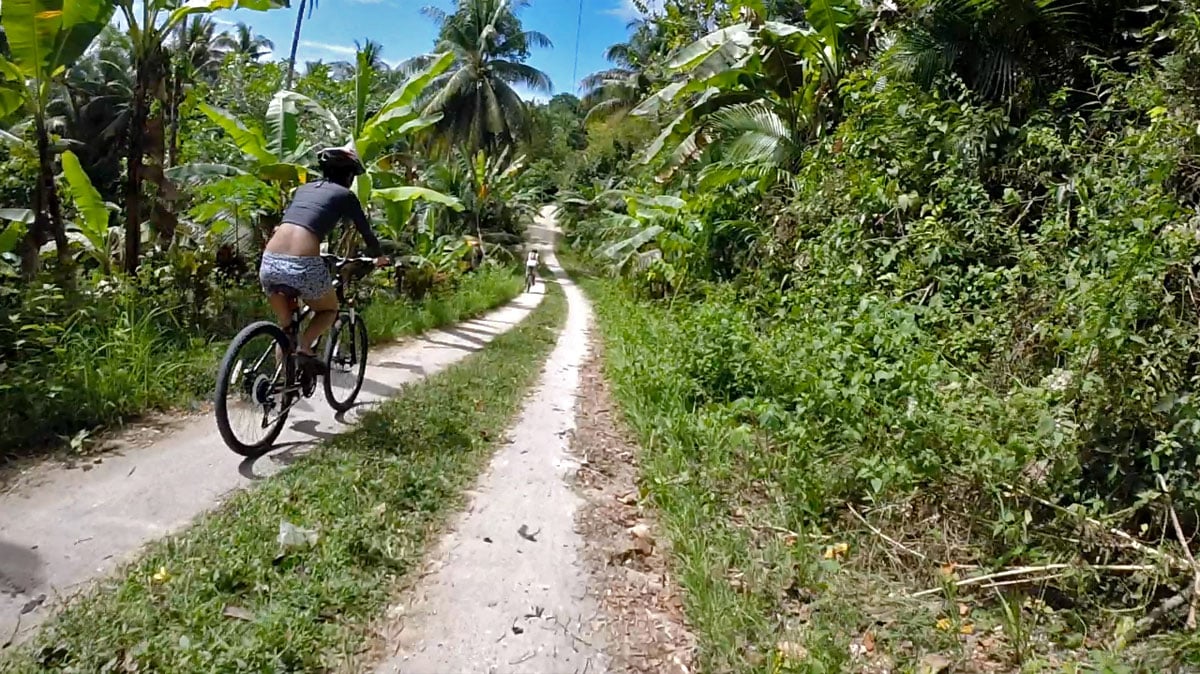 Cruising through a forest of nipa palm trees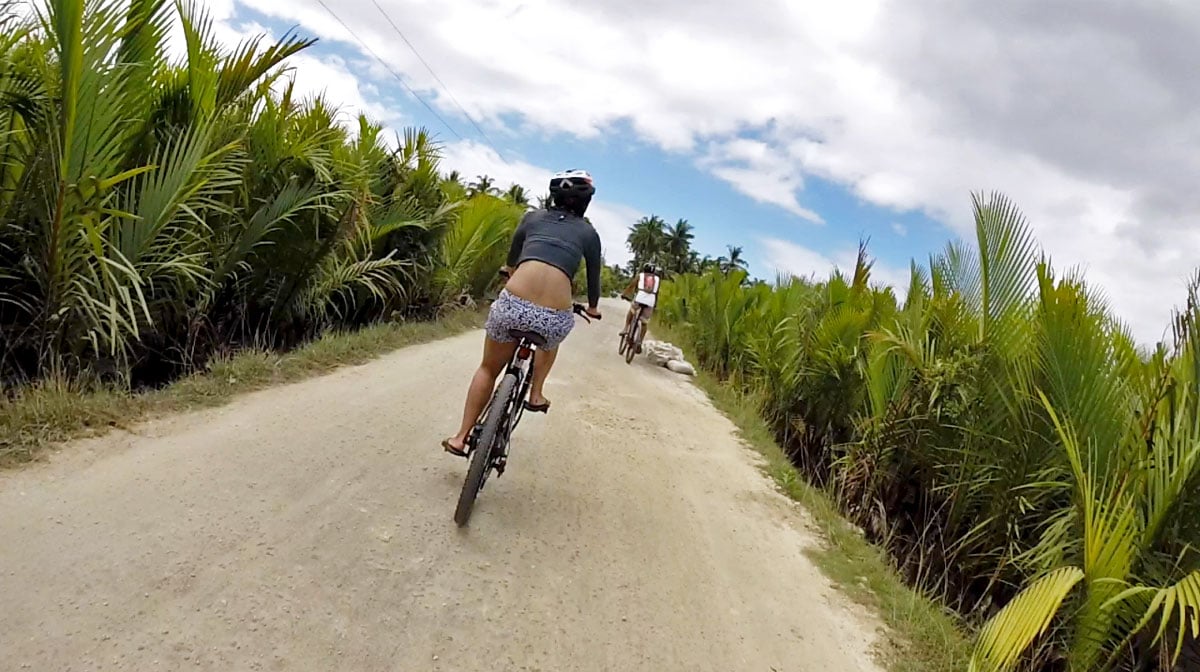 Here I am again trying my best to keep up with the herd. Thank god natural selection wasn't at play.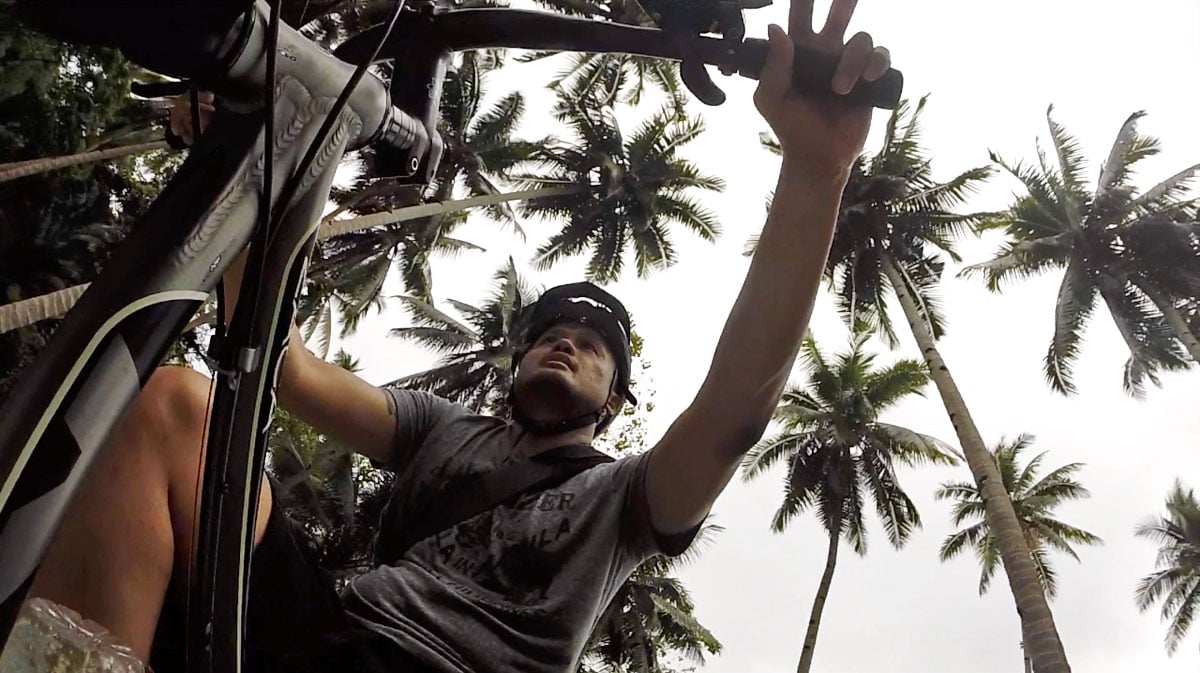 Of course, with this being Bohol, you're never too far away from the coast. For more stunning views, you can scroll down to the bottom of this post and watch the video of our MTB/SUP adventure.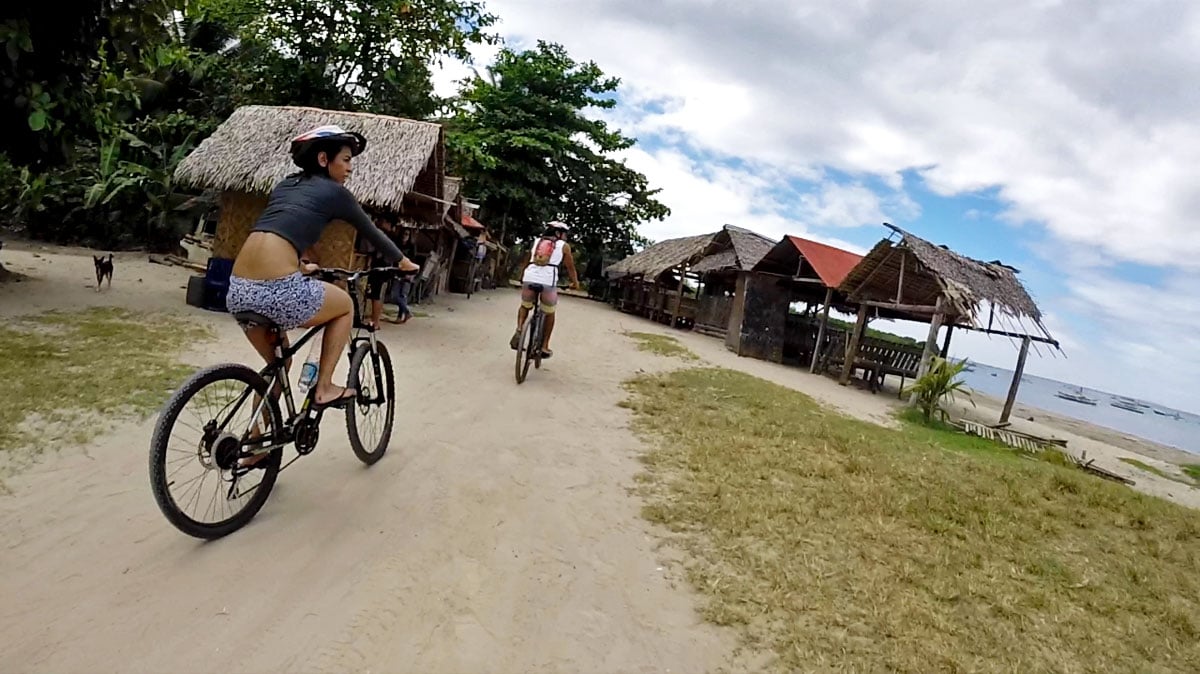 SUP Tours Paddle Center / Fox & Firefly Cottages
After a tiring but fun couple of hours, we headed back to the paddle center for lunch.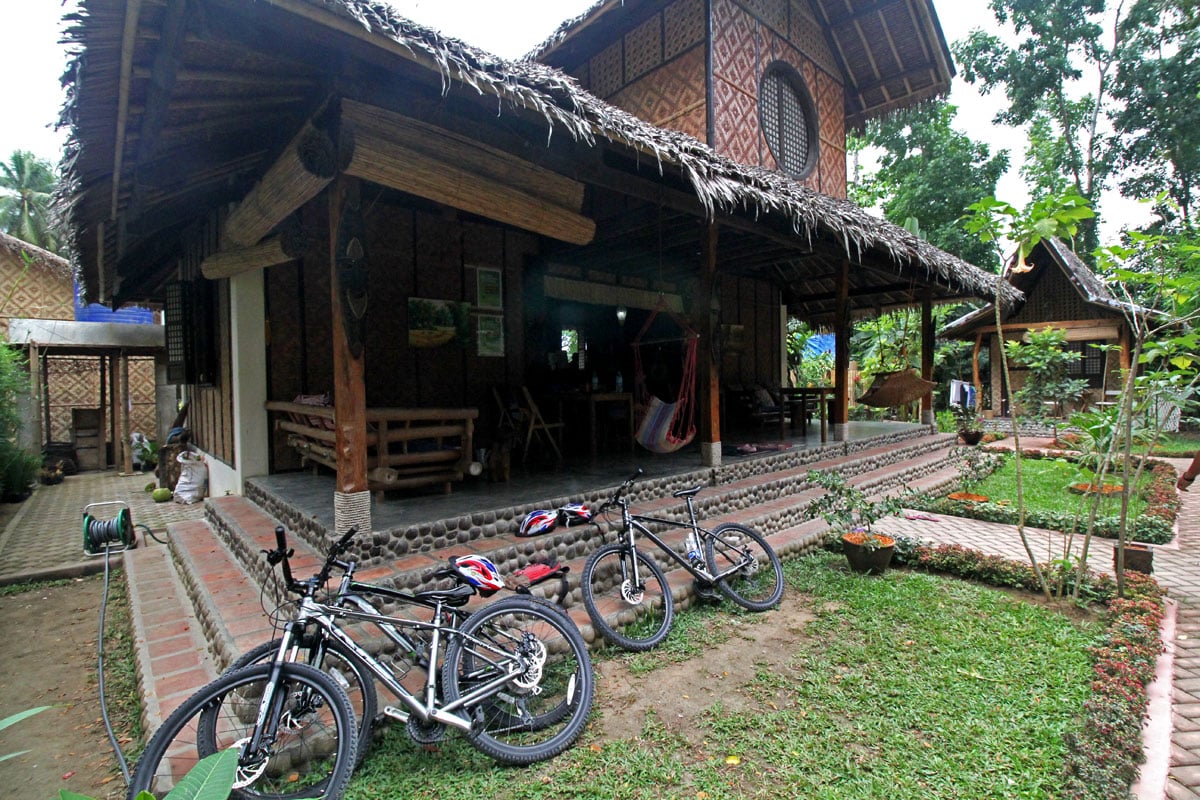 L: There's JR giving me the thumbs up for surviving. He'd be our SUP guide in the afternoon as well.
R: Fresh coconut juice to replenish lost fluids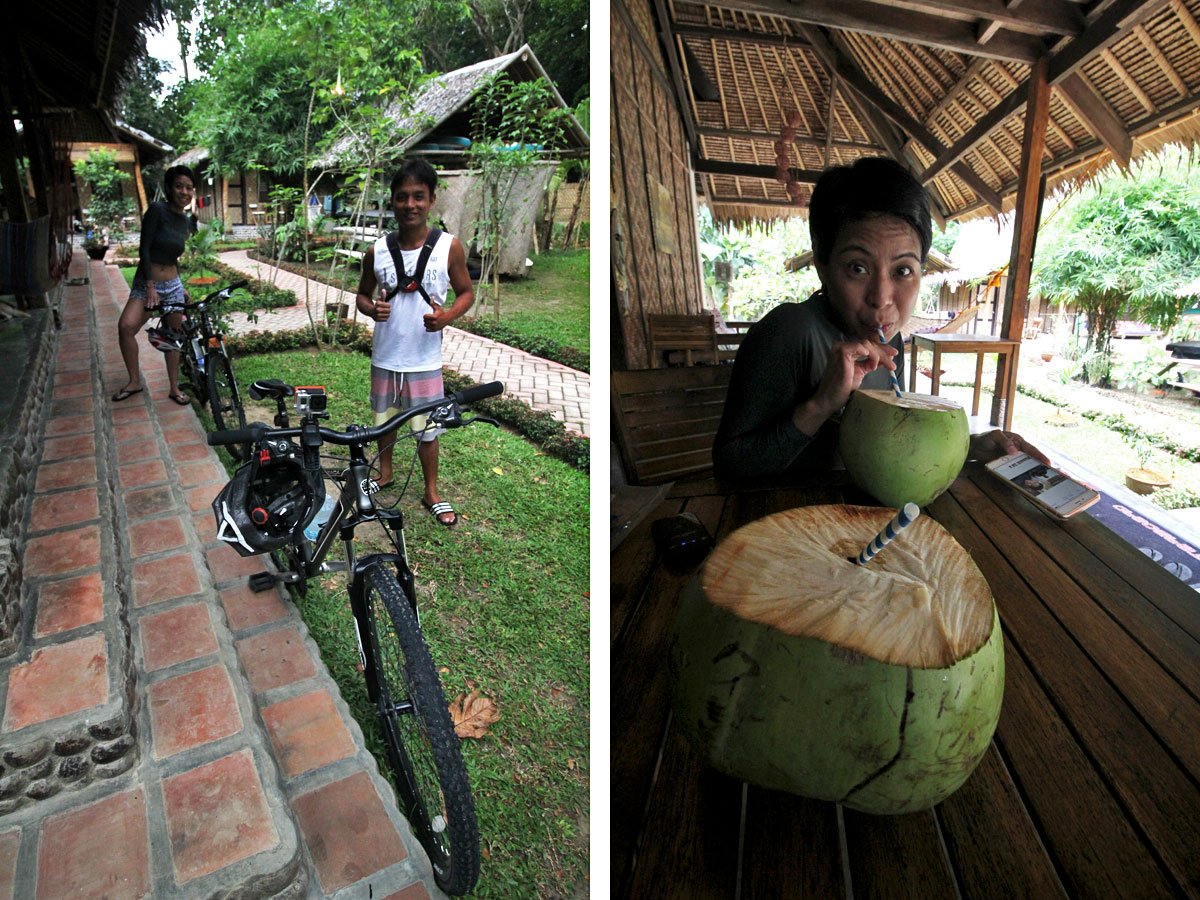 The paddle center office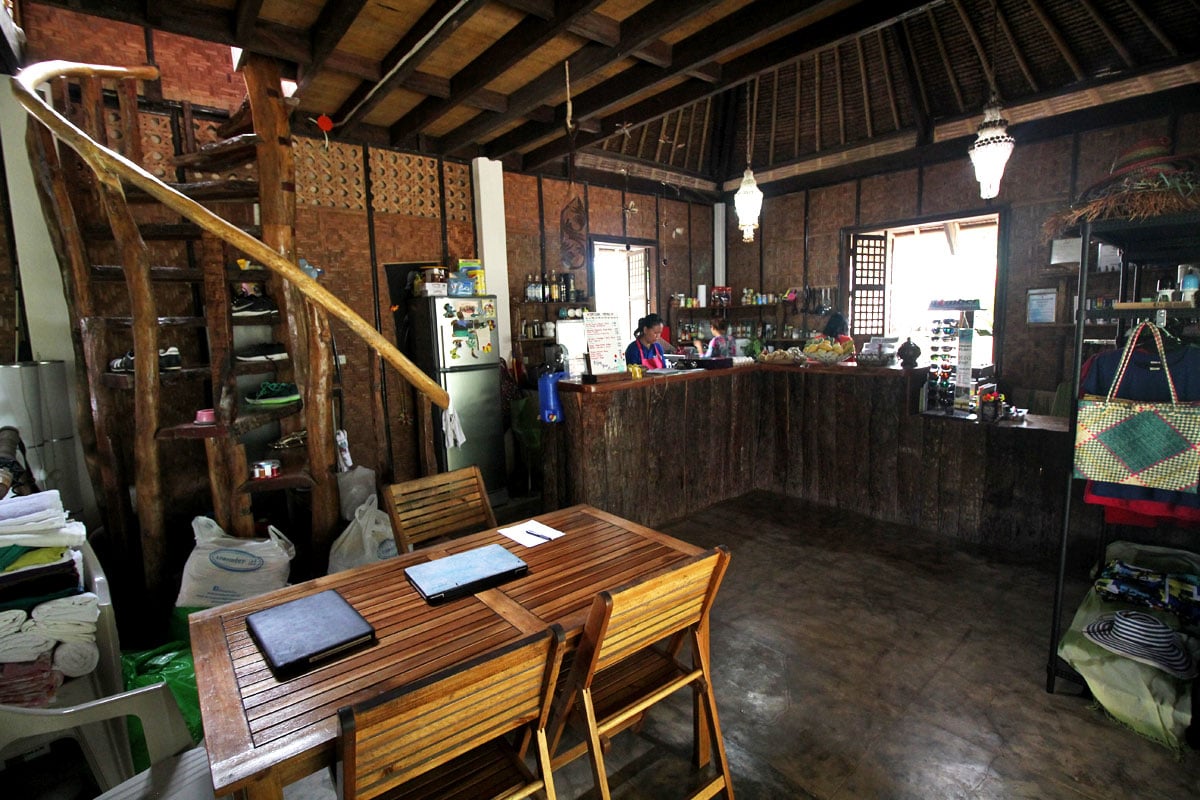 My legs still rubbery, that hammock is so mine right now.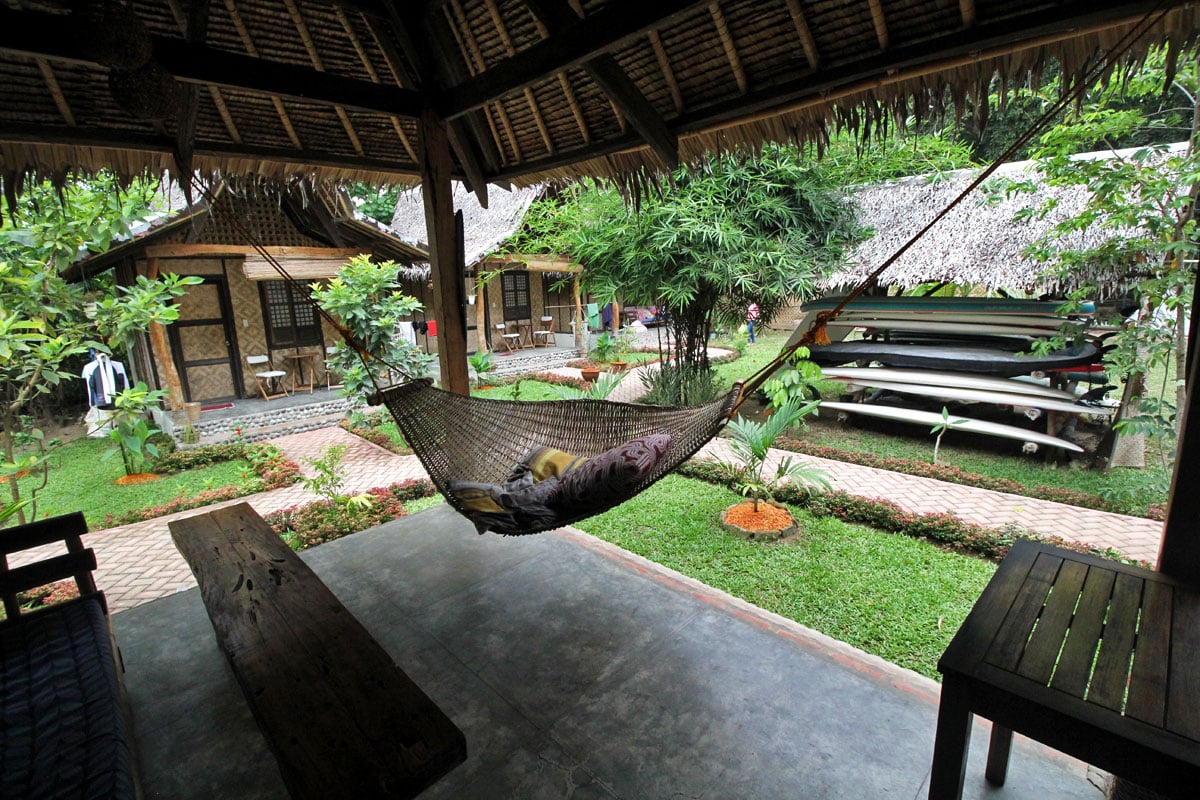 I guess not. 👿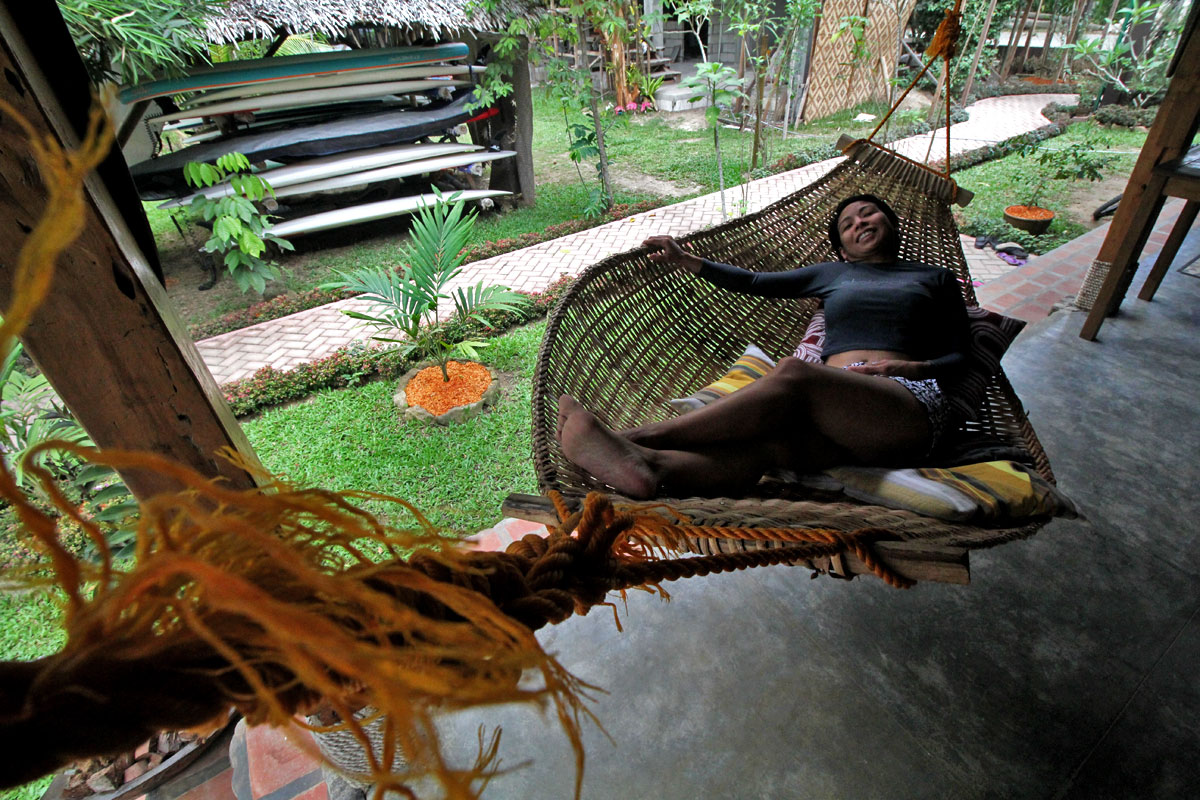 Called the "Fox and the Firefly Cottages", SUP Tours also offers inexpensive accommodations. You can CLICK HERE for cottage rates.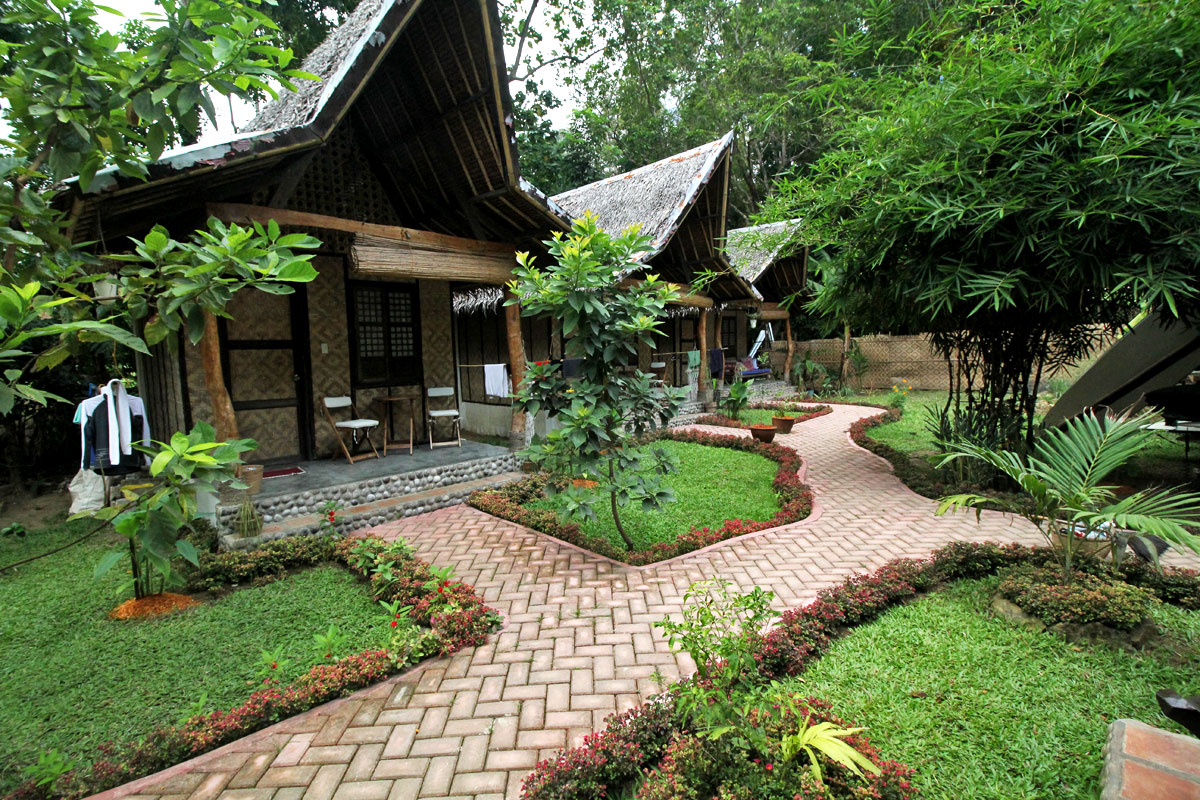 I loved this. I was expecting to have lunch at the paddle center but they set up a table for us by the banks of the Loboc River! So nice.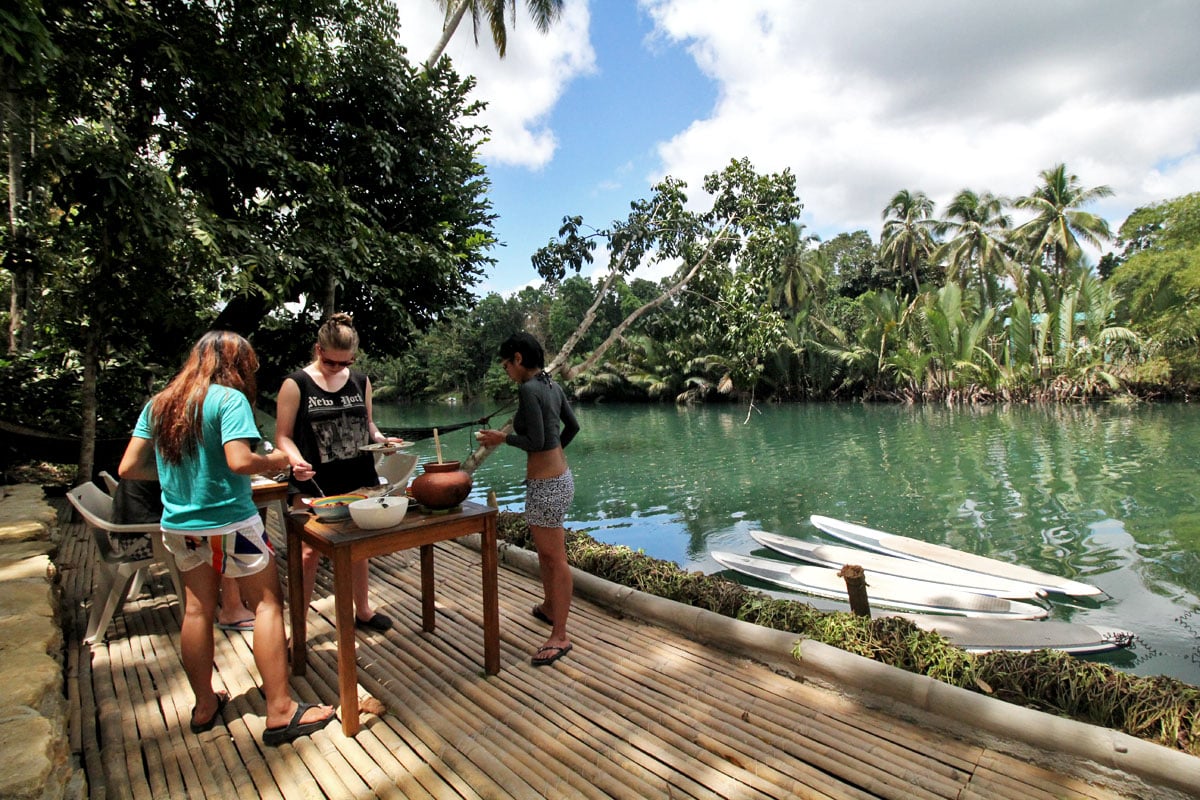 On today's menu — grilled fish, vegetable/mango salad, adobong pusit (squid stewed in its own ink), chicken binakol (chicken soup), and rice. Everything was so good!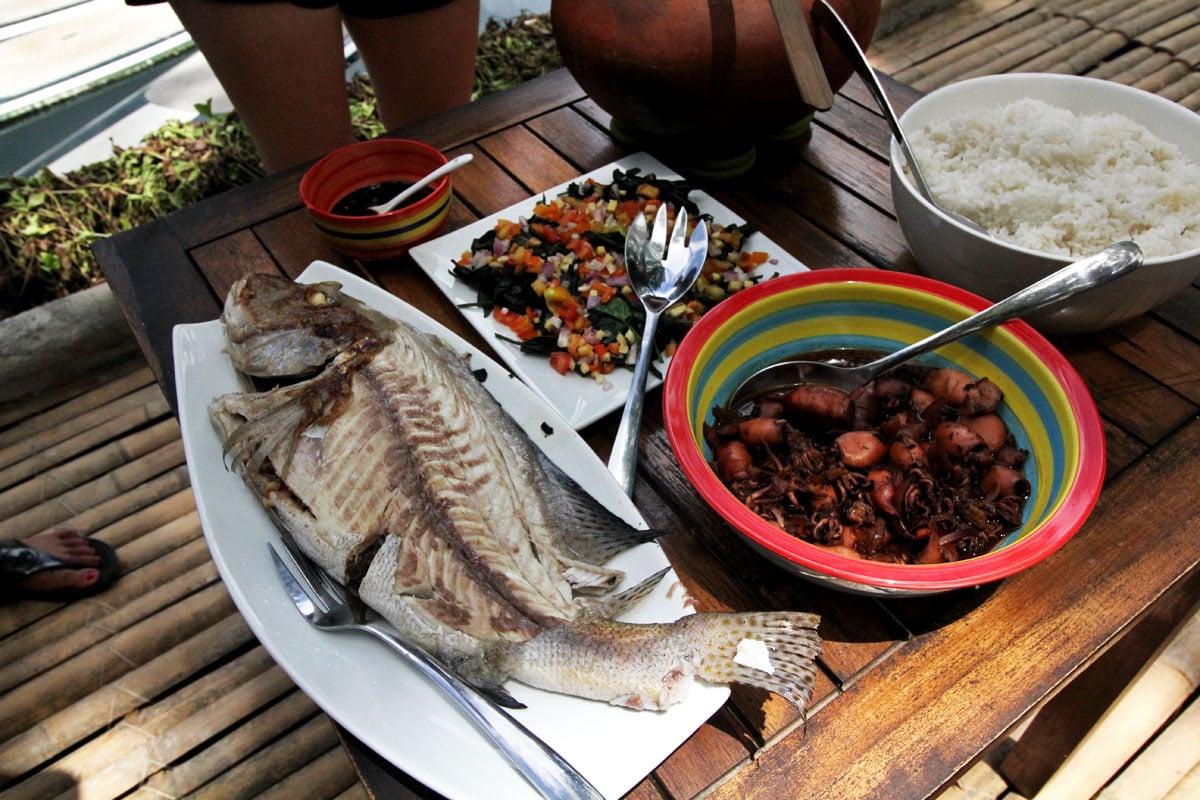 There's the chicken binakol soup. If you've never had it, it's similar to chicken tinola except it's made with coconut meat and coconut water. Very refreshing.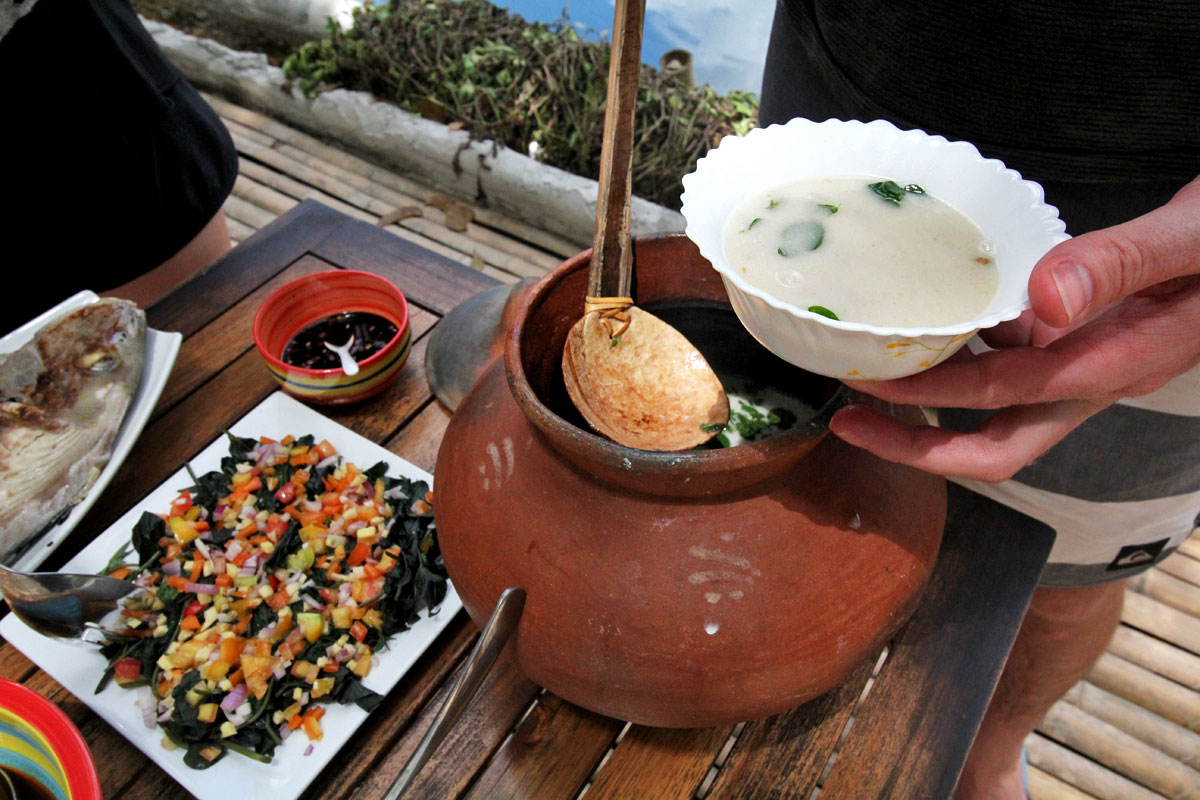 Enjoying lunch by the river with our new friends from Mindanao, Canada, and the Netherlands.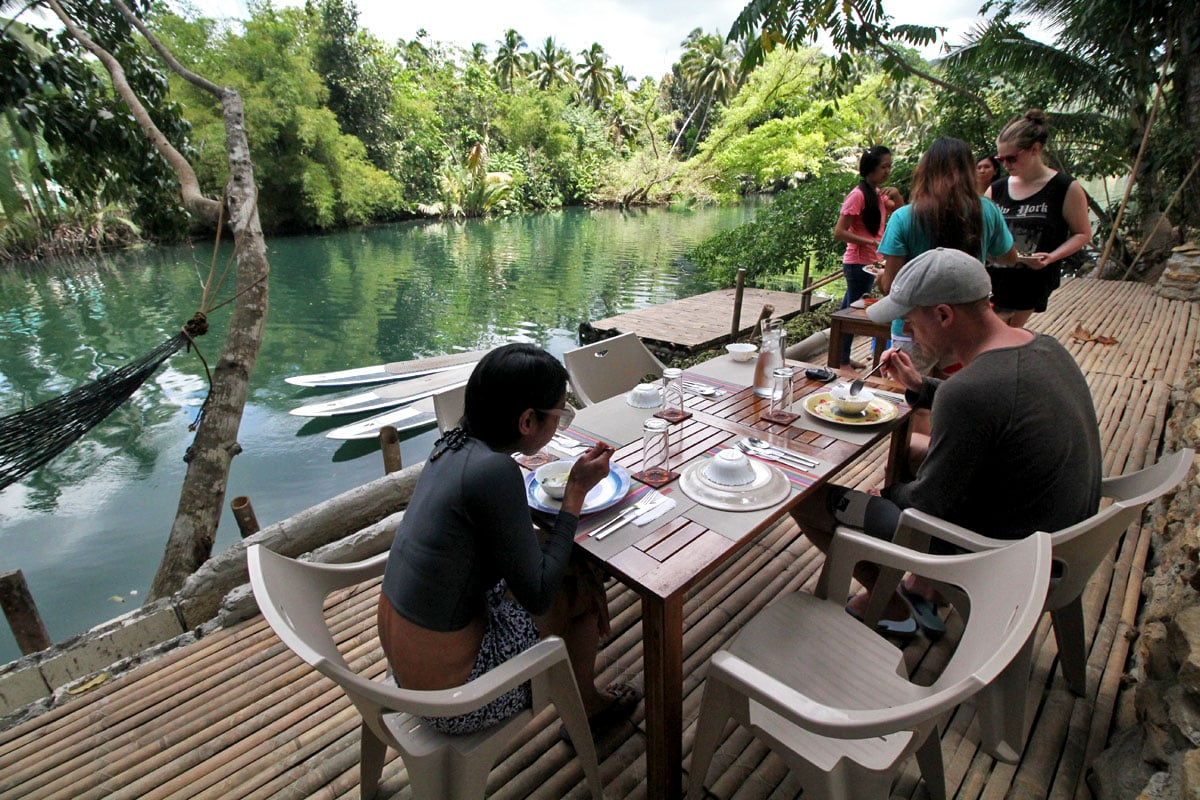 Stand Up Paddleboarding
After recharging our batteries with that delicious lunch, it was time to try stand up paddleboarding! Here's JR briefing us on proper technique.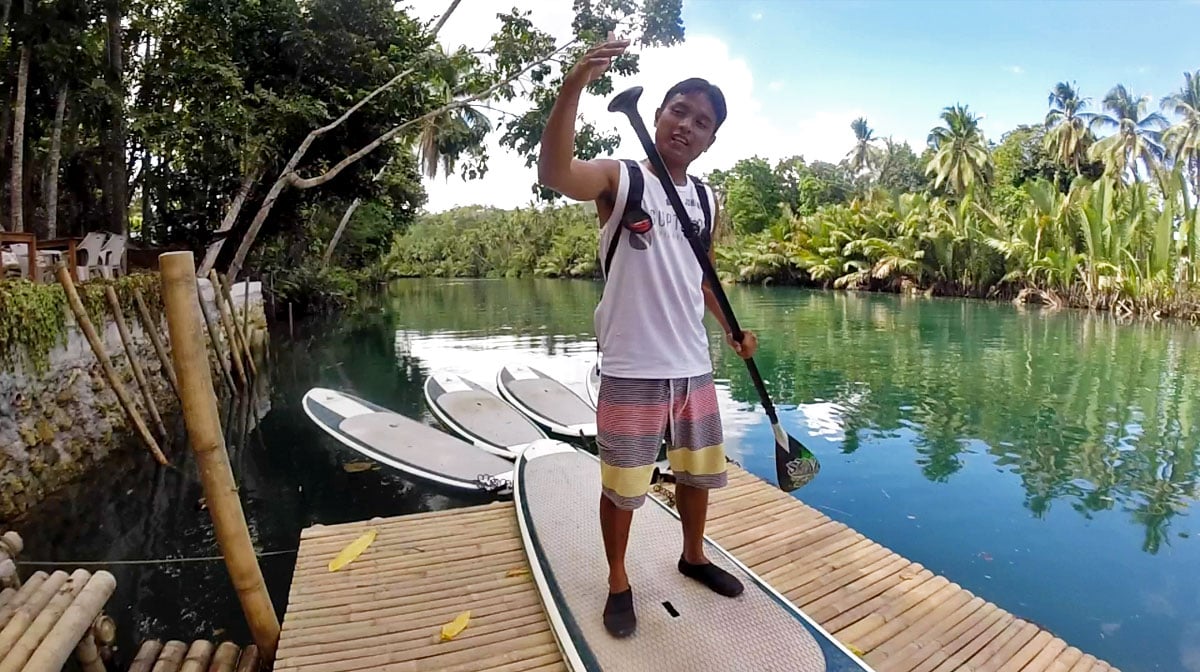 And away we go! To the left is the tail end of one of those riverboats. Several will pass you during the tour so get ready to suck in your belly because people will be taking pictures of you (how objectifying). SUP Tours offers several variations to the SUP tour, details for which you can check out on their WEBSITE.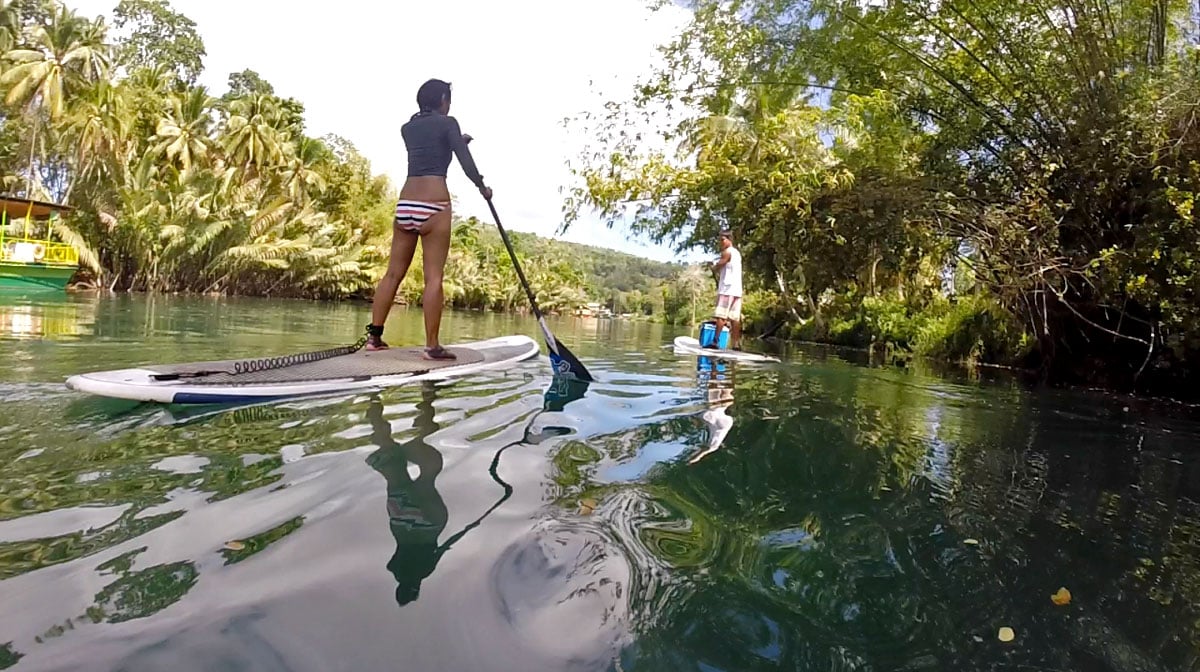 As previously described, we went on the half day waterfall tour which takes you upstream to the mini waterfalls. The current is gentle so it takes little effort to paddle forward. The entire tour, to the waterfalls and back, takes about four hours.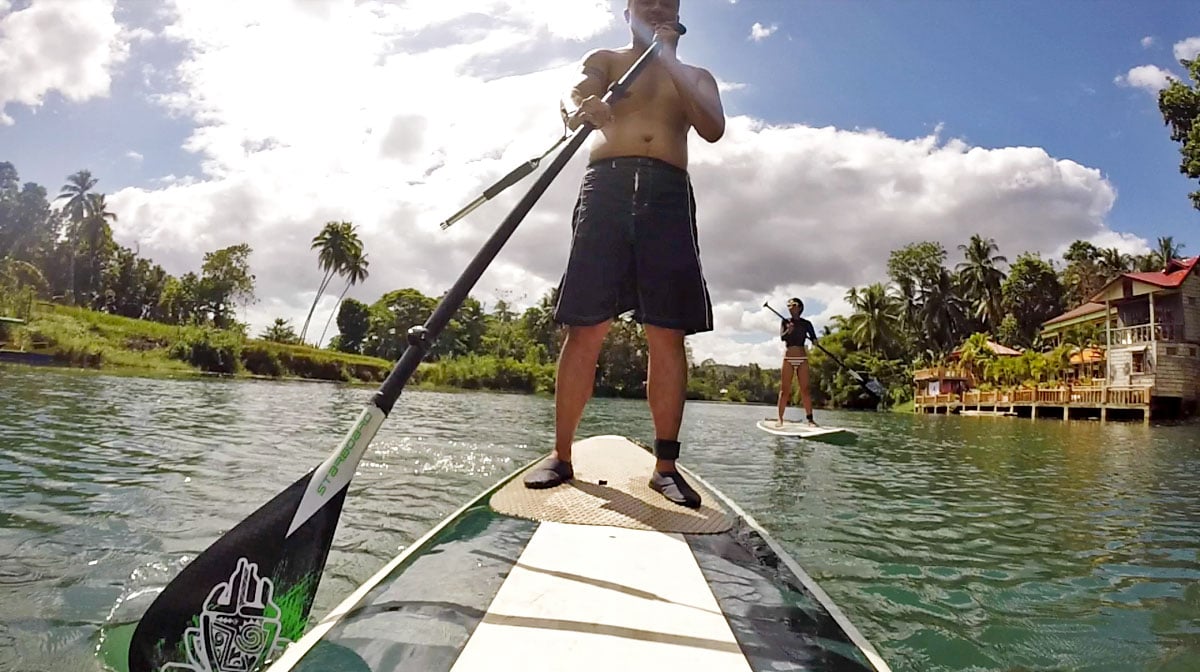 If you get tired, SUP becomes SDP — Sit Down Paddleboarding. There's JR paddling with our refreshments like a boss. Up ahead is the dock where the riverboat lunch cruises start and end.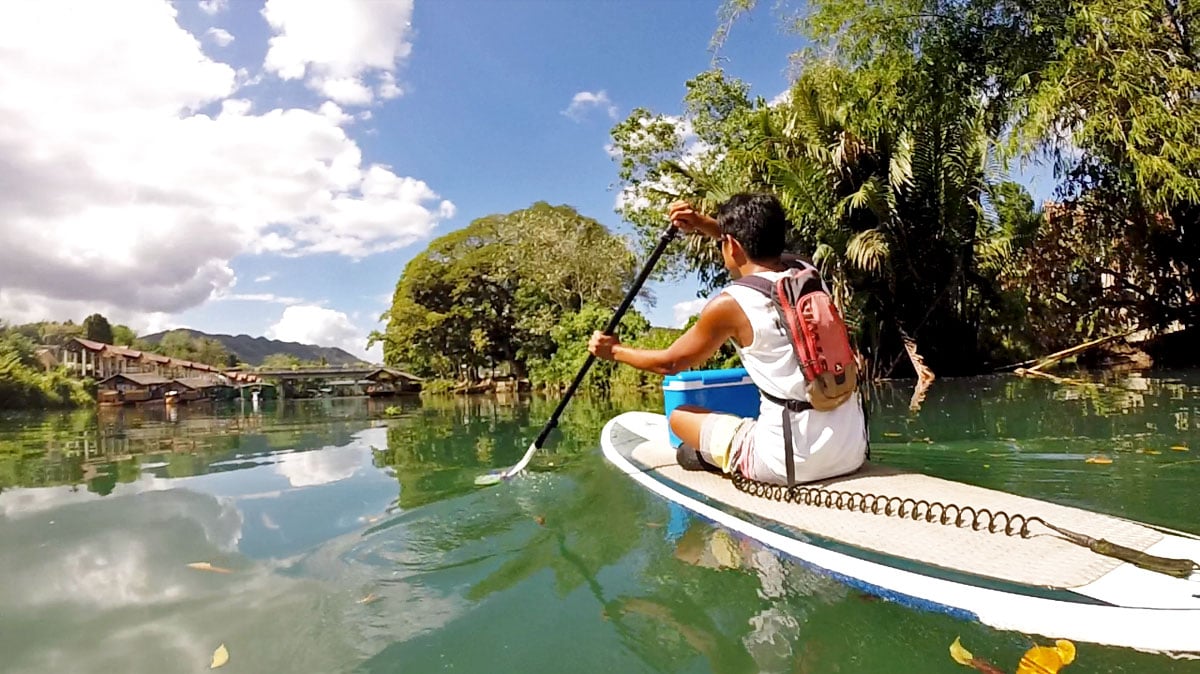 There's me sit down paddleboarding like a buddha. Admittedly, it gets a little monotonous after a while so if you're a beginner and would like to give it a try, then one hour would probably be enough.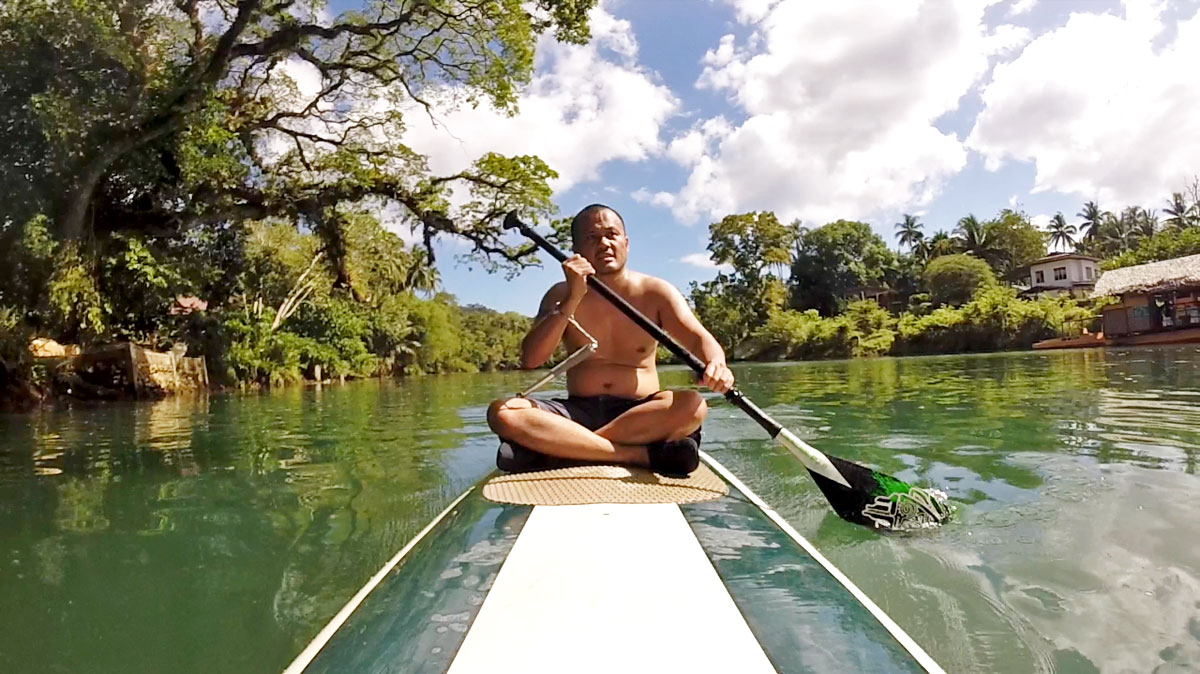 It's so beautiful and peaceful here. You can jump in and go for a swim whenever you like.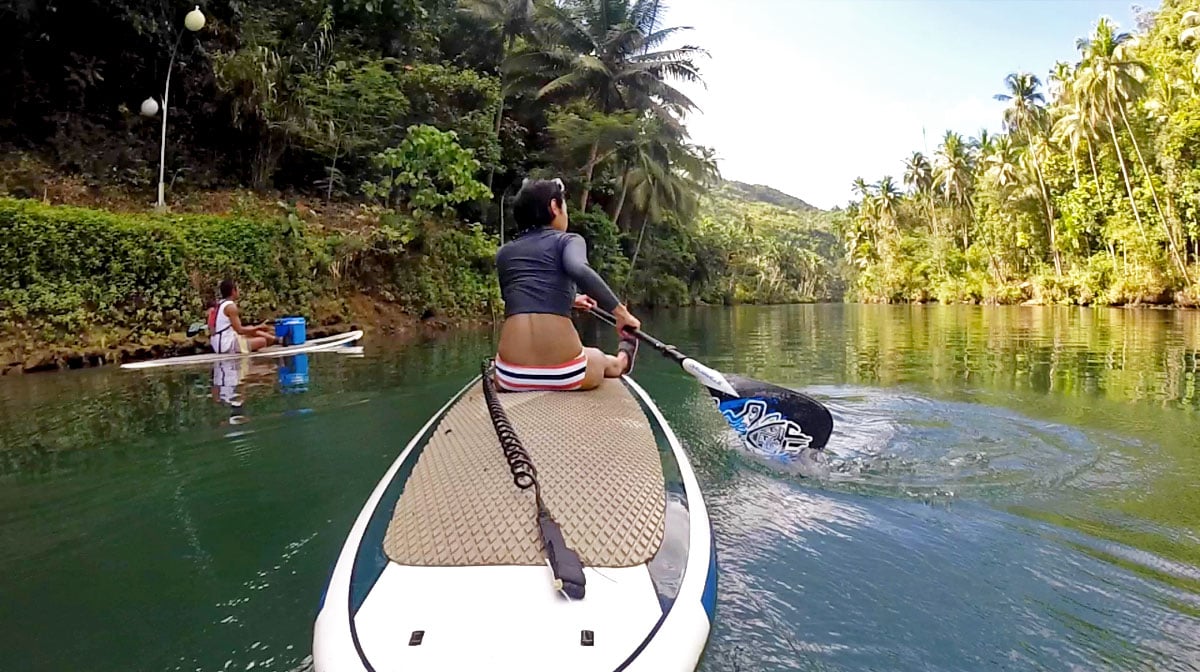 The end of the road. I told you the waterfalls were tiny. It looks like someone just left the faucet on. There's a platform to the right if you want to go sunbathing or boxing, whichever you prefer. You can stay here as long as you like before heading back to the paddle center.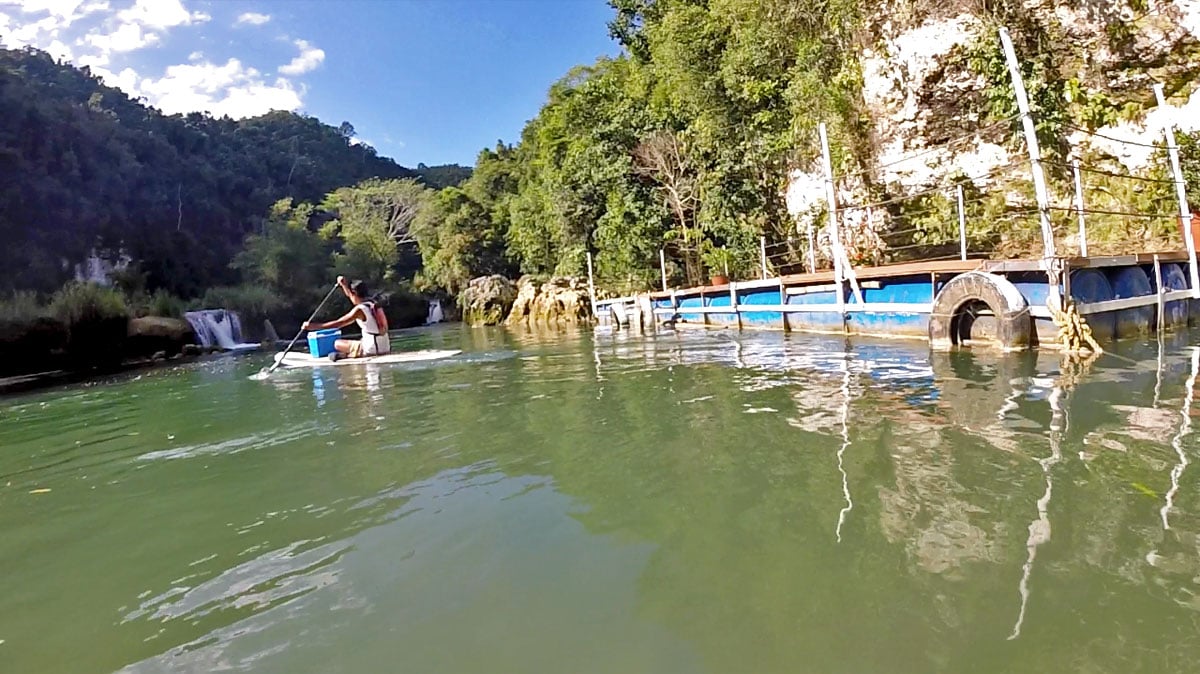 A quick video of today's tours. If you're looking for something a little more hands on than the riverboat cruise, then stand up paddleboarding is an excellent way to experience Loboc River. For the longest time, I believe we had two must-dos in Bohol — the Countryside Tour and dolphin watching / snorkeling on Balicasag Island. Thanks to SUP Tours, we now have three.
As previously described, you can book mountain biking and stand up paddleboarding tours on the Loboc River through Klook as well. I'm not sure if they're provided by the same company so if you want to go specifically with SUP Tours, then you can contact Klook customer service to inquire.
SUP Tours, Bohol, Philippines
Baranggay Valladolid, Loboc, Bohol, Philippines (Landmark: Petron Gas Station)
Tel: (038) 537-9011
Mobile: 0947-893-3022 / 0917-713-7577
Website: suptoursphilippines.com
Twitter: supphilippines
Instagram: suptoursphilippines
Pinterest: fredericsoupart/stand-up-paddle-tours
Vimeo: suptoursphilippines
Email: [email protected]
HOW TO GET THERE:
If you're staying in Panglao, then it's best to arrange for private transportation to the SUP Tours paddle center. We paid PHP 1,500 for two people for round trip transportation from our hotel near Alona Beach. Our driver's name is Resi and you can contact him at +63 910 821 4546. Your hotel can arrange for transportation as well though they'll probably charge you more.
For more Bohol travel tips, check out our First-Timer's Travel Guide to Bohol, the Philippines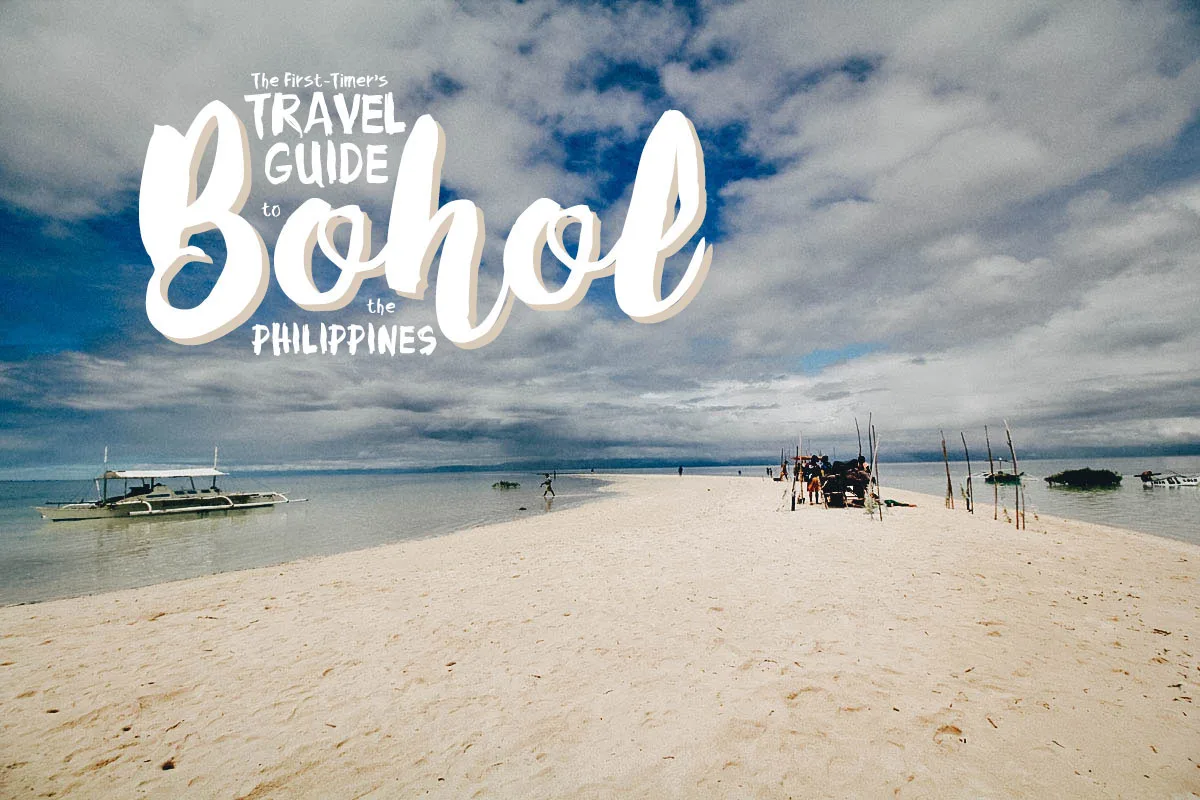 Disclosure
Some of the links in this guide are affiliate links, meaning we'll get a small commission if you make a purchase at NO extra cost to you. We only recommend products and services that we use ourselves and firmly believe in. We really appreciate your support as this helps us make more of these free travel guides. Thank you!