There are many interesting tourist attractions in Bohol. The iconic Chocolate Hills in Carmen are one. The tarsier sanctuary in Corella is another. The Loboc River, long known for its riverboat cruise and now stand up paddleboarding, is one of its most popular. And the list goes on. Bohol's variety of attractions is part of what makes it so attractive to both local and foreign tourists alike.
The problem is, they're scattered throughout the island so getting to them on public transportation takes time and planning. On your own, it would be a challenge to visit all these places in one day, which is why the Countryside Tour has become an essential activity for any first-time visit to Bohol. Simply put, it makes it easy. And when you're on holiday, easy is golden.
Many tour operators offer different versions of this tour. Some will have guides, others won't. Some include lunch, others don't. But one thing's for sure, you'll be taken to Bohol's top tourist sights in a chauffeured car or van, so the only thing you'll need to worry about is keeping enough battery life for that Chocolate Hills selfie.
As described above, different operators will have slight variations to this tour. All will take you to the top sights like the Chocolate Hills, the tarsiers, the Loboc River, the man-made forest, and more. Where they'll differ is in the other less popular stops. Paying a total of PHP 2,000 for two people, these are all the places we went to on our tour. Please note that this was just for the driver and car and doesn't include lunch nor entrance fees. Reservation details at the bottom of this post.
Alternatively, you can book the Countryside Tour through Klook. It may not be exactly like this one but you'll definitely be making stops at Bohol's major sights as well. Follow the link for tour details.
Blood Compact Shrine
Our first stop was this shrine in Tagbilaran commemorating the Sandugo, or "blood compact", between Spanish explorer Miguel López de Legazpi and Datu Sikatuna, the chieftain of Bohol. Performed as part of the tribal tradition in 1565, it's considered the first treaty of friendship between the Spaniards and Filipinos. There isn't much here aside from this monument so no need to stay more than a few minutes to take pictures.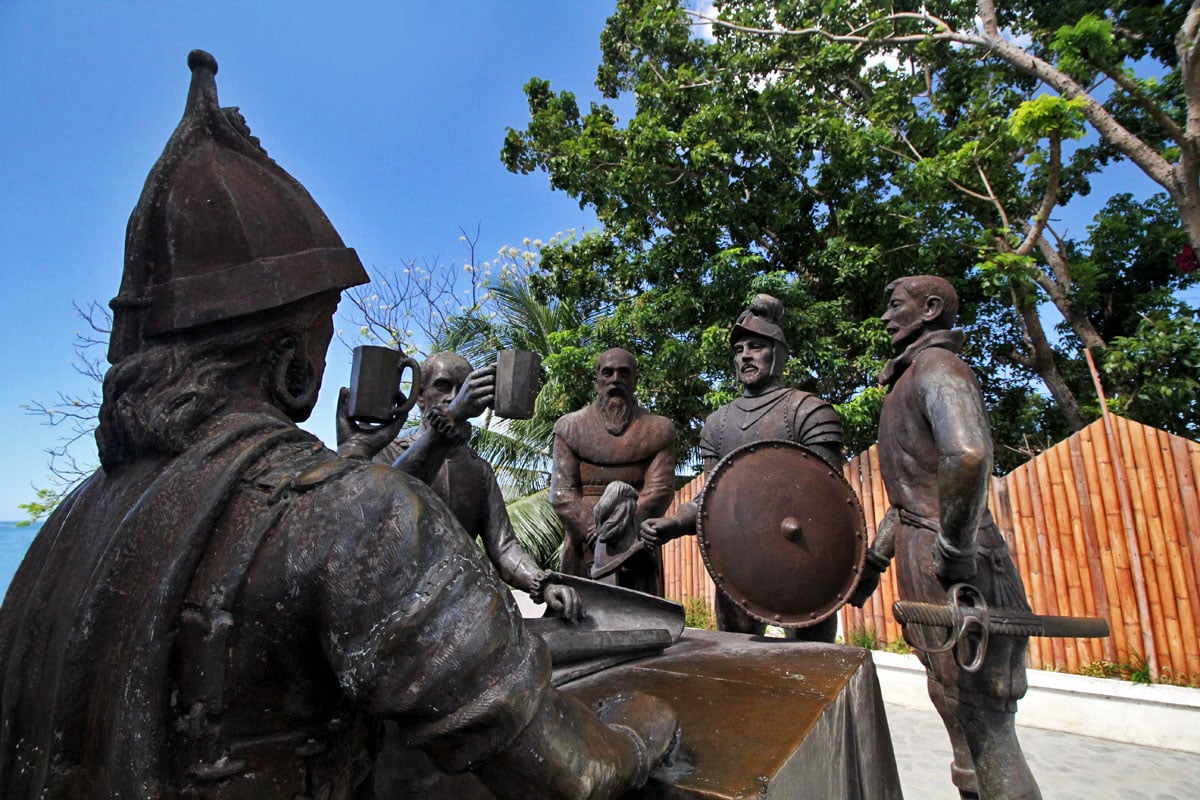 Baclayon Church
Founded in 1596, this church in Baclayon is the oldest Christian settlement in Bohol. It's a National Cultural Treasure as well as a National Historical Landmark. All but destroyed during the 7.2 magnitude earthquake in 2013, it's nice to see that much of it has been restored. Entrance to the church and museum with religious artifacts is PHP 50.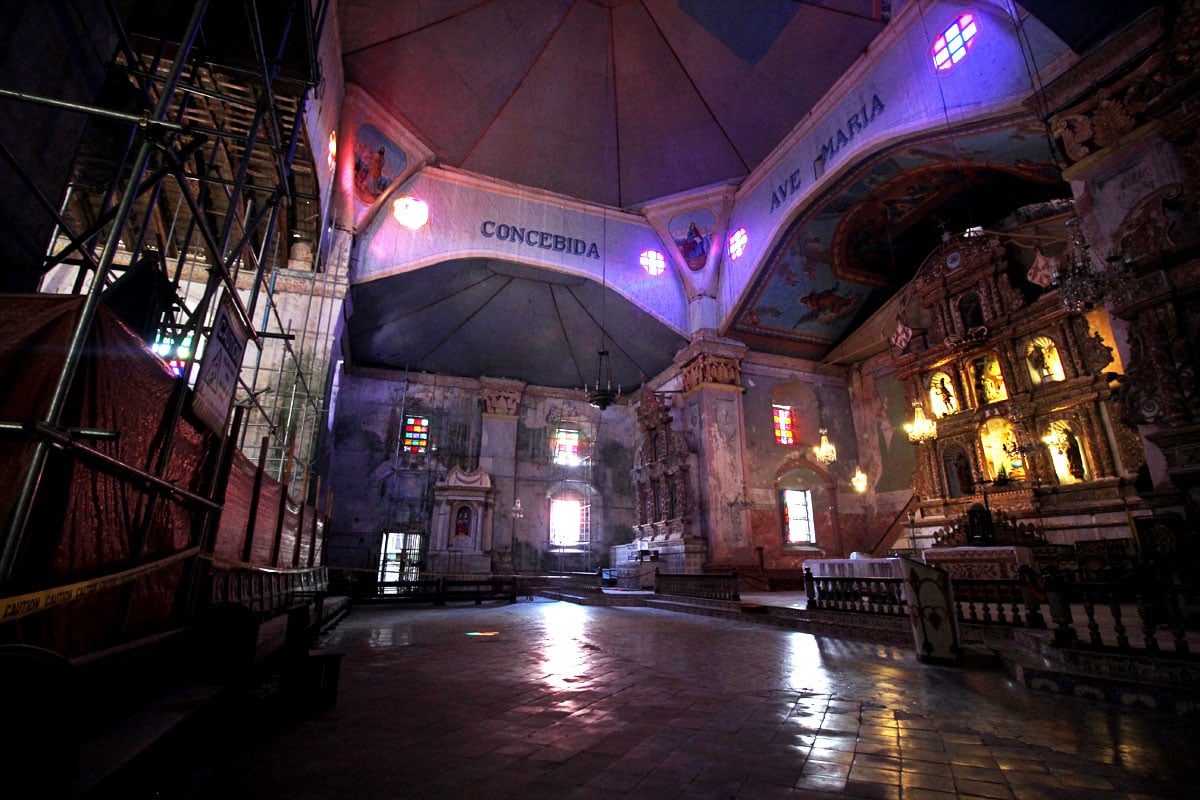 Stunning altar. There's a Catholic tradition that urges you to make three wishes when entering a church for the very first time. Save one for the Philippines if you're feeling generous. 😉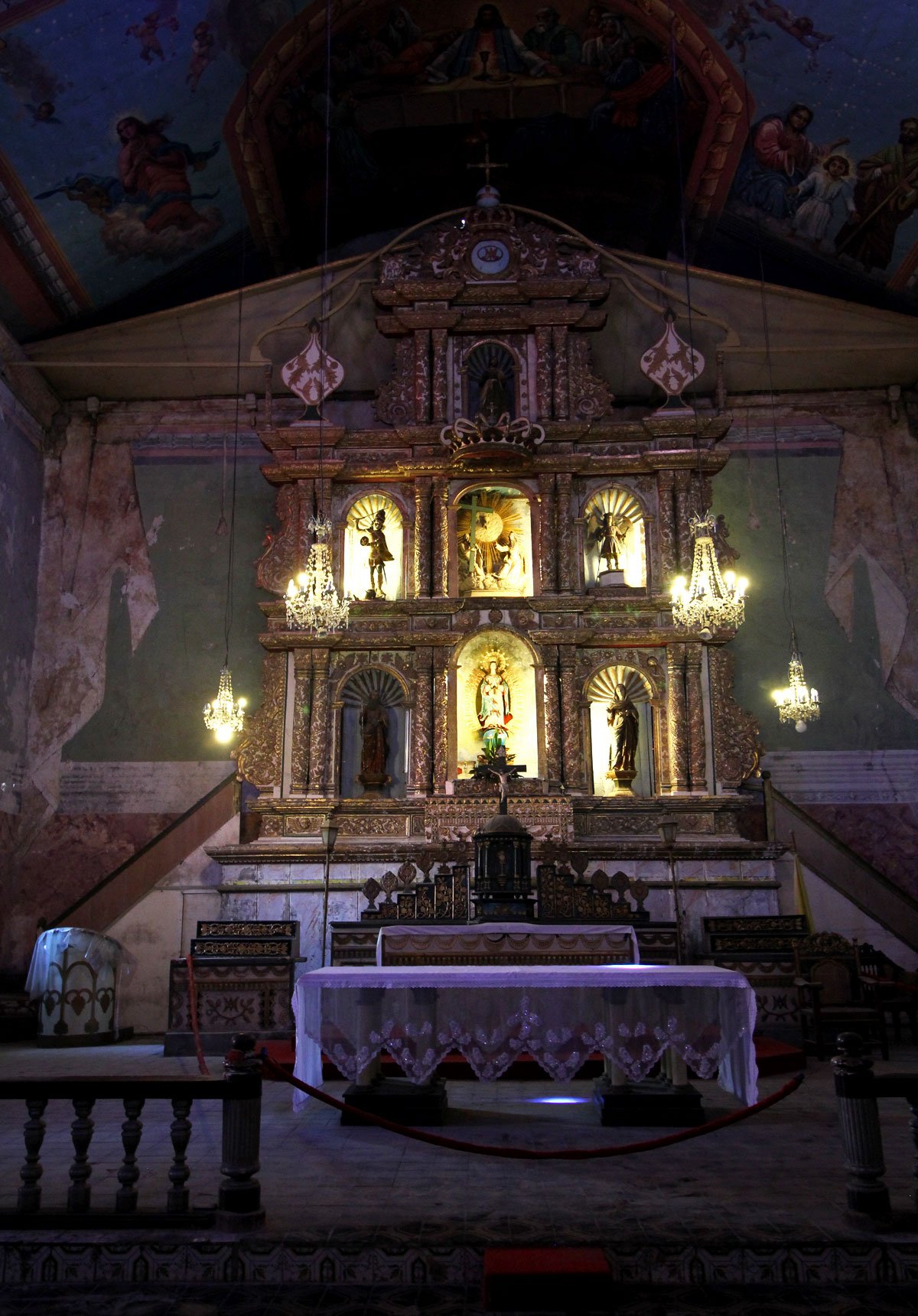 Restoration in progress. We had heard how badly damaged it was by the earthquake so it was nice to see how far the restoration had come along in just three years.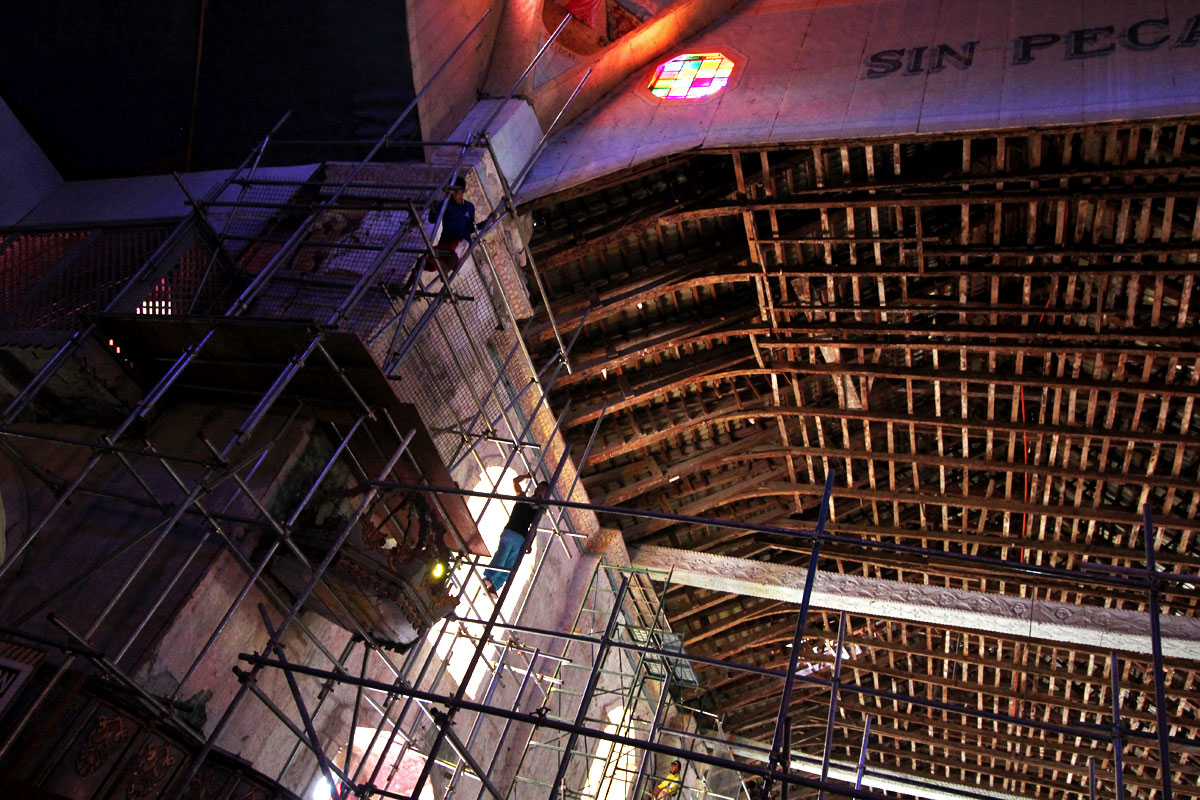 Man-made Forest
En route to the Chocolate Hills in Carmen is this two-kilometer stretch of densely planted mahogany trees. It's a beautiful and refreshing sight that's starkly different from what you'd normally find in the Philippines. So enchanting is this stretch of forest in fact, that selfies in the middle of the road have become par for the course here. Just don't die if you do it.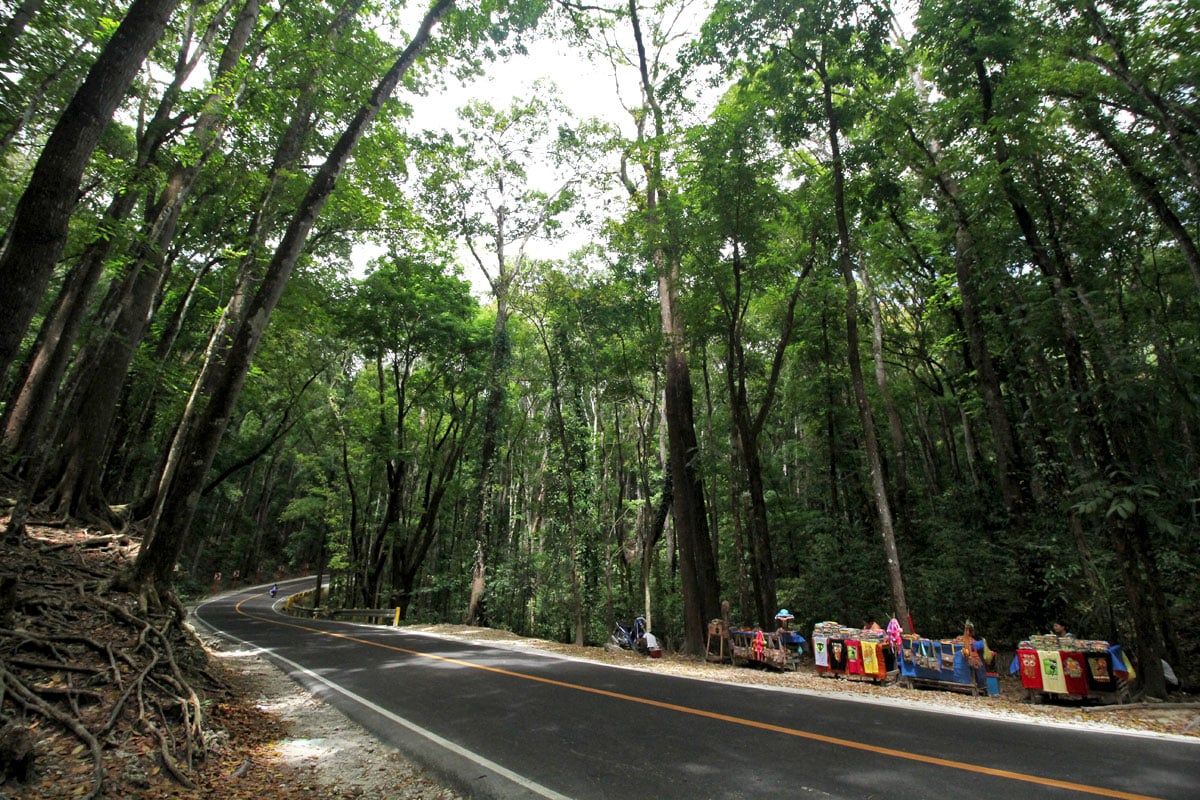 You'd never know it by looking at the place, but this forest was planted by university students over 50 years ago to replace trees lost from widespread slash and burn farming (kaingin). What pride those former students must feel whenever they pass through here. ♥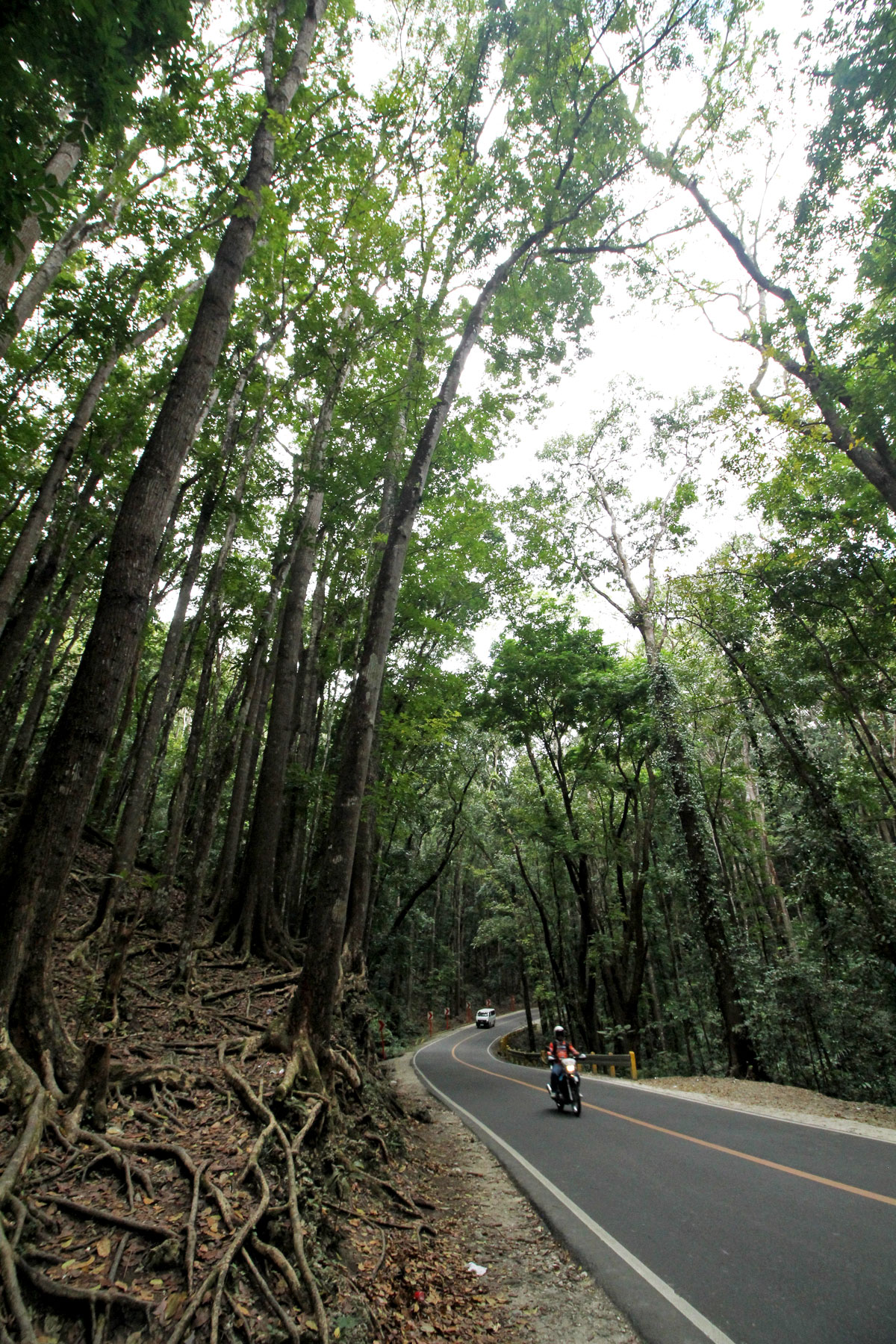 Chocolate Hills
Together with the tarsiers, these Chocolate Hills are Bohol's most famous attraction. Comprised of over 1,260 hills covering an area greater than 50 sq km, the hills are covered in green grass that turn chocolate brown during the dry season, hence the name. Entrance to the area is PHP 100 per person.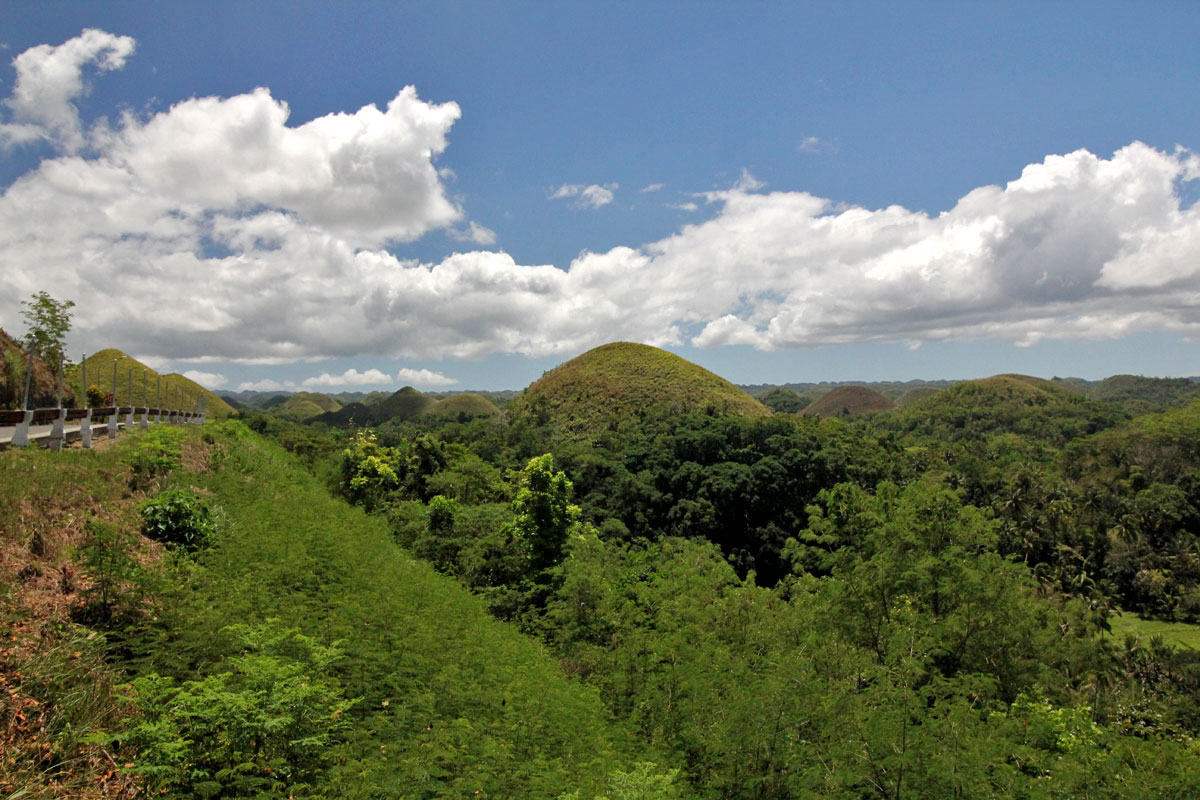 For the best view of the hills, you'll need to climb these million steps to the top of the viewing platform. Oh joy.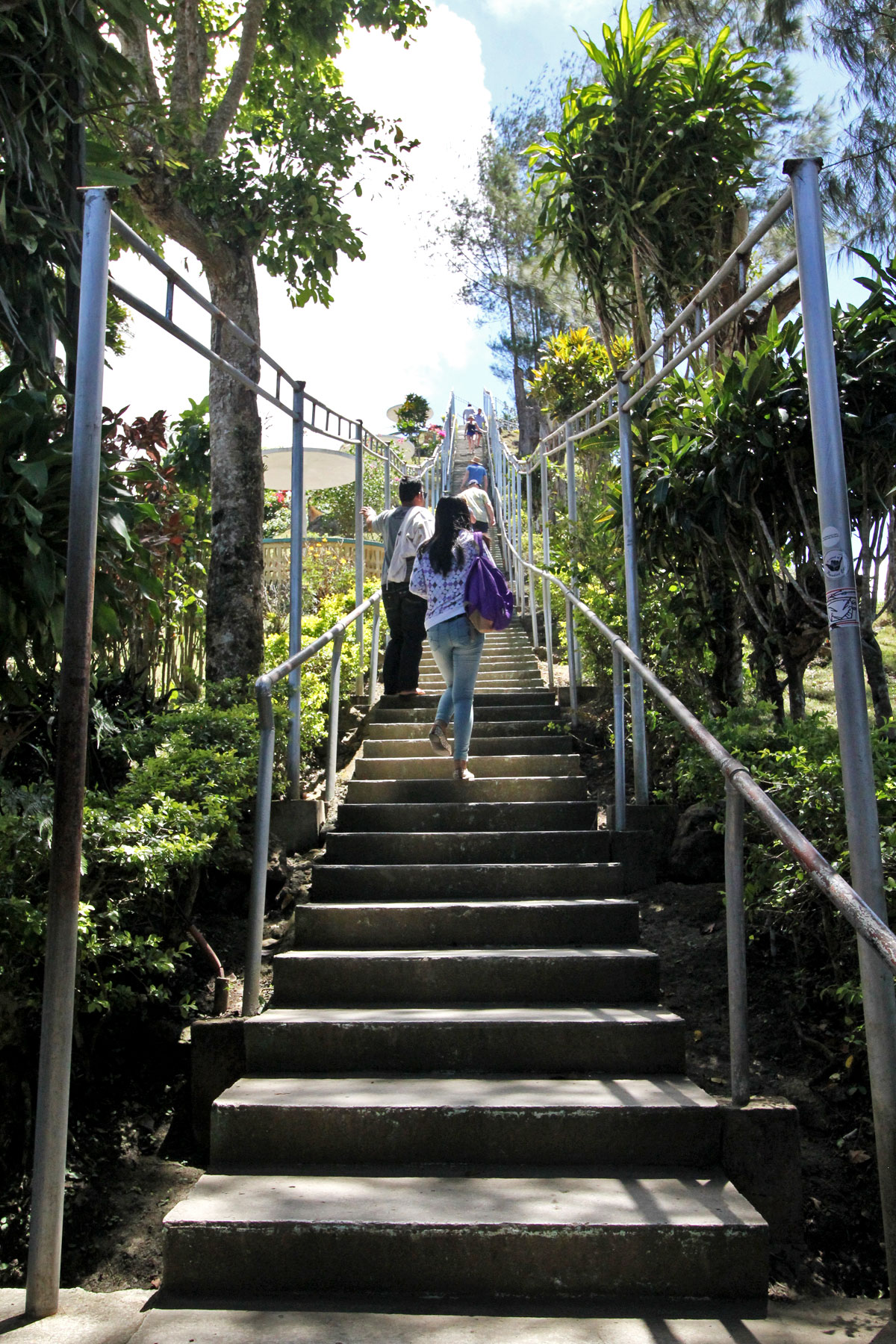 The view's a little better from up here. A rolling terrain of haycock hills, these cone- or dome-shaped formations are actually made of grass-covered limestone. This would have been the perfect place to fly my drone. If I had a drone. 🙁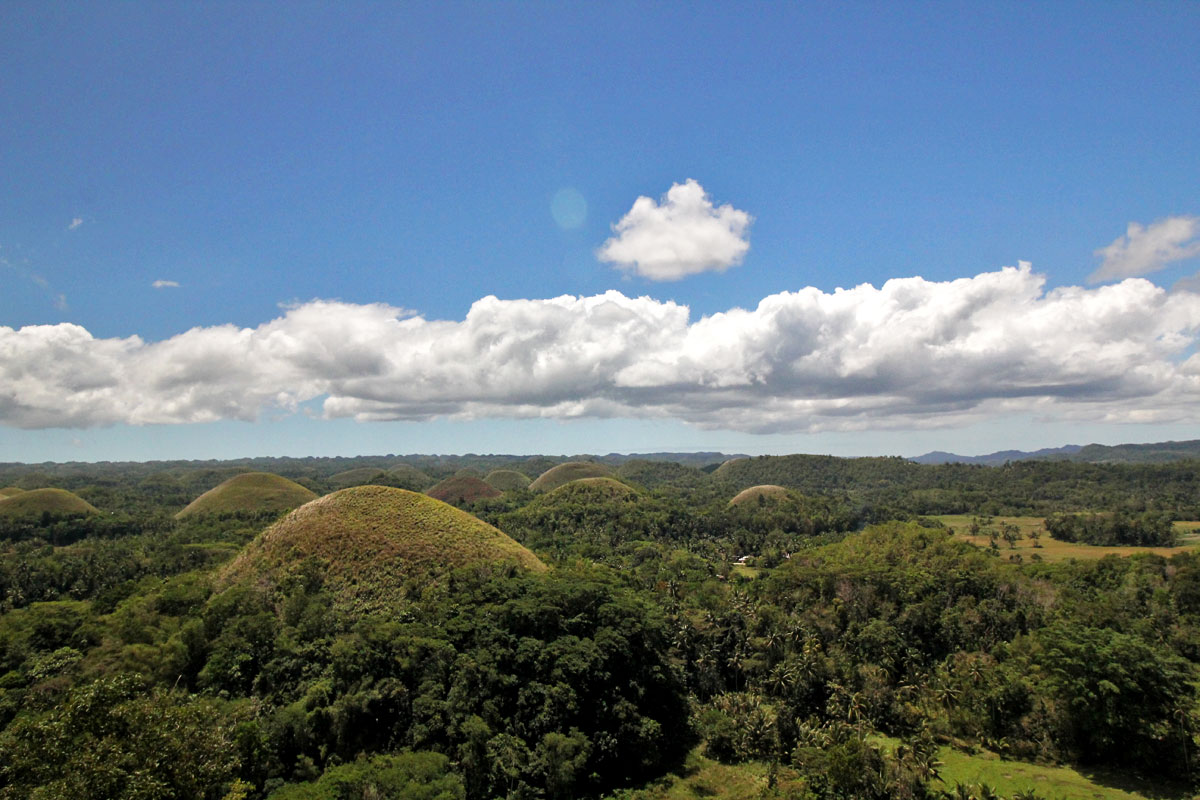 Simply Butterflies Conservation Center
This butterfly conservation center in Bilar makes for a pleasant stop en route to the Loboc River. Entrance to the sanctuary is PHP 45 for adults, PHP 10 for children aged 4-10. All visitors are assigned a tour guide.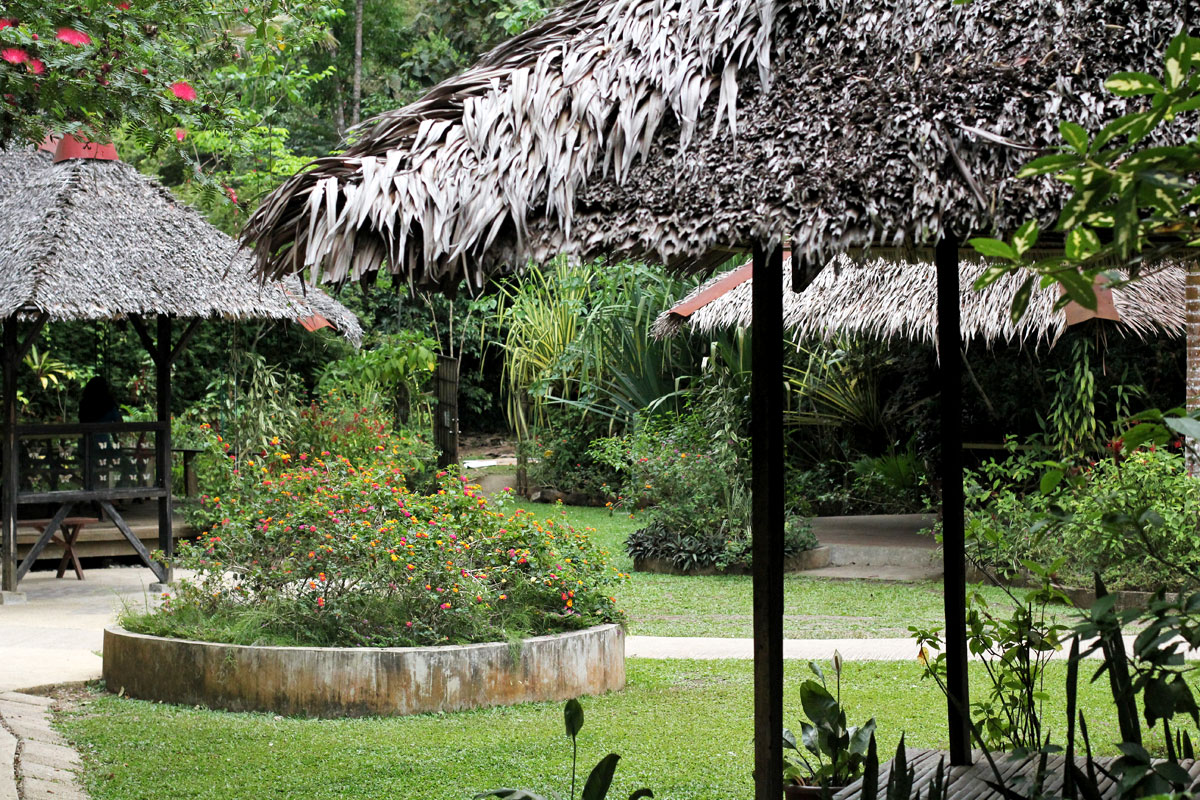 Lovely place for a stroll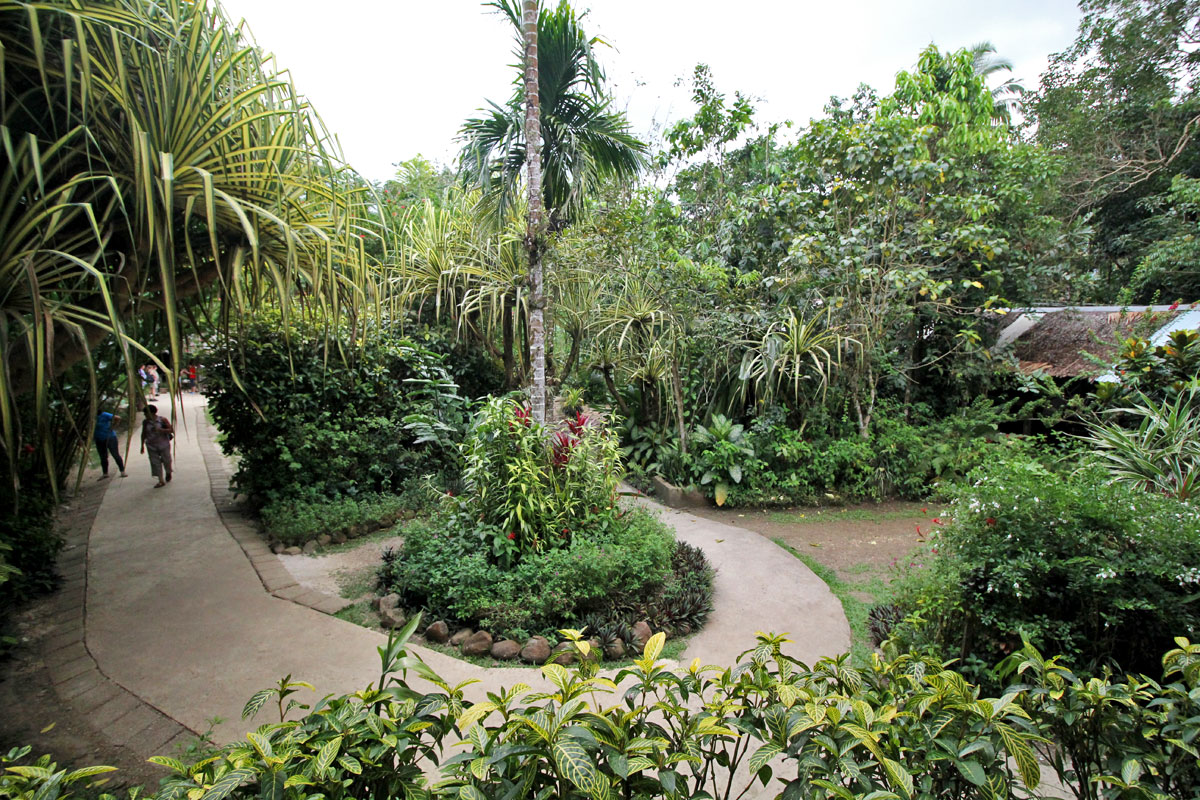 Idea leuconoe or Large Tree Nymph Butterfly pupae in the foreground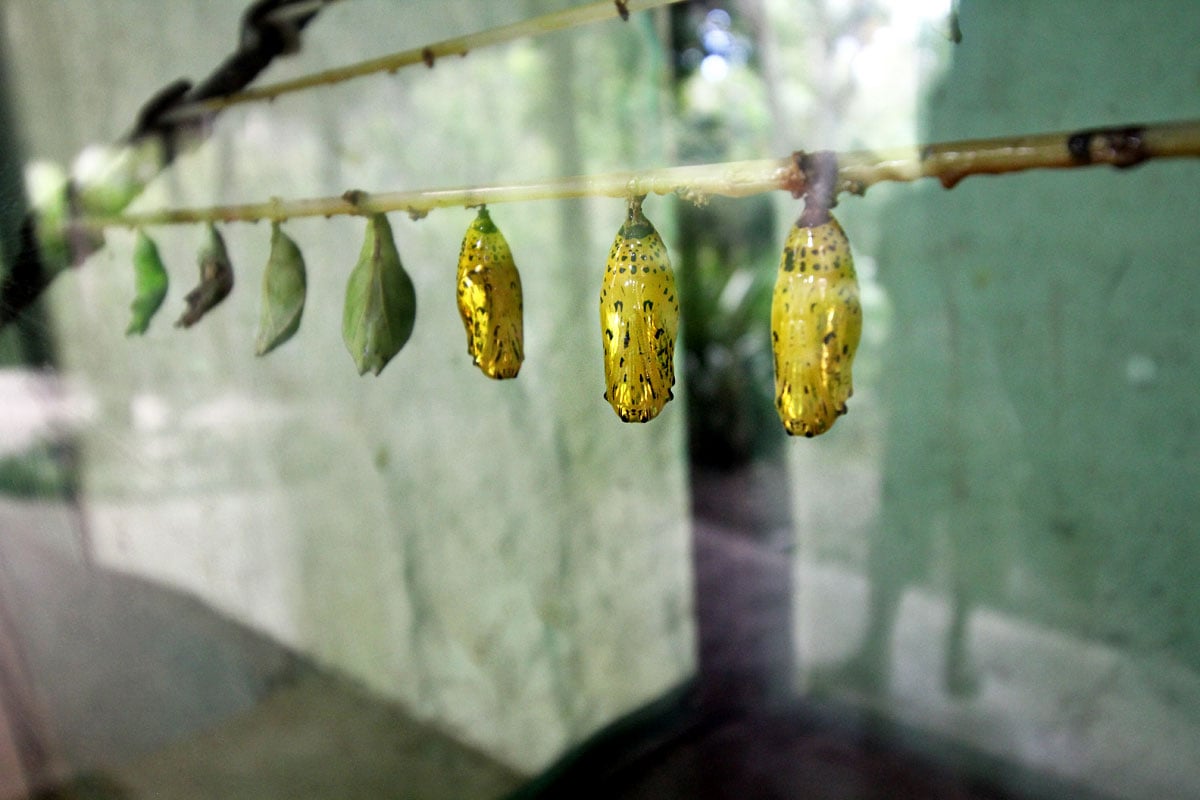 Danaus chrysippus or Plain Tiger Butterfly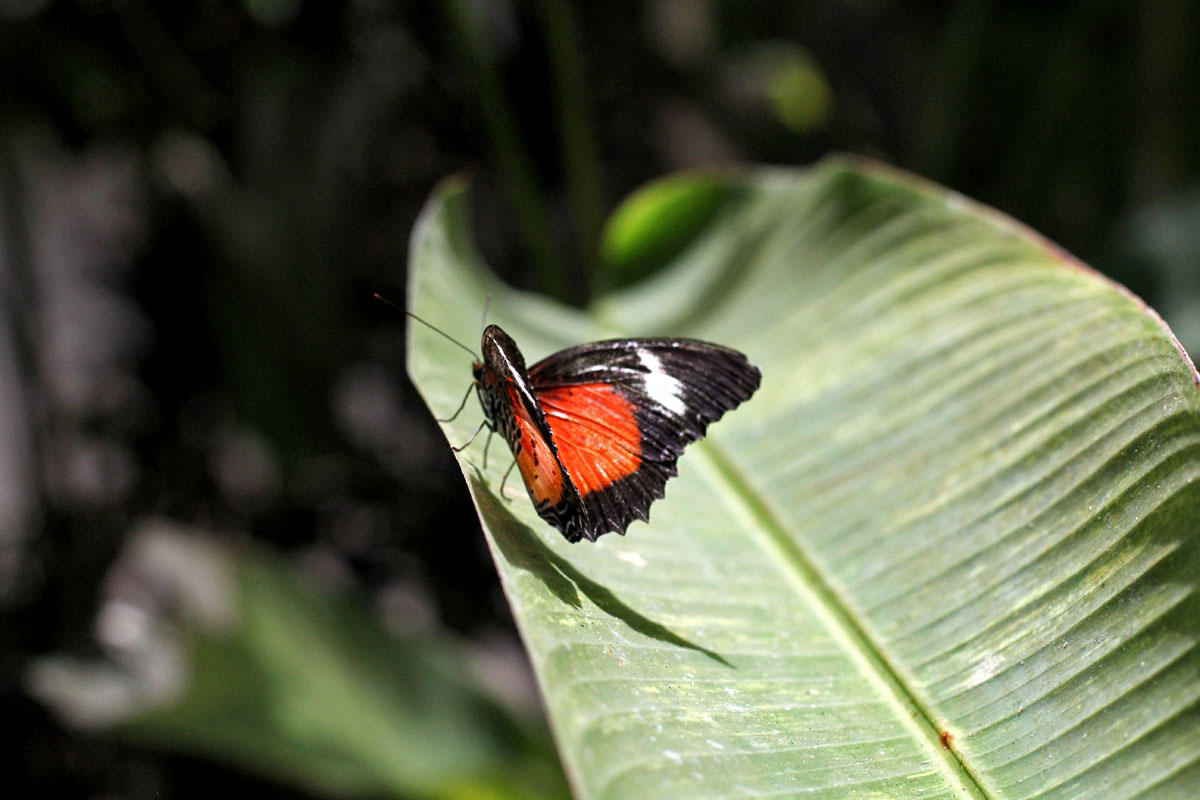 Reneelicious ravishingis aka my lovely wife. ♥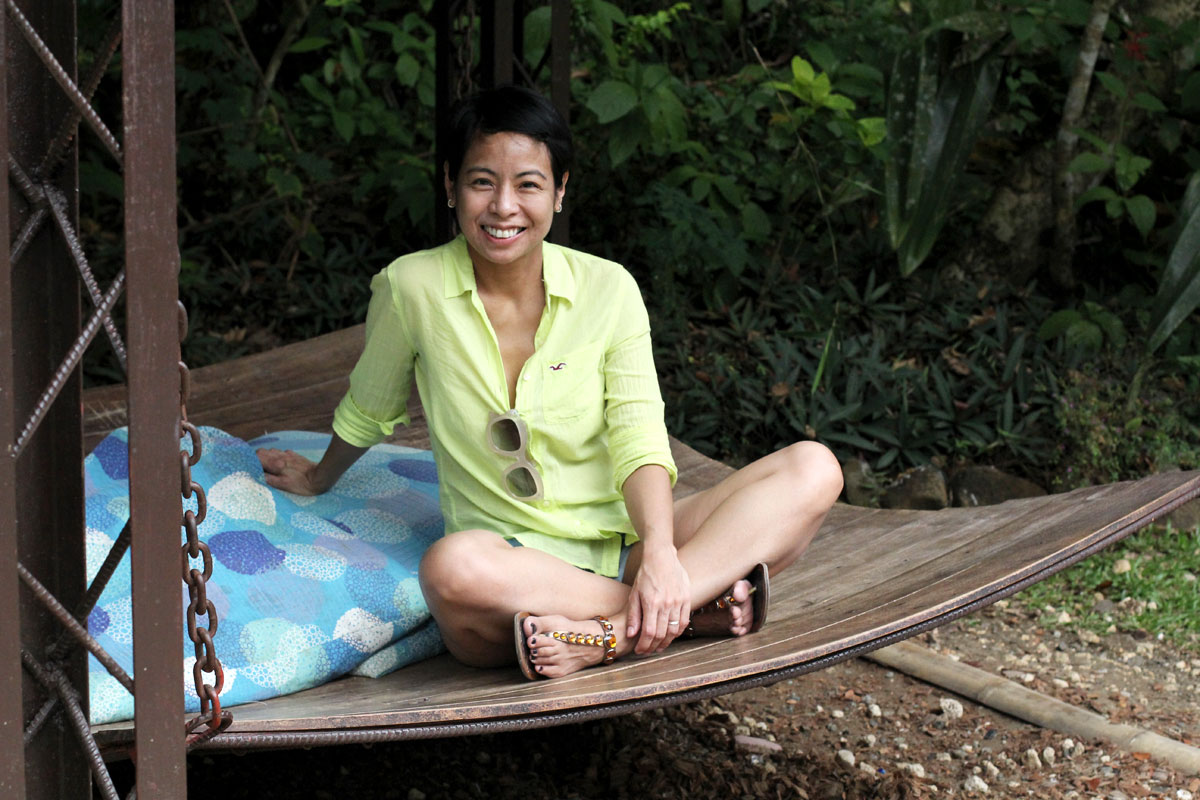 Loboc River Lunch Cruise
This Loboc River cruise is another of Bohol's top tourist attractions. Lasting about an hour, you ride upstream and back in one of these riverboats whilst enjoying a buffet lunch with live (karaoke) music. Prices for the lunch cruise are PHP 450 for adults, PHP 360 for seniors (Filipinos aged 60+), PHP 300 for children aged 9-11, and PHP 175 for kids 4-8.

Each riverboat can seat around 50 people. Iced tea is included in the price but you can order other drinks like beer as well.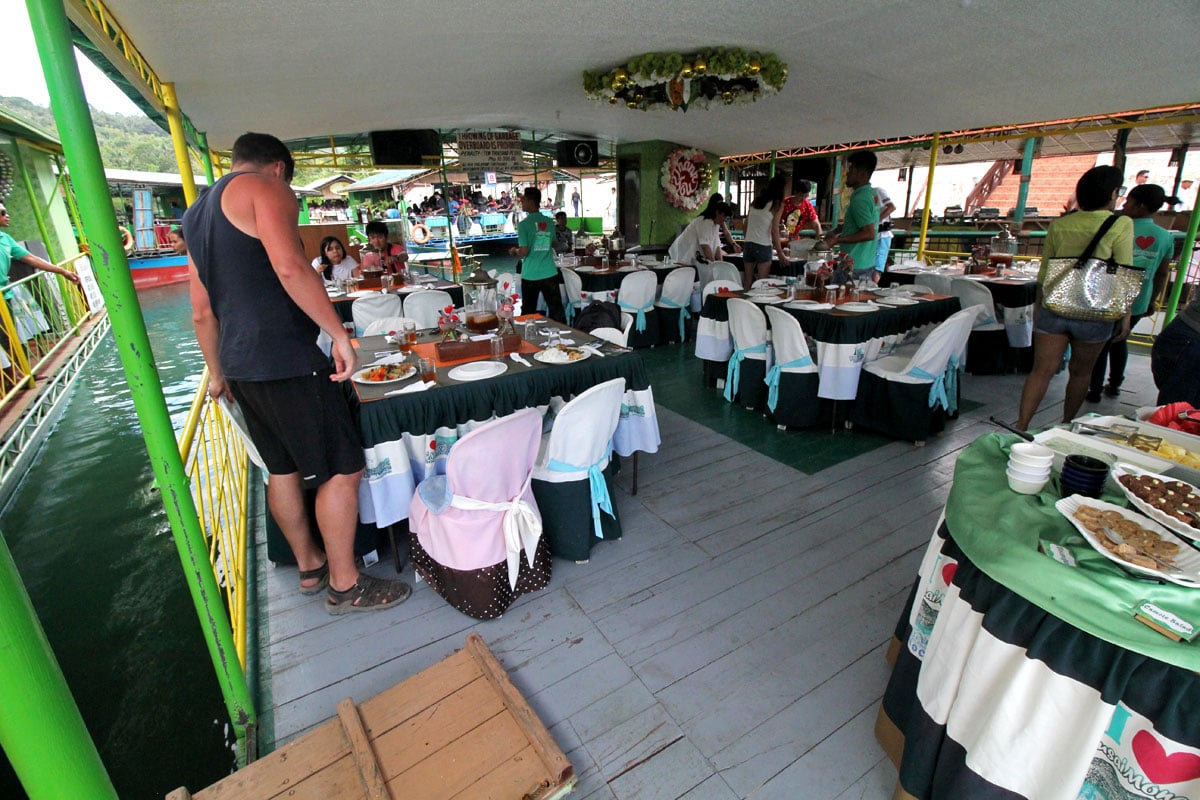 After a long hot day of sightseeing, it's time to eat! I have a feeling that most everyone here is on their own Countryside Tour.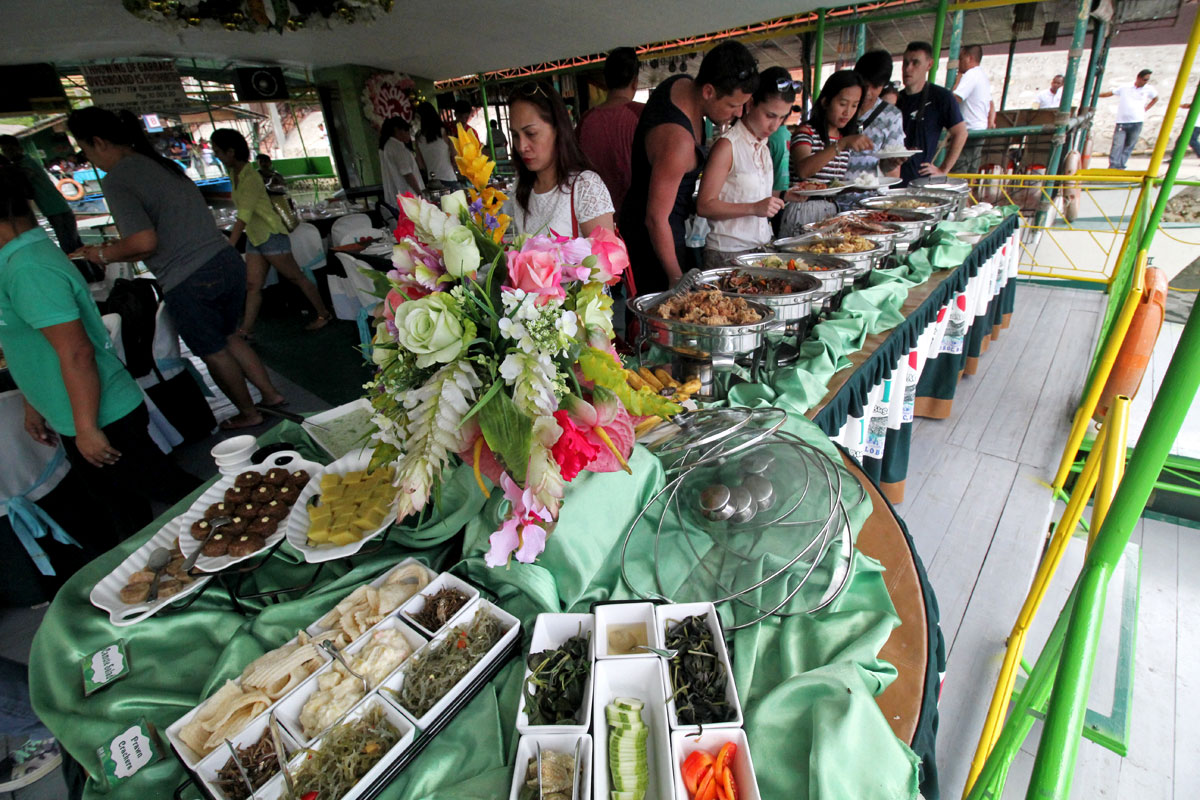 Though plentiful, the food isn't great so temper your expectations.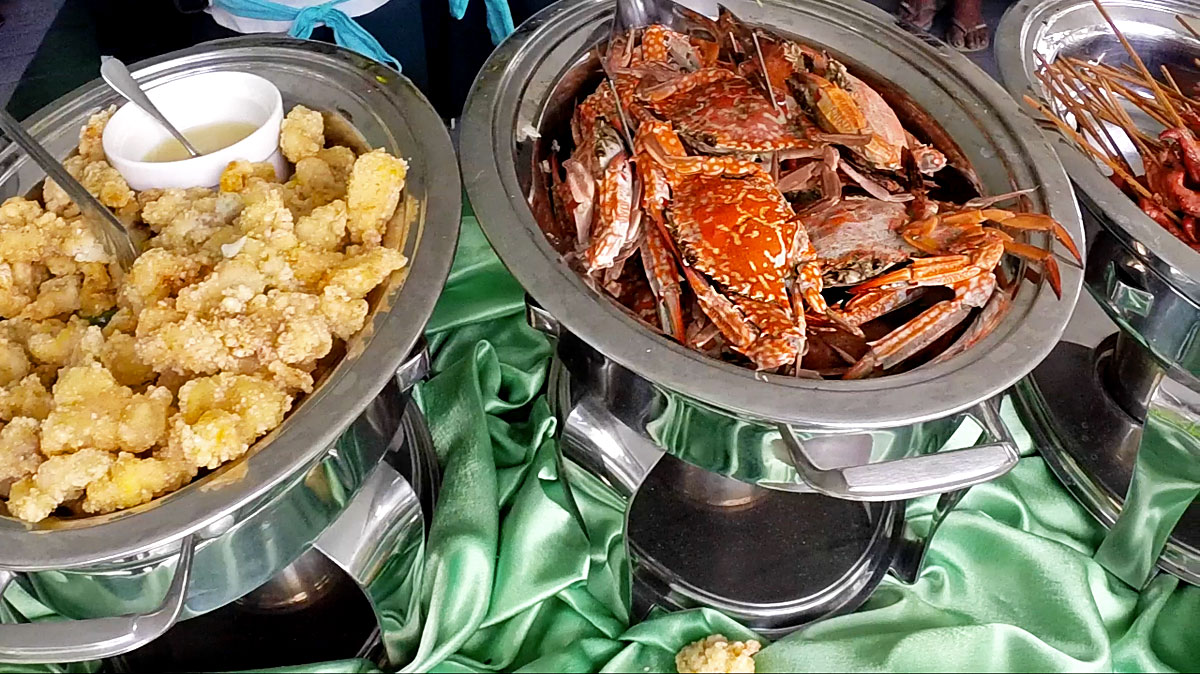 Nice huh? The river and surrounding forest has an untamed, almost Jurrasic feel to it. There's a small waterfall at the end of the river upstream. Once you reach it, the riverboat will turn around and head back to the dock. Ren and I went stand up paddleboaridng here with SUP Tours on a different day. I'll publish our video soon.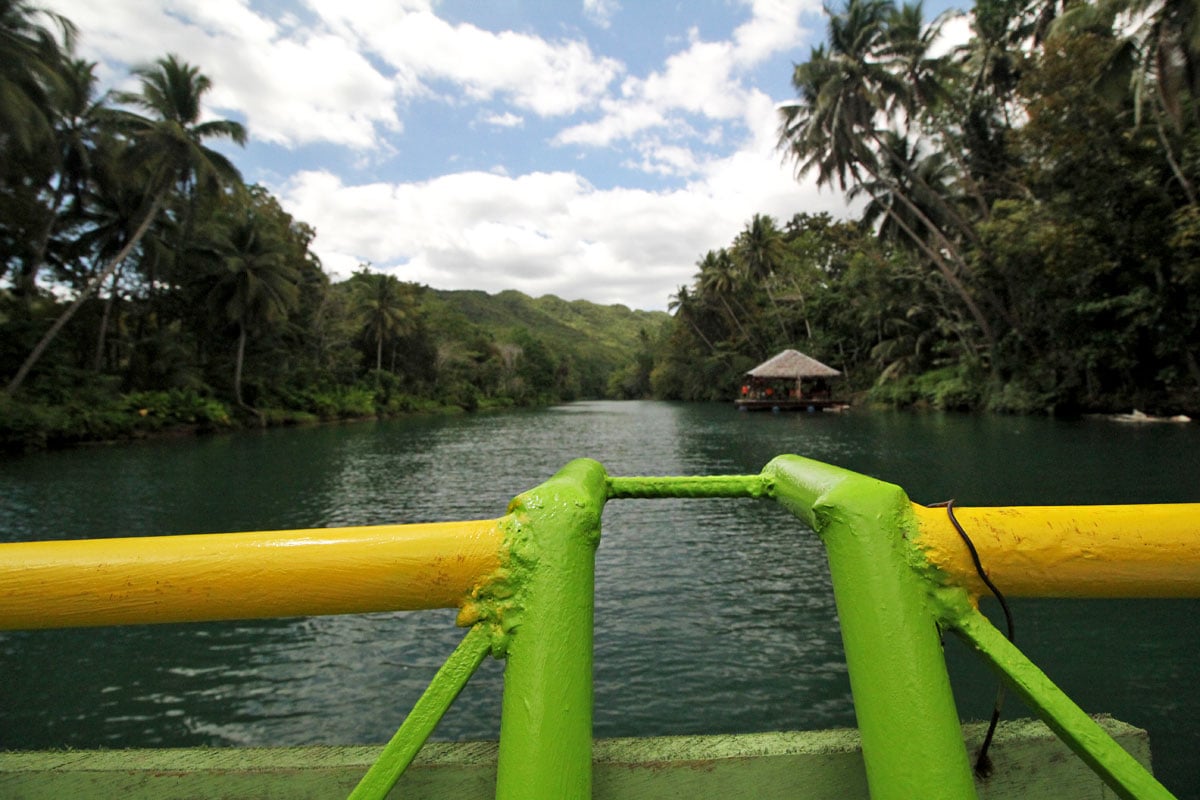 Corella Tarsier Sanctuary
Saving the best for last. The Tarsier Research and Development Center in Corella is the ONLY place to visit if you want to observe these adorable but endangered creatures. Avoid those bullshit "sanctuaries" around the Loboc River because they all suck. I'll explain why below. Entrance to the sanctuary in Corella is PHP 60 per person.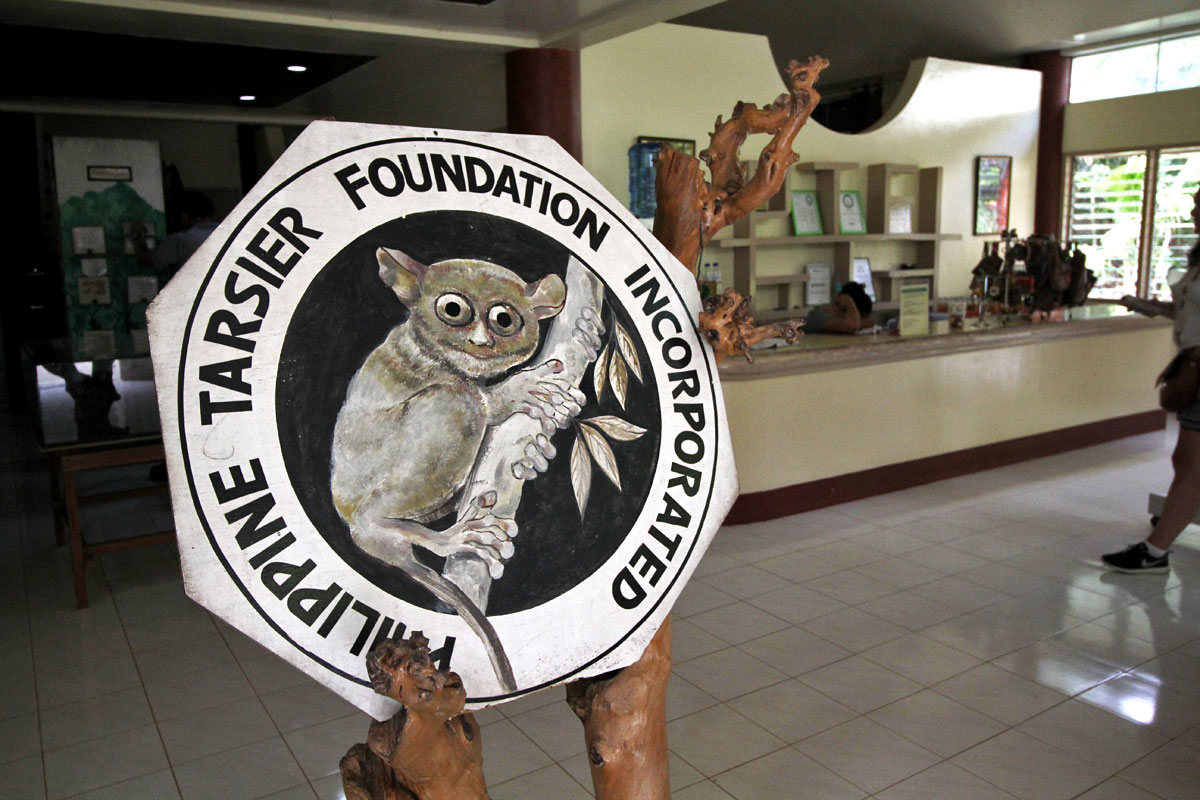 Unlike those pseudo-sanctuaries by the Loboc River that keep the animals in confined artificial habitats, the tarsiers in Corella are kept in a stress-free natural environment. Called the Tarsier Trail, they're kept in this 134-hectare area of wilderness that's sealed off to predators like domesticated house cats. Tarsiers are highly-sensitive and territorial animals so keeping them in a large stress-free environment is key to maintaining good health.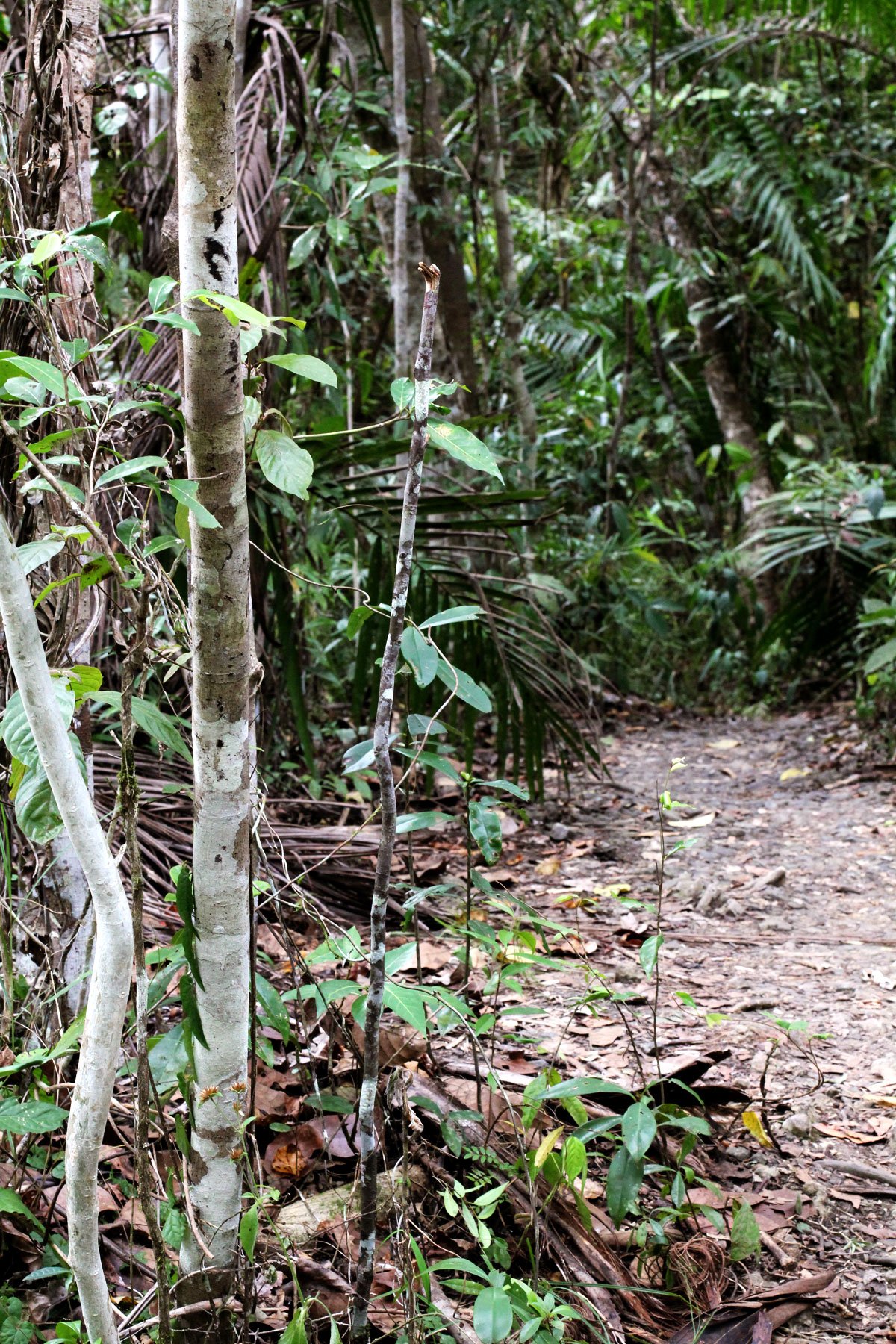 Well hello little one. (*in hushed tones*) If you aren't familiar with this tiny animal with the big beady eyes, the Philippine Tarsier is the world's smallest primate measuring just three to six inches tall. It's nocturnal and sleeps during the day so it's paramount that you keep your voices down, maintain a comfortable viewing distance, and never use a flash when taking pictures. When confined or exposed to prolonged stress, tarsiers have a tendency to commit "suicide" — meaning they'll jump against the cage and crack their thin craniums in an effort to escape. 🙁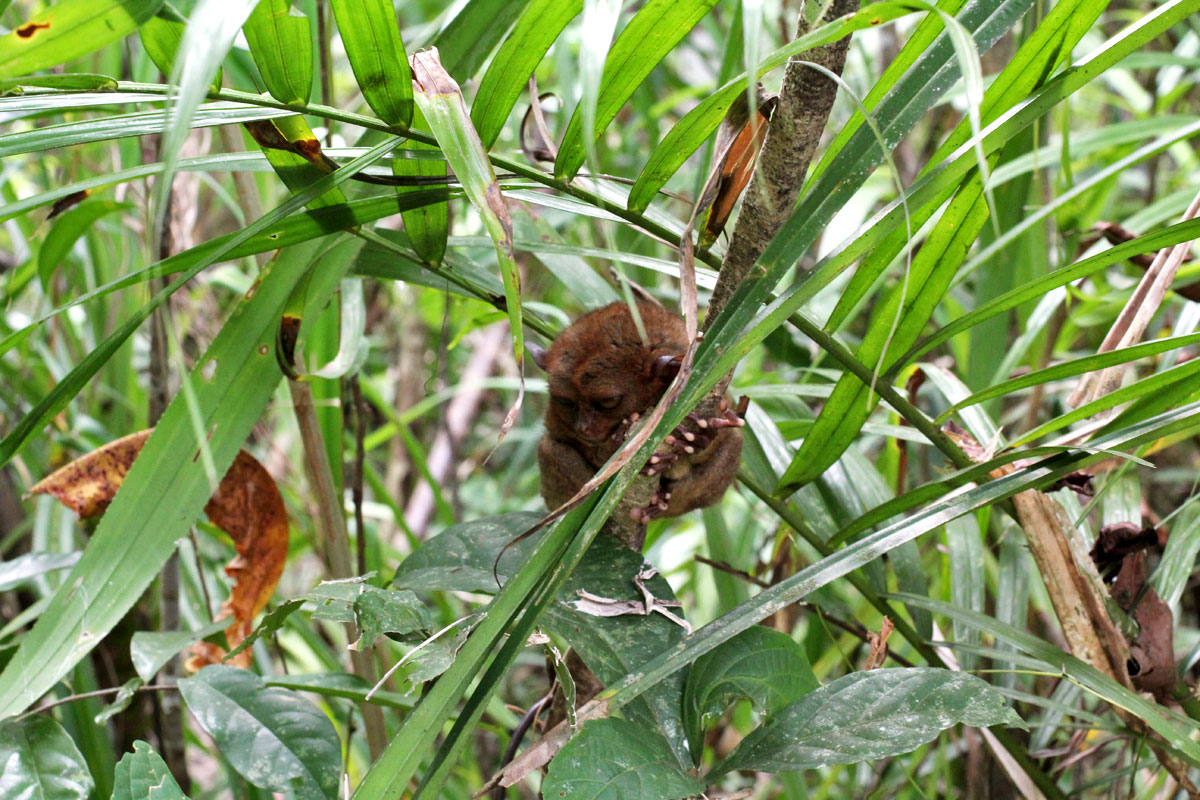 This one's way out in dreamland. All visitors to the Corella sanctuary are accompanied by guides. Since the animals aren't confined, I asked our guide how they know exactly where they are. She explained that they look for them early in the morning every day so they can quickly point them out to tourists. Because of habitat destruction, there's only an estimated 5,000-10,000 tarsiers left in the wild. 🙁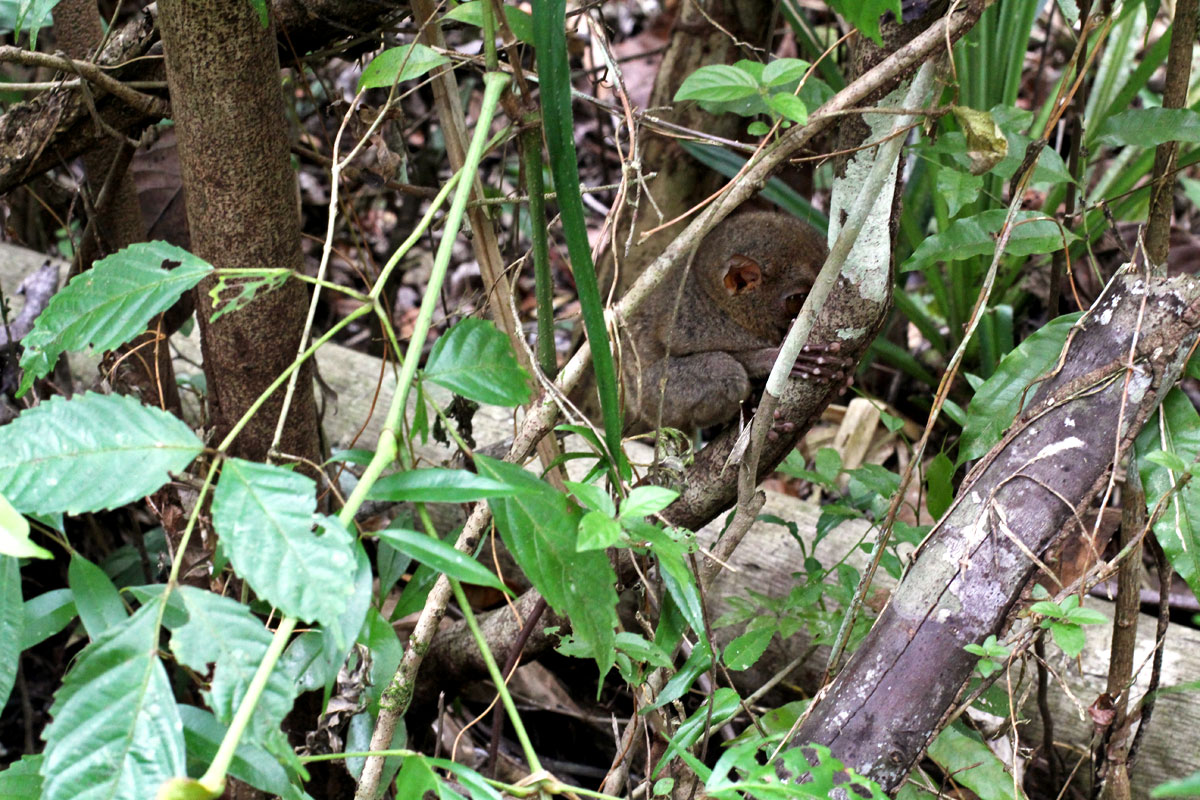 Again, I can't stress enough how important it is for you not to go to those tarsier side shows around Loboc River. Only visit this one, the one in CORELLA. Be sure to tell your driver that. This is the one true conservation center and the only one backed by the DENR (Department of Environment and Natural Resources) and the DOT (Department of Tourism). At this facility, you can be guaranteed that the health and preservation of this rapidly dwindling primate comes first.
Aproniana Souvenir Shop
Before being dropped off at our hotel, we asked our driver to stop at a souvenir center so we could buy pasalubong or gifts. He took us to this big two-story shop called Aproniana near Baclayon Church.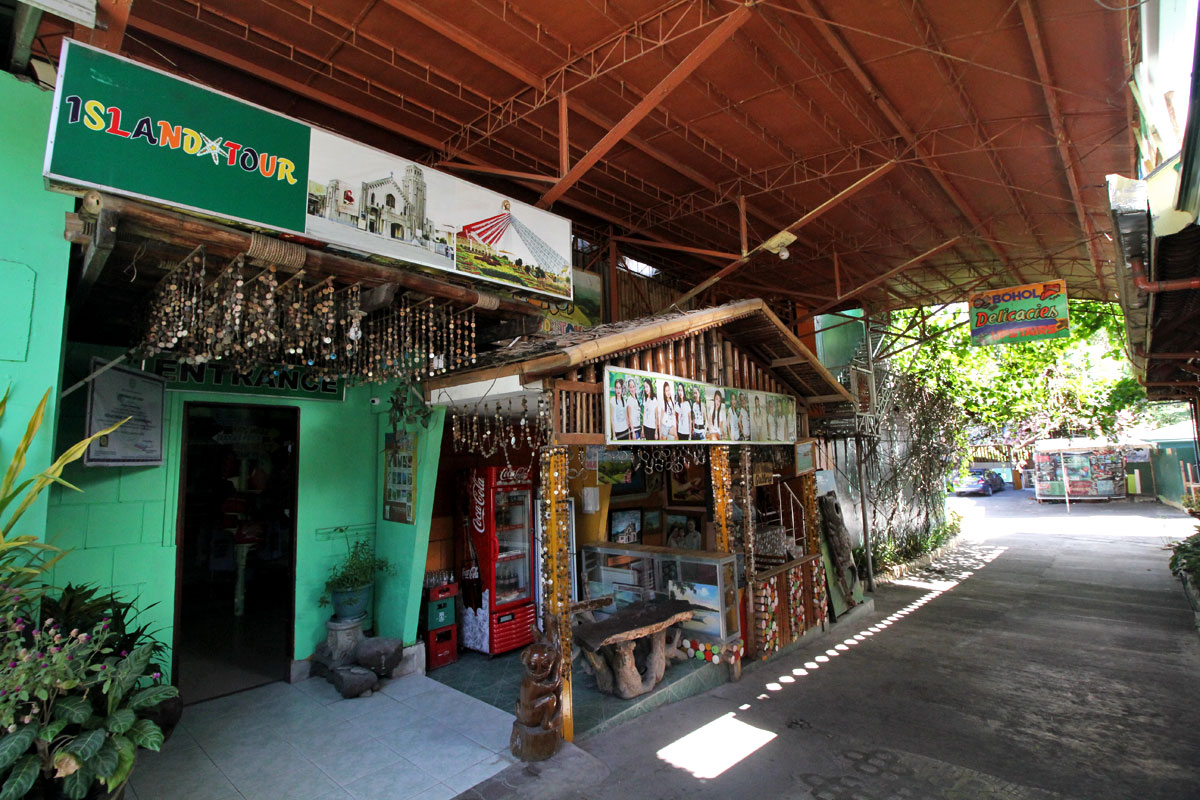 They sell all kinds of souvenirs here like shirts, dresses, bags, hats, tarsier toys, and wood carvings.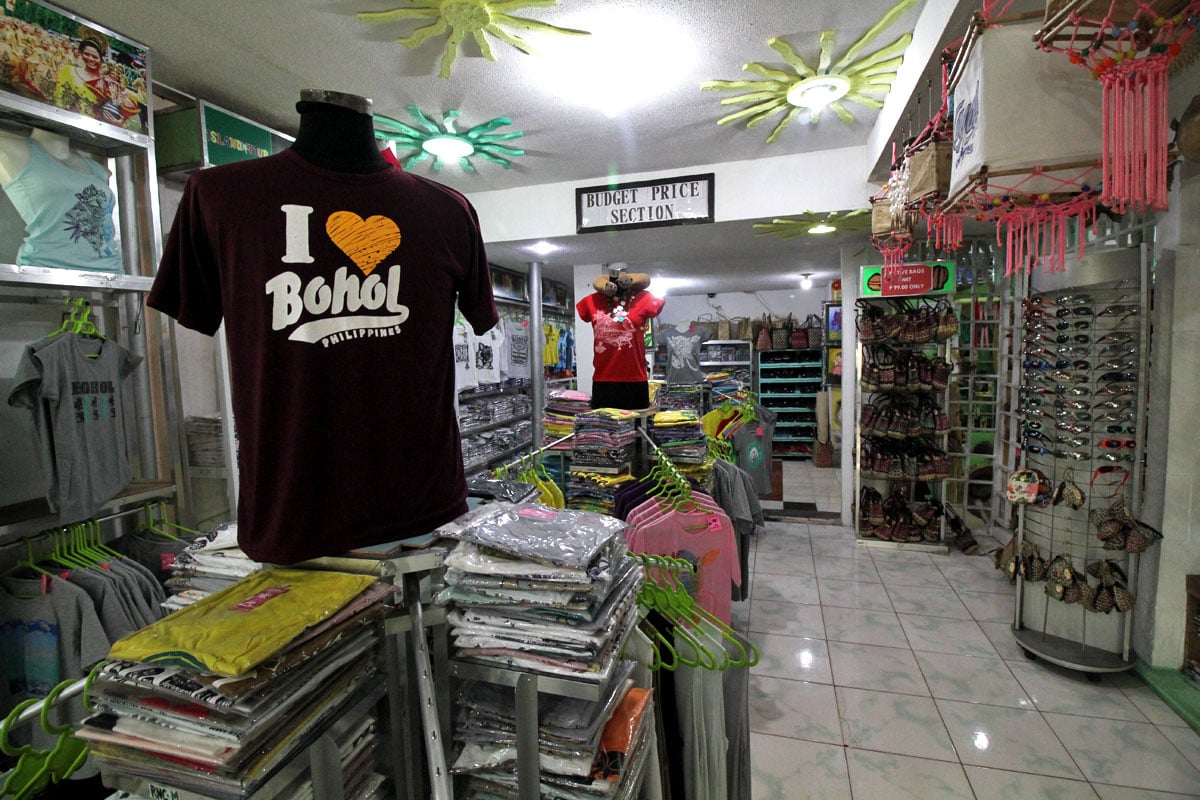 But all the good stuff, the stuff we fly for, was upstairs. 😉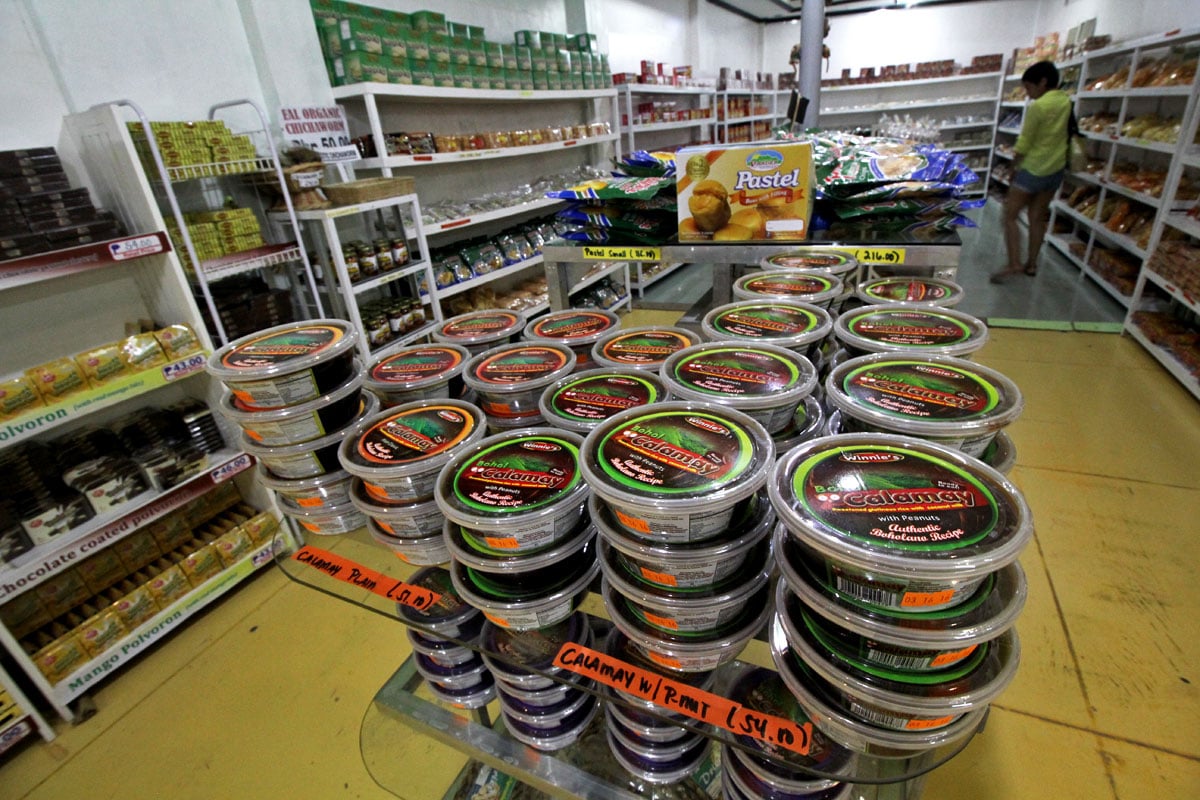 There are many goodies you can buy here but these Peanut Kisses are among the most popular. Inspired by Hershey's Kisses and shaped like the Chocolate Hills, they're a snack made from peanuts and egg whites that Filipino tourists often bring back from Bohol. Each 20-gram pack contains 7 pieces. We bought these plastic bundles containing 16 packs for PHP 150. Not sure how much each pack is individually but I'm guessing around PHP 10 or more.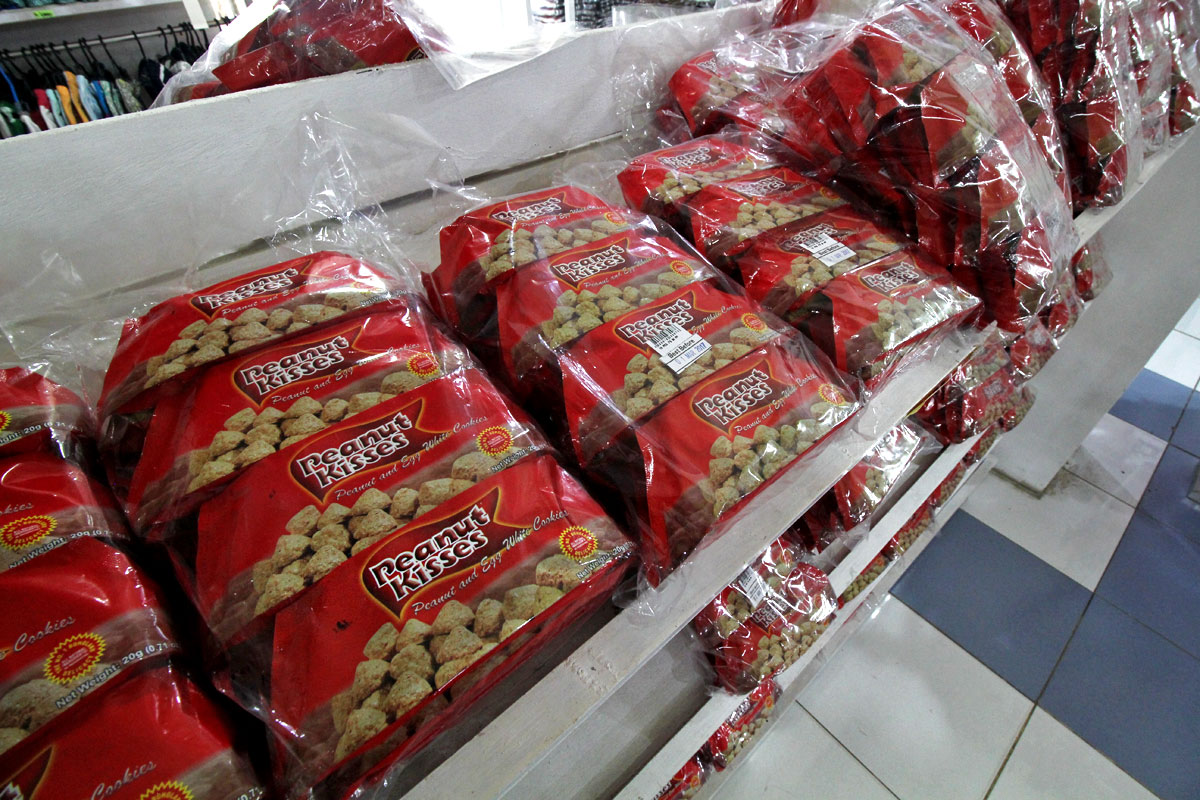 They had some unusual stuff too like sisi, which are fermented rock oysters…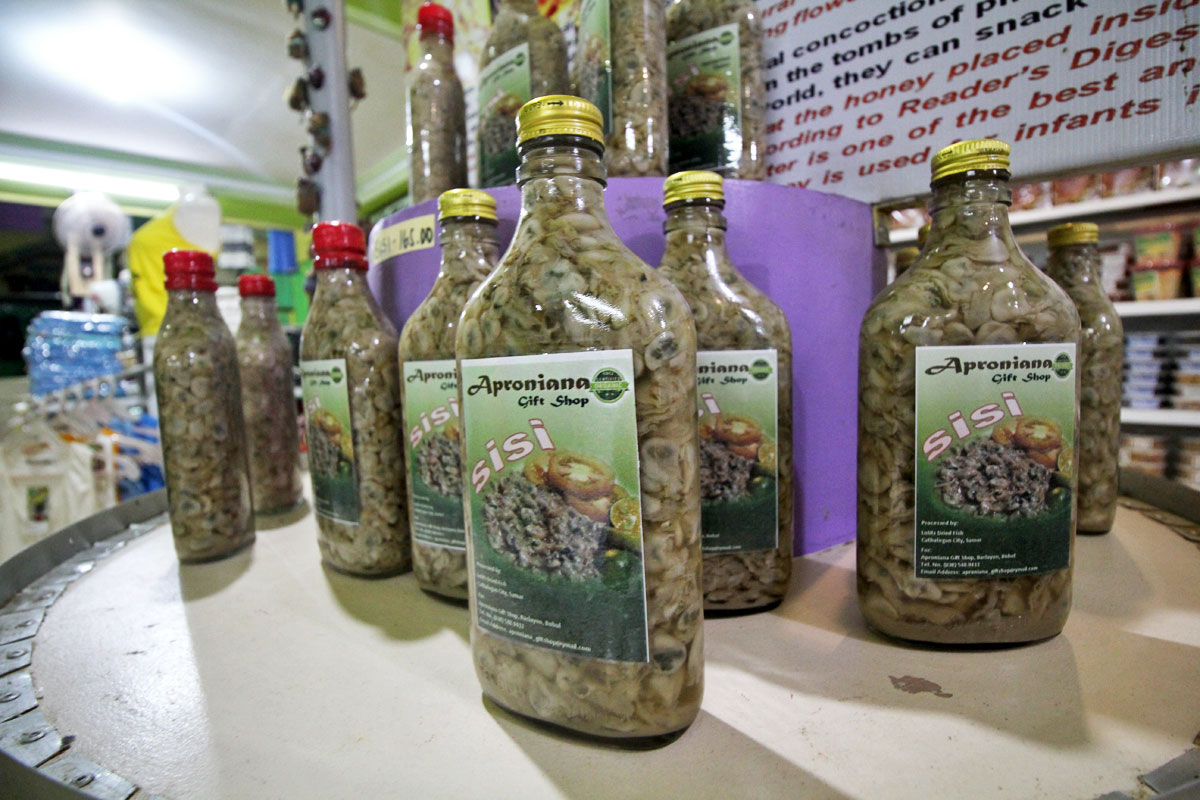 …and fried superworms for the daring. Ren and I have deep fried superworms before and they taste good. They're crunchy like crickets. 😉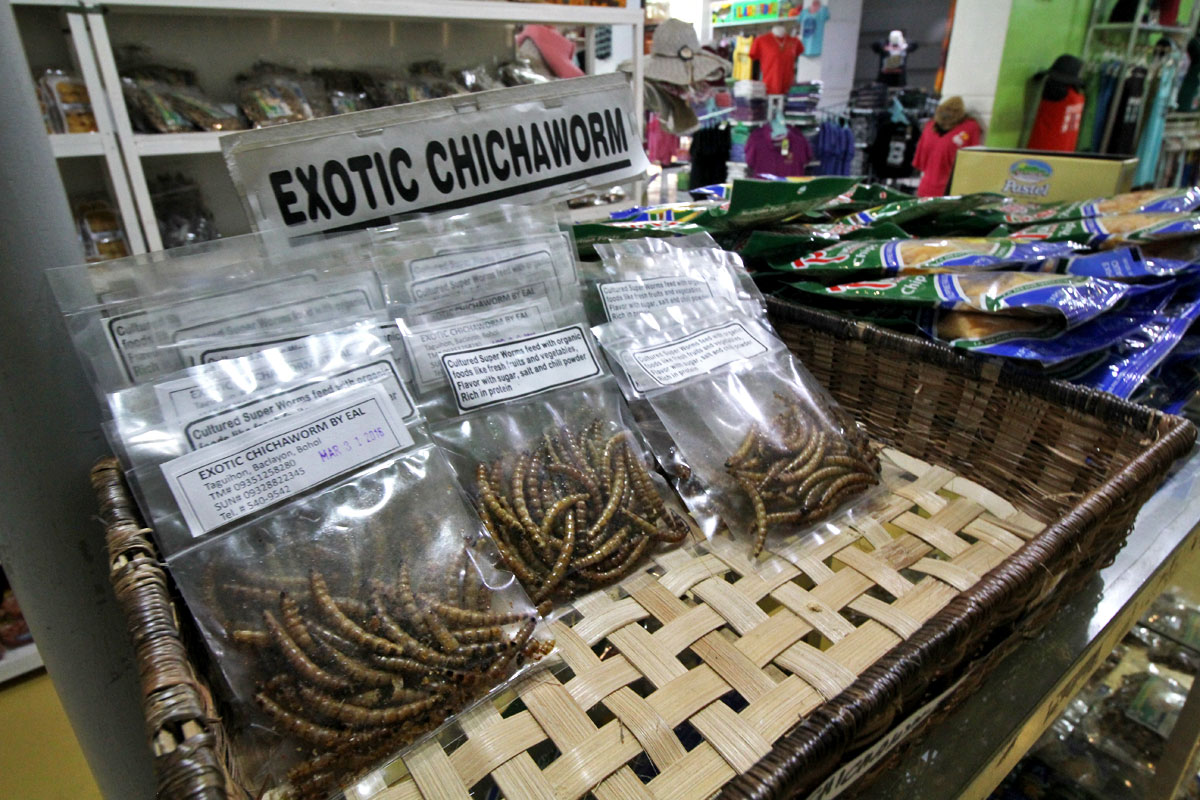 Our Awesome Driver Resi
Saying goodbye to Resi at the airport. He's a kind man who'll give you tidbits of information without talking your ear off. My sister and her husband vacation in Bohol from time to time and she recommended him to me. I highly recommend him as well.
Apart from the Countryside Tour, we also arranged for airport transfers with Resi along with round trip transportation to the Loboc River on another day to go mountain biking and stand up paddleboarding. We paid PHP 500 each way for the transfers and PHP 1,500 round trip to Loboc River from our hotel in Panglao. You can arrange for transportation with your hotel as well but they'll probably charge you more.
If interested, you can contact Resi at +63 910 821 4546. He's easy to deal with and usually texts back right away. Please be advised that prices may vary depending on where you're staying and how many people there are in your group. Be sure to clarify everything with him when you book.
As previously described, you can book the Countryside Tour through Klook as well.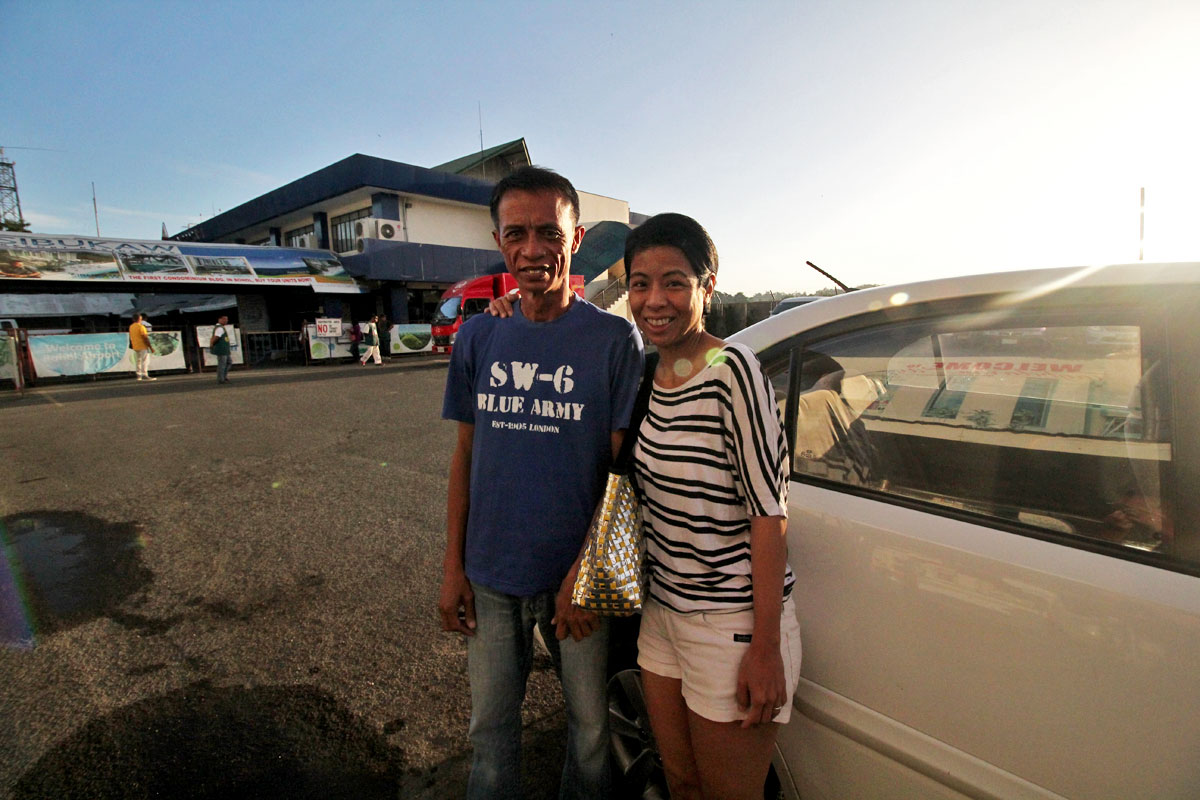 For more Bohol travel tips, check out our First-Timer's Travel Guide to Bohol, the Philippines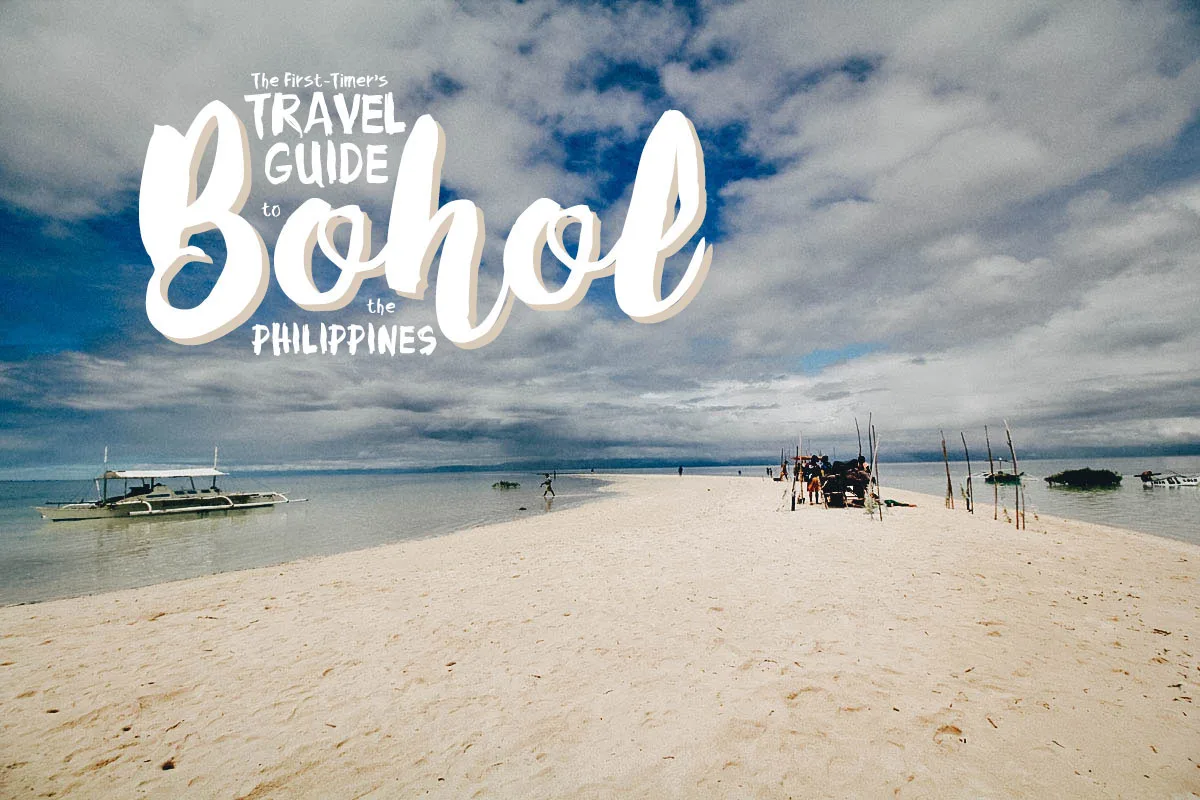 Disclosure
Some of the links in this guide are affiliate links, meaning we'll get a small commission if you make a purchase at NO extra cost to you. We only recommend products and services that we use ourselves and firmly believe in. We really appreciate your support as this helps us make more of these free travel guides. Thank you!