To be honest, what struck us most about Bohol and Alona Beach in particular was the surprising number of Caucasian tourists. They were everywhere. I'm not sure if the ratio changes with the seasons, but they seemed to outnumber Filipino travelers at the time. We had both been to Bohol before, but we never noticed how popular it is to foreigners. There were plenty of Europeans, Chinese, Koreans, Australians, even a few Americans. It was wonderful to see and spoke well of the local tourism industry.
As we've seen in places like Boracay, with the influx of foreign travelers comes the proliferation of restaurants serving non-native cuisine. And I'm not talking about locals who open pizzerias hoping to cater to Italians either. I'm referring to foreign nationals who stay on the island, marry locals, and open their own restaurants serving food using recipes and techniques native to their respective countries. Within just three days on Panglao, we had pizza and pasta from an Italian chef, Tex-Mex made by a Mexican-American from Texas, and now French fusion cuisine prepared by a French-Italian chef.
How Benetton indeed! Bon appétit!
French Cuisine in Bohol
L' Elephant Bleu is located in the heart of Alona Beach.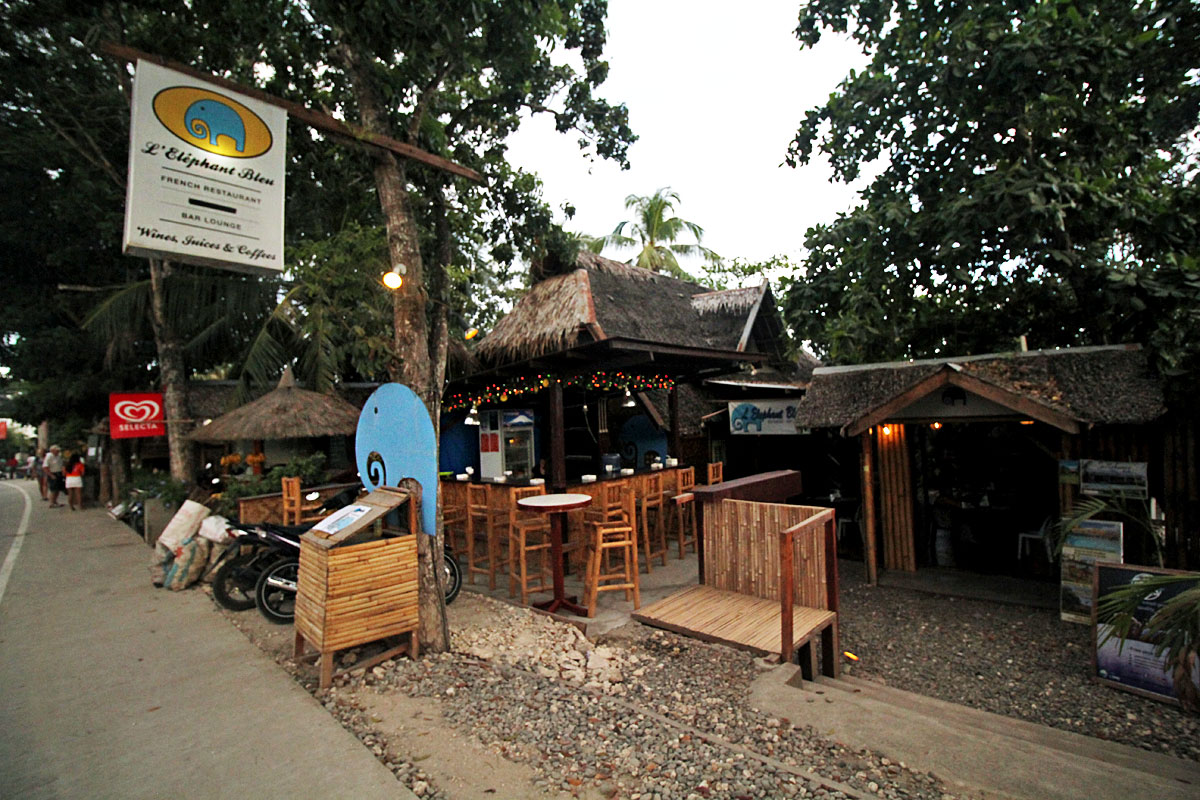 French food with a tropical vibe. Très bien!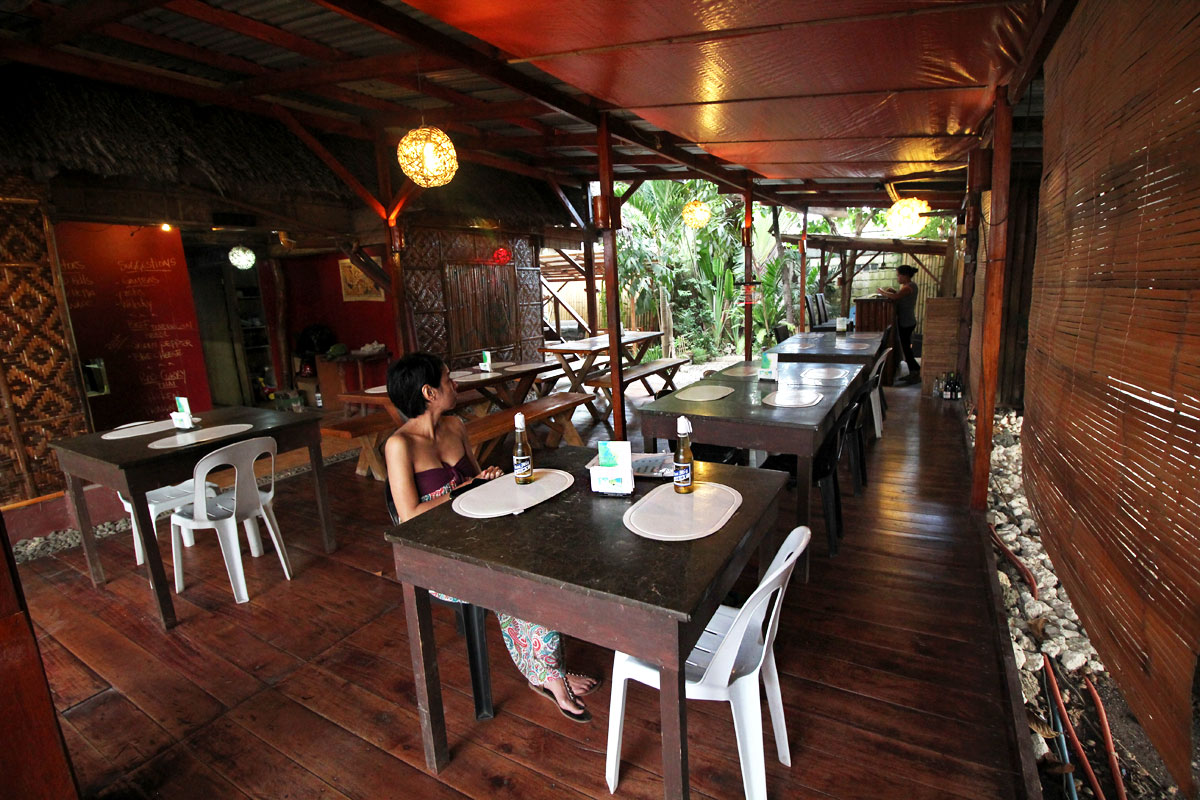 L: Bruschetta — PHP 140 — Really good and the best thing we had tonight. The bread was soft and the tomatoes fresh and crunchy. We'd order this again.
R: Bacon Parsley Burger — PHP 280 — This man-sized burger with mustard parsley sauce and bacon was good too. They have five different burgers on the menu but the mustard sauce on this one called to me. If you love bacon, they have a bacon-wrapped burger as well.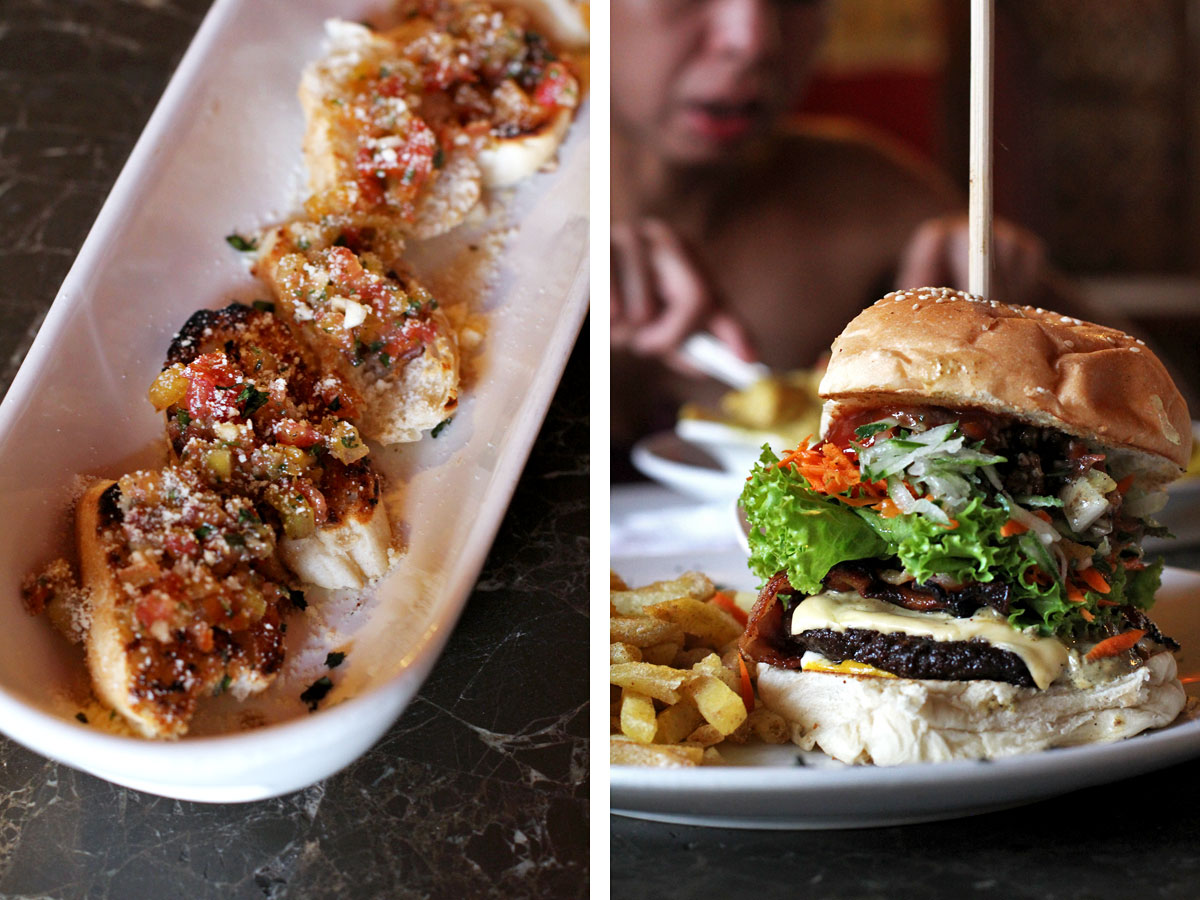 Chicken Breast — PHP 290 — with Madagascar vanilla sauce, potatoes, and vegetables
This was interesting. The sauce was creamy and a little sweet because of the vanilla. The chicken breast was well-cooked and tender and not at all dry. You can't really tell from the picture but this was a good-sized portion of food and well worth PHP 290. The pink peppercorns were pretty.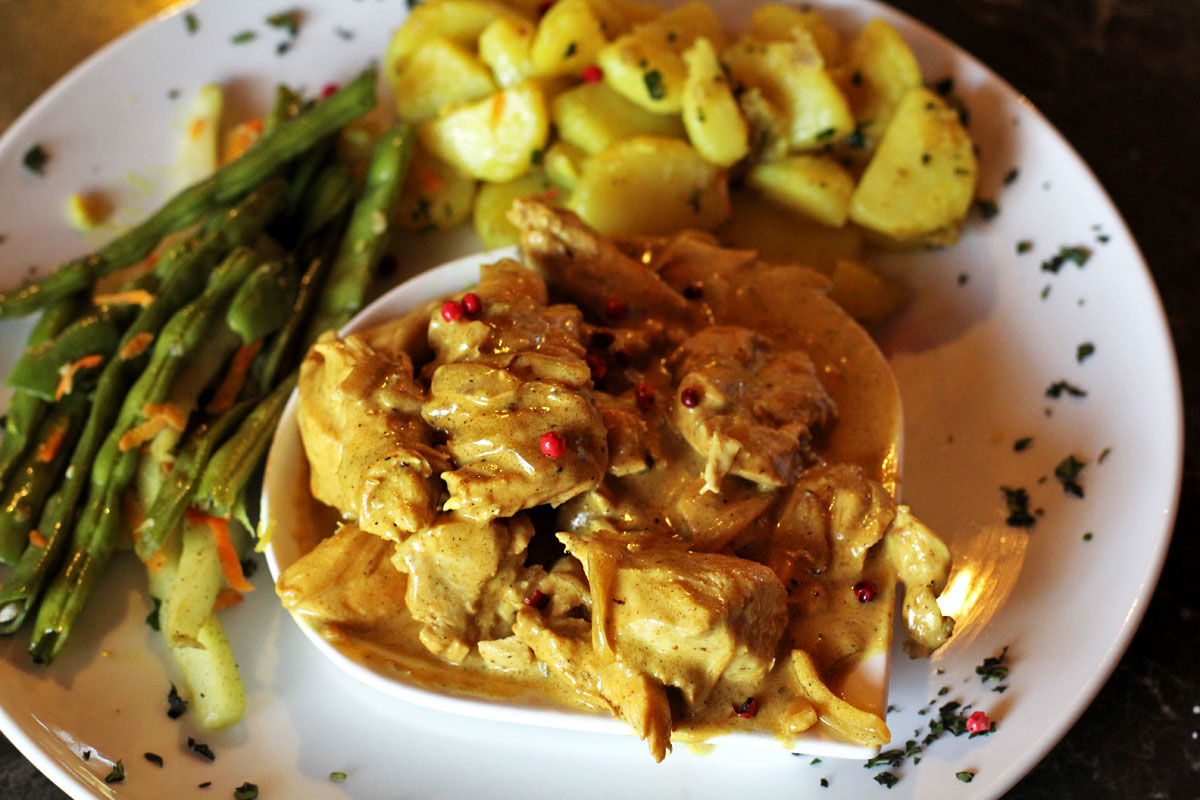 Creme Brulee — PHP 150 — You can't go to a French restaurant and not order the creme brulee. This was nice — smooth and silky just like Renée. 😉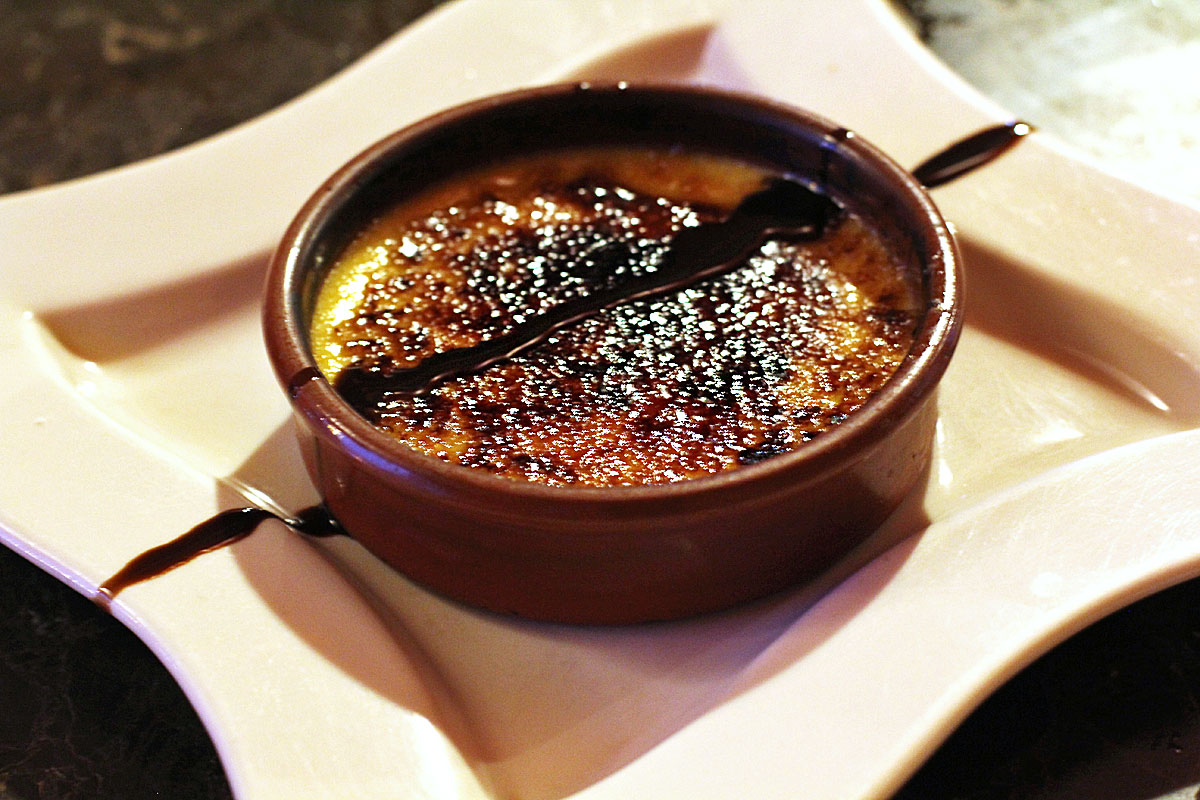 Like the other restaurants we visited on the island, L' Elephant Bleu is a TripAdvisor favorite. It's a Certificate of Excellence awardee and is perennially rated among the top ten restaurants in Panglao. The staff is friendly, as is the French-Italian owner who does most of the cooking himself. You can tell from the way he talks that he has a passion for what he does. I'm not an expert on the cuisine but based on TripAdvisor comments from French travelers, his dishes are up to standard as well.
L' Elephant Bleu, Panglao, Bohol, Philippines
Alona Beach, Tawala, Panglao, Philippines
Mobile: 0909-817-8397
Email: [email protected]
Operating Hours: Mon-Sun, 2-11PM
Expect to Spend: About PHP 450-550 per person with drinks
Reservations: Not required
HOW TO GET THERE:
L' Elephant Bleu is located on the main road beside Alona Beach. Going towards Alona, you'll see it on the left side shortly after the road curves right.
For more Bohol travel tips, check out our First-Timer's Travel Guide to Bohol, the Philippines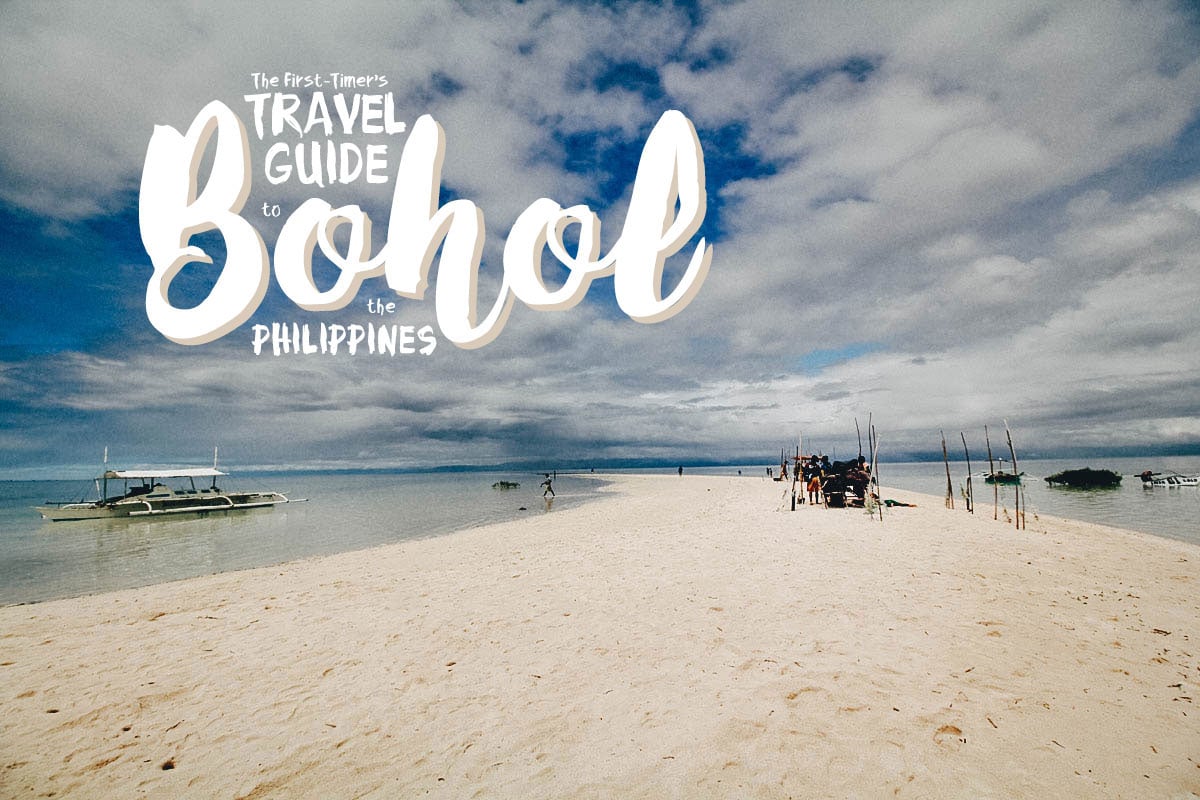 Disclosure
Some of the links in this post are affiliate links, meaning we'll get a small commission if you make a purchase or reservation at NO extra cost to you. We really appreciate your support as this helps us keep this website going. Thank you!