To be honest, Ren and I aren't the biggest fans of boats. Ren easily gets seasick and I find the experience to be a little confining. But throw in the promise of unlimited booze and a stunning sunset and it becomes an entirely different story.
That's exactly what happened when we boarded the Dream of Cebu trimaran yacht earlier this week. Our friends at KKday invited us – along with a few other influencers from Hong Kong, Malaysia, Vietnam, and Thailand – to participate in their first ever KKday Getaway in Cebu. They hosted us, showed us around, and took us on a couple of their most popular tours, including this sunset luxury cruise with dinner and unlimited drinks.
As we learned on this trip, you don't have to be into boats to enjoy a cruise like this. We had a blast.
Save This on Pinterest!
No time to read this now? Click on the red save button and pin it for later!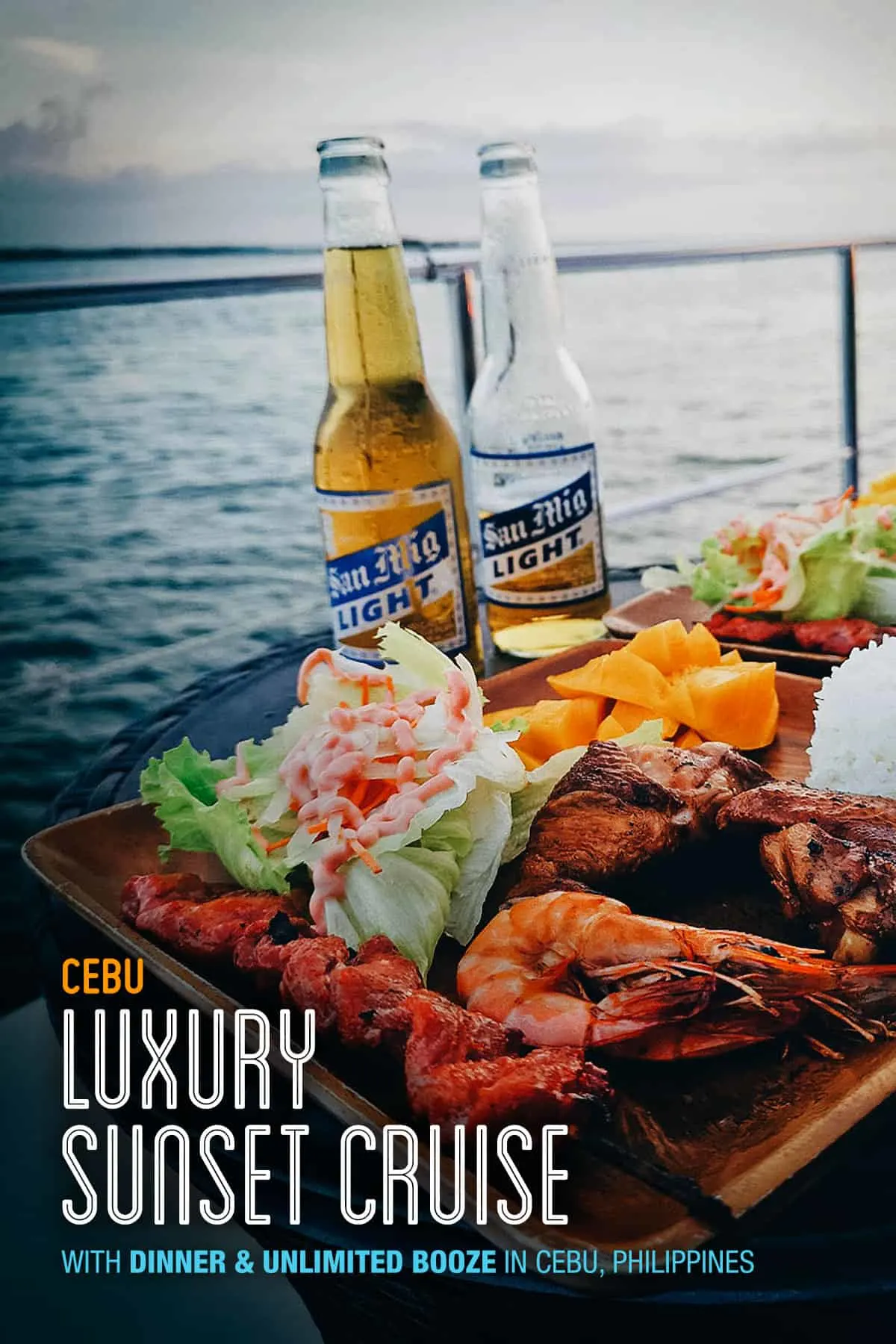 Luxury Sunset Cruise
This sunset luxury cruise with dinner costs USD 56.35 per person without hotel pickup. The cruise lasts about two hours and comes with a plated dinner and unlimited drinks, including beer and wine. Hotel transfers can be added at an additional cost.
We were picked up from our hotel in Mandaue City at 3PM and taken to the Cebu Yacht Club in Lapu-Lapu City.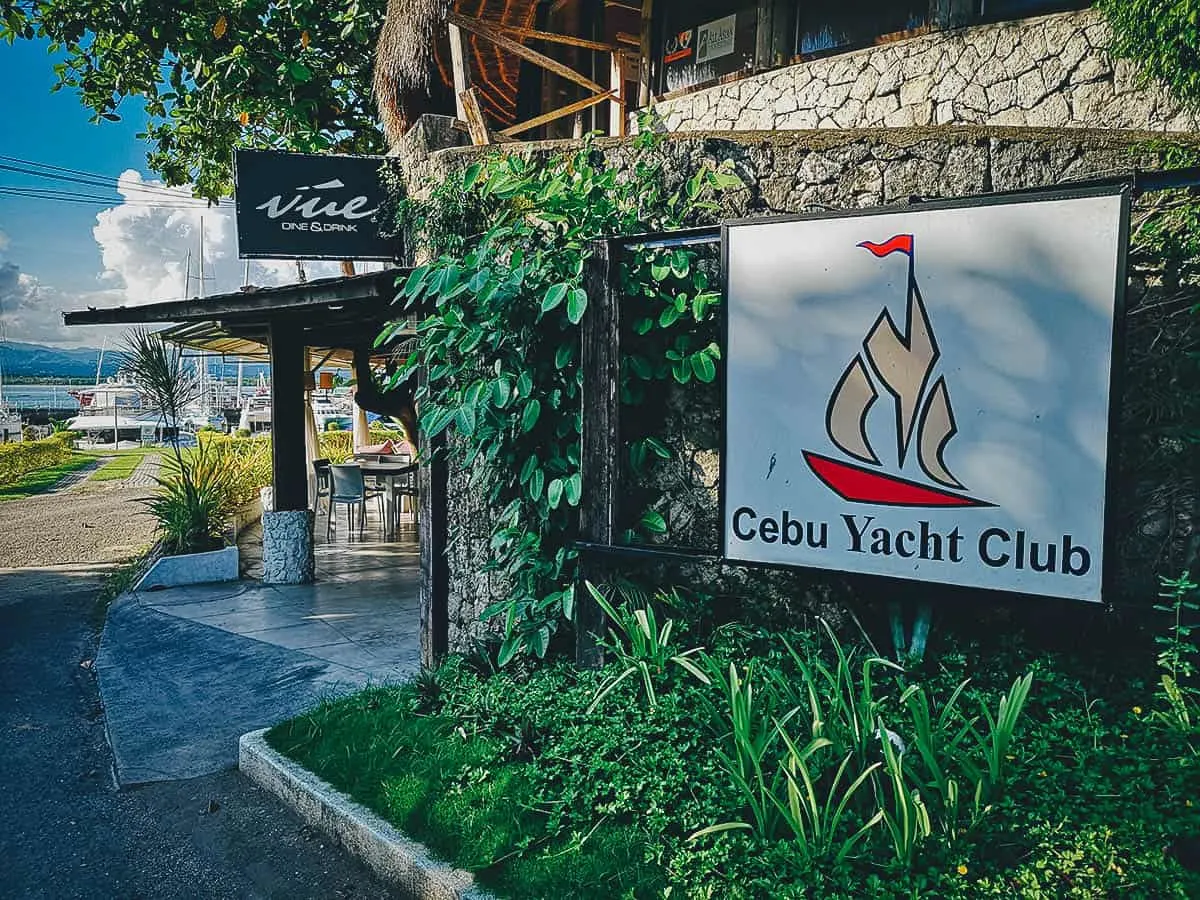 Our cruise wasn't until 4:45PM so we waited for boarding call here at the Dream of Cebu lounge. As described, we were a group of nine influencers and six KKday team members. All in all, we represented six countries – the Philippines, Taiwan, Hong Kong, Malaysia, Vietnam, and Thailand.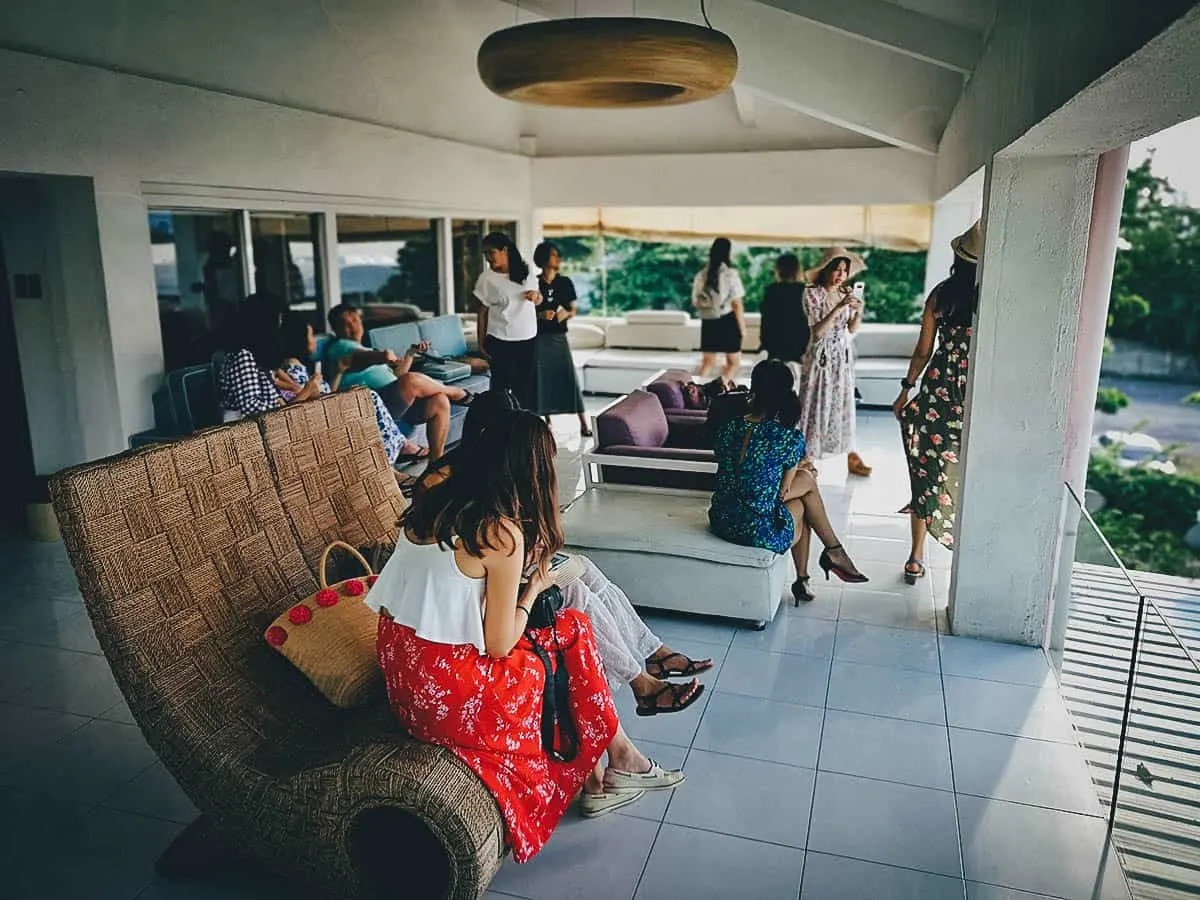 Here's one-half of Team Philippines enjoying the view.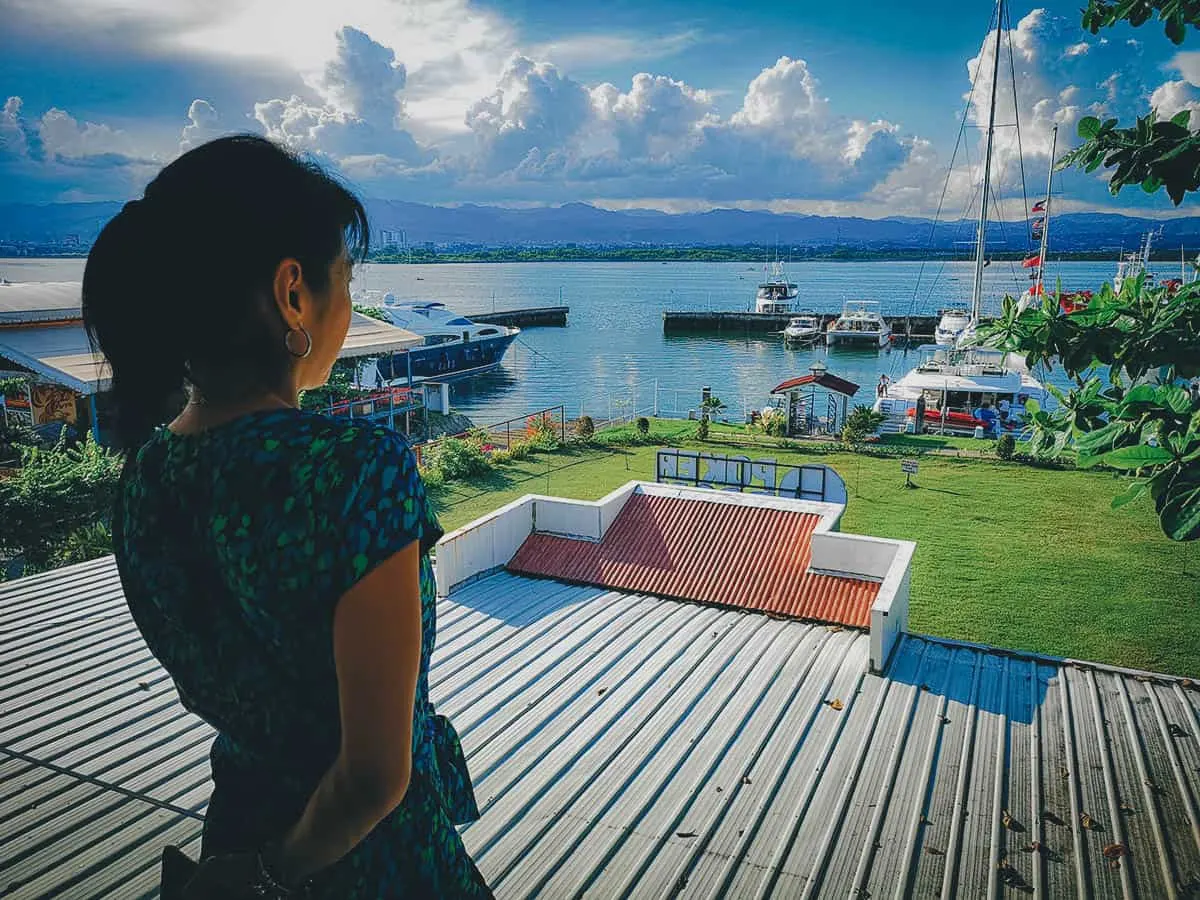 The awesome, energetic go-getters of KKday Philippines taking wefies before our cruise. They were joined by team members from KKday Taiwan and Thailand as well.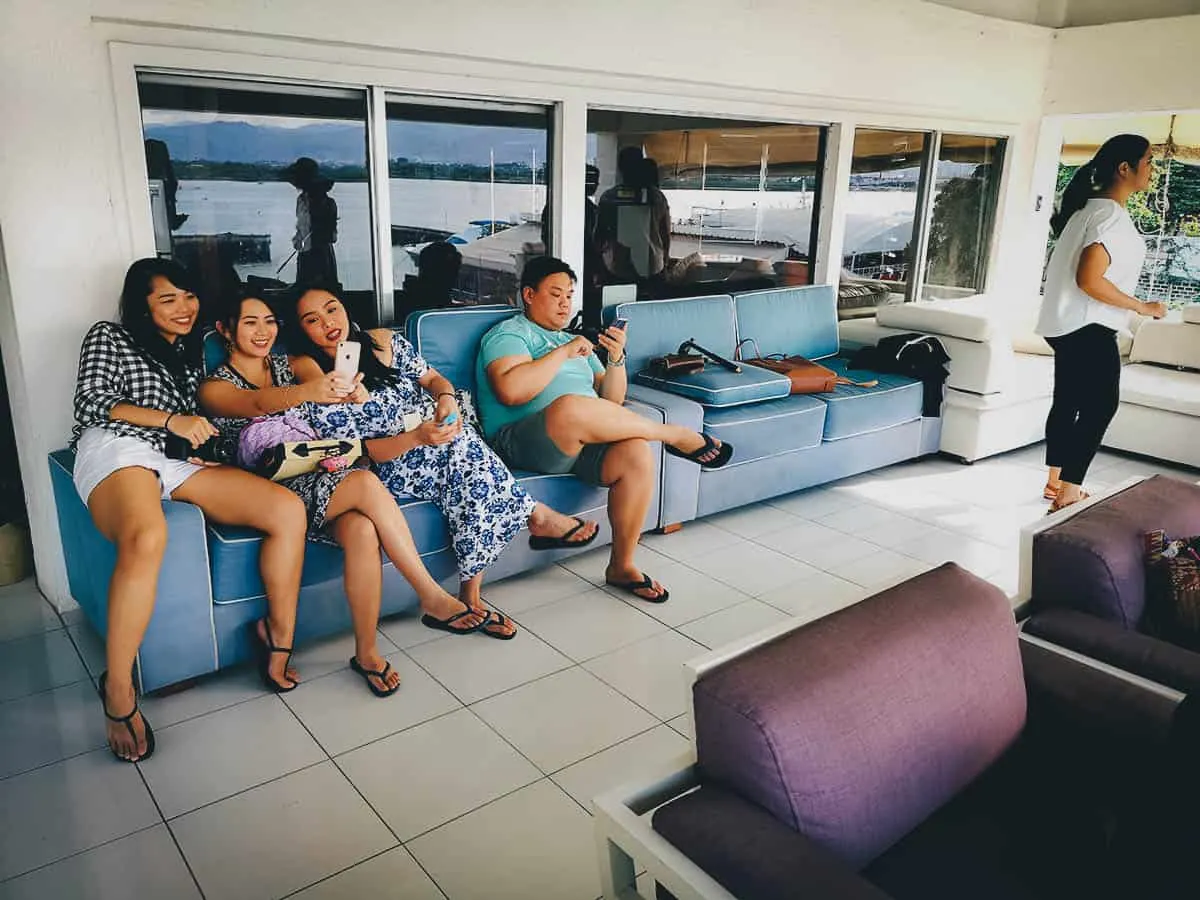 Woohoo! It's time to board! There's the Dream of Cebu waiting to show us a good time, with much garbage floating around it and embarrassing us in front of our foreign guests! Shame shame shame!

Isn't this nice? The yacht was decked out with big lounge-y sofas, side tables, and bean bags for maximum comfort and relaxation. Based on what I've read, the Dream of Cebu can accommodate up to 35 guests at a time.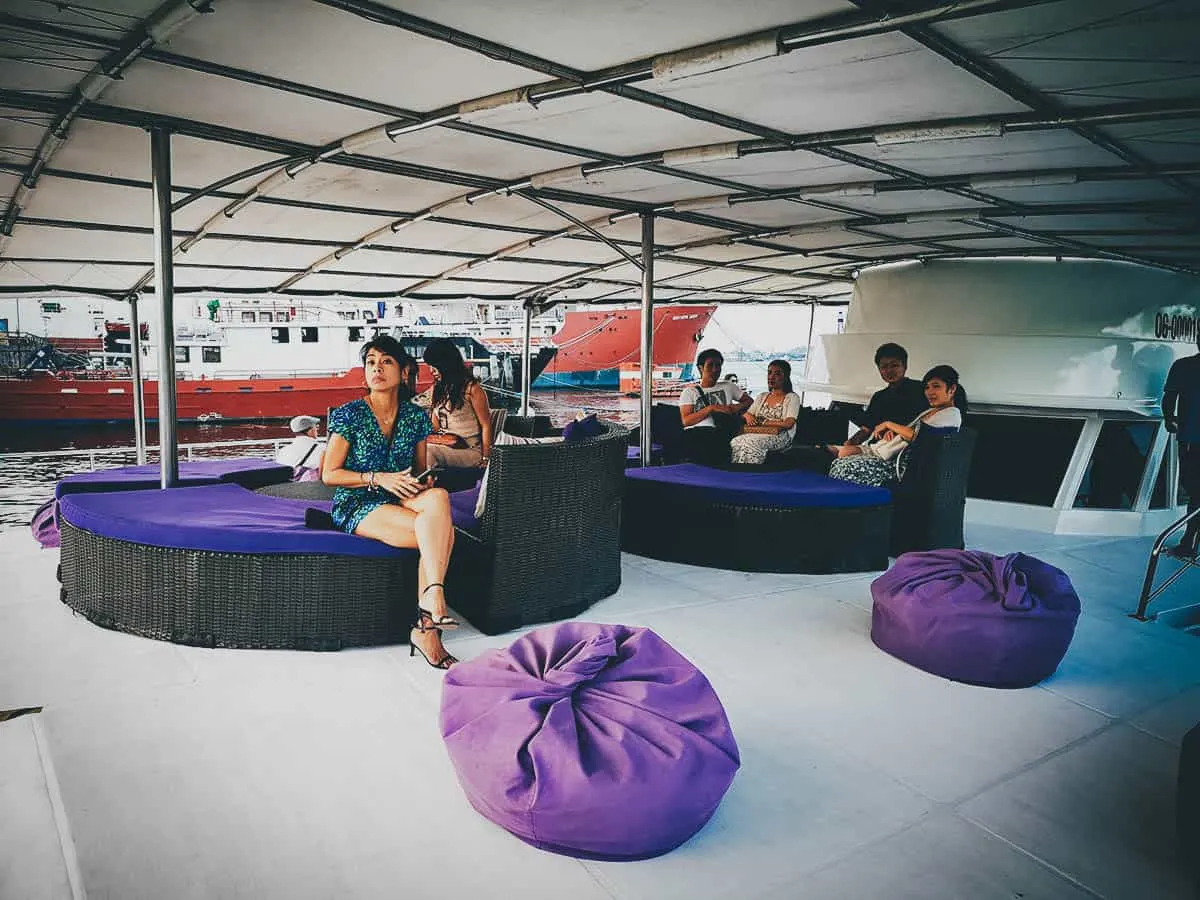 I don't know anything about boats so I Googled it. The Dream of Cebu is a trimaran yacht measuring 72′ long. A trimaran is a multihull boat comprised of a main hull with two smaller outrigger hulls on either side of it. By that definition, those small wooden outrigger canoes or bangkas are trimarans as well. I read that most trimarans like this one are sailing yachts used for recreation or racing.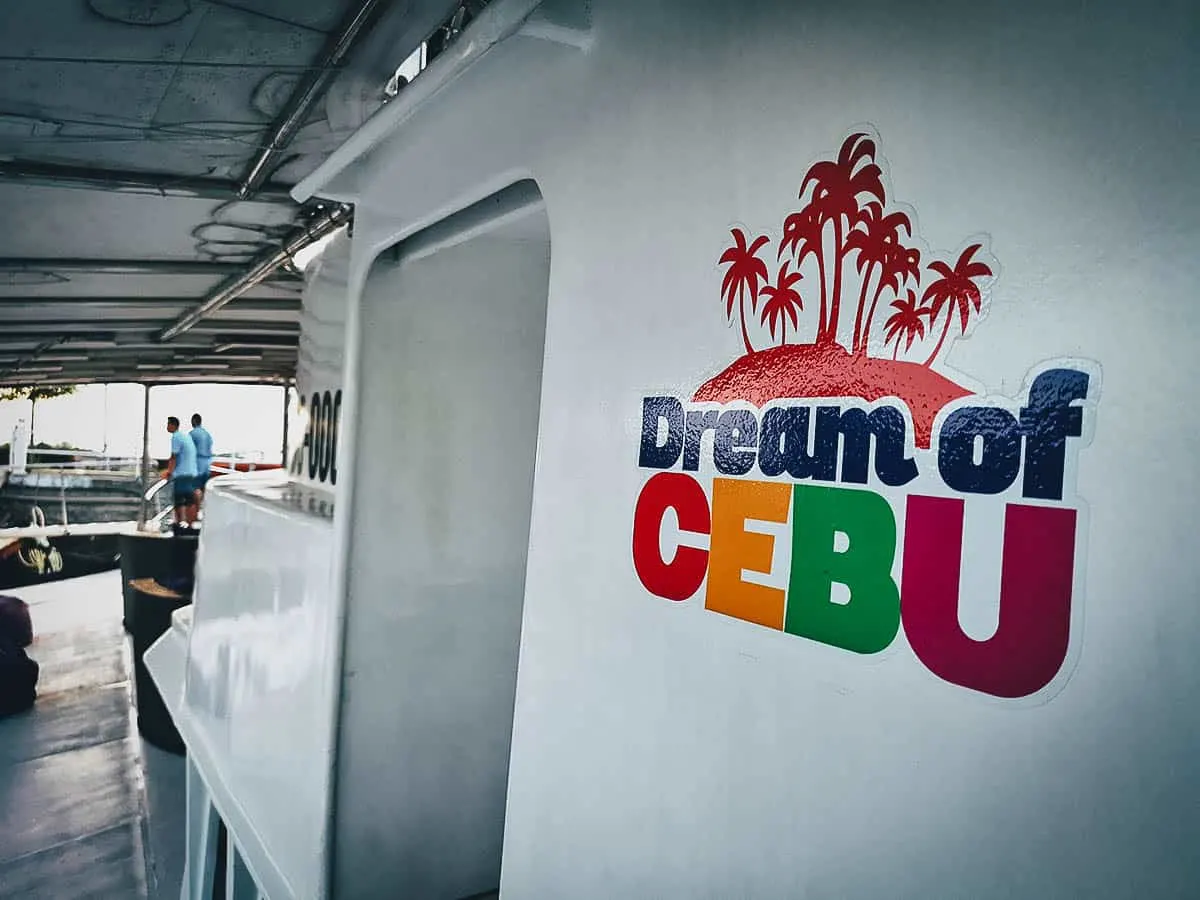 People have called the sunsets in the Philippines to be some of the most beautiful in the world. I may be biased, but I definitely agree.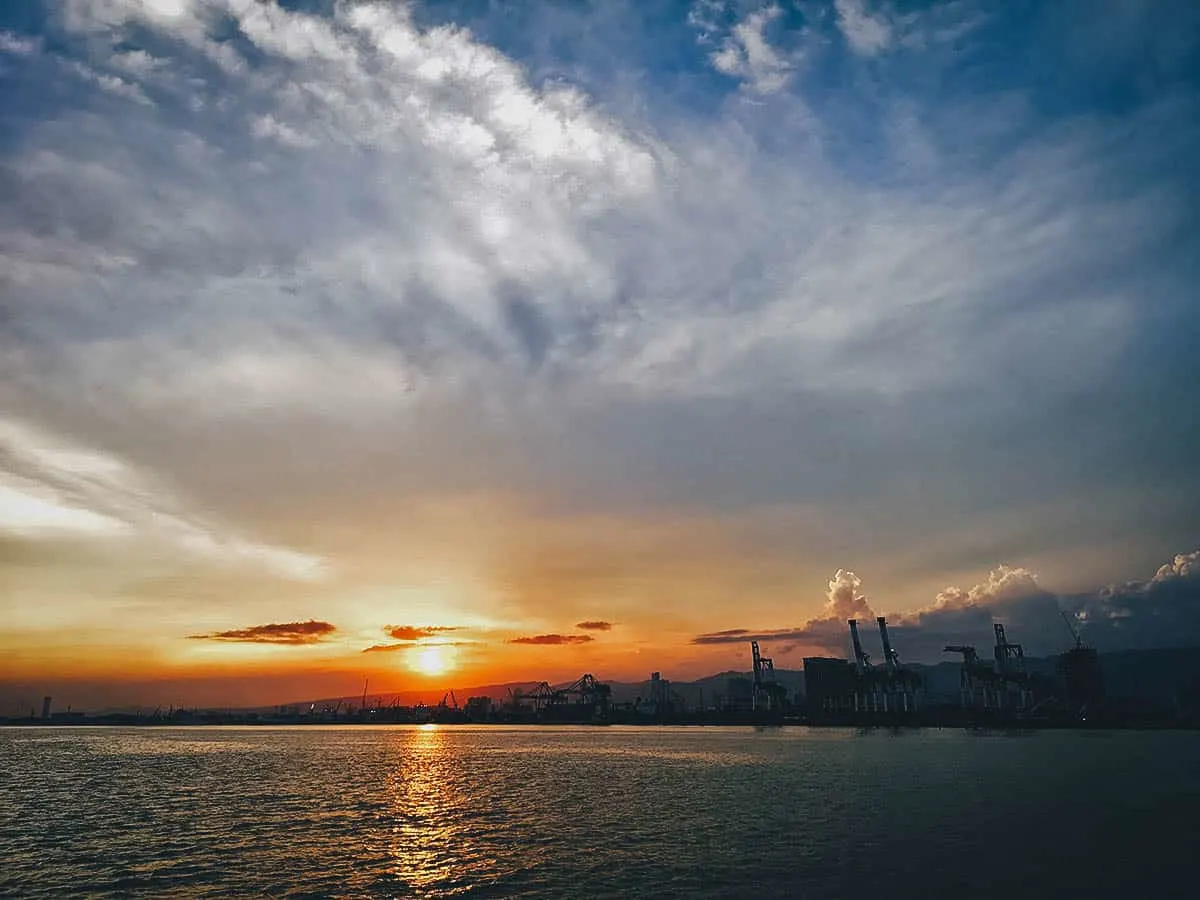 With the sky turning into a canvas of crimson, purple, and gold, it was time for the influencers to get to work. We were lucky to share this experience with some very talented young influencers, all of whom have significant followings on social media. I'm talking hundreds of thousands of followers! I come from the old school so I tend to overlook how powerful social media can be when growing your brand. This group of inspiring young killahs definitely taught this old dog new tricks.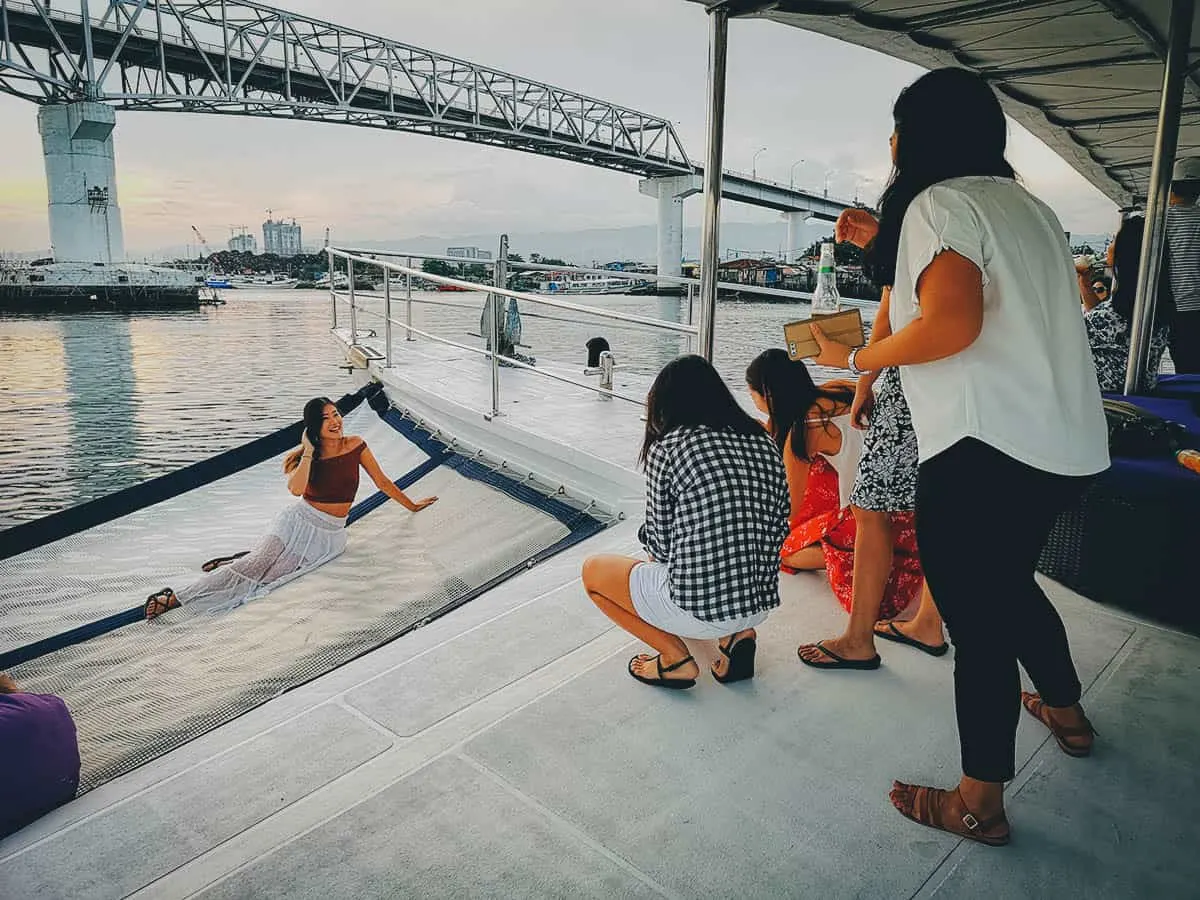 The lovely ladies of KKday Philippines working it! See? You don't have to be an "influencer" to pose well. You just have to be a millennial. 😛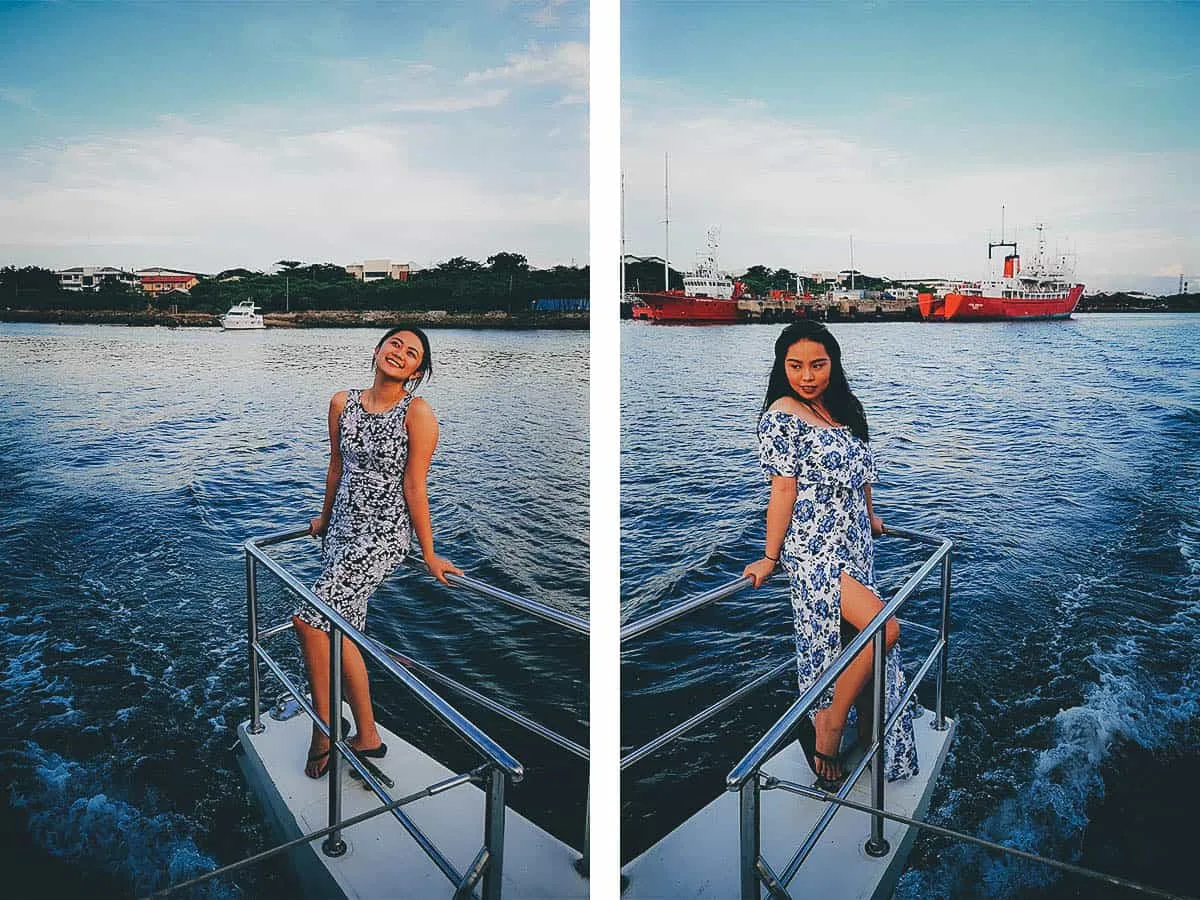 Where there are social media influencers, there are cameras. Lots and lots of cameras. Everyone loved posing on those outrigger platforms and multihull net. That net was an awesome place to lay down and watch the sunset.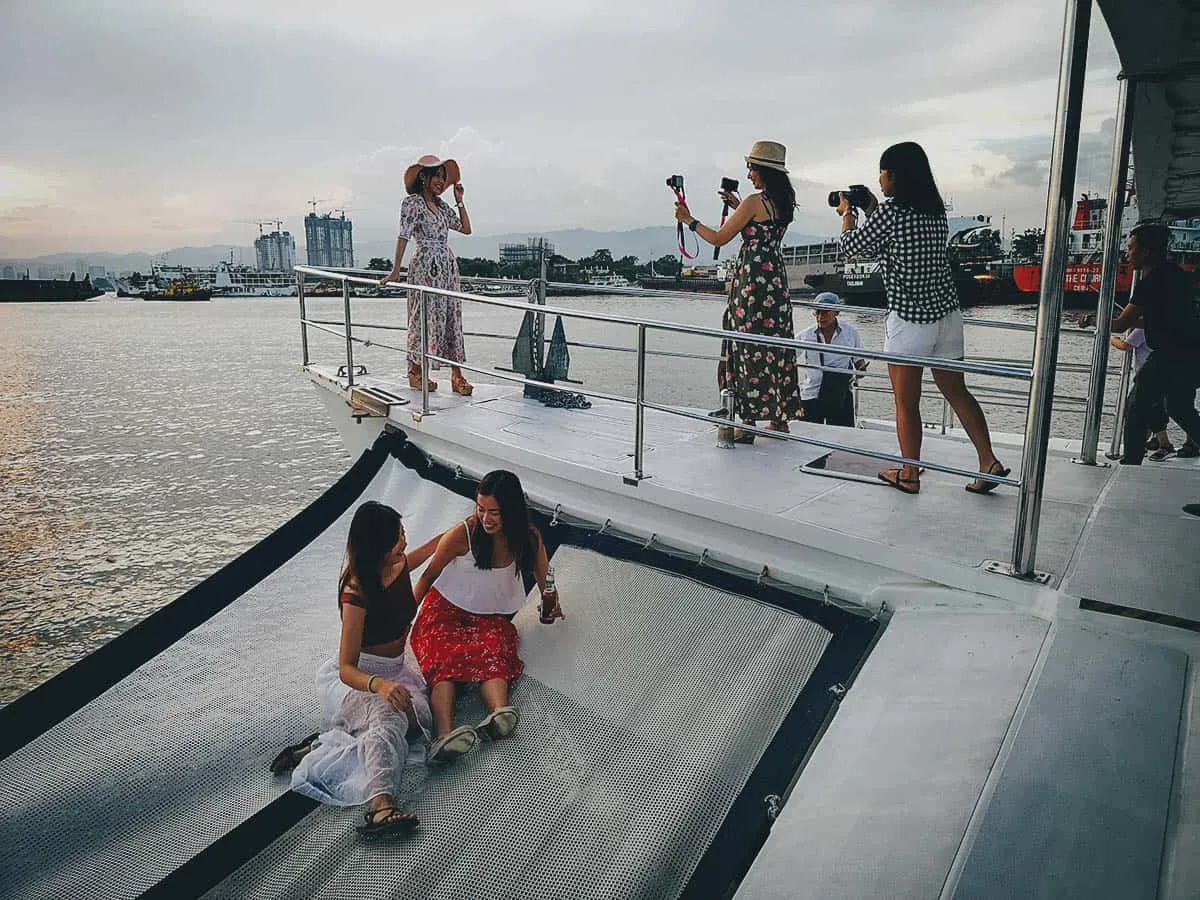 Taking her cue from the young influencers, Ren tried her hand at this posing for social media thing. Not bad at all!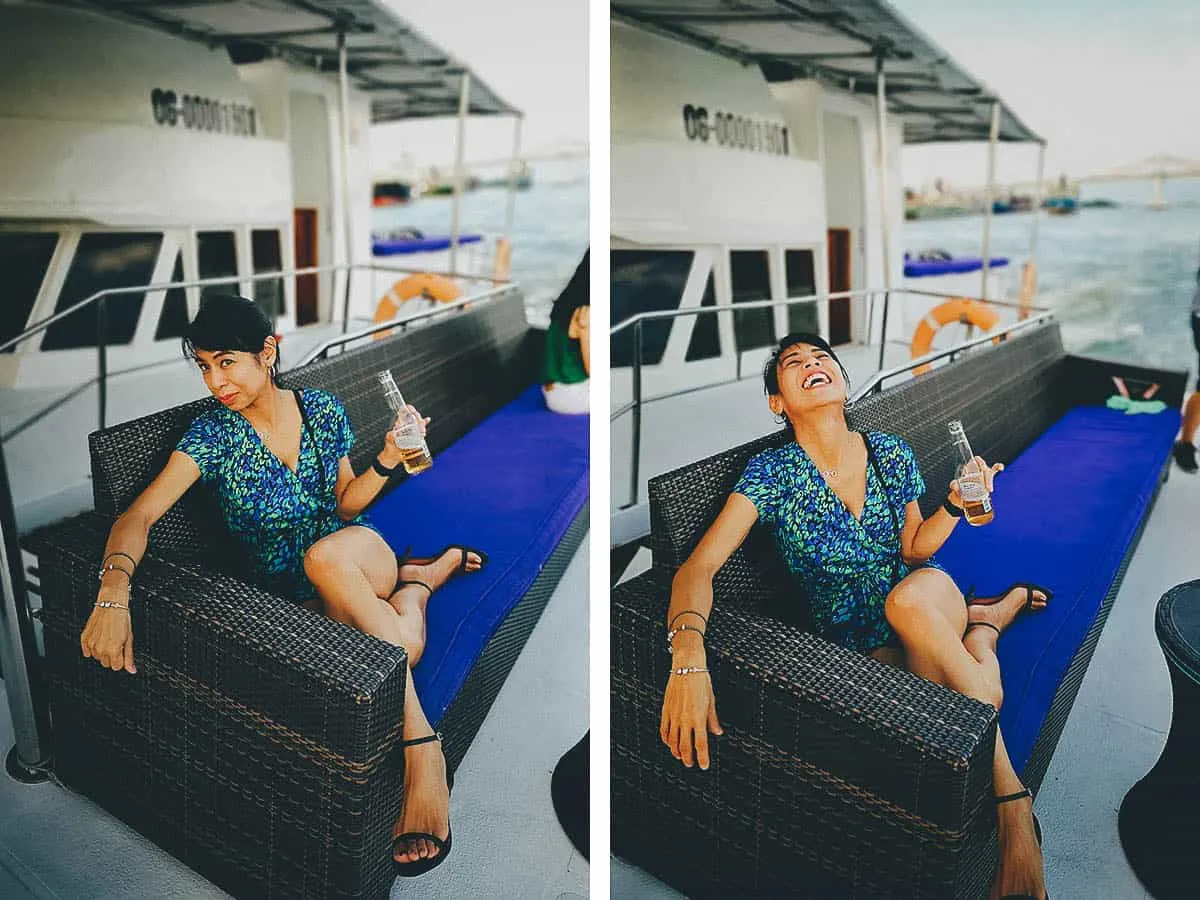 Isn't she lovely? Ren and I come from a generation where all you had to do in front of a camera was smile. These days, kids have this bag of tricks they pull Instagram-worthy poses from. It comes so naturally to them!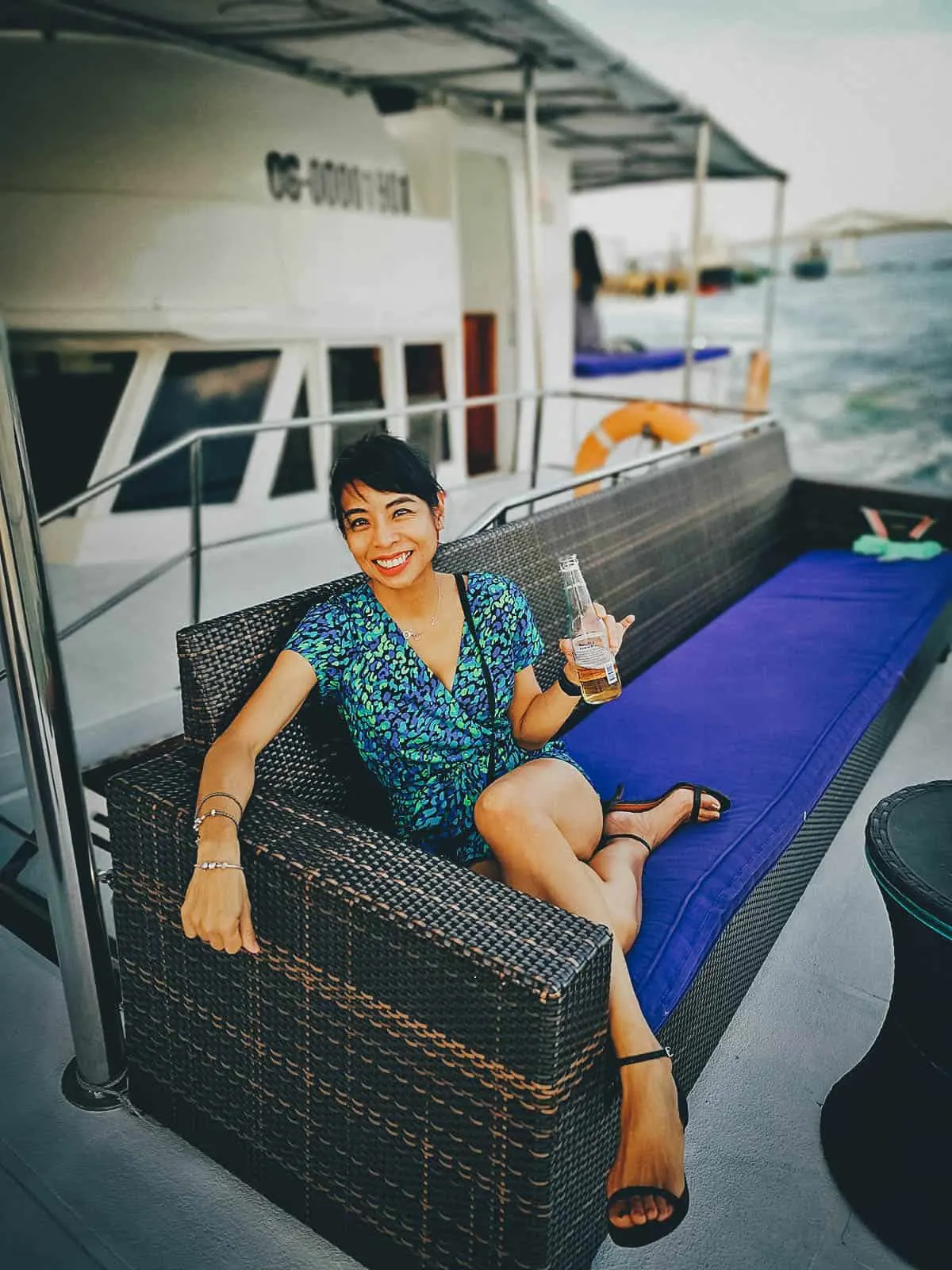 The loveliest traveleater. ♥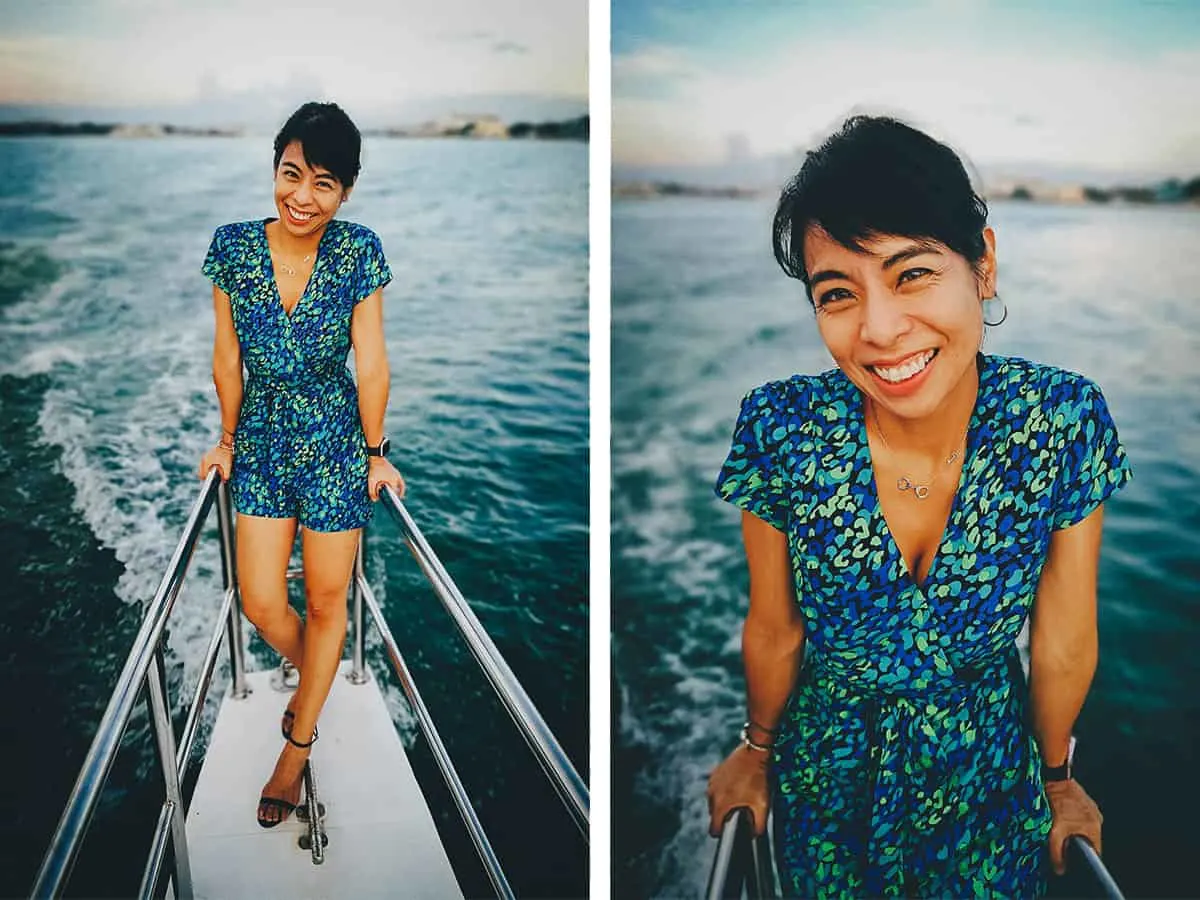 Why is it when I try to do the posing thing I look like a goofball? Or pedophile?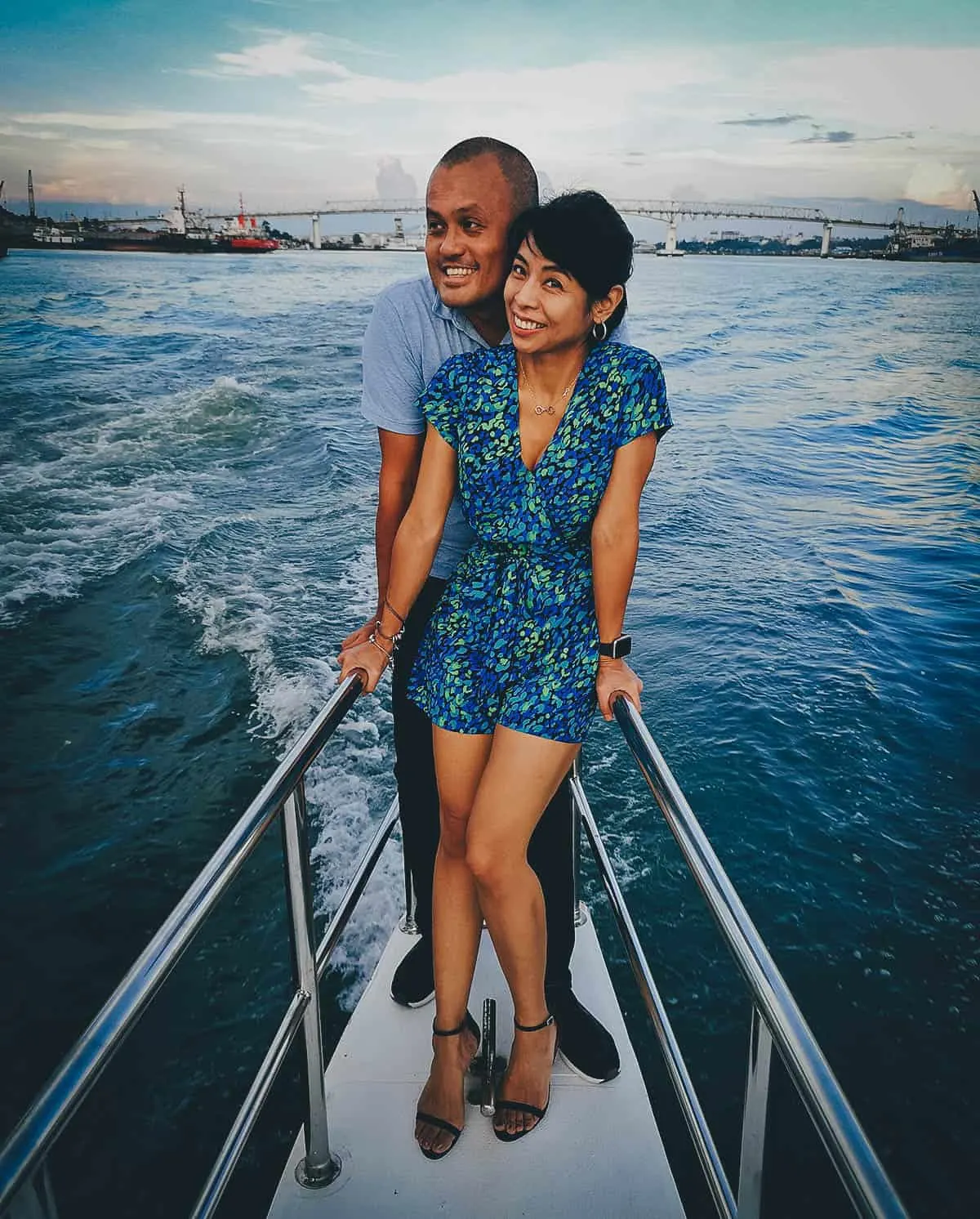 I'm not sure if it changes day to day, but they served us this plated dinner of pork barbecue, grilled chicken and shrimp, salad, fresh mangoes, and rice. It's simple but comforting food, the best kind to have on a relaxing cruise like this. As described, they give you free-flowing drinks for the duration of the cruise. They had soda, beer, and wine. Ren and I helped ourselves to six bottles each of San Mig Light.
It's funny, Ren and I come from families of drinkers. Everyone started asking me about this cruise when I posted photos on social media with the caption "Sunset cruise with unlimited booze". Oh the power of social media, and unlimited booze! 😆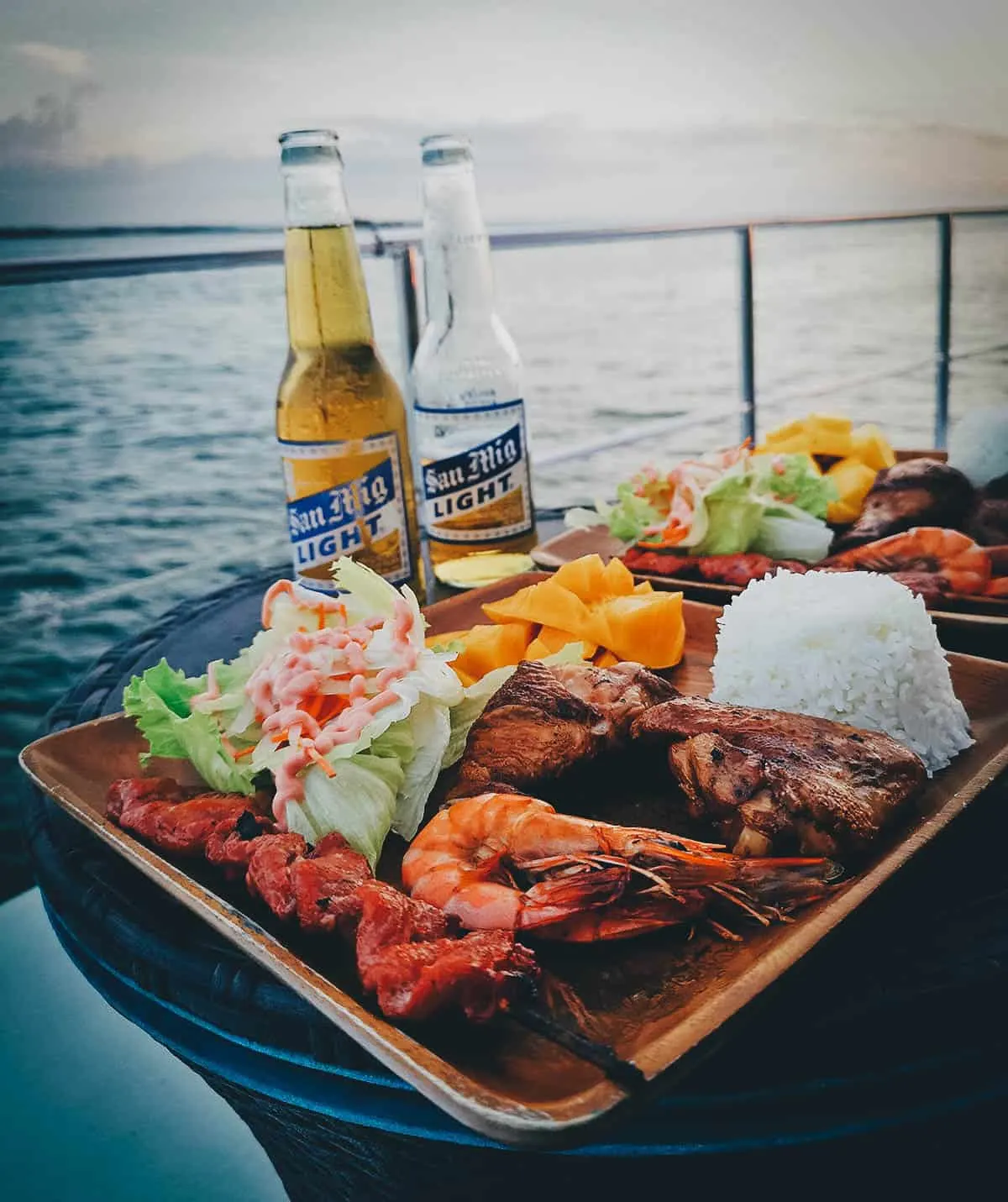 Crescendo before the end of a dramatic light show. Isn't it spectacular? It was too dark to take pictures at this point so everyone settled into their bean bags to enjoy the tail end of the sunset. Taking pictures and documenting content can often take you out of the moment, so it was nice to just kick back, watch the sunset, and enjoy the breeze blowing against my face. Thank you so much KKday for taking us on this cruise. We enjoyed every minute of it. ♥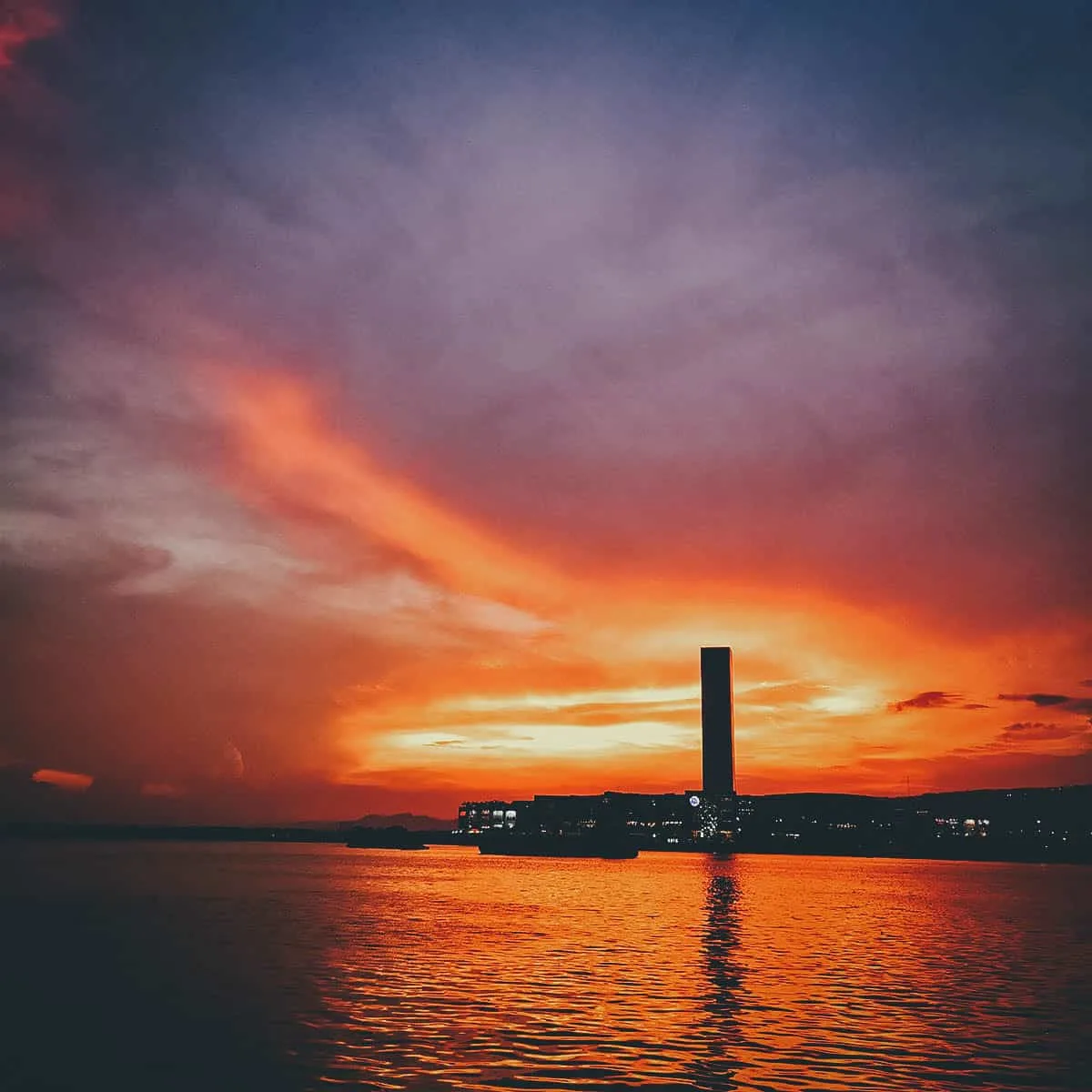 Here's me waving my fingers in the air because I didn't know what else to do. Woohoo! Sunset cruise!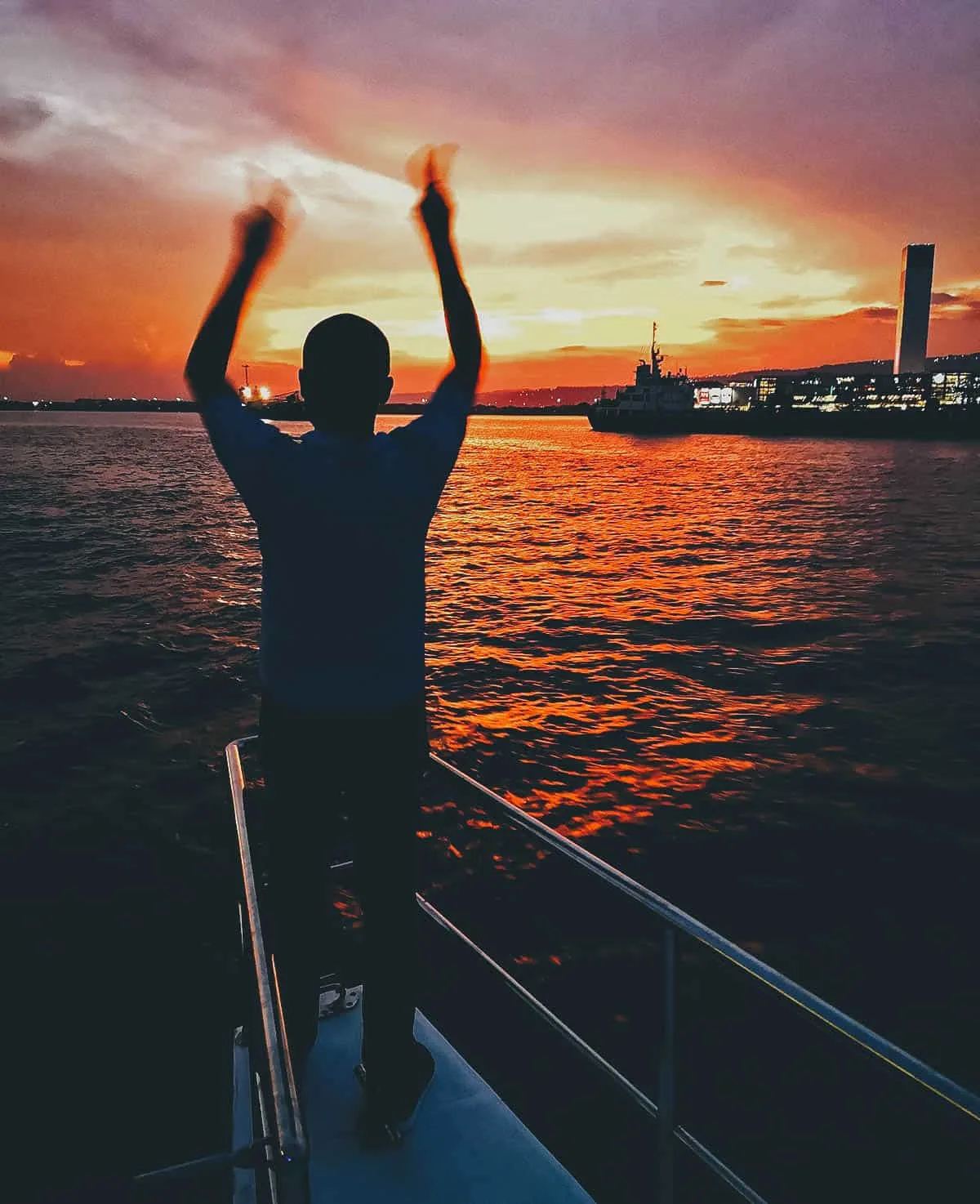 As described, we aren't even into sailing but we had a terrific time on this cruise. Part of that had to do with the yacht (and unlimited booze) but I think most of it had to do with the company we were with. We shared the boat with a great bunch of people who made the experience a lot of fun. It doesn't matter how into sailing you are. If you're traveling with your friends, family, or your significant other, then you'll definitely enjoy this cruise.
Like Ren, many people suffer from motion sickness, so it's important to point out that she didn't get seasick at all. We were concerned she might, but the Dream of Cebu is a big enough yacht to withstand moderate waves. Ren didn't feel a twinge of seasickness, none whatsoever, not even after downing six beers.
Speaking of the boat's size, we shared the yacht with a group of around 8-10 Korean tourists. With the crew, there must have been close to 30 people onboard but it didn't feel crowded at all. We each had our own comfortable space on the boat where we could sit, tune out, and just enjoy the moment.
If you're visiting Cebu, then you may want to set aside an afternoon for this cruise. It's a relaxing way to end the day, plus it offers the best views of Cebu's magnificent sunset. Did I already say they give you unlimited booze?
Disclosure
KKday invited us to Cebu to participate in their first-ever KKday Getaway. They treated us to this sunset luxury cruise in exchange for an honest account of the experience. As always, all words and opinions expressed in this post are mine and mine alone.