There are food cities, and there are ultra food cities. Hong Kong – like Bangkok, Osaka, and Singapore – is an ultra food city. I don't think you can walk a block in this town without being tempted by a siu mei display or street food cart.
We've been to Hong Kong numerous times but the one thing that makes every trip feel like the first is the food. I recently flew to Hong Kong to check out one of the newest food tours from our friends at A Chef's Tour. It's a 4.5-hour eating binge that takes you to some of the best and most established spots in Kowloon.
Save This on Pinterest!
No time to read this now? Click on the red save button and pin it for later!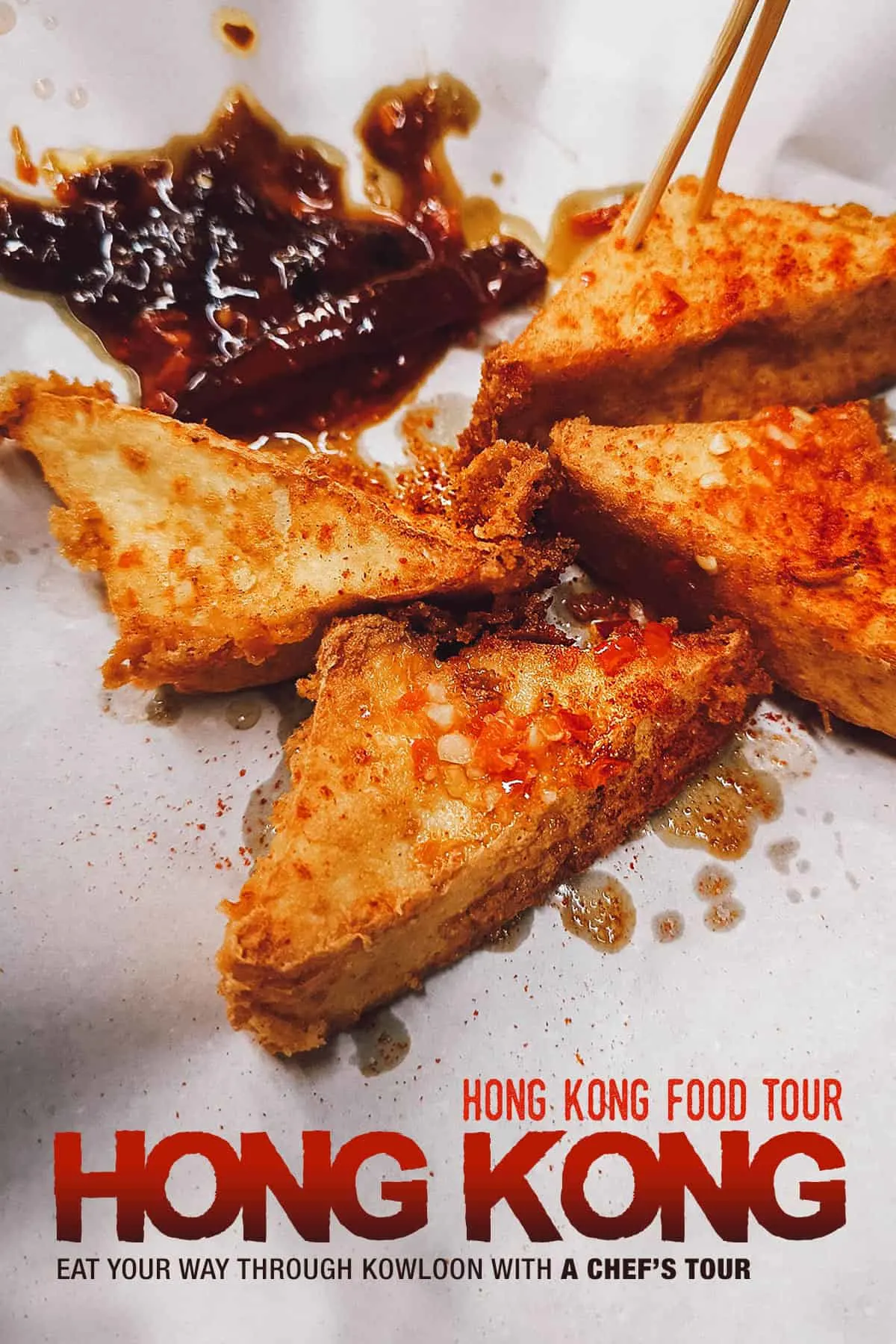 Old Kowloon Eats: Private Hong Kong Food Tour
A Chef's Tour is a tour provider that offers these really interesting food-focused tours in different cities around the world. They started off in Bangkok and Chiang Mai before quickly expanding to other destinations in Asia like Singapore, Yangon, Delhi, and Kuala Lumpur. They've recently launched a couple of tours in Latin America and will soon be expanding to other continents as well.
This Hong Kong food tour takes you to key spots in Kowloon like Mongkok and Sham Shui Po to give you the most authentic examples of Cantonese cuisine. There are no touristy stops on this tour. Each place has a long history and many of them are known only to locals. A few have even been cited in the Michelin Hong Kong Street Food Guide.
The tour starts at 3PM in Yau Ma Tei and is led by Lulu, a young and amiable local who knows this city as well as anyone. She has a passion and enthusiasm for her city and its food, much of it I felt in my belly over the course of the next four hours.
The tour costs USD 150 per person and is inclusive of all food and drink. You can book it directly on A Chef's Tour.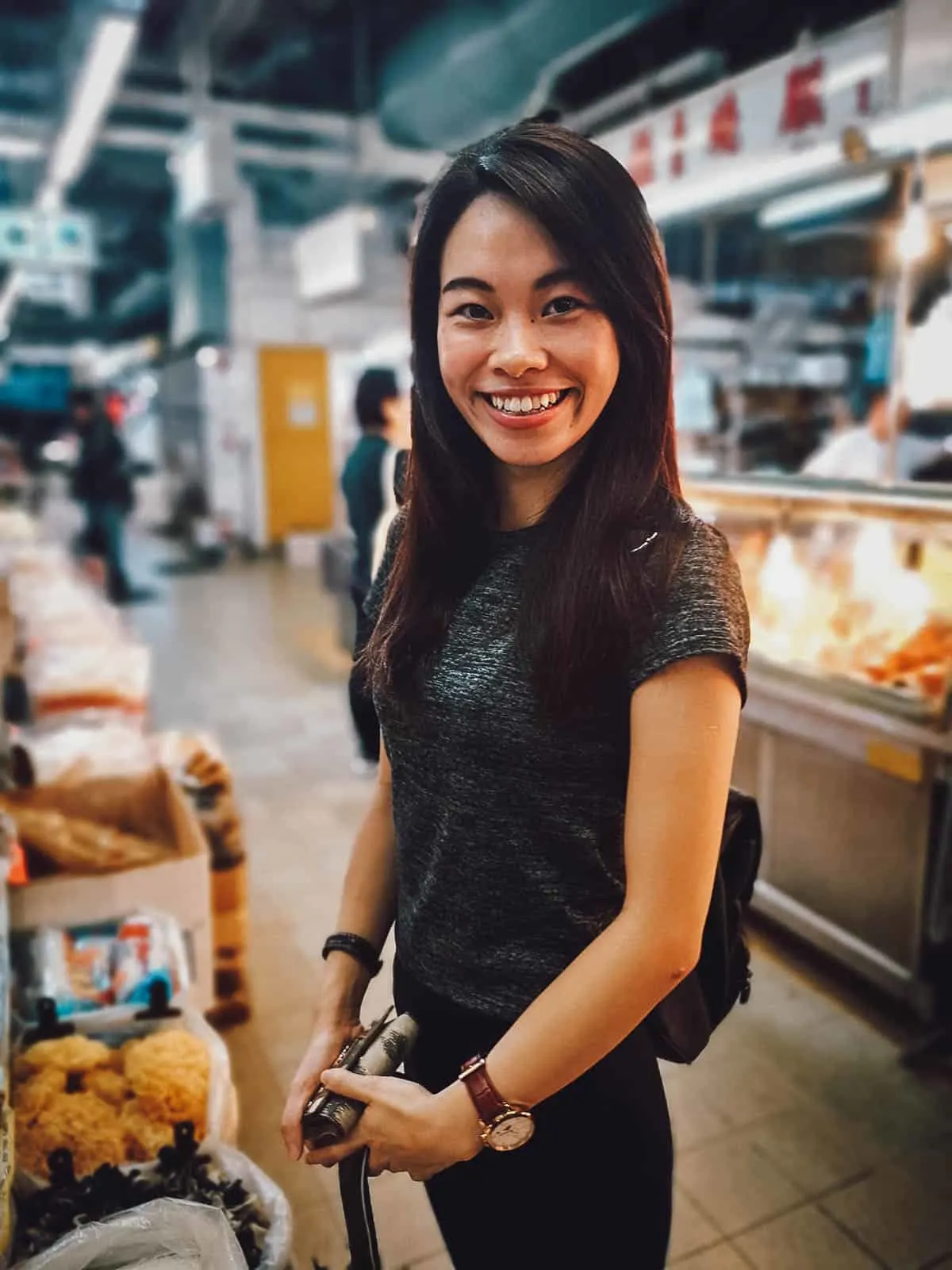 Curry Fish Balls
If there's one dish that best represents Hong Kong street food, then it's the humble curry fish ball. I've often read how characteristic it is to Hong Kong street food so it's no surprise it was the first stop on today's tour. According to this article, an estimated 3.75 million fish balls are made in Hong Kong everyday, though the number may be far greater than that.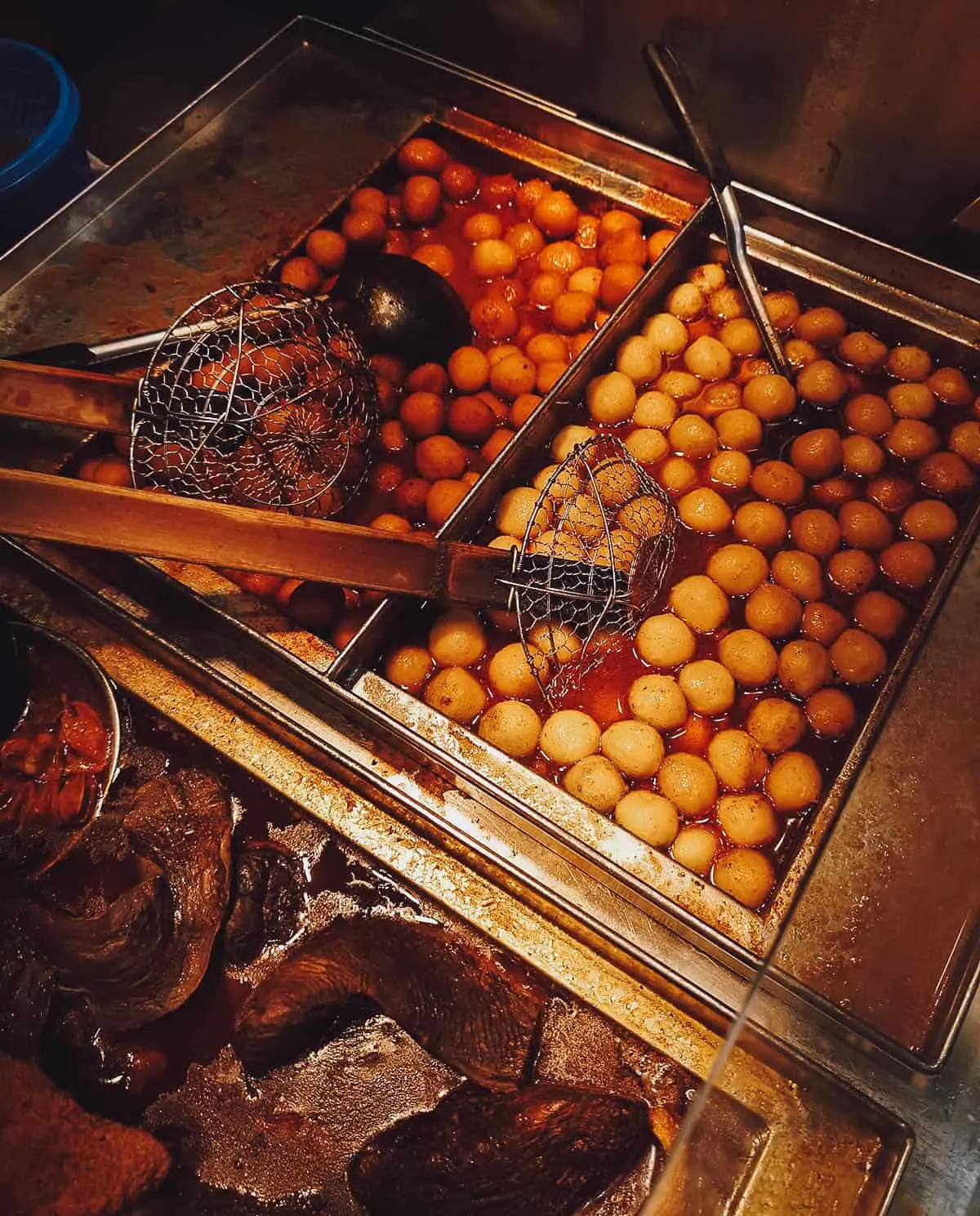 Hong Kong's fish balls are yellowish in color from being deep-fried, and are made from fish paste using inexpensive varieties of fish like grey mullet. They're drenched in a curry satay sauce then given a squirt of soy sauce or chili sauce.
Lulu asked me if I liked spicy food, to which I emphatically nodded yes so the vendor handed me this cup filled with near perfect orbs of golden fishball goodness. They were springy with a nice curry flavor that was sweet and spicy but not too hot. They were gone within seconds.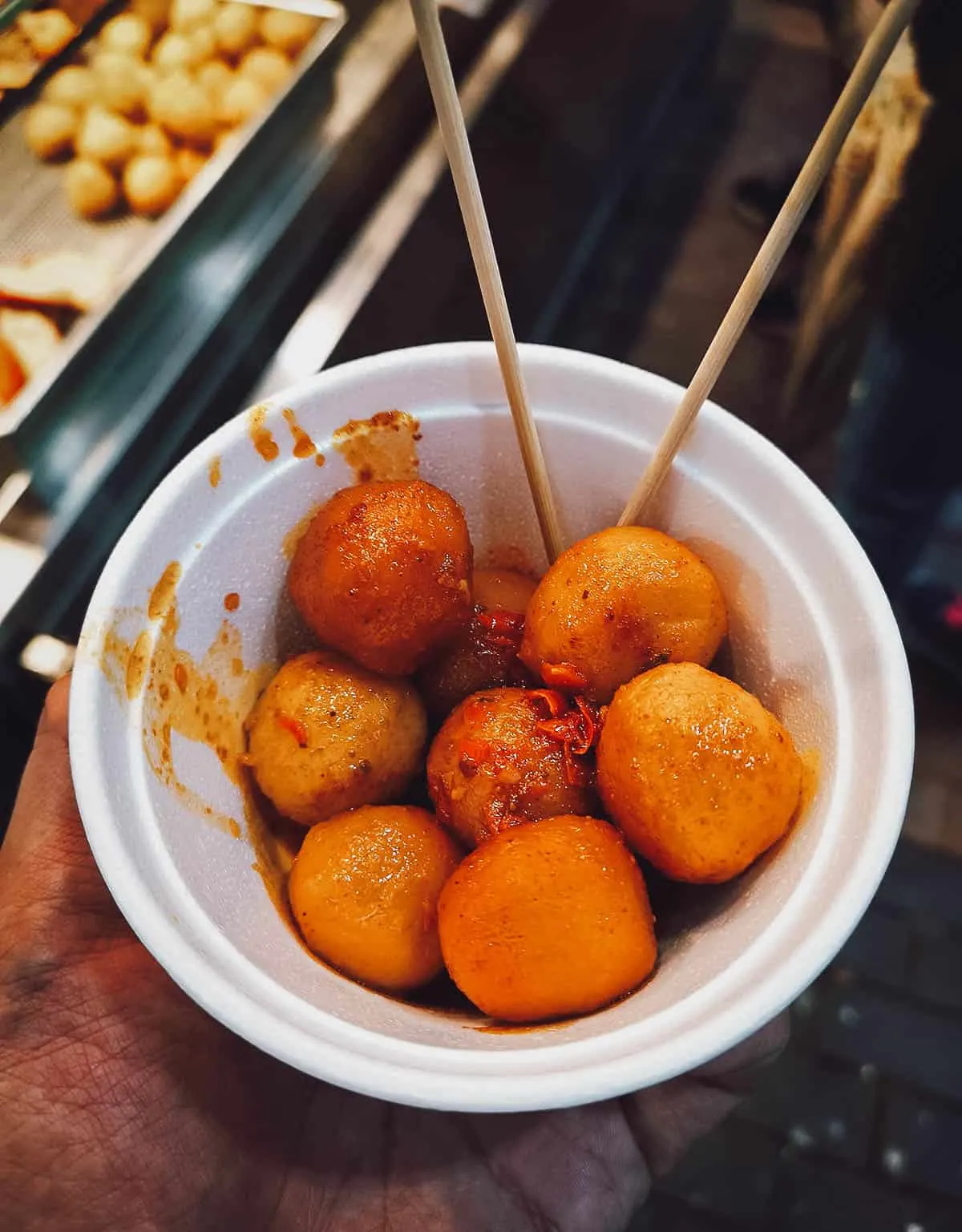 Fried Tofu
Next up was another street food classic – Hong-Kong-style deep-fried tofu spiked with loads of chili and garlic.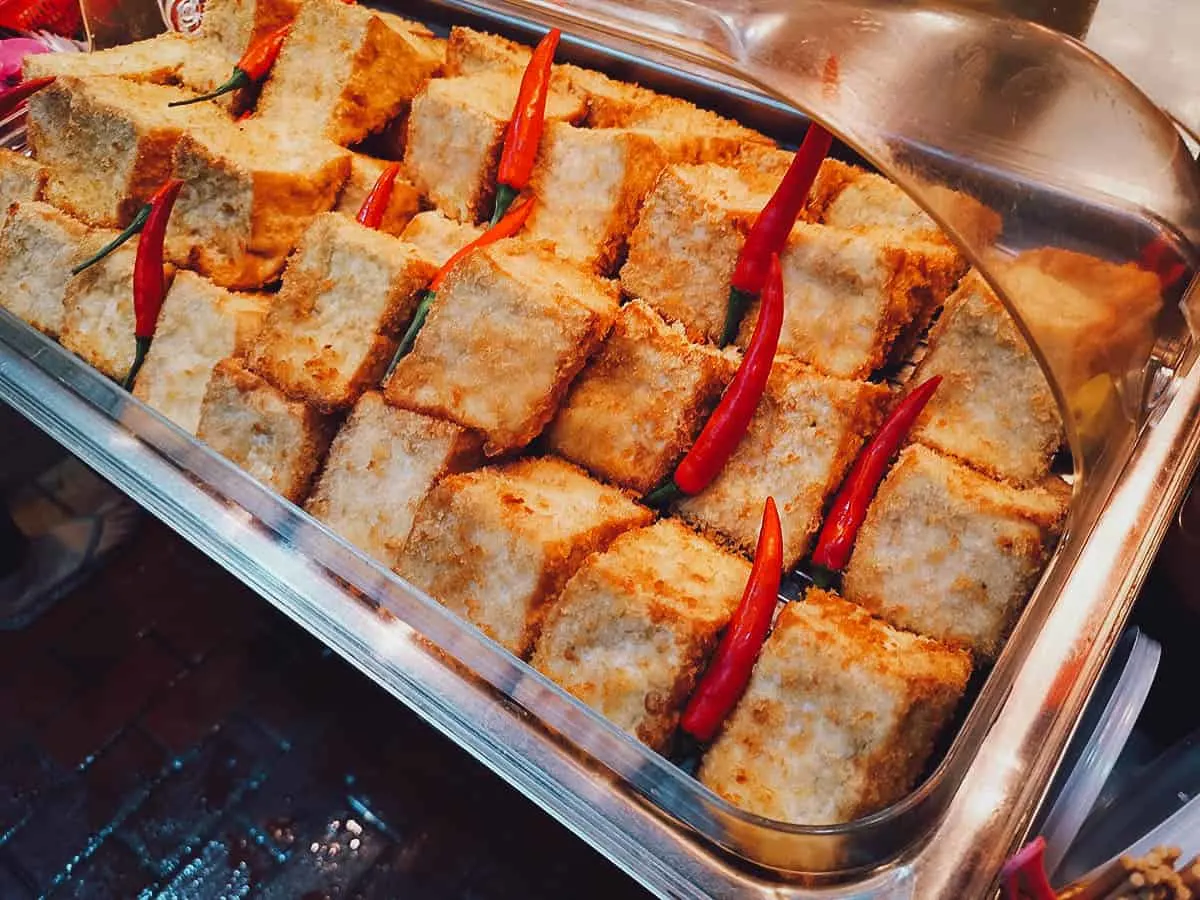 The tofu was delicious – crispy on the outside and smooth and silky on the inside. According to Lulu, what makes this stall special is their sauce. It's sweet, savory, and with just the right amount of spice.
I didn't know this but deep-fried stinky tofu is popular in Hong Kong as well. I thought it was mainly a Taiwanese dish but it seems to be a favorite here too. But don't worry, Lulu will give you the non-stinky variety, the one that doesn't smell like dirty wet socks.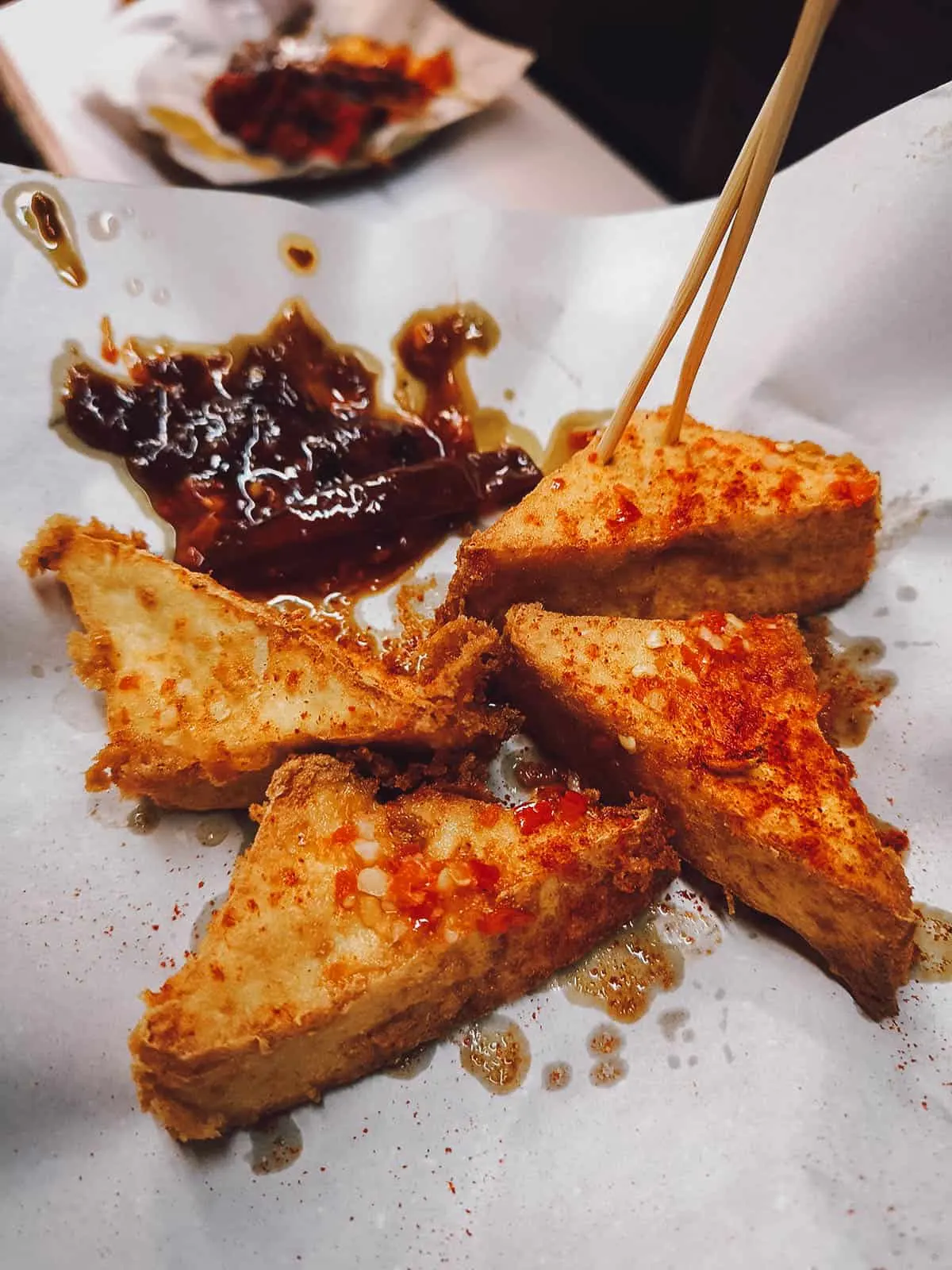 Sheng Jian Bao
This was one of my favorite dishes on this tour. Ren and I first had this two years ago when we were in Hong Kong to try every eatery on Michelin's street food guide. It's sheng jian bao made with black truffles. Yes, TRUFFLES.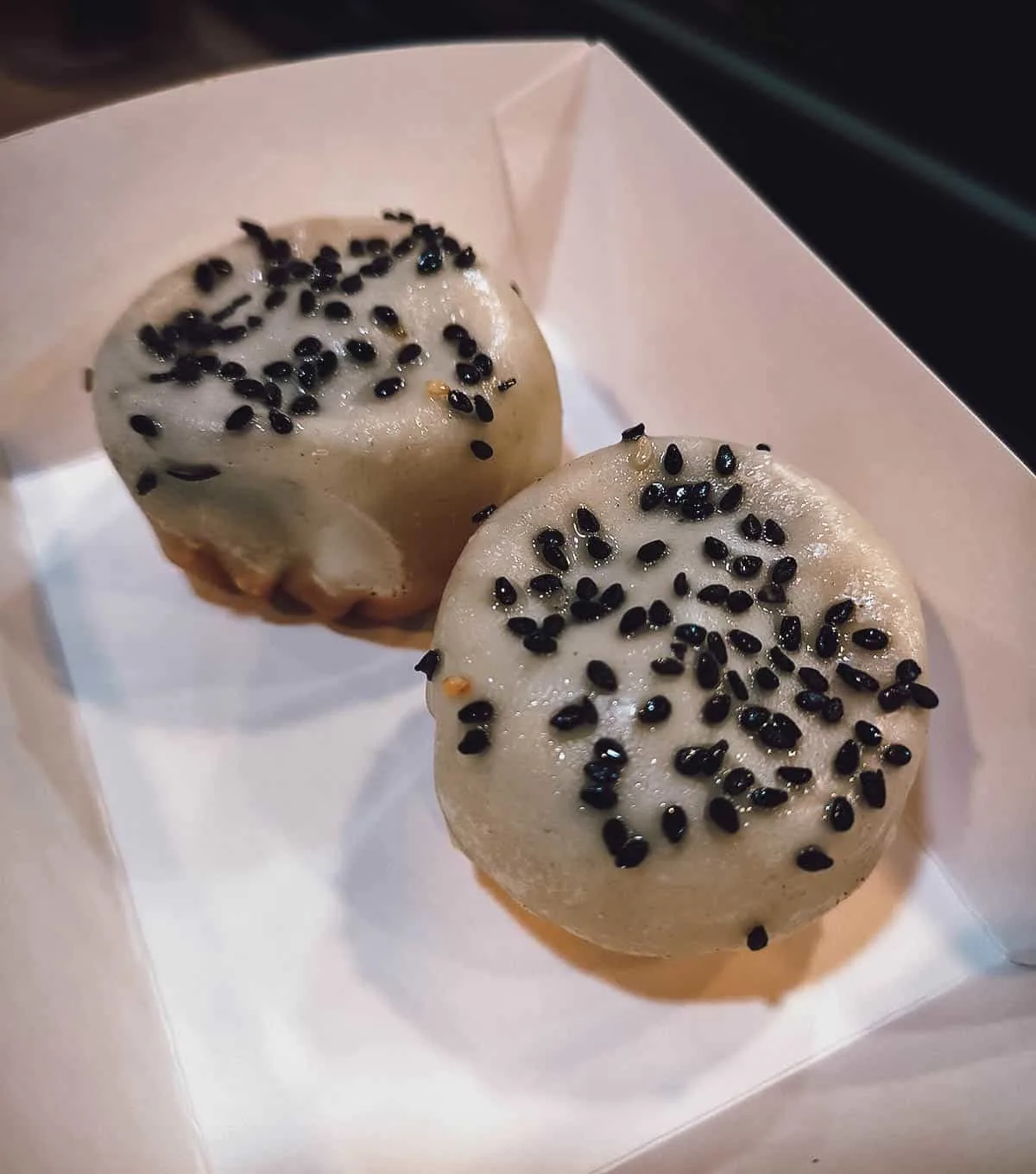 Sheng jian bao is a type of pan-seared baozi. Crispy at the bottom, it's typically made with pork and contains a block of gelatin that melts into a hot soup when cooked. To keep from burning your tongue, you'll need to take a small bite out of the top and suck out the soup before eating the rest of the dumpling.
Sheng jian bao is all kinds of delicious on its own but the addition of black truffle really puts this one over the top. The moment you take a bite, your olfactory senses are flooded with the unique woodsy aroma of truffles. It's so damn good and unexpected it makes your eyes light up when you get that first taste.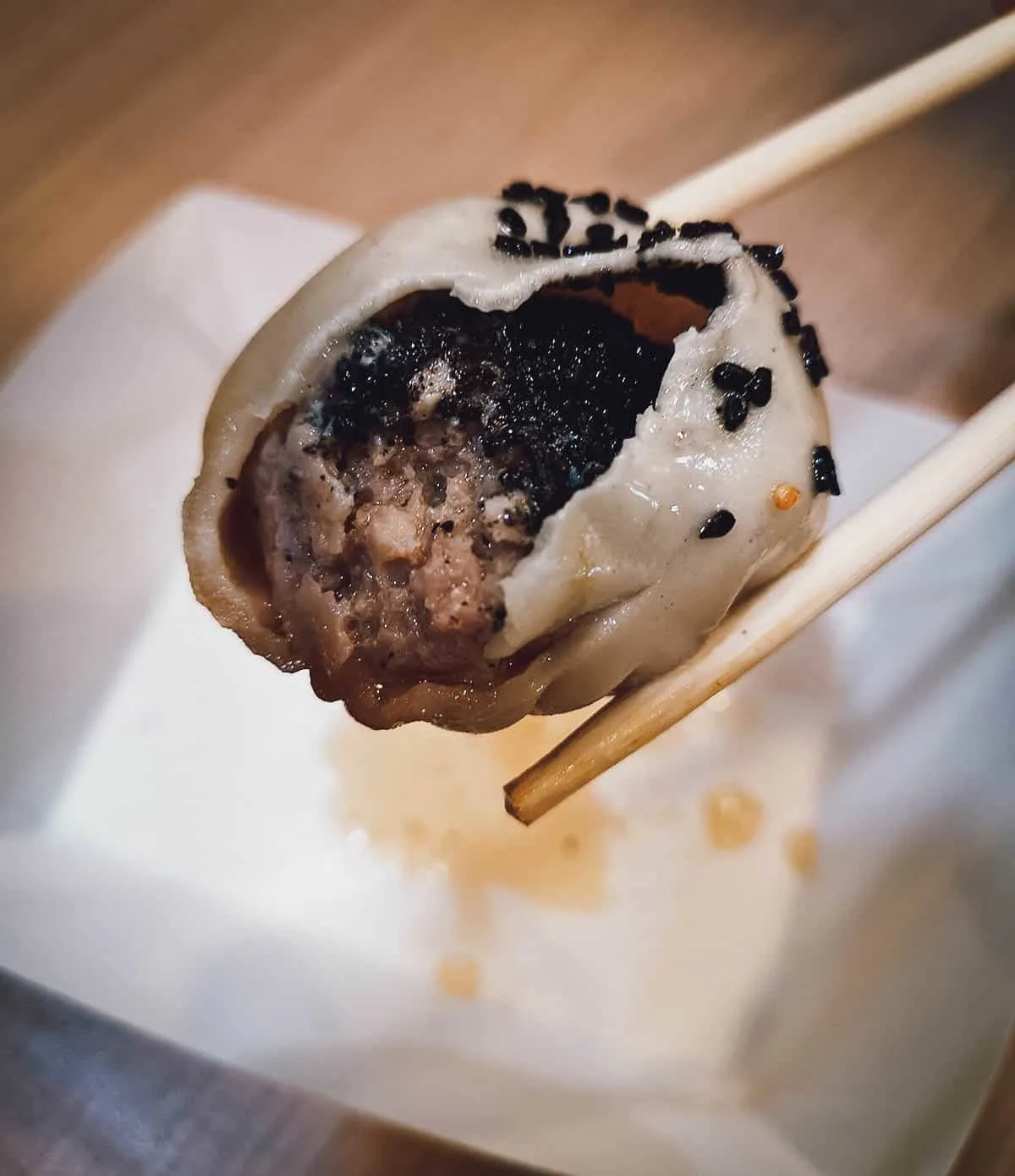 Fresh Sugarcane Juice
To help wash all the delicious truffle down, we made a quick stop at this shop selling freshly pressed sugarcane juice. This stuff is the best – leafy fresh with just the right amount of sweetness.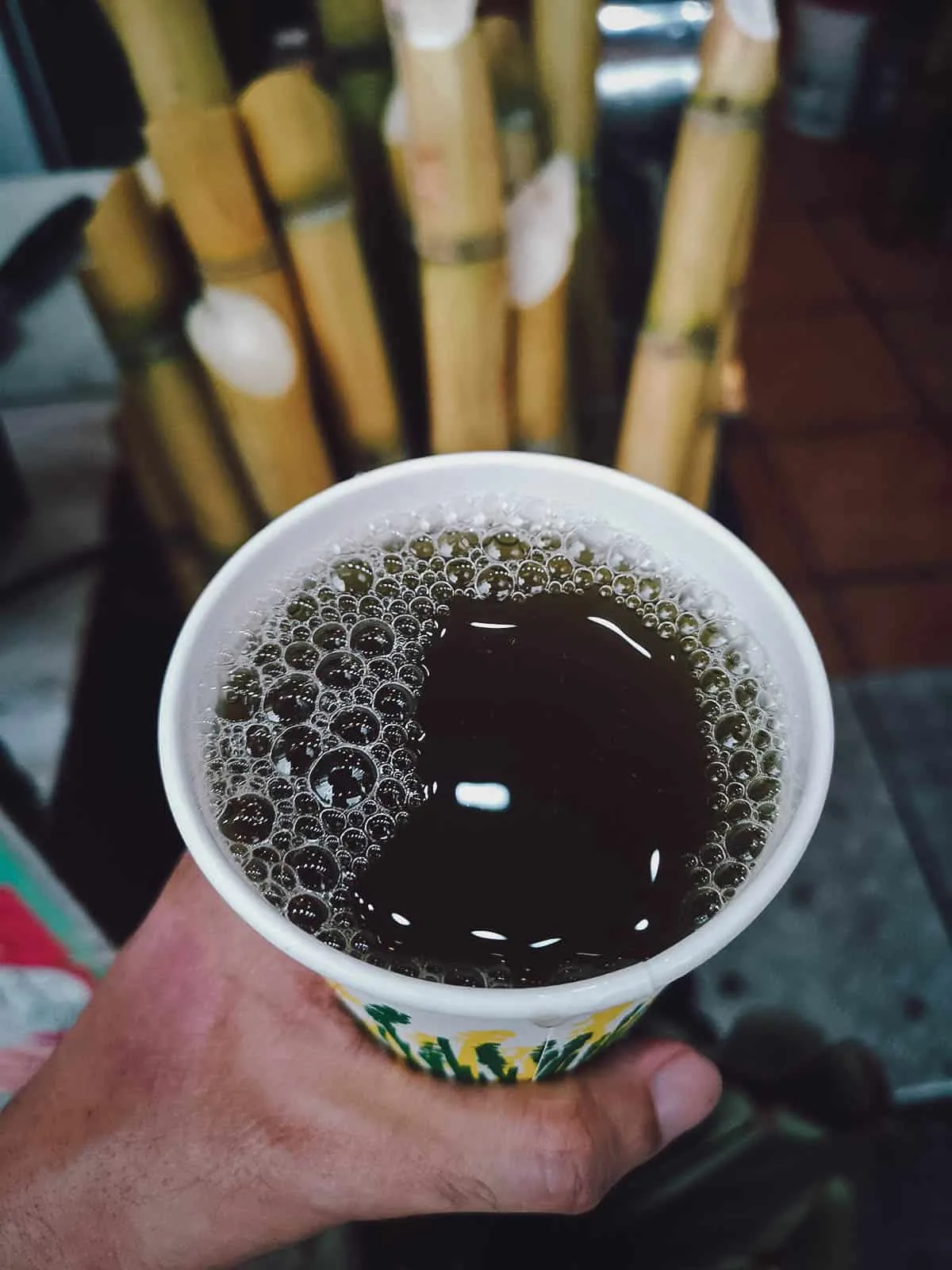 Mongkok Wet Market
I've been on almost all of their tours and a tour from A Chef's Tour is never truly A Chef's Tour's tour without a stop at a wet market. Now try saying that quickly five times.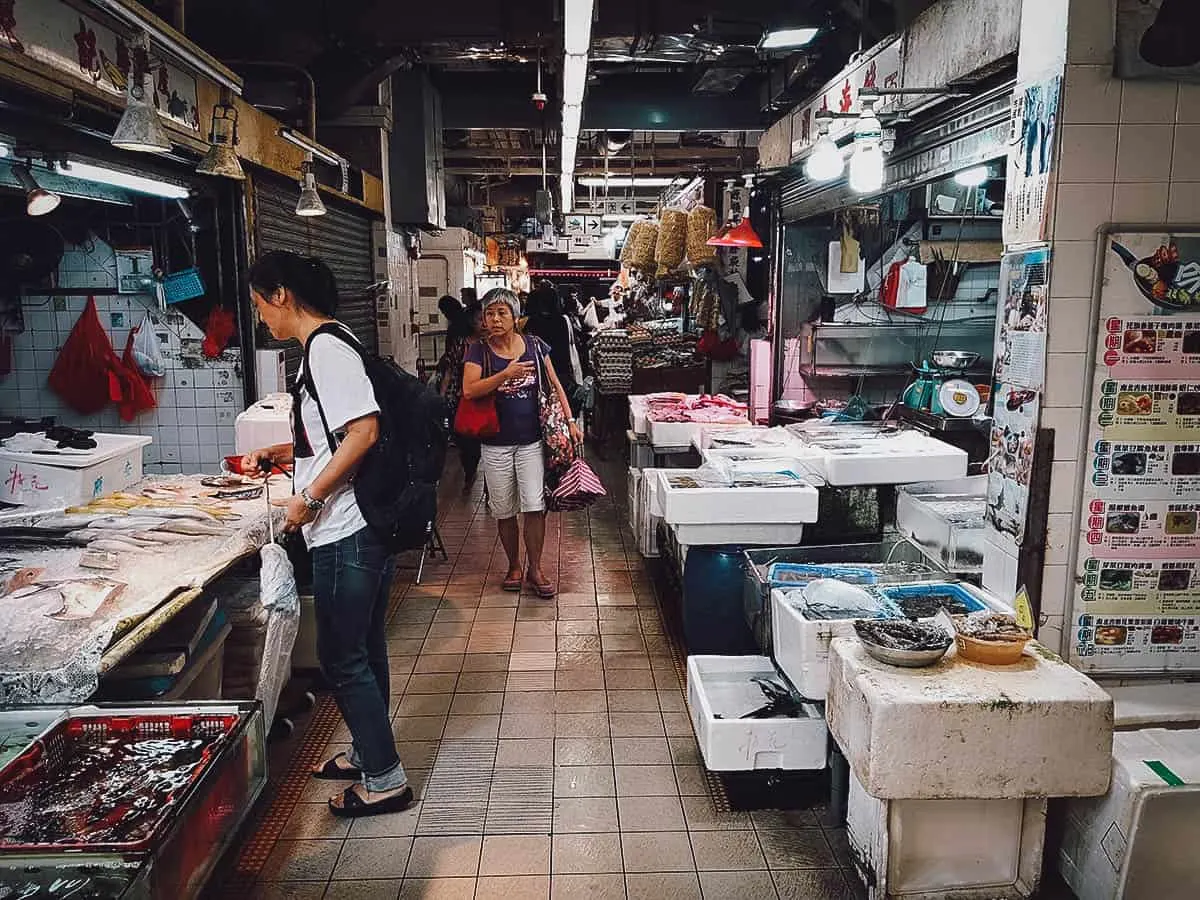 Mongkok Market is like any typical Asian wet market. It isn't too big but it's got a good selection of fresh seafood, most of it farm-raised in mainland China and delivered to Hong Kong. I'm guessing Hong Kong real estate is way too expensive for farmers and hatcheries to turn a profit.

Some stalls were even selling different types of live fish.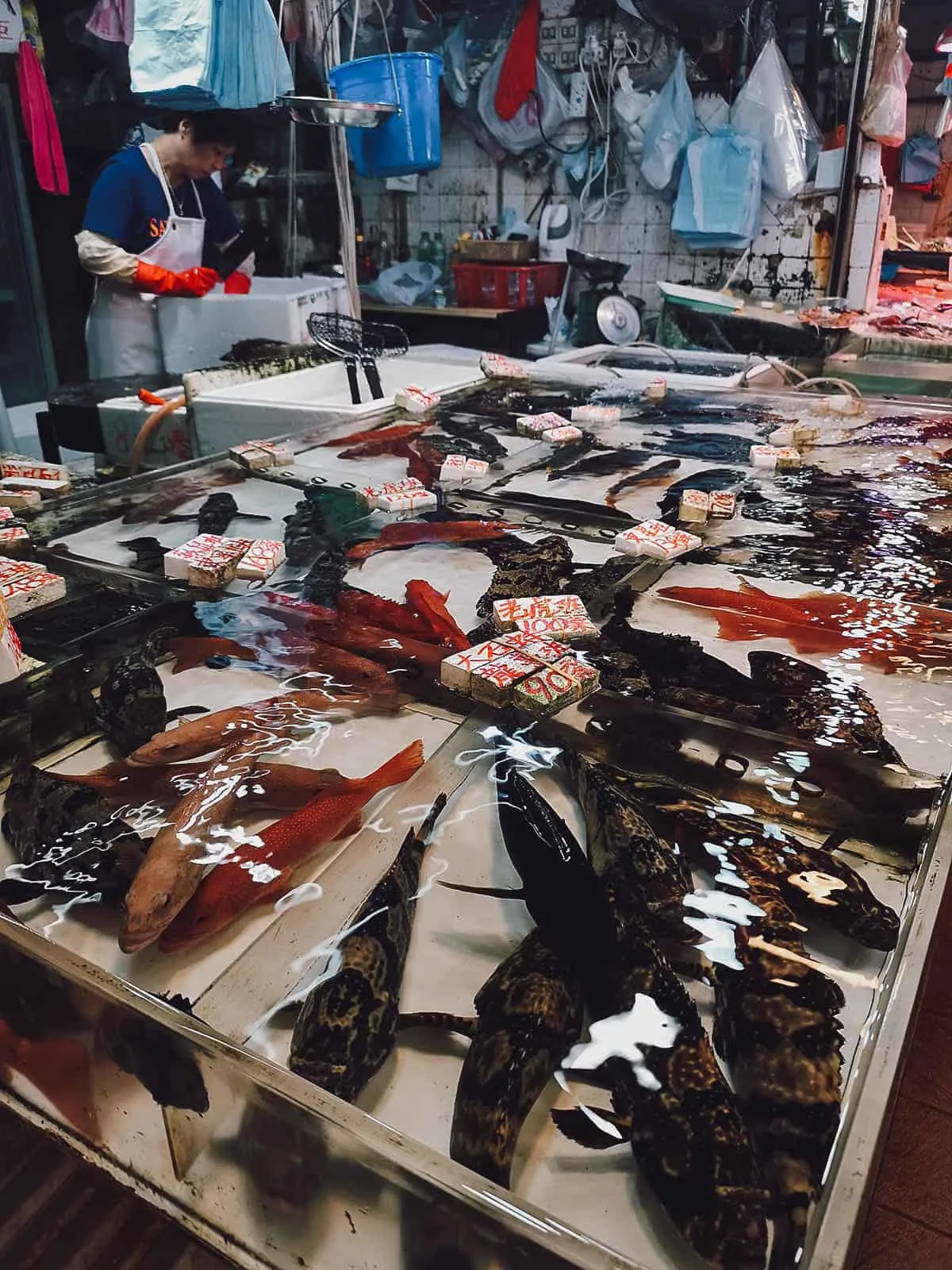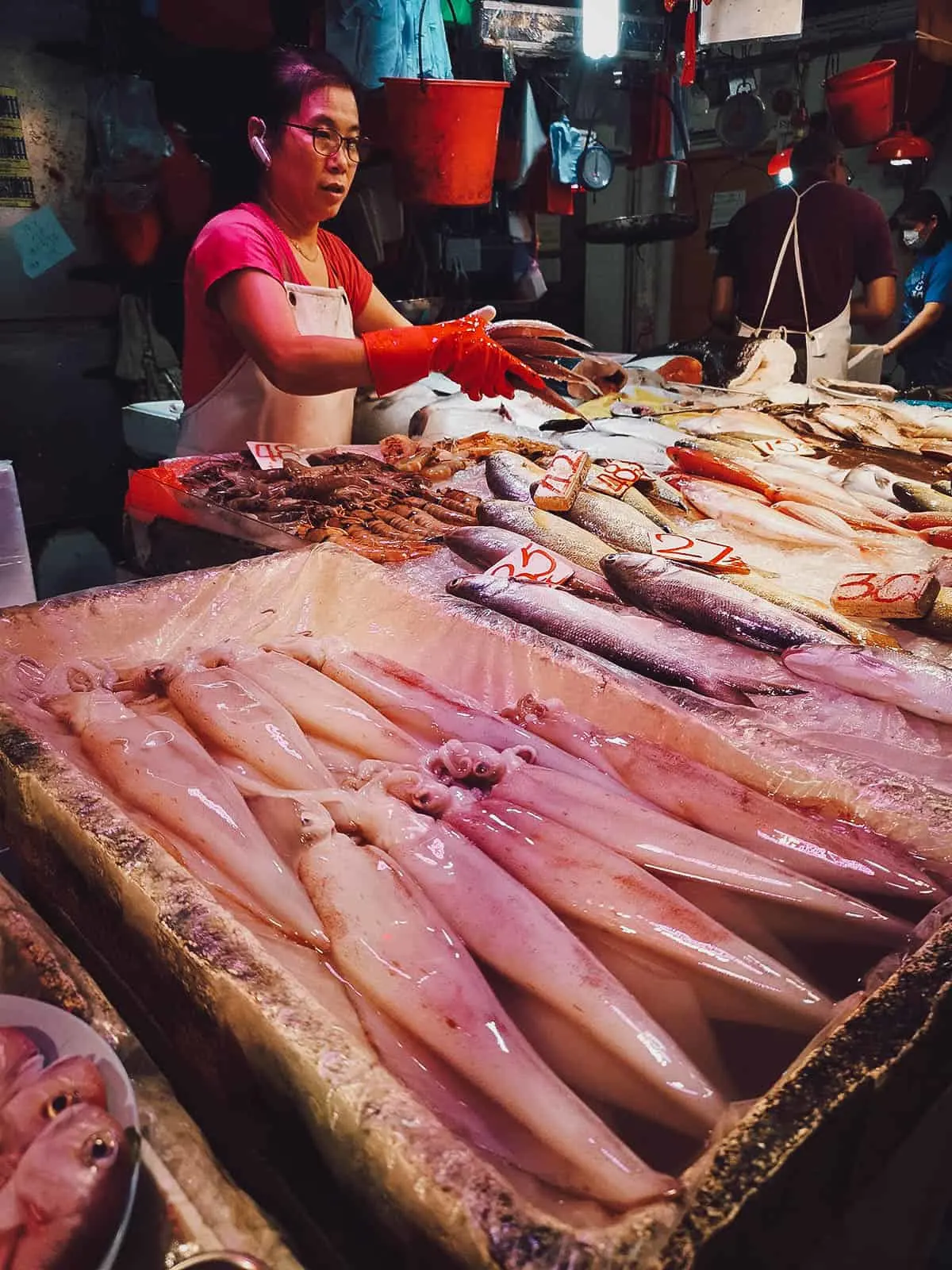 This was interesting. Do you see those balloon-like sacs inside the fishes? I asked uncle fishmonger what they were and he said they're the fish's liver. They're apparently filled with an oily substance that helps control the fish's buoyancy.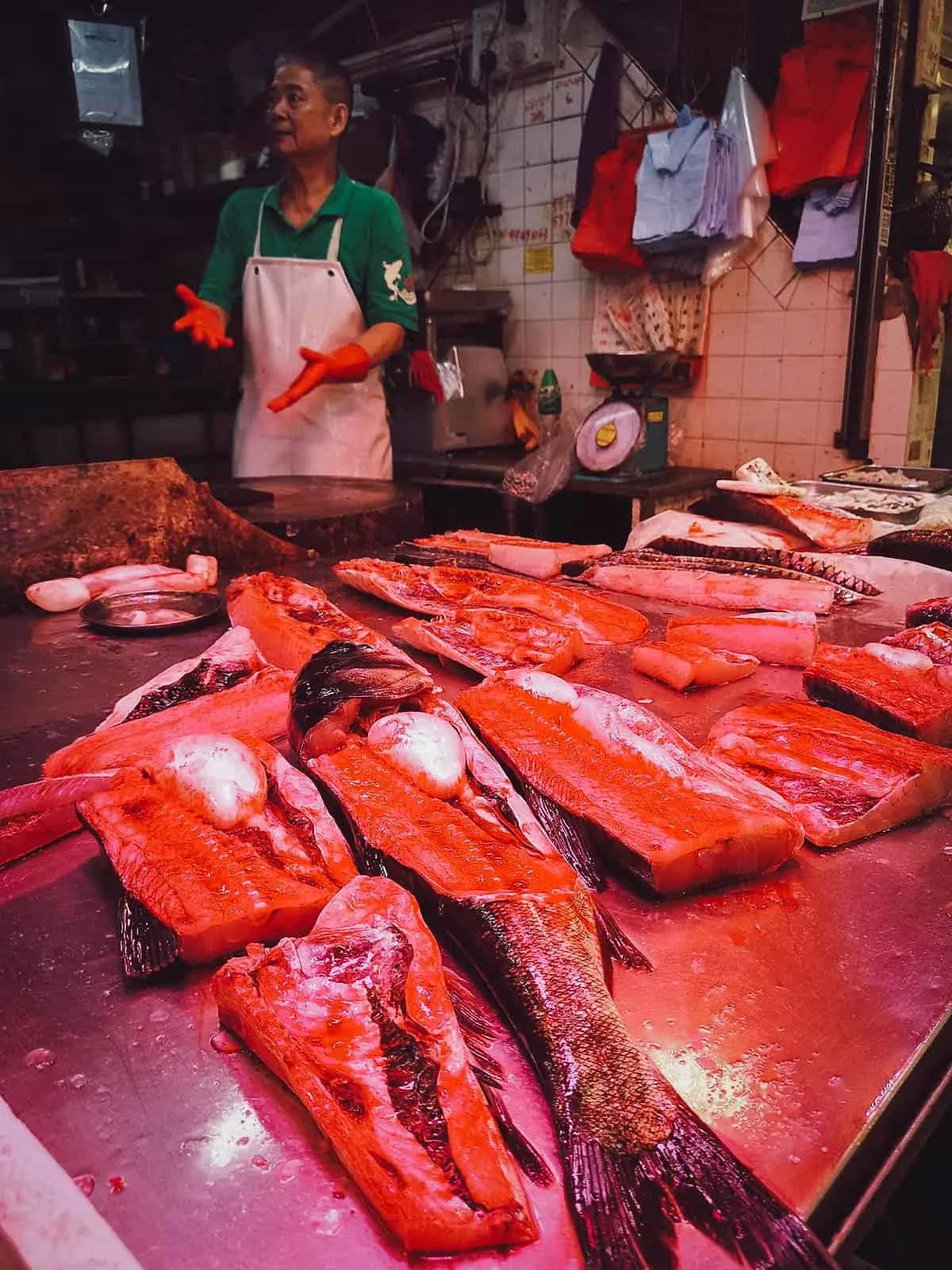 And yes, you can eat them.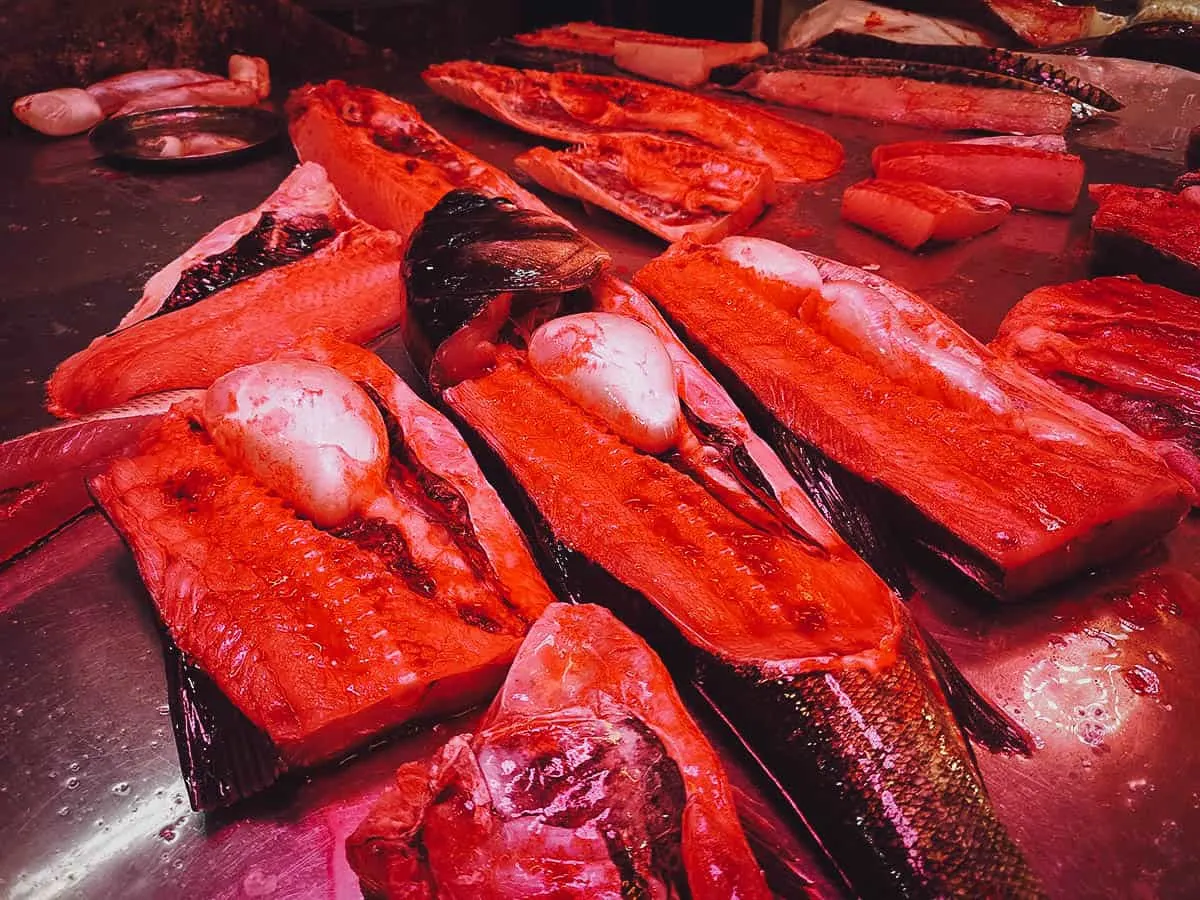 A cage full of frogs. I'm not fond of them but frog legs are a delicacy in Hong Kong. I read that they're commonly stewed, stir-fried, or served in claypot rice or congee.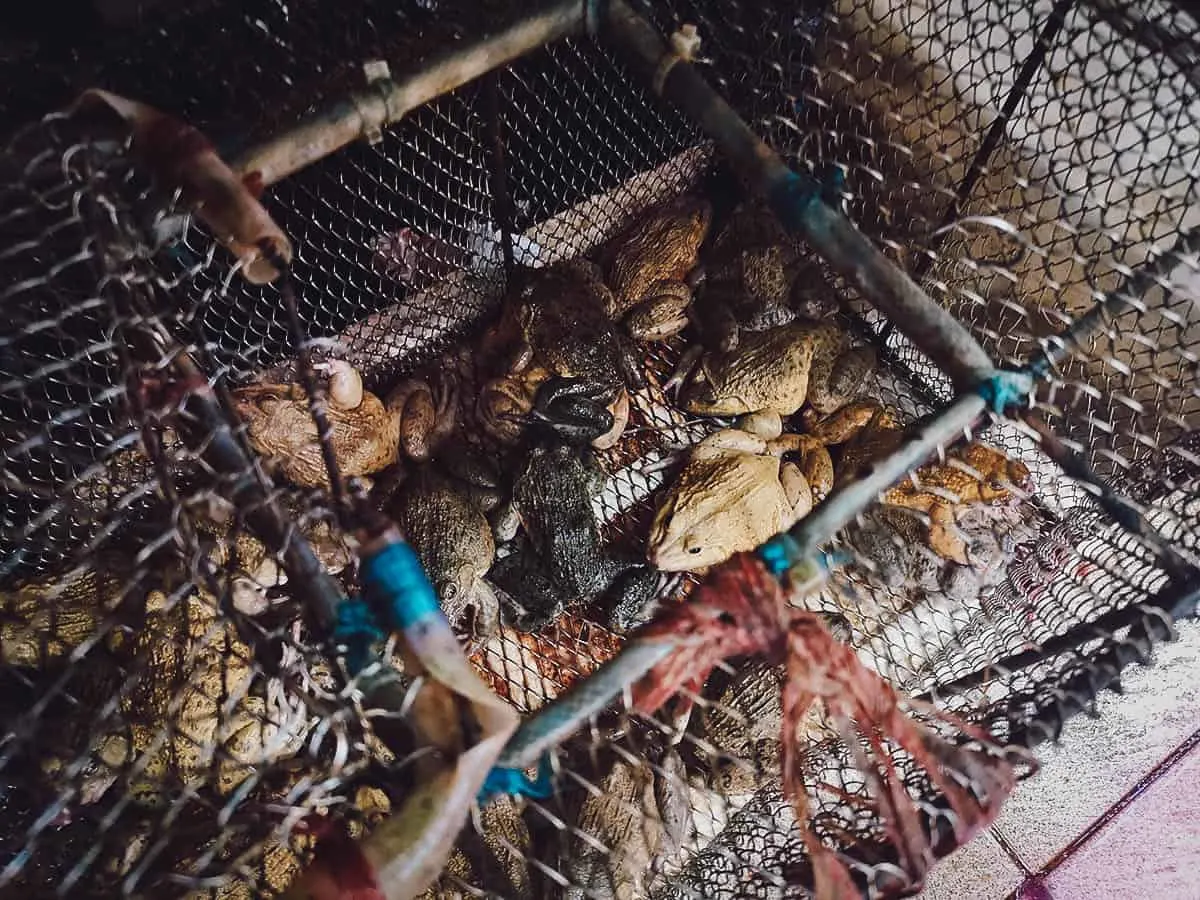 Durian Mochi
Up next was this stall selling different types of mochi balls. According to Lulu, they first opened on Cheung Chau Island where they've been popular for many years, before opening up this shop in Kowloon.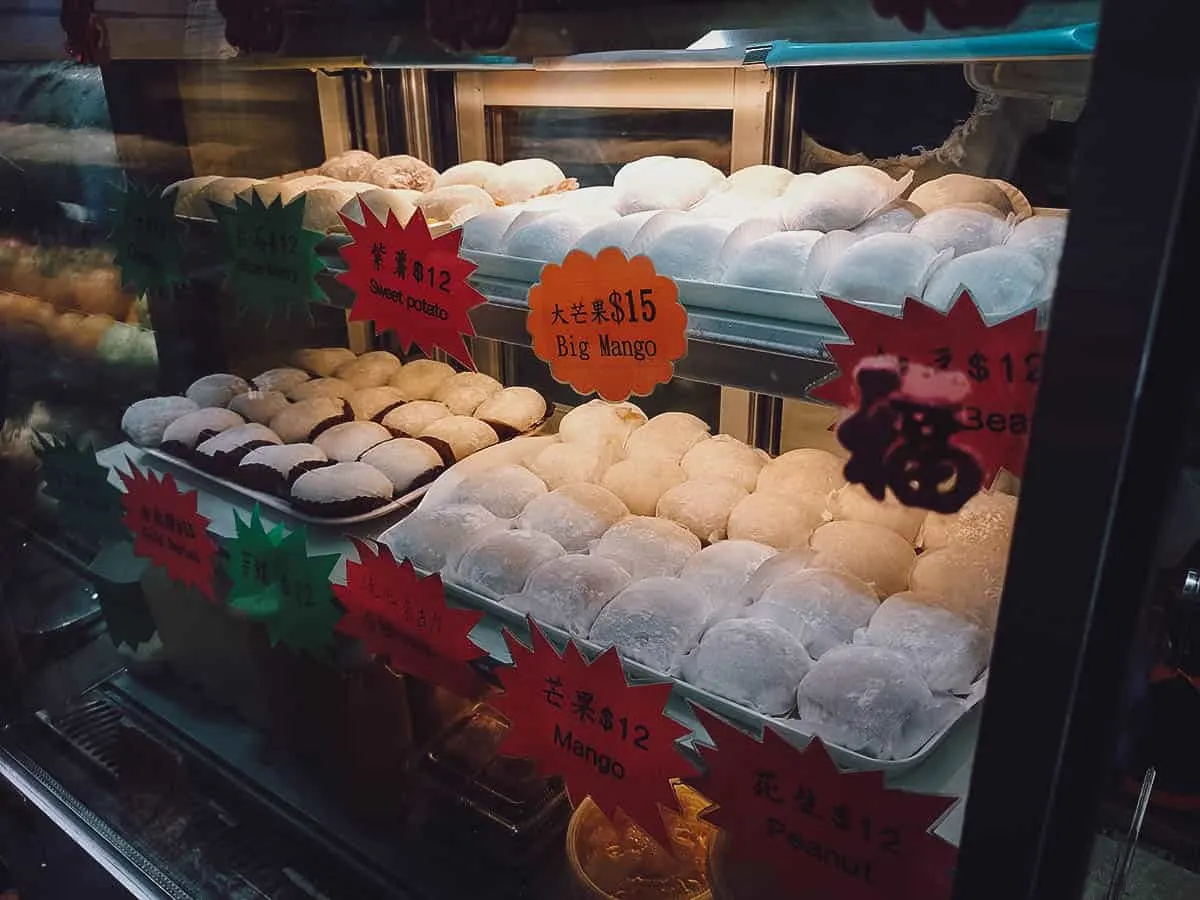 Lulu asked me if I wanted mango or durian mochi. Without batting an eyelash, I said durian. What kind of traveleater would I be if I didn't??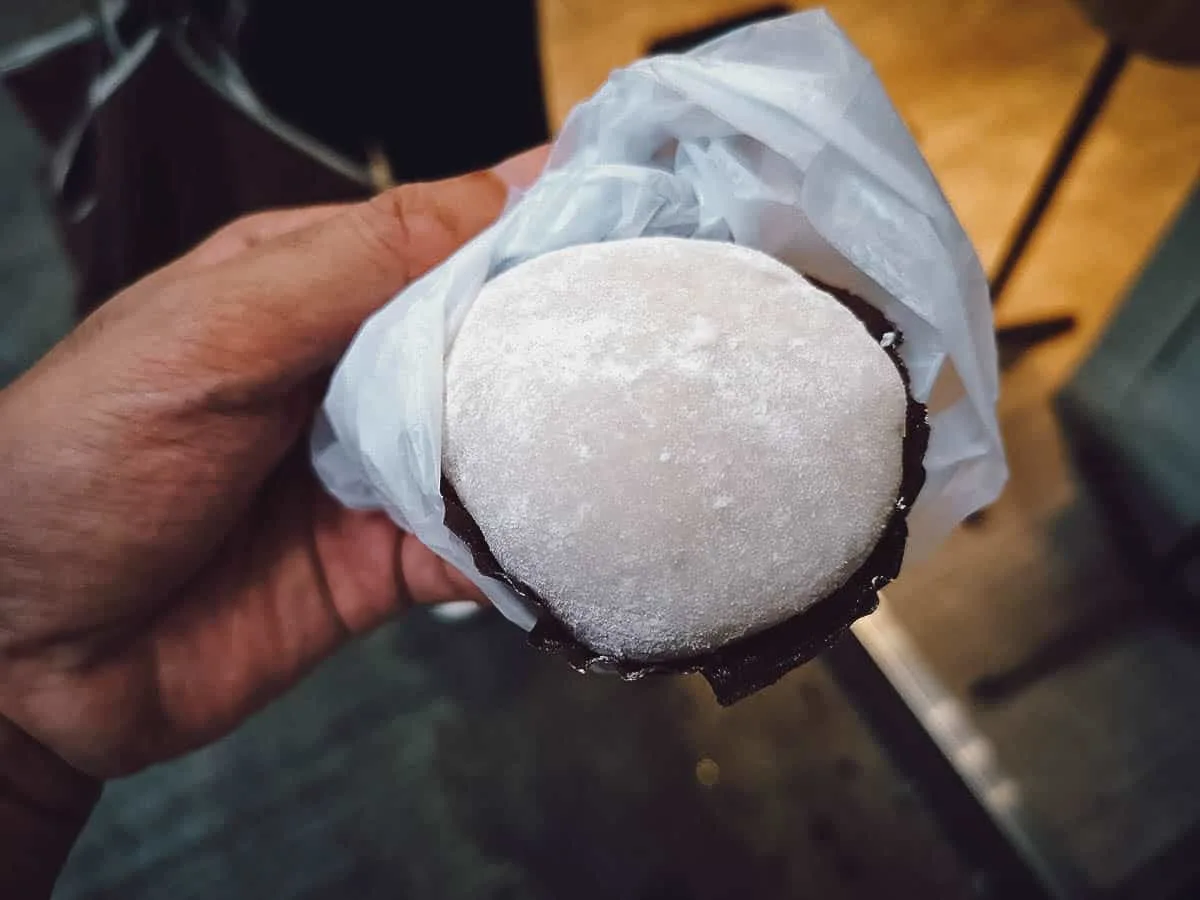 Like the truffle sheng jian bao, take a bite out of this mochi and your senses will be assaulted by a Pacquiao-like punch of durian deliciousness. The mochi is utterly soft and chewy while the creamy filling is redolent with durian flavor. If you're a fan of durian, then you're going to LOVE this.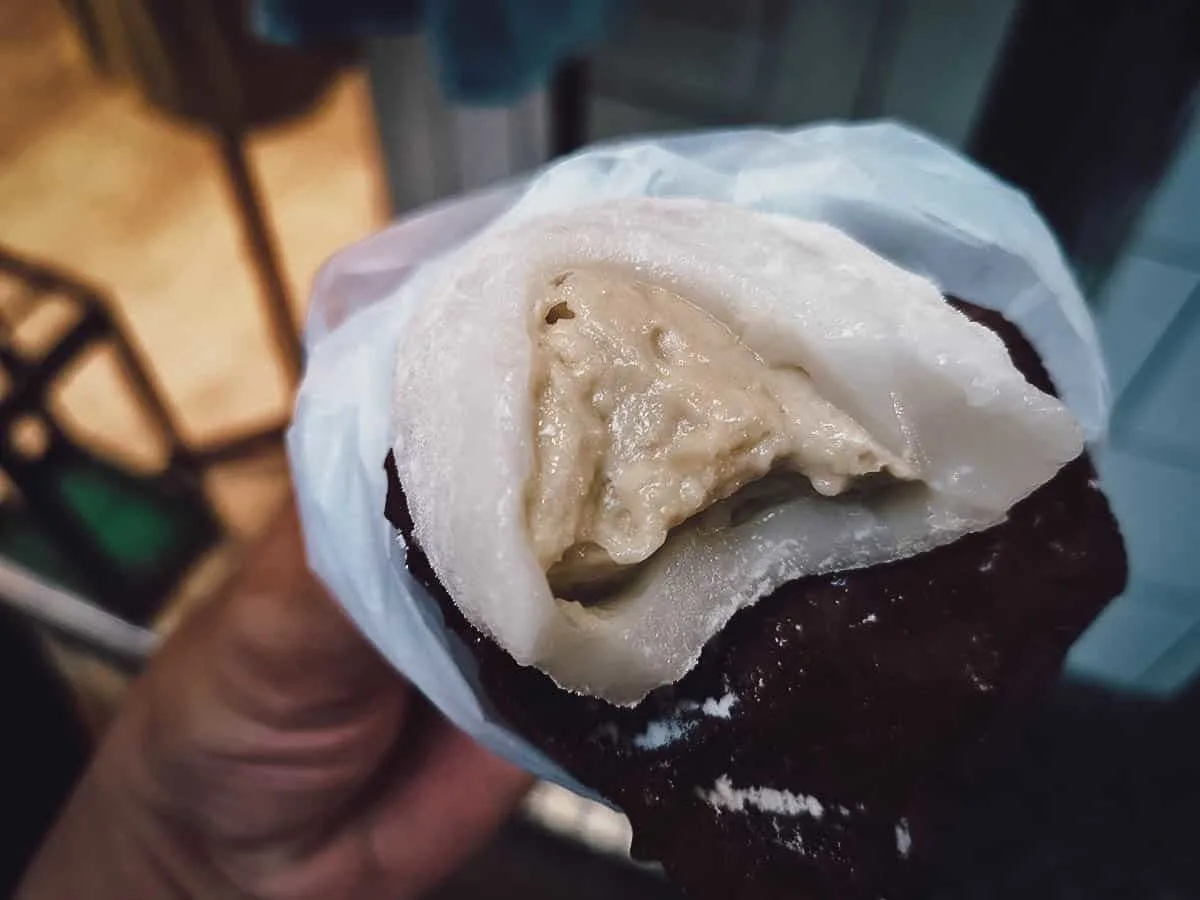 Red Bean Glutinous Rice Cake
This is the second of four Michelin-recommended street food stalls you'll be visiting on this tour. Like the sheng jian bao shop, we had been here two years ago to try their delicious Chinese pastries, none more coveted than their red bean glutinous rice cakes.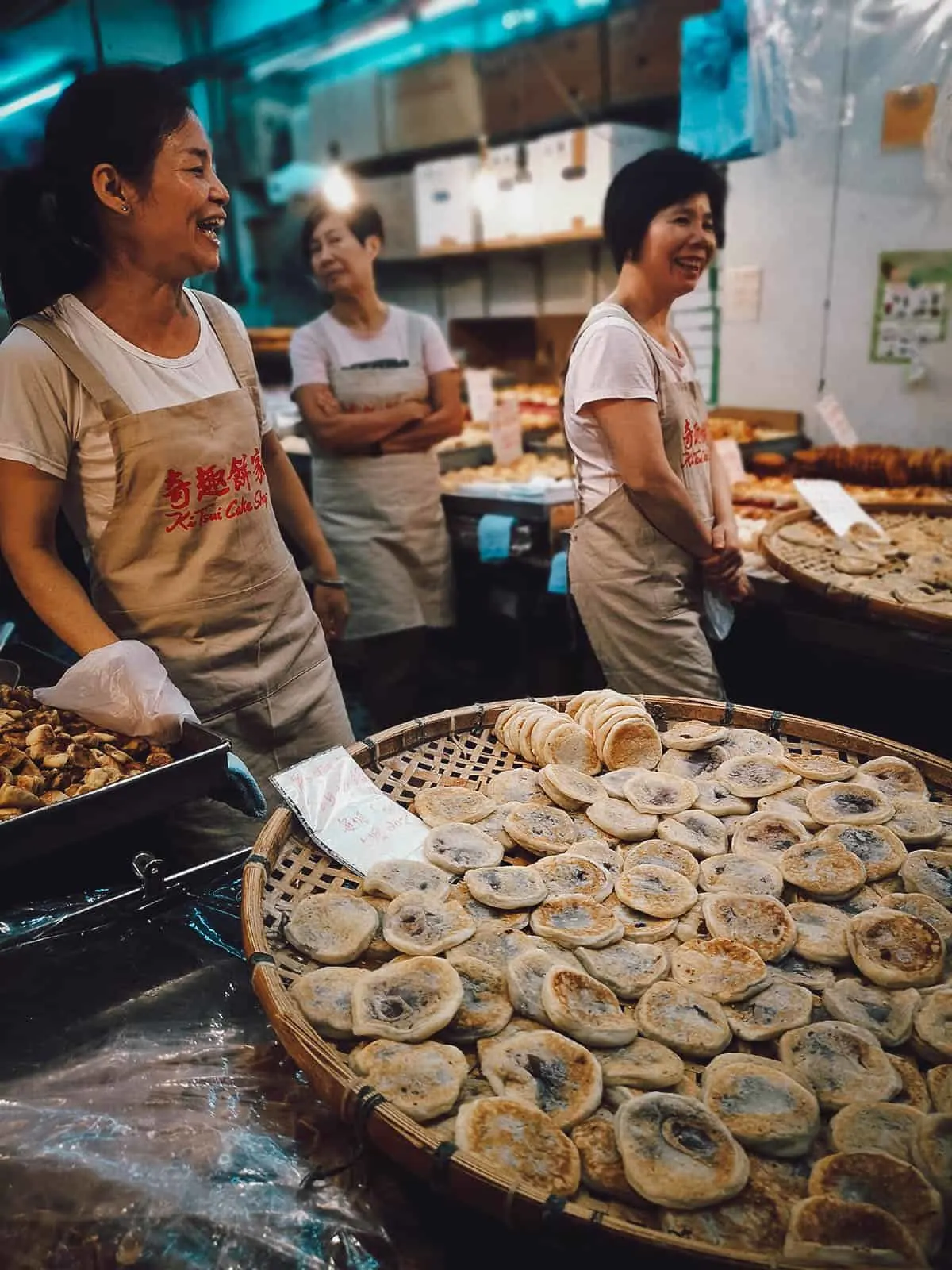 Flecked with sesame seeds, it's got a soft and chewy texture similar to mochi and filled with a warm nutty red bean paste. It's delicious and a nice follow-up dish to the fruitier, colder durian mochi. I guess that was by design?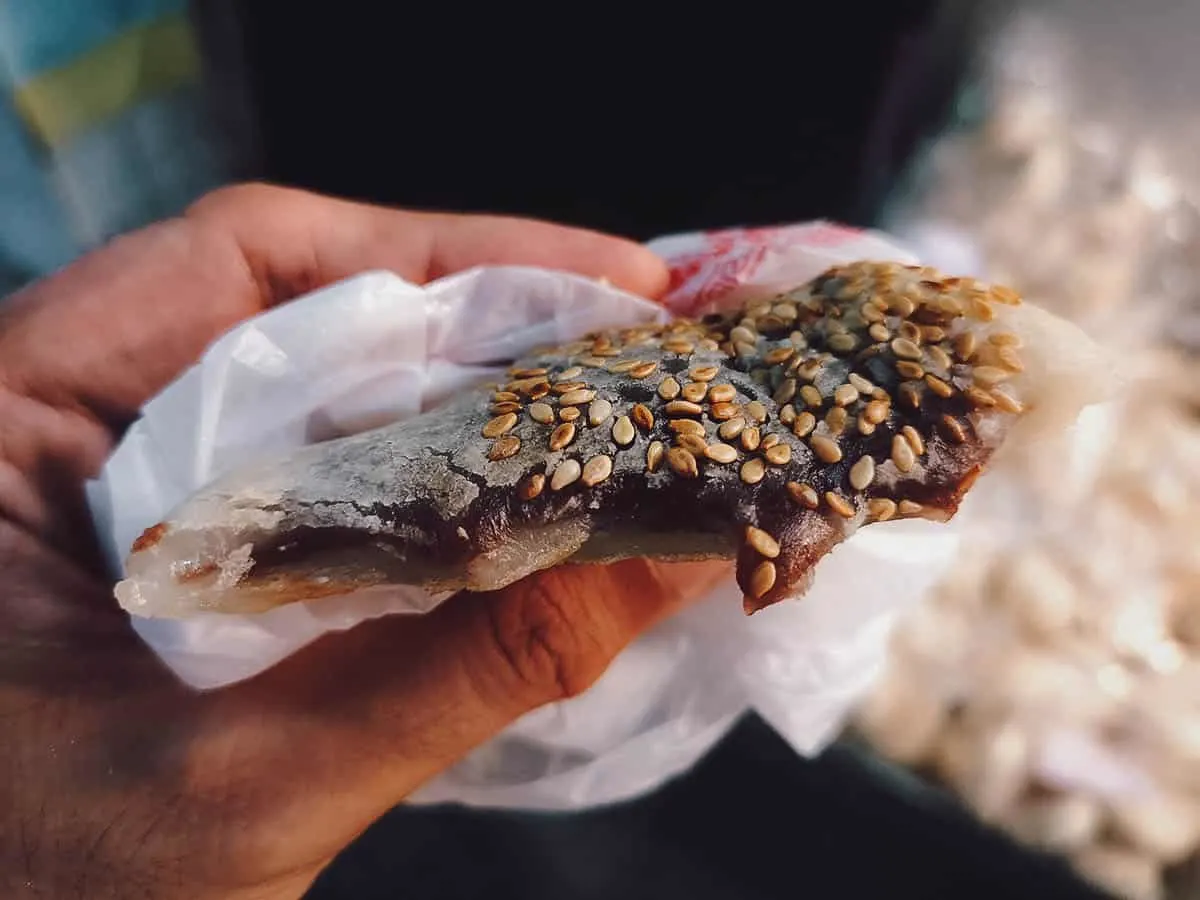 Pineapple Bun, Egg Tart, Yuenyeung
Next on the itinerary was this legendary Chinese coffee shop known for serving pineapple buns and egg tarts. I also got to try this curious drink called yuenyeung for the first time.
Chinese egg tarts are a classic tea time snack that was popularized in the 1940s during the British occupation. They're similar to Portuguese pastel de nata but eggier and less creamy. The version Lulu had me try today was made with a shortbread crust, but versions made with a flakier puff pastry shell are just as common.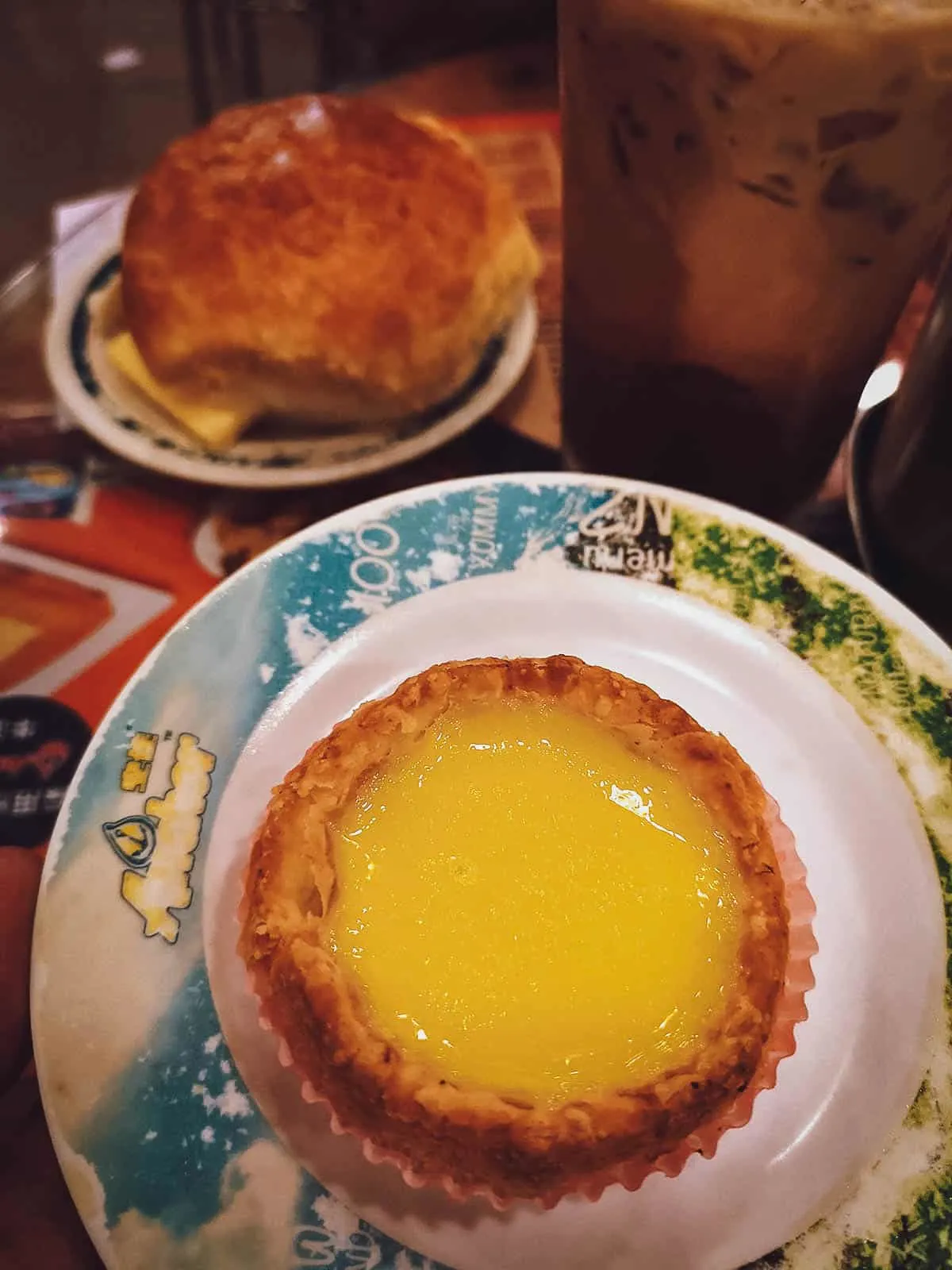 I've heard of Hong Kong's iconic pineapple buns before and I always assumed they contained a pineapple jam filling, like Taiwan's pineapple cakes. As it turns out, they don't contain any pineapple whatsoever. According to Lulu, they get their name because of their resemblance to the fruit, though I'm not seeing that connection either.
In any case, they're delicious – soft and pillowy with a crunchy, sugary shell top. They're known locally as boh loh baau, which literally means "pineapple bun", but the version I had served with a slab of butter in the middle is called boh loh yaau. Lulu explained that teatime snacks such as these have become an afternoon tradition in Hong Kong, another vestige no doubt of the British occupation.
After powering through most of that bun, she asked me at what level of stuffed I was at this point, to which I confidently answered 8 out of 10. I can keep eating! (I hope.)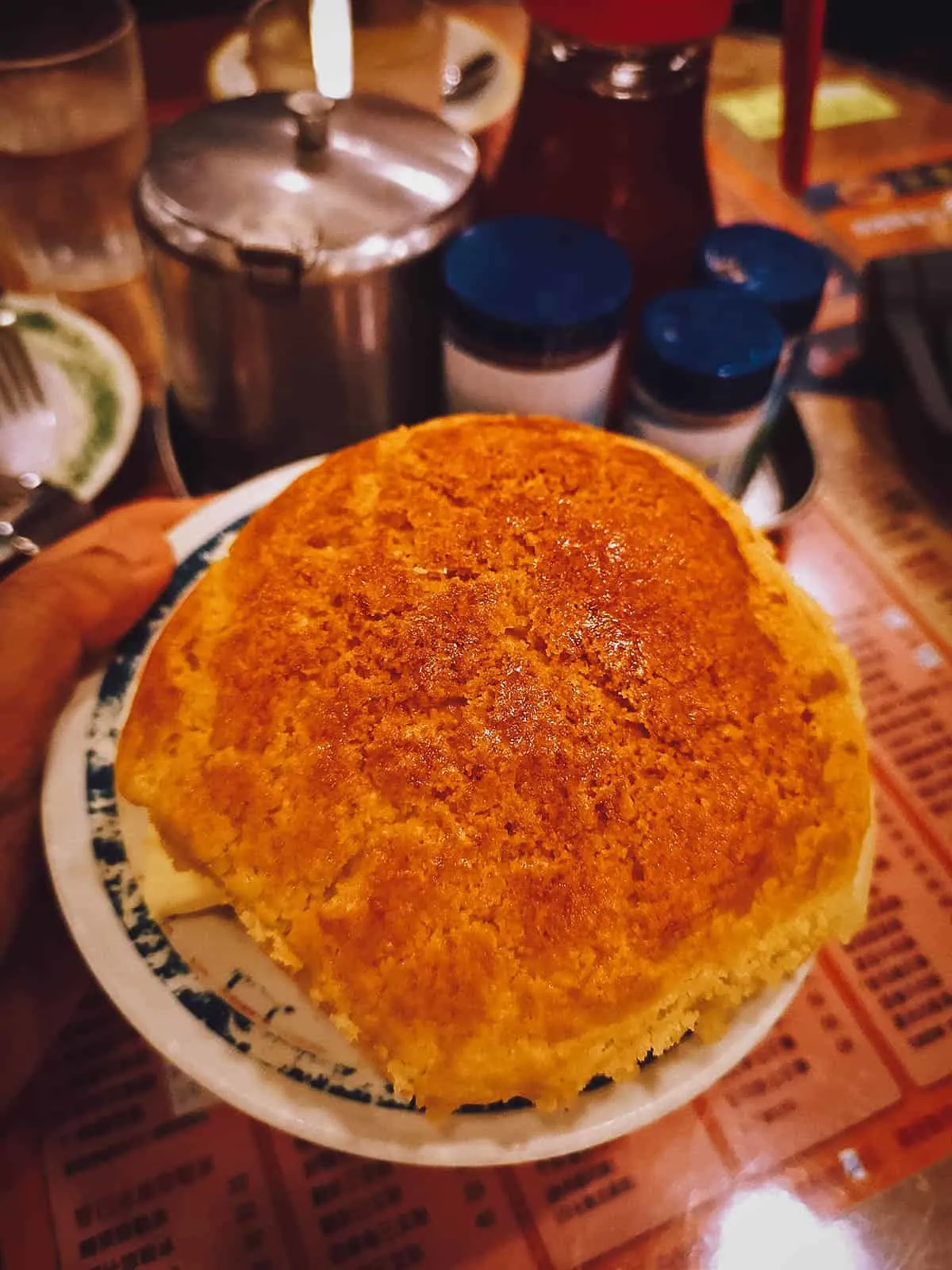 Do you sometimes walk into a Starbucks and can't decide between coffee or tea? Well in Hong Kong, you don't have to, because you can get a glass of yuenyeung which combines the two. It's made with three parts coffee and seven parts Hong-Kong-style milk tea, and can be served either hot or cold. It's an interesting combination that gives you the best of both flavors. I could really taste the coffee and the tea with every sip.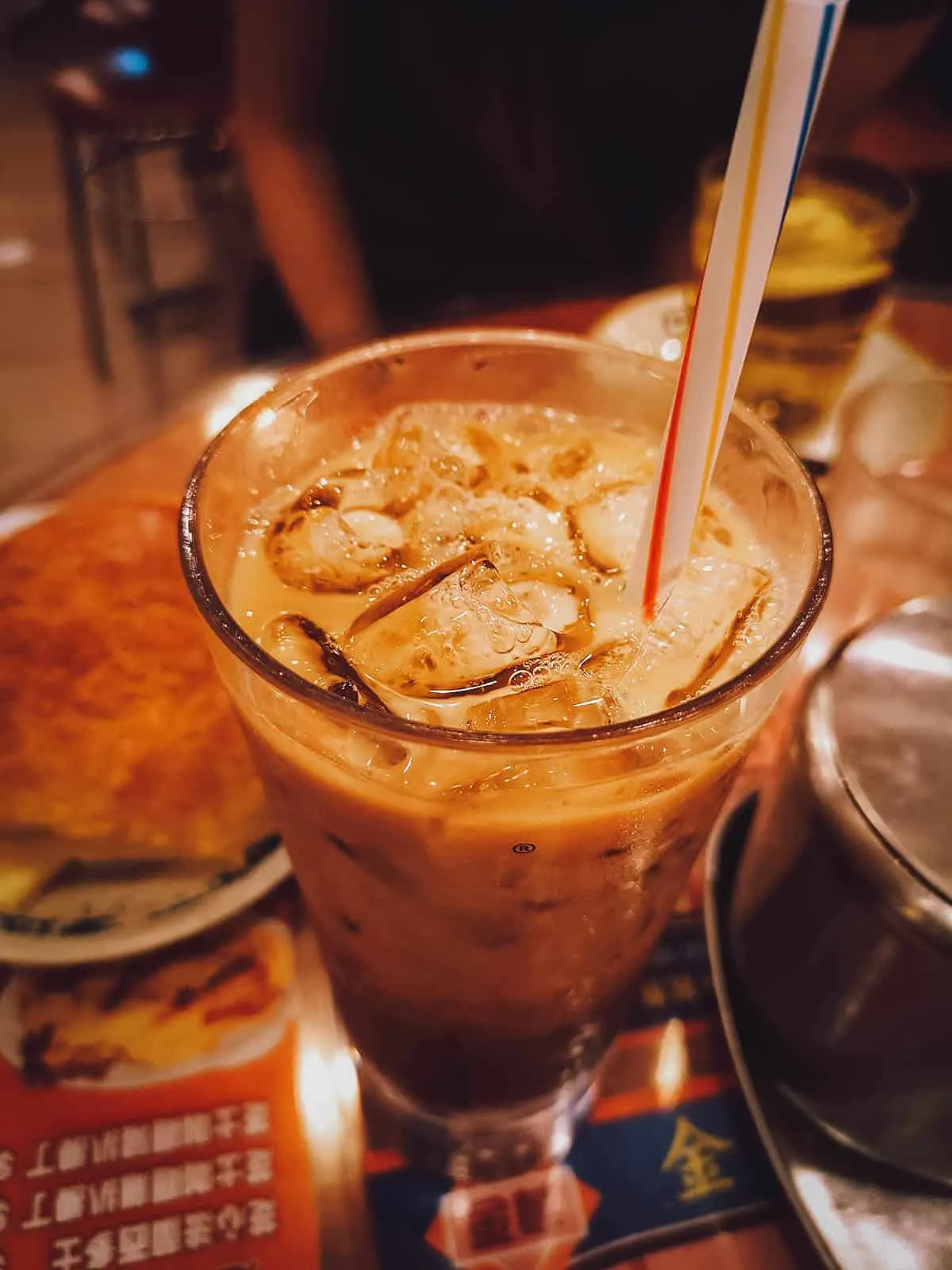 Cheong Fun
This is the third Michelin-recommended street food stall you'll be visiting on this tour. They're known for serving some of the city's best cheong fun or slippery rice rolls. Like the sheng jian bao shop at the start of this tour, this stall was one of our top three favorite eateries from the entire Michelin street food guide.
Cheong fan are basically thin sheets of rice noodles rolled into cylindrical form. They can be filled or unfilled. This stall is famous for the latter which they drizzle with sesame seeds and two types of sauces. On their own, the rice noodle rolls don't taste like much but they do have a silky smooth texture that's very appealing. All the flavor comes from the sauces which are savory-sweet and nutty.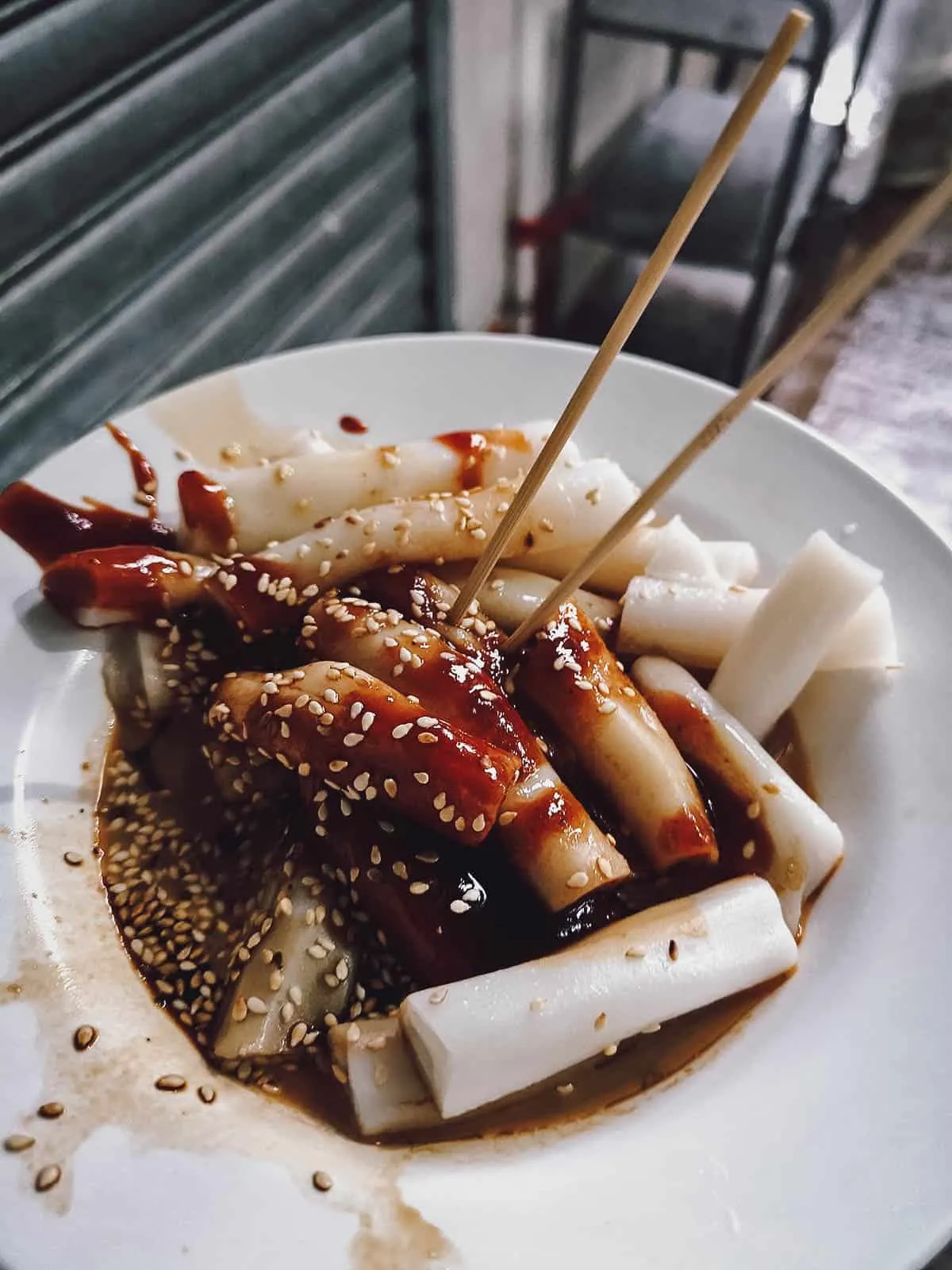 There's auntie dousing a bowl of rice rolls with her two delicious sauces. Like the fried tofu place, Lulu says their secret is in the sauce. The first is dark in color, like a seasoned soy sauce, while the second is light brown, like a peanut sauce.
Their sauces are indeed tasty but I think their rice rolls were pretty awesome as well. Ren and I had slippery rice rolls from a different place two years ago and they were different in texture to these. They were more crumbly and less formed, almost mushy. These were firm and perfect.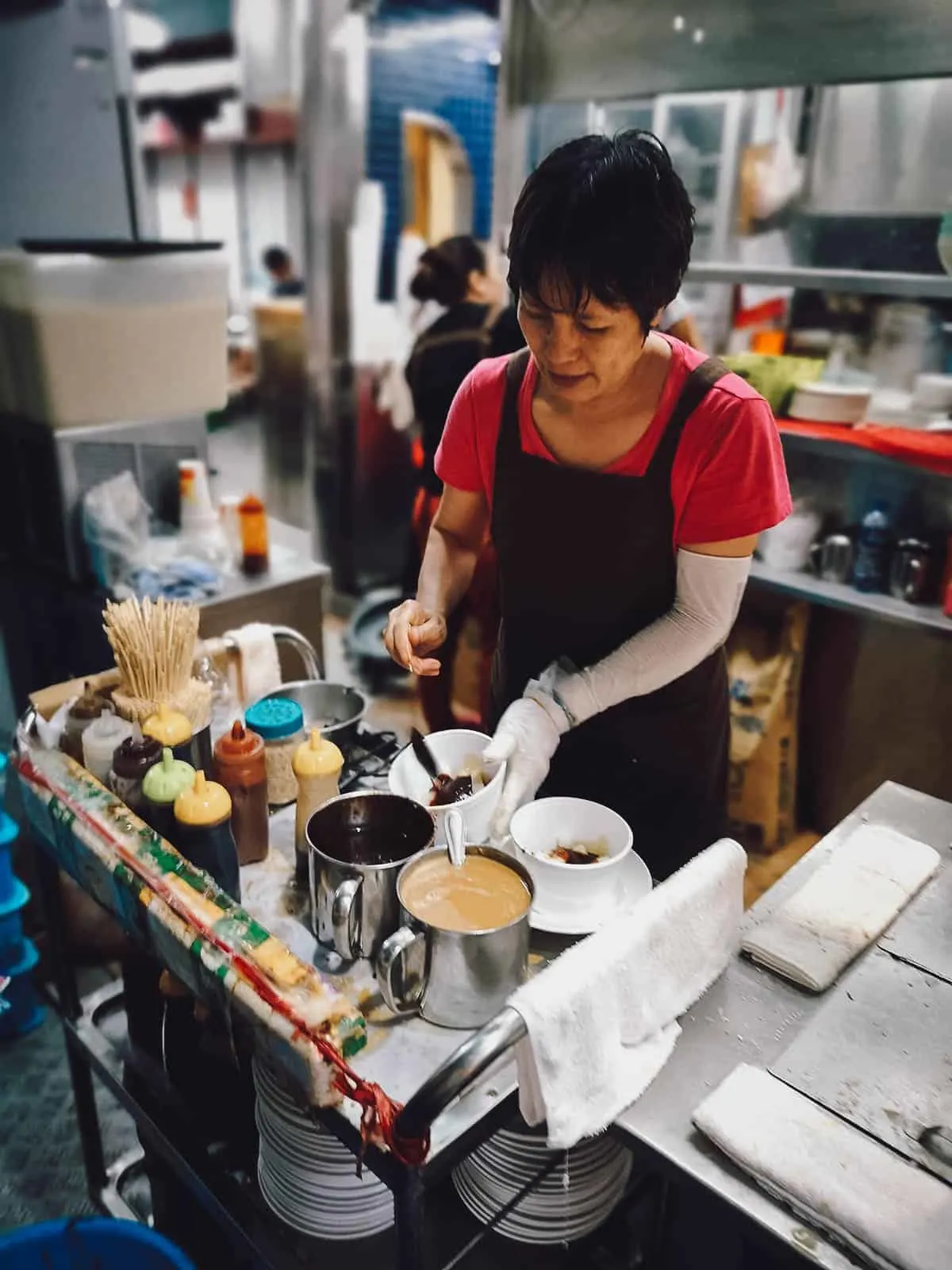 Wonton Soup
I was in Hong Kong during a signal number 8 typhoon and it had been raining non-stop for two days. This bowl of hot wonton soup was perfect for this weather. Walking up to the restaurant, I saw a familiar face hanging in the shop's window – my hero Anthony Bourdain. He had obviously featured this shop on one of his shows so I knew it was going to be good.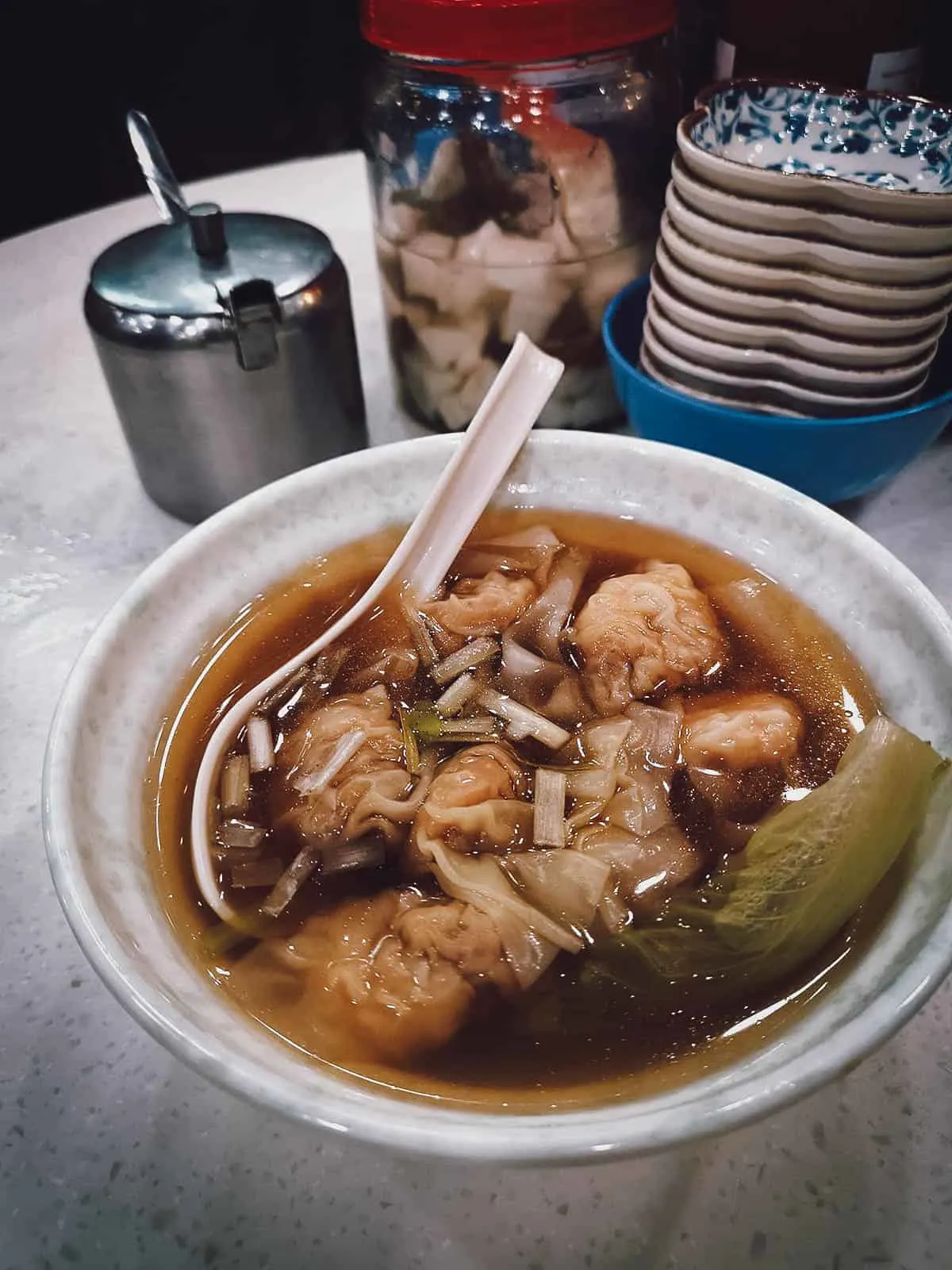 A wonton is a popular type of Chinese dumpling. In Cantonese cuisine, it's typically made with shrimp and minced pork wrapped in a thin sheet of dough. These wontons were delicious and made exceptionally well. They were firm and springy and didn't fall apart. I loved the pronounced shrimp flavor and texture.
At this point, I was a 9 out of 10 on the fullness scale. Thankfully, we had just one stop left.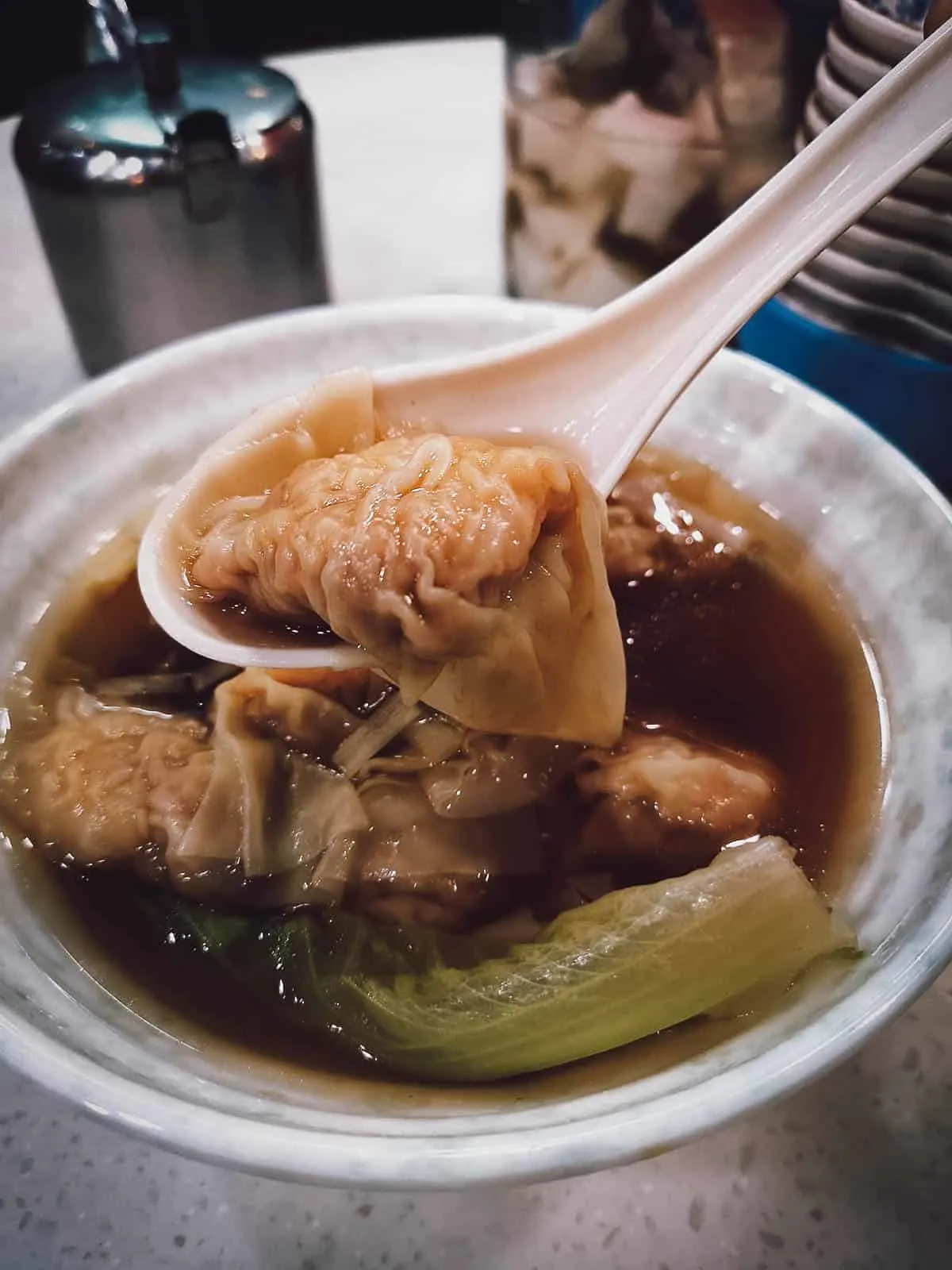 Tofu Pudding, Soy Milk
This tofu specialty shop was the last stop on tonight's tour. It's the fourth Michelin-recommended street food stall you'll be visiting. And like the others, it was one of our favorites from two years ago.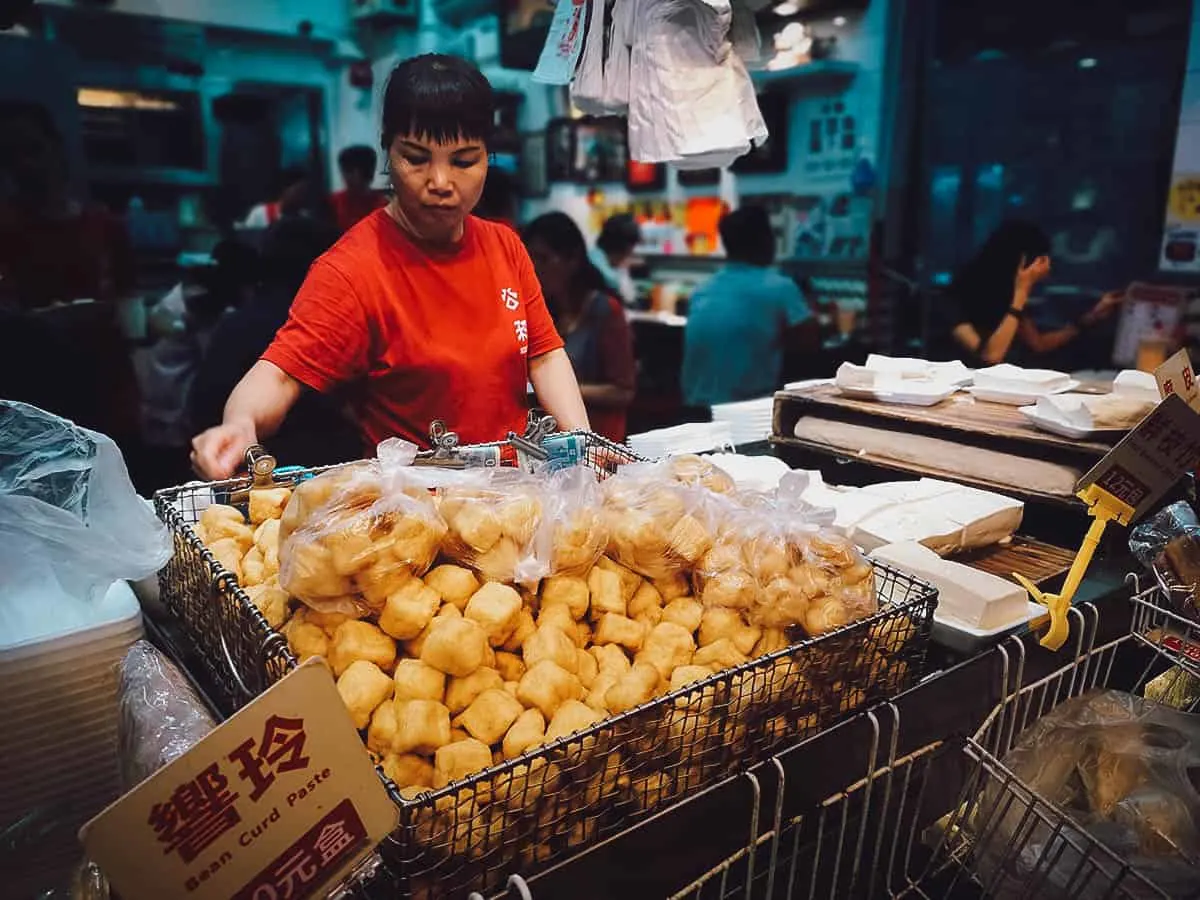 Blocks of silky tofu waiting to be turned into something delightful.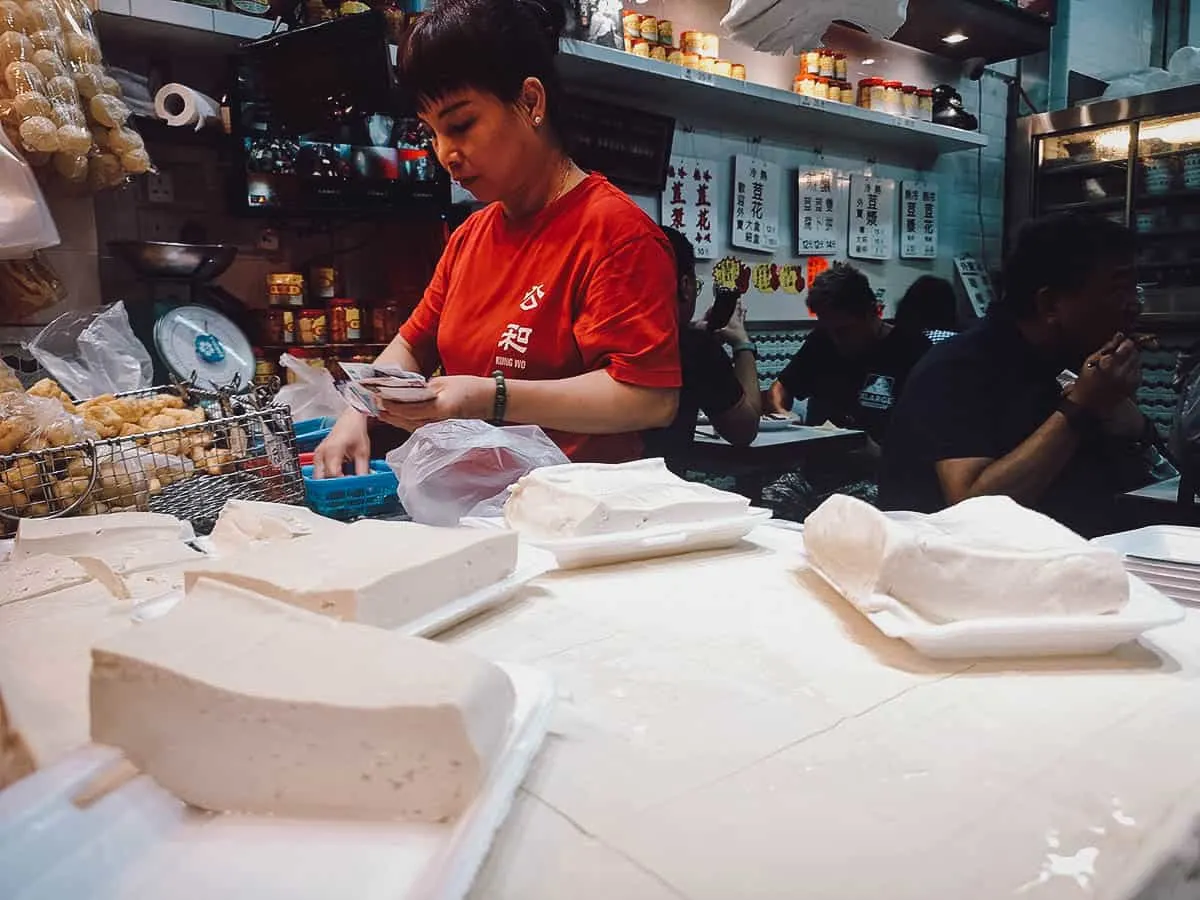 Lulu had me try two things at this shop, the first being this bowl of tofu pudding. Many Filipinos grow up with this stuff so I couldn't have asked for a better way to end this tour.
Back home, we call tofu pudding "taho". We have it with caramelized brown sugar syrup and sago but in Hong Kong, they serve it with a clear syrup. Lulu advised me to sprinkle some of this orange powdered sugar on top.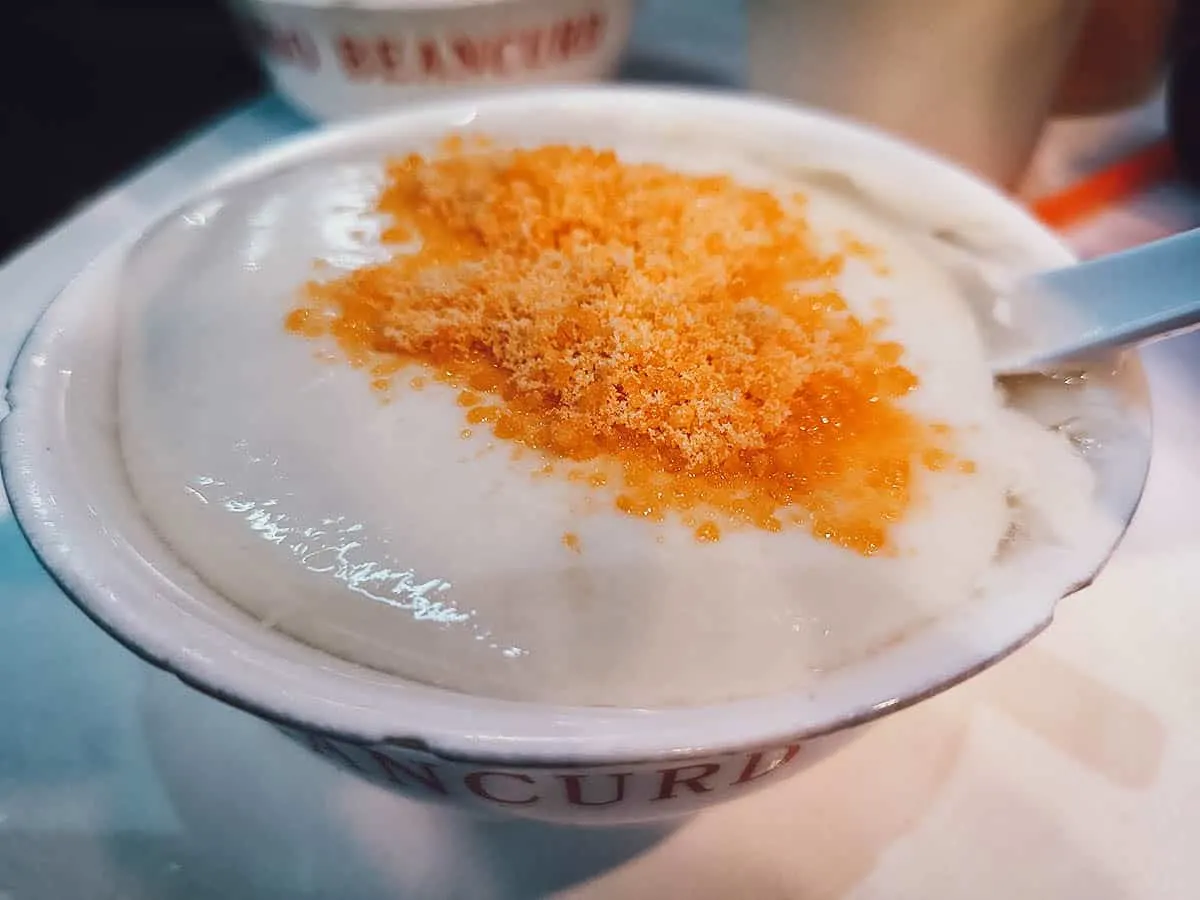 You mix it up well until all the powdered sugar dissolves into the pudding.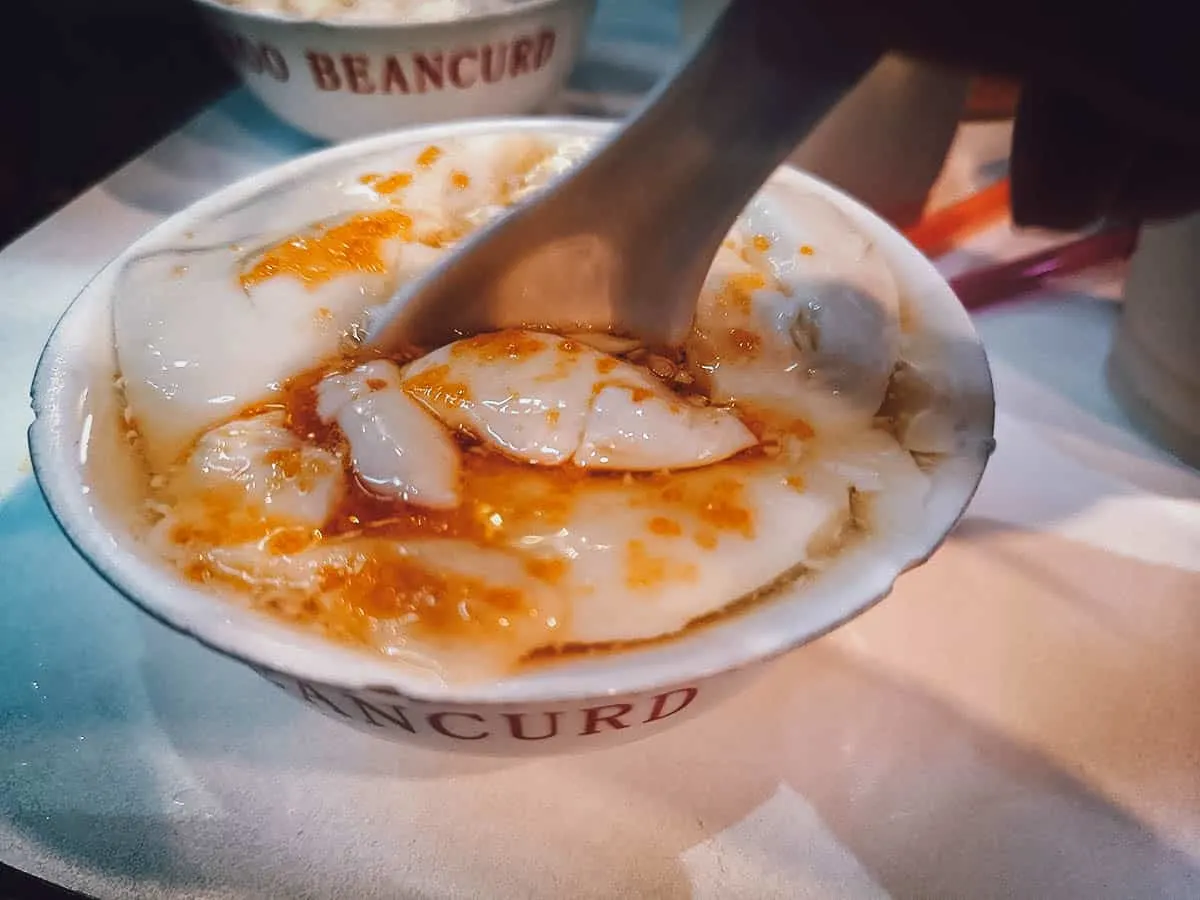 And voila! She's ready to eat. I was about a 9.5 out of 10 at this point but I could have had another bowl of this. It was smooth and silky and brought back many happy memories.
Growing up in the suburbs of Manila, a tofu pudding vendor would roam the streets at the same time everyday and scream "Taho! Tahooooo!". This would send us kids scrambling for bowls or cups then out onto the street to meet him. For 5 pesos (about 10 US cents), he'd fill our bowls with that day's supply of silken tofu bliss. That was our afternoon tradition and something we did almost everyday for many many years.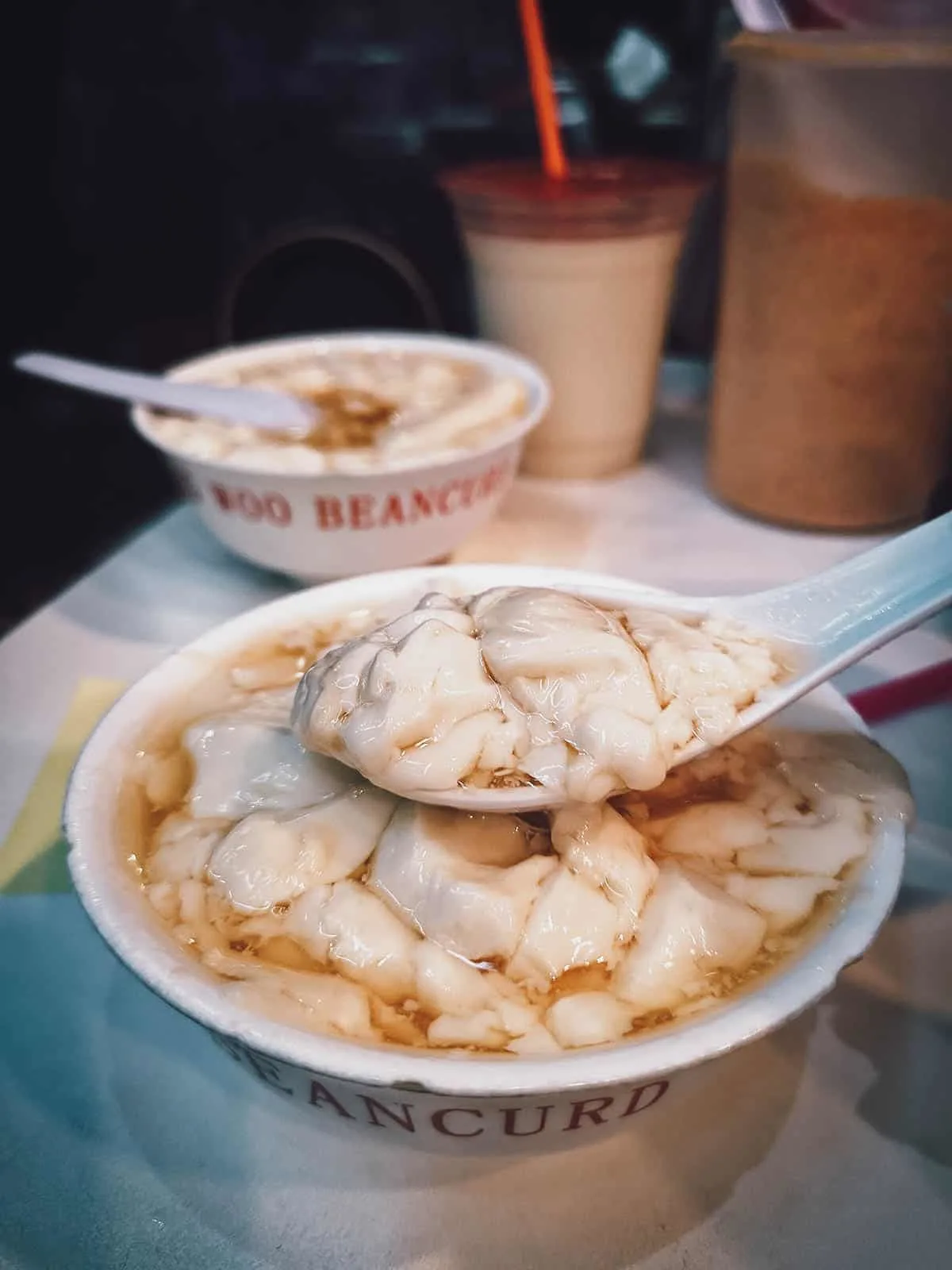 Remember how I was a 9.5 after that bowl of tofu pudding? Well this glass of soy milk pushed me to a 12. It was delicious and refreshing but ultra filling. I was bursting at the seams at this point so all I wanted to do was lay on my hotel bed like a beached whale. That's when you know you've had a great food tour.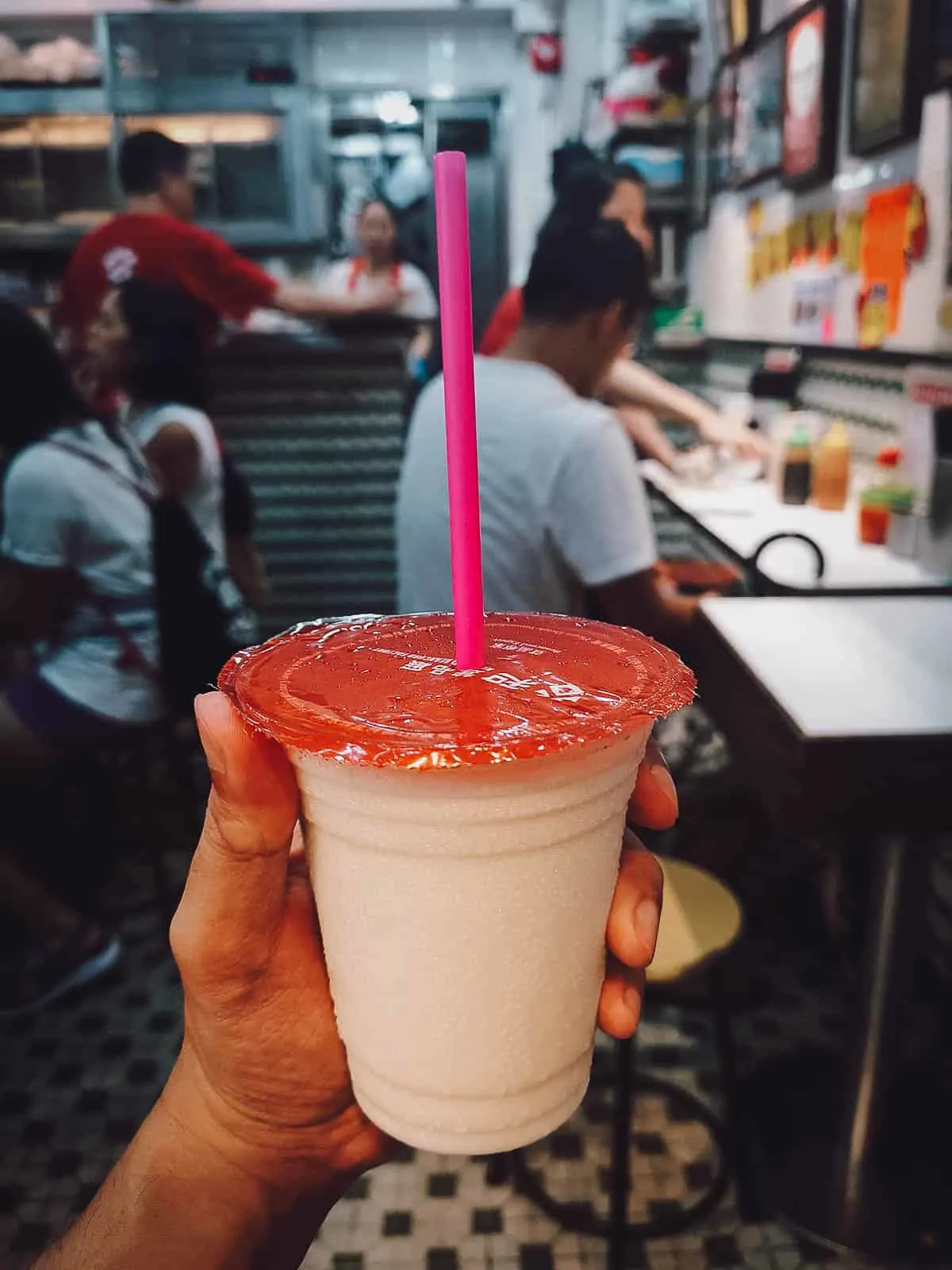 Final Thoughts
As much food as I had today, you'll be surprised to know that this wasn't even all of it. There was a typhoon that day so Lulu had to scratch a couple of places off our itinerary, including a seafood dai pai dong that's usually the last stop on the tour. As frightening as it sounds, expect to have even more food on this tour when the skies are clear.
Hong Kong is such a fantastic food city. There are many cities in the world that offer great food, but pound for pound, square inch for square inch, Hong Kong has to be one of the best and most exciting. And that's coming from someone who doesn't even cite Cantonese food as one of his favorites.
With the wealth of food experiences in this city, it can be daunting and confusing to figure out where to go, which is why I think it's so important to have a local show you around. In the past, we didn't always go on food tours because I thought I could find everything through research. That is simply not true. No matter how much research you do, no matter how many hours you spend poring over blogs and crowd review websites, nothing will ever come close to local knowledge when it comes to food.
If you're visiting Hong Kong and want to have an authentic Cantonese food experience, then I suggest checking out this tour. It costs USD 150 per person and you can book it on A Chef's Tour.
A Chef's Tour
Website: achefstour.com
Facebook: achefstour
Twitter: achefstour
Instagram: achefstour
Pinterest: achefstour
Email: [email protected]
Cost: USD 150 per person
Availability: Mon-Fri
Check out our Hong Kong food guide for more food recommendations.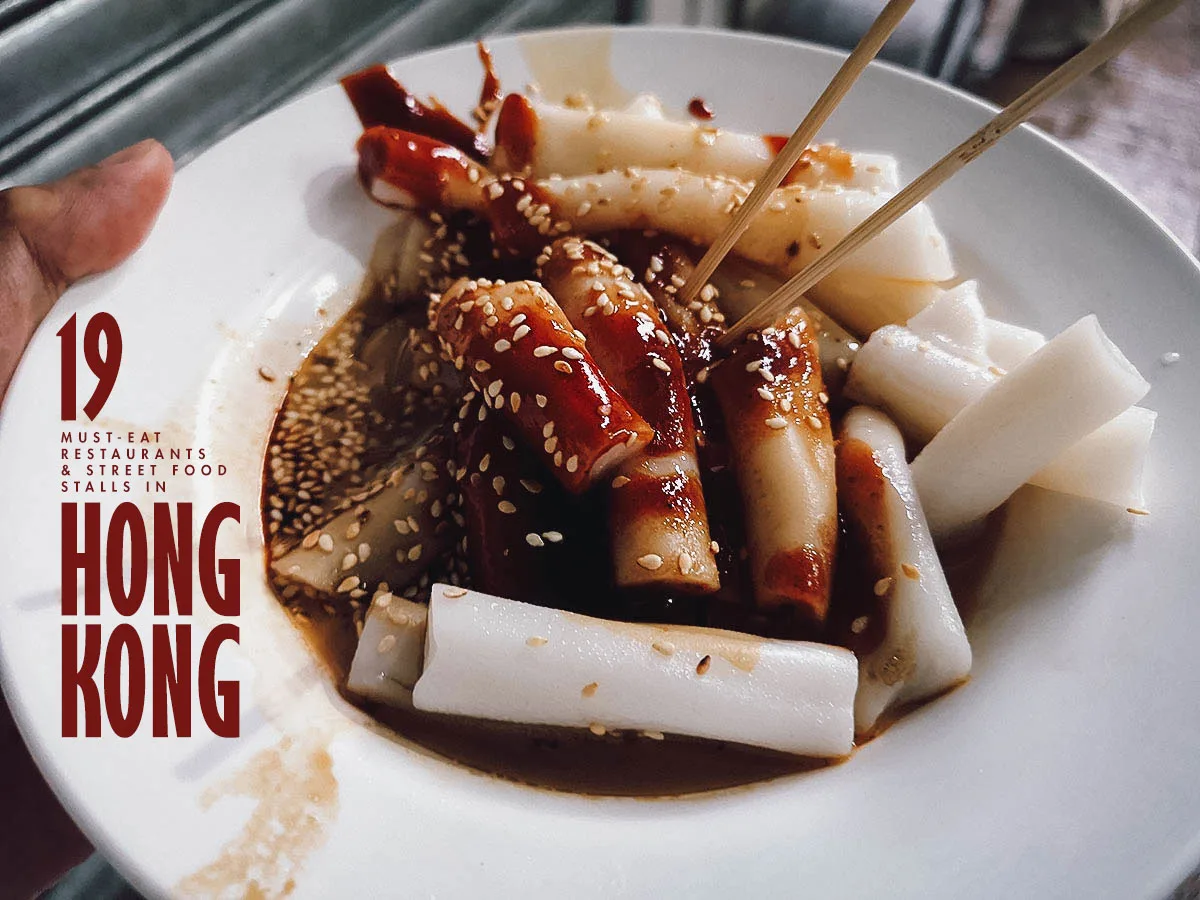 For travel tips, check out our First-Timer's Travel Guide to Hong Kong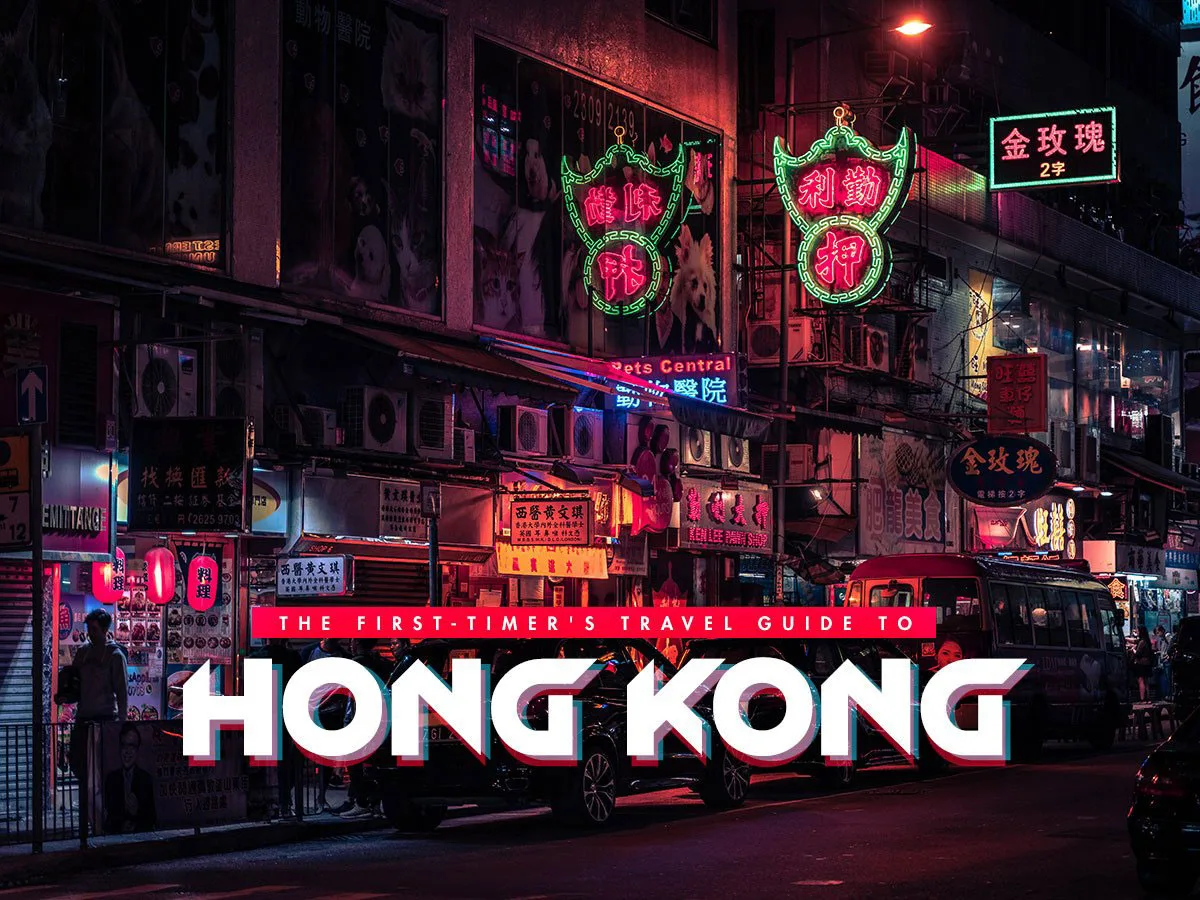 Disclosure
A Chef's Tour gave me a complimentary food tour in exchange for an honest account of the experience. As always, all words, thoughts, and opinions expressed in this post are mine and mine alone.