What started off as an itinerary with just a few notable cafes in Hanoi quickly escalated into a nationwide hunt for the best and most interesting coffeehouses in Vietnam. Vietnam is the second largest producer of coffee in the world, behind only Brazil, so you can find cafes serving excellent coffee no matter where you are in the country.
I spent a month in Vietnam and made my way from north to south, stopping at as many cafes as I could find in popular destinations like Hanoi, Sa Pa, Hue, Hoi An, Saigon, and the Mekong Delta. Thinking back on all the coffee shops I visited – which was well over fifty – I found that Hanoi had the most historic cafes, Saigon the coolest, and Hoi An some of the prettiest, which in hindsight was pretty much consistent with the character of each city.
If you're spending time in central Vietnam and want to enjoy a good cup of Vietnamese coffee, then you may want to check out these nine Instagram-worthy cafes in Hoi An.
You can refer to our Hanoi coffee guide as well to learn more about the different types of coffee you can have in Vietnam.
HOI AN CAFES QUICK LINKS
To help with your Hoi An trip planning, I've compiled links to hotels, tours, and other services here.
HOTELS
Top-rated hotels in Hoi An Ancient Town, the most convenient area to stay for people on their first trip to Hoi An.
TOURS
OTHER SERVICES
HOI AN TRAVEL GUIDE
Before you visit Hoi An, be sure to check out our detailed Hoi An travel guide. It'll tell you all you need to know – like when to go, which attractions to visit, which restaurants to go to, etc. – to help you plan your trip.
Save This on Pinterest!
No time to read this Hoi An coffee guide now? Click on the red save button and pin it for later!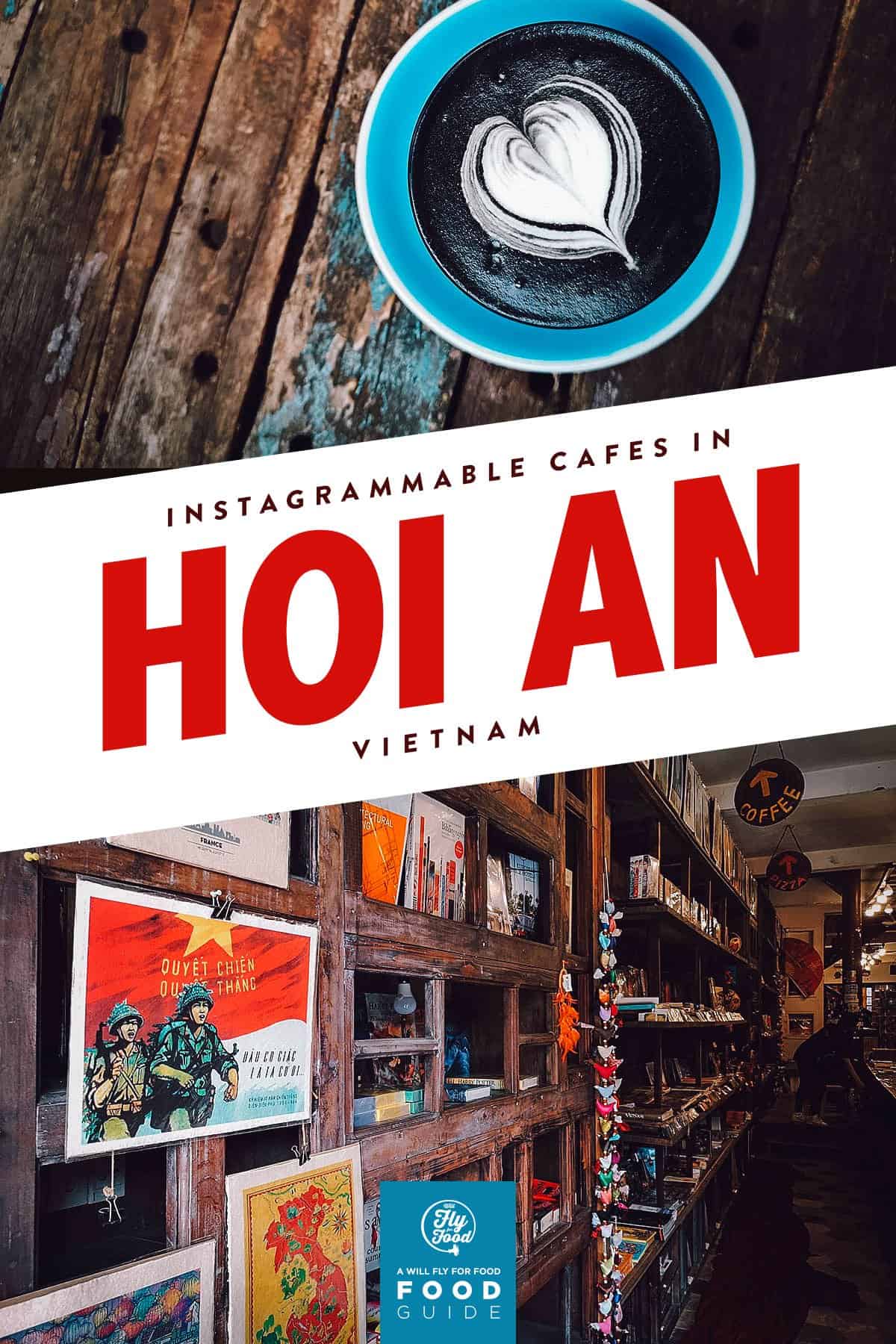 INSTAGRAMMABLE CAFES IN HOI AN
1. Reaching Out Tea House
Reaching Out Tea House is perhaps the prettiest and most interesting place on this list. Located along busy Tran Phu Street in the Ancient Town, they serve both coffee and tea which you're meant to enjoy in silence.
Reaching Out was started in 2000 by a group of physically impaired Vietnamese locals as a way of earning an independent living for themselves. It started off as a craft shop selling handmade homeware and jewelry before they opened this teahouse in 2012. It's managed by the speech and hearing impaired which is why you're encouraged to enjoy your coffee or tea in silence.
According to the description on their menu, the Reaching Out craft shop now employs and works with almost a hundred physically impaired artisans throughout the country.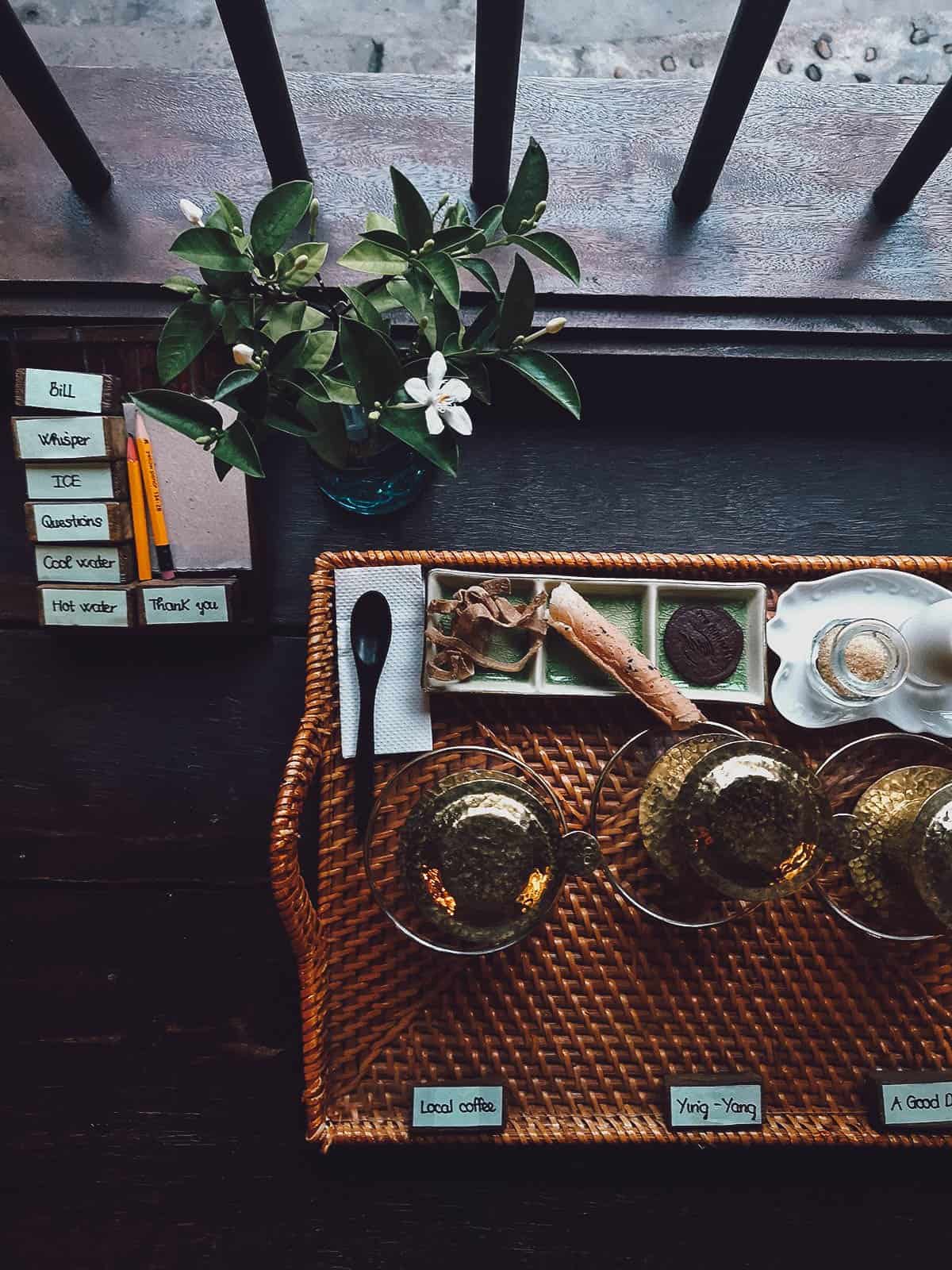 Reaching Out Tea House offers four types of tea and three coffee blends. If you're unsure what to get, then you can order tea or coffee tasting sets of three, which is what I did. A la carte coffee orders are VND 57,000 each but you can have the coffee tasting set for VND 135,000.
I drink black coffee all day everyday but by no means am I a connoisseur. However, I could easily taste the difference between these three coffee blends. According to their menu, "Local Coffee" is made with Cau Dat arabica and Ea H'leo robusta beans, "Yin-Yang" with Dalat bourbon arabica and moka, and "A Good Day" with Cau Dat arabica. Local Coffee may have been my favorite.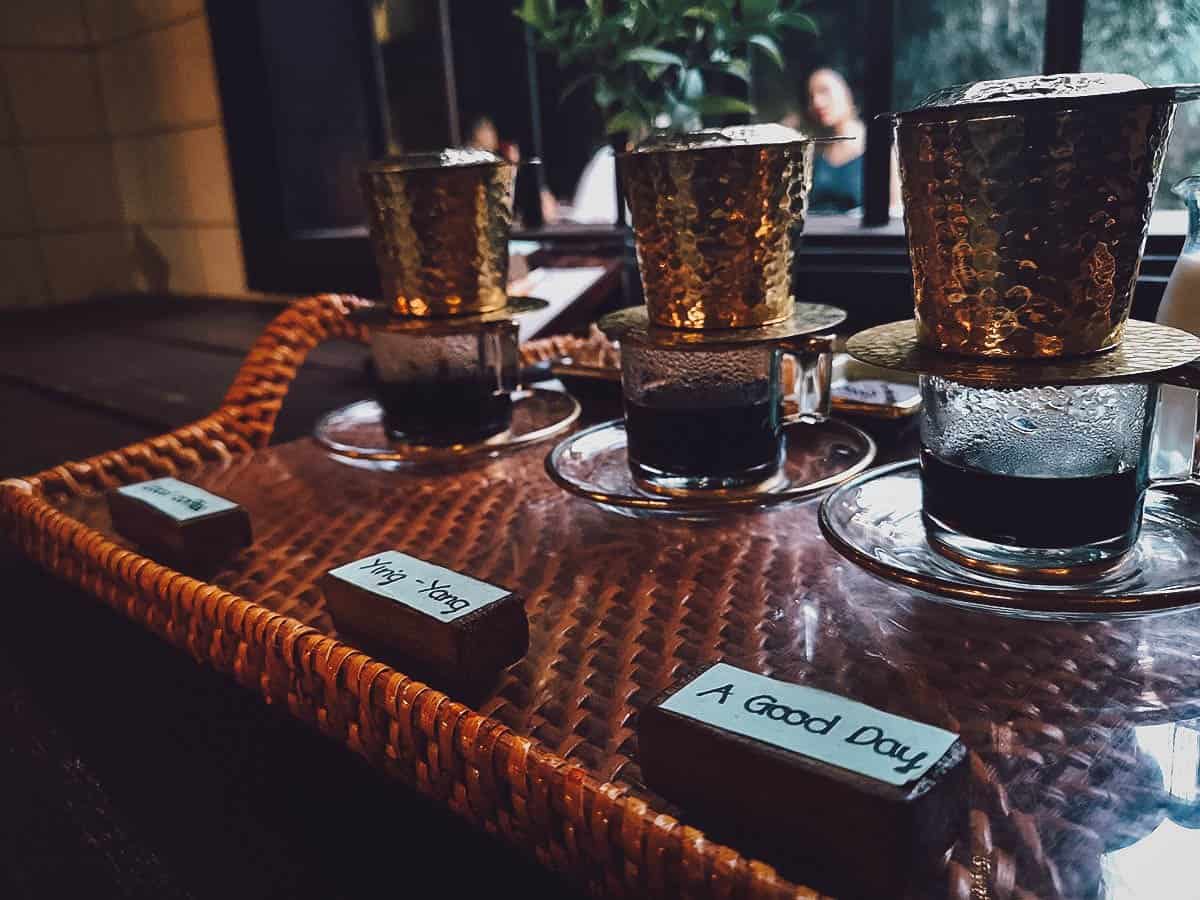 Because the servers are hearing impaired, you can communicate with them through handwritten notes or by presenting these blocks with often used messages like "Bill", "Ice", or "Thank you". I communicated with my server using mime.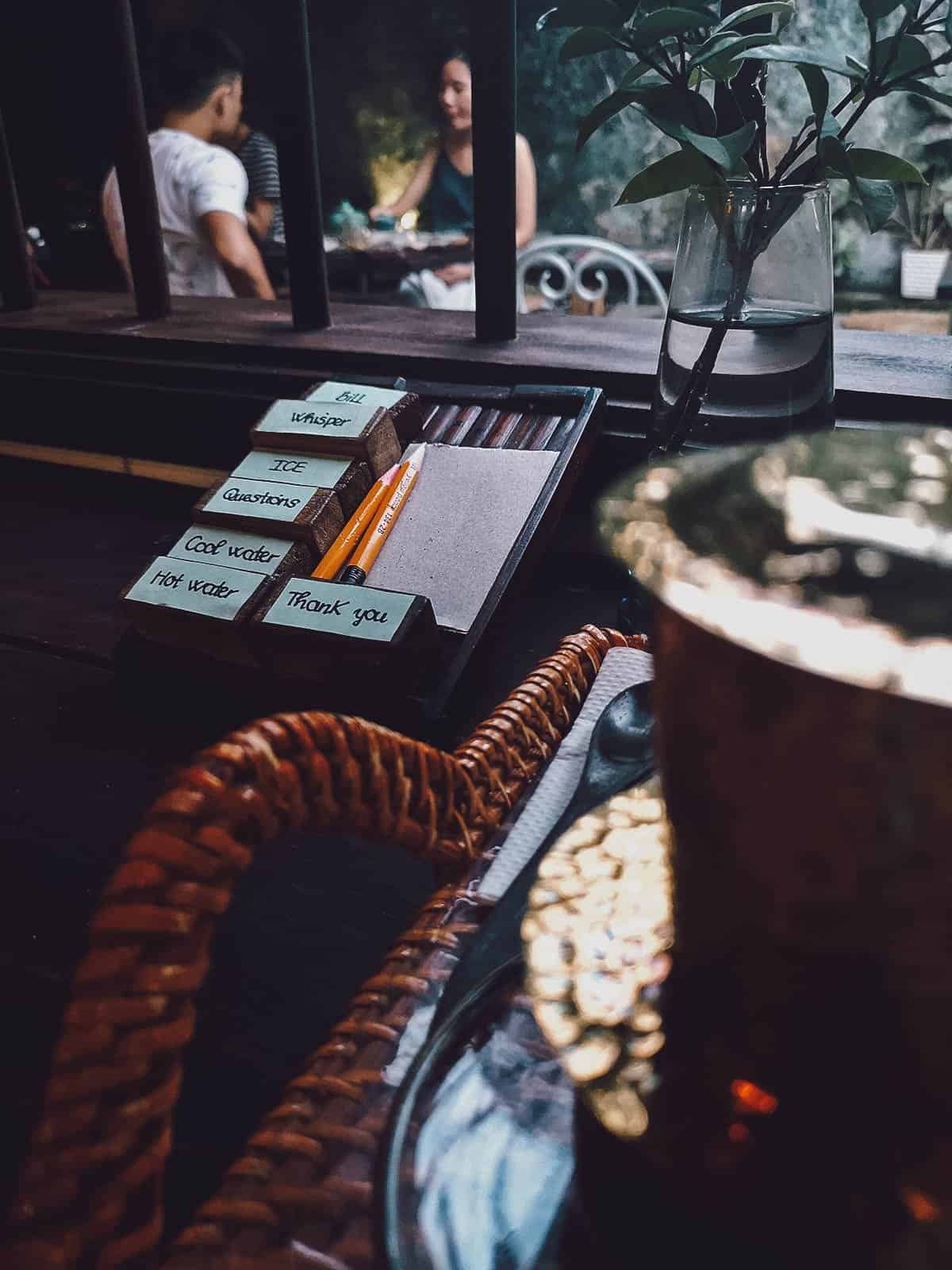 Aren't these coffee or tea sets pretty? I must have taken over a hundred pictures here. These tasting sets are served with a few high-tea-type snacks like biscuits and dried fruit.
Reaching Out Tea House is one of the most beloved establishments in Hoi An. They're a TripAdvisor Certificate of Excellence awardee with a perfect 5-star rating, even after over 2,600 reviews and counting.
Reaching Out Tea House
Address: 131 Trần Phú, Phường Minh An, Hội An, Quảng Nam, Vietnam
Operating Hours: 8:30AM-9PM, Mon-Fri / 9:30AM-7PM, Sat-Sun
2. Phin Coffee (Original)
I was sold on Phin Coffee after a local blog declared their coffee to be some of the best in Hoi An. I'm not experienced enough to agree or disagree, but their coffee was excellent indeed and one of my favorites in Hoi An. I enjoyed it so much I wound up visiting two of their branches.
I believe Phin Coffee has two or three outlets in Hoi An, with the original branch located at 132/7 Tran Phu Street. Tucked away in a labyrinth of alleyways in the Ancient Town, it isn't as easy to find but it's definitely worth seeking out. They have a lovely garden seating area in front with lots of trees and picnic-style tables and benches.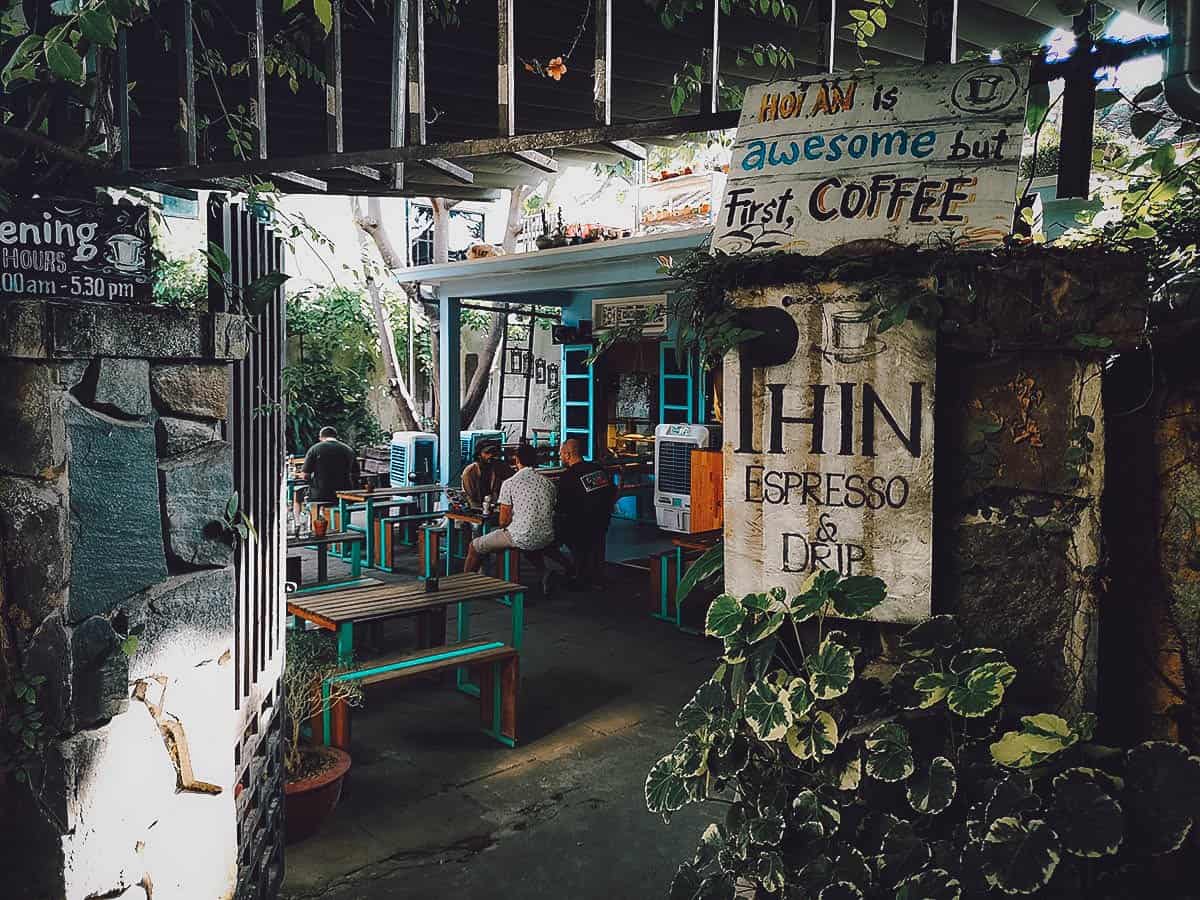 The baristas at Phin Coffee are described as being some of the most knowledgeable in Hoi An. That may be true. On both my visits, I was invited to watch my coffee being brewed while the barista gave me a blow-by-blow description of the process. The term phin refers to the metal device used to filter the coffee.
I ordered the phin coffee at this branch for VND 50,000, which you can have hot, iced, or served with condensed milk. They also offer phin tasting sets of three for VND 140,000. It comes with a cup of 100% arabica, 100% robusta, and a cup with 70% arabica and 30% robusta.
It was a hot day so I got mine iced with condensed milk. As described, this cup of coffee was delicious – robust and full-flavored. Like Reaching Out Tea House, Phin Coffee is a TripAdvisor Certificate of Excellence awardee with a perfect 5-star rating.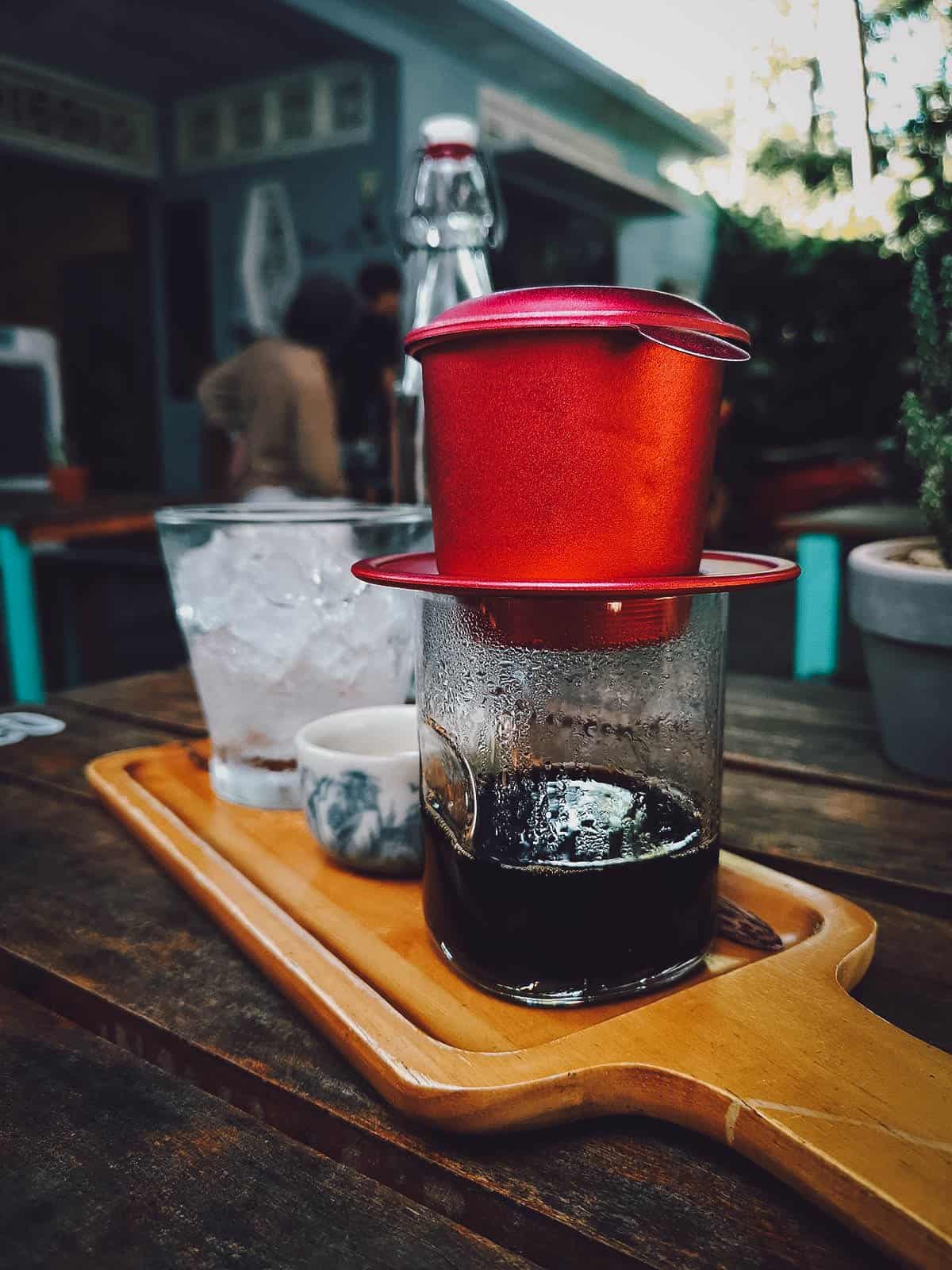 After all the water seeps through the phin, you can pour the coffee into your glass with ice then add the condensed milk. Coffee in Vietnam is often served in this way.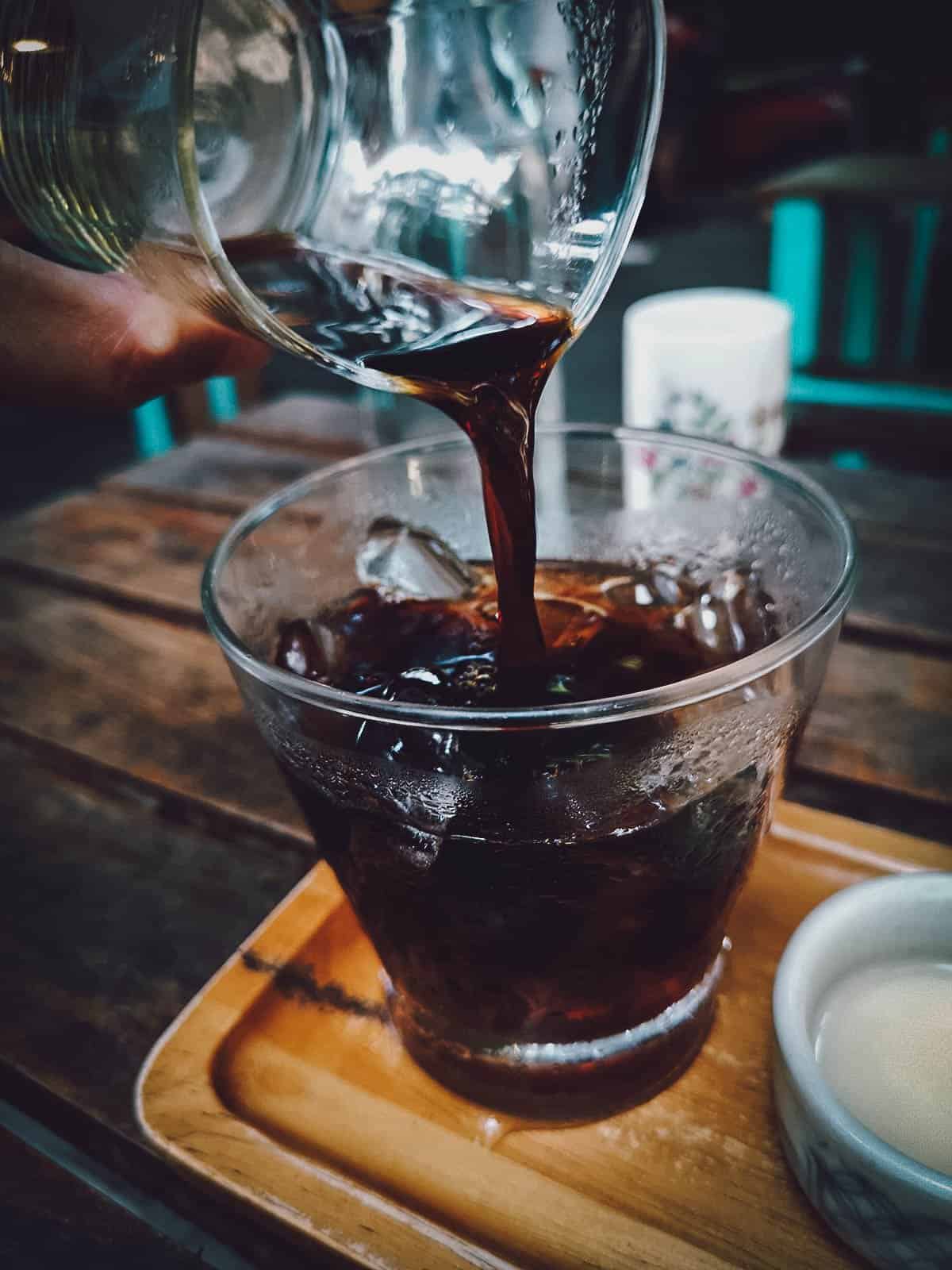 Phin Espresso & Drip (Original)
Address: 132/7 Trần Phú, Phường Minh An, Hội An, Quảng Nam, Vietnam
Operating Hours: 8AM-5:30PM, daily
3. Phin Coffee (Riverside) – CLOSED
Luckily for me, I found this Phin's Coffee branch by the river not too far from my hotel. It overlooks the Thu Bon River in a quieter part of town, away from the pedestrian bridge that gets choked with tourists throughout the day. This branch may be fairly new as it doesn't seem to be showing up on Google Maps yet.
Unlike cookie cutter cafes like Starbucks or Hoi An Roastery, each Phin Coffee outlet is unique. This one looks more modern than the original branch in the Ancient Town.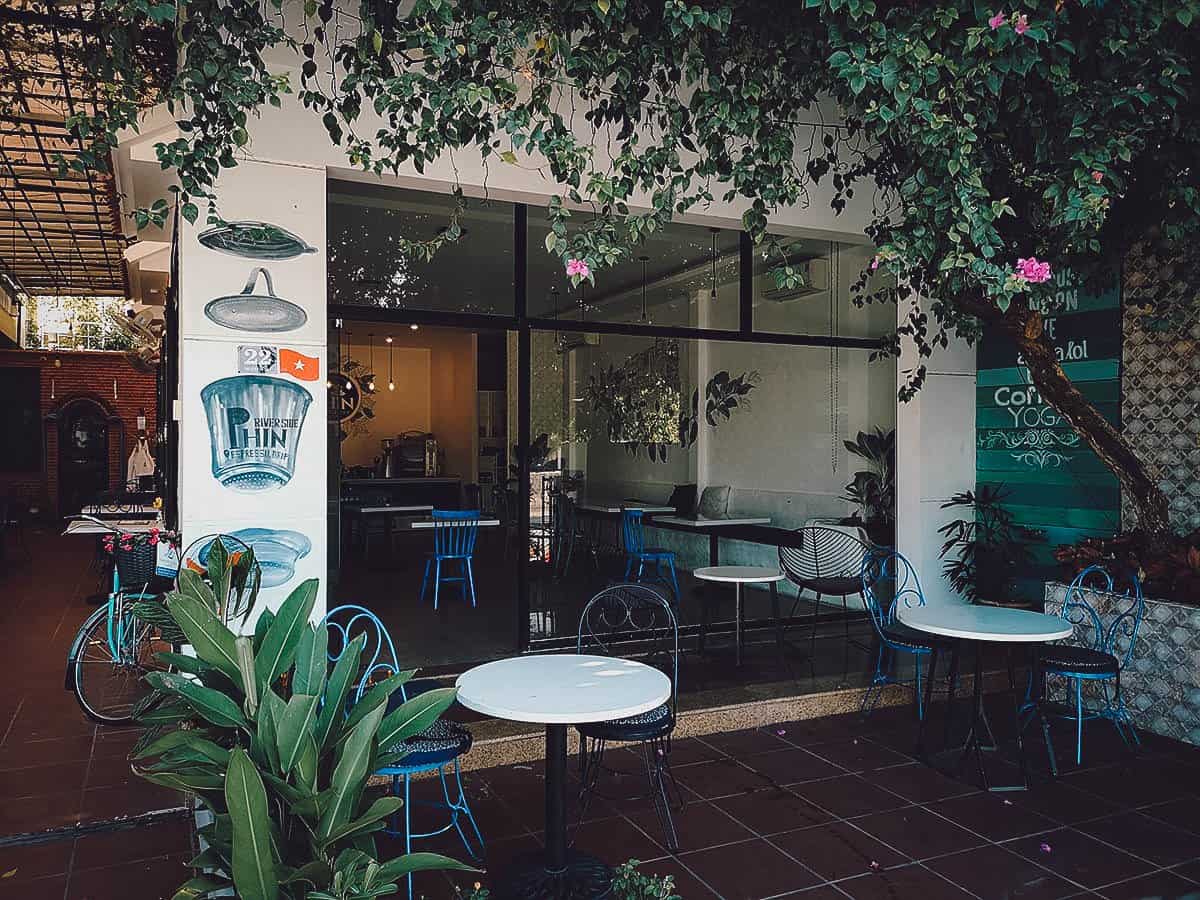 Aside from coffee filtered using a metal phin, Phin Coffee also serves "vot coffee" which is coffee filtered using a cloth strainer. This was the only time I remember encountering vot coffee throughout my stay in Vietnam. I didn't even see it in Saigon where the method was invented and popularized. Interesting!
From what I understand, vot coffee is a dying method of coffee preparation that used to be popular in Ho Chi Minh City, back when metal phin filters were hard to come by. Finely ground coffee powder was brewed in earthen pots then filtered through cloth nets that resembled thick stockings. Today, with the popularity of phin filters, only a few places exist that still prepare coffee in this way.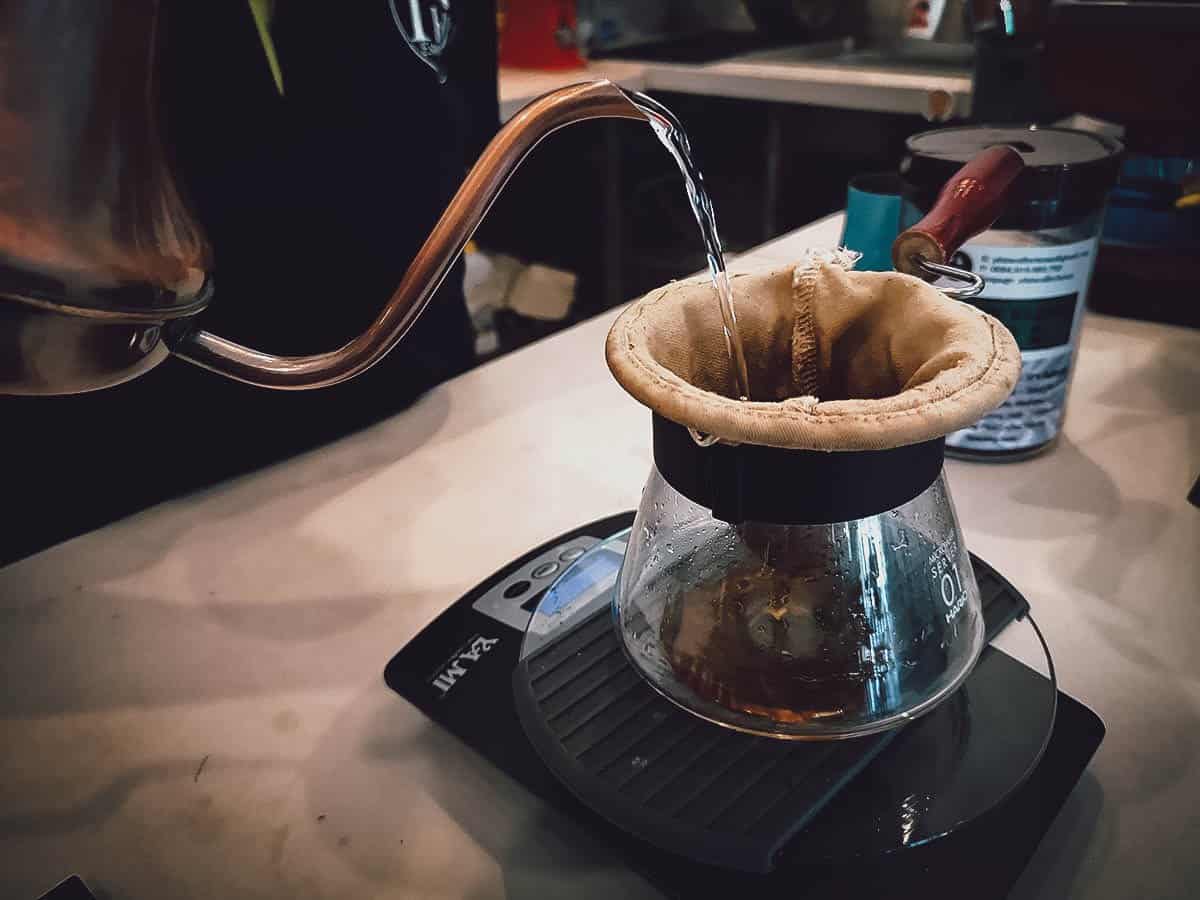 It was interesting to try vot coffee (VND 50,000) but I much prefer coffee filtered through a phin. This one tasted a bit watered down to me.
For people who like fancy cups of joe, Phin Coffee serves unique coffee creations like cold brew coffee with fruit juice and their own twist to Hanoi's egg coffee. They make it with coconut syrup to reduce the sweetness and eggy smell.
Phin Espresso & Drip (Riverside) – CLOSED
Address: 22 Nguyễn Du, Phường Minh An, Hội An, Quảng Nam, Vietnam
Operating Hours: 8AM-5PM, Mon-Sat (closed Sundays)
4. Hoi An Roastery
This is probably the most successful coffee chain in Hoi An. With seven branches and counting, I like to think of them as the Starbucks of Hoi An.
Hoi An Roastery is a polished coffee brand that offers good coffee in a comfortable, well-designed environment. It may not be the most interesting or unique but you can expect the same level of service, comfort, and quality at every Hoi An Roastery branch. Just like Starbucks.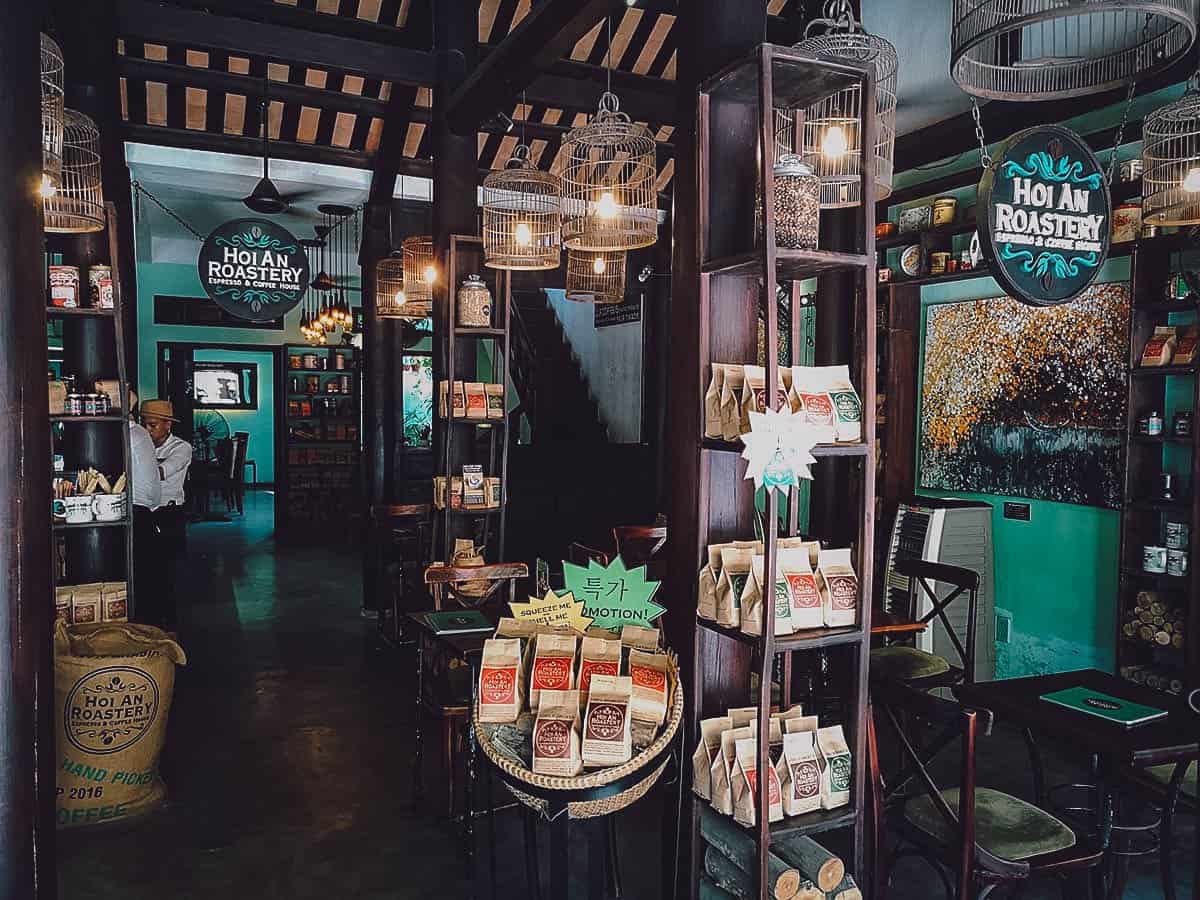 It was a sweltering afternoon in Hoi An so I ordered a large ca phe sua da (iced coffee with condensed milk, VND 89,000) and retreated to the air-conditioned room upstairs. If you're used to the comforts of a western-style cafe, then you're going to like Hoi An Roastery.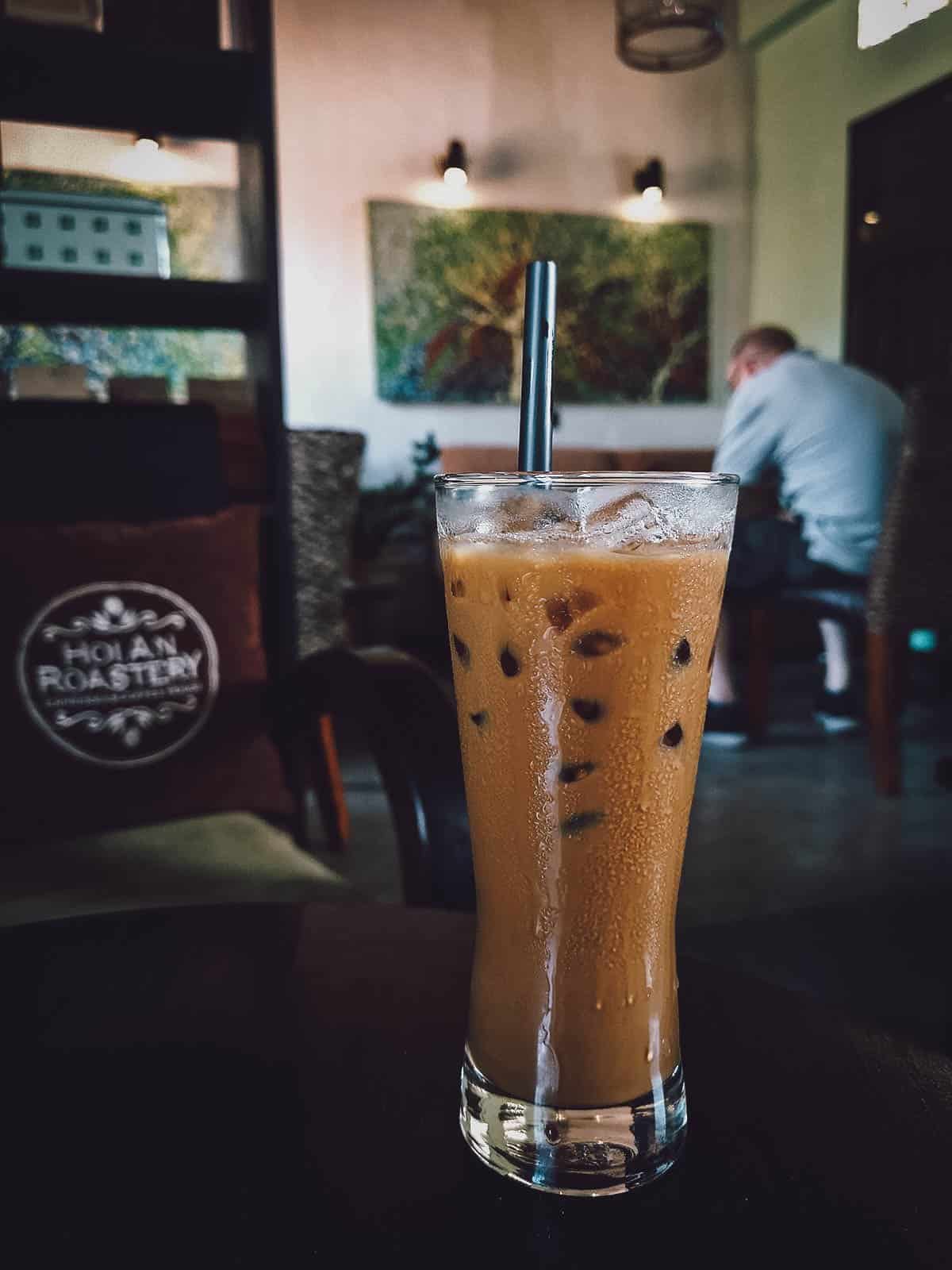 Hoi An Roastery
Address: Multiple branches
Operating Hours: Varies per branch
5. Avos & Mango
NOTE: The status of Avos & Mango as of 1 April 2022 is unknown. The last TripAdvisor review is from September 2020 and the cafe no longer shows up on Google Maps. I'll be sure to update this post once I confirm.
I chanced upon this cute cafe after wolfing down a banh mi at Phi Banh Mi. It's a bright and airy western-style cafe that offers Vietnamese coffee, smoothies, and healthy breakfast dishes heavy on fruit, yogurt, granola, and vegetables.
They present their dishes beautifully so if you're looking to have a healthy and highly Instagrammable breakfast to enjoy with your coffee, then you're going to love Avos & Mango. They have a perfect 5-star rating on TripAdvisor.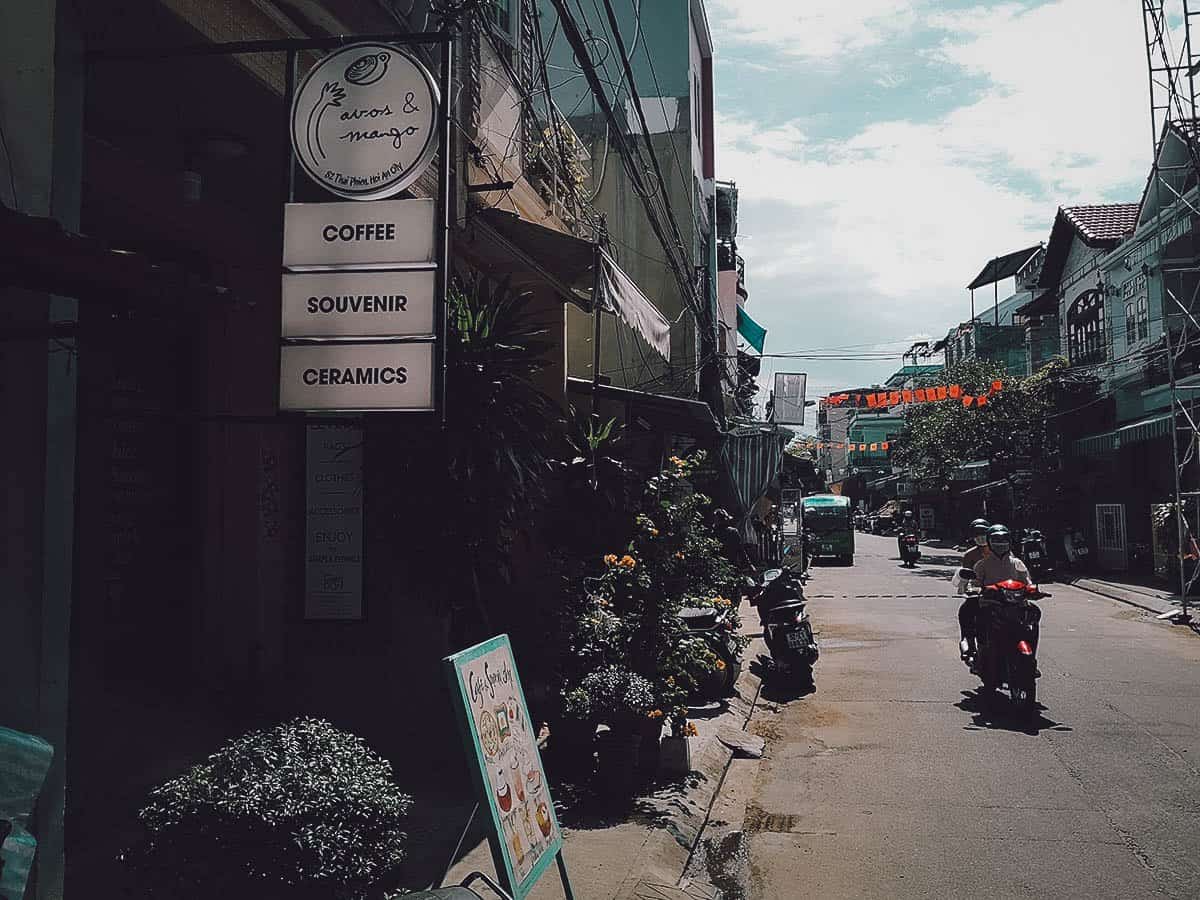 I've had many a coconut coffee in Vietnam, but none that ever looked like this. Talk about presentation! Am I in Hoi An or Hawaii?? This ca phe dua (VND 45,000) or black coffee mixed with coconut cream wasn't just pretty, it was delicious and refreshing too. Clearly, this place was made for Instagram.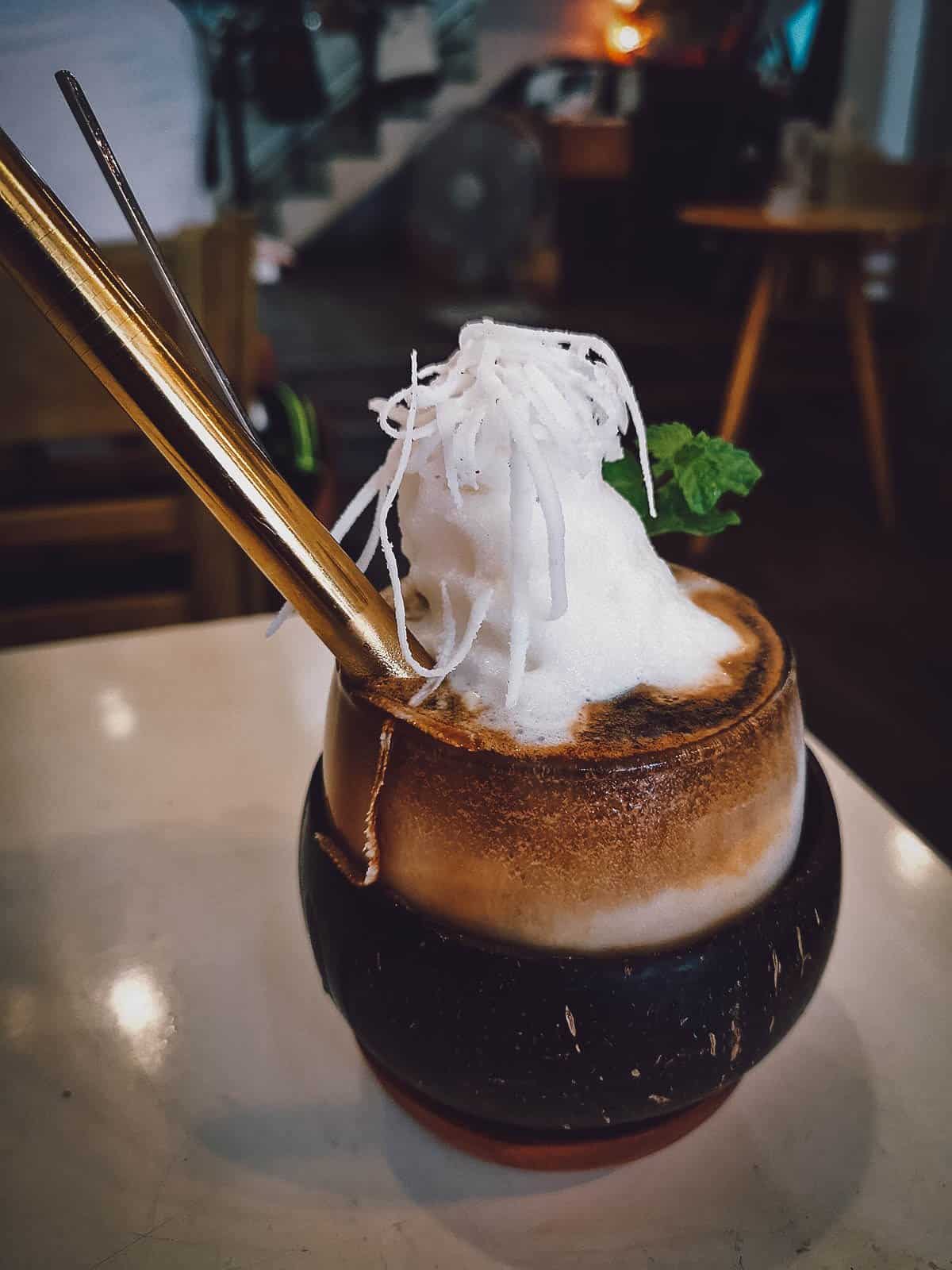 Avos & Mango
Address: 82 Thái Phiên, Phường Minh An, Hội An, Quảng Nam 51000, Vietnam
Operating Hours: 8:30AM-5:30PM, Sun-Fri (closed Saturdays)
6. The Espresso Station
This was my favorite cafe in Hoi An. The space wasn't the most interesting or comfortable but they served the best, most innovative cups of coffee I had in town. You'll see what I mean in the next picture.
Like a few of the cafes on this list, The Espresso Station is a TripAdvisor Certificate of Excellence awardee with a perfect 5-star rating. It's tucked away in the Ancient Town's labyrinth of alleyways but it's well worth seeking out.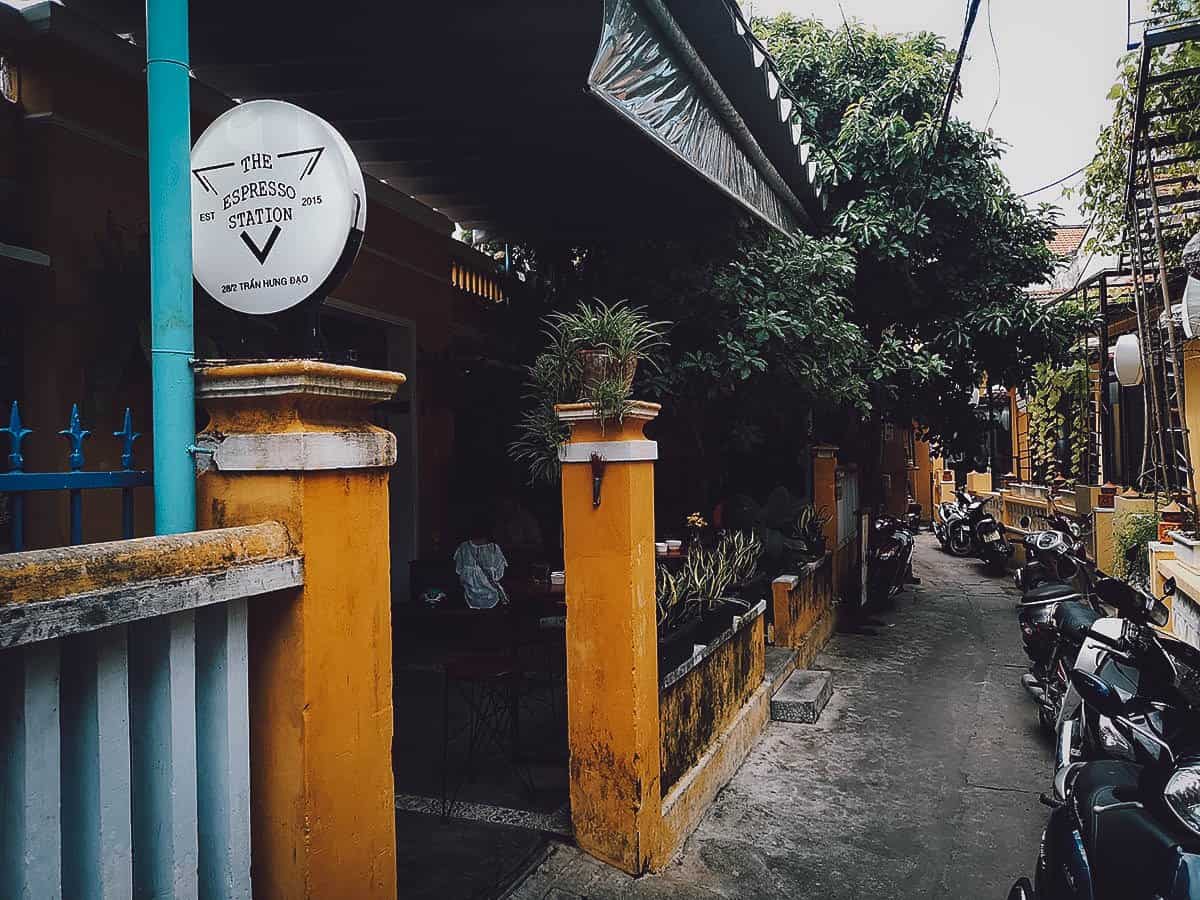 No, this picture wasn't Photoshopped. It really was this black. Called "dark soul latte" (VND 65,000), this cup of joe as black as your ex's heart is an espresso blended with milk and activated charcoal. It was delicious and not just a gimmick.
The Espresso Station serves a selection of Vietnamese and western-style coffee like affogato, macchiato, and cubano cortado, but I suggest getting one of their signature brews. Aside from this dark soul latte, another drink that caught my eye was their "coffee ice cubes", which are frozen coffee cubes topped with cocoa powder and served with a side of warm milk. I'm definitely trying that one on our next trip to Hoi An.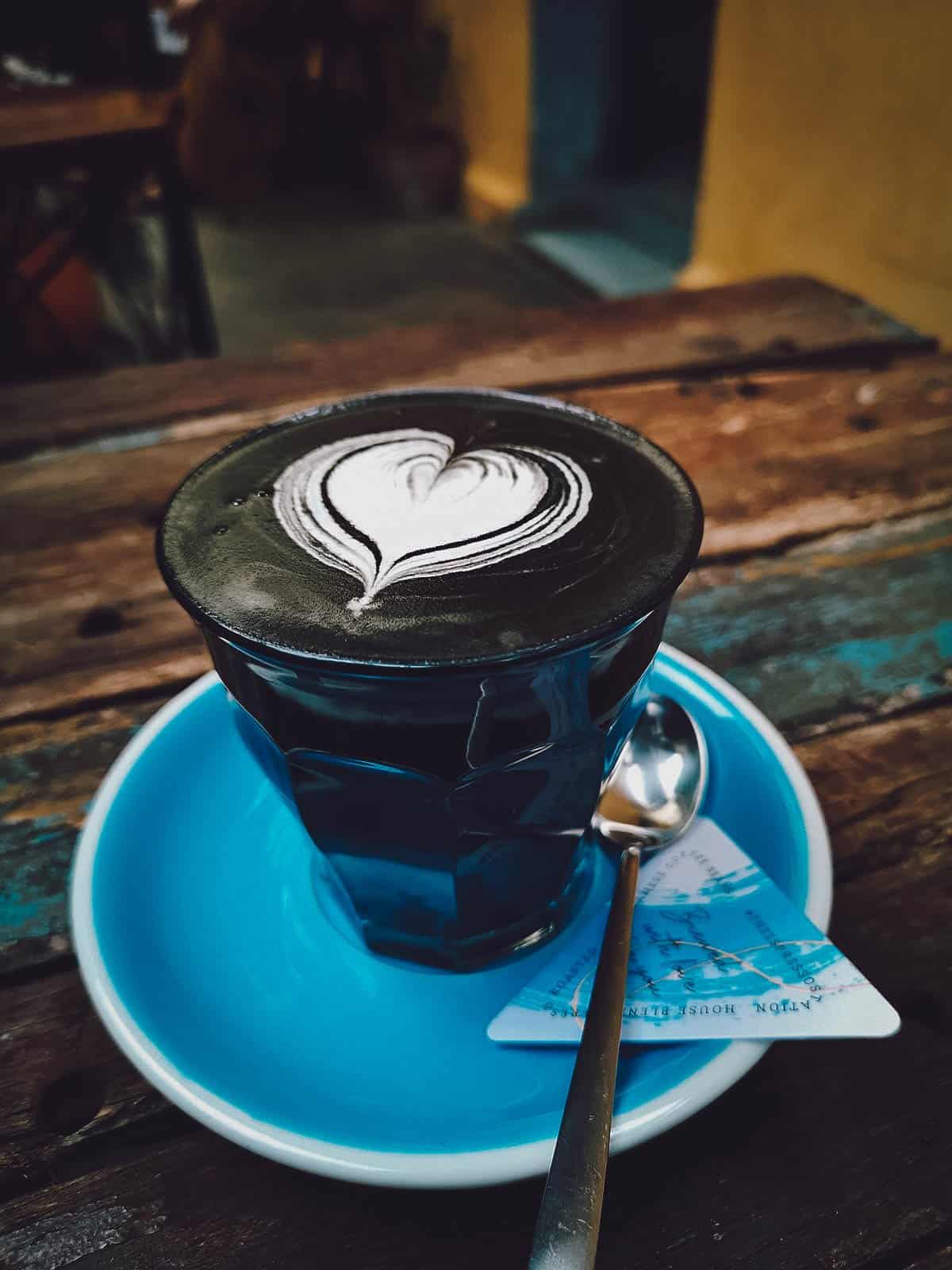 The Espresso Station
Address: 28/2 Trần Hưng Đạo, Phường Minh An, Hội An, Quảng Nam, Vietnam
Operating Hours: 7:30AM-5PM, daily
7. The Chef – CLOSED
As you can probably surmise from its name, The Chef is more a restaurant than a cafe. We haven't eaten here but it's actually a highly rated restaurant in the Ancient Town, with a near perfect 4.5-star rating and a Certificate of Excellence award from TripAdvisor.
I wouldn't normally include a place like this in a cafe list but they serve coffee on the second floor with a lovely balcony overlooking busy Tran Phu Street. People watching is one of the best things you can do while drinking coffee which is why I decided to add it.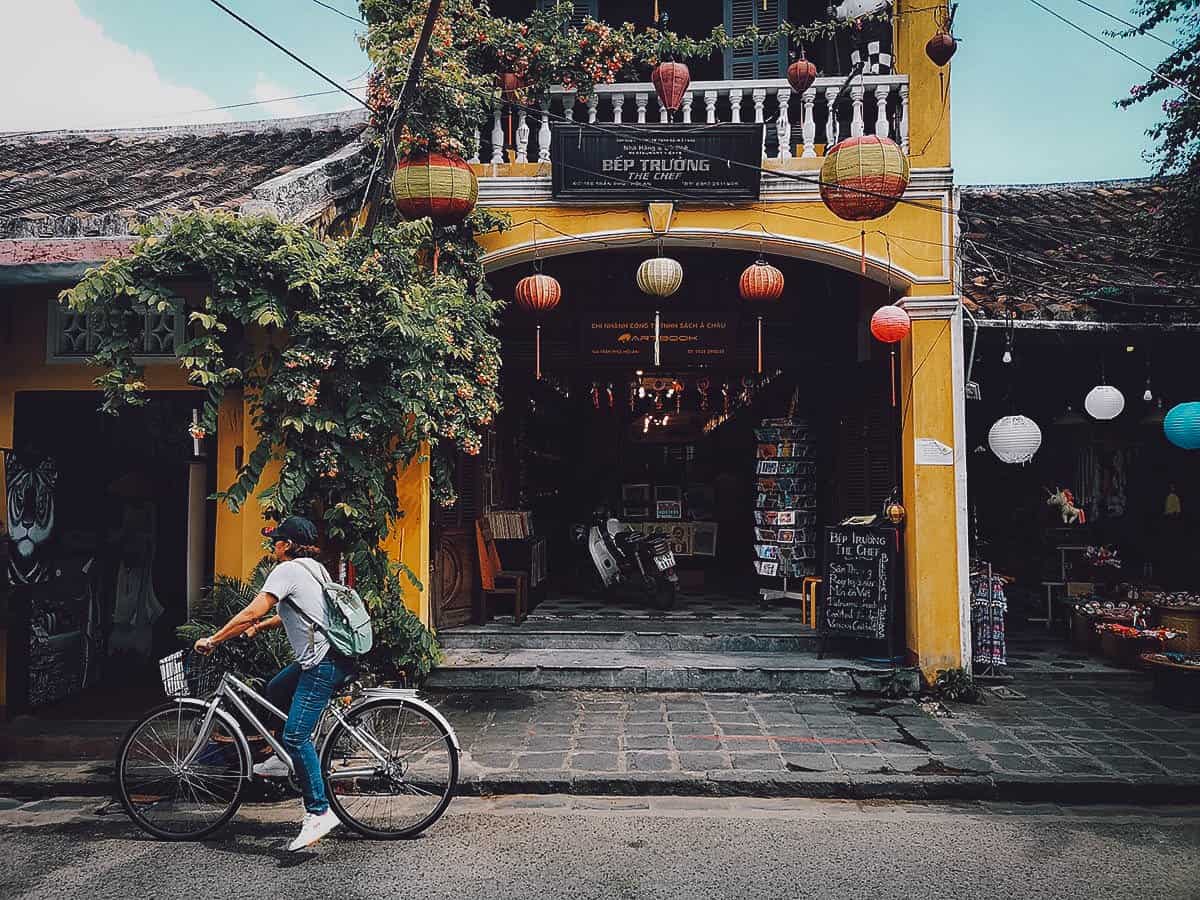 The cafe and restaurant are on the second floor, while on the first is one of the biggest and best bookshops in Hoi An. Aside from books, they carry a hodge podge of knick-knacks like souvenirs, vintage posters, memorabilia, and other trinkets.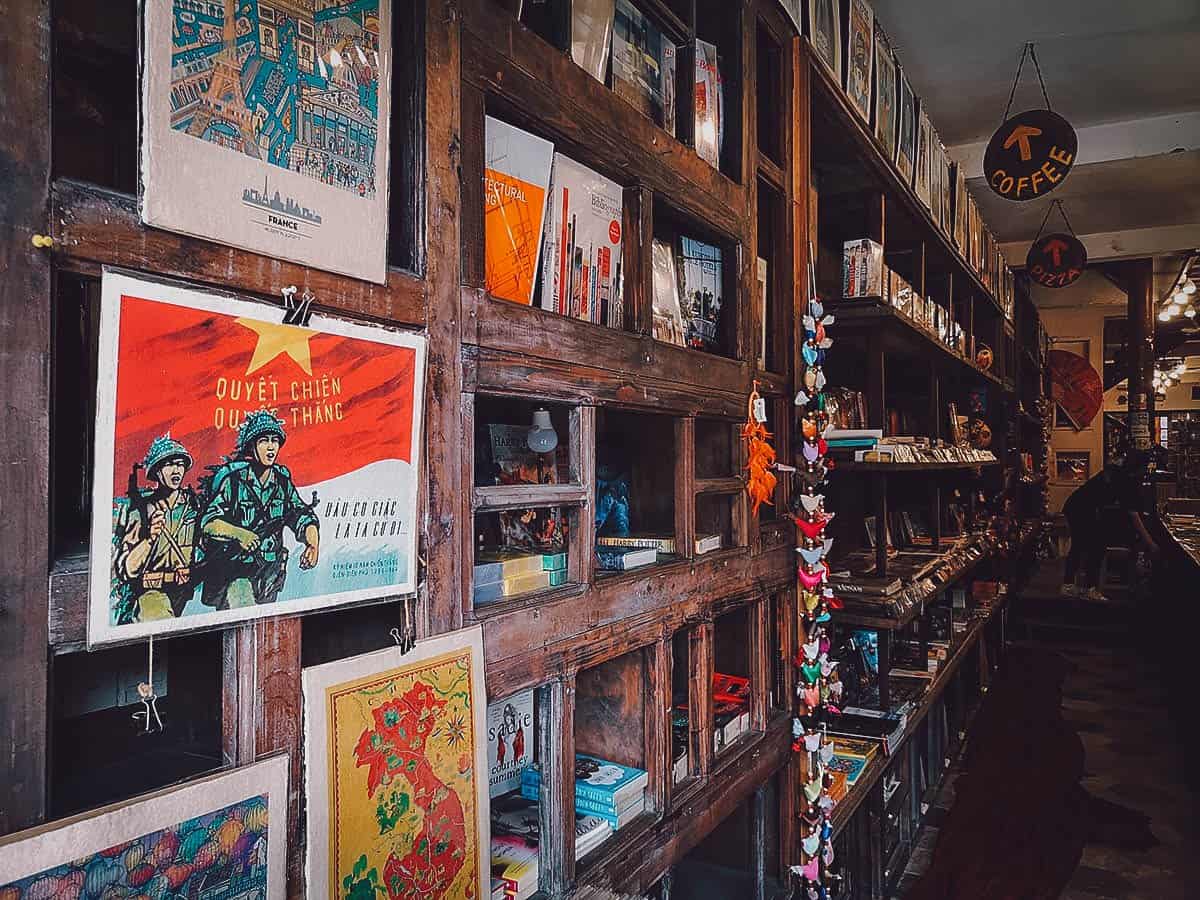 This is the seating area on the second floor decked out in dark wood and adorned with lanterns. At the end there is the aforementioned balcony with counter seats for maybe four to six people.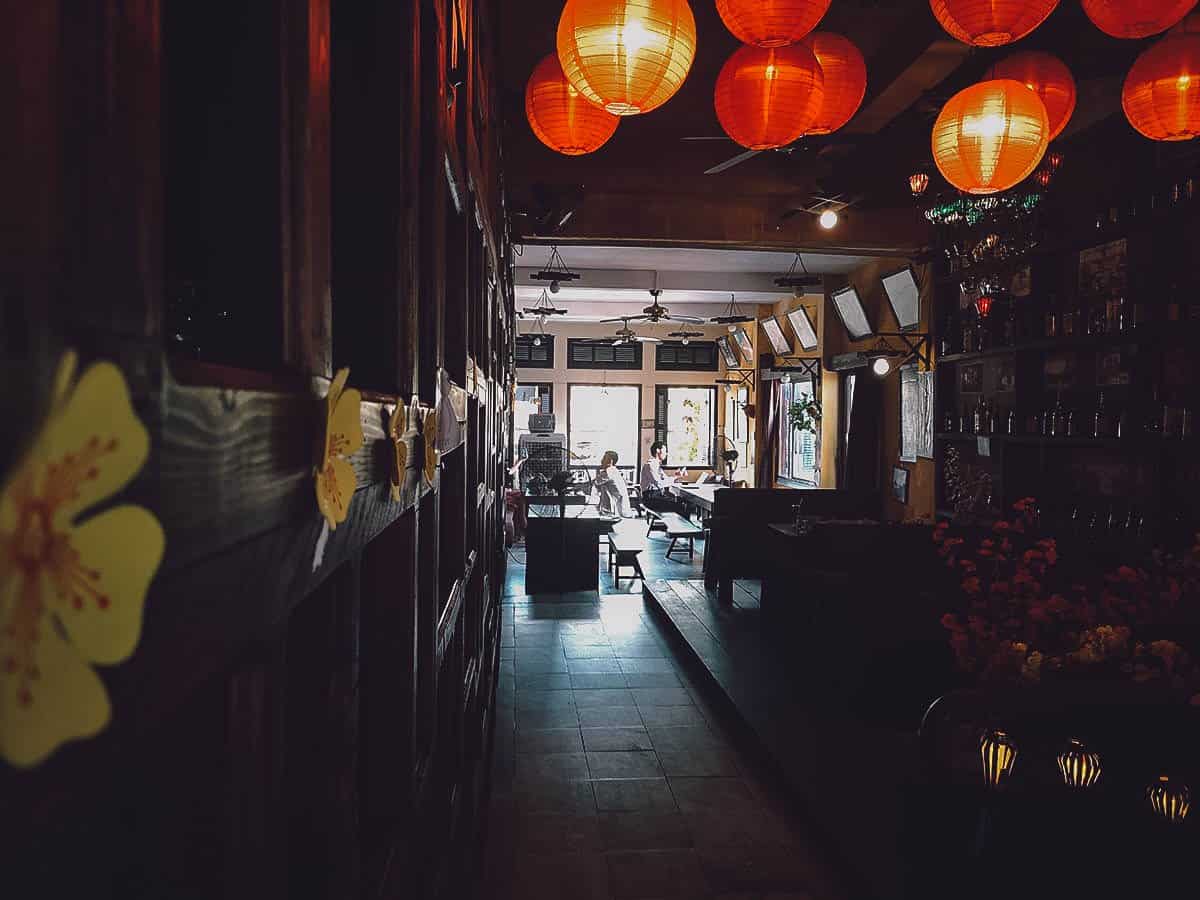 If you like people watching, then you're going to enjoy sitting here. Tran Phu Street is one of Hoi An's busiest streets so you can sit here for hours watching Hoi An life go by while sipping on your glass of ca phe den (black coffee, VND 40,000).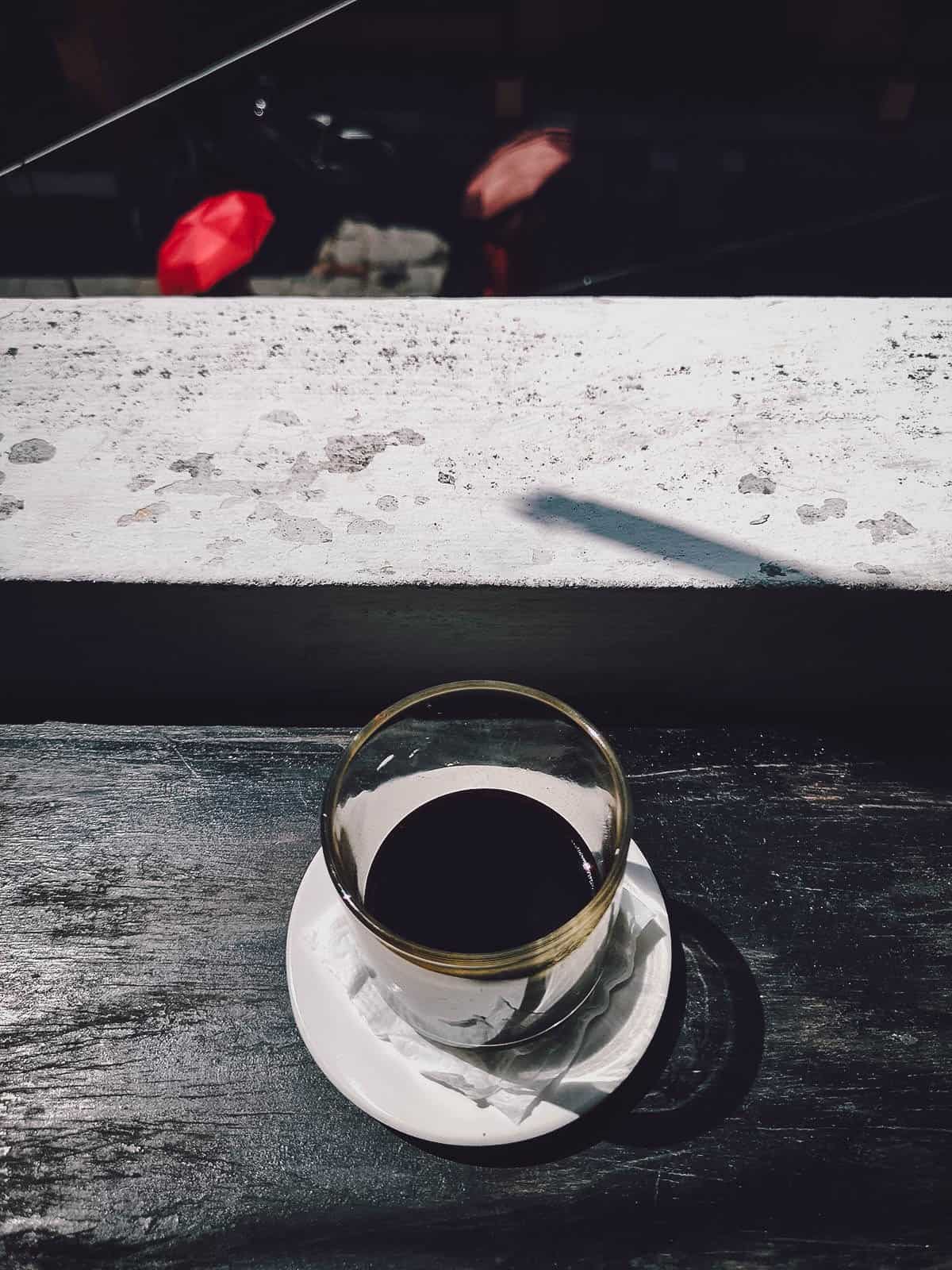 The Chef – CLOSED
Address: 166 Tran Phu, Hoi An 560000, Vietnam
Operating Hours: 9AM-10:30PM, Fri-Wed / 9AM-11:30PM, Thurs
8. Local.1993 Craft Beer & Coffee
I found this place by accident while waiting for the Com Ga Hien restaurant to open up. I was the only customer there which I found odd because it's a warm and modern space that serves craft beer and coffee. Perhaps it picks up later in the evening.
In any case, Local.1993 is near the popular White Rose restaurant so you may want to check it out after having lunch or dinner there.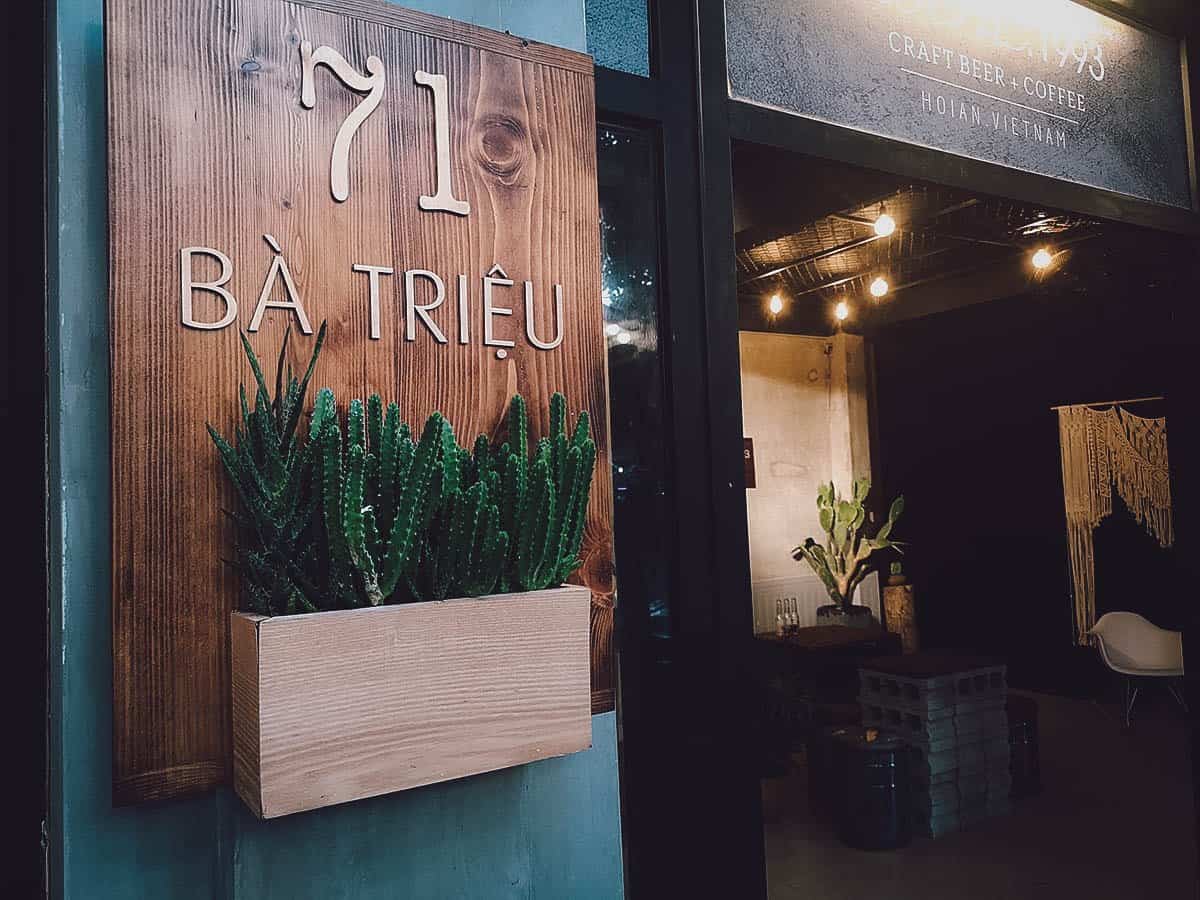 I had a glass of ca phe den (black coffee, VND 25,000) while waiting to get my chicken rice fix. The music they were playing was pretty good too. I listened to Shawn Mendes' album for the first time in its entirety here. Ha!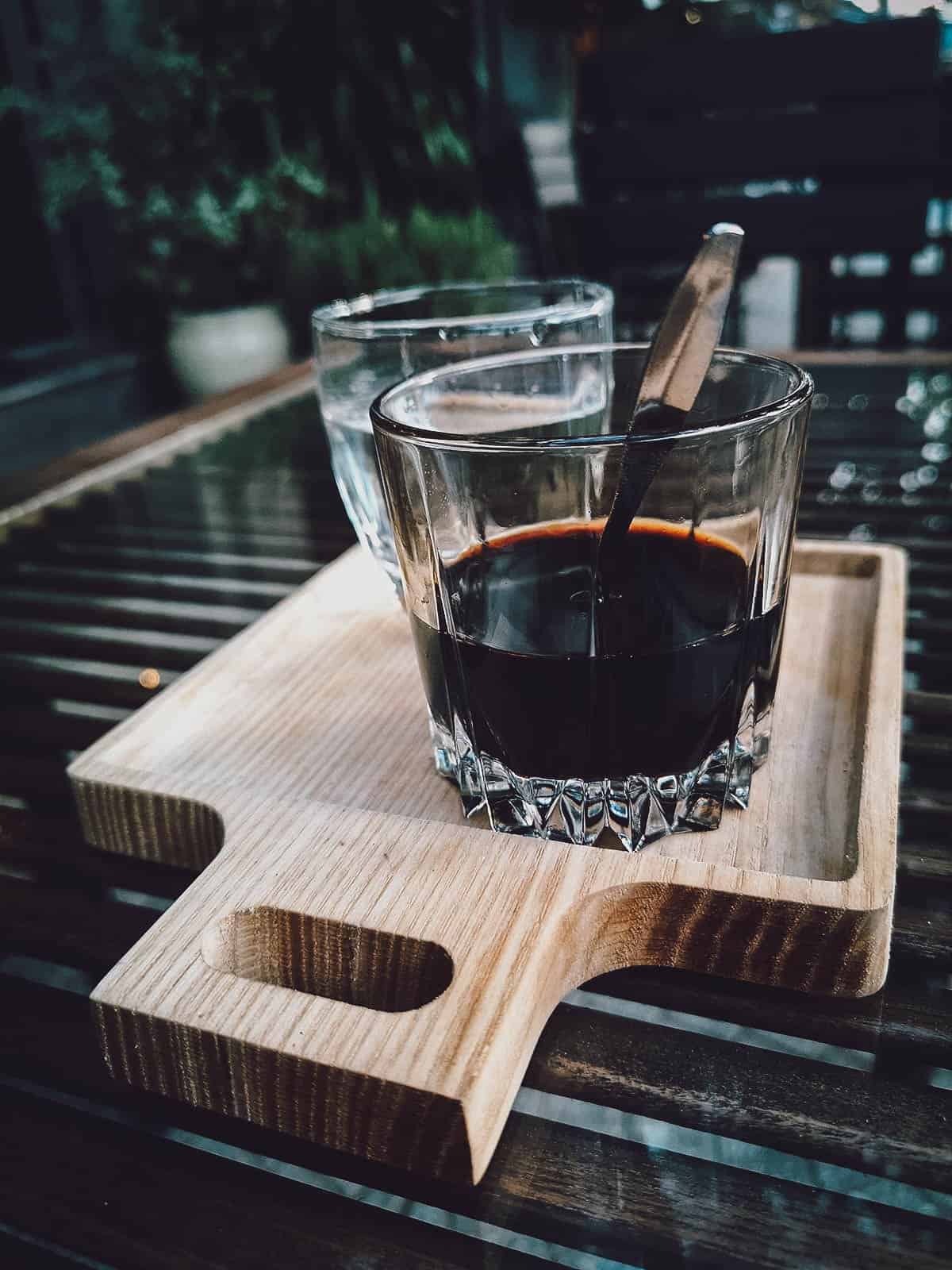 Local.1993 Craft Beer & Coffee
Address: 71 Bà Triệu, Phường Minh An, Hội An, Quảng Nam 51309, Vietnam
Operating Hours: 7-11AM, 5PM-1AM, daily
9. 28 Nguyen Du
One of my favorite coffee experiences in Hoi An was also one of the simplest. Other than its address – 28 Nguyen Du Street – I don't even know if this place had a formal name (no, it's not "Cafe Giai Khat"). It's basically just a small sundries shop by the river which happens to serve coffee. It's clearly the least remarkable place on this list but what I enjoyed about it was its authenticity.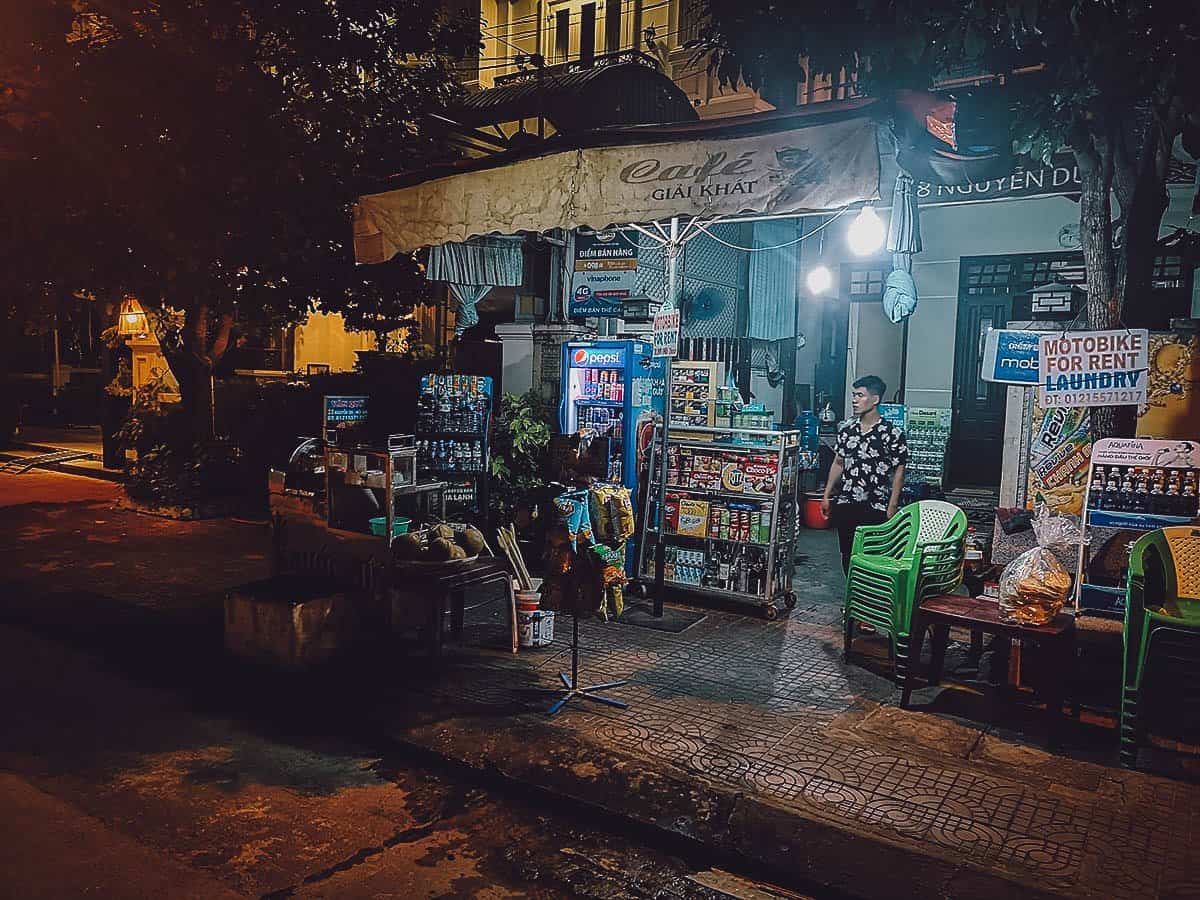 As beautiful as Hoi An is, it's also terribly touristy, especially in the Ancient Town at night. I wanted to have coffee by the Thu Bon River but I hated the crowds that would always form around the pedestrian bridge. Thankfully, I had this place to go to.
Located near my hotel in a much quieter area of town was a series of humble establishments that would set up plastic tables and chairs by the river at night. I'd pass this area every evening and see locals enjoying drinks by the river. I walked up and down the Thu Bon and as far as I could tell, only this shop at 28 Nguyen Du street served hot coffee at night. The riverside branch of Phin Coffee is a few doors away but they close at 5PM.
I spent my last night in Hoi An here, sipping black coffee by the river and quietly enjoying the town's cool evening air. No fancy shop, no heart-shaped latte art. Just good Vietnamese coffee and loads of atmosphere.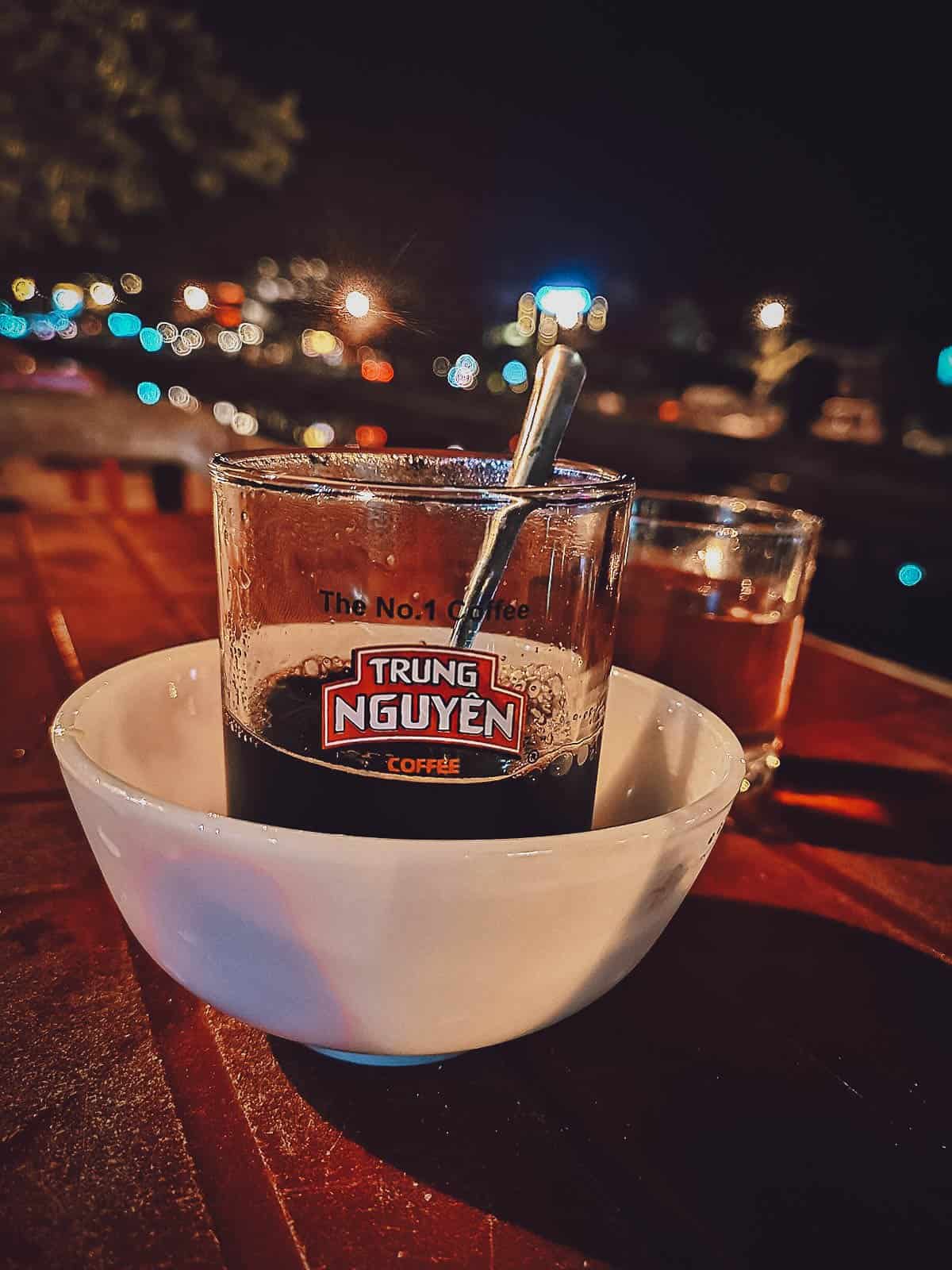 BONUS: Mot Hoi An
I added this herbal tea shop as a bonus because it isn't coffee and it doesn't fit in to our Hoi An food guide. I didn't even know about this place until I saw the long queue of people on Tran Phu Street waiting to be served this iced herbal drink. As a general rule, if people are lining up for something, then it must be good.
From the looks of it, Mot Hoi An is a tea shop and restaurant most famous for these herbal drinks served by the side of the road. They're a TripAdvisor Certificate of Excellence awardee with a stellar 4.5-star rating.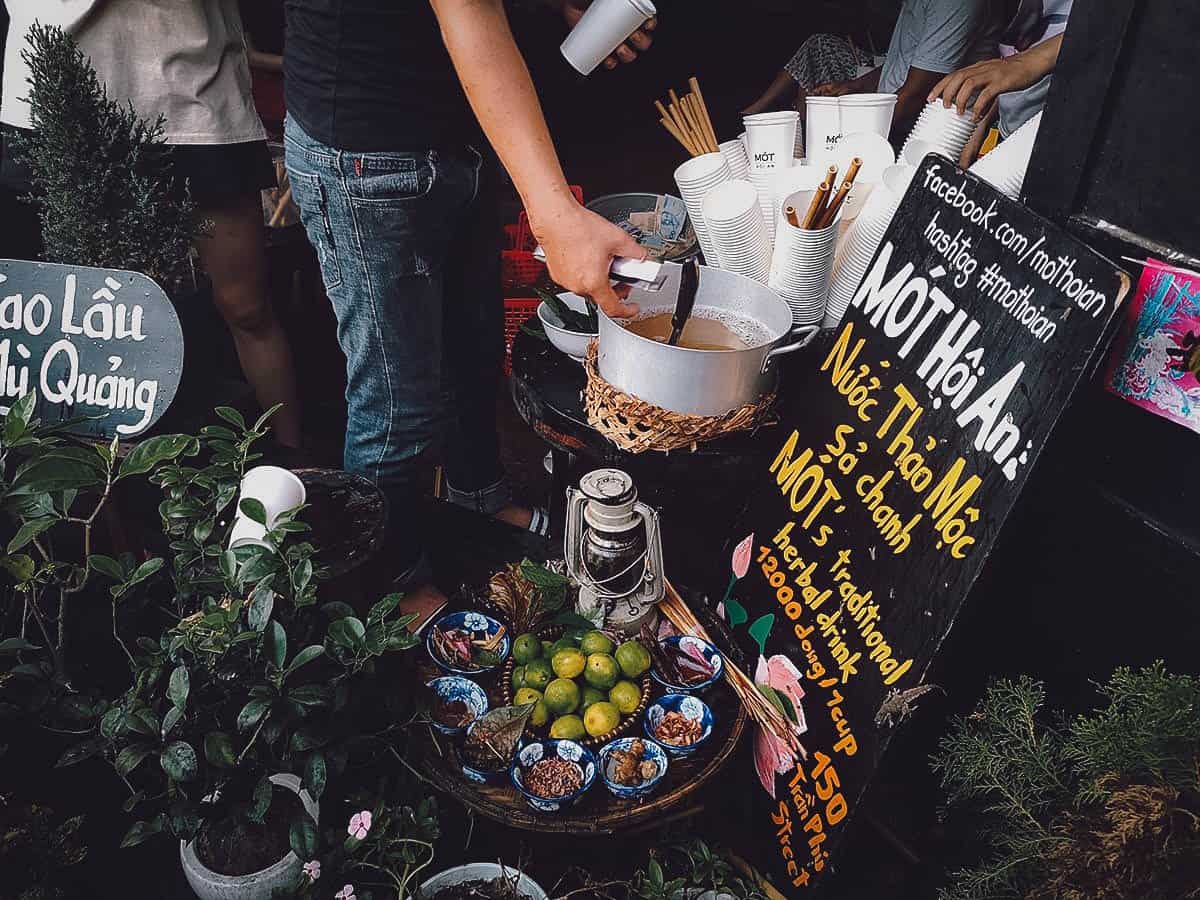 This citrus-y herbal drink is sold for VND 12,000 a cup. Aside from citrus fruit, I can't tell you what's in it but it's pretty good – nice and refreshing. According to one website, it's made with a mix of ingredients like luo han guo fruit, lemon, lemongrass, cinnamon, honeysuckle, and more.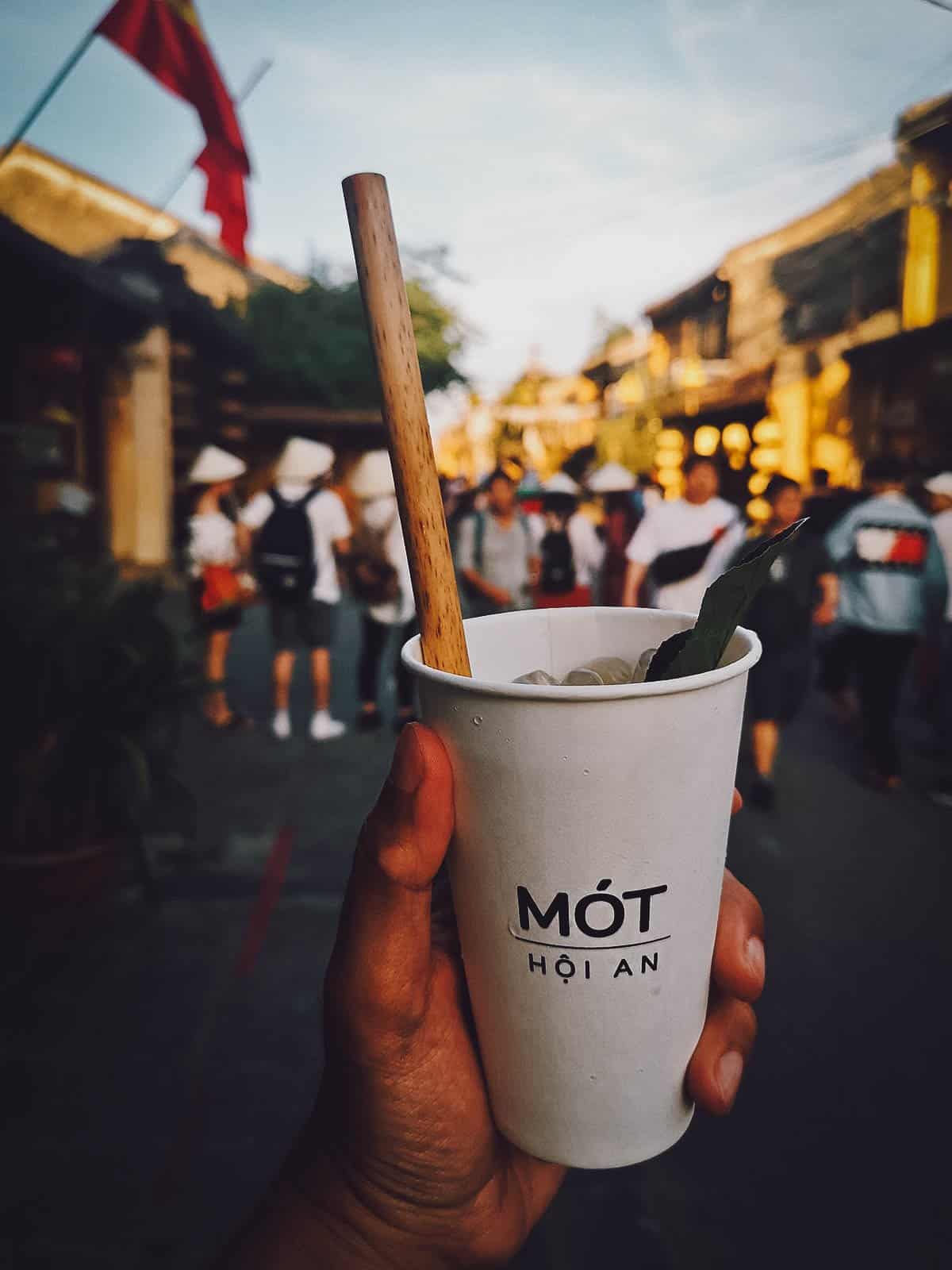 Mot Hoi An
Address: 150 Trần Phú, Phường Minh An, Hội An, Quảng Nam, Vietnam
Operating Hours: 8AM-9:30PM, daily
HOI AN CAFES LOCATION MAP
To help you find these Hoi An cafes, I've pinned them all on this map. Most are located in the Ancient Town so you shouldn't have any trouble getting to them. Click on the link for a live version of the map.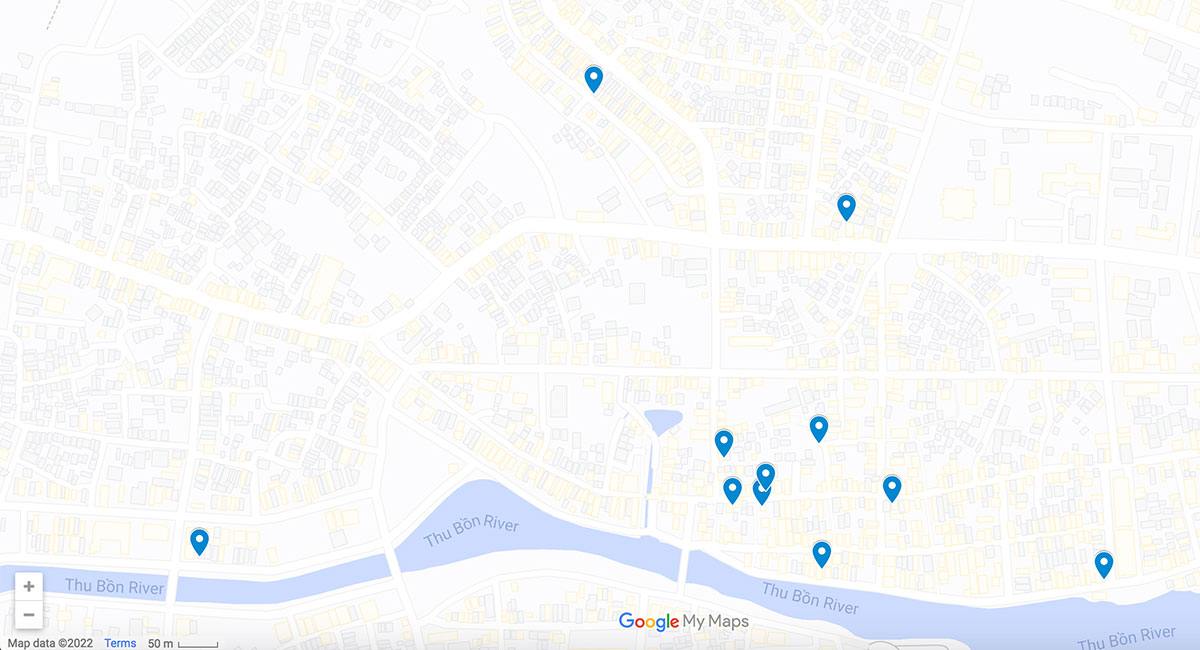 FINAL THOUGHTS ON THE COFFEE IN HOI AN
Hoi An may not have anything unique like Hanoi's ca phe trung or Hue's ca phe muoi, but it does have some of the prettiest and most pleasant cafes I visited in Vietnam. Not to mention some of the tastiest regional Vietnamese food.
Like the Mekong Delta region where I'd spend hours swinging and sipping coffee from a hammock, life is just slower in Hoi An. Sitting at a cafe all day doing little more than people watching or getting lost in a good book (or Netflix series) wasn't a day poorly spent.
If you aren't staying long enough in central Vietnam and just want the best cups of coffee, then I recommend either The Espresso Station or any branch of Phin Coffee. Those two places stood out and were easily my favorite coffee shops in Hoi An.
Disclosure
This article on the best cafes in Hoi An contains affiliate links, meaning we'll earn a small commission if you make a purchase or booking at no extra cost to you. We really appreciate your support as it helps us keep this website going. Thank you!