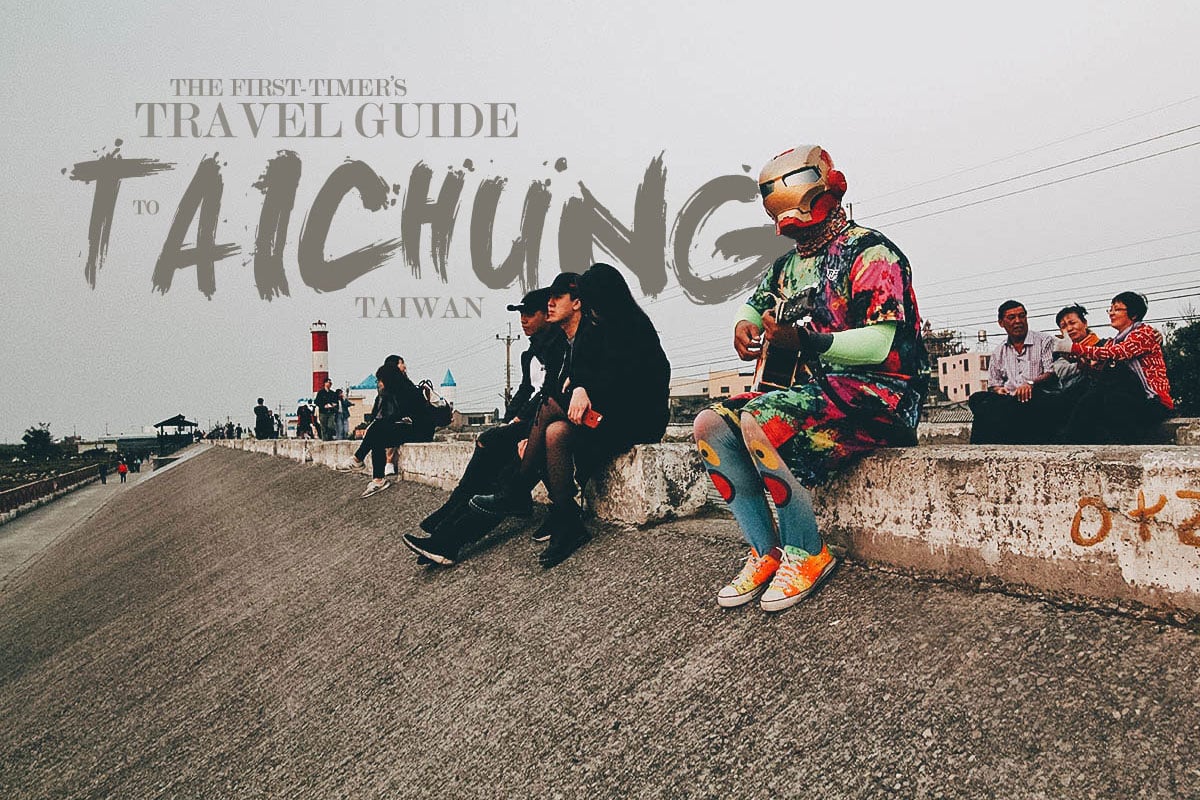 The First-Timer's Travel Guide to Taichung, Taiwan
Based on what I've read, Taiwanese Iron Man is a fixture at Gaomei Wetlands. Dressed from neck to toe in an acid trip of bright colors, you'll often find him serenading tourists with his guitar against a backdrop of slowly spinning turbines. It's an unconventional but oddly soothing sight, and one I've come to associate with the city of Taichung.
According to this CNN article, Taichung was found by locals to be Taiwan's most livable city. Many Taiwanese prefer it to Taipei for its milder weather and laid back vibe. It's regarded as an arts and cultural hub of Taiwan with its many interesting museums, art installations, and design boutiques. I'm not an expert on architecture but even I noticed the surprising number of Art Deco buildings in downtown Taichung. I read that an outdoor jazz festival is held here in October of every year, which is more than likely when our next visit to Taichung will be.
Outside of Taipei, Taichung is the most art-centric city we've visited thus far in Taiwan, and perhaps a big reason why I've come to associate Taiwanese Iron Man with this city. For me, his kooky, colorful, kawaii style perfectly captures what this creatively vibrant city is all about.
GUIDE TABLE OF CONTENTS
TAICHUNG AT A GLANCE
Taichung is a city in Central Western Taiwan with a population of just under 2.8 million people, making it the second most populated city in Taiwan after New Taipei City. Known as Taichū in Nihongo, the city was named by the Japanese who sought to develop Taichung and make it the first "modern" area of Taiwan. They succeeded, helping turn it into the major economic and cultural hub that it is today. Taichung was known as "the Kyoto of Formosa" during the Japanese era because of its abundance of natural beauty and calm atmosphere.
Today, Taichung is regarded as the arts and cultural center of Taiwan. It's home to interesting museums and cultural venues like the National Museum of Natural Science, the National Taiwan Museum of Fine Arts, the National Taichung Theater, and the National Taiwan Symphony Orchestra.
If you're a food lover, then you'll be pleased to learn that Taichung is home to many night markets, including Fengjia Night Market which is the biggest night market in Taiwan. It's also recognized as the birthplace of one of Taiwan's most iconic drinks – boba or bubble tea.
BEST TIME TO VISIT TAICHUNG
Taichung is located about an hour south of Taipei by HSR train, so it shares a similar but milder climate. Our last trip was in mid-March and it was moderately cool in Taichung at that time, unlike Taipei which was noticeably colder. The weather is relatively mild in Taichung year-round so it's a pleasant place to visit any time of the year. Just known that the rainiest months are from May till August so you may want to avoid those months if you can. Many night markets close during rainy nights and you don't want that. For the most ideal weather, shoot for October to March.
OCT-MAR: Weather in Taichung is most ideal from October to March. Temperatures are cool and it doesn't rain as often. This is the best time to go if you don't like hot or humid weather. As described, the Taichung Jazz Festival is held in October every year so that may be the perfect time to go if you appreciate that genre of music.
APR-SEPT: It's rainier and warmer during these months so it's best to avoid them if you don't like too much heat and humidity. Both the hottest and rainiest months in Taichung are from June till August so that may not be the best time to go.
Climate: Annual Monthly Weather in Taichung
To help you better understand the weather in Taichung, I've included average temperature and annual rainfall graphs below. Suggested months to visit are indicated in orange.
Average Temperature


Annual Rainfall


TRAVELING TO TAICHUNG
We traveled to Taichung directly from Taoyuan International Airport by bus (Ubus 1623). Conveniently, the bus terminal is located at the basement of the airport. The bus ride took about 2 hrs 30 mins and cost NTD 280 each way. You can refer to the Taiwan Highway Bus website for more information on Ubus 1623.
If you aren't going directly from the airport, then the best way to travel to Taichung is by train. The train system is so efficient that it really is the best means of intercity travel in Taiwan. We traveled between five cities in two weeks, all by train.
It's important to note that there are two types of trains in Taiwan – high-speed trains (HSR) and regular trains (TRA). Here are the main differences between the two:
HSR trains are faster (duh). They can get you to your destination in less than half the time.
HSR trains are about twice as expensive as TRA trains, but there are discounts available.
HSR tickets can be purchased online as early as 4 weeks in advance. TRA tickets can be bought no earlier than 2 weeks ahead.
HSR trains run only on the western side of Taiwan while TRA trains service the east as well.
The majority of HSR stations are located a little outside of the city, so you'll probably need to arrange for transfers to your hotel. TRA stations are located closer to the city center so they're more convenient location-wise.
As described, you can get to Taichung by bus like we did. I've created the comparison chart below for a quick overview on cost and traveling times. For comparison's sake, let's assume you'll be traveling to Taichung from Taipei.
| | | |
| --- | --- | --- |
| From Taipei | Fare | Travel Time |
| TRA TRAIN | NTD 375 | 2 hrs 15 mins |
| HSR TRAIN | NTD 700 (undiscounted) | 1 hr |
| BUS | NTD 290 | 3 hrs 30 mins |
By TRA Train
If you aren't in a rush and want to save money, then traveling by TRA train is the way to go. The TRA station is within Taichung's city center as well, unlike the HSR station which is located on the outskirts of the city. As outlined in the chart above, the journey by TRA train from Taipei to Taichung will be around 2 hrs 15 mins and cost NTD 375 each way. You can check the Taiwan Railways Administration website for a schedule of trains to Taichung from wherever you are. You can purchase tickets from there as well.
As described, you can purchase tickets from the Taiwan Railways Administration website as early as 2 weeks in advance. I read that train tickets do run out, especially during peak seasons, so it's advisable you purchase them as soon as possible. Once you make the purchase, you'll be issued a confirmation and a ticket pickup form. You'll need to take this, along with the ID you used to purchase the ticket (passport in my case), to the train station ticketing office or any convenience store (7-11, FamilyMart, Hi-Life, or OK Mart) no later than 30 minutes before your departure time to claim your train ticket.
By HSR Train
The journey by HSR train from Taipei to Taichung takes less than half the time, only around 1 hr. A standard full fare reserved seat will normally run you NTD 700, but you can get up to 35% off if you purchase your ticket in advance or travel during off-peak hours.
You can check the Taiwan High Speed Rail website for a schedule of trains to Taichung from wherever you are. Once you've decided which train you want to take, you can purchase your ticket online via their 24 hour booking system. As described, you can purchase tickets as early as 4 weeks in advance. Train tickets can run out, especially during peak seasons, so it's advisable to purchase them as soon as possible.
Like TRA tickets, you'll still need to claim your actual HSR train tickets from the HSR station ticket window, ticket vending machines, or partner convenience stores. You'll need to present the ID number you used to make the booking and your reservation number. You can refer to the online ticketing page of the HSR website for more information.
If for some reason you can't get a discount from the THSR website, then you can try Kkday as well. They offer an HSR Unlimited Pass as well as discounted single-journey HSR tickets to Taichung from the following cities (click on the links for more information):
If you'll be continuing on to another city from Taichung, then you can purchase a discounted HSR ticket for that journey as well.
By Bus
Highway buses are your cheapest option but they take longer. A Ubus route from Taipei to Taichung costs NTD 290 with a travel time of about 3 hrs 30 mins. Fares may vary depending on the bus company, so you can check the Taiwan Highway Bus website for information on fares, routes, and traveling times.
WHERE TO EXCHANGE CURRENCY
Taiwan's unit of currency is the New Taiwan Dollar (NTD). If you need to exchange currency in Taichung, then you can do so at any bank. Currency exchange service is strictly regulated by the Taiwanese government so you won't find any independent money changers like you would in other Asian countries, which is a relief.
It's best to exchange your currency at big local banks like Bank of Taiwan, China Trust Bank, or South China Commercial Bank. We walked in to a smaller bank once and they advised us of a service charge, so I made sure to look for a Bank of Taiwan every time. They have many branches throughout the country, including Taichung. I exchanged currency at the Ziyou Road branch but there are plenty of Bank of Taiwan branches in Taichung.
Alternatively, you can also withdraw NTD from an ATM. The rates are competitive. Just be sure to advise your bank you'll be using your ATM card overseas so you don't run into any problems. In my experience, my ATM card works in some machines but not in others.
WHERE TO STAY IN TAICHUNG: Shin Sei Bashi Hotel
We traveled by TRA train between five major cities in Taiwan, so I made sure to always find accommodations near the train station. That way we wouldn't have to wake up so early to catch our train in the morning. Shin Sei Bashi Hotel is a beautiful Japanese-inspired boutique hotel just 5 minutes away from Taichung TRA station. It's located across the street from Miyahara which is one of the most visited shops in Taichung.
As you can see below, the room is simple but lovely, albeit a little small. Not sure if it was just the configuration of our particular room, but it was tight getting to the bathroom from the desk and we didn't have much room for our luggage. The bathroom was nice and big though. For USD 52 a night with breakfast for two already included, it was a pretty good deal.
As described, we booked a room here through AirBnB, but you can book it through Booking.com or Agoda as well. If you don't think Shin Sei Bashi Hotel is the right place for you, then you can follow these links to find alternate listings in Taichung: AirBnB | Booking.com | Agoda. If you're new to AirBnB, then you can get USD 31 free travel credit when you sign up via this link.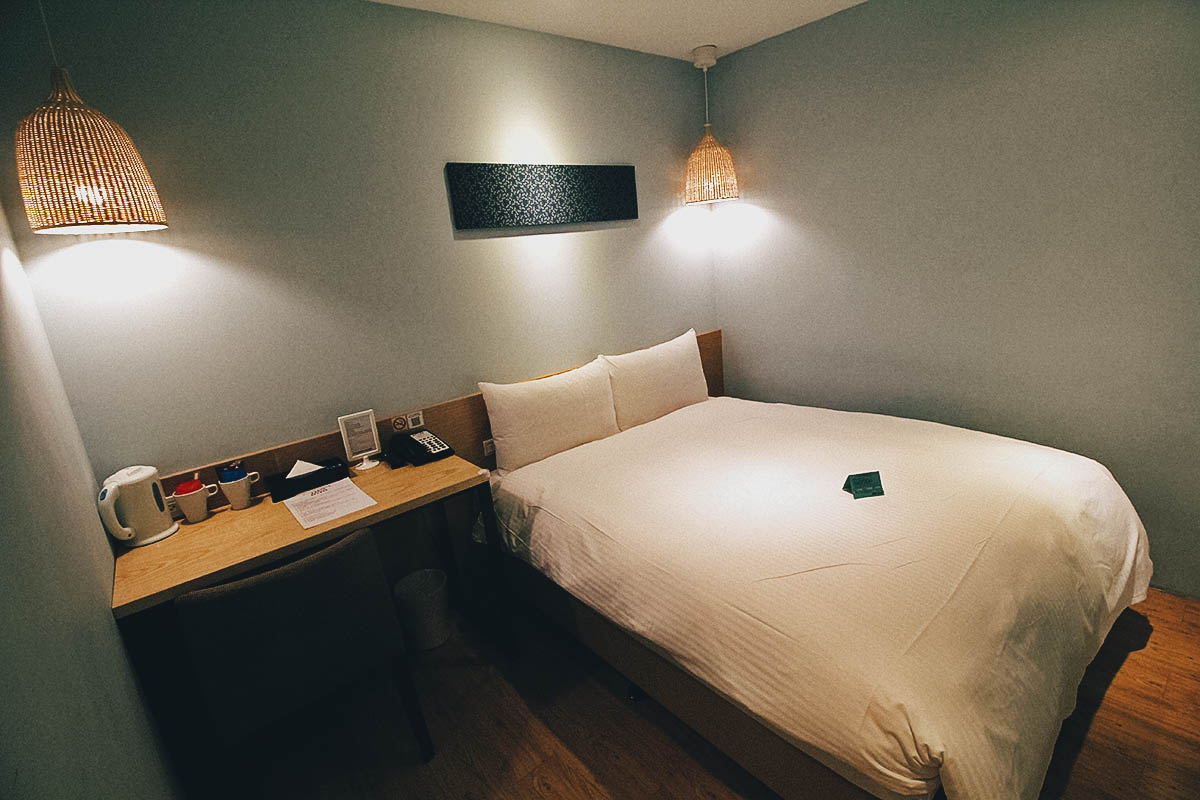 Here's what Shin Sei Bashi Hotel looks like from the street. Pretty right?



They gave us free breakfast vouchers which entitled us to these delicious gua bao buns from a shop downstairs. Often referred to as a "Taiwanese hamburger", a gua bao or cua pao is basically a type of sandwich made from a Chinese steamed bun (baozi). It's typically made with braised pork belly but this one had ground pork. It was absolutely delicious and something I looked forward to every morning. There's a coffee machine in the hotel lobby as well so you could help yourself to as many cups as you wanted. It even dispensed matcha lattes!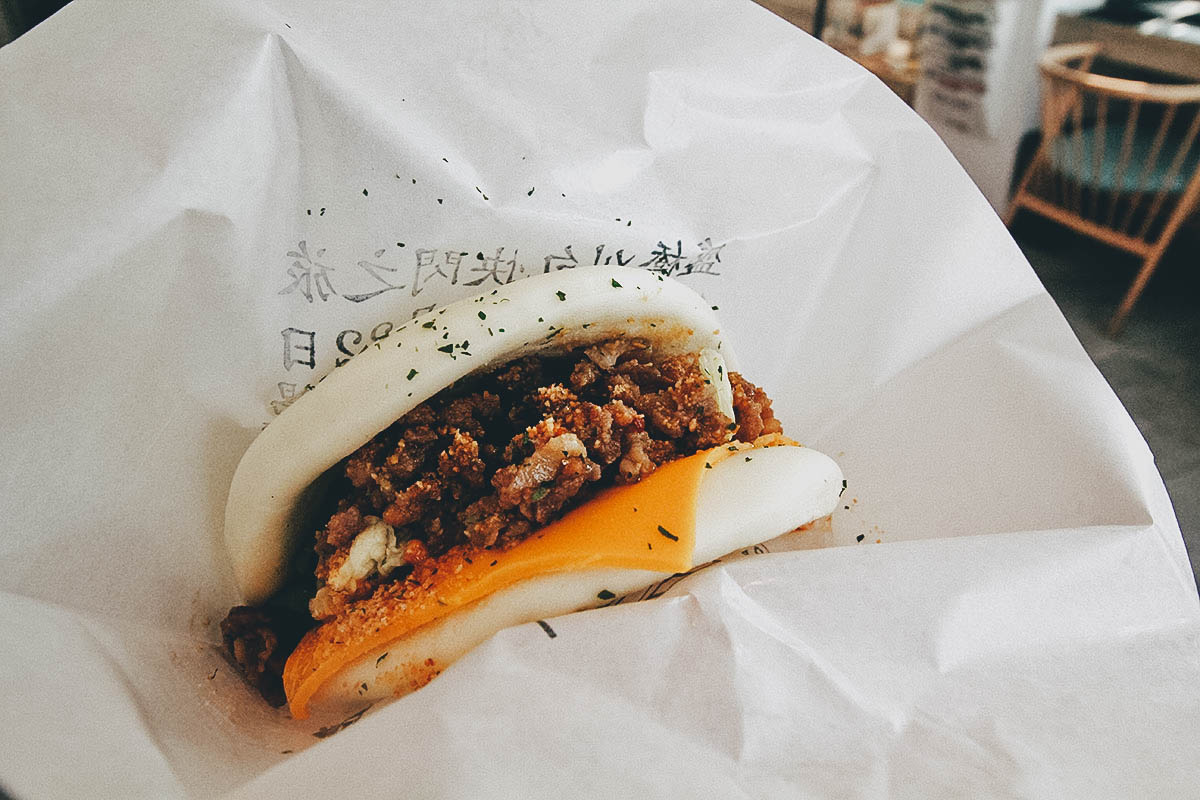 Approximate Room Rate: USD 52 per night (as of June 2018)
THINGS TO DO IN TAICHUNG
1. Immerse Yourself in Arts & Culture at Calligraphy Greenway
As described, Taichung is considered the arts and cultural capital of Taiwan, and there's no better place to appreciate it than at Calligraphy Greenway. Calligraphy Greenway is a 3.6 kilometer long green open space, around which are many shops, restaurants, and cafes. Here you'll find interesting museums and neighborhoods like the National Taiwan Museum of Fine Arts, the National Museum of Natural Science, Caowu Square, Audit Village, and CMP Block Museum of Arts. It's a pleasant tree-lined space with much to see and do so you can easily spend an entire day here. Check out my post on Calligraphy Greenway for more information on what you can find there.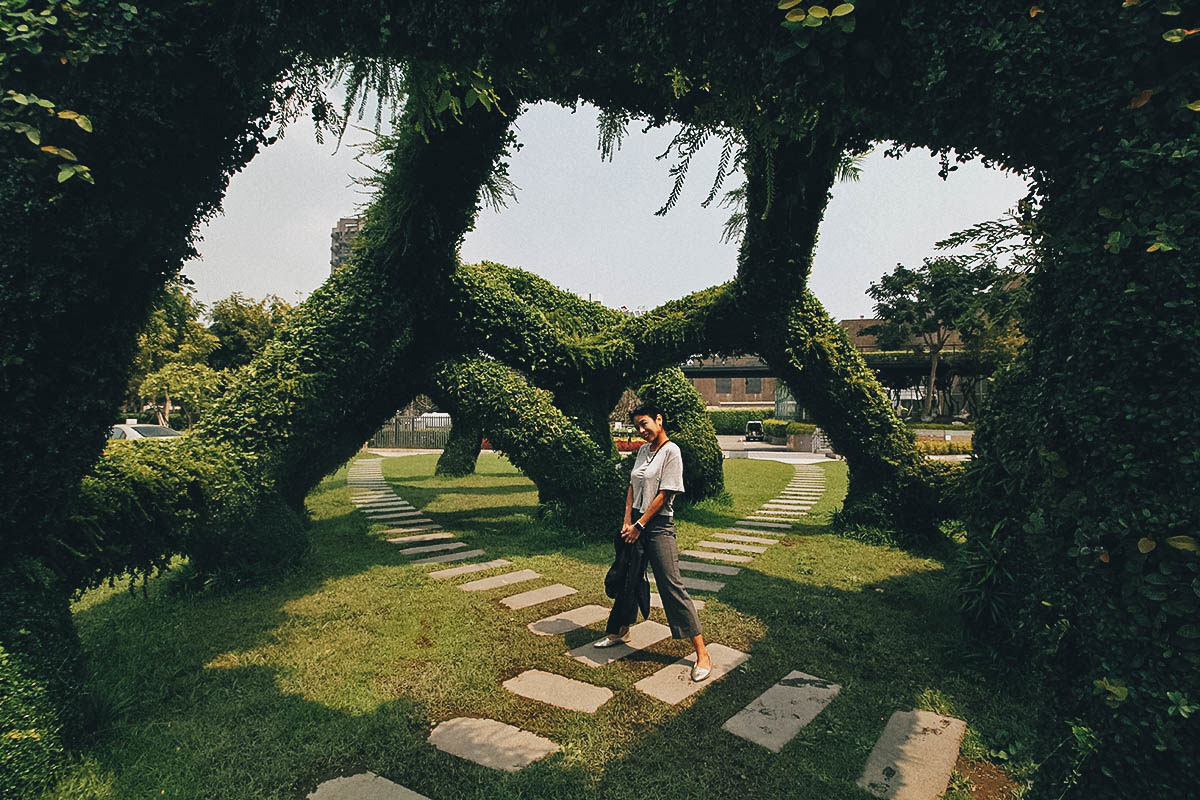 Suggested Length of Visit: At least half a day / Admission: FREE
2. Enjoy Pineapple Cakes & Ice Cream at Miyahara
Miyahara is one of Taichung's most popular tourist attractions. It's located near Taichung TRA station so you'll probably find many tourists inside with their luggage still in tow. Housed in an old opthalmology clinic that was turned into Taichung's Public Health Bureau before being converted into a pastry shop, Miyahara is famous for its desserts, most notably its pineapple cakes and ice cream. It's noted for its beautiful interior as well which looks straight out of a Harry Potter movie.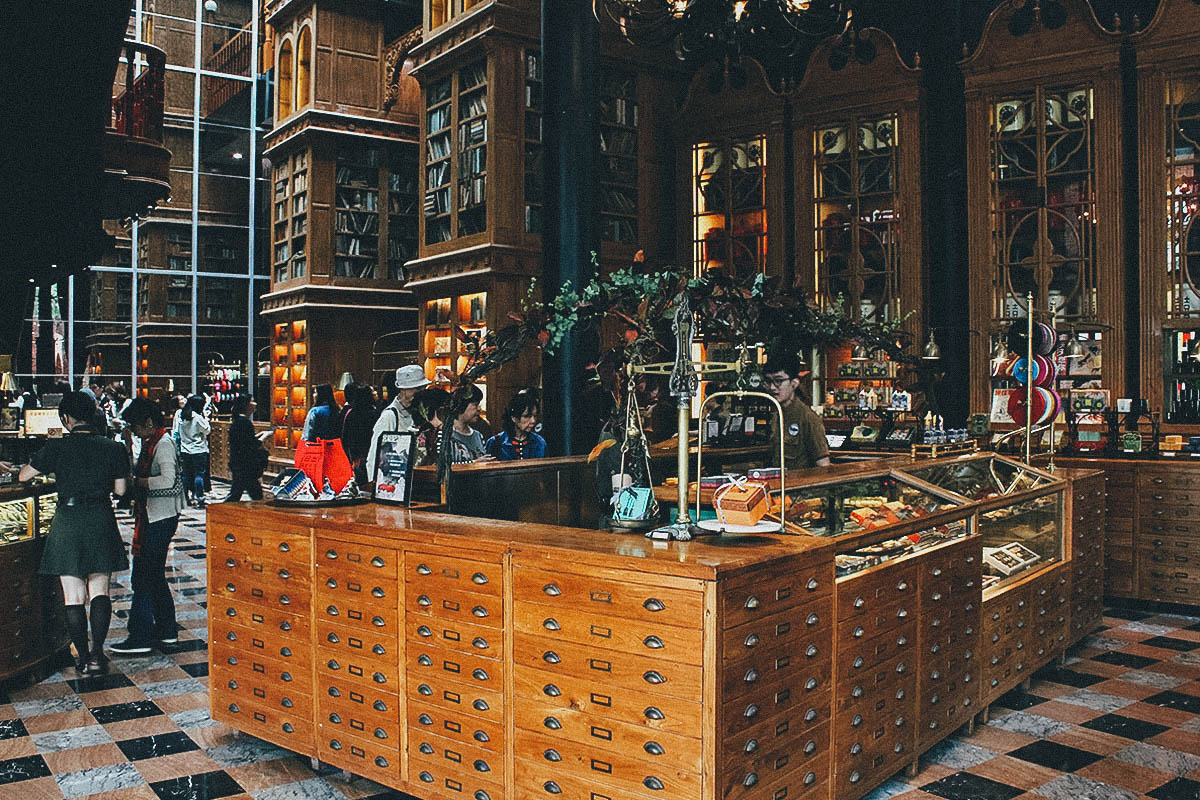 Suggested Length of Visit: 30 mins
3. Eat Your Way Through Fengjia Night Market
There are many night markets throughout Taiwan, but Fengjia Night Market in Taichung is said to be the biggest. Home to an estimated 15,000 shops, restaurants, and stalls, it's a hugely popular night market with a wide selection of food. If you had time to visit just one night market in Taichung, then Fengjia Night Market should be it. Check out my post on Fengjia and Taiwanese night markets for more pictures and information.
If you're spending several days in Taichung and have time to visit other night markets, then you can check out Zhongxiao Road Night Market, Zhonghua Night Market, or Yizhong Street Night Market as well.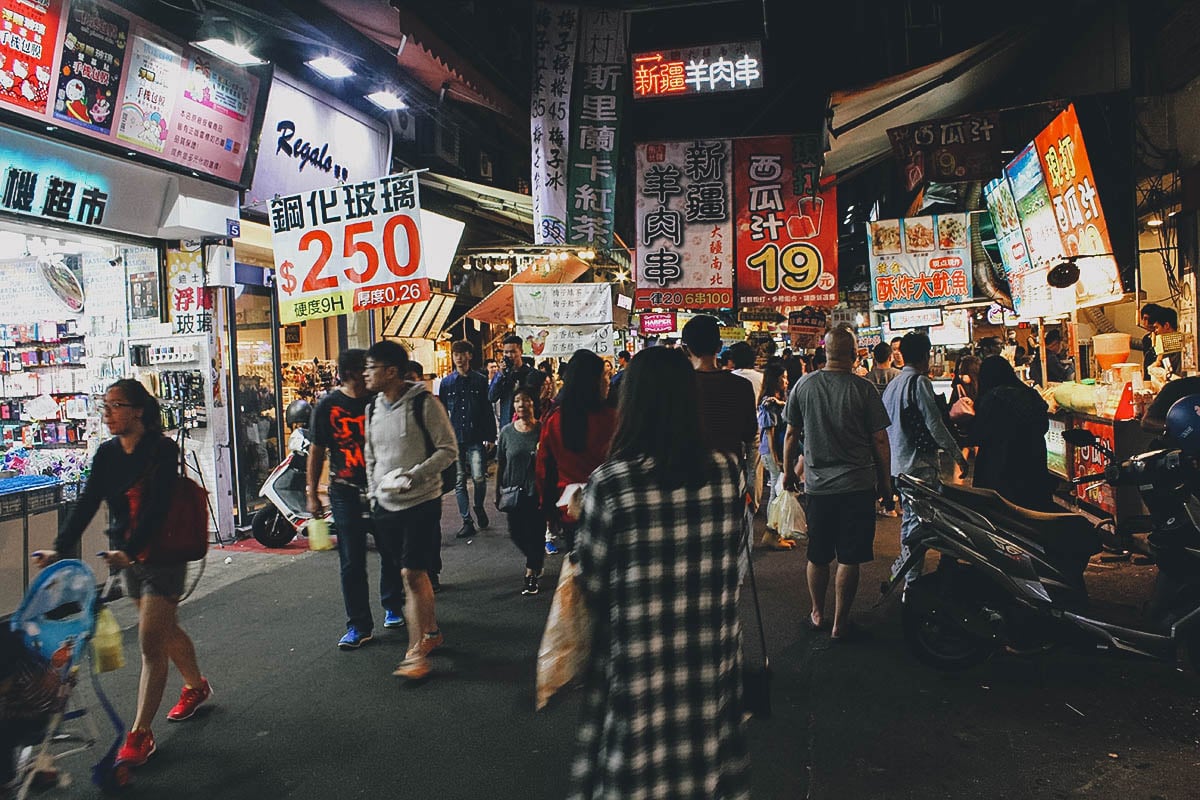 Suggested Length of Visit: 2-3 hrs
4. Get Colorful at Rainbow Village
Rainbow Village or Caihongjuan Village is another of Taichung's most popular tourist attractions. Located in Nantun District, it's a former military village that had deteriorated over time and was set to be demolished. Huang Yung-Fu, a former soldier of the Nationalist Kuomintang Army, refused to leave even after he was the village's last remaining resident. He started painting colorful figures and patterns around his village which ultimately led to it being saved from demolition. Today, it receives over one million visitors annually. Check out my post on Rainbow Village for more pictures and information.
Rainbow Village is about a 20-25 minute taxi ride from Taichung TRA station. The fare should be around NTD 260-300 each way. You can also get there by public bus. Aside from the village however, there isn't anything of interest in that area so it's best you visit Rainbow Village on a guided tour. We went on a half day tour with Kkday that took us to Rainbow Village and Gaomei Wetlands for NTD 750 each. Follow the link for more information and to purchase tickets to the Gaomei Wetlands and Rainbow Village Tour with Kkday.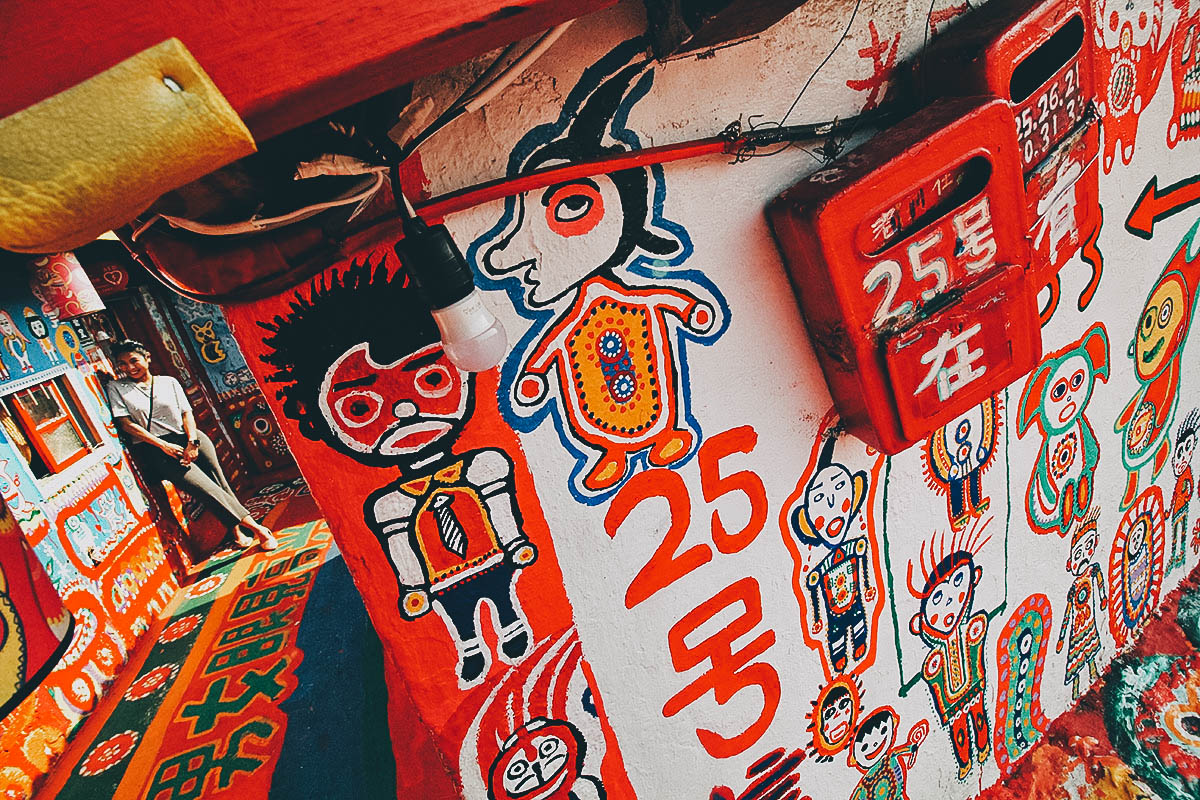 Suggested Length of Visit: 1 hr / Admission: FREE
5. Get Your Feet Wet at Gaomei Wetlands
Gaomei Wetlands in Qingshui District is one of the most well-preserved wetland habitats in Taiwan. It spans over 300 hectares and is home to a diverse array of plants and animals like birds, mud-skippers, and crabs. The area is characterized by a row of giant wind turbines and an 800 meter curved boardwalk, at the end of which you can take your shoes off to walk on the soft muddy sand. If you're lucky, then you may catch a glimpse of Taiwanese Iron Man as well. Check out my post on Gaomei Wetlands for more pictures and information.
Gaomei Wetlands is even farther than Rainbow Village from downtown Taichung, about an hour away by taxi. A taxi will cost you around NTD 800 each way. You can get there by public transportation as well. But as advised, the easiest way would be to go by guided tour. The Kkday tour we went on will take you to Rainbow Village and Gaomei Wetlands for just NTD 750 each. Follow the link for more information and to purchase tickets to the Gaomei Wetlands and Rainbow Village Tour with Kkday.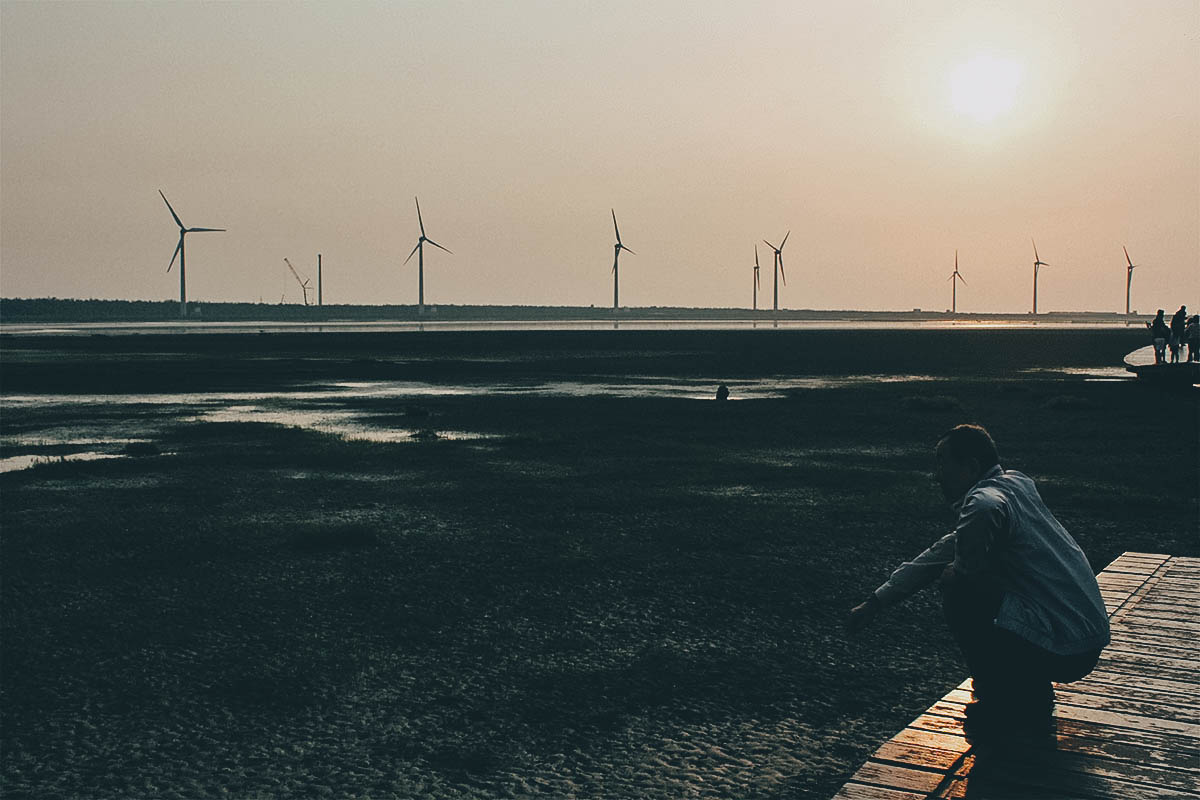 Suggested Length of Visit: 2-3 hrs / Admission: FREE
6. Visit the 921 Earthquake Museum
I really wanted to go here but we didn't have time. Located in Wufeng District, 921 Earthquake Museum is a reminder of one of the worst natural disasters in the country's recent history – a 7.3-magnitude earthquake that devastated Central Taiwan. It's located at the former site of Guangfu Junior High School. The shell of the school forms the museum's exterior walls so you can still see much of the original rubble caused by the earthquake.
To get to the museum, you can take Ubus 50 from the bus station across the street from Taichung TRA station. It takes about an hour each way and will drop you off at the museum's parking lot. You can check the 921 Earthquake Museum website for more information. Entrance to the museum is just NTD 50 per person.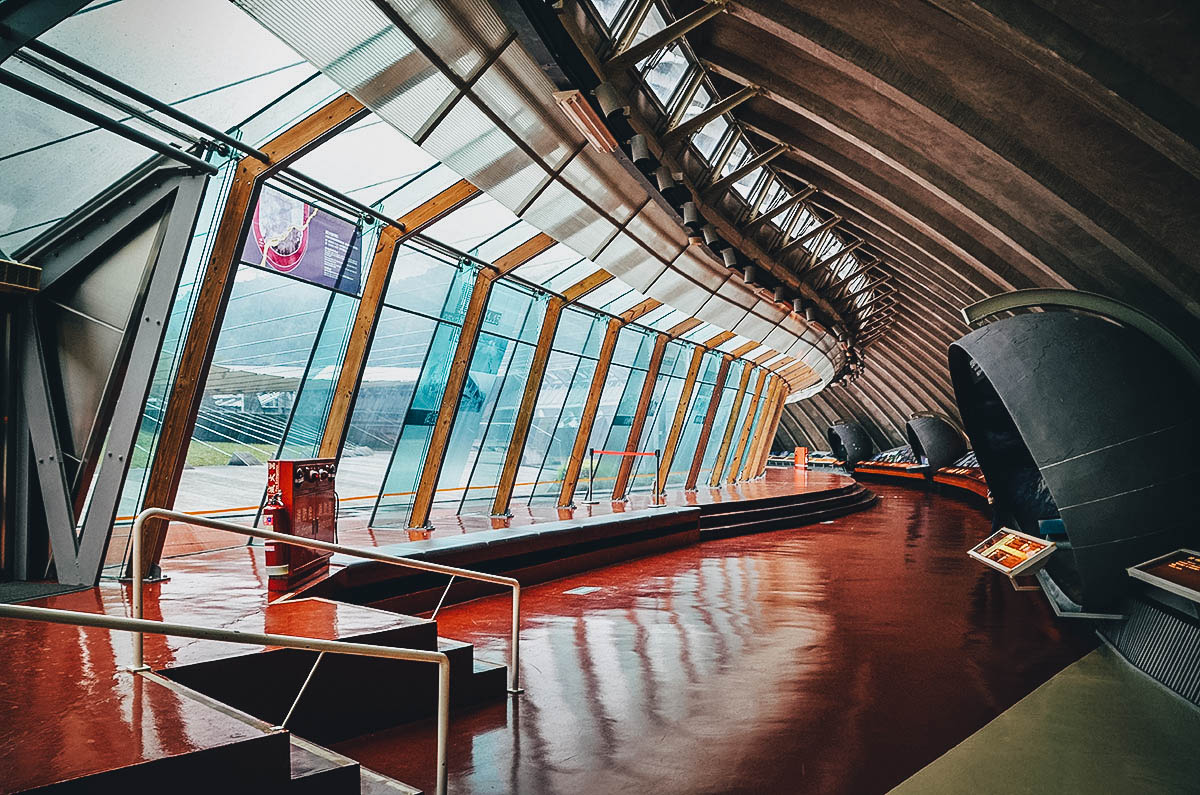 By Mk2010 [CC BY-SA 4.0], from Wikimedia Commons / Processed in Photoshop and Lightroom
Suggested Length of Visit: 2-3 hrs / Admission: NTD 50 per adult
DAY TRIPS FROM TAICHUNG
1. Ride a Bike Around Sun Moon Lake
The day we spent at Sun Moon Lake was one of my favorites from our two weeks in Taiwan. Located in Nantou County about two hours south of Taichung by bus, it's the largest body of water in the country and designated as one of thirteen national scenic areas in Taiwan. The bike path around its perimeter was named by CNN as one of the most breathtaking cycling routes in the world.
Sun Moon Lake is easy enough to visit on your own from Taichung. You can check out my post on Sun Moon Lake for more pictures and information on how to get there by bus. But if you'd rather go on a guided tour, then you can do so with Kkday. They offer a day tour to Sun Moon Lake from Taichung for NTD 1,611 per person. Follow the link for more information and to book tickets to the Sun Moon Lake Tour with Kkday.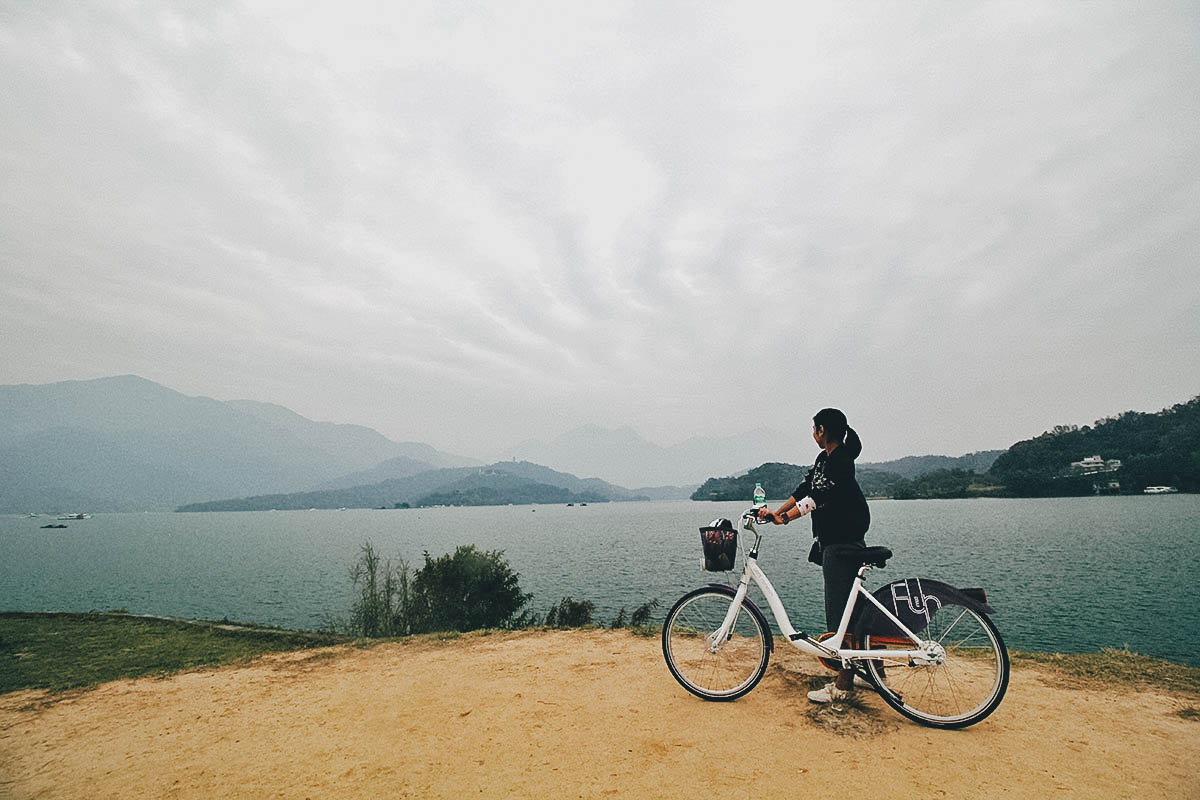 Suggested Length of Visit: Whole Day
2. Spend the Day at Cingjing (Qingjing) Farm
Like Sun Moon Lake, Cingjing or Qingjing Farm is one of the most popular day trips you can make from Taichung. Located about two and a half hours east of Taichung in Ren'ai Township, Cingjing Farm is a picturesque tourist farm known for its crisp mountain air, its rolling hills, and acres of flowers. Apart from enjoying the atmosphere, tourists flock to Cingjing Farm to interact with its many farm animals like cows, sheep, and ponies.
You can visit Cingjing Farm on your own from Taichung Gancheng Station via the Nantou Bus line. It costs NTD 265 each way but you can get a discount on the total cost of transportation and attraction fees by purchasing a Cingjing Farm Pass. If you'd rather go on a guided tour, then you can visit Cingjing Farm on a day tour with Kkday for NTD 1,765 per person. Follow the link for more information and to book a voucher for the Cingjing Farm Day Tour with Kkday.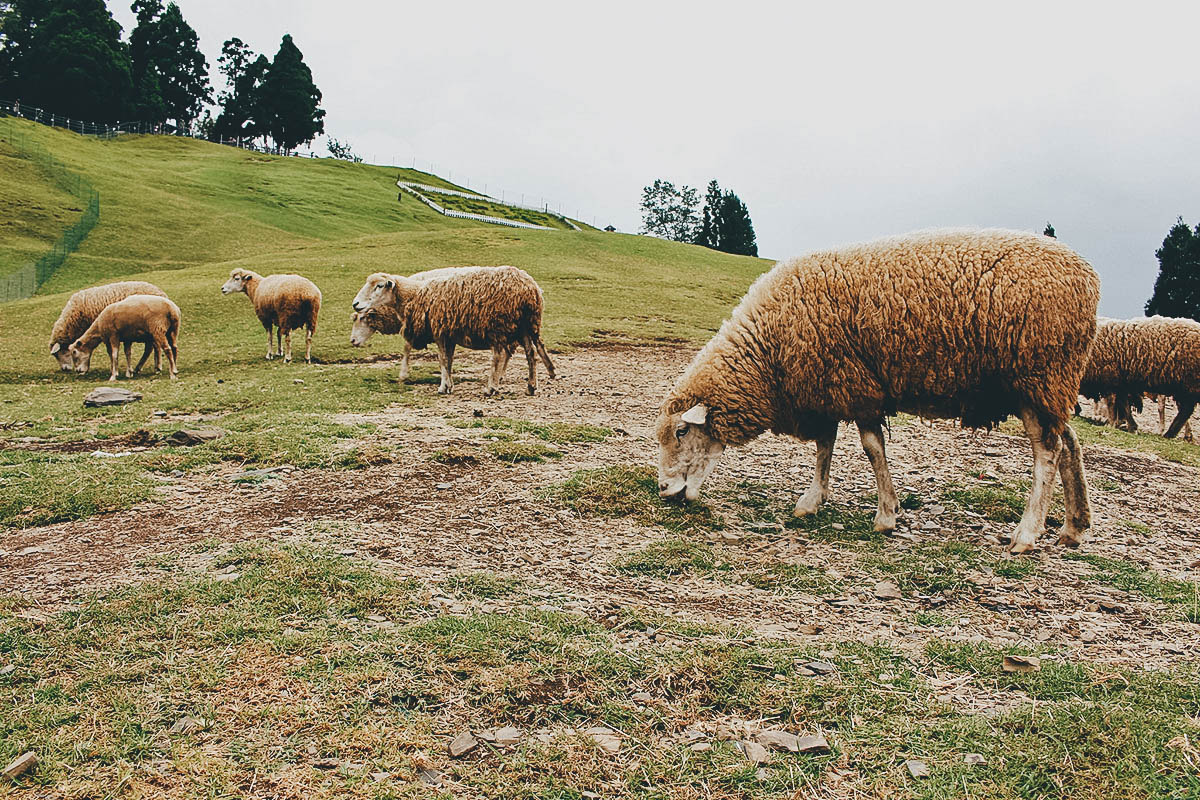 "清境農場 綿羊 Qingjing Farm-Sheep" by Chi-Hung Lin, used under CC BY-SA 2.0 / Processed in Photoshop and Lightroom
Suggested Length of Visit: Whole Day
3. Explore Alishan Forest
The Alishan National Scenic Area is a mountain resort and forest reserve located in Chiayi County, about three hours south of Taichung. It's a 41,500 hectare area known for its mountain wilderness, waterfalls, tea plantations, and hiking trails. One of its most famous features is the Alishan Forest Railway, a scenic 86 kilometer network of rails that takes tourists throughout the lush forests of Alishan.
There are two ways to get to Chiayi by train from Taichung – either by TRA or HSR train. As advised, TRA trains are cheaper but HSR trains are much faster, getting you there in less than 30 minutes as opposed to about 1 hour and 15 minutes for the TRA train. You'll then need to catch a bus to Alishan from either station. Buses between Chiayi TRA station and Alishan run more frequently so there are pros and cons to each. You'll see what I mean when you look at the train and bus timings below.
BY HSR TRAIN: Take the HSR train from Taichung to Chiayi, then take Bus 7329 to Alishan. The bus ride will take about two and a half hours. There are only four bus trips between Chiayi HSR Station and Alishan so you'll need to be aware of the train and bus schedules. If you can get to Chiayi HSR Station in time to catch the 9:30AM bus, then you'll get to Alishan by noon. The last bus back to Chiayi HSR Station departs from Alishan at 4:40PM.
BY TRA TRAIN: Take the TRA train from Taichung to Chiayi, then take Bus 7322C to Alishan. This bus ride will also take about two and a half hours. However, there are ten bus trips between Chiayi TRA Station and Alishan so this option will give you more flexibility. The last bus back to Chiayi TRA Station departs at 5:10PM.
For a hassle-free day trip, then you may want to go on a guided tour with Kkday. It's pretty pricey at NTD 2,357 per person but at least you won't have to worry about anything, not even lunch as it's already included. Follow the link for more information and to purchase vouchers for the Alishan Forest Railway and High Mountain Tea Experience with Kkday.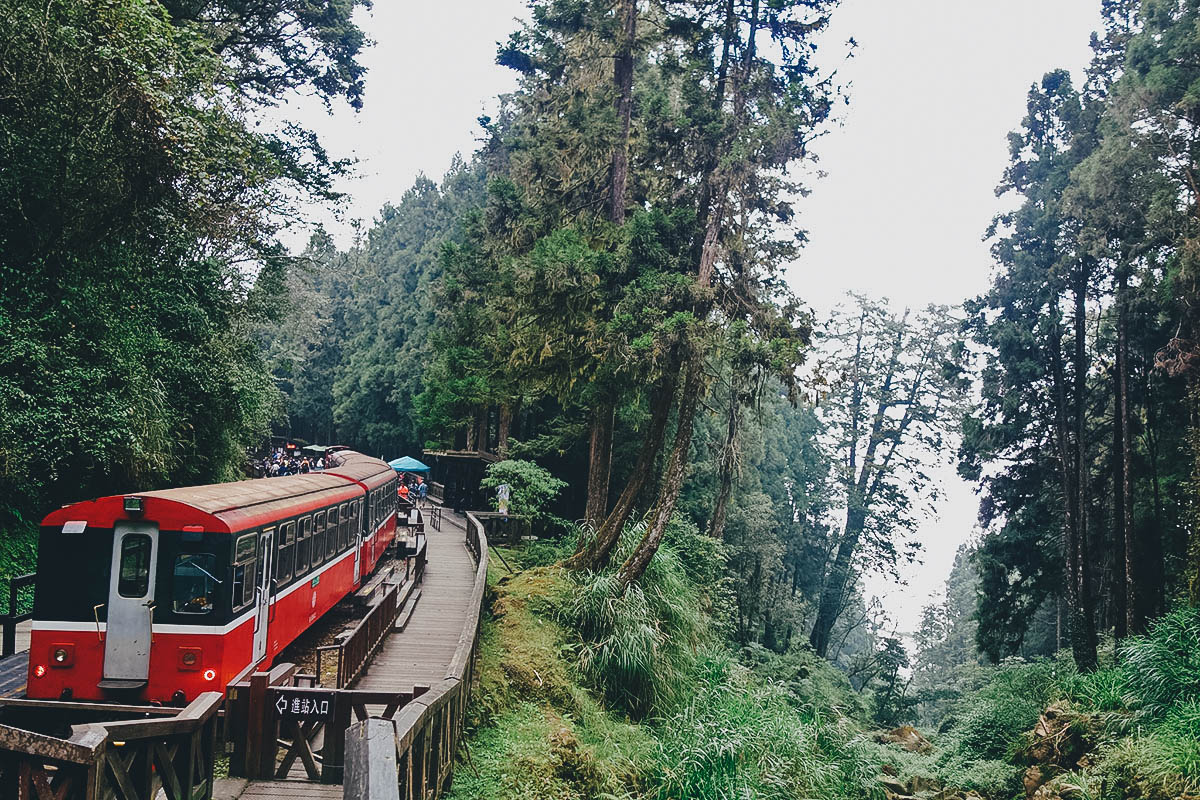 "Alishan Forest Railway, Sacred Tree Station" by Sonse, used under CC BY 2.0 / Processed in Photoshop and Lightroom
Suggested Length of Visit: Whole Day
TAIWANESE FOOD GUIDE
Taiwan is all about night markets and street food. There are so many delicious and interesting things to eat in this country. If you're wondering what to eat in Taichung, then check out our list of 57 things to eat in Taiwan.
WHERE TO EAT IN TAICHUNG
1. Second Market
If you'd like to try a traditional Taiwanese breakfast, then the place to go to in Taichung is Second Market. It's a 7,000 square meter public market where you'll find all kinds of meat, produce, and spices, as well as multiple stands selling different types of cooked food. It's especially popular for breakfast so be prepared for a wait. I had a delicious and filling breakfast platter of egg, sausages, glutinous rice cakes, and tofu.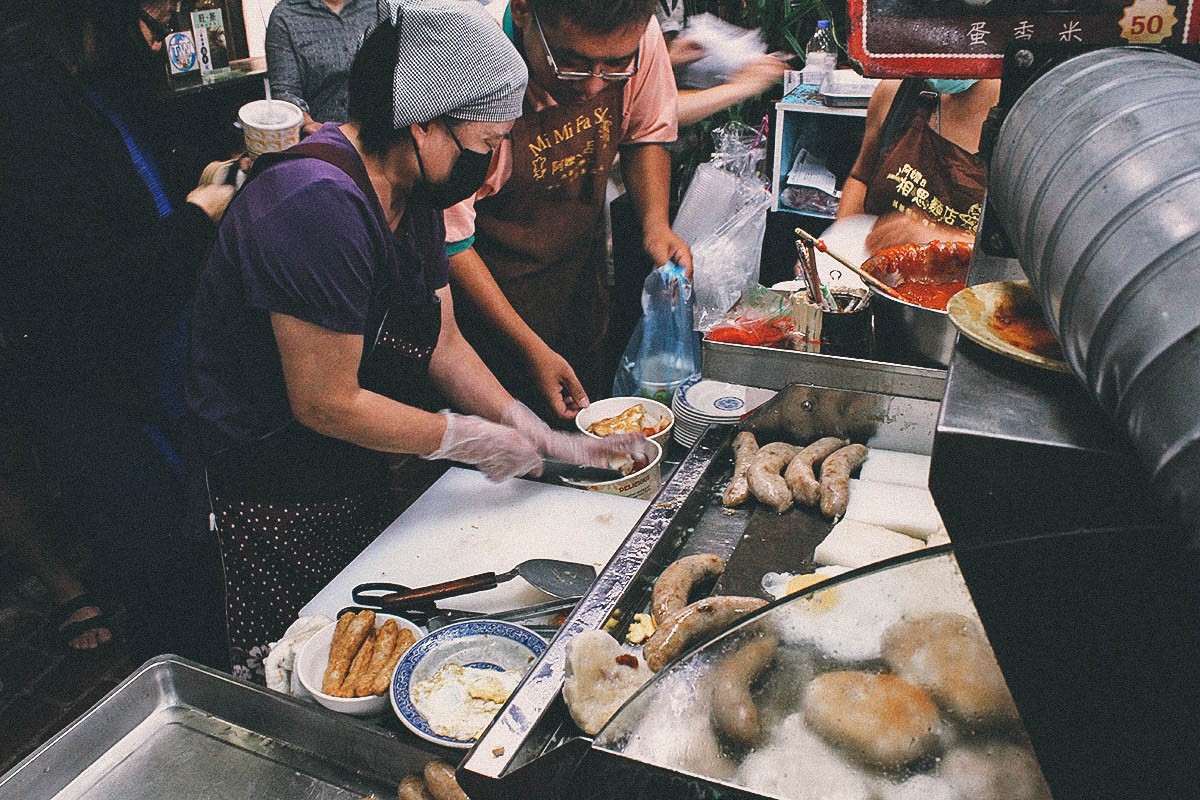 Expect to Pay: Around NTD 50-100 per plate
2. Chun Shui Tang
As described, Taichung is considered by many to be the birthplace of boba, which is basically black tea with milk, sugar, and tapioca pearls. Chun Shui Tang, a chain of dim sum restaurants that started in Taichung, is one of two places that have a legitimate claim as being the inventor of bubble tea. You can enjoy their original pearl milk tea at one of their many branches in Taichung (and throughout the country), but I suggest trying it at the original shop on Siwei Street.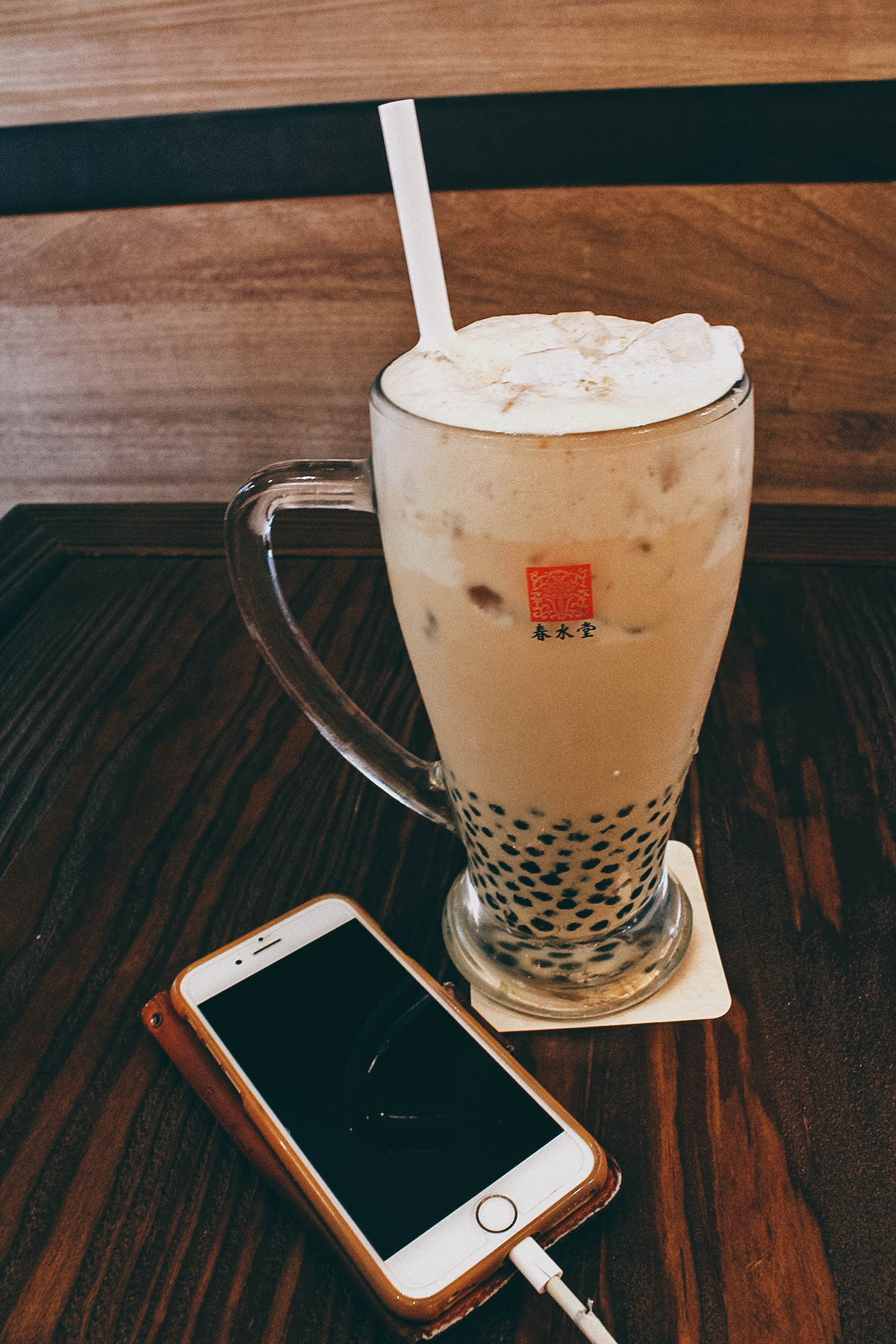 Expect to Pay: NTD 75 (small), NTD 140 (large) for pearl milk tea
3. Fu Din Wang
Lu rou fan and braised pork knuckle are two of the most beloved Taiwanese dishes. They're similar dishes that involve slow cooking pork for several hours until the meat is fork tender. Fu Din Wang specializes in both. I came across this restaurant when I was doing research for places to eat in Taichung, and I was sold after reading one article describe it as the place to go to for pork knuckle. As you can see below, we had the pork knuckle and lu rou fan, both of which were delicious.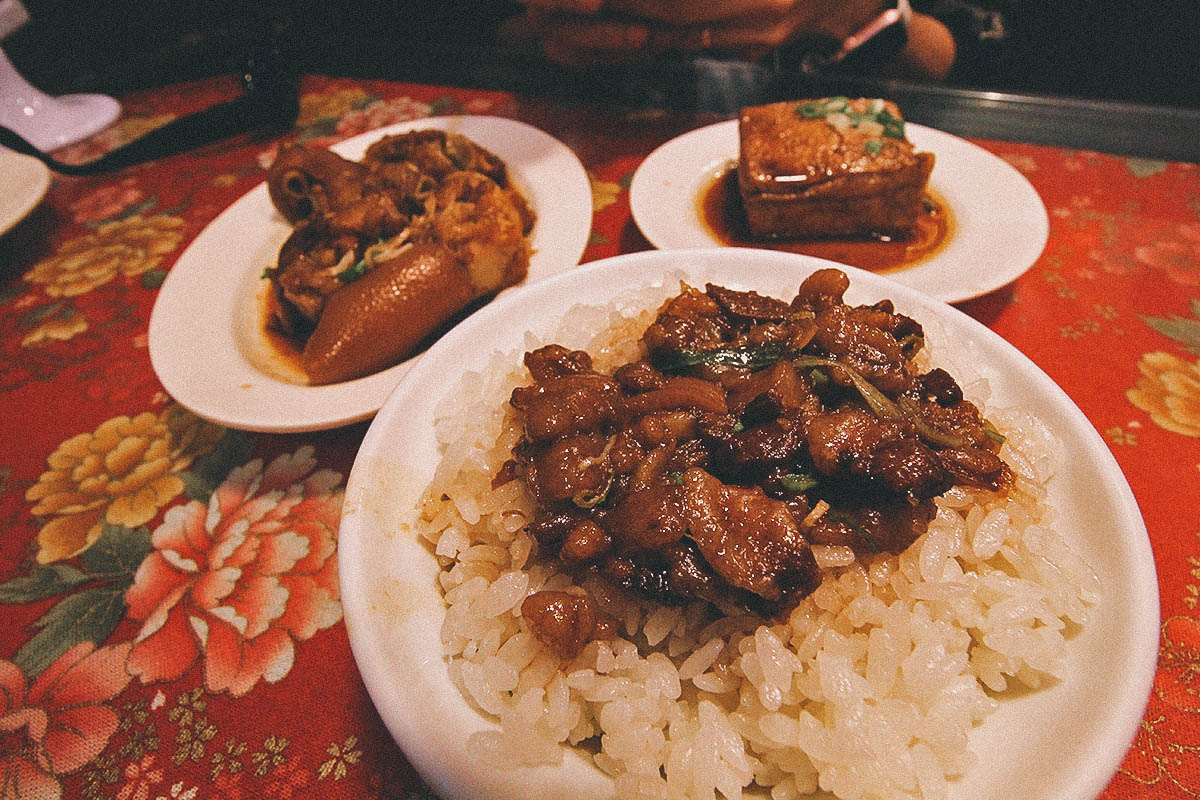 What We Paid: NTD 175 with drinks
4. Ding Wang Hotpot
Hot pot, like lu rou fan and beef noodle soup, is a core Taiwanese dish. It's a soup dish containing a variety of raw ingredients which you cook yourself. A boiling pot of soup stock is left on your table along with the ingredients which you drop into the pot to cook. I did a search for the most recommended hot pot restaurants in Taichung and Ding Wang Hotpot often came up. Their spicy hot pot was delicious.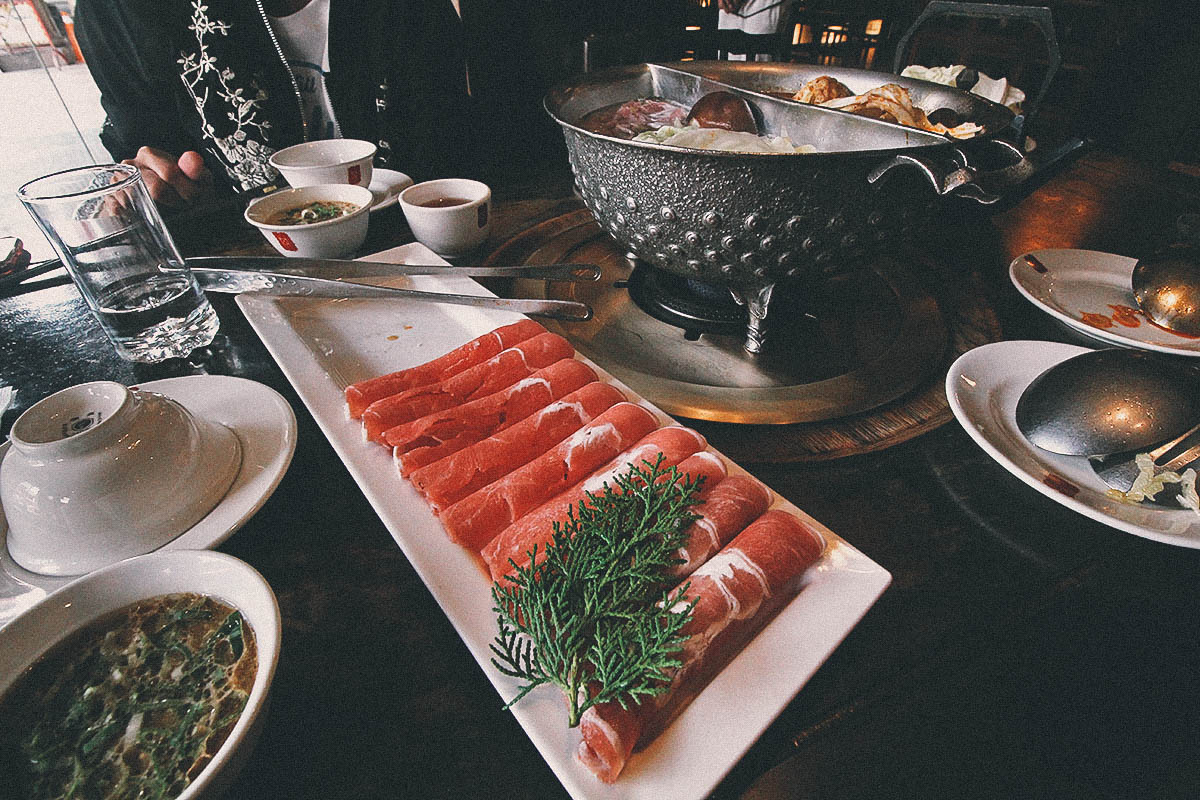 What We Paid: NTD 1,485 for two
If these four aren't enough to whet your appetite, then check out our post on 9 Must-Eat Restaurants in Taichung. It includes more pictures and information about the places listed above, as well as instructions on how to get to each restaurant.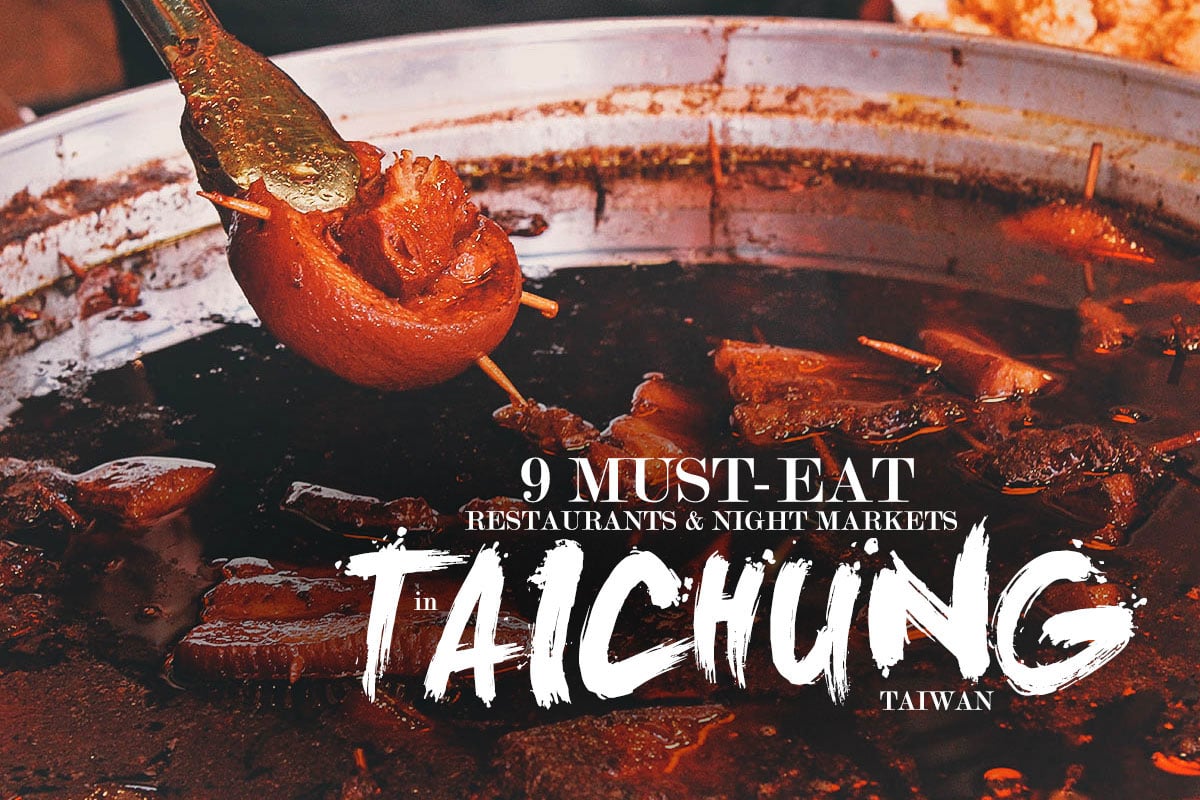 POINTS OF INTEREST IN TAICHUNG
To help you get your bearings, I've created this map so you get a better sense of where everything is. Most of the places recommended in this guide are pinned on this map.
HOW TO GET AROUND TAICHUNG
Despite being the second most populated city in Taiwan, Taichung doesn't have its own subway system so the cheapest way to get around is by bus. I've always been apprehensive about using a foreign city's public bus system for fear of getting lost. But my fears were dispelled after I started using the Google Maps app (iOS | Android) in Kaohsiung. To my surprise, I found it incredibly helpful and easy to use. It tells you exactly how to get from one place to the next using any city's public transportation system. I've always been afraid of hopping onto the wrong bus and winding up somewhere in China, but this free app makes it practically idiot-proof. Give it a try if you plan on getting around Taichung by bus.
There are several transportation cards you can use in Taiwan but the EasyCard has worked well for us so I haven't looked into anything else. If you plan on taking the bus a lot in Taichung, then you may want to get an EasyCard. Not only will it save you the hassle of having to scrounge up exact change each time you wanted to ride the bus, but any trip less than 10 km in distance will be free with an EasyCard! It's the Taichung City government's way of encouraging people to use public transportation. The EasyCard works throughout Taiwan, on most city buses as well as the Taipei and Kaohsiung MRT systems. You can check the EasyCard website for information on where to buy it and its scope of use.
In some instances, you many not want to take public transportation so you'll be pleased to know that Uber is available in Taichung as well. According to my AirBnB host from a previous trip, it's cheaper than taxis. We took it a couple of times when we were too tired to take public transportation and the most we paid was NTD 286 to go from Fengjia Night Market to Shin Sei Bashi Hotel (about 8 km).
HOW MANY DAYS TO STAY / SAMPLE ITINERARY
Taichung is a big city with plenty to see and do. It's also a good base from where you can do a few day trips. But assuming you'll only be staying within Taichung, then I'd say three full days is plenty. It'll give you more than enough time to do everything in this guide. If it's your first time traveling to Taichung, then here's a sample three-day itinerary to help you plan your trip. You're welcome to extend your trip if you plan on doing any of the recommended day trips.
DAY ONE

• Calligraphy Greenway
• National Taiwan Museum of Fine Arts
• Audit Village
• Fantasy Story
• Caowu Square
• Zhonghua Night Market
• Yizhong Street Night Market

DAY TWO

• CMP Block Museum of Arts
• National Museum of Natural Science
• National Taichung Theater (via tour)
• Rainbow Village (via tour)
• Gaomei Wetlands (via tour)
• Fengjia Night Market
DAY THREE

• Second Market
• Miyahara
• 921 Earthquake Museum
• Zhongxiao Road Night Market
BUDGET / SUMMARY OF EXPENSES
Assuming you'll be traveling with one other person and spending three full days in Taichung, then a budget of around NTD 1,500 per day should be enough. This takes into account a moderately priced hotel, inexpensive meals, transportation, tour and entrance fees, and pocket wifi rental. Feel free to add to this suggested budget if you plan on going shopping or doing any day trips.
ACCOMMODATIONS

This is highly subjective. It depends on several factors like hotel preference and number of travel companions. We booked a room at Shin Sei Bashi Hotel for about NTD 1,560 a night. Expect to pay much less if you're staying in a dorm room.
MEALS

Again, this is subjective, but based on our experience, I'd say around NTD 200-300 for the day per person with drinks. Budget more if you plan on dining at fancier restaurants.
POCKET WIFI RENTAL

If you're sharing the cost with one other person, then you'll each be paying NTD 40 per day.
TRANSPORTATION

As advised, it's a good idea to invest in an EasyCard if you plan on riding the bus a lot in Taichung. The base cost of the EasyCard is NTD 100 plus whatever amount you'll need in Taichung. Since rides under 10 km are free, then I don't imagine you'll be needing much. A bus transportation budget of around NTD 100 for the entire three days should be plenty.
TOUR & ENTRANCE FEES

The only Taichung attraction in this guide that has an entrance fee is the 921 Earthquake Museum. I did factor in the cost for the Rainbow Village and Gaomei Wetlands Day Tour since it's the easiest way of seeing both places. The total cost for the museum and tour is NTD 800.
TOTAL



This comes out to about NTD 1,457 per day for each person. Ren and I are middle of the road travelers who enjoy good food and drink, so this is a budget that works for us. Feel free to adjust based on your own travel habits.
TRAVEL TIPS
1. Plan your Trip with Sygic Travel (formerly Tripomatic)
This free app is very useful. It enables you to plot points of interest on a map, including your hotel, so you can see exactly how far you need to travel between points. You can then group attractions together per day based on their location. With pocket wifi, it can turn your mobile phone into a GPS tracking device so people with a terrible sense of direction (like me) don't get lost. Pretty cool right? Check out my post on the Sygic Travel app for more information.
Sygic Travel is what I used to create the location map above. You can view it as a day-to-day itinerary as well. Follow this link to check out our three-day Taichung itinerary on Sygic Travel. You can also download our entire 2-week Taiwan itinerary in editable Word format from our EAT-ineraries page.
2. Rent a Pocket Wifi Device
Having a constant and strong wifi connection is a must when traveling these days. You'll need it to navigate, convert currencies, post on social media, and do last minute research.
We rented a 4G pocket wifi device through Kkday for NTD 80 a day. You can pick it up and drop it off at Taoyuan, Songshan, or Kaohsiung International Airports. It gave us a strong wifi signal no matter where we were in Taiwan. Beach, mountains, intercity trains, it didn't matter. Our wifi signal was always good. Battery life was decent, maybe 6-7 hours so I suggest bringing a power bank as you'll probably need to charge it before the end of each day. Follow this link to rent a pocket wifi device in Taiwan through Kkday.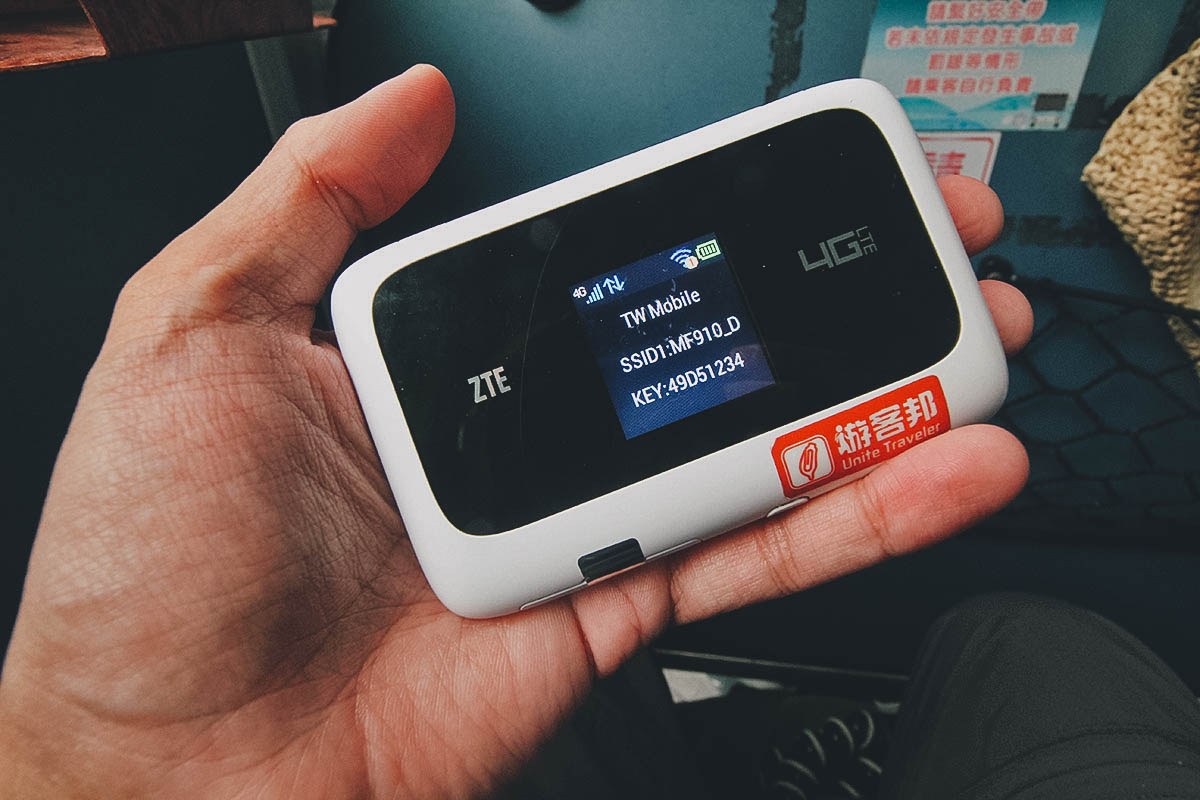 3. Store Your Luggage with lalalocker
More and more travelers are staying at AirBnBs these days. We do, and it can be a problem when we can't check in to our accommodations until 2PM, sometimes even later. We arrived by train early in every city we visited in Taiwan. It wasn't a problem with hotels because we could leave our luggage at the front desk till check in. But in some instances, like in Kaohsiung for example, we were staying at an AirBnB so it wasn't possible to leave our bags there. Thankfully, we were able to leave our bags at a luggage storage facility so we could tour the city before checking in.
If you run into the same problem, then you can use lalalocker to find places where you can temporarily store your luggage. Think of them as the AirBnB for luggage. They connect travelers with establishments like hotels, shops, and cafes where you can safely leave your luggage for a fee. They serve multiple areas in many cities throughout the country, including Taichung. Just go to their website to find a storage place convenient for you. You can then make a reservation directly on their website. Check out the lalalocker website for more information.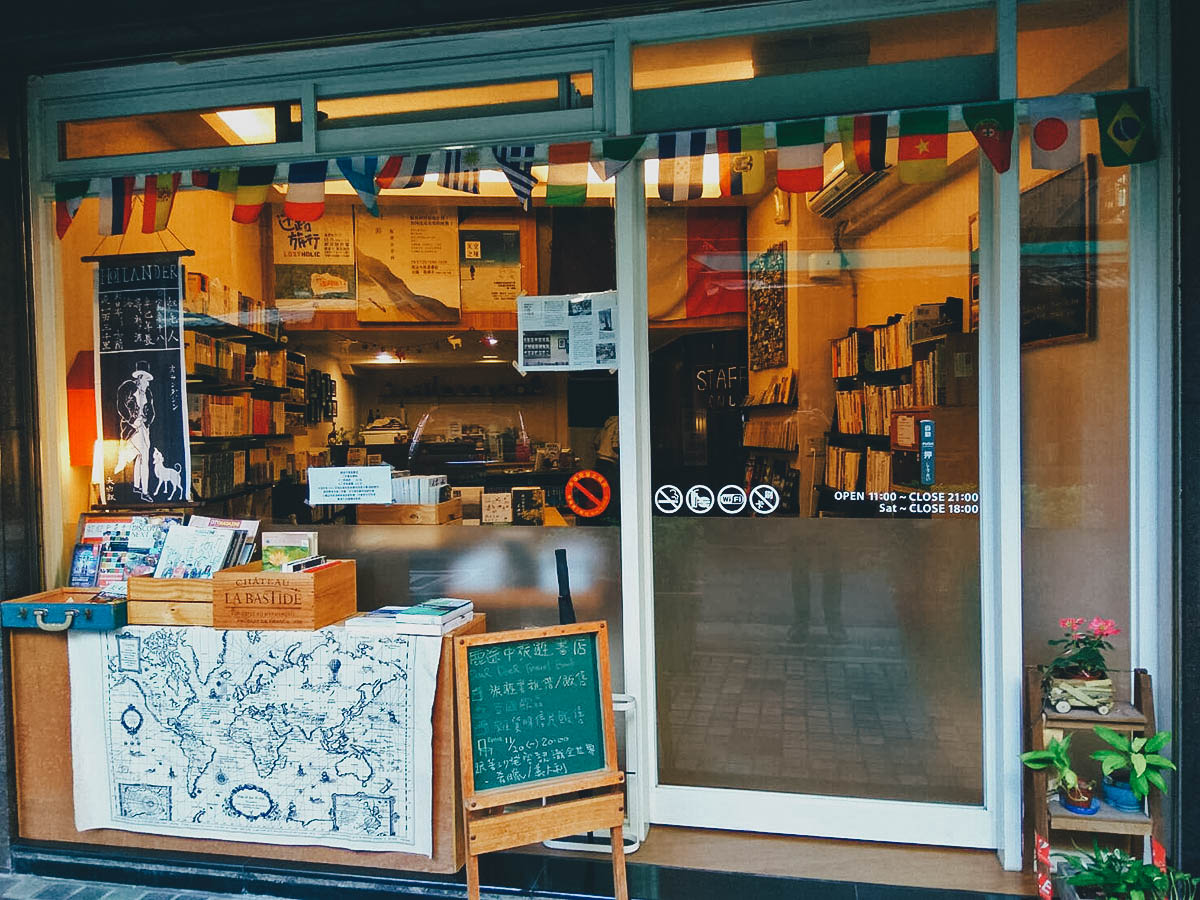 Bookstore that stores your luggage in Taipei
4. Ride the Bus for Free with an EasyCard
As described in the HOW TO GET AROUND section of this guide, you can get free rides on the public bus for distances of less than 10 km if you have an EasyCard. If you plan on getting around by bus in Taichung, then that definitely makes the cost of the card worth it. The distance between Fengjia Night Market and our hotel, which is very near Taichung TRA Station, was about 8 km. That's about as far as you need to travel within downtown Taichung so most of your rides will probably be for free.
If you'll be spending any time in Taipei or Kaohsiung, then you should definitely get one. Aside from eliminating the hassle of having to buy single journey tokens each time, you'll get a 20% discount with every ride on the Taipei MRT and 15% off on the Kaohsiung MRT with an EasyCard.
We never used it for anything but transportation but you can use it for other things as well like taxis, ferries, TRA trains, supermarkets, convenience stores, even some restaurants and cafes. Follow this link to see the full scope of use of an EasyCard.
In Taichung, you can purchase an EasyCard from any of the four major convenience stores – 7-Eleven, FamilyMart, Hi-Life, and OK Mart – for NTD 100. You can then top it up at any of those convenience stores. You can use it throughout Taiwan, meaning if you bought it in Kaohsiung like we did, then you can use it on the Taichung bus as well and vice versa. At the end of your trip, any unused amount can be refunded minus a service charge of NTD 20. You can refer to the EasyCard website for more information.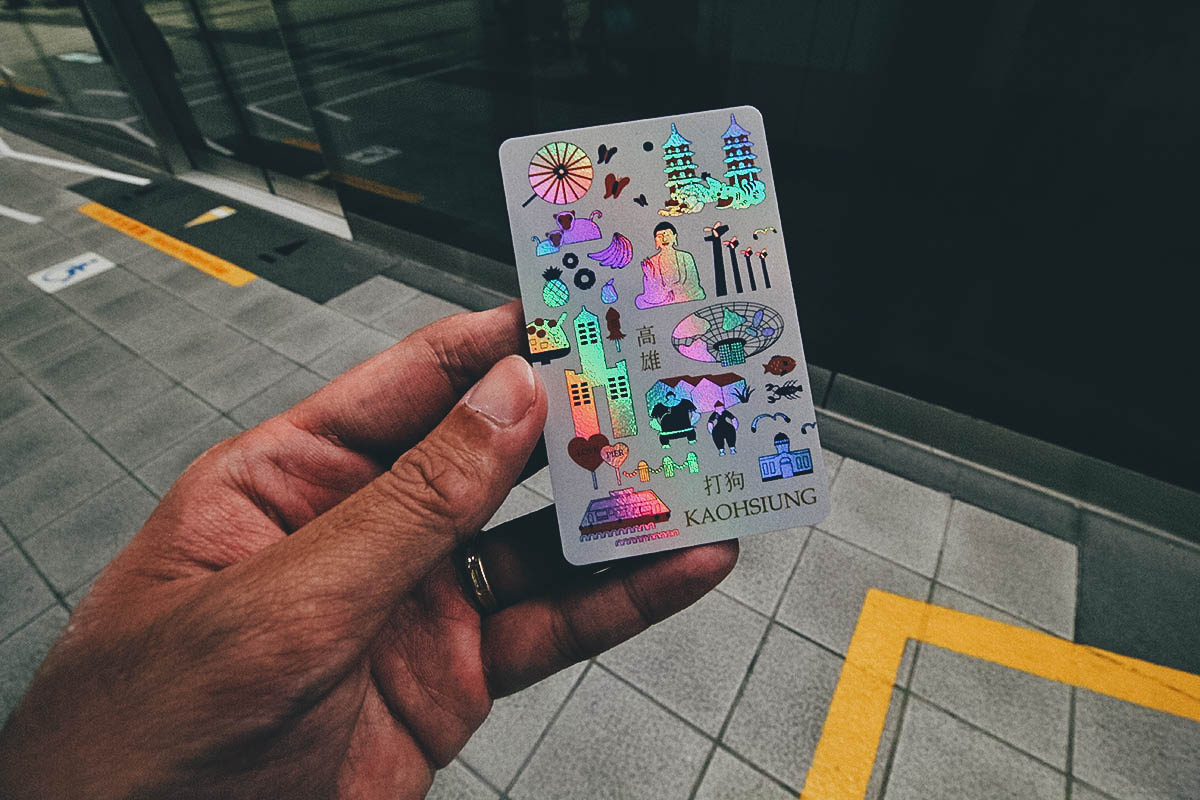 5. Check for Discount Passes
There are many websites that offer discount passes to tours and services. One of my favorites is Kkday. They offer deals to many destinations around the world, including Taiwan where they're based. They're a Taiwanese e-commerce travel platform so in my opinion, there's no better website to purchase deals from in Taiwan than Kkday. They have the widest selection.
If you're looking for deals on tours, transfers, pocket wifi rental, etc, then you may want to search through Kkday's website for a list of Taichung attractions. You'll often find interesting activities that you wouldn't normally think of yourself, so it's definitely worth a look. Here's a list of some of Kkday's most popular deals in Taichung: (pictures borrowed from kkday.com)
6. Get Travel Insurance
To be honest, it was only recently when we started buying travel insurance. Back when we traveled just once or twice a year, travel insurance felt like a luxury, something we could do without. But now that we travel more, I understand how important it is to have it. Fact is, you never know what can happen. It's one of those things that you hope you never have to use, but if you do wind up needing it, then you'll be thanking the gods that you had it (or cursing them if you didn't).
Though I do find it more necessary now, it's still up to you if you think you need it. A 3-day trip to Osaka just sightseeing and eating may not really call for insurance but if you plan on doing more active things like skiing, horseback riding, or even going on a city bike tour, then I'd say travel insurance is a must. We went bike riding twice in Taiwan so we did get travel insurance for this trip.
We buy travel insurance from World Nomads because every long-term traveler I know recommends it. From the sound of it, they're the best in the industry by a mile. Not only do they provide a high coverage limit for medical expenses (up to USD 5 million with the Standard package), they also cover things like trip delays, missed flight connections, theft/loss of passport and luggage, etc. Follow the link or use the widget below to learn more and get a free travel insurance quote from World Nomads. It's super quick and easy.
7. Bring the Right Power Adapter
Taiwan has Type A and Type B electrical outlets so be sure to bring the right power adapters for your devices. Electrical voltage is 110V and the standard frequency is 60Hz.
For Filipinos
VISA-FREE TRAVEL TO TAIWAN
In 2017, TECO implemented a 9-month visa-free trial program for Filipinos. From 1 November 2017 till 31 July 2018, Philippine passport holders will be able to travel to Taiwan visa-free for stays of up to fourteen (14) days, provided the following requirements are met.
The applicant's passport is valid for at least six months starting from the date of arrival in Taiwan.
The applicant has an onward/return air/ferry ticket and a visa for that destination (if required).
The applicant has no criminal record in Taiwan.
The applicant can provide proof of accommodation (or host/sponsor's contact information or arrangements of tour, travel, visit, events and meeting etc.) in Taiwan.
HOW TO GET CHEAP AIRLINE TICKETS
Ever since I scored my first piso fare from Cebu Pacific, I've been hopelessly addicted to cheap airline tickets. Our tickets to Taipei with a shared 20 kg baggage allowance came out to about PHP 4,587 each roundtrip. How awesome is that?
These piso fare tickets are limited and sell fast, so you have to be quick. To give yourself an advantage, I suggest liking their Facebook page and following them on Twitter to quickly find out about these seat sales. If you check off "Get notifications" on Facebook, then you'll receive instant alerts every time they post something new.
Other airlines that have direct flights from Manila to Taipei are Philippine Airlines, EVA Air, AirAsia, and China Airlines. I checked and there appears to be just one airline with direct flights from Manila to Kaohsiung, and that's China Airlines.
Have fun!
I'm not an expert on Taichung but I do hope that you find this post useful. I'm only sharing some of the things that I learned from our trip. If you have any suggestions or simply want to share your own experiences, then please feel free to do so in the comments section below. You're welcome to join our Facebook Travel Group as well. We'd love to hear from you.
Thanks for stopping by and have an awesome time in artsy Taichung!
OUR GEAR
These are some of the things we brought with us to Taichung. As you can tell, I document a lot of content for this blog so most of the things I bring are photo and video equipment. 😆 If you'd like to see what other gear we use, then you can check out our "What's in Our Backpack?" post. (NOTE: The following links are affiliate links.)
Disclosure
We're a Kkday affiliate and worked with them on this trip. We paid for our airfare, accommodations, and incidental expenses like transportation and food, but we were allowed to go through their website and choose activities and services in exchange for an honest account of the experience. They provided us with vouchers for pocket wifi rental and the Rainbow Village and Gaomei Wetlands tour. As always, all words and opinions expressed in this post are mine and mine alone.
Some of the links in this guide are affiliate links, meaning we'll get a small commission if you make a purchase at NO extra cost to you. We only recommend products and services that we use ourselves and firmly believe in. We really appreciate your support as this helps us make more of these free travel guides. Thank you!