See the Future at Gardens by the Bay in Singapore
Many attractions come heavily hyped. Some fail to live up to the expectations, others exceed them. For an overwhelming majority of people, Gardens by the Bay belongs to the latter.
We've been fortunate to visit many breathtaking attractions on our travels and Gardens by the Bay is one of our favorites. It's an incredible place, not just for how it looks but for what it stands for. Envisioned as a "City in a Garden", it furthers the movement of environmental sustainability and educates the public about conservation. Walking through the conservatories in awe, I couldn't help but think about our children's future. With the looming perils of unchecked climate change and habitat destruction, is this the "nature" of future generations? All but gone except in self-contained biodomes? As spectacular as this is, I'd hate to think so.
Gardens by the Bay is as provocative as it is stunning and perhaps gives us a sobering look into a city of the future.
Supertree Grove
The Supertrees are one of Singapore's most iconic attractions and with good reason. They're extraordinary. Not only do they resemble trees, but they're meant to function like them as well. More than just sculptures, they store energy via solar panels and harvest rainwater for use in the gardens. They're a perfect marriage of nature and technology and have become a fitting symbol of Singapore's initiative to create lush environments and renewable energy. On top of that, they look wicked cool.
Check out my post on the Supertree Grove at Gardens by the Bay for more pictures and information.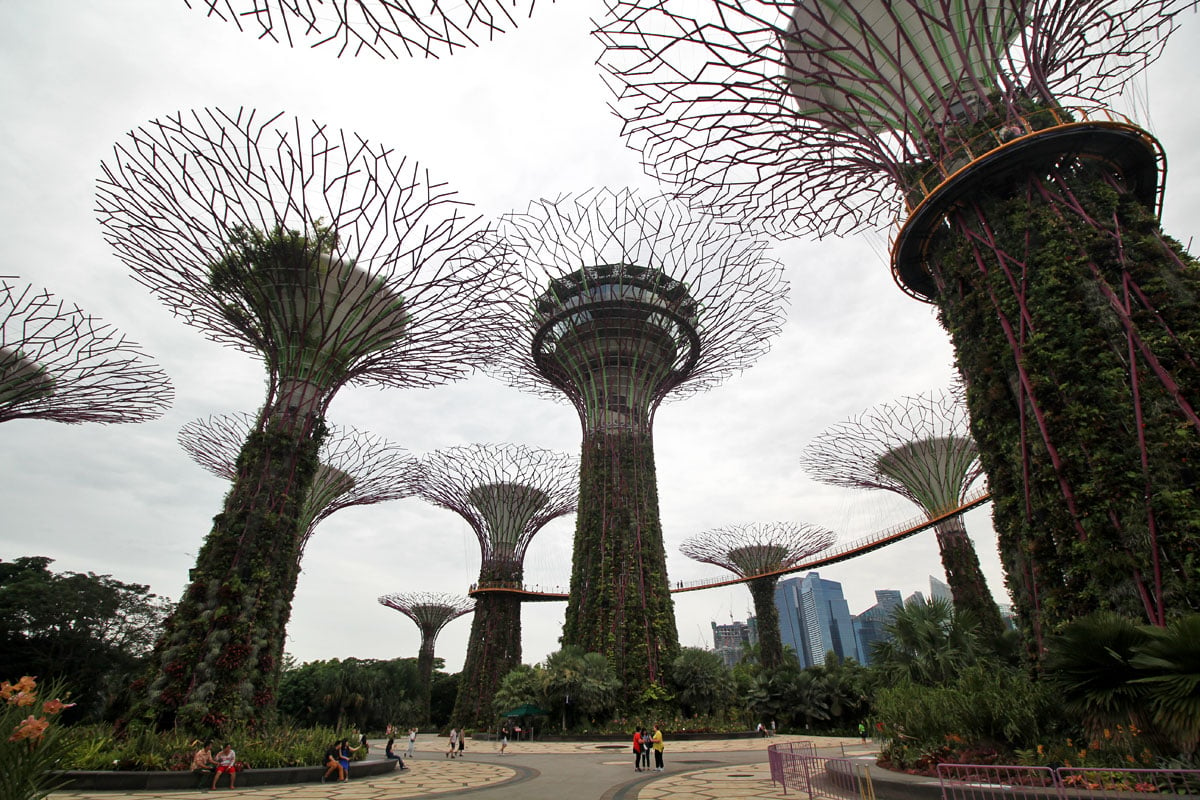 Cloud Forest
We loved everything at Gardens by the Bay but the Cloud Forest was our favorite. A magical blend of natural and man-made, this domed conservatory houses a 35-meter-tall artificial mountain covered in lush vegetation. It boasts the world's tallest indoor waterfall and features a Cloud Walk platform that gives you stunning aerial views of the entire conservatory. Walking along that platform was probably our single best experience in Singapore. It's out of this world.
Check out my post on the Cloud Forest at Gardens by the Bay for more pictures and information.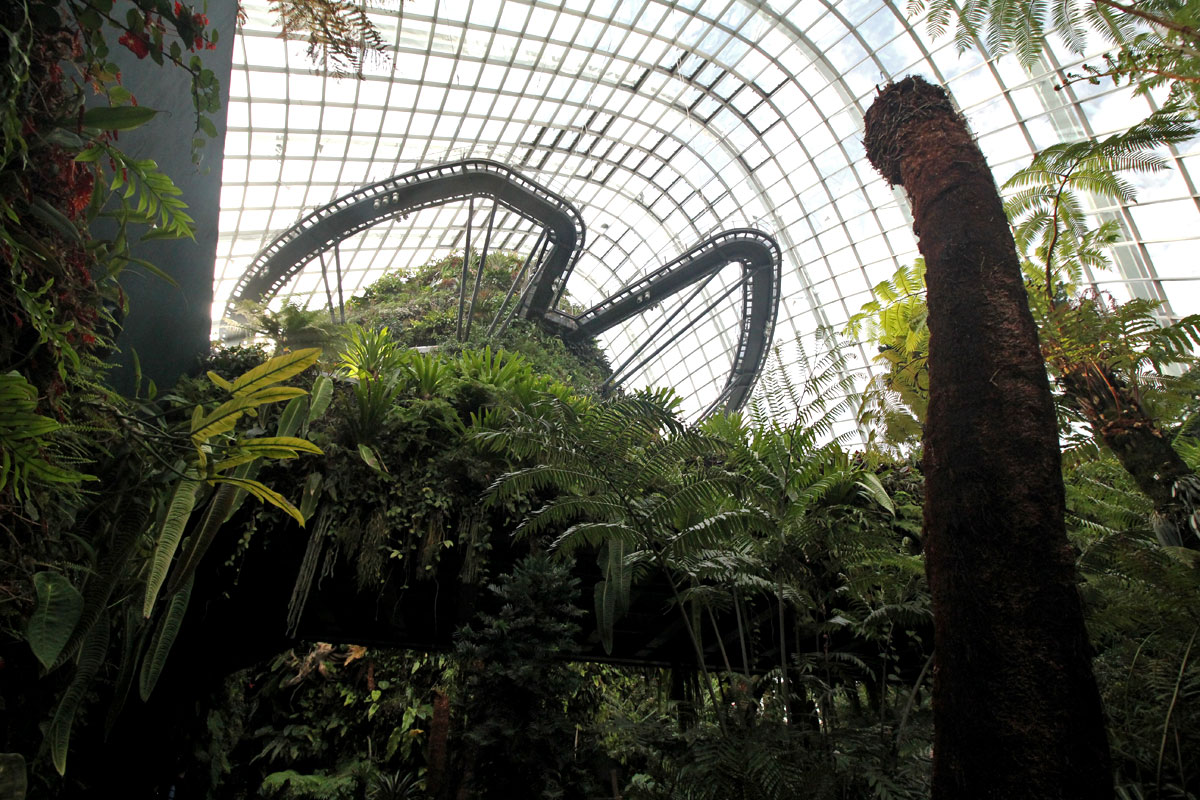 Flower Dome
A sister conservatory to the Cloud Forest, the Flower Dome may not be as exhilarating but it's every bit as impressive. One of the world's largest greenhouses, it features plants from the Mediterranean and semi-arid subtropical regions, as well as a changing exhibit of flowers to reflect the world's different seasons and festivals. Best of all, it has baobab trees from Madagascar. Yes, baobab trees. From Madagascar. In Singapore. I couldn't believe it!
Check out my post on the Flower Dome at Gardens by the Bay for more pictures and information.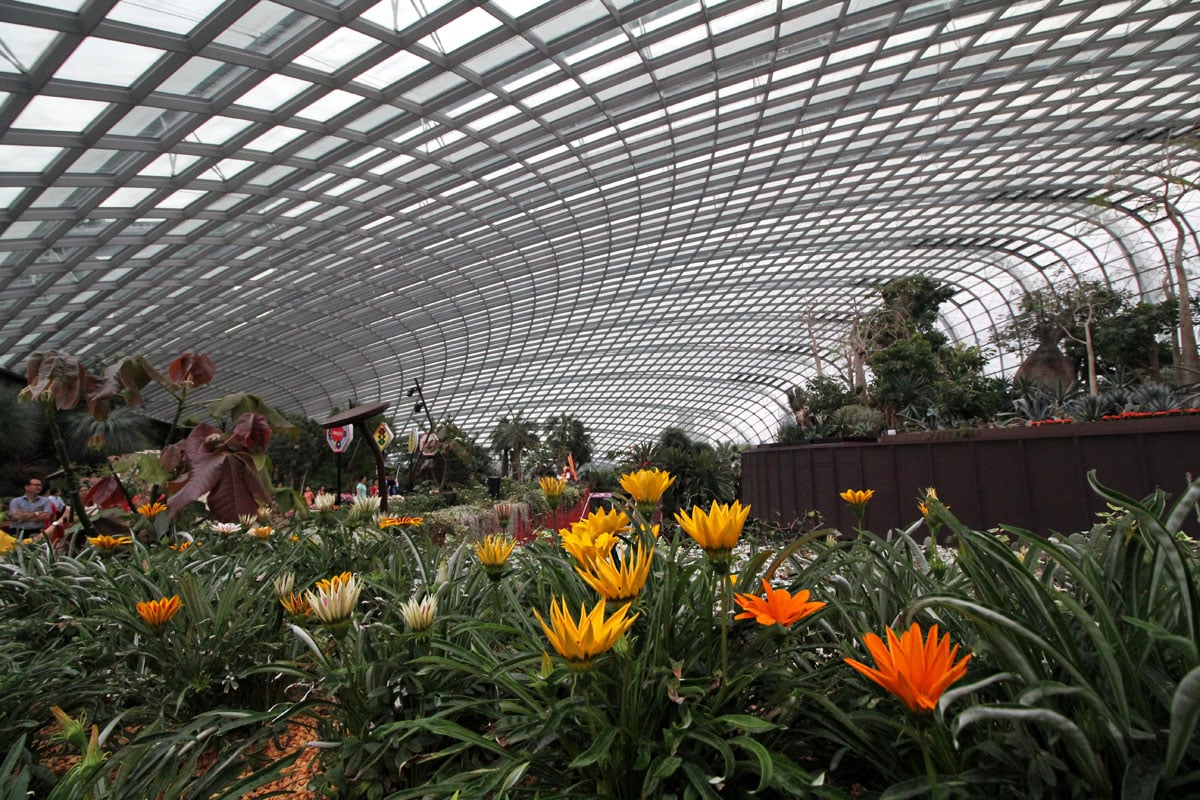 There's more to Gardens by the Bay than what's listed here but these three are the main draws. Gardens by the Bay is the number one rated Singapore attraction on TripAdvisor so you absolutely cannot visit this country without spending a day here. Incredible, extraordinary, spectacular, stunning, I'm running out of superlatives to describe this place so please, just go. 😆
Please be sure to click through on my posts for Cloud Forest and Flower Dome. I've included information there on how to get discount passes to these two conservatories.
Gardens by the Bay, Singapore
18 Marina Gardens Drive, Singapore
Tel: +65 6420 6848
Website: gardensbythebay.com.sg
Facebook: gardensbythebay
Twitter: GardensbytheBay
Instagram: gardensbythebay
YouTube: gardensbythebay
Flickr: gardensbythebay
Email: feedback@gardensbythebay.com.sg
OPERATING HOURS:
Outdoor Gardens: 5AM-2AM daily
OCBC Skyway / Cloud Forest / Flower Dome: 9AM-9PM daily
ADMISSION:
Outdoor Gardens: FREE
OCBC Skyway: Adult — SGD 8 / Children (ages 3-12) — SGD 5
Cloud Forest & Flower Dome: Adult — SGD 28 / Children (ages 3-12) — SGD 15
HOW TO GET THERE:
Take the MRT to Bayfront station. Take Exit B and follow the underground linkway. Exit and cross the Dragonfly Bridge or Meadow Bridge into Gardens by the Bay.
Disclosure
Some of the links in this post are affiliate links, meaning we'll get a small commission if you make a purchase or reservation at NO extra cost to you. We really appreciate your support as this helps us keep this website going. Thank you!