Eat and Shop like no one's Watching at Raohe and Shilin Night Markets
If you enjoy food, especially street food, then you can't visit Taipei without going to a night market. You can't. It would be like going to Singapore without eating at a hawker center. Or traveling to Osaka without snacking on a few takoyaki balls. Your trip just wouldn't be complete without it.
Open daily from 5PM to 12MN, there are many night markets in Tapei for you to choose from. If you can, visit a different one every night. But if you're there for just a limited time like we were, then these are two that you absolutely must go to.
Raohe Night Market
One of the oldest night markets in the city, Raohe also has one of the best food selections around. If food is your thing and you don't care too much for shopping, then this night market should be tops on your list. I loved it.
About a twenty minute walk from Houshanpi MRT station, you'll know your close when you see this temple — Ci You Temple. The entrance to Raohe Market is directly to its left.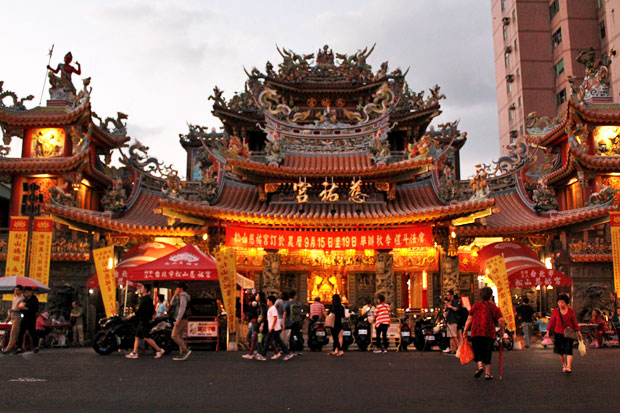 Here it is, the gates to some amazing street eats.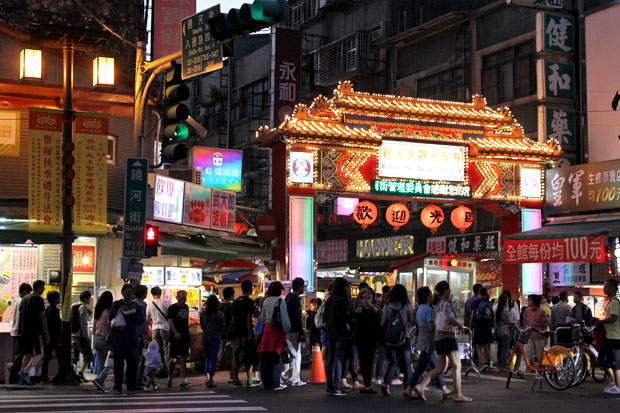 Unlike Shilin Night Market which is bigger and comprised of a network of streets, Raohe Market is basically just one long street with a noticeable focus on food.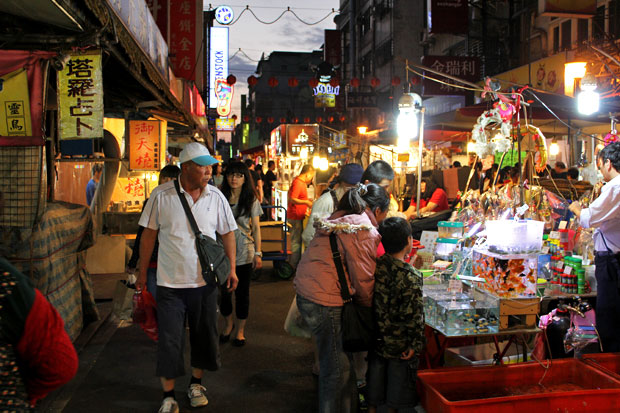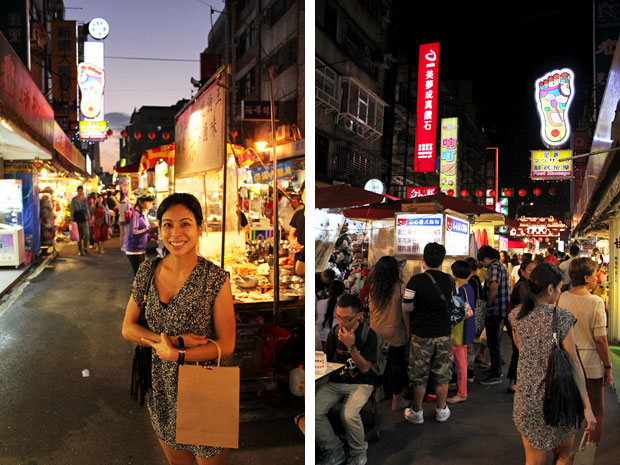 Flame-torched beef, probably the best thing I ate in Taipei. Like many of the food stalls here, there are two sizes available — small for NT$ 60 and big for NT$ 100. You HAVE to try this.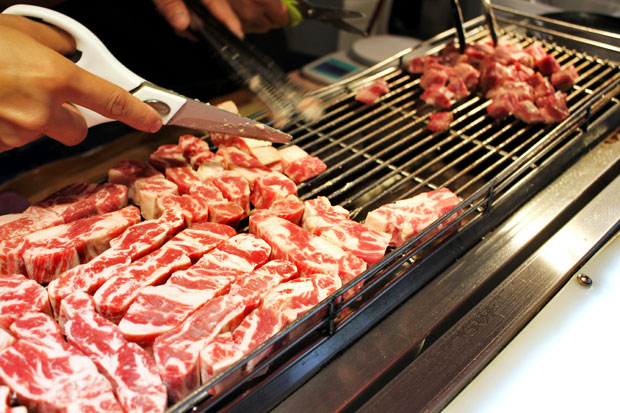 After grilling and torching the beef, they give you a choice of seasoning. We had this twice and both times we chose cumin. So effing good.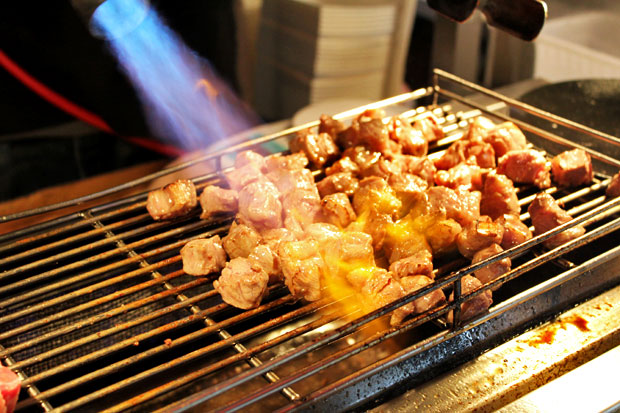 This deep-fried cuttlefish was really good too.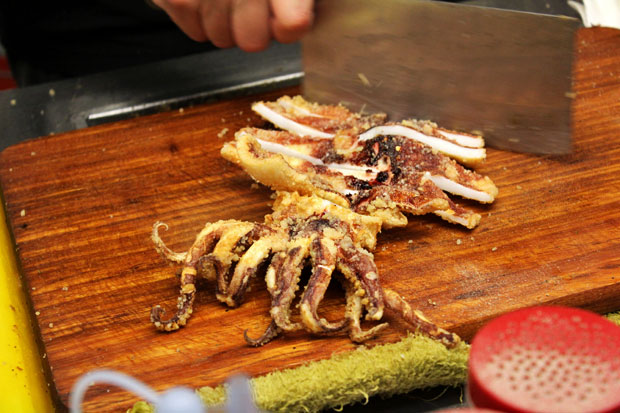 Pouring on that seasoning. So tender and delicious!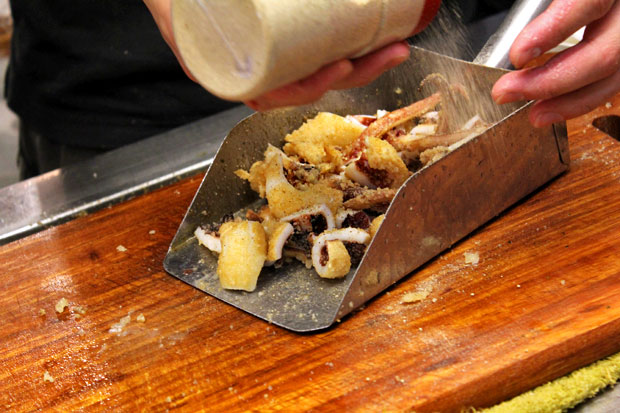 Grilled scallops. Like the beef, they give you a choice of sauce, then cover the thing in bonito flakes. Really good too.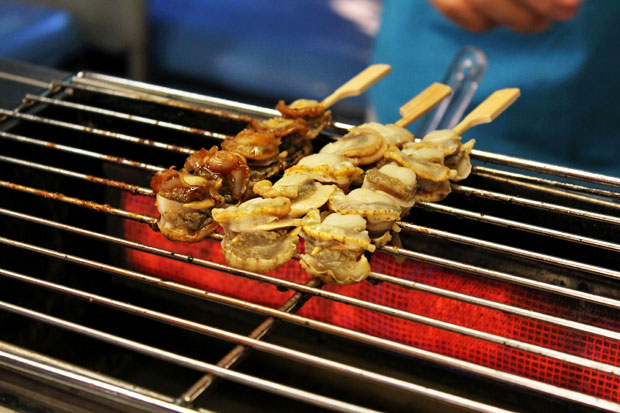 One of Taiwan's most famous street eats — oyster omelette.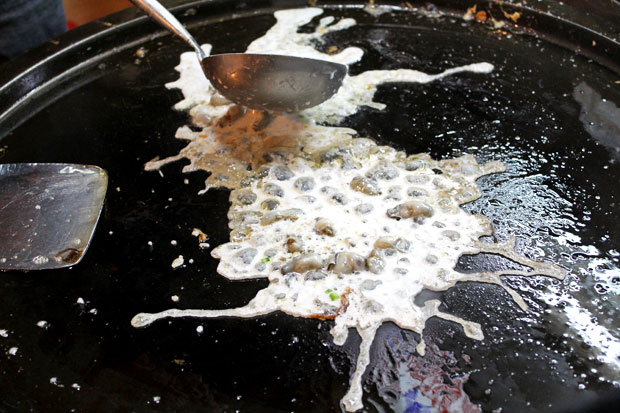 Once cooked, they serve it with a sweet and mildly spicy sauce. Very nice!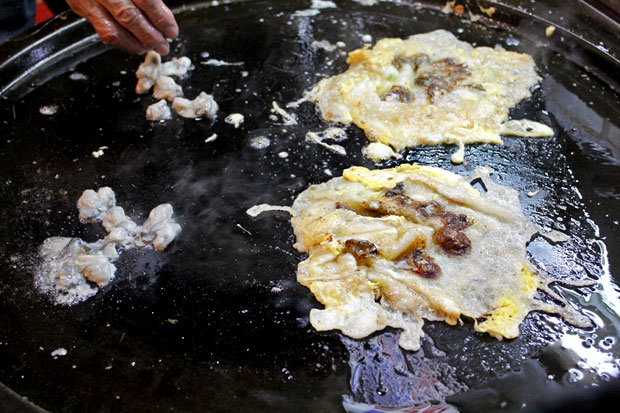 Another famous, or should I say infamous Taiwanese dish — stinky tofu. No offense, but I didn't like this at all. None of us did. It tasted exactly like it smelled — a sewer. Anyone from Manila knows that sewer smell well. This smells exactly like that. Sorry. 😳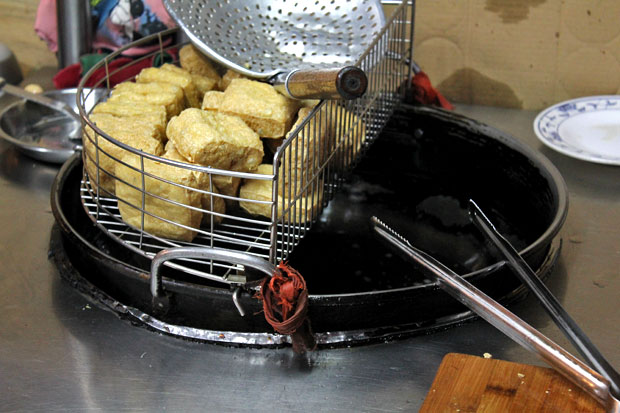 Yum on sticks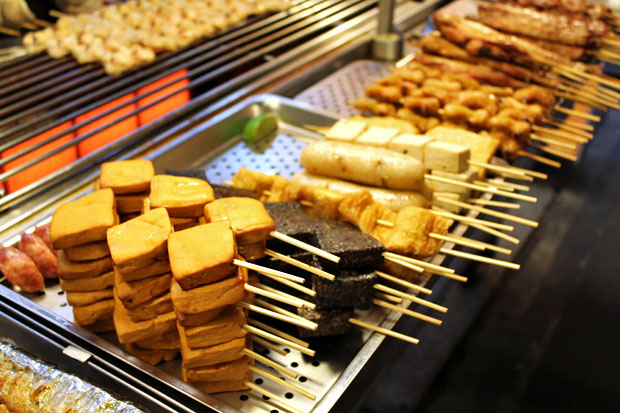 Oysters, sea snails, scallops, and shrimp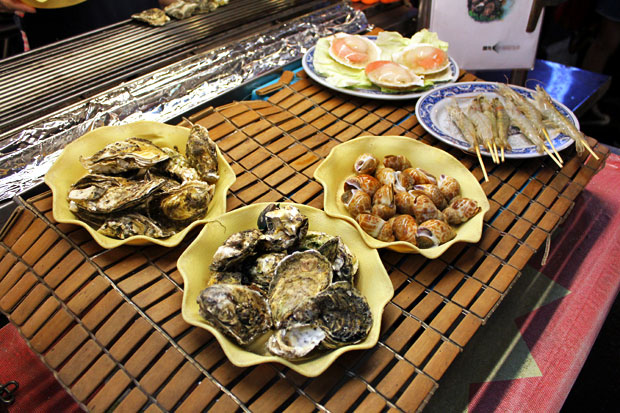 Squid galore. If I had more room, I would have loved a stick of those tentacles.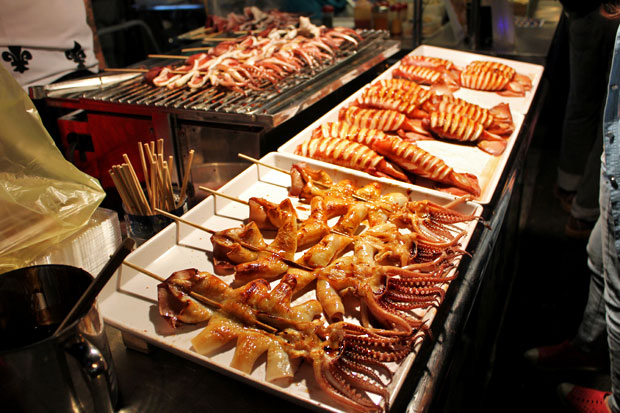 Mutant giant lechon. This thing was massive.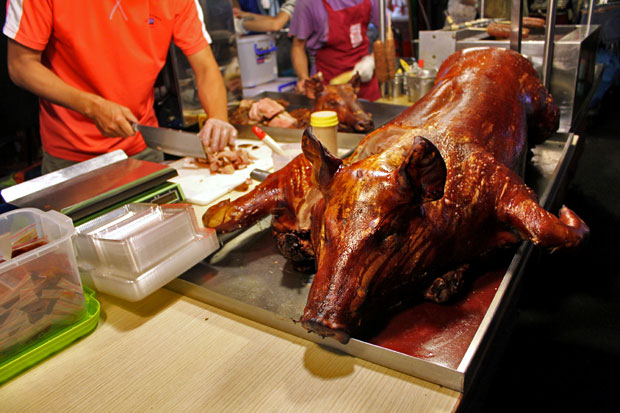 Don't really remember what these were, but I think they were some type of fried chicken nuggets made with offal.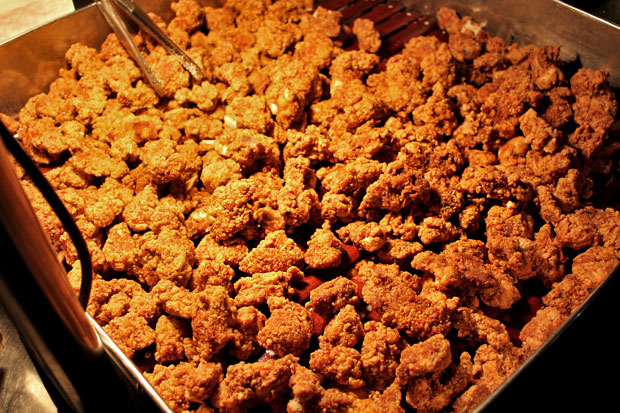 Sauteed squid with veggies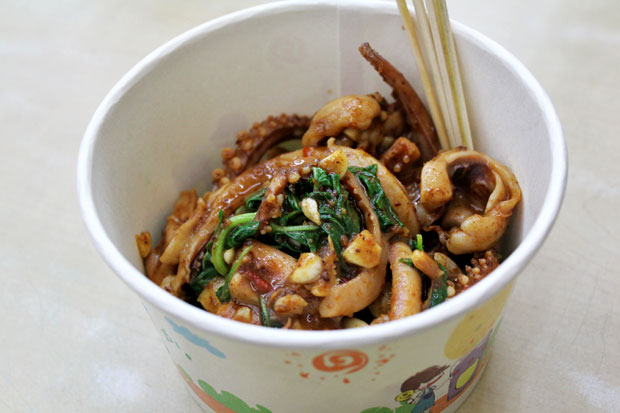 Red-bean-filled wheel cakes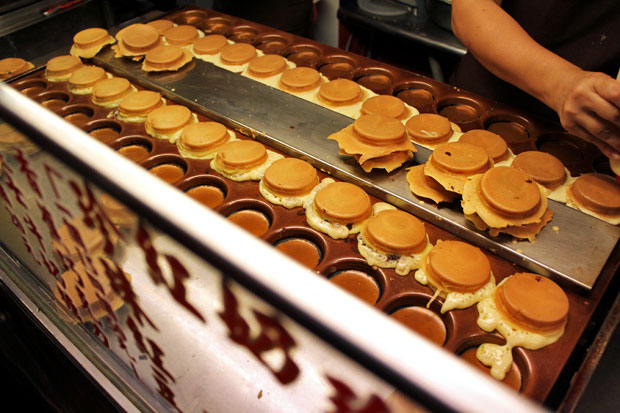 Candied fruits — strawberries and cherry tomatoes with a slice of plum.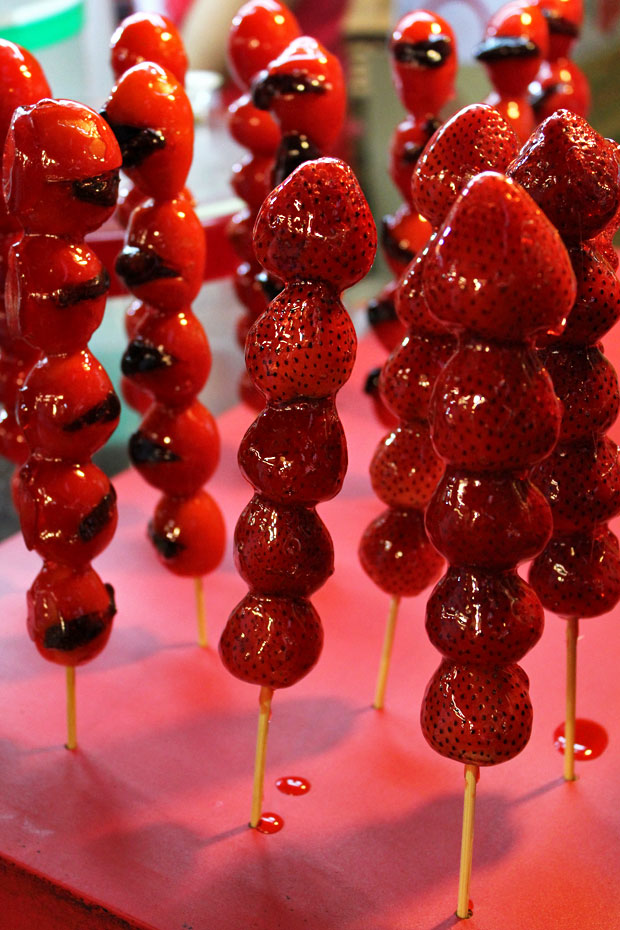 Raohe Night Market
North end of Kee Lung Road, Taipei, Taiwan, ROC
Tel: +866 2 2763 5733
Hours of Operation: Mon-Sun, 5PM-12MN
HOW TO GET THERE:
The Songshan MRT line was still being built at the time but once completed (estimated November 2014), the Songshan MRT station will be the closest stop to Raohe Market. It's about a minute's walk from the market's main entrance.
But until then, you'll need to walk around 15-20 minutes from Houshanpi MRT station. Take exit 4 and walk up Yongji Road to Songshan Road. Make a right on Songshan and walk all the way down until you reach Ci You Temple. The entrance to Raohe Market will be on your left.
Shilin Night Market
Shilin Market is the largest and most famous night market in Taipei. The food selection isn't as good as Raohe but the sheer size of the place defnitely makes it worth a visit. If you're looking for a night market with a good mix of food and shopping, then Shilin is for you.
We didn't have a choice, but weekends are the worst time to go to night markets because of the thicker crowds. Filmed on a Sunday, here's a short video I put together to give you an idea of what it's like.
In general, the shops at Shilin are nicer (and cleaner) than the ones at Raohe. Many of them felt like actual stores instead of just stalls. Consisting of a network of streets, there's also a section with carnival games where you can win stuffed animals and other prizes.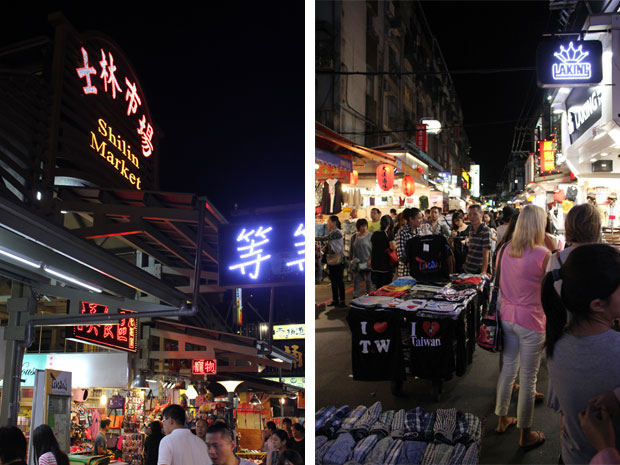 7″ red-bean-filled penis waffles. With veins. 😆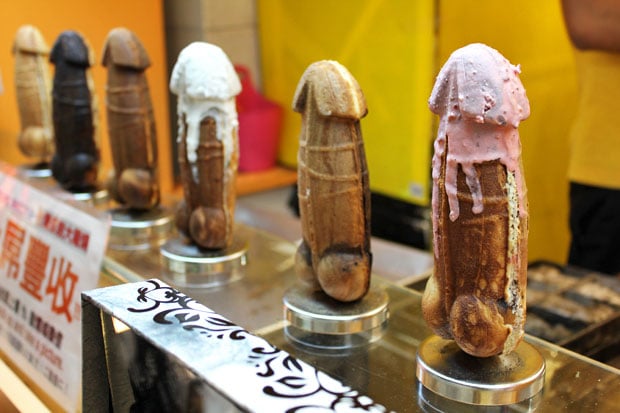 We had ours with green tea. Check out Ren acting all scandalized. As if! 😆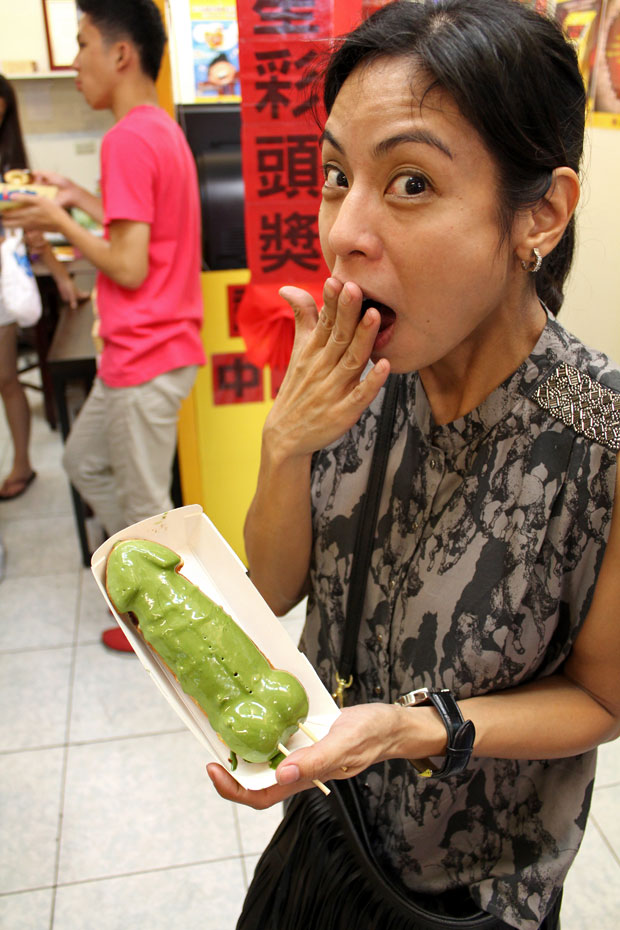 Pig's blood cake dredged in cilantro and ground nuts. Really interesting and very filling. That entire stick goes for just NT$ 35.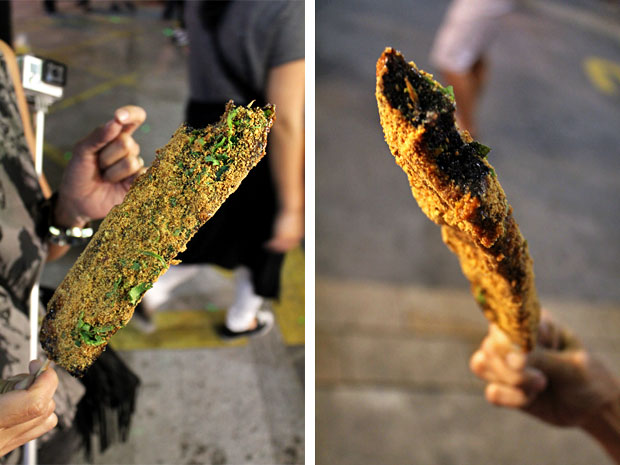 Mini shrimping. This is a miniature version of the popular Taiwanese pastime of urban shrimping.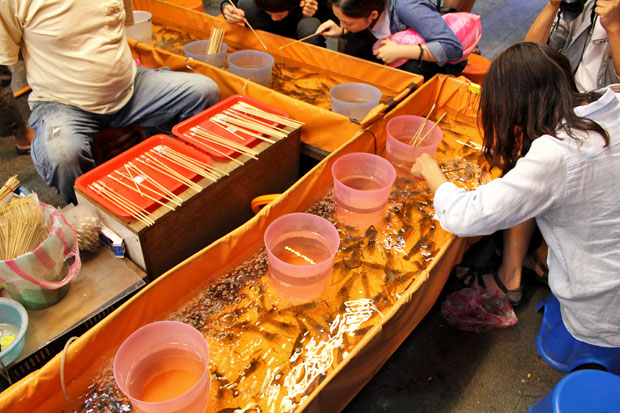 Shilin Night Market
Between Dadong Road, Danan Road, Wenlin Road and Jihua Road, Taipei, Taiwan, ROC
Tel: +866 2 2349 1635
Website: shilin-night-market.com
Email: contact@shilin-night-market.com
Hours of Operation: Mon-Sun, 5PM-12MN
HOW TO GET THERE:
Surpisingly, Shilin MRT station is not the closest station to the night market. Instead, go to Jiantan MRT station. Take exit 1 and follow WenLin Road about 80 meters north until you reach the start of the market area.