If you've been to Hong Kong, or any Chinatown in the world for that matter, then you're probably familiar with char siu. It's those juicy reddish-brown slices of roasted pork sweetened with a mixture of maltose, five spice powder, and other exotic ingredients.
We have a large Chinese community in the Philippines so char siu isn't new to us. However, I've never been a big fan of it. A couple of slices from a siu mei platter are nice but that was the extent of my interest. It was never something I yearned for or even thought about.
Until I had a plate of the best char siu rice in the universe.
Char siu is exceedingly popular in Hong Kong where it's considered by many to be a national dish. I recently spent a couple of days there so I scoured the internet in search of the best plate of char siu rice in the city. This is what I found.
Save This on Pinterest!
No time to read this now? Click on the red save button and pin it for later!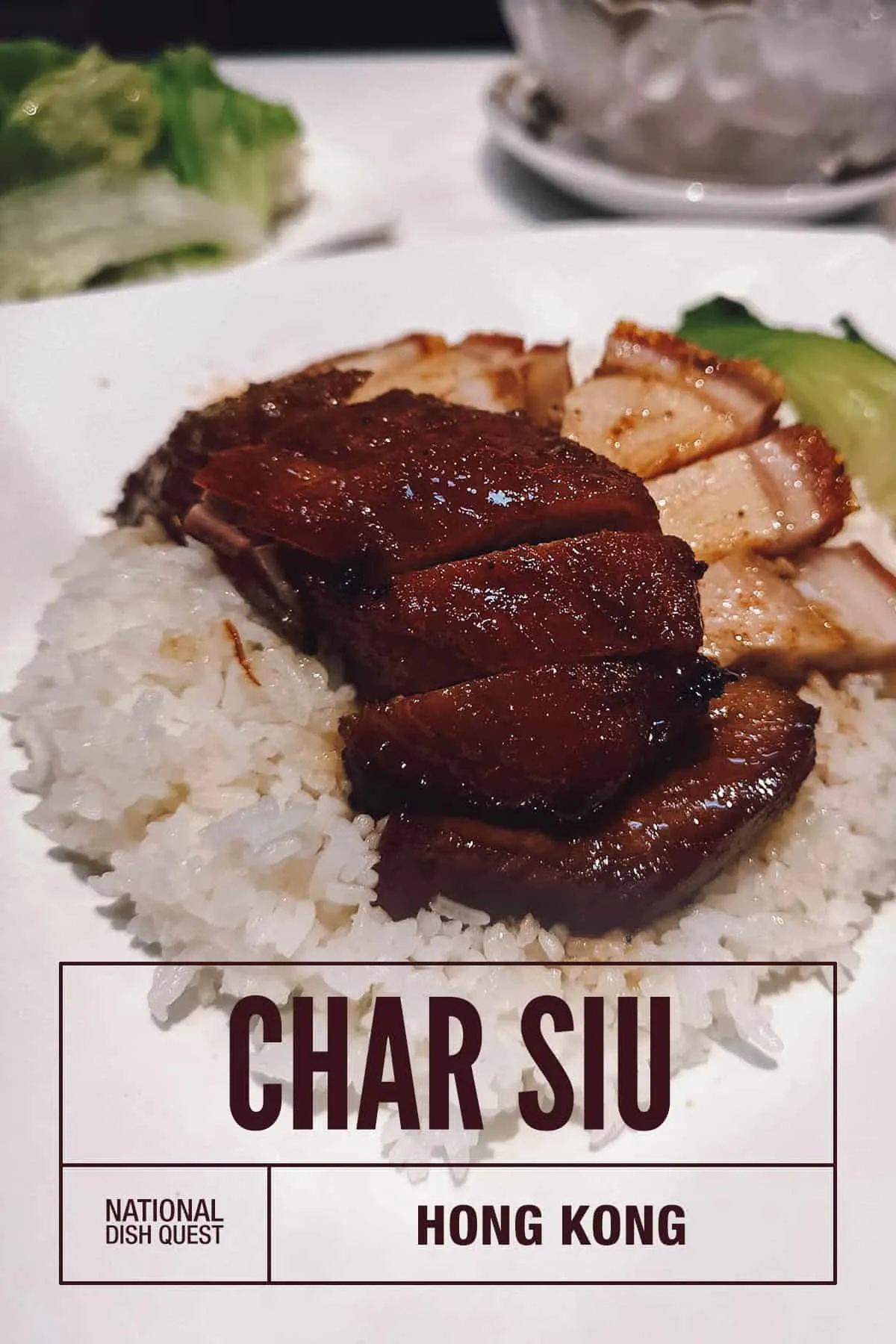 WHAT IS CHAR SIU?
Char siu refers to barbecued pork. It's the most popular type of siu mei in Cantonese cuisine.
The term char siu literally means "fork roasted" and refers to the traditional method of skewering seasoned boneless pork with long forks and cooking it over an open fire. Different cuts of pork have been used to make char siu, though shoulder cuts seem to be the most common.
Different chefs will have their own secret marinades but the meat is typically seasoned with a mixture of five-spice powder, fermented brown bean sauce, red fermented bean curd, soy sauce, hoisin sauce, and maltose. Maltose is what gives char siu its signature sheen.
The seasoned meat is then elevated with skewers and roasted over low heat in an oven or over an open fire, cooking it slowly and evenly from all sides. Perfectly cooked char siu is described as being "moist with its own natural juices, charred and slightly crunchy on the outside with a smoky caramel flavour".
Because of how difficult it is to cook, most people don't make char siu at home. Instead, they buy it from a shop and incorporate it into other dishes. It's exceedingly popular in Hong Kong where 71% of a surveyed population cited char siu as their "can't live without" siu mei.
Take a walk around Kowloon in Hong Kong and you'll probably find at least one siu mei shop on every block. Hanging from their windows are different types of roasted meats like goose, duck, chicken, and char siu pork.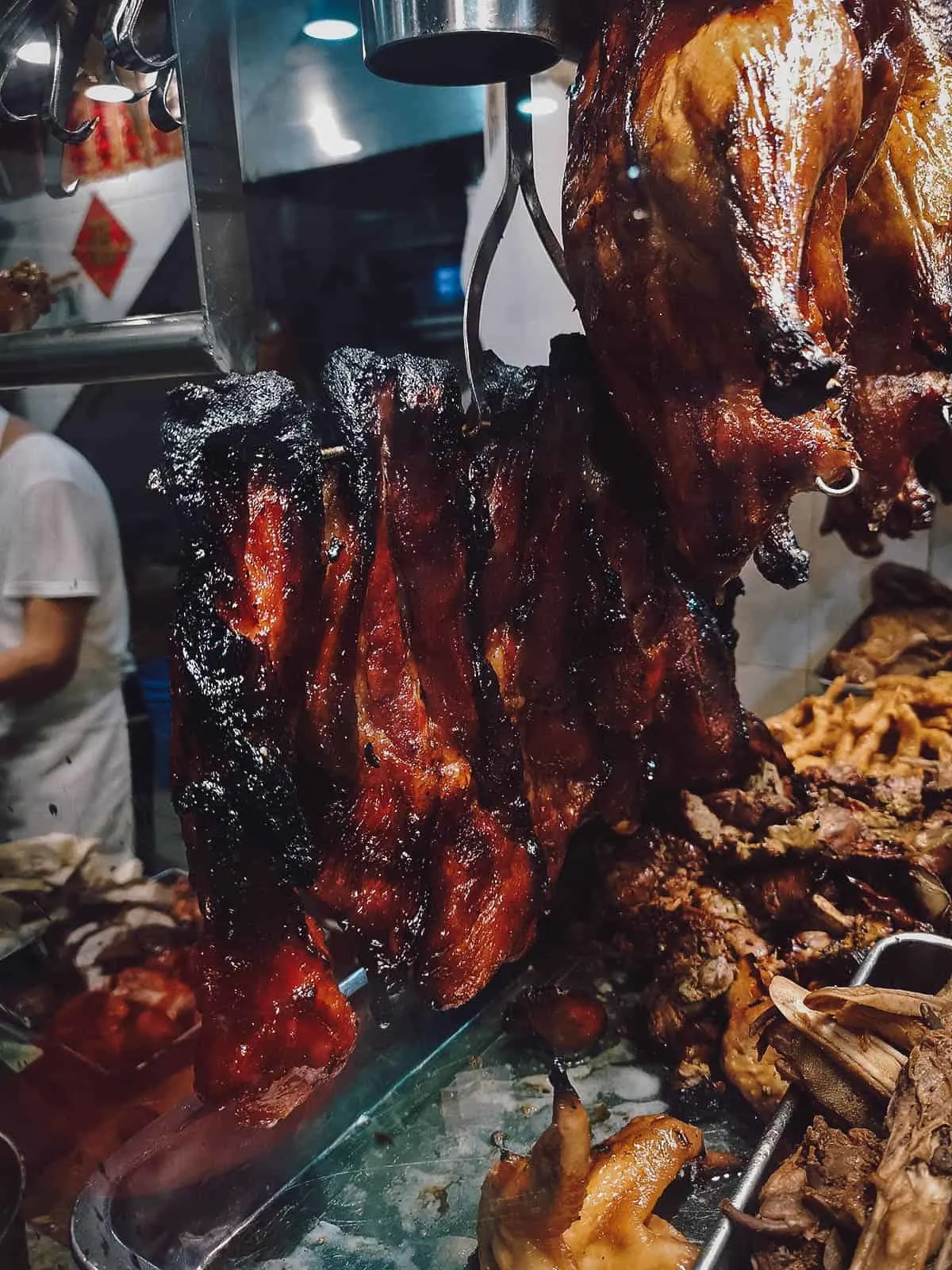 WHAT IS SIU MEI?
Siu mei is the Cantonese catchall phrase for meats roasted on skewers, either in a rotisserie oven or over an open fire. It's a method of cooking which originated from Guangdong Province in southern China.
Different types of meat like pork, goose, duck, and chicken are used to make siu mei. The most popular is barbecued pork or char siu. Roast pork with the most deliciously crisp skin is called siu yuk. Roast goose is referred to as siu ngo while roast duck is known as siu ngaap.
Interestingly, siu mei is defined as roasted meat, but a type of dyed orange cuttlefish or squid is also classified and sold as siu mei, but it isn't roasted. The same goes for white cut and soy sauce chicken. They're categorized and sold as siu mei dishes even though they aren't roasted. I guess these dishes have been sold together for so long they just collectively became known as siu mei.
As described, char siu is the most popular type of siu mei in Hong Kong, followed by siu yuk (roast pork) and siu ngo (roast goose).
Based on the description, can you name the different types of siu mei hanging from this shop's window?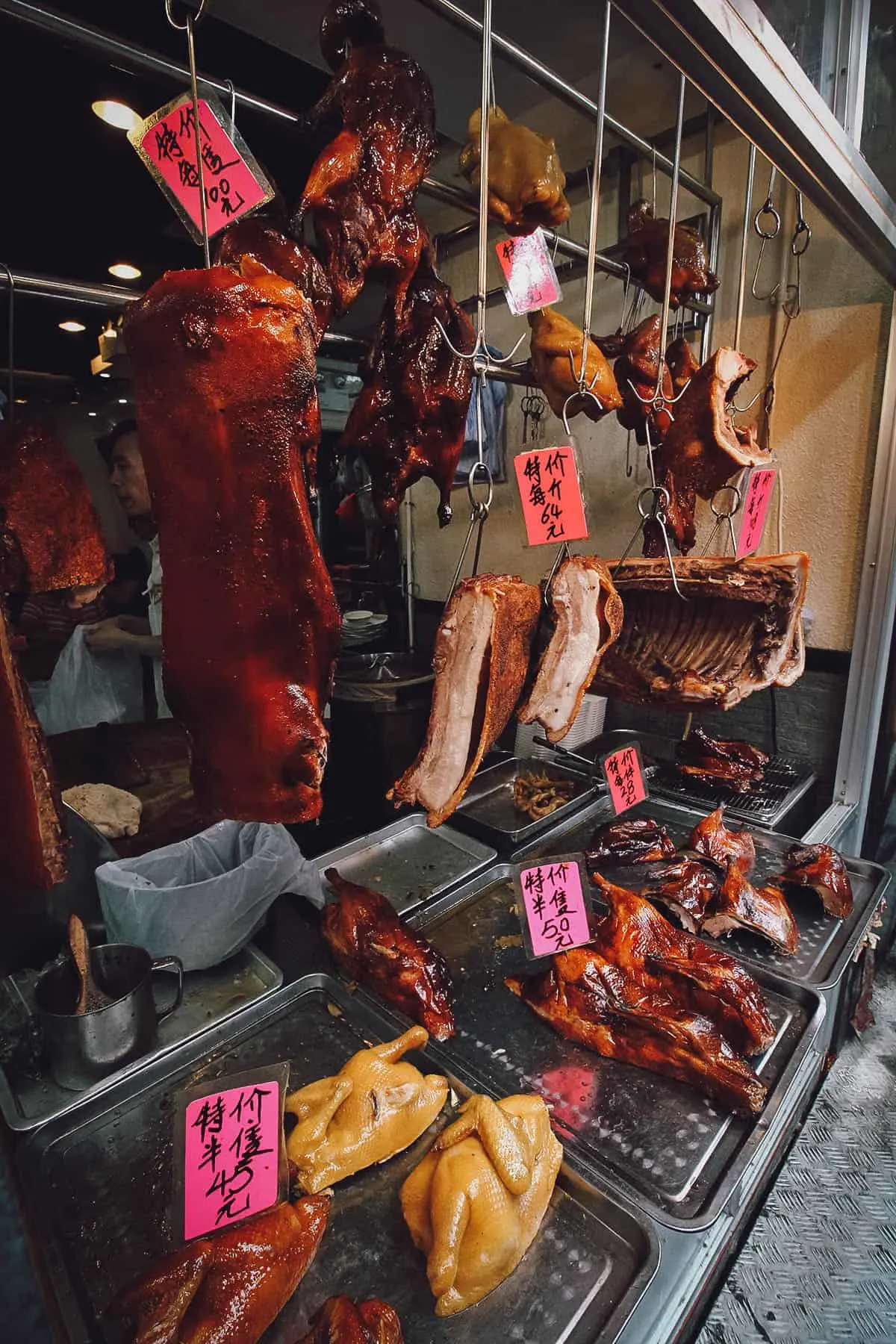 People from Hong Kong love char siu but in our native Philippines, roast goose may be the most popular. Or should I say the most coveted. It isn't as common as char siu so anyone making a trip to Hong Kong will often bring back a styrofoam takeout case of roast goose for friends and family. At least that's the way it is in our families.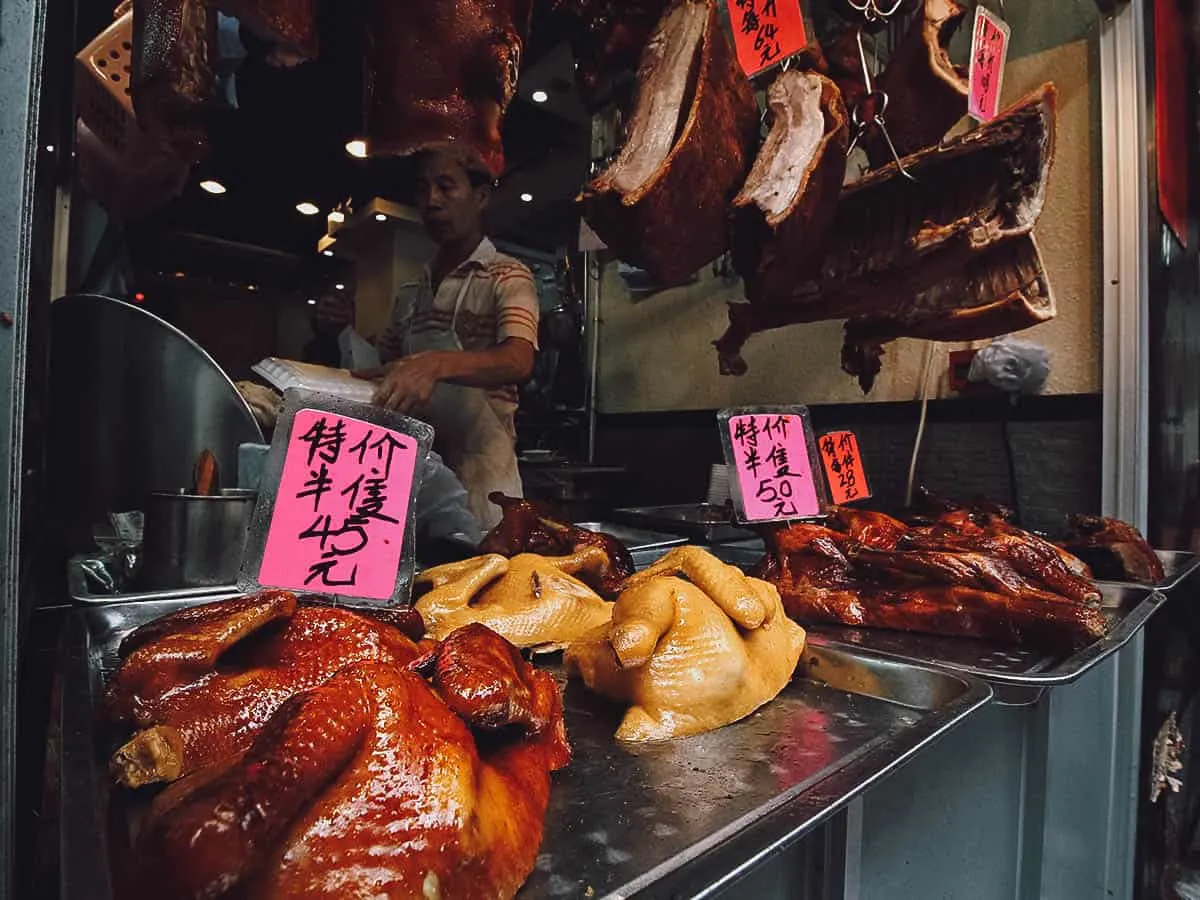 How good does that crispy skin from the roast pork look? Check out the pig's head in the back.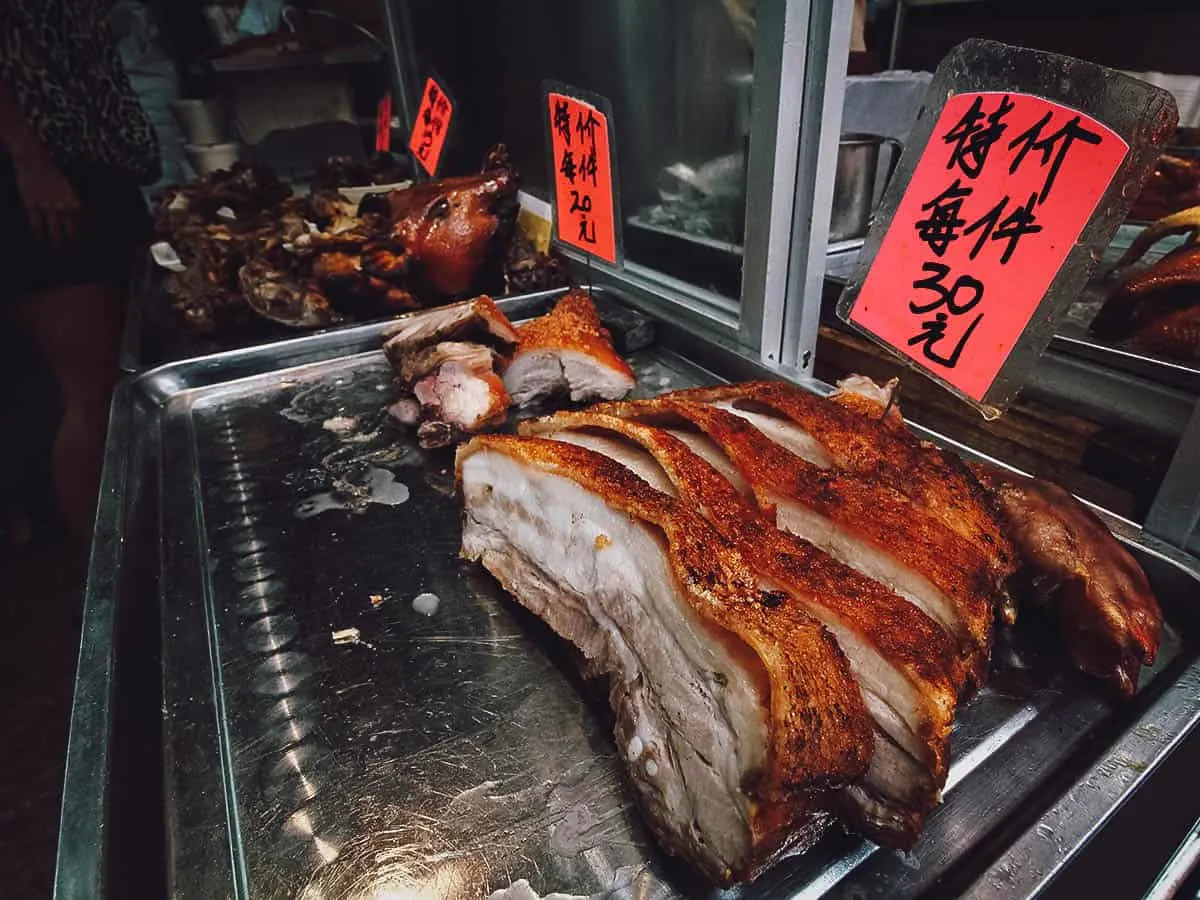 THE BEST CHAR SIU IN HONG KONG?
Now for the most important question – where can I find the best char siu in Hong Kong? Taste is subjective and people can be fiercely opinionated when it comes to food, but the online majority seemed to point to Joy Hing Roasted Meat as the source for the finest char siu in this city.
Joy Hing Roasted Meat
Joy Hing Roasted Meat is a traditional siu mei restaurant in Wan Chai that's been around since the late 19th century. They first opened in Guangdong in the late 1800s before relocating to Hong Kong in the early 20th century. They've been making siu mei and char siu for well over a hundred years so I think it's safe to assume they know what they're doing.
My first attempt to taste their char siu led to failure because of a typhoon, so I went back first thing in the morning on the following day. I was the very first customer and was rewarded with this glistening plate of char siu over rice (HKD 34).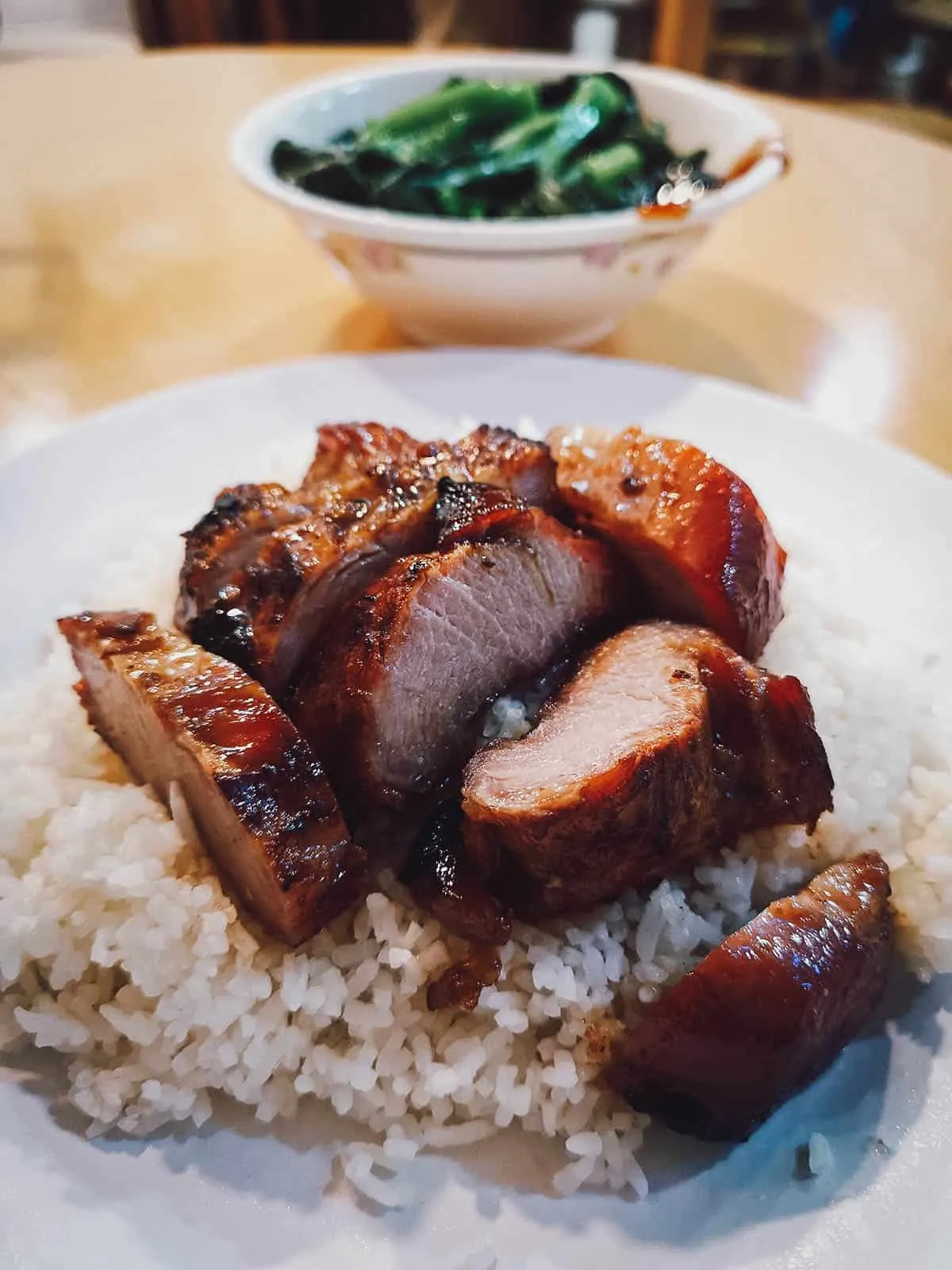 Remember what the definition was for perfectly cooked char siu? It needed to be "charred and slightly crunchy on the outside". Joy Hing's char siu easily passed the eye test.
I took my first bite and it tasted exactly how I imagined – smokey and juicy with a slight crunch and a deep caramel flavor. Every slice was moist and tender with just the right amount of sweetness. It was delicious.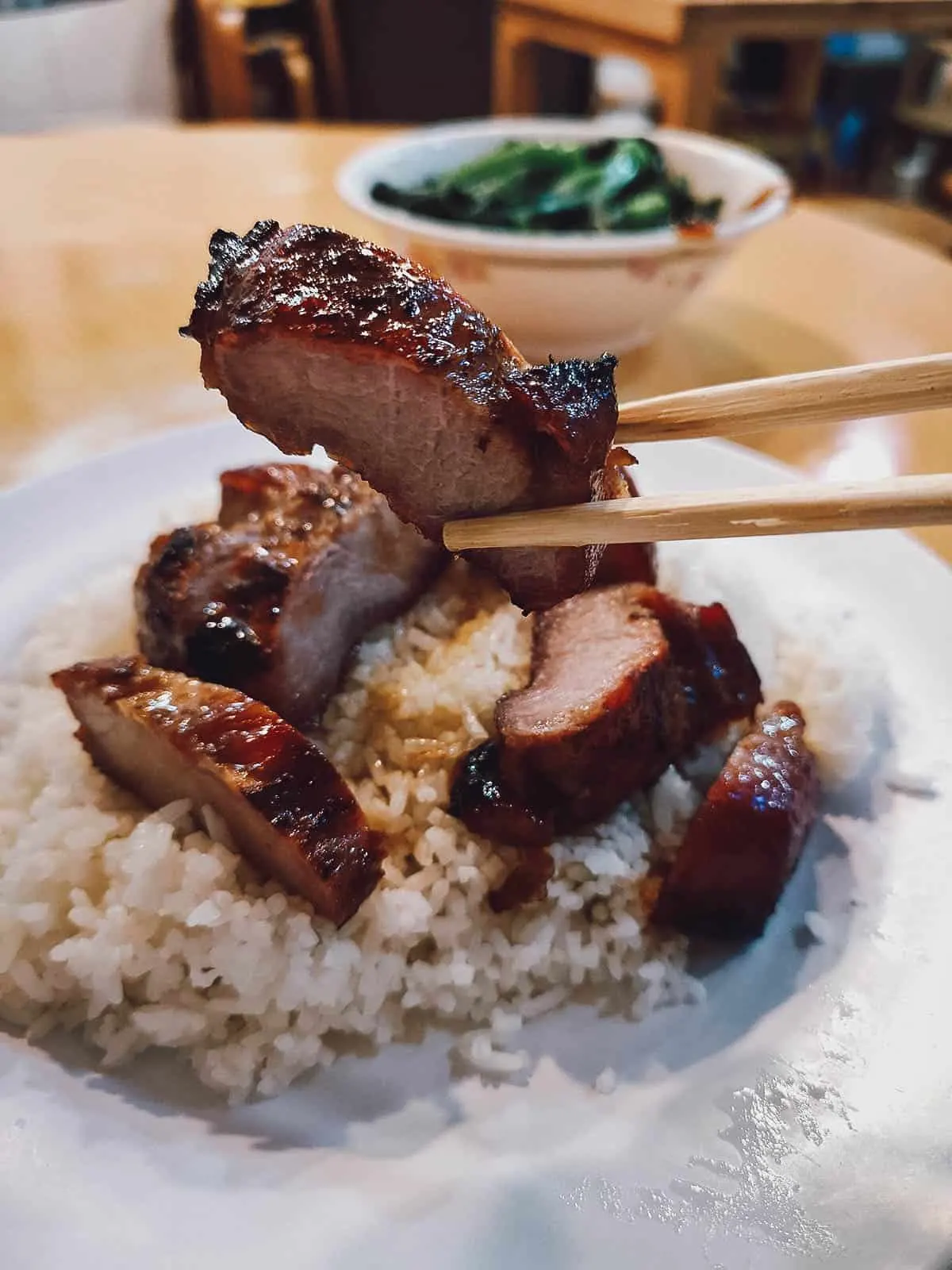 I had nearly blitzed through my entire plate when the server approached and advised me to use their secret sauce. I squeezed a few drops of their savory-sweet tangy sauce onto the remaining pieces of char siu to boost its flavor even more. I should have been doing that from the beginning. That sauce was fantastic and really brightened up the flavor of the meat.
Thank you internet for leading me to this terrific plate of char siu rice!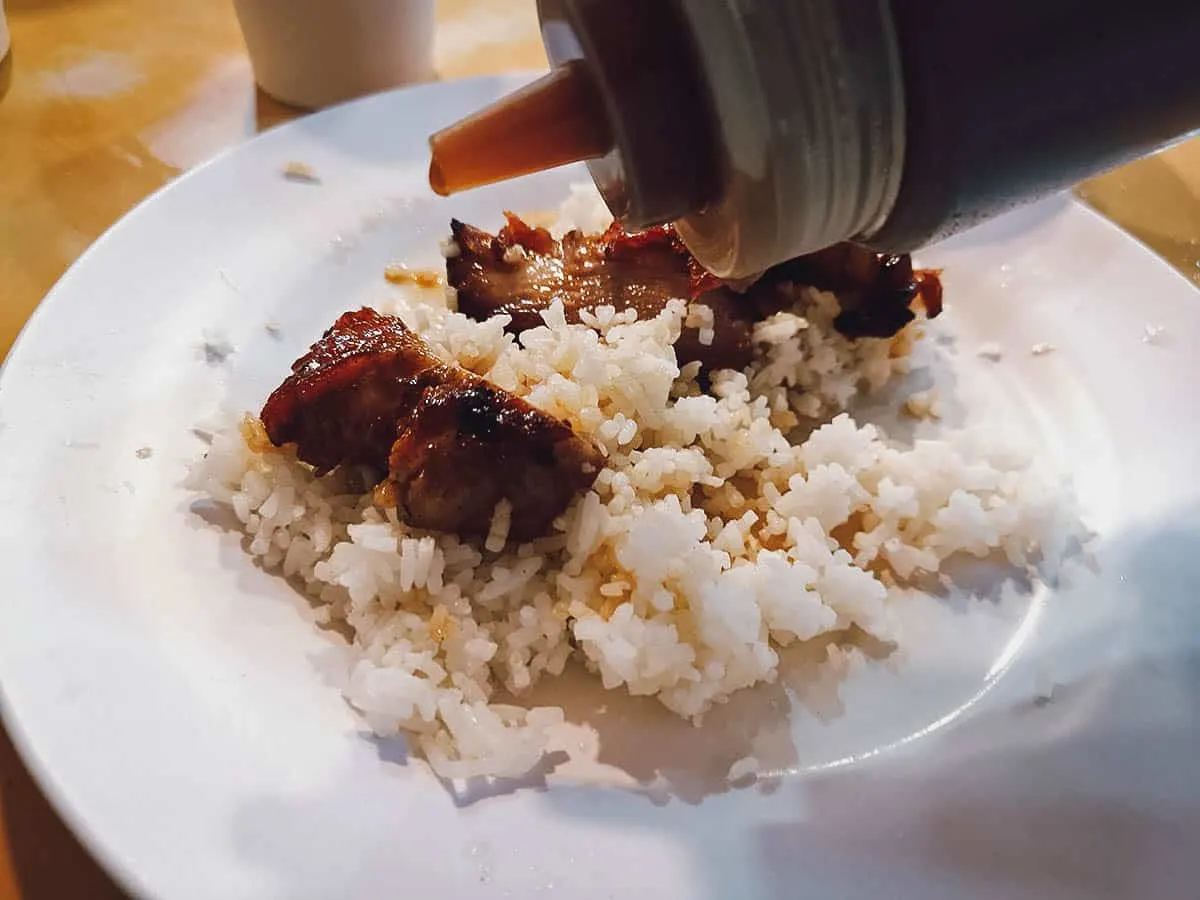 Tai Hing
Joy Hing's wasn't the only char siu I tried on this trip. On my first attempt, they had closed early because of a typhoon so I was forced to walk the streets of Wan Chai looking for an alternative. My feet led me to Tai Hing, a siu mei restaurant chain that's also been cited in one or two "best char siu" articles. The overall reviews were lukewarm at best so I wasn't hopeful.
I ordered the char siu and roast pork over rice (HKD 75). It was decent but not nearly as good as Joy Hing's char siu. As you can tell from this picture, it doesn't have the right char that defines a perfectly cooked char siu. I actually preferred the roast pork over their char siu.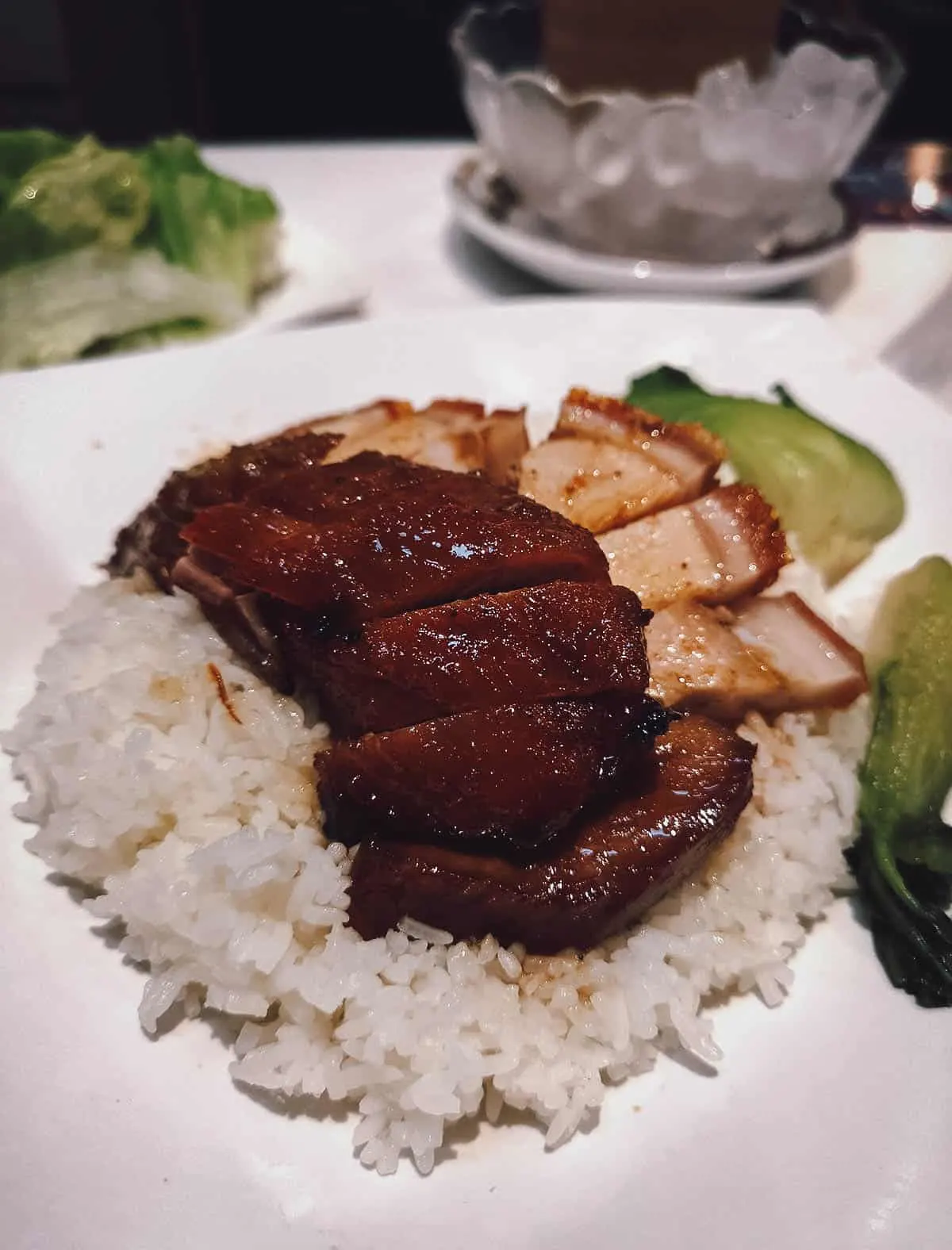 Tai Hing's char siu is sweeter than Joy Hing's and had a few pieces that tasted a bit dry.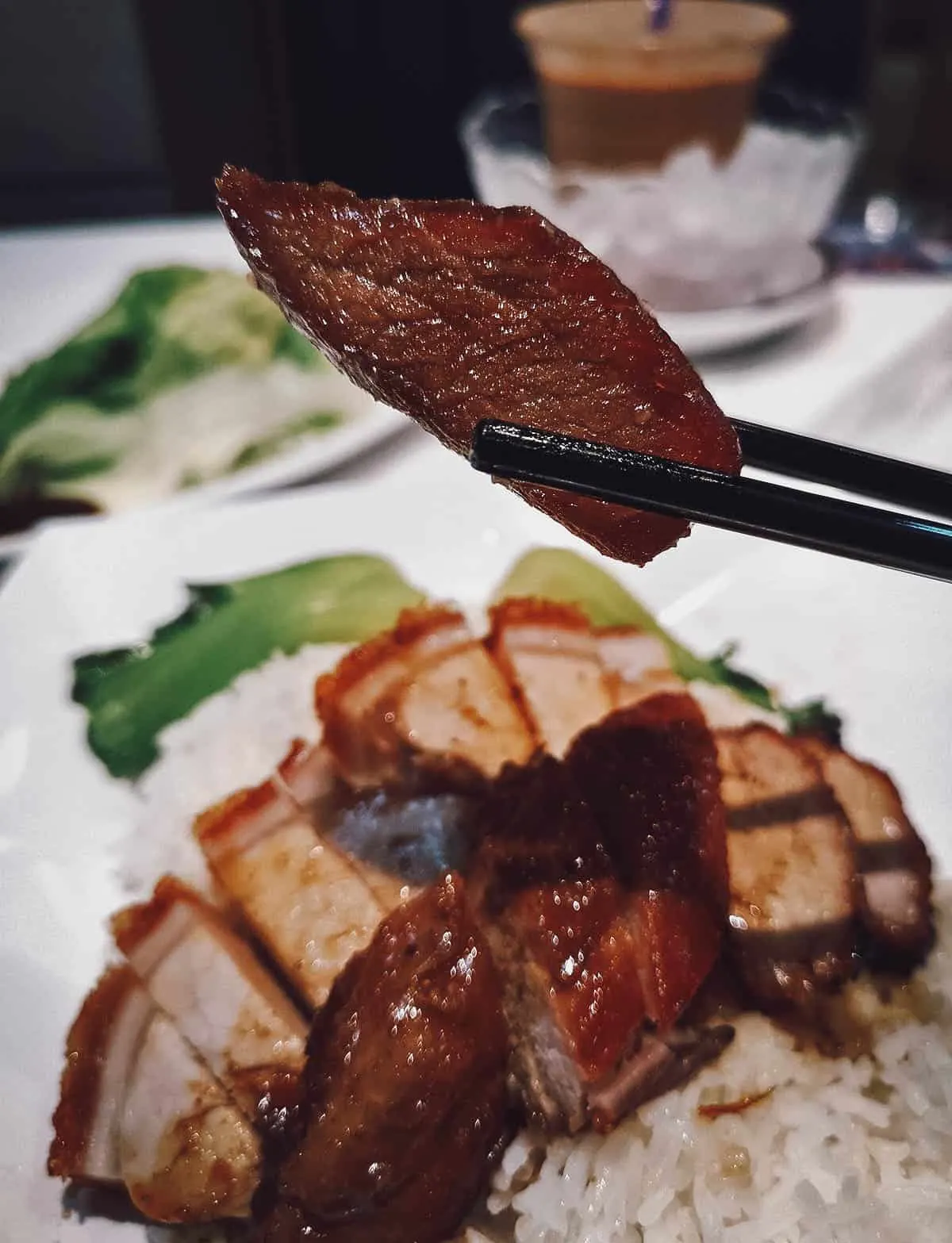 THE BEST CHAR SIU IN THE UNIVERSE
You may be thinking I had the best char siu rice in the universe at Joy Hing Roasted Meat. I didn't. As good as that char siu was, it didn't blow me away. As described, I've never been the biggest fan of char siu and their version tasted exactly how I expected it to taste.
But the glistening, shimmering plate of char siu deliciousness below was different.
The best char siu I've ever tasted in my life wasn't even from Hong Kong, it was from Singapore. It's one of the dishes featured on the Off the Eaten Track food tour in Singapore with A Chef's Tour.
I'm not an expert siu mei eater so I don't know what constitutes an authentic char siu, but my god was this delicious. It meets every definition of a perfectly cooked char siu and then some! The meat was nice and tender on the inside and deliciously charred and crunchy on the outside. It was heavily doused with a sauce that was sweeter than Joy Hing's without being cloying.
Joy Hing's char siu is delicious but it isn't something I'd look for again. This char siu caught me by surprise. I enjoyed it so much I'll definitely be grabbing a plate on every return visit to Singapore. And I don't even like char siu that much to begin with!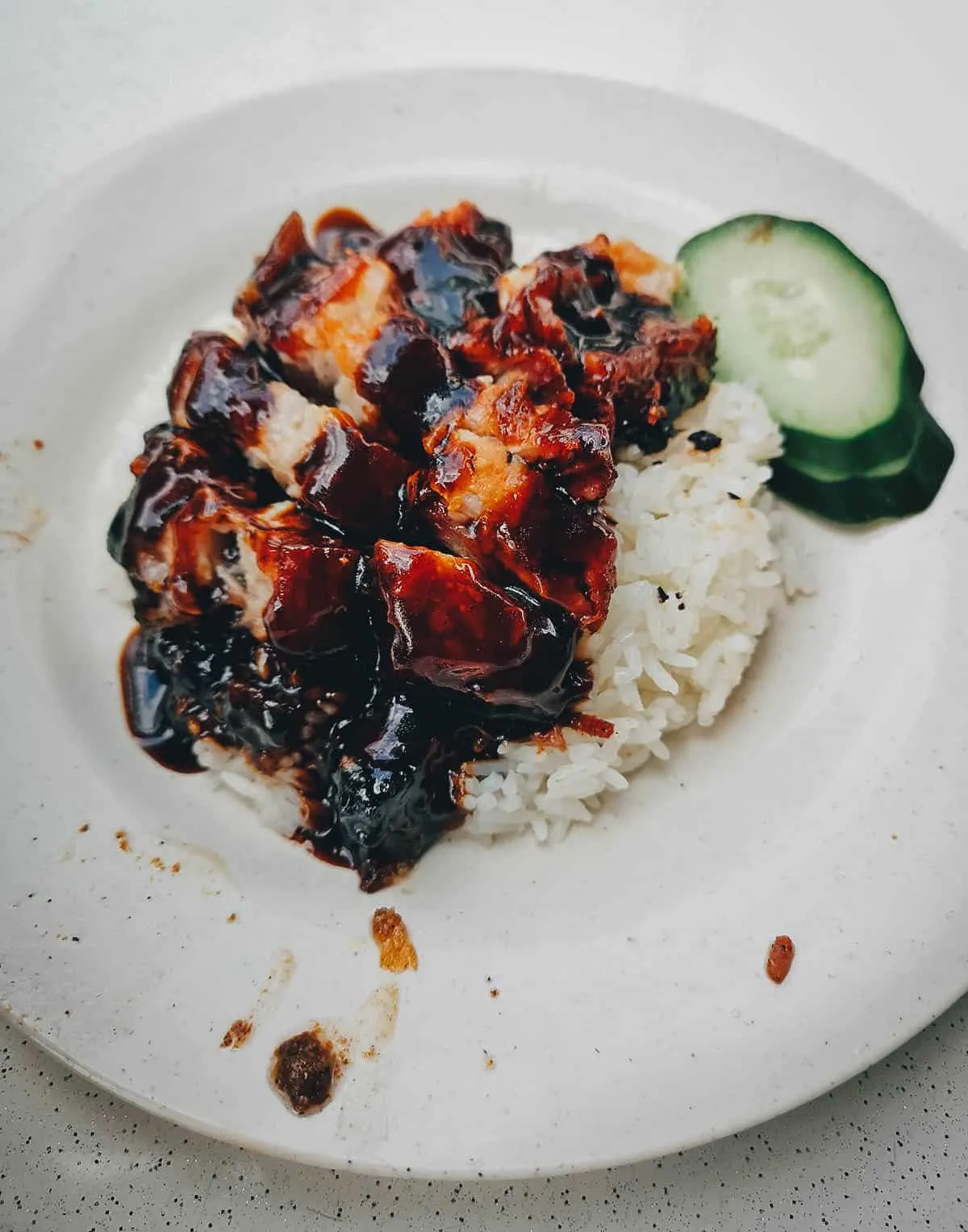 FINAL THOUGHTS
Taste is subjective so I hope I don't rub any locals the wrong way. Like I said, I'm not the most seasoned siu mei eater so I don't know what authentic char siu is supposed to taste like.
Joy Hing's char siu could very well be the more authentic version but I enjoyed the char siu in Singapore so much more. It was different and unlike any char siu I've ever had before. It succeeded in making me a fan of char siu and actually craving for it for the first time ever in my life.
Regardless of personal preference, I recommend trying Joy Hing's char siu on your next visit to Hong Kong. If you go to Singapore, then I suggest going on the Off the Eaten Track tour as well. Let us know what you think. If there are any locals who swear by a different char siu, then we'd love to hear about it as well.