EDITOR'S NOTE: Traveleater Hannah Belger shares with us her experiences eating tumpeng in Indonesia.
If you've seen the gorgeous island or at least had plans about visiting Bali, then you must be aware of the diversity of not only its breathtaking nature but of its food as well. From Pisang Goreng, a bunch of yummy fried bananas dipped in batter, to Mie Goreng.
If you're a proper foodie, Bali is the place to visit, where you will expand and move your food palate and erm…maybe your belt notch as well. One of my favorite dishes though, has to be tumpeng.
Save This on Pinterest!
No time to read this now? Click on the red save button and pin it for later!
Mokkie, CC BY-SA 3.0, via Wikimedia Commons / Cropped and processed in Photoshop and Lightroom, added text
WHAT IS TUMPENG?
Tumpeng is kind of a sacred meal for Indonesians. Its cone shape (usually, but not exclusively, made from rice and urab) is golden yellow and represents the island. It's surrounded by various other meats, fried tempeh, boiled marbled egg, salted anchovy and pretty much anything you can imagine.
The cone-shaped rice is a symbol for the holy mountain and the surrounding food represents abundance of harvest. An important part of the Javanese festival sekaten, it's top part is traditionally given to the most important person in the group, though in modern times it's usually given to the honored guest.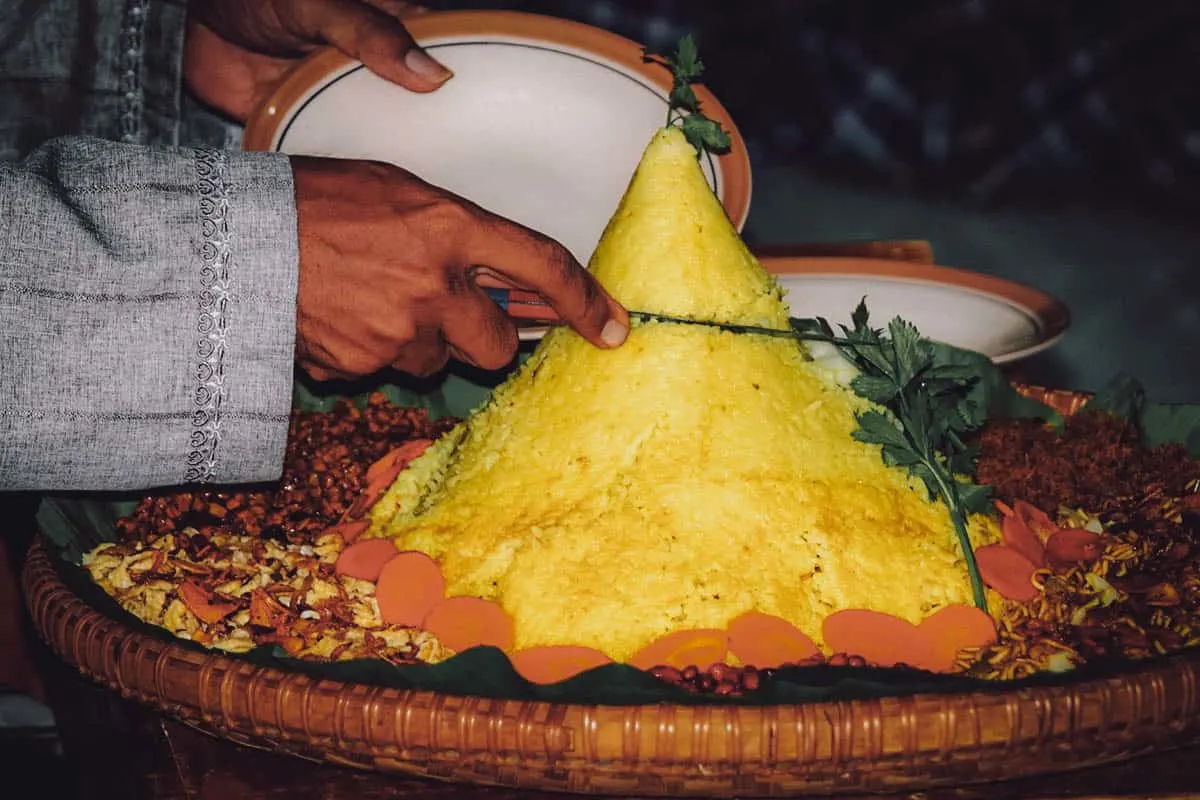 Photo by mufidpwt via Pixabay
WHERE CAN I FIND IT?
There are a number of places you can find decent enough Tumpeng, especially in Bali, but since it's usually served during a festival, it's not like it's everywhere. As for the quality, some places make it so huge you can hardly see the person across, while some make it practically bite-sized. Since I'm a huge foodie with near superhuman metabolism, I love it when the portion size is that of a mini cooper and when the surrounding palette is diverse.
Lucky for me, my travel companion and friend Remmy is practically an expert in such important matters such as amazing food and where to find it. I trusted his judgment also because he worked (and lived) in Bali for 7 years. So he took me to Sunda Kelapa Restaurant, a place well hidden near the residential areas in Kuta.
TIP: Try to place you order some time in advance because it takes a long time to properly prepare it.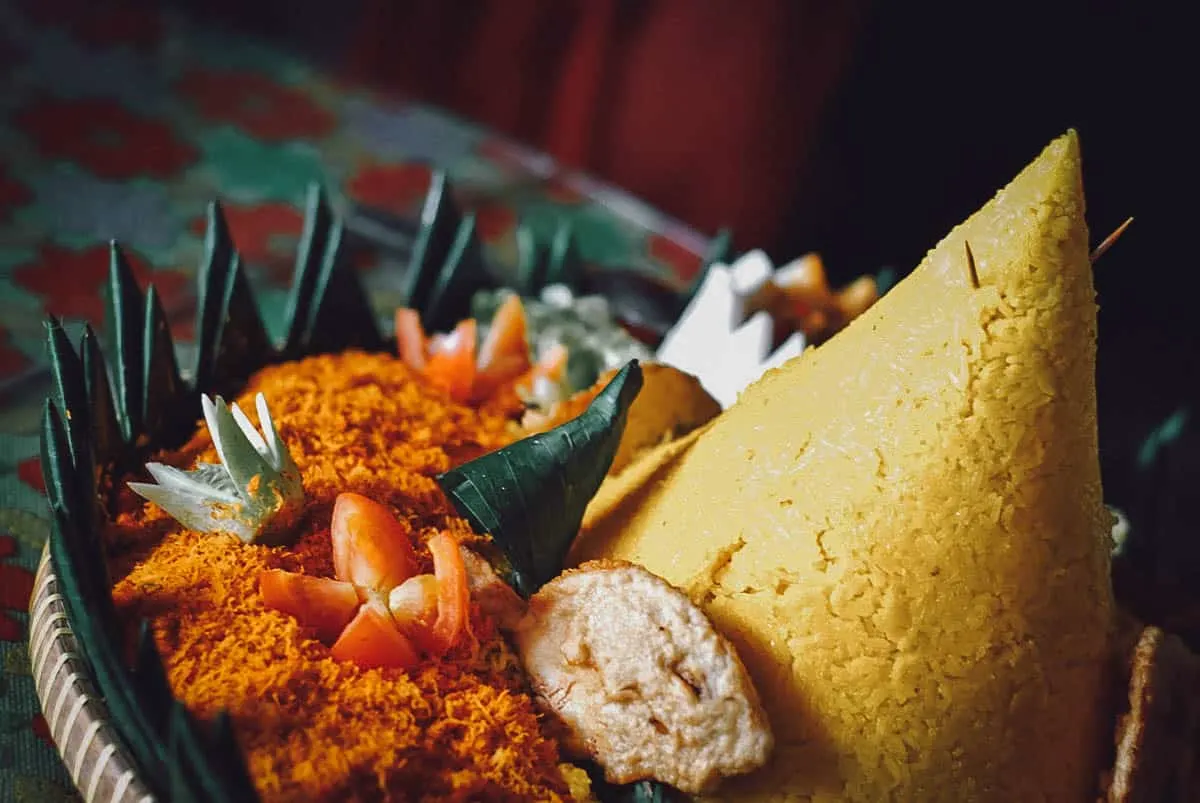 miss_yasmina, CC BY-SA 2.0, via Wikimedia Commons / Processed in Photoshop and Lightroom
WHY DID I GET IT, HOW DID I LIKE IT?
I always try to travel on my birthday, I love the idea of celebrating my birthday with new people in a completely different environment eating things I've never eaten before! A "new year, new me" kind of thing. That's why I loved the idea of eating Tumpeng – not only does it look like a cool little hat, but its cultural significance completely coincides with my philosophy.
When the meal arrived I was beside myself, it looked and tasted AMAZING. The rice was cooked well and its golden color really stood out as the centerpiece of the meal. And the surrounding dishes were for the most part pretty delicious. The combination of the prawns and rice is divine. It's like my mouth was throwing a party and everyone I like was invited.
I also got to eat the top part of the rice mountain, as I was the birthday girl and the "guest of honor". My only complaint would have been the noodles, as they were a bit undercooked. Also you really need to get the attention of the staff, as when you order your meal you become magically invisible until the check arrives.
FINAL THOUGHTS
Try it! Even if you're not in Bali or even in Indonesia, try to find an authentic place that serves it and get it. You shouldn't need an excuse to eat something this yummy.
FEATURED PHOTO: brother-harahap, CC BY 2.0, via Wikimedia Commons / Processed in Photoshop and Lightroom