Nothing makes me salivate more than chicken tikka masala. I mean it. Show me a picture of chicken tikka masala with basmati rice and naan bread and I'm drooling like Pavlov's dog. To me, dipping a triangle of freshly baked garlic naan into that rich and creamy curry is one of life's great pleasures.
I lived for many years in San Francisco, CA and every Thanksgiving, my non-American friends and I would celebrate the holiday at an Indian restaurant called Indian Oven. Located near the corner of Fillmore and Haight Streets, we'd order the same set of dishes year after year. We'd get chicken tikka masala, naan bread, and basmati rice, and wash it all down with bottle after bottle of Kingfisher beer. That was our Thanksgiving tradition for many years, one that I enjoyed and looked forward to very much.
Like many people, I thought chicken tikka masala was Indian. Why would I not? It was a curry, it sounded and looked Indian, and it was served at Indian restaurants in America. I had no reason not to think otherwise.
Only years after our tradition ended did I learn that one of my favorite foods in the world may not have been Indian at all. Instead, it may have been from the UK. That very real possibility blew my mind and it was something I never expected.
One of the friends I celebrated this Thanksgiving tradition with was English and from London. He never brought up the notion that chicken tikka masala was of British origin. I just assumed he discovered and fell in love with it in America like I did, but little did I know that he actually grew up eating the stuff. I always prided myself in being the open-minded eater in my circles but in this case, I had been the newbie all along! It's funny to think about in hindsight.
But in spite of some evidence pointing to chicken tikka masala being a UK dish, it's true origins have forever been debated. Some claim it to be from Glasgow, others say it was a royal Mughal dish. Some say it was invented by Bangladeshi chefs in Britain, while others declared it to be a variation of a Punjabi dish. Many believe it isn't a new dish at all, but a toned down version of butter chicken.
The fact is, a lot of people think they know where chicken tikka masala came from, but no one really knows for sure. I've wondered this for years so it was a mystery I hoped to resolve on a recent trip to India. Surely, someone there will know. Right?
Save This on Pinterest!
No time to read this now? Click on the red save button and pin it for later!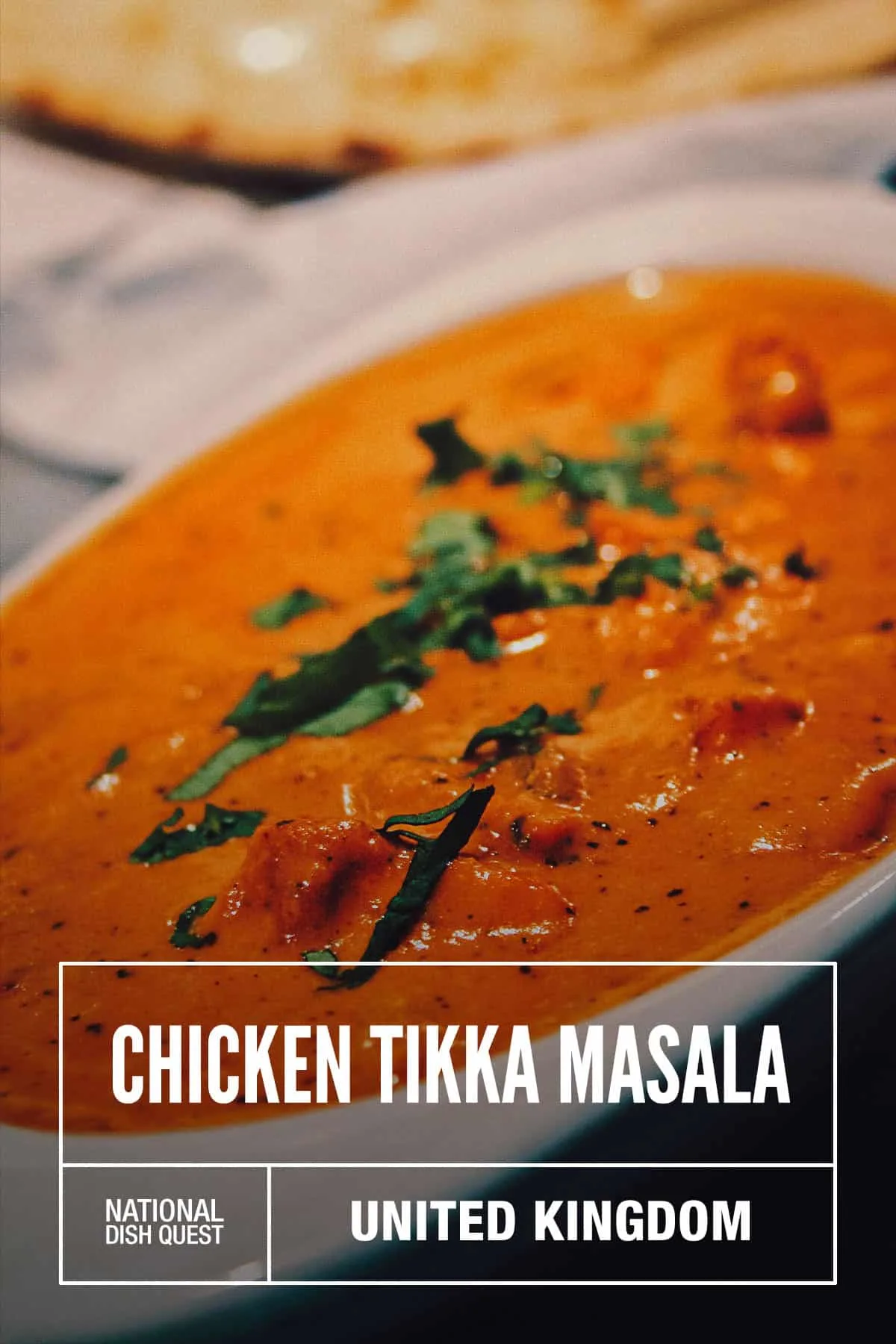 Michael Hays, CC BY 2.0, via Wikimedia Commons / Processed in Photoshop and Lightroom, added text
WHAT IS CHICKEN TIKKA MASALA?
If you've never had it, chicken tikka masala is a dish made with boneless chunks of roasted marinated chicken swimming in a rich creamy curry.
Small boneless (and usually skinless) pieces of chicken are marinated in Indian spices and yogurt, before being roasted at high temperatures in a tandoor or cylindrical clay oven. If cooking in a tandoor isn't possible, then they can be roasted on a spit over hot coals or in a standard oven. The chicken pieces are often brushed with ghee or clarified butter while cooking to enhance their flavor.
Once cooked, the roasted chicken pieces are served in a thick orange curry sauce made with a variety of ingredients like pureed tomatoes, cream, coconut cream, coriander, and spices. Pictured below is the scrumptious chicken tikka masala from Royal Indian Curry House in Manila.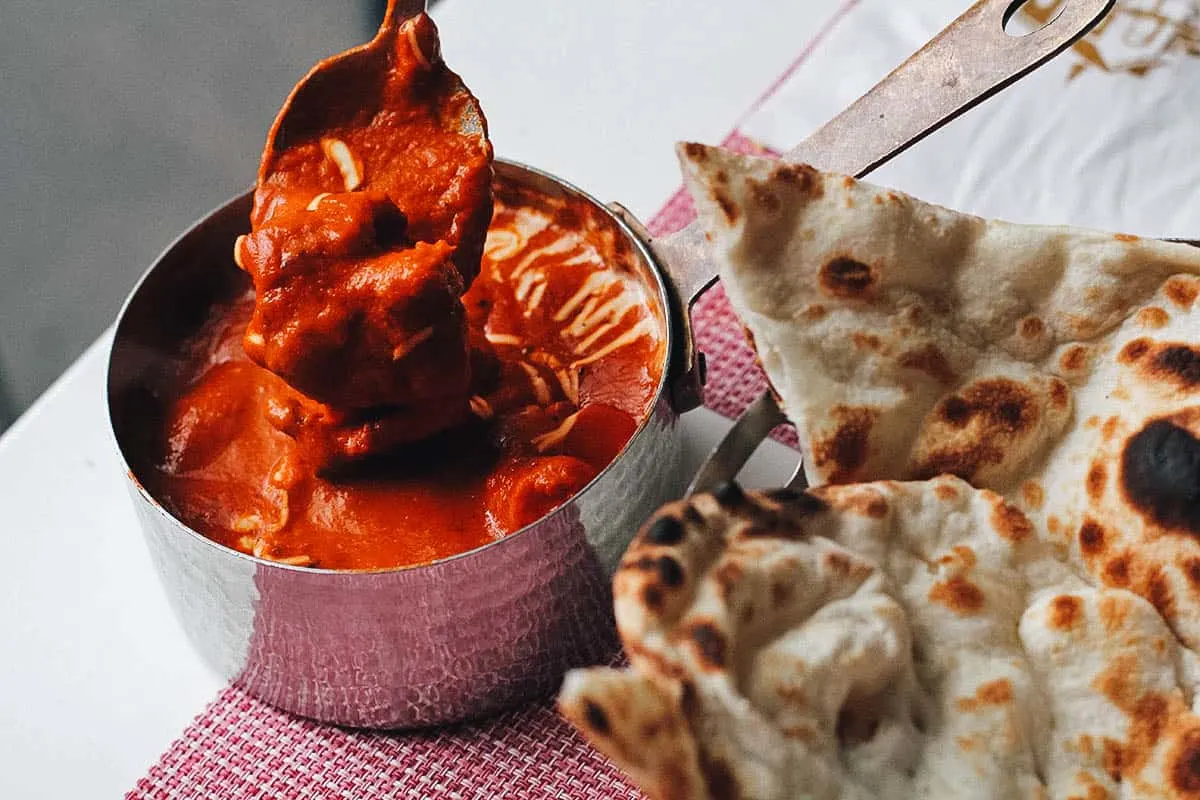 As described, dipping freshly baked naan into chicken tikka masala curry is one of my greatest joys. The curry is heavenly – it's rich, creamy, buttery, tomatoey, a little sweet and tangy – and goes very well with the smokey pieces of spiced roasted chicken.
Whenever I eat chicken tikka masala, I almost always get it with both naan bread and basmati rice, simply because I enjoy the contrast in texture. Dipping the naan in the creamy curry is wonderful, but so is eating curry-saturated rice with pieces of roasted boneless chicken. It's like two different but equally enjoyable experiences.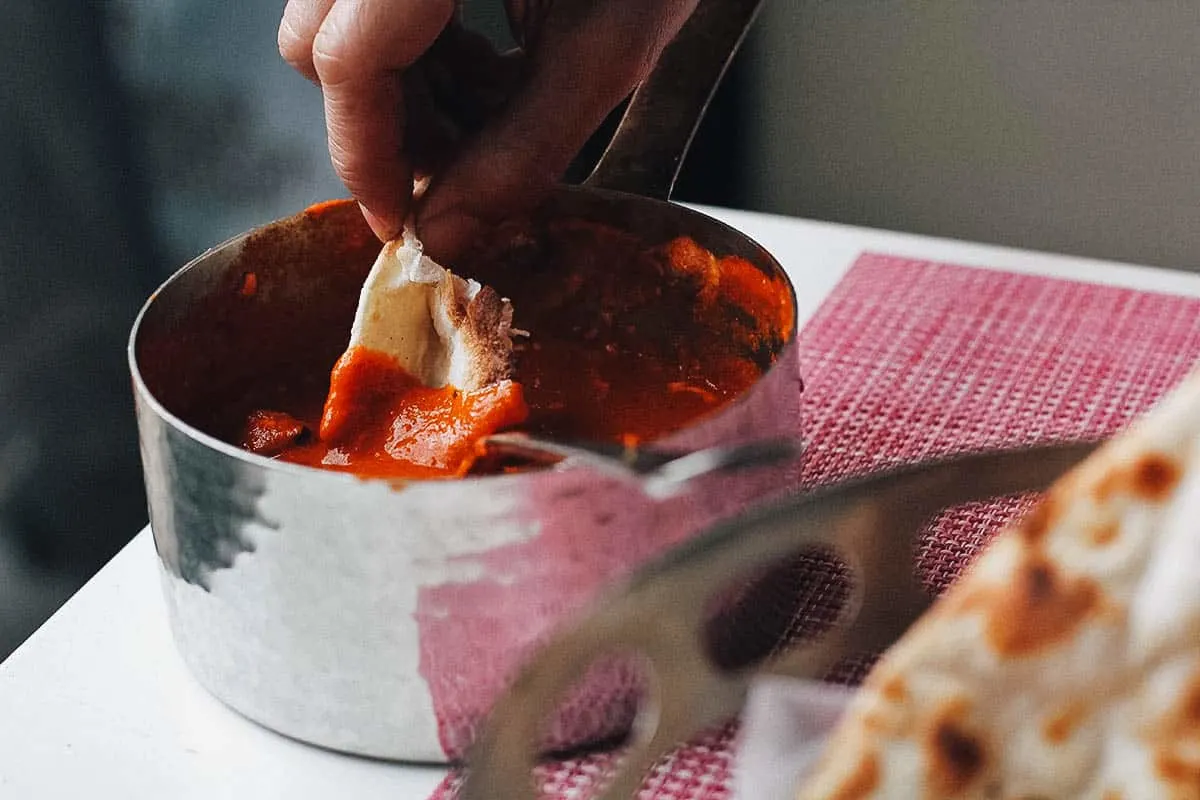 IS CHICKEN TIKKA MASALA THE SAME AS BUTTER CHICKEN?
If you enjoy Indian food, then you're probably familiar with butter chicken or murgh makani. It's very similar to chicken tikka masala in appearance and flavor.
To be honest, I've been enjoying both for many years, though I'd probably fail at a blind taste test to distinguish the two. To me, they're almost identical and interchangeable, which lends credence to the notion that they're one and the same dish.
I used to think the only difference between the two was that chicken tikka masala was always boneless, while butter chicken had to be made with bone-in meat. But that isn't the case as I've found boneless versions of butter chicken on some restaurant menus. Based on what I've read, butter chicken tends to be made with more butter, hence the name, making it creamier and perhaps a little sweeter. Chicken tikka masala, by comparison, is described as being spicier and more nuanced in flavor.
With that said, the are endless recipe variations for both that make it harder to tell the difference. On my trip to India, I had murgh makani at three restaurants in Delhi and they were noticeably different from each other. Some were exceedingly buttery, others not as much. I've also had many versions of chicken tikka masala that seemed just as rich and buttery, so I can't say for sure if butter alone is enough to distinguish the two.
Pictured below is the murgh makani at Moti Mahal in Delhi. While the roots of chicken tikka masala are disputed, the origin of butter chicken is not. It was invented right here, at Moti Mahal.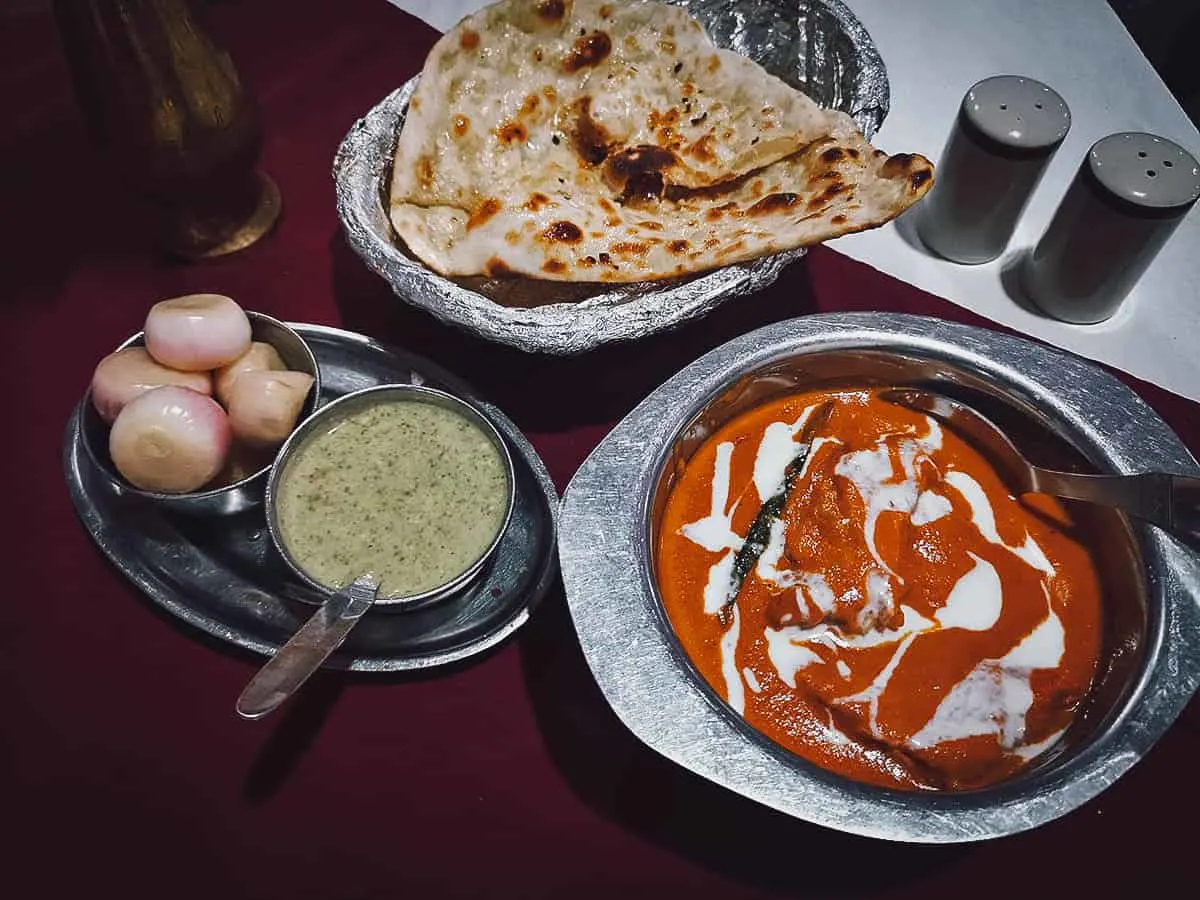 It's largely accepted that murgh makani was invented in the 1950s by the founders of Moti Mahal. Famous for their tandoori chicken, they recycled the chicken juices left in their marinade trays by adding butter and tomato. The sauce was then mixed with their tandoori chicken to create the instant classic now known as butter chicken or murgh makani.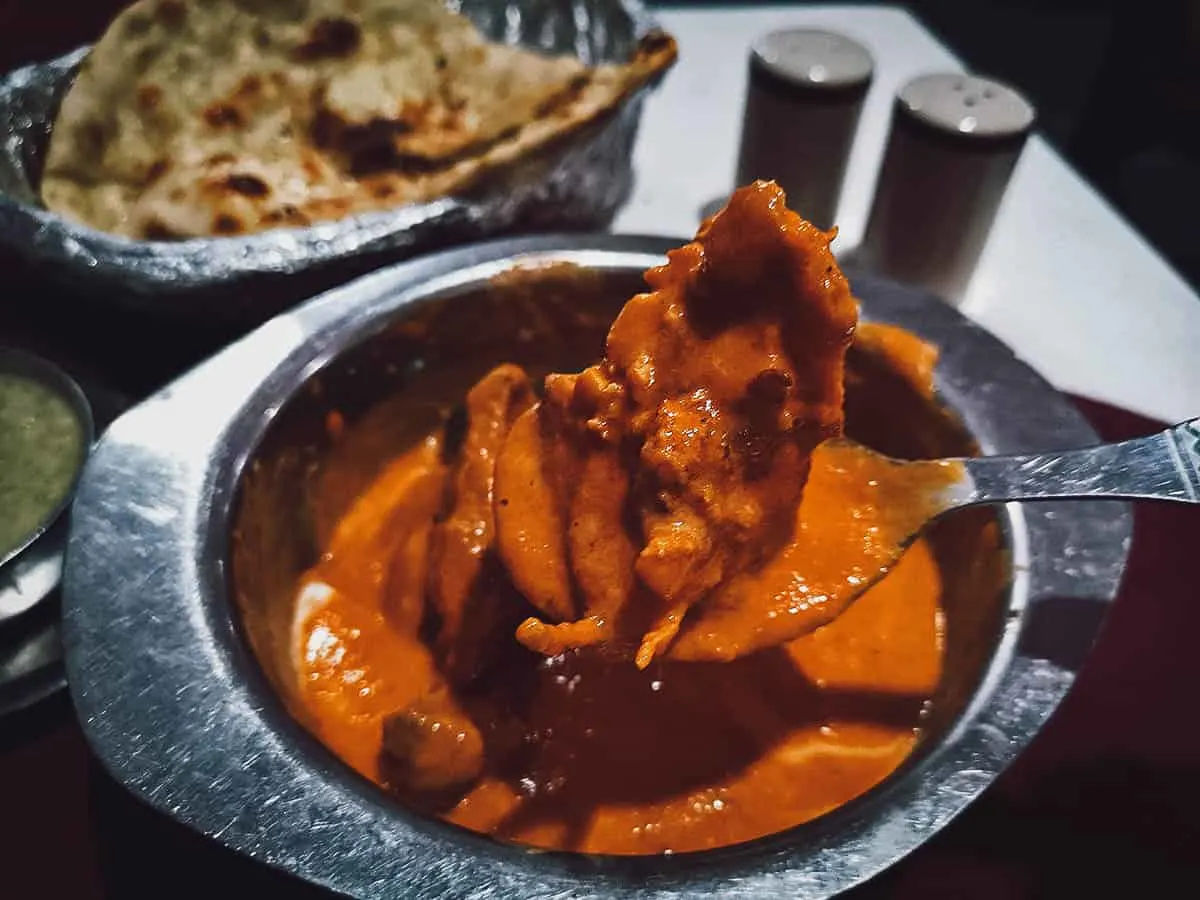 SO WHERE DID CHICKEN TIKKA MASALA REALLY COME FROM?
As I briefly touched on at the top of this post, there are a handful of theories that attempt to trace the origin of chicken tikka masala.
By Way of Glasgow: One popular theory is that the dish was invented by the Ali family of the Shish Mahal restaurant in Glasgow, Scotland. They assert that they invented chicken tikka masala in the 1970s to satisfy a customer. The customer ordered chicken tikka and sent it back, asking it be served with some sauce to make it less dry. The cooks improvised and prepared the chicken in a sauce made with tomato soup, yogurt, cream, and spices, which they claim was the very first version of the dish. So strongly believed is this theory in some circles that a push was made to give Glasgow Protected Designation of Origin (PDO) status for chicken tikka masala.
British Bangladeshis: Another theory credits its invention to Bangladeshi migrant chefs in Britain. In the 1960s, most Indian restaurants were owned and operated by Bangladeshi chefs who created and served a number of inauthentic Indian dishes, one of which was chicken tikka masala.
Royal Mughal Origins: Chef Zaeemuddin Ahmad of the iconic Karim's restaurant in Delhi claims that chicken tikka masala is originally Mughal in origin. Karim's was established by the chef of the last Mughal emperor Bahadur Shah Zafar. Chef Ahmad asserts that the recipe dates back to the Mughal period and was passed down through the generations in his family.
A Punjabi Dish: Food critic Rahul Verma claims to have first tasted chicken tikka masala in 1971. According to him, it's a Punjabi dish that's been improvised over time.
Butter Chicken for the British: Lastly, many believe that chicken tikka masala is merely a mutation of Moti Mahal's murgh makani, altered to suit the British palate.
To be clear, I pieced these theories together from several articles. Many of them listed all or some of the same theories but there were variations in their accounts, in details like dates. This told me one thing, that no one really knows for sure where chicken tikka masala came from!
I asked my guide on this Delhi food tour what the origin of chicken tikka masala was, and he thinks it was invented in the UK but was made better by local Indian chefs who used superior spices. His answer surprised me. People like to express their nationalism through food so I fully expected him to say it came from India!
Pictured below is a bowl of chicken tikka masala from the Mughal Spice restaurant in Agra. If my guide were to believed, then this is an improvement of a dish invented in the UK. If Chef Zaeemuddin Ahmad were correct, then this is a homegrown dish developed by his family. If Rahul Verma's memory served him correctly, then this is a Punjabi dish modified over time. The stories, like the flavors in this tasty dish, are endless.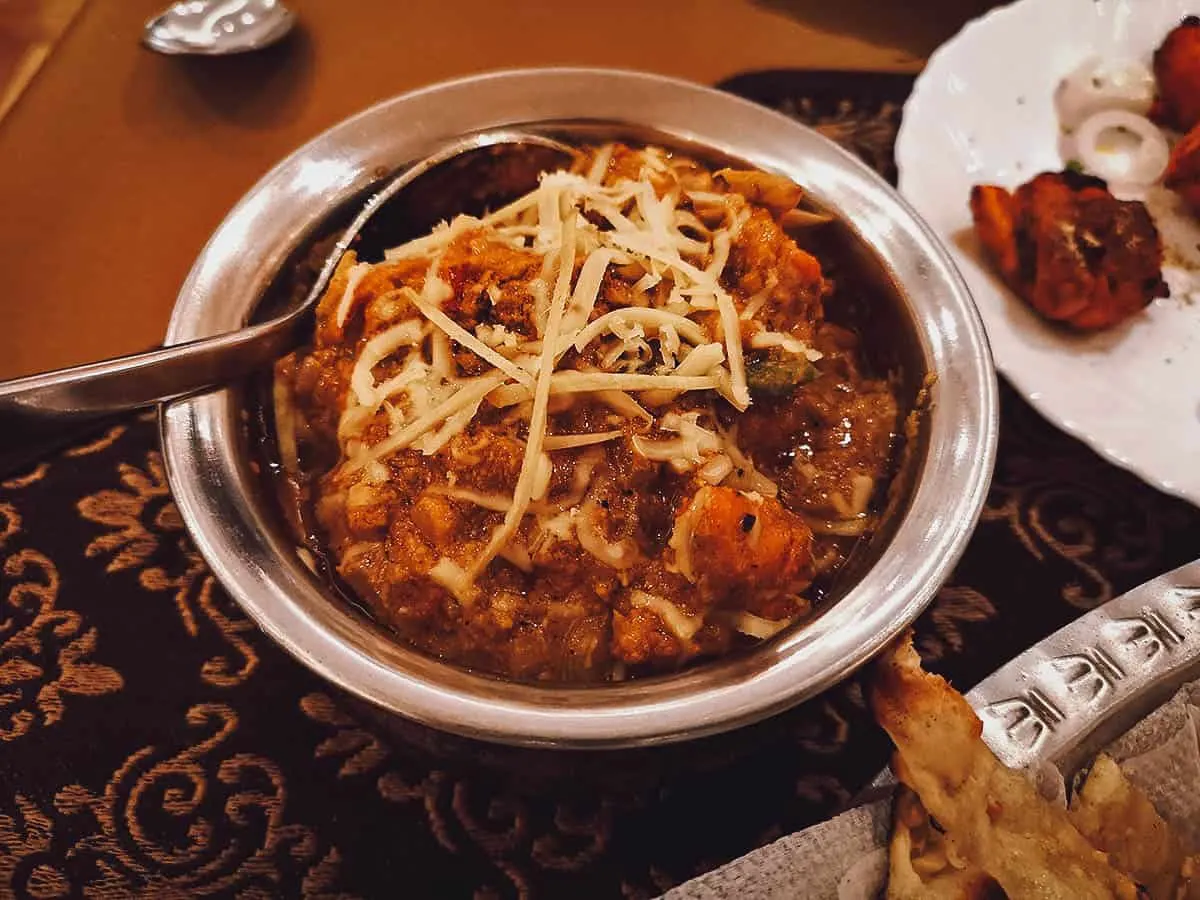 DECONSTRUCTED CHICKEN TIKKA MASALA RECIPE
The origins of chicken tikka masala may forever be disputed, but one thing that will never be questioned is its deliciousness. It's a mouthwatering dish and a strong contender for my personal hypothetical last meal.
Classic recipes for chicken tikka masala call for the chicken to be served in the curry, but Ren developed this fantastic deconstructed version. If you love this dish as much as I do but have never had it like this, then you may want to give her recipe a try.
INGREDIENTS
FOR MARINADE
1 kilo boneless chicken thighs, cut into bite-sized pieces
1 cup yogurt
3 garlic cloves
1 Tbsp fresh ginger, minced
2 Tbsps fresh calamansi juice
2 tsps ground cumin
1 tsp allspice
1-2 red chilies
2 Tbsps chopped cilantro
2 tsp fresh cracked pepper
FOR GRAVY
1 Tbsp ghee or clarified butter
2 garlic cloves, minced
1 large red onion, minced
2 red chilies, finely chopped or 1 teaspoon chili powder
1 tsp ground turmeric
2 tsps ground cumin
2 tsps paprika powder
1 Tbsp light brown sugar
1 (400 g) can diced tomatoes, pureed
1 Tbsp tomato paste
1 (400 g) coconut cream
Handful of coriander/cilantro leaves, chopped
Fish sauce, to taste
DIRECTIONS
Blend all ingredients for marinade in food processor. Pour in ziplock bag. Add chicken pieces and turn to coat. Refrigerate overnight.
Thread chicken pieces onto skewers, discarding marinade. Grill chicken evenly on all sides until juices run clear, approximately 5-6 minutes. Season with salt and cover with foil.
To prepare gravy, heat large skillet to medium heat and melt ghee/clarified butter. Sauté garlic, onion and chilies (if using) until fragrant. Sprinkle rest of spices and brown sugar. Cook for 1-2 minutes until mixture turns into paste.
Pour in tomatoes and tomato paste. Simmer uncovered for approx. 10-15 minutes on low heat until sauce begins to thicken, then add grilled chicken pieces and coconut cream. Simmer for an additional 10 minutes, thickening sauce further and to heat chicken and cream through. Season, adding fish sauce as needed.
Serve sprinkled with fresh chopped coriander leaves, and with steamed Basmati rice and/or fresh naan bread. (Recipe below)
NAAN BREAD RECIPE
INGREDIENTS (makes 6 pieces)
2 cups All Purpose flour
1 tsp active dry yeast
1 tsp salt
1 tsp sugar
Pinch of baking soda
2 Tbsps of oil
2 1/2 Tbsps yogurt (curd or dahi)
1/2 cup lukewarm water
1 tsp of clear butter or ghee to butter the Naan
Additional 1/4 cup All Purpose flour for rolling
DIRECTIONS
In lukewarm water, dissolve active dry yeast and let sit for 10 minutes or until mixture becomes frothy.
Add sugar, salt and baking soda to flour, then mix well.
Add oil and yogurt mix. This will become crumbly dough.
Add water/yeast mixture and make into soft dough. After dough rises, it will become a little softer.
Knead dough until smooth. Cover dough and keep in warm place for 3-4 hours. The dough should almost double in volume.
Heat oven to 500 degrees F with pizza stone for at least thirty minutes so stone is hot. Using a pizza stone will help give naan close to same heat as clay tandoor.
Turn oven to high broil.
Knead dough for about 2-3 minutes then divide into six equal parts.
Take each piece of dough, one at a time, and roll into 8-inch oval shapes. Dust lightly with dry flour to help with rolling.
Before putting naan in oven, lightly wet your hands and take rolled naan and flip between your palms. Place onto baking/pizza stone into oven.
You can place about 2 naan on baking/pizza stone at a time. Naan will take about 2-3 minutes to cook, depending on your oven. After naan is baked, it should become golden brown on top.
Take naan out of oven and brush lightly with clear butter or ghee.
Wait 2-3 minutes before baking next batch of naan. This will give your oven the chance to again reach maximum heat.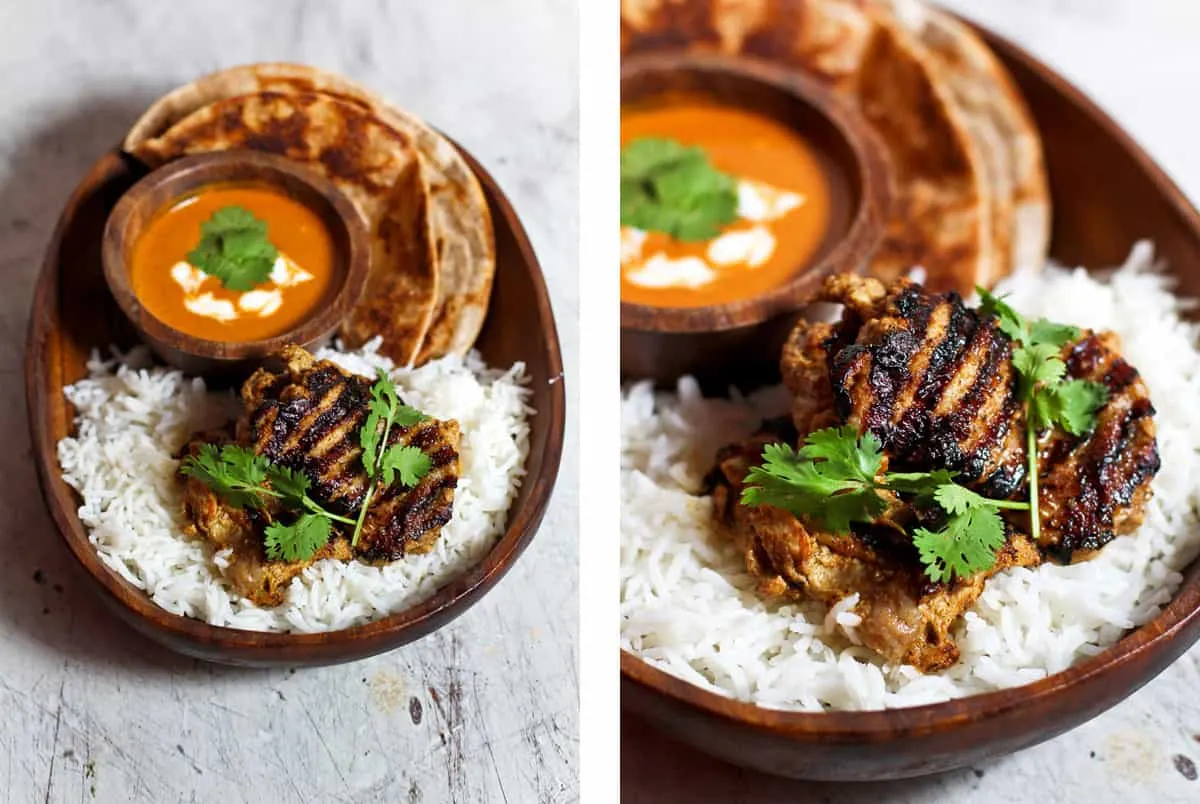 FINAL THOUGHTS
I went to India hoping to find clarity, but the only thing that became clear to me, is that we may never know where this beloved dish truly came from.
Whether we realize it or not, we express our national identity through food. It seems trivial to debate about the origins of a recipe but food has as much power to divide as it does to bring people together. It's a representation of our culture, our history, and our heritage, the usurping of which can often lead to violent reactions.
As the late great Anthony Bourdain once said, "there is nothing more political than food." More than just a collection of ingredients, it's a source of national pride.
Disclosure
The TripAdvisor links in this post are affiliate links, meaning we'll earn a small commission if you make a booking at no extra cost to you. We really appreciate your support as this helps us keep this website going. Thank you!