EDITOR'S NOTE: Traveleater Madeline Miller shares with us twelve traditional dishes to try on your next visit to Scotland.
There are so many reasons why you'd want to travel to Scotland. There's the stunning landscapes and amazing cultural heritage, but one thing you must visit for is the food. There's so much that you must try while you're there, where do you even start?
Here are the top fifteen must-try foods in Scotland. What will be your favorite?
SCOTTISH FOOD QUICK LINKS
If you're planning on visiting Scotland and want to learn more about Scottish cuisine, then you may be interested in joining a food tour.
Save This on Pinterest!
No time to read this guide on traditional Scottish cuisine? Click on the save button and pin it for later!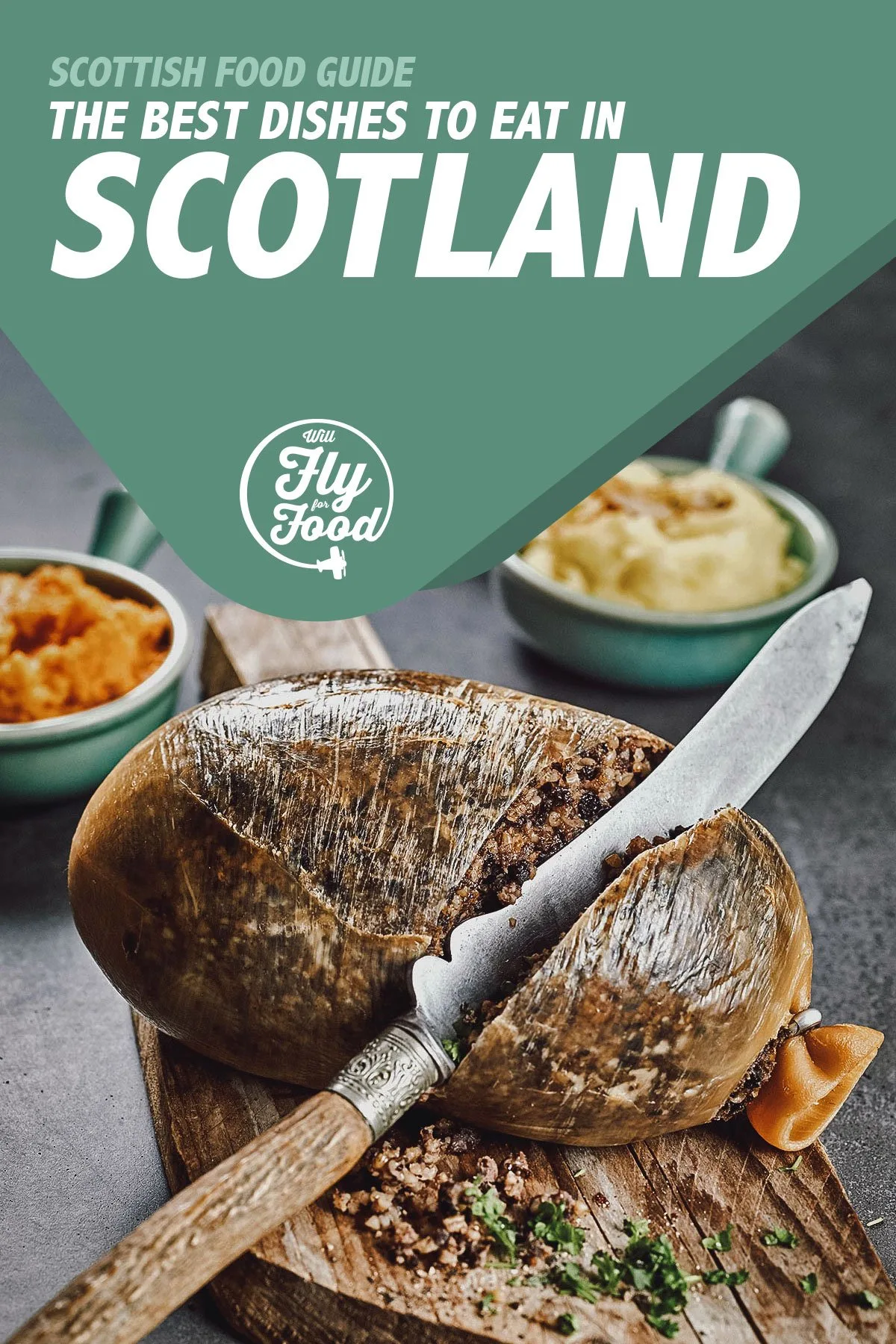 Photo by food-exclusives
WHAT IS TRADITIONAL SCOTTISH FOOD?
Traditional Scottish cuisine is simple and uses relatively few spices. Locally produced fruits, vegetables, and oats feature prominently in Scottish cooking while the country's abundance of seafood and game has sustained its population for thousands of years.
In medieval times, meat and spices were expensive commodities and reserved only for the wealthy. Rather than feasting on the animals themselves, most people found sustenance in their milk. Dairy and eggs became an important part of the Scottish medieval diet, a practice that still carries on to this day.
Before the potato was introduced to the British Isles, bread was the main source of carbohydrates. Scotland's damp climate made it difficult to grow wheat so bread was made from oats or barley.
Early Scottish society was largely pastoral so people needed food that wouldn't spoil quickly. It was common to carry a bag of oatmeal that could easily be transformed into a basic meal of porridge or oatcakes.
Its exact origins are unclear but it's believed that haggis, Scotland's national dish, may have originated in this way. When cattle drivers left the Highlands to bring their cattle to market, the women would prepare for them a simple meal of offal or low-quality meat wrapped in the simplest bag available – a sheep or pig's stomach.
THE BEST TRADITIONAL SCOTTISH DISHES
1. Cullen Skink (Smoked Haddock Chowder)
What's a Cullen Skink? If you've ever had an American chowder or French bisque, then you'll have an idea. A Cullen Skink is a thick Scottish soup, comprising of smoked haddock, potatoes, and onions. The dish originally came from the Moray area, but now is popular all over the country.
Many describe this traditional Scottish dish as smokier than a chowder, but heartier than bisque. Many have come to consider it as comfort food in Scotland. It's just the thing to try on a cold and windy day, as it's guaranteed to warm you up.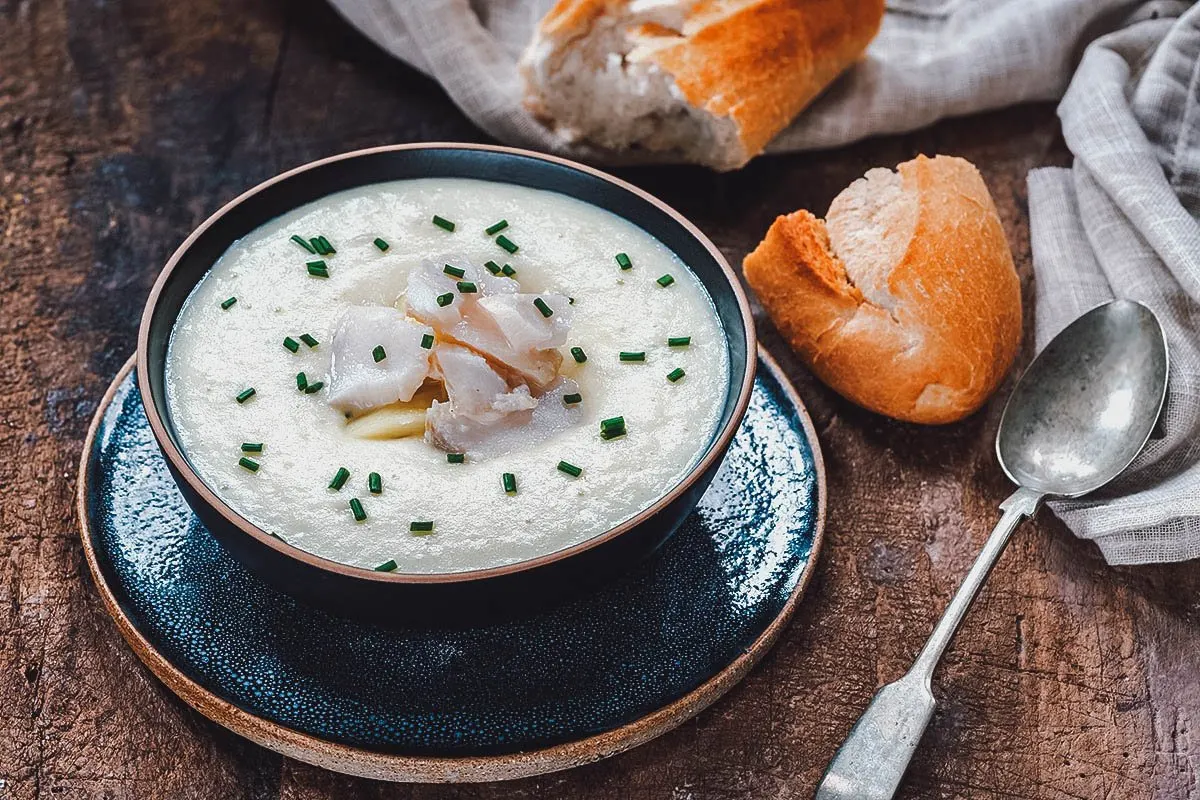 Photo by RubinowaDama
2. Scottish Porridge
Oats have been a staple in the crofter's diet (Scottish farmers) since medieval times so it's no surprise that porridge is synonymous with traditional Scottish food. At the time, there was no way of preserving the oats so they were often made into a thick paste to extend their shelf life.
Early versions of Scottish porridge bore little resemblance to the porridge we know today. To prepare, oats were cooked into a paste with water and a little salt. It was then left to cool in a wooden porridge drawer where it would be stored and eaten over several days.
When cold, the porridge would become thicker in consistency and more solid, allowing it to be cut into slices and eaten for breakfast or lunch.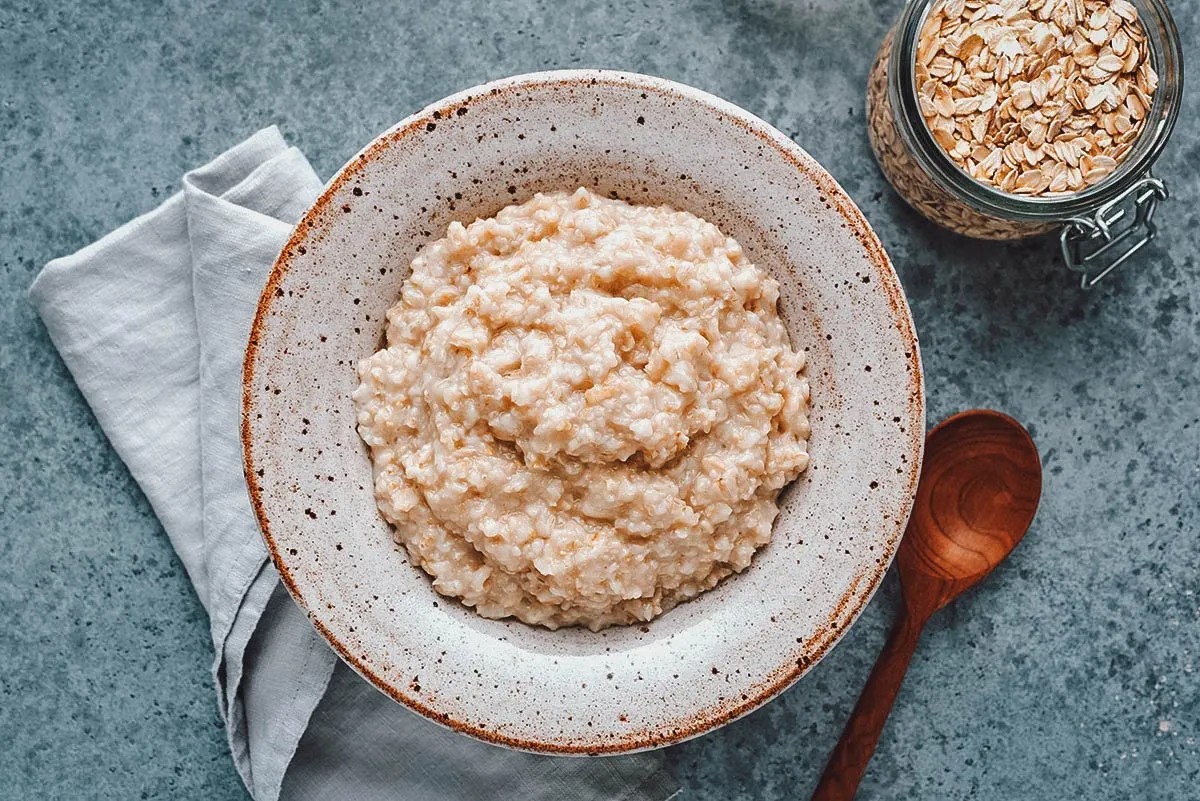 Photo by VladislavNosick
3. Haggis
Who hasn't heard of haggis? An important dish in Scottish culture, it's the national food of Scotland.
Haggis is a dish that was created to use every part of the animal. It's made from "sheep's pluck" – that is, the chopped liver, heart and lungs of a sheep, mixed with oatmeal, suet, and seasonings, all stuffed into a lining. Traditionally, this can be the sheep's intestines, although artificial casings are often used too.
Yes, it sounds bizarre, but you've got to try it at least once. You'll soon find out why the dish has endured through the ages. Try it with neeps and tatties (turnips and potatoes) for the traditional experience.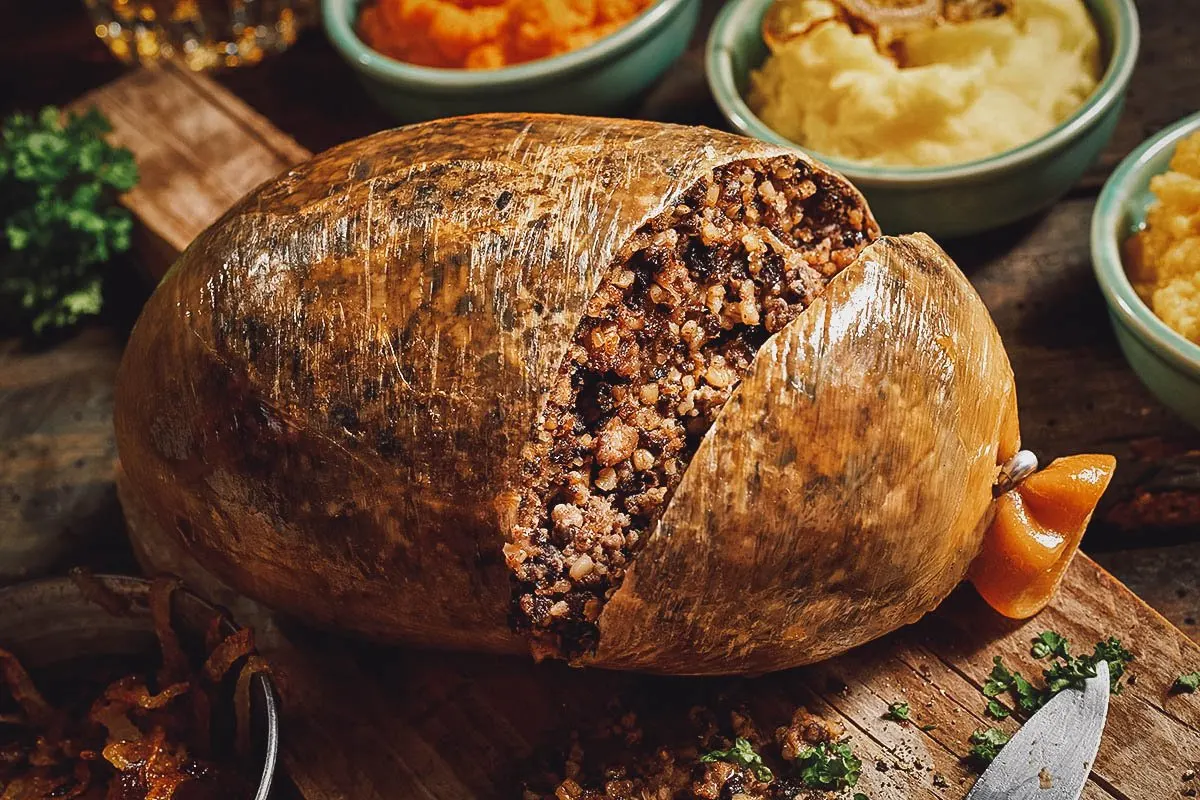 Photo by food-exclusives
4. Scotch Pie
Scotch pie is a type of double-crust meat pie. About the size of an ice hockey puck, it's traditionally filled with spiced mutton though it can be made with haggis and other types of meat as well.
Scotch pies are originally from Scotland but they're readily available in other parts of the United Kingdom. They're a staple snack at Scottish football matches and traditionally enjoyed with a spicy meat-flavored broth known as Bovril, hence the alternate name "football pie".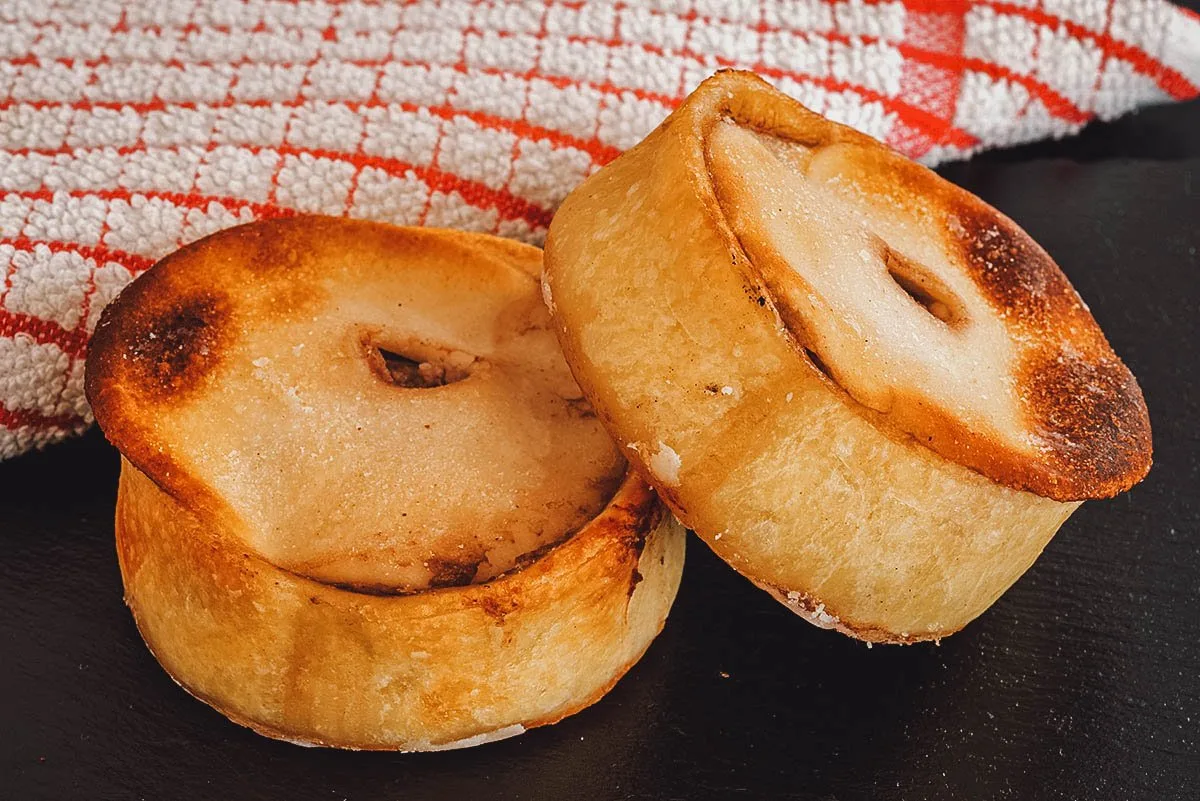 Photo by mcdowalljh
5. Black Pudding
If you've heard of haggis, then you may have already heard of black pudding. They're both Scottish delicacies that seem so strange at first glance, but once you try them you'll see they're one of the tastiest things out there.
Typically, black pudding is made with pork blood, mixed with pork fat or beef suet, and a cereal. This can be oatmeal, oat groats, or barley groats. The fact that black pudding has such a high cereal content, as well as the use of spices such as pennyroyal, sets them apart from blood sausages that you'll find elsewhere in the world.
They often go well with a full Scottish breakfast, so that's the best time to try them. Most cafes in Scotland will serve them, so you won't have to go too far to find them. You should give them a try, you'll be amazed at how good they taste.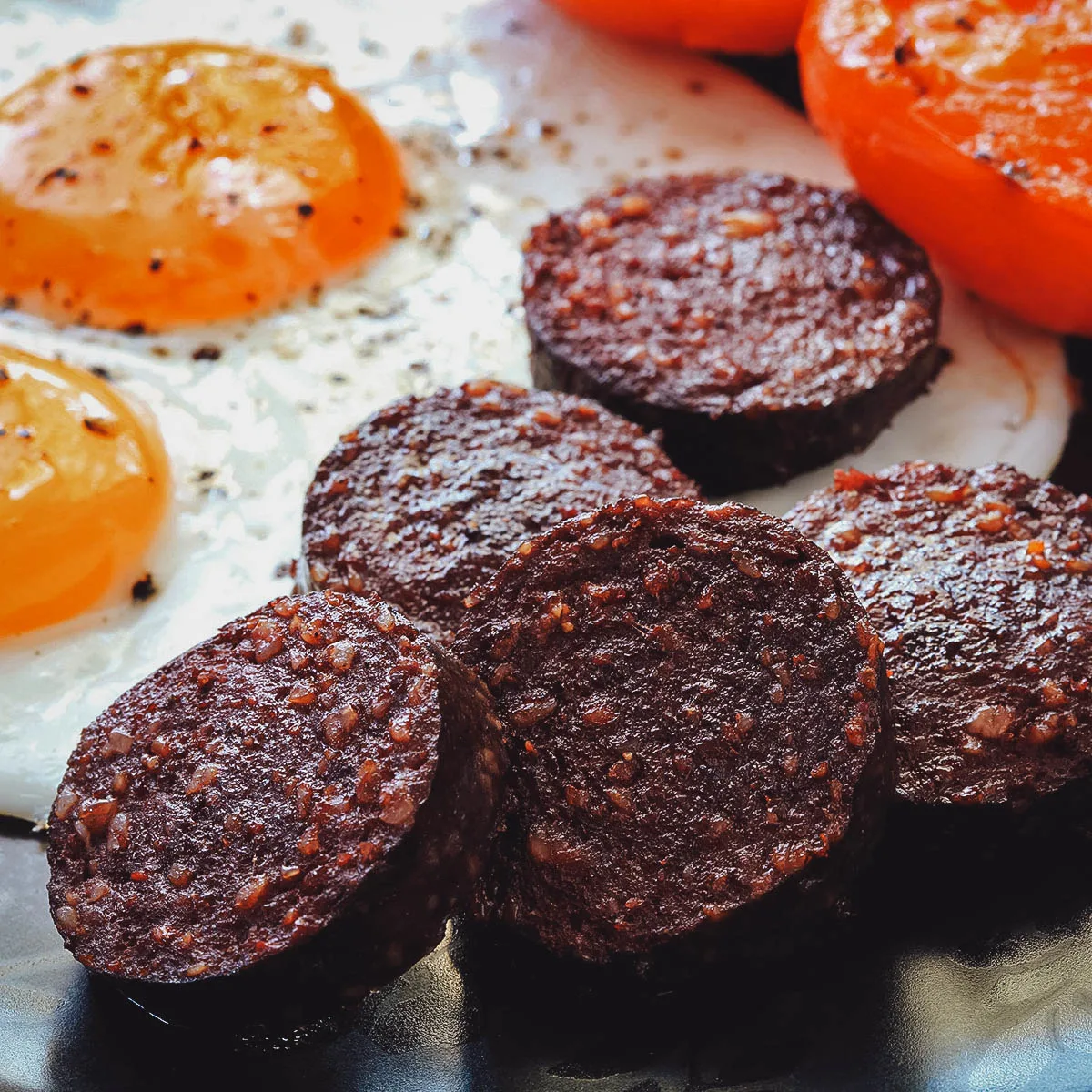 Photo by robynmac
6. Full Scottish Breakfast
Hearty breakfast lovers won't need much coaxing to get up and greet the day with a full Scottish breakfast. It's similar to a full English breakfast but with a few notable additions.
On top of the usual components like link sausages, bacon, fried eggs, fried tomatoes, mushrooms, baked beans, and buttered toast, a full Scottish breakfast will also typically include black pudding, lorne sausages (square sausages), and tattie scones (potato griddle scones).
Some cafes may even serve them with haggis, white pudding, oatcakes, porridge, or Arbroath Smokies. It's a heavy meal that Scots typically reserve for weekends and holidays.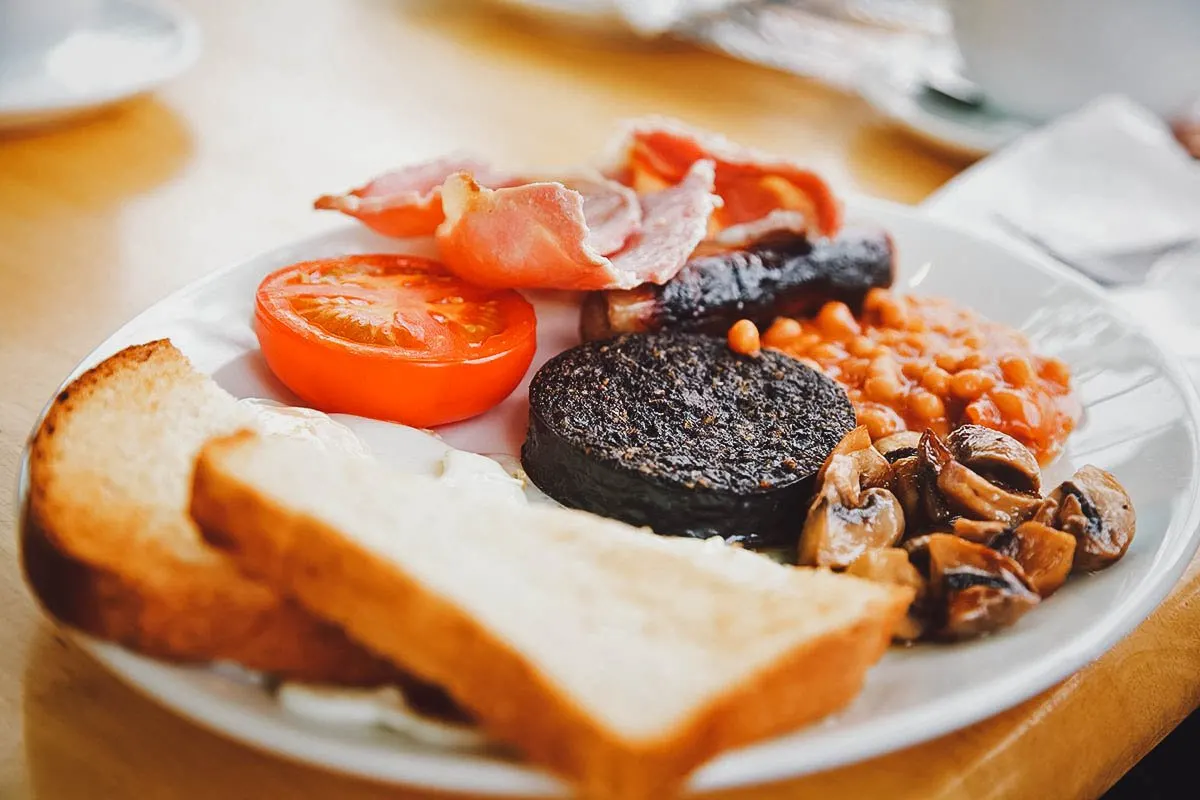 Photo by dnaumoid
7. Bangers and Mash
Bangers and mash is a Scottish staple, another comfort food that you're going to find all over the country. Whether you're in a cafe or a pub with a roaring fire, these are bound to be on the menu.
The typical bangers and mash will use locally sourced sausages, as well as mashed potatoes mixed with milk and butter to make them fluffier. Plus, you can find other variants such as apple or venison sausages, too.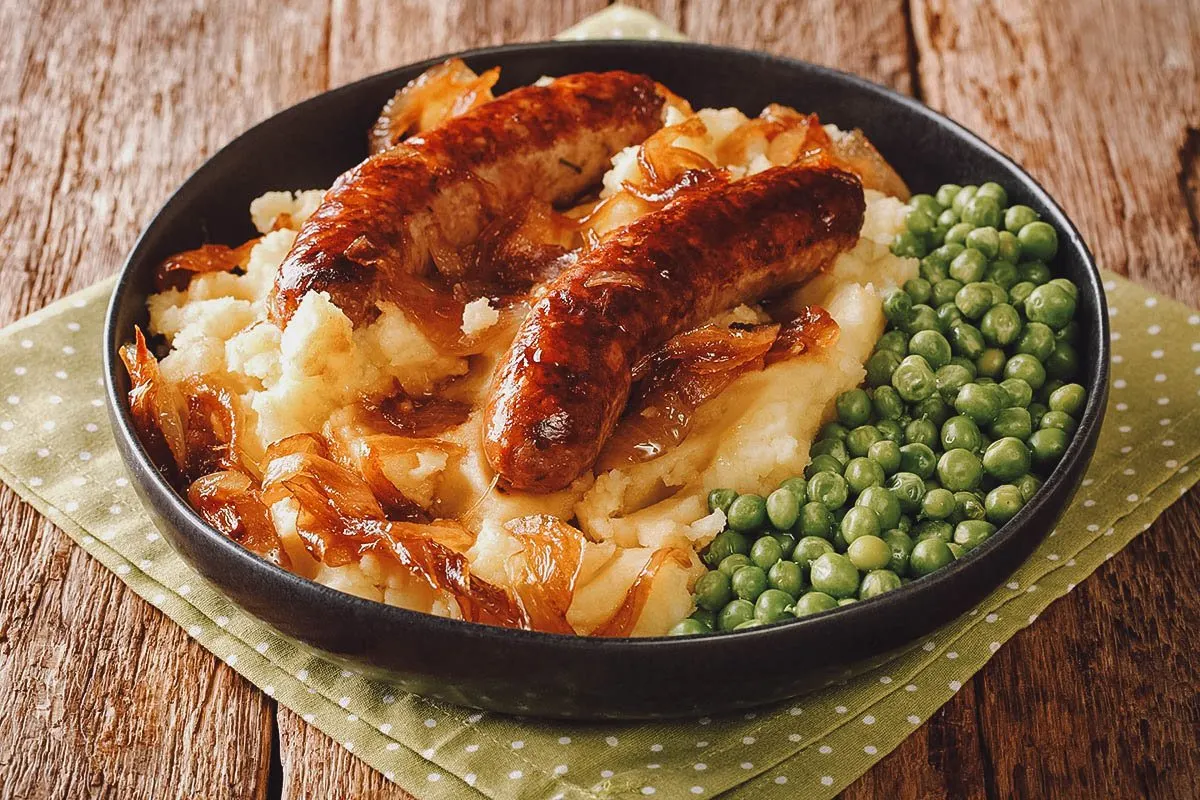 Photo by lenyvavsha
8. Cured Meat and Cheese
This Scottish appetizer will be sure to show up on many menus as you travel around the country. It doesn't sound all that exciting at first glance, but you'll want to consider the meats and cheeses being used in it.
You can try some amazing venison and sausages in this dish for example, as well as Mull cheddar cheese. This cheese is made from the milk of cows from the Isle of Mull, where they're fed fermented grain from the Tobermory Whisky Distillery. This gives the cheddar a fruity tang you can't get elsewhere.
You can make your own authentic cured meat and cheese by checking out the markets in Stockbridge. There's a great range here, and you'll be able to whip it up in minutes if you so wish.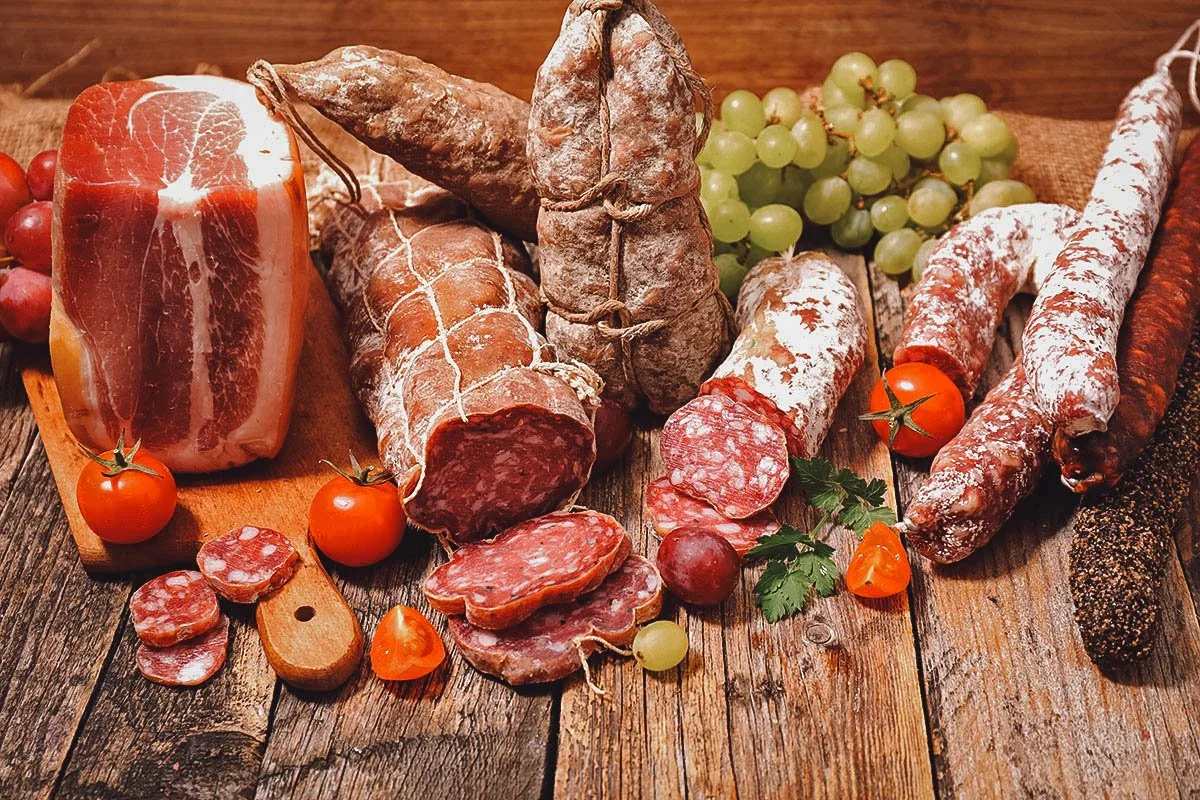 Photo by studioM
9. Scottish Salmon
When it comes to salmon, you already know that Scottish salmon is the best. That's why it's the most prized in any supermarket or grocer's shop. Scotland offers some of the freshest waters, making it a prime breeding ground for salmon. As such, some of the best salmon is caught here.
As you're in Scotland, you can try the salmon as it's freshly caught. Being able to taste the fish without it having to travel is something you don't always get to do, so make sure you try it while you're there.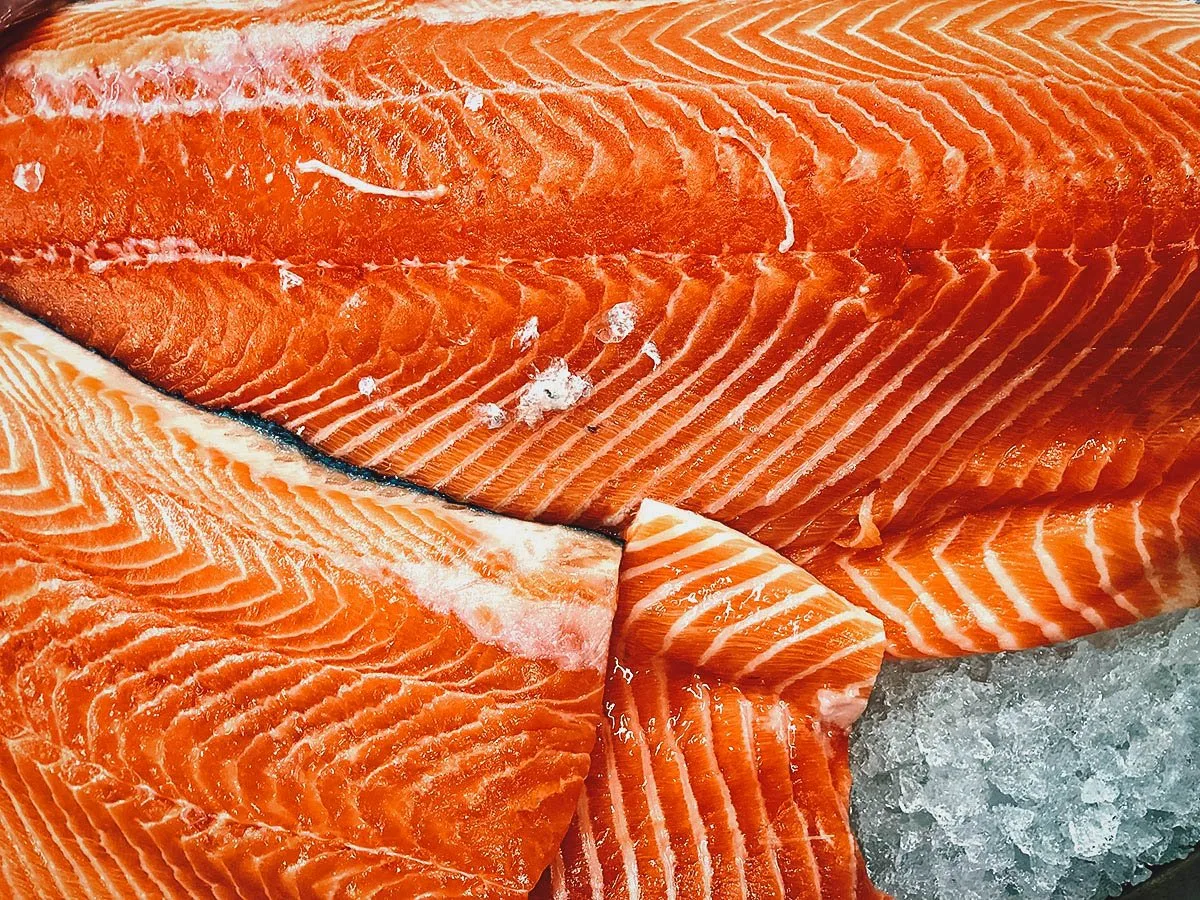 Photo by Panmaule
10. Fish Supper
A fish supper is what fish and chips are referred to in Scotland. They're typically sold from fish and chip shops called Scottish chippies, and are commonly made with haddock deep-fried in batter. People who don't want chips can ask for a "single", while customers looking for a larger portion of fish can ask for a "muckle".
Depending on where you are in Scotland, a fish supper can be served with salt and sauce (brown sauce thinned with vinegar and water) or salt and vinegar. When in Glasgow, be sure to enjoy it with a bottle of ginger (carbonated drink) like Irn-Bru.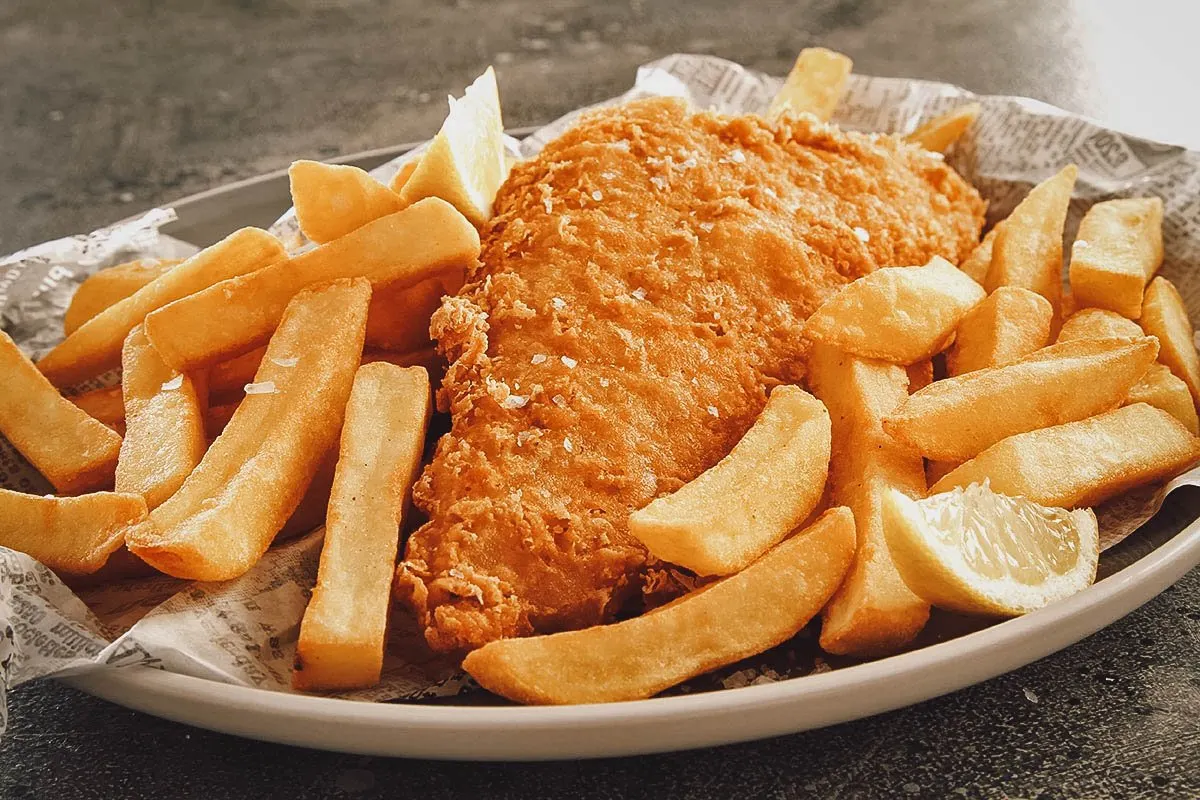 Photo by neillangan
11. Arbroath Smokies
Even if you've had haddock before, you haven't had it quite like this. The process of creating Arbroath Smokies was created way back in the 1800s, and the method is still used to this day. The haddock is firstly salted overnight in order to preserve them, and then they're cooked for an hour on a hot, humid, smoky fire.
The process requires you to use a hot fire and thick smoke, as that allows you to cook and smoke the haddock without burning it. It gives the fish a unique taste and smell that you won't get anywhere else. It's a dish that you've got to try at least once while you're in the area.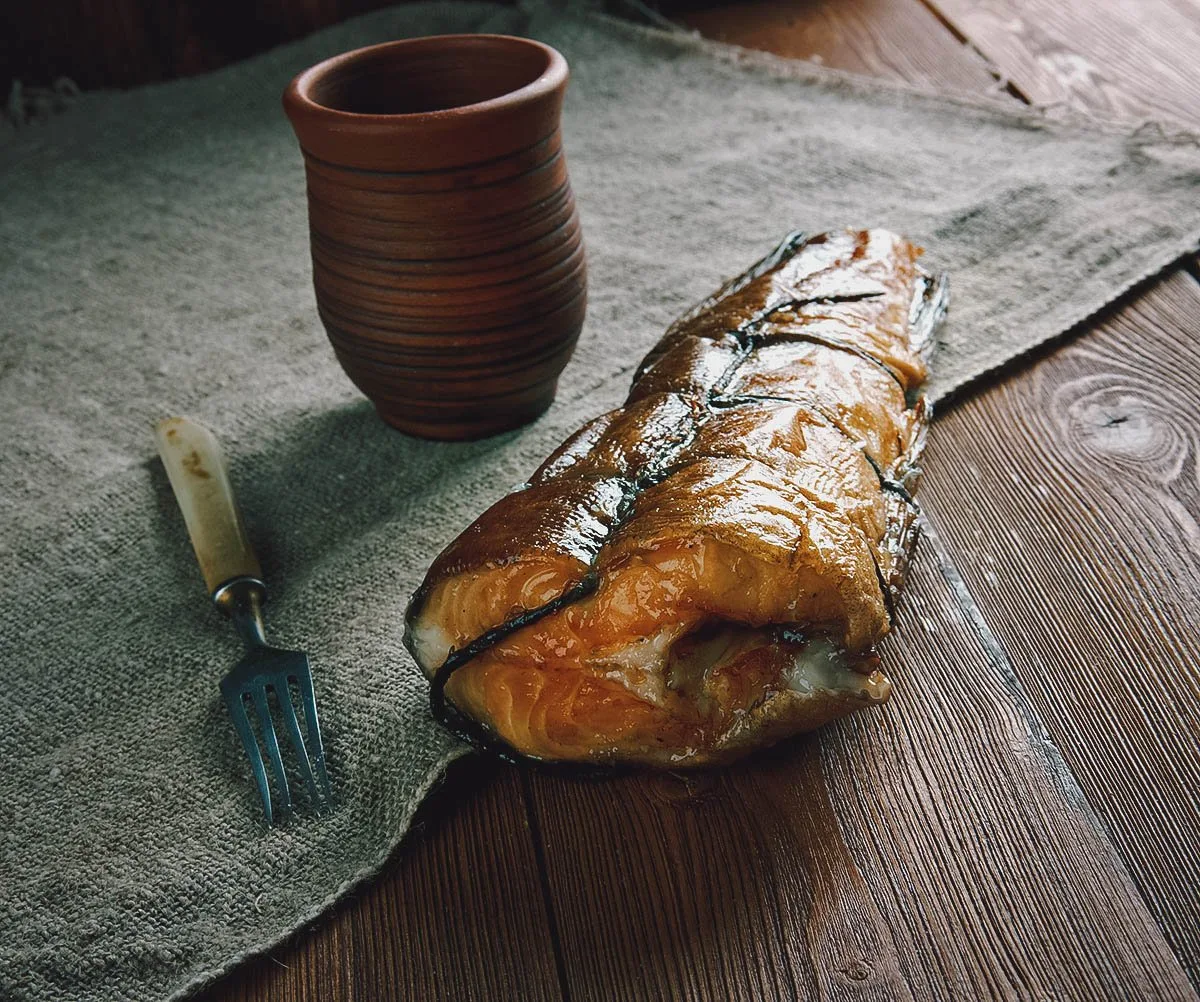 Photo by fanfon
12. Hand-Dived West Coast Scallops
These are such a popular delicacy now, especially as people are more thoughtful about how their food is sourced. Scallops can certainly be trawled up by dredgers, but these are causing damage to the ecosystem off the coast of Scotland. As such, more and more people are looking for hand-dived West Coast scallops.
As the scallops are fetched by hand, this is a much more sustainable way of obtaining them. Of course, as there's more work involved, the price is a lot higher than regular scallops. However, it's very much worth it as they're delicious, and you know you're doing your part to protect the coastlines.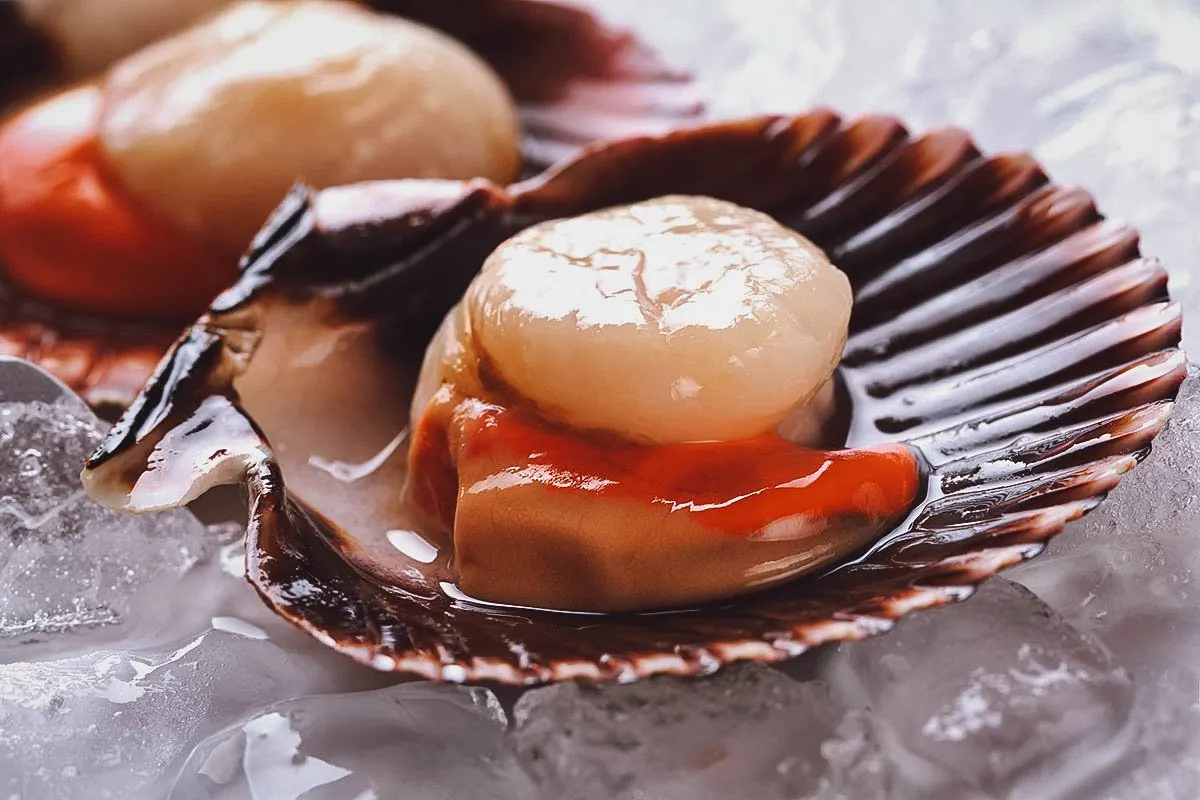 Photo by ildi_papp
13. Shortbread
Shortbread biscuits are a simple buttery biscuit that has been around since at least the 1700s and are a staple in Scotland. You can get a huge variety of traditional Scottish treat, so there's a shortbread for everyone.
For example, you can try out chocolate, caramel, and even rosewater shortbreads. You'll be able to buy shortbread pretty much anywhere you go, so you can test them out on your travels.
Shortbread is typically given as a gift at Hogmanay or Christmas, so you'll see even more of it if you're traveling during this time. Pair it with a tea or coffee at the end of a meal for the full experience.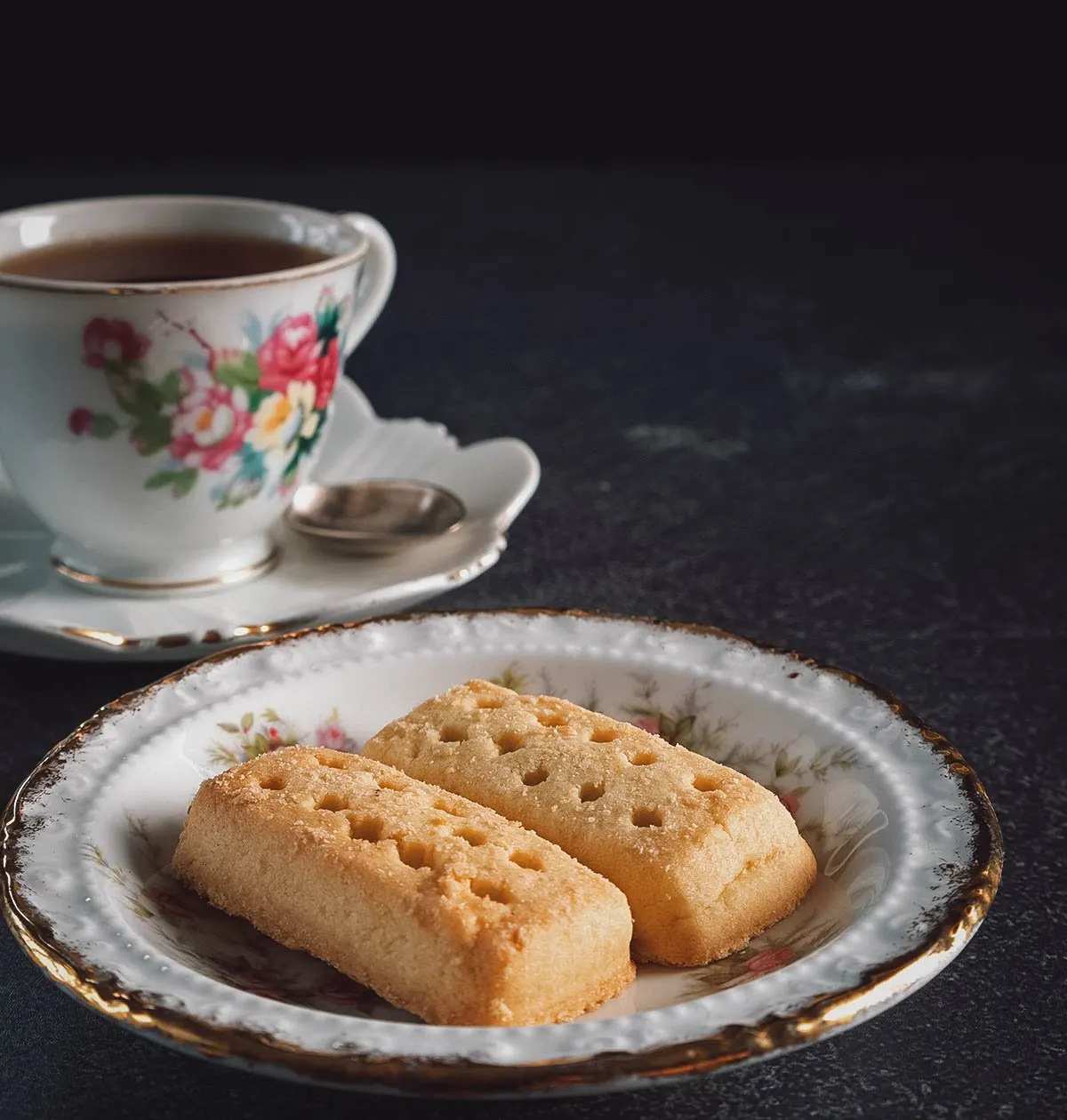 Photo by agcreations
14. Sticky Toffee Pudding
If you have a sweet tooth and you've never tried sticky toffee pudding before, then don't leave Scotland without giving this traditional Scottish dessert a try. The pudding is made up of a moist sponge cake, along with dates, toffee sauce, and either vanilla custard or ice cream. That's a good excuse to try it twice, one with each.
Typically you'll find this being served in most Scottish pubs. You're almost bound to find yourself in one at some point during your travels, so make sure you order one after your dinner. You'll soon see why it's such a British classic.
Photo by monkeybusiness
15. Scotch Whisky
What better way to end the day in Scotland than with a glass of Scotch whisky? Produced by over 100 distilleries in five distinct Scottish whisky regions, this amber-hued liquid is the national drink of Scotland.
Scotch whisky, or simply Scotch, can be divided into five categories – single malt, single grain, blended malt, blended grain, and blended. It's typically served neat, without ice, along with a small pitcher of water that's meant to cleanse the palate between sips.
Pro tip, try adding a few drops of water to your whisky. This can really open up its flavors.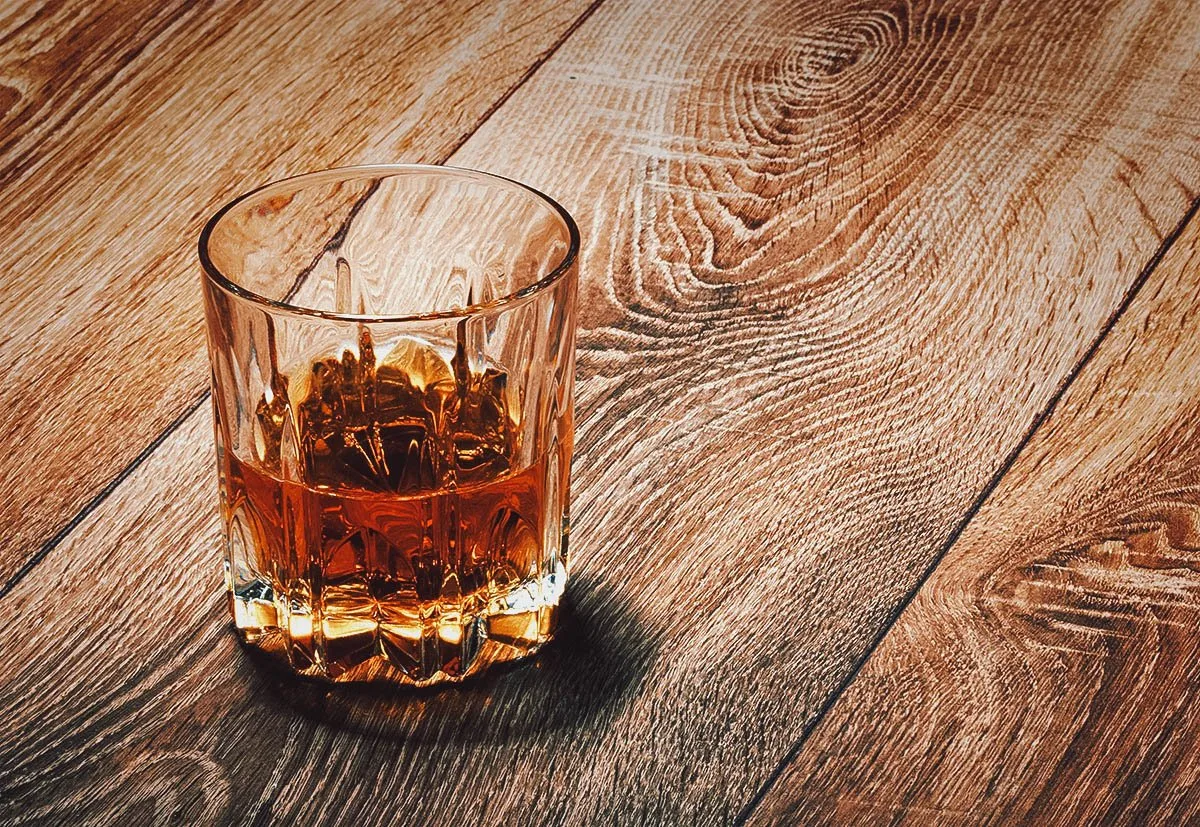 Photo by krasyuk
SCOTTISH FOOD TOURS
Bottom line, no one knows Scottish food better than a local, so what better way to experience it than by going on a food tour? Not only can a food-obsessed guide take you to the city's best restaurants, cafes, and markets, but they'll be able to explain all the dishes to you in more detail. Check out Get Your Guide for a list of food tours in Scotland.
FINAL THOUGHTS ON SCOTTISH CUISINE
These are fifteen of the best dishes and drinks that you'll find when you're in Scotland. Make sure you try them all out, and see which ones are your favorites. There's so much to explore when it comes to cuisine in the country, that's for sure.
About the Author
Madeline Miller is a writer at College Paper and Academic Writing Service. She covers international food, and is also a blogger for Dissertation Writing service.
Disclosure
Some of the links in this Scottish food guide are affiliate links. If you make a booking or reservation, then we'll earn a small commission at no added cost to you. As always, we only recommend products and services that we use ourselves and firmly believe in. We really appreciate your support as it helps us make more of these free travel and food guides. Thank you!
Cover photo by food-exclusives. Stock images via Depositphotos.