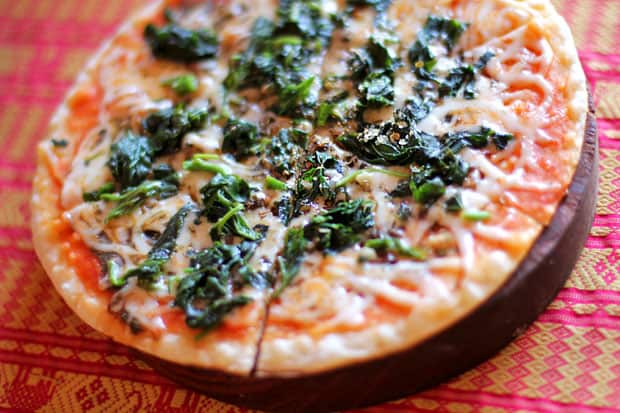 NOTICE: Your health and safety come first. Please adhere to the WHO recommendations and avoid any non-essential travel at this time. If travel is unavoidable for you, then you can check the Flatten the Curve website for information on global travel restrictions.
DISCLOSURE: Some of our articles contain affiliate links. The ones that do will have a disclosure statement at the bottom. You can refer to our privacy policy and terms of use for more information.
Let it be known that Angkor Wat is NOT the only attraction in Siem Reap. There's also this lesser known, but equally delightful curiosity called "happy" pizza. 😆
Truth be told, I probably would never have heard of this herbal-Italian phenomenon had it not been for a friend who visited Siem Reap earlier this year. Already excited to see Angkor Wat, my enthusiasm reached feverish proportions when she told us about this magical thing called Cambodian happy pizza. A fan of all things herbal, my eyes lit up like firecrackers upon hearing those words, kinda Like John Travolta's every time he sees a male masseuse.
Though you can probably figure out by now exactly what a happy pizza is, it's basically a regular pizza made with one secret herb and ingredient, the consumption of which induces an afternoon of irrepressible smiles, munchies, and all-around good vibes.
As Jamie Oliver would say, one bite, "and you're laughing." 😆

For our first experience, we shared this medium-sized pie topped with mushrooms for just USD 6. They have two pages of flavors and three sizes to choose from, all of which can be made "happy." I read online that they don't make happy pizzas for just anyone, so be sure to tell your server that you want yours to be "extra extra happy." I'm sure a wink and a soft elbow nudge wouldn't hurt either. 😉
Made with real mozzarella, it looks like any regular pizza at first glance. Only upon closer inspection will you notice little green flecks of herbal happy dust sprinkled all over the pie, just beneath the layer of melted cheese. After consumption, you'll be in a mild, but oh so pleasant state of happiness lasting for several hours, making the process of exploring temples that much more fun.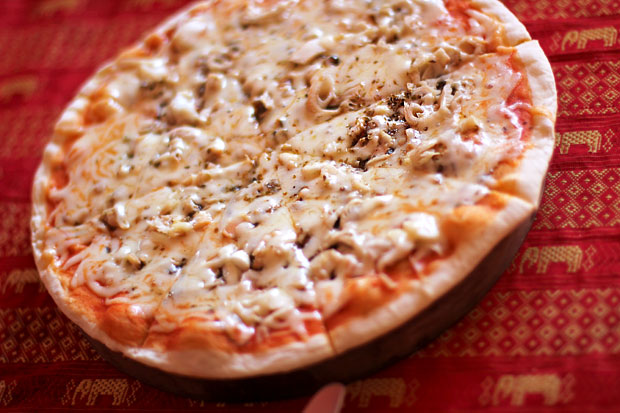 Of course, we knew that one experience would hardly be enough, so we came back for lunch the very next day and ordered one medium pepperoni and one small vegetarian, both of which were again "extra extra happy." These were better than the mushroom, which was rather bland in comparison. Be sure to order a flavor with saltier toppings, because you may find their pizza sauce to be a little underseasoned.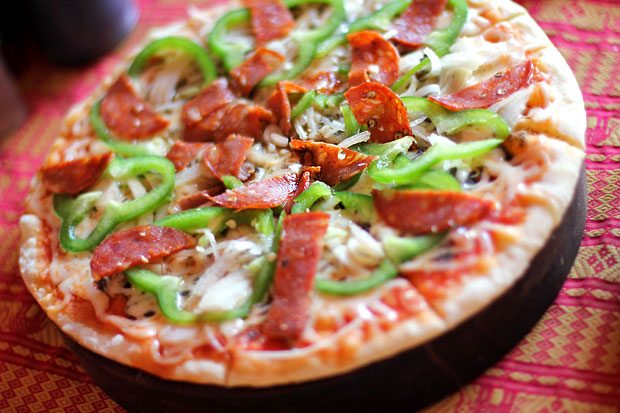 Just right for one petite diner, this small vegetarian went for USD 3.50, if I remember correctly.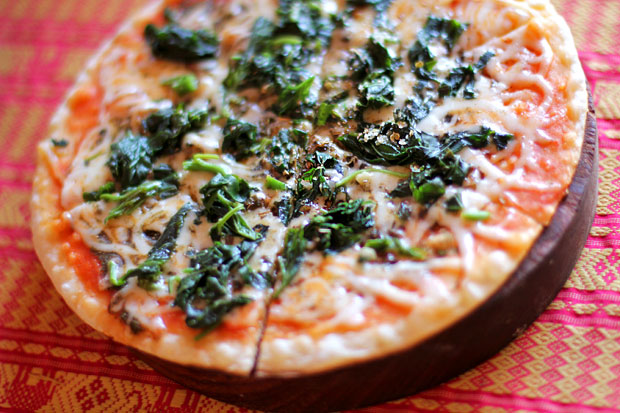 After just three slices, here's Reneelicious on the cusp of happiness.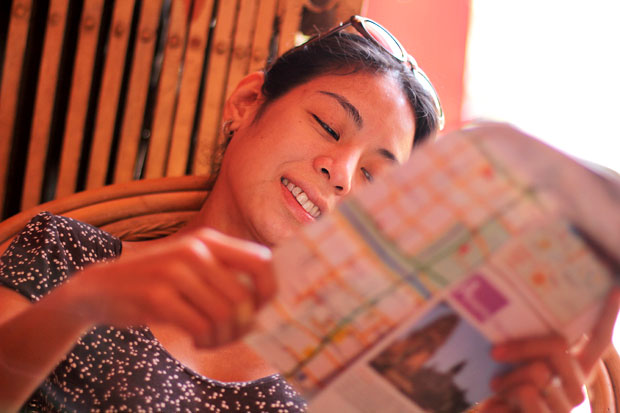 Here she is again, just a few hours later, getting a fish massage while enjoying a mug of ice-cold, Cambodia draft beer. Notice how "happy" her eyes look? 😆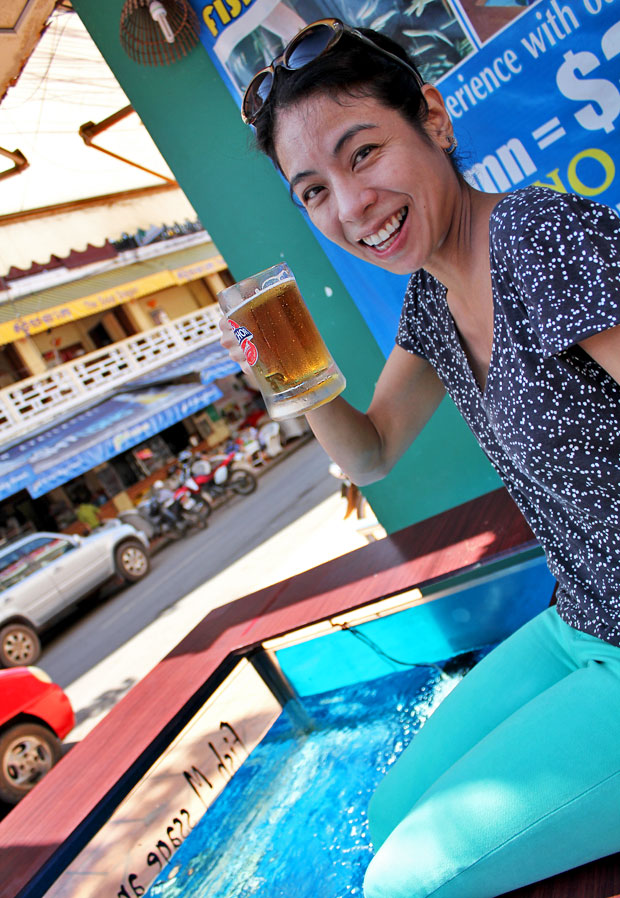 If you'll be visiting Siem Reap and would like to explore the temples in a similarly relaxed state of happiness, then I suggest trying Happy Herb Pizza, which is located at #069 Mondul 1, Khum Svay Dangkum, directly opposite the provincial hospital.
It's worth noting that there were a couple of other pizzerias next to it with similar names. One was called Happy Pizza, and another Ecstatic Pizza. I'm guessing that these places serve happy pizza as well, though we didn't try. Had there been a restaurant named Dazed and Confused Pizza though, then I would have asked them to book us a room. 😆