Ren and I have enjoyed some of our most memorable meals in Japan at izakayas. They weren't necessarily the best, but they were always among the most interesting.
On our most recent trip to the Kansai region, we spent our last full day exploring Nara with our Japanese friend Tsutomu. There we'd be having the last meal of our week-long trip, a week that was spent eating at some of the best restaurants in Osaka. For our final meal, it was important for us to find a place that wasn't just good, but also different from anything we'd already had during our trip.
Thankfully, we found Kura, a small family-run izakaya which Tsutomu would later describe as one of the best izakayas he's ever been to in Japan.
Save This on Pinterest!
No time to read this now? Click on the red save button and pin it for later!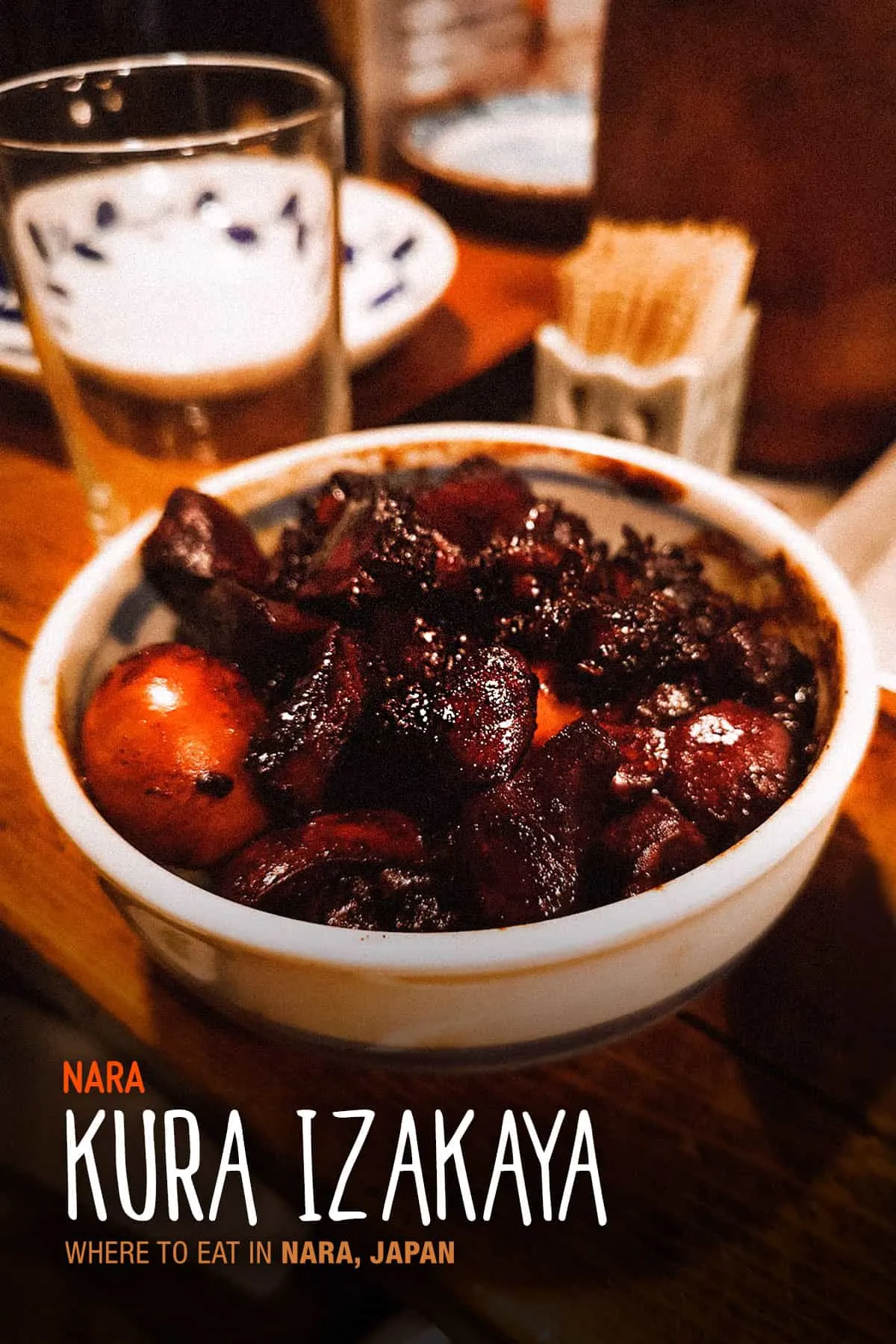 What is an Izakaya?
An izakaya is a type of informal Japanese pub. They're typically small and casual spaces where Japanese salarymen would get a drink and unwind after work. Jovial and relaxed in atmosphere, you can think of them as the Japanese equivalent to American taverns or Irish pubs, maybe even Spanish tapas bars.
The word izakaya is a compound word consisting of i, meaning "to stay", and sakaya, meaning "sake shop", suggesting that izakayas originated from sake shops that allowed customers to stay and drink on the premises. As sake grew in popularity, so did izakayas. People used to stand while drinking until shops started introducing sake barrels as stools. Later, food was added.
We've been to izakayas in Sapporo and Kyoto and both times, I remember seeing groups of two or three office workers loosening their ties and enjoying beers or sake over small plates of food. Same here.
We sat at a U-shaped bar and exchanged light conversation and friendly nods with the owners and locals, all the while enjoying plate after plate of the most interesting Japanese food, many of which we had never tried before.
Kura Izakaya
Kura is located in Naramachi, in the maze of alleyways and traditional buildings between Nara station and the main park area. It can be hard to find so you can refer to this map to see exactly where it is. It's in the building on the left below, through the sliding doors with the kanji characters.
I learned about Kura from this Places to Eat in Nara blog post. It looked intriguing so I checked its reviews on TripAdvisor. It had a 4.5 rating from its Japanese reviewers with English-speaking customers describing the restaurant as "friendly and fanstastic" and an "absolute must in Nara". Someone from London even described it as "one of the best nights of [their] three-week tour in Japan."
It sounded liked the perfect place for our last meal in Japan.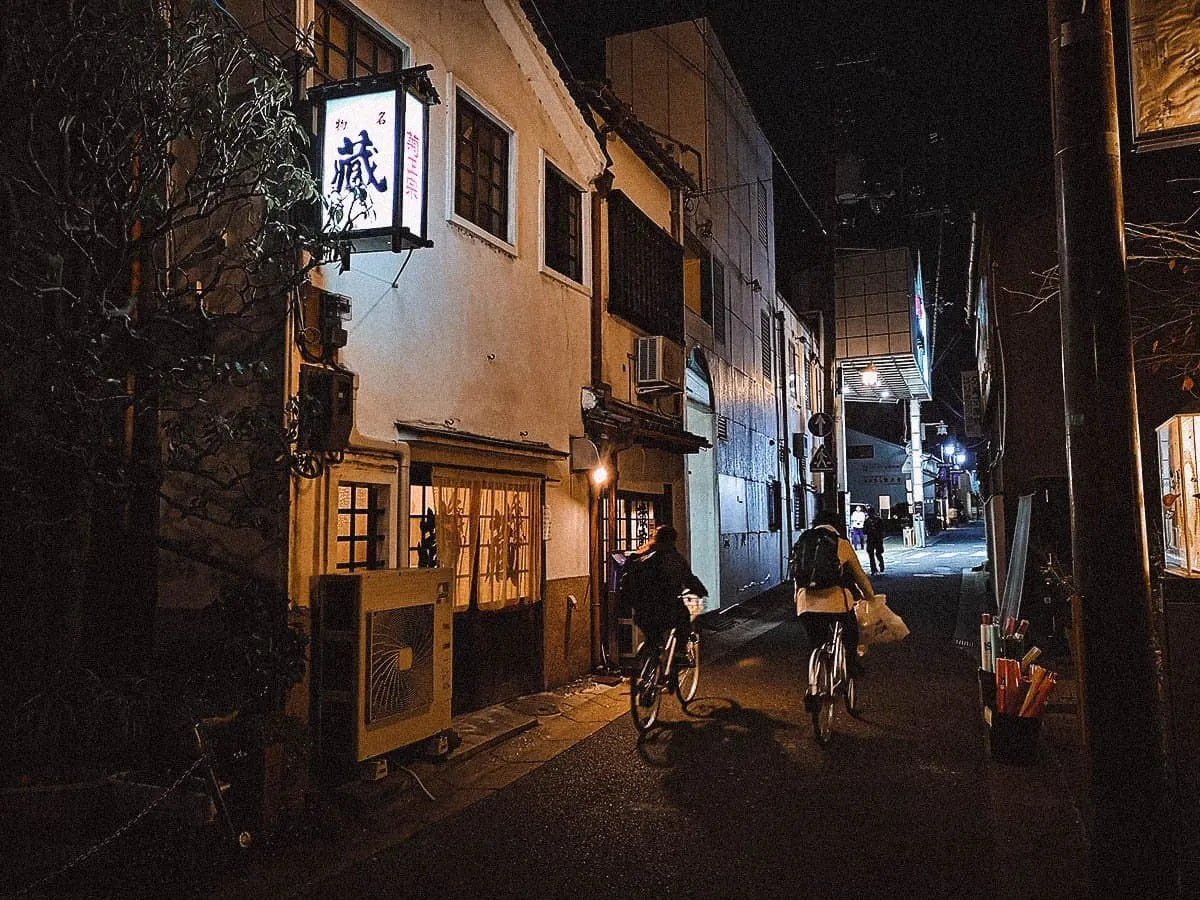 As described, izakayas are known for serving small plates of bar food, similar to Spanish tapas. Most are meant for sharing, like this plate of chikuwa (JPY 100-150) which is a type of Japanese fish cake. It was served from a big pot of oden, a Japanese one-pot dish consisting of several ingredients like chikuwa, konnyaku, ganmodoki, daikon, and boiled eggs stewed in a soy-flavored dashi broth.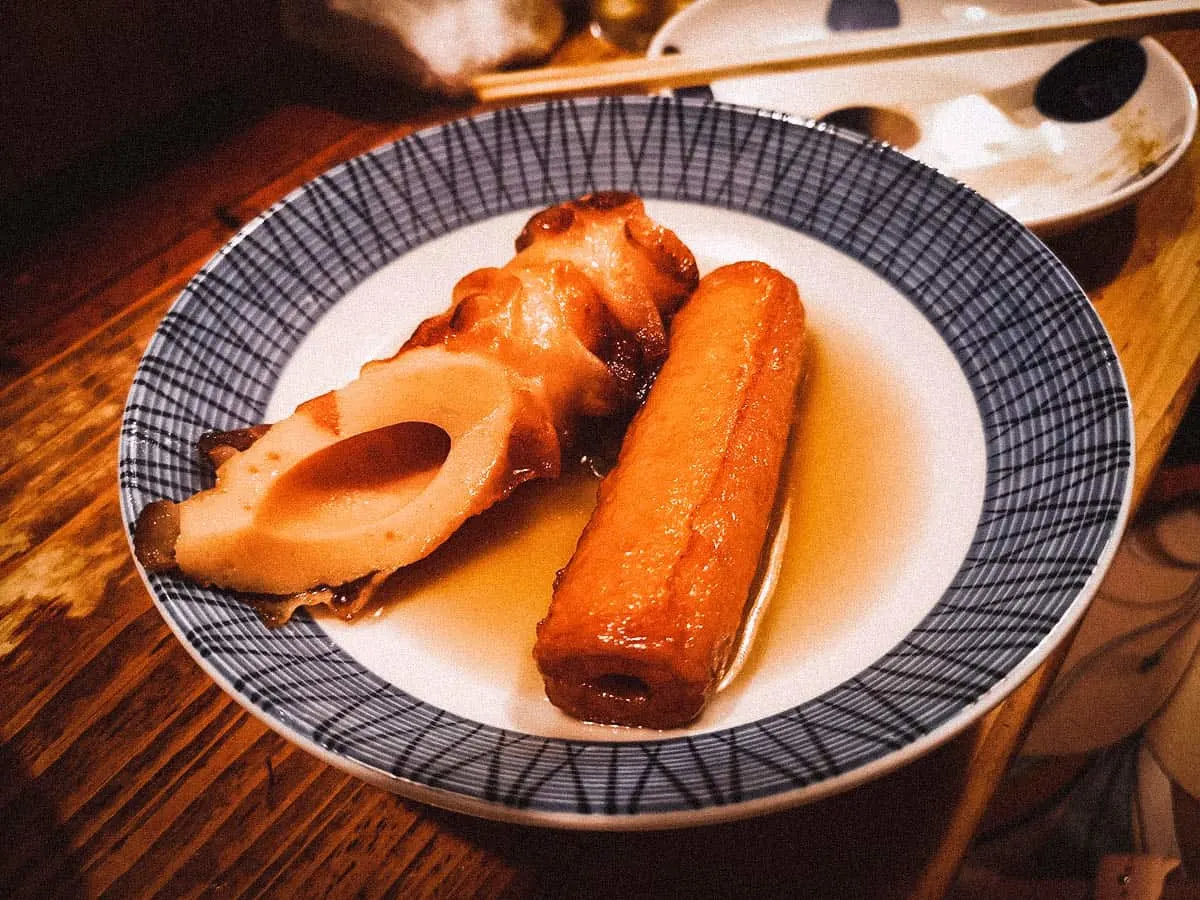 Also from Kura's pot of oden were this ganmodoki and konnyaku (JPY 100-150). Ganmodoki (left) is like a soggy fried tofu fritter made with vegetables and egg, while konnyaku (right) is a rubbery gelatin-like type of yam cake made from the konjac plant. Konnyaku is a highly popular dish in Japan.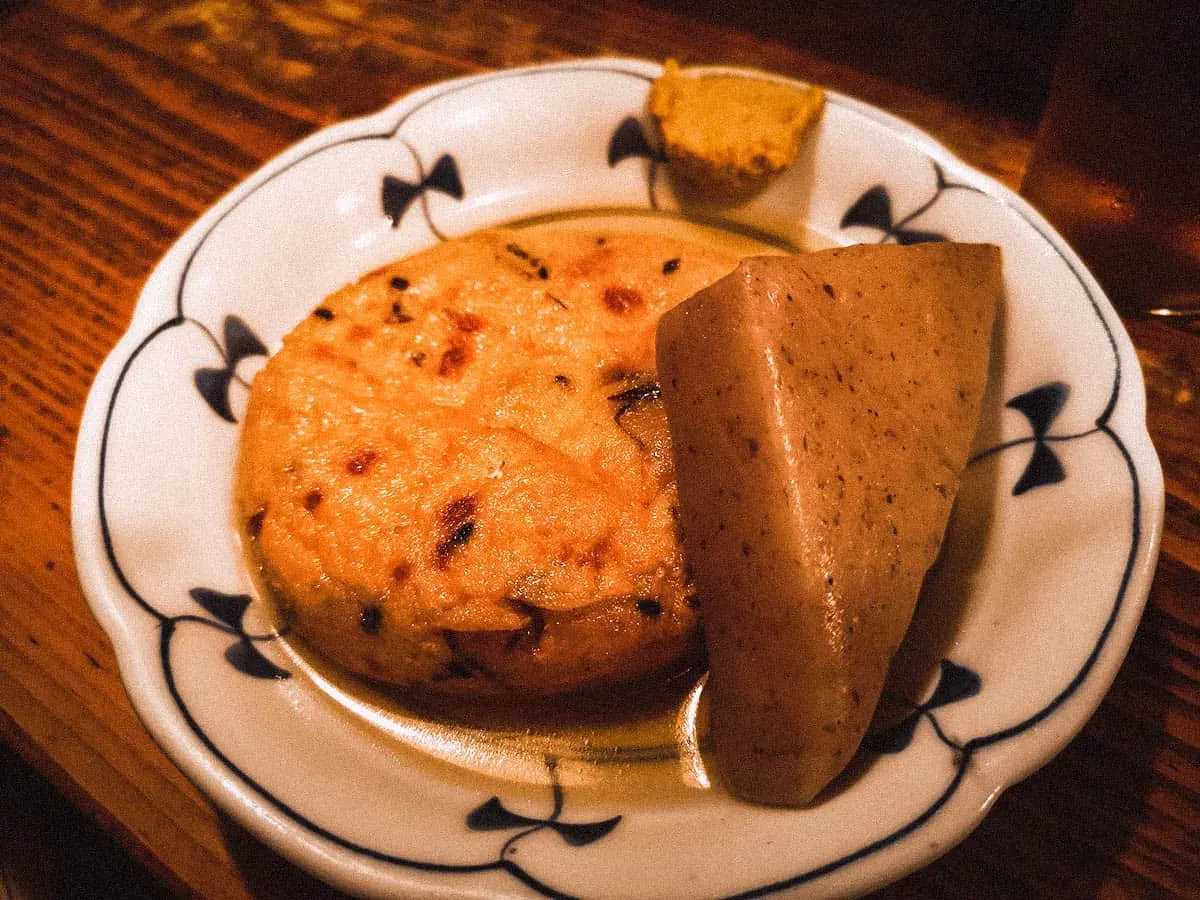 A few of the items we had tonight were on the specials board like this delicious plate of shirako or fish semen. Yes, fish semen. We've had it a few times at Japanese restaurants and we always enjoy it. It's briny and mild in flavor with a texture similar to oyster.
I know eating fish semen sounds a bit odd, like one of those things you can only do in Japan, but it's really not. Known as fish milt in English, it's eaten in many other parts of the world as well. In Italy, it's often eaten as a pasta topping. In Romania it's fried, while in Russia it's pickled.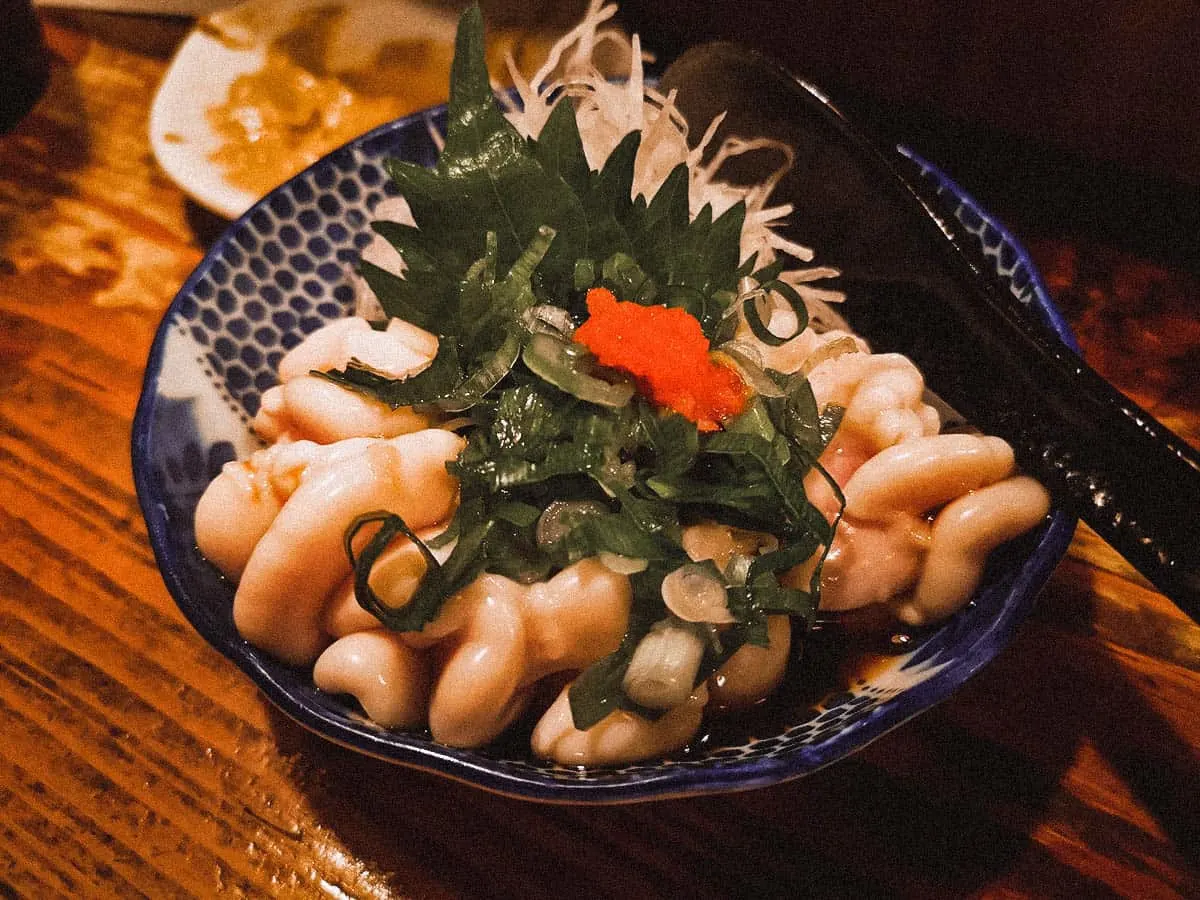 Less odd was this plate of soft and succulent grilled scallops, another special of the day.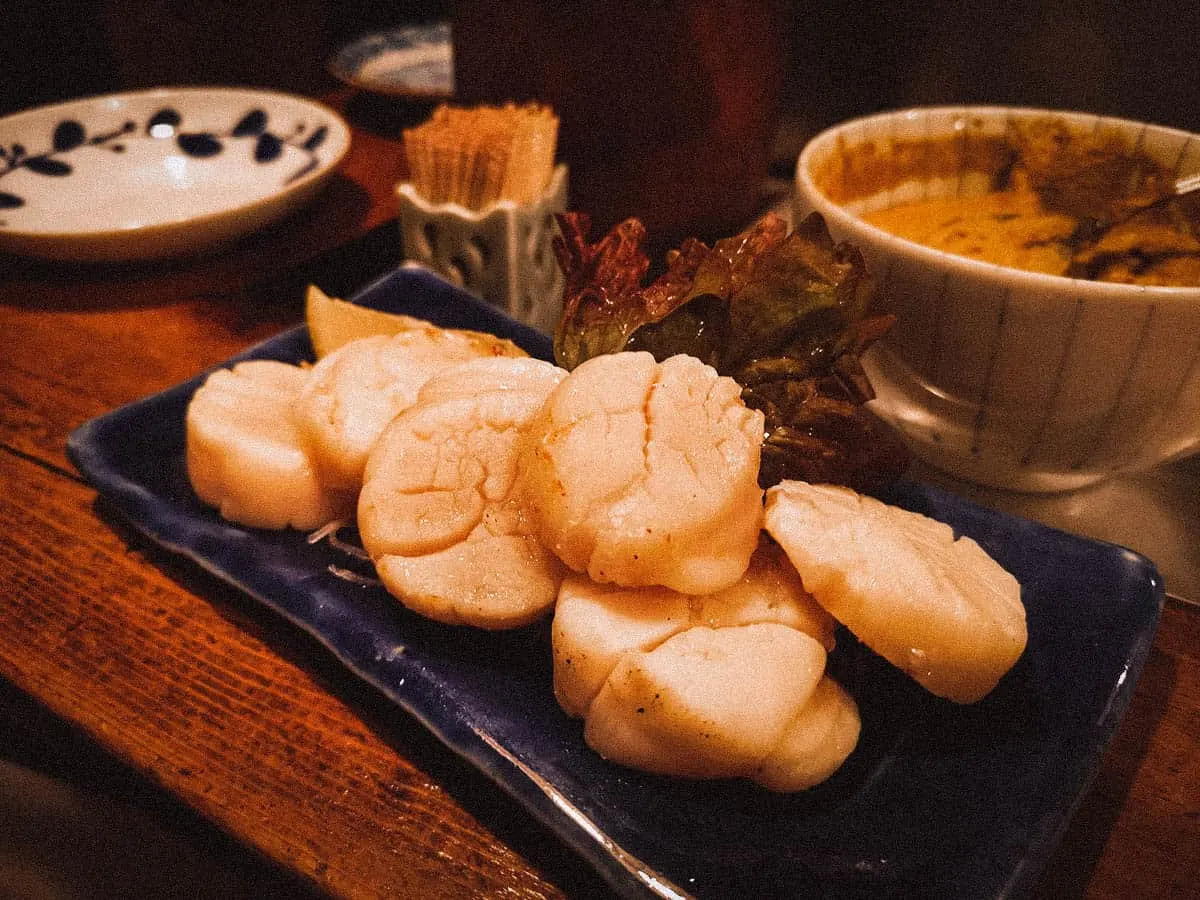 This piece of vinegared octopus with cucumber and sesame seeds (JPY 800) looks terrified.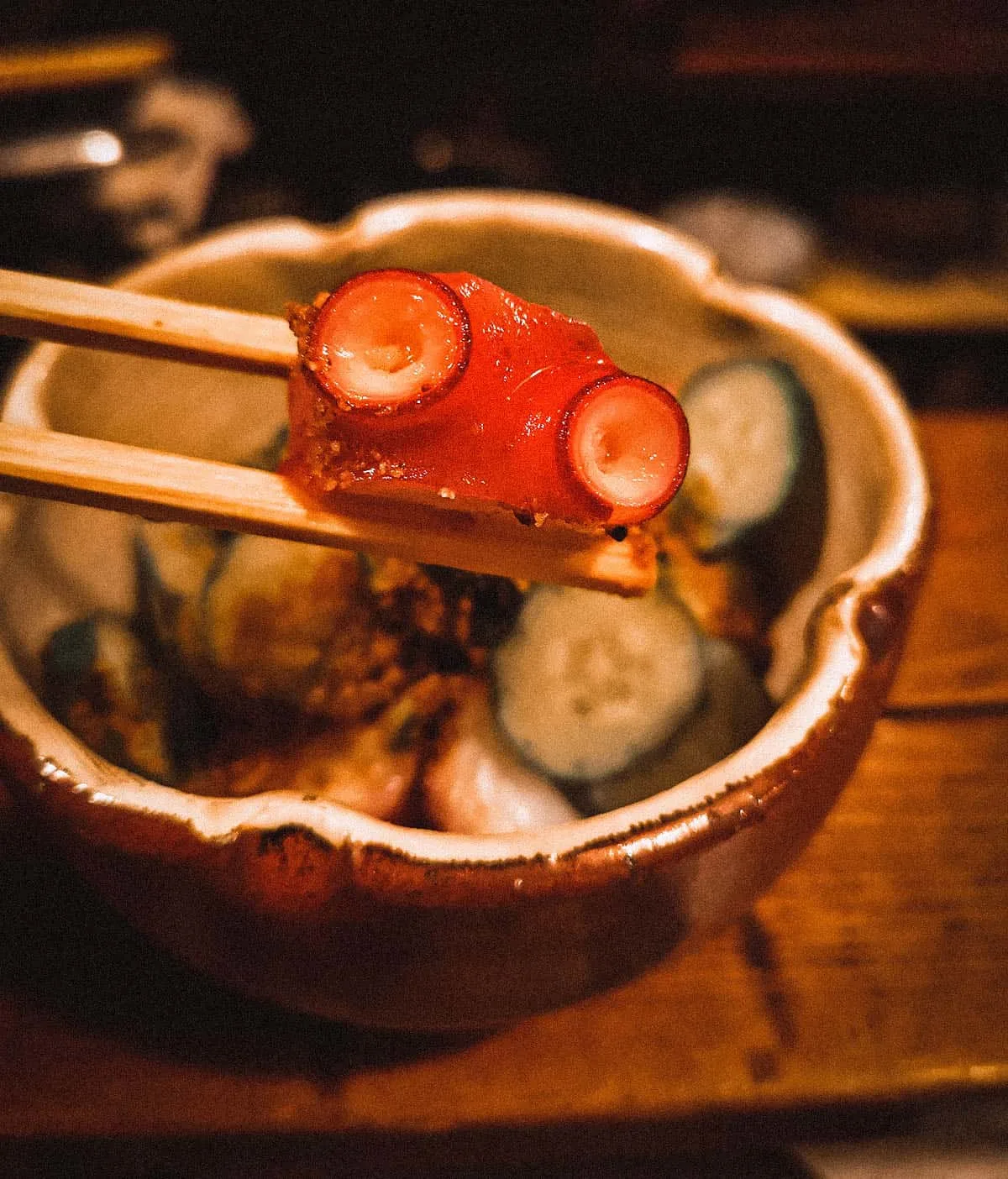 One of the dishes Kura is known for is this grilled chicken with salt (JPY 900). It was tasty, but perhaps not as interesting as the next chicken dish.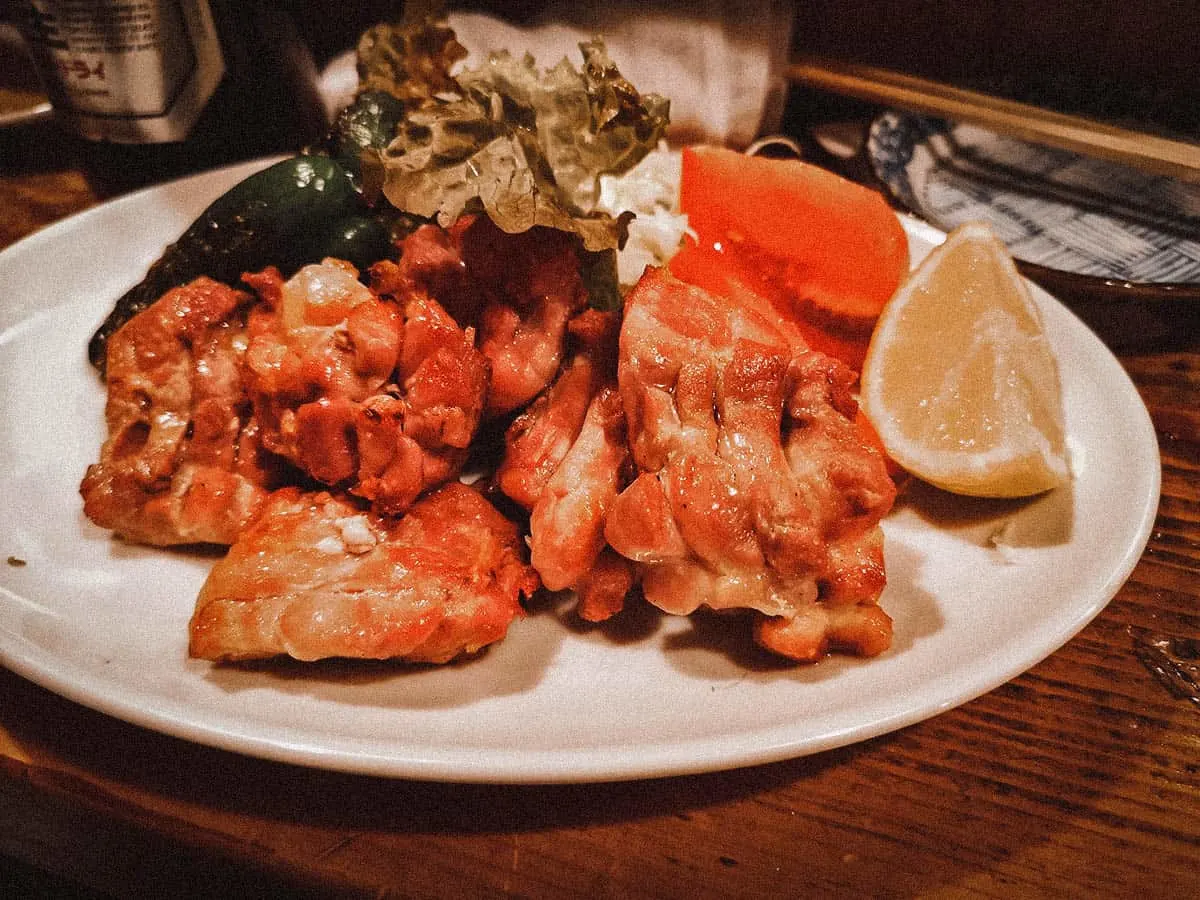 The Japanese woman sitting next to us highly recommended the stewed chicken (JPY 800). She told us she's been coming here for years and often orders this dish. I don't know what gives it its dark color (soy sauce?) but it was super delicious, savory and a little sweet, maybe from honey.
You can get a sense of Kura's layout in this picture. The dining area is shaped like a "U" with servers offering up dishes from the center. I read that there are several types of izakayas – some offering tatami mat or table seating – but I prefer this setup. It's intimate and encourages conversation between diners. This is probably why many non-native reviewers described Kura as being relaxed and convivial.

They also offer a version of the stewed chicken made with just liver (JPY 1,000 – whole, JPY 500 – half). Now THIS is great bar food!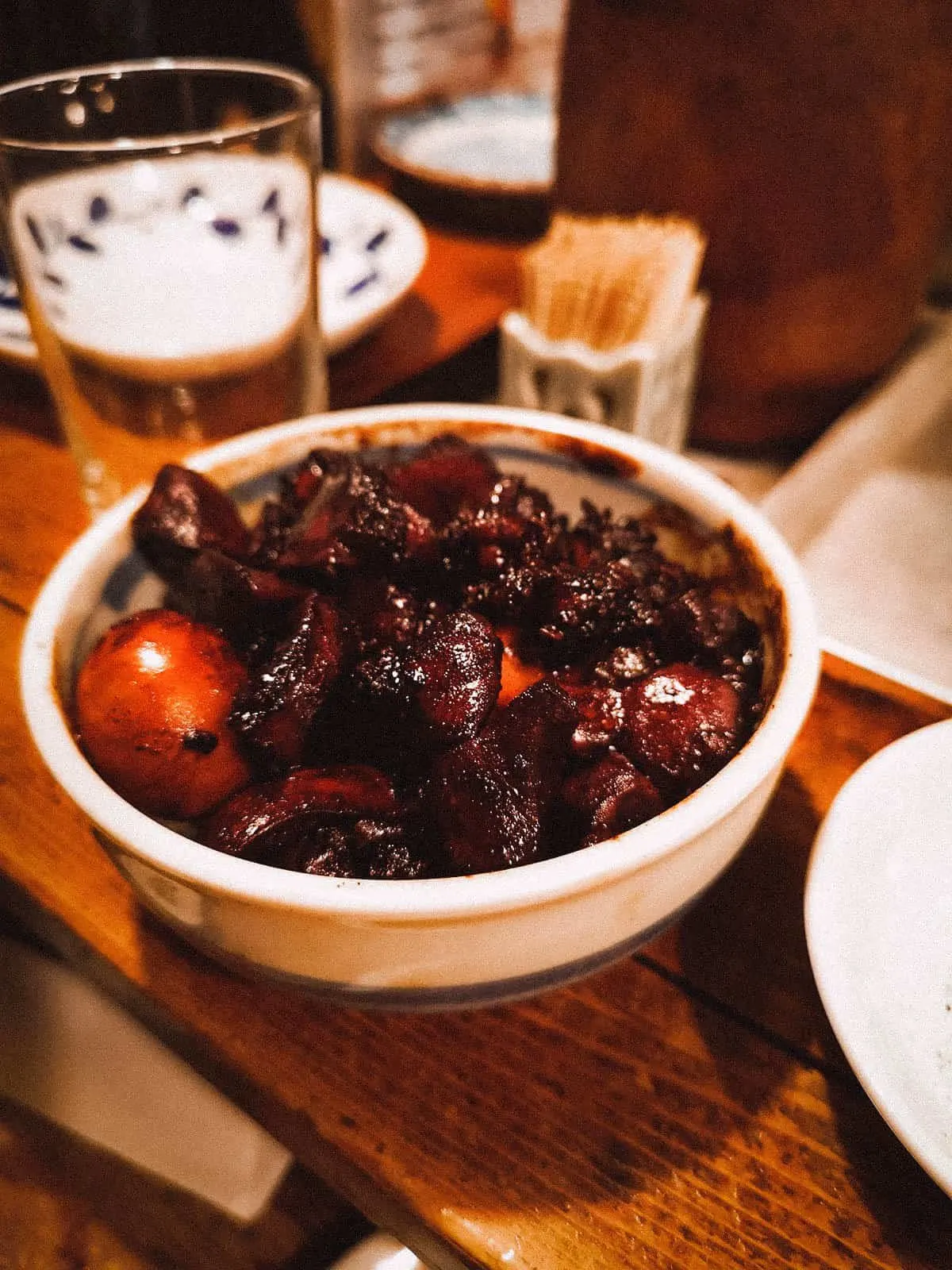 With this being our last meal in Japan, we kept ordering and ordering. I think we may have tried almost everything on their menu! I don't remember exactly what this is, but I believe it's some type of beef aspic dish.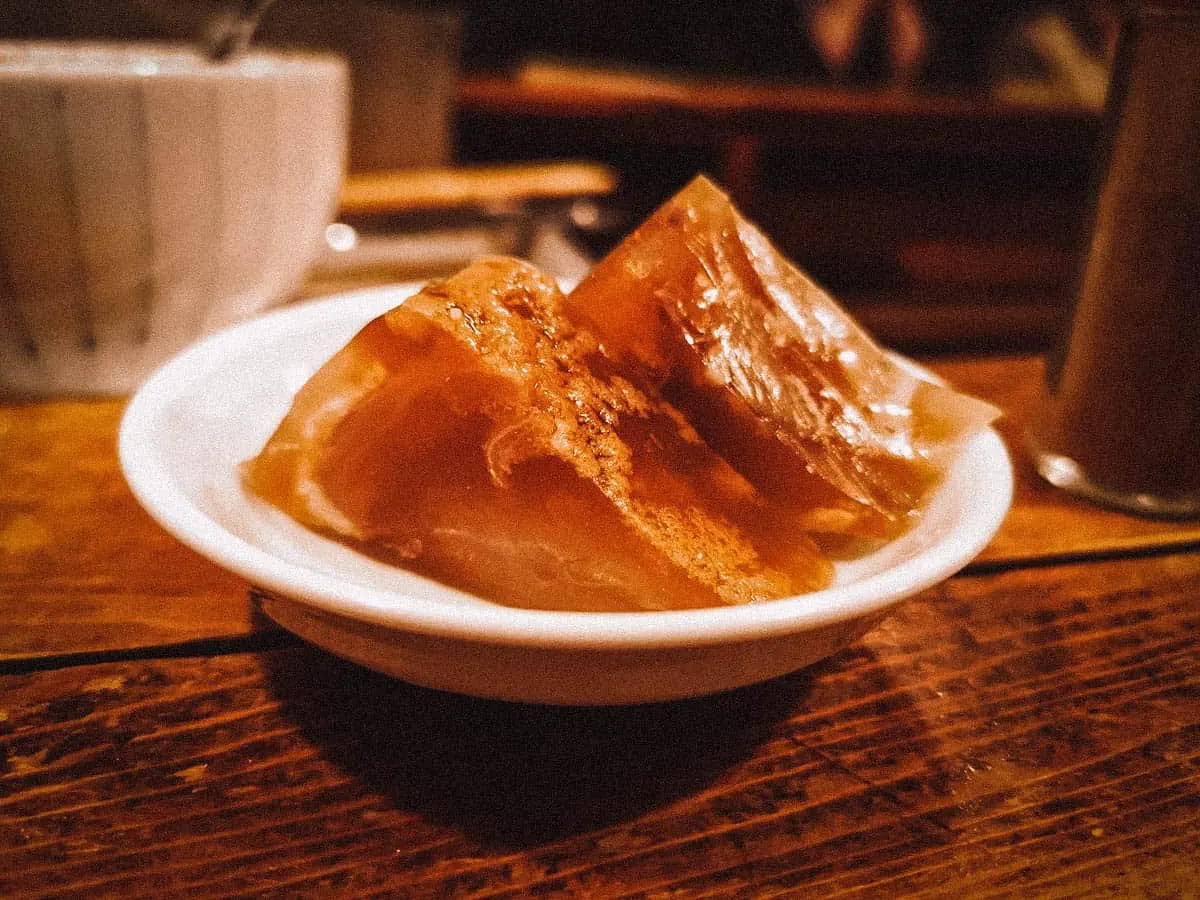 Sorry, I don't recall what this one is either but it's definitely a type of chilled fish dish, perhaps made with fish lips or head that was thinly sliced while frozen. Topped with what I believe to be grated daikon and ikura (red fish roe), it had a gelatinous texture reminiscent of Chinese fish lip soup. It was delicious and very addictive to eat.

Conclusion
Needless to say, we couldn't enjoy all these delicious plates of food without washing them down with beer. Domestic beers at Kura go for JPY 500 for small, JPY 600 for medium, and JPY 720 for large. They offer a few types of sake as well for JPY 400-450 for 180 ml bottles and JPY 800-900 for 360 ml.
As described at the top of this post, the food in Japan is so good overall that you probably won't find your best meal at an izakaya. That isn't what it's for anyway. Izakayas are casual Japanese pubs where you can relax and enjoy a few beers over small plates of bar food. I like to think of them as the Japanese version of Cheers, the type of place I'd be comfortable going to on my own to enjoy a few beers, simply because the atmosphere is so informal and convivial. "Norm-san!"
Kura has limited seating and a loyal client base so recommendations are highly recommended. Many customers stay for the entire evening so unless you come early, then it may be difficult to get a seat. They had to turn away a few customers when we were there because the place was already full.
Thankfully, Tsutomu made reservations for us so we were seated right away. If you can, then I suggest asking your hotel to make reservations for you.
If you plan on spending the whole day exploring Nara, then I highly recommend making Kura your last stop. They're gaijin-friendly and offer interesting unique food. As Tsutomu said, it's one of the best izakayas he's been to so far in Japan.
Kura Izakaya
16 Kōmyōinchō, 光明院町 Nara-shi, Nara-ken 630-8371, Japan
Tel: +81 742-22-8771
Operating Hours: 5-9:30PM, daily
Expect to Pay: Around JPY 3,000-4,000 per person for food and drinks
HOW TO GET THERE: Kura Izakaya is about a 10-15 minute walk east of Nara station. CLICK HERE to see where it is on a map.
For travel tips to Nara, check out our Day-Tripper's Travel Guide to Nara, Japan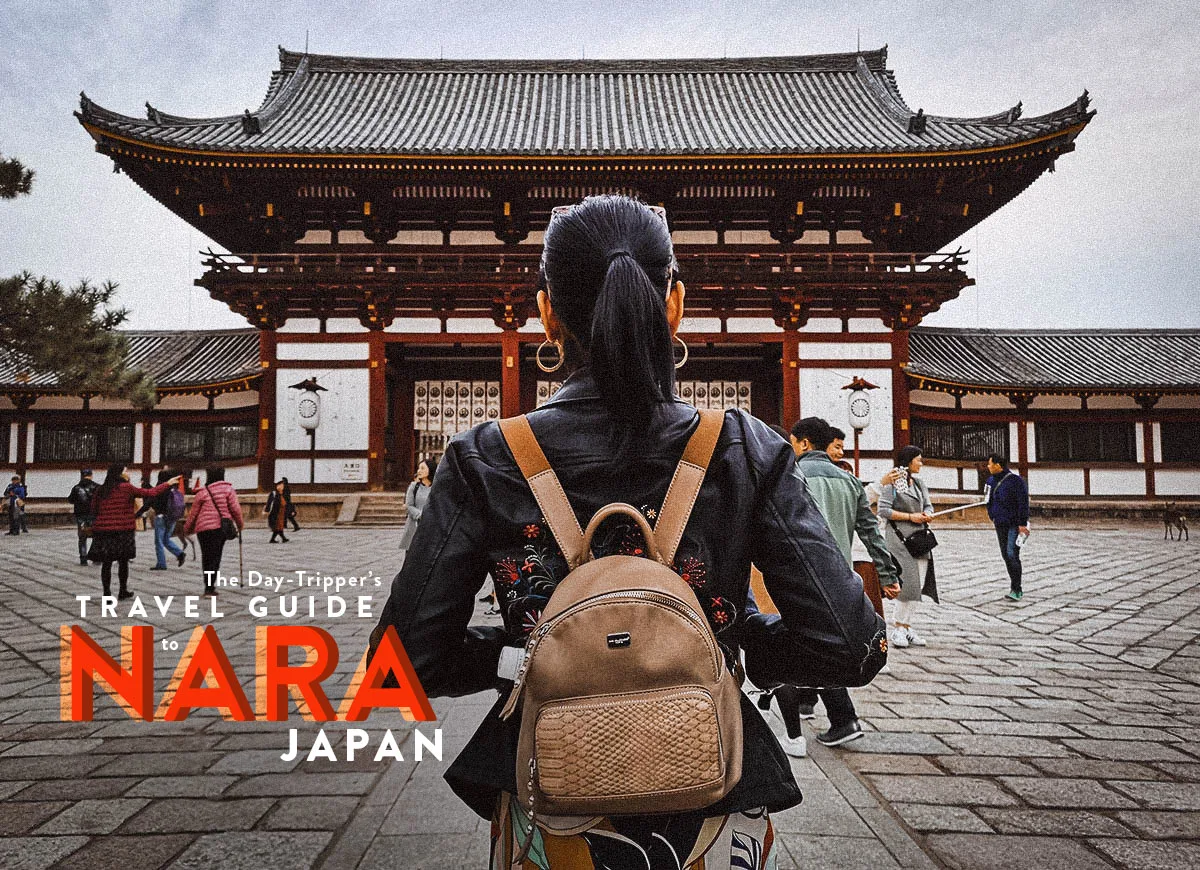 Disclosure
The TripAdvisor links in this post are affiliate links, meaning we'll get a small commission if you make a purchase or reservation at NO extra cost to you. We really appreciate your support as this helps us keep this website going. Thank you!