EDITOR'S NOTE: Please be advised that this Bandung travel guide hasn't been updated to reflect 2023 prices and travel guidelines. We'll update it as soon as we can. Thanks for your patience.
People call Bandung the "Paris of Java". It was a nickname given to Bandung in the early 20th century, back when the city was a resort destination for wealthy Dutch colonialists. The connection isn't as obvious today, but take a stroll along Jalan Braga and the reasons for the metaphor become more apparent.
All along this charming street are preserved Art Deco buildings that harken back to the city's colonial past. On either side were plenty of European-style cafes, restaurants, and boutiques. It gave the city a continental look and feel that earned it its Paris of Java nickname, a name that's still in use to this day.
Bandung's colonial days may be behind it, but one thing has persevered. It's still the beloved resort destination it once was, attracting hundreds of thousands of tourists to its cool mountain atmosphere every year.
Save This on Pinterest!
No time to read this now? Click on the red save button and pin it for later!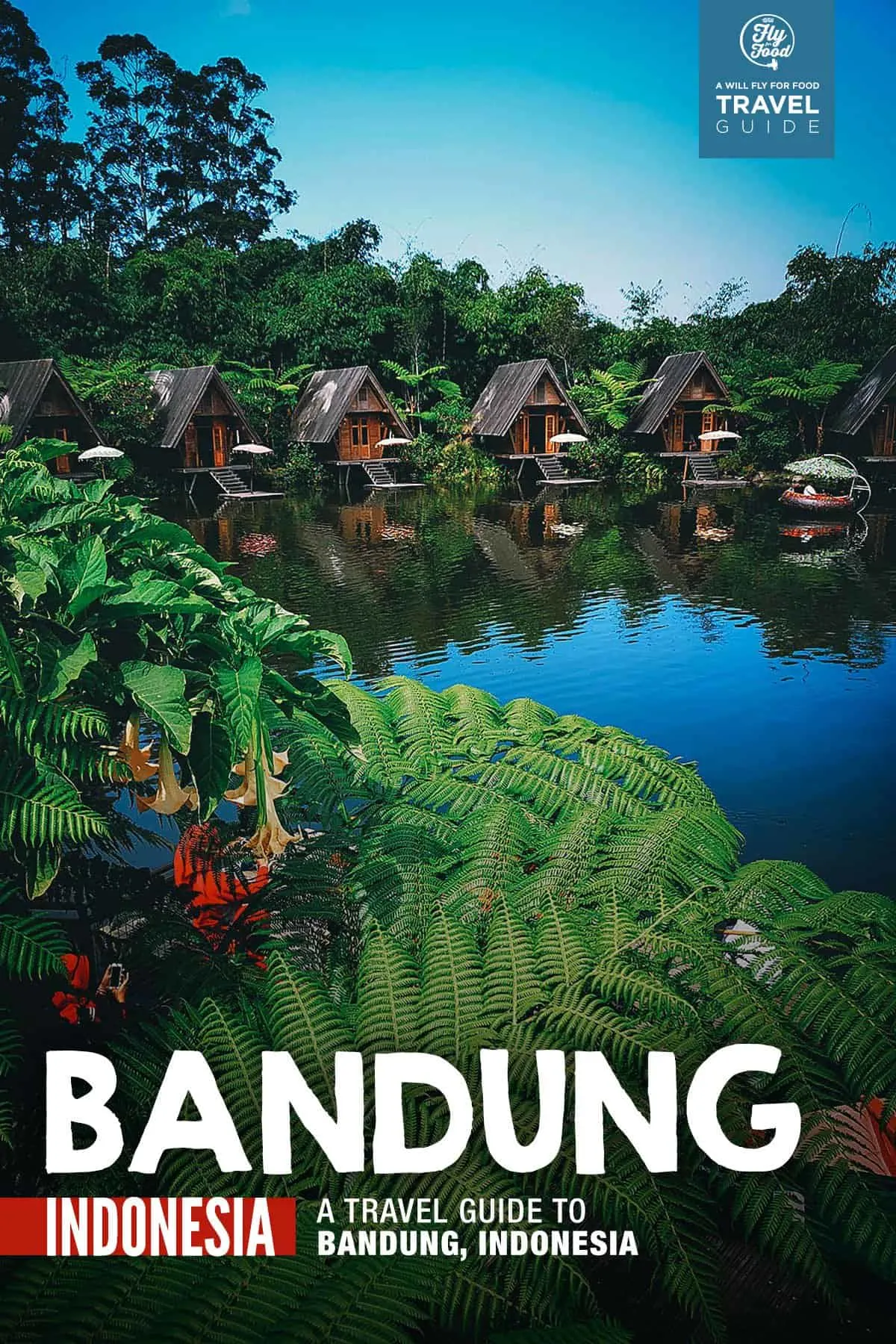 GUIDE TABLE OF CONTENTS
TRAVEL RESTRICTIONS
Because of the current global situation, travel guidelines have been changing on a regular basis. Our friends at SafetyWing created a website that lists detailed information on travel restrictions around the globe.
Before planning a trip to Bandung, be sure to check the Flatten the Curve website for information on travel restrictions to Indonesia.
BANDUNG AT A GLANCE
Bandung is the capital of West Java Province in Indonesia. Lying on a river basin surrounded by volcanic mountains, the area is known for its cool mountain climate and hectares of tea plantations.
In the 18th century of the Dutch occupation, tea plantations were established in these mountains along with a road to connect the area to the colonial capital of Batavia (now Jakarta). Bandung slowly developed into a resort city for plantation owners and wealthy Dutch colonialists. European-style hotels, restaurants, cafes, and boutiques were opened, earning the city its nickname Parijs van Java meaning "Paris of Java". It's a name that's still used to describe Bandung today.
The "Paris of Java" moniker may be a stretch these days, but Bandung has developed into one of the most visited cities in Java. It's popular with both local and foreign tourists who flock to the city to enjoy its cooler climate and abundance of factory outlets.
BEST TIME TO VISIT
Like most countries in Southeast Asia, Indonesia has just two seasons – wet and dry. The dry season is typically from around June till September. This is the best time to visit Bandung. Going in the wet season isn't ideal because the majority of Bandung's attractions are outdoors. On top of that, heavy rains can cause flooding and blocked roads.
JUN-SEPT: As advised, this is the dry season in Bandung and the best time to visit. We went in July and enjoyed long sunny days everyday. It never gets as hot here compared to the rest of Java which is partly why it's such a popular weekend getaway for local Jakartans.
OCT-MAY: This is the rainy season in Bandung. Most of the region's top attractions like Kawah Putih, Tangkuban Perahu, and Dusun Bambu are outdoors so going in the rainy season isn't ideal. Apart from the discomfort of traveling in the rain, heavy rains can cause flooding as well making this an inopportune time to visit.
Climate: Annual Monthly Weather in Bandung
To help you better understand the climate in Bandung, I've created the average temperature and annual rainfall graphs below. Suggested months to visit are highlighted in orange.
Average Temperature


Annual Rainfall

TRAVELING TO BANDUNG
We traveled by train to Bandung from Jakarta, but there are many ways to get there depending on where you are. To keep things simple, I'll describe how you can get to Bandung from the popular tourist destinations of Jakarta, Yogyakarta, and Bali.
From Jakarta
BY PLANE: As of this writing, there are just a couple of carriers that offer direct flights from Jakarta to Husein Sastranegara International Airport (BDO) in Bandung. They both leave from Halim Perdanakusuma Airport (HLP) and flight time is about 30 mins – 1 hr. You can search for flights on a flight aggregator like Skyscanner. If you need to arrange for transfers from the airport to your hotel in Bandung, then you can do so on Bookaway.
BY TRAIN: This is what we did. This is perhaps the most comfortable way of getting to Bandung from Jakarta. You can book tickets on tiket.com which is what we used to book train rides from Jakarta (Gambir) to Bandung, then Bandung to Yogyakarta. One-way tickets range from IDR 110,000 for economy class to IDR 290,000 for executive class.
BY BUS: Traveling by minibus may be the fastest and cheapest way of getting to Bandung from Jakarta. The journey takes about 2 hrs 30 mins and you can book tickets on Bookaway.
From Yogyakarta
BY PLANE: As of this writing, only Wings Abadi Airlines offers direct flights from Adisucipto International Airport (JOG) in Yogyakarta to Husein Sastranegara International Airport (BDO) in Bandung. Travel time is a little over an hour. You can search for flights on a flight aggregator like Skyscanner. If you need to arrange for transfers from the airport to your hotel in Bandung, then you can do so on Bookaway.
BY TRAIN: We traveled by overnight train from Bandung to Yogyakarta. The train ride takes about 8 hours and you can do the same to go from Yogyakarta to Bandung. You can purchase tickets on tiket.com starting from IDR 195,000 for economy to IDR 385,000 for executive class.
From Bali
BY FLIGHT: I did a search on Skyscanner and there don't seem to be any direct flights from Denapasar to Bandung. Most flights will have a layover in Jakarta or Surabaya. If you need to arrange for transfers from the airport to your hotel in Bandung, then you can do so on Bookaway.
I've only covered transportation options to Bandung from Jakarta, Yogyakarta, and Bali, but if you're coming from somewhere else, then you can check Bookaway to find route options available to you. You can click on the link or use the widget below.
WHERE TO EXCHANGE CURRENCY
The unit of currency in Indonesia is the Indonesian Rupiah (IDR). We exchanged enough currency in Jakarta so we didn't need to change any more in Bandung, but based on my research, the best currency exchange offices in Bandung are Dolarindo and Golden Money Changer.
If you'd rather not bring too much foreign currency into Indonesia, then another option would be to withdraw IDR from an ATM. Exchange rates are competitive. Just be sure to let your bank know that you'll be using your ATM card abroad so you don't run into any problems. In my experience, my card works in some ATM machines but not in others.
NOTE: Some ATM machines may ask if you'd like to proceed "with or without conversion". Always proceed WITHOUT conversion. Proceeding with conversion allows the foreign bank operating the ATM to do the conversion, often at terrible exchange rates. According to this article, the difference can be as great as 10%.
WHERE TO STAY
Bandung is a favorite weekend destination for many Jakartans. They enjoy it for its cool climate and abundance of factory outlets selling designer clothing at steep discounts.
However, shopping for designer brands may not be what international travelers are interested in. Personally, we didn't do any shopping, opting instead to take day trips to Bandung's outdoor attractions like Kawah Putih and Patenggang Lake.
Bandung's points of interest are spread out so I've come up with this color-coded map offering suggestions on where travelers can stay depending on what they're most interested in. Click on the link for an interactive version of the map. (Please note that marked areas are approximations only)
RED – Sumurbandung (Jalan Braga)
GREEN – Jalan Riau
BLUE – Dago
PURPLE – Ciwidey
ORANGE – Lembang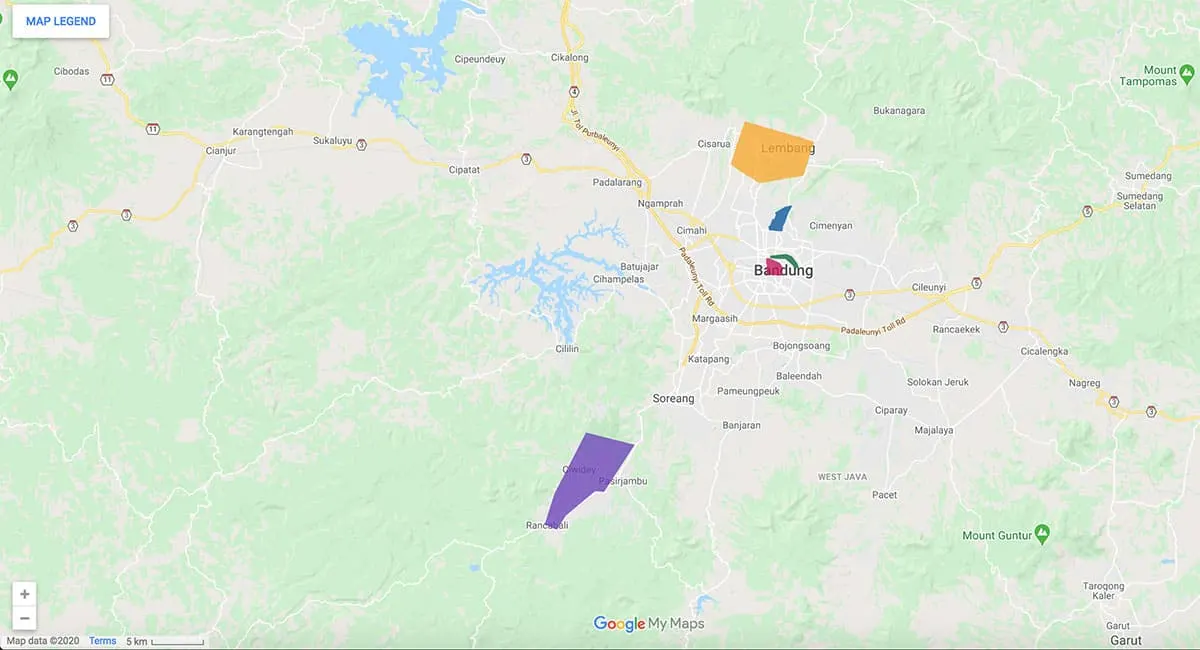 SUMURBANDUNG: Kedaton Hotel
For me, the Sumurbandung area in downtown Bandung is the best place to stay in the city. It's centrally located, it's close to Bandung train station, and it's where you'll find Jalan Braga which is one of the most interesting streets in the city. We stayed at Kedaton Hotel, a comfortable 3-star hotel just a stone's throw away from Jalan Braga.
You can book a room at Kedaton Hotel on Booking.com or Agoda. If you'd like to stay in the Sumurbandung area but don't think this is the right place for you, then you can check out alternate listings on Booking.com or Agoda.
Approximate Room Rate: USD 36 per night (as of July 2019)
JALAN RIAU
If you google the best places to shop in Bandung, then two areas will always be at the top of every list – Jalan Riau and Dago. Officially known as LLRE Martadinata Street, Jalan Riau is a street in downtown Bandung that's home to many factory outlets. It's just north of the Sumurbandung area, making it an ideal place to stay if you want to explore Bandung's outlets and still be relatively close to Jalan Braga. You can search for accommodation near Jalan Riau on Booking.com or Agoda.
DAGO
Like Jalan Riau, Dago is often cited as being one of the best areas to stay if you want to go shopping in Bandung. Located farther north, it's considered one of the trendiest areas in the city that's home to many shopping malls, boutiques, cafes, and restaurants. You can search for accommodations in Dago on Booking.com or Agoda.
CIWIDEY
Personally, I think it's best to stay in central Bandung but if you'd rather be in a less congested area, then Ciwidey is a great place to be. Located about 2 hours south of the city, it's a much more rural area that'll put you closer to attractions like Kawah Putih, Kampung Cai Ranca Upas, and the tea plantations. Check out Booking.com or Agoda for a list of accommodations in Ciwidey.
LEMBANG
Lembang is a town north of central Bandung. Personally, I preferred the south but staying in Lembang will put you closer to places like Dusun Bambu Resort, Lembang Floating Market, and Tangkuban Perahu. Check out Booking.com or Agoda.
THINGS TO DO
As described, points of interest in Bandung are spread out. In central Bandung is where you'll find all the factory outlets but you need to rent a chauffeured car to see the volcanoes, tea plantations, and family resorts located to the north and south of the city. To make it easier for you, I've organized Bandung's attractions by location.
CENTRAL BANDUNG
1. Take A Stroll Along Jalan Braga
Jalan Braga was one of my favorite areas anywhere in Bandung. It's a pleasant tree-lined street with shops and cafes on either side. Seeing all the art deco buildings on this street will help you understand how Bandung earned its "Paris of Java" nickname. Check out this picture to see how Jalan Braga looked in the 1930s.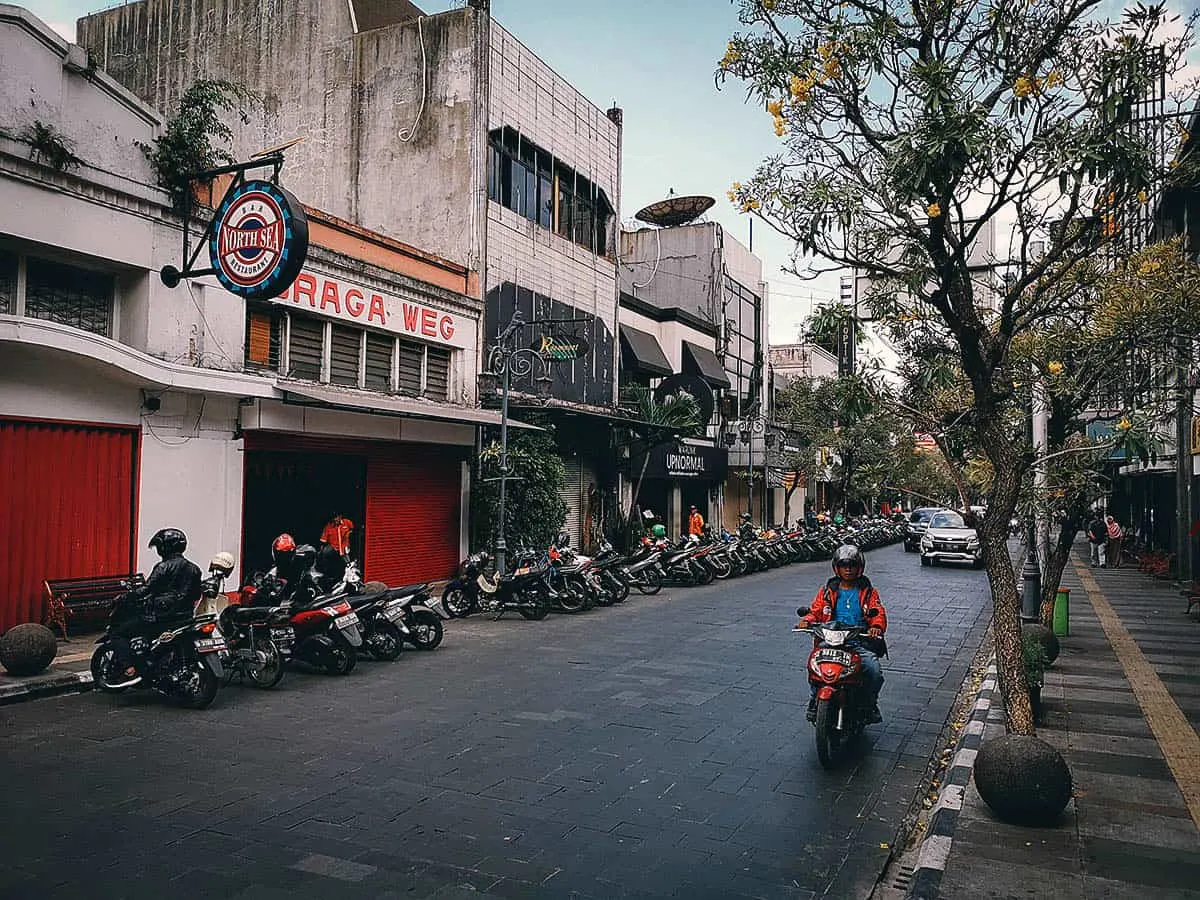 Jalan Braga is a great place to take a stroll and enjoy the city's atmosphere. There are plenty of bars and restaurants here where you can pop in for a quick drink and bite to eat. We had fun just sitting by the window, sipping Bintang beers and watching Bandung life go by.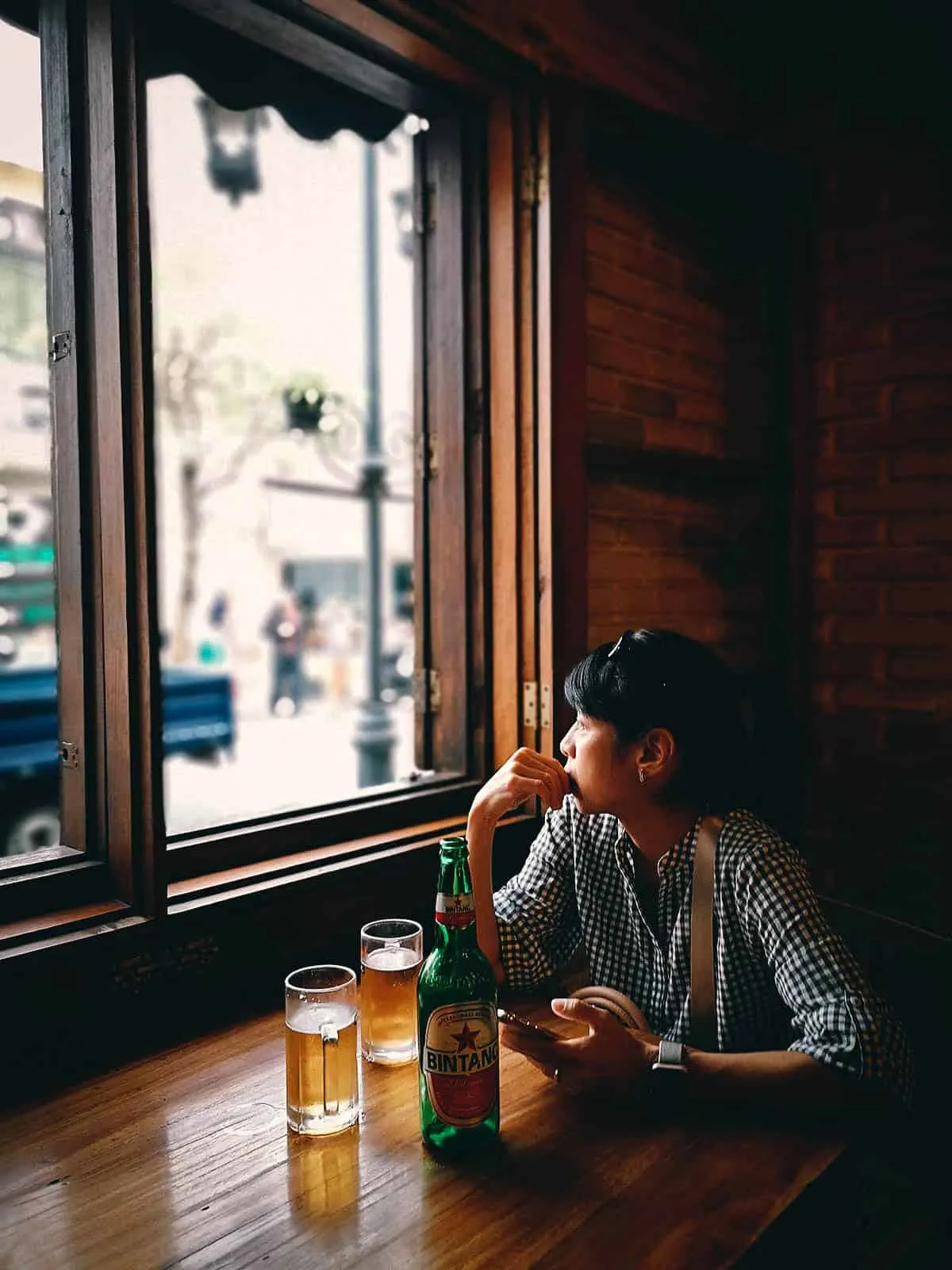 2. Go Shopping
We didn't do any shopping but Bandung is known for its many factory outlets selling designer clothing at big discounts. Google "where to go shopping in Bandung" and you'll find many results listing Jalan Riau and the Dago area at the top. Check out this article for an in-depth look at shopping in Bandung.
3. Walk Back in Time at Bandung Geology Museum
I made an unplanned visit to the Geology Museum after my day trip to southern Bandung. We had time so my driver Tommy took me to this museum. The Geology Museum in Bandung has been open since 1928 and features exhibits on different geological materials like fossils, rocks, and minerals. If you have time and are interested in prehistoric fossils, then this is a good place to spend an hour or two.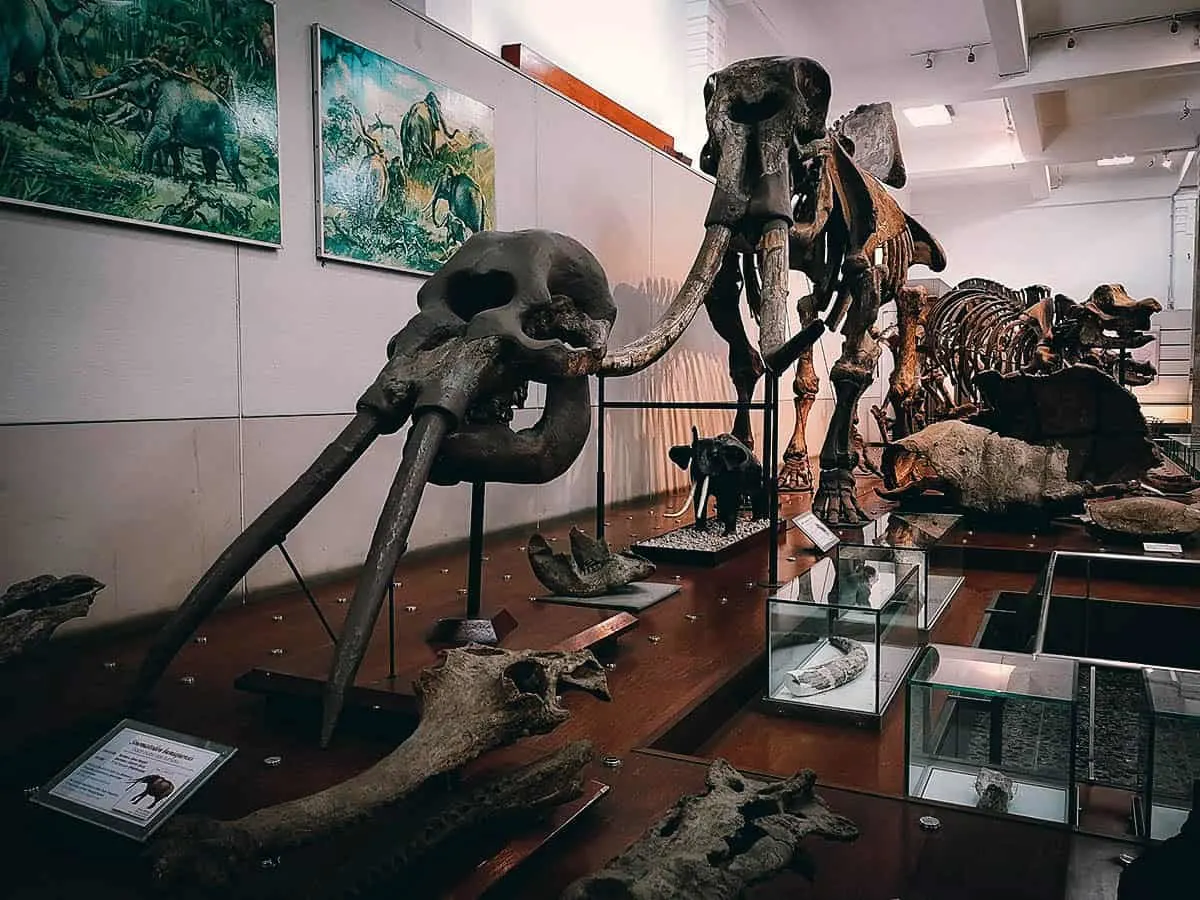 Suggested Length of Visit: 1-2 hours / Admission: IDR 10,000
NORTHERN BANDUNG
4. Peer Into a Volcano's Crater at Tangkuban Perahu
Bandung is known for two volcanic attractions. I didn't want to do both so I unfortunately didn't get to go to Tangkuban Perahu. It's an active volcano located about an hour and a half north of central Bandung. You can hike or ride to the edge of the crater to view the hot springs and boiling mud up close.
As described, you'll need to arrange for a private car charter to get to Tangkuban Perahu and the other attractions up north. You can book one in advance through Klook or Get Your Guide.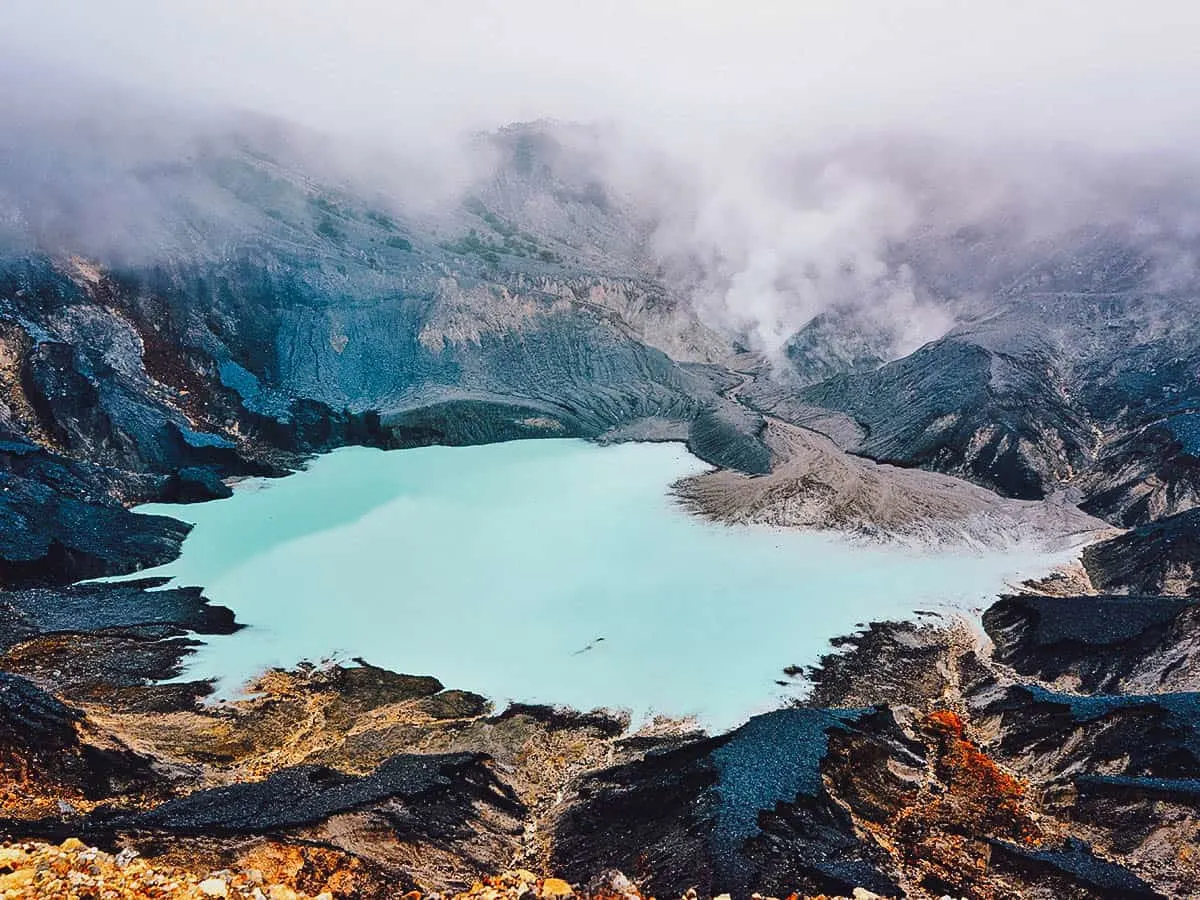 Suggested Length of Visit: Day trip / Admission: IDR 200,000 (weekdays), IDR 300,000 (weekends) plus parking
Photo by Niney Azman via Shutterstock
5. Spend the Day at Dusun Bambu Resort
Dusun Bambu is a picturesque resort in Lembang, about an hour north of central Bandung. It's located at the foothills of Mt. Burangrang and features many family-oriented activities like hanging nests, a man-made lake, and bamboo walking paths. It's a resort so you can even book accommodations here if you like (Booking.com | Agoda).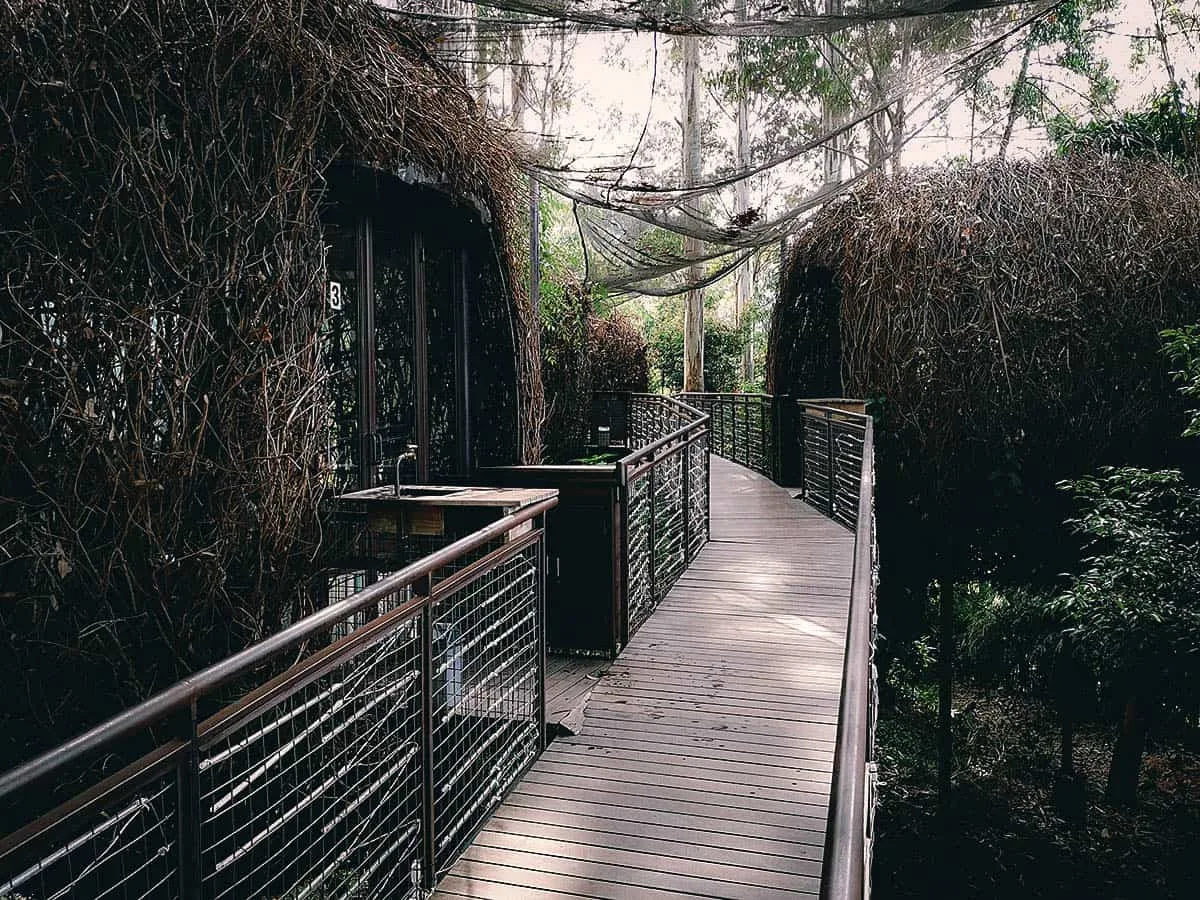 Dusun Bambu Resort may be fun if you're traveling with kids but to be honest, we didn't really enjoy it that much. It's a beautiful place but not really meant for foreign visitors I don't think. It's more for local tourists.
We booked a private car charter to visit Dusun Bambu Resort and Lembang Floating Market, but you may have time to include Tangkuban Perahu as well. You can confirm this with Klook when you make the booking.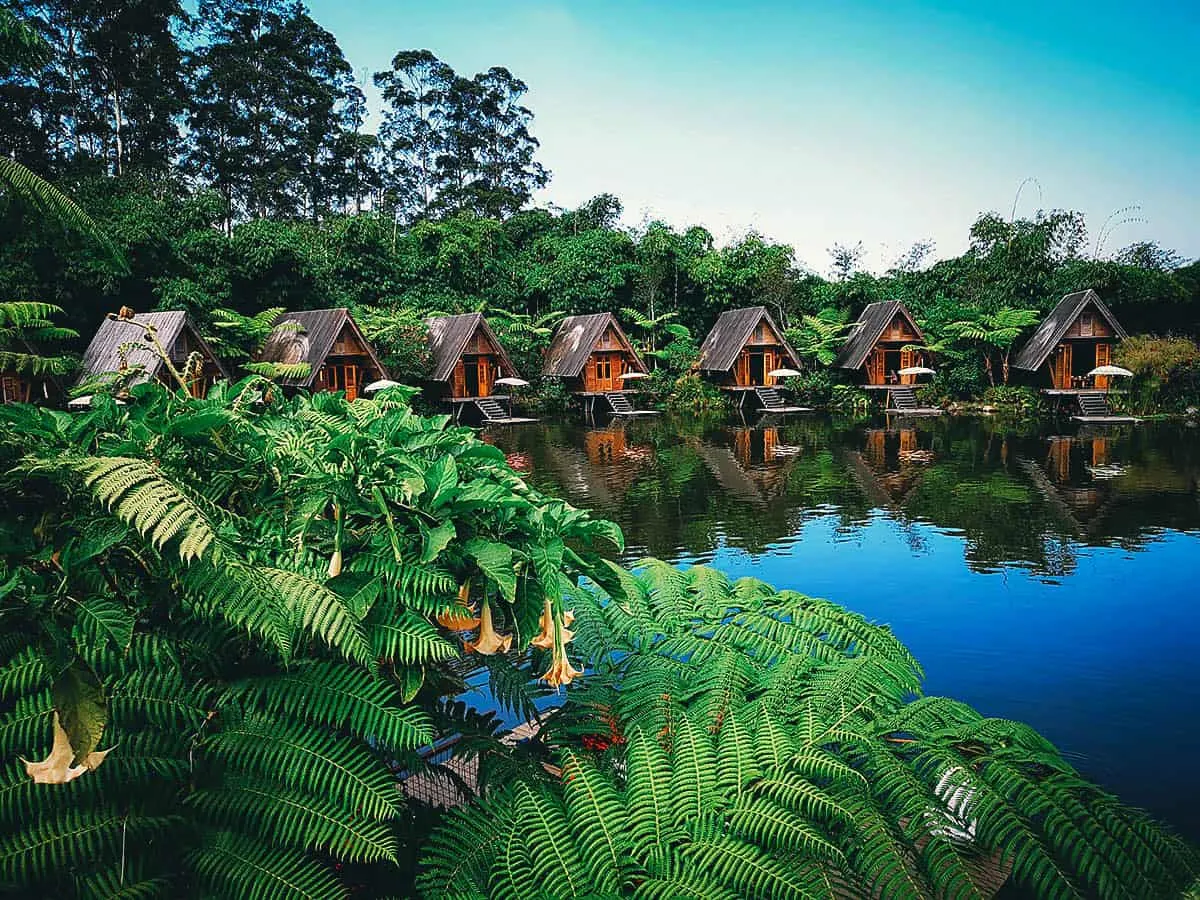 Suggested Length of Visit: 2-3 hours / Admission: IDR 25,000 plus parking
6. Eat Your Way Through Lembang Floating Market
Lembang Floating Market is an attraction similar in feel to Dusun Bambu Resort, though perhaps not as polished. It isn't an authentic floating market – the kind you find in Bangkok – but an artificial replica made for tourists. You can go on boat rides on the lake and find many carnival-type attractions as well like merry-go-rounds and petting zoos.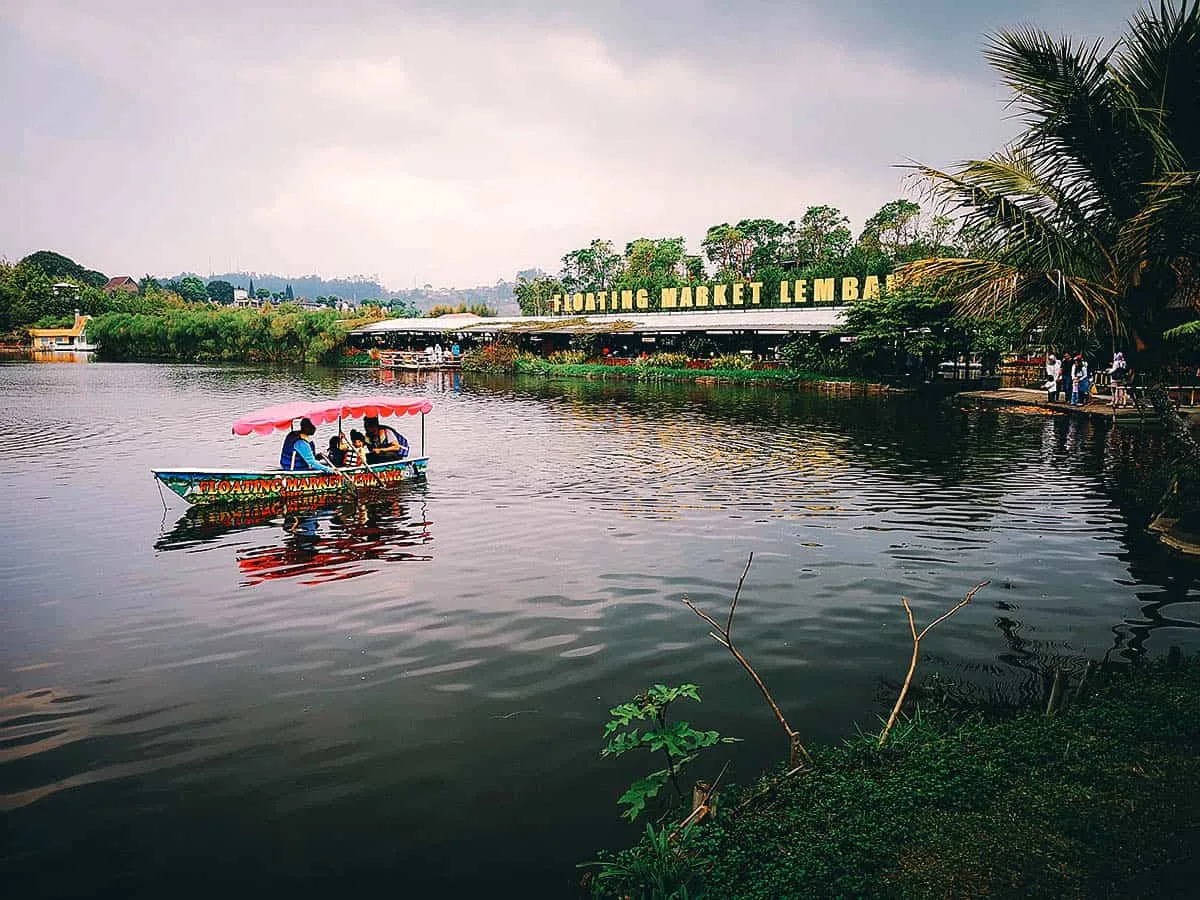 Here's a picture of one of the boats selling food. Again, it isn't an authentic floating market but a theme park with a floating market concept. Like Dusun Bambu, I think it's more interesting for local tourists with families than foreign visitors.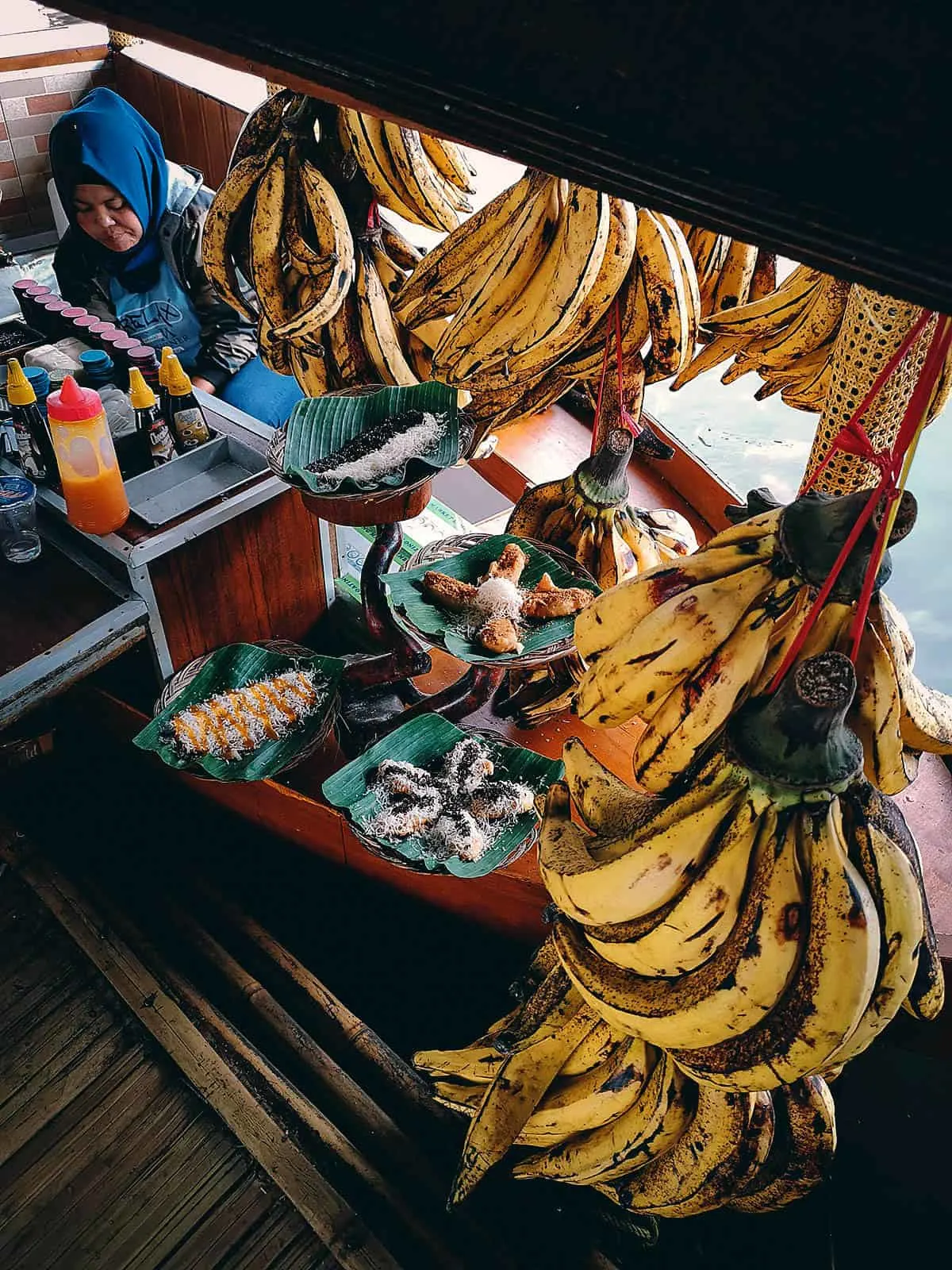 Suggested Length of Visit: 2-3 hours / Admission: IDR 20,000 (weekdays), IDR 25,000 (weekends) plus parking
SOUTHERN BANDUNG
7. Marvel at Kawah Putih Lake
This was one of my favorite stops in Bandung. Kawah Putih is one of Mt. Patuha's two craters located about two hours south of central Bandung. It's a crater lake with highly acidic water that routinely changes from powder blue to whitish green to brown, depending on its sulfuric content and temperature.
As you can see in these next two pictures, the sand and rocks around the lake have been leached into a near white state due to their exposure to the lake's acidic waters.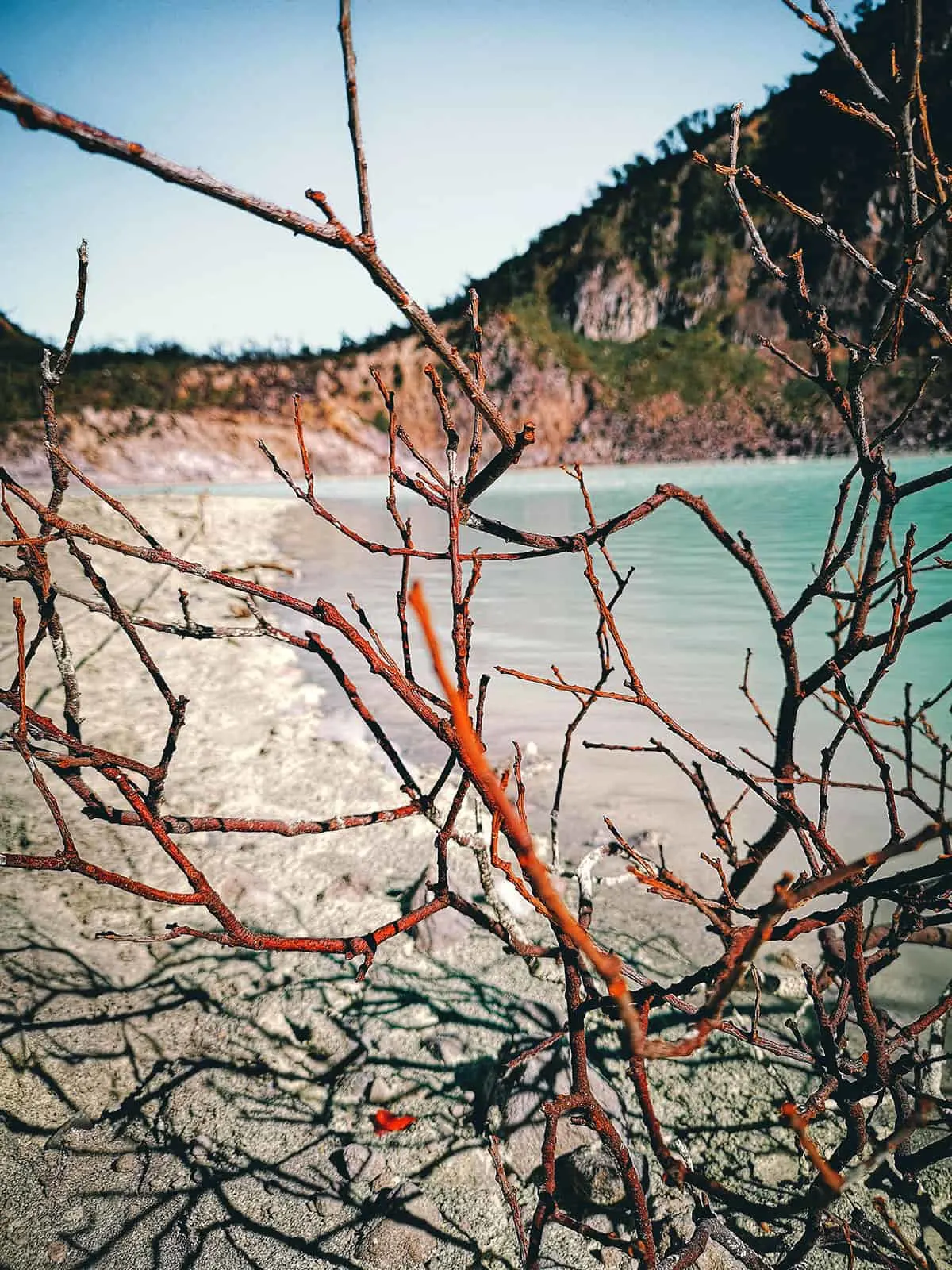 Here's a top down shot taken from my drone. There was very little color manipulation in this photo. The lake's water really is that powdery blue. Notice how the soil by the water's edge is much lighter in color. This is due to the leaching effect of the acidic waters.
Like the attractions in the north, Kawah Putih is best visited on a private car charter. You can visit all the southern attractions listed in this guide on the same day. Alternatively, you can book a guided tour.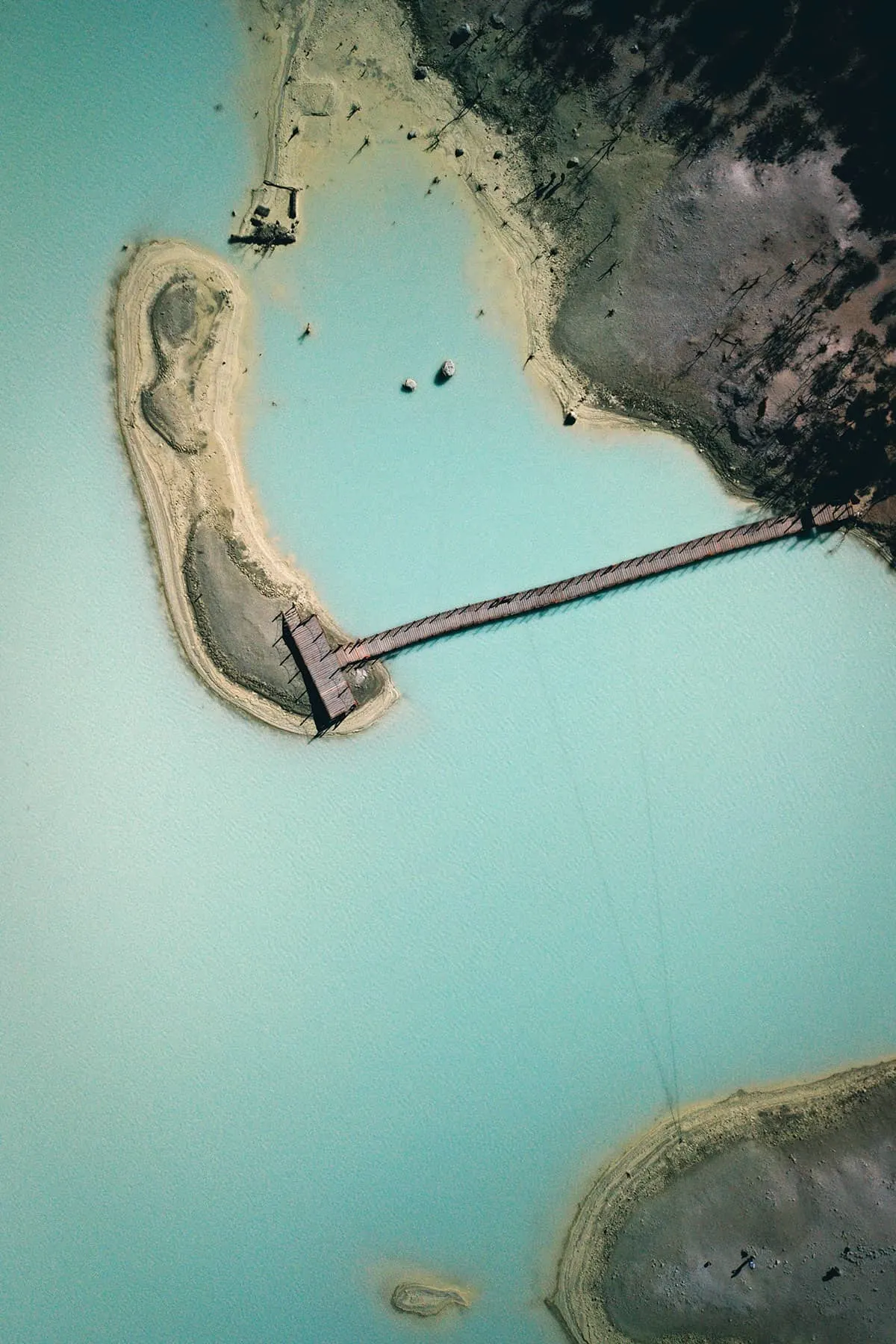 Suggested Length of Visit: 1-2 hours / Admission: IDR 75,000 plus parking
8. Walk Through Tea Plantations
Driving through Ciwidey in southern Bandung, you can't help but notice the verdant undulating waves that go as far as the eye can see. These are the tea plantations that the Dutch colonialists established in the 18th century. My driver Tommy parked the car by the side of the road so I could walk through the plantations and take pictures.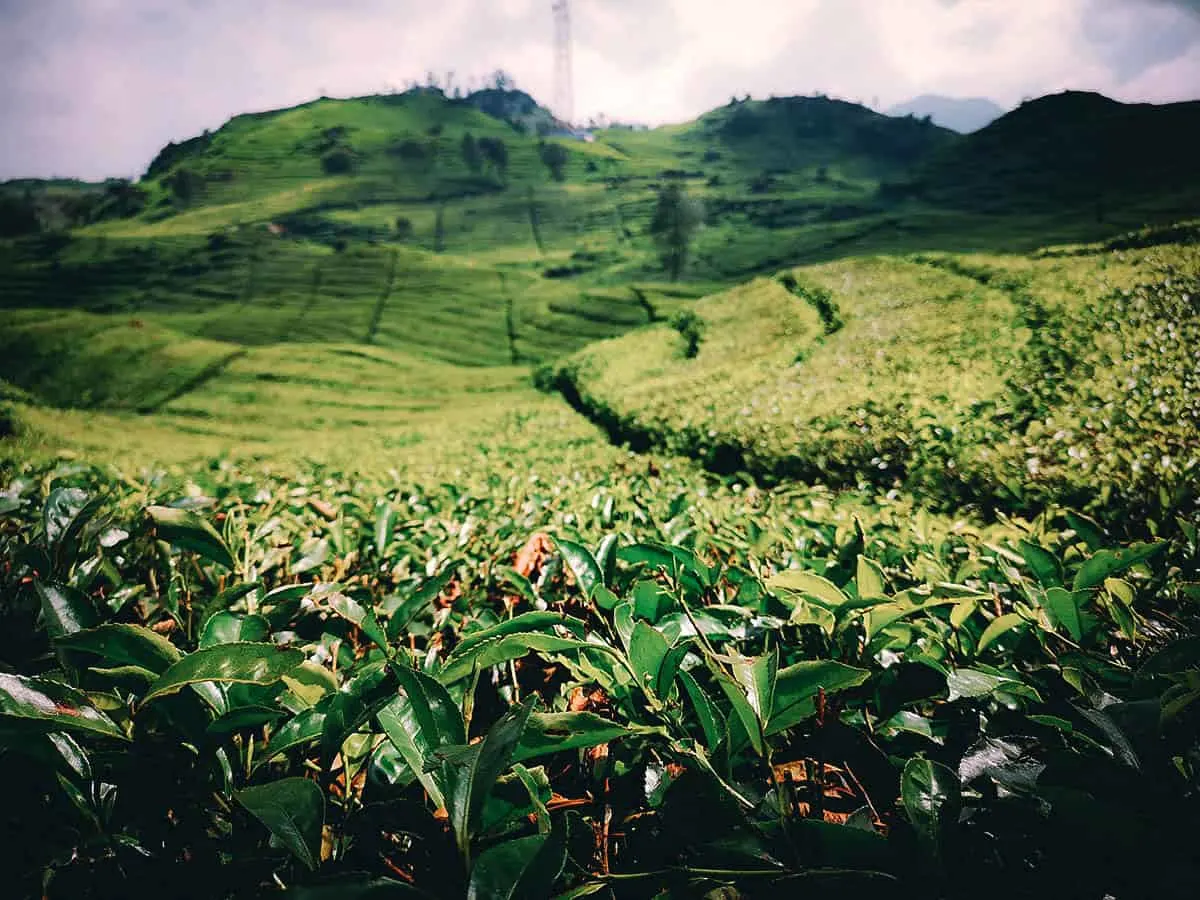 Here you can see workers harvesting the tea leaves. I'm not sure if there's a formal tour anywhere but you can stop wherever you like to take pictures. It's a beautiful sight.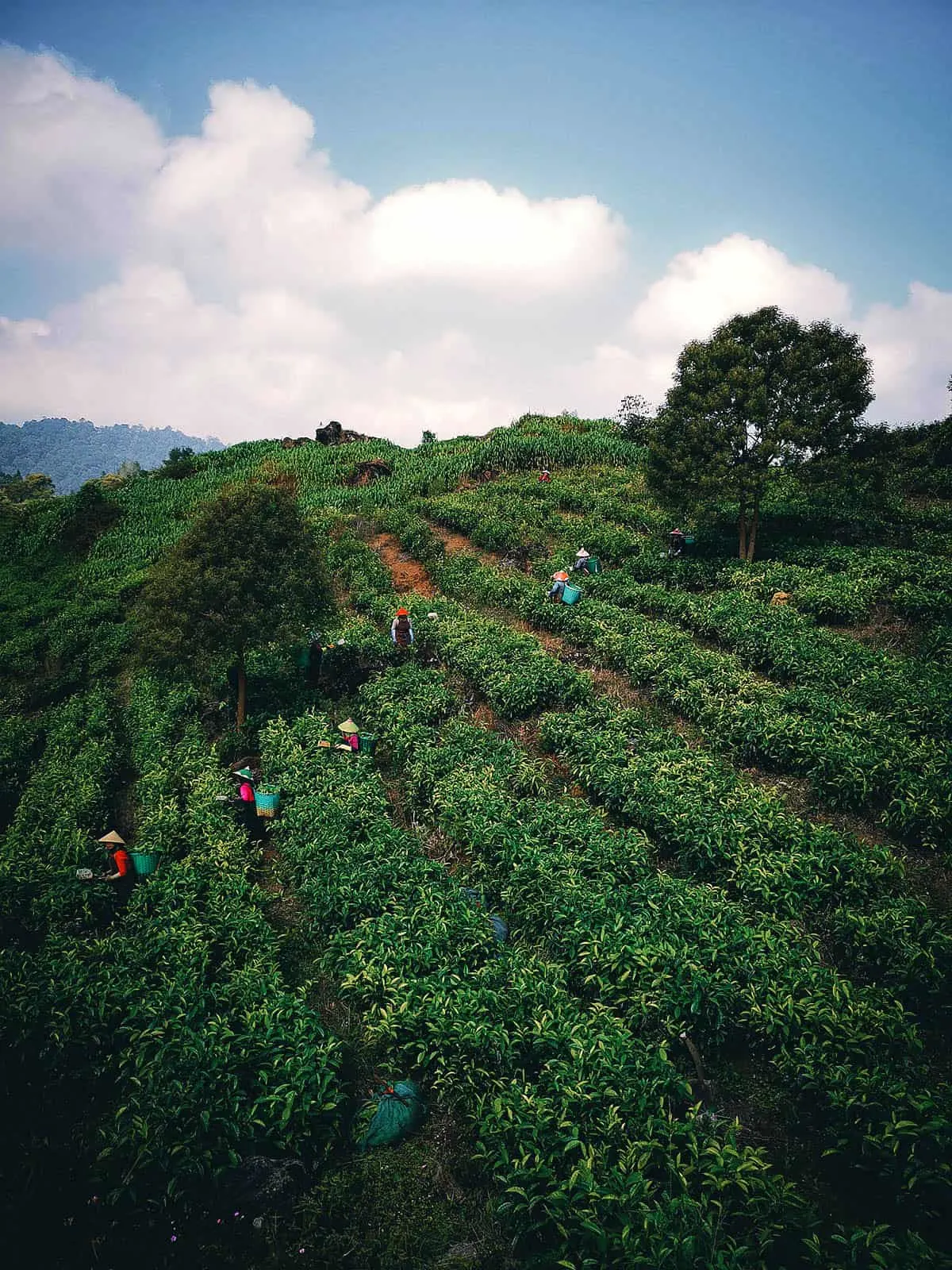 9. Feed the Deer at Kampung Cai Ranca Upas
If you like animals, then you're going to enjoy this next stop. Kampung Cai Ranca Upas is a popular camping spot in Ciwidey that's also famous for its Javan deer conservation program. For IDR 10,000, you can buy buckets of carrots to feed the deer.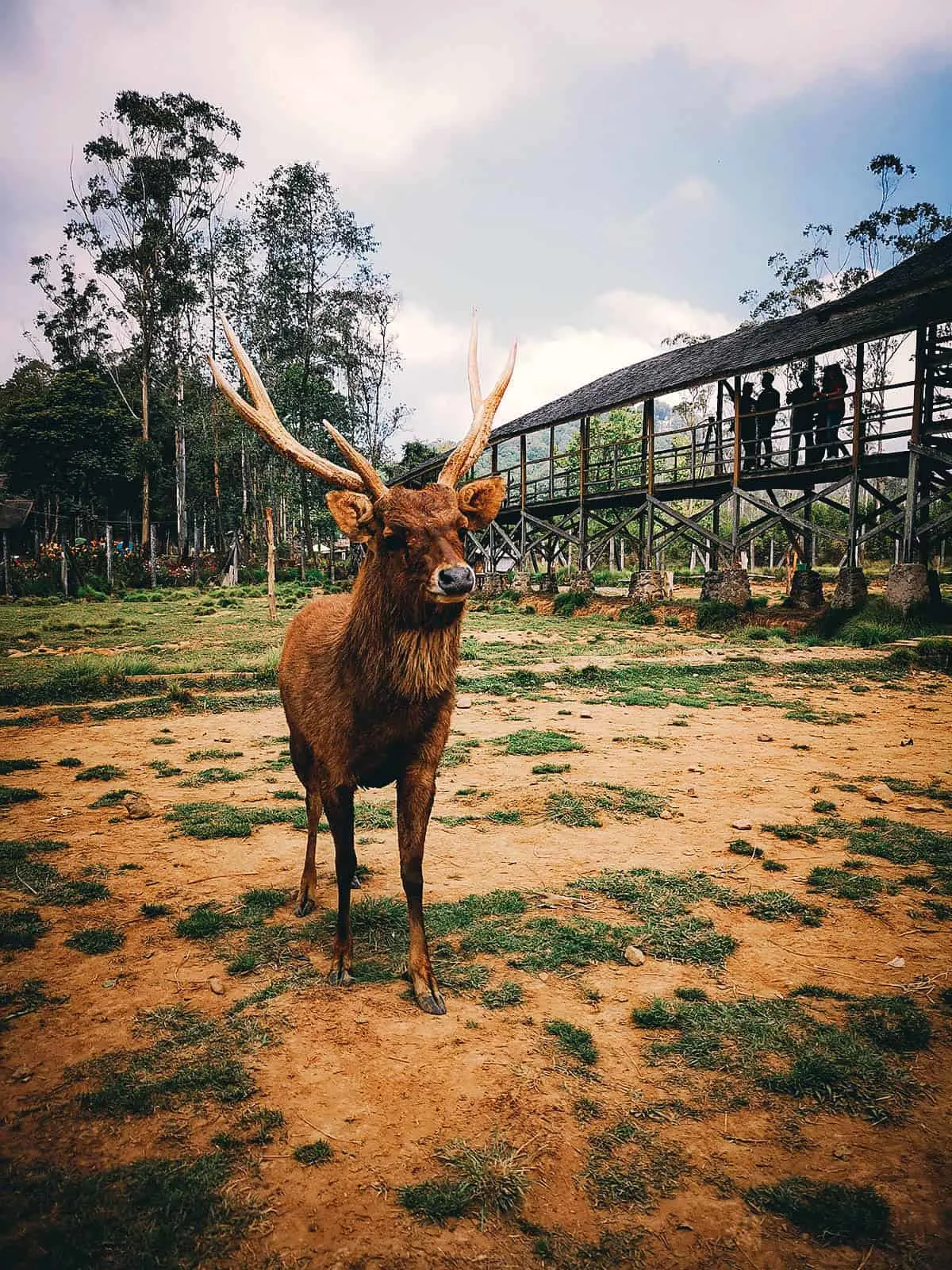 The deer are used to being fed so they aren't afraid of getting close and demanding carrots from you! We were here just to feed the deer but there are other activities as well like mountain biking, archery, and paintball.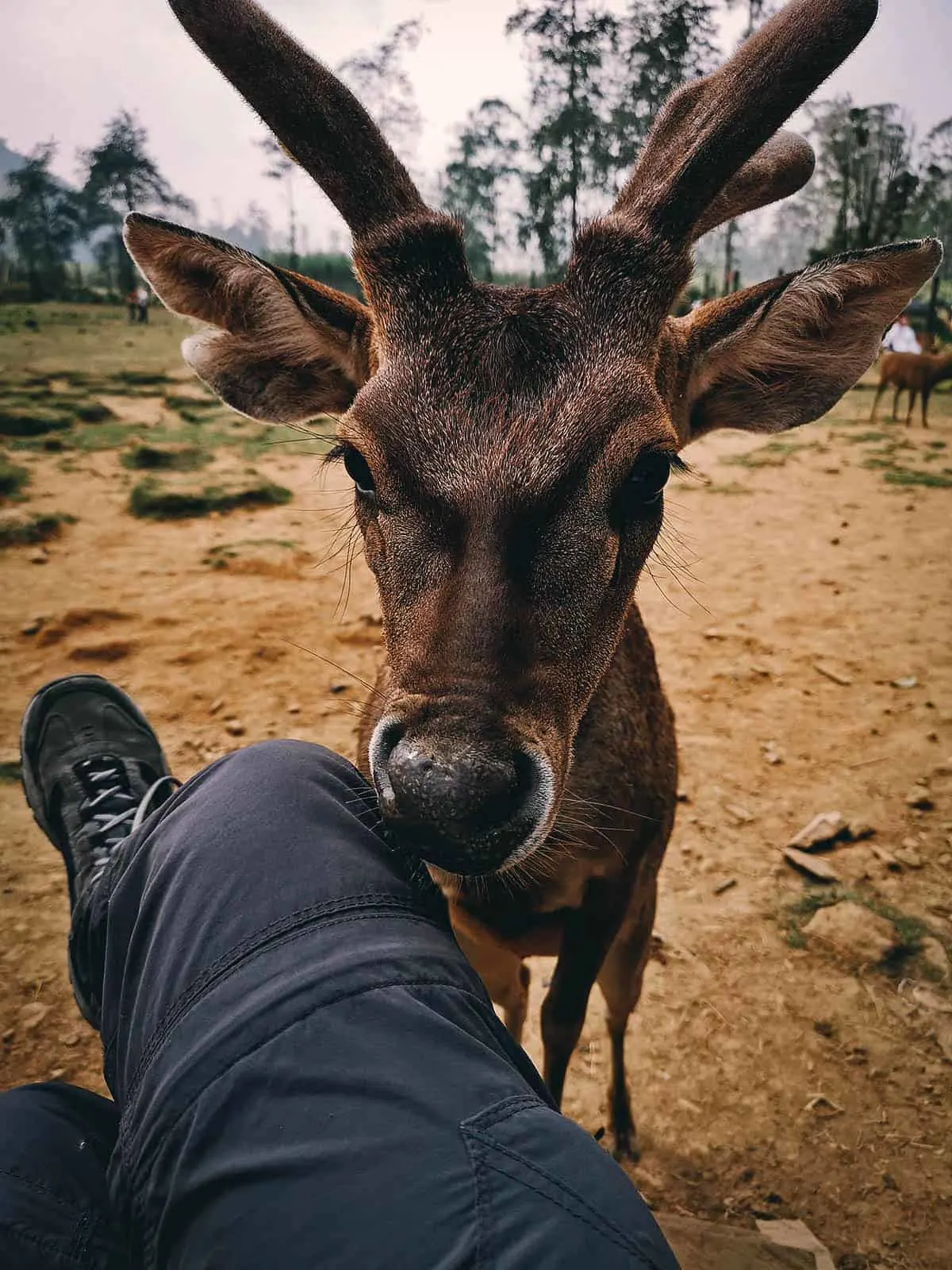 Suggested Length of Visit: 1-2 hours / Admission: IDR 10,000 plus parking
10. Go Strawberry Picking
Aside from its tea plantations, you'll find plenty of strawberry farms in Ciwidey as well. You'll drive through farms advertising strawberry picking which is another popular tourist activity in southern Bandung.
Depending on the farm, entrance is about IDR 10,000 and you'll be given a small basket to pick as many strawberries as you like. Any strawberries you pick will be weighed and sold to you for around IDR 80,000 per kilo.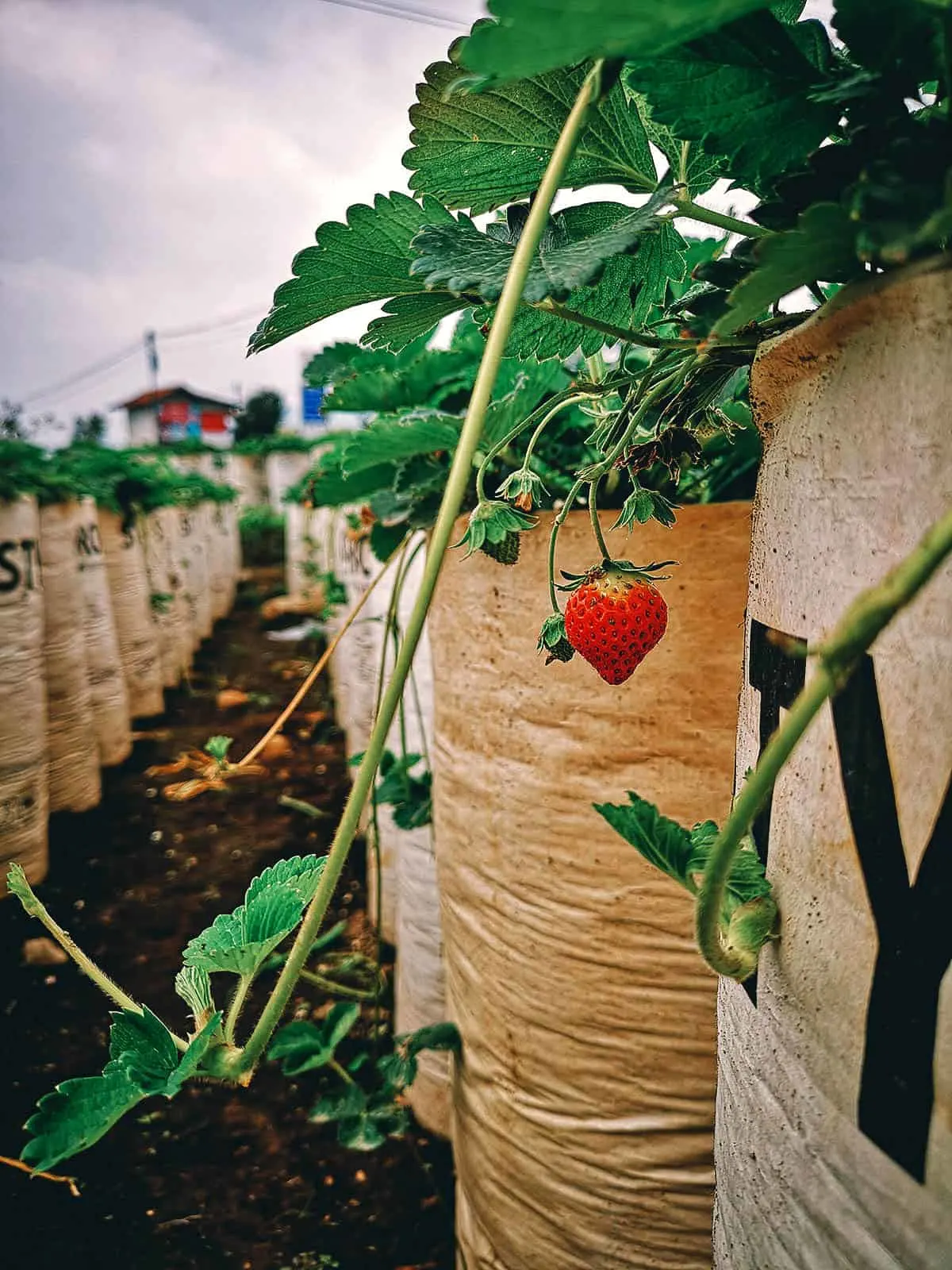 Suggested Length of Visit: 1 hour / Admission: IDR 10,000 plus cost of strawberries (about IDR 80,000 per kilo)
11. Visit Patenggang Lake
I wasn't planning on visiting Patenggang Lake after reading about the exorbitant admission fees they charge foreigners. But Tommy was able to work his magic and get us in for free! I guess it helped that I look Indonesian myself.
After crossing the entrance gates, you'll drive through hectares of tea plantations before arriving at this lake with a small island in the middle. It's best viewed from this restaurant on the banks of the lake that's shaped like a life-sized wooden galleon.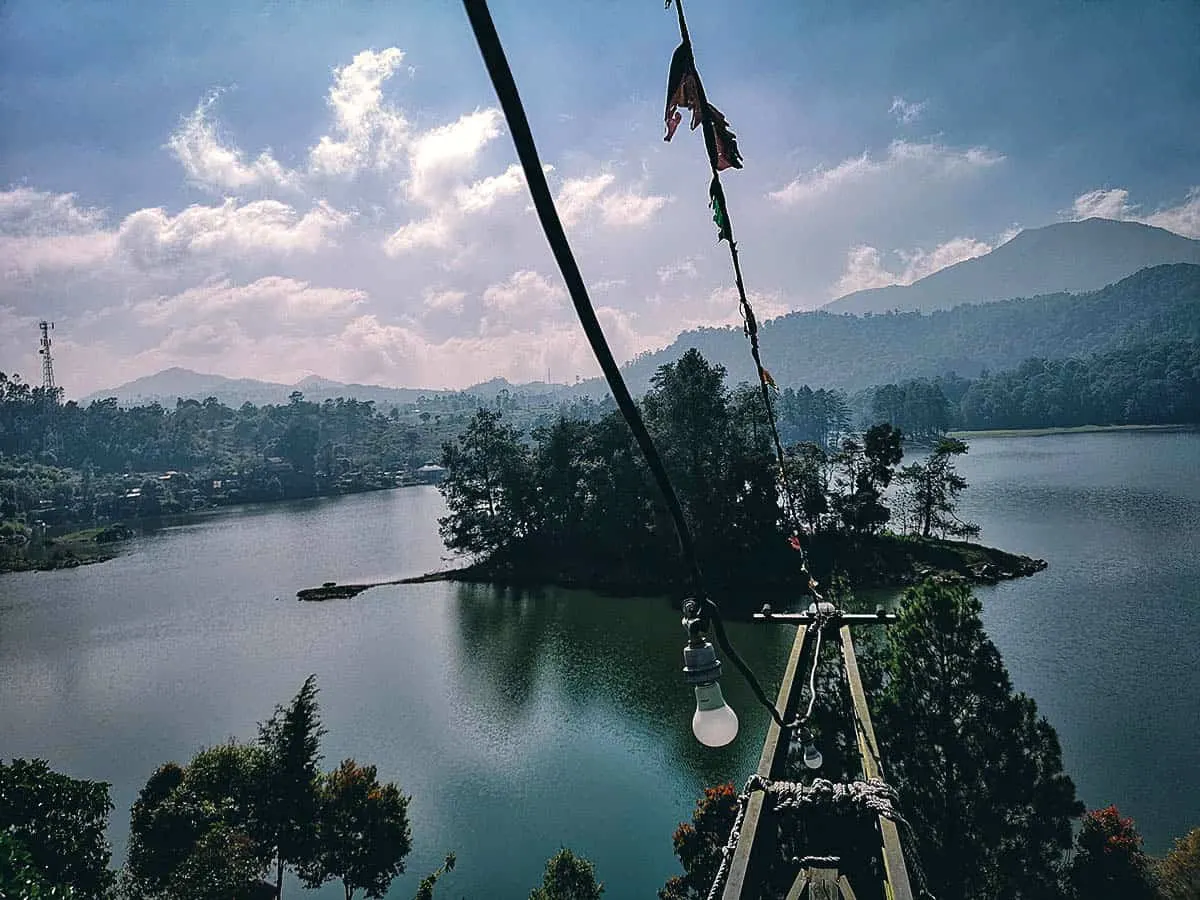 Here's a shot I took using my drone with Sandmarc filters. The lake was fun for me because I could fly my drone and I didn't have to pay for the admission fee, but if it weren't for that, then I'd skip it. Unless you want to have lunch at the ship restaurant then there isn't much to do here.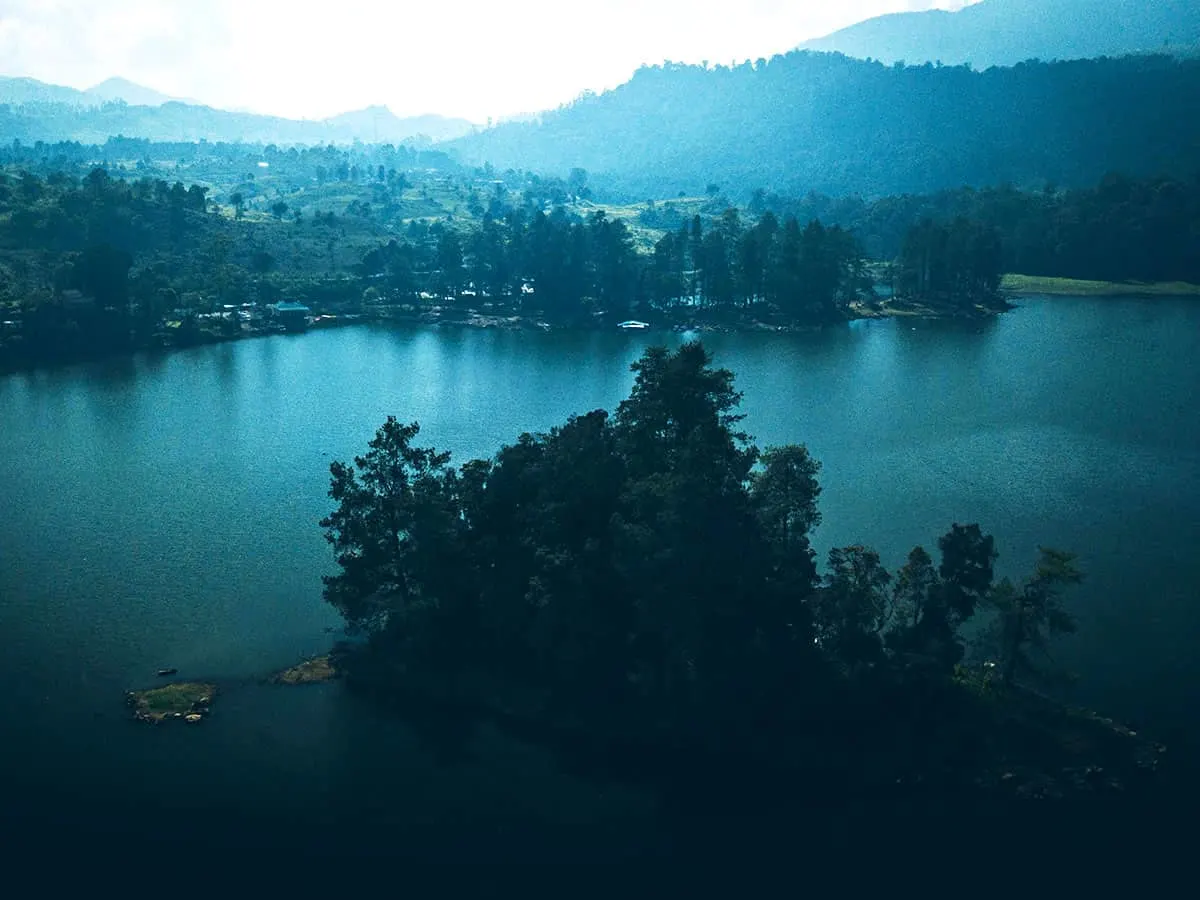 Suggested Length of Visit: 1-2 hours / Admission: IDR 135,000 (weekdays), IDR 185,000 (weekends) plus parking
INDONESIAN FOOD GUIDE
If you're new to Indonesan cuisine and want to experience traditional dishes, then check out our Indonesian food guide for a list of some of the best dishes to look for in Bandung and Indonesia. If you like sweets, then be sure to check out our Indonesian dessert guide as well.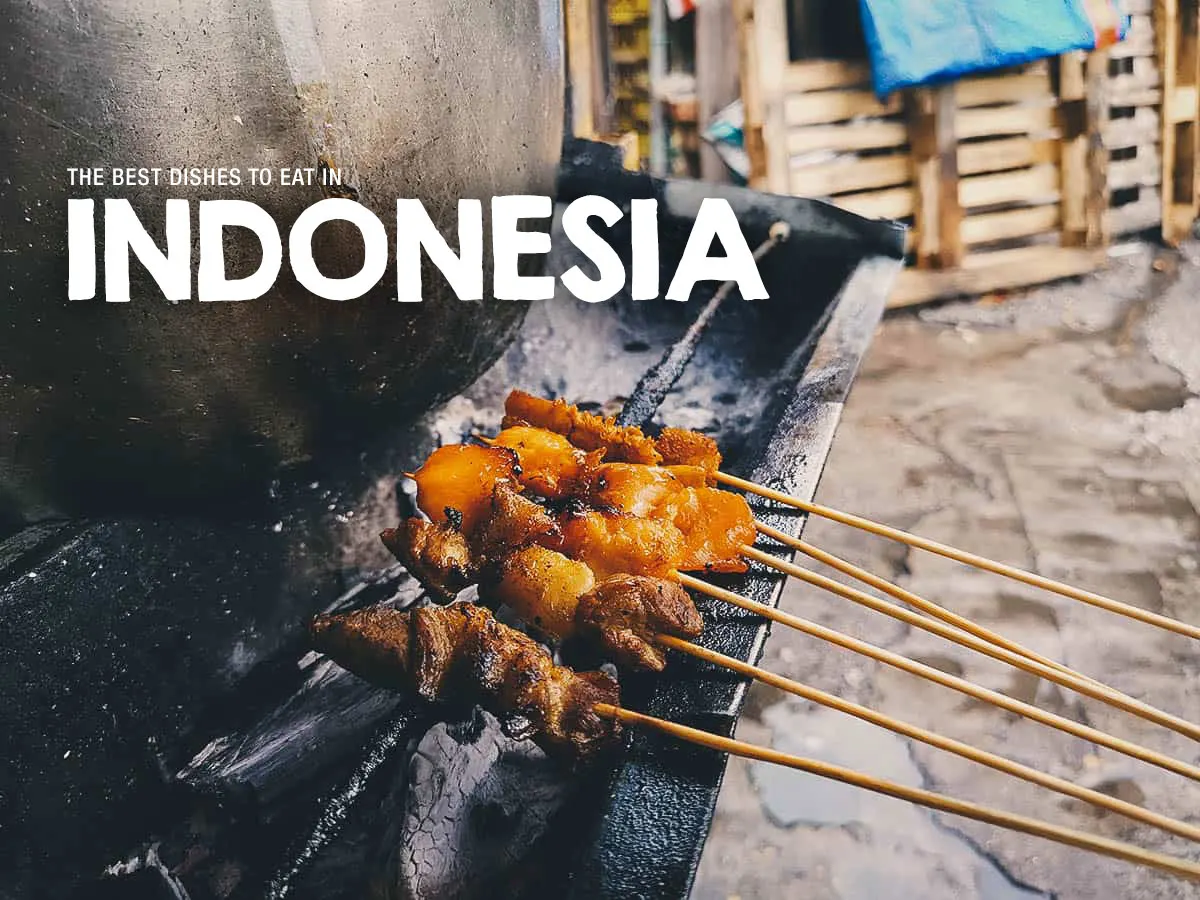 WHERE TO EAT
We ate our way through central, northern, and southern Bandung to come up with this list of 10 must-eat restaurants and street food stalls. Some were discovered through research while others were our driver and foodie guide Tommy's personal recommendations. If you don't want to waste calories and rupiah on so-so food, then I suggest checking out our Bandung food guide.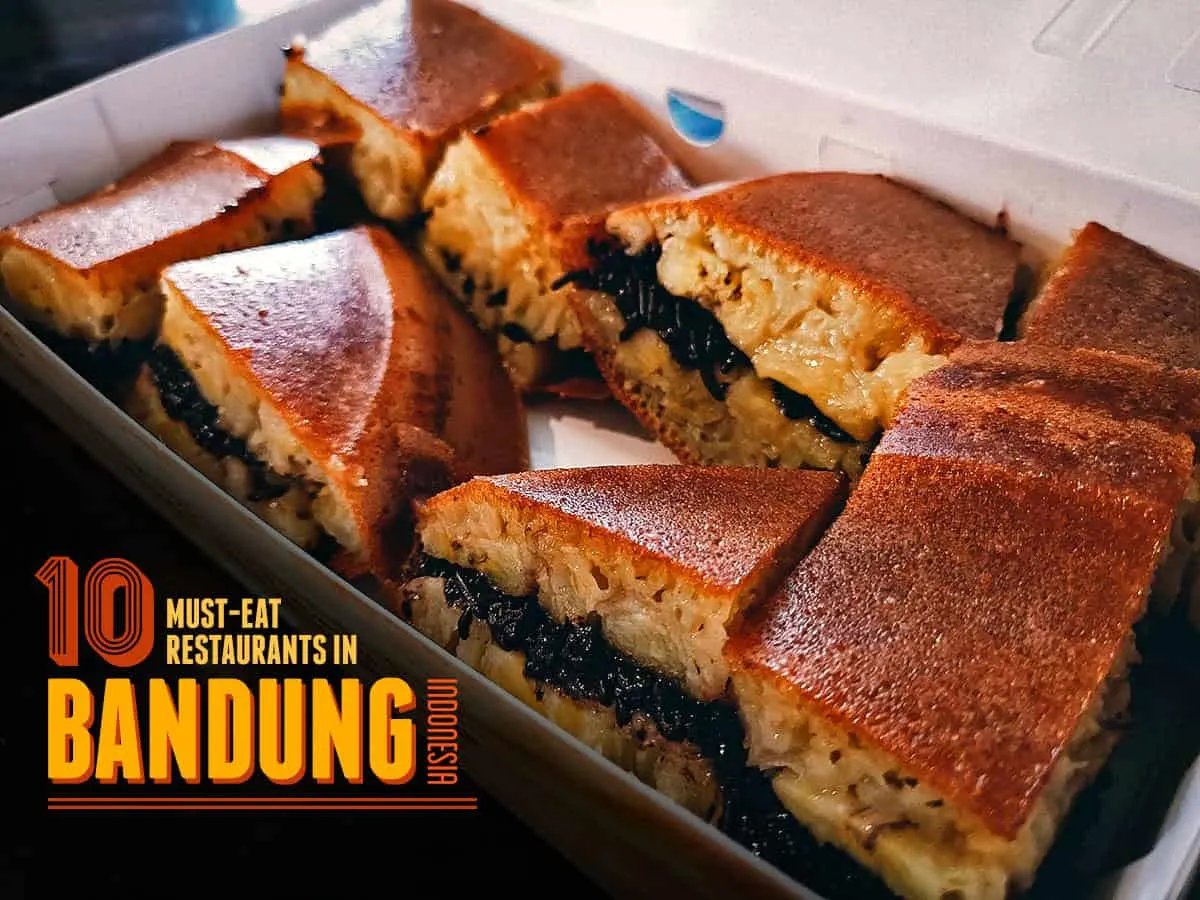 If you don't have time to eat at all ten eateries in our Bandung food guide, then these are the five you should start with.
1. Dapur Dahapati
Dapur Dahapati is a traditional Indonesian restaurant that serves many dishes, but what they're really known for is their sop buntut or Indonesian oxtail soup. It's a hearty soup made with chunks of oxtail served in beef broth with potatoes, carrots, tomatoes, leeks, and other ingredients.
Many locals, including our guide Tommy, describe Dapur Dahapati's version as the best in Bandung. Check out our Bandung food guide for more information on Dapur Dahapati.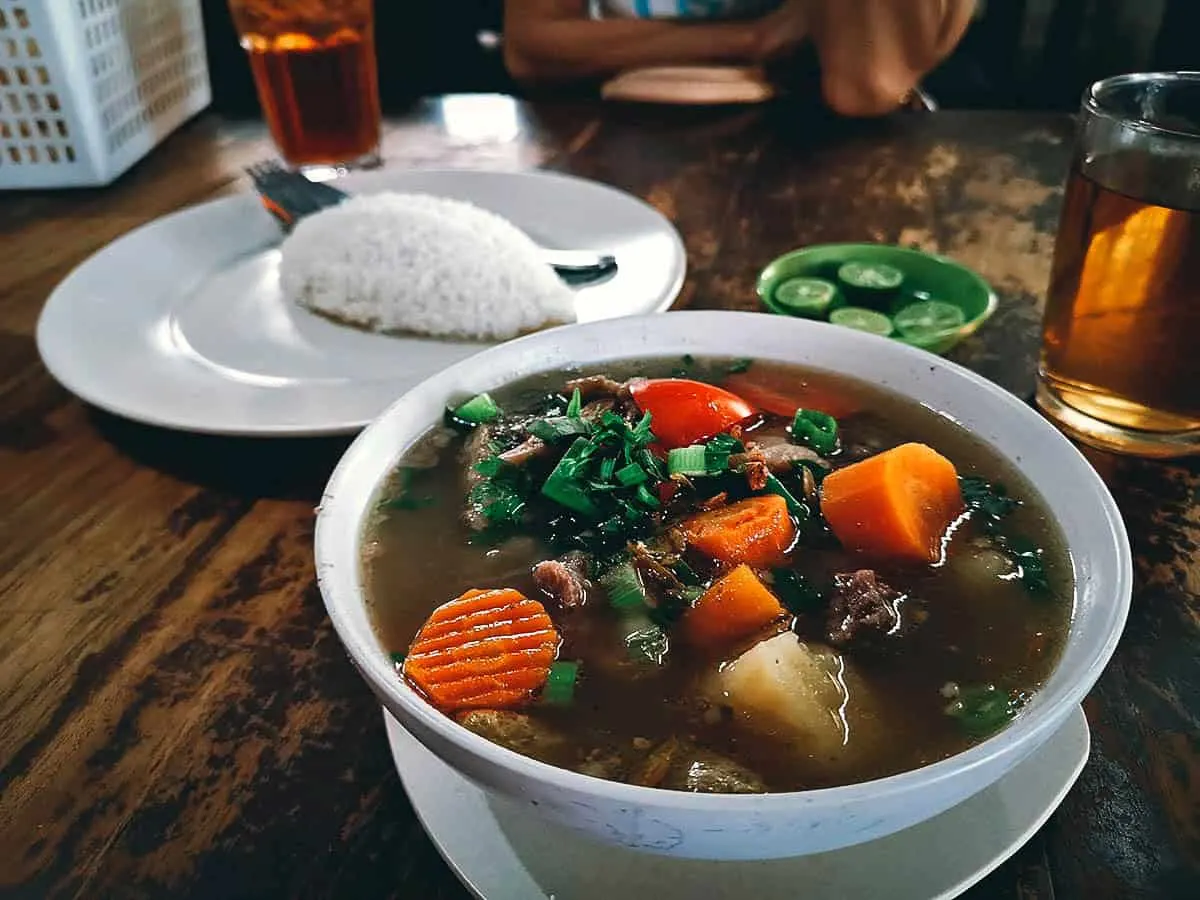 Expect to Pay: DR 75,000 per bowl of sop buntut
2. Batagor Kingsley
One of Bandung's most famous dishes is batagor. It's a type of dumpling made from fish paste stuffed into wonton or tofu skin which is then fried and served with a sweet-savory peanut sauce.
Batagor Kingsley has a reputation for being one of the best places to try batagor in Bandung. In fact, many local Jakartans who flock to Bandung on weekends can't visit this city without enjoying Batagor Kingsley's famous fish dumplings. Check out our Bandung food guide for more on Batagor Kinsgley and what other dishes you can find there.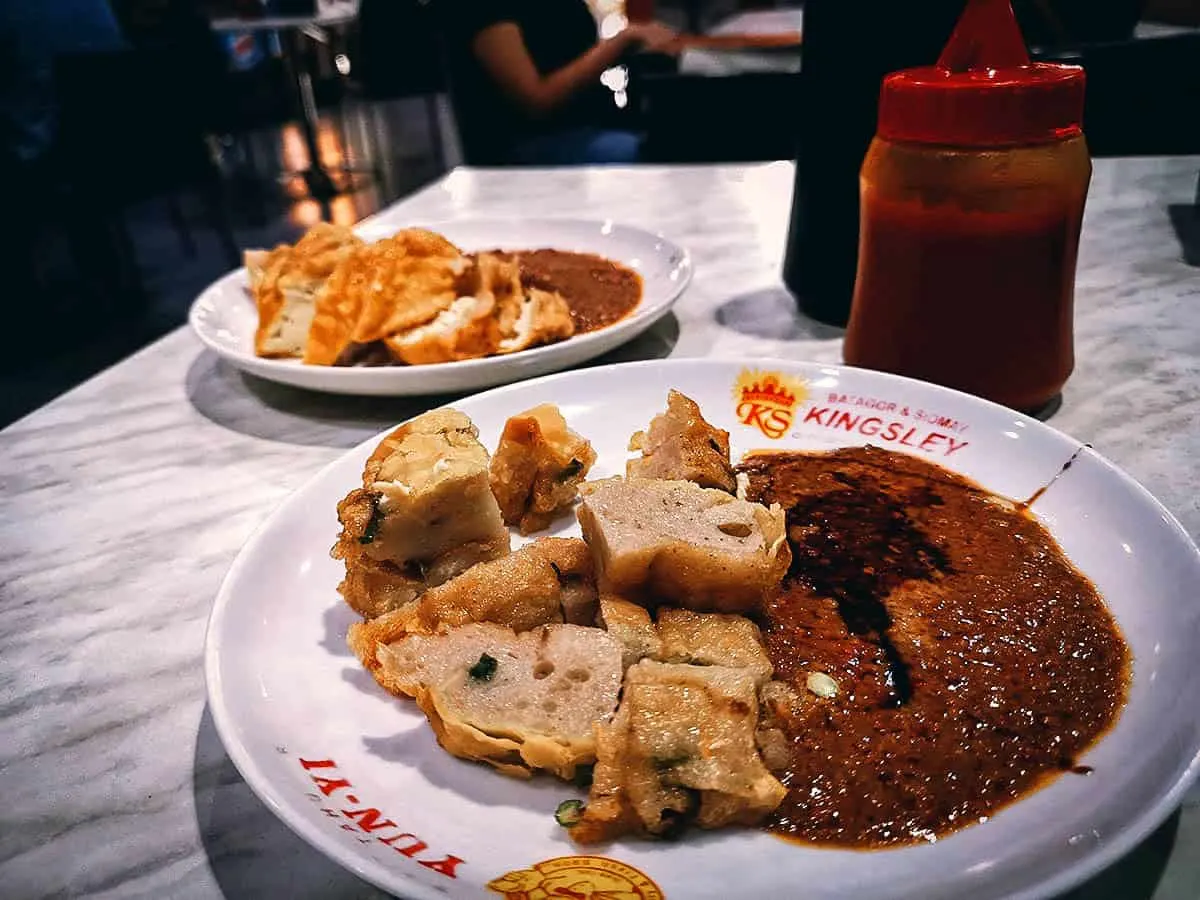 Expect to Pay: Between IDR 29,000-45,000 per dish
3. Mie Rica Kejakasaan
If you like spicy food, then you need to eat here. Mie Rica Kejakasaan was one of my favorite places to eat during our entire time in Indonesia.
They serve a spicy bowl of noodles topped with minced pork that will surely set your taste buds on fire. Follow the link for more on Mie Rica Kejakasaan.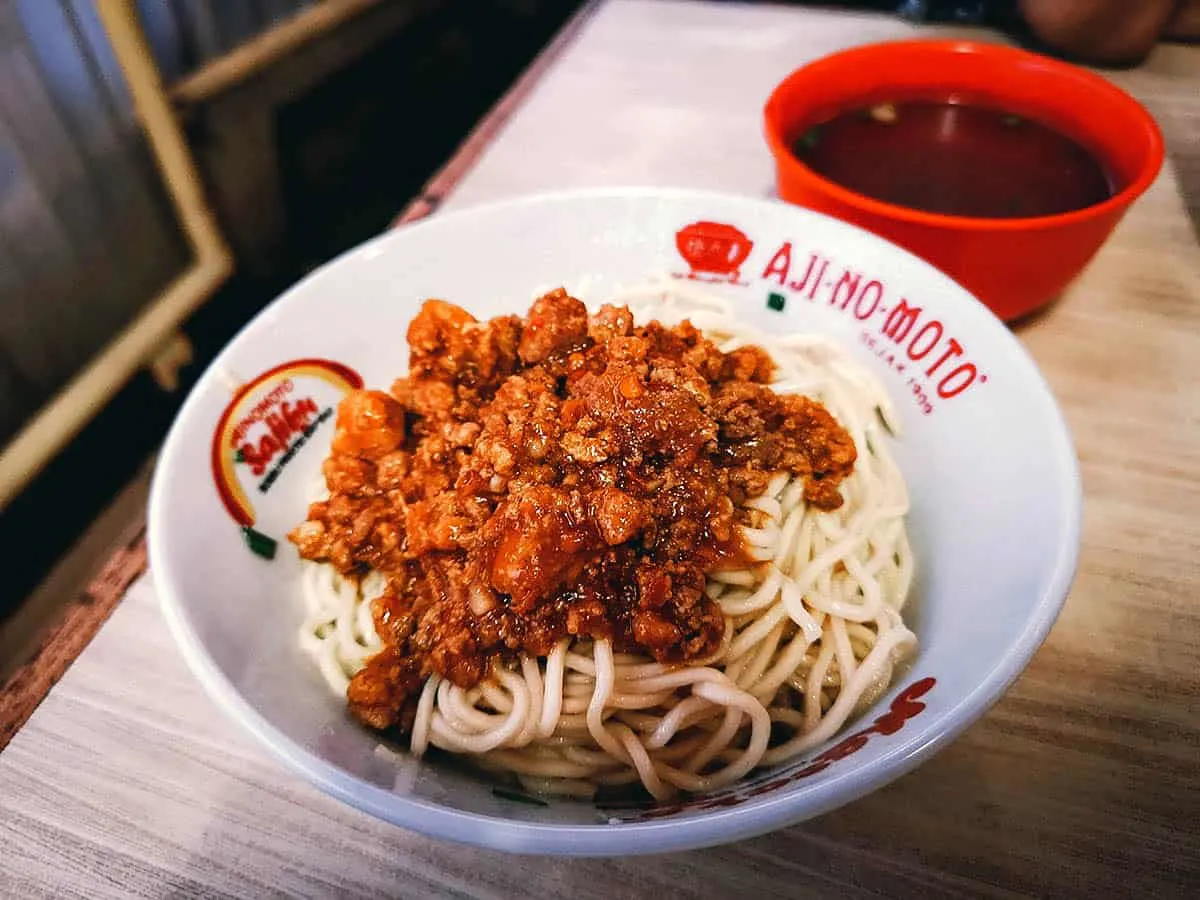 Expect to Pay: IDR 34,000 per bowl of mie rica
4. Tahu Susu Lembang
If you're making a day trip to Lembang, then you need to make a stop here. It's a food court that sells many different products, the most popular being its fried milk tofu and ultra refreshing glasses of soy milk. Check out our food guide for more information on Tahu Susu Lembang.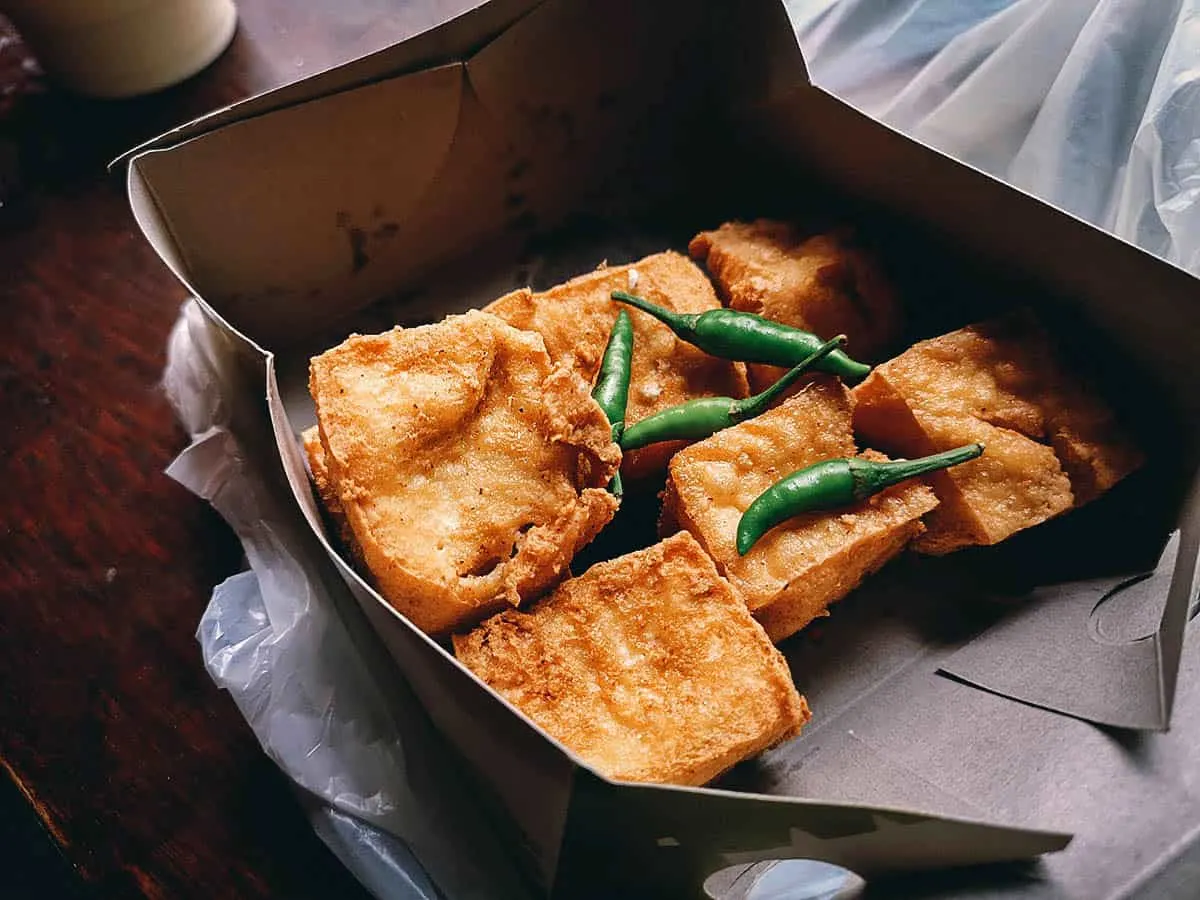 Expect to Pay: About IDR 15,000-30,000 for fried tofu, depending on the size
5. Martabak San Francisco
This was one of Tommy's recommendations. Martabak San Francisco is known for serving some of the city's best martabak. It's a popular street food dish that comes in savory or sweet versions.
Similar to an American pancake, I had this sweet martabak topped with dark chocolate and banana. Yum! Check out our Bandung food guide for more on Martabak San Francisco.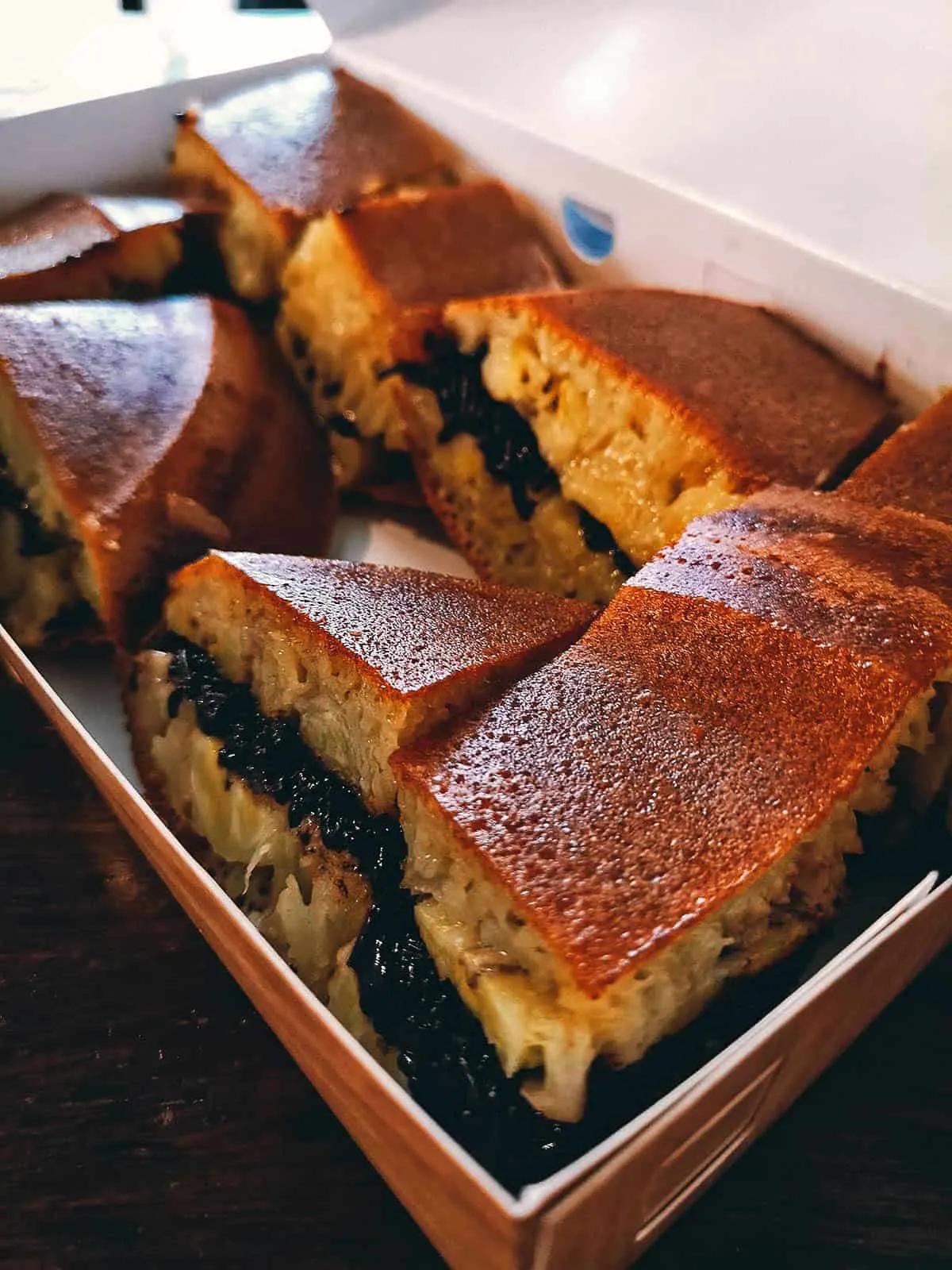 Expect to Pay: Around IDR 40,000-100,000 per martabak, depending on the size and flavor
POINTS OF INTEREST IN BANDUNG
To help you understand where everything is, I've pinned all the places recommended in this guide on this map.
HOW TO GET AROUND
If you're staying in central Bandung and planning to visit the north (Lembang, Tangkuban Perahu) and/or the south (Ciwidey, Kawah Putih), the you'll need to rent a car. We booked a chauffeured private car charter through Klook for two days and were very happy with the experience.
Within central Bandung itself, we got around everywhere by walking. We were staying near Jalan Braga and didn't need to go very far, but if you plan on going outlet shopping in Bandung, then you can get around using a transportation app like Grab or Go-Jek. I've heard nothing but good things about Blue Bird as well which is cited by many as the best taxi operator in Indonesia.
I'm not sure how extensive or reliable the public transportation system is in Bandung, but if you'd like to get around in the cheapest way possible, then you may want to explore that. The only tool you'll need is the Google Maps app (iOS|Android). It'll tell you exactly how to get from point A to point B using public transportation. It's super reliable and accurate.
HOW MANY DAYS TO STAY / SAMPLE ITINERARY
We stayed three full days in Bandung which I think is the perfect amount of time to spend there. We arrived early in the morning from Jakarta on the first day then left by overnight train to Yogyakarta on the third. One day of your stay will be dedicated to central Bandung while the other two will be for exploring the north and south. Here's a sample 3D/3N Bandung itinerary to help you plan your trip.
DAY 1 (Central)
• Jalan Braga
• Factory outlet shopping (Jalan Riau, Dago, Ciliwung, Setiabudi, Cihampelas, Trans Studio)
DAY 2 (South)
• Kawah Putih
• Tea Plantations
• Kampung Cai Ranca Upas
• Strawberry Picking
• Patenggang Lake
DAY 3 (North)
• Tangkuban Perahu
• Dusun Bambu Resort
• Lembang Floating Market
• Tahu Susu Lembang
BUDGET / SUMMARY OF EXPENSES
Bandung is relatively inexpensive but its most interesting attractions are far from the city center so most of your budget will go to private car charters.
Assuming you'll be staying in Bandung for 3 full days and sharing mid-level accommodations with one other person, then a daily budget of around IDR 650,000-700,000 per person should be enough. This takes into account your accommodations, a two-day private car charter, admission fees, meals, drinks, and pocket wifi rental. Here's a quick breakdown of expenses:
ACCOMMODATIONS
This varies from person to person. Personally, we never spend too much on hotels since we'll be out for most of the day anyway. You can get a big room at a decent hotel like Kedaton for around USD 38 a night. Expect to pay less if you're staying at a hostel.
MEALS
Like the rest of Indonesia, food is cheap in Bandung. You'll eat well with IDR 50,000 per meal so expect to spend around IDR 100,000 a day on food.
PRIVATE CAR CHARTER
You'll need to rent a car to fully appreciate Bandung. Unfortunately, it isn't possible to visit the attractions in the north and south on the same day, so a two-day rental is necessary if you want to explore both regions. We booked two 10-hr private car charters (with driver) through Klook for IDR 495,000 per day.
ENTRANCE FEES
The only must-visits for me are Kawah Putih and probably Tangkuban Perahu. The combined admission fee for both volcanoes is IDR 275,000 on weekdays.
POCKET WIFI RENTAL
If you're sharing the cost with one other person, then you'll each be paying at least USD 1.50 per day.
TOTAL


This comes out to about IDR 648,000 a day per person. As described, a good chunk of your budget will go to private car charters which I think is unavoidable in Bandung. Ren and I are middle of the road travelers who enjoy good food and drink (but not shopping), so the recommended budget is a good baseline for travelers like us. Adjust accordingly based on your own travel habits.
TRAVEL TIPS
1. Plan your Trip with Sygic Travel
I've been using this free app now for many years to plan all our trips. It allows me to pin all points of interest on a map – like our hotel, restaurants, attractions, subway stops, etc – so I can visualize where everything is. That way I can arrange them by day to create the most efficient itinerary possible. Check out my post on the Sygic Travel app for more information.
Sygic Travel is what I used to create the location map above. You can also view it as a day-to-day itinerary on Sygic Travel or download it in editable Word format from our EAT-ineraries page. It covers Bandung, Jakarta, Yogyakarta, and Bali.
2. Rent a Pocket Wifi Device
We would never go anywhere now without a reliable wifi connection. You'll need it to navigate, do research, convert currencies, etc. It becomes especially handy in countries with a language barrier. Having access to Google Maps alone makes it a necessity. For our two-week trip through Indonesia, we rented a 4G pocket wifi device from Java Mifi.
3. Get a Private Car Charter
As advised many times in this guide, getting a private car charter is highly recommended in Bandung. Attractions are spread out so you'll need a car and a driver who really knows the area to take you around. I'm not sure if it's possible to take public transportation to Ciwidey or Lembang, but even if it is, getting around once you're there will be another problem.
We rented a private car charter through Klook for two days and we were very happy with the experience. Our driver Tommy was a great guy who took us to a lot of interesting restaurants as well so that was a bonus.
4. The South is Greater than the North
Personally, I enjoyed Ciwidey in the south much more than Lembang in the north. Not going to Tangkuban Perahu probably had something to do with it but overall, I found the attractions in the south to be more interesting. Kawah Putih was amazing and it was great to see all the tea plantations. Feeding the deer at Kampung Cai Ranca Upas was fun too.
If you only have time for one day trip from Bandung, then I suggest going south.
5. Foreigners Pay More
This may come as a shock to those who've never experienced it, but attraction fees are sometimes more expensive for foreign tourists. Not every place does it but this is pretty much the norm in Indonesia.
The perfect example is Patenggang Lake. Foreigners need to pay an admission fee of IDR 185,000 on weekends while locals can get in for just IDR 20,000. I know it sounds terribly unfair but that's the way it is so we have no choice but to deal with it. If you don't like it, then don't go.
6. Check for Discount Passes
I buy travel vouchers from many websites, but other than Bali, there don't seem to be as wide a selection for destinations within Indonesia. Among the websites I use, only Klook has a decent selection. Aside from the two Bandung private car charters, I also booked airport transfers and car charters in Bali through them. Follow the link for a list of Bandung deals on Klook.
7. Get Travel Insurance
Getting travel insurance isn't something we do before every trip. It depends on where we're going and what we'll be doing. If all we're doing is shopping and eating for a few days in Singapore, then we probably won't get it. Purchasing our airlines tickets using our credit cards entitles us to free basic insurance anyway. But if we intend to do more physical things, things that could get us hurt like skiing or bungee jumping, then we'll definitely pick up a policy.
We buy travel insurance from SafetyWing. They're a popular travel insurance company used by many digital nomads. Click on the link to get a free quote from SafetyWing.
8. Bring the Right Power Adapter
Indonesia has Type C or Type F electrical outlets so be sure to bring the right power adapters for your devices. Electrical voltage is 220/110V and the standard frequency is 50Hz.
Have fun!
I'm not an expert on Bandung but I hope you find this travel guide useful. I'm only sharing some of the things I learned from our trip. If you have any questions or suggestions, then please feel free to leave them in the comment section below. You're welcome to join our Facebook Travel Group as well.
Thanks for stopping by and have a great time in Bandung!
Disclosure
This article contains affiliate links that will make us a small commission if you make a booking or purchase at no added cost to you. We only recommend products and services that we use ourselves and firmly believe in. We really appreciate your support as this helps us make more of these free travel guides. Thank you!