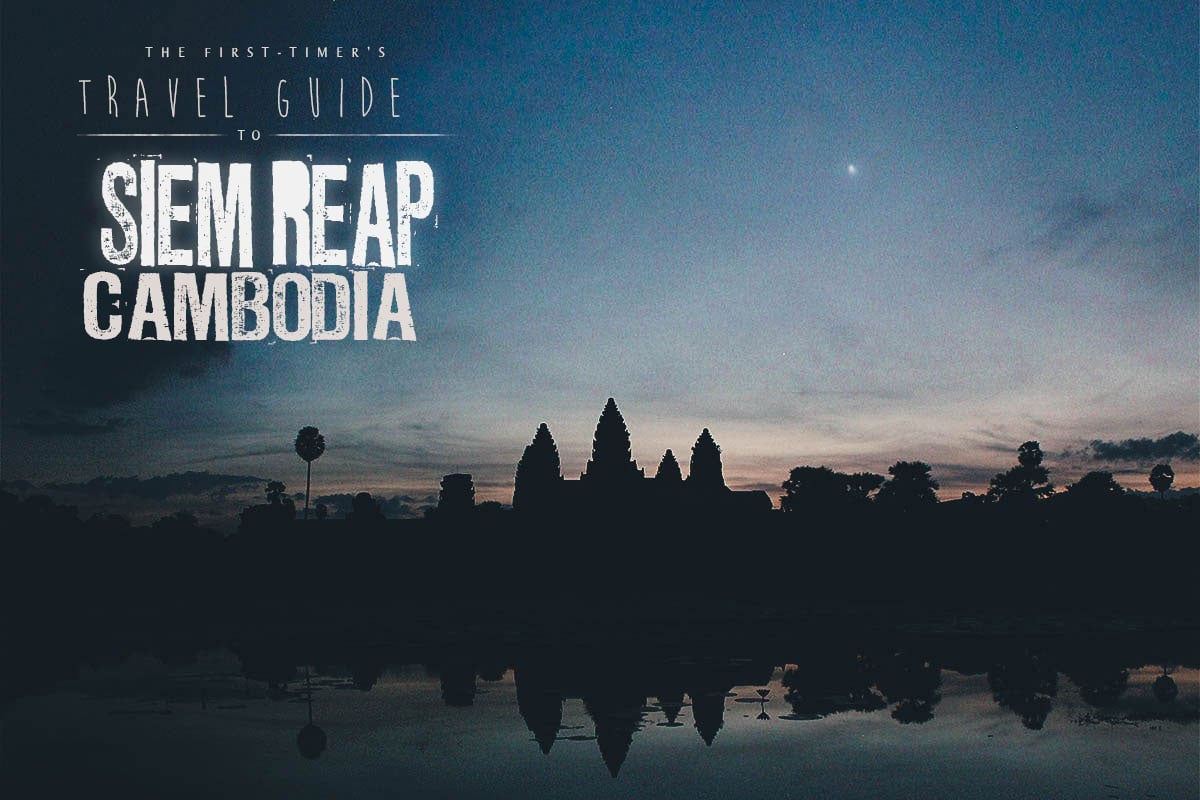 The First-Timer's Travel Guide to Siem Reap, Cambodia
There are three things I remember most about our trip to Siem Reap.
The first is Angkor Wat. A UNESCO World Heritage site, it's the biggest religious monument in the world and probably the reason why you're visiting Siem Reap in the first place. With its five intricately-carved spires, it's an impressive sight, especially at sunrise, and is just one of several temples you can explore in Angkor Archaeological Park. The second is the cheap beer. Being from Southeast Asia, I'm used to inexpensive beer but it's surprisingly cheap here in Siem Reap. For just 50 cents a mug, you can get drunk for less than what you'd pay for ONE beer in the west! Pub Street in downtown Siem Reap is a happening place at night and is filled with dozens of bars and restaurants serving cheap beer. The third, and this may not be for everyone, is the happy pizza. If you've never heard of it or are wondering why I'm even talking about pizza in Cambodia, then you need to keep reading this guide. 😆
Siem Reap is full of surprises. Everyone knows about the Angkor temples but this place has more to offer than that. I was expecting a quiet small town with little to do at night and few dining options but that wasn't the case at all. Pub Street is a boombox at night and there are plenty of interesting restaurants in town, most of which won't break the bank. If you're planning that first trip to Siem Reap, then I hope this guide can help you do just that.
GUIDE TABLE OF CONTENTS
WHEN TO GO
Cambodia has two seasons — wet and dry. The wet season is from May to October while the dry season is from November to April.
March-May are the hottest months with an average temperature of around 84°F (29°C). Avoid these months because the heat and dust can be oppressive. September or October aren't ideal either because those are the wettest months. Flash flooding is a frequent occurence, making travel difficult. November to February is the most popular time to go because it's the coolest and driest time of the year. However, it's also the most crowded. We went in December and the crowds at times were unbearable. Prices tend to spike at this time as well.
For a good balance of weather and number of tourists, June-August is said to be the most ideal. The rain keeps things cooler and less dusty, the landscape is more green, the temple moats are filled, and there are fewer tourists. Rainy season isn't in full swing yet, with the rain coming in it seems at a scheduled time daily — early in the afternoon and again at night.
HOW TO GET THERE
If you're flying, then you'll be arriving at Siem Reap International Airport (REP). From there, you can take a tuk tuk or taxi to your hotel. A tuk tuk costs USD 6 to get you to Siem Reap's city center while a taxi will charge about USD 7 for a sedan and USD 10 for a van.
We flew to Siem Reap but there are other ways to get there depending on where you are. I suggest checking 12Go Asia to find route options available to you. You can click on the link or use the widget below. 12Go Asia is a popular transportation website that services Singapore, Cambodia, Thailand, Malaysia, Vietnam, Laos, and the Philippines.
HOW LONG TO STAY
Siem Reap is all about the Angkor temples. If you're not out to see every single temple, then the 3-day Angkor pass should be enough. Unlike beach towns, Siem Reap isn't really conducive to R&R so I'd say 3-4 nights is ideal.
HOW MUCH MONEY TO BRING
Cambodia is inexpensive, even by Southeast Asian standards. It's one of the cheapest countries we've visited. You can enjoy a meal at a fancy restaurant for USD 10. Ice cold draft beer can be had for just 50 cents a mug.
You can live like royalty there with a budget of USD 100 per day. This includes accommodations, food and drinks, shopping, transportation, and your Angkor pass. It's so economical that couples can do well with as little as USD 50 each per day. If you're a solo budget traveler staying in a hostel, then you can probably get by with around USD 30 a day.
Conveniently, USD is the de facto currency in Cambodia. It's accepted everywhere. The only time you'll ever see Cambodian Riel is when it's given to you as small change from USD transactions.
WHERE TO EXCHANGE CURRENCY
As mentioned above, USD is the de facto currency in Cambodia so if you're flying in with USD in hand, then you're all set. If you're coming in with a different currency, then be sure to exchange it only to USD and not KHR. There's no point in changing it to KHR since all transactions will be in USD.
Alternatively, you can also withdraw USD from an ATM. The rates are competitive. Just be sure to advise your bank you'll be using your ATM card overseas so you don't run into any problems. In my experience, my ATM card works in some machines but not in others.
WHERE TO STAY: Soria Moria Boutique Hotel
Soria Moria is a Norwegian-owned boutique hotel that's conveniently located along Wat Bo Road, just a few minutes walk from chaotic Pub Street. Pub Street gets pretty loud and rowdy at night so if you prefer a quieter, more relaxed atmosphere, then Soria Moria is perfect. It's also close to many delicious, un-touristy restaurants.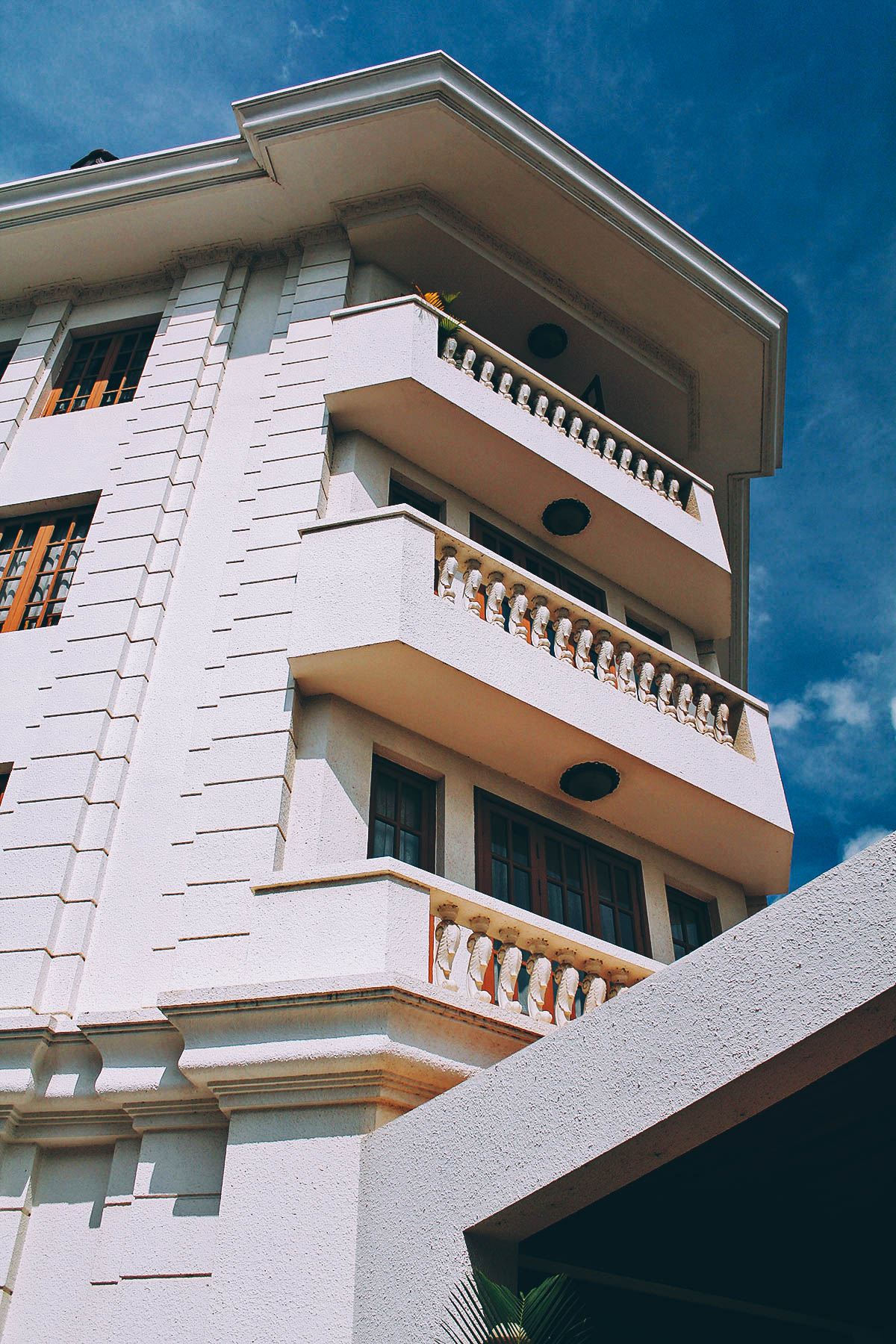 Our air-conditioned room was an oasis in the sweltering heat of Siem Reap. For about USD 40 a night through Booking.com, you can get this big standard twin room with cable TV, wi-fi, breakfast, and free airport pickup. Standard single rooms are available for less than USD 30 a night. You can make a reservation through Booking.com or Agoda so be sure to check both sites to find the best deal. Alternatively, you can look for accommodations on AirBnB as well. If you're new to the site, then you can get USD 31 free travel credit via THIS LINK.

Approximate Room Rate: USD 40 per night (as of April 2017)
WHERE TO GO
Tourists come to Siem Reap to visit the Angkor temples. For first-time visitors, it's important to understand that there isn't just one temple. The most famous one — Angkor Wat — is just one of many temples scattered in a large area. To visit them, you'll need to buy an Angkor pass. Prices are as follows:
One day – USD 37
Three days – USD 62
Seven days – USD 72
If you want to see all the temples, then I suggest getting the 7-day pass. But if you want to visit just the major temples, then the 3-day pass will suffice. I've listed the four most notable temples below. Visiting just those four will still leave you with a fulfilling Angkor experience. It used to be that the 3- and 7-day passes had to be used on consecutive days — ie the week-long pass will be valid for one week from the date of purchase – but now it looks like the 3-day pass is good for any 3 days within one week, while the 7-day pass is valid for any 7 days within one month. This makes it a lot more attractive to get a multiple day pass as I'm sure not everyone wants to visit the temples on consecutive days.
TIP: You may want to buy your pass at 5 PM the day before you intend to use it. You'll be allowed free entry into the park to watch the sunset from Phnom Bakheng Temple. Check out my post on the Angkor Archaeological Park in Siem Reap for more pictures and information.
1. Ta Phrom
Home to giant roots reclaiming the ruins, Ta Phrom is where Tomb Raider was actually filmed. These massive roots enveloping the temples was a spectacular sight. Definitely a must-see.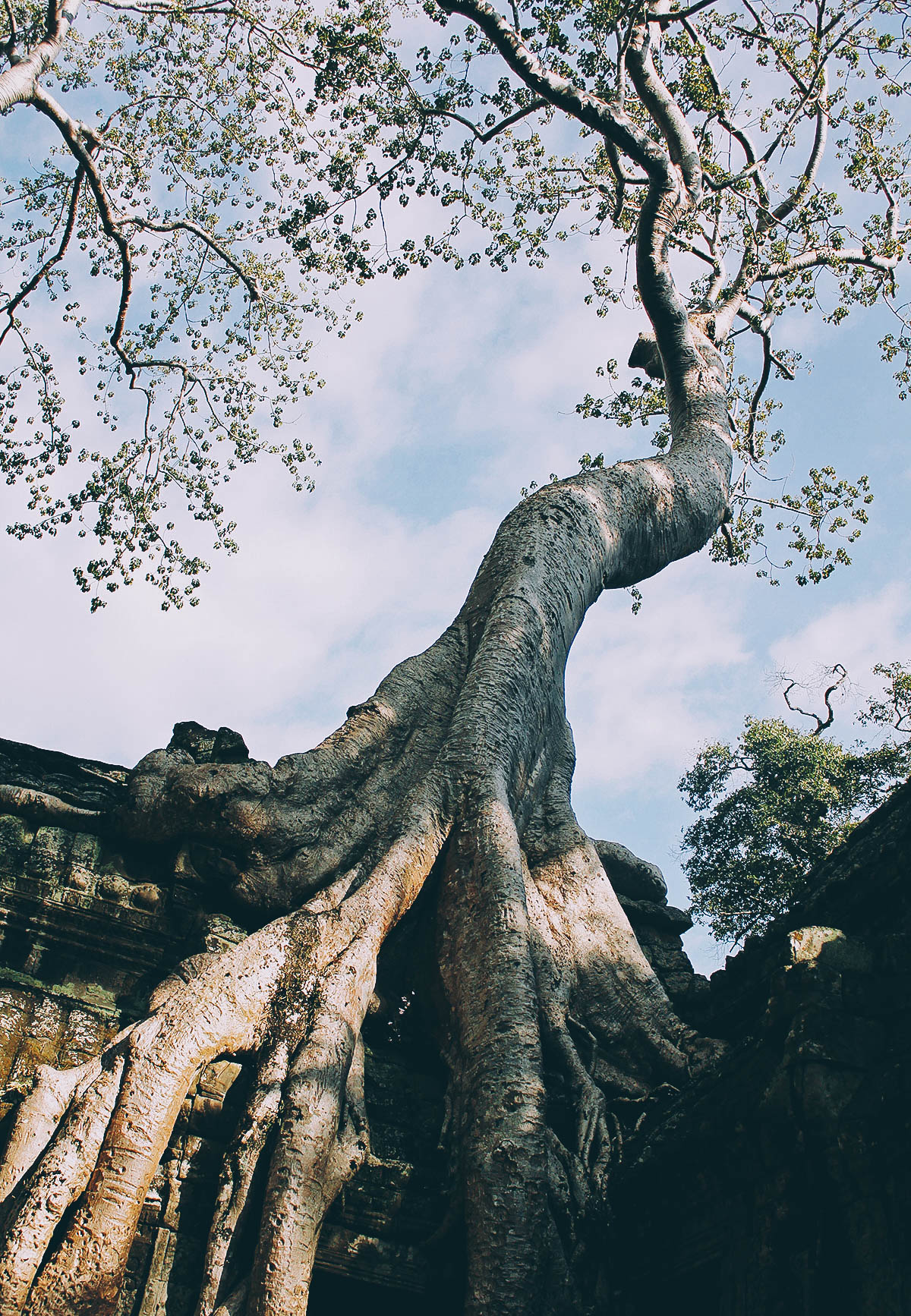 Suggested Length of Visit: 2-3 hrs
2. Angkor Thom & Bayon Temple
The largest temple in the complex, Angkor Thom is the second most visited temple after Angkor Wat. Covering an area of 9 sq km, at the center of Angkor Thom is Bayon Temple, which is home to these massive, carved stone heads.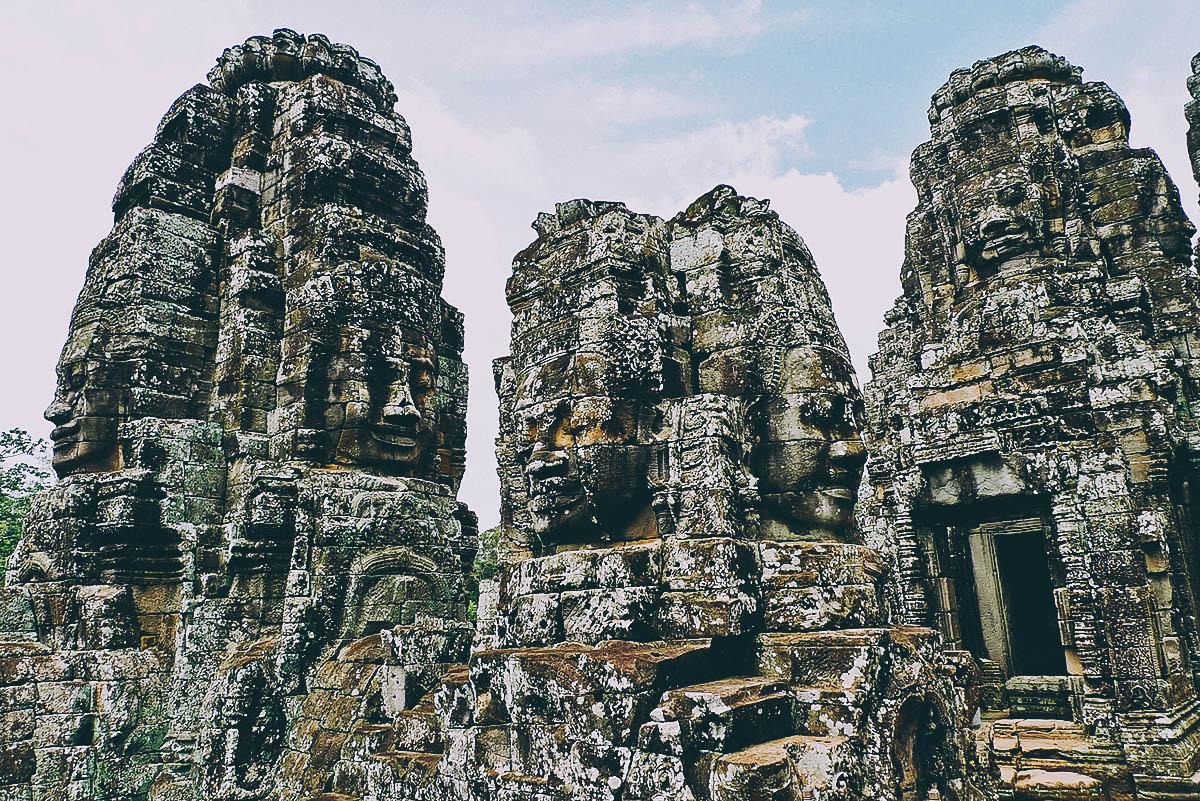 Suggested Length of Visit: 4-5 hrs
Picture by David Sim [CC BY 2.0], via Wikimedia Commons / Processed in Photoshop and Lightroom
3. Angkor Wat
The jewel of the Angkor complex. The largest Hindu temple complex in the world, Angkor Wat is a massive structure surrounded on all sides by a moat. How they managed to build this in the 12th century is mind-blowing. I visited Angkor Wat twice — once during the day and another early in the morning to get my sunrise shot.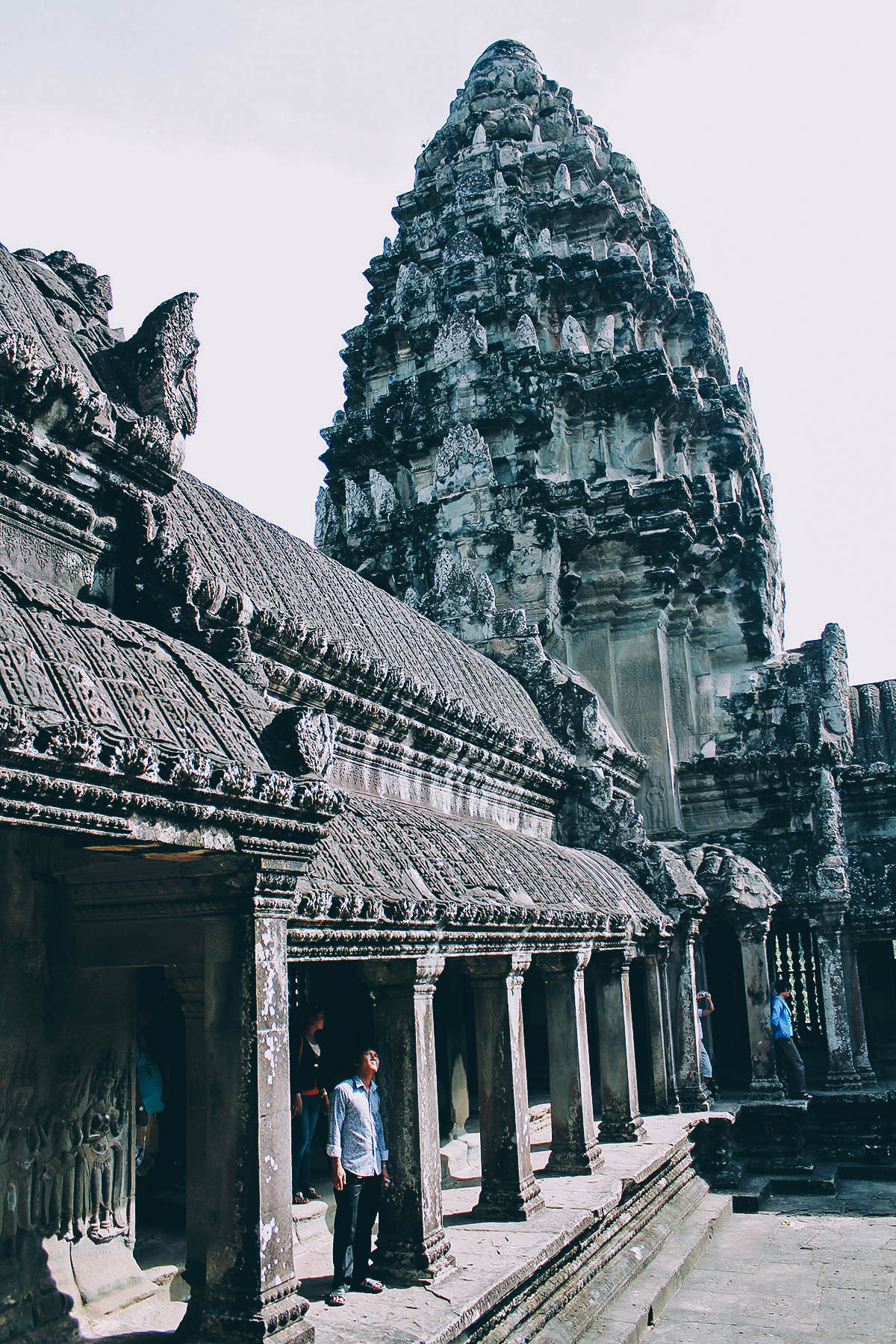 Suggested Length of Visit: 3-4 hrs
4. Bantaey Srei
Around an hour away by tuk tuk from the main temple complex, Bantaey Srei is one of the smaller temples but also one of the most unique. The only temple made from pink sandstone, it boasts the best, most intricate temple carvings of all. I made arrangements with our hotel and paid USD 22 roundtrip. You may be able to get this for less if you negotiated outside of your hotel. It takes about an hour to get there so we left bright and early at 6:30 AM. It's definitely worth a visit.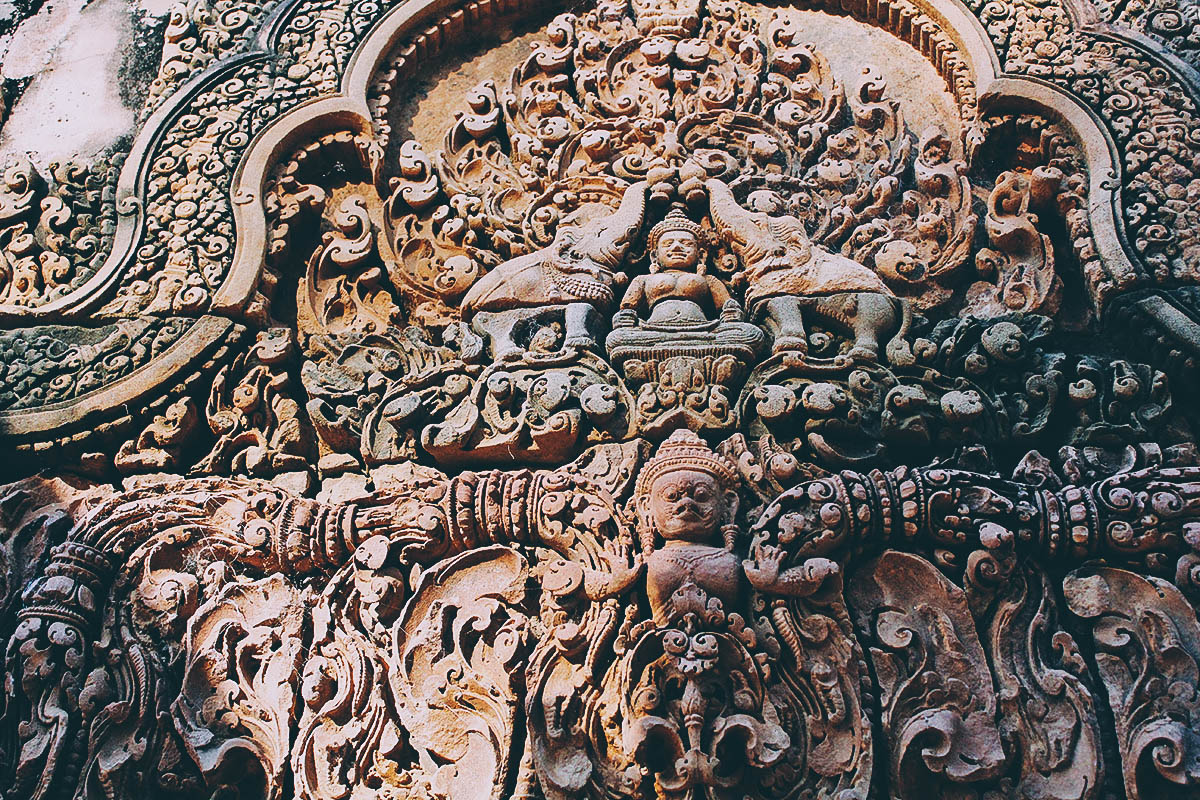 Suggested Length of Visit: 2-3 hrs
5. Landmine Museum
The landmine museum is along the way to Bantaey Srei so it's a frequent stop on the return trip back to town. It tells the story of landmines in Cambodia and their sobering impact on the country's past, present, and future. Entrance to the museum is USD 5.
Check out my post on the Landmine Museum in Siem Reap for more pictures and information.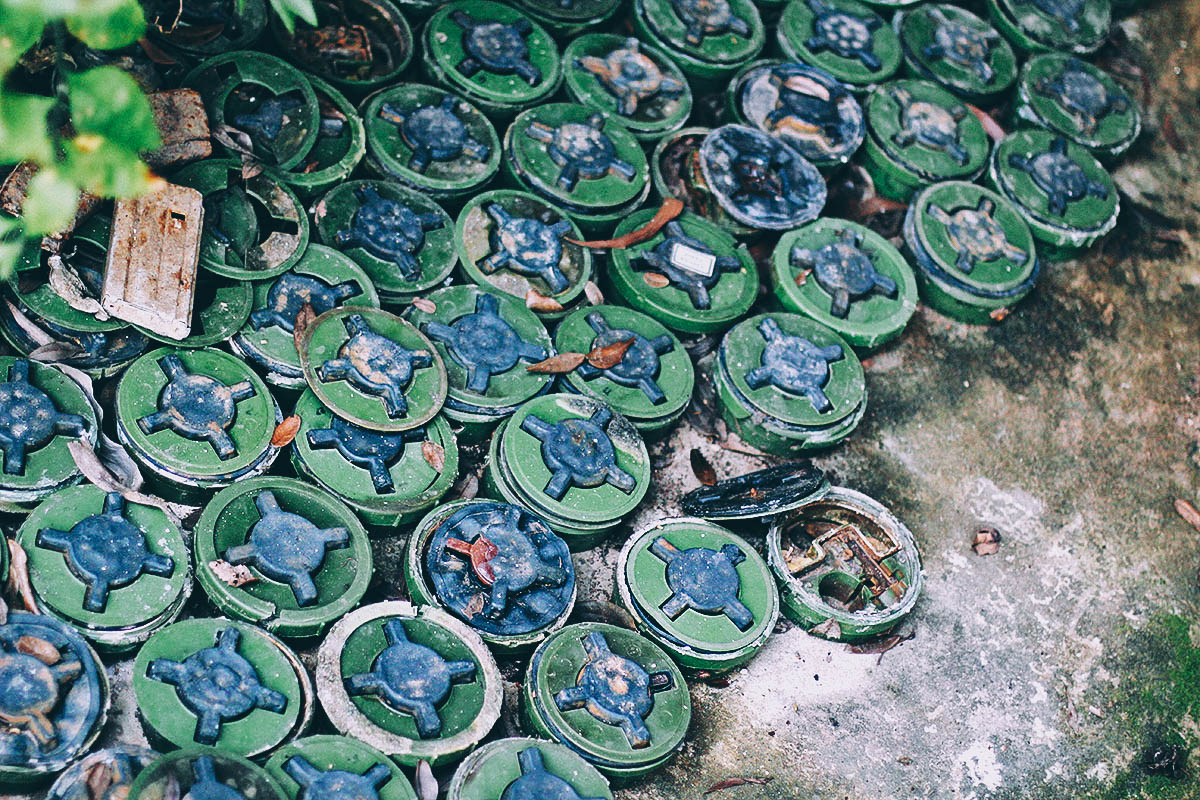 Suggested Length of Visit: 30 mins-1 hr / Admission: USD 5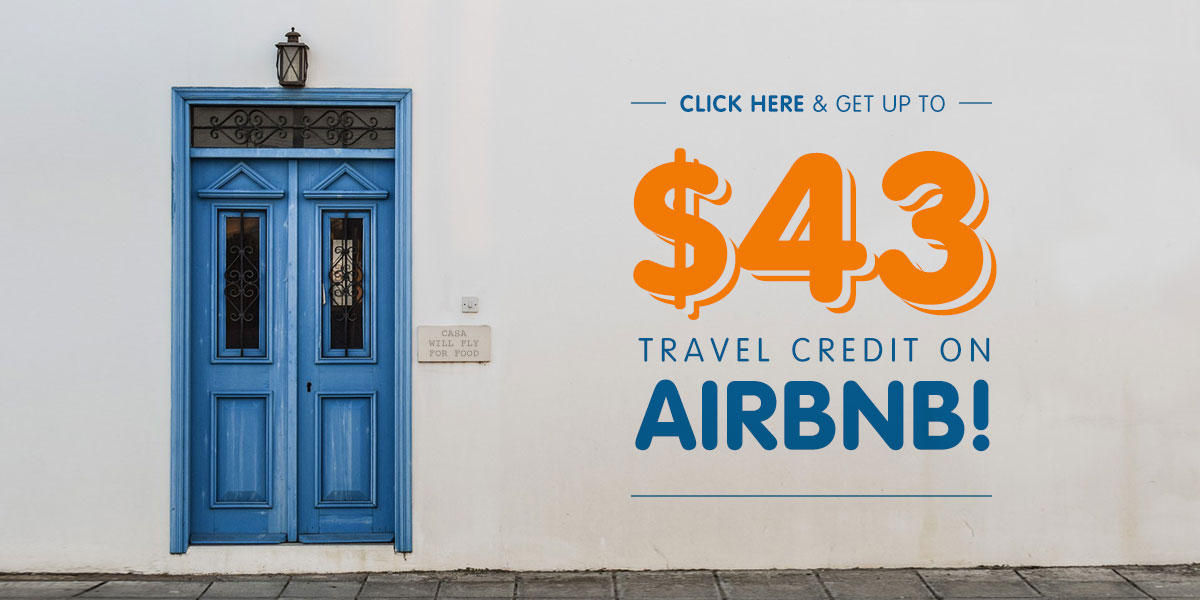 WHERE TO EAT
1. Pub Street
A neon-lit network of streets and alleys teeming with restaurants, bars, and clubs, Pub Street is the heart of Siem Reap. It's where all the action is so it can get pretty loud and boisterous. Many of the restaurants here feel touristy and a little "same same", but it's a great place to hang out and enjoy a few beers.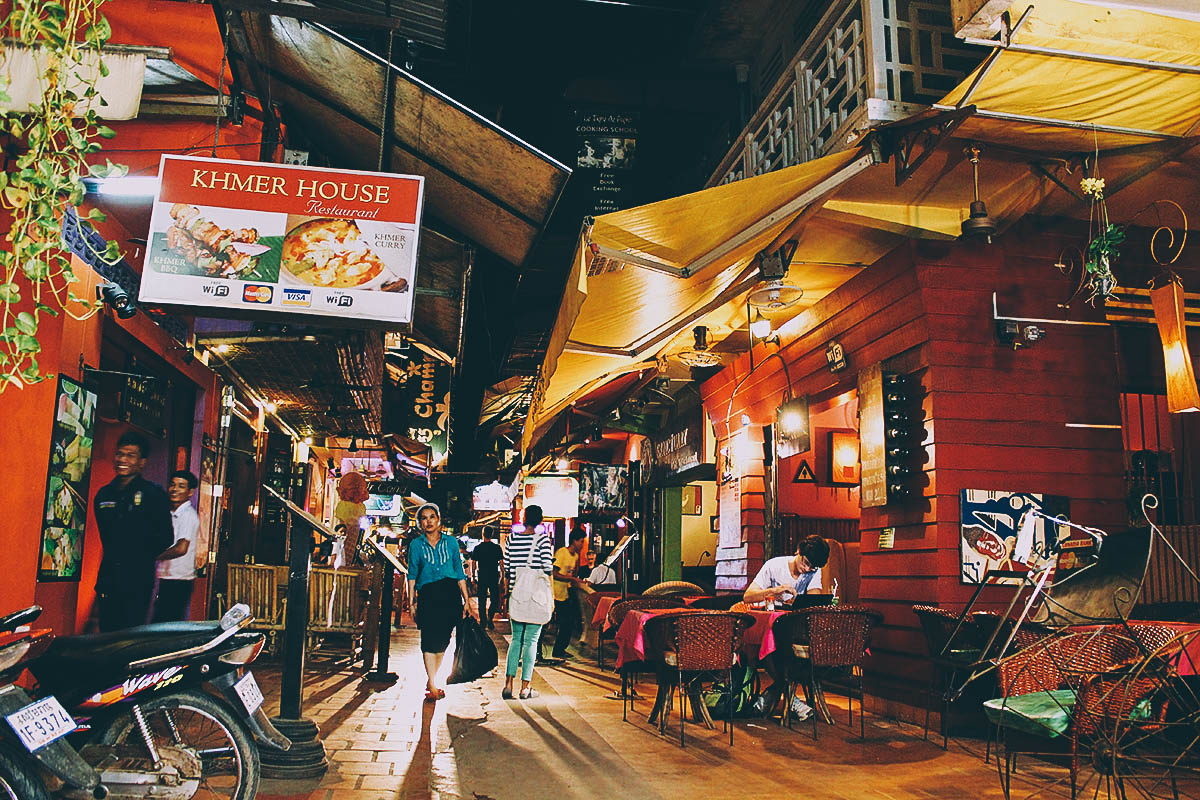 Many restaurants in and around Pub Street offer Phnom Pleung, or "Cambodian BBQ." Similar to Korean BBQ, you have a small burner on your table where you cook the meat yourself. Ren and I are adventurous eaters so we opted for the most exotic set meal consisting of kangaroo, crocodile, snake, beef, and shrimp, all for just USD 13. Most of the proteins were pretty tough but we enjoyed the experience nonetheless. It was fun.
Check out my post on Phnom Pleung or Cambodian BBQ for more pictures and information.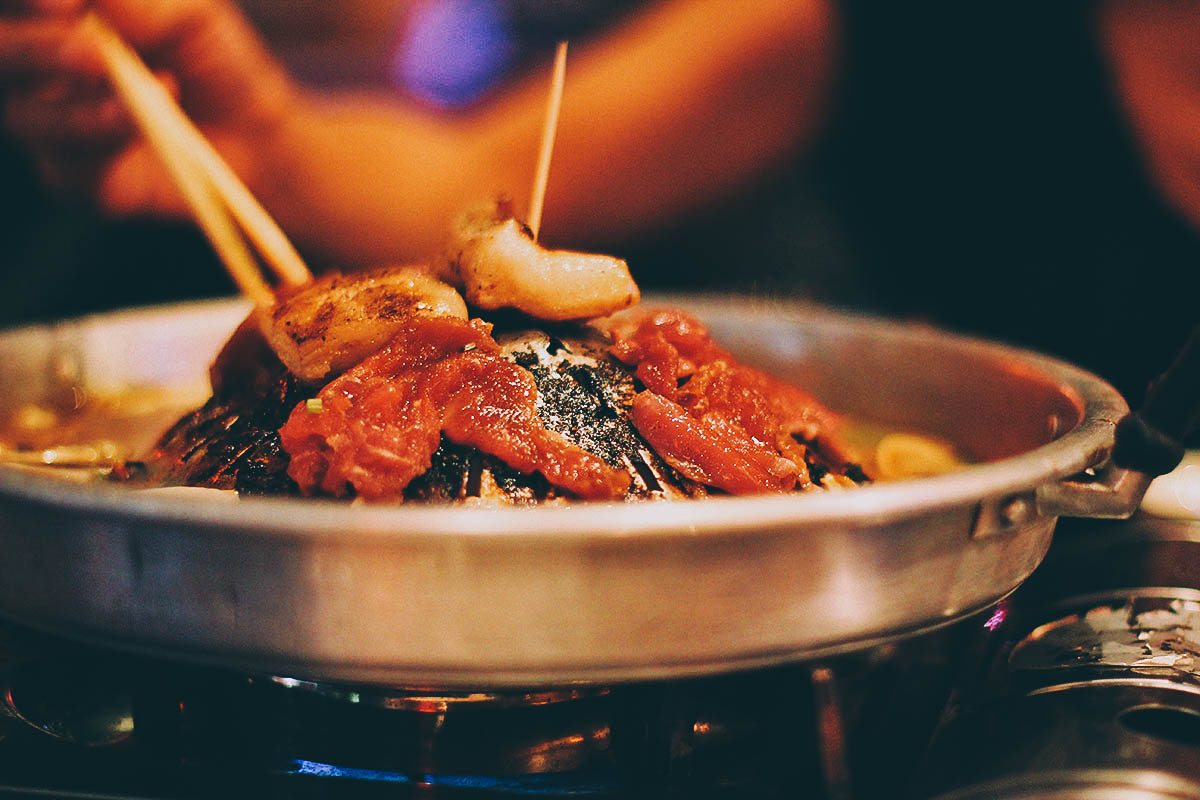 Expect to Pay: Around USD 8 per person with drinks
2. Soria Moria Boutique Hotel (Wednesdays)
Lucky for us, Soria Moria offers Dollar Wednesdays where every item on their tapas menu and bar list can be had for just one US dollar. I suggest going early for dinner because it's very popular. We had the bruschetta among a few other things.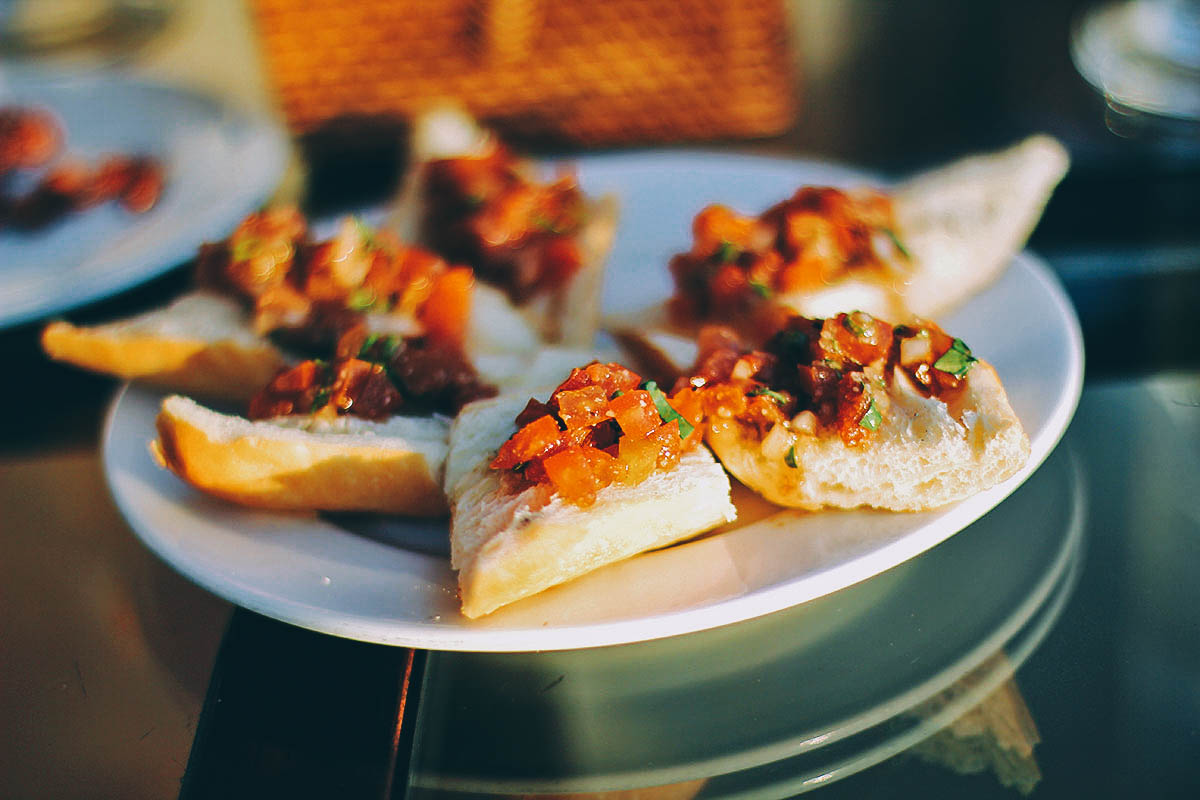 Swedish meatballs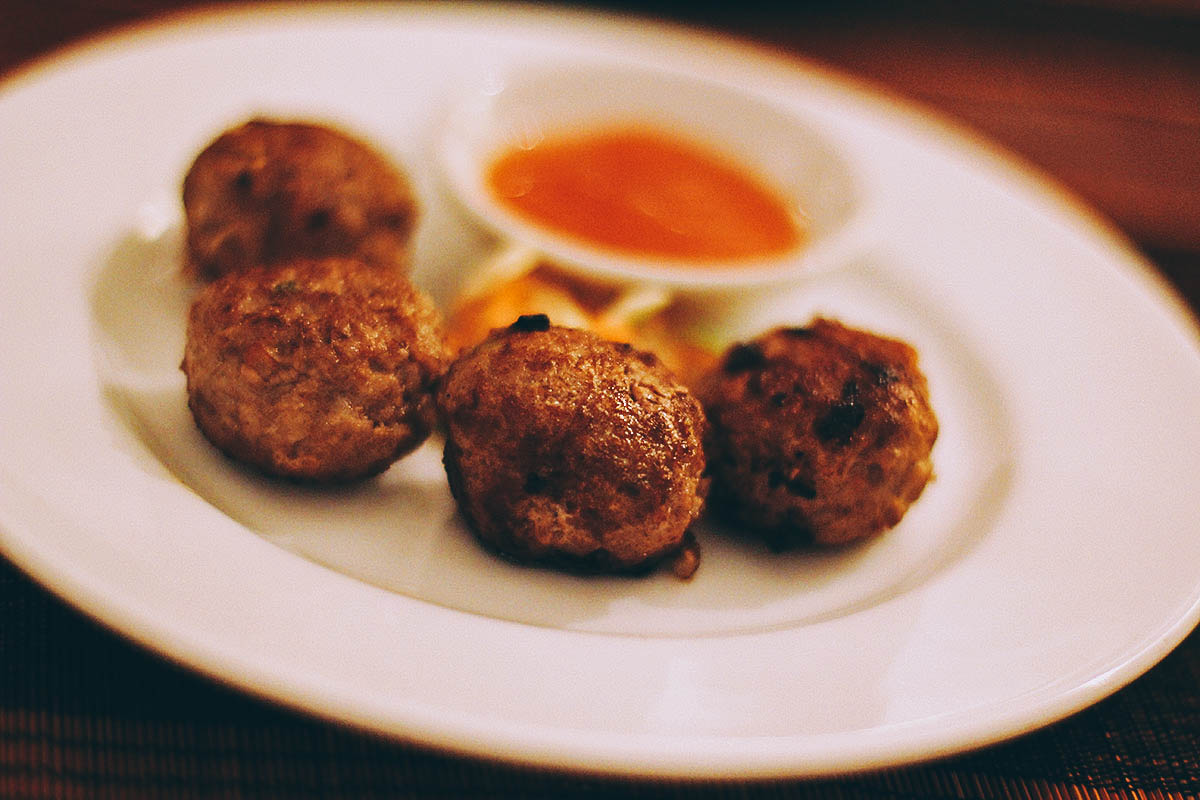 Expect to Pay: Around USD 5 per person with drinks
3. Viroth's
A TripAdvisor awardee, Viroth's is a beautiful restaurant that's perfect for quiet, candlelit dinners. It's just a stone's throw away from Soria Moria along Wat Bo Road. Despite its elegant ambiance and terrific Cambodian food, it's still relatively inexpensive, with dinner for two amounting to just USD 20. If you prefer a quieter atmosphere away from the chaos that is Pub Street, then Viroth's is for you.
Check out my post on Viroth's in Siem Reap for more pictures and information.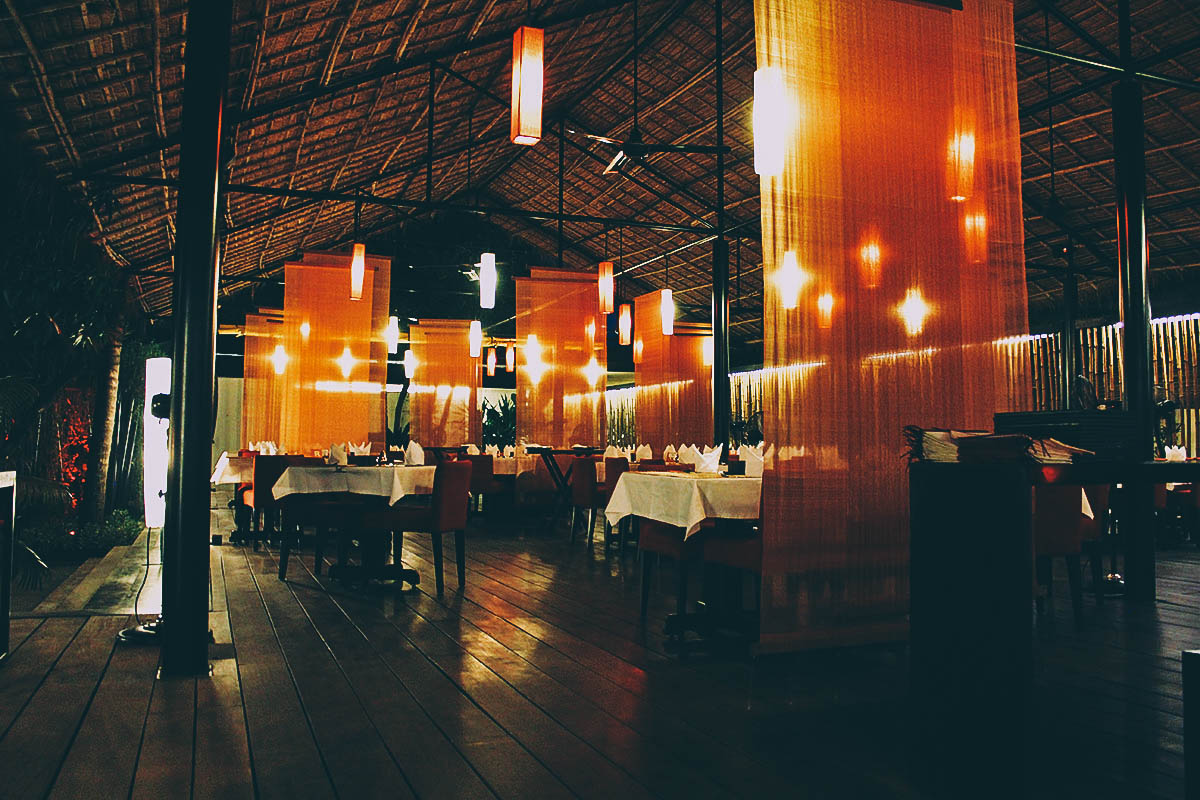 Expect to Pay: Around USD 12 per person with drinks
4. The Square 24 St.
Like Viroth's, the Square 24 St. is another beautifully decorated restaurant just minutes from Soria Moria. We shared the "Passionately Khmer" set menu which is a five-course meal amounting to just USD 18. The Square 24 St. is also a TripAdvisor awardee and a local favorite. It's a refreshing alternative to the loud, touristy atmosphere of Pub Street.
Check out my post on The Square 24 St. in Siem Reap for more pictures and information.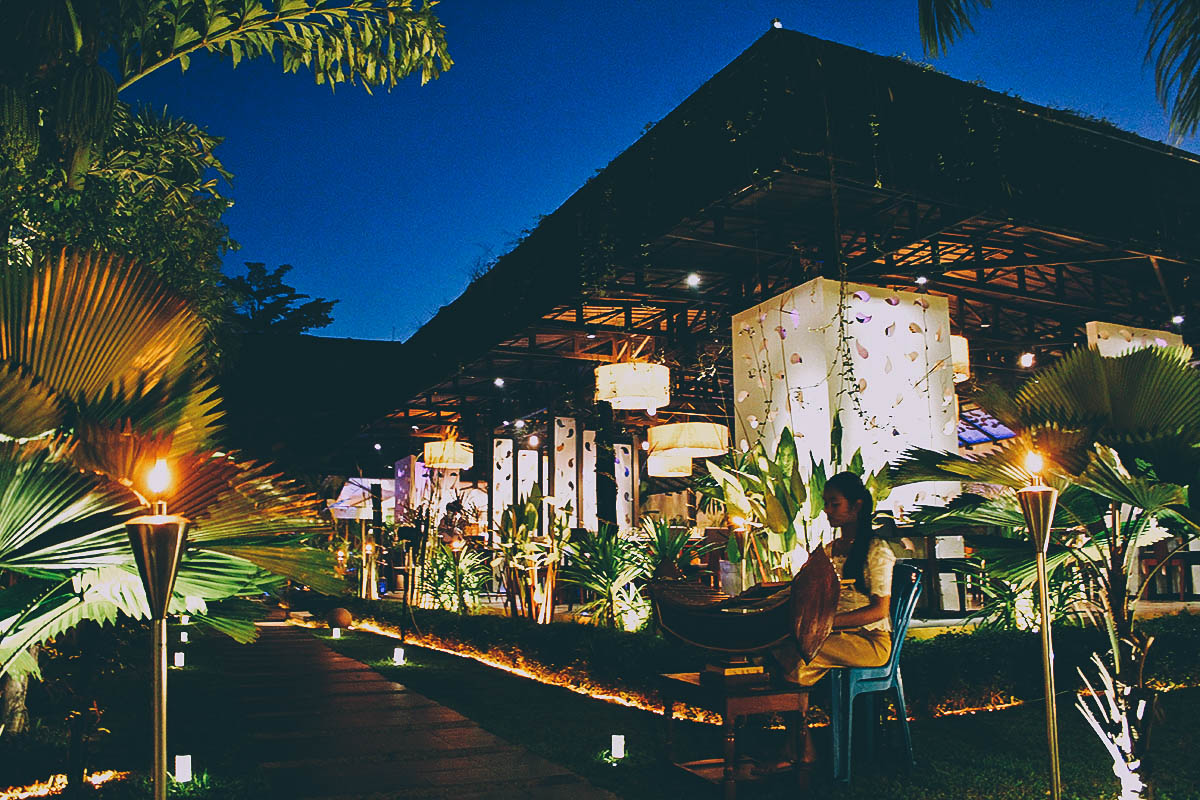 Expect to Pay: Around USD 11 per person with drinks
5. Happy Herb Pizza
If you haven't already heard, Cambodia is known for this phenomenon called "happy pizza". It's basically a pizza dusted with a special herb – cannabis. Yes, you read that right. Cannabis. Despite the ordinary pizza, that extraordinary ingredient made us eat here twice. 😆
A word of caution. Though these are legal establishments, marijuana is technically illegal in Cambodia so it's best to be discrete. In fact, I heard that they don't lace every pizza with cannabis. You have to ask them to make yours "extra happy" to get the good stuff. You're welcome.
Check out my post on Cambodian Happy Pizza for more happy.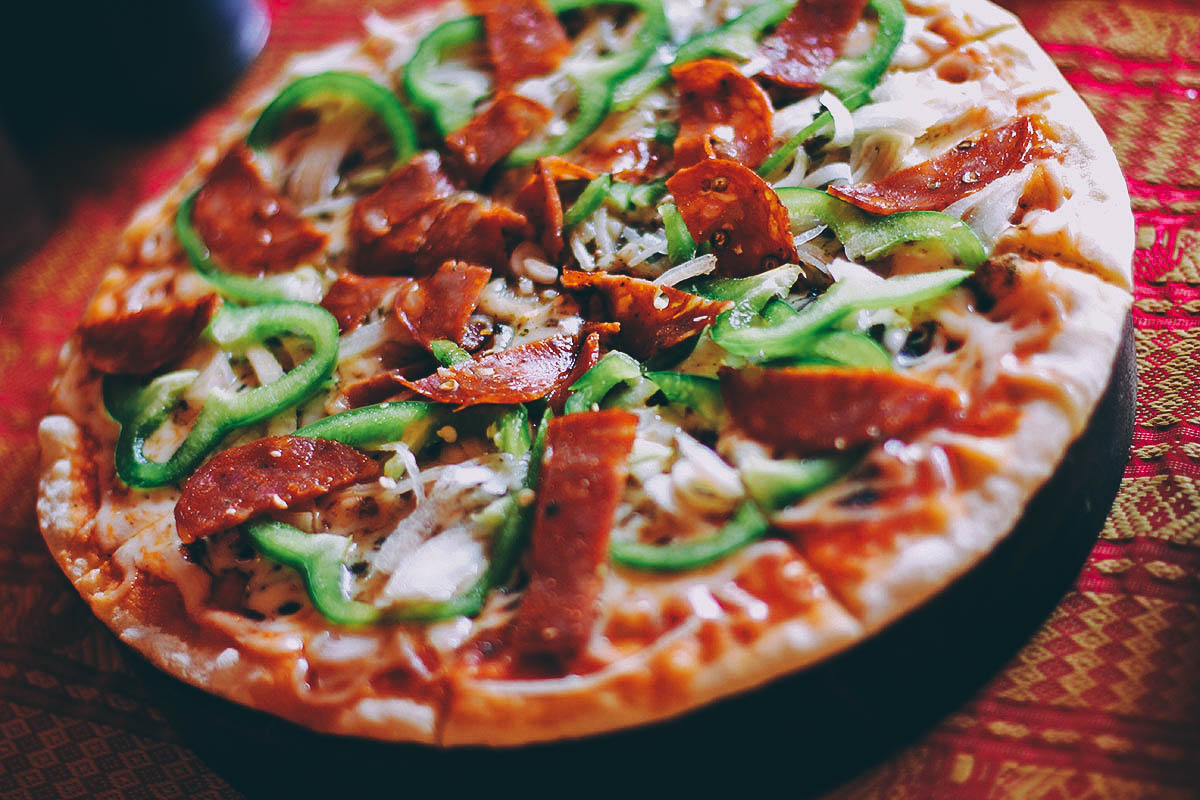 Expect to Pay: Around USD 5 per person with drinks
WHERE TO BUY GIFTS & SOUVENIRS
1. Psah Chah (Old Market)
With various wares like dried packaged fruit, spices, shirts, silver, scarves, and so on, the Old Market is undoubtedly the best place to buy souvenirs in Siem Reap. Check out all these awesome spices!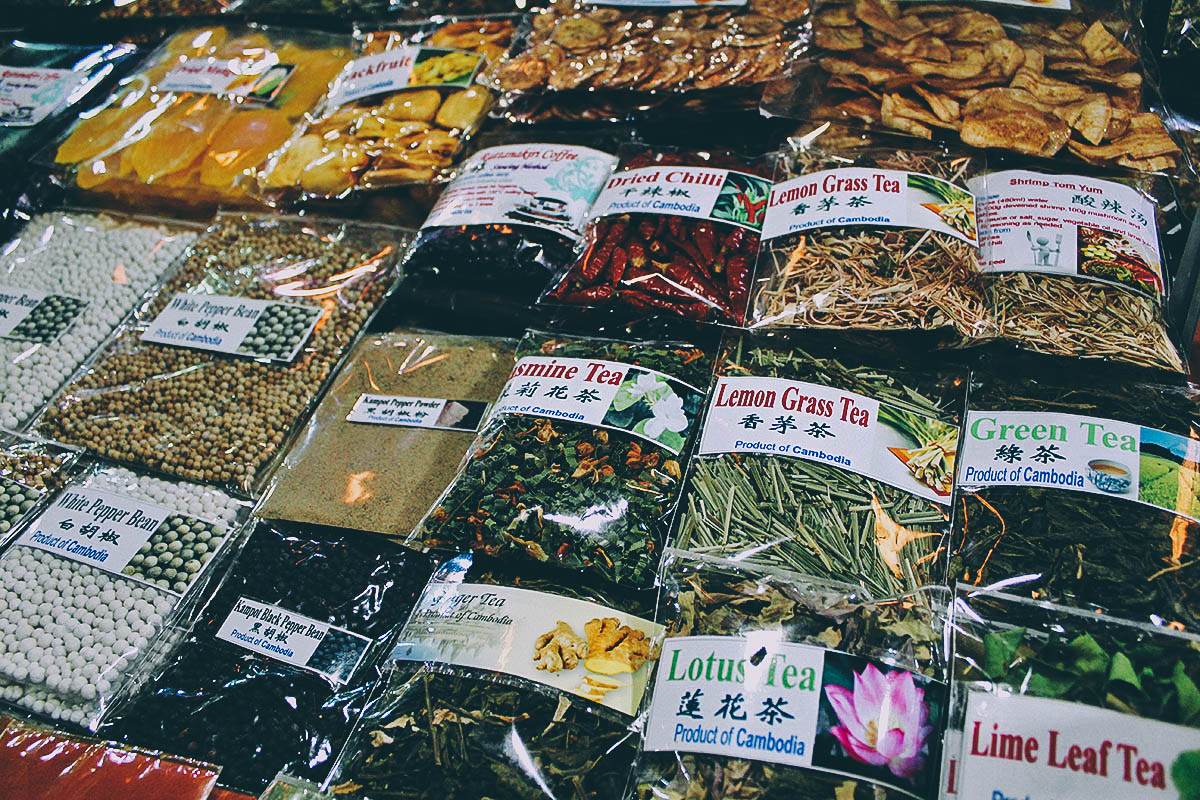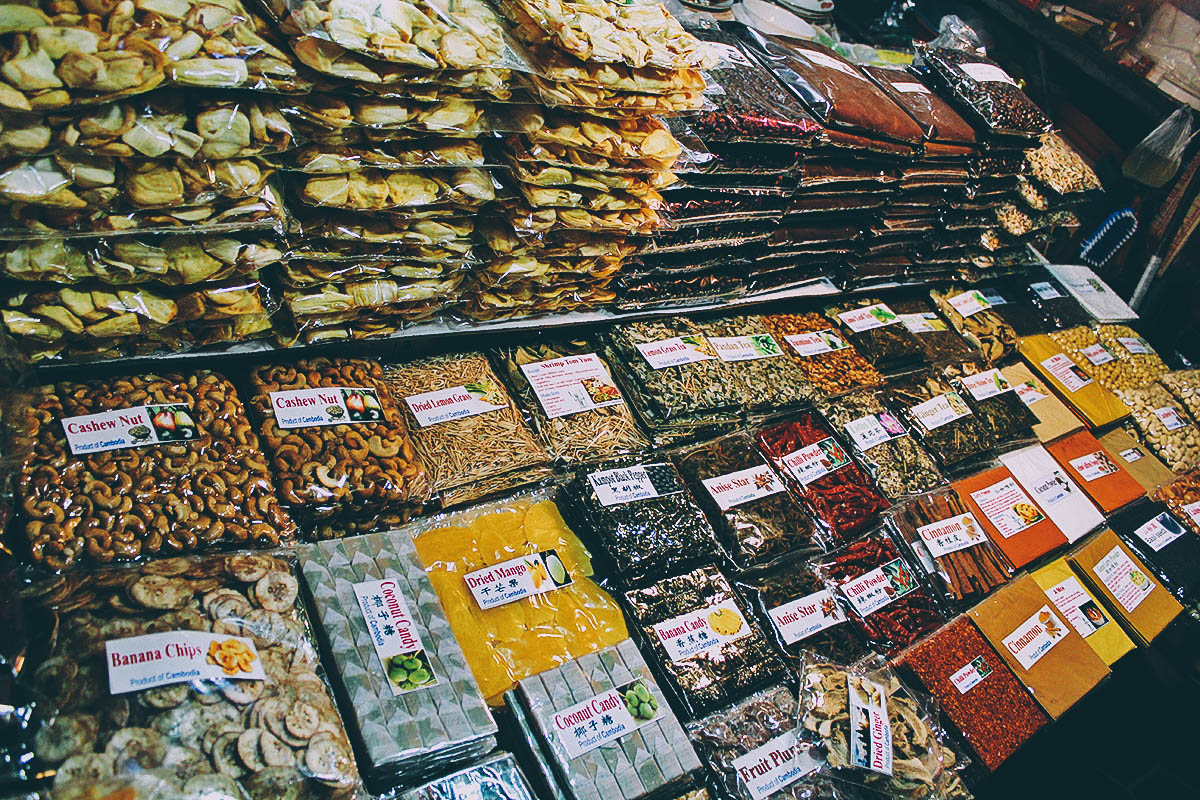 2. Night Market
Located a few short blocks from the Old Market, the Night Market is similar though slightly more upscale and without any food items. Here you'll find more modern nicknacks, Cambodian folk art, jewelry, even fake Beats by Dr. Dre stuff that may have fallen off the back of a tuk tuk.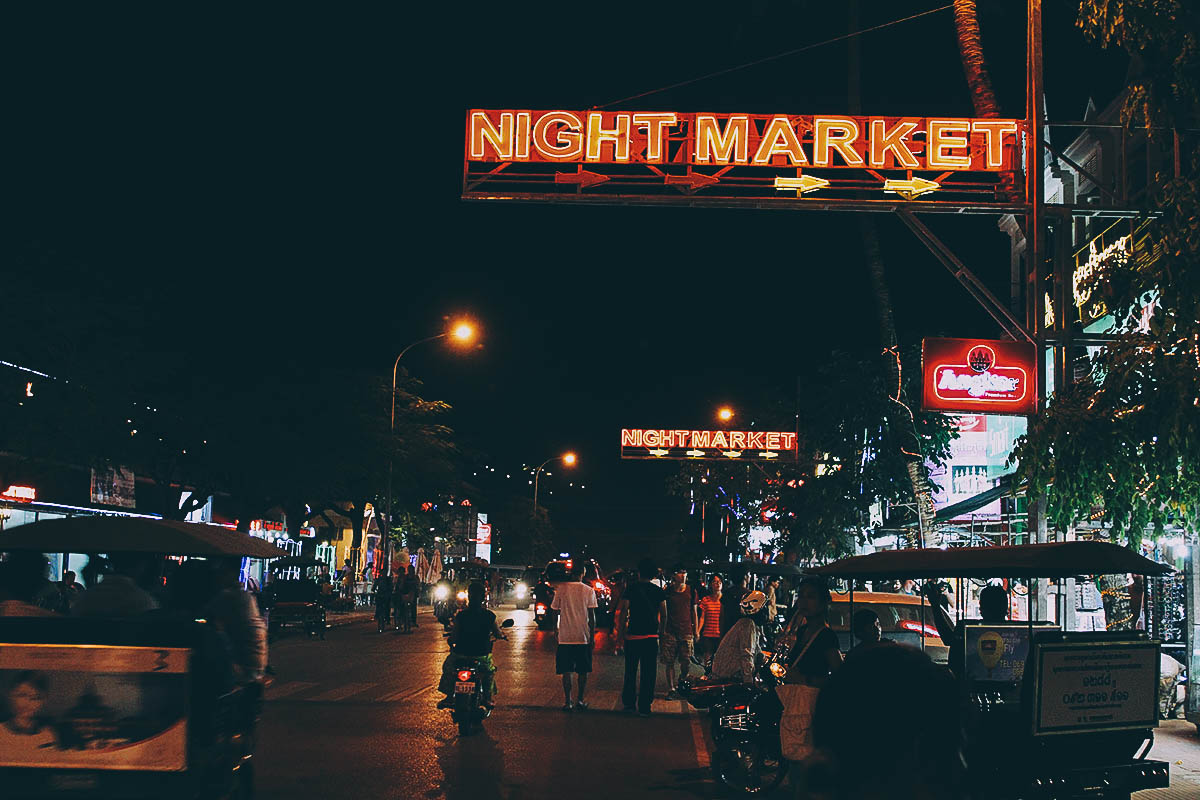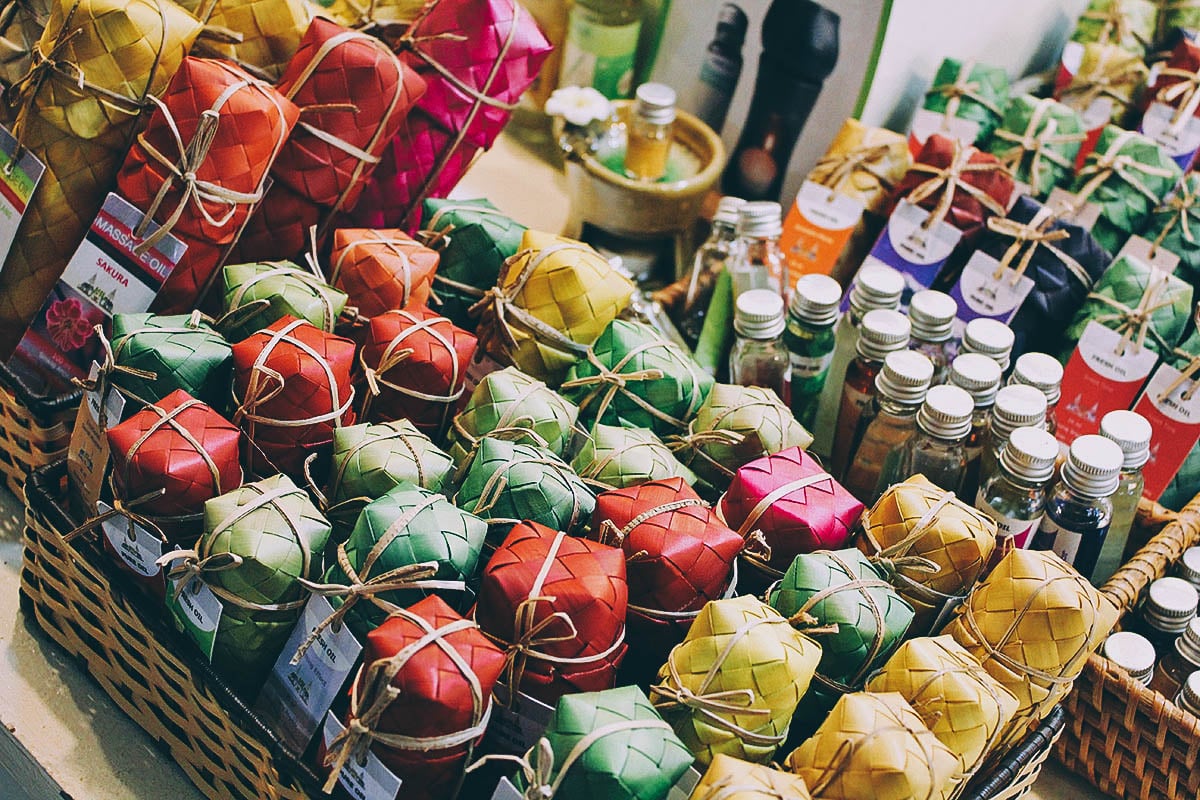 TRAVEL TIPS
1. Dress Appropriately When Visiting the Temples
Remember to dress appropriately when visiting the Angkor temples. Wear pants or skirts that go below the knees and shirts that cover the shoulders. These temples are sacred to Cambodians so skirts, small shorts, tank tops, and other items of revealing clothing are not allowed within the temple grounds.
2. Arrive Early for That Iconic Sunrise Shot
If you're into photography and want to get that iconic Angkor Wat sunrise shot, then be sure to get there as early as possible. I was one of the first people there at 4:30AM and I thought I'd have the place all to myself. WRONG. By the time the sun was rising from behind those temple spires, there must have been several hundred of us lined up in 4-5 rows in front of the temple moat. There's only so much real estate to get a clear shot of the temple so I suggest getting there before 5AM. Any later and you'll probably need to take your shot over some other tourist's big head.
3. Check for Discount Passes
There are many websites that offer discount passes to tours and services. The websites I've used the most are Klook and Kkday. They offer deals in many cities around the world, including Siem Reap. If you're looking for deals on tours and activities, then you can search through this list of Siem Reap attractions on Klook or Kkday. You'll often find interesting activities that you wouldn't normally think of yourself so it's definitely worth a look.
Another good website to look through is Viator. I haven't used it as much (probably because of the less pleasing interface) but they're actually one of the leading online providers of tours and activities. They're owned by TripAdvisor so you know they're solid. You can follow this link to search through tours and activities in Siem Reap on Viator.
4. Get Travel Insurance
To be honest, it was only recently when we started buying travel insurance. Back when we traveled just once or twice a year, it felt like an added expense, one we didn't need. But now that we travel more, I understand how important it is to have it. Fact is, you never know what can happen. It's one of those things that you hope you never have to use, but if you do wind up needing it, then you'll be thanking the gods that you had it. Or cursing them if you didn't.
Though I do find it more necessary now, it's still up to you if you think you need it. A 3-day food trip to Hong Kong may not really call for insurance but if you plan on doing more active things like bungee jumping, kayaking, or even going on a city bike tour, then I'd say get it. In Siem Reap, I think it's a good idea. Some of those temple steps are steep and uneven and not exactly accident-proof.
We buy travel insurance from World Nomads because every long-term traveler I know recommends it. From the sound of it, they're the best in the industry by a mile. Not only do they provide a high coverage limit for medical expenses (up to USD 5 million with the Standard package), they also cover things like trip delays, missed flight connections, theft/loss of passport and luggage, etc. Follow the link or use the widget below to learn more and get a free travel insurance quote from World Nomads. It's super quick and easy.
5. Bring the Right Power Adapter
Cambodia has Type A, Type C, or Type G electrical outlets so be sure to bring the right power adapters for your devices. Electrical voltage is 230V and the standard frequency is 50Hz.
HOW TO GET AROUND
Tuk tuk. Unless you rent a bicycle (about USD 5 per day) or hire a car, then a tuk tuk will be your primary means of transportation in Siem Reap. The breeze from the ride feels a lot like air-conditioning after a hot, exhausting day exploring temples. You can either arrange for a tuk tuk through your hotel or do it on your own. We did everything through our hotel though the latter may be cheaper. Please find approximate tuk tuk costs below:
Angkor Wat (sunrise or sunset, just one temple) – USD 5
Angkor circuit (several temples) – USD 15
Guided Angkor circuit – USD 25
Bantaey Srei – USD 22
Airport transfer (one-way) – USD 6
For Filipinos
Regarding visas, Filipinos don't need tourist visas to visit Cambodia for stays no longer than 21 days.
HOW TO GET CHEAP AIRLINE TICKETS
Ever since I scored my first piso fare from Cebu Pacific, I've been hopelessly addicted to cheap airline tickets. These piso fare tickets are limited and sell fast, so you have to be quick. To give yourself an advantage, I suggest liking their Facebook page and following them on Twitter to quickly find out about these seat sales. If you check off "Get notifications" on Facebook, then you'll receive instant alerts every time they post something new.
As far as I know, only Cebu Pacific has direct flights from Manila to Seam Reap. As of this writing, they have four flights a week — on Sunday, Tuesday, Thursday, and Saturday — departing Manila at 7:35 PM and arriving in Siem Reap at 9:30 PM.
Have fun!
I'm not an expert on Siem Reap but I do hope that you find this post useful. I'm only sharing some of the things that I learned from our trip. If you have any suggestions or simply want to share your own experiences, then please feel free to do so in the comments section below. You're welcome to join our Facebook Travel Group as well. We'd love to hear from you.
Thanks for stopping by and enjoy your time playing tomb raider at Angkor Archaeological Park!
OUR GEAR
These are some of the things we brought with us to Siem Reap. As you can tell, I document a lot of content for this blog so most of the things I bring are photo and video equipment. 😆 If you'd like to see what other gear we use, then you can check out our "What's in Our Backpack?" post. (NOTE: The following links are Amazon affiliate links.)
Disclosure
Some of the links in this guide are affiliate links, meaning we'll get a small commission if you make a purchase at NO extra cost to you. We only recommend products and services that we use ourselves and firmly believe in. We really appreciate your support as this helps us make more of these free travel guides. Thank you!
JB and Renée are the Traveleaters behind Will Fly for Food, a travel blog for the gastronomically inclined.  They enjoy experiencing food from different cultures so they've made it their mission to try every country's national dish.  Read more about them and their National Dish Quest here.