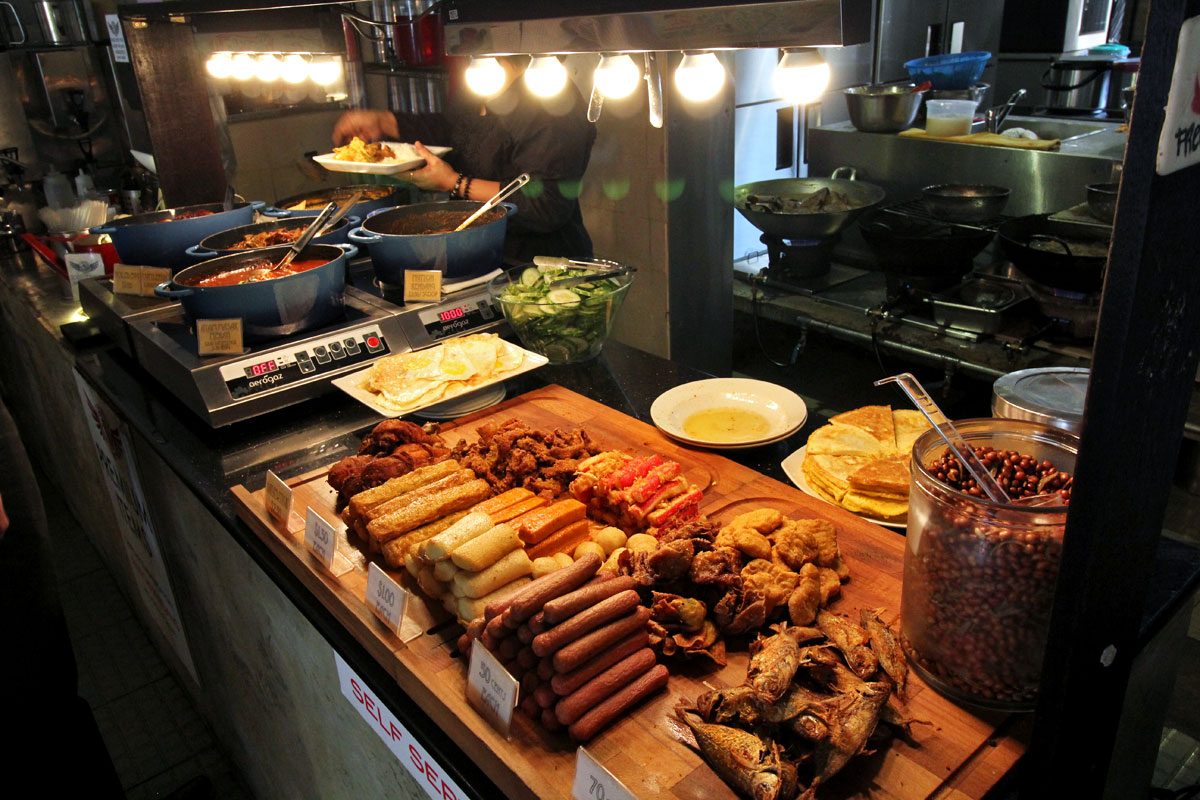 Nasi Lemak Kukus: "The Future of Nasi Lemak" in Singapore
To be honest, we weren't planning on eating here. We had our sights set on Selera Rasa Nasi Lemak but the Adam Road Food Centre was closed that morning. Nasi lemak is one of our favorite dishes so we weren't about to leave Singapore without enjoying it at least once.
We didn't want to eat just any old nasi lemak so Ren hopped on the web and did some research. Luckily for us, she found this place just a few minutes' walk from our hotel courtesy of a stellar review from respected Singaporean blogger Dr. Leslie Tay. Proudly on display at the restaurant was a quotation from his review citing this place as "the future of nasi lemak".
At first, I thought we were about to eat some hipster stuff like deconstructed sambal or ikan bilis sous vide. But I read the review and it turned out to be in reference to the style of the restaurant rather than the dish itself. 😆 That quotation may have been taken a little out of context but one thing was clear. Nasi Lemak Kukus was on Dr. Tay's Must Try List with the exact same rating as Selera Rasa Nasi Lemak — 4.5/5. This place was going to be good.
Self-Serve Nasi Lemak
Nasi Lemak Kukus is along Selegie Road in Little India. It's a short walk from the Little India MRT station.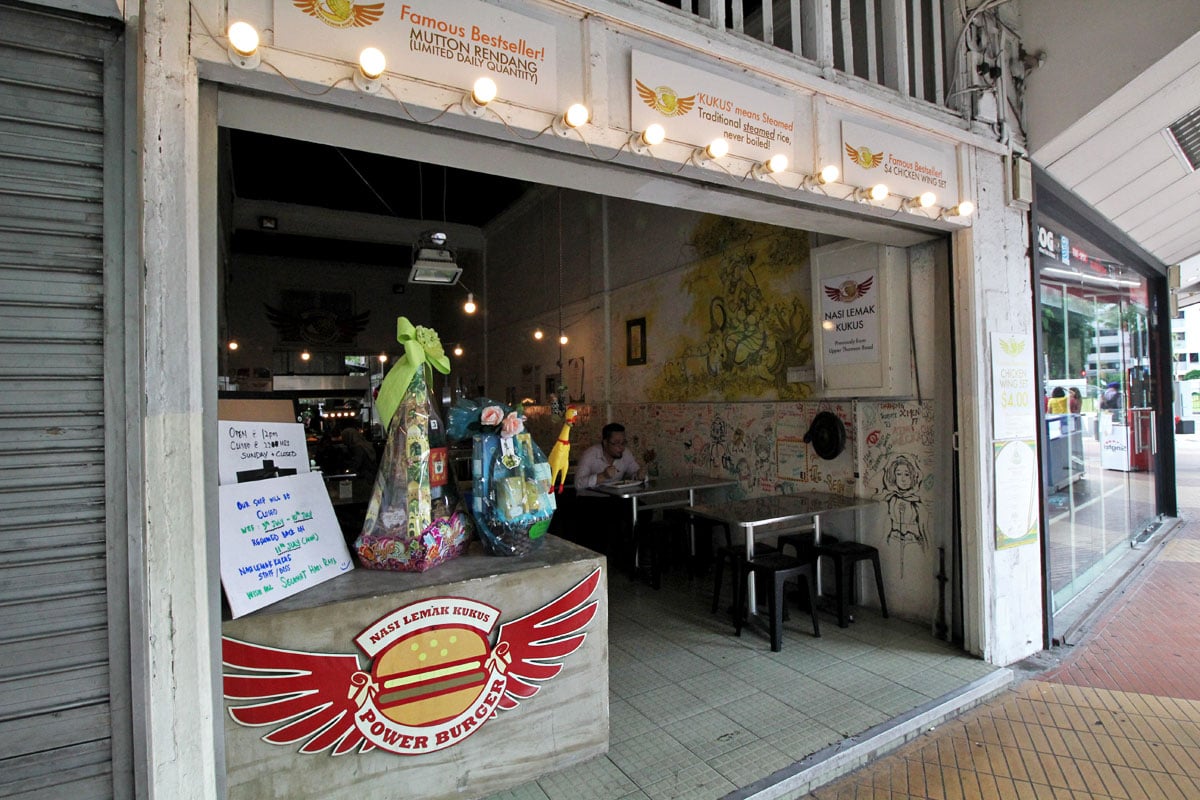 The restaurant has no decor to speak of. Instead, they encourage customers to doodle on the walls. In fact, there's a sign that says markers are available upon request, but for adults only. 😆
Dr. Tay calls this place the future of nasi lemak because it's in a laid back restaurant setting. Before this place came along, nasi lemak was available primarily as hawker food.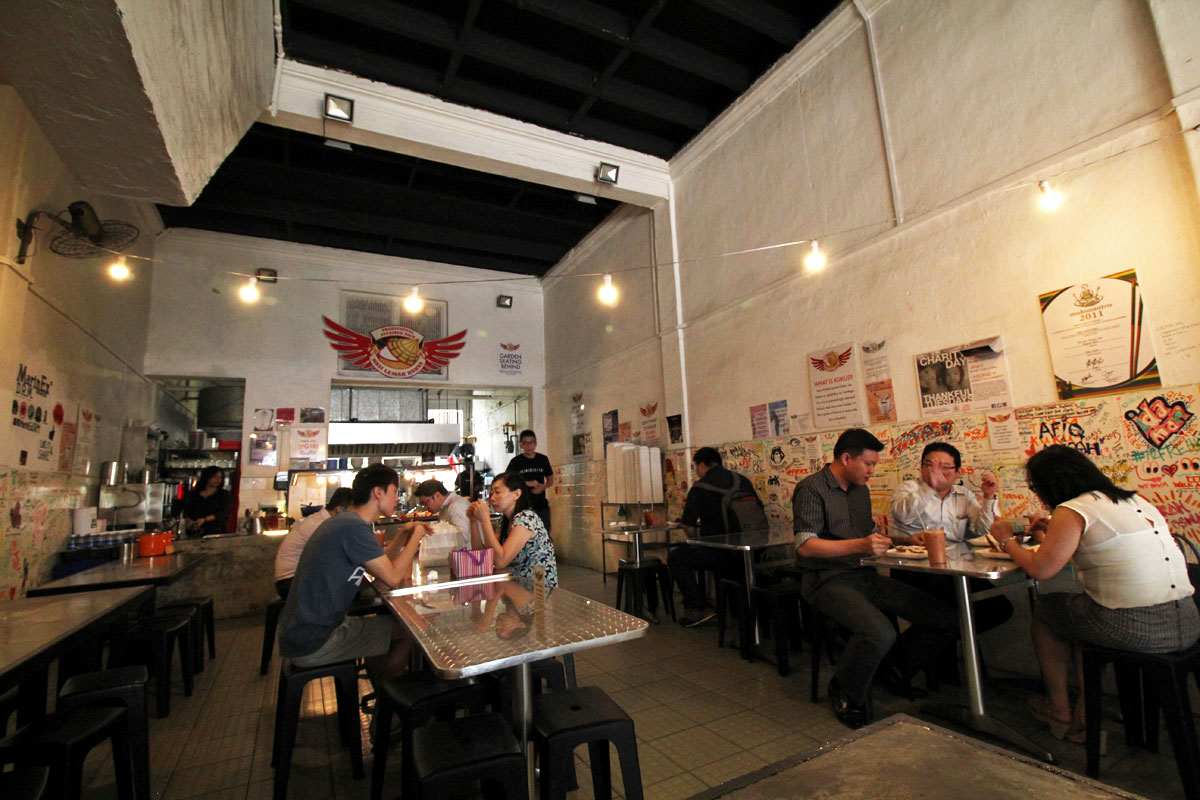 We've eaten nasi lemak a few times but never self-serve like this. You start with the free-flowing rice for SGD 1 then pile on all the sides you want. Each item is labeled with the price so you can approximate how much you'll be paying for your plate. If you can't decide on what to get, you can go for the Signature Chicken Wing Set for SGD 4 which is what we did.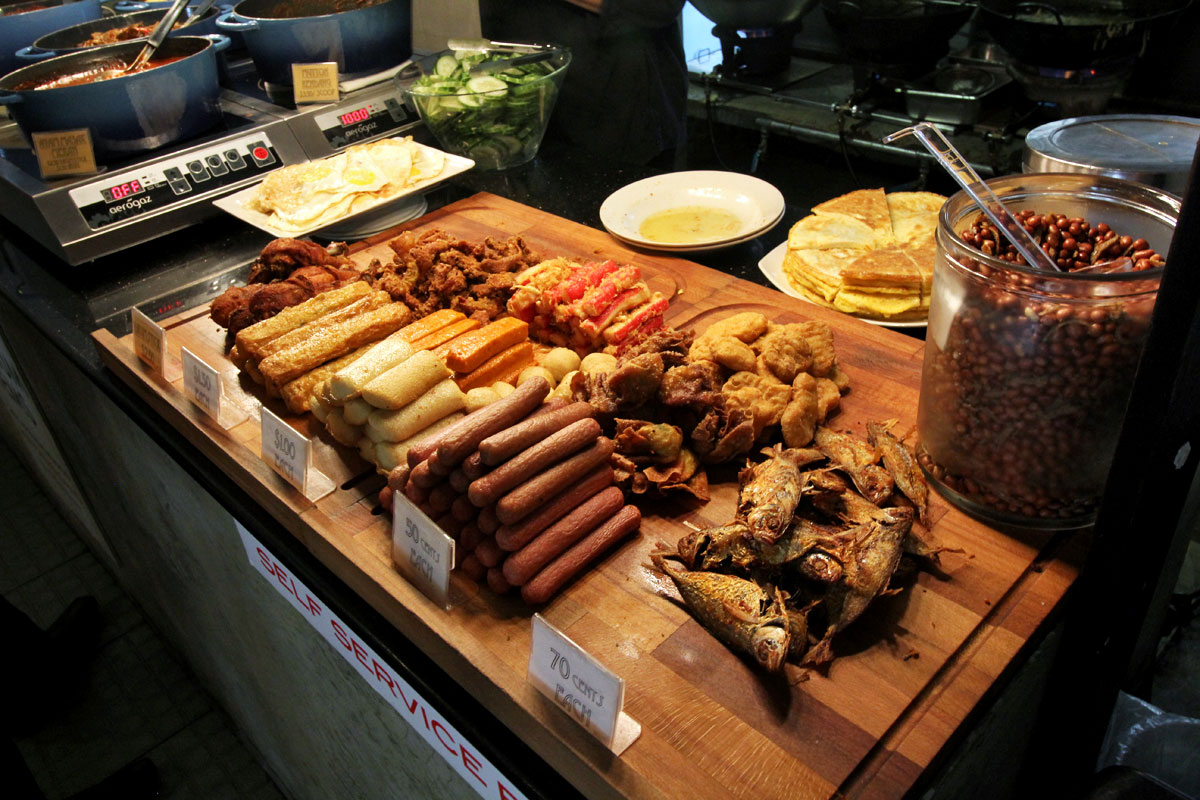 They had many delicious things bubbling up in pots like this mutton rendang and cuttlefish. Everything looked and smelled so good! They're also known for their Power Burger which is similar to a Malaysian Ramly burger.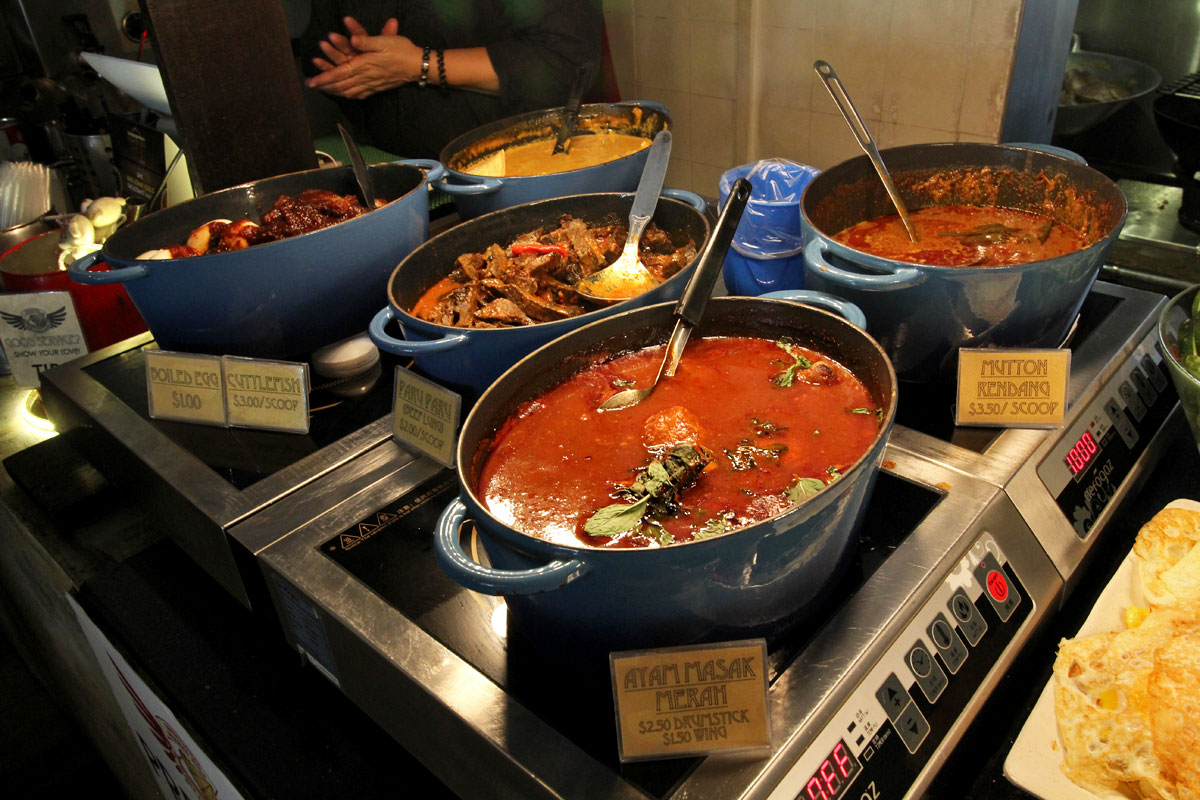 Ren giddy like a scholgirl, excited for her nasi lemak. So cute this one. ♥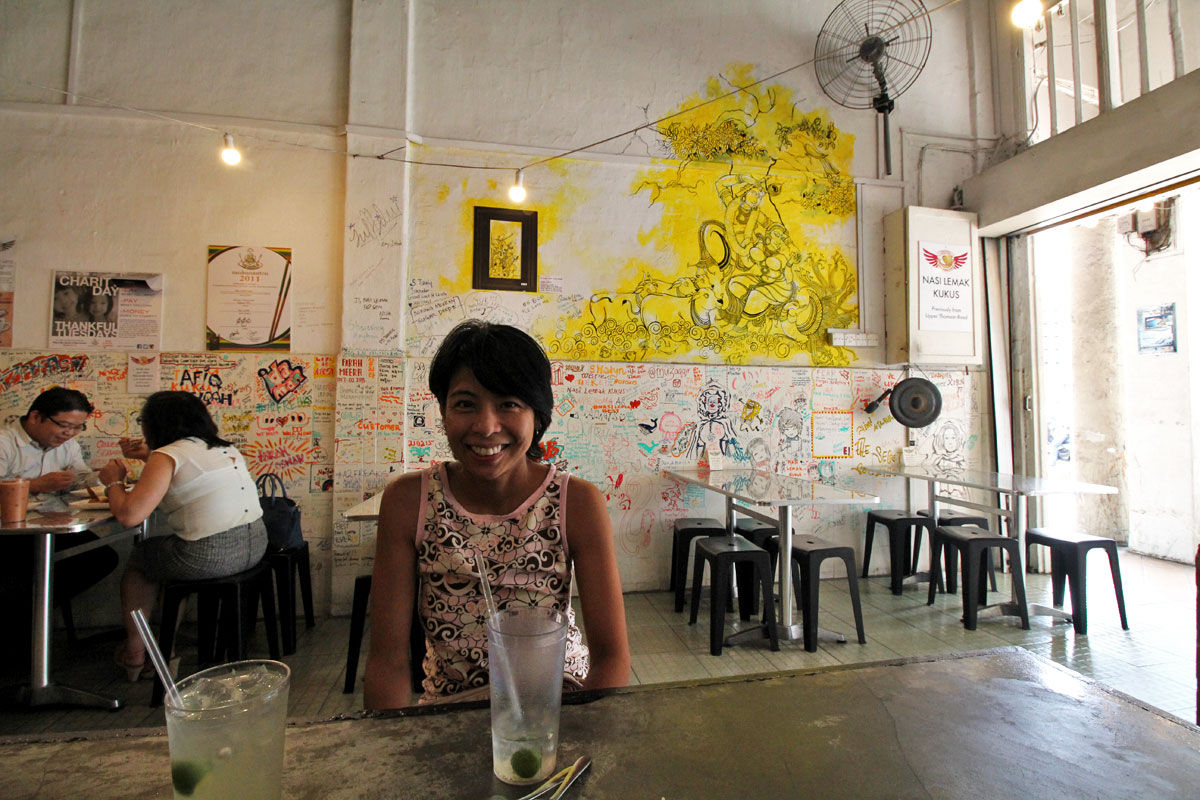 And there it is! The chicken wing set with the signature rice from which this restaurant gets its name. The term nasi lemak kukus refers to the way the rice is steamed instead of being cooked in water. It's a more laborious way of preparing it but it results in a rice with more bite, like al dente pasta. That's one of the reasons why the nasi lemak here is so popular.
We're no experts but this was about as good a nasi lemak as we've ever had. The textures and flavors were fantastic. The crispness of the fried chicken wing, the fragrance of the rice, the richness of the egg, the spiciness of the sambal…just looking at this picture is making me yearn for this all over again! 😈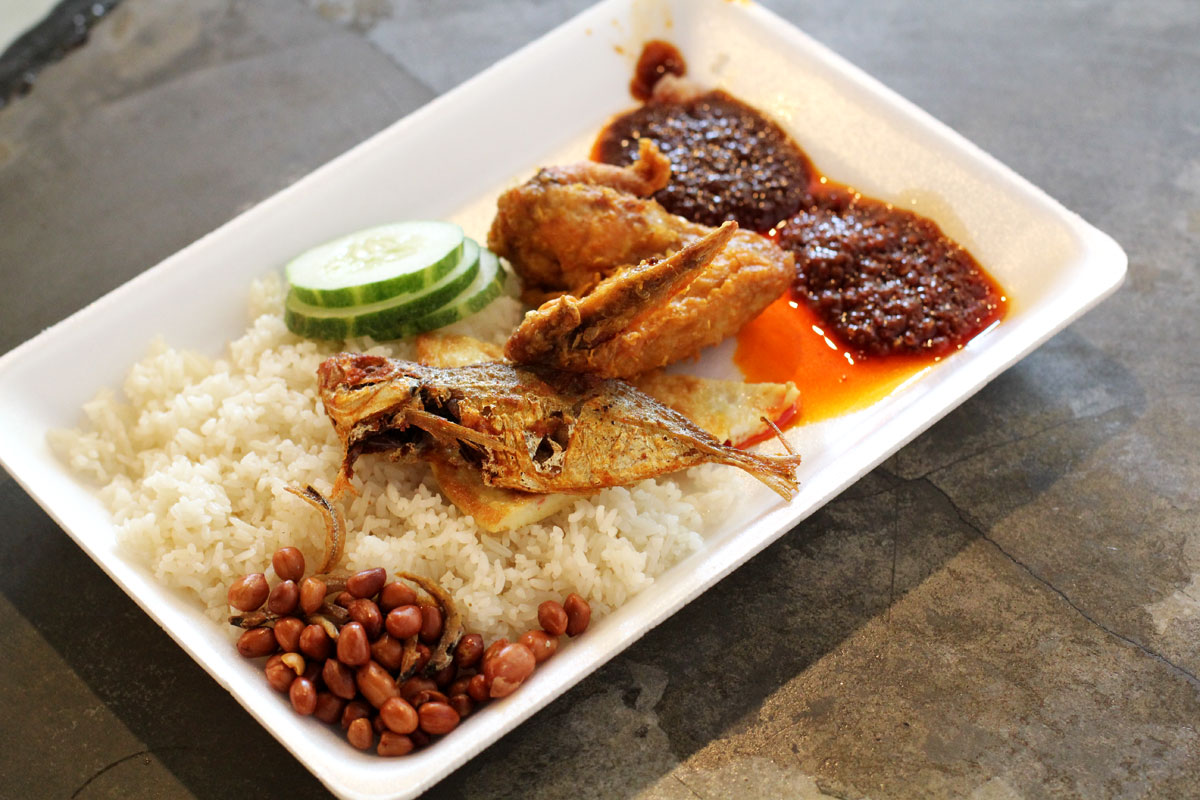 Nasi lemak is one of Singapore's most popular dishes so you need to try it at least once on your trip. Dr. Tay has the highest standards when it comes to food so I'm sure Nasi Lemak Kukus is as good a place as any. In fact, I think I see it in your not too distant future. 😉
Nasi Lemak Kukus, Singapore
229 Selegie Rd, Singapore
Tel: +65 8222-9517
Facebook: Nasi-Lemak-Kukuscom
Email: [email protected]
Operating Hours: Mon-Sat, 12PM-11PM (Closed Sun)
Expect to spend: SGD 4 (Signature Chicken Wing Set)
HOW TO GET THERE:
Take the subway to Little India MRT station. Head southeast on Sungei Rd toward Serangoon Rd. Turn left on Serangoon Rd. This will become Selegie Rd. Nasi Lemak Kukus will be on your right.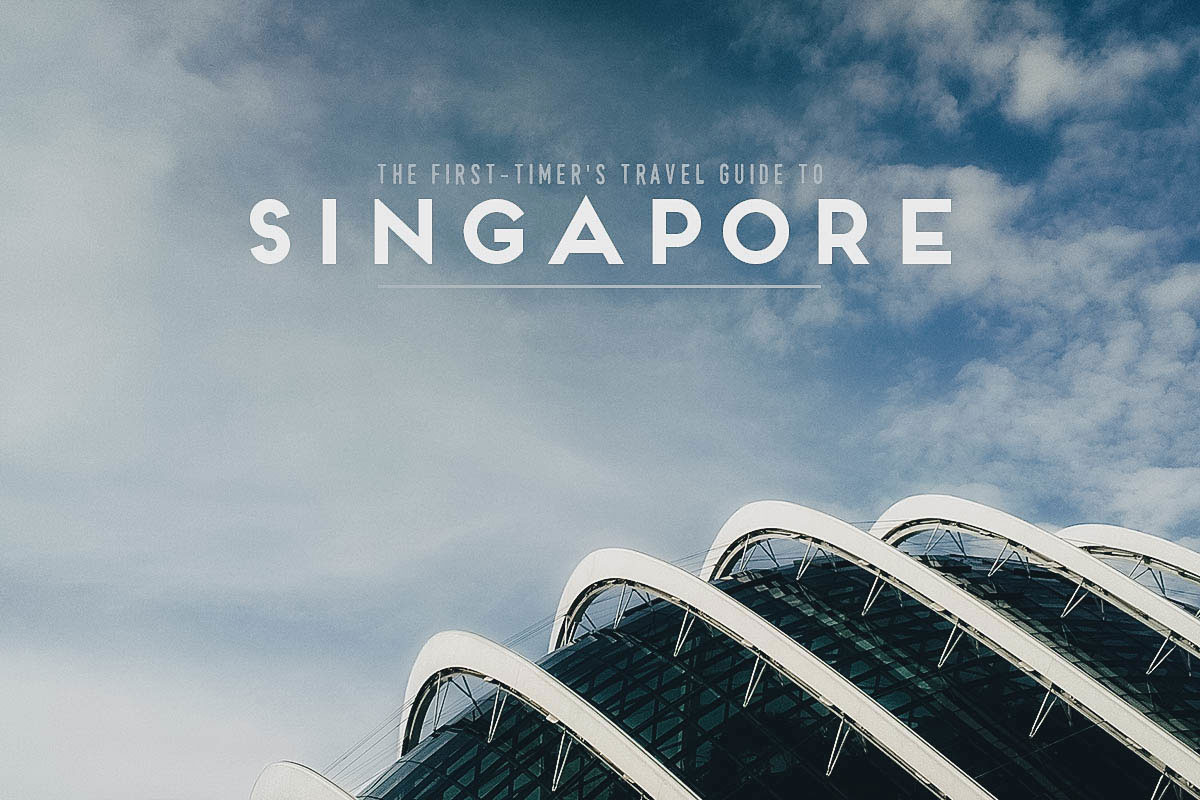 JB and Renée are the Traveleaters behind Will Fly for Food, a travel blog for the gastronomically inclined.  They enjoy experiencing food from different cultures so they've made it their mission to try every country's national dish.  Read more about them and their National Dish Quest here.