Omurca Art Cave Cafe: Where to Eat in Göreme, Cappadocia, Turkey
We did a lot of unforgettable things in Turkey. Grandiose, bucket-list-worthy events like riding a hot air balloon, cruising the Bosphorus, and traversing the calcium travertines of Pamukkale. As you'd expect from things that bring much excitement, all were epic. But not everything needs to be so grand to be special.
A lazy afternoon spent at this unassuming cafe in the heart of Göreme, doing little more than sipping wine in the company of cats, was one of our fondest memories from Turkey.
Into the Belly of Göreme at Omurca Art Cave Cafe
Omurca Art Cave Cafe is set in the heart of Göreme's maze of alleys and fairy chimneys so it can be a little hard to locate. I suggest tracking it down using Sygic Travel and GPS.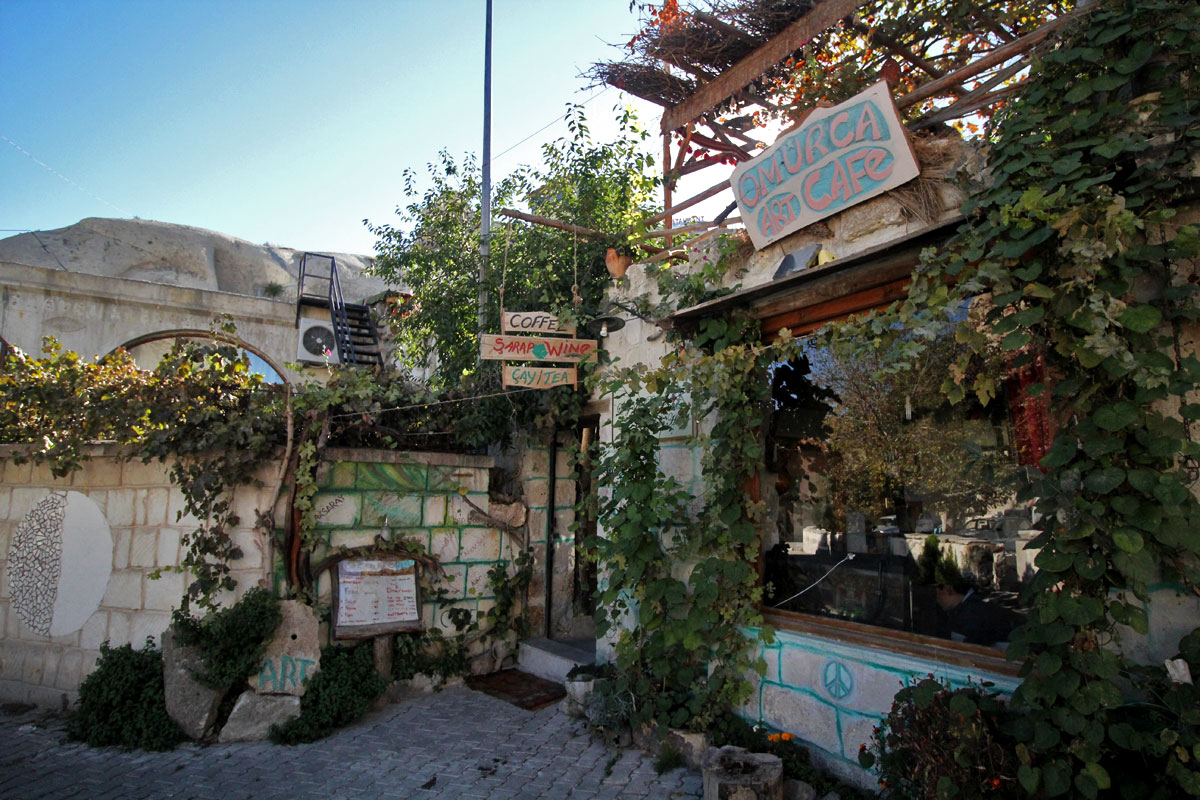 The restaurant is called an "art cave" for two reasons. One, like many establishments in Göreme, it appears to be part of an actual cave carved out of a fairy chimney. Two, it's owned by artist and craftsman Harun who not only decorated the place and built all the furniture, but he cooks all the food himself. You can sit inside or out on the patio to enjoy his delicious home-cooked meals. There's no printed menu, just a whiteboard with the day's available dishes.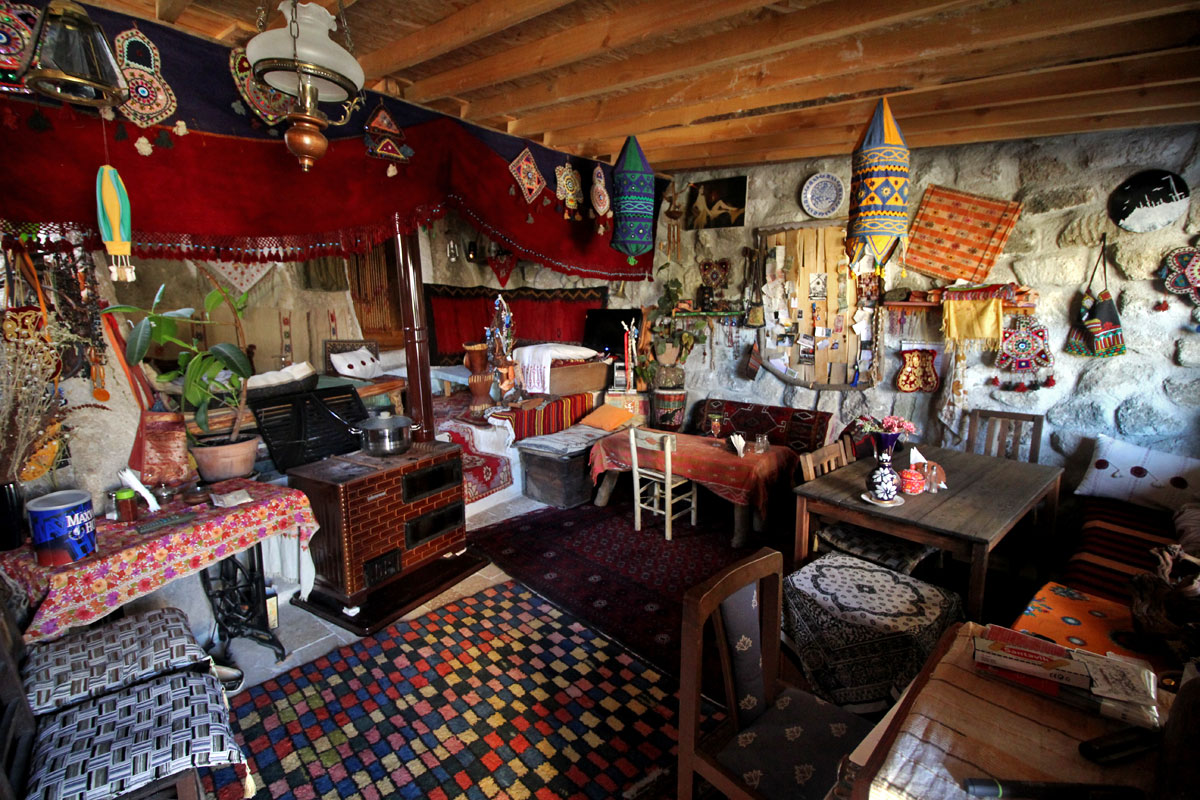 It was a beautiful afternoon so we opted to sit outside. Just be prepared to share your food with the small army of cats living at the cafe. 😆 Not sure if he was Harun's son but the young man who served us said that all nine cats were his.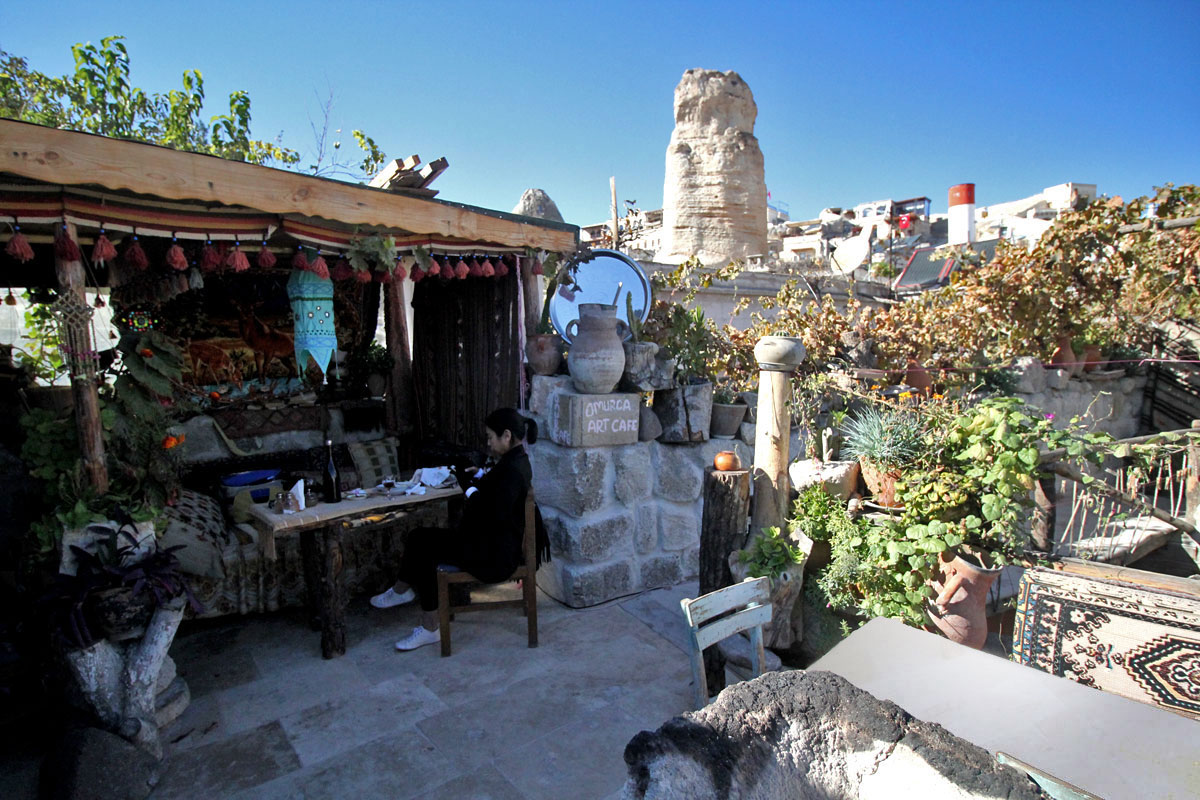 Güvec — 18TL — Casserole with pepper, onion, garlic, tomato, aubergine, potato, spices
Delicious vegetarian casserole served with a basket of crusty bread. Yum!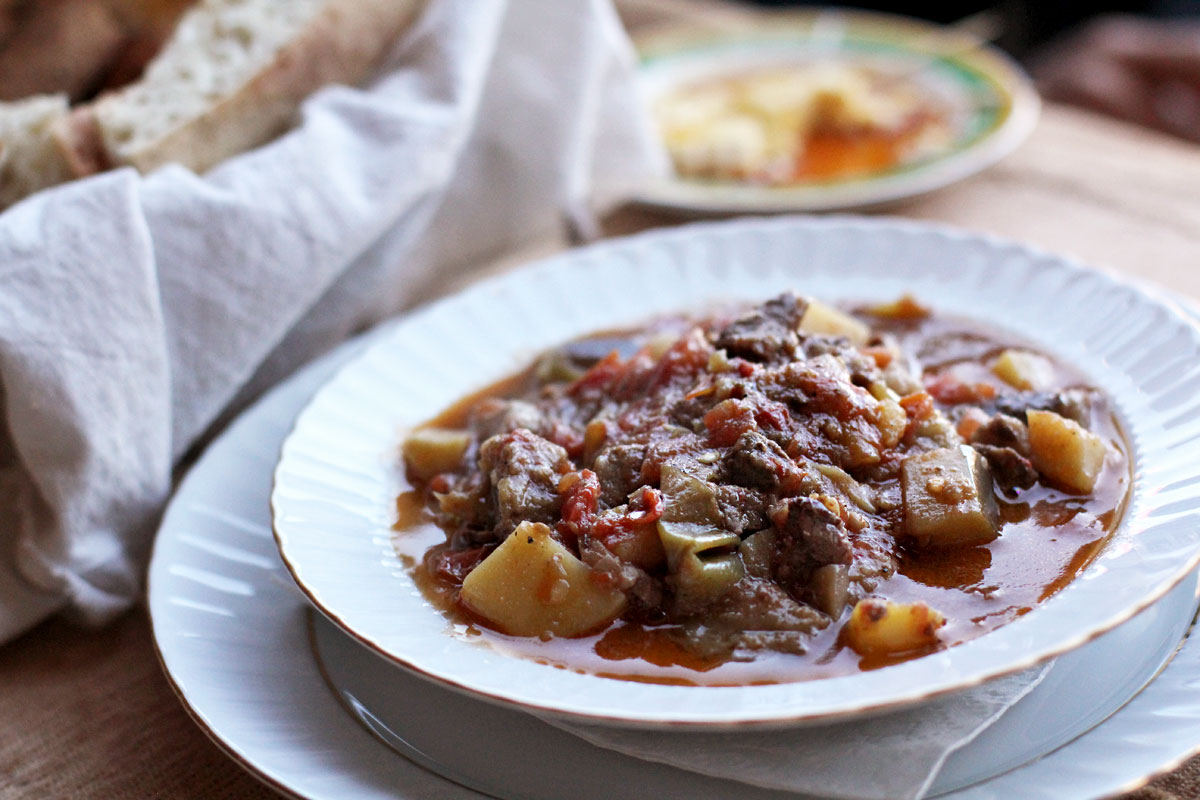 Thankful for the little things. We didn't have anything planned today so we whiled away the hours with some drink and appetizers. This bottle of house-made red wine went for 30TL and was served with a plate of cheese with walnuts and honey. Yes, life is good. 🙂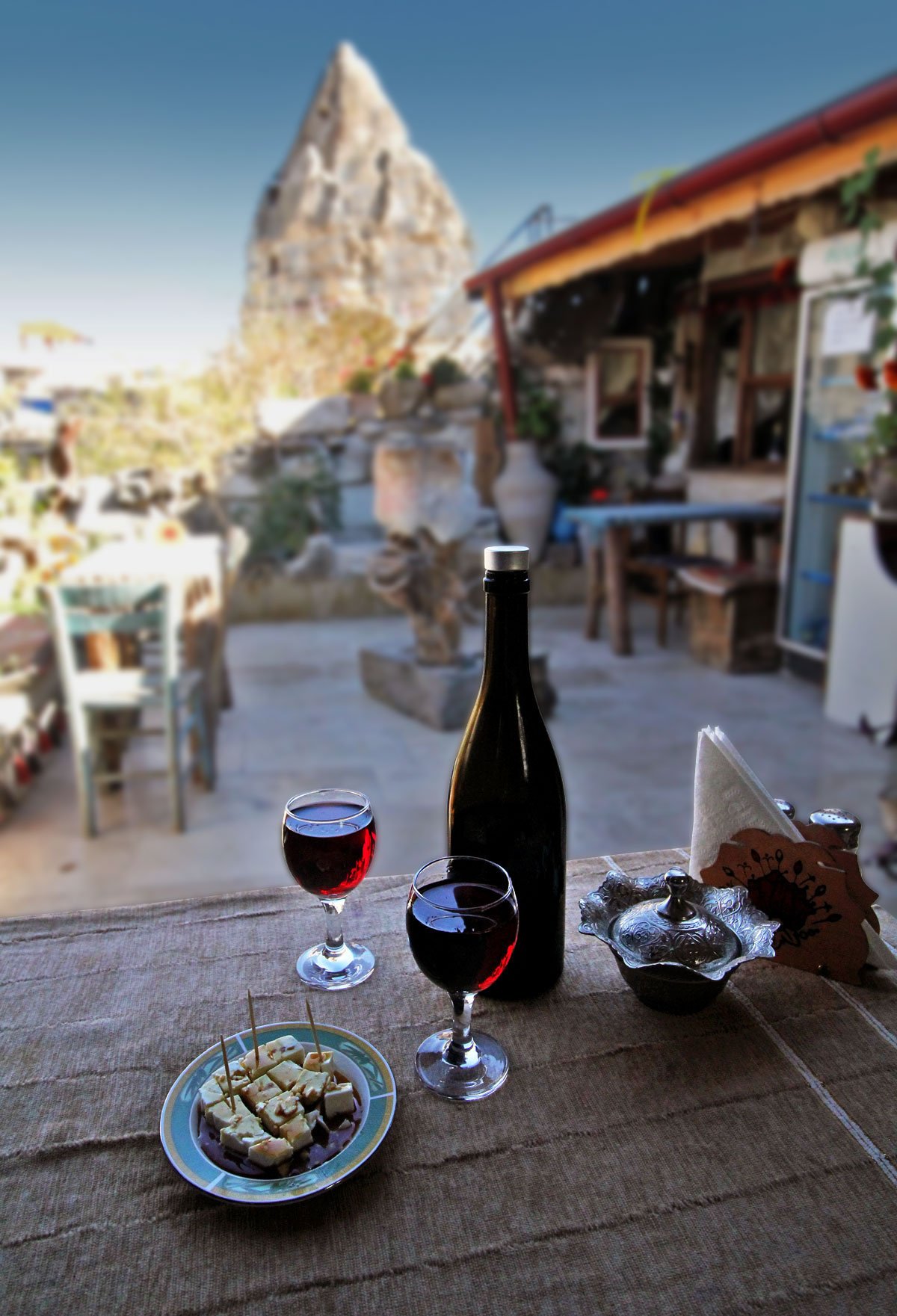 As mentioned up top, Omurca Art Cave Cafe can be hard to locate but it's worth the effort. It's a TripAdvisor Certificate of Excellence awardee and one of the most highly-rated restaurants in Göreme. The food is good and freshly made and the vibe relaxed. We were disappointed not to meet him but commenters on TripAdvisor gush about the kindness and hospitality of Harun, which is always a big plus.
Speaking of simple and epic, we left the satisfying simplicity of Omurca to do something exciting. We explored the moonscape of Cappadocia on horseback just before the sun was about to set. Woozy with wine, it was another unforgettable experience which I'll leave for another time. 😉
Omurca Art Cave Cafe, Göreme, Cappadocia, Turkey
Kazim Eren Sokak, No: 27, Goreme 50100, Turkey
Tel: +90 542 605 0062
Facebook: omurca.artcafe
Foursquare: omurca-art–kafe–restaurant
Email: harun_yf@hotmail.com
Expect to Spend: About 25TL per person with drinks
Reservations: Recommended during peak season
HOW TO GET THERE:
Omurca Art Cave Cafe is buried deep within Göreme's maze of hotels and fairy chimneys so it's a little difficult to find. If you have pocket wifi, then the easiest way to locate the restaurant is to input its address in Sygic Travel and use GPS to track it down. That's what we did.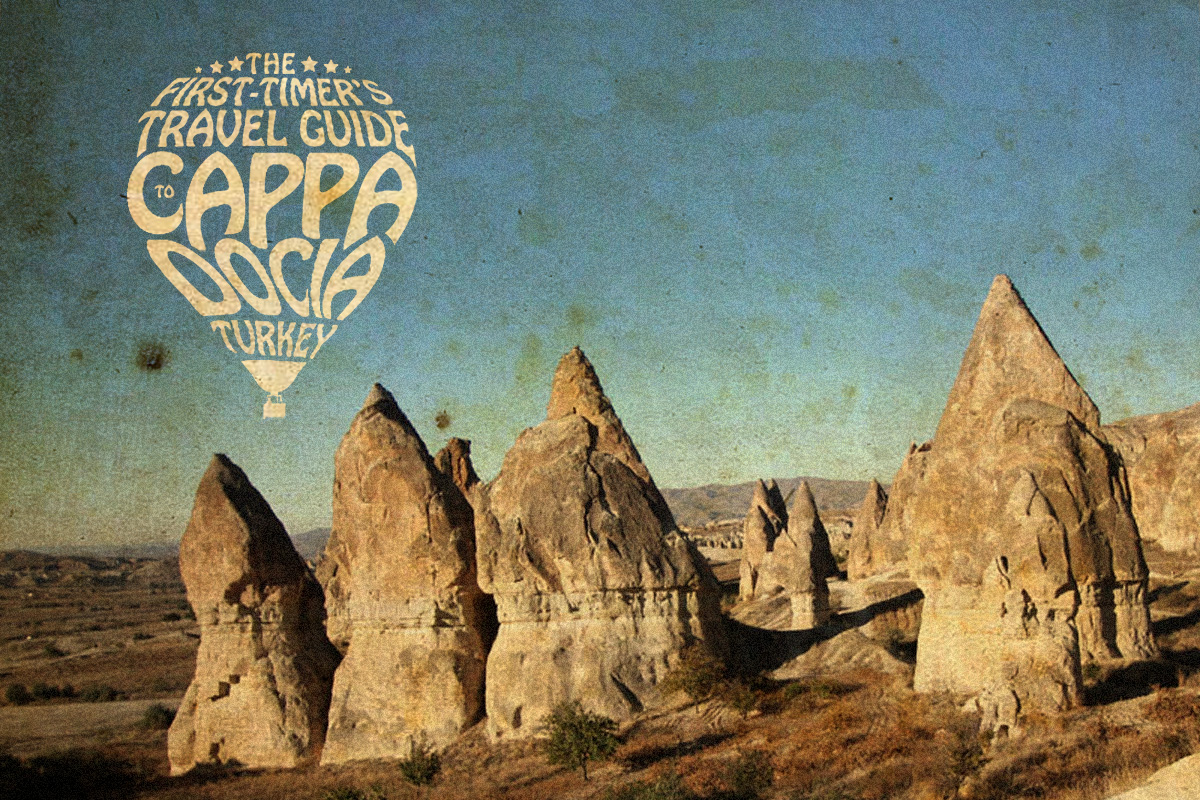 Disclosure
Some of the links in this post are affiliate links, meaning we'll get a small commission if you make a purchase or reservation at NO extra cost to you. We really appreciate your support as this helps us keep this website going. Thank you!