I'm not a materialistic person. I'm not into cars or fancy clothes. I prefer flip-flops to loafers and I haven't worn a watch in over a decade.
Considering that I'm a graphic artist and blogger, you'd think that I'd be more into gadgets but I'm not. My iPhone and iPad are hand me downs from my wife. As much as I appreciate them now, especially the iPhone when traveling, they're things I never bought for myself simply because I didn't feel like I needed them. Sure, I have a DSLR and a GoPro, but I enjoy them purely for what they provide — content for this blog — and in the end, that's what I really love. Even then, I bought the DSLR second hand from a friend years ago. Any lenses and accessories were purchased after many hours of careful research and deliberation.
Yes, I'm frugal when it comes to material possessions. But when presented with a once-in-a-lifetime experience, I rarely give the cost a second thought. I value experiences over things and today was an embodiment of that. Going up in a hot air balloon over the moonscape of Cappadocia, this was one of the most awe-inspiring experiences of our lives and some of the best money we've ever spent.
Voyager Balloons
Greeted by a stormtrooper in a basket. Voyager Balloons offers two daily flights — one in the morning and another at sunset. Early morning flights are considered the best and safest, with wind conditions being at their most stable.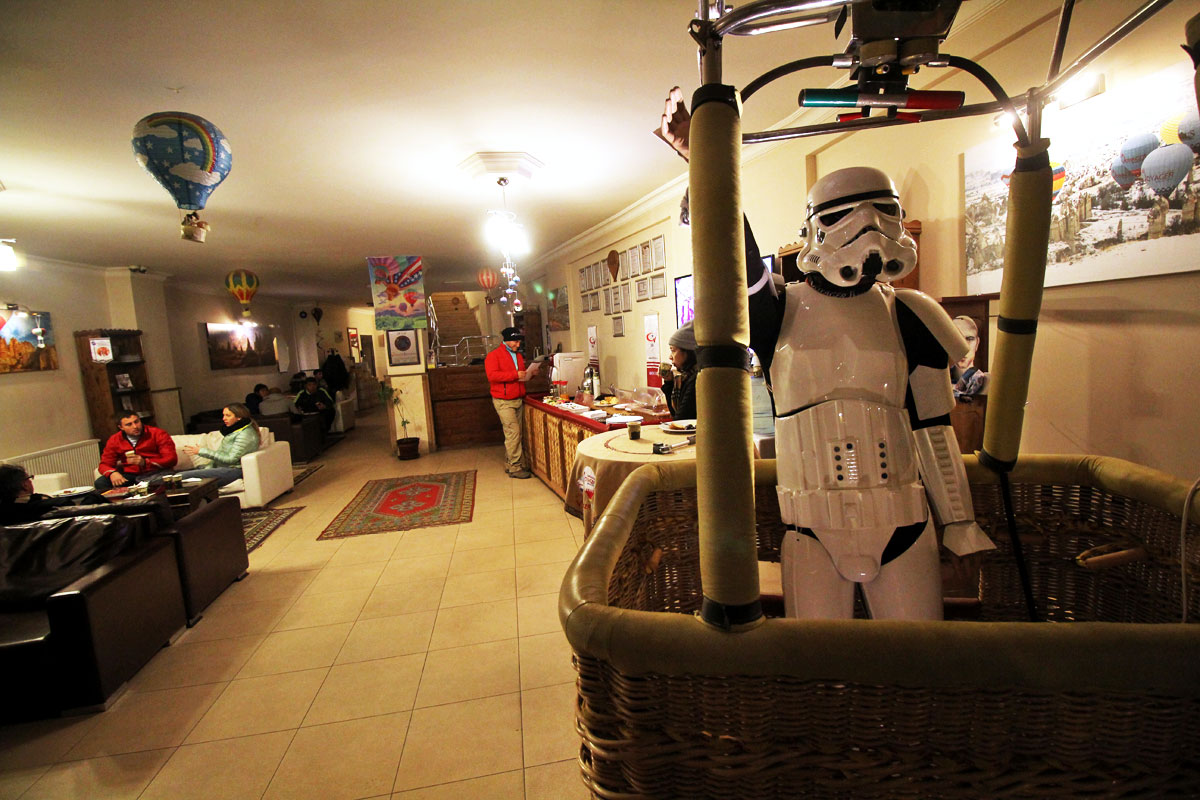 If you're booked for the morning flight, they'll pick you up from your hotel around 5:30AM and take you to the Voyager office for breakfast. Breakfast is already included in the flight cost, which starts at 160 Euros per person. A little pricey yes, but worth it. Not to be preachy, but sometimes in life, you just have to forget about the money. This is one of those times.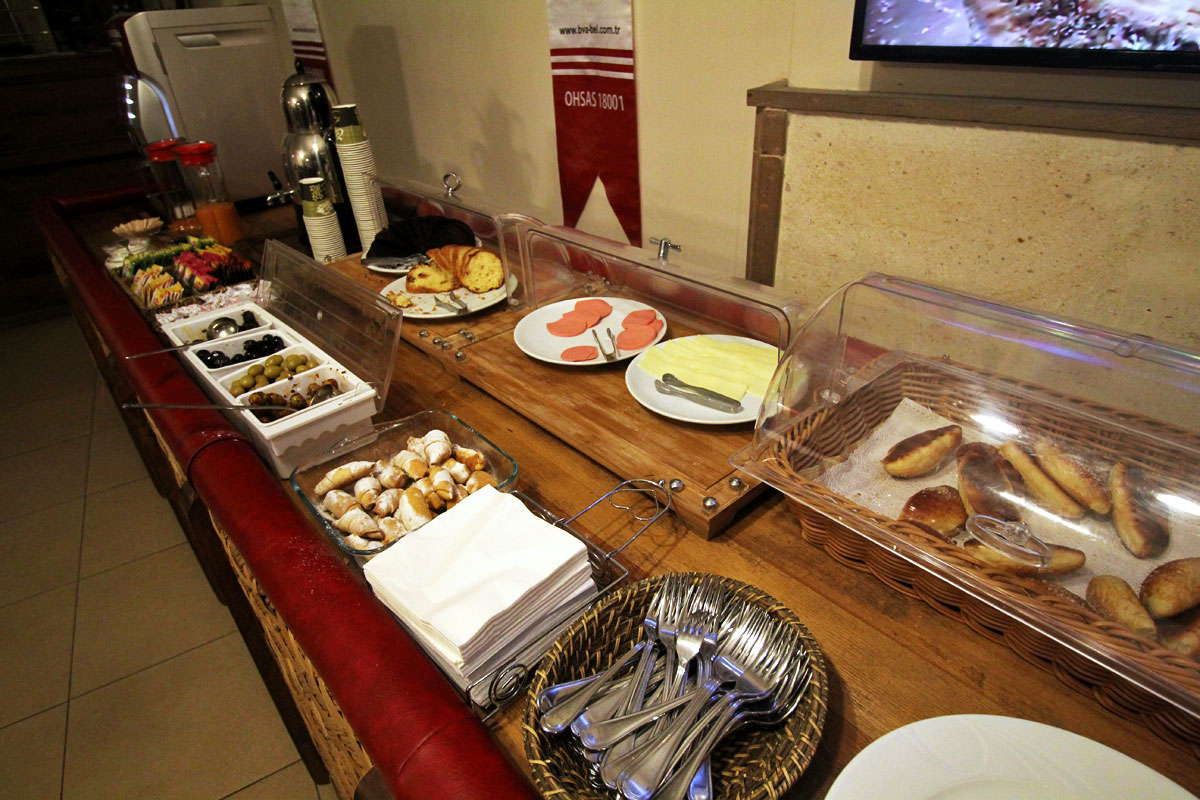 After you've had your fill of olives and cheese, they'll shuttle your group out to the launch field. There's our balloon getting prepped for flight.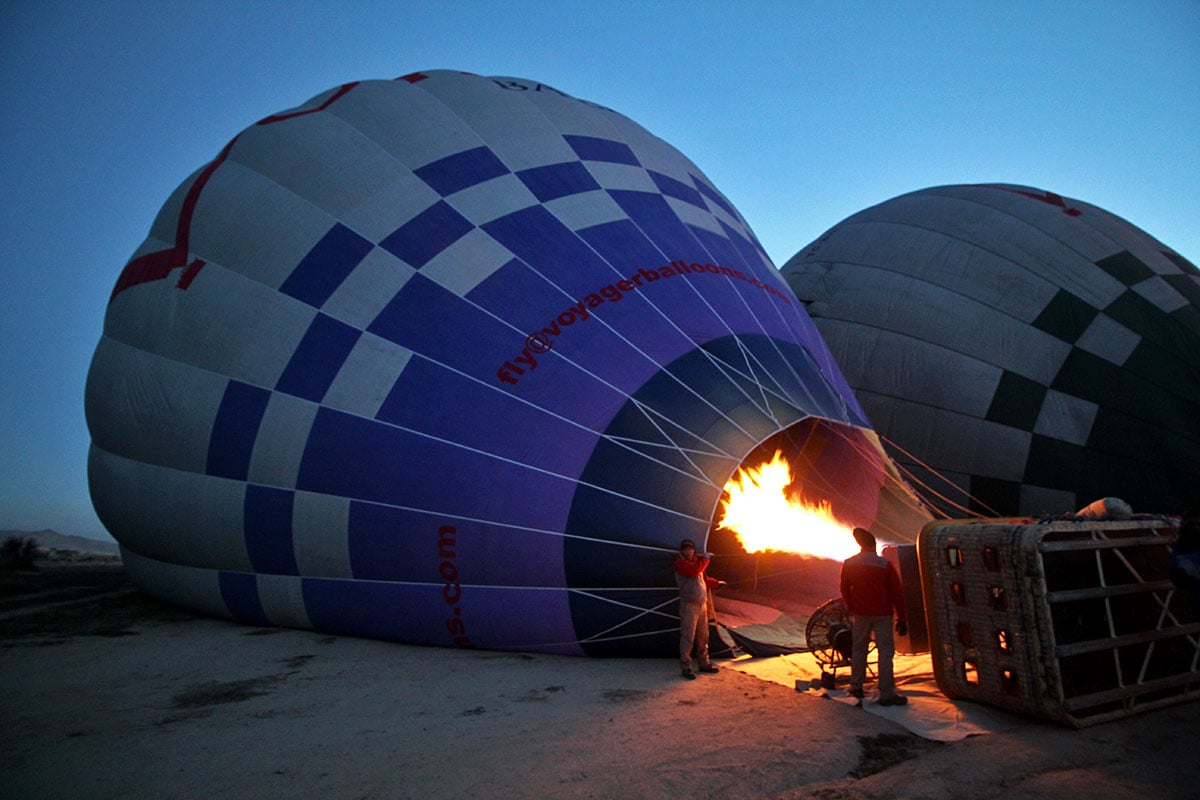 A few early risers. Safety is paramount in Cappadocia so a maximum of 100 balloons are allowed to take the air at any given time.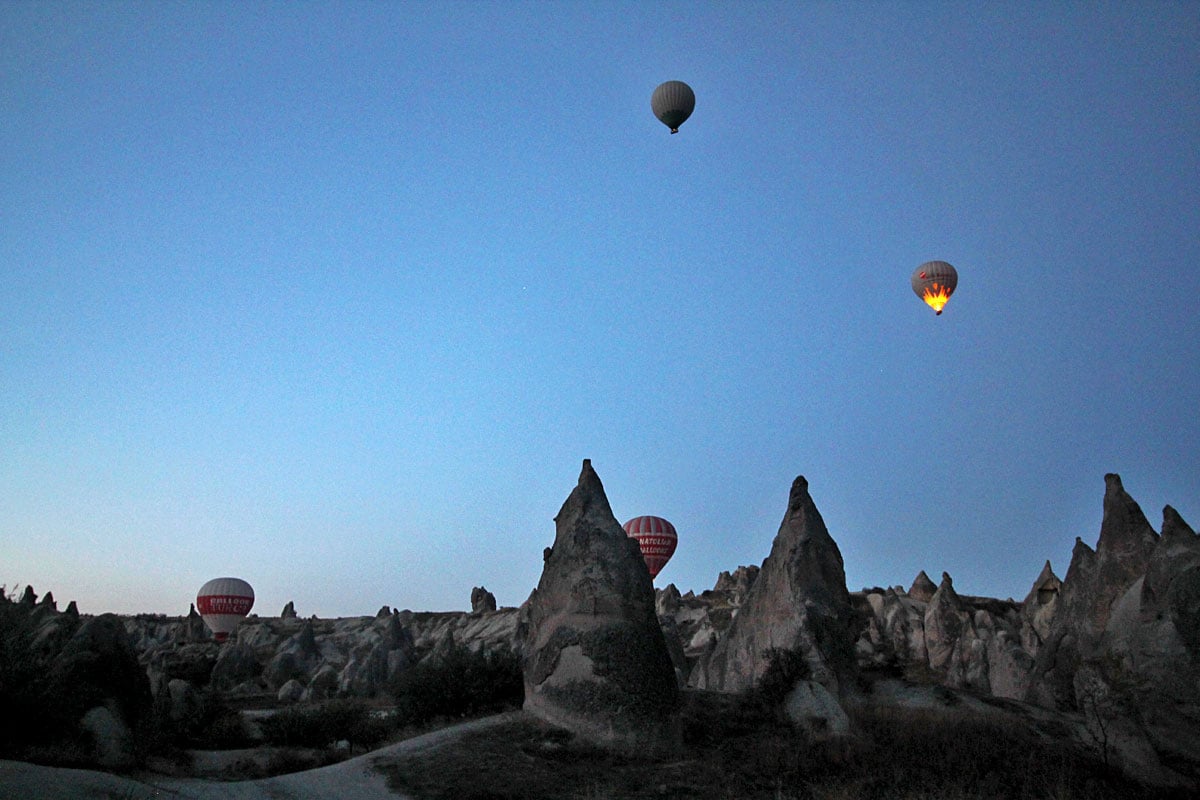 Our awesome pilot getting ready to take flight. As you can see, the basket has five compartments — one for the pilot and four for the passengers. We went on the Comfort flight today (max 12-16) but Voyager offers several options — Standard flights (max 20-28), Deluxe flights (max 8-12), and Exclusive flights (max 4).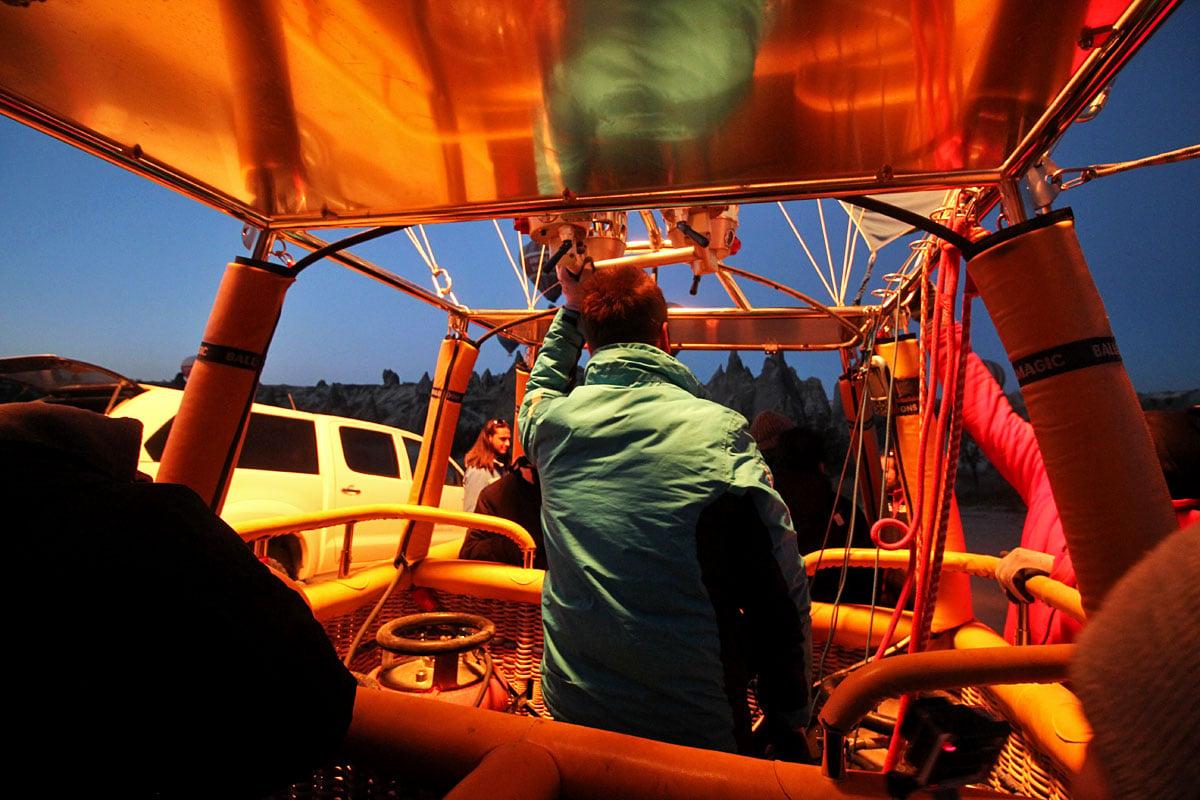 Getting ready for lift…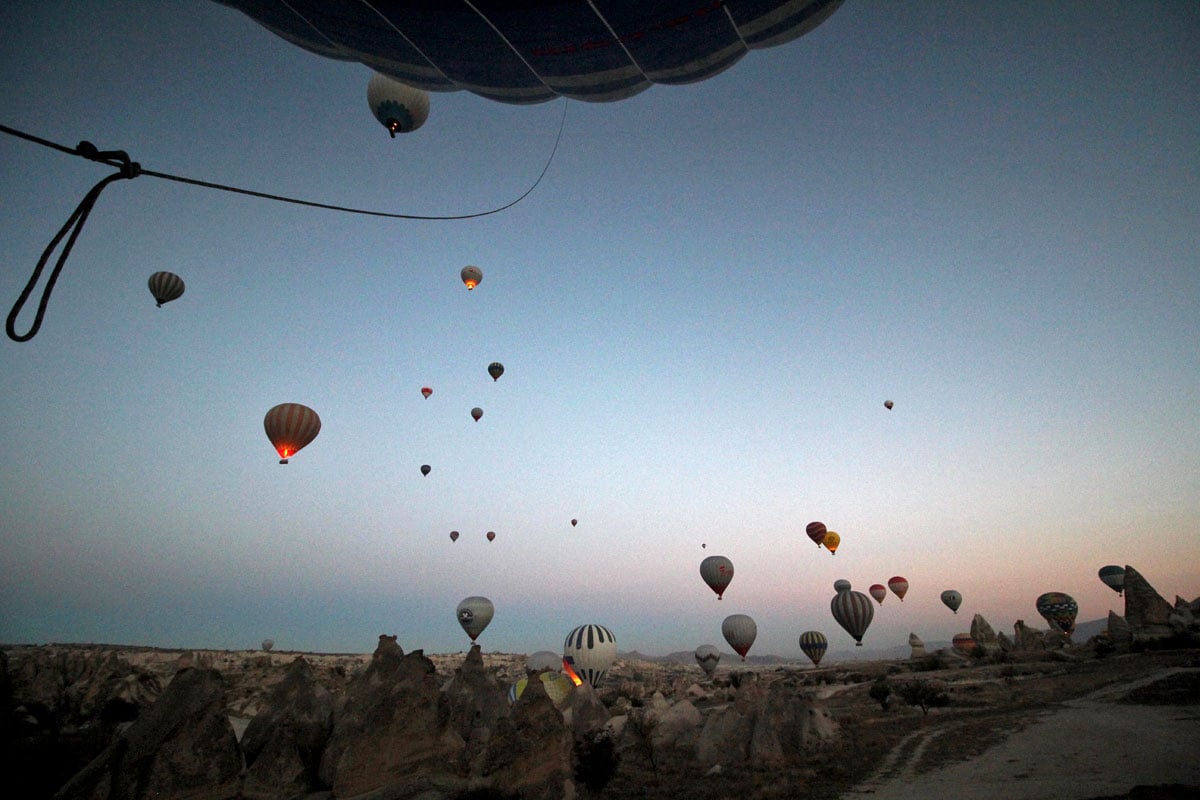 And away we go! Woohoo!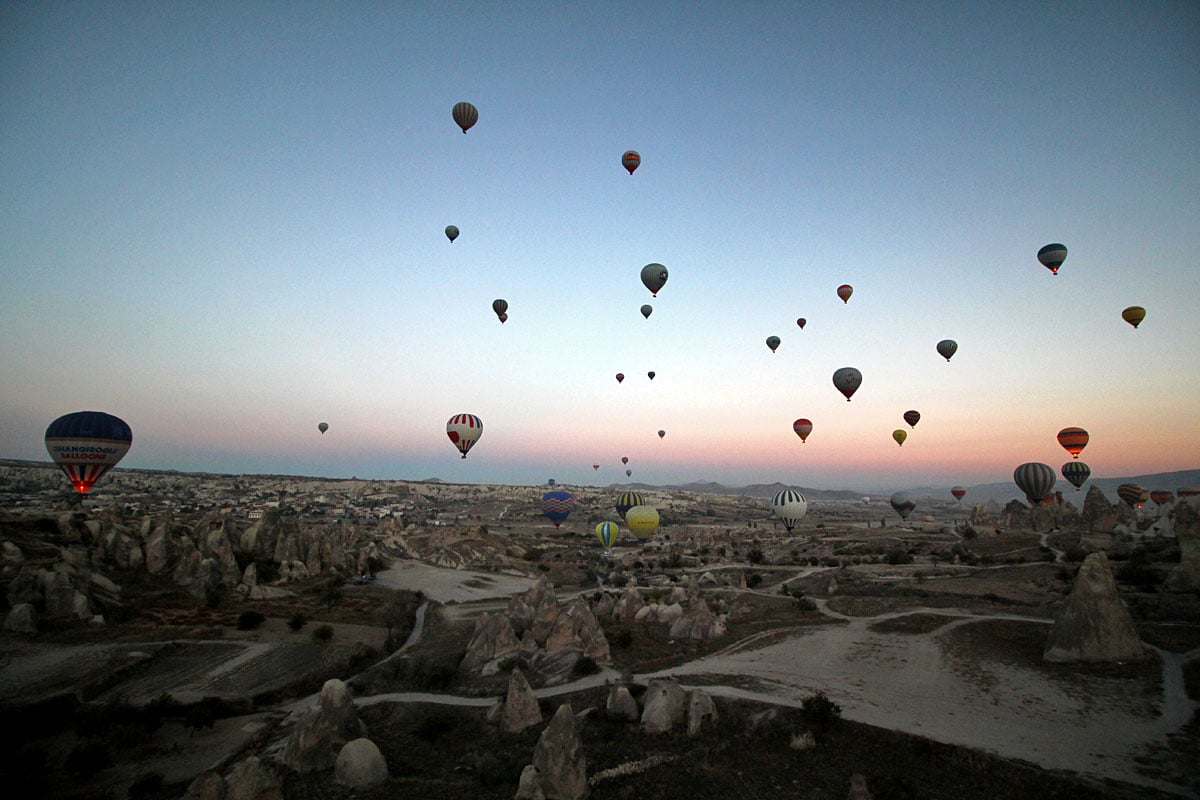 Flying over the magical moonscape of Cappadocia. The hot air balloon ascends steadily so it isn't at all alarming or scary, even for someone who's afraid of heights like me.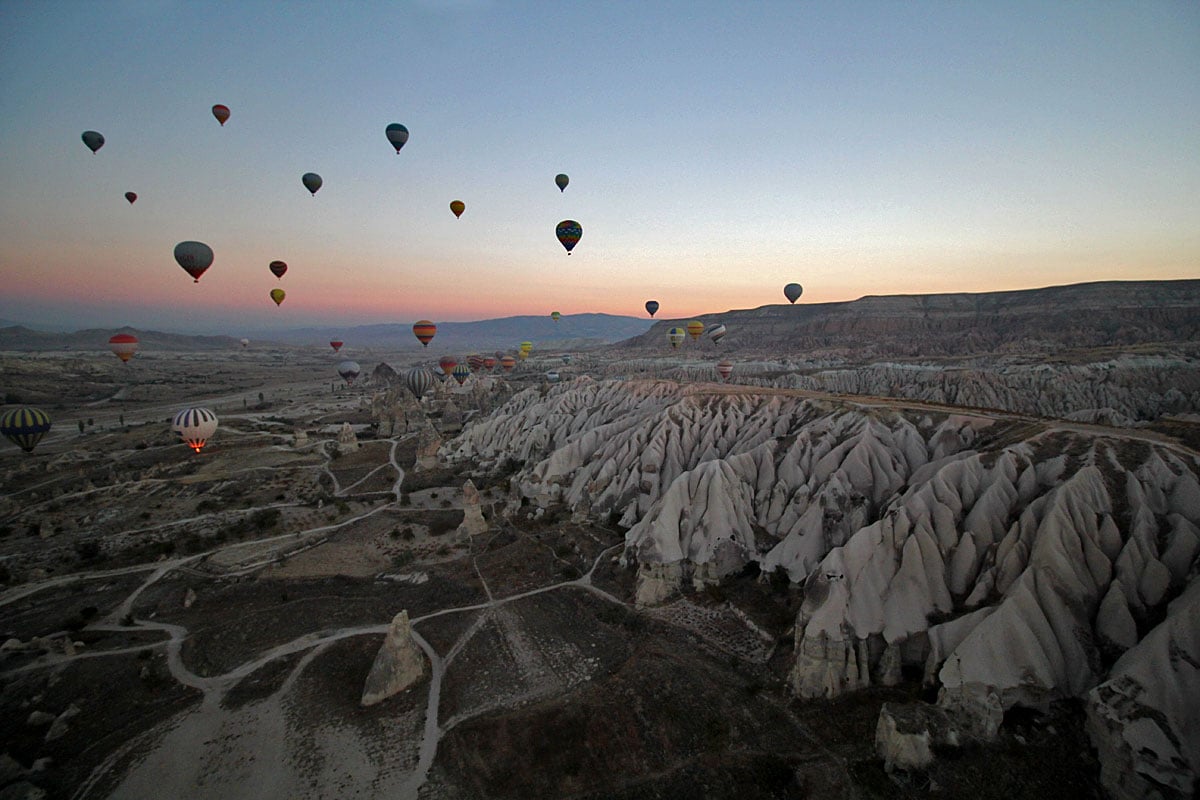 At this height, all you can hear are your voices and the sound of the burners. It's exhilarating and tranquil at the same time. Even the biggest yappers in our group were quieted by the stillness and sheer beauty of the moment. ♥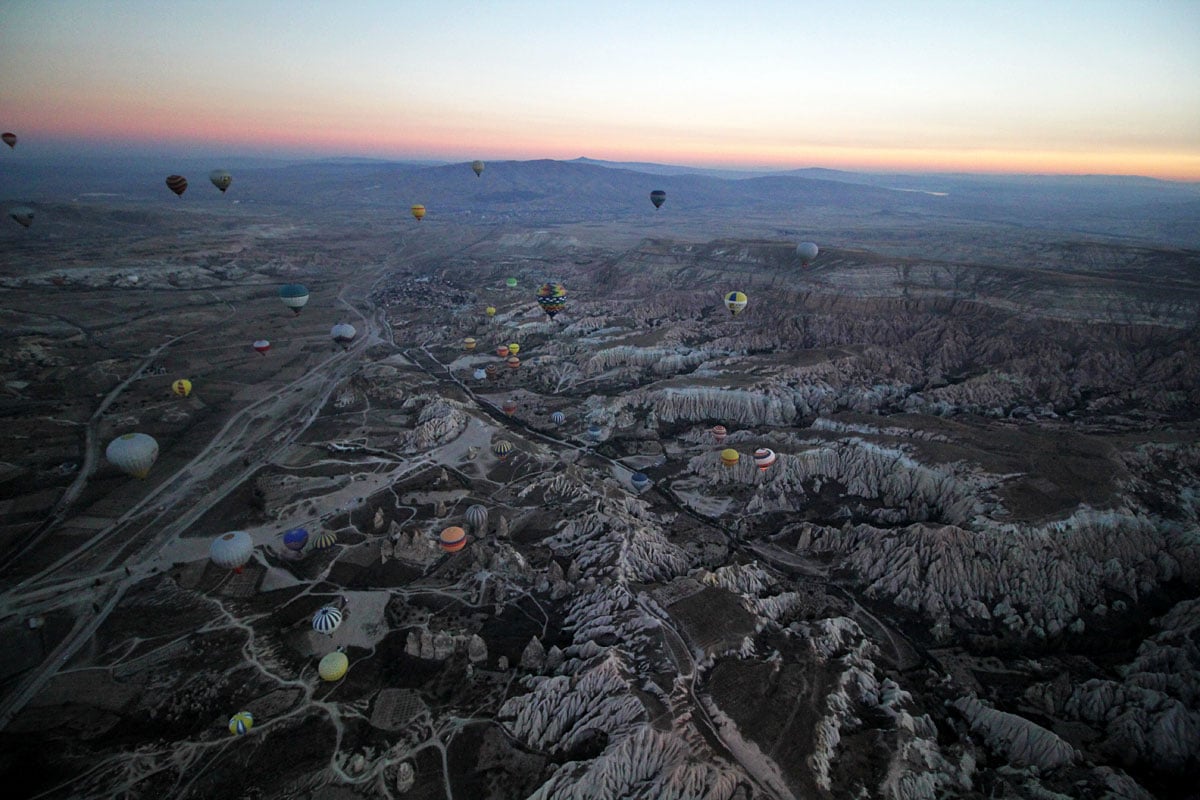 Balloons go up to a maximum height of 3,000 ft (915 m). I believe it was at this point when our pilot noted that we were the highest balloon in the air.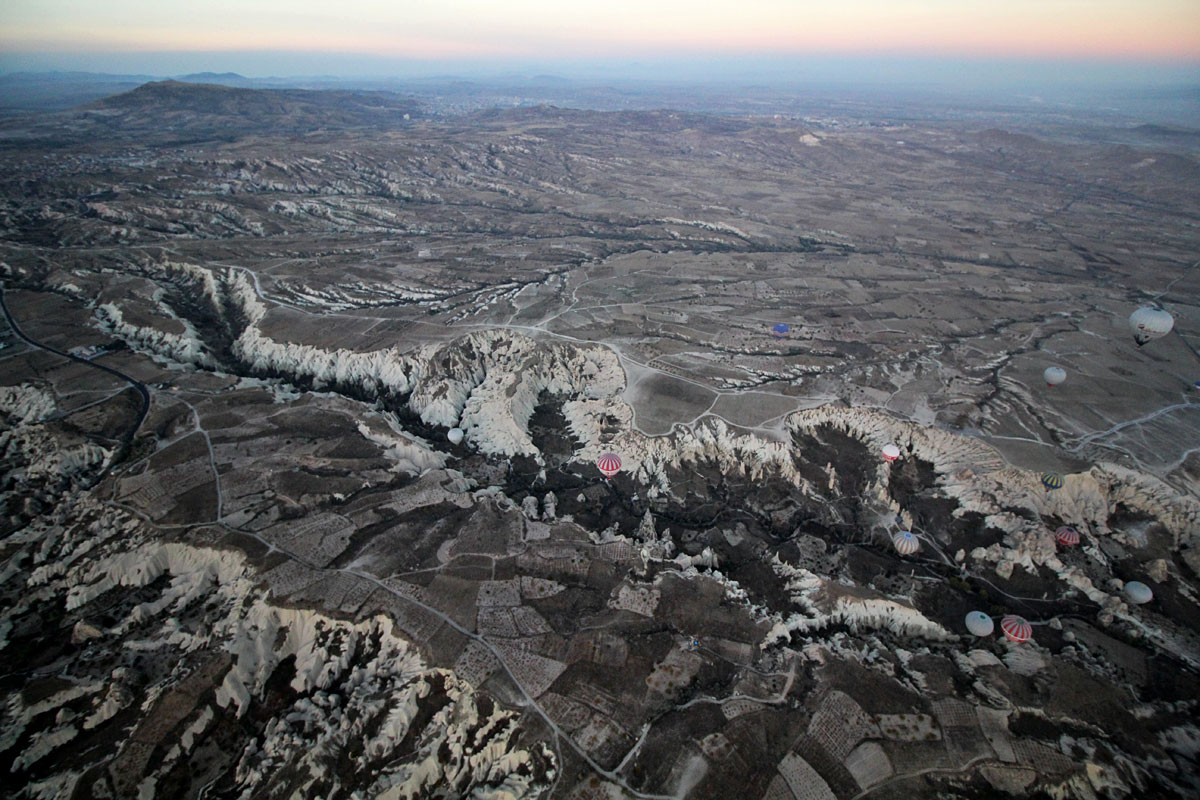 Just now rising, there's the sun peeking out from behind the horizon.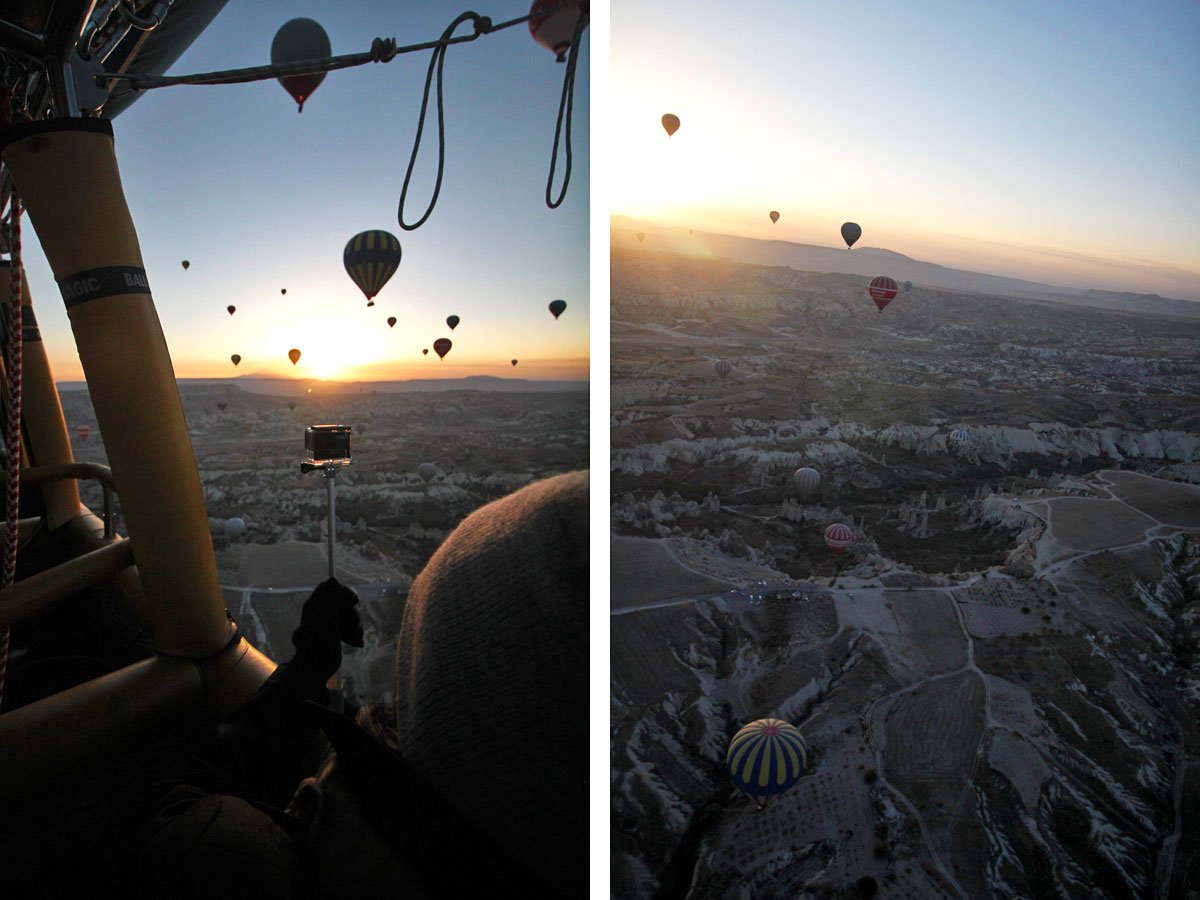 The burners in action. You could really feel the extreme heat coming from these things. As nippy as it was up here at this hour, that wasn't such a bad thing.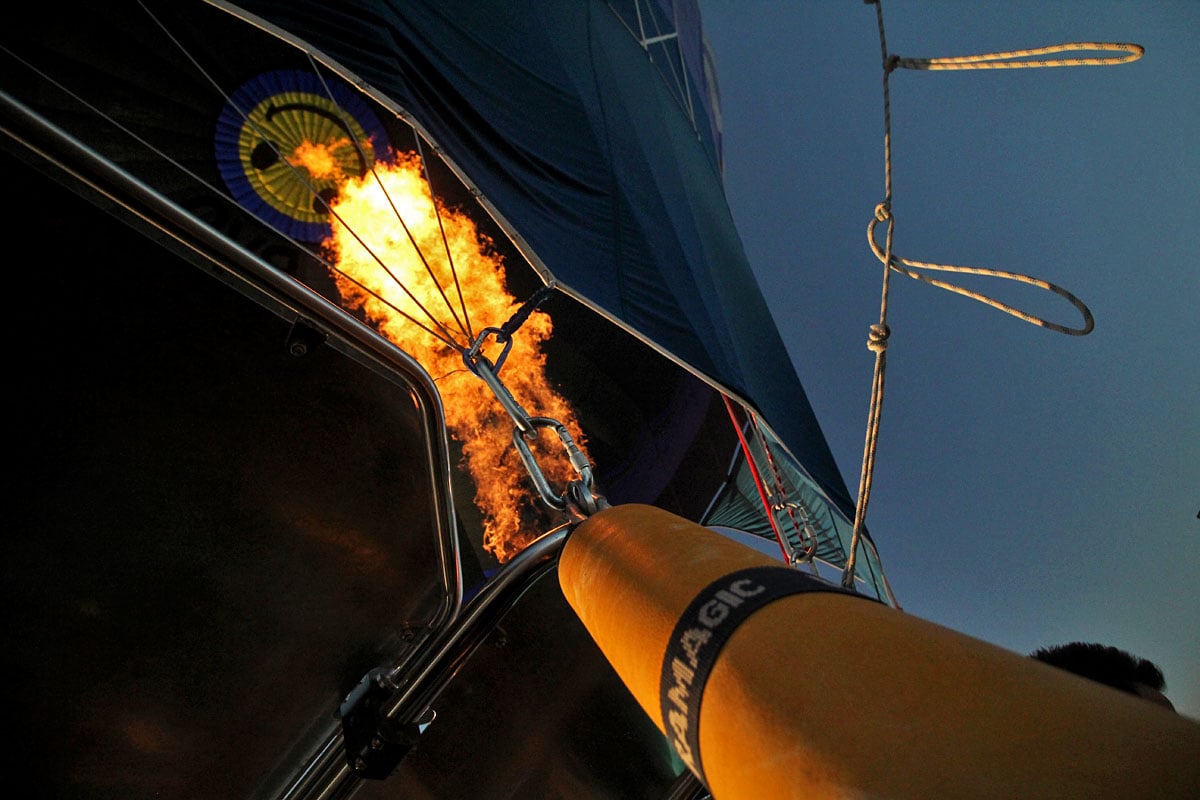 As the sun rose from the horizon, it blanketed Cappadocia in rays of morning light. Inch by inch it crept over the valleys, bringing this lava-sculpted landscape back to life. It's a moment we've all seen before, but from the stillness of 3,000 ft like this, it was like watching the sun rise for the very first time. #neweyes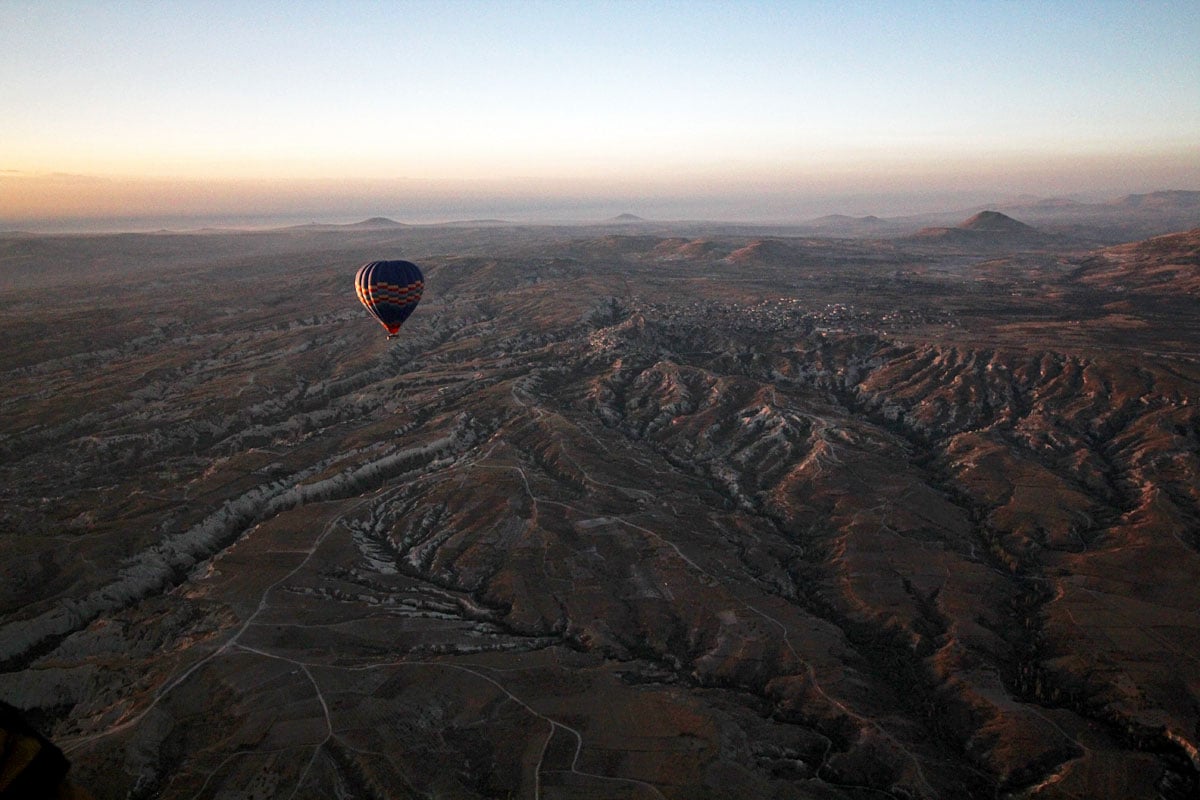 At one point, our pilot asked the group if this was our first time in a hot air balloon. With much gusto, we answered "yes!" in unison. "Me too", he said. 😯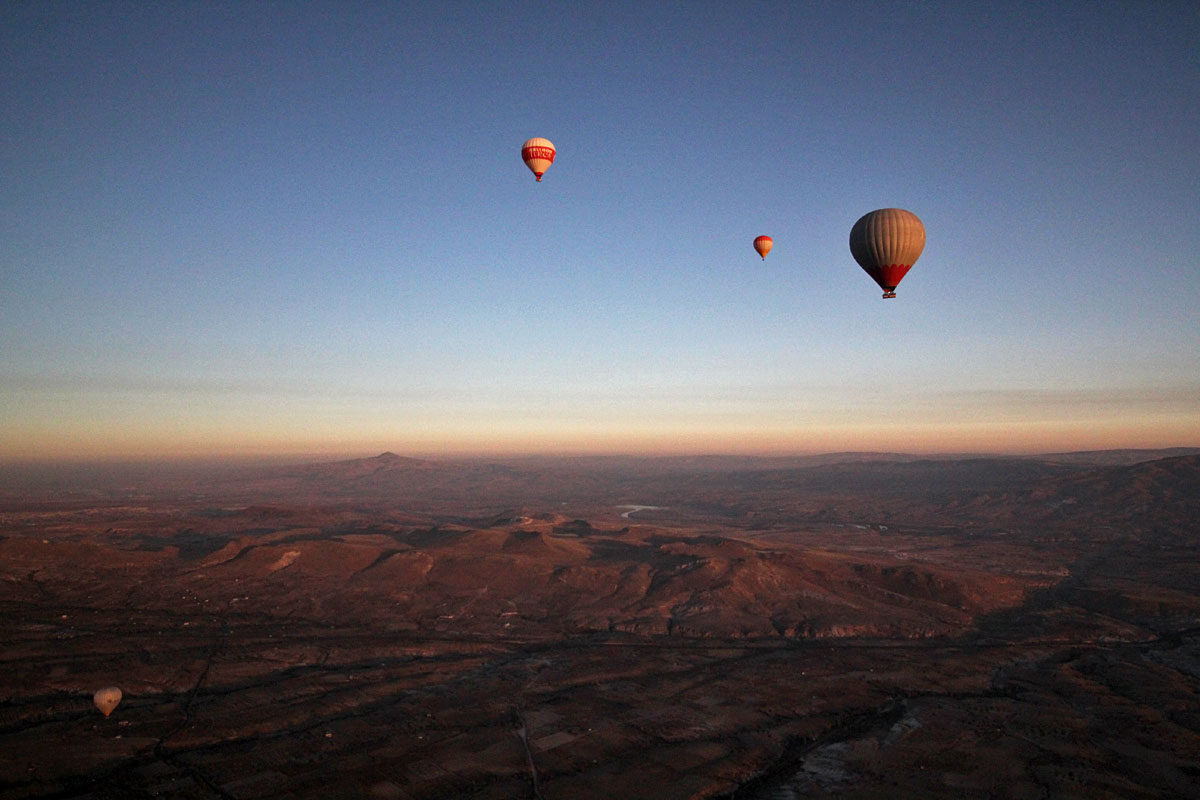 After about an hour of self-reflection, we begin our descent. Where you land on any given day is dictated entirely by the wind.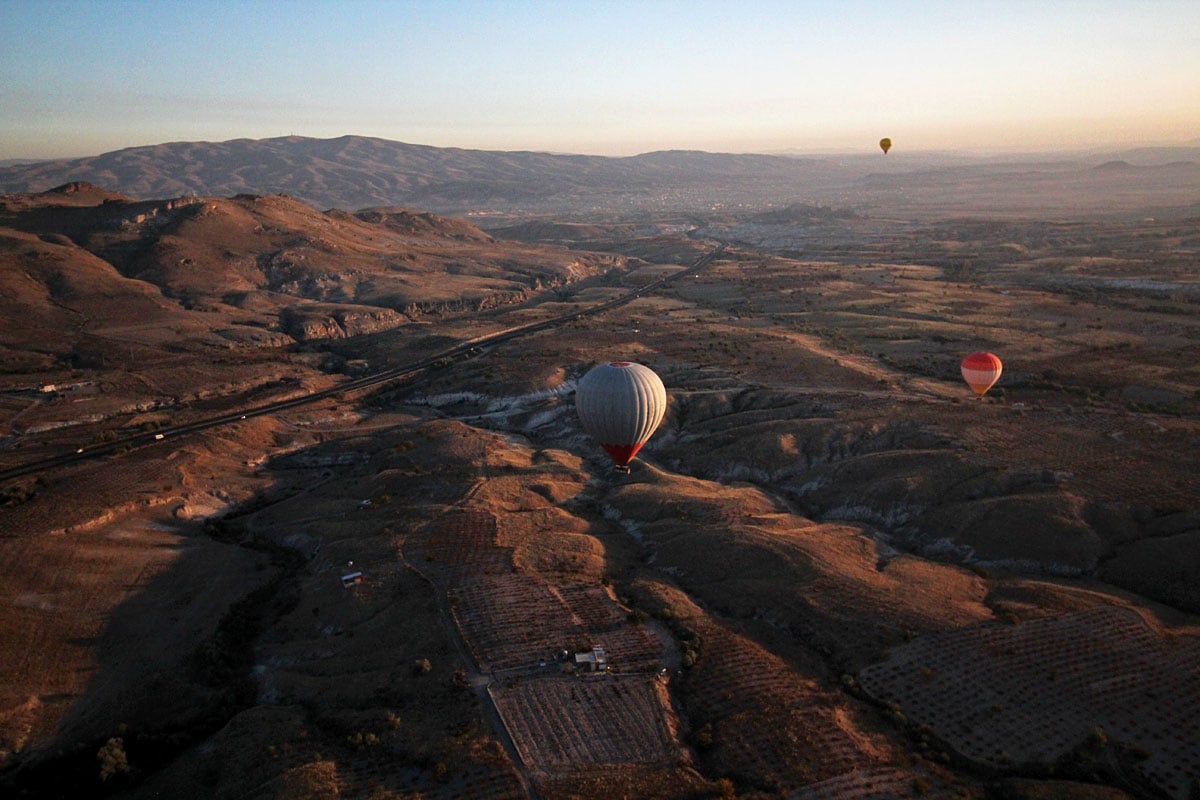 Looking for a soft place to land while the ground crew keeps a watchful eye on our balloon. You could see the white flatbed truck following us from the ground.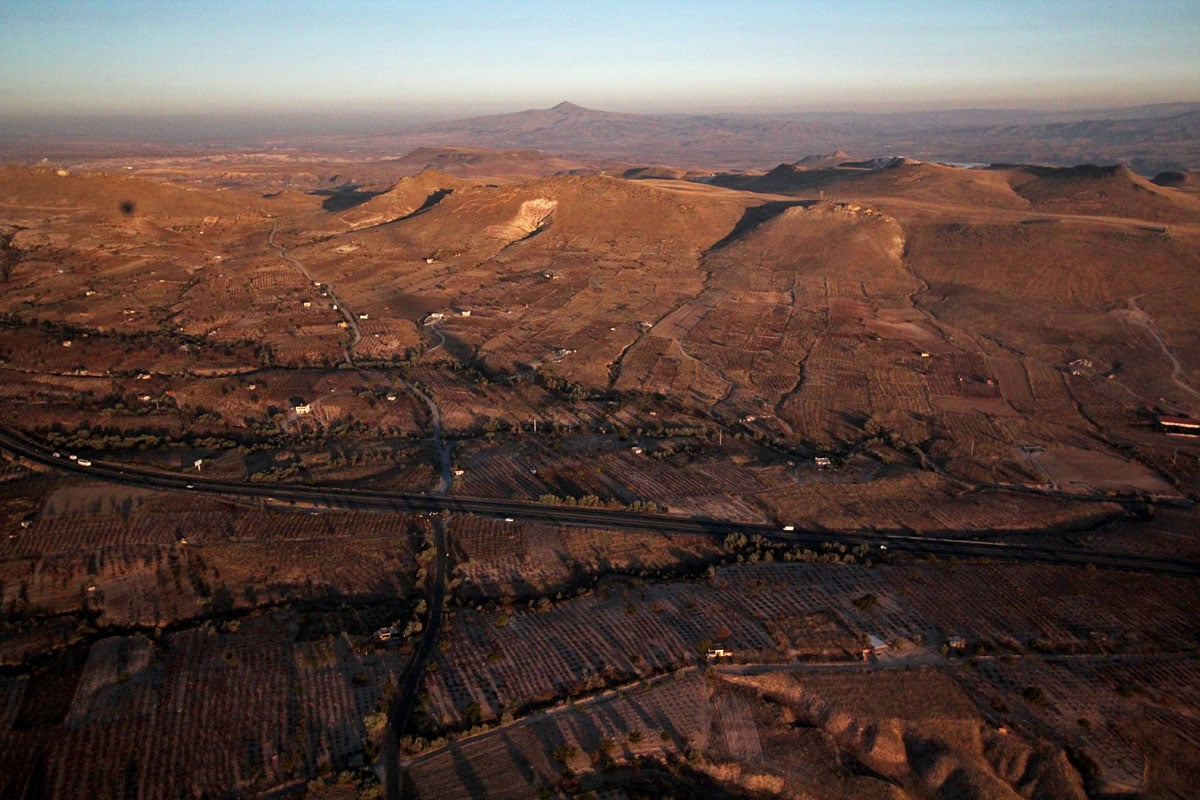 Ok, this looks like a good spot. You can't tell from these pictures but they land the basket right at the back of the truck. There's the Turkish Jared Leto welcoming us back to Earth.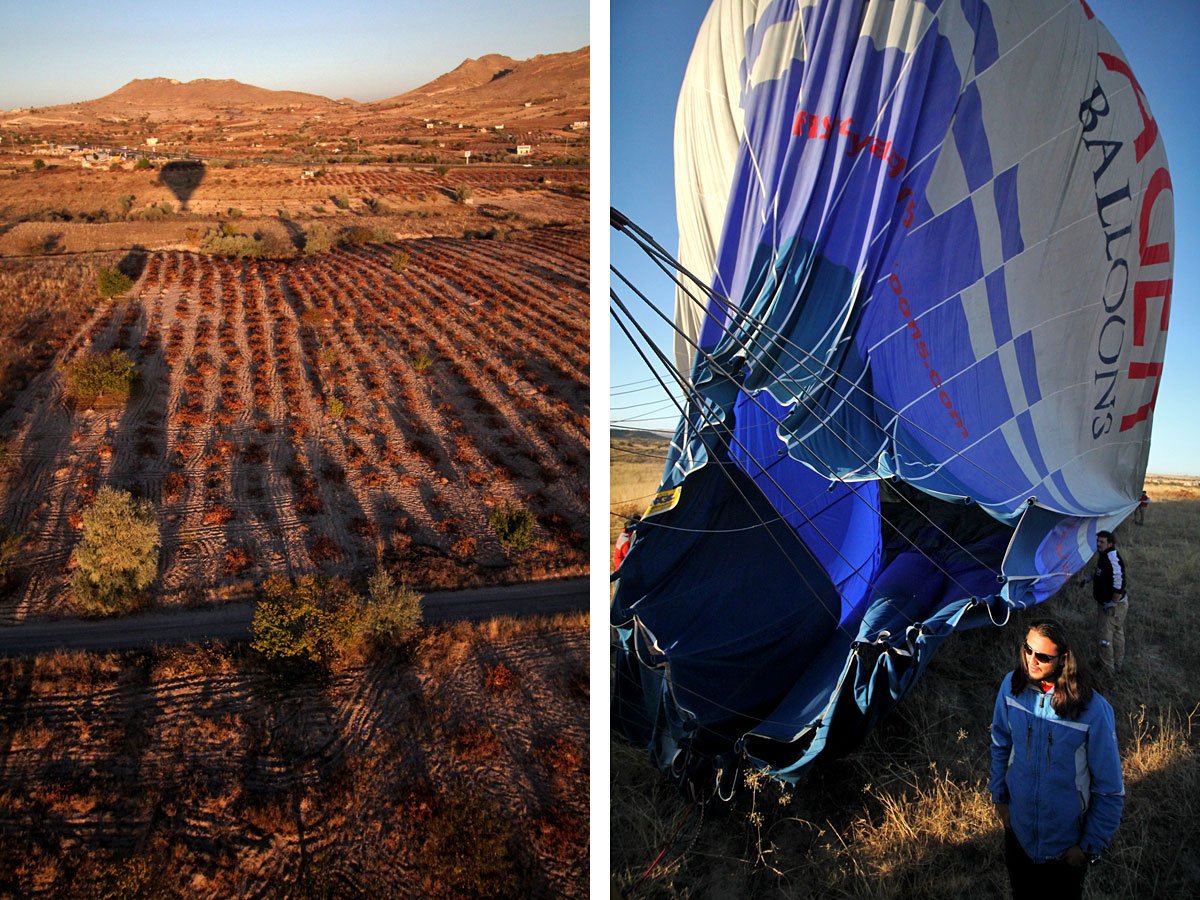 Like a giant bag, they stomp and push on the balloon to get all the air out and flatten it for folding.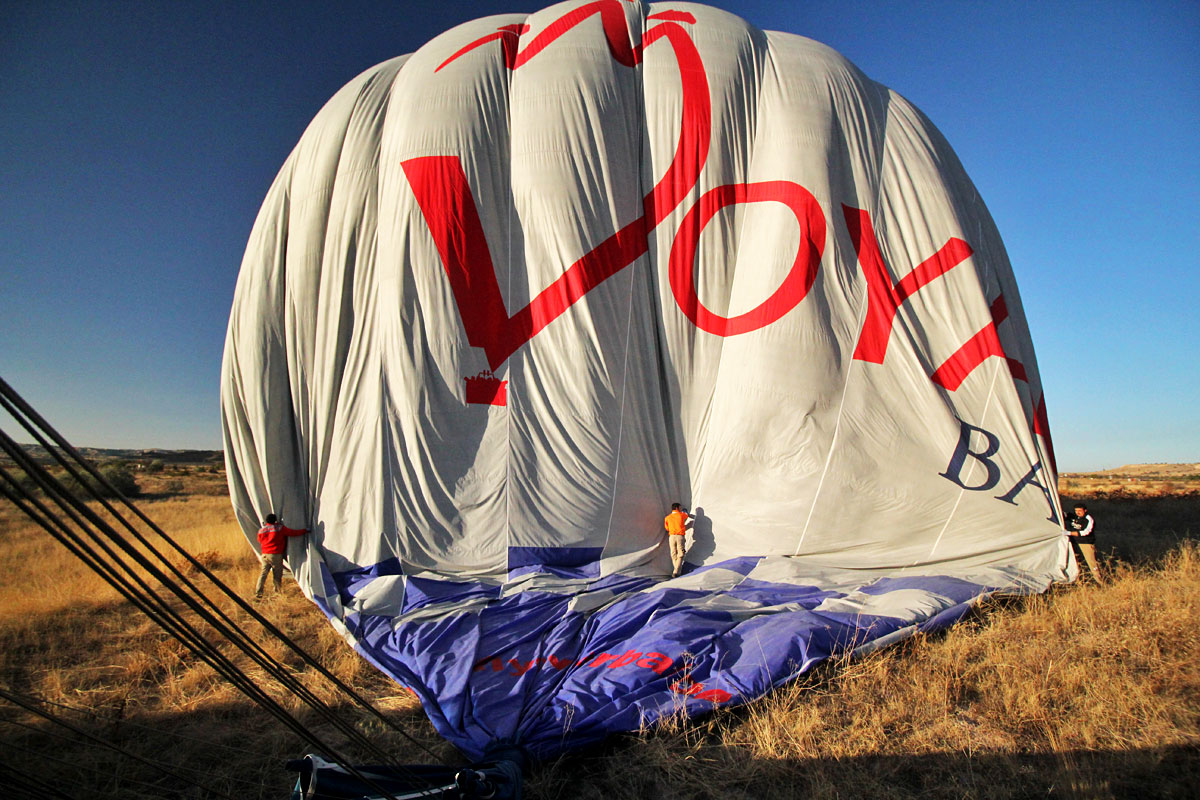 And now for some bubbly! Once safely on the ground, they'll serve you glasses of mimosa to celebrate a successful flight. Can you see the cork popping off in this picture?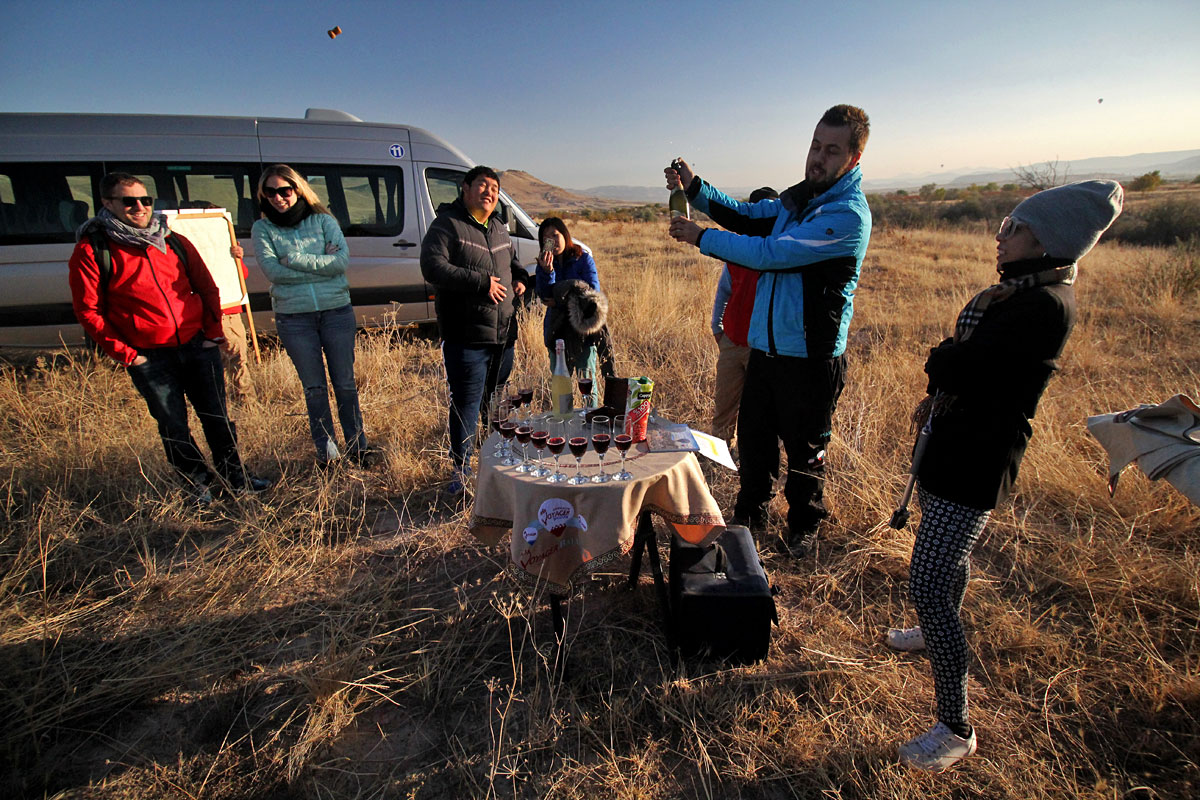 A toast to our fantastic pilot! Thank you for an unforgettable flight and getting us all safely back to the ground. 🙂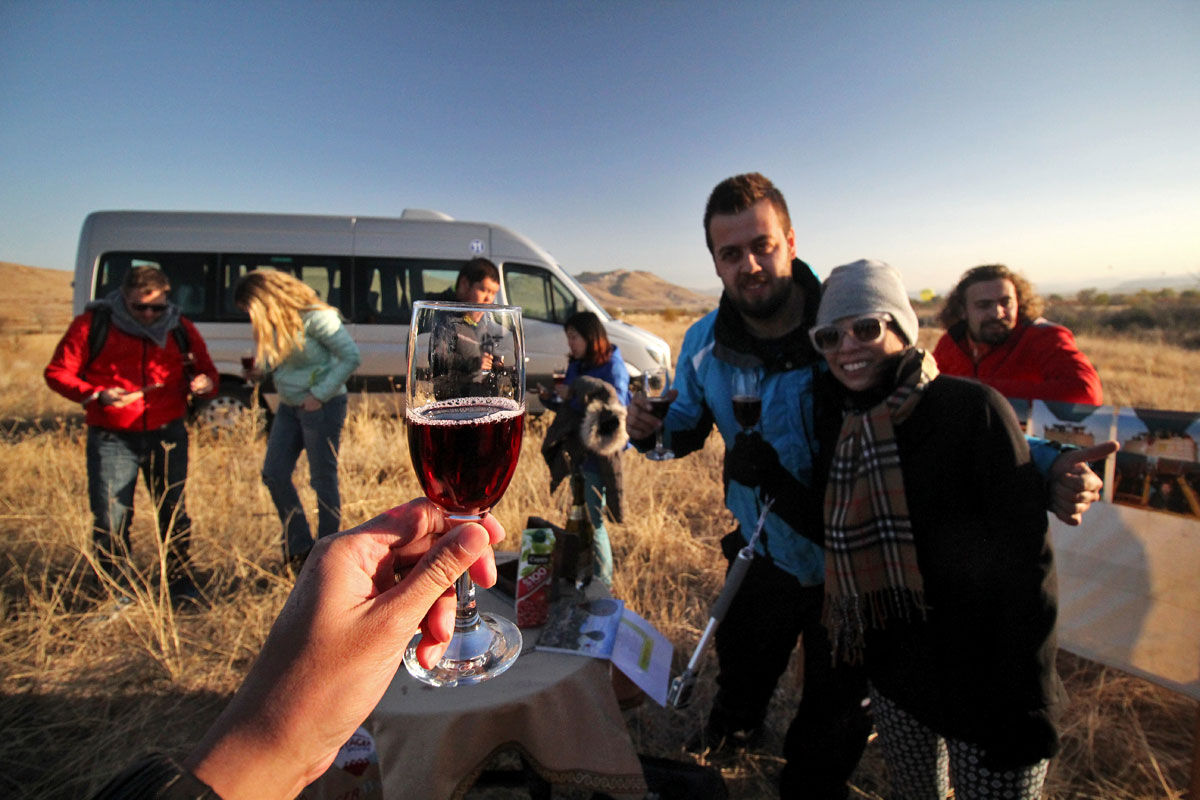 At the end of the flight, they'll present you with commemorative certificates. You'll also have the option of purchasing the photo, which they take at the start of your flight, for 20TL.
Soon as we arrived at the launch field, they asked me to write our first names down for the commemorative certificates. Problem was, it was so damn cold at 6 in the morning that I could barely hold the pen. "John" I guess was easy enough to make out but "Renée", apparently not as much. Thanks for flying with us John and Jenfe. 😆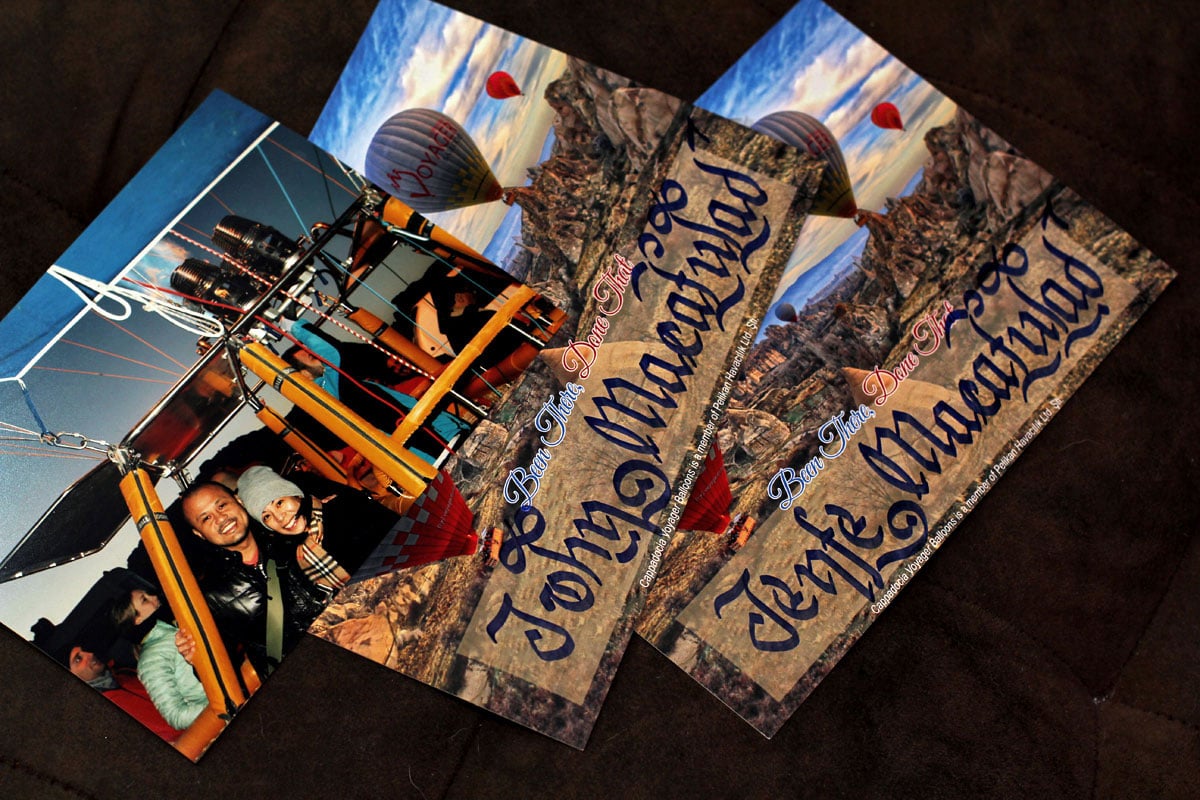 Admittedly, Voyager Balloons isn't the cheapest hot air balloon operator in Cappadocia but they're one of the best. We were chatting with Yasin, the owner of Bridge of the World travel agency, and he admitted that Voyager is among the top five. I may be adventurous but safety is always a priority, which is why I decided to book with them. Their experience speaks for itself.
Thanks to Turkey Travel Planner, we got a free upgrade from the Standard to the Comfort flight at no extra charge. If you make a reservation with Voyager Balloons via THIS LINK and select "Standard Flight" under Flight Type, be sure to choose "Turkey Travel Planner" under the How did you find us? dropdown and key in the Promotion Code TTP01. This will get you upgraded to the morning Comfort flight. As previously mentioned, Standard flights cost 160 Euros per person but if you pay in cash, then Voyager Balloons will give you a 10 Euro discount. You'll wind up paying just 150 Euros for what would normally cost 180 Euros for the Comfort flight. Pretty awesome eh? You can confirm the promo on THIS PAGE of Turkey Travel Planner.
Safety is of the utmost importance so flights will not proceed unless conditions are perfect. As such, our pilot told us that about 40% of morning flights (even higher in the afternoon) get cancelled due to unfavorable weather conditions. If you'll be staying in Cappadocia for several days, then I strongly urge you to book your flight on the very first morning you'll be there. That way you can still move your flight to another day in the event it gets cancelled. It would be heartbreaking to go to Cappadocia and not be able to experience this.
Cappadocia Voyager Balloons, Göreme, Cappadocia, Turkey
Muze Yolu Caddesi, No:36/1 50180 Göreme, Nevsehir, Turkey
Tel: +90 384 271 3030
Mobile: +90 532 717 5050
Fax: +90 384 271 3031
Website: voyagerballoons.com
Facebook: voyagerballoons
YouTube: voyagerballoons
Instagram: voyagerballoons
Email: [email protected]
Flight Cost: Starts at 160 Euros (as of Nov 2015)
HOW TO GET THERE:
The office of Cappadocia Voyager Balloons is a short walk from the otogar (bus station) along Muze Caddesi. If you have Sygic Travel and pocket wifi, then you can use GPS to track it down. If you book this hot air balloon flight with them, then they'll arrange to have you picked up from your hotel around 5:30AM.
For more Cappadocia travel tips, check out our First-Timer's Travel Guide to Cappadocia, Turkey