Food, adventure, sightseeing, culture. For me, those are the four ingredients that add up to a well-rounded trip. It's a recipe I try to follow when coming up with an itinerary.
I found a few of Göreme's top-rated restaurants on TripAdvisor so the food requirement was taken care of. For adventure, we had already gone horseback riding and ridden a hot air balloon so that part was covered too. The Red and Green Tours took care of the sightseeing segment so all that was left was culture.
Enter Turkish Night.
The Venue
Turkish Night is an evening of dinner, drink, and dance. Accompanied by live music, guests will be treated to traditional folk dances from different parts of Turkey. There's a belly dancer, a wedding ceremony, and a whirling dervish interpretation among others. Not sure how many of these Turkish Night venues there are but we were taken to Evranos restaurant in Avanos. It was a big restaurant capable of seating busloads of tourists.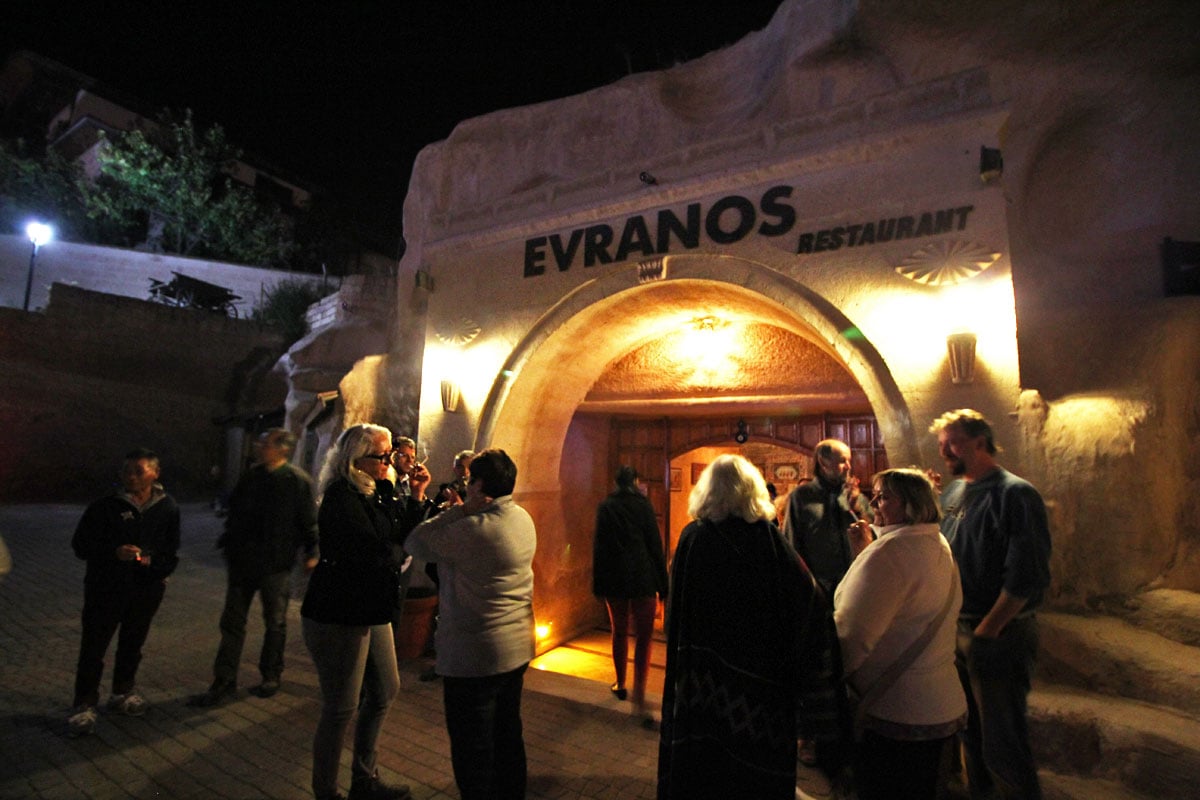 The dance floor or performance area with dining tables all around its perimeter.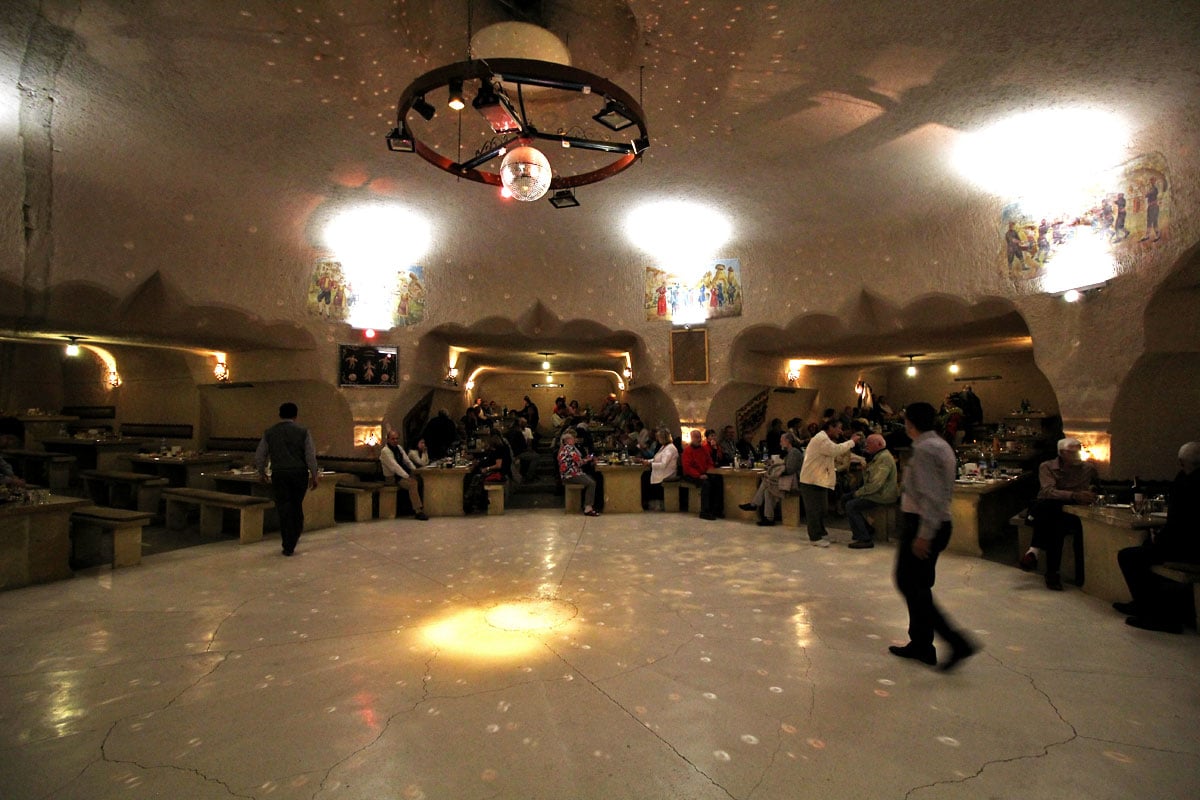 Stadium-style seating. The further back you are, the higher your table is to make sure that everyone has an unobstructed view of the show. Pretty clever. I like how each nook was designed to feel like a Cappadocian cave as well.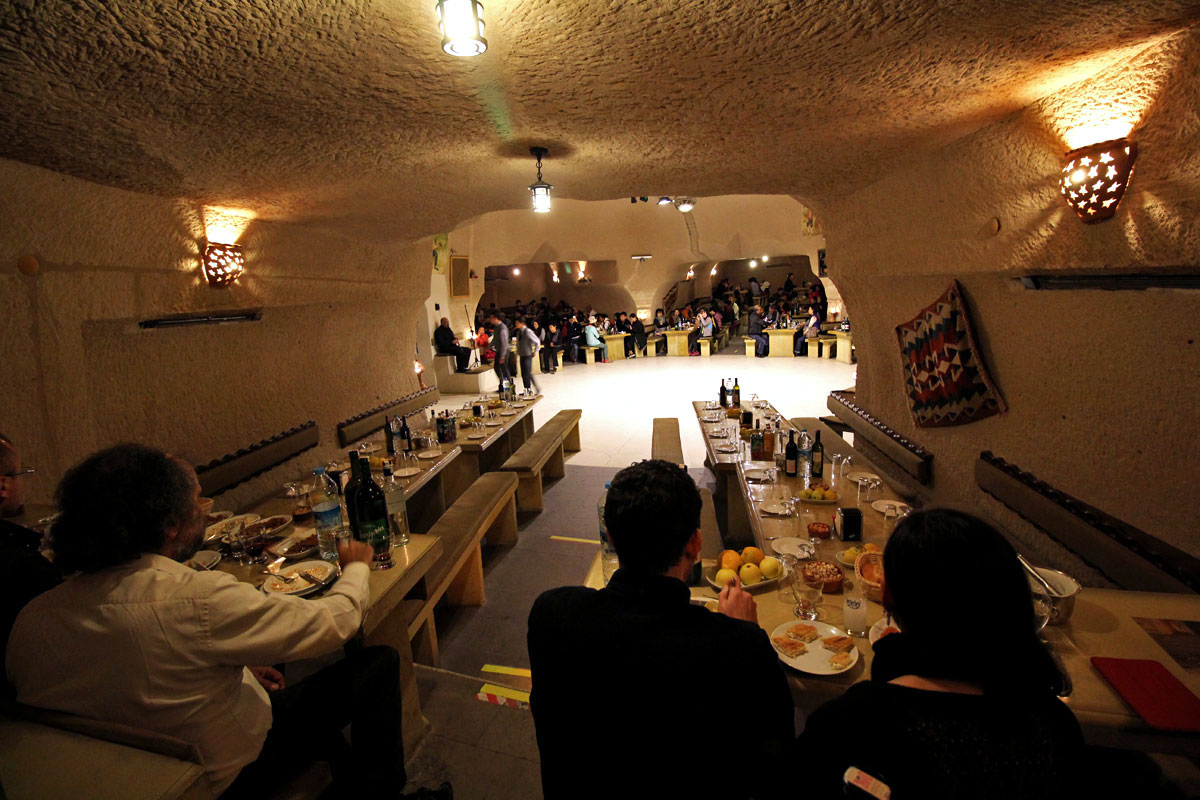 The Dinner
Be sure to bring your appetite because they'll stuff your face with food and drink here. Each of the plates pictured here is a solo portion. Loved this platter of Turkish meze.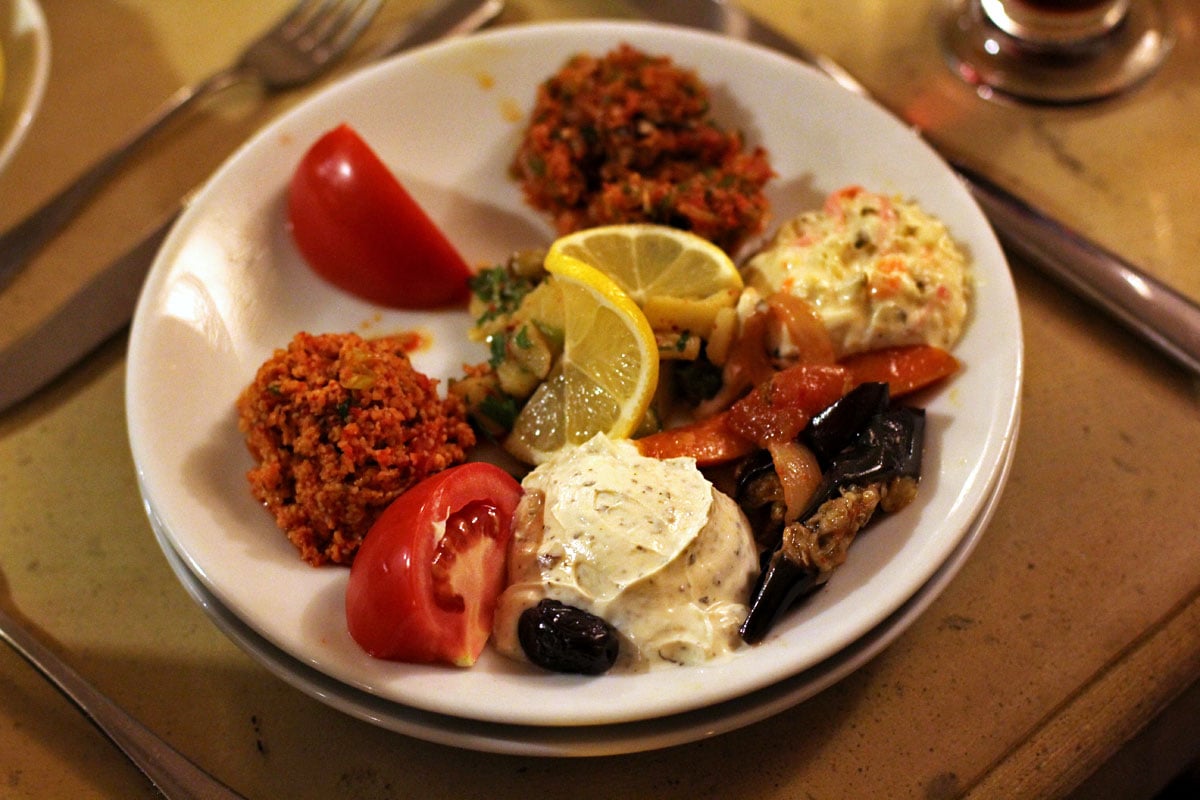 These were good too. Not sure what they were, but I think they might have been some type of Börek, which is a filled filo (or yufka) pastry popular in Ottoman cuisine.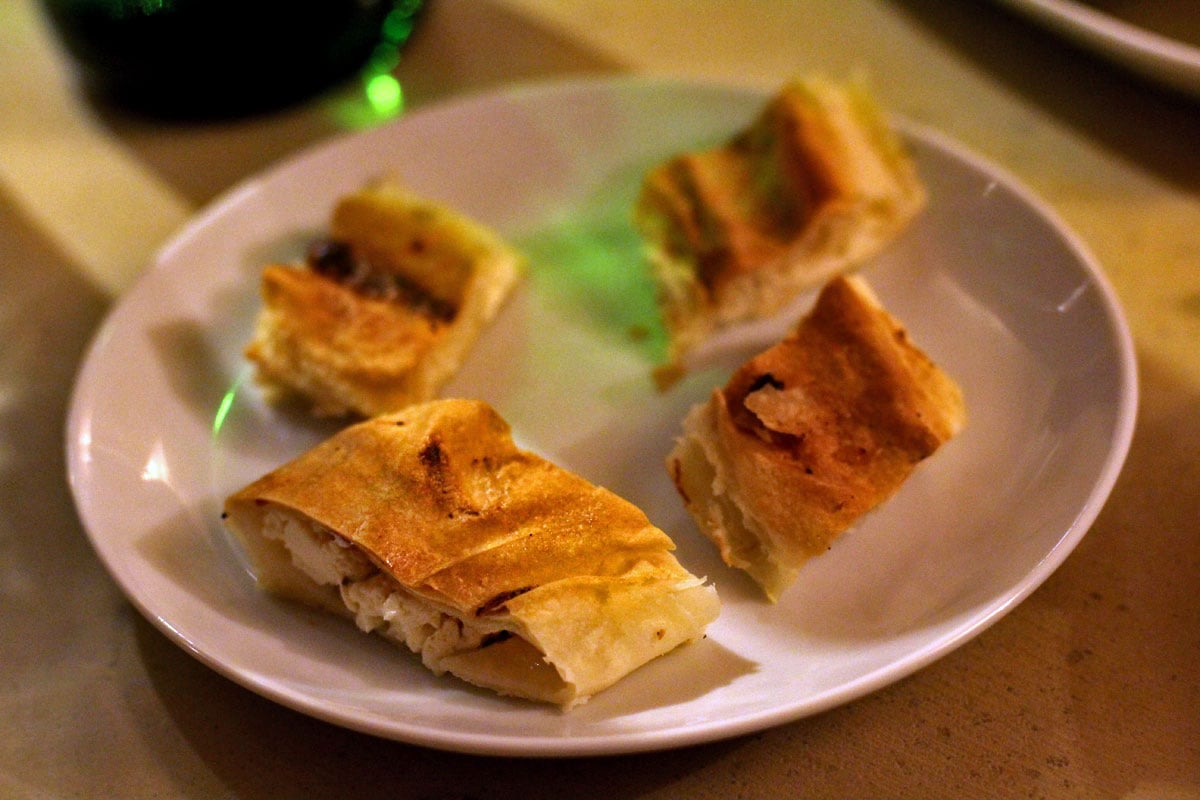 Main course of shredded lamb with Turkish rice and French fries. Considering how promising the meze was, this main dish was a little disappointing. I was hoping for lamb chops. 🙁 They also gave us a serving of fresh fruit for dessert.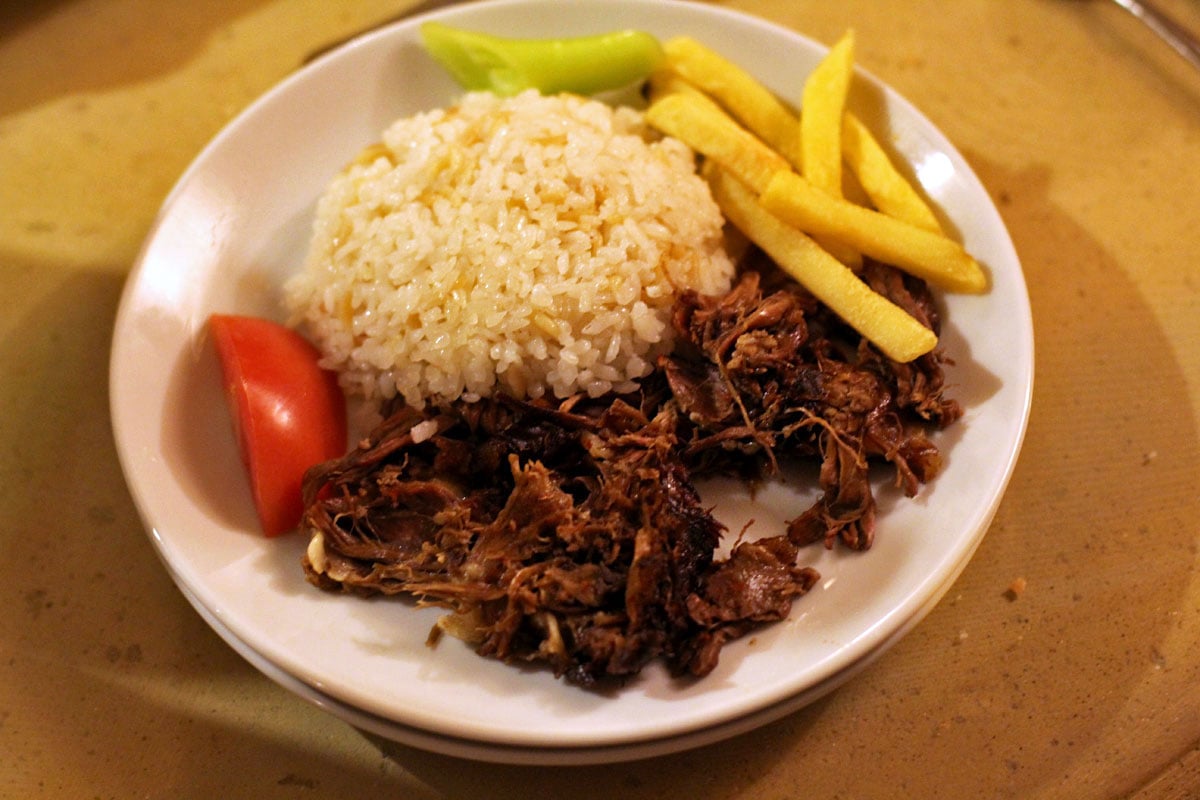 Magnum bottles of red and white wine. Each of these bad boys contained 1.5L which is equivalent to two regular-sized bottles. Though not the best-tasting wine in the world, they got the job done. 😉 We almost polished off the entire bottle of red during the show. *hic!*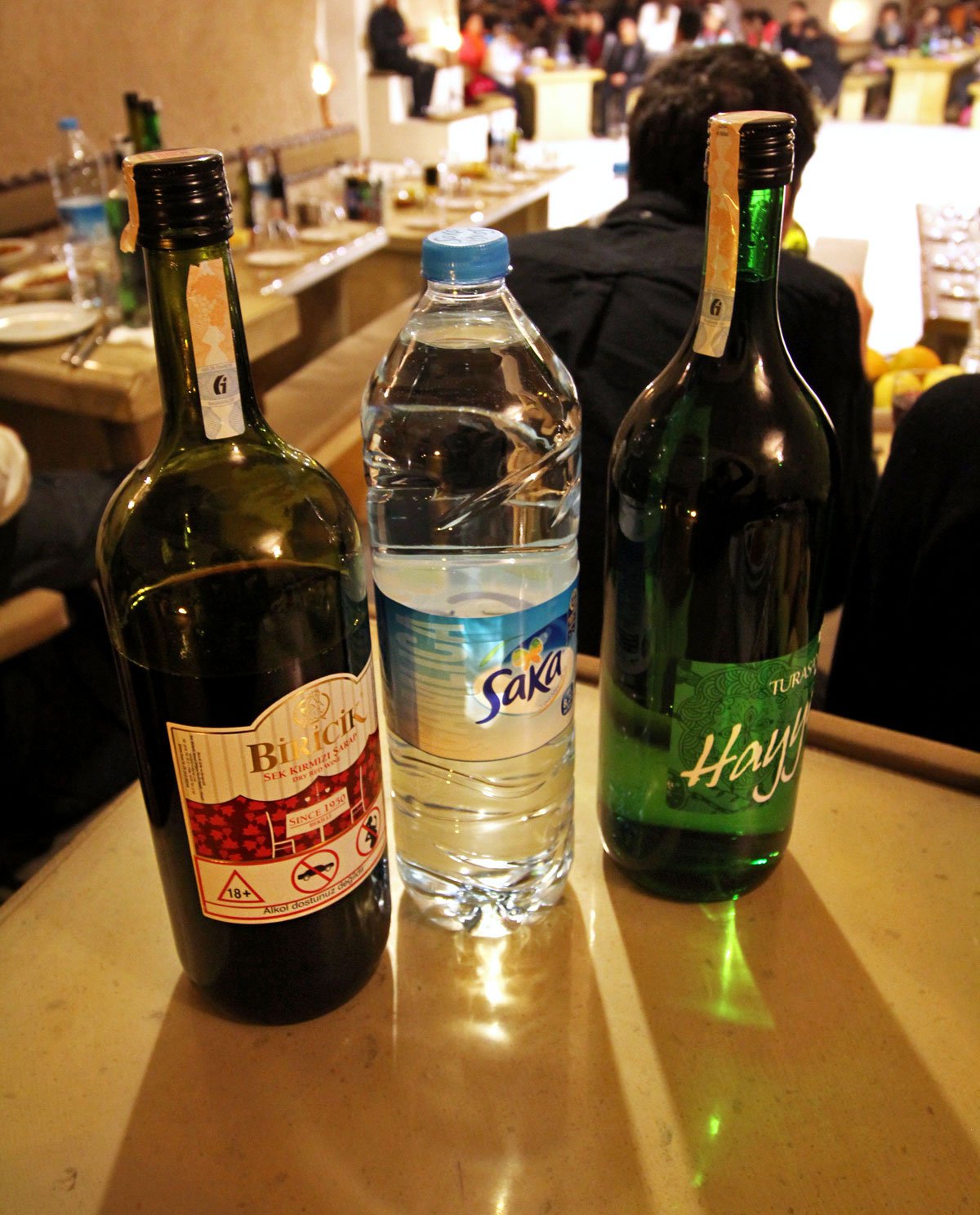 The Dancing
The evening's program started off with this pair of whirling dervishes. I had heard the phrase before though I had no idea what it meant until this trip.
Whirling dervishes are Sufis (Muslim ascetics) that whirl or spin for up to fifteen minutes at a time in an act of meditation. It's a customary dance that originated from Sufis of the Mevlevi order in Konya. Abandoning their egos and personal desires, dervishes seek to attain perfection by listening to the music and focusing on God while spinning their bodies in repetitive circles. It's impressive to watch though it can become a little monotonous after the first few minutes. They'll only treat you to a small taste of it here.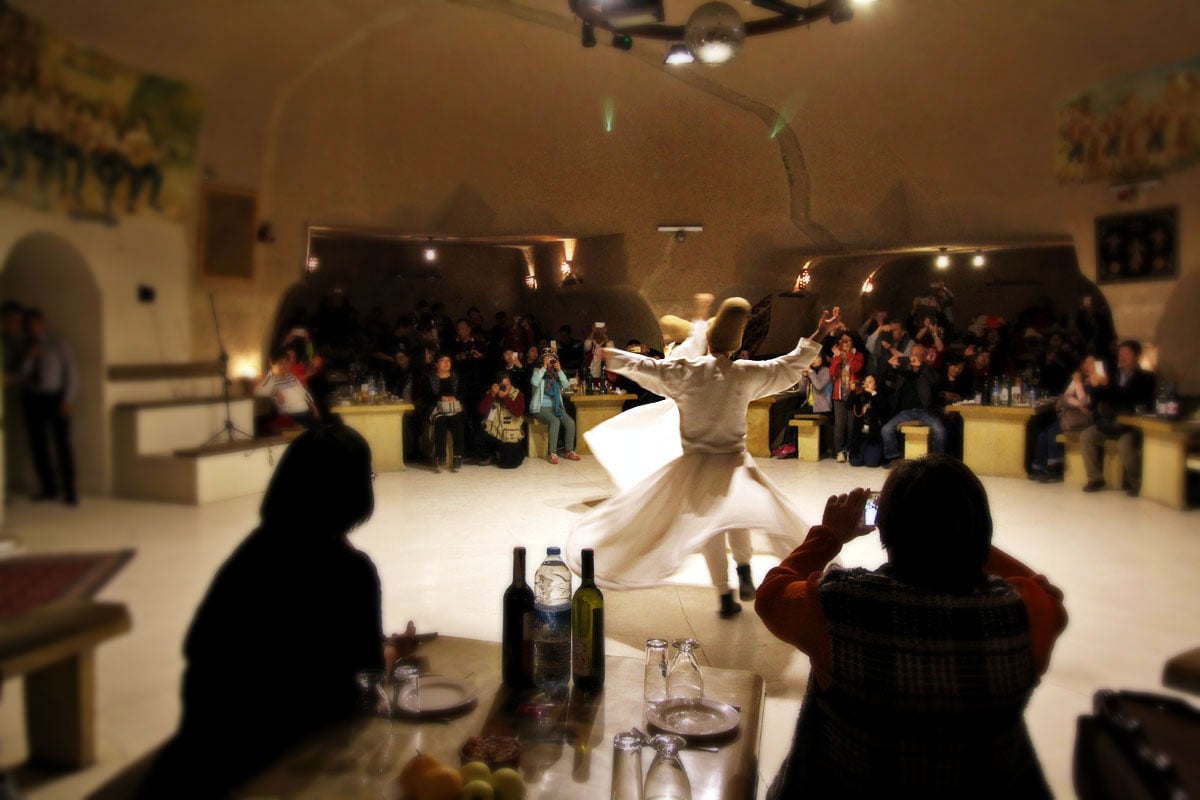 I wish they handed out programs explaining what each of the dances were. I have no idea what this one was called.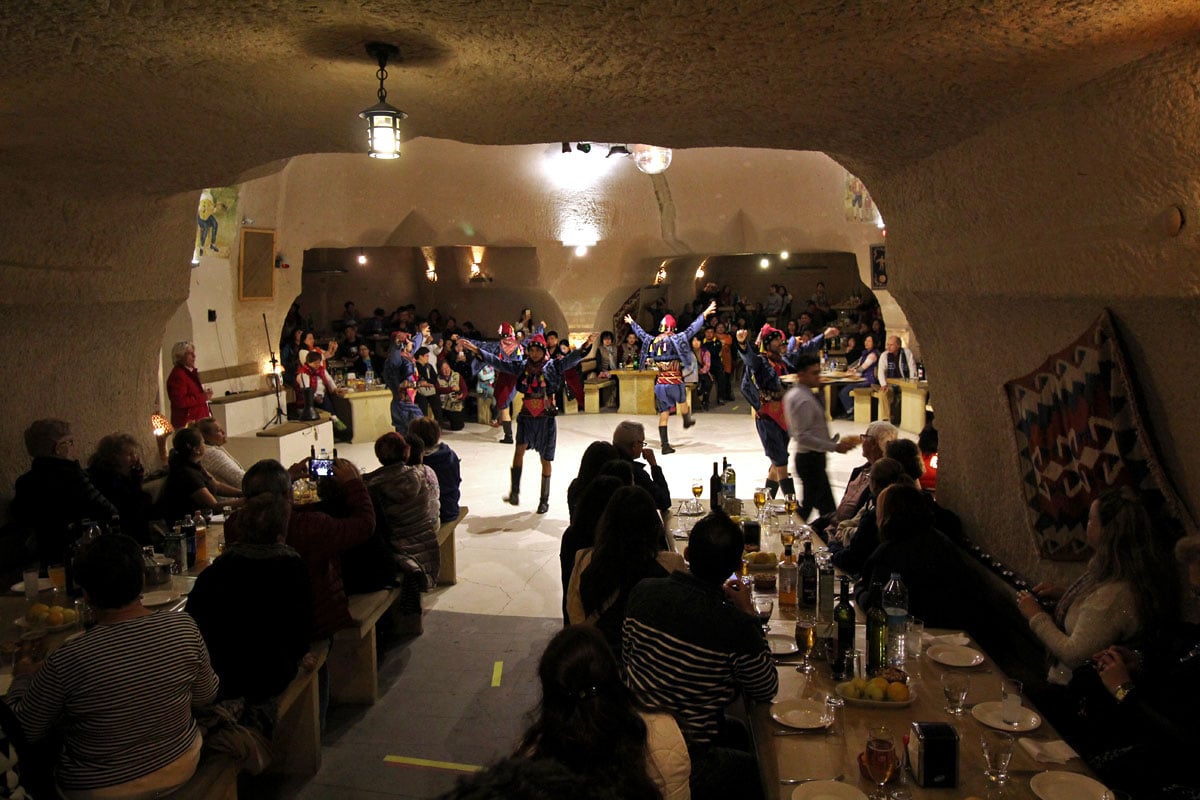 Or this. Still photographs don't show much so you can watch the video at the bottom of this post to see how these dances went.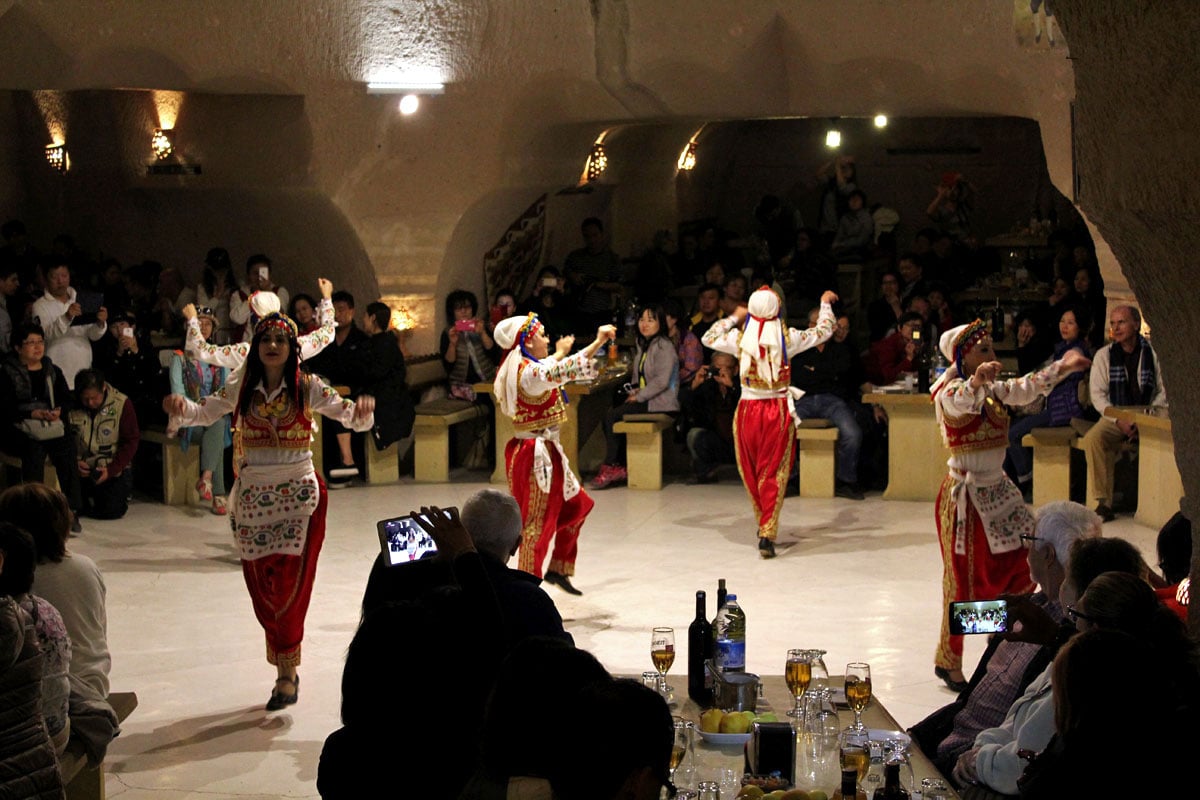 A skit with audience participation. Grabbing men from the crowd, the veiled woman was presented with a number of "suitors" whom she'd evaluate by touching their faces. She waved them all off. 😆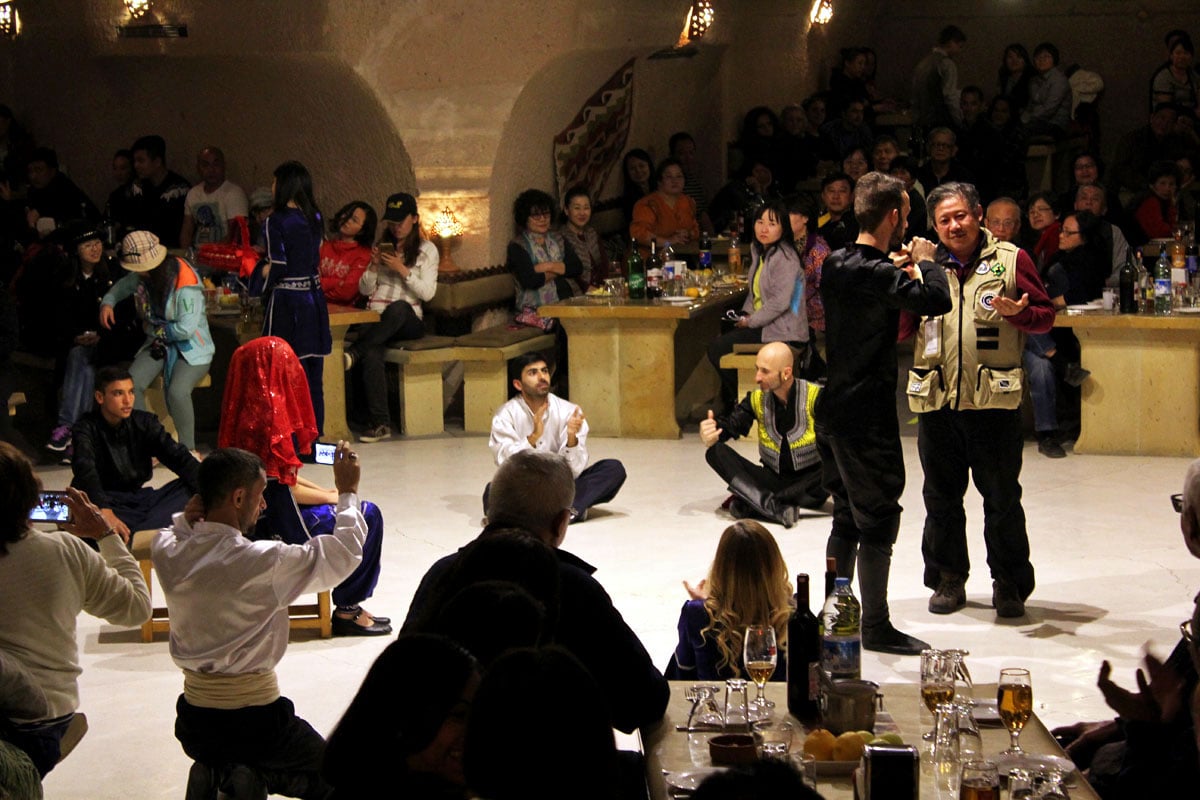 Shake that thing! The performers pulled people from the audience to do line dances and get down. We stayed right where we were, chugging our wine. 😉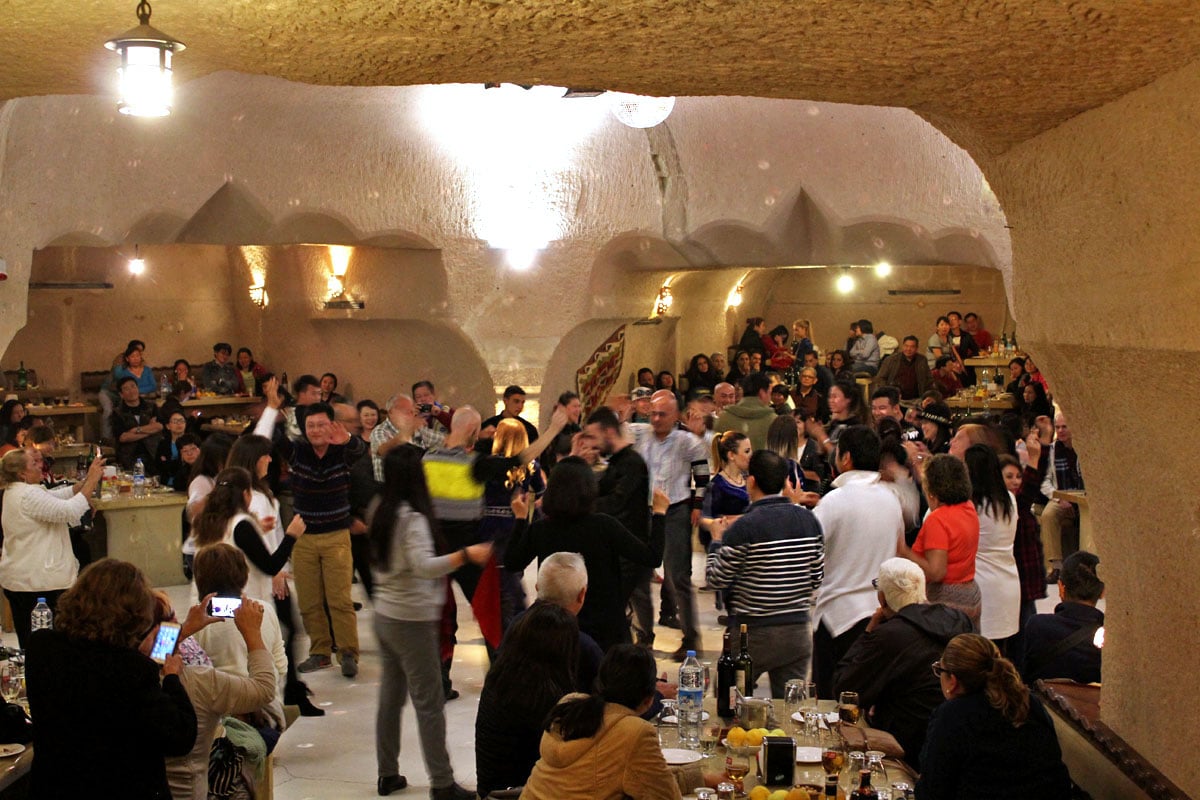 And now for the star of the show — the belly dancer! Belly dancing is an age-old art form that's believed to have descended from ancient Anatolian fertility dances. It's still hugely popular in Turkey, not just for tourism, but for local customs as well, like weddings, circumcision parties, even trade shows.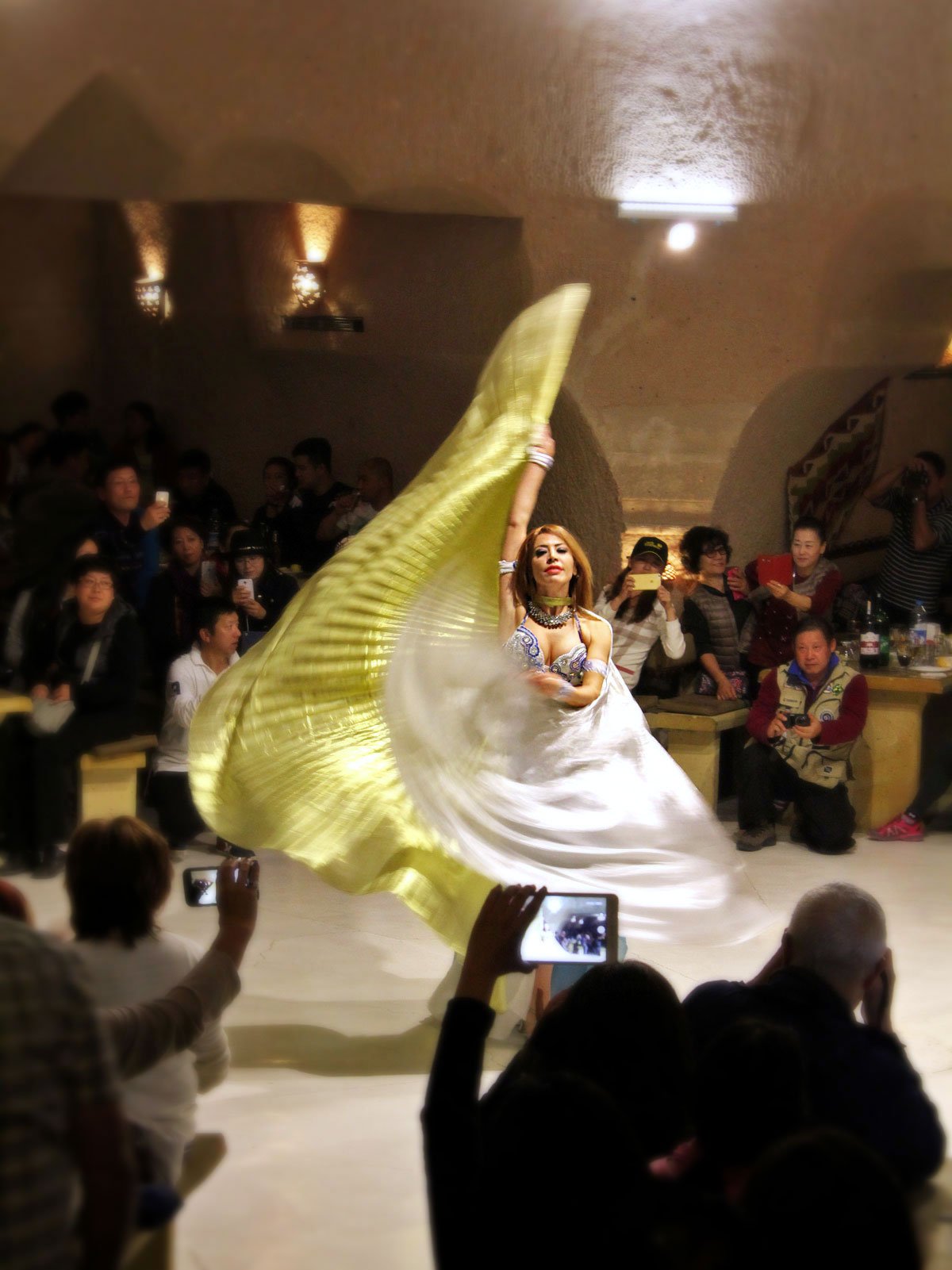 Channeling her inner fierce. Turkish belly dancers are known for their energetic, athletic style and their deft use of finger cymbals known as zils.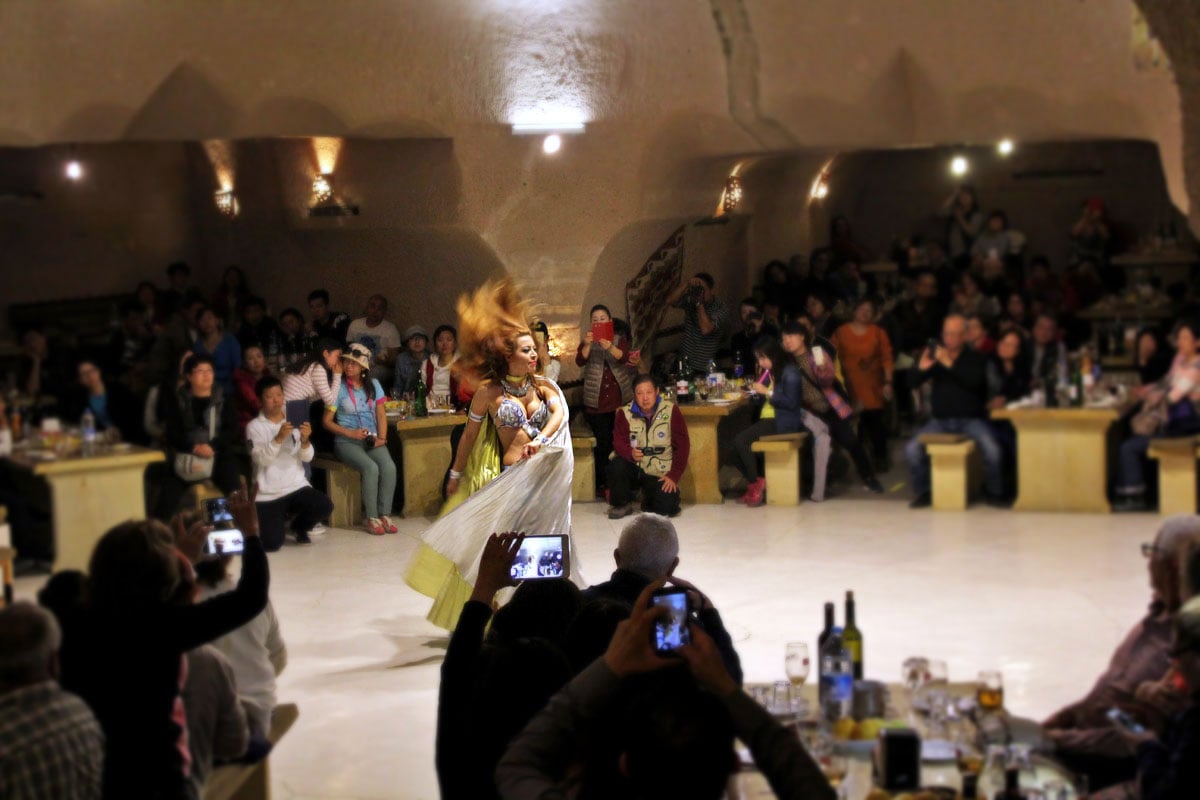 Turkish belly dancers are mostly women with well-trained abdominal muscles. As you'd expect, it doesn't hurt to be shapely either. 😉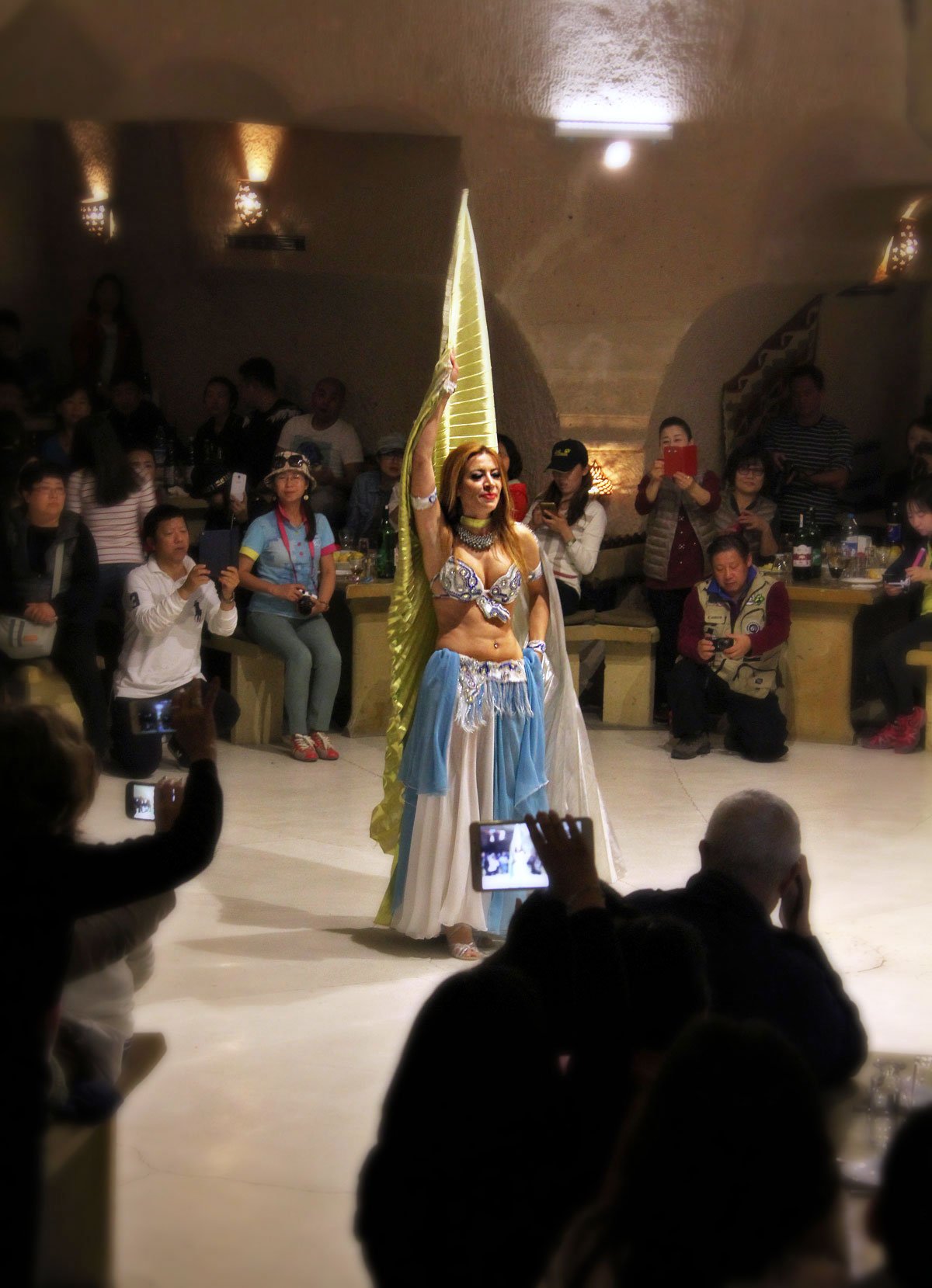 "Just Jack!" By the way, if you're wondering why I included so many pictures of the belly dancer, it's because I couldn't figure out which image best represented her routine. It has nothing to do with the fact that she's half naked. Nothing at all.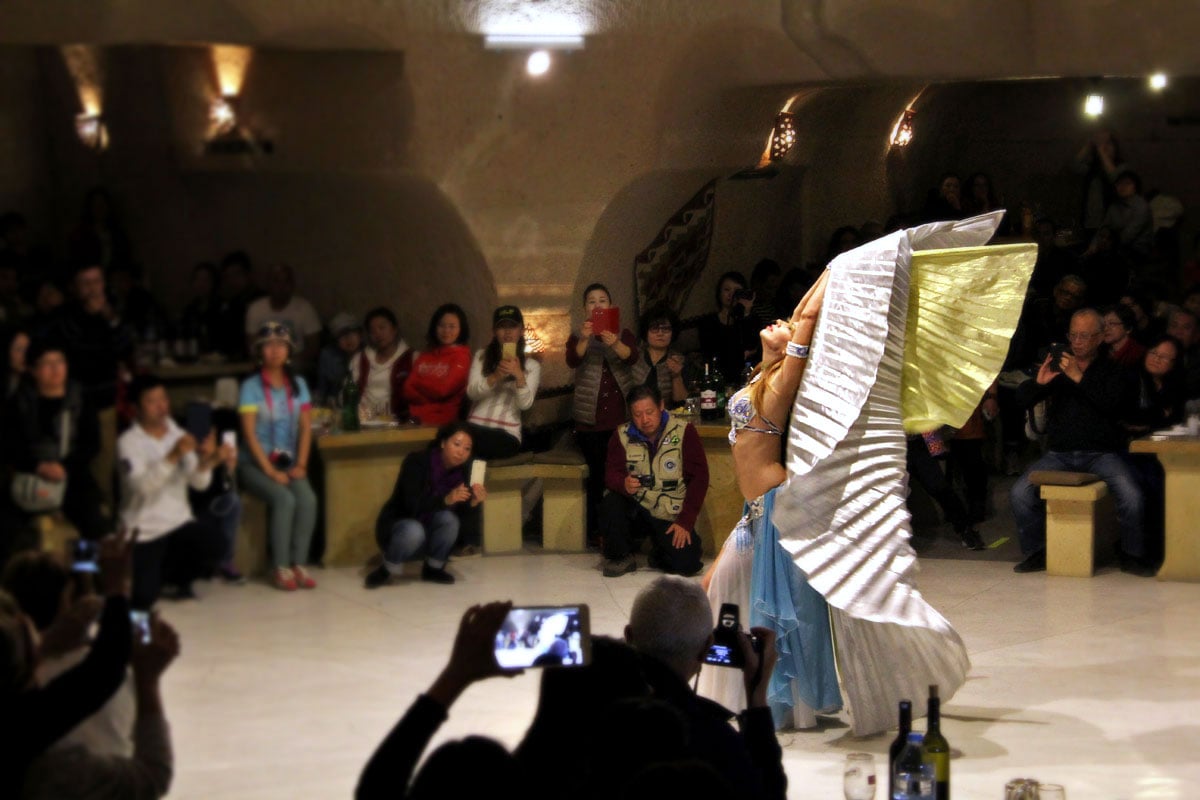 Again with the audience participation. Donning her hip scarf, this dude busted some seriously sultry moves!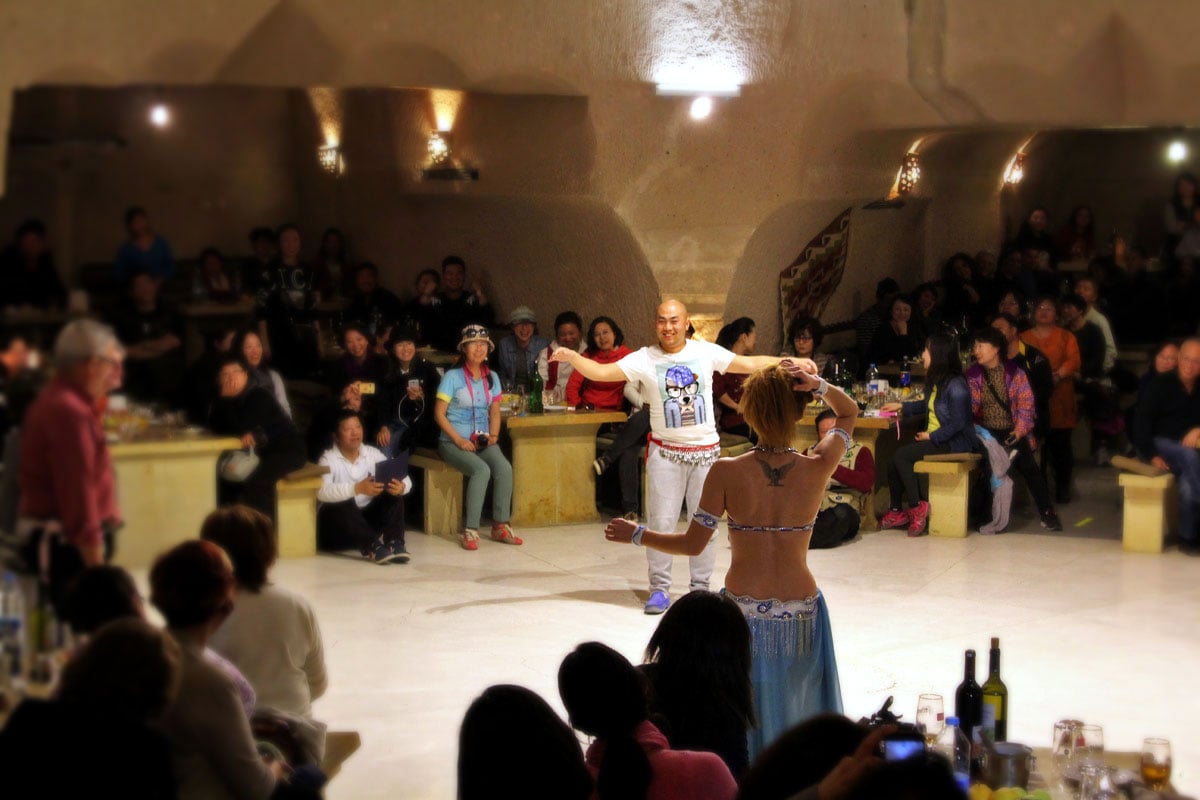 Channeling Antonio Banderath, these guys were flinging knives onto that block of wood from their mouths. Hwhatoook!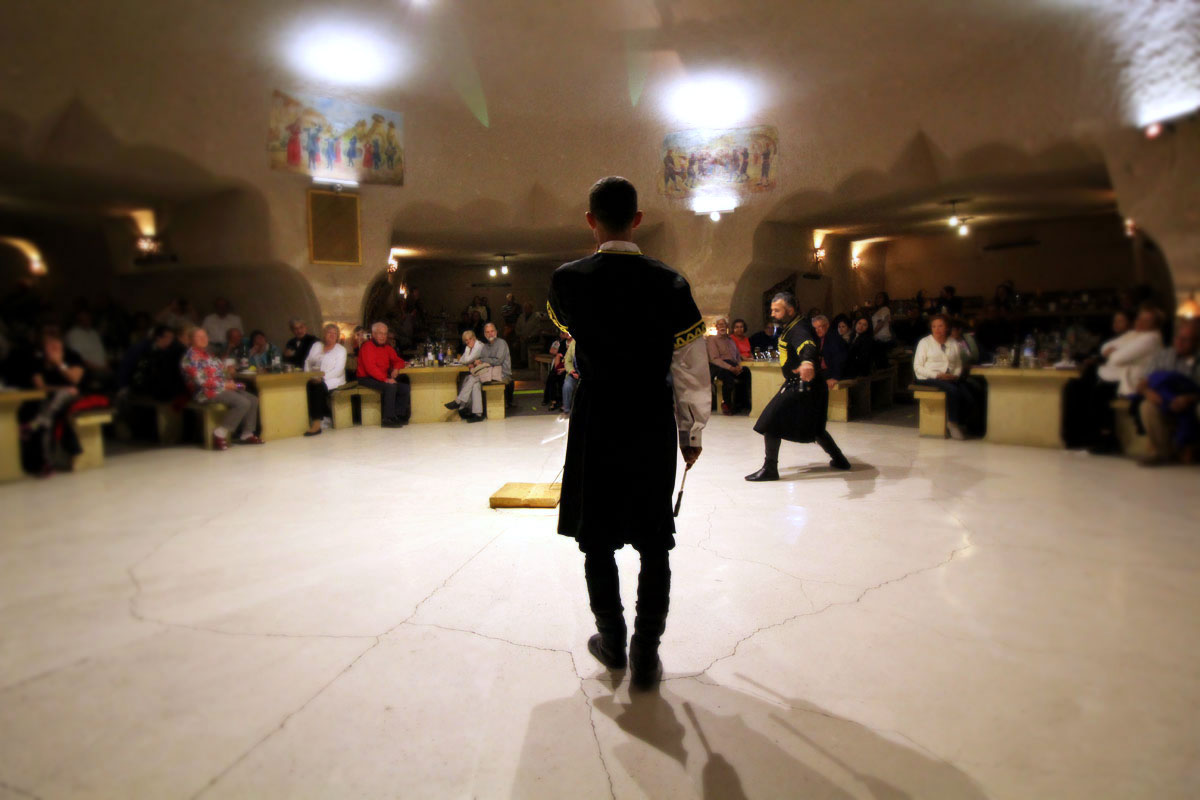 Finish him! When all his knives were spent, he got down on his knees and started spinning violently on the floor, as if to finish off that block of wood.

Not to be outdone, this guy followed suit shortly after.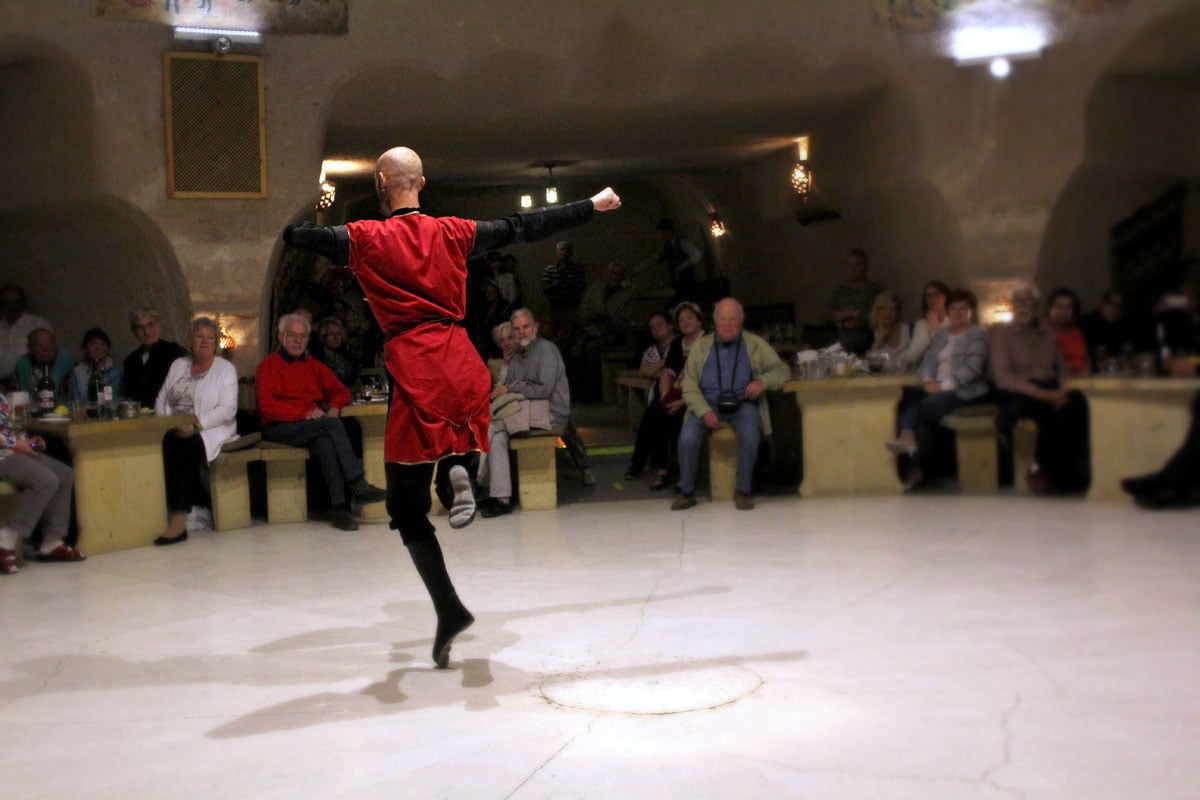 And the finale. Coming out for one last number, the troupe bows to the audience whilst proudly waving the Turkish flag. Bravo! Bravo!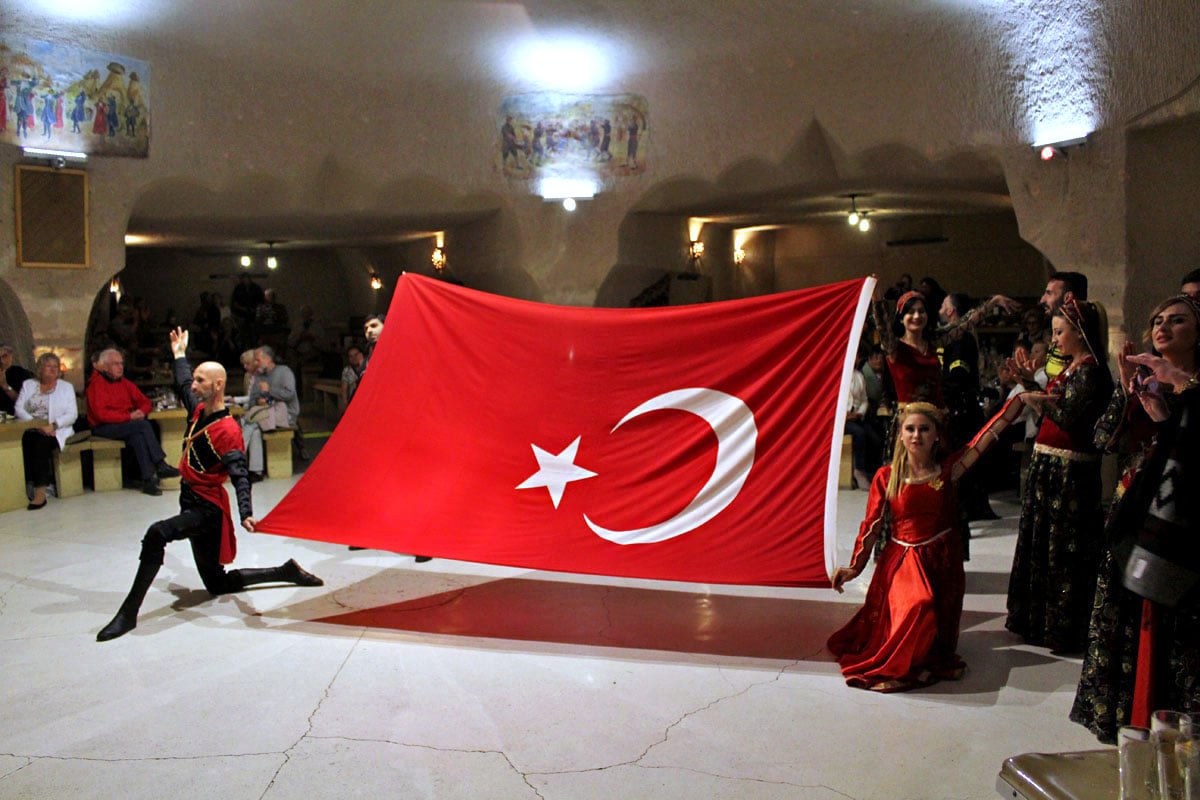 Without question, Turkish Night is touristy. More than half the people here tonight were tourists from mainland China. The wine is cheap, the food is average, and according to a few knowledgeable TripAdvisor reviewers, so is the dancing.
But in spite of all that, we had an awesome time.
Sure, the food could have been better but it wasn't bad. The wine wasn't the best but there was plenty of it to go around. We liked the venue and enjoyed the dancing, "average" as it may have been. Simply put, if you're a wine connoisseur and familiar with Turkish dance, then Turkish Night isn't for you. But if you're a foreigner looking for a small taste of Turkish culture, then it's a fun night out. I'm happy that we got to experience it.
Admittedly, I did find it a little pricey at 40 Euros per person. 30 would have been closer to the mark, largely because the food was subpar. With more interesting things to do in Cappadocia — like a hot air balloon ride, horseback riding, or the Red and Green tours — Turkish Night isn't a top priority so I suggest booking it only if you have extra money to spend.
Many tour operators offer Turkish Night. We booked ours with Bridge of the World travel agency.
Bridge of the World Travel Agency, Göreme, Cappadocia, Turkey
Orta Mah. Uzun Dere Cad. No 5, Goreme 50180, Turkey
Tel: +90 384 271 2004
Website: bridgeoftheworld.com
Twitter: botw_travel
Pinterest: botwtravel
Instagram: bridgeoftheworld
Foursquare: botw-travel-bridge-of-the-world-travel
Email: [email protected]
Activity Cost: 40 Euros per person (as of Nov 2015)
HOW TO GET THERE:
Bridge of the World travel agency is a short walk from the otogar (bus station) on Uzun Dere Caddesi. If you have Sygic Travel and pocket wifi, then you can use GPS to track it down. If you book this Turkish Night activity with them, then they'll arrange to have you picked up from your hotel around 7PM.
For more Cappadocia travel tips, check out our First-Timer's Travel Guide to Cappadocia, Turkey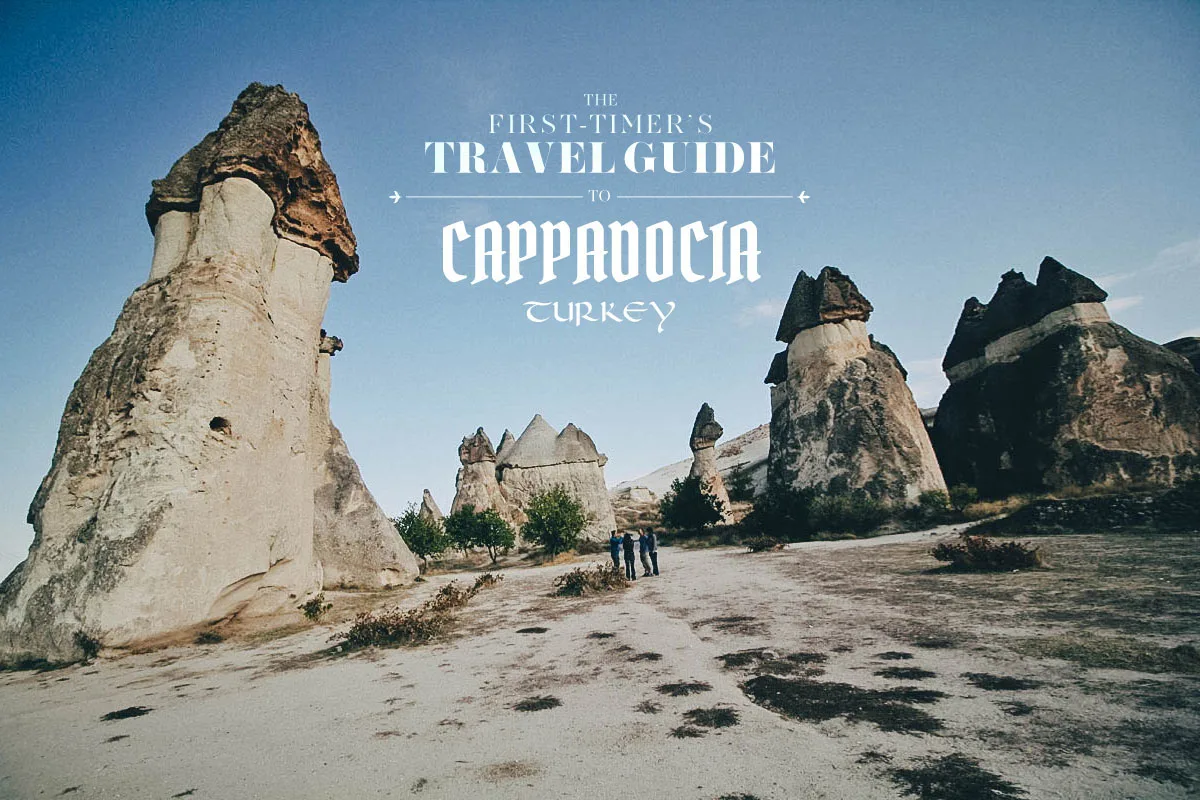 Disclosure
Some of the links in this post are affiliate links, meaning we'll get a small commission if you make a purchase or reservation at NO extra cost to you. We really appreciate your support as this helps us keep this website going. Thank you!