"If you're claustrophobic, then you might want to stay here."
That's what our guide Yücel (pronounced yoo-zhel) told us before we descended to the 8th and deepest level of Derinkuyu underground city. Entering a narrow passageway just wide enough for one person, we lowered our heads and walked single file down to a room that was barely big enough to fit all eight of us. I've never experienced claustrophobia in my life, but being in a tight space like that, crouched down almost 300 feet below the surface of the earth, it wasn't hard to understand the feeling.
We were barely halfway through the first stop on today's Green Tour and already we were filled with a strange sense of trepidation and excitement. I knew right then and there that this would be an interesting day ahead.
Derinkuyu Underground City
The underground city of Derinkuyu is buried in mystery. No one knows when or why it was built, how many people it housed, or even how deep it really goes. Many theories about its history abound but no one really knows for sure. Neither Ren nor I had ever been to an underground city before — let alone one this large and complex — so all the mystery only added to the fascination. It was like being shrunk down to the size of a fire ant and brought deep into the belly of its colony.
As described above, Derinkuyu was the first stop on today's "Discover Cappadocia" tour. Commonly known as the Green Tour, we booked it with Bridge of the World for 45 Euros per person inclusive of all entrance fees and lunch.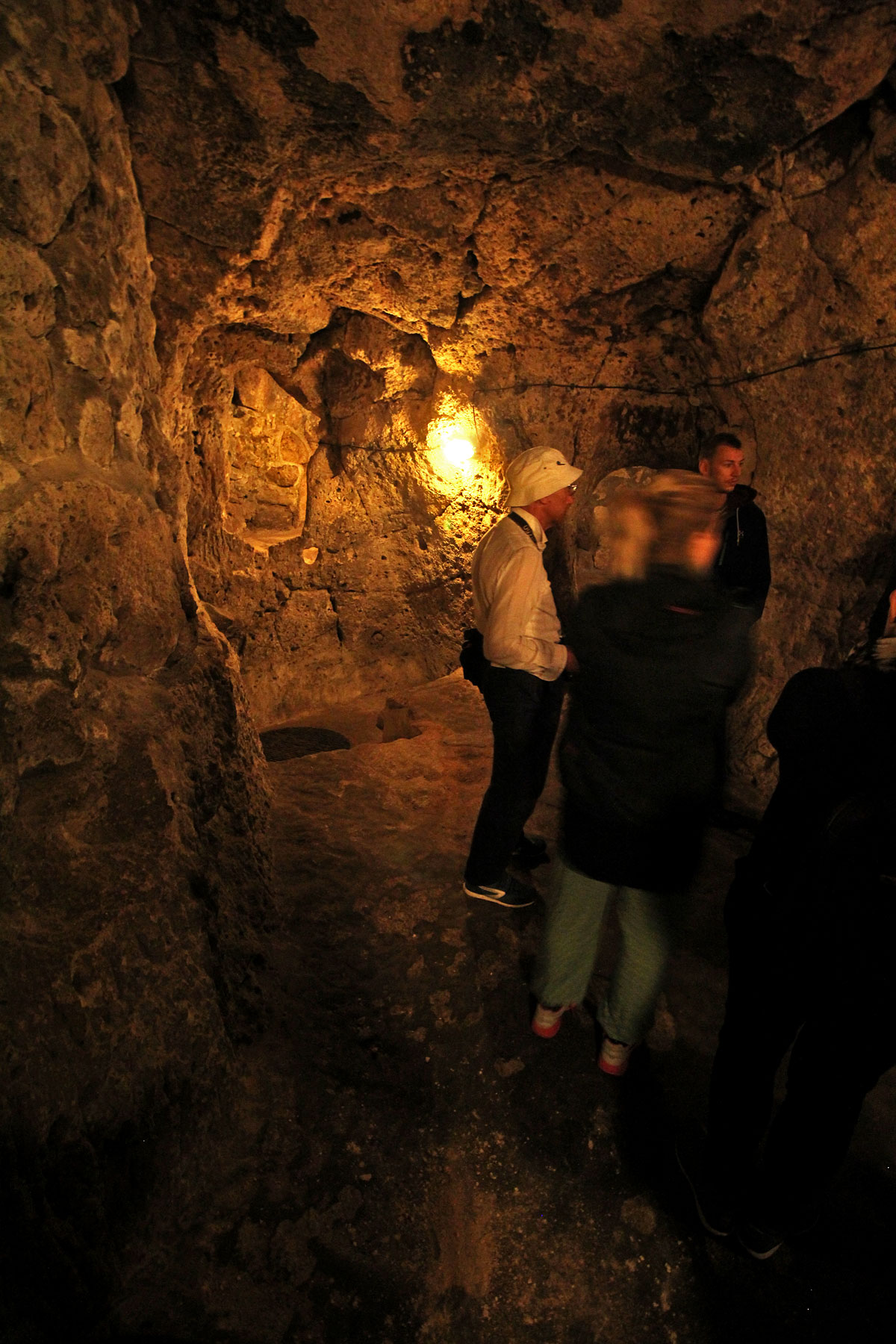 Though only 8 floors are open to the public (reaching a depth of 280 ft / 85 m), archaeologists estimate that the city could contain up to 18 subterranean floors. It isn't the largest underground city in Cappadocia — that distinction goes to nearby Kaymakli — but Derinkuyu is the deepest. As advised by Yücel, if you're at all claustrophobic, then these underground cities aren't for you.
No one really knows for sure but it's estimated that up to 20,000 people lived in Derinkuyu at any given time. It contained churches, food stores, livestock stalls, wine cellars, schools, even commercial spaces. There's a ventilation system to filter out smoke and an irrigation system that supplied drinking water from wells filled by an underground river. Places like this make you realize how remarkable human ingenuity is.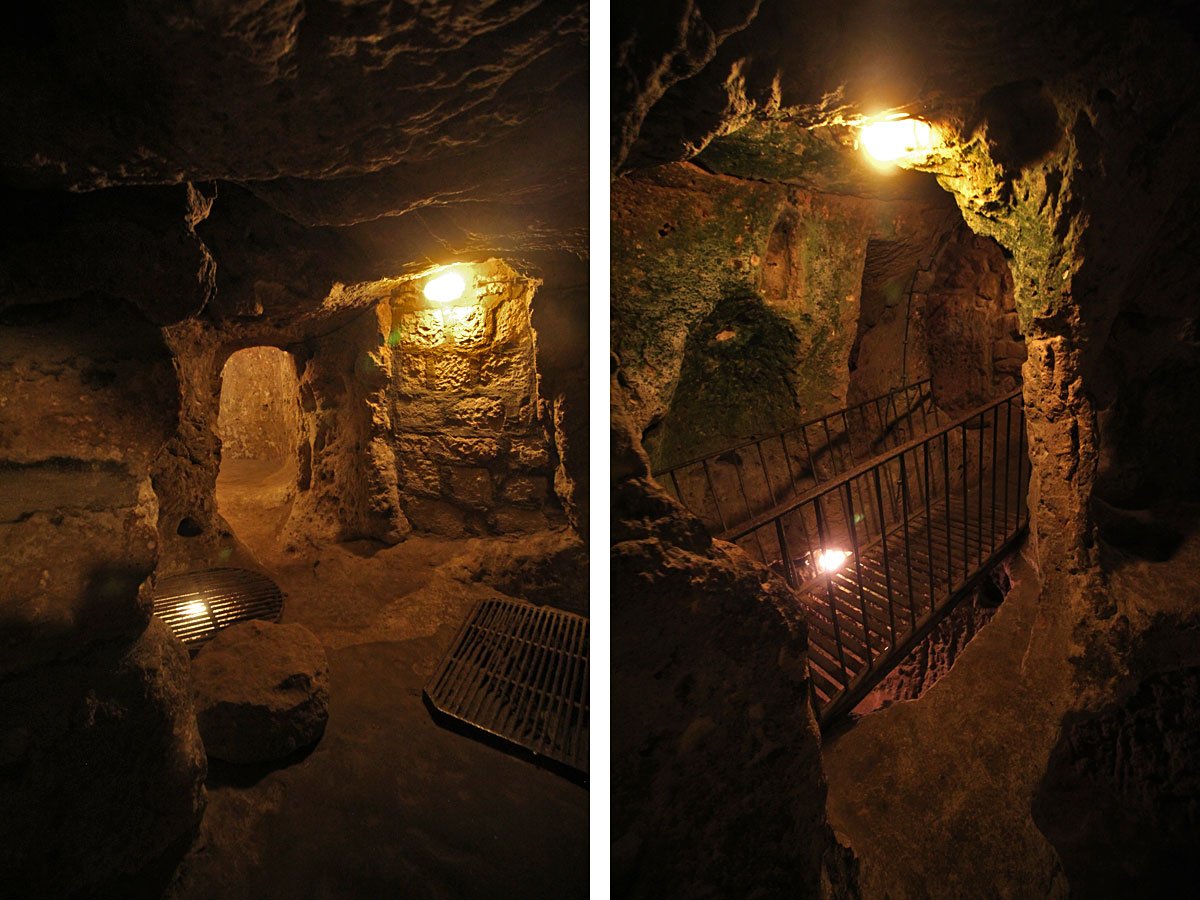 Parts of it have collapsed so it's no longer usable, but there's a 3-mile-long (5 km) stretch of tunnel on the third floor that once connected Derinkuyu to Kaymakli. Derinkuyu and Kaymakli are the most well-known but a total of 36 underground cities have been discovered in Cappadocia to date. Archaeologists believe they could number in the hundreds.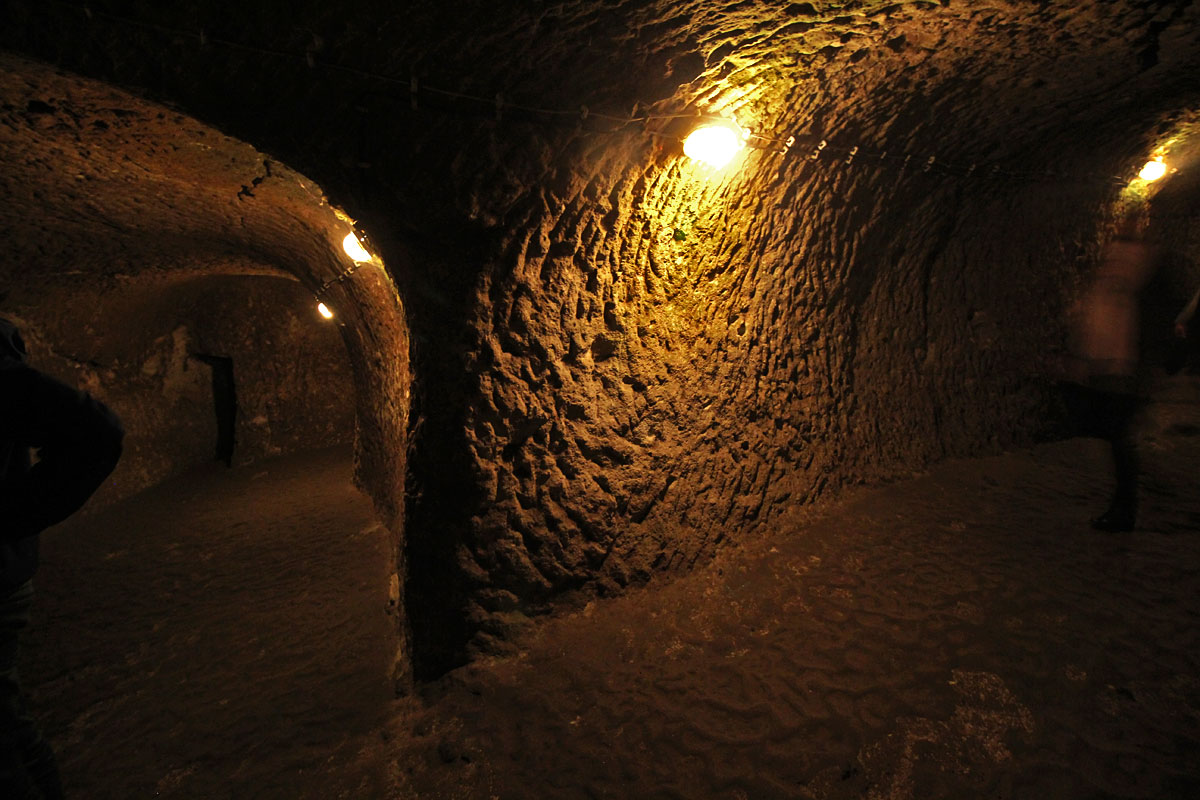 Though estimated to have been in existence since 15 BC, it wasn't until 1963 that Derinkuyu was re-discovered by the modern world, and by accident too. As the story goes, a man knocked down a wall of his home only to find a mysterious room on the other side. He continued digging and discovered an elaborate tunnel system with more cave-like rooms that turned out to be Derinkuyu.
Knock down a wall, discover an underground city. The real estate value of his house must have skyrocketed that day.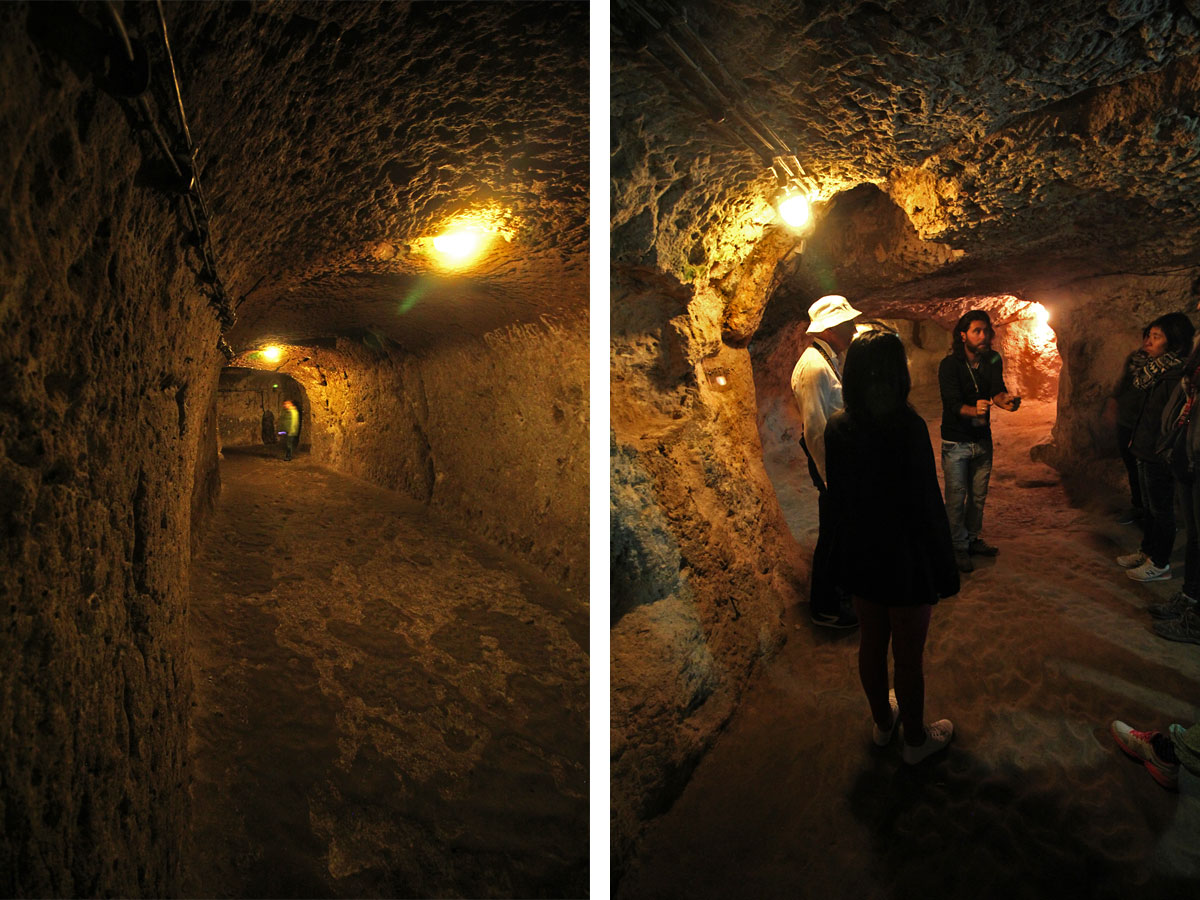 Making our way up and out of the underground city. Some operators of the Green Tour will take you to Kaymakli while others, like Bridge of the World, will show you Derinkuyu. As mentioned above, entrance is already included in the tour fee but you can visit Derinkuyu on your own for 20TL. It's open daily from 8AM-7PM in the summer and 8AM-5PM in the winter.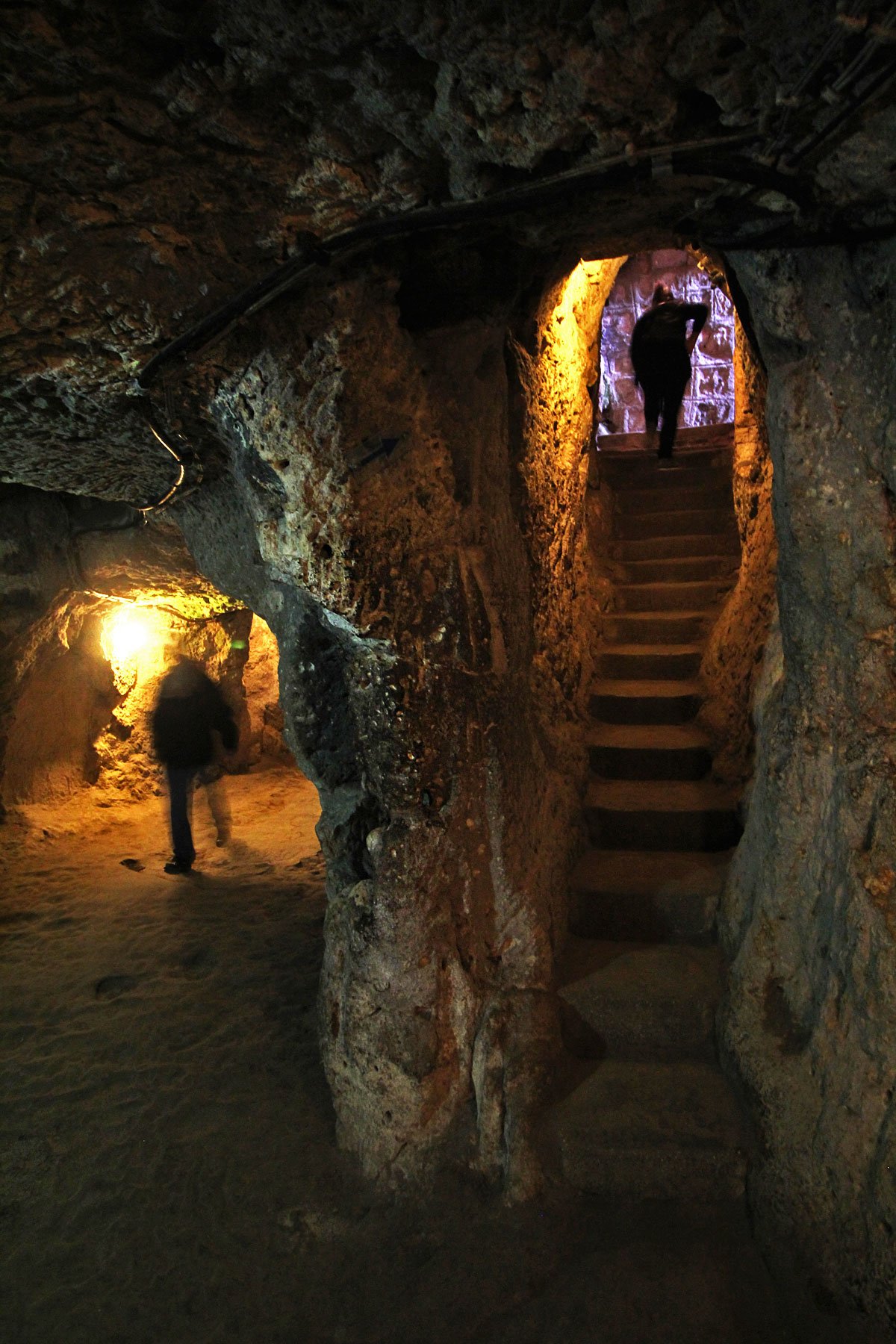 Selime Monastery
At the end of Ihlara Valley, which is our next stop, is Selime Monastery. A rock-cut monastery similar to the ones at Göreme Open Air Museum, Selime is notable for two things — its cathedral-sized church and Star Wars.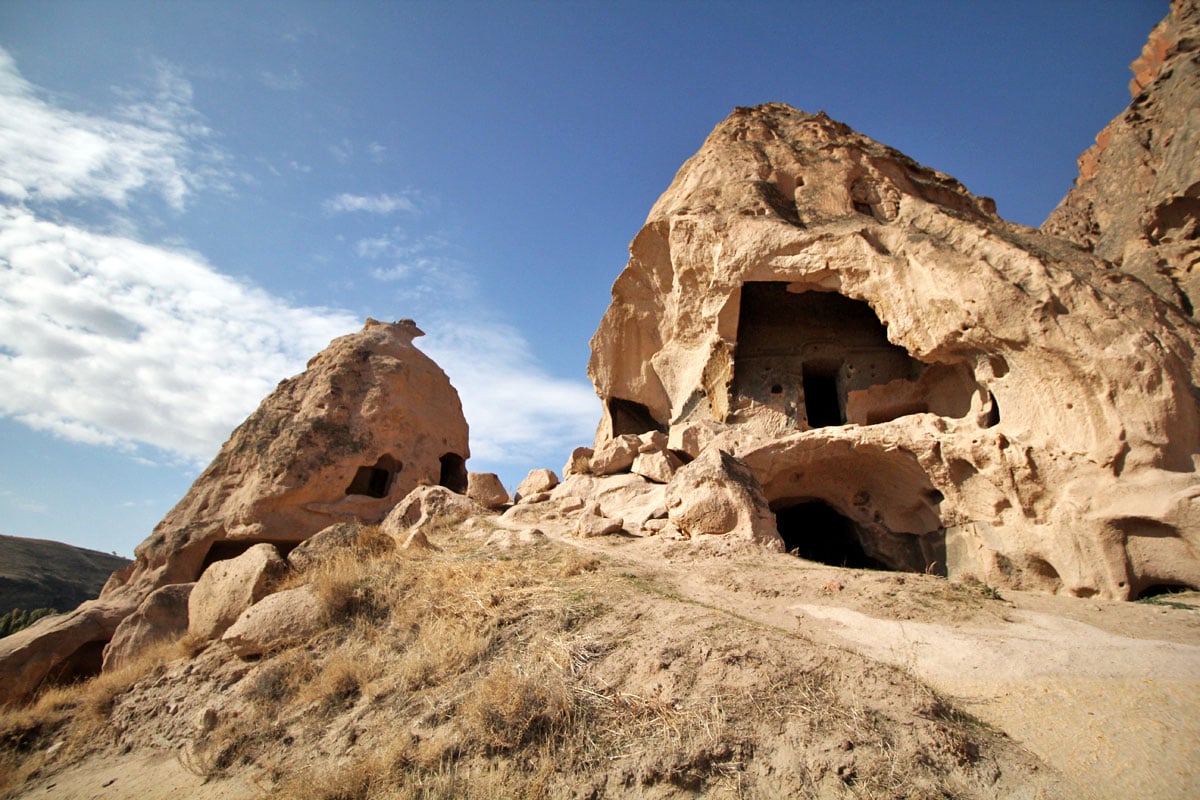 Following in the footsteps of camels. This tunnel-like corridor used to be traversed by camel caravans that would stop at Selime to peddle their wares at its bazaar. Selime was part of the Silk Road trade route.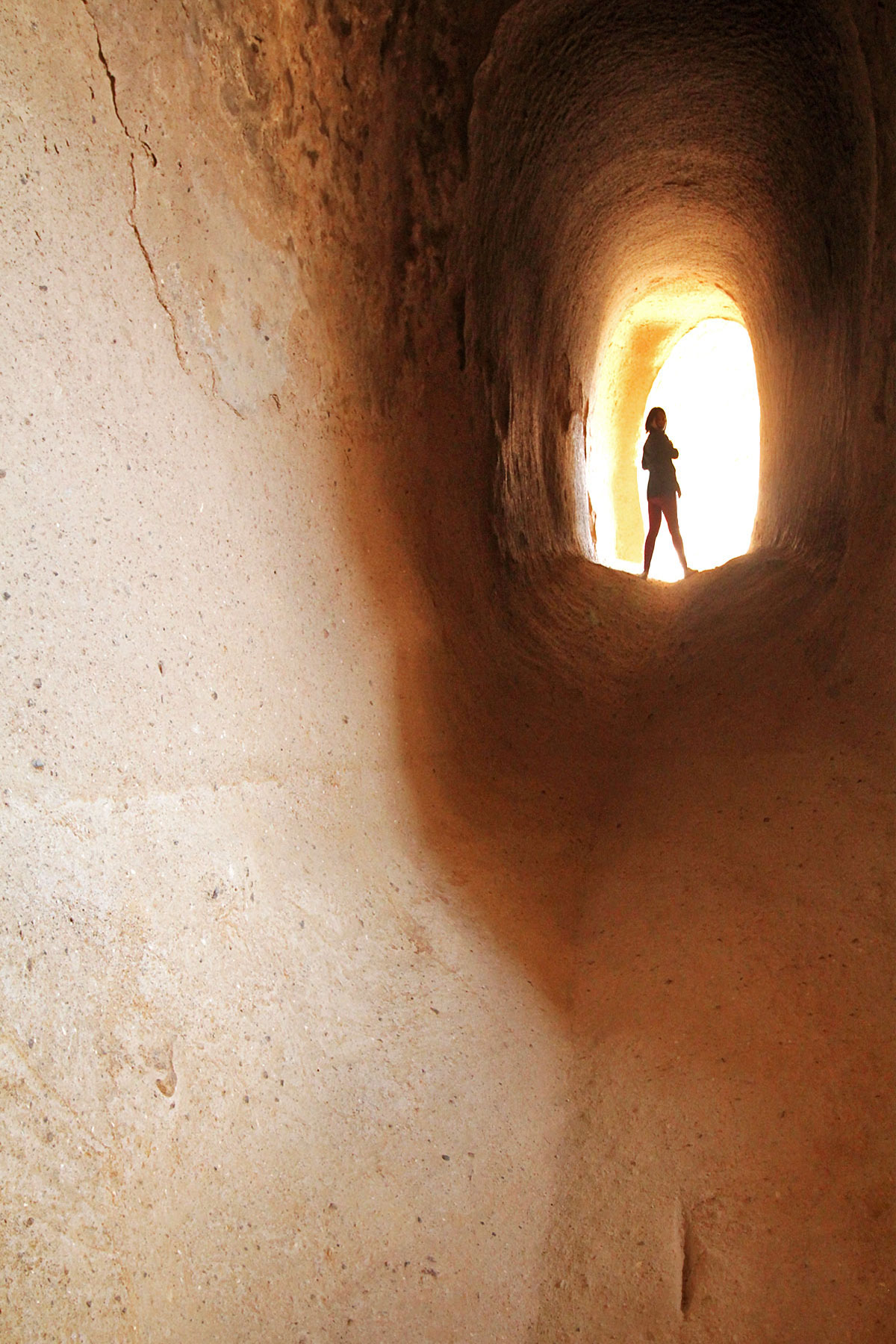 Selime Monastery is the largest religious building in Cappadocia. Apart from the church, the monastery also contains monks' quarters, a huge kitchen, and a stable for mules.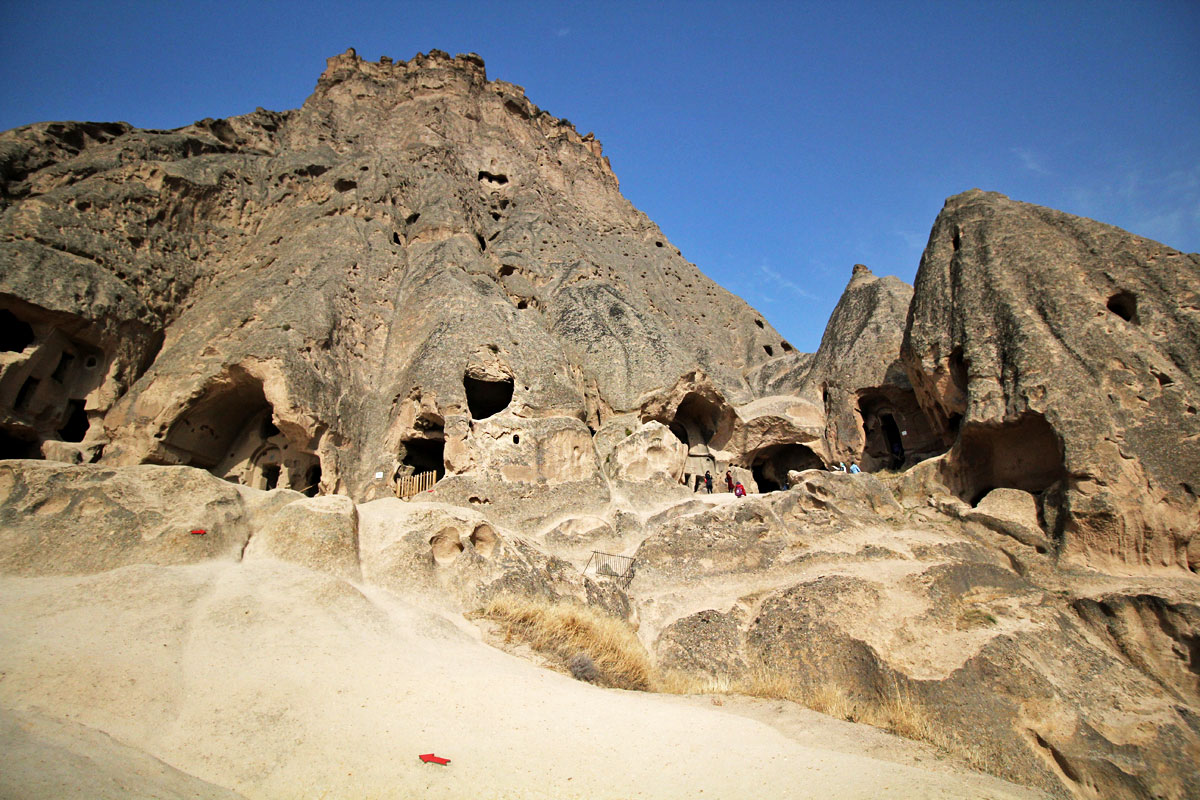 Luke, I am your father. These fairy chimneys are said to have been the inspiration for the desert planet Tattooine in Star Wars. They couldn't film here because of a civil war at the time so they replicated the landscape and filmed in Tunisia instead.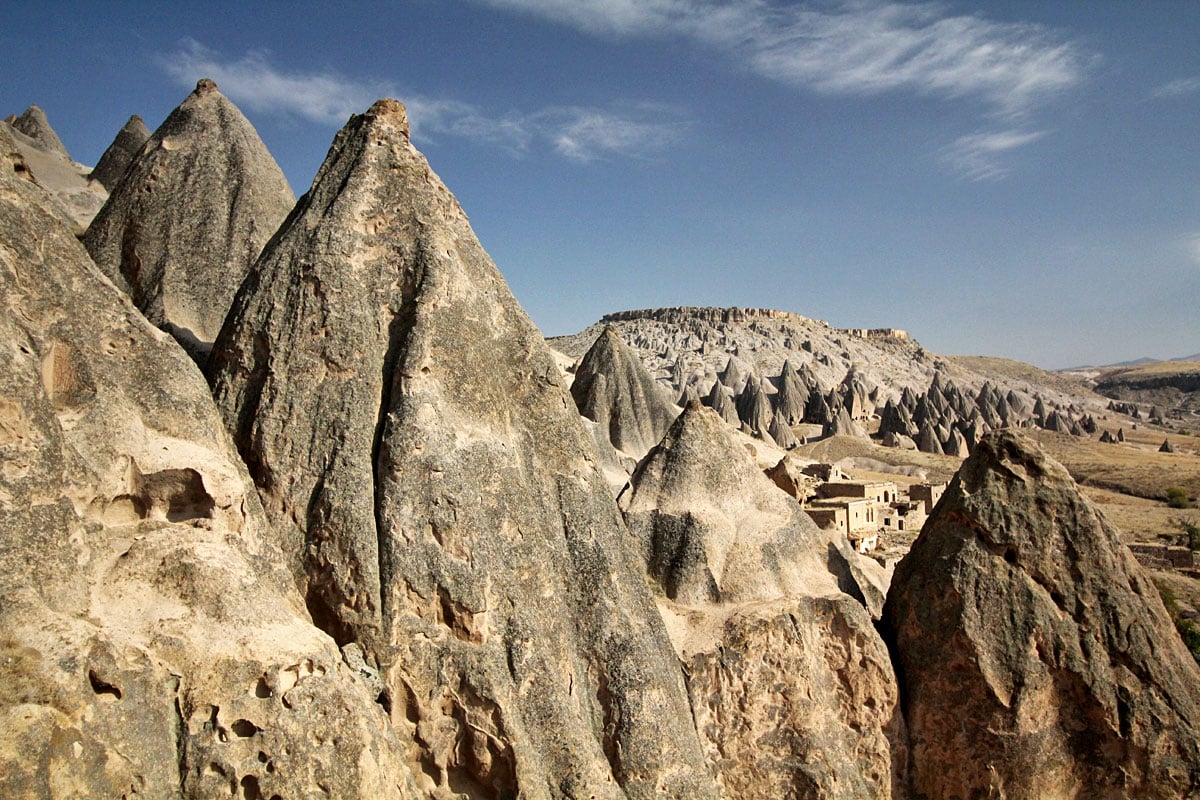 Making our way to the top.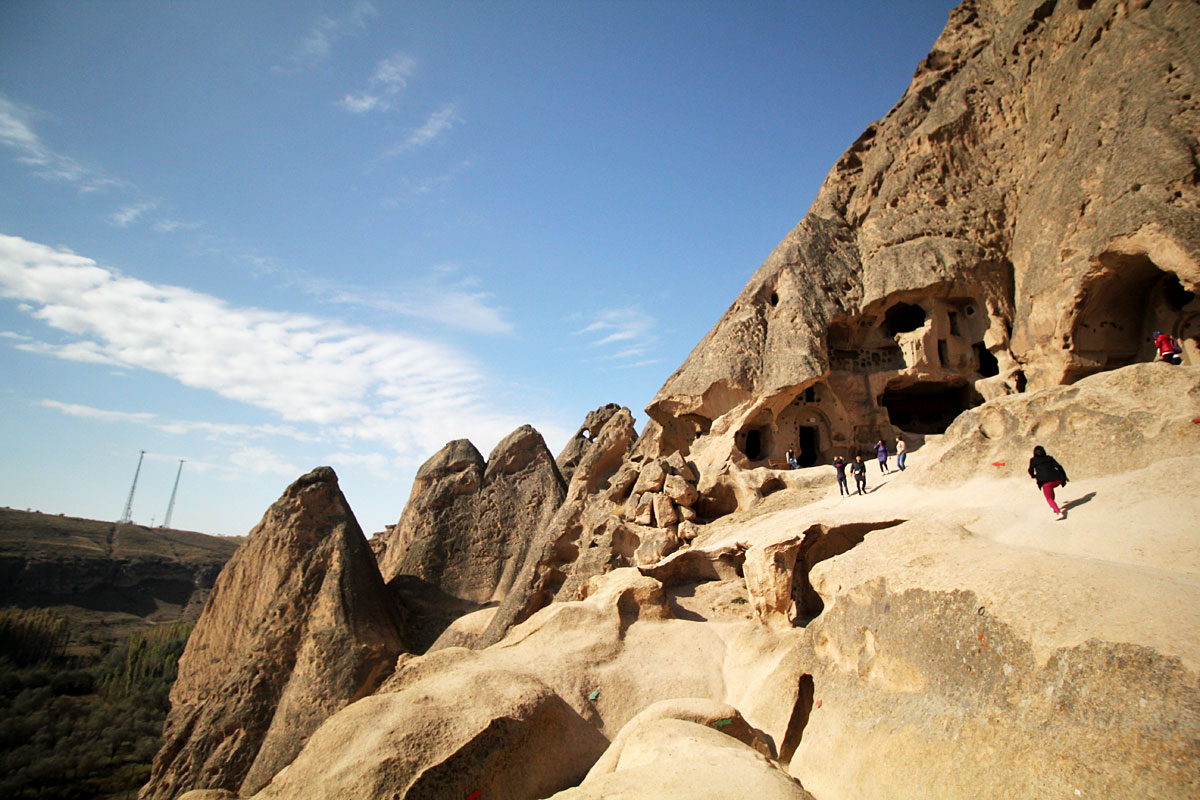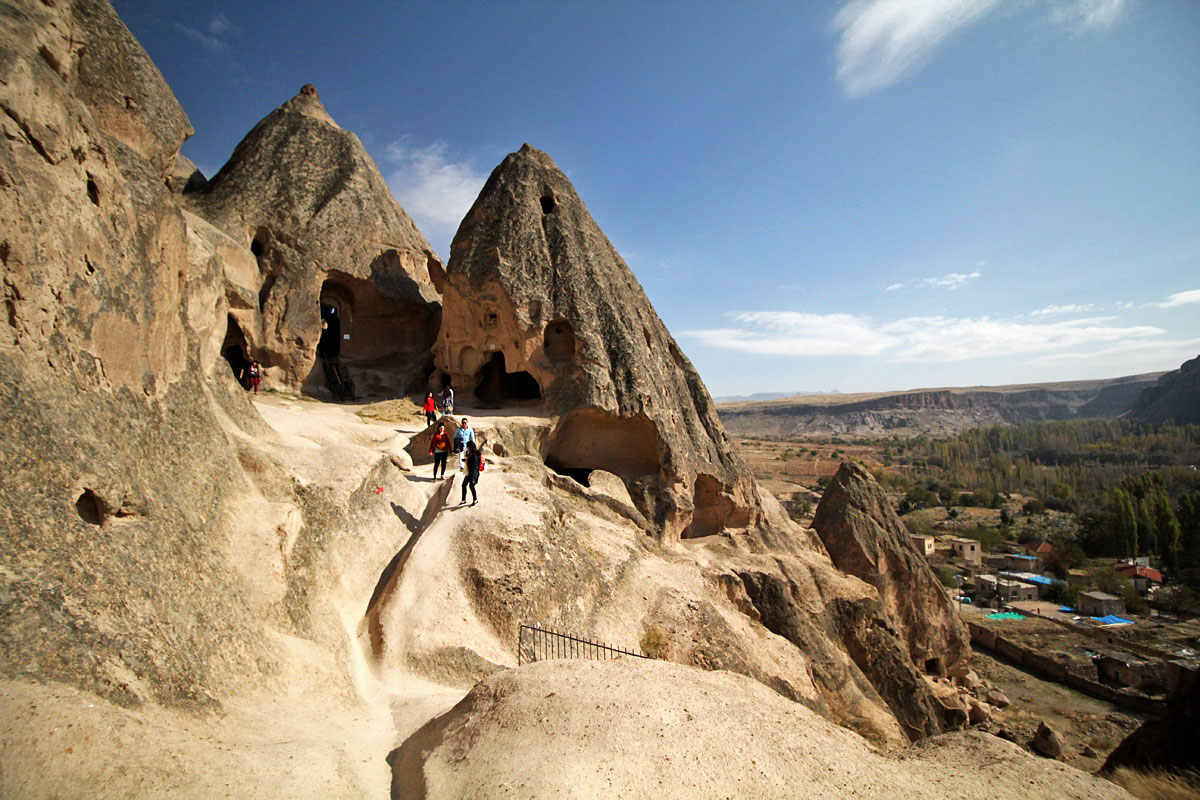 See those holes carved into the rock? Those are pigeon houses. People would rear pigeons so they could harvest their droppings and use them as fertilizer.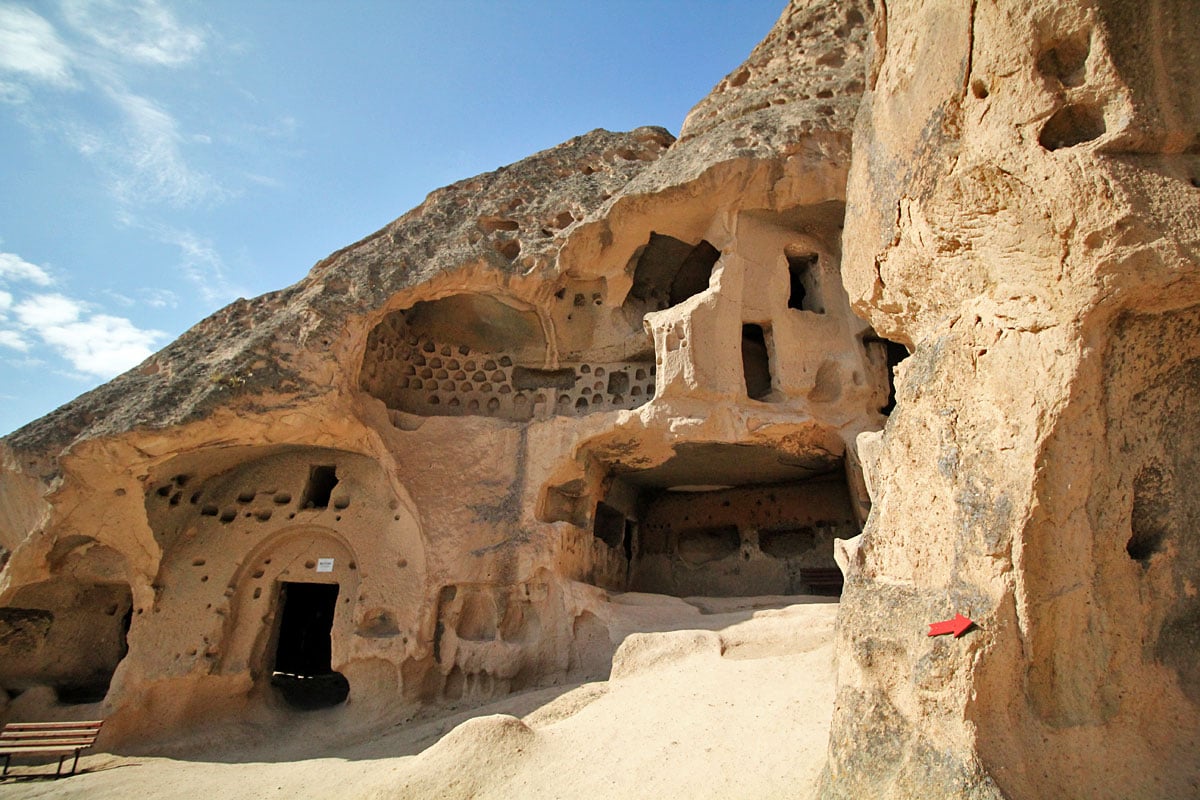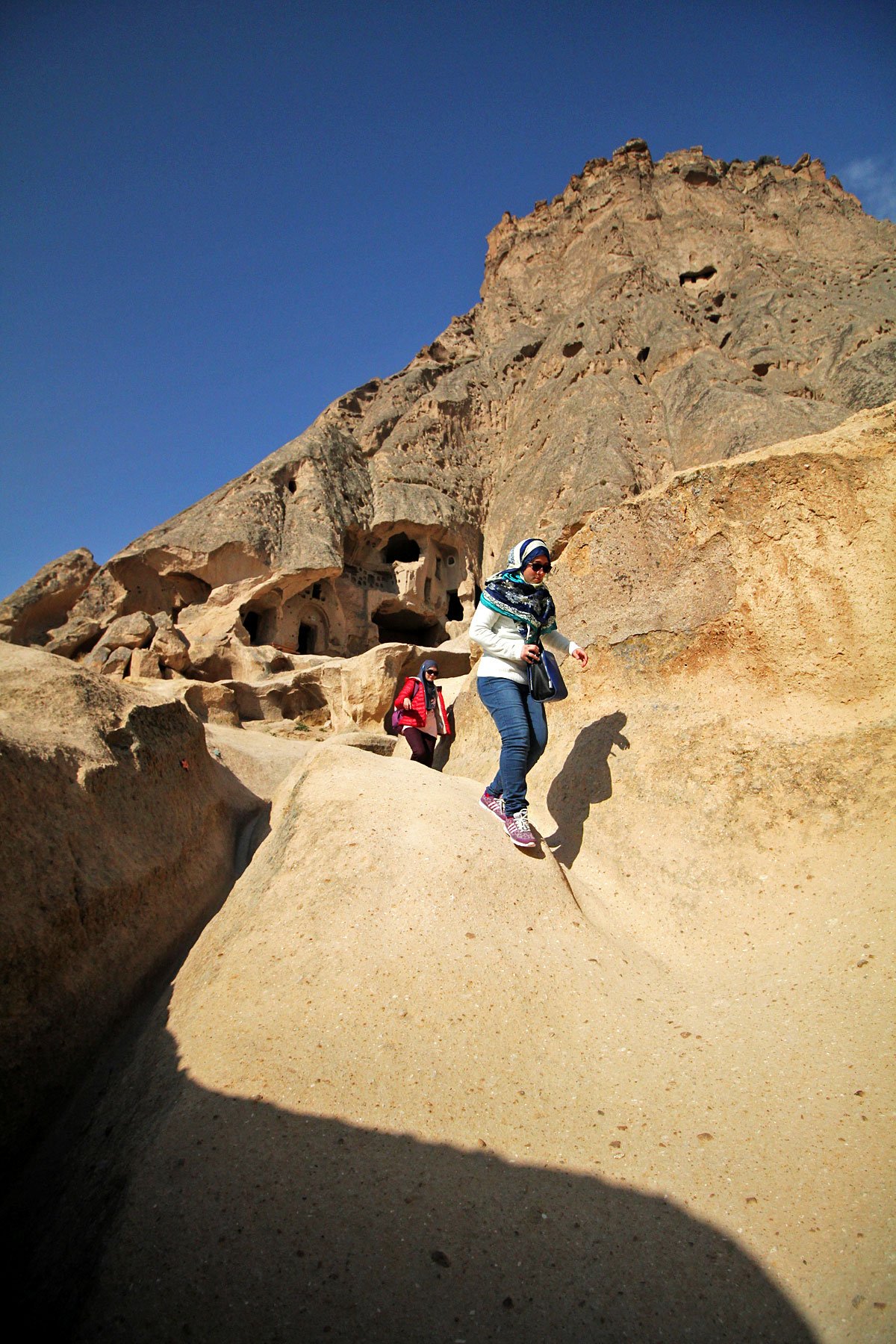 One last look. For day trippers, entrance to Selime Monastery is 10TL.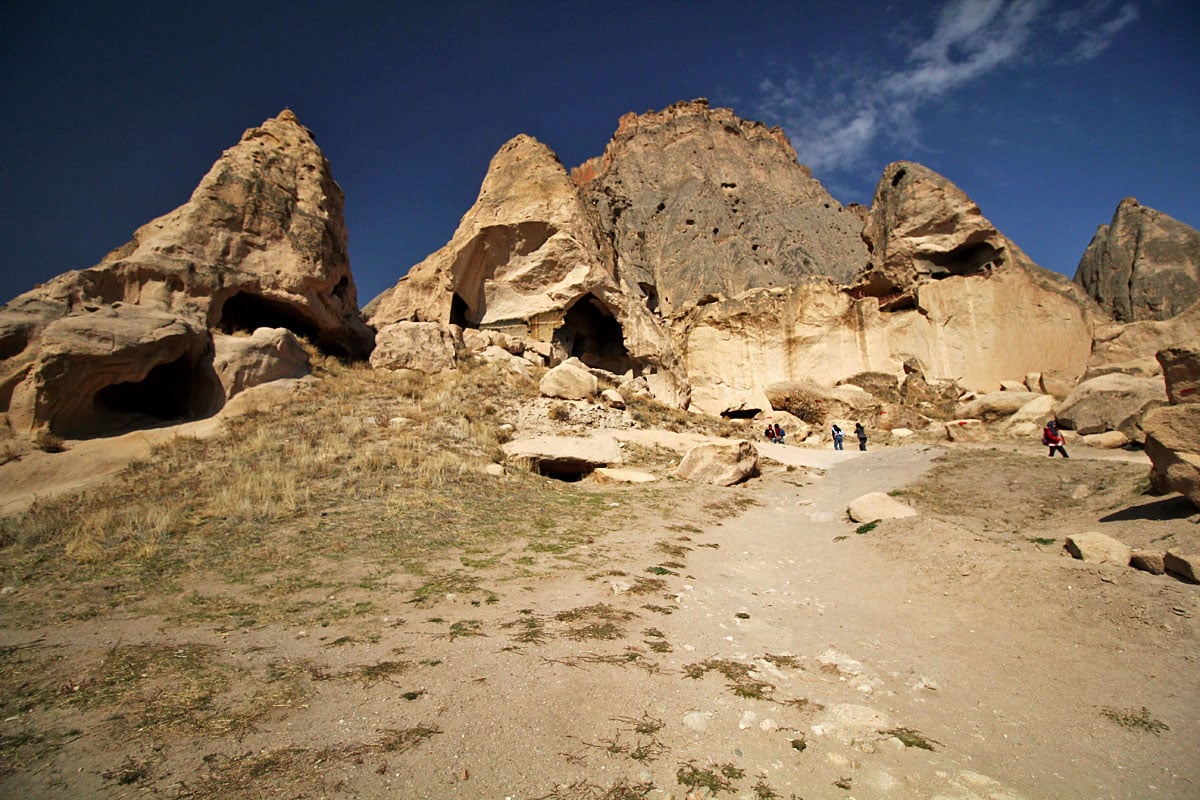 Lunch
Not sure if Bridge of the World's Green Tour always stops here, but we had lunch at Ihlara Star Restaurant just before entering the valley. Lunch is already included in the tour fee though you'll need to pay extra for drinks.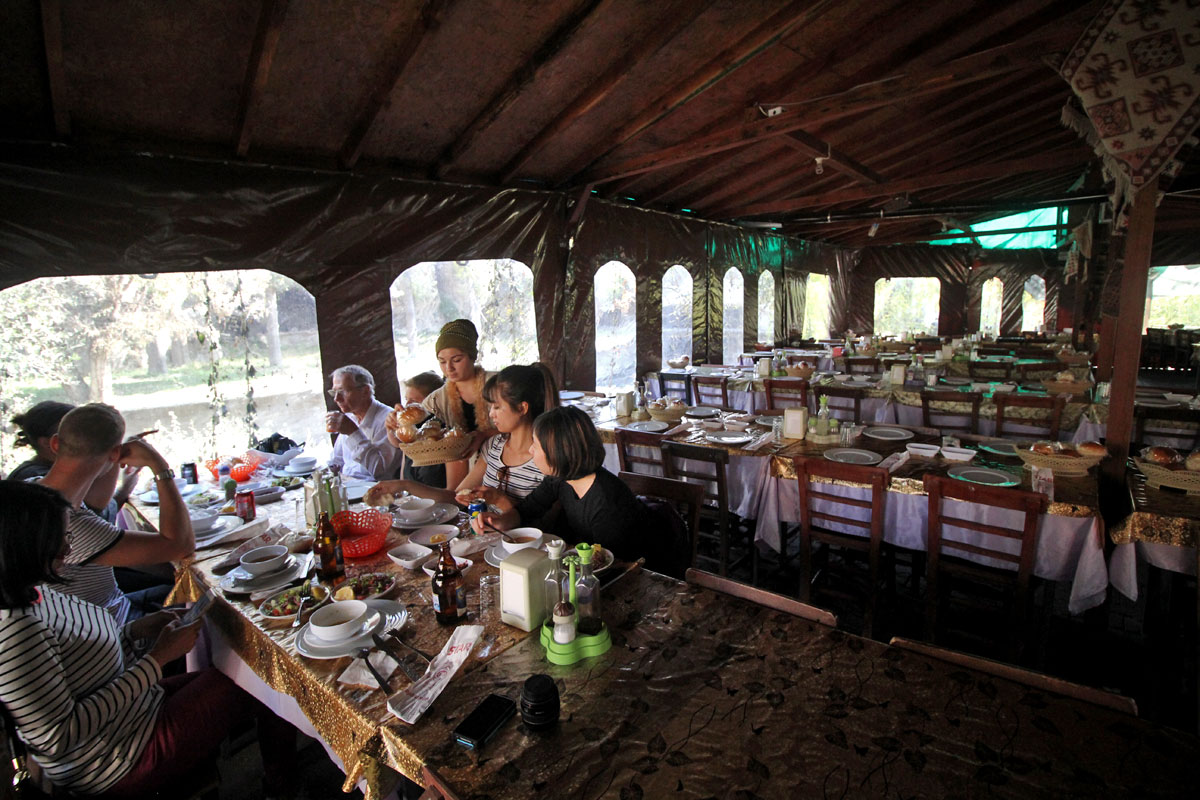 Soup and salad to kickstart our lunch.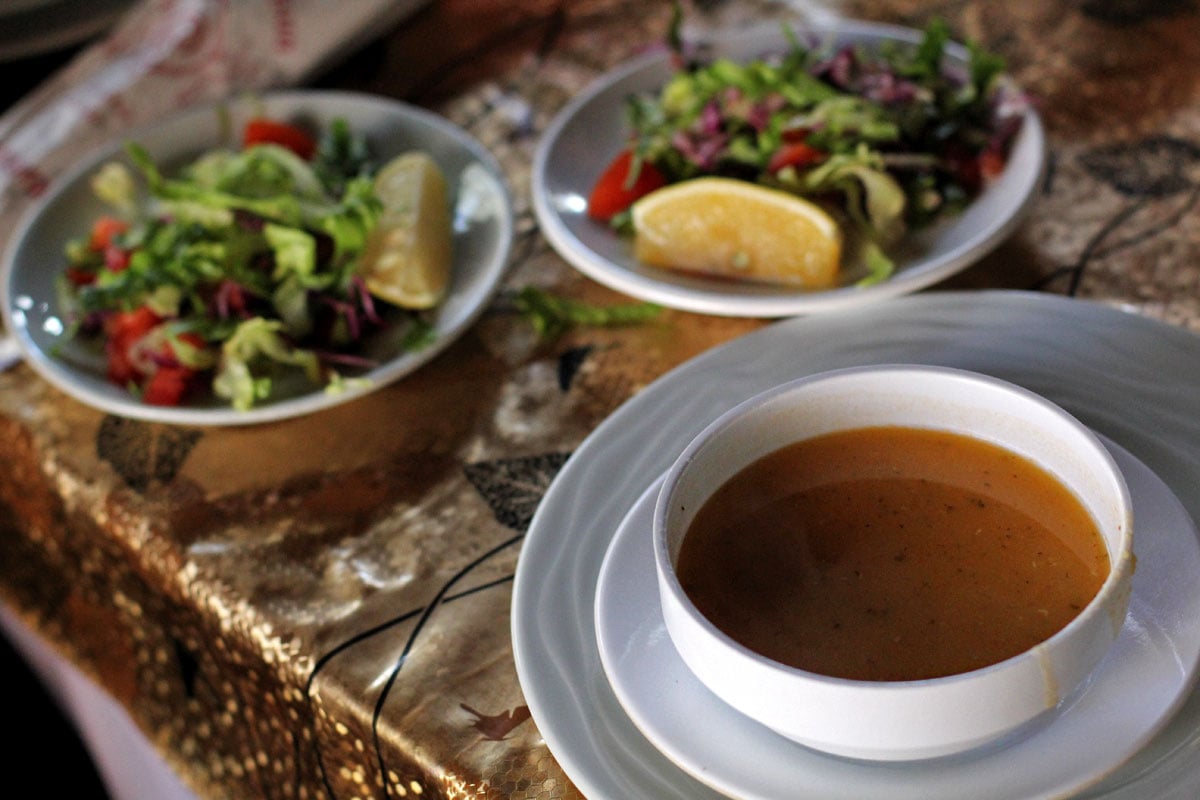 We had our choice from six entrees today. I got this mushroom and cheese…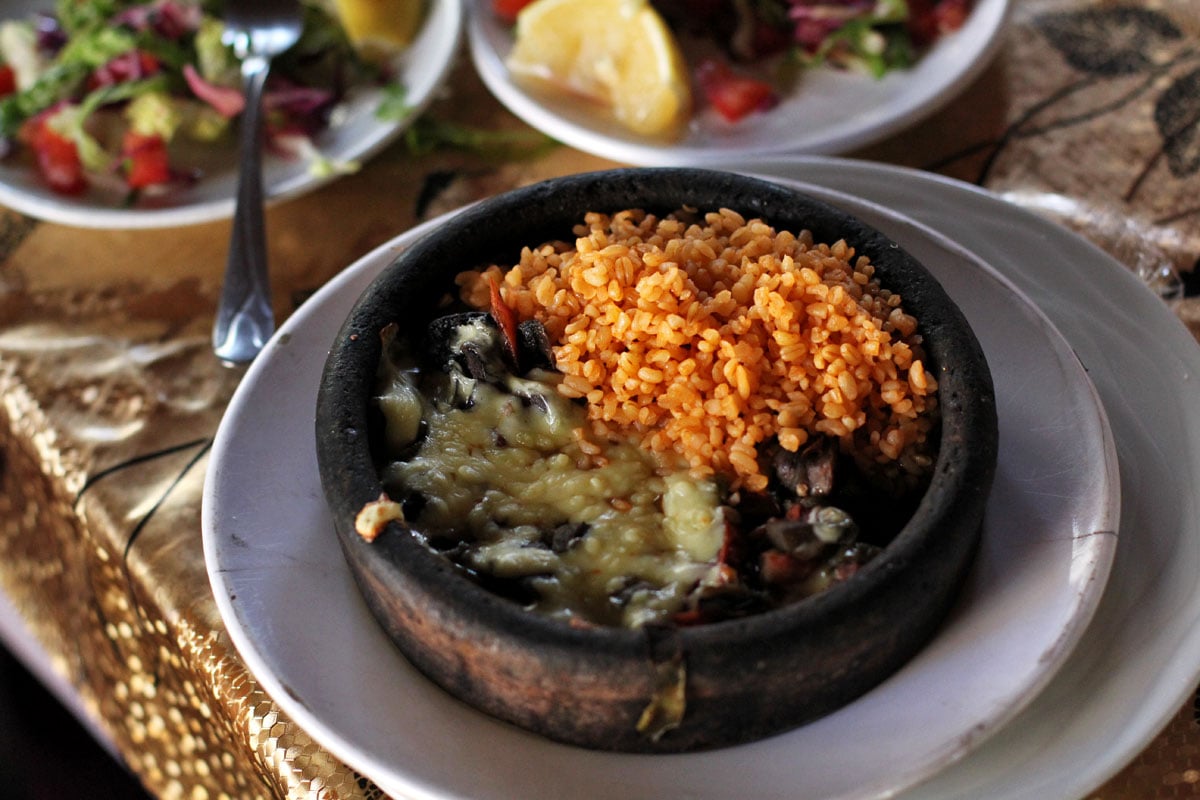 …while Ren went with the beef casserole. They look pretty but neither of them were very good. 🙁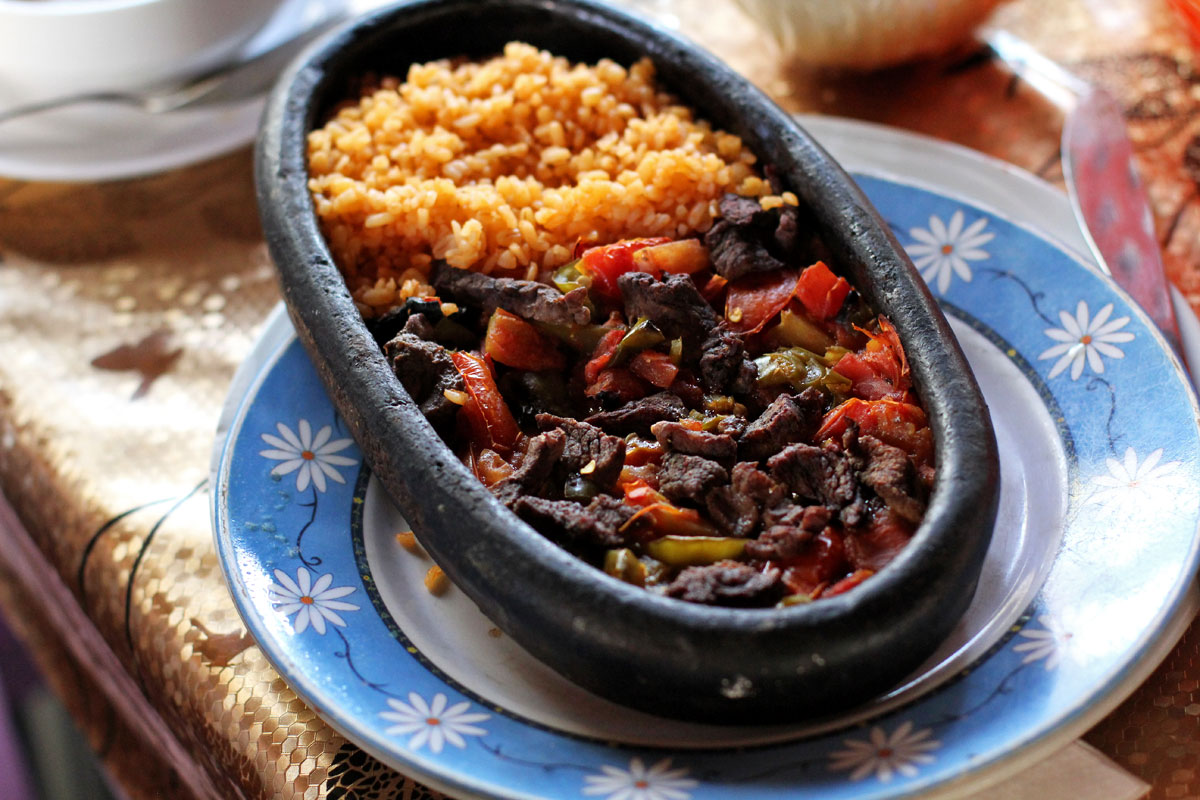 Ihlara Valley
Around 14 km long (8.5 miles) and 100 m deep (330 ft), Ihlara Valley is one of the most popular places in Turkey for hiking. Entrance is 20TL.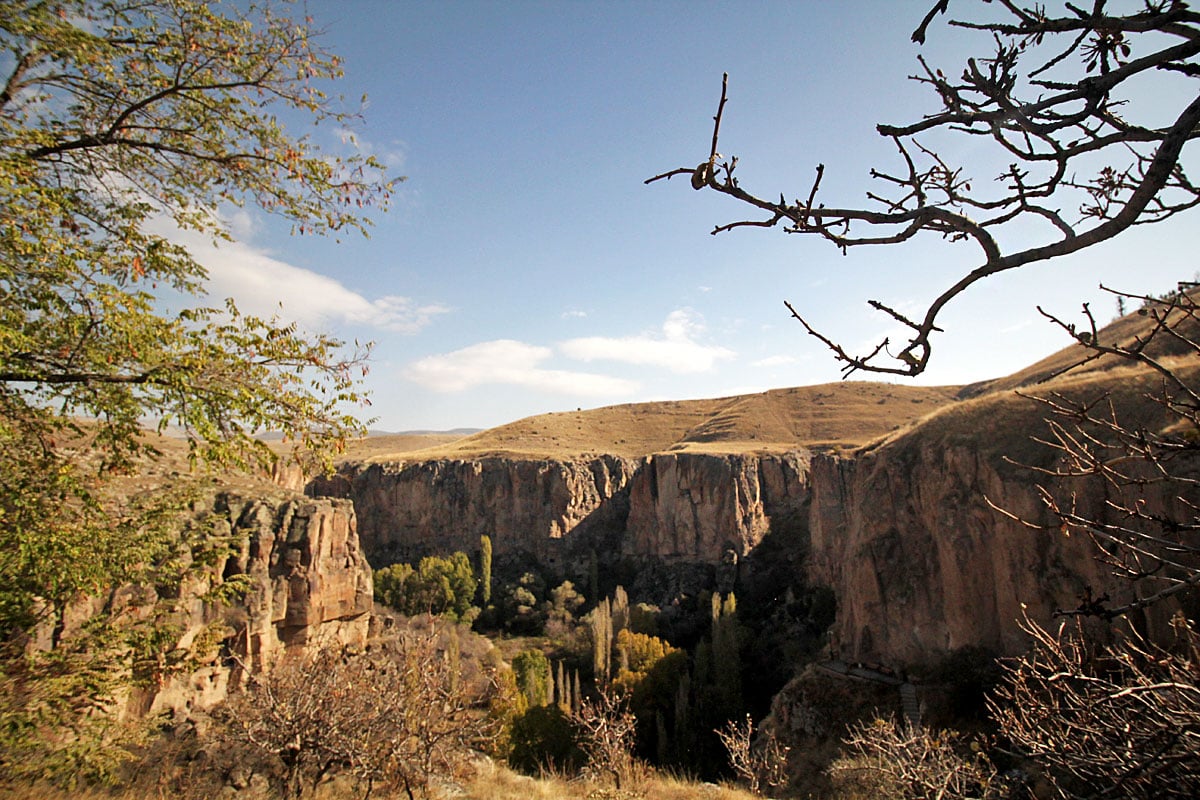 You make your way down into the valley using these steps. The valley has four entrances in all.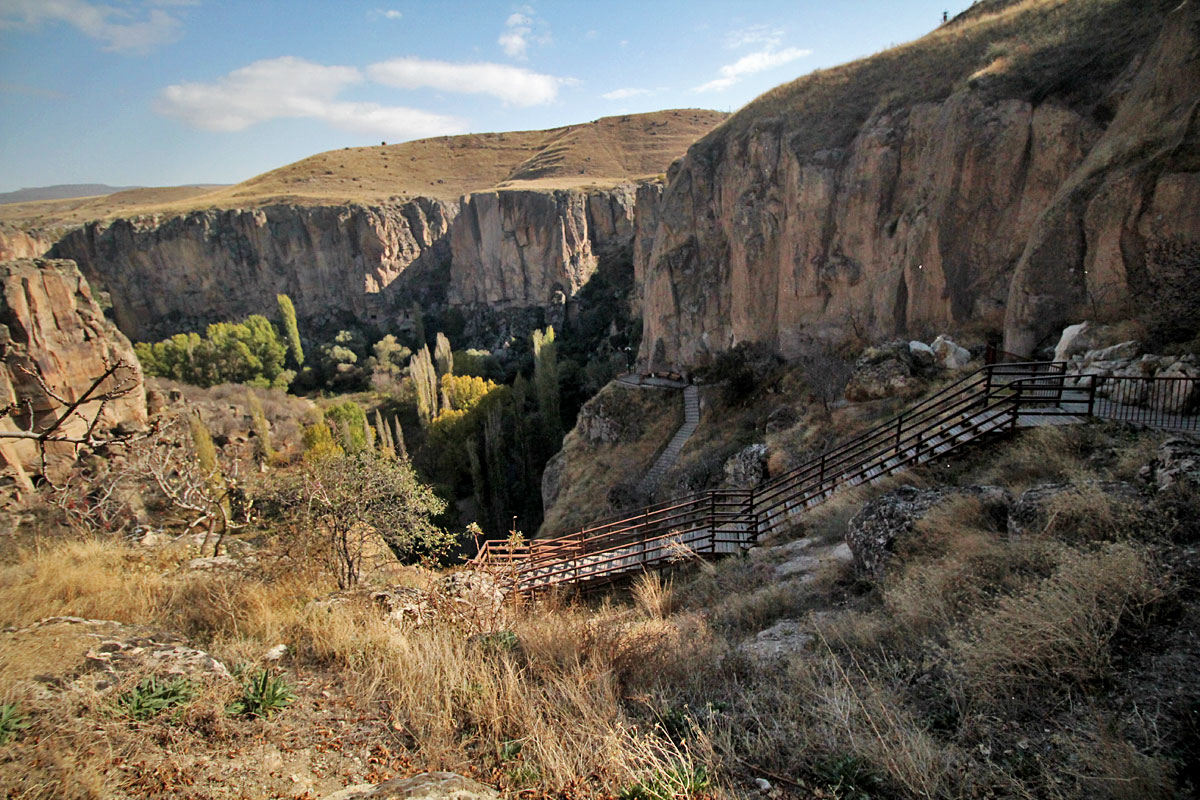 What makes Ihlara Valley unique is the fact that its canyon is honeycombed with rock-cut dwellings and hundreds of churches. We visited just one church today — Agacalti Kilise or "Church under the Tree".
You can't see it in this picture but all the eyes in these frescoes have been scratched out or painted over. According to Yücel, the Qur'an prohibits images of humans in temples, so when these churches were converted into Muslim mosques, the eyes were deliberately removed.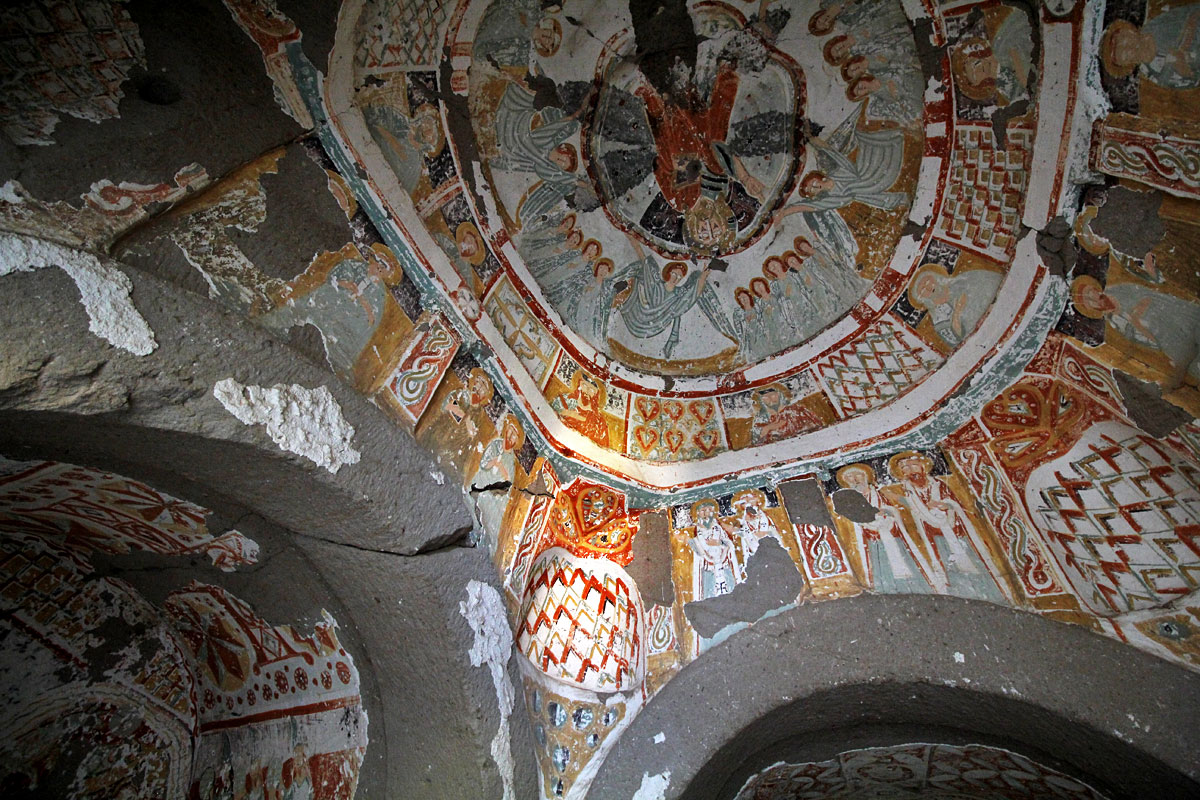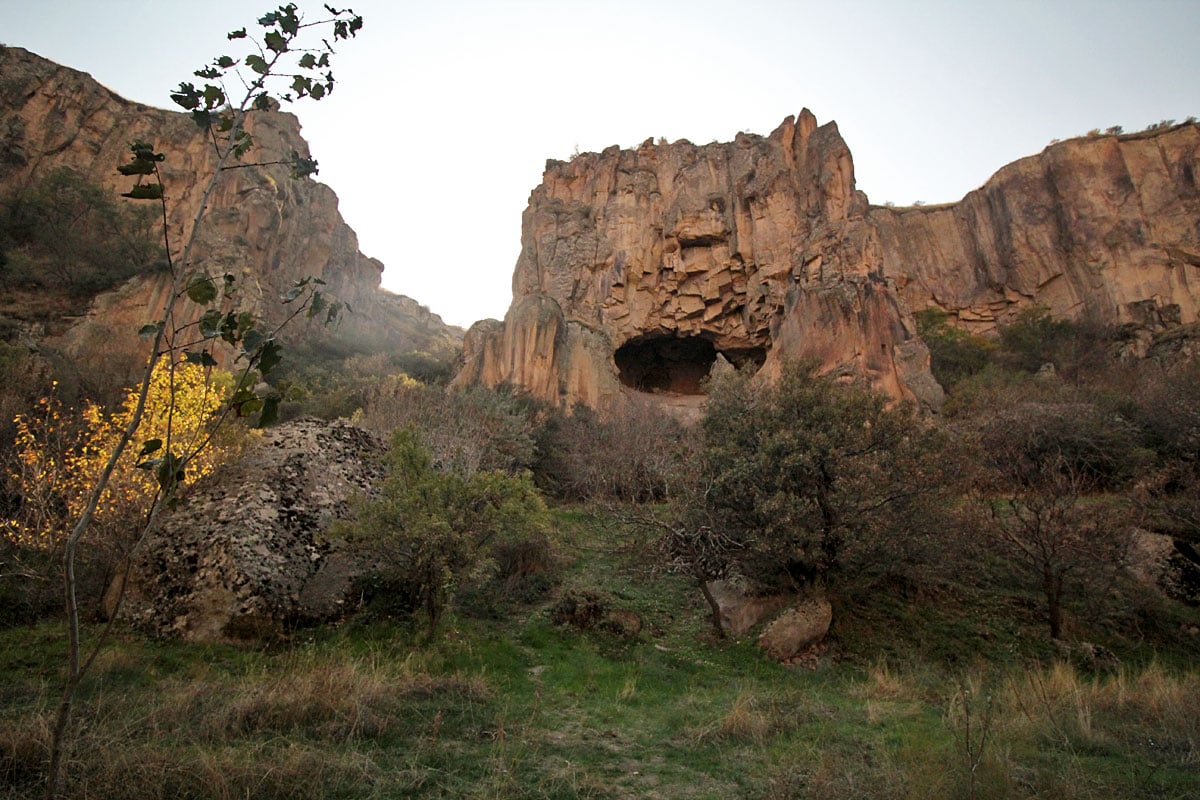 A river runs through it. The Melendiz River cuts through the valley making for a pleasant hike. Nice to hear the sound of the water while you walked.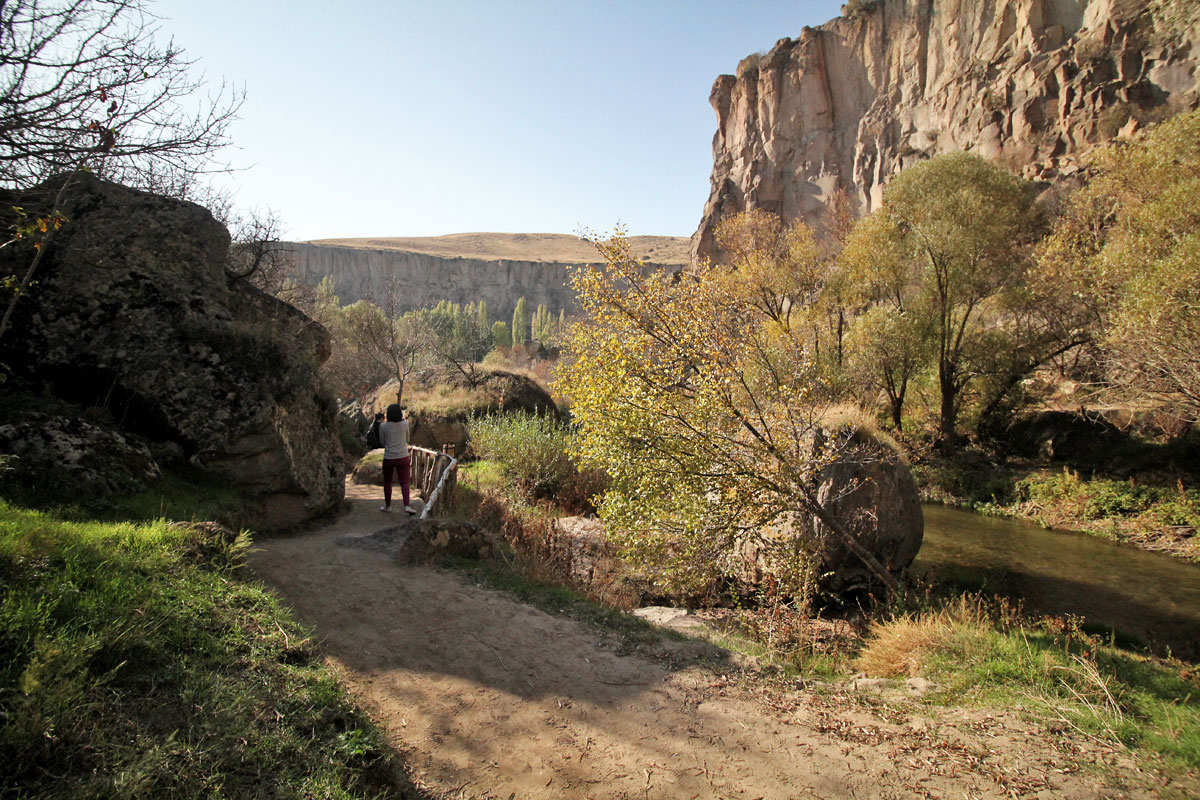 Not sure exactly how far we went but we walked for a little over an hour in the valley. It was a fun easy hike with plenty of poplars and pistachio trees.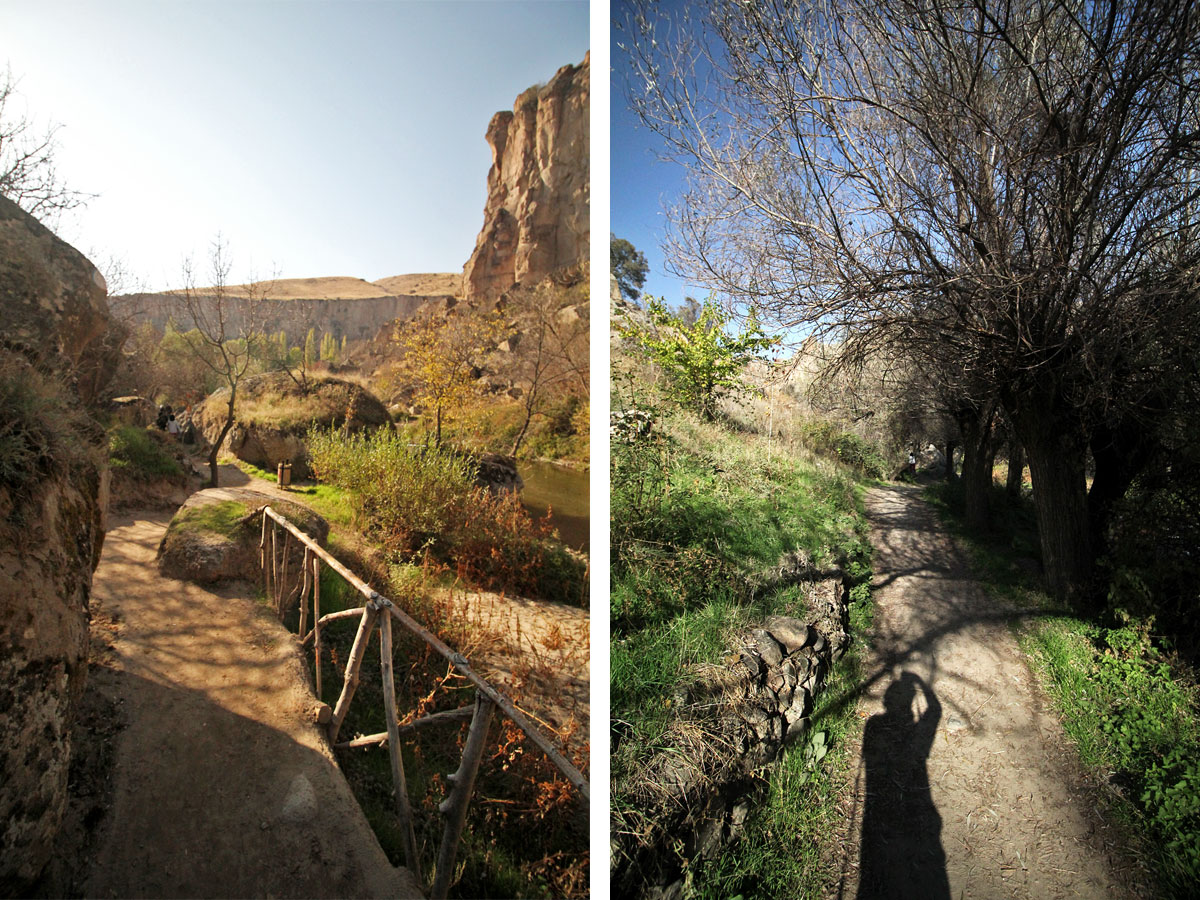 Nearing the end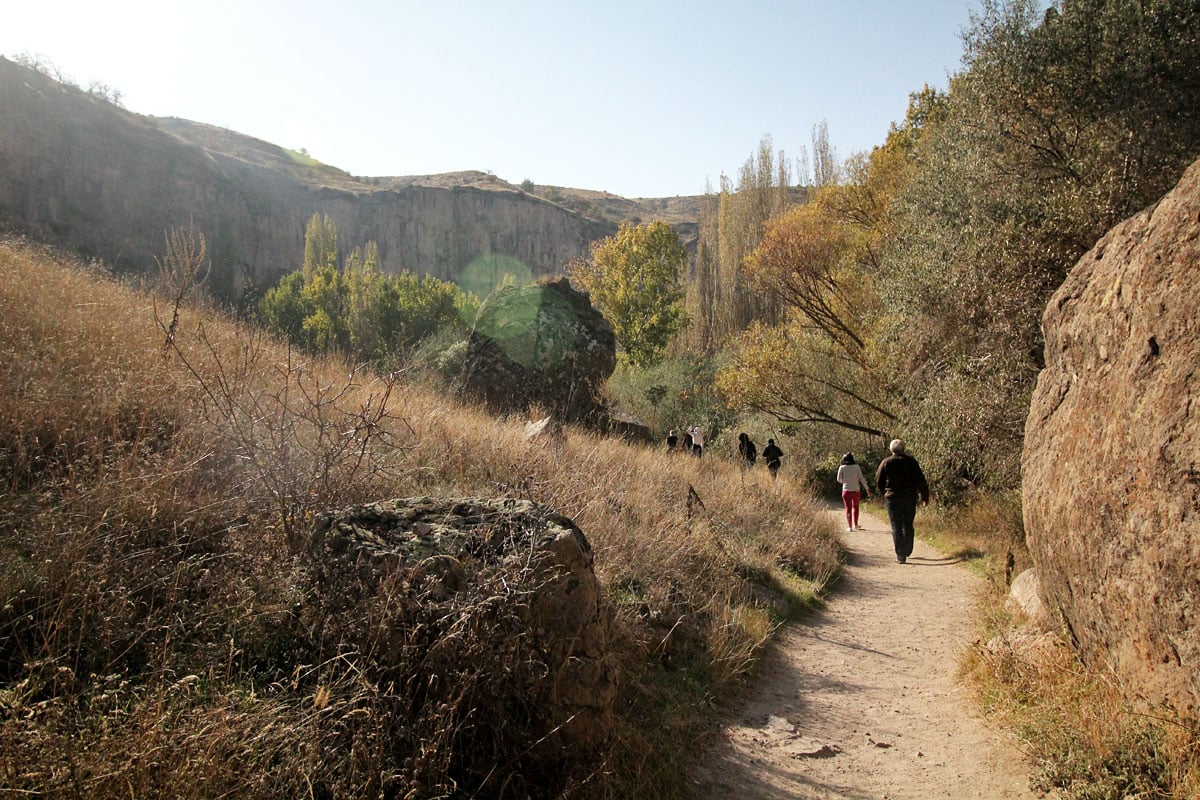 An example of the rock-cut dwellings. Note the pigeon houses.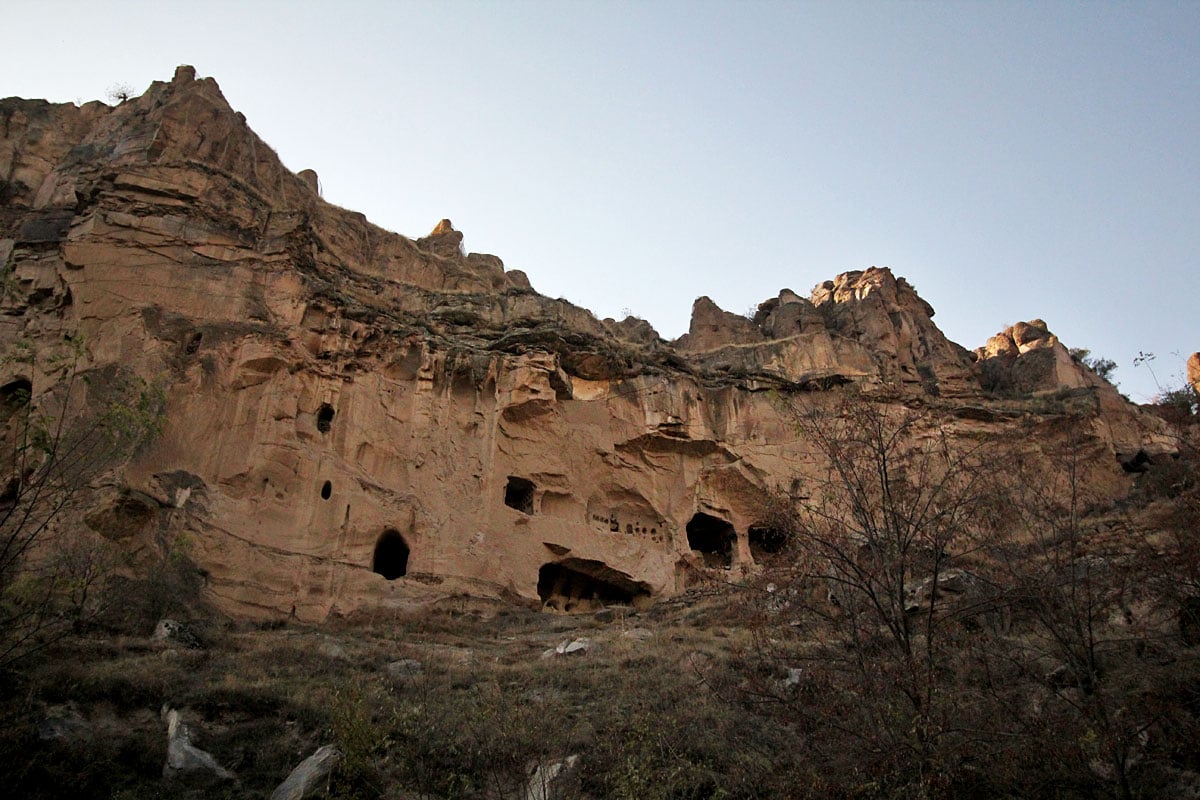 Kapadokya El Sanatlari Merkezi
We didn't care much for this stop. I don't think anyone in our group did. Kapadokya El Sanatlari Merkezi is basically just a large jewelry shop that's a frequent stop on the Green Tour.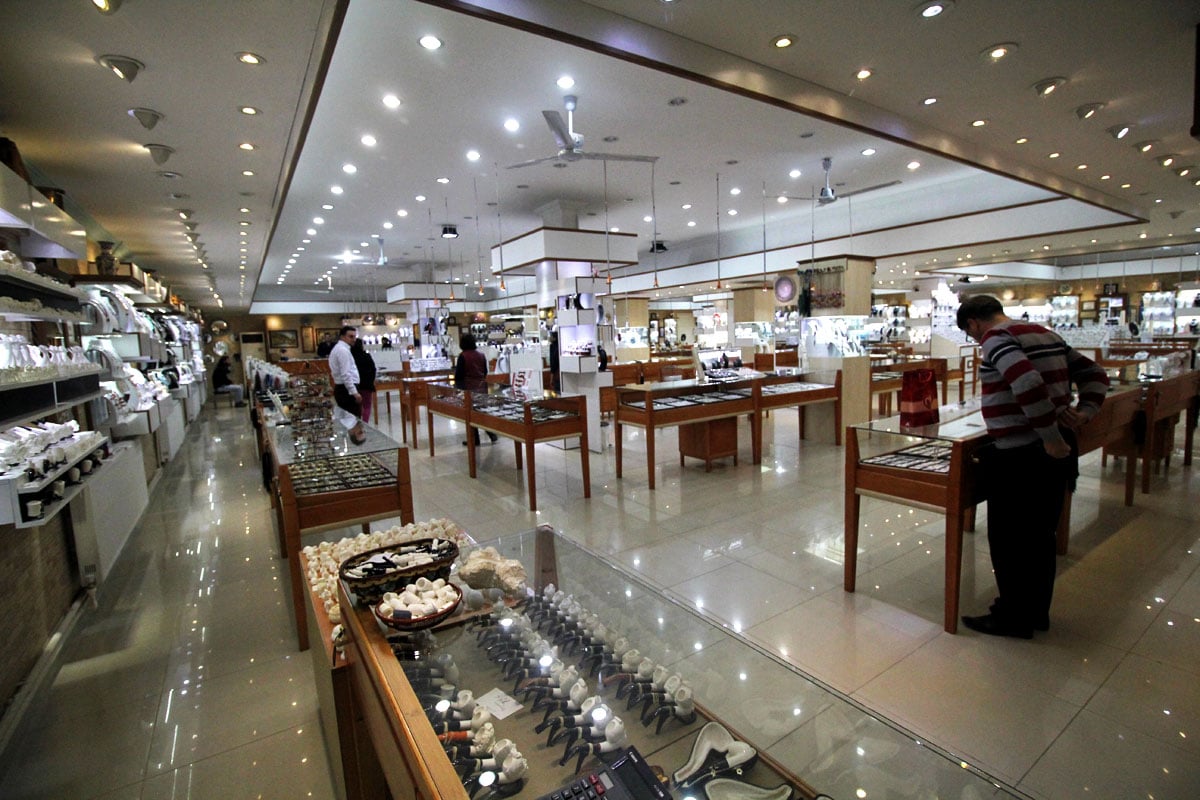 Not sure if these are examples of it, but they make a point to showcase zultanite which is a color-changing gemstone. You may want to read these TripAdvisor reviews though before you buy anything.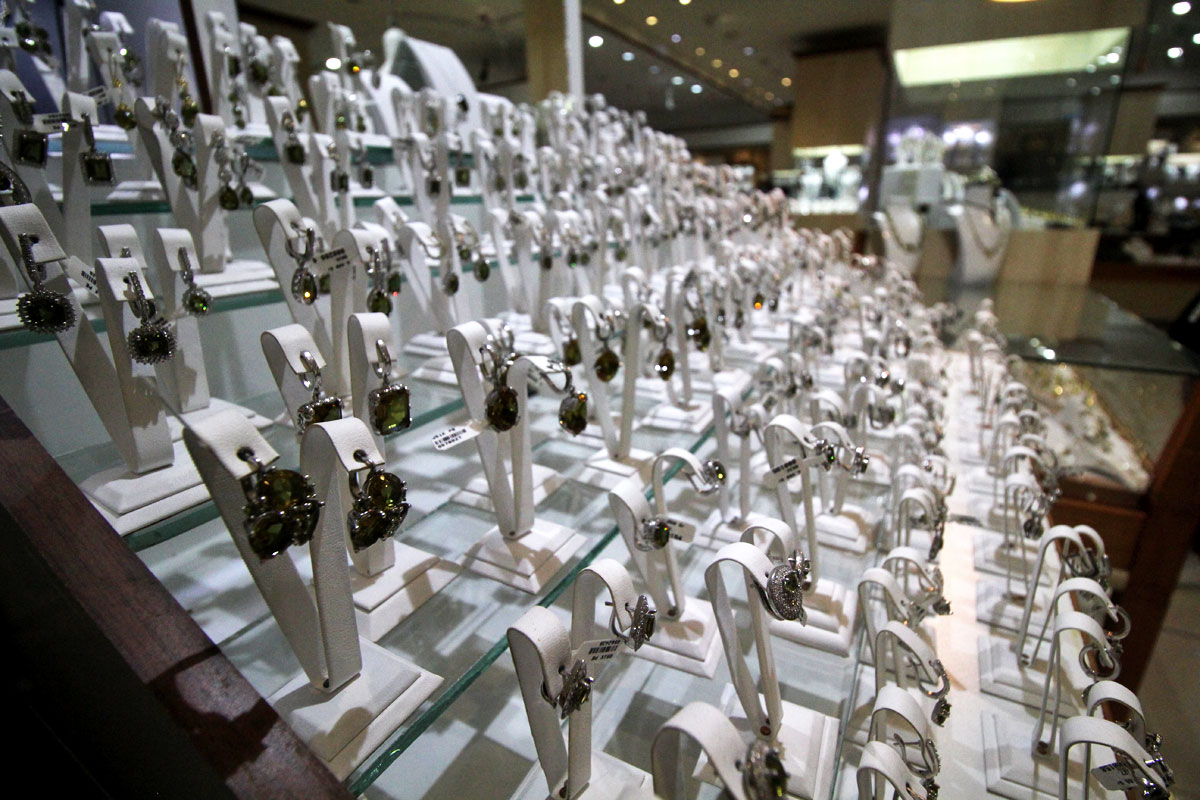 Demonstrating how stones are polished.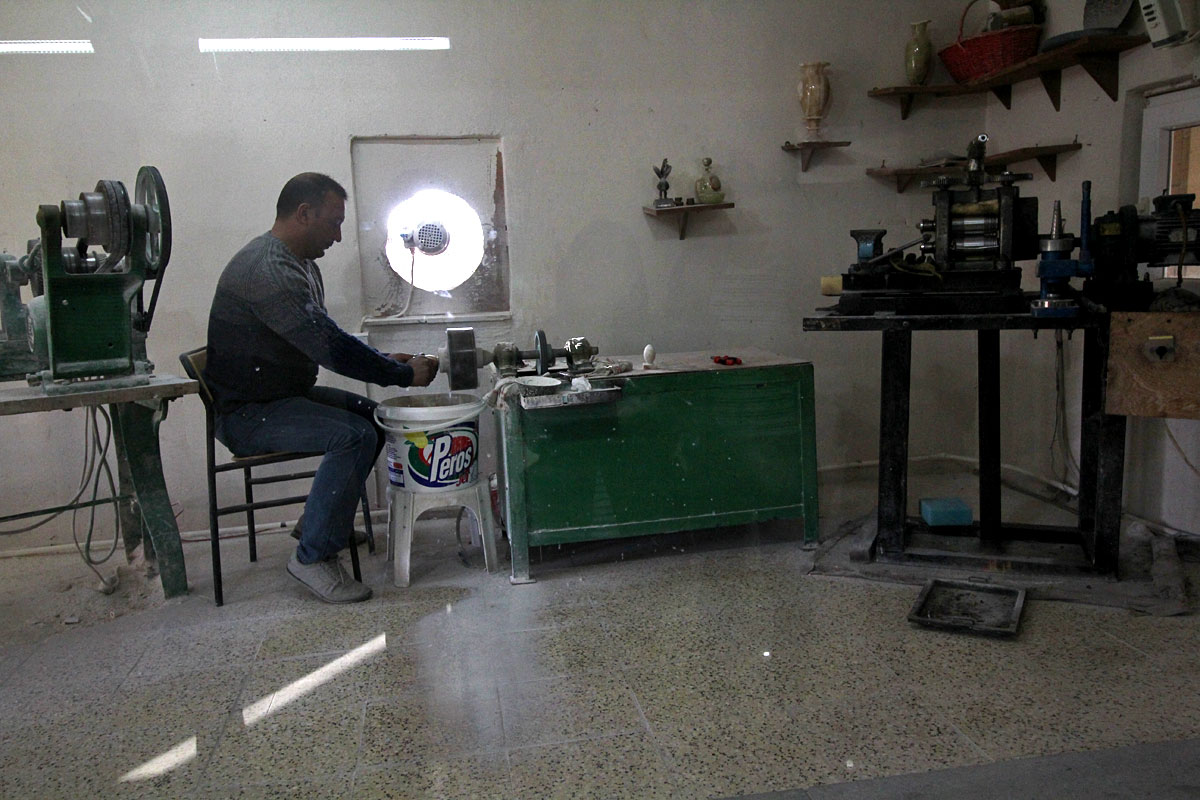 Snack / Souvenir Shop
Another stop that no one seemed to care for. This was a snack and souvenir shop where we got to sample a few goodies and products, presumably to entice us to buy. They tasted good but seemed overpriced so we didn't buy anything. I don't think anyone in our group did.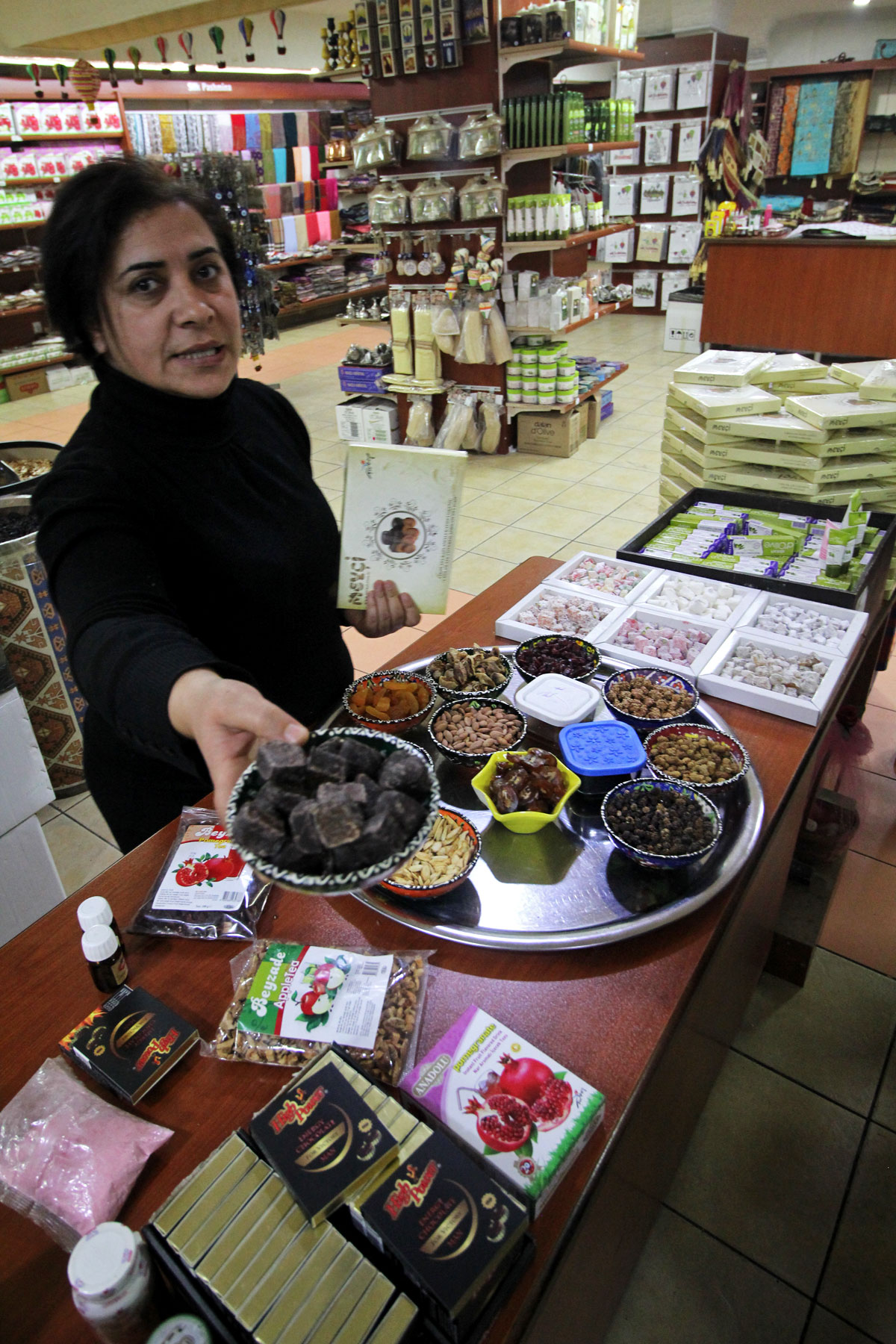 Pigeon Valley
The last stop on today's Green Tour — beautiful Pigeon Valley. A valley connecting Uchisar to Göreme, there are many pigeon houses here hence the name. As previously described, farmers used these pigeon houses to collect their droppings which are an excellent natural fertilizer.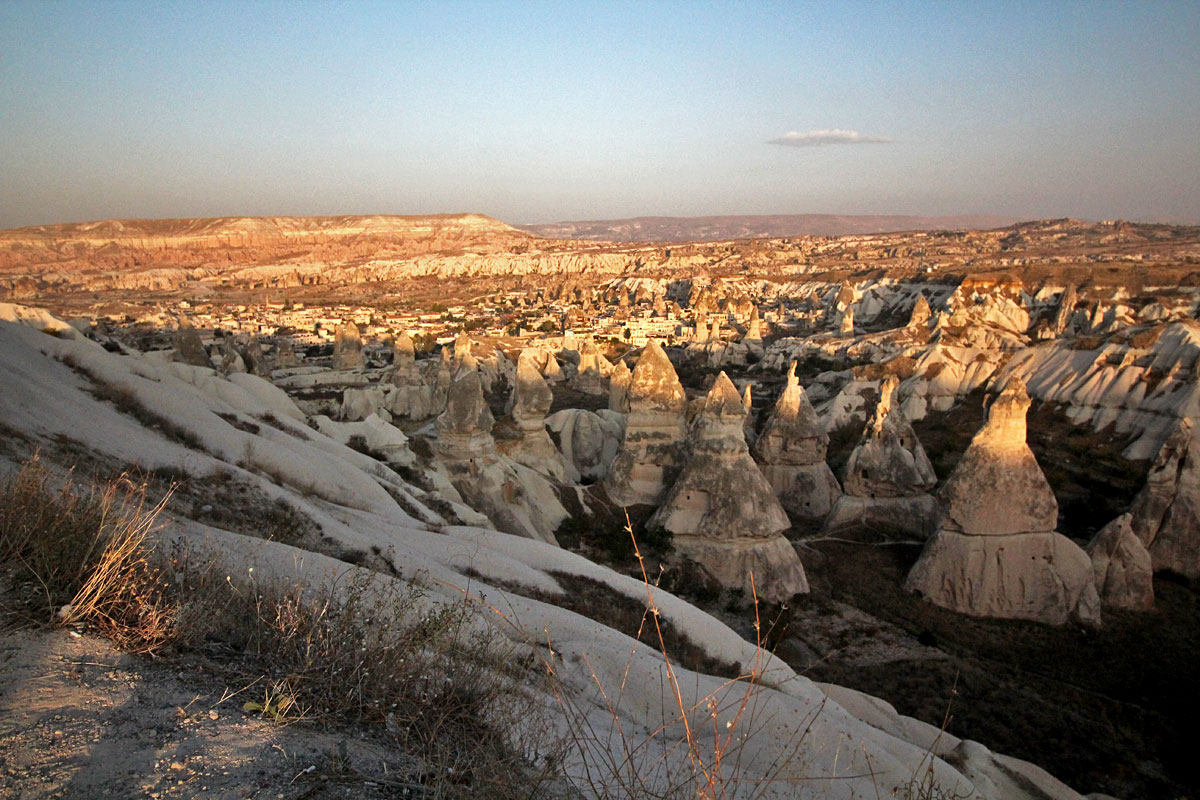 Like Ihlara, Pigeon Valley is a popular place to go hiking. As one blogger put it, it's like hiking through Middle Earth. ♥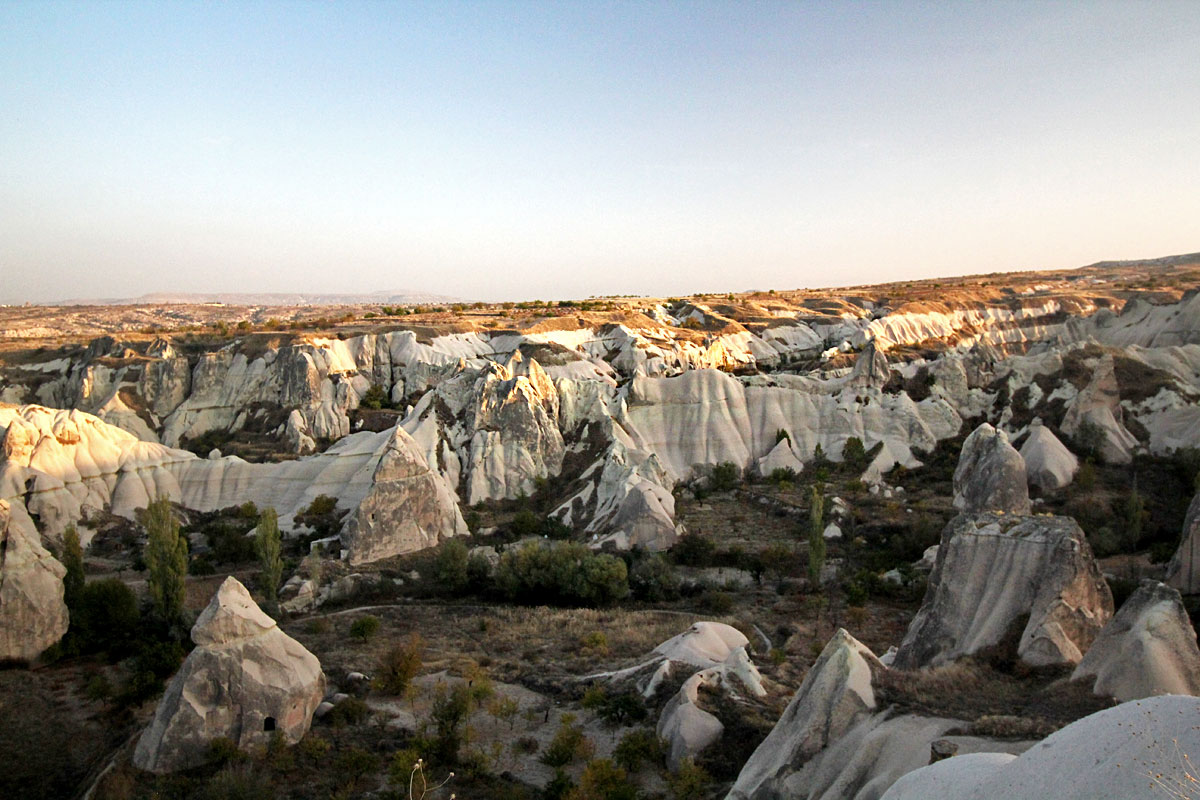 The Green Tour is cool though personally, I prefer the Red. It takes you to places that are more uniquely Cappadocia. On top of that, it didn't have any iffy stops like the jewelry and souvenir shops. If you were to book just one tour in Cappadocia, then I suggest going for the Red Tour. The Green Tour is more expensive as well at 45 Euros per person as opposed to just 35 for the Red.
With that said however, Derinkuyu and Ihlara Valley are interesting stops so it would be a shame not to visit them. Derinkuyu I thought was particularly fascinating. They're far from Göreme — about an hour each way — making them difficult to get to on your own. If you have the time and funds, then I suggest going for the Green Tour as well.
Like the Red, many agencies offer their version of this tour but I highly recommend Bridge of the World. Apart from these tours, we also booked horseback riding and Turkish Night with them. We were happy with those as well.
Bridge of the World Travel Agency, Göreme, Cappadocia, Turkey
Orta Mah. Uzun Dere Cad. No 5, Göreme 50180, Turkey
Tel: +90 384 271 2004
Website: bridgeoftheworld.com
Twitter: botw_travel
Pinterest: botwtravel
Instagram: bridgeoftheworld
Foursquare: botw-travel-bridge-of-the-world-travel
Email: [email protected]
Tour Cost: 35 Euros per person (as of Nov 2015)
HOW TO GET THERE:
Bridge of the World travel agency is a short walk from the otogar (bus station) on Uzun Dere Caddesi. If you have Sygic Travel and pocket wifi, then you can use GPS to track it down. If you book this Discover Cappadocia Tour with them, then they'll arrange to have you picked up from your hotel around 9:30AM.
For more Cappadocia travel tips, check out our First-Timer's Travel Guide to Cappadocia, Turkey