Synchronized jump shots, putting love locks on bridges, taking forced perspective selfies with iconic landmarks. These are all travel cliches that have become a little too corny but many of us still do them. I do.
As corny as some of these are, they've become cliched for a reason. Sure, they're overdone, but they're also loads of fun. They leave us with fond memories of our trips and in some cases, help us appreciate the moment all the more. Take today for example. Having dinner on the beach whilst watching the sun set is a practice as old as candles and cutlery, but humans on beaches all over the world will forever be doing it. Why?
Because it's romantic you fool. ♥
Sunset Dinner on the Beach in Bohol
Pearl is the name of the restaurant at Linaw Beach Resort which is located at the far end of Danao Beach. It's a quieter stretch of beach compared to the more popular Alona.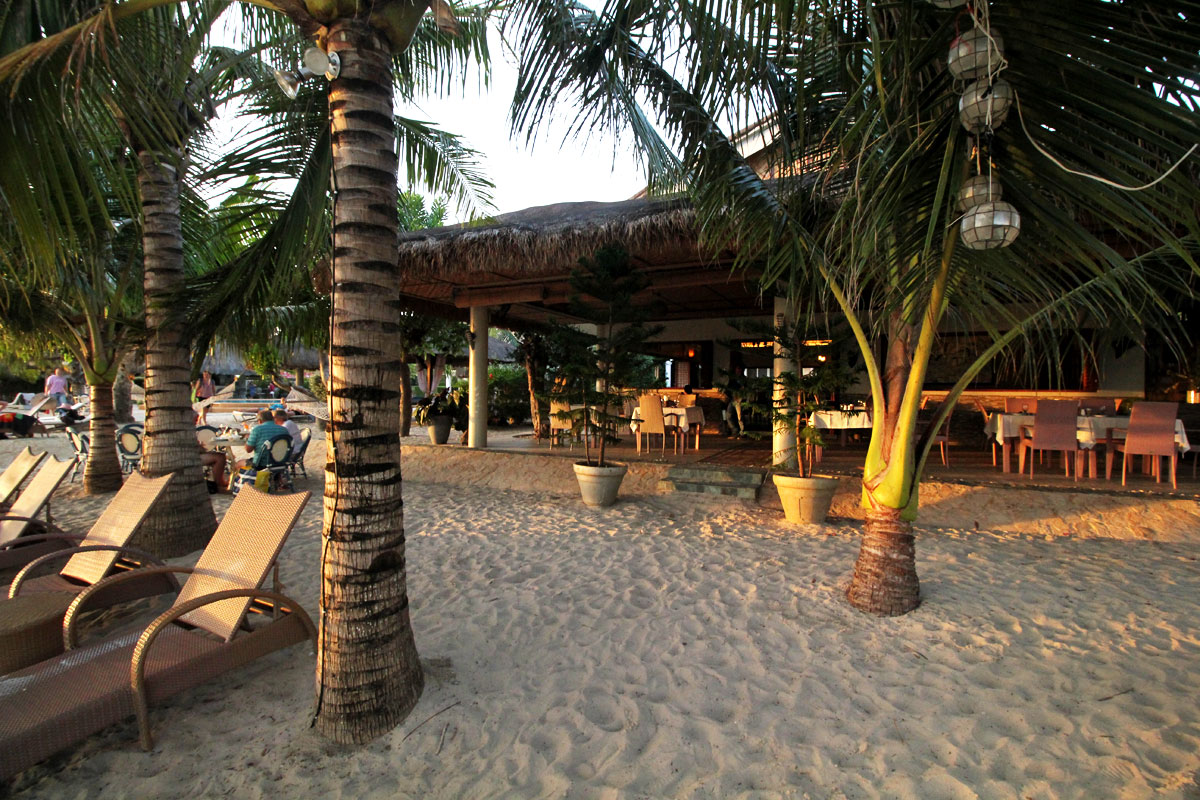 Saving the best for last. This was to be our last meal in Bohol so I made the reservation several days in advance to make sure we got a table. They gave us the best one, right on the beach with an unobstructed view of the sunset. Pearl Restaurant is a TripAdvisor favorite and consistently among the top five highest-rated restaurants in Panglao. When I made the reservation, they were number one.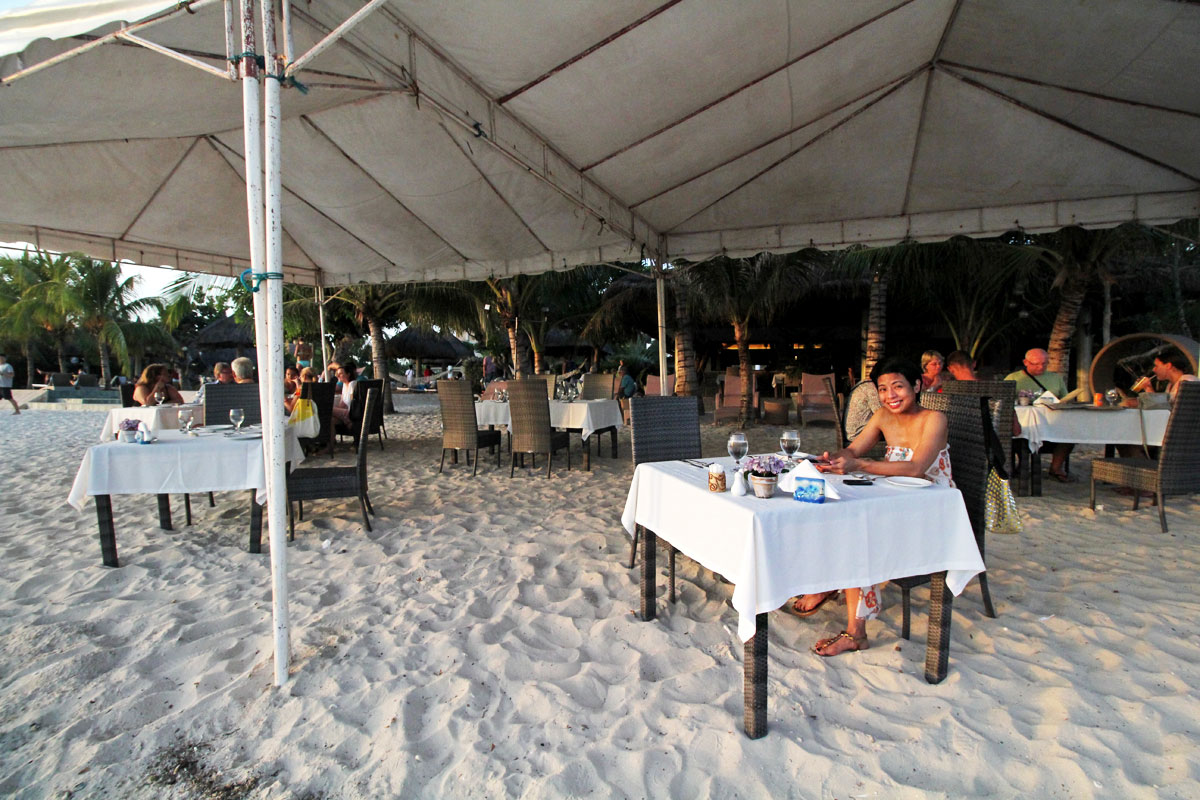 Did I lie? 😉

The 30-minute light show was spectacular. And we had the best seats in the house.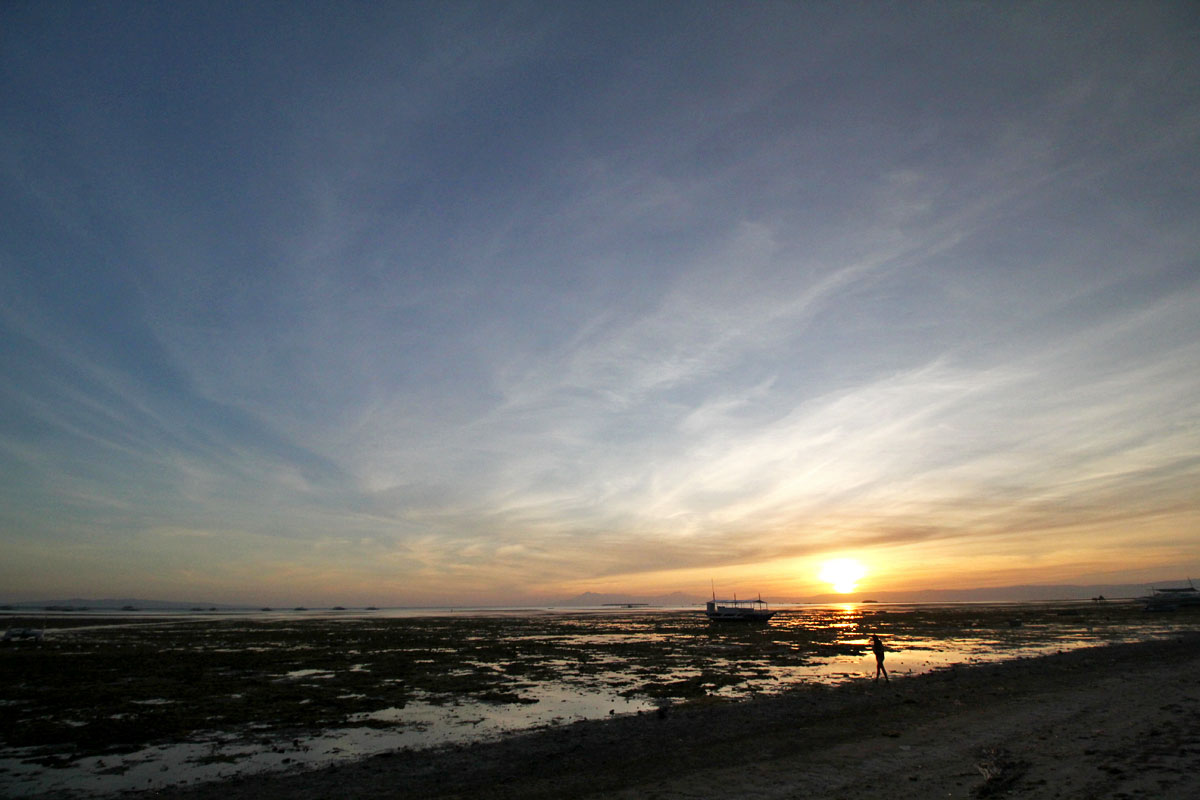 Me shooting Ren shooting the sunset.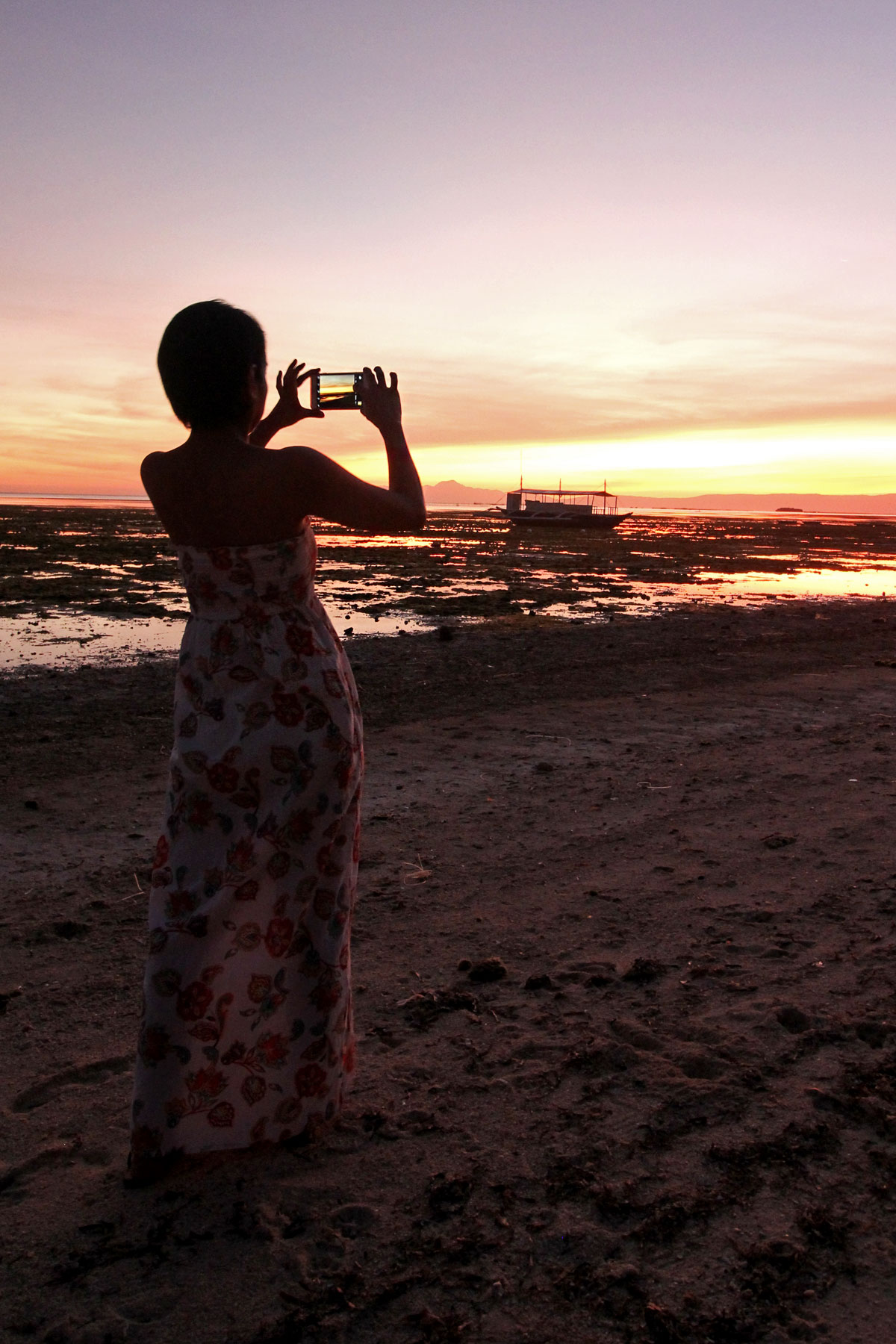 The sun setting on our Bohol trip. We would leave bright and early at 8AM the next morning.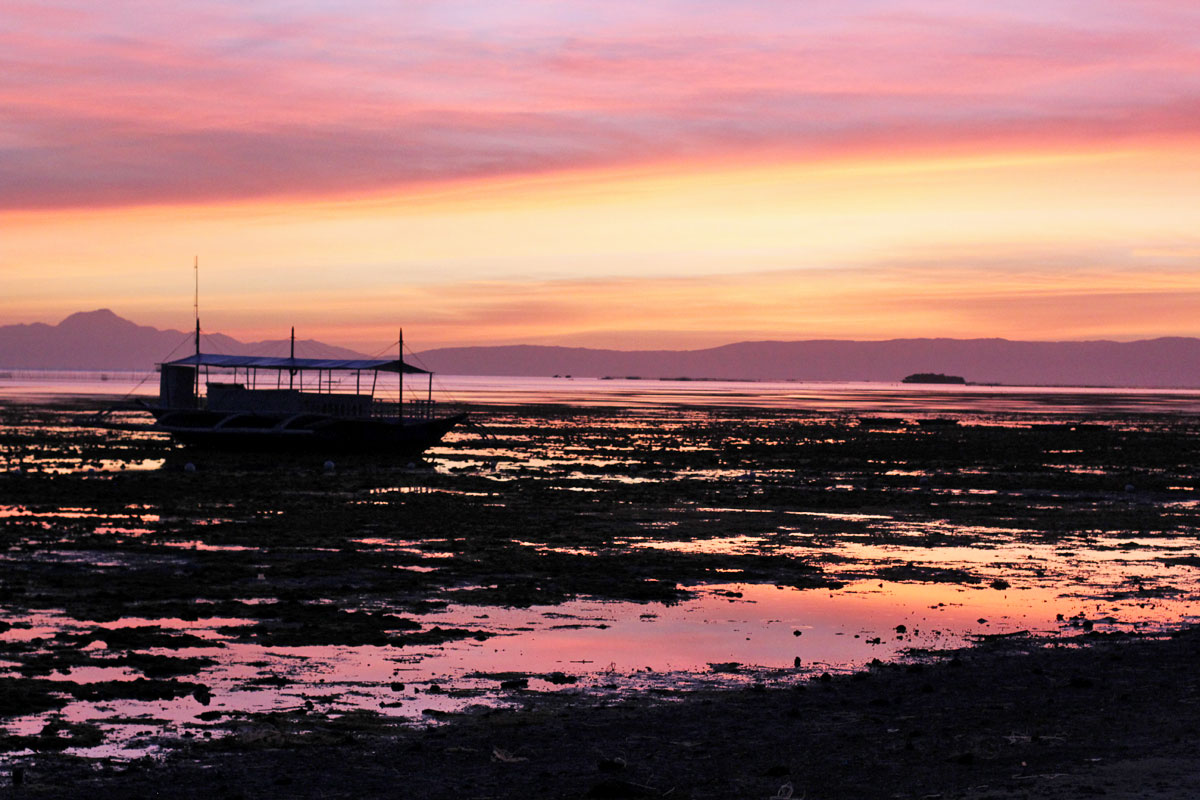 Gambas Diabolique — PHP 190 — with mild spicy tomato flavored sauce, garlic
With the light show almost over, it was time to dig in. We started off with some bread and this mildly spicy broth of gambas.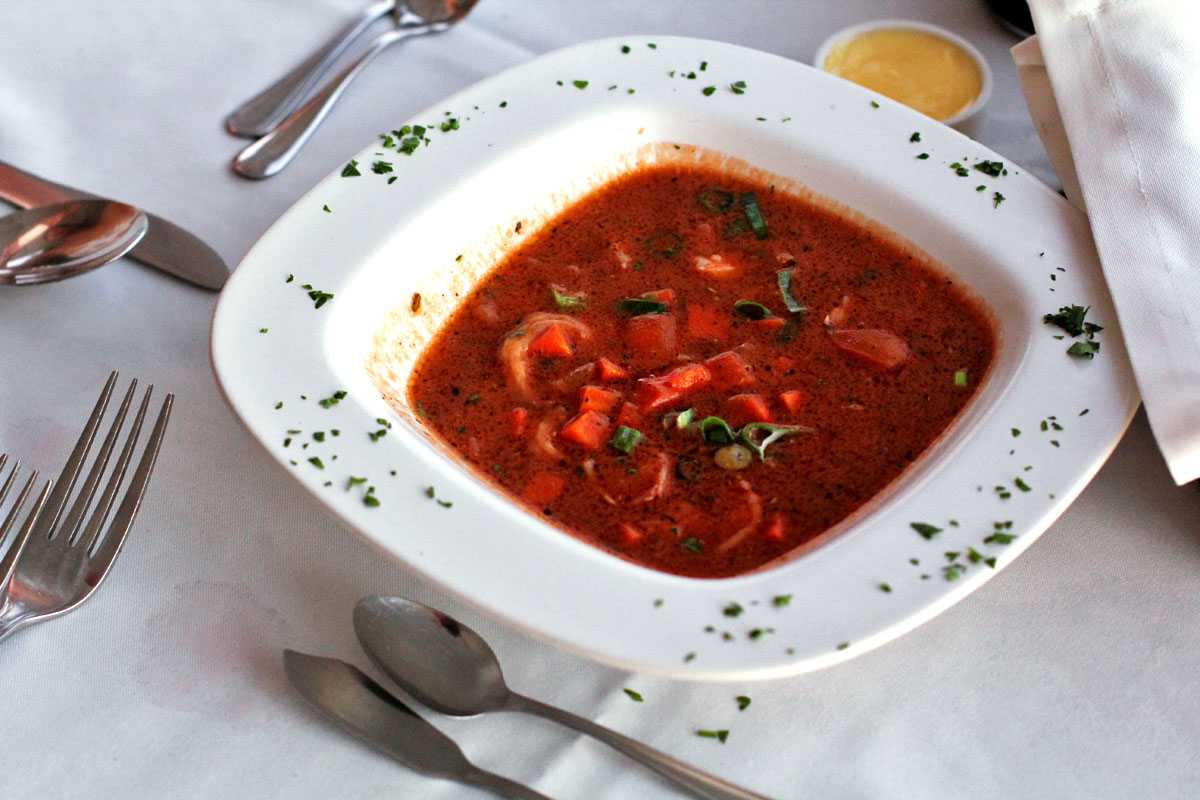 Ostrich Steak — PHP 520 — with mushroom sauce, boiled vegetables
If no one told you, you'd never know this was ostrich. It tasted like perfectly cooked beef. Served with a healthy dose of mushrooms in sauce, it was tender and delicious. In fact, it was even better than the Australian rib eye! I'd order this again for sure.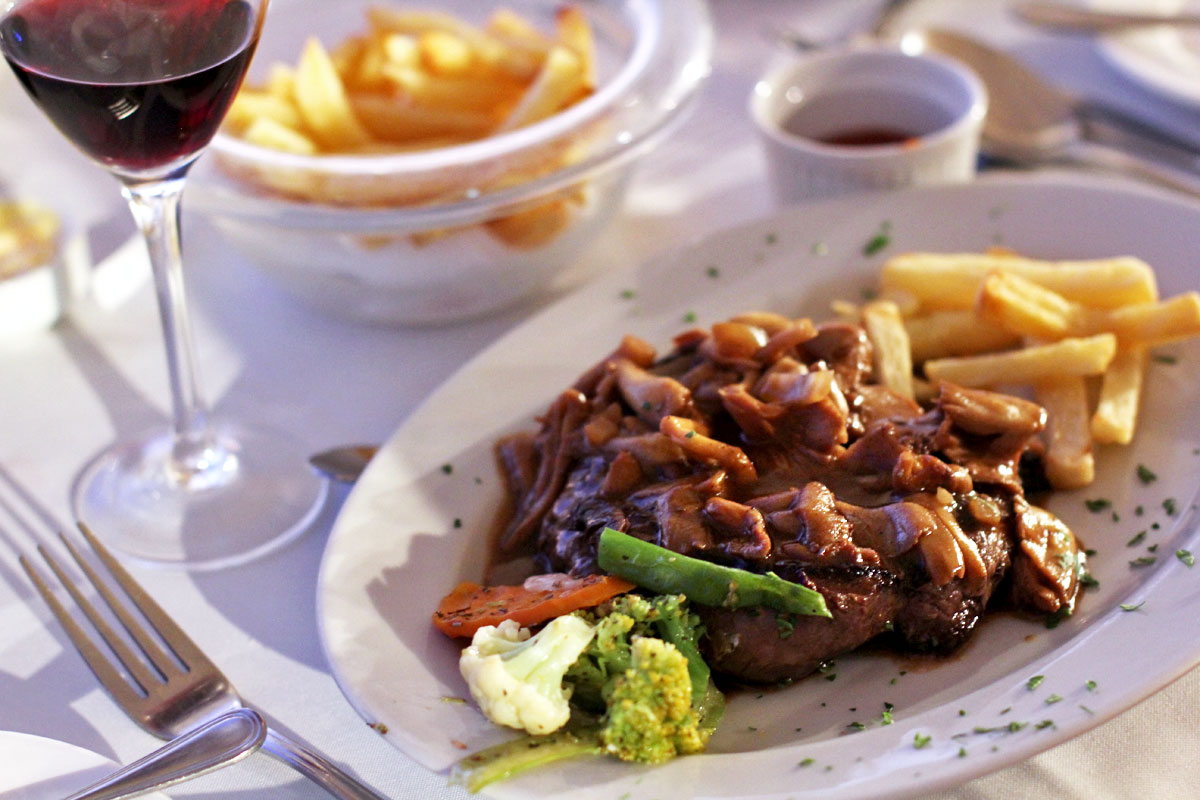 Australian Ribe Eye Steak — PHP 675 — with fresh or boiled vegetables, sauce of your choice
This was good too though not as tender as the ostrich. I got it with peppercorn sauce and a side of potato croquettes. If you're in the mood for steak, then I'd give the ostrich some serious consideration. It was better in my opinion and cheaper too.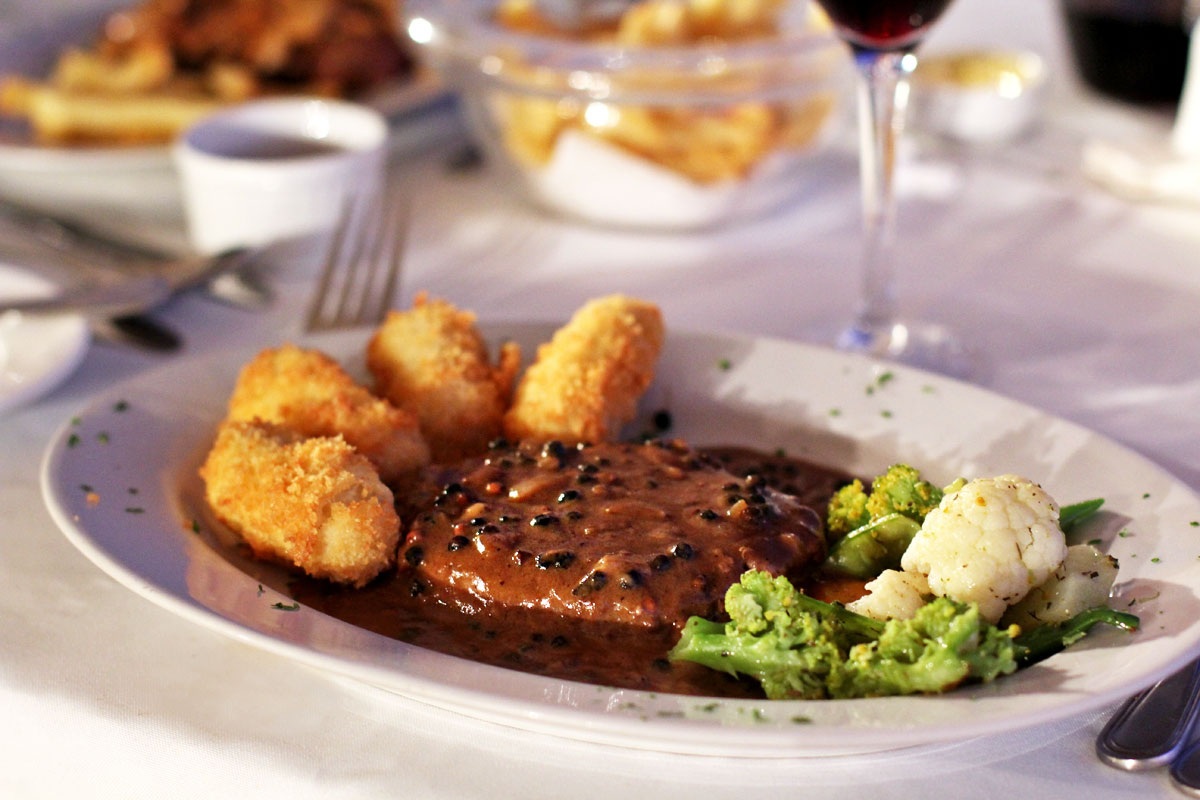 As mentioned up top, Pearl Restaurant is a TripAdvisor favorite and a Certificate of Excellence awardee. It's reviews are stellar overall and the place is beautiful. The staff is friendly and well-trained, and as cliched as it may be, few things can cap off a tropical holiday better than a romantic dinner on the beach.
Indecisive diners be warned however, that their menu reads like a videoke songbook. Dyslexic diners like me may have a difficult time deciding what you want. That bible must have had at least 20 pages of delicious-sounding things to choose from!
Pearl Restaurant, Linaw Beach Resort, Panglao, Bohol, Philippines
9999 Daorong, Danao, Panglao, Bohol, Philippines
Tel: (038) 422-8019
Telfax: (038) 502-9345
Mobile: 0939-916-7278 / 0917-326-9055
Facebook: linawbeachresort
Twitter: linawresort
Google+: linawbeachresort
Operating Hours: Mon-Sun, 6:30AM-10:30PM
Expect to Spend: Anywhere between PHP 500-900 per person with drinks
Reservations: Recommended during peak seasons
HOW TO GET THERE:
Linaw Beach Resort is located at the far end of Danao Beach, which is the beach next to Alona. It's a bit of a walk to get there from Alona so I suggest hiring a tricycle. It should cost around PHP 100-150 round trip from Alona Beach for up to three people.
For more Bohol travel tips, check out our First-Timer's Travel Guide to Bohol, the Philippines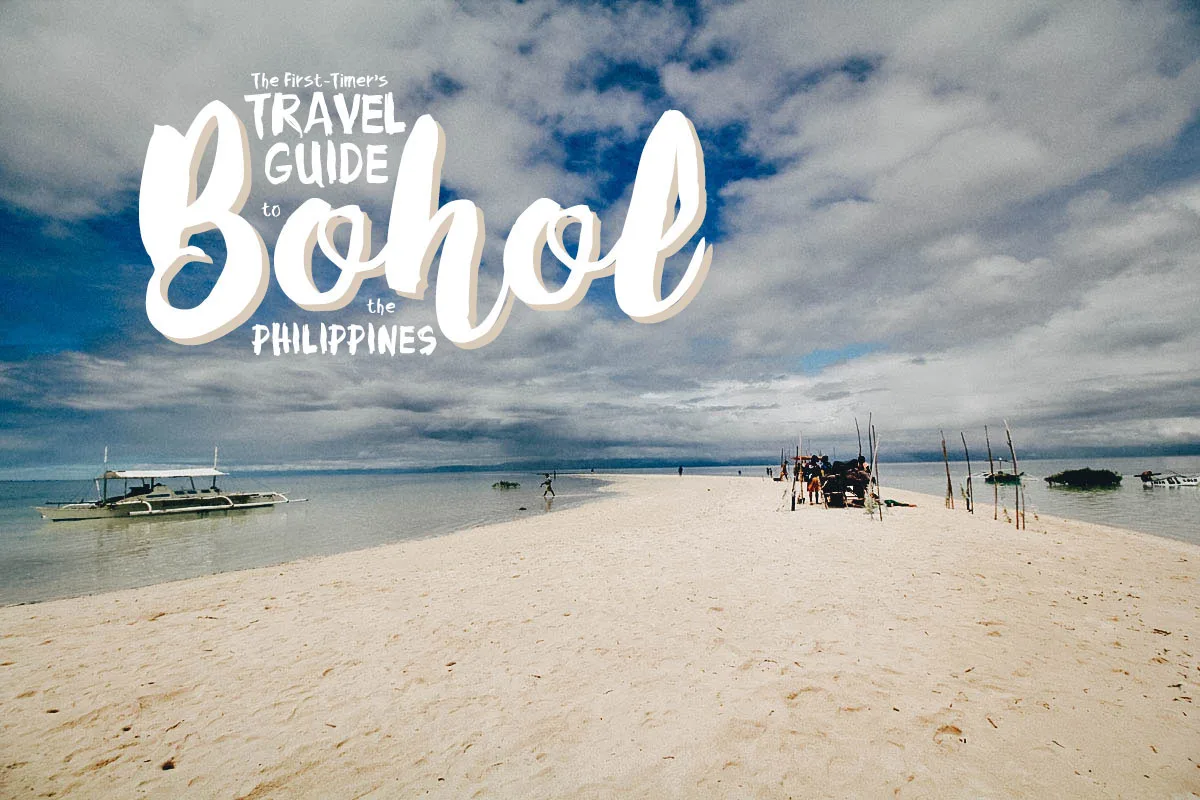 Disclosure
Some of the links in this post are affiliate links, meaning we'll get a small commission if you make a purchase or reservation at NO extra cost to you. We really appreciate your support as this helps us keep this website going. Thank you!