The word "breathtaking" gets thrown around a lot to describe beautiful places and scenery, but rarely is it meant in a literal sense. At the Taj Mahal, I literally felt my breath leave my body when I walked through the south gate and laid eyes on this majestically beautiful building for the first time.
I arrived with my guide shortly after opening and decided to film a hyperlapse of my entry through the south gate. A crowd was forming at the entrance so I focused on walking as straight as I could by following the central line on the ground. When the mausoleum's white dome started to reveal itself from beyond the horizon of people's heads, my breath began trembling involuntarily before leaving my body in a sigh as I walked through the gate and into the courtyard.
There she was, the iconic Taj Mahal, even more striking than I ever imagined. Seeing her for the first time literally took my breath away.
Save This on Pinterest!
No time to read this now? Click on the red save button and pin it for later!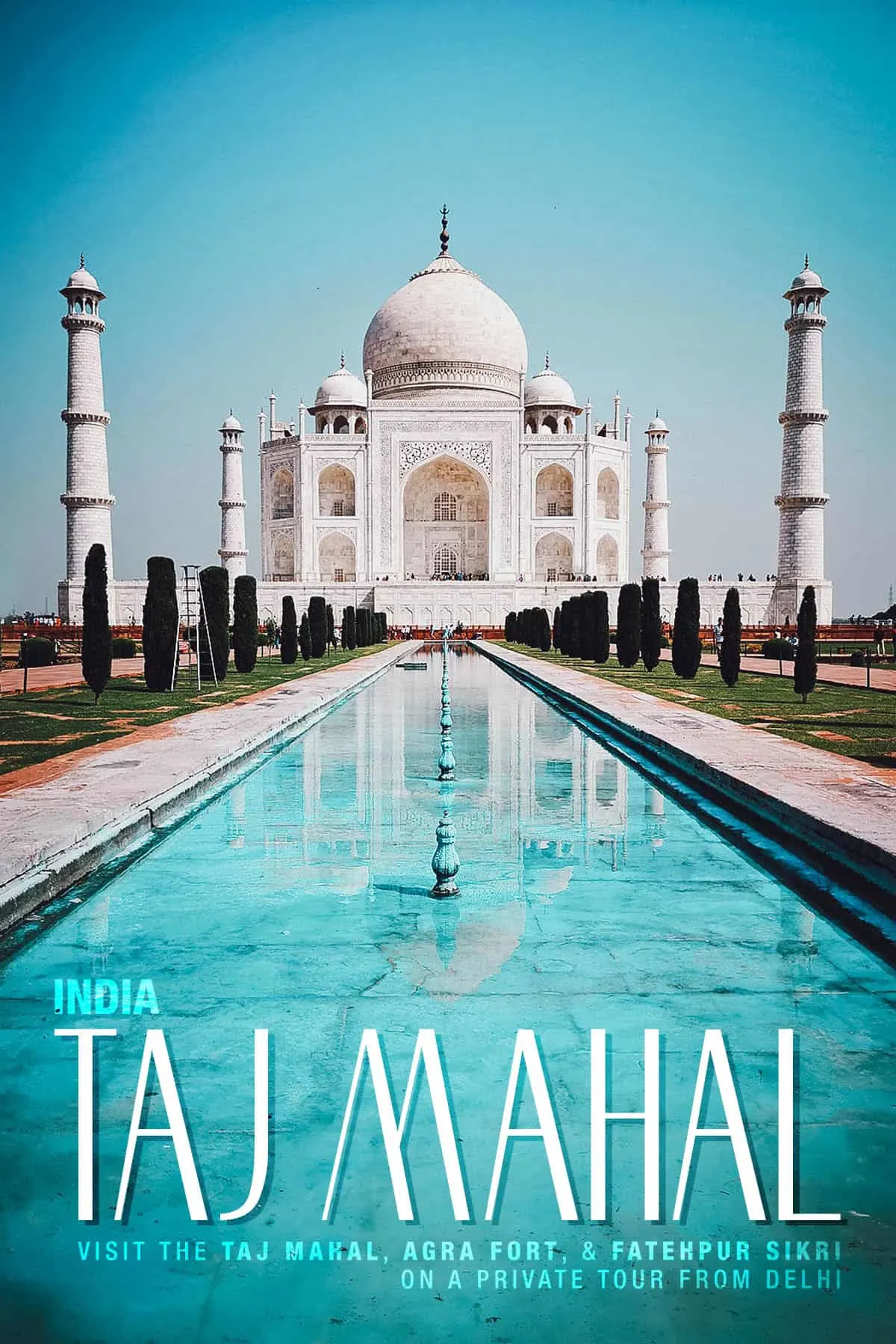 AGRA PRIVATE TOUR BY EXPRESS TRAIN
I was in Delhi to check out a food tour from our friends at A Chef's Tour. It was my first time in India so I couldn't possibly visit without making a day trip to Agra and the Taj Mahal.
There are many tours to Agra from Delhi but I wound up booking this private day tour by express train. I chose it based on several factors like price, the strength of its reviews, timing, and places to be visited. This particular tour takes you to the Taj Mahal, Agra Fort, and Fatehpur Sikri, all of which are UNESCO World Heritage Sites. You can follow this link for more details. Please note that the listed tour cost per person depends on the number of people in your group.
There are plenty of other options as well, including sunrise tours for people wanting to take the best pictures, so you may want to check out Klook and Get Your Guide for a list of Taj Mahal tours from Delhi. Just be sure that the tour you book starts in Delhi and not from some other city like Agra or Jaipur.
When you book this tour, you'll have the option of going to Agra by private car or one of two express trains. If you choose to travel by train and want to visit Fatehpur Sikri, then you'll need to go by Shatabdi Express train which is the earlier of the two. It departs at 6AM so my hotel pickup time was between 4:30-5:30AM.
The express train takes about two hours to get to Agra. The tour voucher already includes roundtrip tickets and meals served onboard the train. Your tour guide will be waiting for you at Agra Cantonment Railway Station to take you to the Taj Mahal.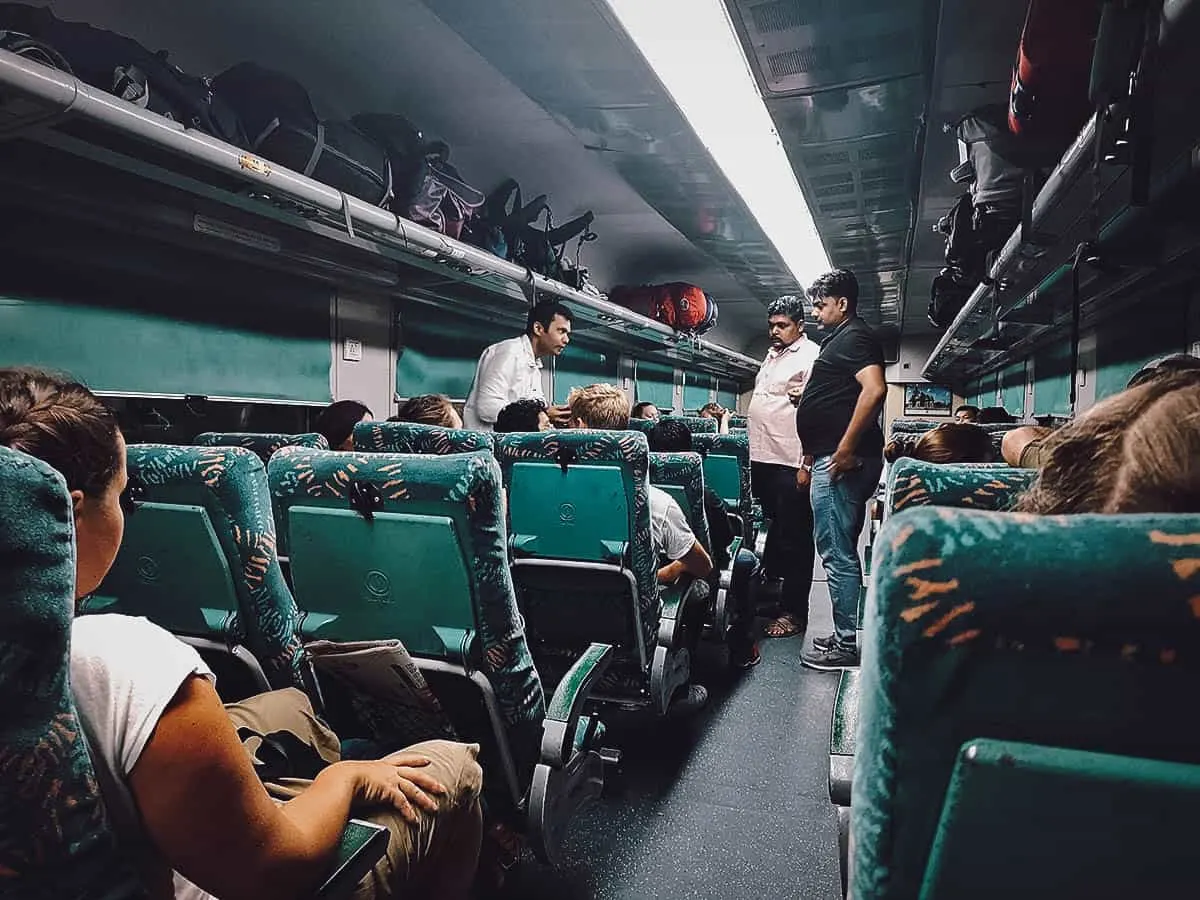 IMPORTANT: Please be advised that this tour does NOT include admission to any of the places you'll be visiting in Agra. Entrance fees are separate and you'll need to give cash to your guide to purchase the tickets for you. Alternatively, you can purchase fast track tickets in advance. Please find entrance fees below (per person):
TAJ MAHAL: INR 600 (BIMSTEC/SAARC nationals) / INR 1,100 (other foreign nationals)
AGRA FORT: INR 650
FATEHPUR SIKRI: INR 610
Taj Mahal
I took the earlier train so I didn't have to wait long to get Taj Mahal tickets, but if you take the Gatimaan Express train, then you won't arrive in Agra till about 9:45AM. The line may be significantly longer by then.
You'll only have about three hours to spend at the Taj Mahal so as advised, you may want to purchase fast track tickets in advance through Klook. That way you can go straight to the entrance and not waste too much time waiting for tickets.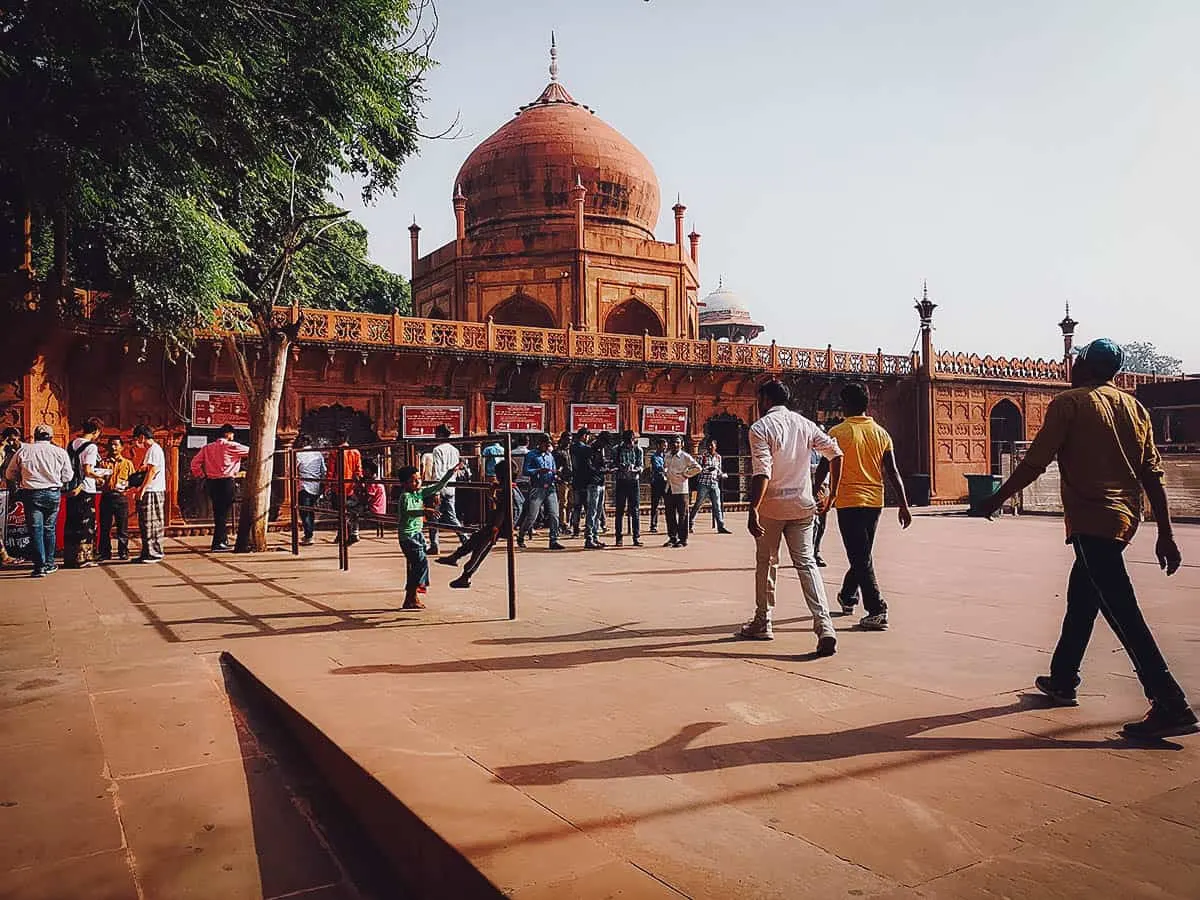 I was always under the impression that you'd see the Taj Mahal as soon as you arrived, but you have to walk about ten minutes from the drop off point to get to the actual mausoleum. This only added to the anticipation of seeing this building I had heard so much about.
Up ahead is the south gate I had described at the top of this post. Yes, that magnificent sandstone structure is just a gate. You can see two of the Taj Mahal's minarets peeking out from beyond the wall on the left side of the picture.

The Taj Mahal was completed in 1653 and took 22 years to build, the first 17 years for the mausoleum and the last 5 for everything around it, including this gate. Notice those inverted bell shaped domes at the top of the gate? There are 11 in front and 11 in the back, one dome to represent each year it took to build the Taj Mahal.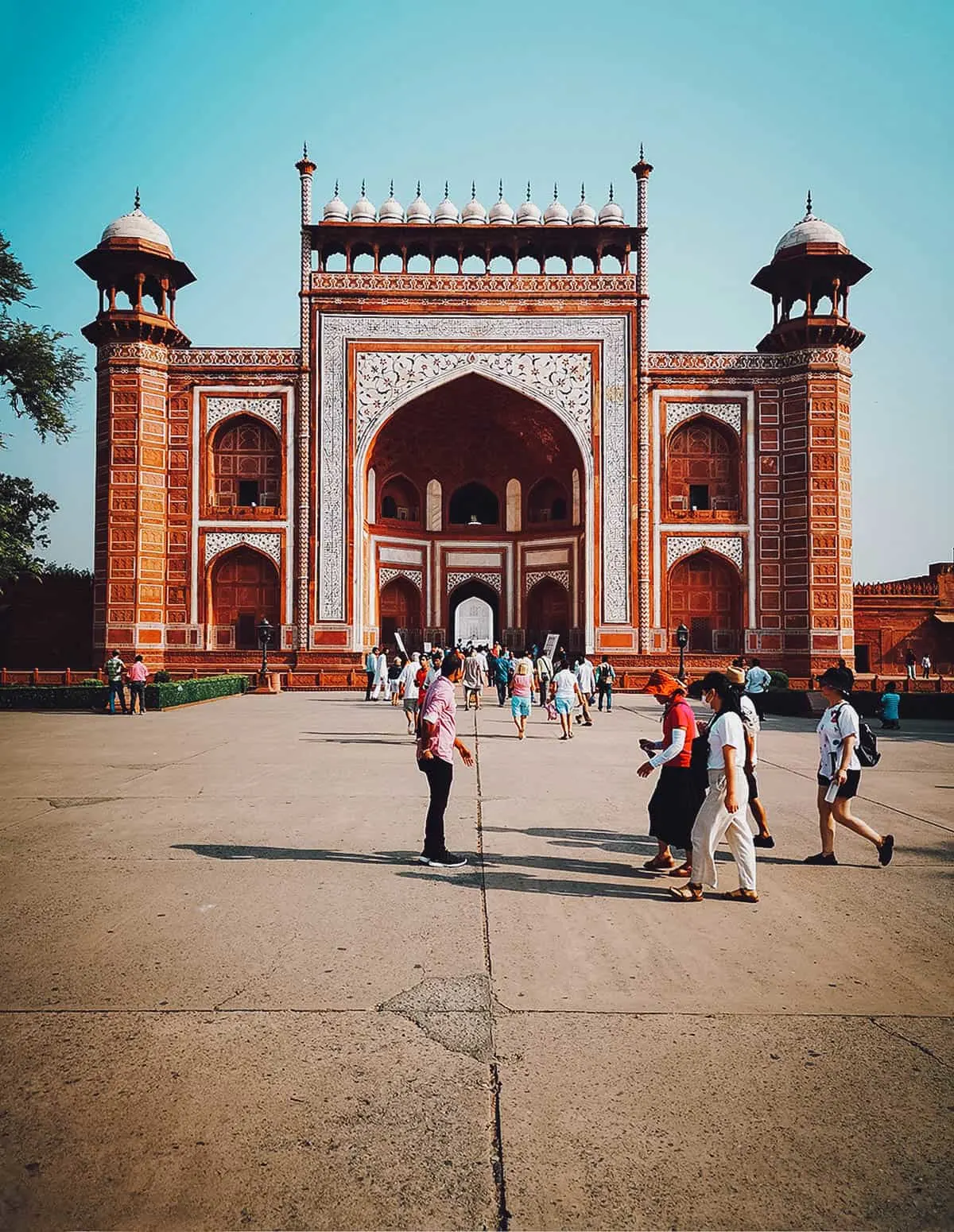 The moment you walk through the south gate, this is the vision you'll be greeted with. If you think this looks magnificent now, wait until you see it in person. Glistening in white against the clear north Indian sky, it's beauty was unlike anything I had ever seen before. It left me stunned.
My guide spent a good amount of time explaining to me the history behind the Taj Mahal. According to him, it took over 20,000 workers to complete the mausoleum, 70% of which were Muslim. The Taj Mahal is flanked on either side by two identical sandstone buildings, one of which was a mosque built for the workers. You can see it there on the left. The Taj Mahal and the grounds around it are perfectly symmetrical.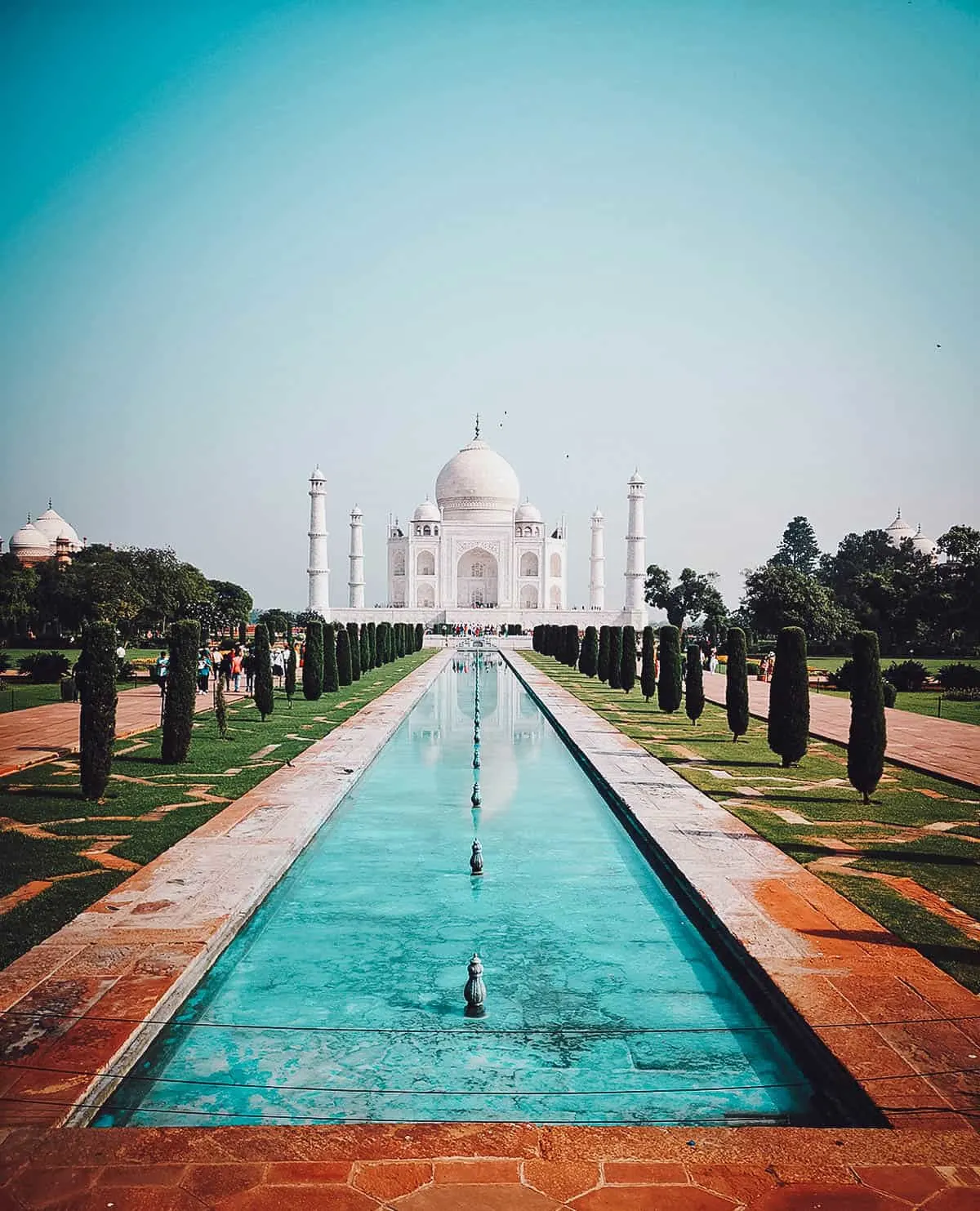 The Taj Mahal was built by the fifth Mughal emperor Shah Jahan as a tribute to his wife, Mumtaz Mahal. She was a Muslim Persian princess whose name before marriage was Arjumand Banu. The Emperor gave her the name Mumtaz Mahal which means "beautiful crown of the palace". She was the emperor's third wife but his one true love. His first two marriages were political in nature.
According to my guide, Mumtaz Mahal was the emperor's childhood sweetheart. She was beautiful, smart, and talented, serving not just as his wife but as one of his legal advisers and strategy makers. They were inseparable.
Sadly, she died shortly after giving birth to their 14th child. On her deathbed, she made three wishes. One, that he will never marry again. Two, that he will take good care of her children. And three, that he will build a monument as a show of their love. Little did she know that he would build something as magnificent and everlasting as the Taj Mahal!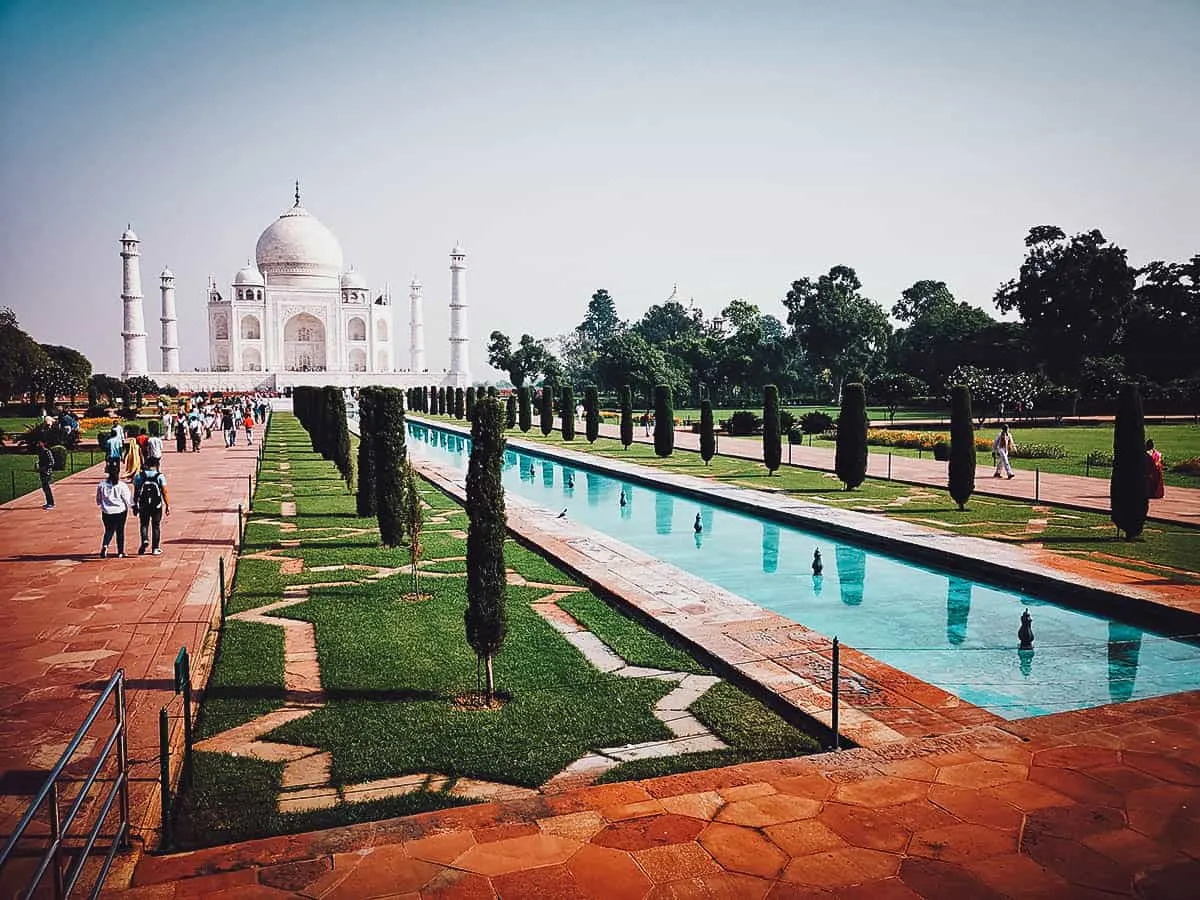 The Taj Mahal is widely regarded as the greatest example of Indo-Persian architecture. It was built using marble sourced from the town of Makrana 350 km away. This translucent marble is the toughest marble on earth and considered a global heritage stone resource. Today, only the Indian government is allowed to sell Makrana marble.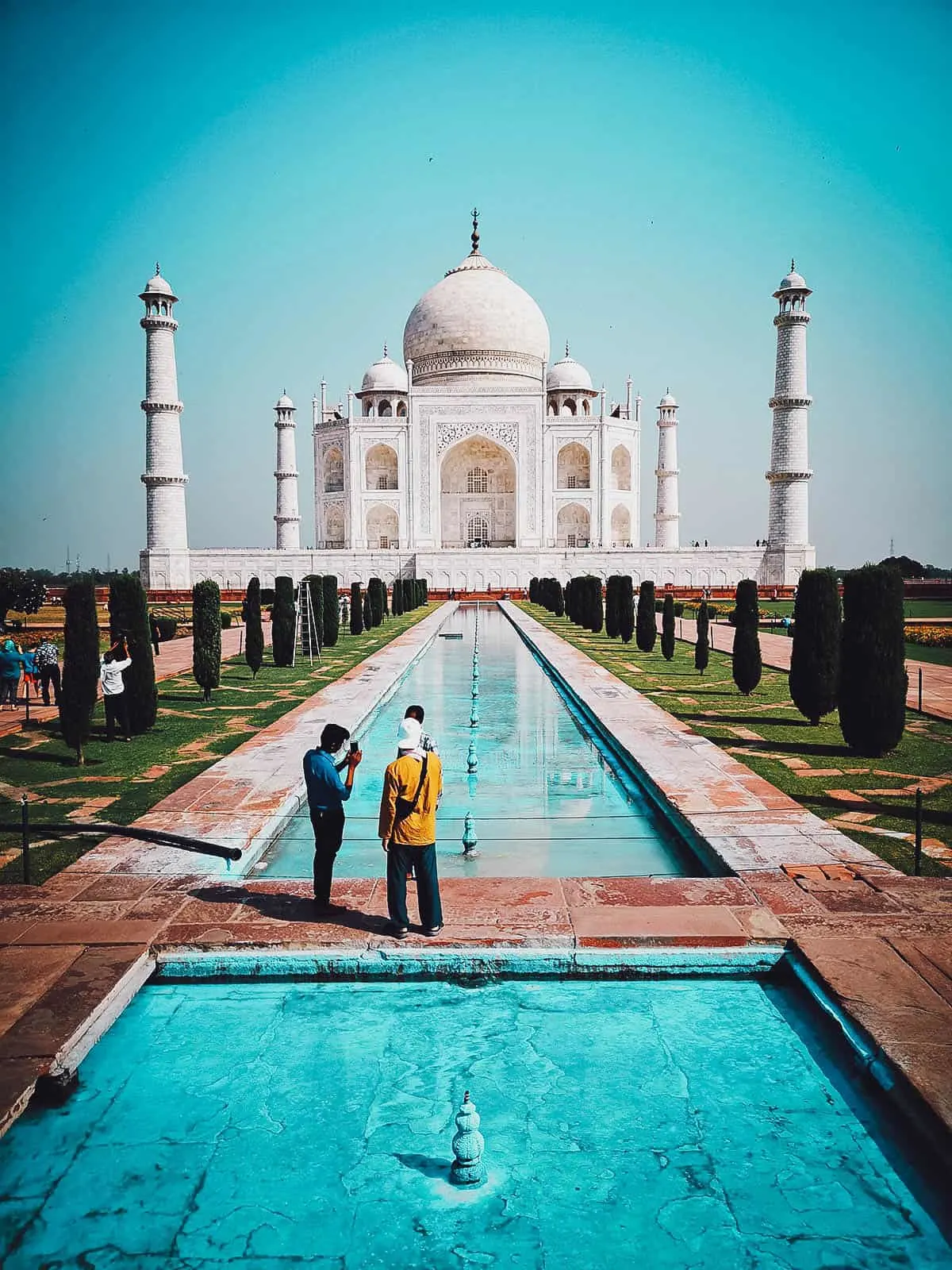 As you move closer to the mausoleum, you'll notice intricate inlay work on the exterior of the building. Twenty-eight types of semi-precious stones like lapis lazuli from Afghanistan, jasper from Punjab, sapphire from Sri Lanka, and turquoise from Tibet were inlaid into the marble. My guide explained that the descendants of the Taj Mahal's original embroidery artists and stonecutters are doing the same job today as their ancestors did over 350 years ago, all still by hand.
If you look at each of the four sides of the Taj Mahal closely, you'll notice only the Arabic inscriptions from the Quran are different. Everything else is identical.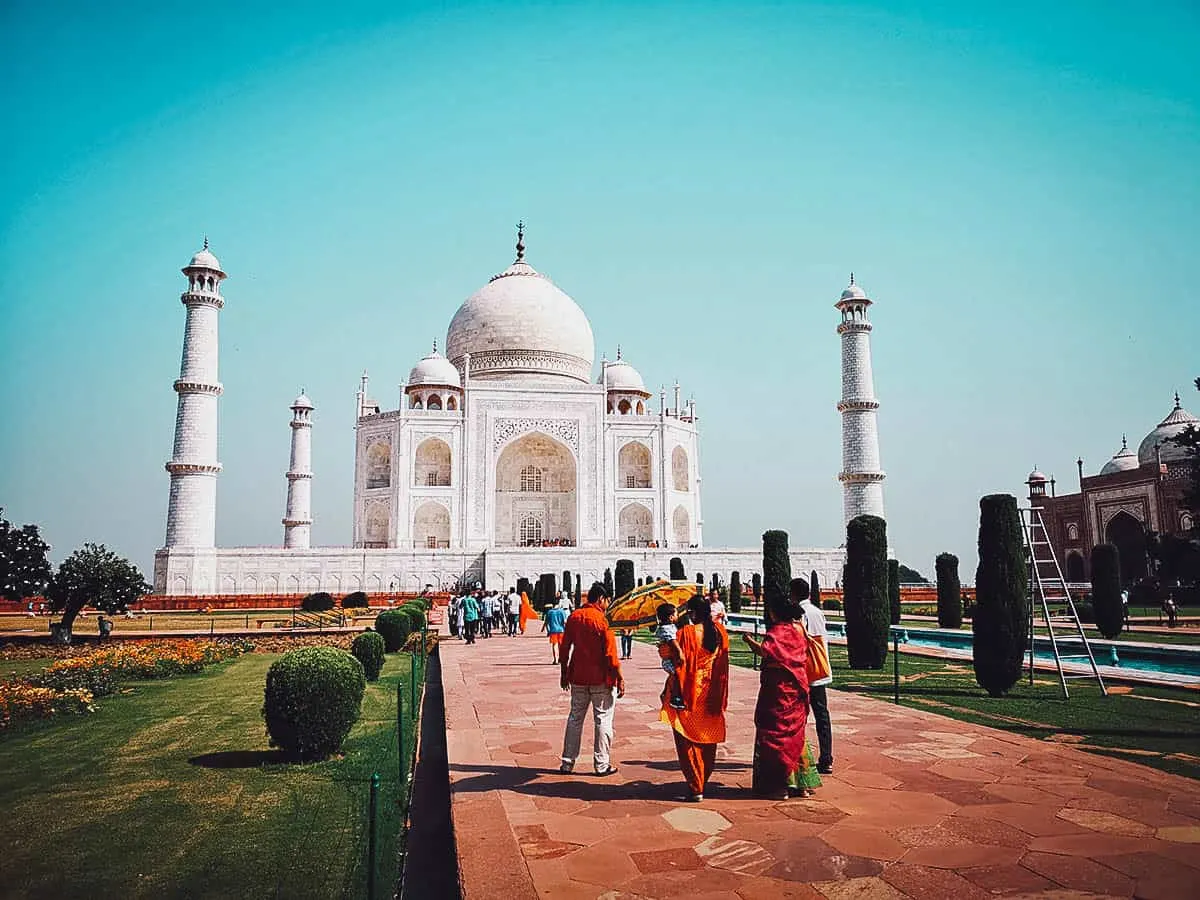 Tourists are allowed to enter the Taj Mahal but photography is strictly prohibited inside. The mausoleum is empty now but it used to be adorned with silk Persian carpets and heavy curtains embellished with intricate zardozi work. These heavy curtains functioned as doors and were embroidered with gold wire and precious stones.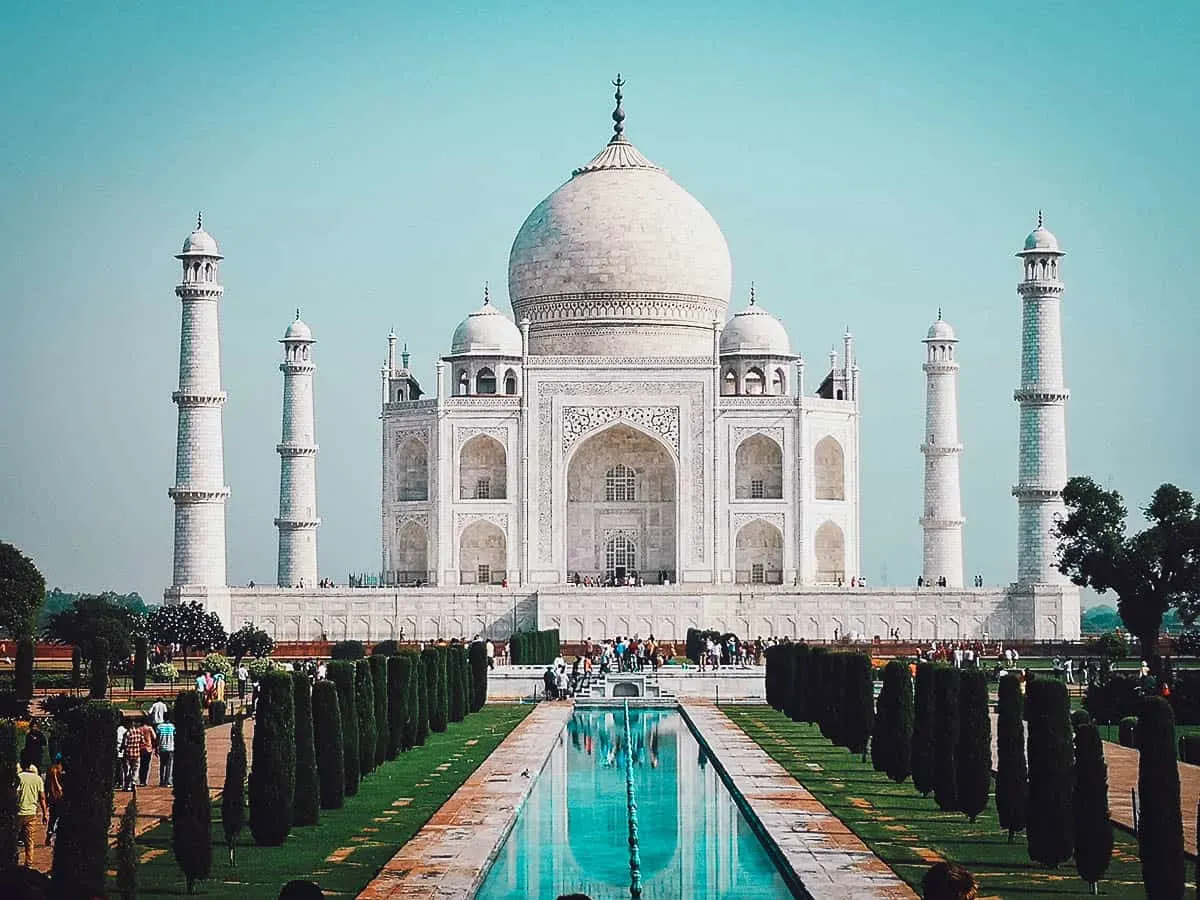 In an interesting twist, Emperor Shah Jahan's son had his father arrested upon the completion of the Taj Mahal. It's believed he did so to prevent his father from building a second mausoleum, the Black Taj Mahal. The emperor had already begun building the Black Taj Mahal on the other side of the Yamuna River.
While the White Taj Mahal was a mausoleum built for his wife Mumtaz Mahal, the Black Taj Mahal was meant to be his. It was to be built with black onyx stone from Belgium which was ten times more expensive than Makrana marble. Fearing his father's new project would bankrupt the kingdom, Shah Jahan's son put him under house arrest.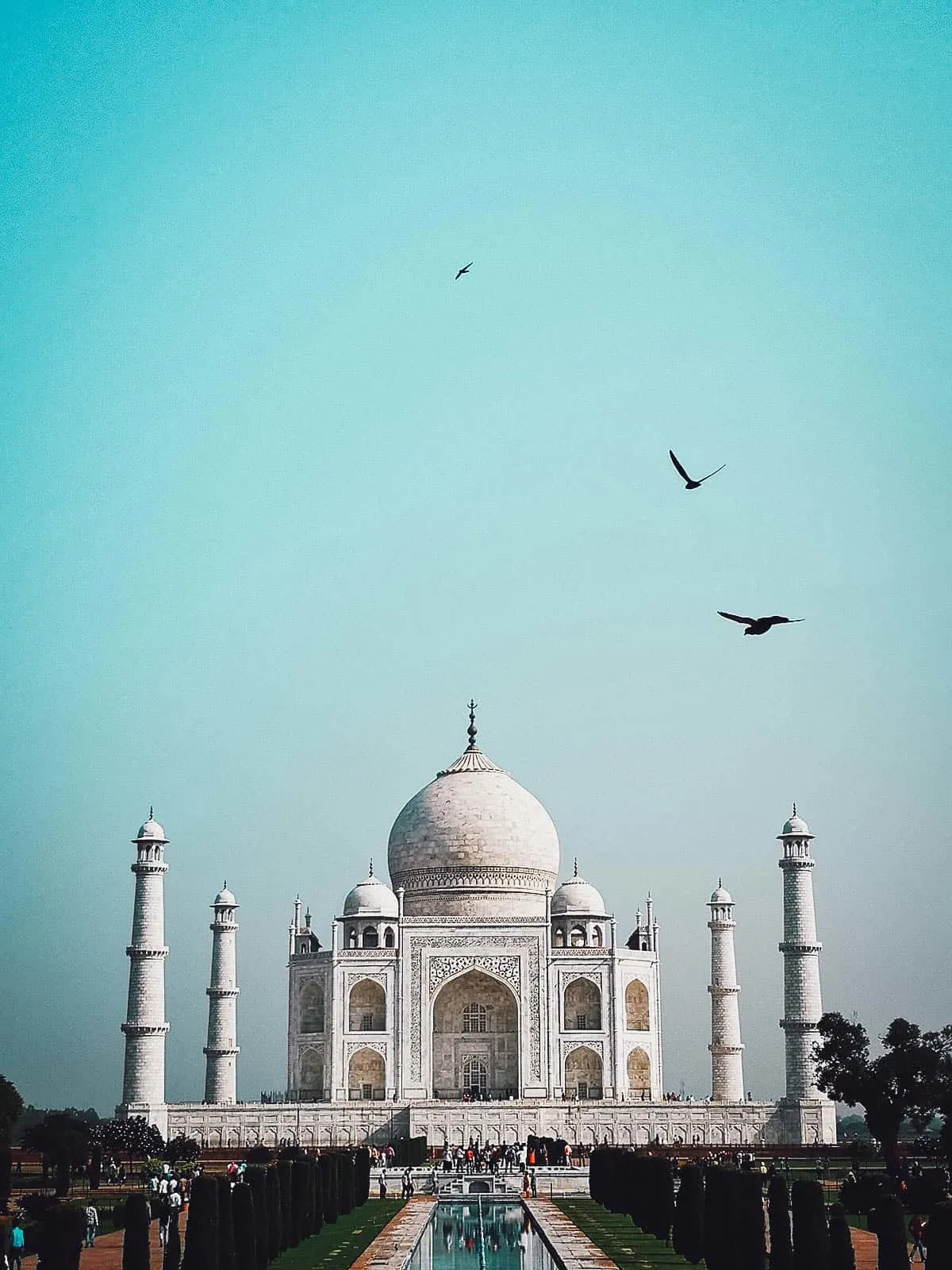 Carpet Weaving Shop
I was on a Taj Mahal high after my visit but came crashing down after this next stop. My guide took me to this carpet weaving shop for a "cultural experience".
Ren and I have been on tours before that made stops at shops like this one. I never liked them but I tolerated them because we were always in groups and I could drift off and wait outside. I absolutely HATED this one, mainly because I was alone on a private tour so the shop owner's attention was focused solely on me. He had me sit down in front of these carpet weavers while giving me his spiel about how much my friends and family would be wowed by these embroidered carpets.
I wasn't interested so before he wasted any more of our time, I cut him off and told him I wasn't going to buy anything. He tried to argue but my guide recognized my discomfort and led me out of the shop.
On the tour voucher, it says this: "Optional tours of marble inlay workshops and a carpet weaving site can be arranged on request by speaking to the guide directly". I wasn't asked to be taken to this shop but I was brought here anyway. A carpet weaving museum would have been nice, but not a shop like this one. I wasn't born yesterday.
The experience make me feel uncomfortable and I didn't like it. If you don't like these types of shops either, then don't be afraid to tell your guide to skip it.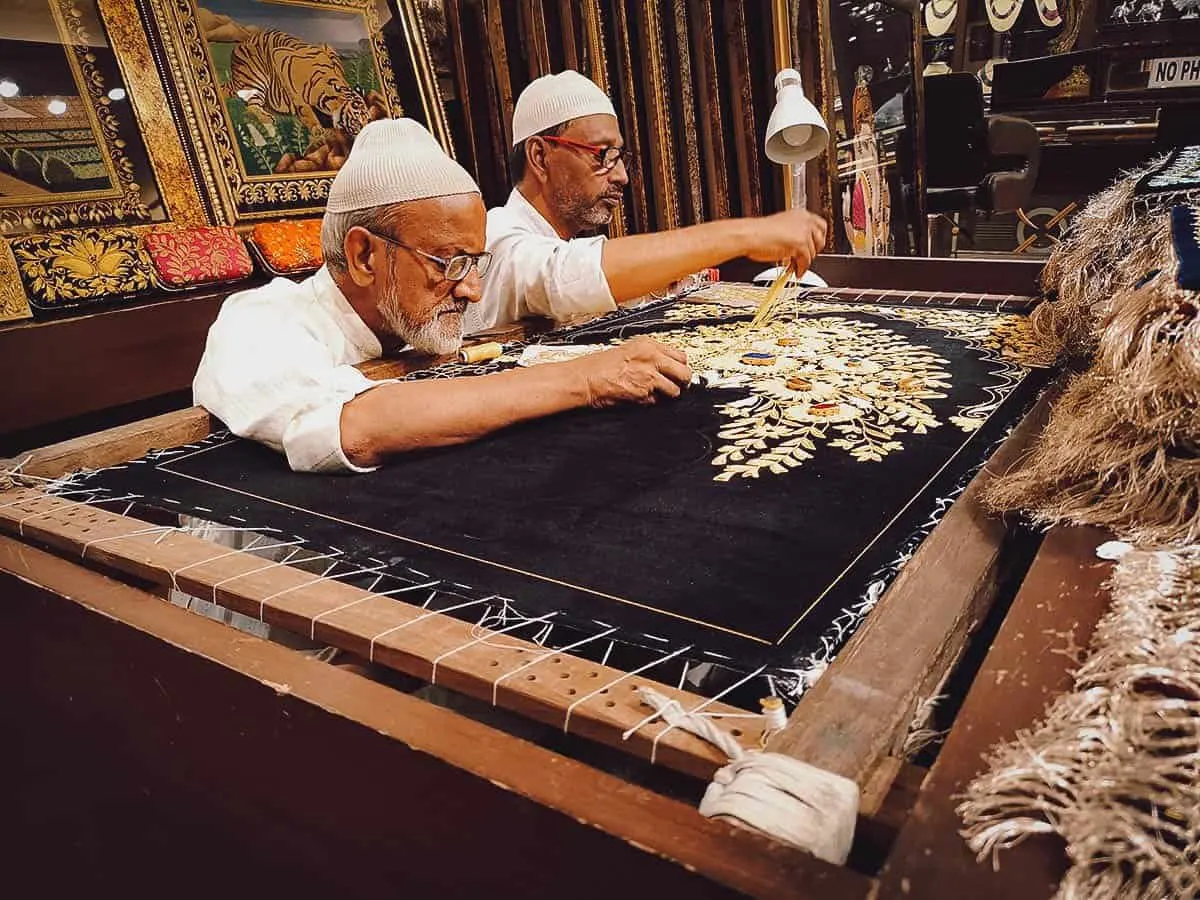 Lunch at Mughal Spice
When you book this tour, you can add lunch as an option. I wasn't hopeful we'd go anywhere good, especially after the carpet weaving shop, but this place was a pleasant surprise. Mughal Spice is a TripAdvisor Certificate of Excellence awardee with a near-perfect 4.5 star rating.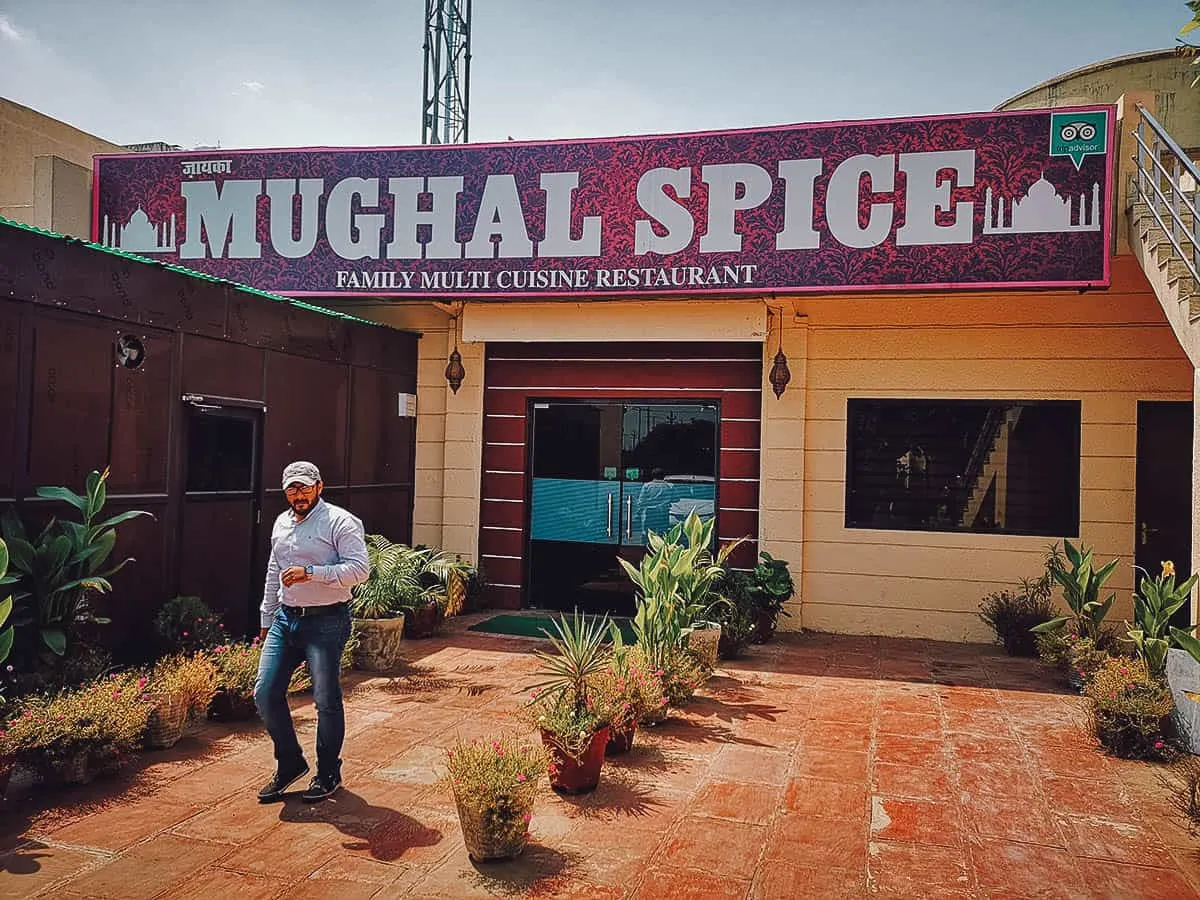 It was still early so we were the first ones here. I don't know if this tour always takes you to Mughal Spice, but I wouldn't mind eating here again. The food was delicious.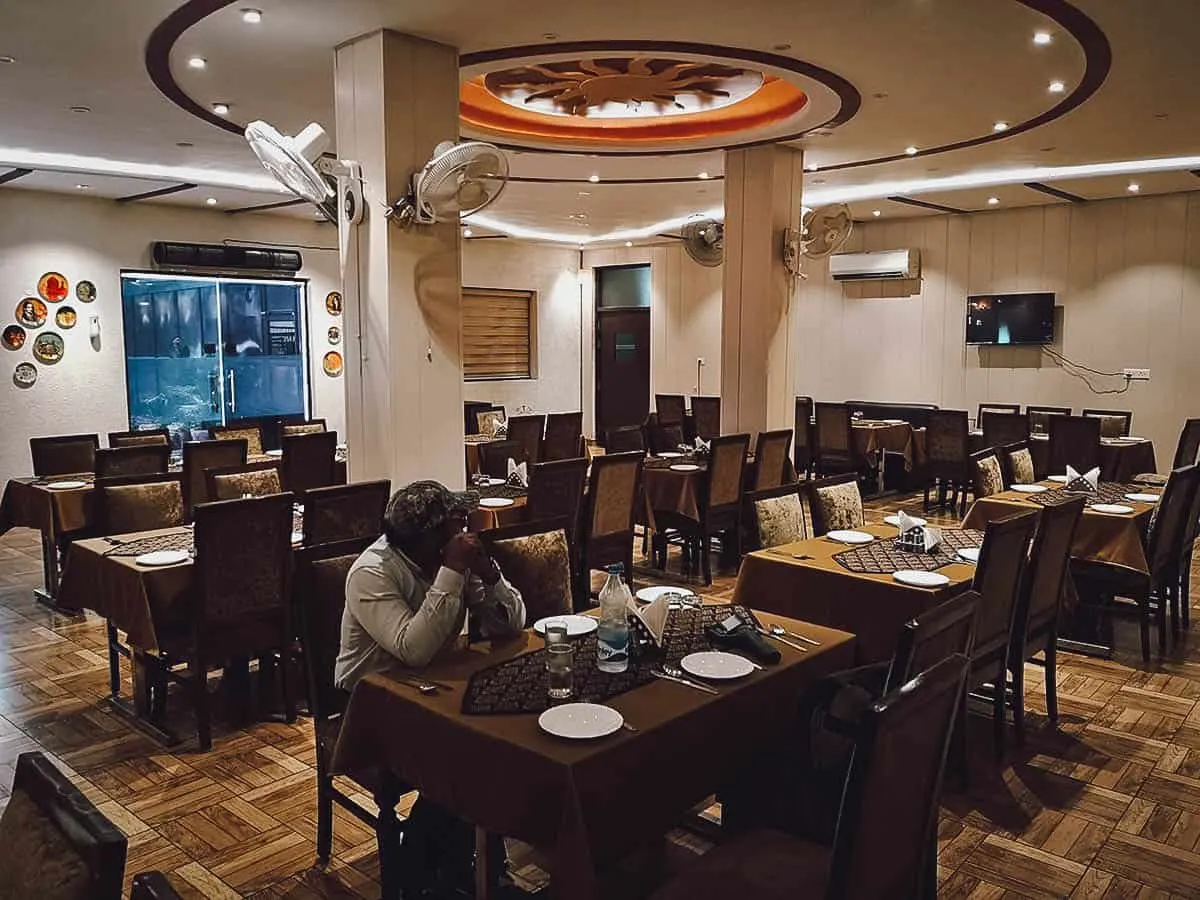 Butter chicken and chicken tikka masala are two of my favorite foods in the world. They're similar dishes made with chicken in a rich and creamy curry sauce. Today I had chicken tikka masala, which believe it or not is a UK national dish!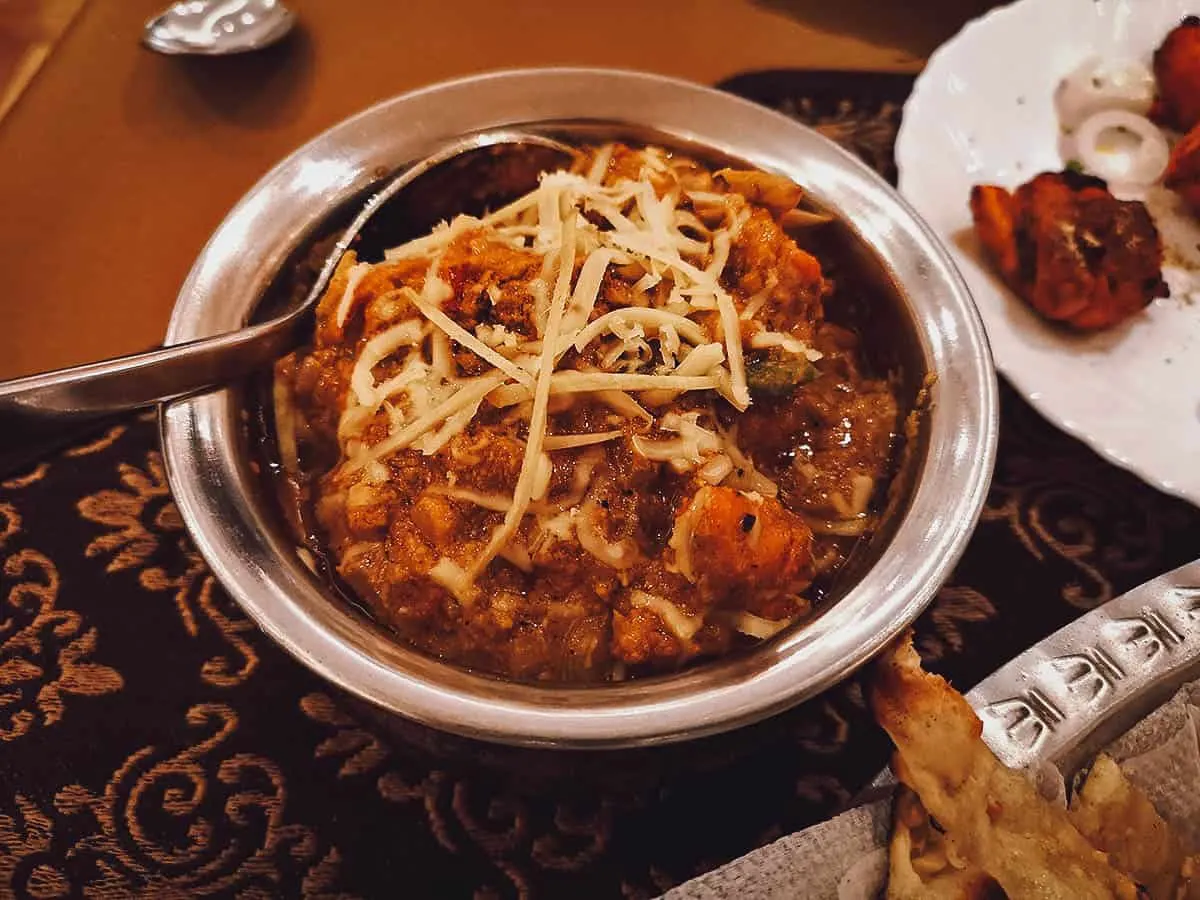 Garlic naan with a creamy curry is pure bliss and a fast track to peace and forgiveness. I was peeved at my guide for taking me to that carpet shop but all was forgotten after this.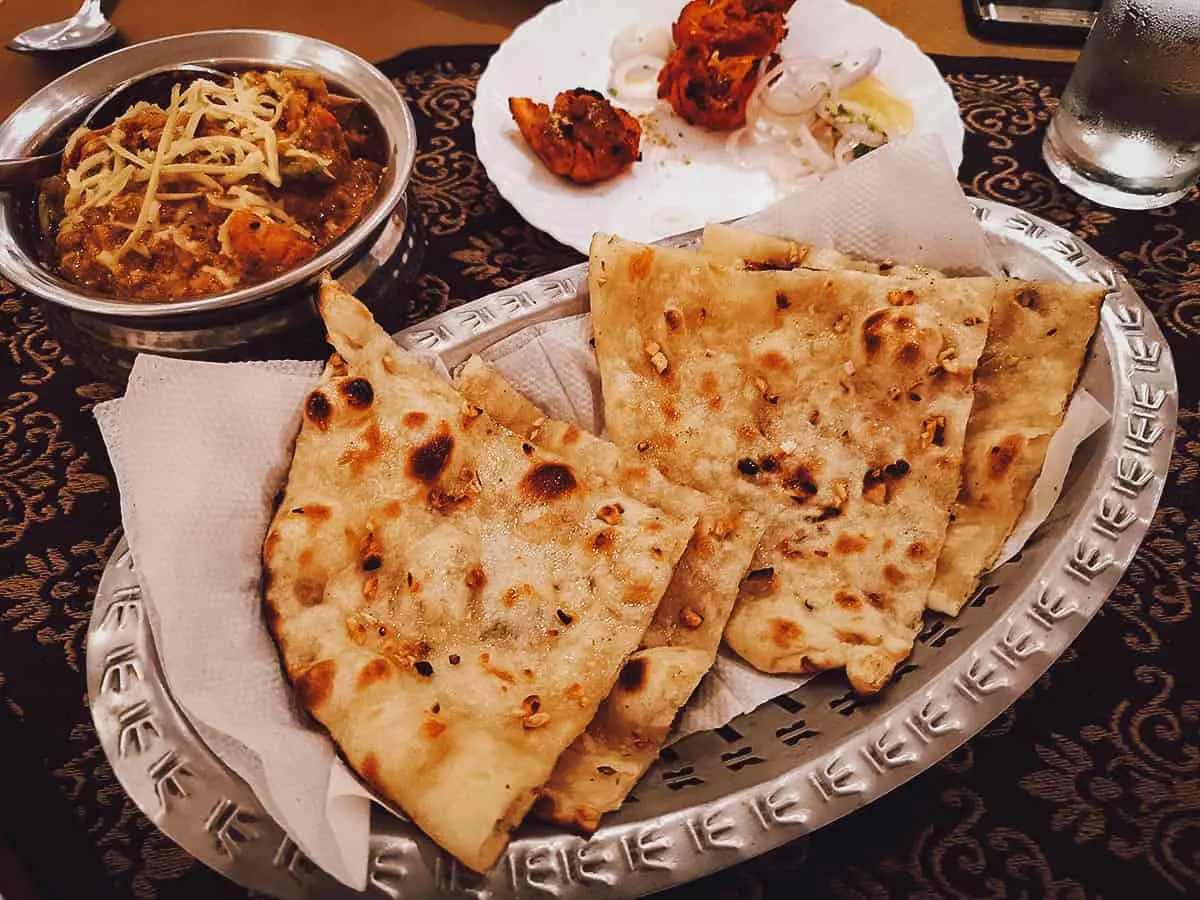 Agra Fort
Agra Fort was a walled city and the main residence of Mughal emperors until 1638, when the capital was moved from Agra to Delhi. Located just 2.5 km northwest of the Taj Mahal, this is where Shah Jahan spent the remainder of his days after being put under house arrest by his son. It's rumored that he died in Muasamman Burj, a tower in Agra Fort with a view of the Taj Mahal.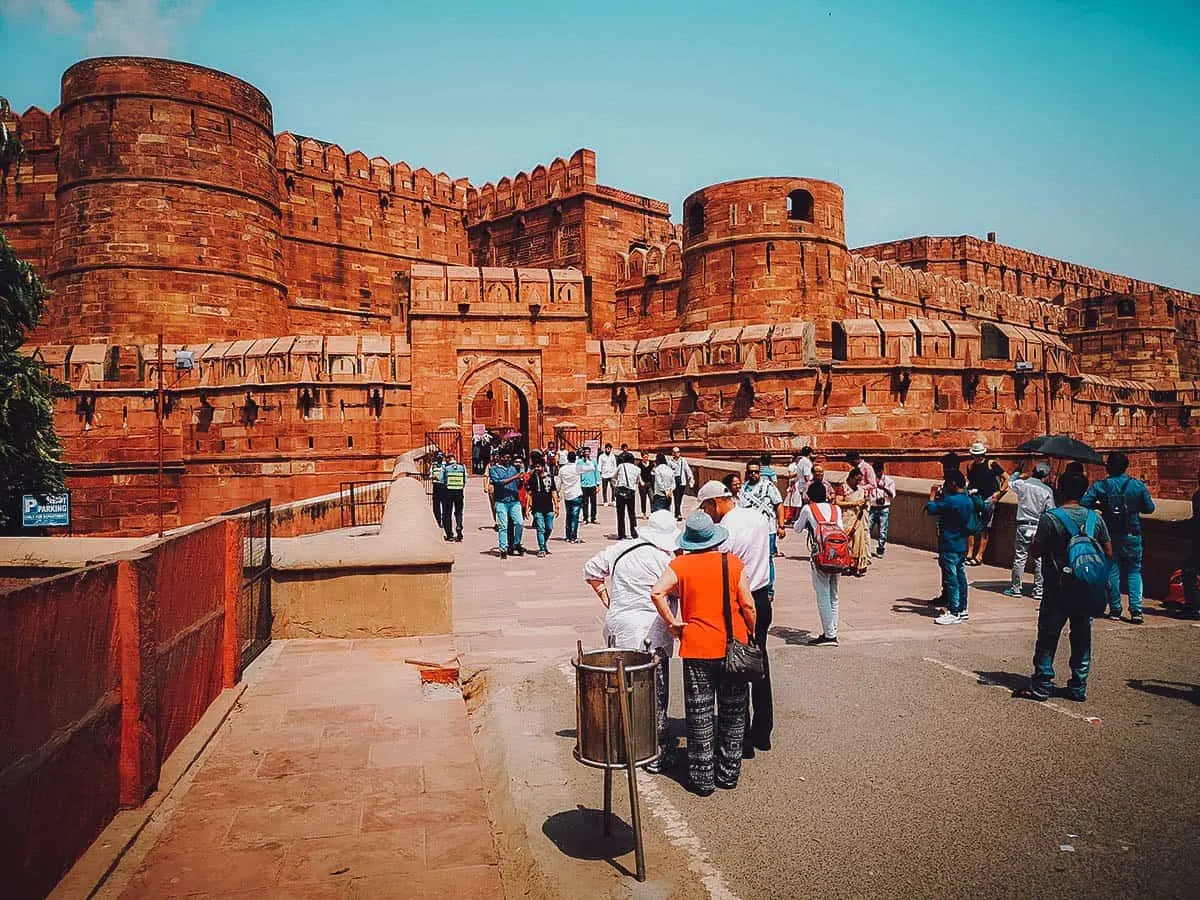 According to my guide, about 80% of Agra Fort is currently being used by the Indian army so visitors can only tour a small section of the fort. I didn't take a picture of it but upon entering the fort, you'll walk up a long ramp designed to form echoes. Clap your hands to see what I mean. This was like an alarm system to alert the guards of anyone breaching the fort.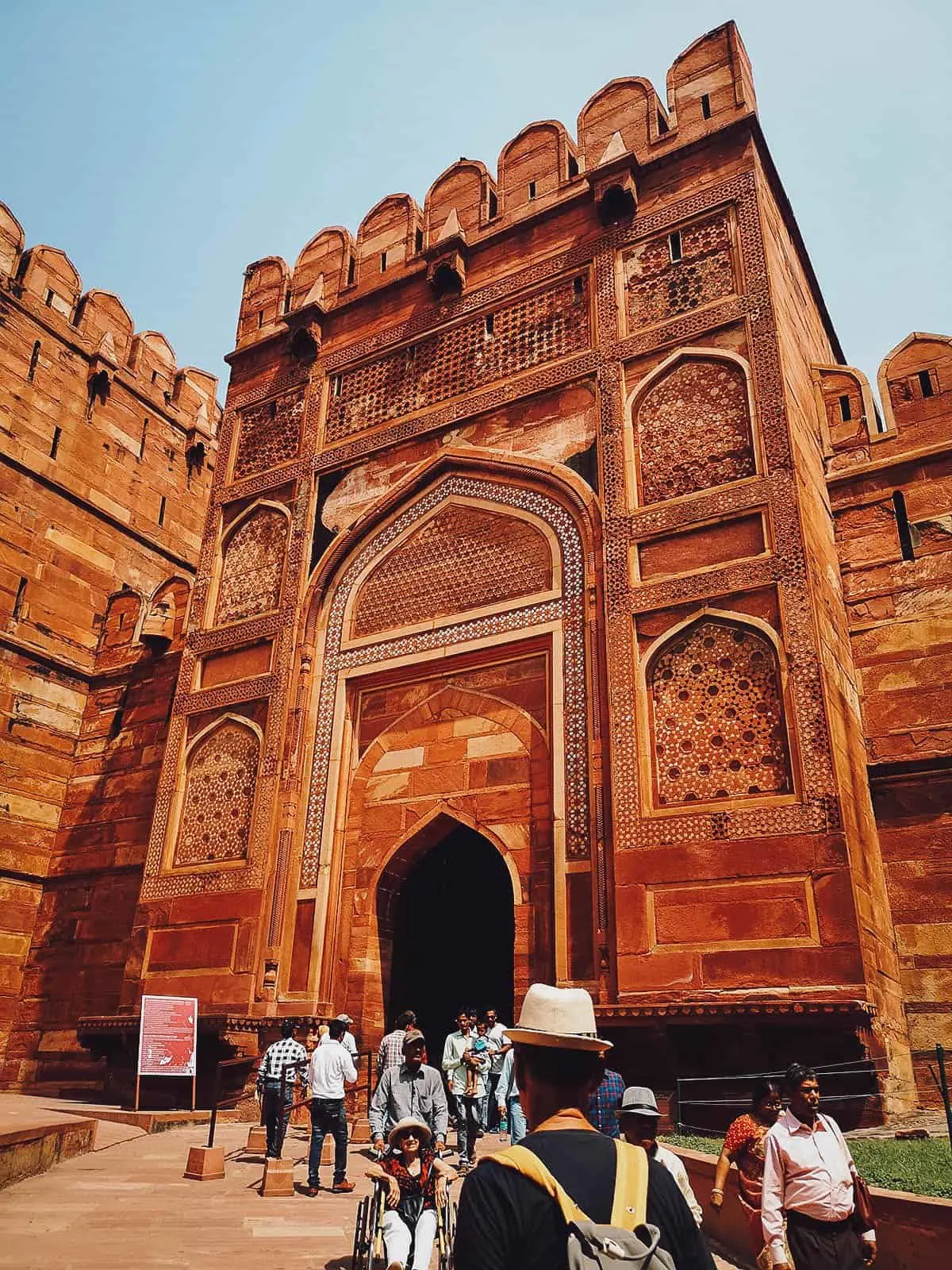 Intricate sandstone carvings adorn the walls of Agra Fort. The attention to detail in Indo-Persian architecture is astonishing.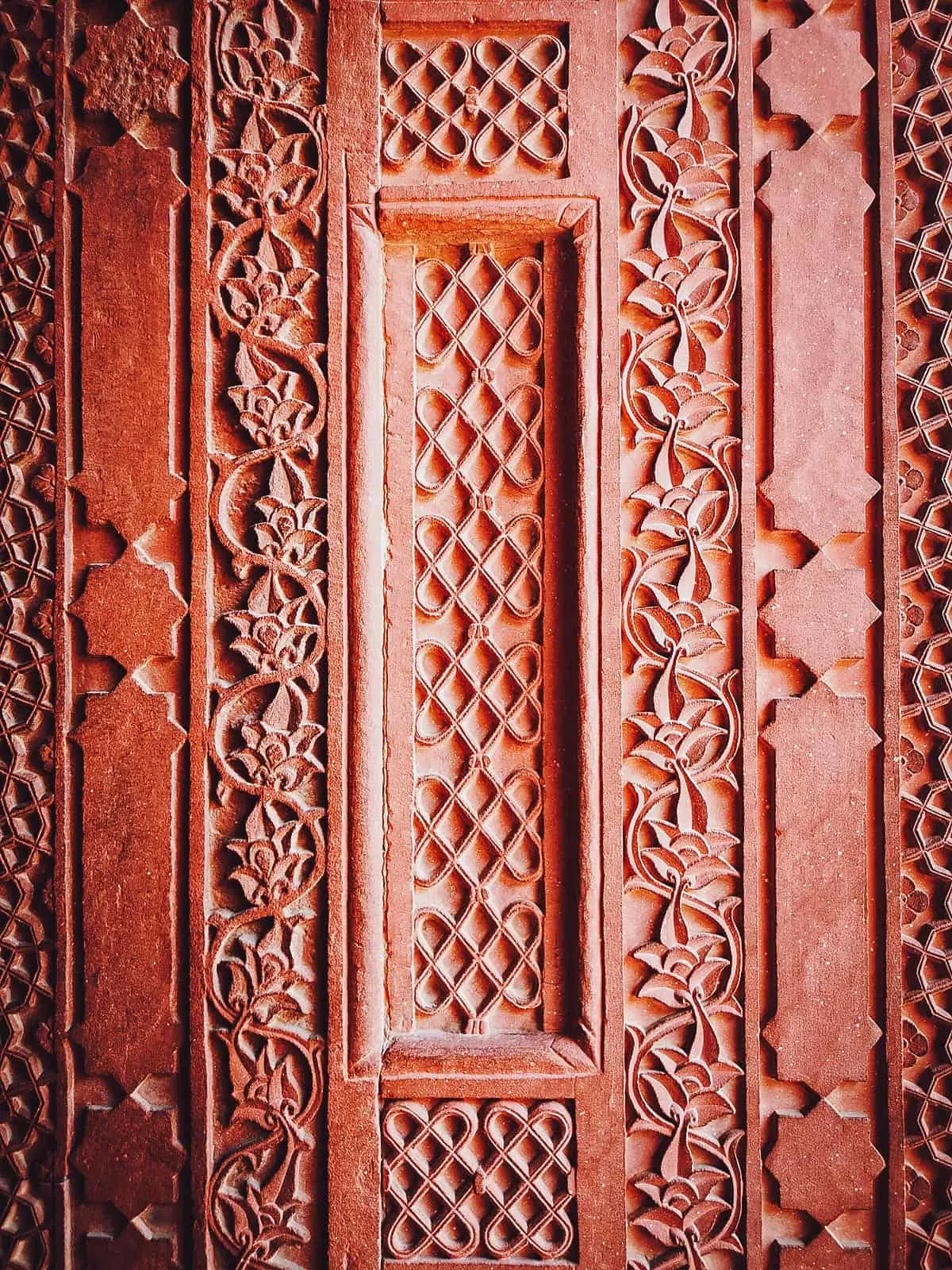 This building is known as Jahangiri Mahal. It was used mainly by the Rajput wives of Akbar the Great, the third Mughal emperor and grandfather of Shah Jahan. My guide described Akbar the Great and Shah Jahan as the most famous of the Mughal emperors.

Fatehpur Sikri
Fatehpur Sikri is located about an hour west of Agra Fort. It refers to both the town and the Mughal imperial palace that served as the capital from 1571 to 1585.
For me, this was a much more interesting stop than Agra Fort. If the Taj Mahal told the love story of Shah Jahan and his wife, then Fatehpur Sikri provided a window into the life of Akbar the Great.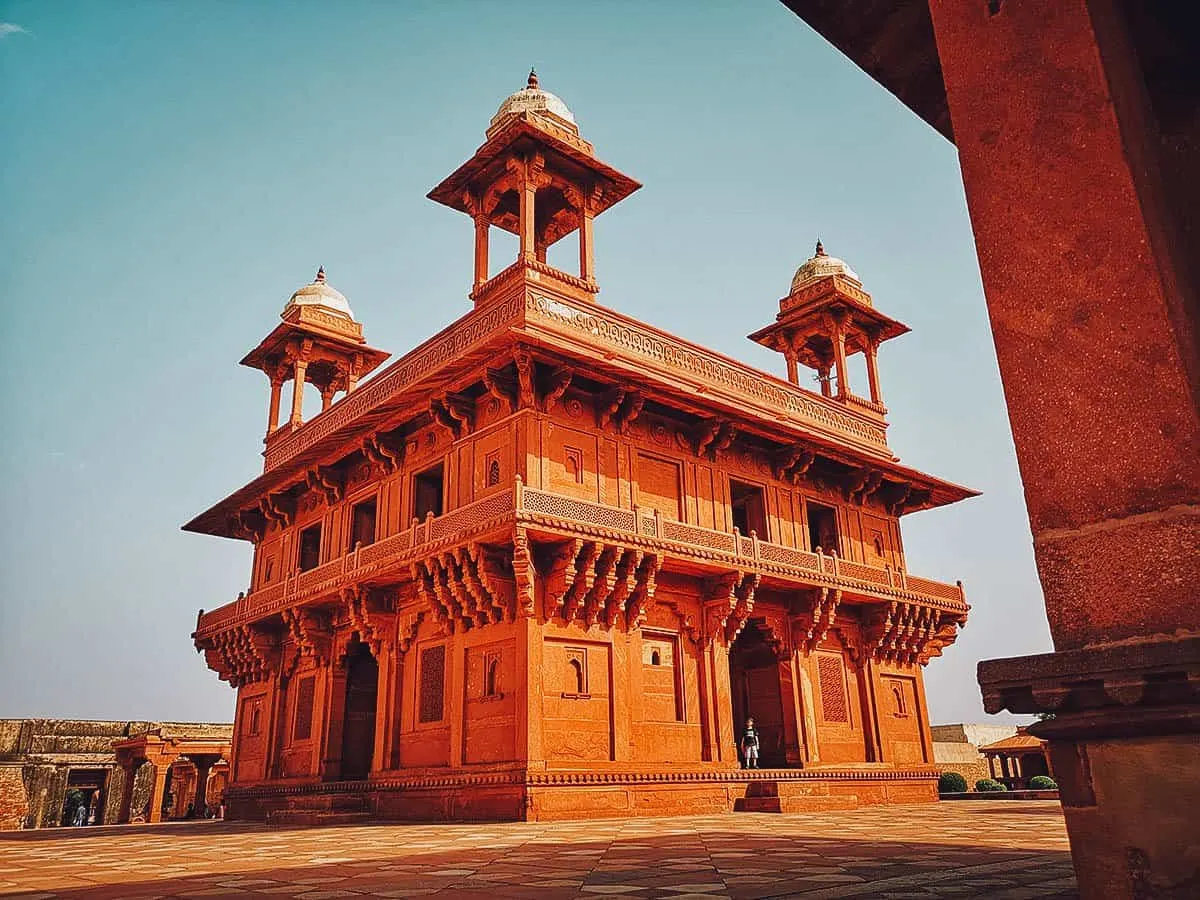 Akbar the Great was a liberal emperor who believed in religious equality. He even created his own religion called Din-i Ilahi. It was a religion predicated on tolerance and asserted that God is one, religions are many, but the destination is all the same. Unfortunately, the religion failed to gain a lasting foothold and died with Emperor Akbar.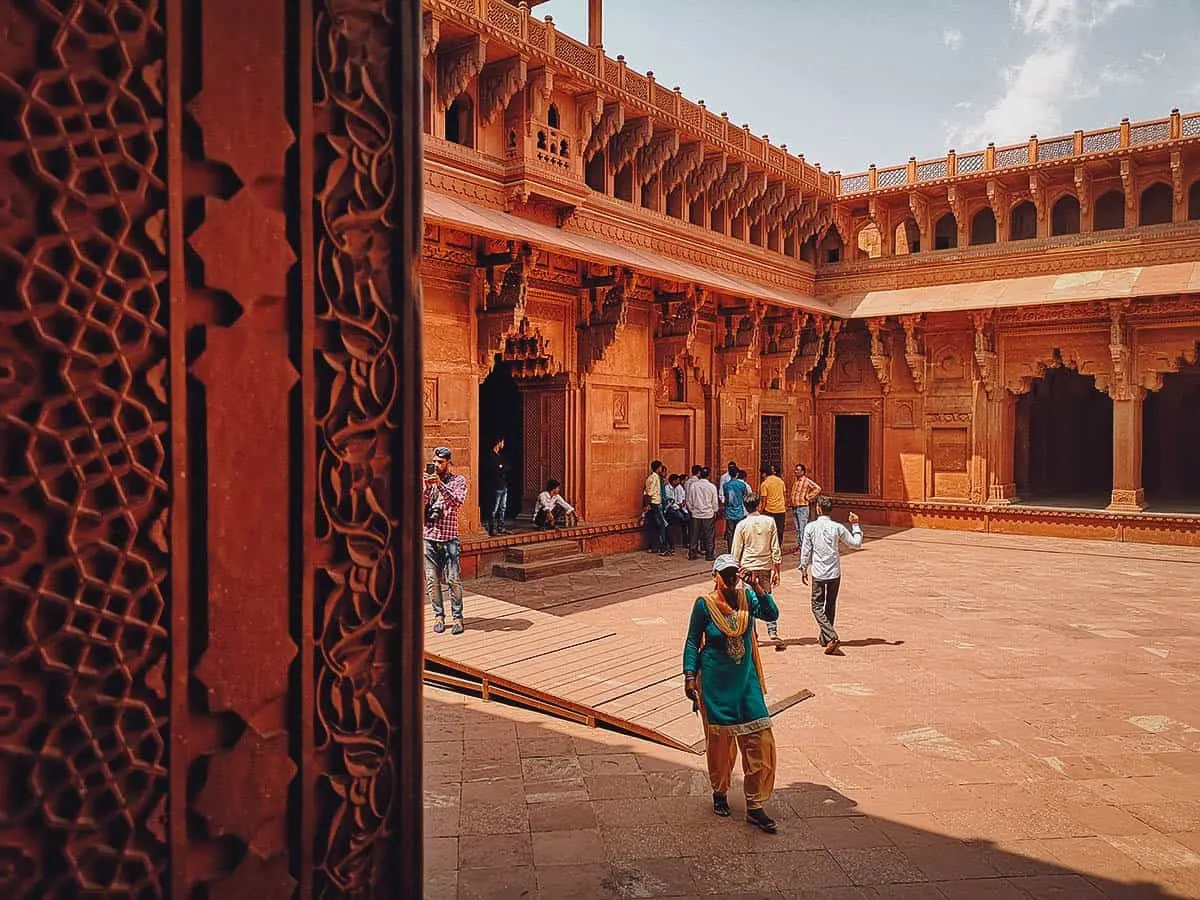 Akbar was a receptive emperor who listened to his people. He would hear out their problems in the courtyard before discussing them with his cabinet members.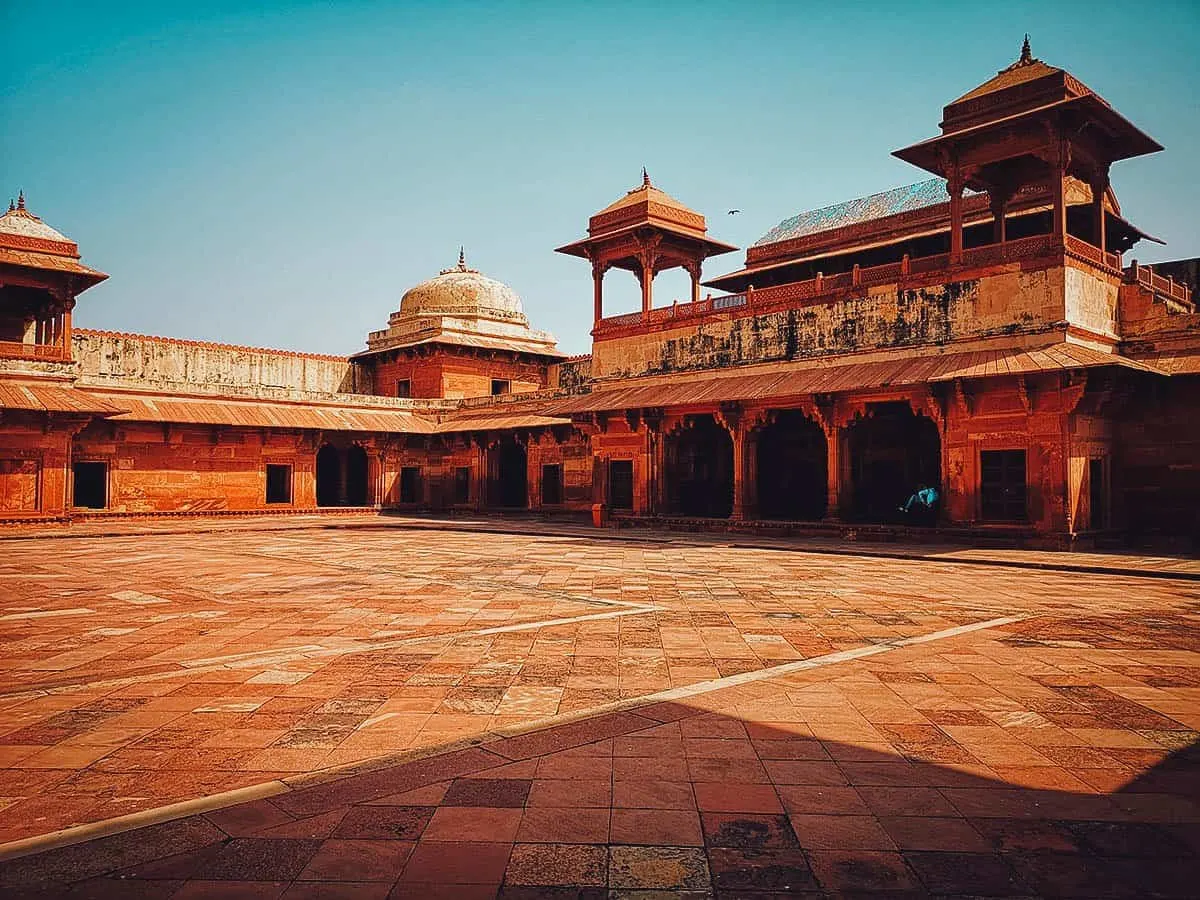 The emperor kept three wives at Fatehpur Sikri, each of a different religion. His first wife was Muslim, the second Hindu, and the third was Christian. According to my guide, all three wives got along.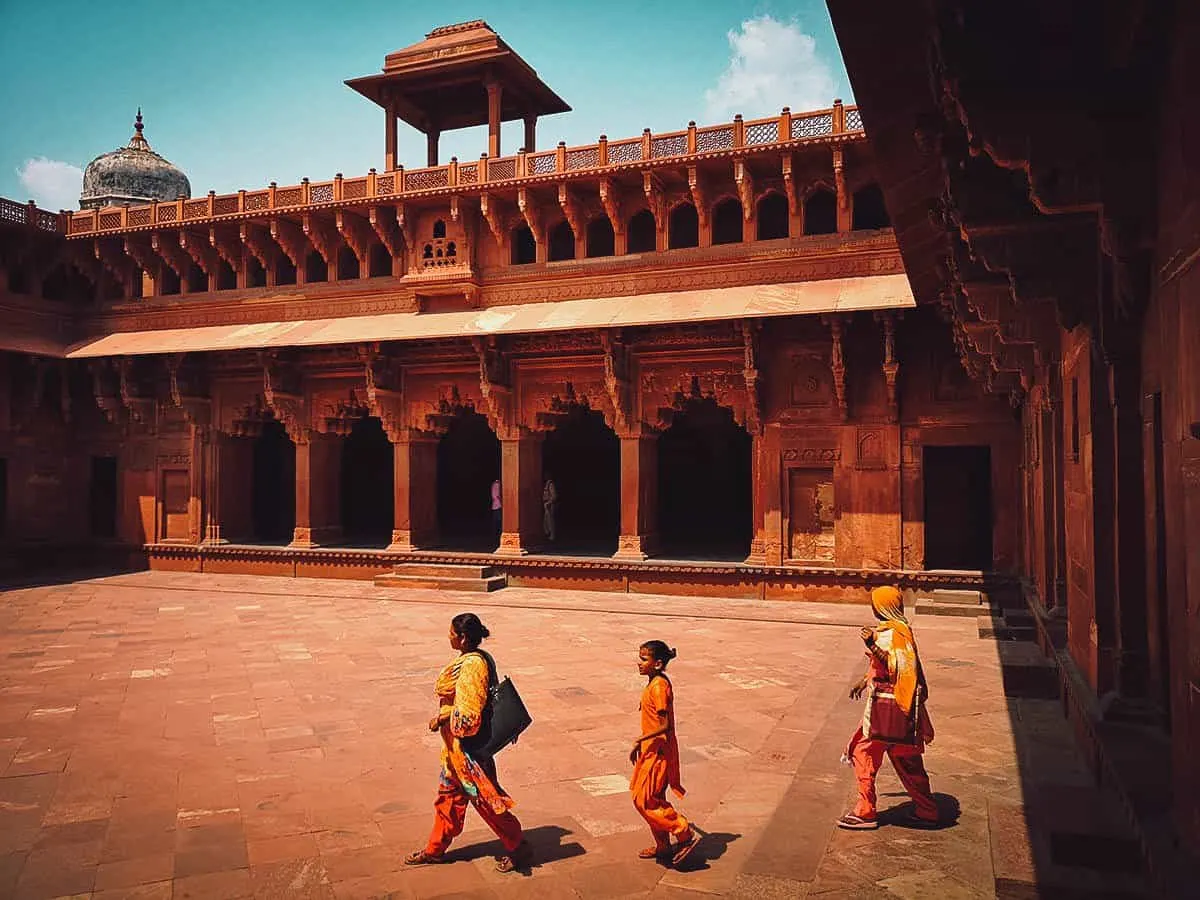 It's difficult to make out in this picture but the high pedestal on the left was Emperor Akbar's bed.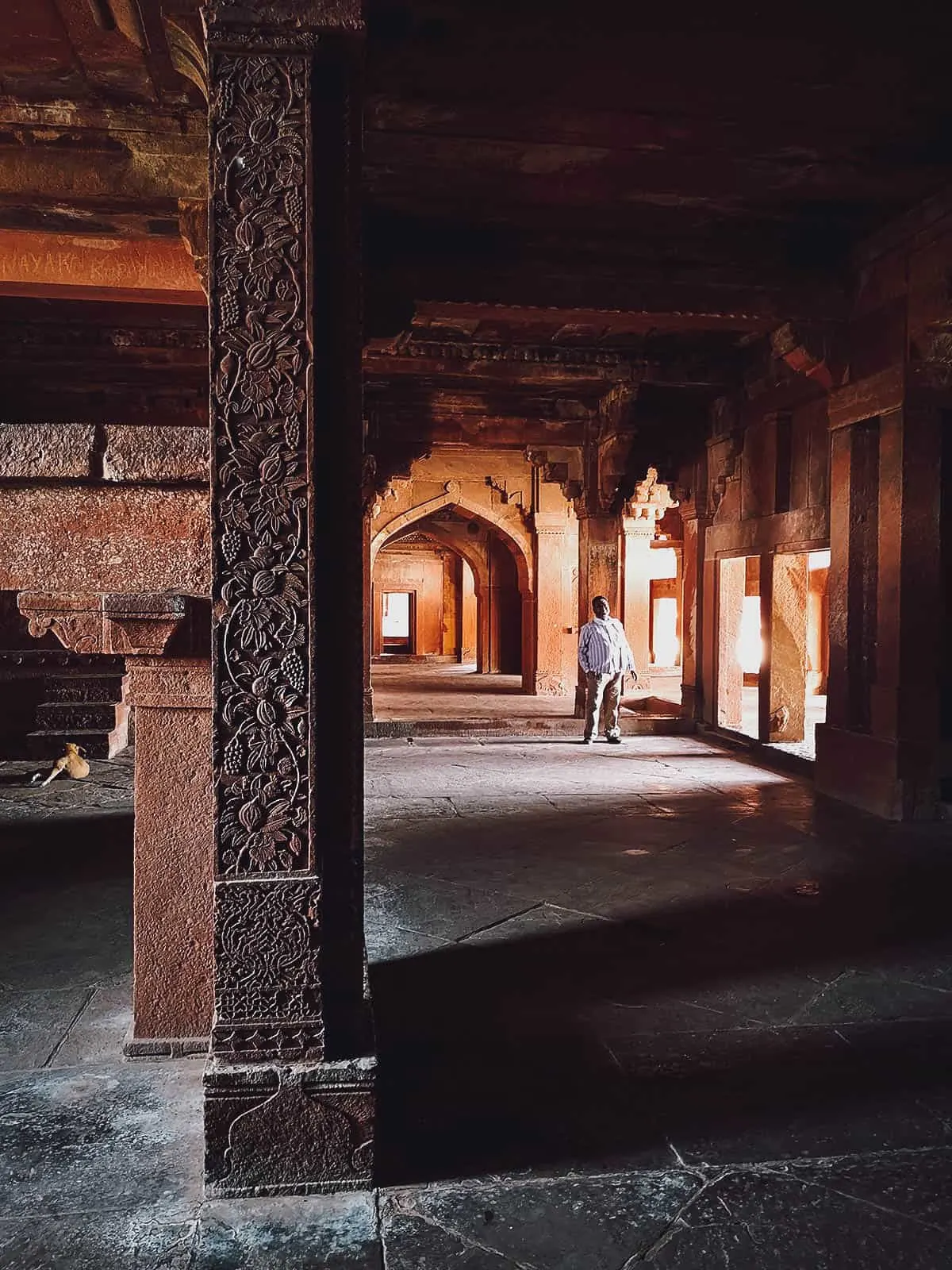 My guide told me that the emperor's executioner wasn't a man, but an elephant. Anyone sentenced to die would be crushed by this elephant. He was loved by the emperor so a tomb was built in his honor after his death.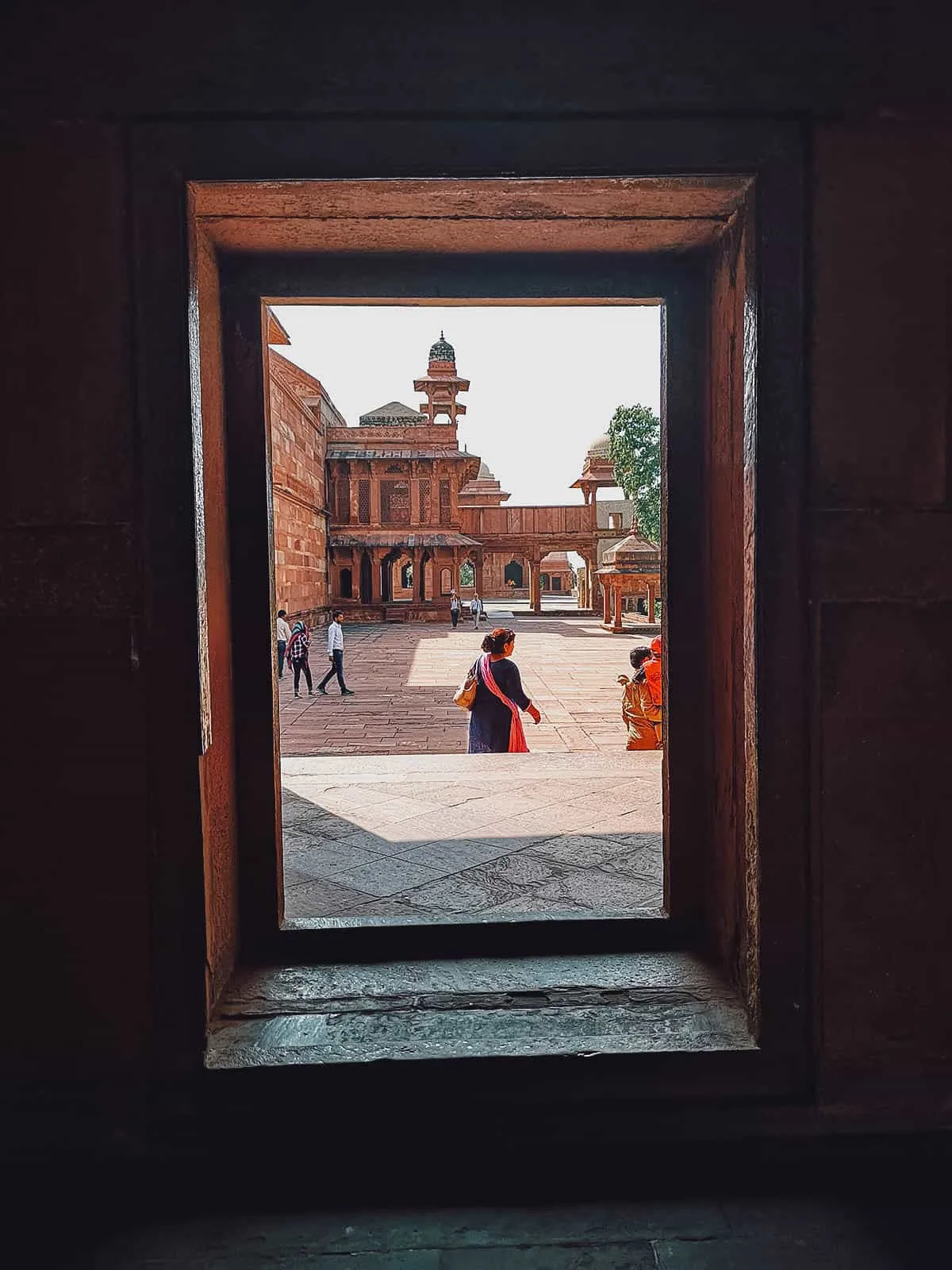 It was interesting to learn how Fatehpur Sikri became the capital of the Mughal empire. According to my guide, Akbar's wives failed to give him an heir for many years. A holy man who lived in the hills beyond Fatehpur Sikri blessed Akbar's Hindu wife with a son. This son would grow up to become the 4th Mughal emperor, and father Shah Jahan.
In a way, I guess you can say that the holy man living in the hills of Fatehpur Sikri was indirectly responsible for the construction of the Taj Mahal. Had he not blessed Akbar's Hindu wife with a son, then Shah Jahan wouldn't have been born and the Taj Mahal would never have been built.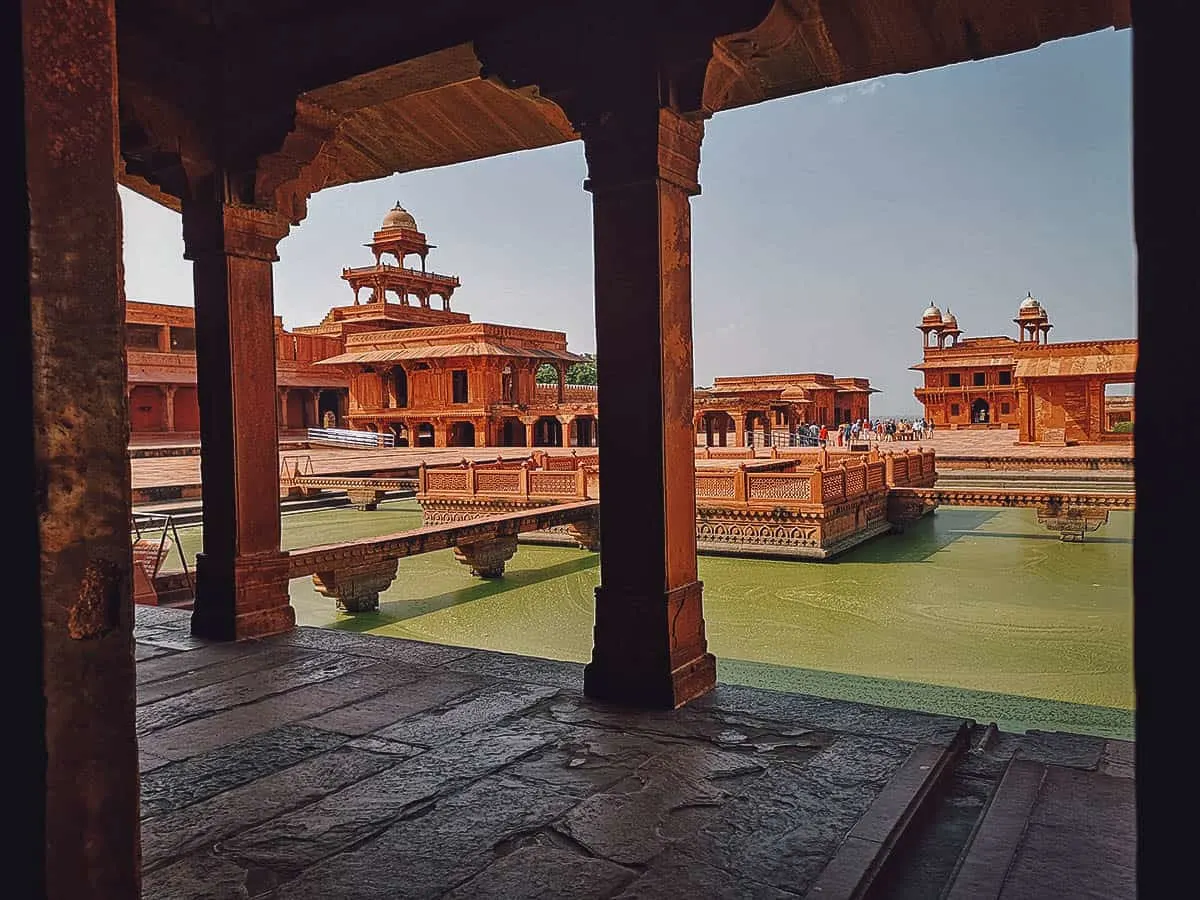 After his Hindu wife gave him a son, Akbar was overwhelmed with joy and decided to live and rule from Fatehpur Sikri permanently, beginning construction of this walled city in 1570 and completing it in 1582. Pictured below was the Hindu wife's palace.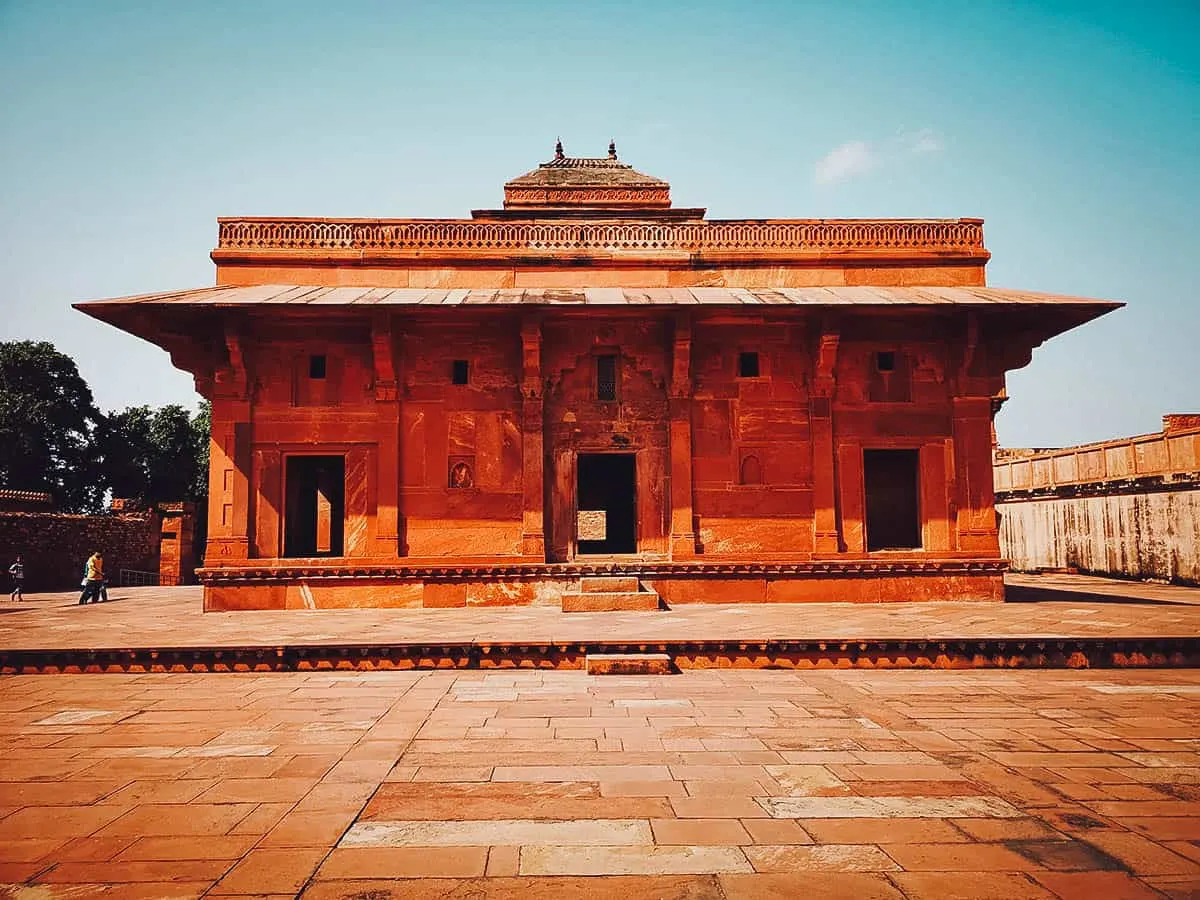 Interestingly, each of Akbar's wives had her own palace designed to mirror their religion. This one was the Muslim wife's palace.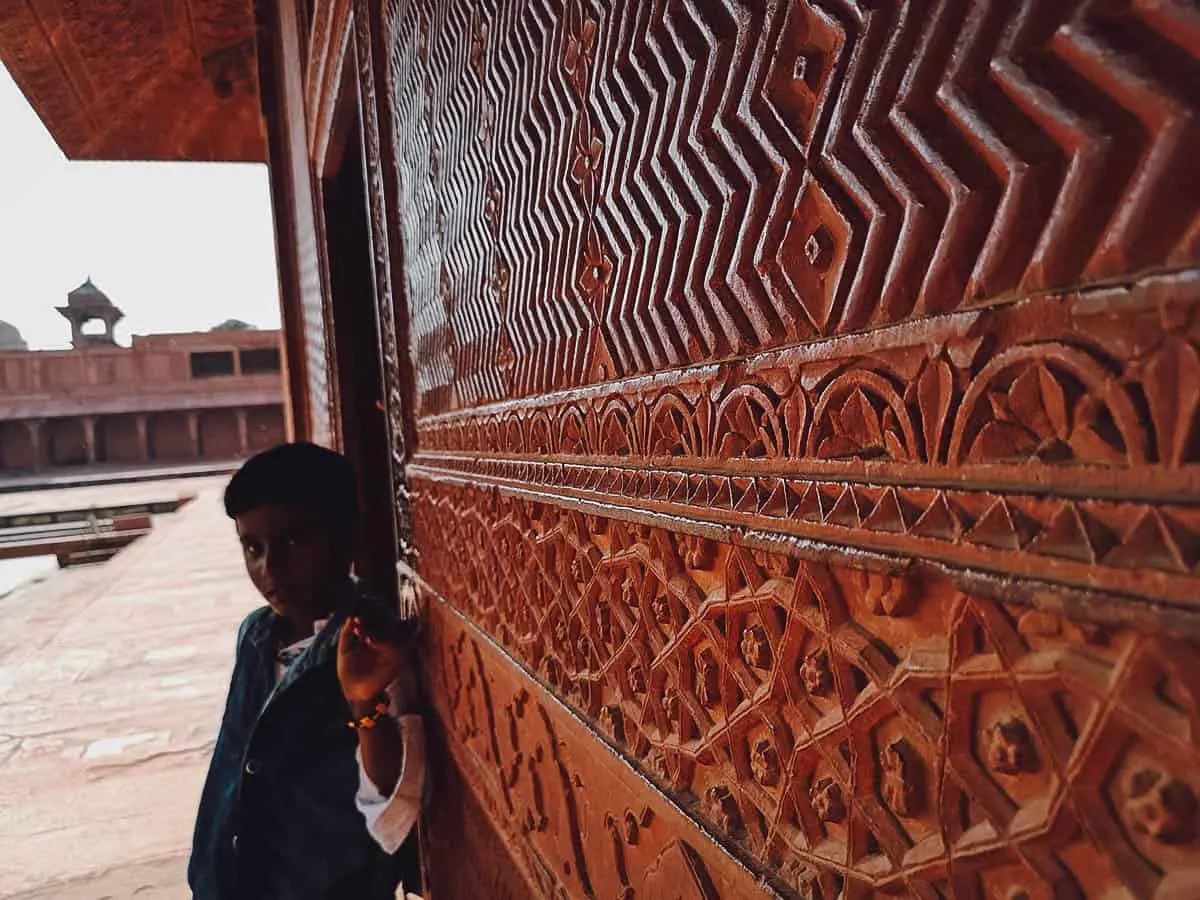 The Muslim wife wanted carvings so Akbar built her a palace adorned with intricate carvings. The Christian wife wanted paintings so Akbar built her a palace covered in paintings. The Hindu wife, who was clearly Akbar's favorite, wanted the biggest palace. She got her wish.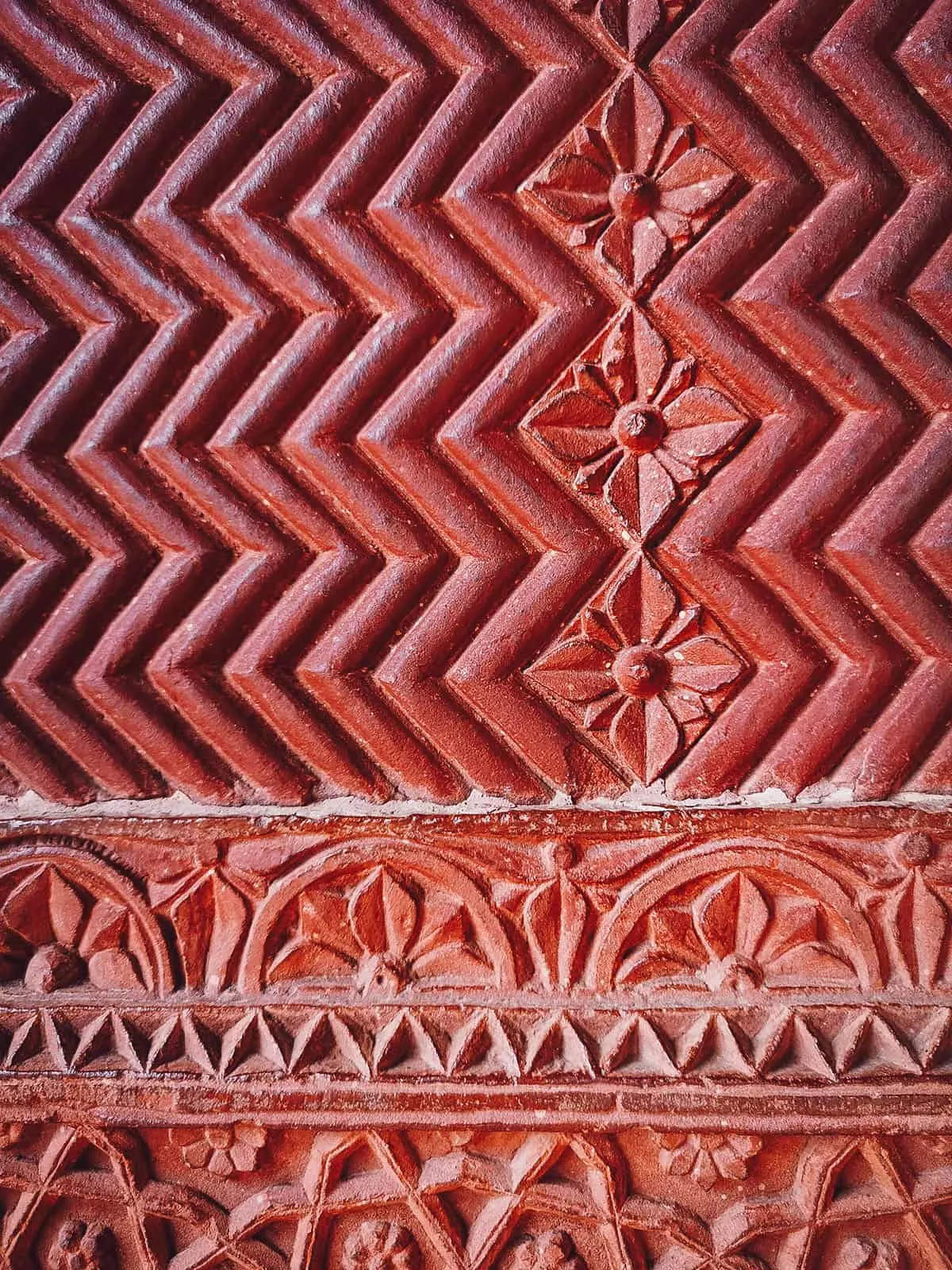 This was my favorite building in the walled city. It's known as the Diwan-i-Khas or Hall of Private Audiences. This was where Emperor Akbar received courtiers and state guests.
The walled city of Fatehpur Sikri served as the Mughal empire's capital for fourteen years, before Akbar abandoned it in 1585 to pursue a campaign in Pubjab. It was completely abandoned in 1610 and became known as a royal ghost town.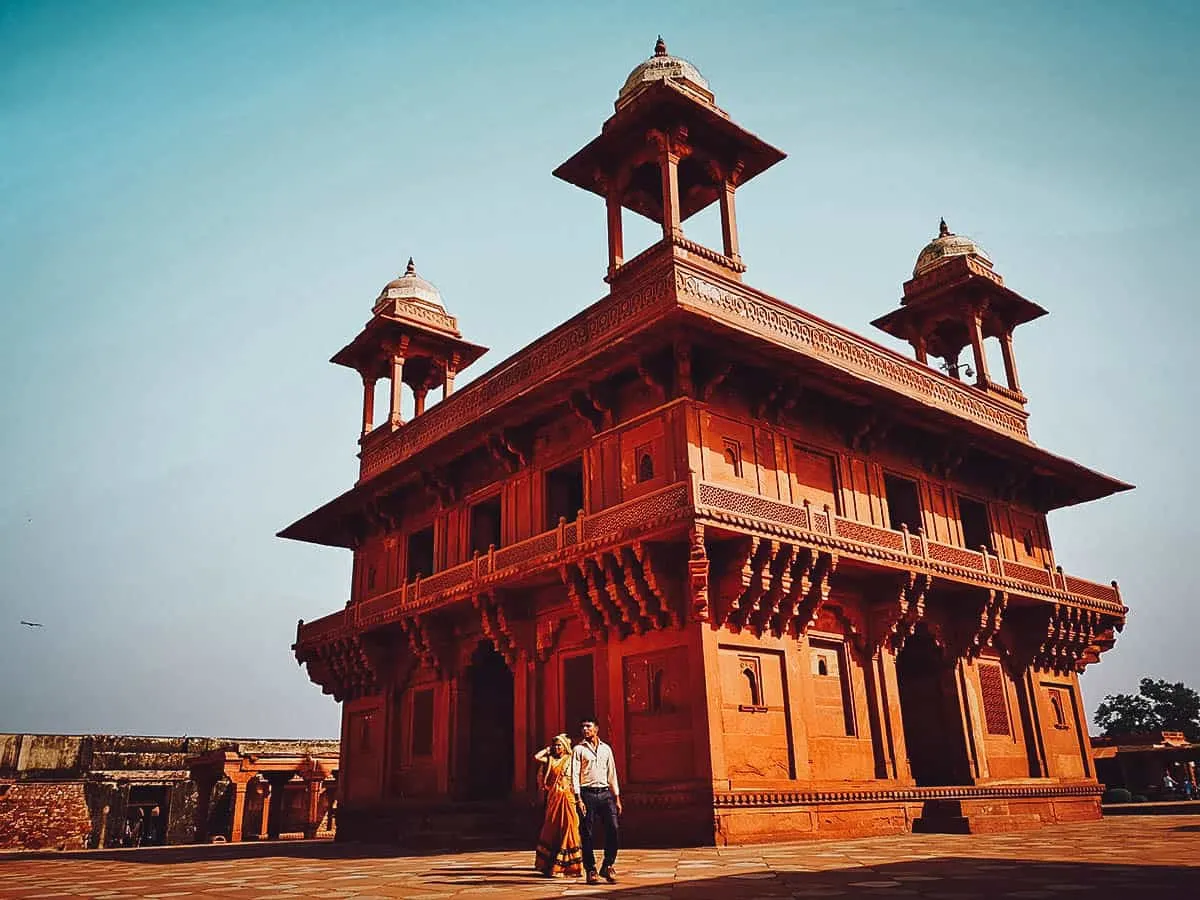 FINAL THOUGHTS
Aside from that road bump at the carpet weaving shop, I enjoyed every minute of this tour. It was engaging, my guides were knowledgeable, and the transportation was comfortable and always on time. I liked how they give you full meals on both train rides as well.
I wound up spending a total of USD 154.57 – USD 128.65 for the tour with lunch and an additional USD 25.92 in admission fees to the Taj Mahal, Agra Fort, and Fatehpur Sikri. I don't remember the amounts but I gave tips to my guides and driver as well. I actually had two guides on this tour, one for the Taj Mahal and Agra Fort and another at Fatehpur Sikri.
If you're interested in booking this same private tour, then you can do so through Klook. As advised, it'll cost less per person the more people you have in your group. For more tour options, check out Klook and Get Your Guide.
For travel tips to Delhi, check out our The First-Timer's Travel Guide to Delhi, India.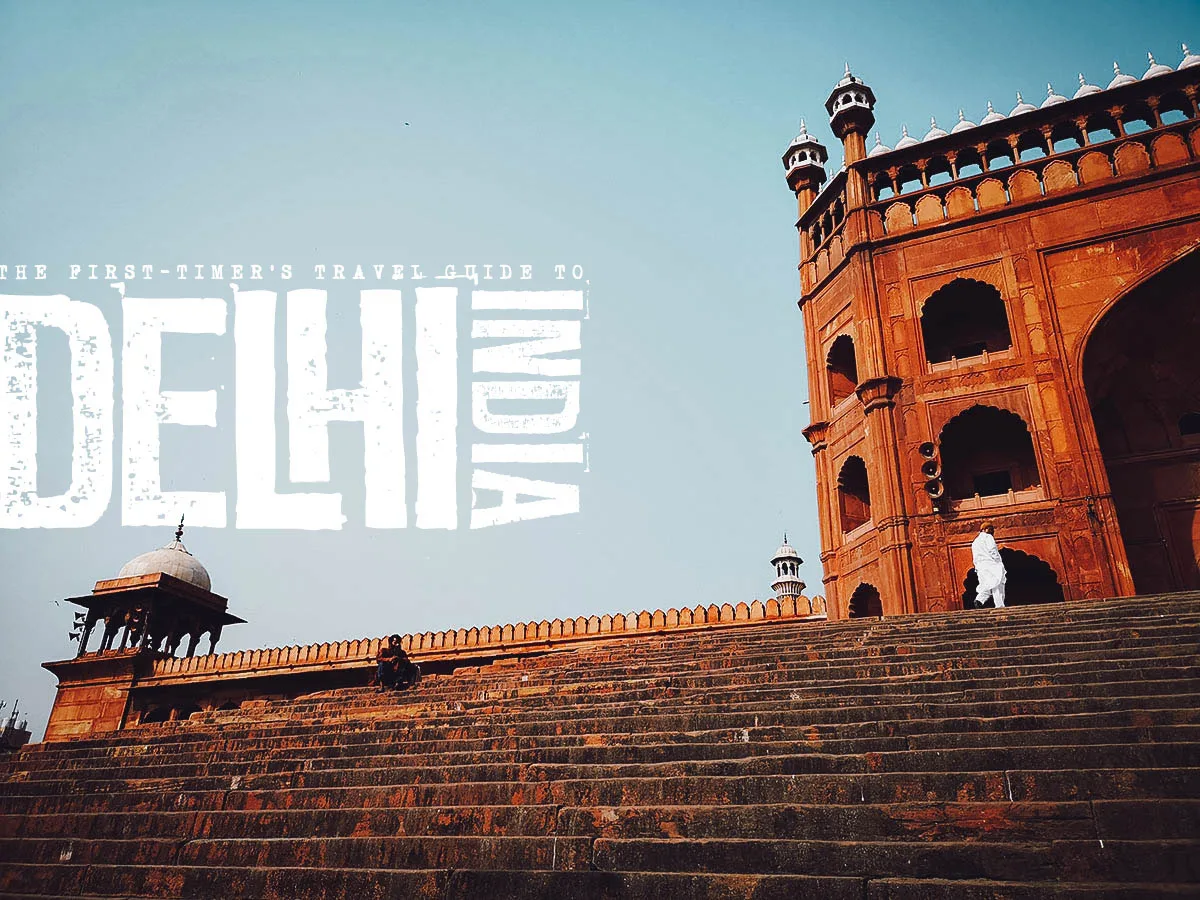 Disclosure
This post contains affiliate links, meaning we'll earn a small commission if you make a purchase or booking at no extra cost to you. We really appreciate your support as it helps us keep this website going. Thank you!