I knew next to nothing about Yogyakarta before this trip.
All I knew was that it's the base for Borobudur, and that the name Yogyakarta was often spelled and pronounced Jogjakarta (or Yogya and Jogja for short). That was it. I didn't even know Prambanan existed until I started doing research for this trip.
But one thing I've learned about travel, is that the places you know very little about often turn out to be the most fulfilling. And a lot of that has to do with expectation.
If you don't know much about a city, then learning about its cultural significance becomes fascinating. If you don't expect anything from a local dish, then chances are its flavors will surprise you. If you enter a castle not knowing why it's filled with pools of water and a voyeuristic lookout tower, then you walk into that situation with an open mind.
That's when the magic of travel happens.
Unsurprisingly, the one place I knew something about, wasn't the most memorable Yogyakarta experience for me. Instead, it was everything else that I didn't expect.
GUIDE TABLE OF CONTENTS
TRAVEL RESTRICTIONS
Because of the current global situation, travel guidelines have been changing frequently. Our friends at SafetyWing created a website that lists detailed information on travel restrictions around the globe.
Before planning a trip to Yogyakarta, be sure to check the Flatten the Curve website for information on travel restrictions to Indonesia.
YOGYAKARTA AT A GLANCE
If Jakarta is Java's political and financial capital, then Yogyakarta is its cultural soul. It's home to Indonesia's most important archaeological sites – Borobudur and Prambanan – and is the only province in the country still ruled by a sultan.
But you don't have to visit something as grand as Borobudur to see how steeped this city is in traditional Javanese arts and culture. Just take a stroll along Jalan Malioboro and you'll see what I mean. On either side of the street are many shops selling batik, the classical Indonesian art of decorated and dyed fabrics. Keep walking and you'll find more of it at Pasar Beringharjo, and even better examples at various art centers and workshops throughout the city.
If you're in Yogyakarta on a Saturday, then you can visit the Kraton to experience wayang kulit, a traditional shadow puppet show accompanied by a musical ensemble known as gamelan. If you'd like something on a larger scale, then you may be interested in the Ramayana Ballet, a visual representation of the epic Ramayana saga. It's performed in various venues throughout the city, though none more impressive perhaps than at Prambanan.
Spend a few days here and you'll get a sense that Yogyakarta is protective of its rituals and traditions. In many ways, it's like the guardian of ancient Javanese culture.
BEST TIME TO VISIT
Like its Southeast Asian neighbors, Indonesia has two seasons – rainy and dry. The dry season is typically from April till October so this is considered the best time to go. However, I've read that it's still possible to visit Yogyakarta during the rainy season since most of the rain falls in the evening.
APR-OCT: As described, this is the dry season in Yogyakarta and typically considered the best time to visit. June till September are the driest months. Temperatures are fairly consistent throughout the year so it's best to visit around this time if you can.
NOV-MAR: This is rainy season in Yogyakarta. It's rainiest and most humid from December till March, with each of those months getting at least 15 days of rain.
Climate: Annual Monthly Weather in Yogyakarta
To help you better understand the climate in Yogyakarta, I've created the average temperature and annual rainfall graphs below. Suggested months to visit are highlighted in orange.
Average Temperature


Annual Rainfall


TRAVELING TO YOGYAKARTA
Yogyakarta is located to the south of Central Java. We came from Bandung so we took an 8-hour overnight train into Yogyakarta, but there are many ways to get there depending on where you are.
For the purpose of this guide, I'll describe how to get to Yogyakarta from the major tourist destinations of Jakarta, Bandung, and Bali.
From Jakarta
BY PLANE: Multiple airlines including Lion Air and AirAsia offer direct flights from Jakarta to Yogyakarta. The flight takes a little over an hour. If you need to book a private transfer from the airport to your hotel, then you can do so through Bookaway.
BY TRAIN: If you aren't in a rush, then a good alternative would be to travel by train. Personally, we prefer trains over flights. The scenery is better and it's much cheaper. The train ride from Jakarta to Yogyakarta takes about 8 hours so you can do an overnight train if you wish. You can book tickets on tiket.com which is what we used to book train rides from Jakarta to Bandung, then Bandung to Yogyakarta.
BY BUS: A third option is to go by bus which takes a little longer than traveling by train, about 9 hours. You can book bus tickets via Bookaway.
From Bandung
BY PLANE: From the looks of it, there's only one airline that offers direct flights from Bandung to Yogyakarta, and that's Lion Air. The flight takes a little over an hour. If you need to book a private transfer from the airport to your hotel, then you can do so through Bookaway.
BY TRAIN: As described, this is how we arrived in Yogyakarta. We traveled by overnight train which took about 8 hours and got us into Yogyakarta at 3:30AM, just in time to catch the sunrise from Barede Hill. You can book your tickets on tiket.com.
From Bali
BY FLIGHT: A few airlines offer direct flights from the island of Bali to Yogyakrta, including AirAsia and Lion Air. The flight takes about an hour and a half. If you need to book a private transfer from the airport to your hotel, then you can do so through Bookaway.
I've only covered transportation options to Yogyakarta from Jakarta, Bandung, and Bali, but if you're coming from somewhere else, then you can check Bookaway to find route options available to you. You can click on the link or use the widget below.
WHERE TO EXCHANGE CURRENCY
The unit of currency in Indonesia is the Indonesian Rupiah (IDR). We arrived in Yogyakarta by way of Jakarta and Bandung so we already had enough IDR with us. But if you need to exchange currency in Yogyakarta, then you can do so at Mulia Money Changer. They're located close to Yogyakarta train station (map). According to blog posts and online reviewers, they're known for giving the best rates in Yogyakarta.
If you'd rather not bring large sums of foreign currency into Indonesia, then an alternative would be to withdraw IDR from an ATM. Some say the exchange rates are even better. Just be sure to advise your bank that you plan on using it abroad so you don't run into any problems. In my experience, my ATM card works in some machines but not in others.
NOTE: When an ATM asks if you want to proceed "with or without conversion", always choose WITHOUT conversion. That way your local bank does the conversion and not the foreign bank operating the ATM. As I've learned the hard way, allowing foreign banks to perform the conversion often leads to terrible exchange rates. According to this article, the difference between rates can be as high as 10%.
BEST AREA TO STAY
We've only visited Yogyakarta once so I'm not as familiar with its different neighborhoods, but one thing seems to be clear, the area around Jalan Malioboro is among the most convenient places to stay, especially if it's your first time in the city. It's the center of the Yogyakarta universe and will put you in close proximity to shops, restaurants, transportation hubs, and the city's main tourist attractions like Yogyakarta Palace and Taman Sari Water Castle.
However, many people who travel to Yogyakarta do so to visit Borobudur and Prambanan temples. If you've been to Yogyakarta, then you'll know that Borobudur is about two hours northwest of the city while Prambanan is about an hour east. Depending on your priorities, you may prefer to stay elsewhere so I've included other areas below to give you more options.
I've put together the color-coded map below to help you understand where all these recommended areas are. Click on the link for an interactive version of the map. (Please note that marked areas are approximations only)
ORANGE – Jalan Malioboro
VIRIDIAN – Jalan Prawirotaman
PURPLE – Borobudur
RED – Prambanan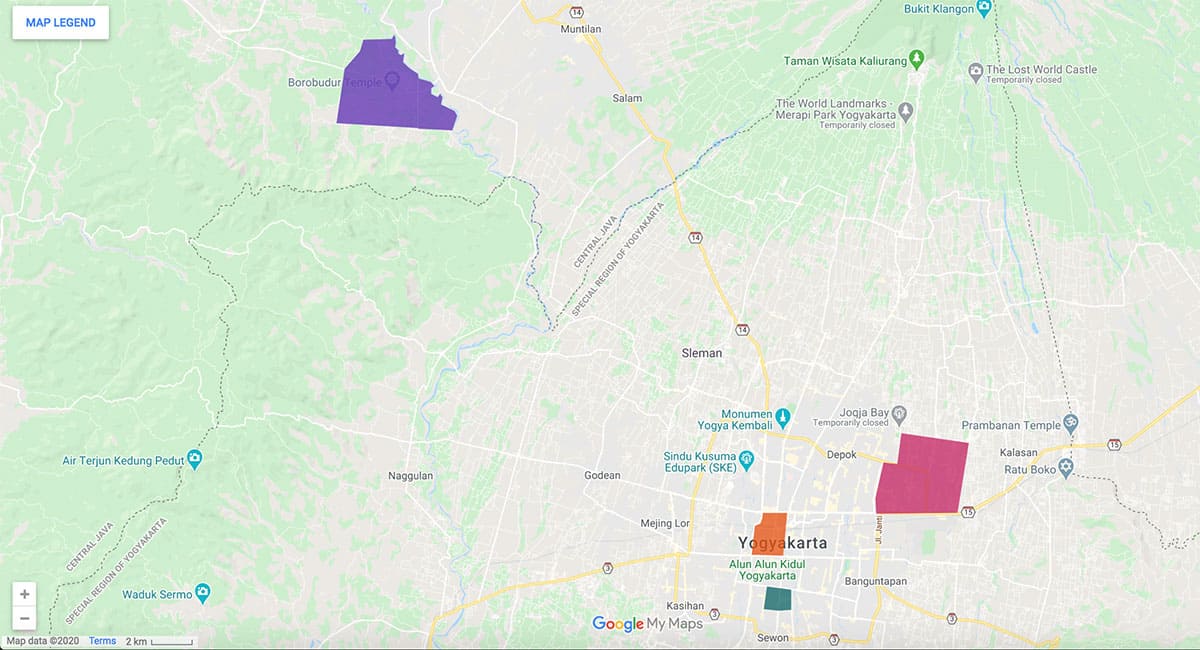 You can book a room at Omah Capung on AirBnB. If you'd like to stay around Jalan Malioboro but don't think this is the right place for you, then you can check out alternate listings on Booking.com or Agoda. If you're new to AirBnB, then you can get up to USD 43 free travel credit when you sign up via this link.
Approximate Room Rate: USD 21 per night (as of April 2019)
JALAN PRAWIROTAMAN
According to Discover Your Indonesia, south Yogyakarta is where the city's artists live. If you're looking for a more bohemian vibe, then around Jalan Prawirotaman is a good area to consider. In retrospect, I think we probably would have preferred staying here. You can book a hotel in the Jalan Prawirotaman area on Booking.com.
BOROBUDUR
Borobudur Temple is perhaps the main reason why many people visit Yogyakarta. However, it's about two hours northwest of the city center so getting there may be a pain if you don't plan on renting a car or going on a guided tour. If you'd like to spend a portion of your stay close to Borobudur, then you can search for listings on Booking.com or Agoda.
If you're interested in catching the sunrise from Borobudur, then there's no better place to stay than Manohara Resort. It's the only hotel directly on the grounds of the temple.
PRAMBANAN
Prambanan Temple isn't as difficult to get to as Borobudur but it's still about an hour east of the city center. The area is home to many interesting temples and archaeological sites aside from Prambanan like Ratu Boko, Sewu, and Plaosan Lor.
If you's like to visit as many temples as you can while in Yogyakarta, then staying around here may be your most convenient option. It's close to the airport as well. You can search for accommodations near Prambanan on Booking.com or Agoda.
PLACES TO VISIT
1. Borobudur Temple
Together with Prambanan, Borobudur is the most awe-inspiring sight in the region and perhaps the main reason why people visit Yogyakarta. It's the world's biggest Buddhist temple, standing 113 feet tall and consisting of nine stacked platforms topped by a central dome. Circling this central dome are 72 bell-shaped stupas, each containing a seated Buddha statue.
Borobudur isn't actually in Yogyakarta. It's in Magelang, about two hours north of Yogyakarta, so people staying in the city usually visit on a guided day tour or private car charter. We did the latter. We arrived by train at 3:30AM and spent the next ten hours visiting Barede Hill, Borobudur, Bukit Rhema, and Prambanan before being dropped off at our hotel. You can book a 10-hr chauffeured private car charter with Klook or Get Your Guide.
Admission to Borobudur is USD 25 but you can get a discount if you purchase a combined ticket. We got a Borodubur-Prambanan pass for USD 40. You can buy it at the gate or in advance through borobudurpark.com.
2. Prambanan Temple
Like Borobudur, Prambanan is one of the most visited sites in Yogyakarta. But unlike Borobudur which is a Buddhist temple consisting of one massive structure, Prambanan is a Hindu temple complex comprised of hundreds of individual temples. Most are still in ruin due to earthquakes but the largest and most important temples have been fully restored. I enjoyed Borobudur but I found Prambanan to be more visually impressive.
Prambanan is located about an hour east of Yogyakarta. Like Borobudur, most people visit Prambanan on a guided day tour or private car charter. We went on a 10-hr private car charter which you can book through Klook or Get Your Guide.
Like Borobudur, entrance to Prambanan is USD 25 but you can get a discount if you purchase a combined ticket at the gate or in advance through borobudurpark.com. We got a Borodubur-Prambanan combined ticket for USD 40.
3. Ratu Boko
I was planning on visiting Ratu Boko on our private car charter but we were "templed out" after Borobudur and Prambanan so we decided to skip it. Ratu Boko is perhaps the third most important archaeological site in Yogyakarta. Unlike the previous two, it isn't a religious site but the remains of a palace. It's named after a legendary king from Javanese folklore though it's unclear as to who's palace it actually was.
Ratu Boko is located about three kilometers south of Prambanan so you can easily visit both on the same trip. Like Borobudur and Prambanan, admission to Ratu Boko is USD 25 but you can get a discount if you purchase a combined ticket at the gate or in advance through borobudurpark.com. You can either get a Ratu Boko-Borobudur or Ratu Boko-Prambanan pass for USD 40. It doesn't look like they offer a combined pass for all three.
4. Taman Sari Water Castle
This is one of the most interesting attractions in Yogyakarta, not just for the space itself but for what it was used for. I visited without a guide so I didn't know this at the time, but Taman Sari Water Castle was the sultan's holiday retreat home, a place where his concubines would show off their best assets in the hopes of becoming one of his wives.
I've read a few variations to the story, but the gist is that women would bathe in the pool while the Sultan observed them from his tower. If anyone caught his eye, then she'd be taken away and vetted to see if she were worthy of joining the royal court as his new wife. Sounds inappropriate by today's standards but perfectly normal and acceptable at the time.
5. Kraton Ngayogyakarta Hadiningrat (Yogyakarta Palace)
I didn't know this, but Yogyakarta is the only remaining Indonesian city still ruled by a monarchy. The Kraton Ngayogyakarta Hadiningrat is Yogyakarta's royal palace and the seat of power of its reigning sultan. The word kraton, in Javanese, means "royal palace".
6. Ullen Sentalu Museum
I wanted to visit this museum but it's located about 25 km north of the city so I didn't have time. Ullen Sentalu Museum houses a wide array of Javanese paintings, batik, photographs, and relics, and has often been called one of the best museums in Yogyakarta. If you'd like to learn more about Javanese culture, then this is a good place to go.
7. Bukit Rhema (Chicken Church)
This was one of the strangest and most amusing places I visited on our trip. Located about 4 km west of Borobudur, it's a non-denominational prayer house set deep in the Indonesian jungle. Built in the 1990s, it was constructed in the shape of a dove but onlookers thought it looked more like a chicken so they started calling it "chicken church", and the name stuck. Due to financial difficulties, the church was never finished so it stands mostly as a tourist curiosity today.
THINGS TO DO
1. Eat Gudeg
If you were to eat just one dish to represent Yogyakarta, then it should be gudeg. It's Yogyakarta's signature dish of unripe jack fruit stewed for several hours with coconut milk and a slew of ingredients like palm sugar, garlic, candlenut, galangal, and teak leaves. It can be enjoyed on its own but its typically served over rice with several sides like chicken, egg, soya cake, and beef skin.
There are two types of gudeg – gudeg kering or gudeg basah. Gudeg kering refers to dry gudeg. From what I understand, it's considered the more authentic type of gudeg. It's sweeter than gudeg basah which is a more savory type of gudeg. Of the two, I prefer gudeg basah.
I read that there's a third type of gudeg called gudeg manggar, which is made from coconut flower, not jackfruit. It's harder to come by than jackfruit gudeg because coconut flowers aren't as abundant.
Gudeg is the most popular Yogyakarta dish so it was important for me to find the best. I wound up having it three times in three days at three different places. Find out where in the WHERE TO EAT section of this guide.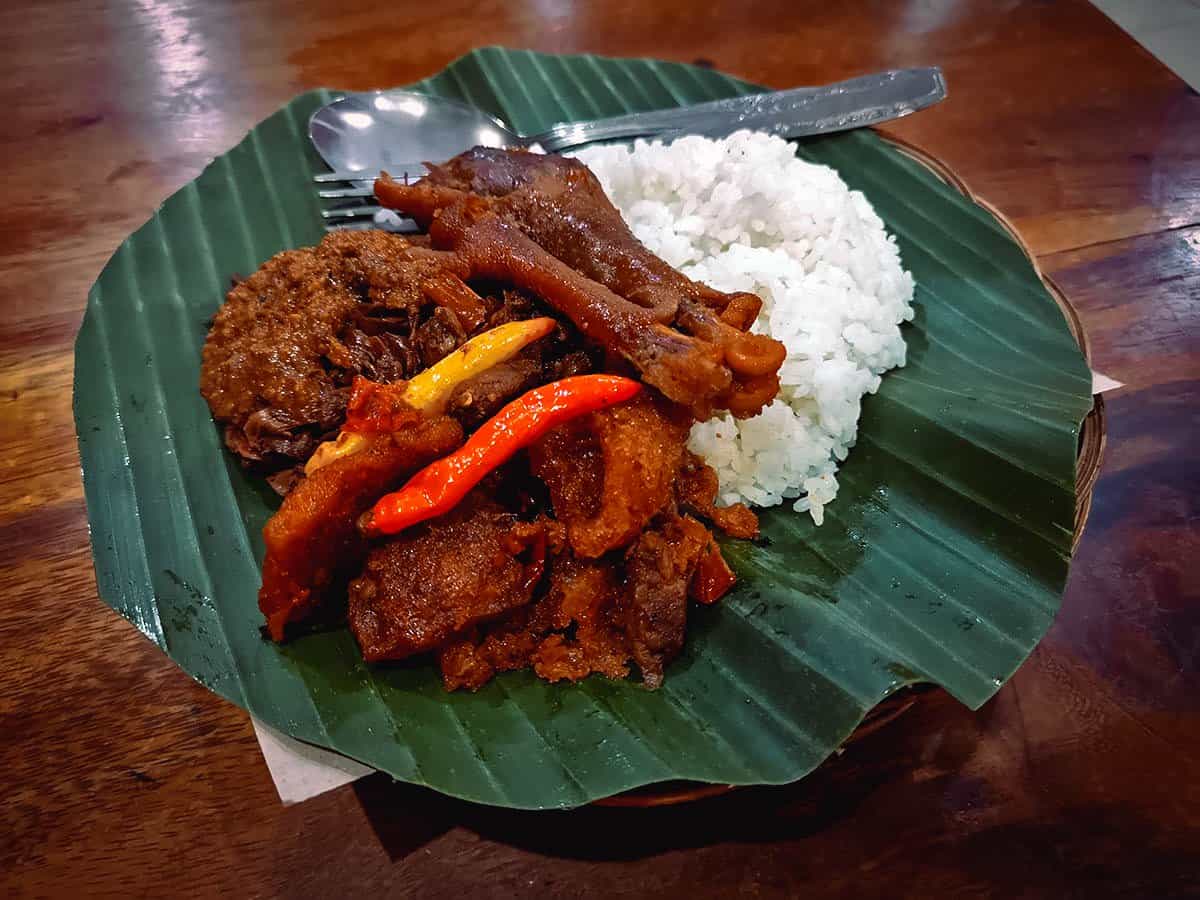 2. Take a Stroll Along Jalan Malioboro
As described, Jalan Malioboro is the center of Yogyakrta City. It stretches for about 2 km and has plenty of shops and eateries on either side. There you'll find vendors selling all kinds of traditional items like batik fabrics, jewelry, accessories, footwear, etc. If you're looking for souvenirs, then this is the place to go.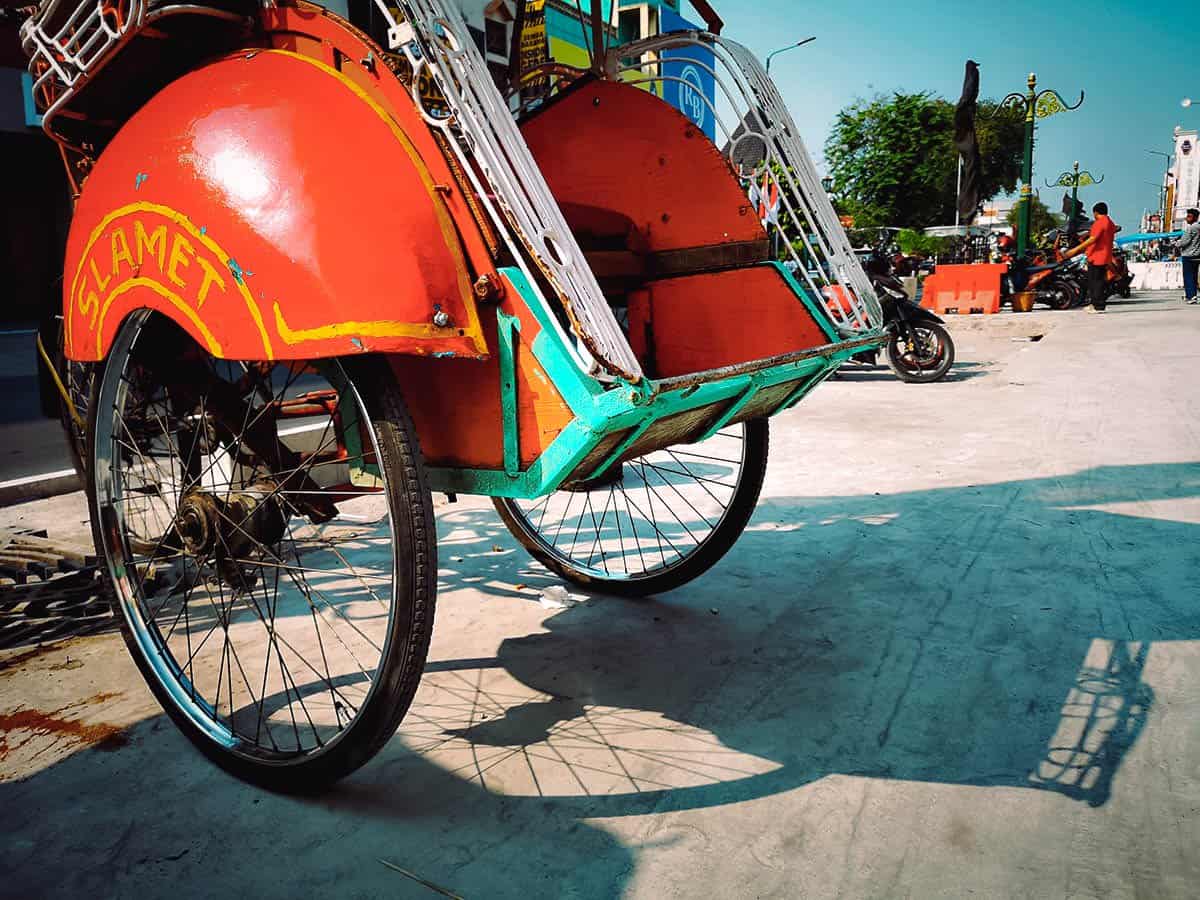 3. Watch the Ramayana Ballet
If you'd like to catch a cultural performance in Yogyakarta, then you may be interested in the Ramayana Ballet. Originally from India, it's a performance inspired by the Ramayana saga and now performed throughout Southeast Asia. From what I understand, the Indonesian Ramayana tradition is associated mainly with the islands of Java and Bali. With Yogyakarta being the center of Javanese arts and culture, this is as good a place as any to experience it.
There are a few places where you can watch a Ramayana Ballet performance in Yogyakarta, but the most famous are at Prambanan Temple and Purawisata. You can purchase tickets at the gate or in advance through Klook (Prambanan | Purawisata) or Get Your Guide.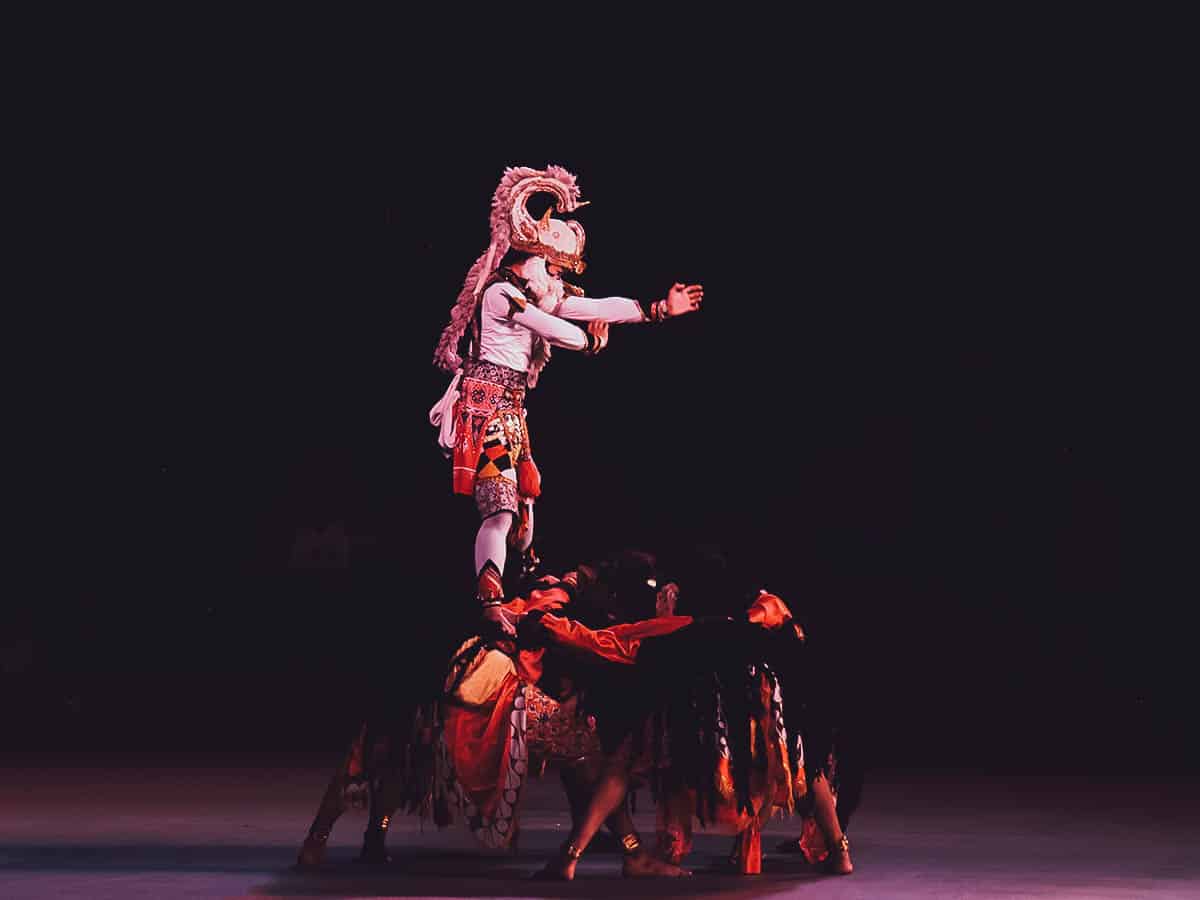 4. Walk Blindfolded Between the Banyan Trees
Alun-alun is the Indonesian term for a town square. In the city's northern alun-alun is this twin pair of banyan trees. Legend has it that if you can walk between the trees blindfolded or with your eyes closed, then you'll be blessed with good luck and prosperity. If you fail, then you have an impure heart. If you cheat and peek, then you'll be haunted by supernatural beings for the rest of your days. I'm a superstitious dude who's afraid of ghosts so I made sure to get through it without peeking.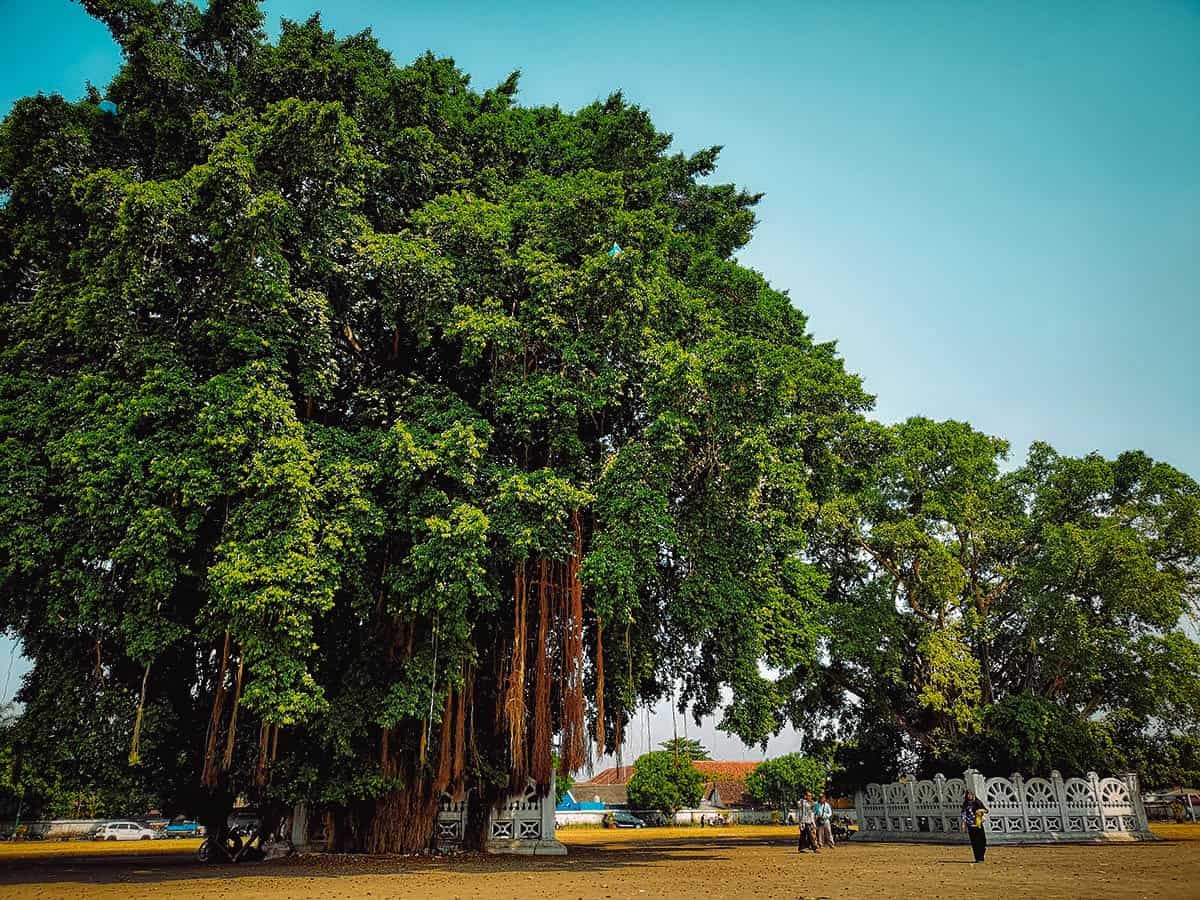 5. Catch the Sunrise from Barede Hill
As described, we arrived at Yogyakarta train station at 3:30AM where we were picked up by our private car charter. It was too early to go to Borobudur so our driver took us to Barede Hill first to catch the sunrise. The entrance ticket is IDR 30,000 per person and an additional IDR 50,000 to climb up a treehouse for an even better view.
If you have a car rental and have some time to kill before Borobudur, then this is something you can do. Otherwise, you can skip it.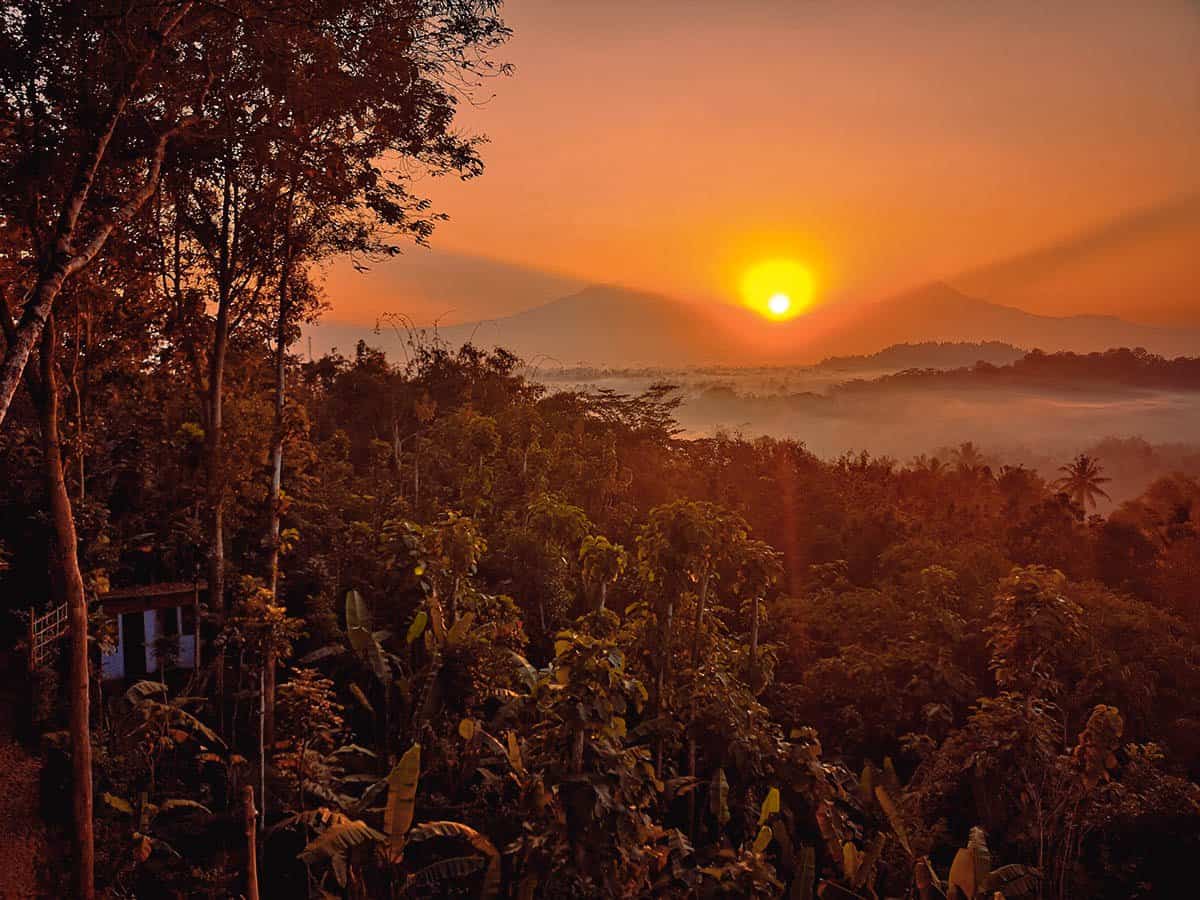 6. Experience and Give Back with Backstreet Academy
Ren and I are Backstreet Ambassadors and are proud to recommend Backstreet Academy. Backstreet Academy is a tour provider that focuses on impact travel, a movement that aims to provide tourists with authentic experiences while leaving an enduring social impact on local communities. What this means is that tourists can learn how to make batik from a master artist or learn classical Javanese dance from a professional instructor, with up to 80% of tour revenues going back into the communities.
For more information, watch this video then check out this list of experiences and activities you can have in Yogyakarta with Backstreet Academy.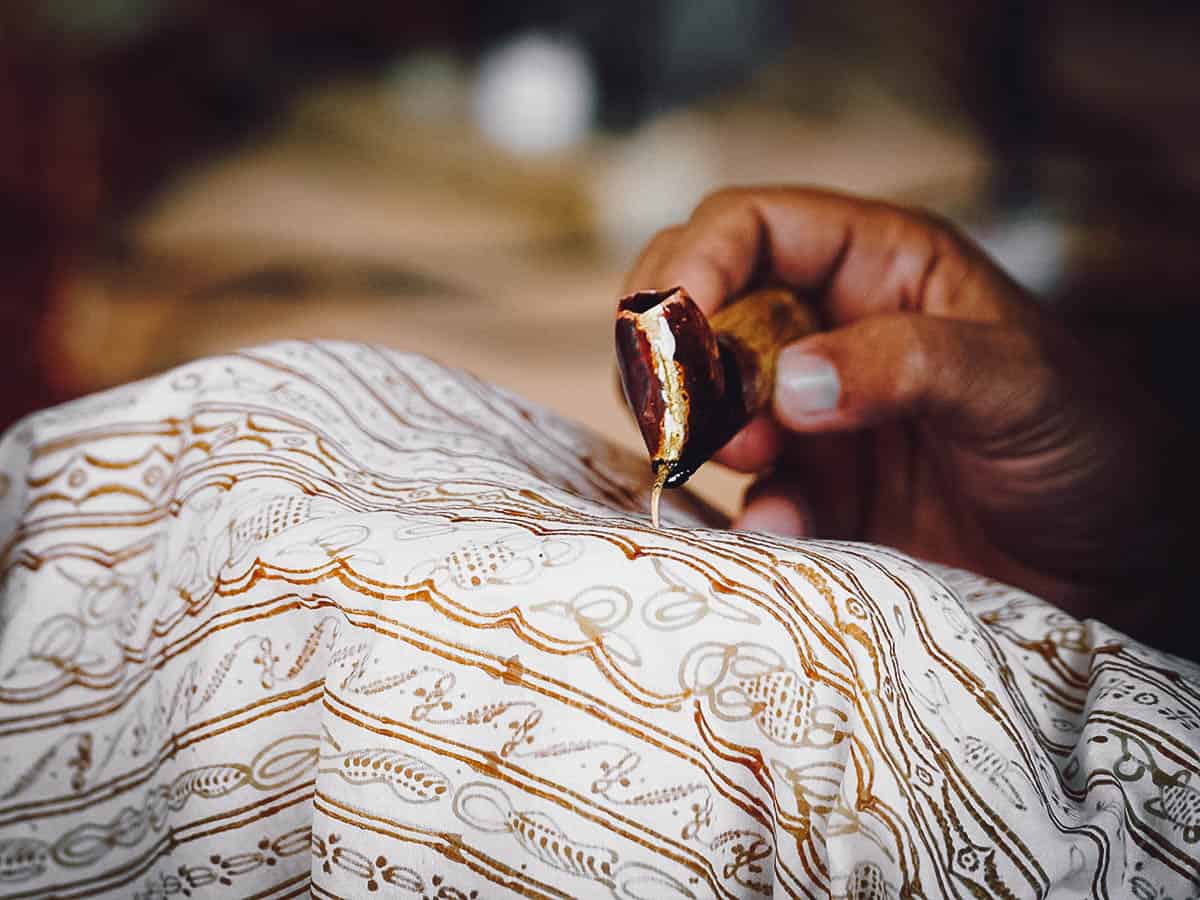 DAY TRIPS FROM YOGYAKARTA
We didn't have time to go on any day trips, but if you're staying long enough in Yogyakarta, then here are a few things you can do outside of the city.
1. Go Spelunking in Jomblang Cave
I really wanted to do this. But with just three full days in the city, that meant having to sacrifice other attractions (and meals) in the city so I had to pass.
Goa Jomblang or Jomblang Cave is part of a cave system in Gunung Kidul, less than two hours southeast of Yogyakarta City. It's characterized by a massive centuries-old sinkhole which you'll be lowered into by rope to enter the cave system. It's about 50 meters from the mouth of the sinkhole to the cave floor so that alone sounds like an amazing experience. You'll then traverse a 250 meter long tunnel to get to Goa Grubug where you'll find the incredible scene pictured below.
Like everything else outside of Yogyakarta, the easiest way to get to Jomblang Cave is by guided tour. You can book a Jomblang Cave tour through Klook or Get Your Guide. Note that Klook bundles the Jomblang caving experience with other things like a Prambanan Temple tour. If you'd like to visit multiple sites on your tour, then be sure to go through their full list of Yogyakarta tours.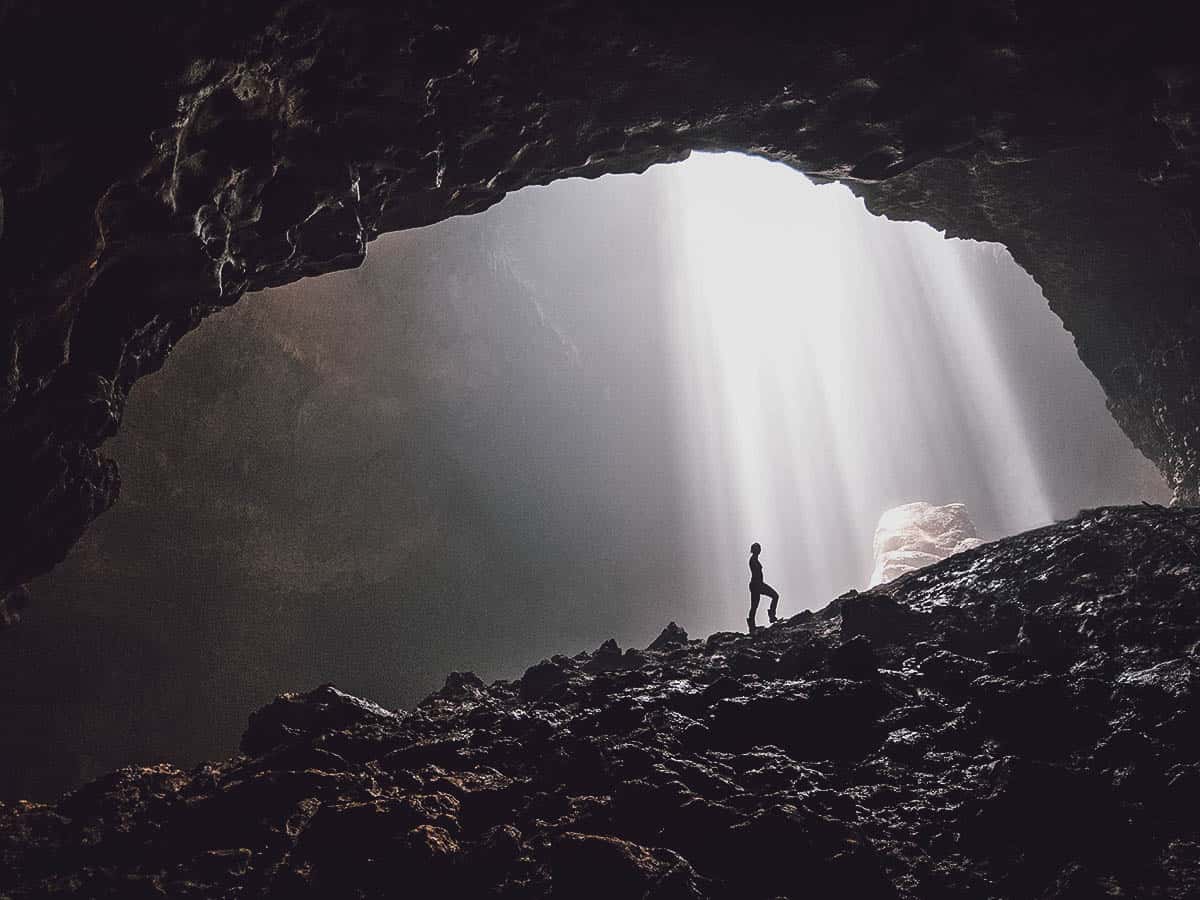 2. Go Hiking or Off-Roading on Mount Merapi
Mount Merapi or Gunung Merapi is an active volcano near the border of Yogyakarta and Central Java, about 28 km north of the city. There are plenty of active volcanoes in the area but Mt. Merapi is the most famous.
Many blogs recommend visiting Mt. Merapi by off-road jeep, which you can book in advance through Klook. You can also book one that combines a Mt. Merapi off-roading experience with a Borobudur sunrise tour and a Prambanan Temple visit through Klook or Get Your Guide.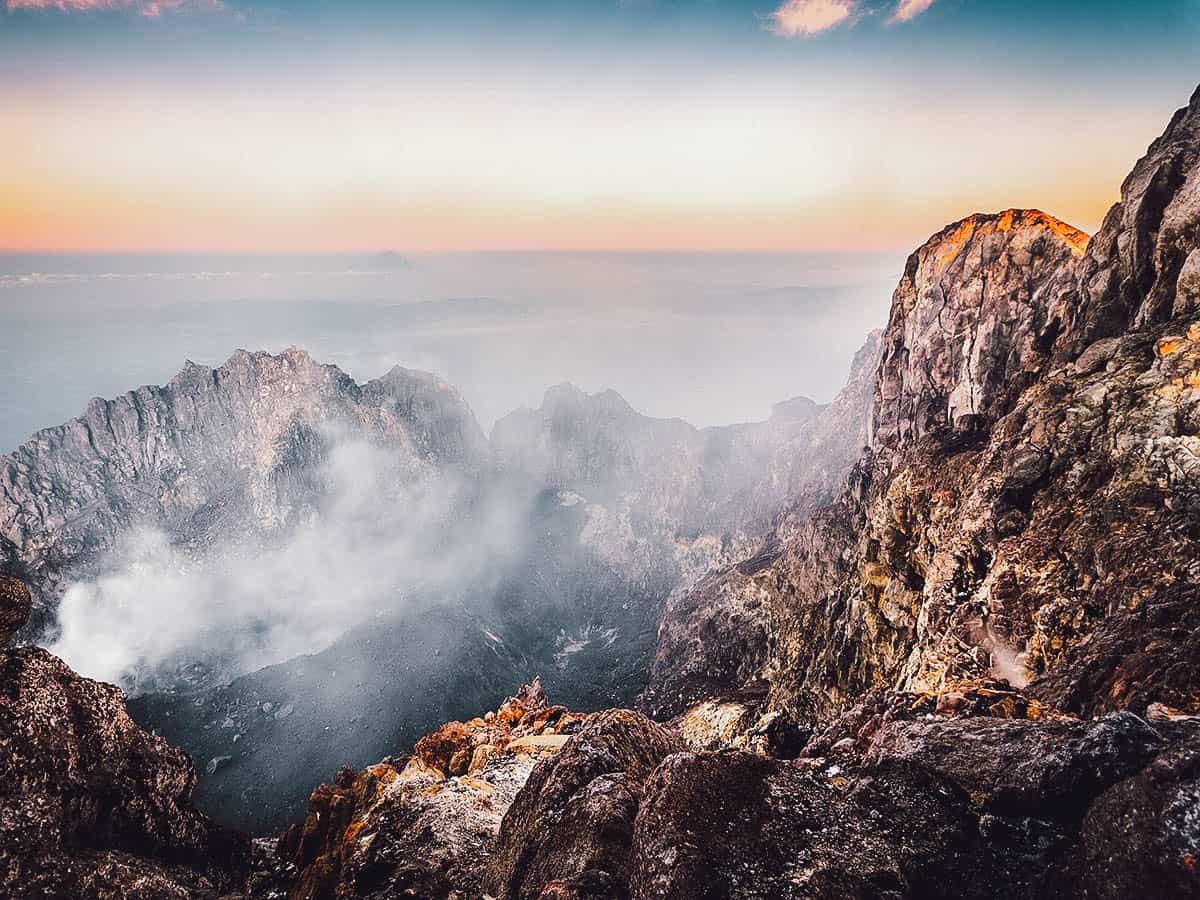 3. Ride the Gondola at Timang Beach
Neither Ren nor I are fond of beaches but this one caught our eye, all because of this crazy-looking gondola. Operated by hand, you can ride it or cross a rope bridge to get to a rocky outcrop about 20 meters from the mainland.
Timang Beach is about three hours southeast of Yogyakarta, so you'll need to get a private car charter or go on a guided tour to get there. Either way, be sure to enjoy lobster for lunch which is caught directly from the waters off Timang Beach.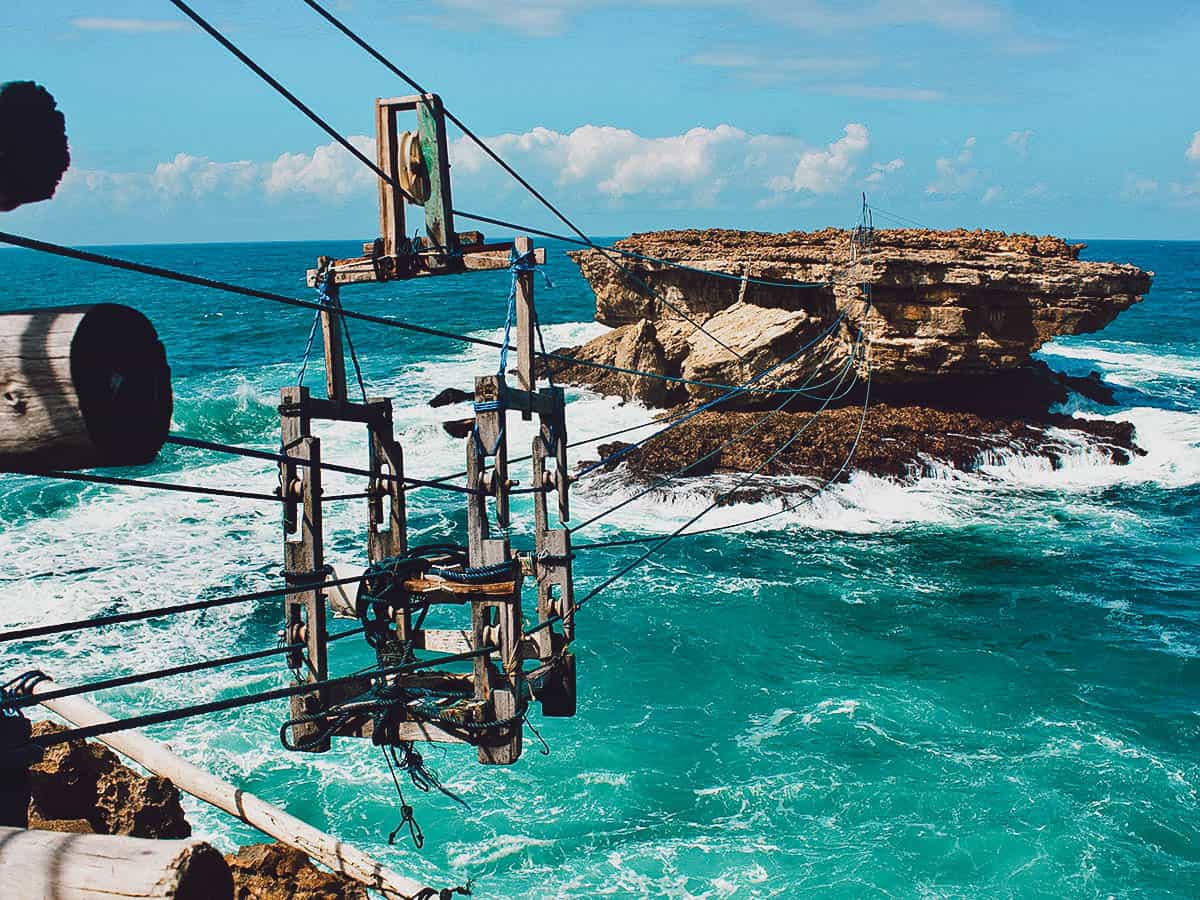 INDONESIAN FOOD GUIDE
If you're unfamiiar with Indonesan cuisine but want to experience traditional dishes, then check out our Indonesian food guide for a list of some of the best dishes to look for in Yogyakarta and Indonesia.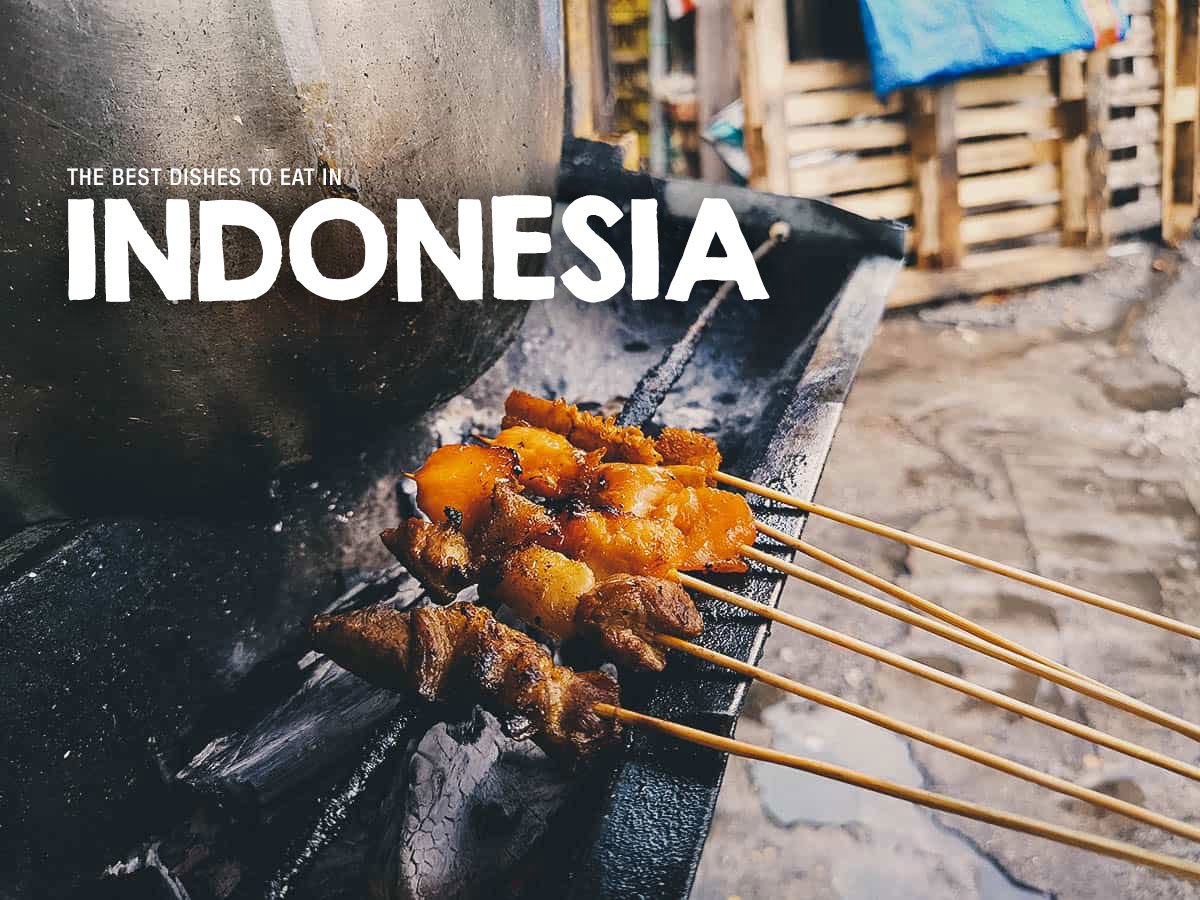 WHERE TO EAT
As described, gudeg is such an important Yogyakarta dish that it was important for me to find the best. This list of eight eateries includes three gudeg places, all of which were highly recommended by Indonesian food bloggers.
1. Gudeg Pawon
Every Indonesian food blog I read that listed the best gudeg places in Yogyakarta included Gudeg Pawon. This was my favorite meal from this trip, not just for the food, but for the experience.
Gudeg Pawon isn't really a restaurant, but a home that serves just savory gudeg (gudeg basah). They're open only from 10PM till 12MN, or when they run out of food, whichever comes first. I got there shortly after they opened at 10PM and there was already a long line of locals waiting for their plates of stewed jackfruit. I had to wait almost an hour to get my plate which everyone ate on stools, on the floor, or standing on the street outside the house.
Enjoying my first taste of gudeg in a true hole-in-the-wall surrounded only by locals, experiences like this is exactly why I travel.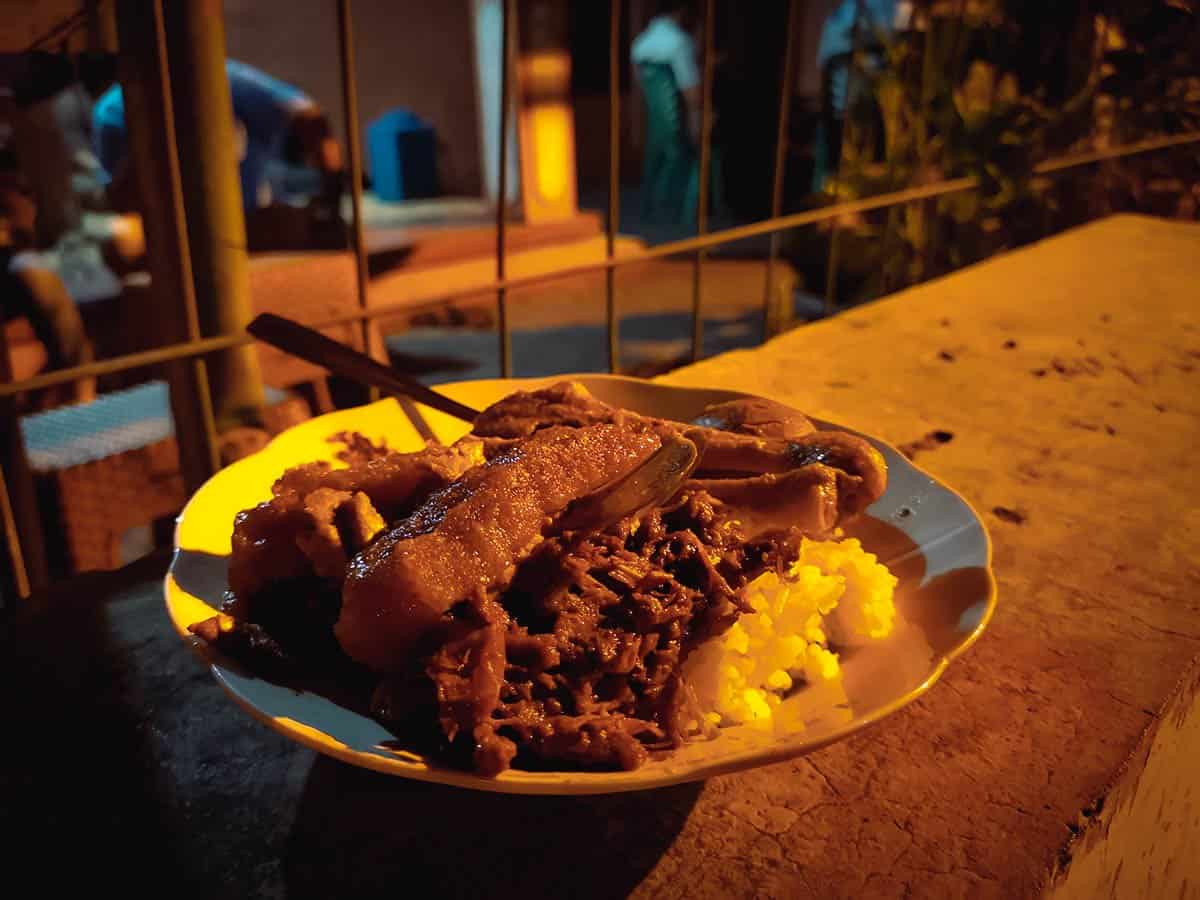 2. Gudeg Yu Djum Wijilan 167
If you don't want to go too far or wait till 10PM to eat gudeg, then you can go to Gudeg Yu Djum Wijilan 167. Like Gudeg Pawon, they're also known for gudeg basah (savory gudeg). They offer several versions of gudeg and rice, served with varying combinations of duck egg and different chicken parts. Pictured below is a plate of gudeg with rice, krecek (beef skin stew), and a chicken drumstick for IDR 27,000.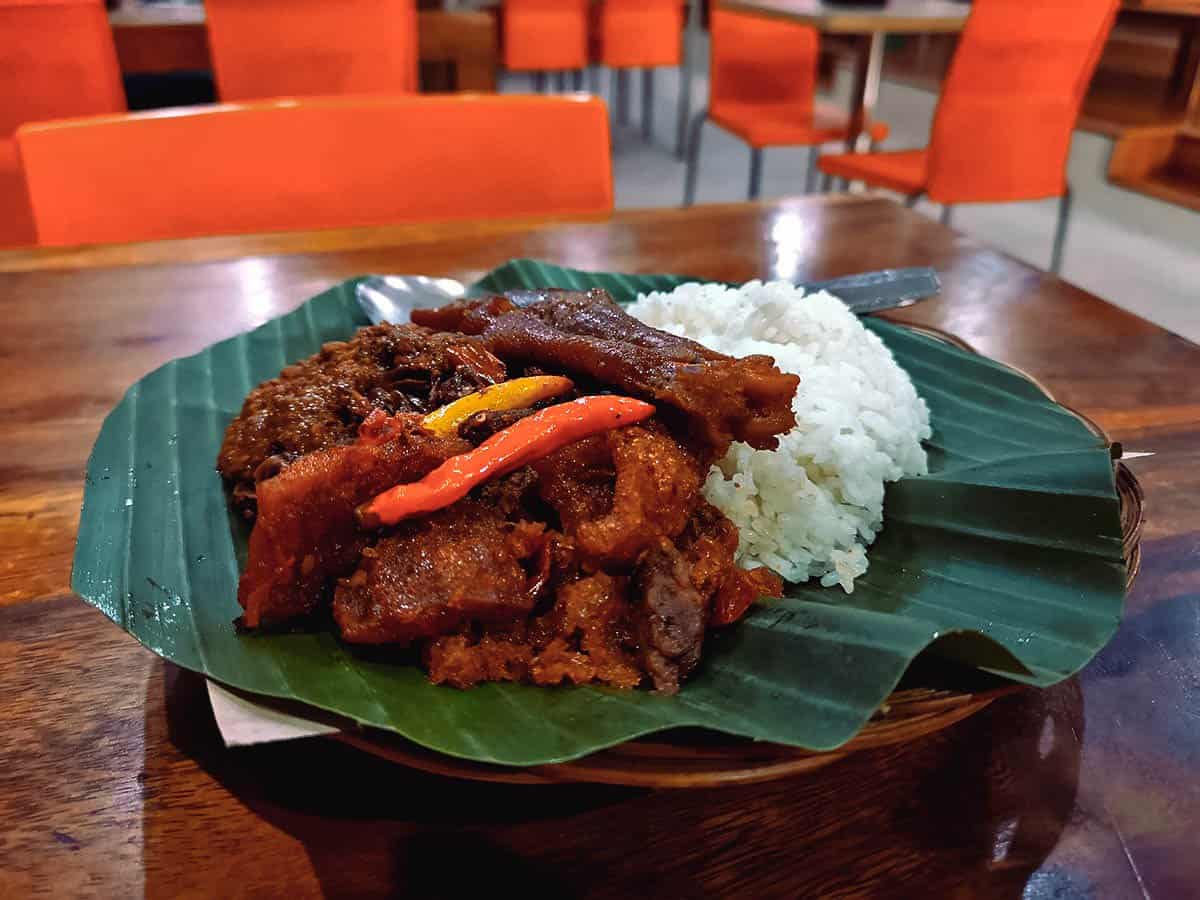 3. Gudeg Sagan
I believe this is an example of the more authentic type of gudeg – gudeg kering or dry gudeg. As you can see, the stewed jackfruit looks noticeably drier than the previous two. This is because the jackfruit in gudeg kering is cooked longer, thereby reducing the liquid and making it taste sweeter.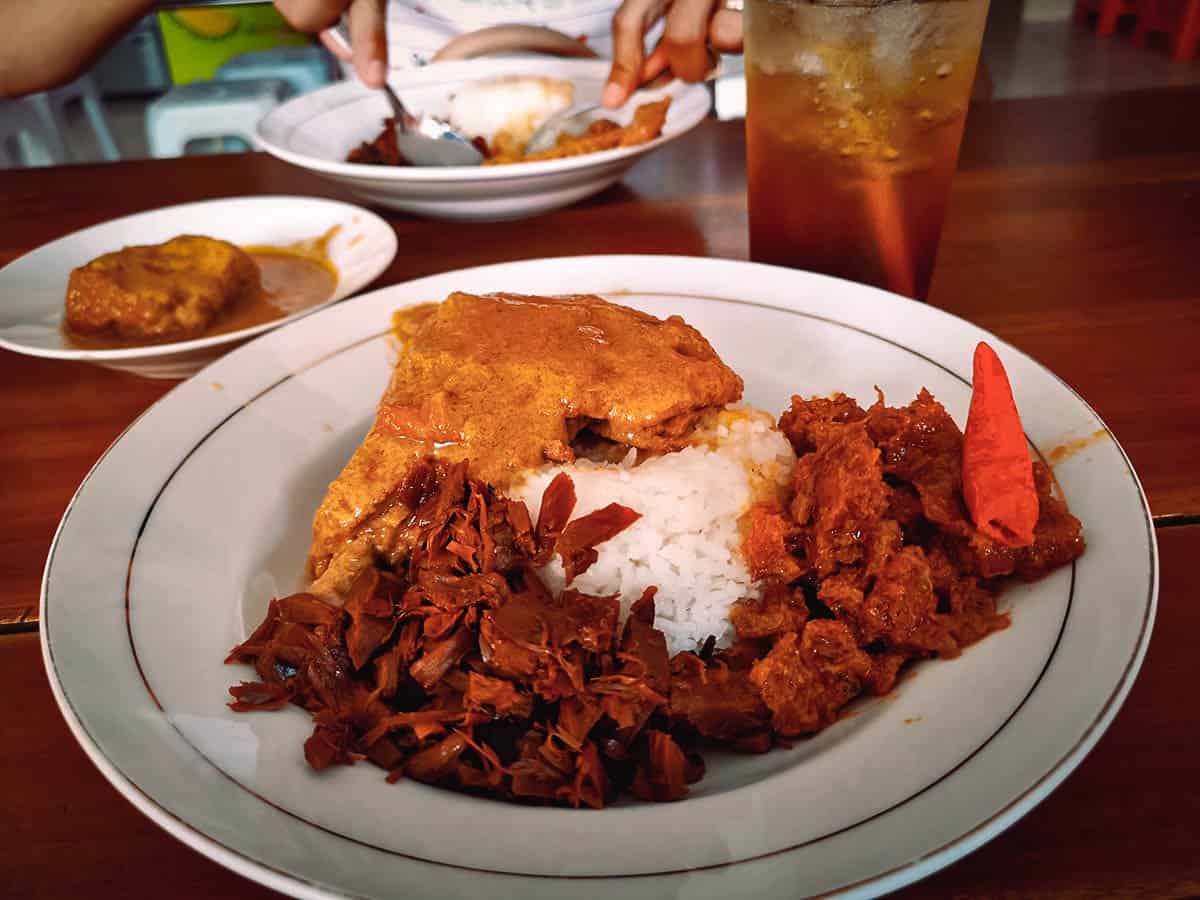 So which of these three places was the best? Personally, I enjoyed Gudeg Pawon the most because of the overall experience. But taste-wise, I like the first two because I prefer gudeg basah over gudeg kering.
With that said, the difference really isn't all that noticeable. Unless you've been eating gudeg all your life, then you won't know or at least won't care about the differences as much, so it doesn't matter which of these three places you visit. They're all good so just go to the one that's most convenient for you.
4. Warung Handayani
I read about nasi brongkos from the Discover Your Indonesia blog. It looked interesting so I tried it at Warung Handayani, a popular restaurant known for serving the best nasi brongkos in Yogyakarta. Brongkos is described as being a dish similar to gudeg.
Warung Handayani offers two types of nasi brongkos – nasi brongkos telur (egg) and nasi brongkos koyor (beef). I had the latter and it was delicious. It's basically a very soupy rice dish served with fatty pieces of beef and a cracker. If you don't want meat, then you can have the nasi brongkos telur which is served with a hard-boiled egg, tofu, and tolo beans (black-eyed peas).
I wanted to learn more about the dish but most of the information I could find online was in Indonesian. I guess nasi brongkos is a more esoteric Indonesian dish. It appears to have its roots in Demak, Central Java.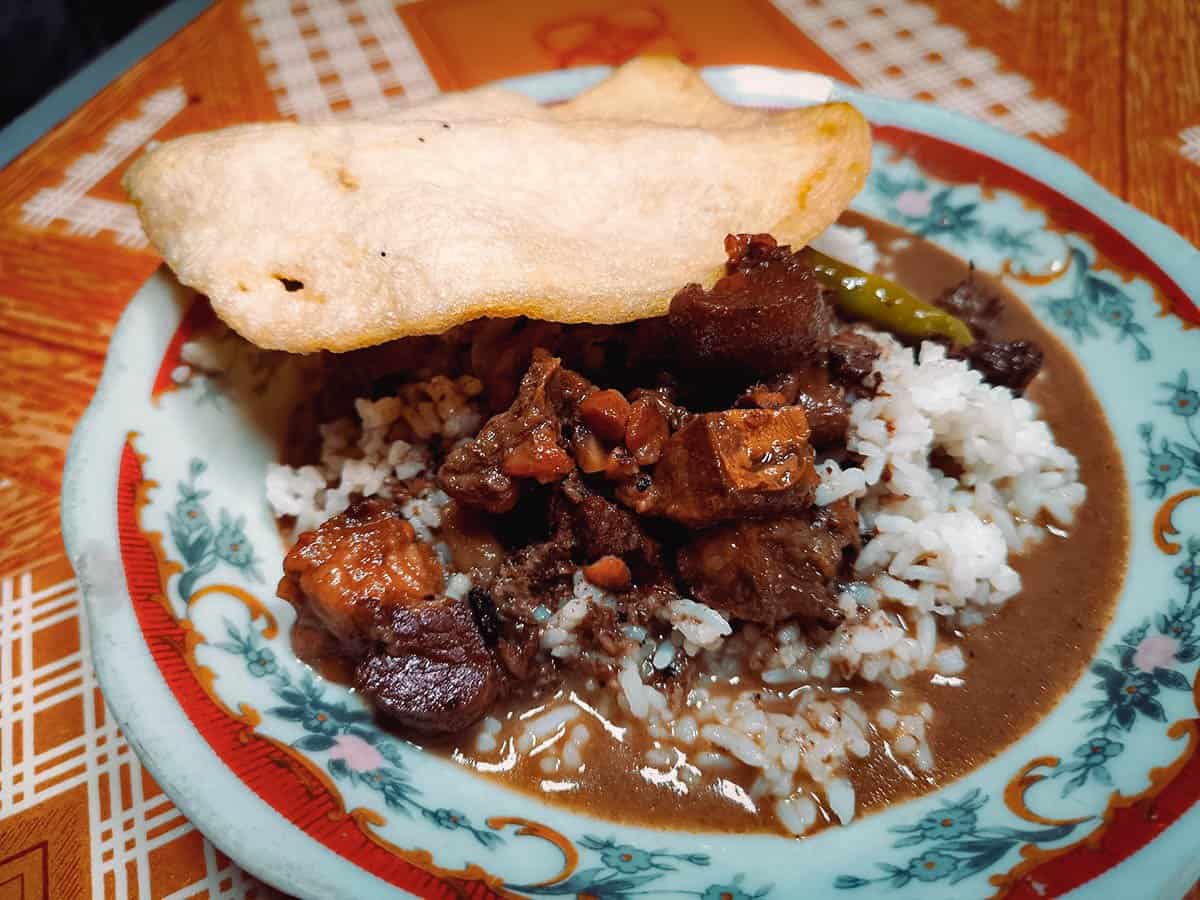 5. Yammie Pathuk
A bakso is an Indonesian meatball made from beef surimi. It's one of the most popular Indonesian street foods and can be found throughout the country, even at high-end restaurants. Ren became obsessed with bakso after getting her first taste here at Yammie Pathuk.
We ordered bowls of Chinese-style chicken noodles with siomay (Indonesian steamed fish dumpling) and bakso soup. You can see the bakso in the red bowls. Simple and comforting, it was absolutely delicious and one of our best meals in Yogyakarta.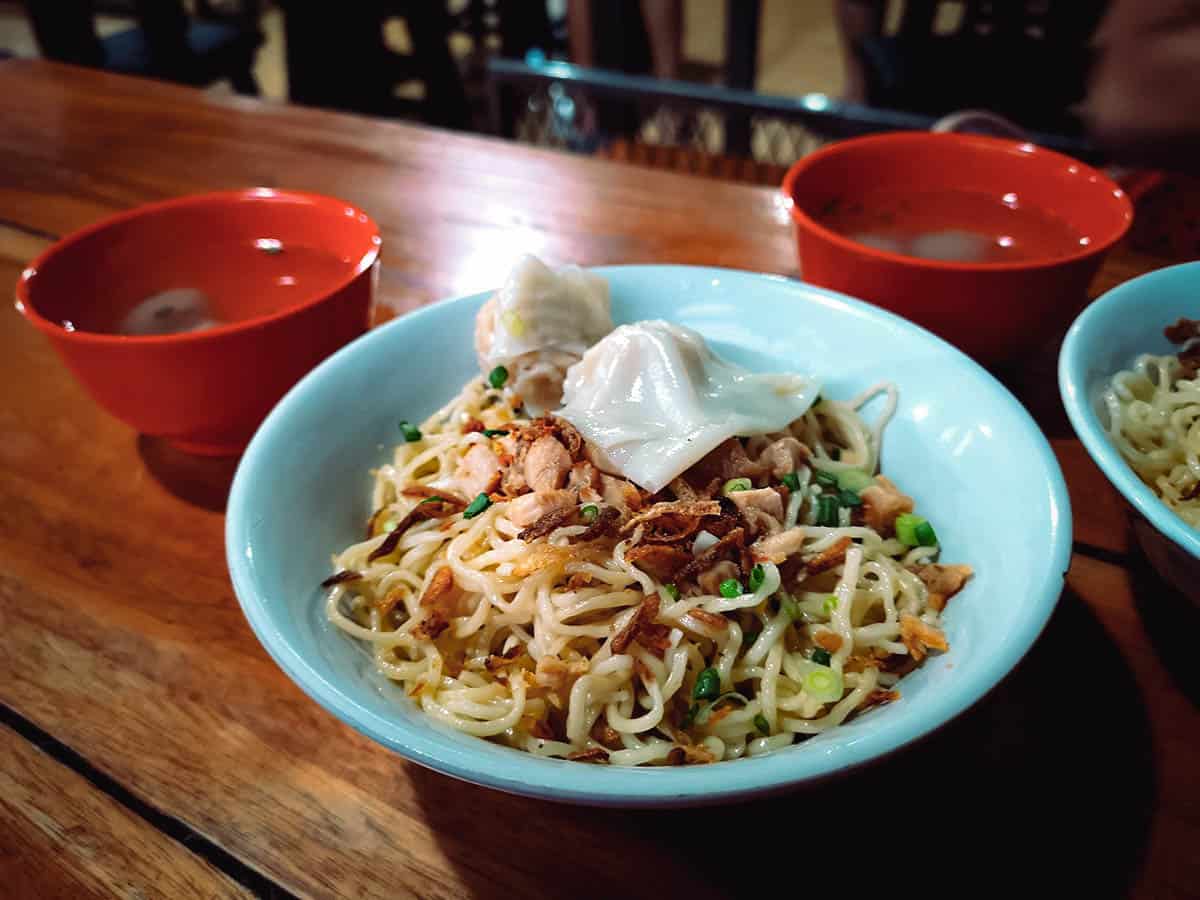 6. Pempek Ny. Kamto
We sought out this restaurant to try pempek – a savory fishcake from Palembang in South Sumatra. Made with fish and tapioca, it's served with a sweet and sour sauce and often eaten with yellow noodles and diced up cucumber.
It's a little hard to see but the pempek is in the top portion of my plate, just above the noodles. The version we had is called pempek selam which is a type of pempek filled with egg. Aside from the pempek with noodles, we also shared a couple of side dishes. On the left is kulit, a peppery fishcake fritter, while on the right is lenggang goreng, a pan-fried omelette made with fishcake. This was a tasty, very fishcake-y plate of food.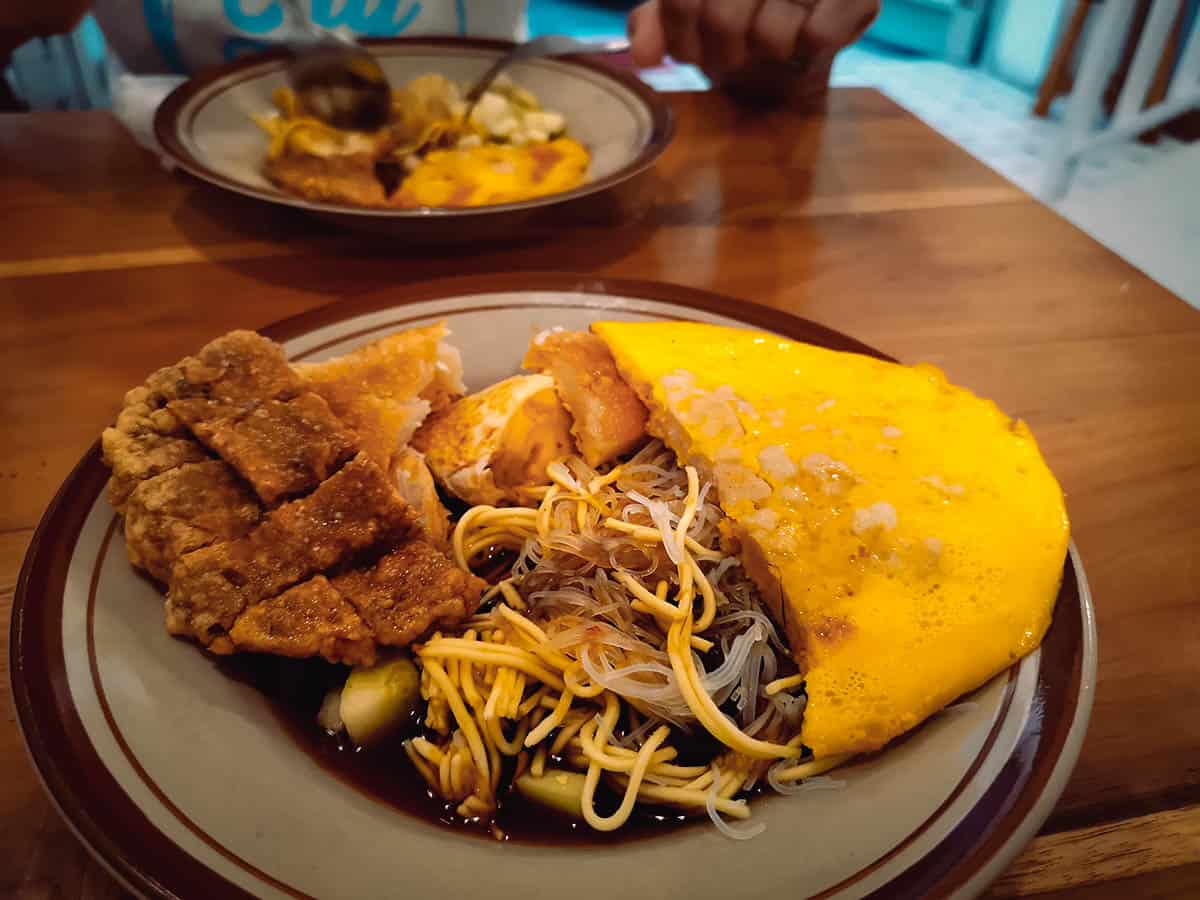 7. Rujak Es Krim Pak Nardi
I learned about this stall from a local food blog. From the sound of it, rujak es krim is an atypical dish and something many Indonesians may find odd.
Rujak es krim translated to "rojak ice cream". Rojak is a traditional fruit and vegetable salad popular in Indonesia, Malaysia, and Singapore. Before tasting this ice cream, I had never tried rojak before so I didn't understand why it might be weird. Only after getting my first taste of rojak in Singapore a few months later did I understand why it might be off-putting to some. Rojak is made with shrimp belacan which is a pungent type of shrimp paste.
Rujak es krim is made by mixing shredded cucumber, papaya, mango, pineapple, and turnip with sambal rojak and palm sugar. It's then topped with ice cream made with coconut milk. It's an unusual mix of salty, spicy, and sweet, definitely not a combination of flavors you'd find everyday.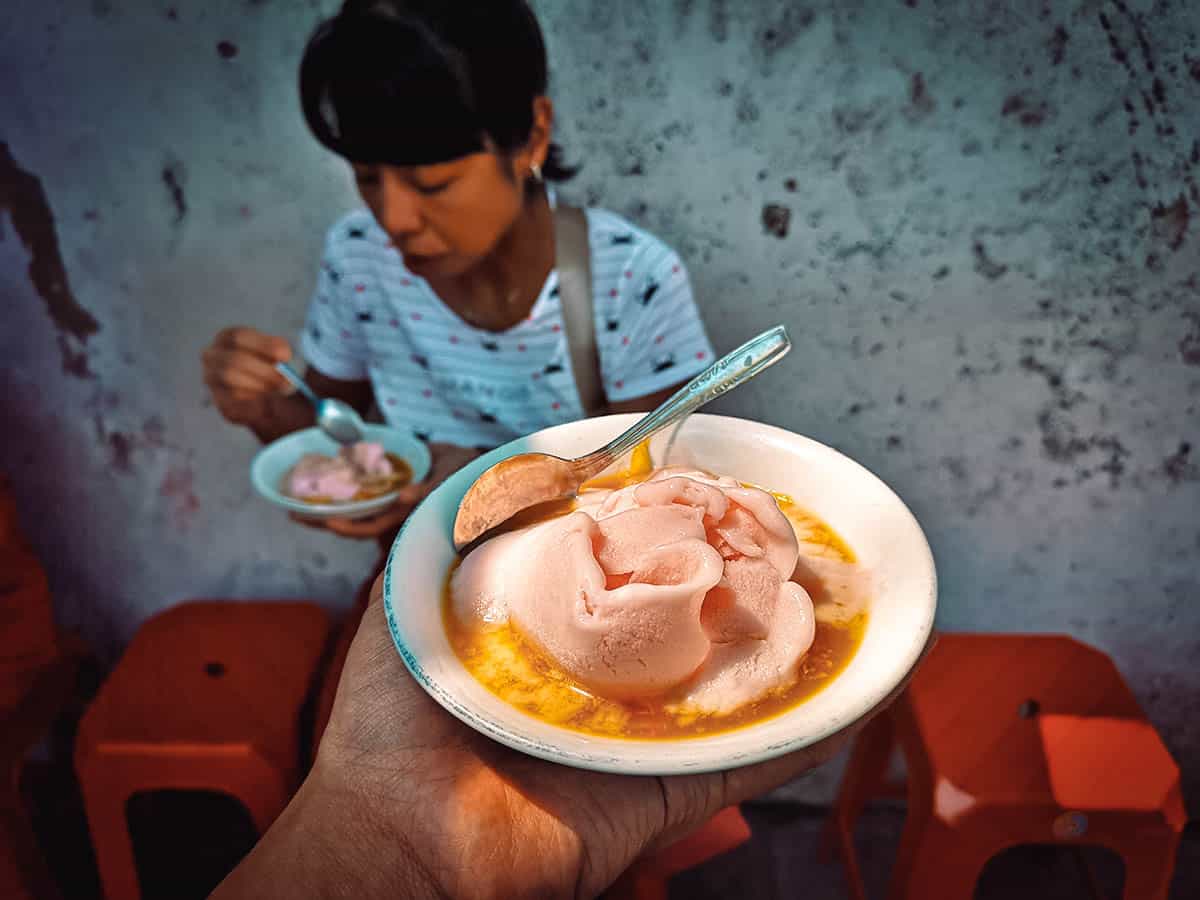 8. Taphouse
I usually don't add bars to our list of places to eat but this place is an exception. We randomly walked by Taphouse and wound up getting beers here every night we were in Yogyakarta. It's a big modern space that's well-designed and very comfortable. They offer many kinds of local and international beer in bottles, pitchers, or towers. We ordered a tower of local beer every night.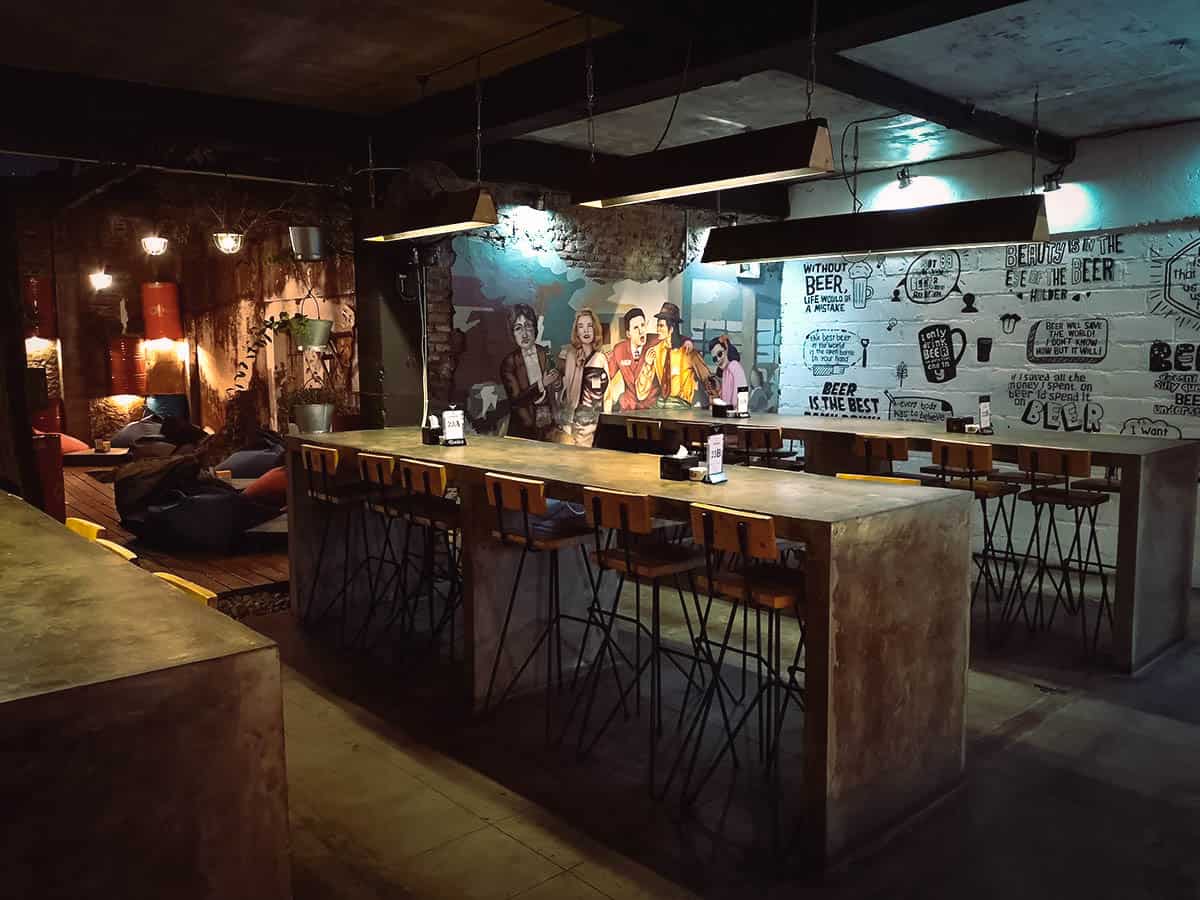 HOW TO GET AROUND
There's no metro system in Yogyakarta. Thankfully, most of the major attractions are within a general area so I got around mostly by walking. Admittedly, it was a LOT of walking and often under the oppressive midday Yogyakarta sun. If you get tired from walking, then you can get around using the Grab ride sharing app.
If you don't mind riding on the back of a motorcycle, then I suggest trying Grab Bike. I used it for the first time on this trip to Indonesia and really enjoyed it. It isn't as safe but it's considerably cheaper than a car, it's faster, and it's more fun.
As described, the easiest way to get from Yogyakarta to the attractions outside the city – like Borobudur, Prambanan, Jomblang Cave, Mt. Merapi, etc – is by guided tour or private car charter. You can check Klook and Get Your Guide for options.
If you want to travel in the cheapest way possible, then going by public bus is best. We didn't use the bus at all in Yogyakarta but you can try plotting your journey using the Google Maps app (iOS|Android). We use it every time we need to take the bus on trips and it's usually pretty accurate.
HOW MANY DAYS TO STAY / SAMPLE ITINERARY
If all you're interested in are the major temples and attractions within the city, then two full days should be enough. But if you want to take your time and enjoy the city, perhaps do day trips to Jomblang Cave and/or Mt. Merapi, then you can extend your stay. Here's a sample 2D/3N Yogyakarta itinerary to help you plan your trip.
DAY ONE
• Borobudur Sunrise
• Bukit Rhema
• Prambanan
• Ratu Boko
DAY TWO
• Jalan Malioboro
• Taman Sari Water Castle
• Kraton (Yogyakarta Palace)
• Banyan trees at southern alun-alun
• Ramayana Ballet
BUDGET / SUMMARY OF EXPENSES
Like the rest of Indonesia and most of Southeast Asia, Yogyakarta isn't expensive. Essentials like food and accommodations are cheap.
However, the archaeological sites aren't as easy to get to so you'll probably be spending a good chunk of your budget on tours and transportation. It was the same way for us in Bandung and Bali.
Assuming you'll be staying in Yogyakarta for 2 full days and sharing mid-level accommodations with one other person, then a daily budget of around IDR 650,000-700,000 per person should be plenty. This takes into account your accommodations, a one-day private car charter, admission fees, meals, drinks, and pocket wifi rental. Here's a quick breakdown of expenses:
ACCOMMODATIONS
This depends on many factors like hotel preference and number of travel companions. You can get a decent room at a small hotel like Omah Capung for around USD 20 a night. Expect to pay less if you're staying at a hostel.
MEALS
As described, food is cheap in Yogyakarta. If you go for authentic local food, the type recommended in this guide, then expect to spend around IDR 50,000-60,000 per day on meals.
ENTRANCE FEES
This is where most of your spending in Yogyakarta will go. Borobudur and Prambanan are the two most important sites and a combined ticket will run you USD 40. Add to that the cost of a private car charter split between two people and you're looking at a cost of around USD 58.50 per person to visit those temples.

An alternative would be to go by guided group tour. The cheapest combo tour I could find is this Borobudur and Prambanan Temple Trip from Klook. It'll cost you USD 58.75 with entrance fees already included. The cost is almost the same so it depends on your preference. Personally, I'd do the private car charter since it'll give you freedom to explore more places at your own pace. Plus it'll come out cheaper if there are more than 2 people in your group.

Entrance to Taman Sari and Kraton is a nominal IDR 15,000 each.
POCKET WIFI RENTAL
If you're sharing the cost with one other person, then you'll each be paying at least USD 1.50 per day.
TOTAL


This comes out to about IDR 650,000 a day per person. About two-thirds of that goes to Borobudur and Prambanan so expect to pay much less if you can get to them using public transportation. Ren and I are middle of the road travelers who enjoy good food and drink, so the recommended budget is a good baseline for travelers like us. Adjust accordingly based on your own travel habits.
TRAVEL TIPS
1. Plan your Trip with Sygic Travel
This is the app I use to create all our travel itineraries. What it does is allow me to plot all points of interest on a map – things like attractions, our hotel, train stations, bus stops, and restaurants – so I can easily see where everything is. I can then group them together by day to come up with an efficient itinerary. Check out my post on the Sygic Travel app for more information.
Sygic Travel is what I used to create the location map above. You can also view it as a day-to-day itinerary on Sygic Travel or download it in editable Word format from our EAT-ineraries page. It covers Yogyakarta, Jakarta, Bandung, and Bali.
2. Rent a Pocket Wifi Device
A steady wifi connection is a must when traveling these days, especially when you're in an unfamiliar country with a language barrier. It can make the experience less stressful. With access to the internet, you'll be able to do research, navigate with Google Maps, and learn how to ask "where is the best gudeg" in Indonesian. I can't see myself traveling without it now.
For our two-week trip through Indonesia, we rented a 4G pocket wifi device from Java Mifi. If you're arriving via Adisucipto International Airport and would rather use a sim card, then you can purchase one in advance through Klook.
3. Foreigners Pay More
If you've been to Indonesia, then you probably know that some places charge higher admission fees to foreigners. It's unfair and I don't really understand it, but it's true. Not every place does it but this is pretty much the norm here.
Don't be surprised or upset if your price of admission is higher than that of a local's. It's the way things are and we just have to accept it. If you don't like it, then you can always walk away.
4. Check for Discount Passes
I go to a few websites to look for travel deals, but for some reason, there aren't as many in Indonesia (except Bali). Among the ones I use most often, Klook and Get Your Guide have the biggest selection. I purchased airport transfers and private car charters in Bandung, Yogyakarta, and Bali.
If you want to find deals on tours, airport transfers, activities, etc, then you can search through these lists of Yogyakarta attractions on Klook and Get Your Guide.
5. Get Travel Insurance
Do you get travel insurance? We do, but not for every trip. We follow a basic formula when deliberating on travel insurance. If we don't plan on doing anything that could land us in the hospital, then we probably won't get it. Our credit cards give us free (but limited) travel insurance anyway that covers things like trip cancellations and missed connection flights. But if we do plan on doing physical things like scuba diving or skiing, then we'll definitely get travel insurance.
When we do feel like we need it, we buy insurance from World Nomads or SafetyWing. They're both trusted travel medical insurance providers used by many long-term travelers. Check out my article on why we buy travel insurance for more information. You can follow the links to get a free quote from World Nomads or SafetyWing.
6. Bring the Right Power Adapter
Indonesia has Type C or Type F electrical outlets so be sure to bring the right power adapters for your devices. Electrical voltage is 220/110V and the standard frequency is 50Hz.
Have fun!
I'm hardly an expert on Yogyakarta but I do hope that this travel guide helps you plan your trip. I'm only sharing some of the things I learned from our time there. If you have any suggestions, then please feel free to leave them in the comment section below. You're welcome to join our Facebook Travel Group as well.
Thanks for stopping by and have a great time exploring the temples in Yogyakarta!
OUR GEAR
These are some of the things we brought with us to Indonesia. If you'd like to see more of our travel gear, then check out our "What's in Our Backpack?" post. (NOTE: The following links are Amazon affiliate links.)
Disclosure
Get Your Guide was kind enough to give us vouchers worth €40 for this trip to Indonesia. We used part of it to pay for our private car charter to Borobudur and Prambanan. As always, all thoughts, words, and opinions expressed in this post are mine and mine alone.
This article contains affiliate links which will earn us a small commission if you make a booking at no extra cost to you. We only recommend products and services that we use ourselves and firmly believe in. We really appreciate your support as this helps us make more of these free travel guides. Thank you!