You've probably heard of Cebuano danggit, that delicious crisp breakfast fish that's butterflied, completely sun-dried then fried, but have you heard of the Palawan version known as danggit lamayo? Neither Ren nor I are seasoned danggit eaters so we didn't know any better, but my mom who frequently enjoys this dried fish for breakfast was pleasantly surprised to come across this version for the first time during our recent trip to Coron, Palawan.
Also known locally as samaral, taragbago, kitang, or tabago, danggit is a type of fish called Spinefoot or Rabbitfish in English. The term lamayo refers to a method of preparation where the fish, in this case danggit, is butterflied, marinated in vinegar with herbs and spices, then only partially sun-dried before being packed and frozen.
Crisp, meaty and very flavorful especially when dipped in chili vinegar, it's fantastic when fried and paired with sinangag (garlic fried rice) and eggs scrambled with onions and tomatoes. Ren even tops the rice with a few pieces of toasted garlic bits for added crunch. Absolutely dee-licious!
Too bad we had to go all the way to Coron to get some though. Had I known they'd be this good, I would have brought home at least two more kilos! Grrr… 👿
*Ay kay layo ng lamayo! roughly translates to "lamayo is so far away!", meaning we have to go so far to get it.
So I surmise the official term for this beautiful plate of food is lamsilog? Lamayo-sinangag-itlog? Considering that this version of lamayo was made with danggit though, I think D' lamsilog sounds even cooler.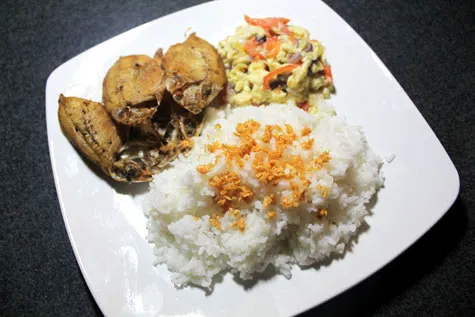 Without a hint of fishiness, these butterflied, vinegar-soaked, then fried pieces of rabbitfish make for some irresistible breakfast fare.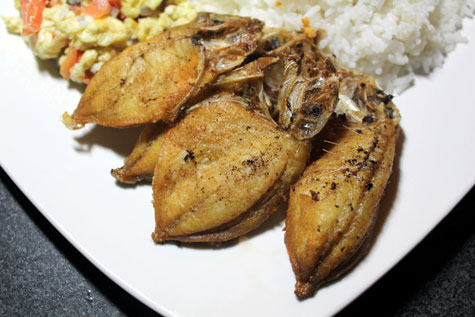 Again, shots like this make me wish for a scratch n' sniff screen.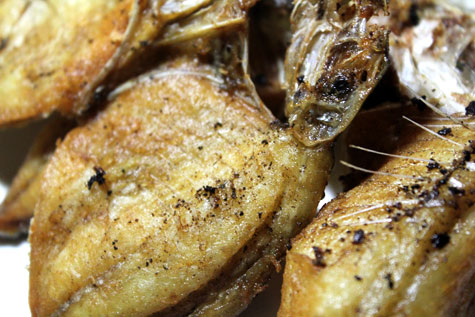 If you're ever in Coron, Palawan and want to bring home some of this delectable lamayo, stop by Santino's Grill and look for Emil. He sells them for PHP 300 a kilo, dividing them into 2 half-kilo packs with each pack containing roughly 10 pcs of fish. He'll even deliver them to your hotel all packaged up and ready for the plane ride home. 😉
More on Palawan
Underground River, Puerto Princesa, Palawan
Palawan Mangrove Forest
Sheridan Beach Resort and Spa
Tamilok, the World's Longest Oyster
The Edge of the World
Kayangan Lake, Coron, Palawan