To see coffins perched on the side of a mountain is unusual enough, but to find a chair strapped to one makes it even odder.
What was going on here? Was this that person's favorite chair or something? I know the dead sometimes want to "bring" trinkets with them into the next life, things like jewelry or pictures, but an old wooden chair seemed like a bizarre choice. Maybe he expected the trip to be tiring?
As it turns out, the dead all begin their journey into the afterlife strapped to a bamboo or wooden chair like that. It's one of many rituals in a pagan burial that's still practiced in Sagada to this day.
Echo Valley
To get to Echo Valley and the hanging coffins, you'll need to walk past St. Mary's Cathedral, a church built by American Anglican missionaries who arrived in Sagada during the early part of the last century. Despite converting to the Anglican faith, many Sagadans continue ti practice their pagan beliefs.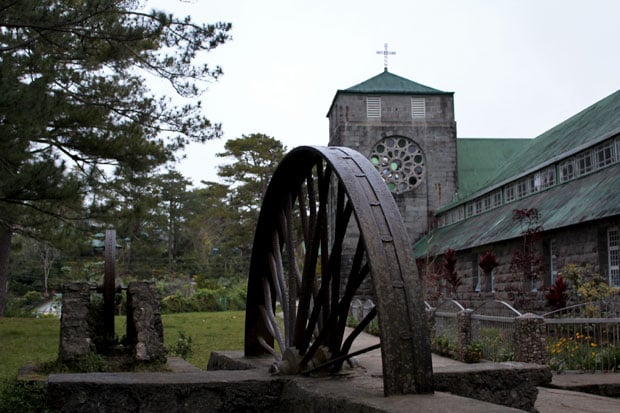 Though the hanging coffins are still utilized, many Sagadans these days choose to be buried in this Anglican cemetery instead.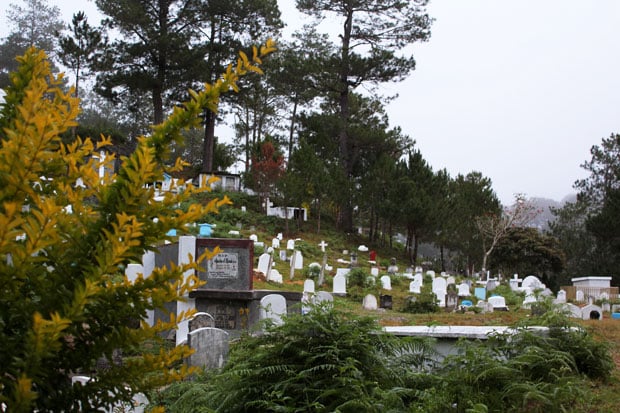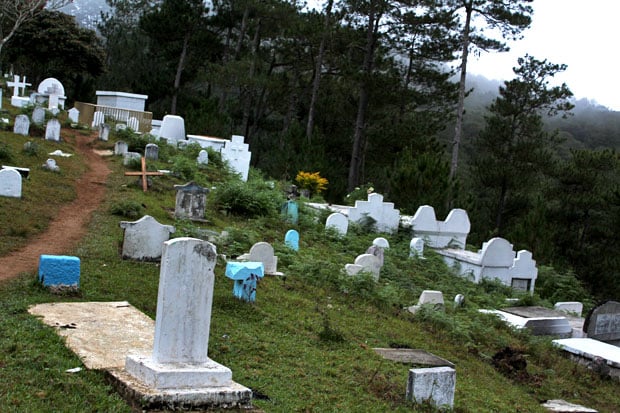 After crossing the cemetery, you'll find yourself standing at the top of Echo Valley. A gorgeous spot with a killer view, the hanging coffins are about a 15-20 min downhill trek from here. You can try yelling here if you want.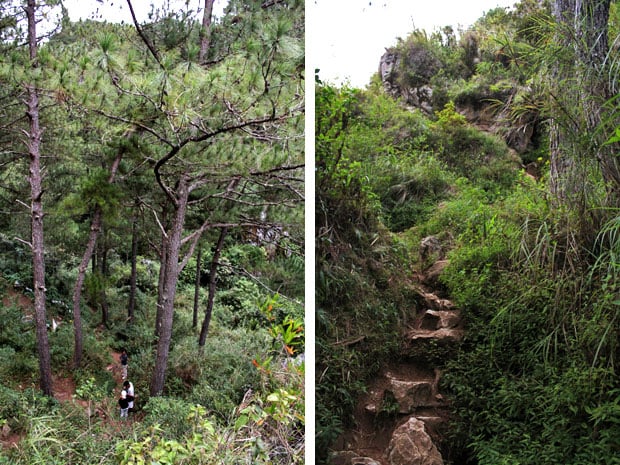 The hanging coffins. Animist tribal folk believed that putting their dead in steep crevices made their loved ones nearer to the gods. Though the requirements are unclear, it's important to note that not everyone is qualified to be buried in this way. For one, the deceased needs to have been married with grandchildren, among other things.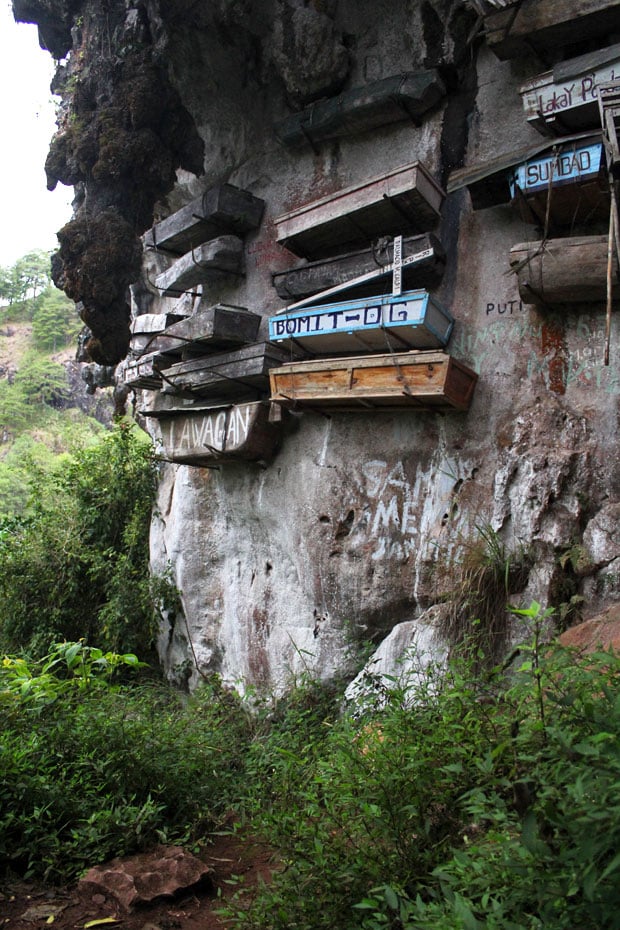 See that chair strapped to a coffin that looks just big enough for a child? It houses a fully grown adult whose knees have been forced to his chin. Covered with white cloth and bound using rope from the maguey plant, elders believe that placing the body in a fetal position like that symbolizes the start of a new life. It's the first step in the dead's journey towards the next life.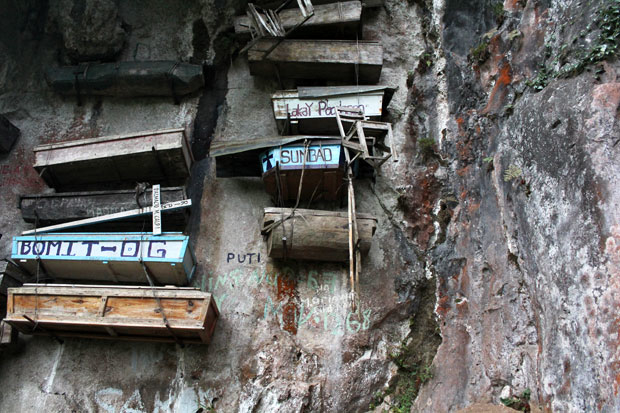 Can you spot the coffins? Laying the dead to rest in this way obviously has its share of dangers. Seeing how high up these coffins are, I'm guessing these were very important people.
Interestingly, while the body is being carried up to its final resting place, it's considered auspicious if the dead's blood is sprinkled on you. It means that you'll enjoy bountiful harvests and much success in life. Because of this belief, everyone tries to touch the body for good luck.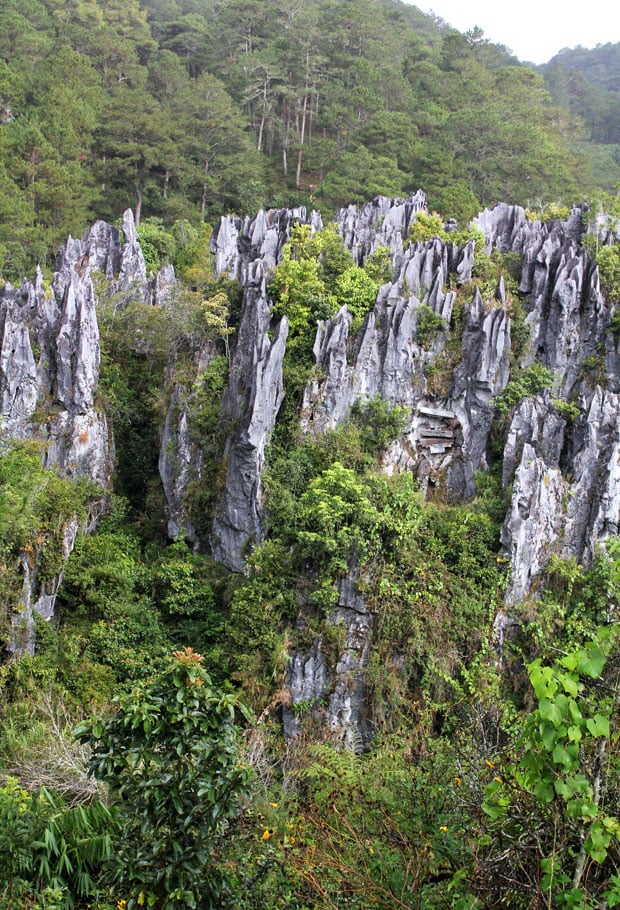 While its being transported, carriers of the body bring food in a sangi, which is an indigenous backpack made from rattan. After the body has been placed inside the coffin, the men eat their food — usually rice, kamote (sweet potato), and pork — without washing their hands. It's an interesting but slightly off-putting custom, the reason for which I do not know. The men then chant prayers asking the dead not to do ill against anybody, and to bring peace and good will to those left behind.
Only then do they bid him farewell.
How to Get There
Walk to St. Mary's Church and the cemetery. Go past the cemetery and make your way down into the valley. From the top, it'll be a relatively easy 15-20 min hike to the coffins. The coffins are easy enough to find on your own, but it is possible to get lost in the valley. For your own safety and peace of mind, you may want to hire a guide from the tourism office for just PHP 200 (up to 10 pax).
Guide Fee: PHP 200 (up to 10 pax)
Estimated Time Needed: 1 – 1.5 hrs
Fitness Level: Low
For more Sagada travel tips, check out our First-Timer's Travel Guide to Sagada, Mountain Province, Philippines