Ren and I aren't the biggest fans of the beach but we do enjoy going to island destinations, mainly for one reason – the seafood. Seafood is my absolute favorite thing in the world and it doesn't get any fresher or more bountiful than in places like Phuket in Thailand.
We recently stayed a week in Phuket to indulge in Thai delicacies like fish in red curry, whole salt and pepper prawns, crab in yellow curry over noodles, stuffed squid, and horseshoe crab roe with spicy green mango salad. We spent an afternoon drinking beers and critiquing people's swimsuits on Kata Beach while going through plates of mussels in garlic butter and clams with lemongrass and chili. It was an awesome week of eating Phuket Thai food that featured an array of seafood freshly caught from the Andaman Sea.
As good as everything was, one meal stood out. It stood out not just for the variety of seafood enticingly arranged on a hefty platter, but it stood out for its venue as well. Situated on a cliff offering stunning views of the ocean, this seafood feast at The Cliff Restaurant was one of the most memorable meals we had during our week-long stay in Phuket.
Save This on Pinterest!
No time to read this now? Click on the red save button and pin it for later!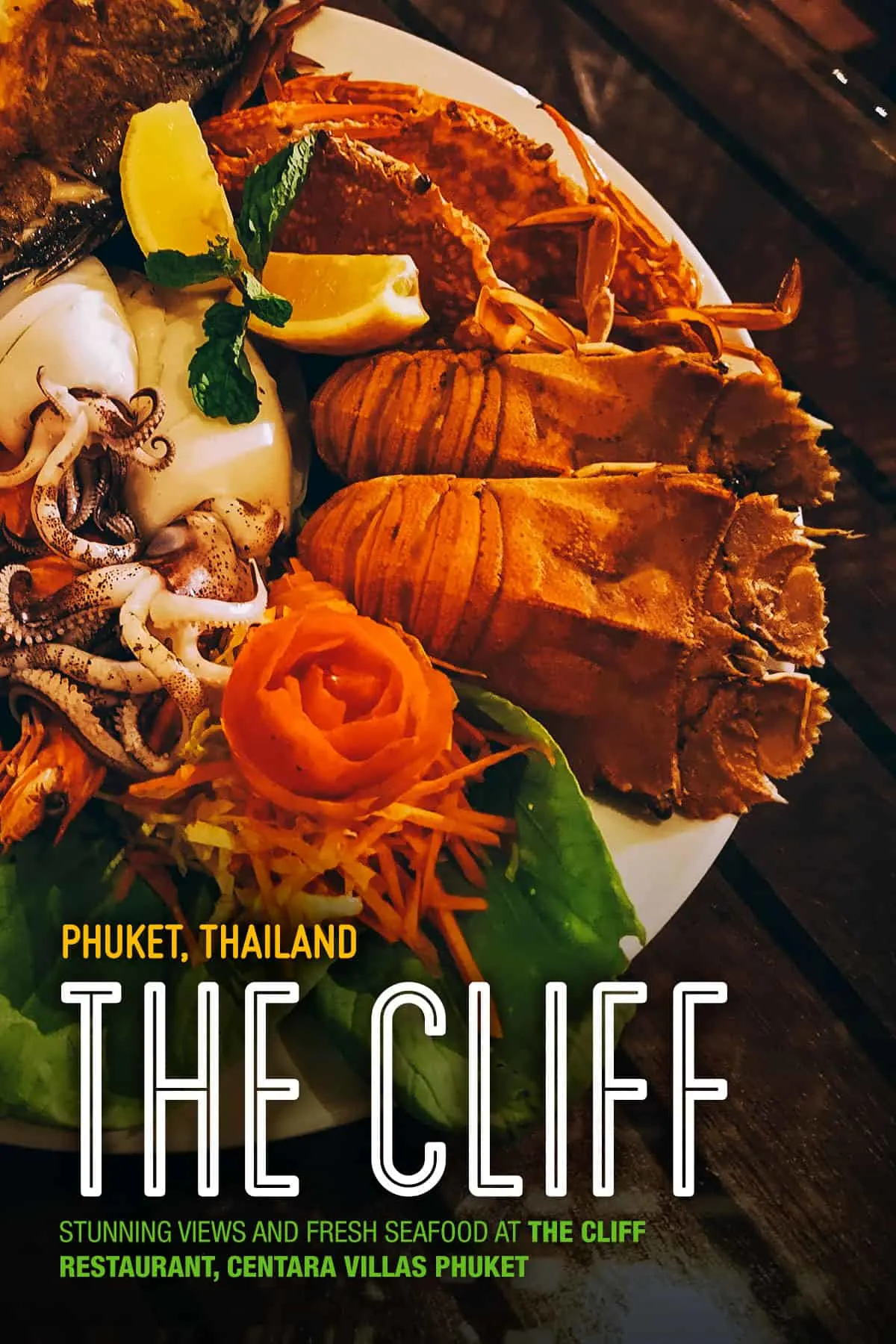 Breakfast
Before I show you that beautiful seafood platter, here's what the restaurant looks like during the day. The Cliff Restaurant is the main restaurant of Centara Villas Phuket, a 4-star hotel located on a cliff overlooking Karon Bay. It's open only for breakfast and dinner, with a la carte lunch being offered at the resort's other restaurant – Bayview Restaurant & Bar.

The restaurant's interior. It has a simple island feel to it that's consistent with Phuket's vibe. Nice shirt lady.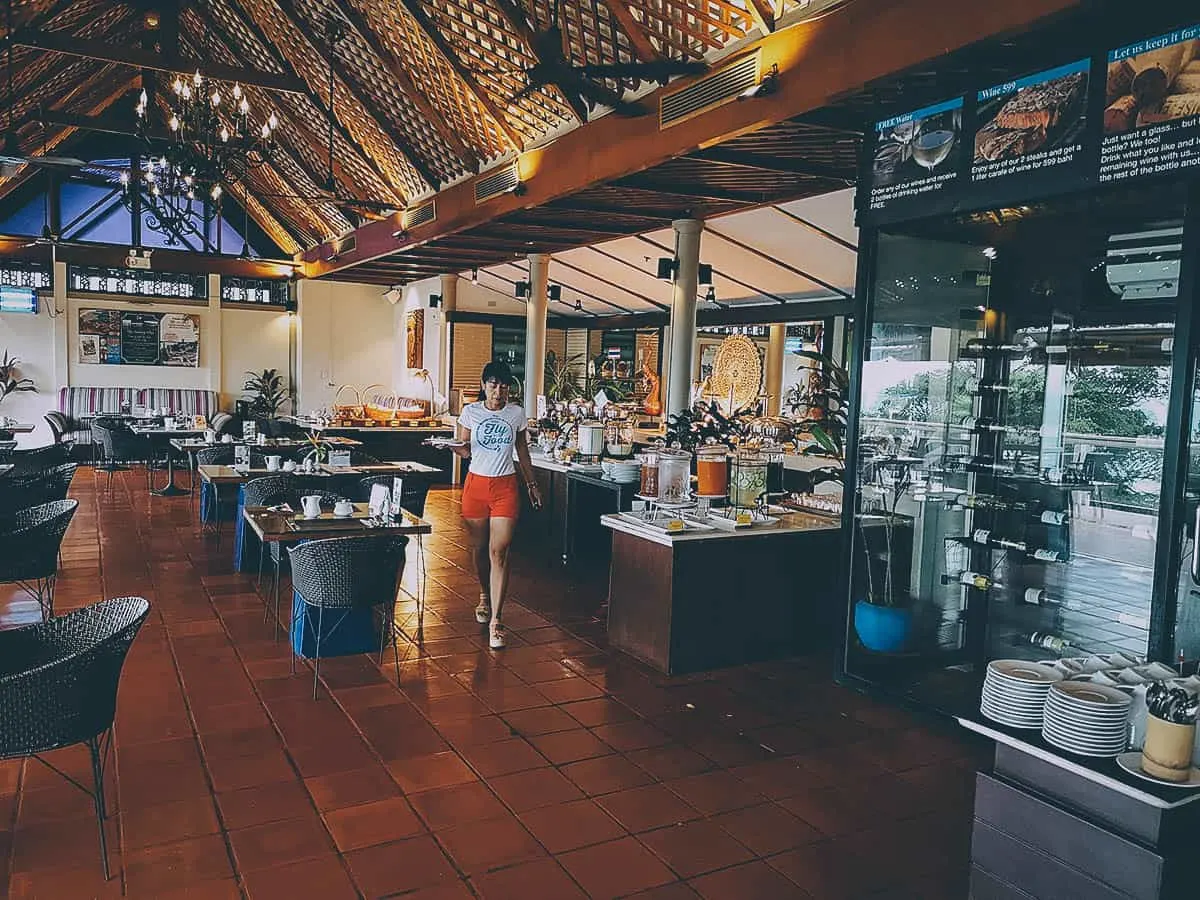 Fresh juices to get your day started. Buffet breakfast was included in our stay.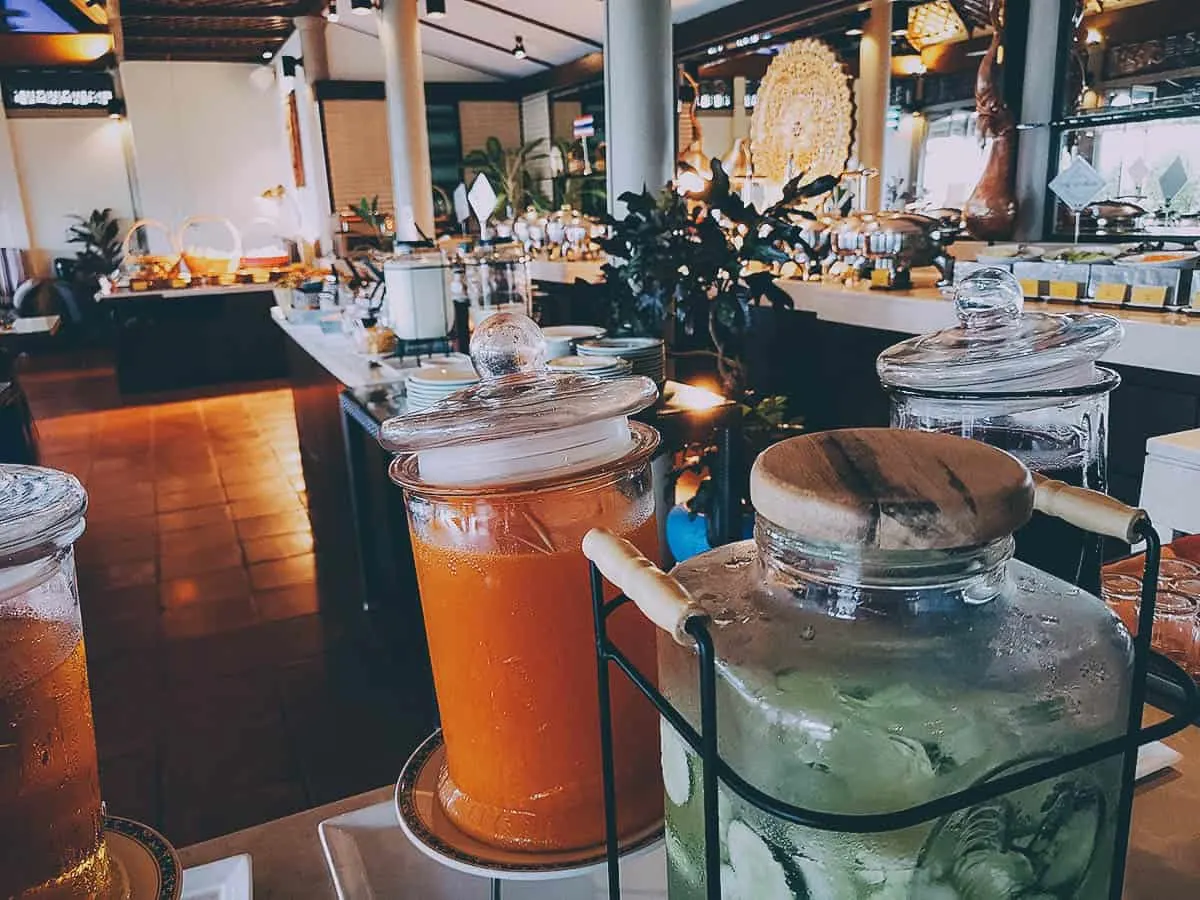 Wicker baskets overflowing with different types of tropical fruit. Thailand has some of the sweetest fruits I've ever tasted.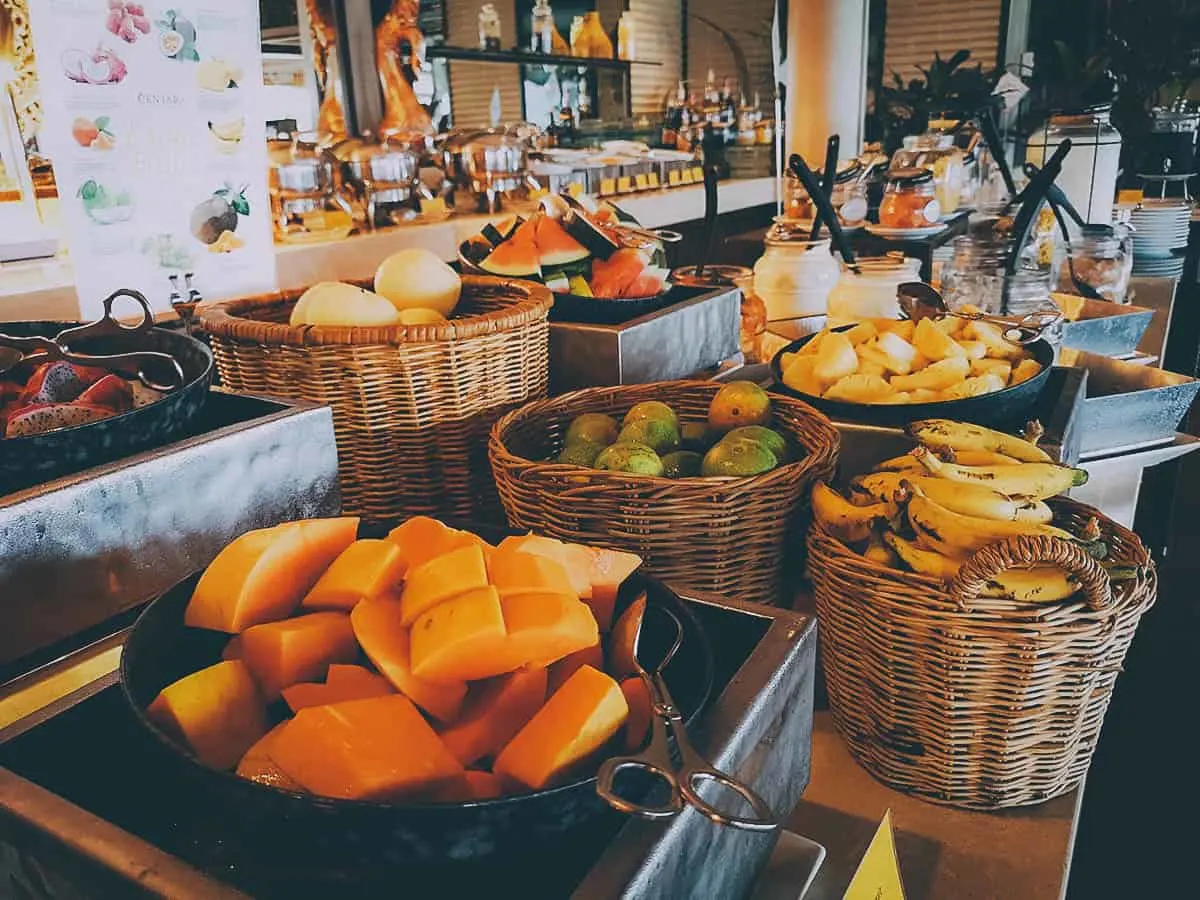 Different types of bread and pastries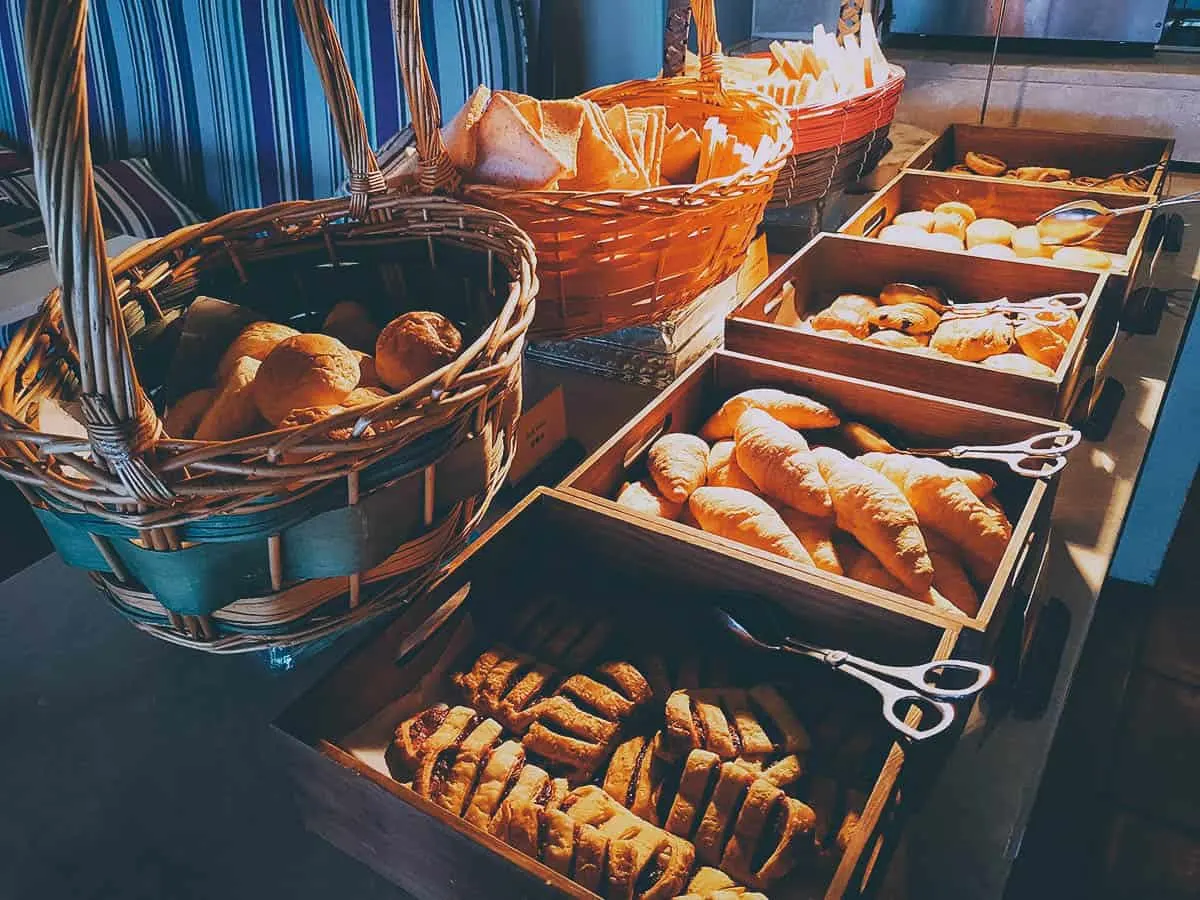 Salad bar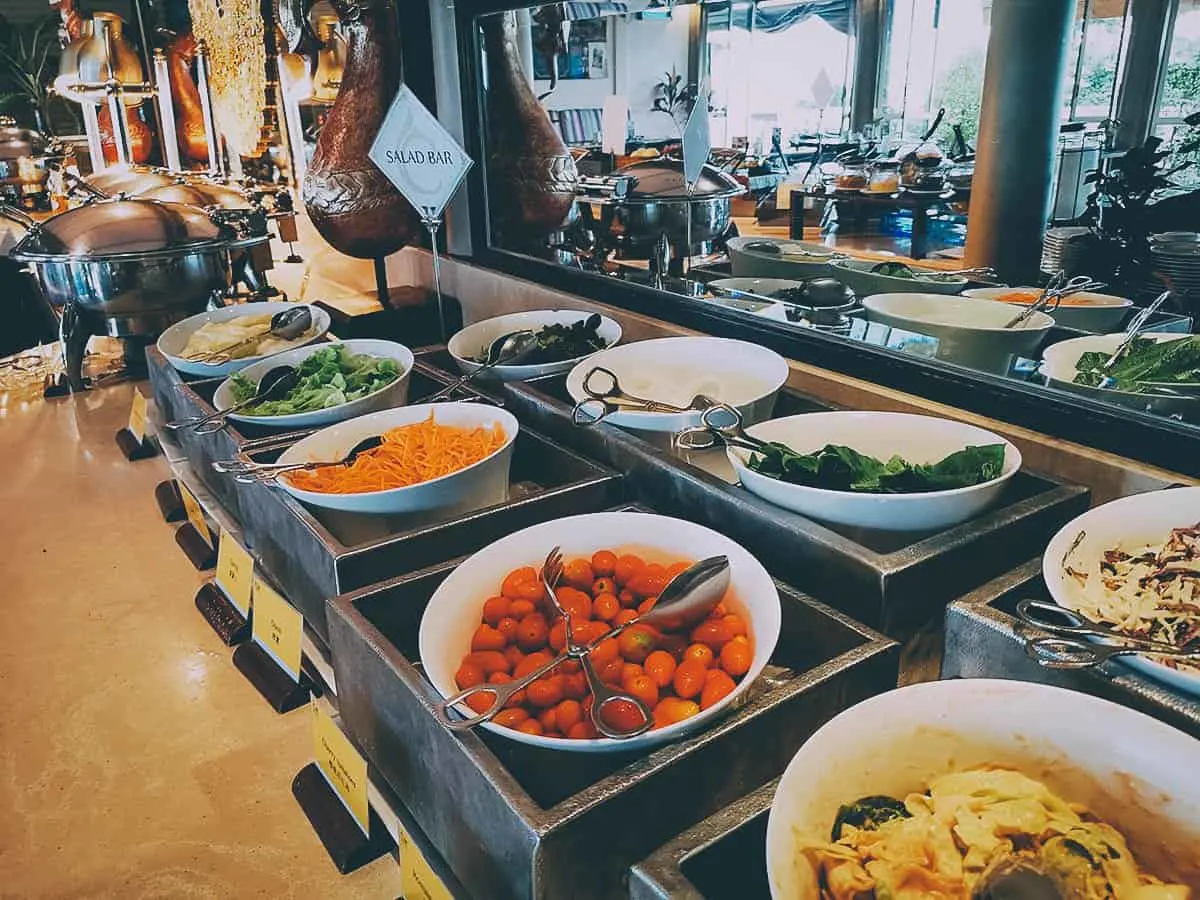 Warm food in chafing dishes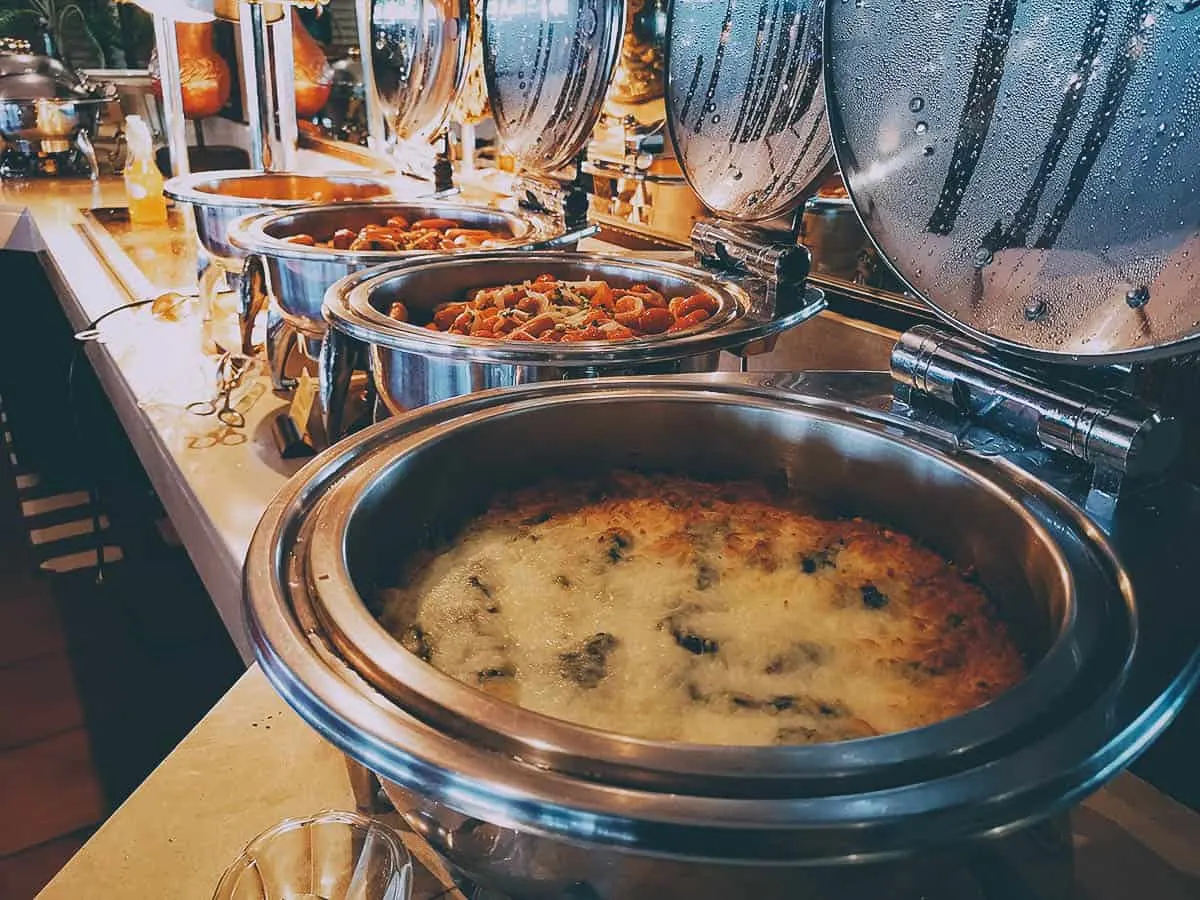 Cereal station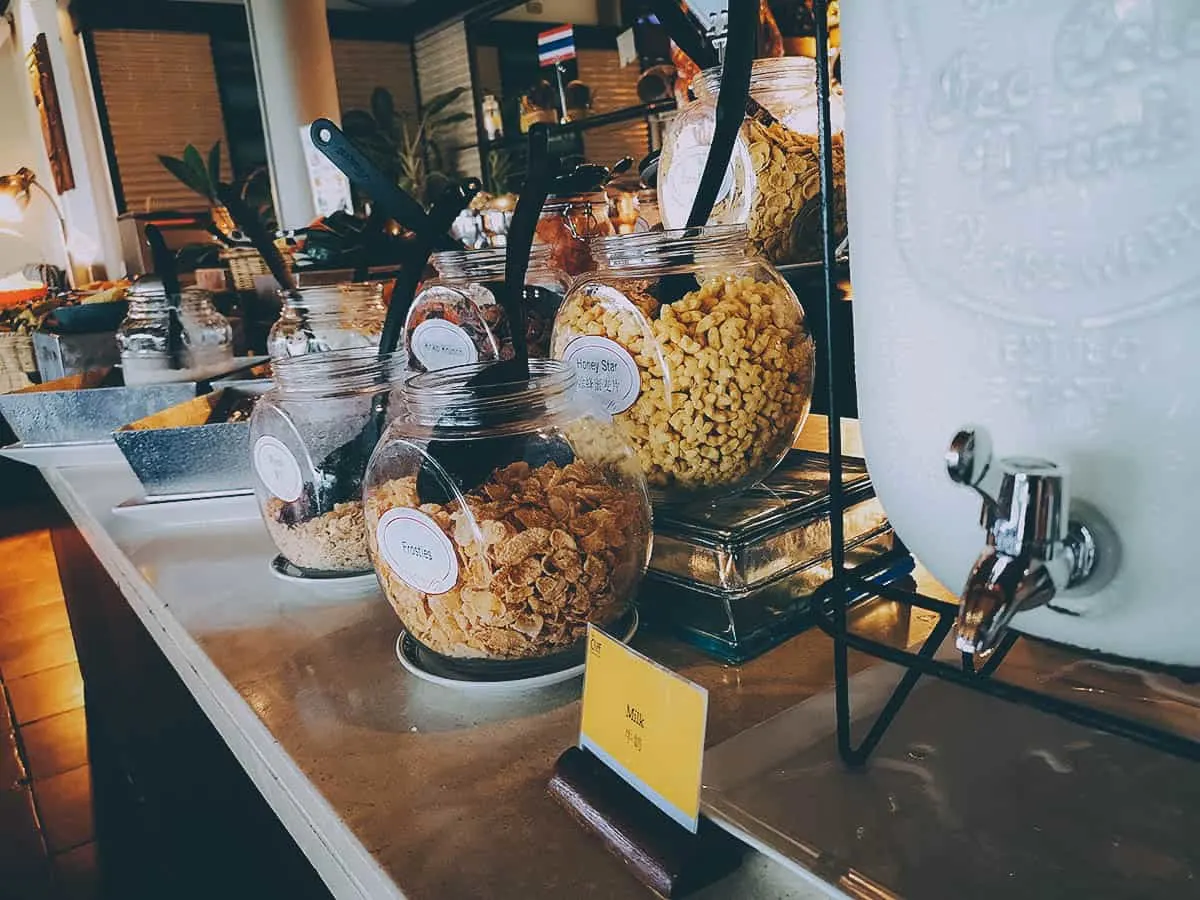 Made-to-order fresh noodle bar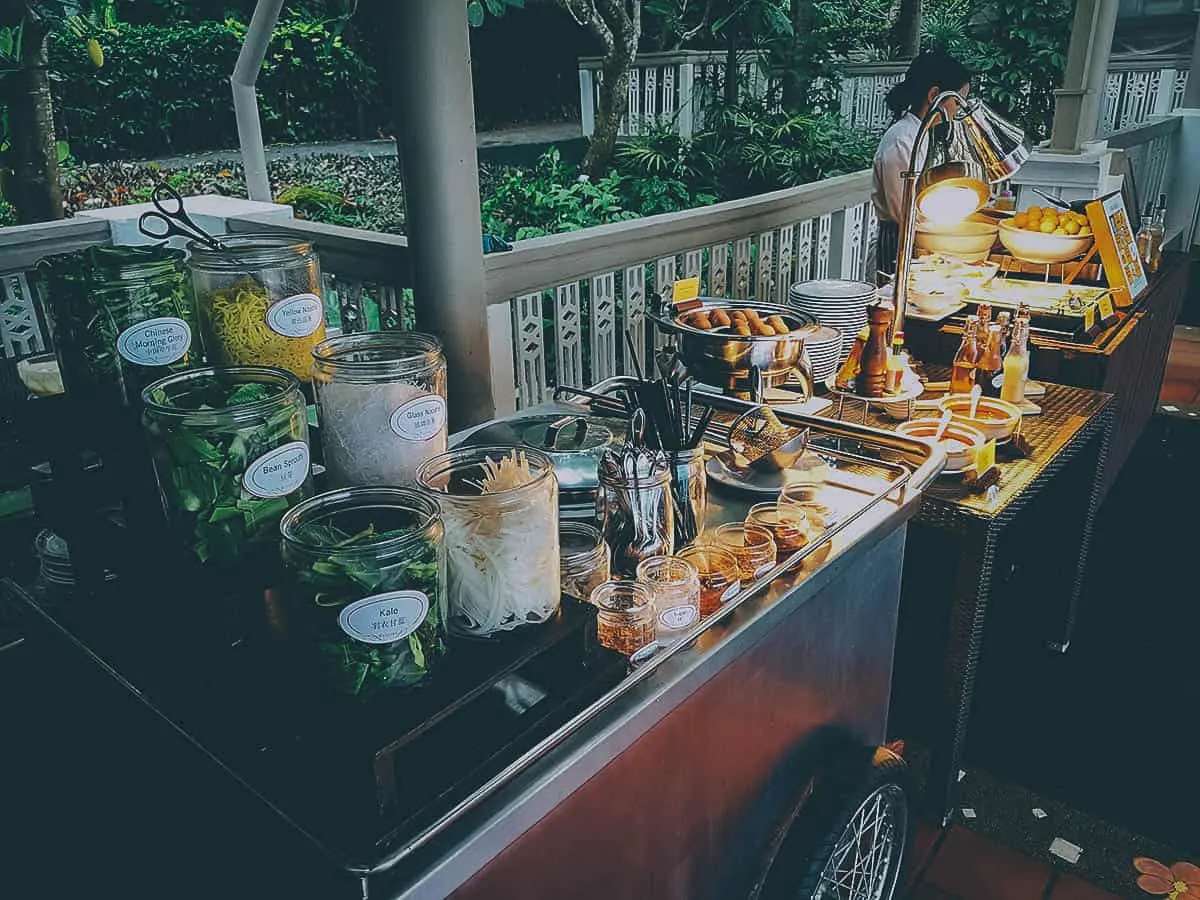 Egg and omelet station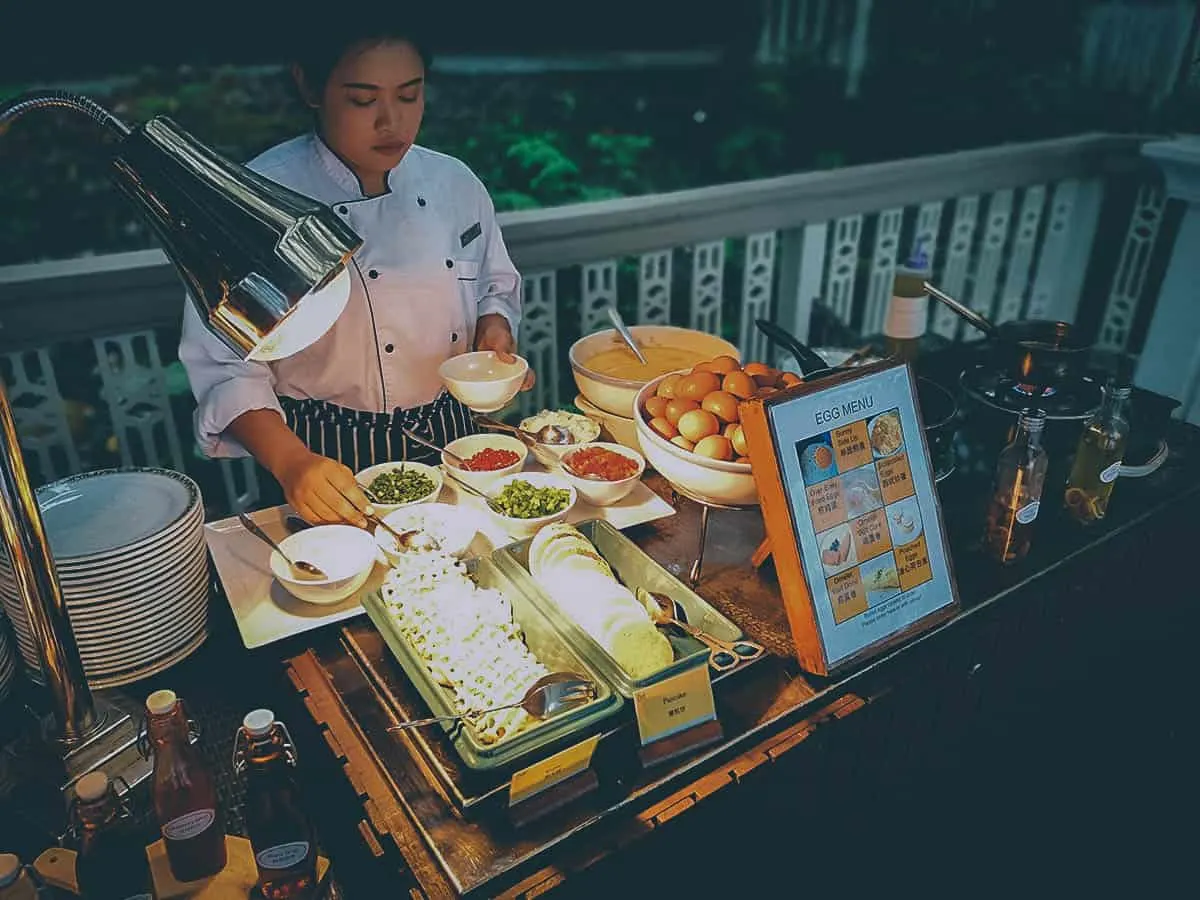 My beautiful breakfast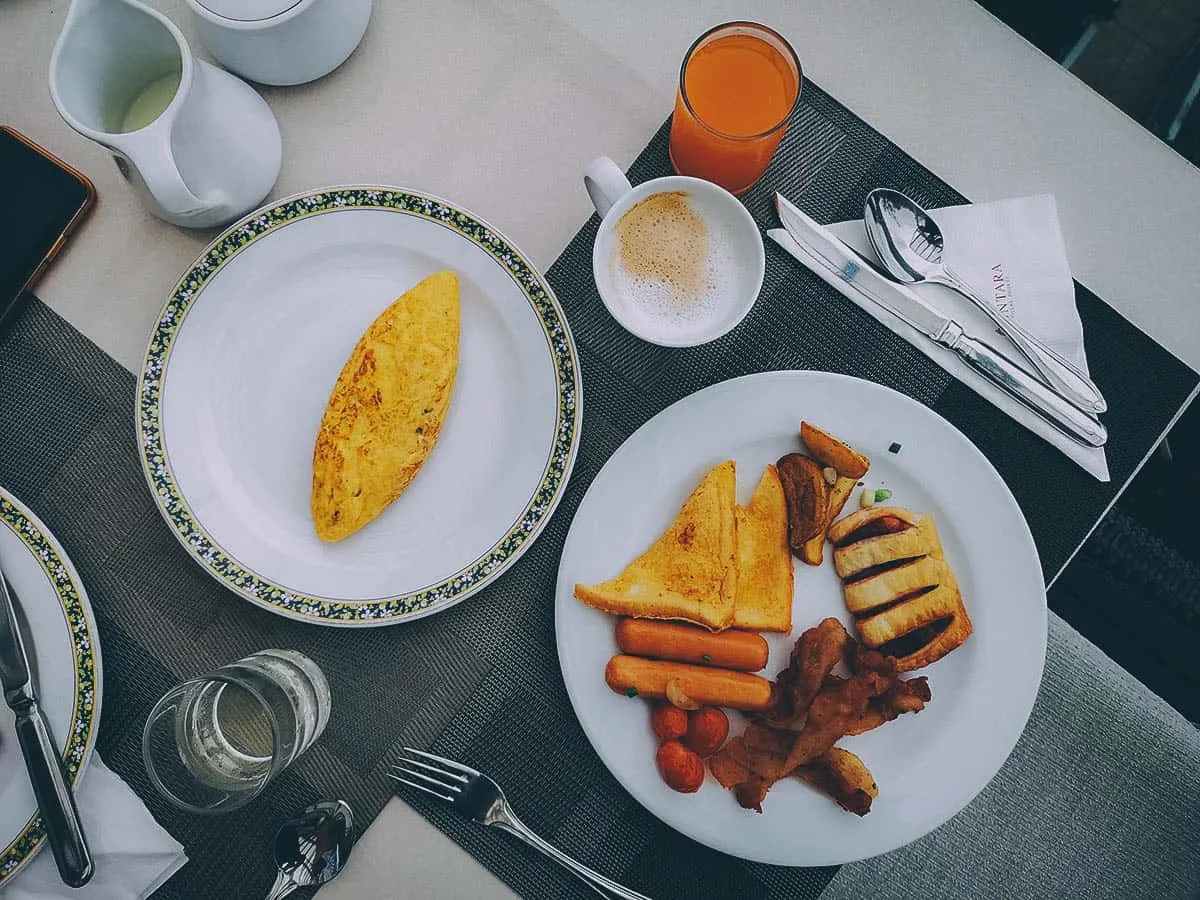 See what I mean about the view? It's hard not to be happy when you're sipping bottomless cappuccinos and looking at something as beautiful as this. The views from the restaurant are absolutely spectacular. You could hear the rustling of leaves and the distant crashing of waves onto shore.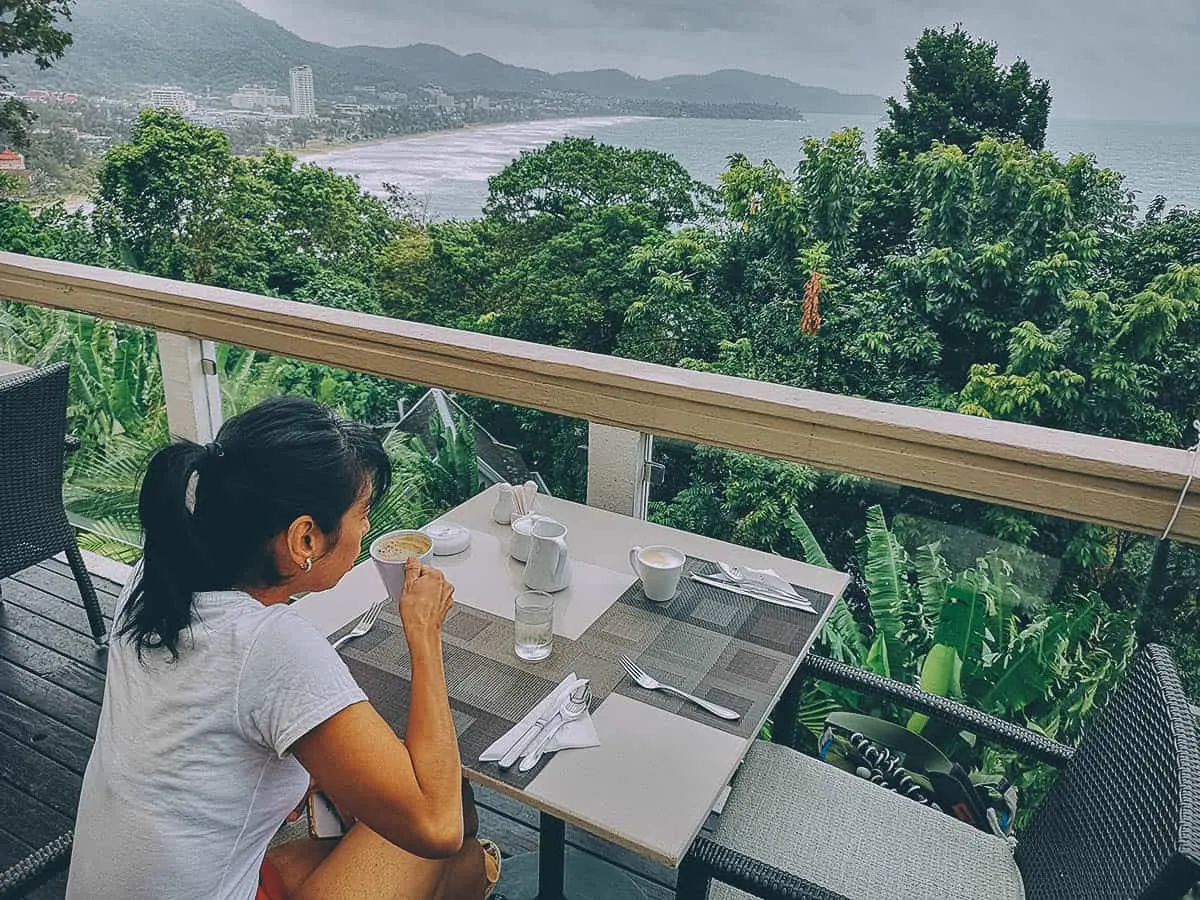 Looks like Reneelicious is overjoyed with her breakfast. It's hard not to be in a setting like this.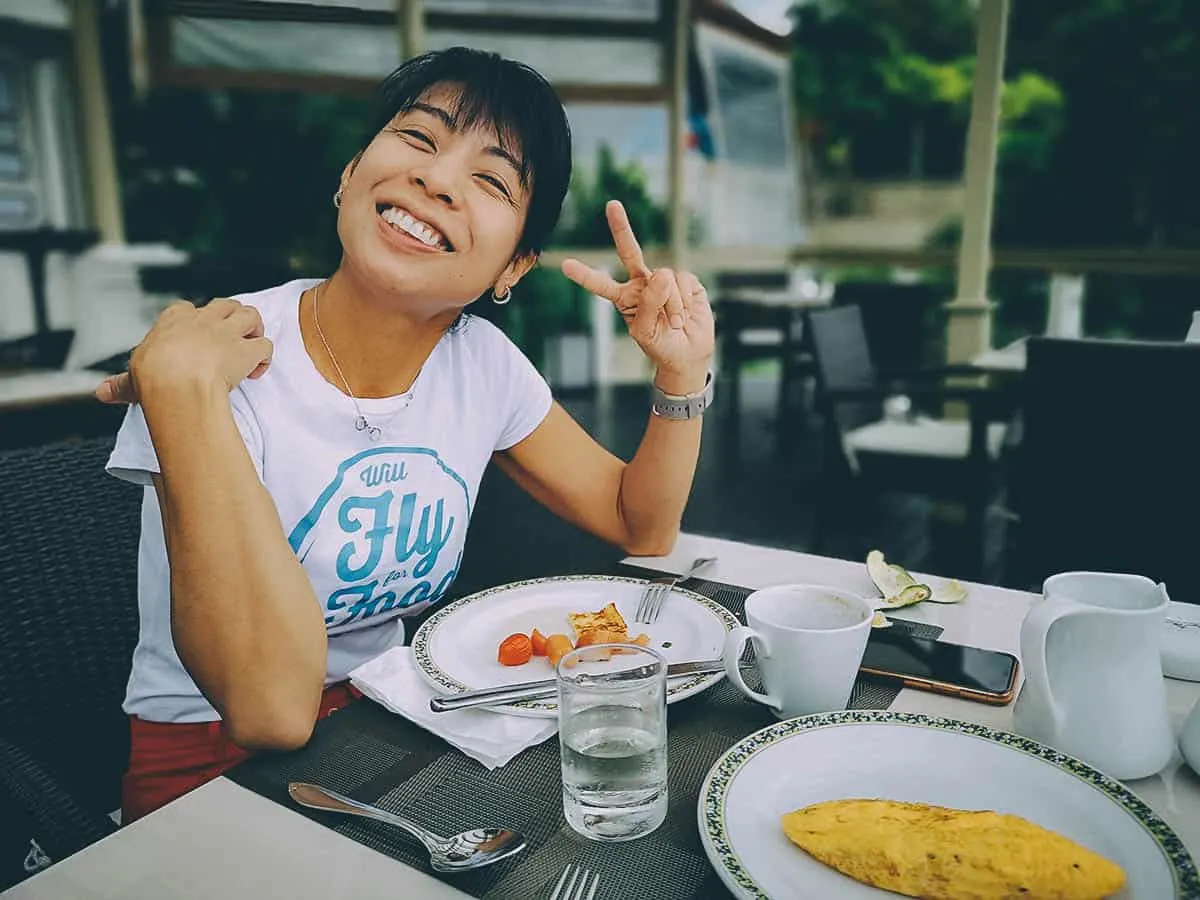 Dinner
Here's what The Cliff Restaurant looks like at night. It's every bit as beautiful in the waning light of dusk.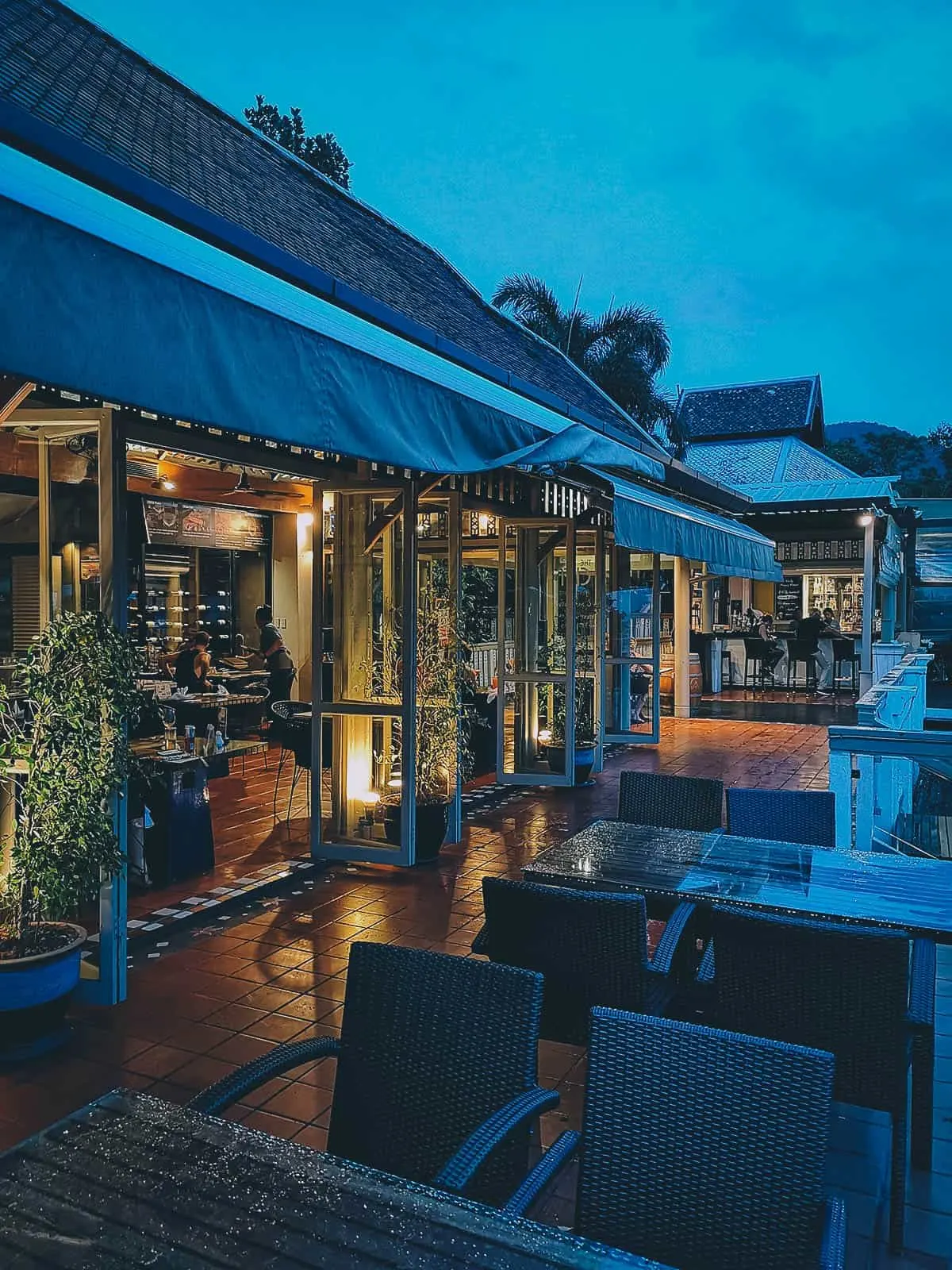 Standing on the restaurant's balcony, you can see several of the resort's single-detached villas along the side of the cliff. Nestled within lush patches of foliage, every villa has a private walkway and balcony offering the same breathtaking views of Karon Bay. I'll be posting an article with more pictures of the resort soon.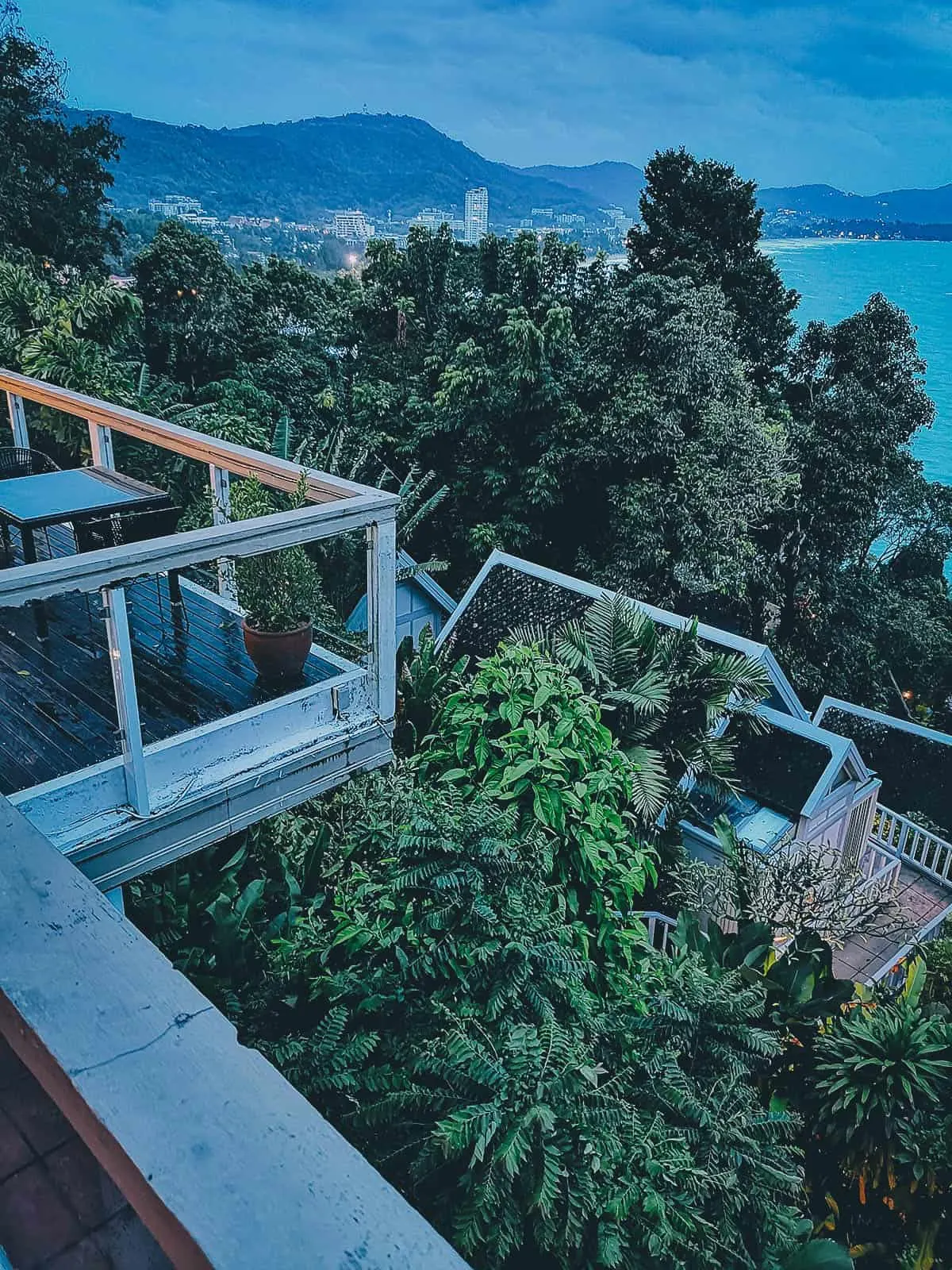 The Cliff after dark. It isn't the most contemporary of spaces but it fits in perfectly with the island's rustic, laid-back vibe.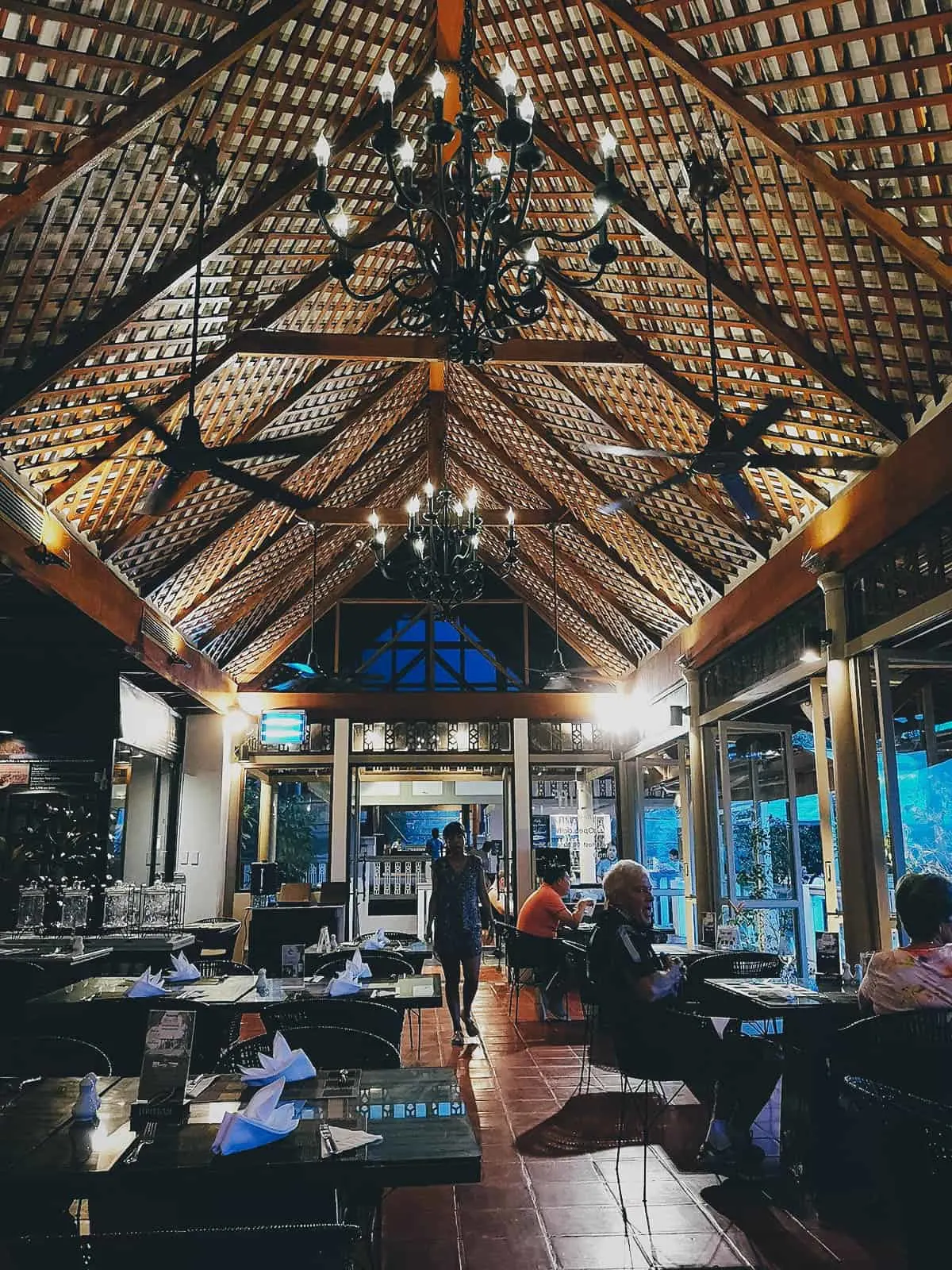 Seafood BBQ
We were guests of Centara Villas Phuket and offered a complimentary dinner at The Cliff during our stay. Luckily for us, our meal fell on a Tuesday which is seafood bbq buffet night at the restaurant. Set up by the entrance was this seafood bar with humungous prawns, squid, mussels, and crab. Awesome!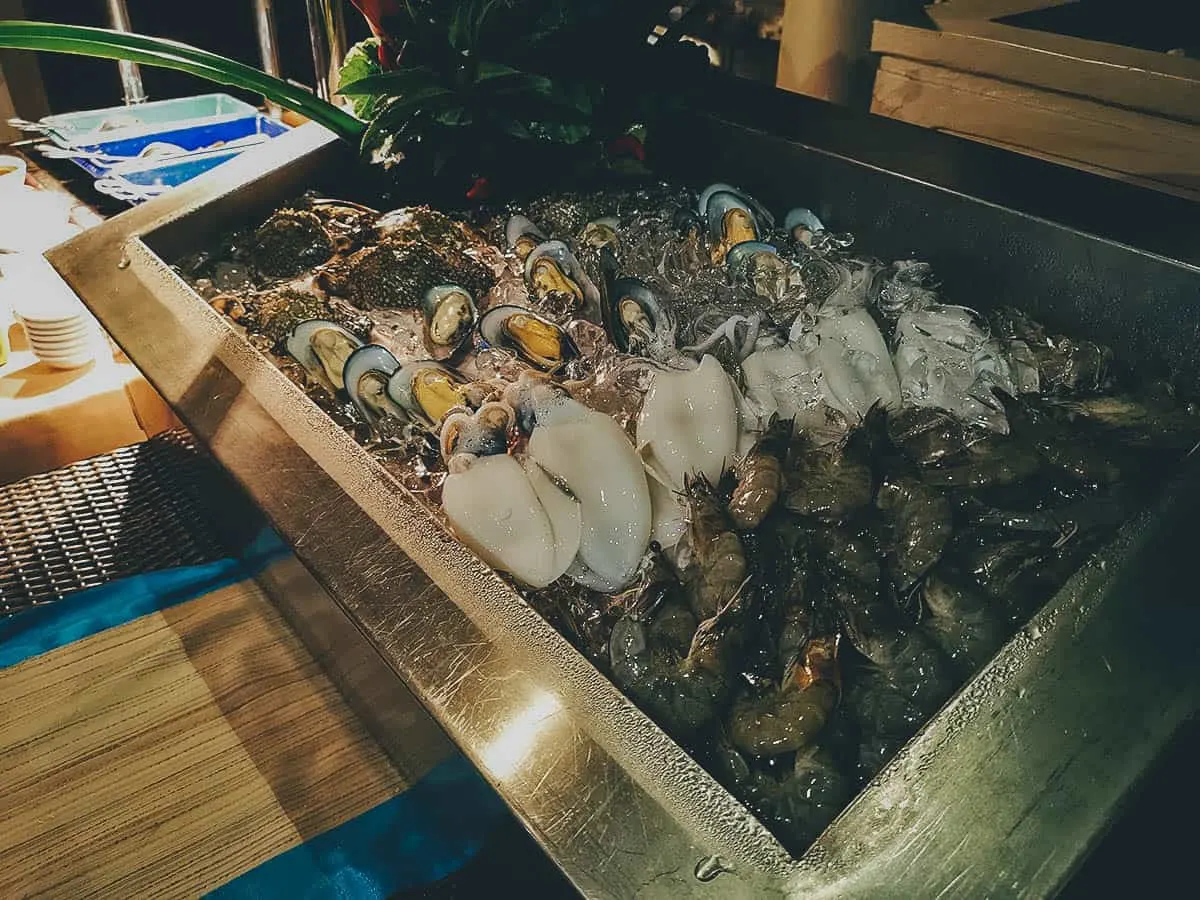 The chef kept grilling them up throughout dinner so diners were treated to an endless supply of fresh seafood. The resort holds a few of these buffet nights throughout the week, with this seafood bbq buffet happening every Tuesday. It costs a very reasonable THB 590++ per person, and you can get 15% off if you book it over breakfast. That's a pretty good deal for overflowing seafood.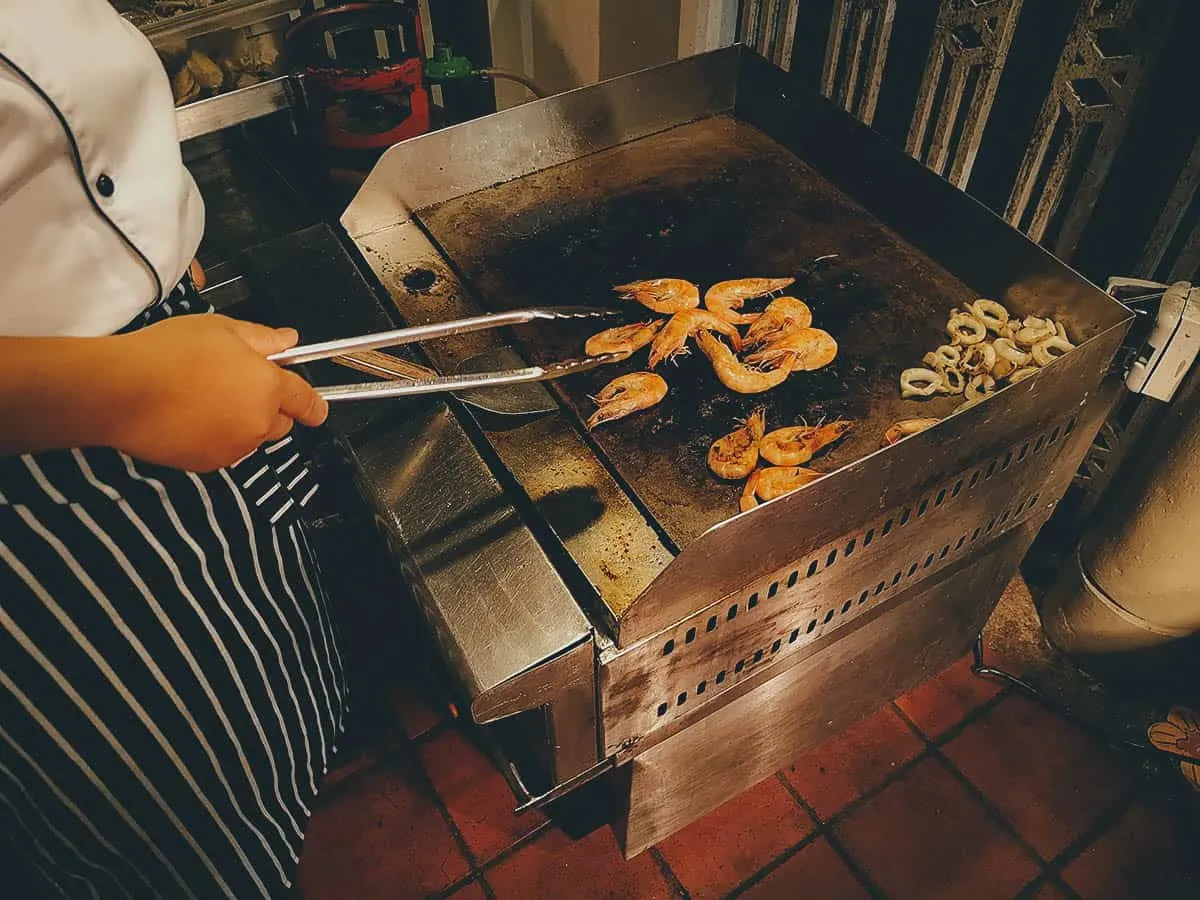 Here's that fantastic seafood platter I was telling you about. Isn't it beautiful? When we were told we'd be getting a complimentary dinner, I was expecting to just choose something off their menu so you can imagine my surprise when we sat down to this. On our seafood platter were mussels, prawn, squid, crab, slipper lobster, and a whole sea bass, all tender and grilled to absolute perfection. Wow!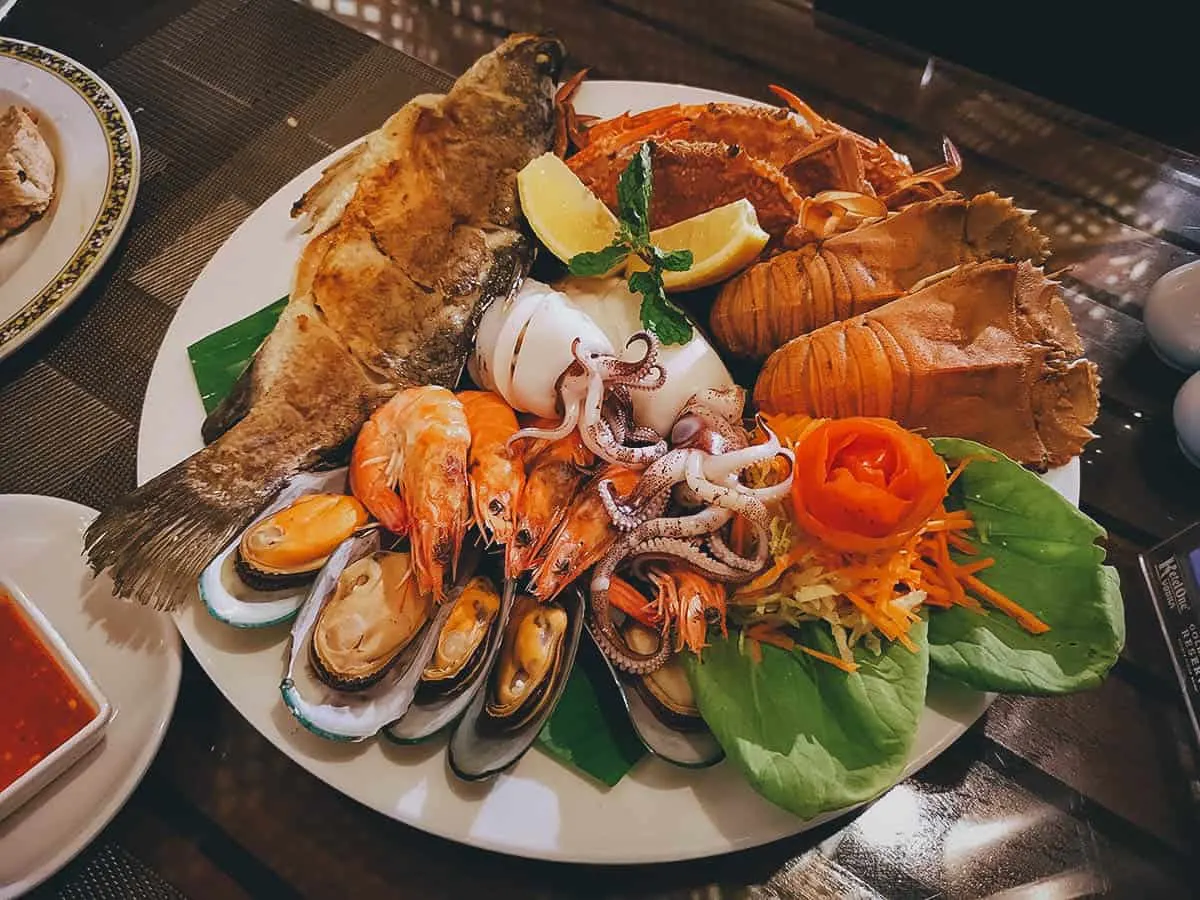 It was so beautiful I almost didn't want to touch it. Almost.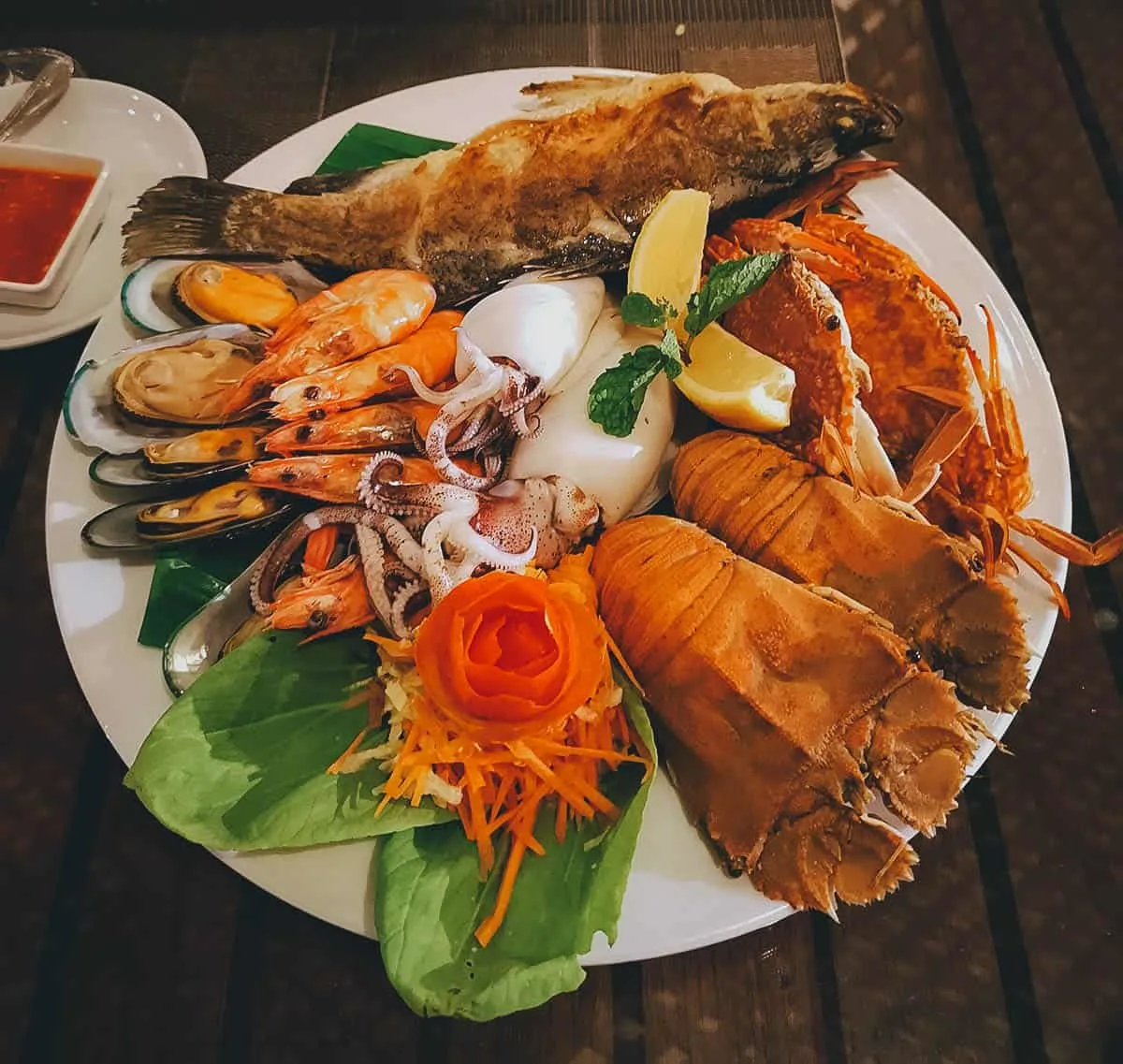 Ren digging in. As described, every piece of seafood on this platter was perfectly cooked and tender. The chefs at The Cliff know how to properly cook seafood.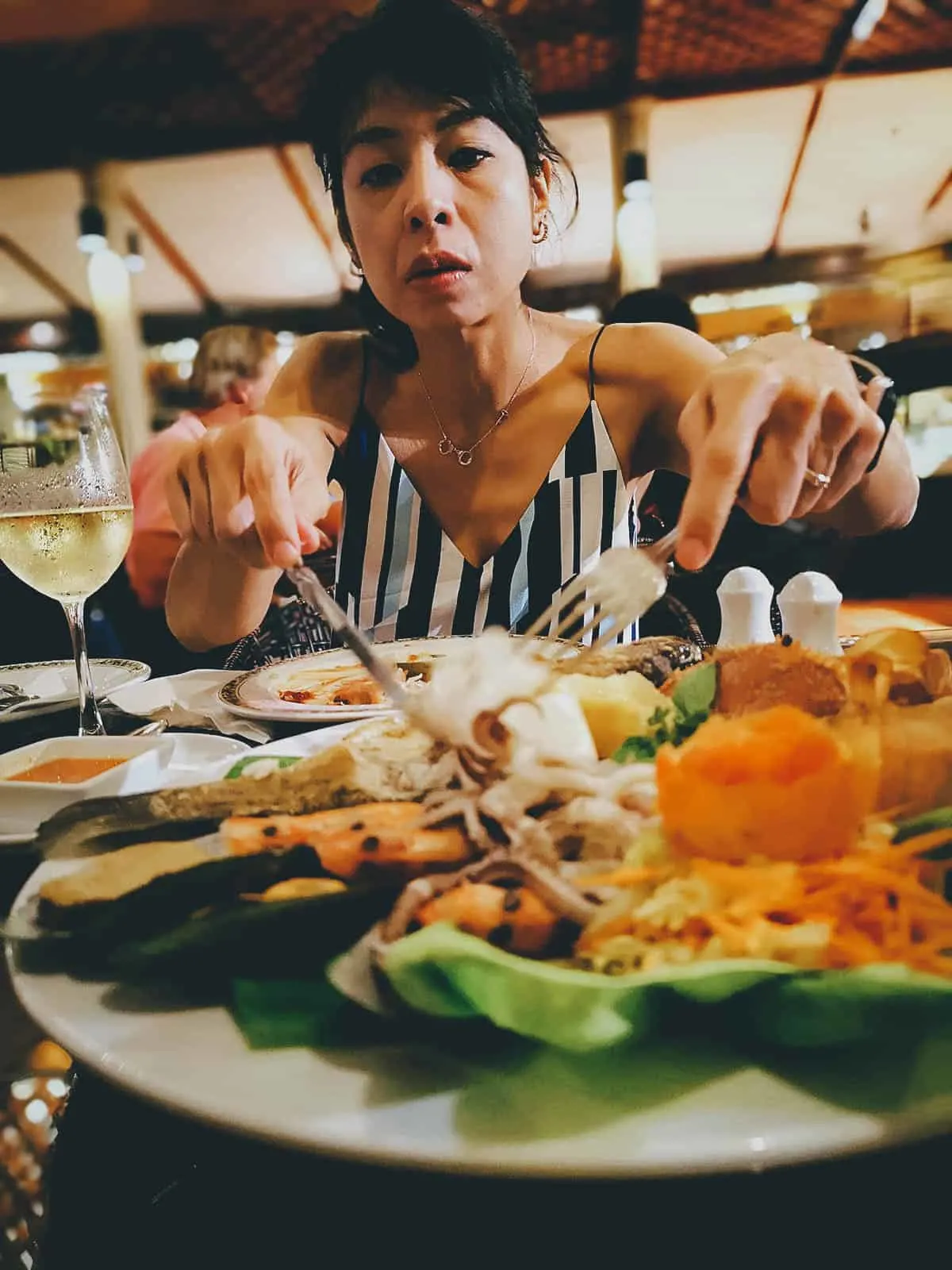 Is that your tongue or a slipper lobster Reneelicious? As you can probably tell, we had fun demolishing this seafood platter.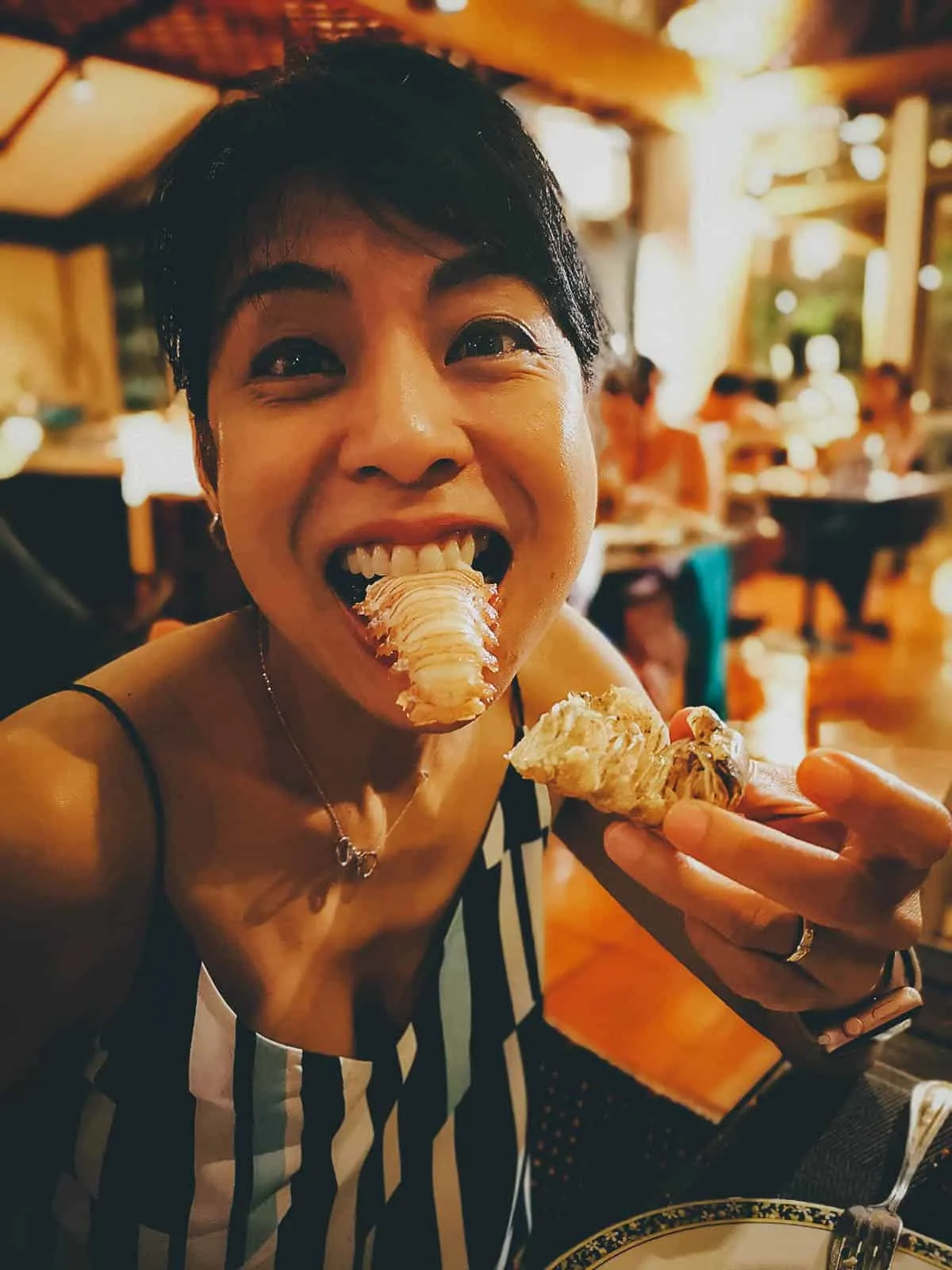 A plate of fresh fruit to help push down all that delicious seafood.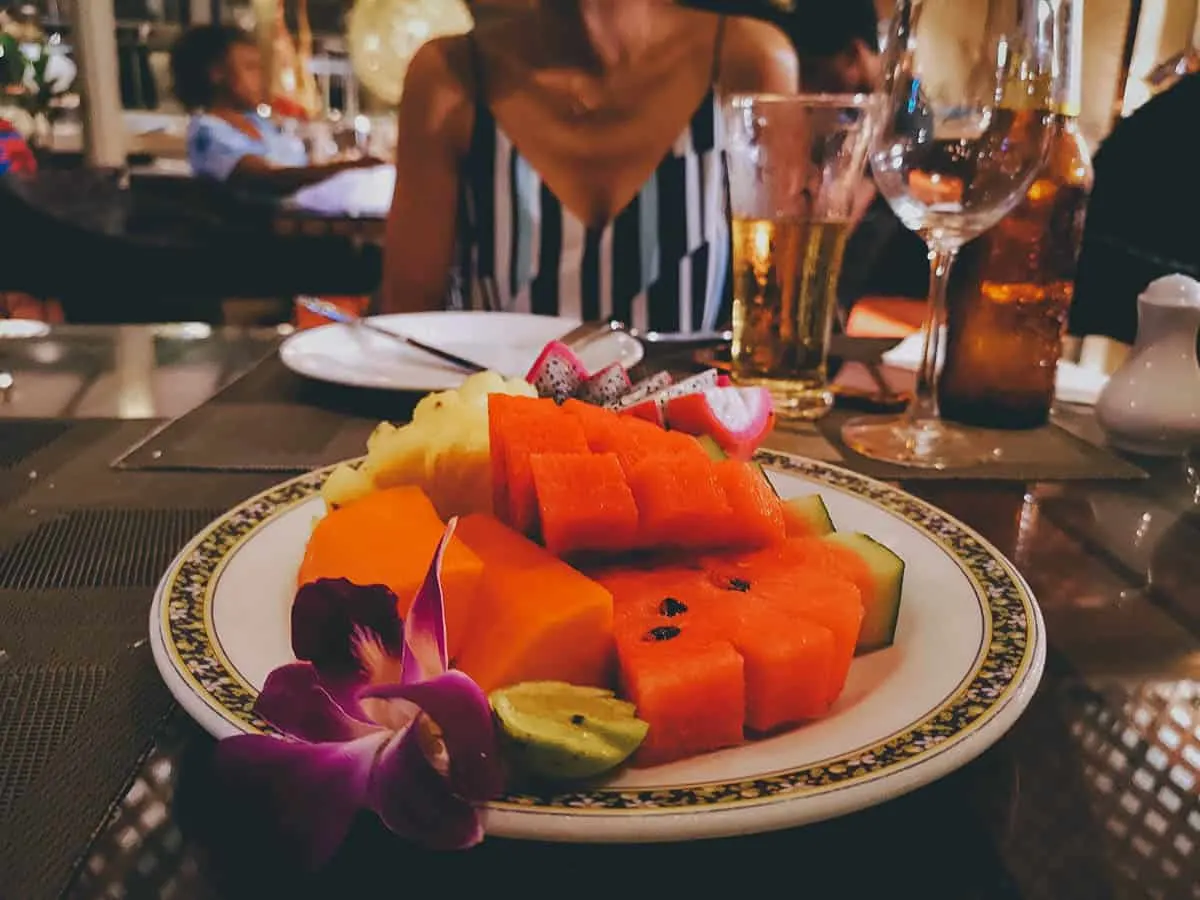 A La Carte
We enjoyed the seafood platter so much (who wouldn't right?) so we decided to give their a la carte menu a try. We came back for dinner the following night and had the chicken caesar (THB 200) and classic tomato and mozzarella salad (THB 210). Both were good.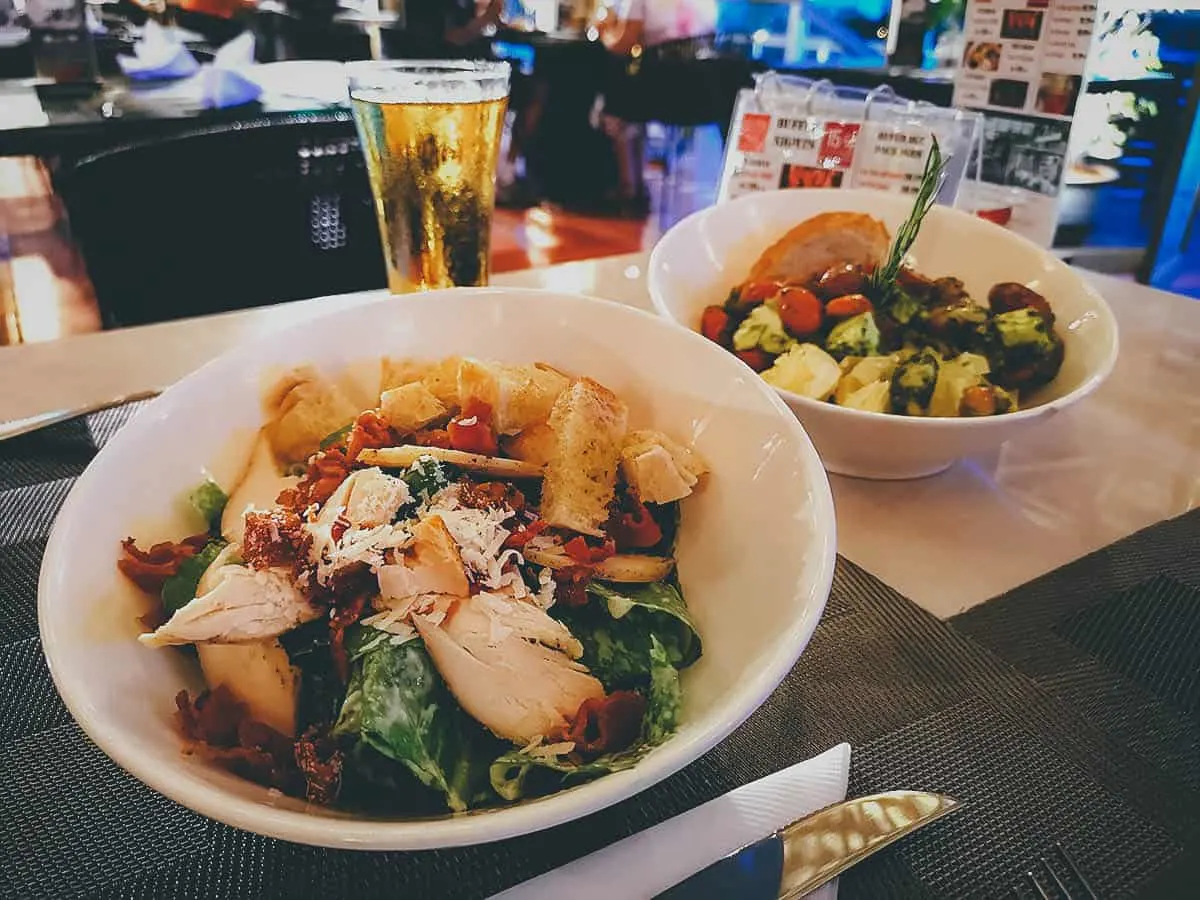 For my main course, I had this bowl of spaghetti bolognese (THB 210) which was pretty good as well. The restaurant had a good amount of diners tonight but they're clearly busiest during their buffet nights, which are held every Tuesday, Thursday, and Saturday. Full details below.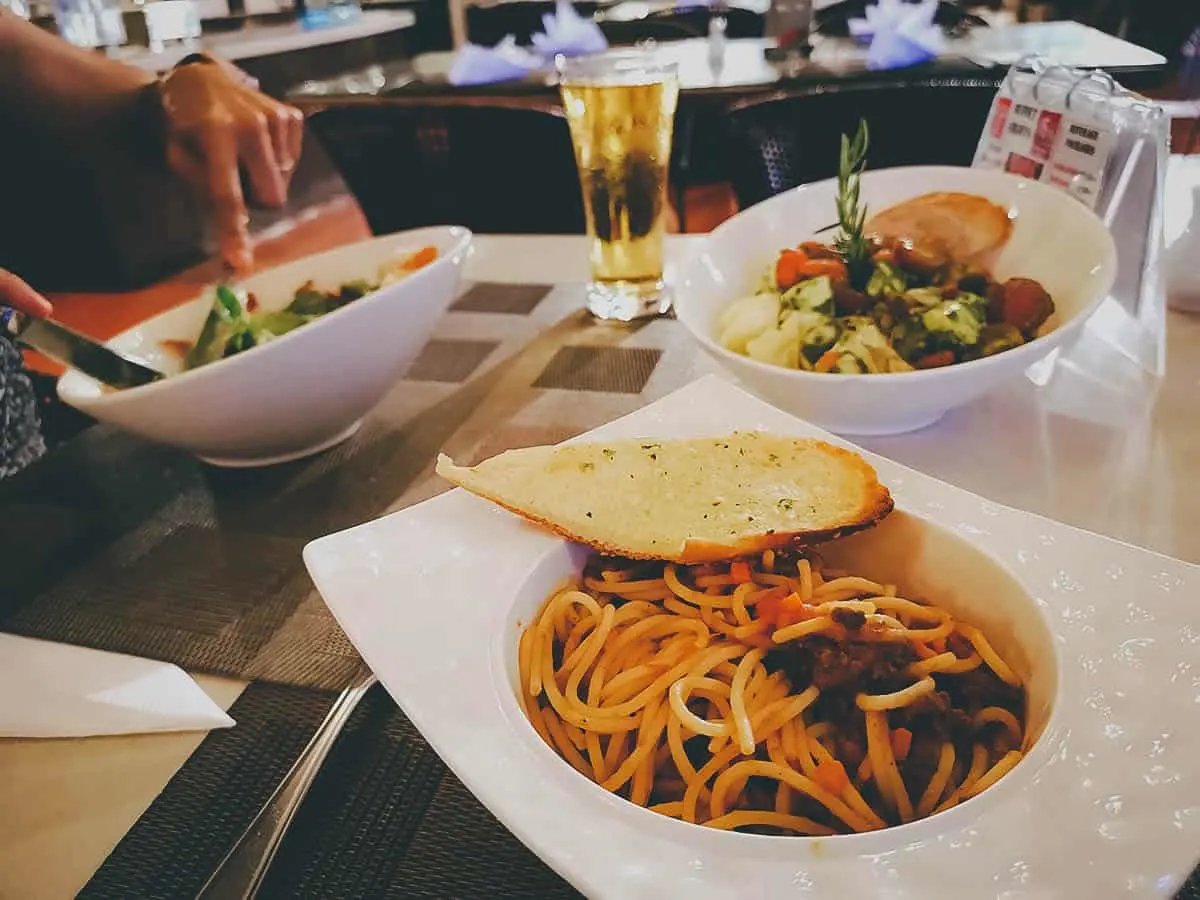 Conclusion
We enjoyed every meal at The Cliff which offers what they call "Mediter-Asian" cuisine. The few dishes we had from the a la carte menu were good and not terribly expensive. It's pretty much what you'd expect to pay at a middle-tier restaurant in a bigger city like Bangkok. The real value at The Cliff is in their buffet nights. The prices are surprisingly reasonable, especially for a restaurant at a 4-star hotel.
If you aren't staying at Centara Villas Phuket but want to experience one of The Cliff's buffet nights, then you should reserve a table on a Tuesday, Thursday, or Saturday. Here's what you can expect to find on each of those nights:
Tuesday – Seafood BBQ – THB 590++
Thursday – Thai Night Noodles – THB 490++
Saturday – Surf & Turf BBQ – THB 590++
As advised, hotel guests get 15% off if they book over breakfast. That's a pretty awesome deal for all the seafood you can eat! To put that in perspective, we paid THB 250 per plate of mussels or clams at some no-name seafood shack on Kata Beach. If you're traveling with kids, children ages 6-12 get half off while kids 5 and below eat for free.
On top of their buffet deals, the restaurant offers the following beverage packages as well:
Free flow soft drinks – THB 299++
Free flow beer – THB 399++
Free flow wine – THB 499++
Free flow wine, beer, and soft drinks – THB 799++
If you've been to this island, then you'll know there are plenty of seafood restaurants along the coast. Some may offer cheaper buffet deals but not all can promise the same quality as The Cliff. As described, every piece of seafood we had from the prawn to the crab to the sea bass was succulent and perfectly cooked. It's easy to overcook seafood but these guys do it very well. And let's not forget about the view.
If you're traveling as a couple and want a romantic night out in Phuket – at a place that offers the most picturesque views of the ocean – then The Cliff Restaurant at Centara Villas is definitely one to consider.
The Cliff Restaurant at Centara Villas Phuket
701 Patak Rd, Karon Beach, Amphur Muang, Chang Wat Phuket 83100, Thailand
Tel: +66(0) 076 286 300-9 ext. 5
Website: centarahotelsresorts.com
Email: [email protected]
Operating Hours: 6:30-10:30AM, 6-10:30PM, daily
HOW TO GET THERE: The Cliff Restaurant is located at Centara Villas Phuket. It's on Patak Road going up an incline so if you aren't a guest at the hotel, then it's best to go there by Grab or taxi.
Disclosure
We were guests of Centara Villas Phuket. We were given a free two-night stay and seafood bbq dinner in exchange for an honest account of the experience. As always, all words and opinions expressed in this post are mine and mine alone.