EDITOR'S NOTE: Traveleater Mateja Brescak from PassionSpoon shares with us her love for Currywurst as well as her own recipe for this German phenomenon.
I've been living in Germany for quite some time now and I've never thought about how important the Currywurst is for the German culture. I can just say that the whole country, specially Berlin and Hamburg, love the Currywurst. That's also why I decided to write about the Currywurst phenomenon.
You would maybe say it should be in the fast-food category. I totally agree with that, but I would also say it's not a common fast-food. It's completely different from other fast-food; after one hour it doesn't transform into water or glue or paper or something not edible. Currywurst is a real sausage with some French fries on the side. Yes, I write it with a capital letter, because the Currywurst is an icon and a real sensation!
It's everywhere around you in Germany. It doesn't matter where you look; you'll see it as far as your sight can go. That's why I call it a phenomenon.
People, young and old, locals and tourists, simply love it! And guess what? I love it too! How not to love it? A delicious snappy sausage with a unique curry sauce and with addition of the classic French fries just calls to be eaten. Hehehe.
Ok, from now on I will simply call it Currywurst (that's also the topic of this post after all) and not sausage any more. I don't know about you, but when I hear "sausage" I think of fresh minced meat in a casing. Back home in Slovenia we have a different word for every type of sausage. Calling the Currywurst the curried sausage would be weird, right?
A couple of more words to explain how I got under the spell of the Currywurst phenomenon. I had my first Currywurst ever when I first visited Hamburg. At my first football game at the stadium I had a Currywurst, for my first visit at the Hamburger DOM (a large fair) I ate a Currywurst, when my parents visited Hamburg we ate a Currywurst. Can you see how special it is for me? It's perfect for any occasion anytime.
Boy, am I glad about writing this post. Because that's the reason I "sacrificed" myself to do research by tasting many Currywursts in different places (Berlin and Hamburg) in order to give you some great tips and facts about it. But before going on the "Currywurst tour", I am going to say just a couple of words about the history of Currywurst.
Originally it comes from Berlin….so they say or maybe people from Berlin are just better at telling stories than the ones from Hamburg. However, Miss Herta Heuwer from Berlin was the first to invent the curry sauce after the Second World War and from there on the Currywurst phenomenon has evolved and spread all over Germany. Since the original curry sauce has been invented, many different variations can be found.
OK, enough of historical and theoretical facts. Let's check out the real facts!
Save This on Pinterest!
No time to read this now? Click on the red save button and pin it for later!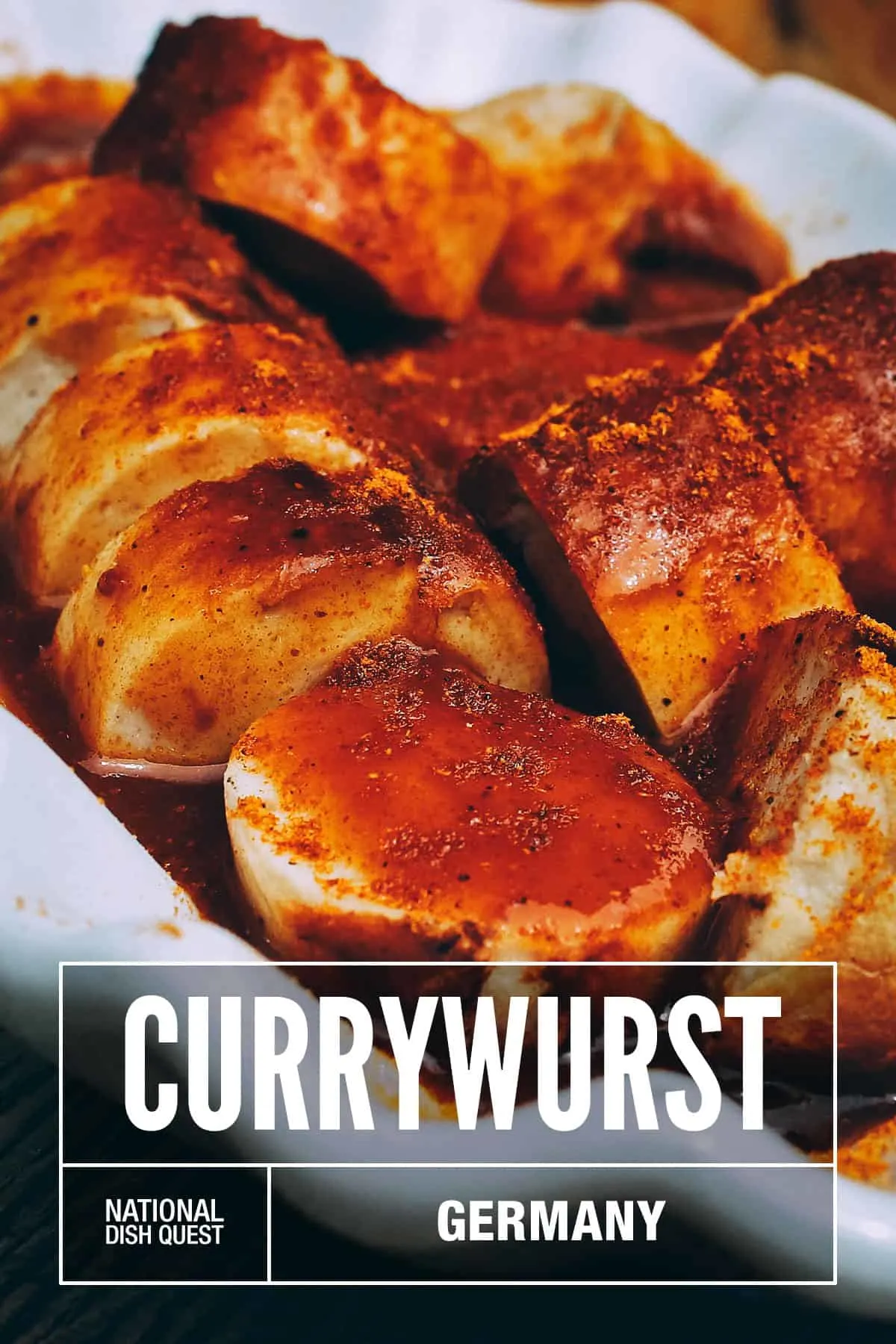 Photo by planet_fox via Pixabay
WHERE TO TRY CURRYWURST IN BERLIN
I recently visited Berlin again, due to the Guns N' Roses concert. This seemed also a perfect occasion to try the original Currywurst from Berlin. My stop was at Curry 36 (Hardenbergplatz 9). It's said to be the best in town. The queue was long, the sun was burning hot, but I waited excited in line.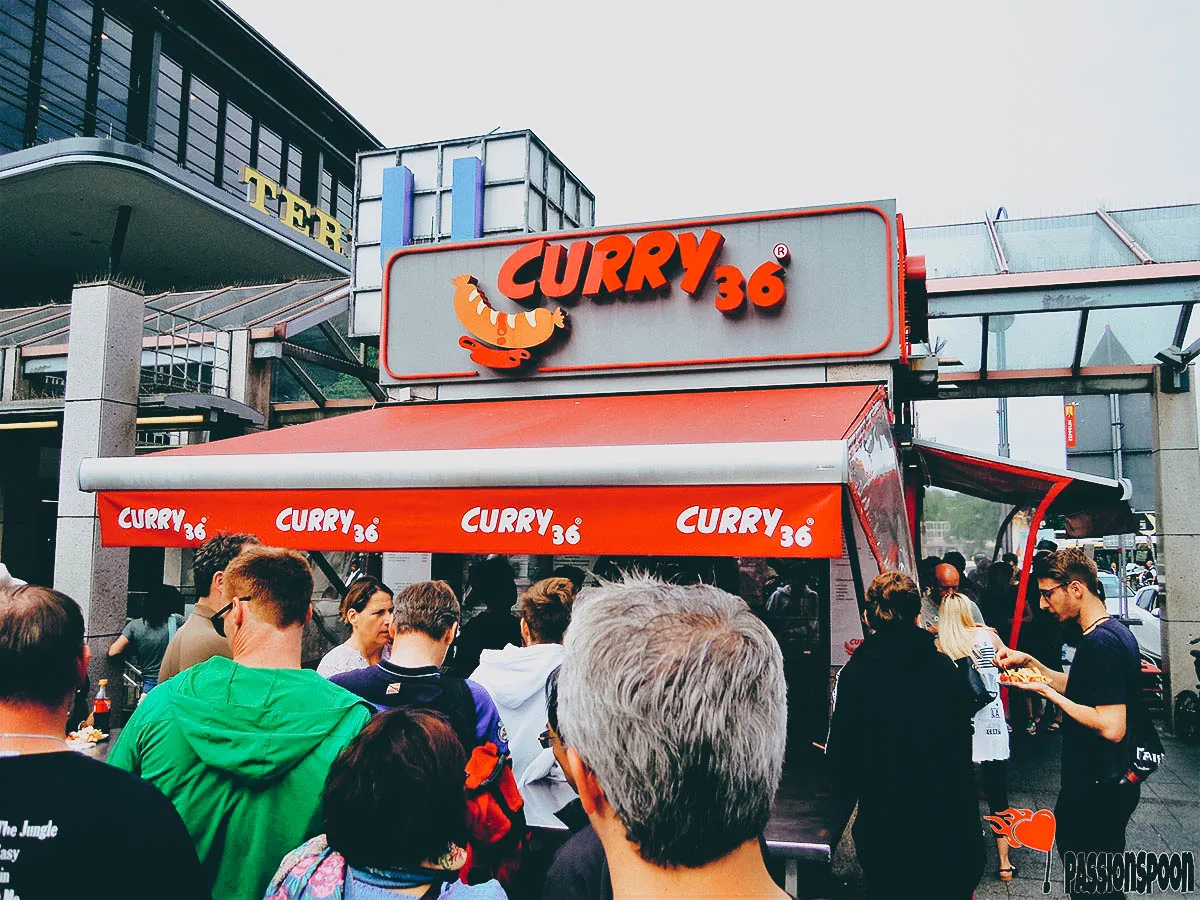 They have plenty of choices for every hungry mouth. They even have a vegan Currywurst! We chose one Currywurst with the natural casing and one without it. The Currywurst without the casing dates back to the East Germany times (DDR), when having the casing was a luxury. But nowadays the most common type you'll find is the one with the casing. Both Currywursts come with French fries and you can choose either mayo or ketchup as a dip. Moreover, you can also choose between "normal" curry sauce and the spicy one.
I must say, both Currywursts tasted great. I loved both. The Currywurst without the casing was more snappy than the one with it. Funny. Both had a lovely flavour. Also the curry sauce was delicious. Was it the original one, invented by miss Herta? Hmmm, maybe yes maybe no. French fries were crispy and not greasy at all. So, thumbs up also for that! I would definitely go back.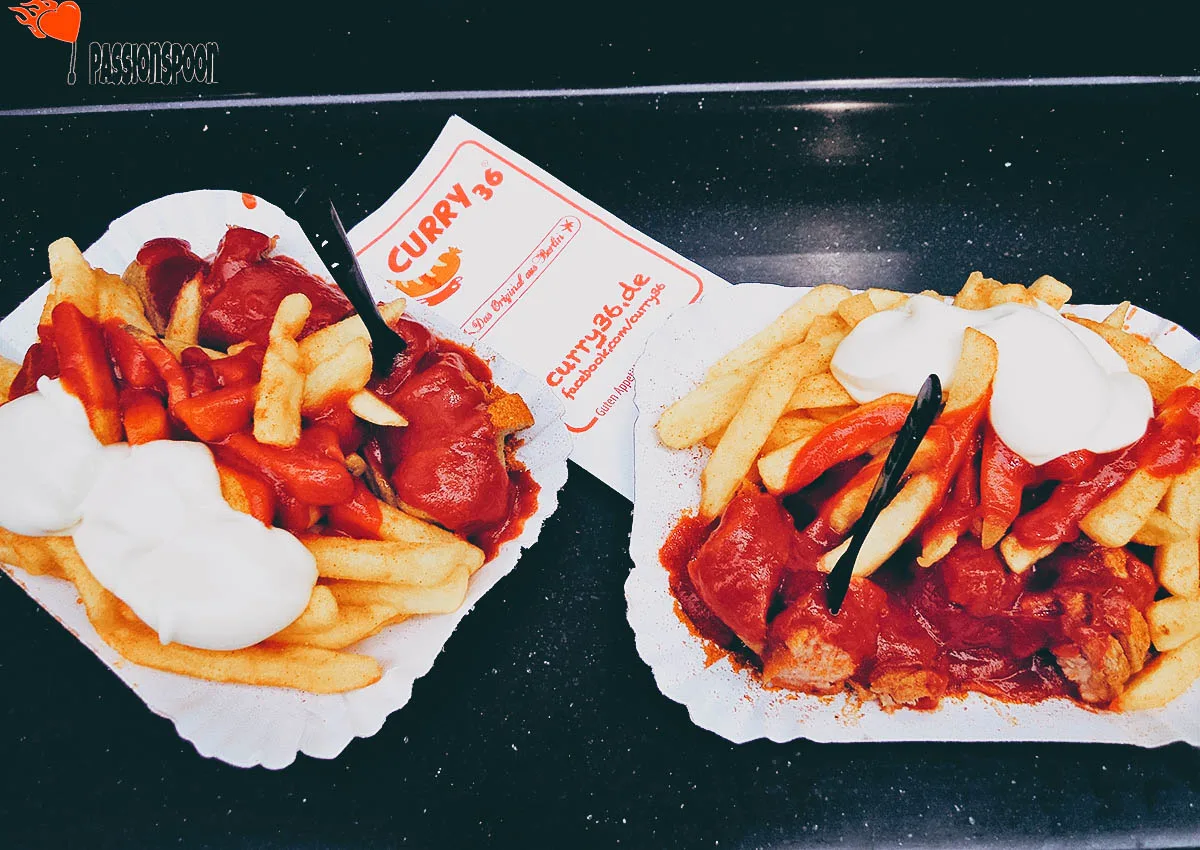 7 PLACES TO TRY CURRYWURST IN HAMBURG
And now back to Hamburg, meine Perle! Since I live here, I visited six places which are known for making the best Currywurst in town. I didn't put them in a preference order or anything. In all of the "reviews" I am only describing my own personal opinion. We all know, million people, million opinions, million tastes.
1. Mö Grill
My first stop was Mö Grill (Jungfernstieg 7-8 and Lilienstraße 36). Everyone from Hamburg knows this name. Having a Currywurst at Mönckeberg street or at Jungfernstieg is a must! They serve the Currywurst in a traditional way; on a paper tray, chopped up rounds topped with the amazing curry sauce and with a fresh bun next to it. The curry sauce is full of flavour and the Currywurst is juicy and delicious. But the most amazing thing is, that snap that you hear when you bite in it! Just superb! Most people would say that they beat the Currywurst in Berlin. Well, you be the judge.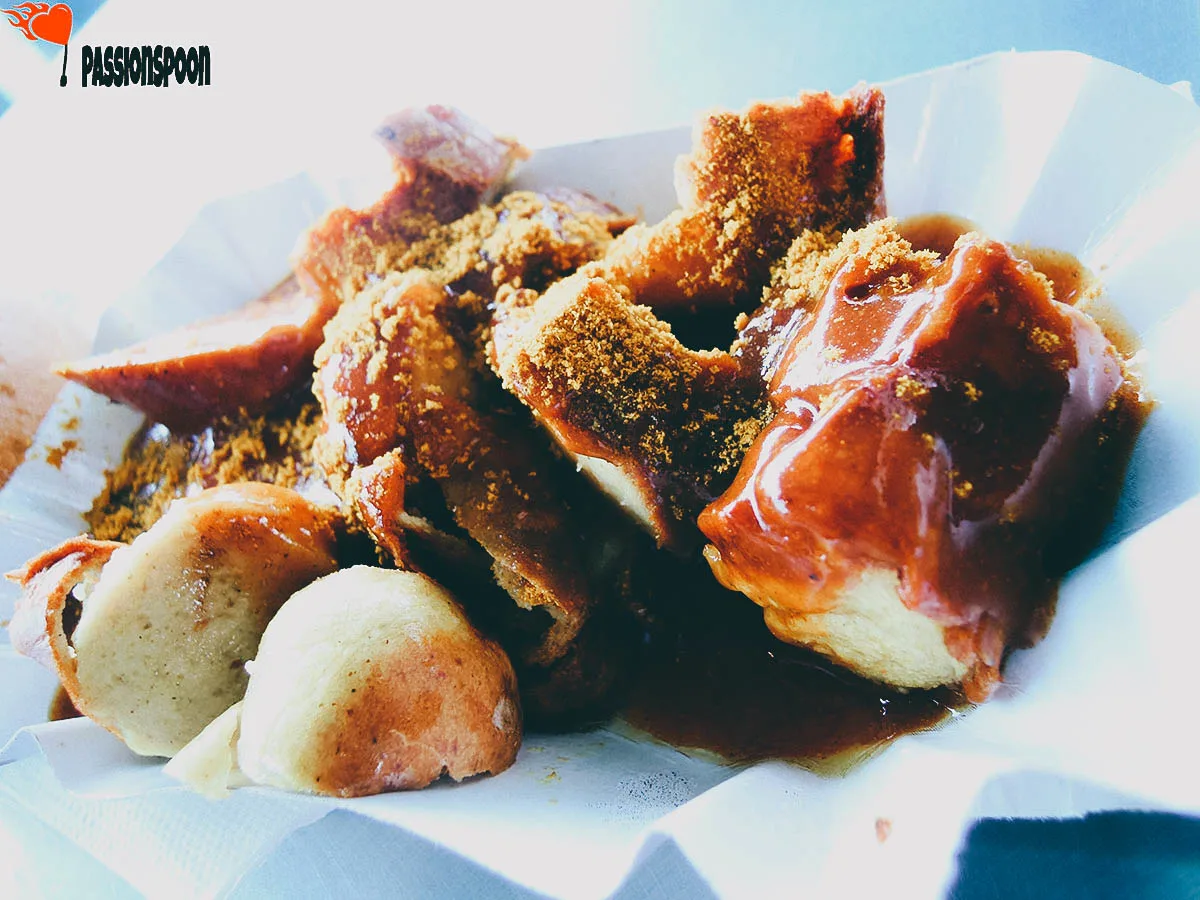 2. Imbiss bei Schorsch
On a different day my research brought me to a small place called Imbiss bei Schorsch (Beim Grünen Jäger 14). This place is so funny; the smallest place where you can buy a Currywurst (and this makes it a cult place), with a couple (by that I really mean two) old and simple tables, benches and chairs in the middle of a neighbourhood coloured with graffiti. I must say, it really stands out. It is like one of those old school places. The Currywurst tastes good and the sauce is home-made with a delicious flavour of fresh tomatoes. In my opinion the fries were better than the potato salad (as the side). People don't stop for a long time in this place. It is more like stop, eat a delicious Currywurst, do a quick chit-chat with people and "bye bye".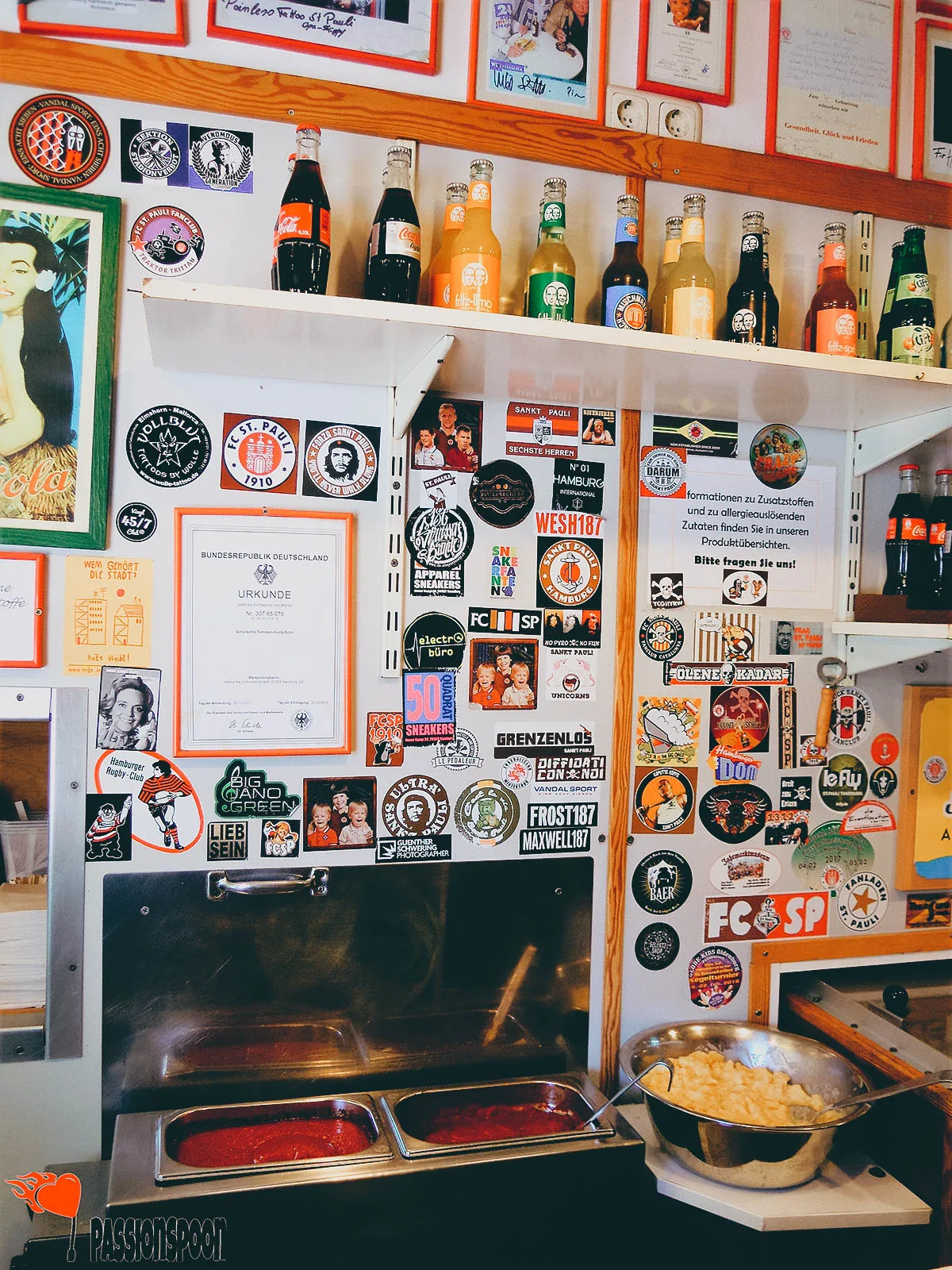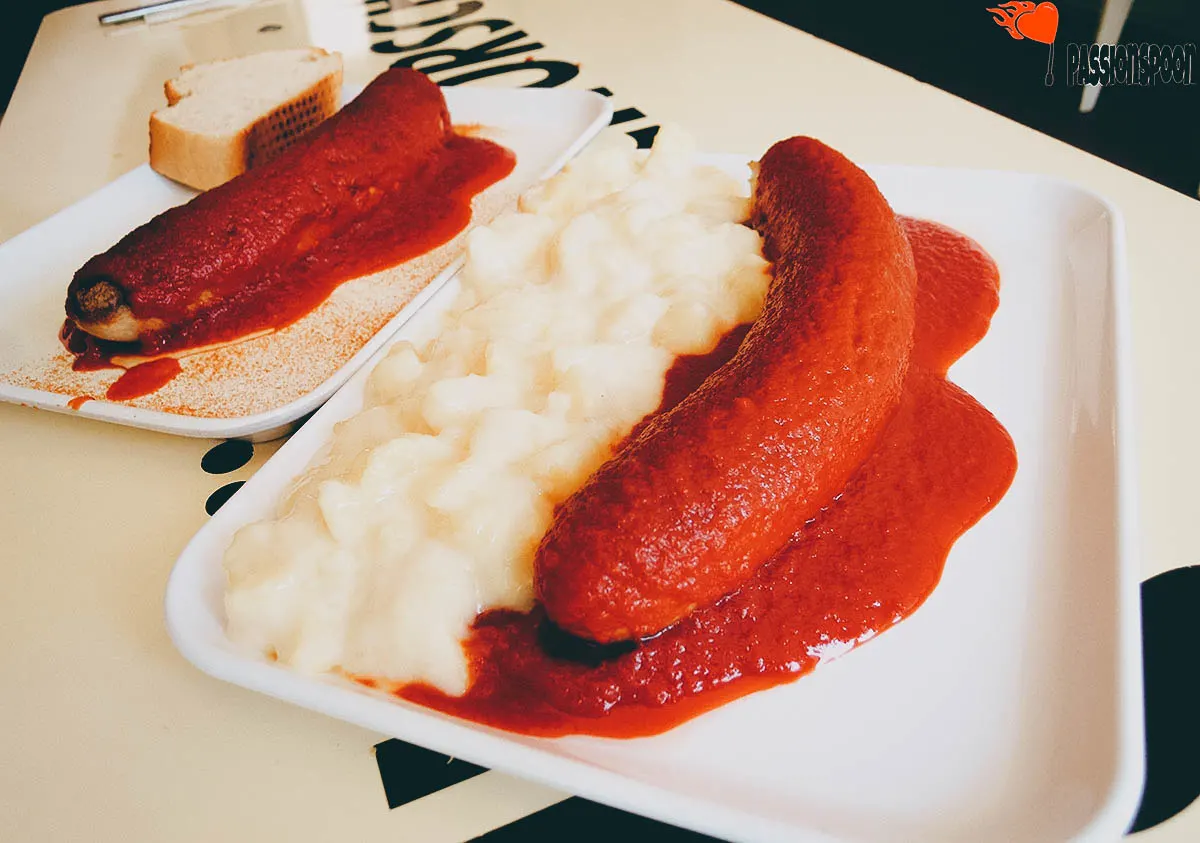 3. Lütt'n Grill
Another great place where to enjoy a Currywurst is Lütt'n Grill (Max-Brauer Alee 277). You can enjoy a great Currywurst or a delicious chicken sitting at the tables just in front of the shop. The service is quick and the Currywurst is served (whole) on a real plate with crispy and salty fries or noodles on a side. Since this is an article about the Currywurst phenomenon, we ordered it with the yummy fries! I also found the curry sauce very delicious; here you could really taste the curry flavour. Loads of curry! This place has also its own "wall of fame" that you need to check out while waiting for your "meal". It's located in the famous "Schanzen" area, where you can find lots of cool bars and places to have a good time on the weekend.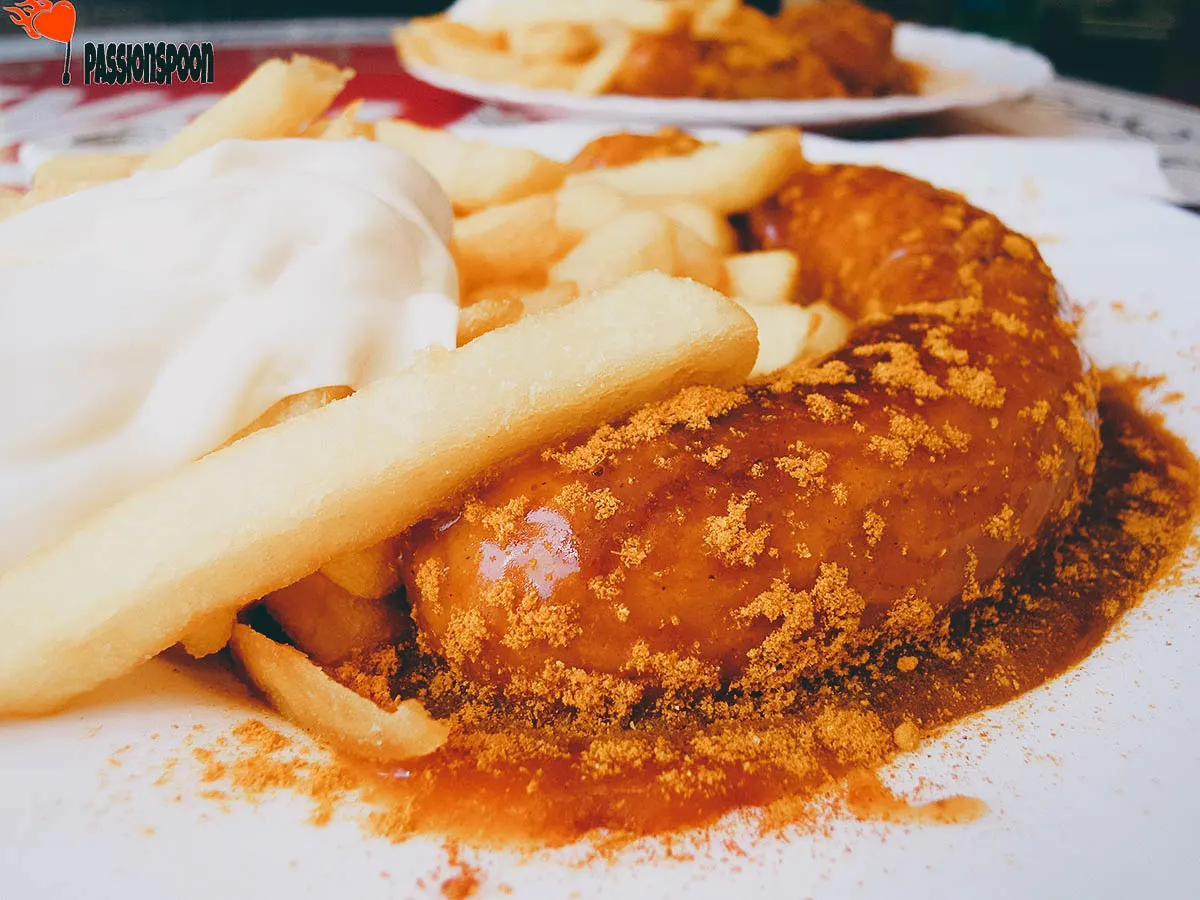 4. Bobby & Fritz
Bobby & Fritz (Nedderfeld 100 and Neuer Kamp 31)! You can't miss this place with their orange colour and their own Currywurst fork as a trade mark. Their food trucks can be found all over Germany. So watch out for them! Here the whole world is spinning around the Currywurst or "Bobby" like they call it. However, they also have many other things to choose from, finger-licking good stuff. I was there at lunch time and boy was it crowded. Only after you order will they start preparing your Currywurst. Like that you can be sure you'll get a fresh one which didn't lay on the grill the whole day. Despite the crowd, I got my Currywurst in 5, 7 or 10 minutes time. I can't remember right, because I was distracted by the choice of sauces. They have three amazing sauces; Caramba – with extra curry powder, Caracho – with spicy curry and Olé – with a fruity note. I got my delicious, snapping Currywurst chopped, covered with the sauce and with a fresh crispy bun on a side. All three sauces were delicious, but my favourite was the fruity one. Superb!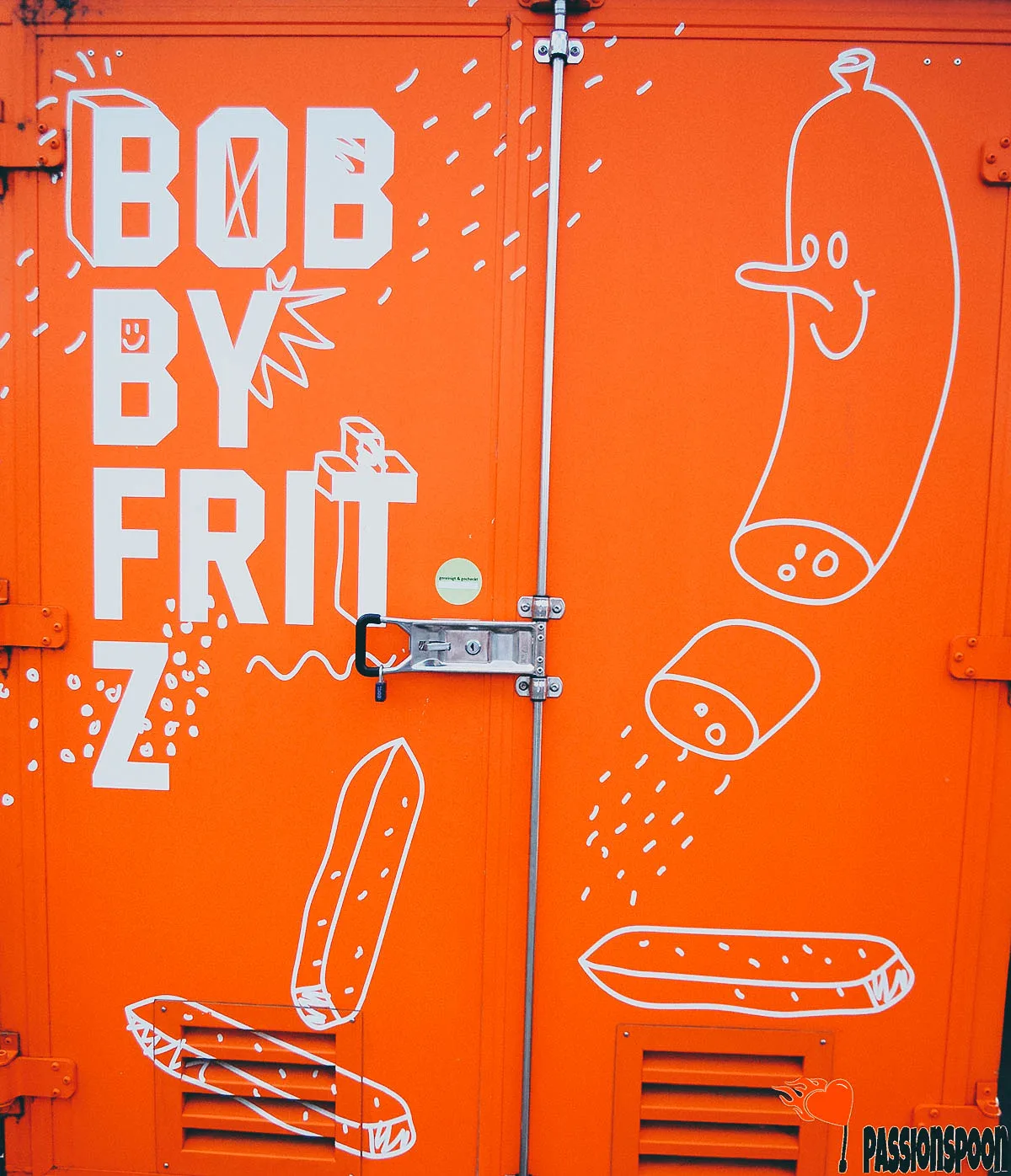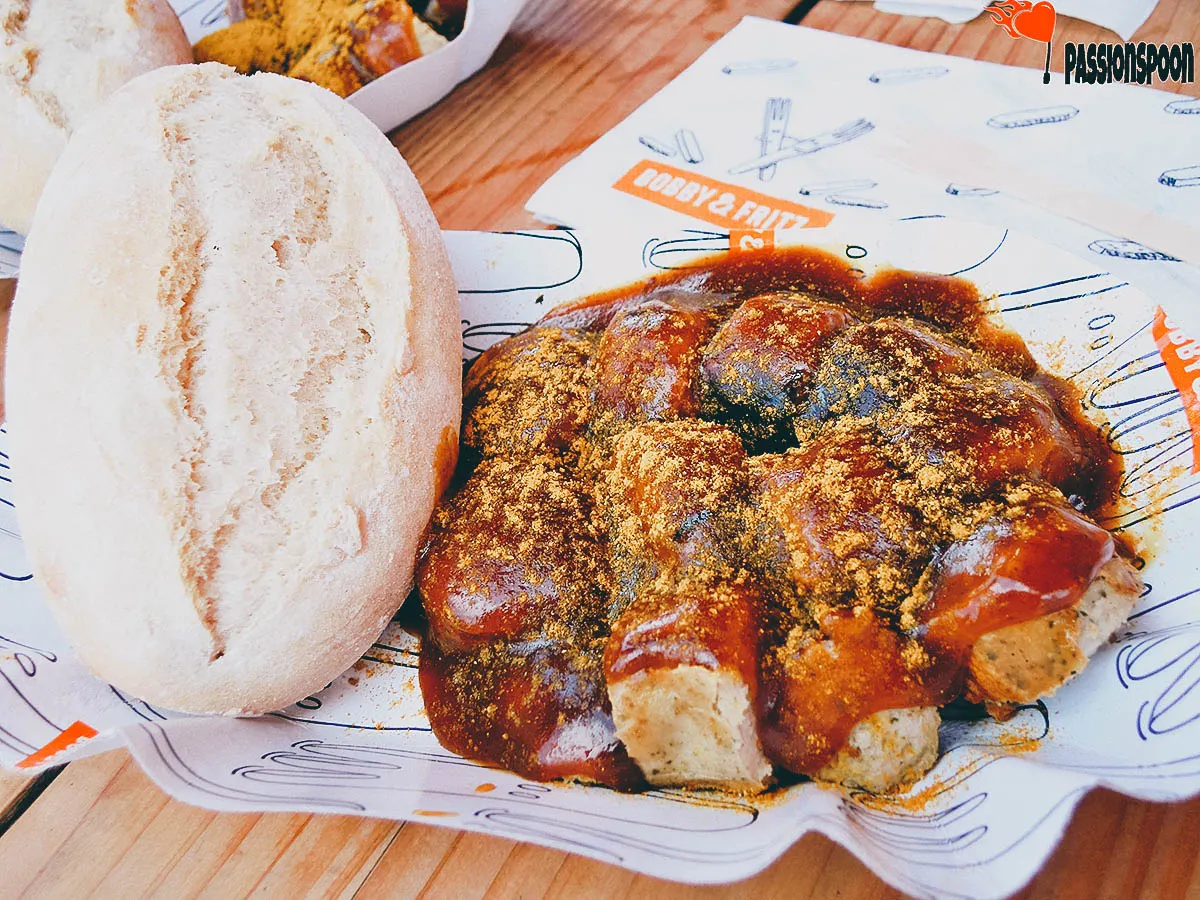 5. Curry Grindel
When in Hamburg you also have to visit Curry Grindel (Rentzelstraße 2). Not only will you get great food, but you will also get free entertainment on top of it. It feels like being at an auction. The place is very crowded and there's a reason for that: the fun show by the chef. However, you don't need to wait for a long time; no more than 5 minutes. The Currywurst is served on a grandma-style plate and you can choose either normal or spicy sauce. Also here the Currywurst is already chopped up and ready to be eaten. The thing I also love is that they offer the sautéed onions. Amazing! Just one thing; don't judge the looks of the dish. The flavour will win over the looks! And because we didn't take the fries, he gave us the whole plate to try them. Yes, a big pile of free fries! Like usual they come with mayo or ketchup.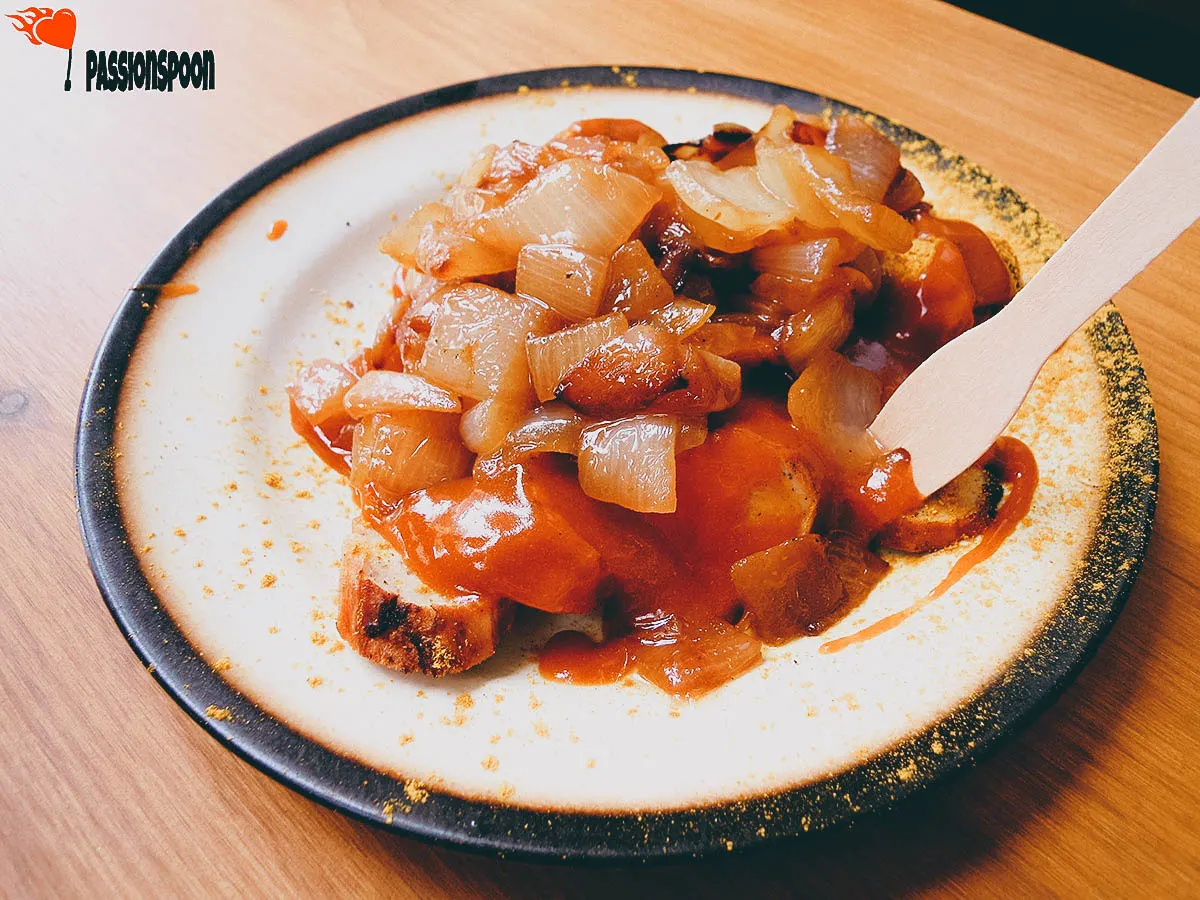 6. Imbiss Lucullus
The most famous street of Hamburg is the Reeperbahn; the party street. It is one of the "must go and see" places for every visitor. And here you will find the Imbiss Lucullus (Reeperbahn 75). I can imagine the crowd on the weekends; specially evening and night time when all the party animals are enjoying themselves. Here I tried the Currywurst served simply with a fresh bread bun. Sometimes I like to have the bun, sometimes the fries. The Currywurst is served chopped up, on a typical paper plate with the normal curry sauce. To be honest there's nothing special about this one. But I still enjoyed it. Definitely a place to go after a long party night.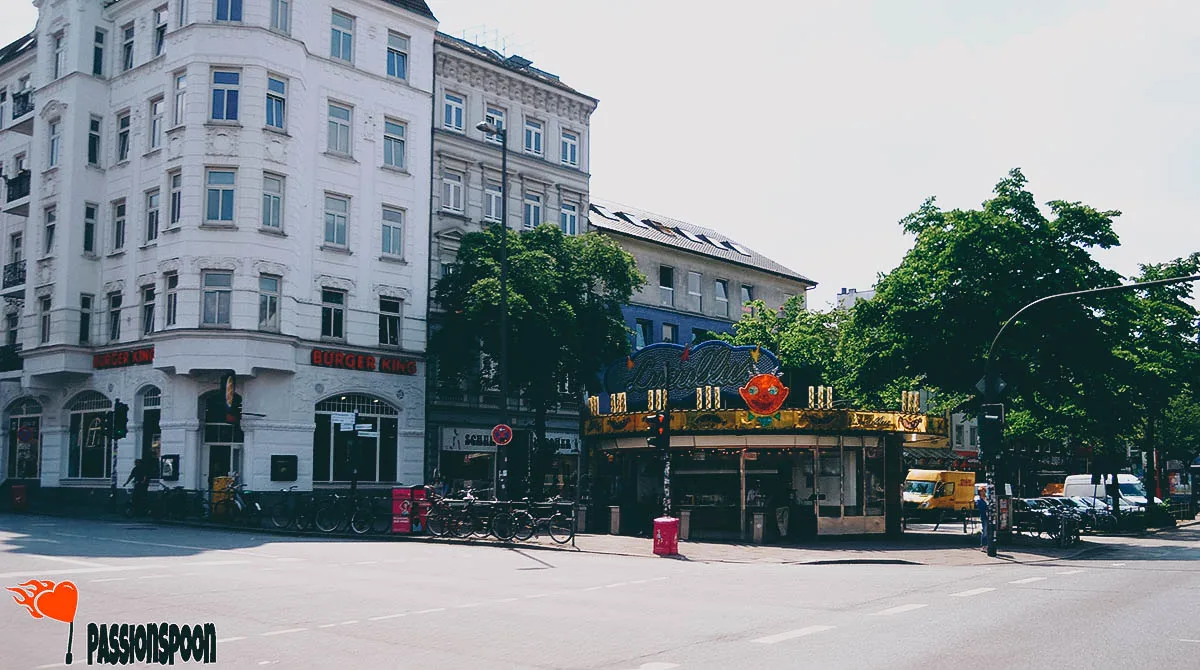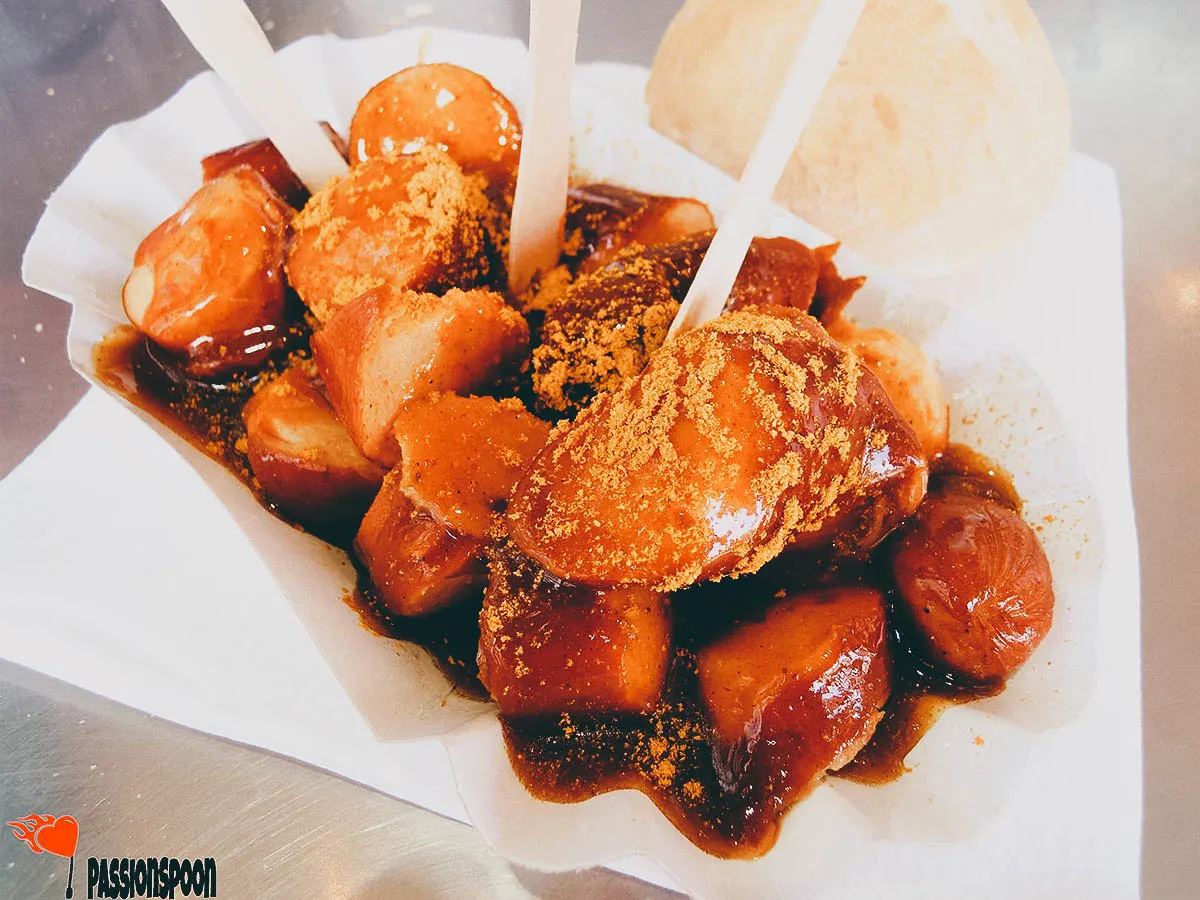 7. Curry Pirates
There is one more place that I've discovered; the Curry Pirates (Mozart Straße 23). Arrr! If you like something, let's call it "not ordinary" then this is a place for you to be. Beside the Currywurst you will find other special wursts on their menu. And each has a special name. Moreover, all wursts, sauces and sides are homemade and fresh. That's because the owners have a history in the gourmet food industry where they owned a restaurant in the past.
I also like the idea that you can create your own wurst (using your foodie imagination) and the most interesting one will be chosen by the chef and featured on the menu. And listen to this; they sell also the most expensive wurst in Germany (you need to order that in advance). This one is made of veal fillet, truffles and goose liver. Wow! But that's not all! Every week they have a new special wurst on the menu. This week they had the "Greek Geek." A Bratwurst stuffed with turkey chunks and tomato bulgur and tzatziki sauce as a side dish.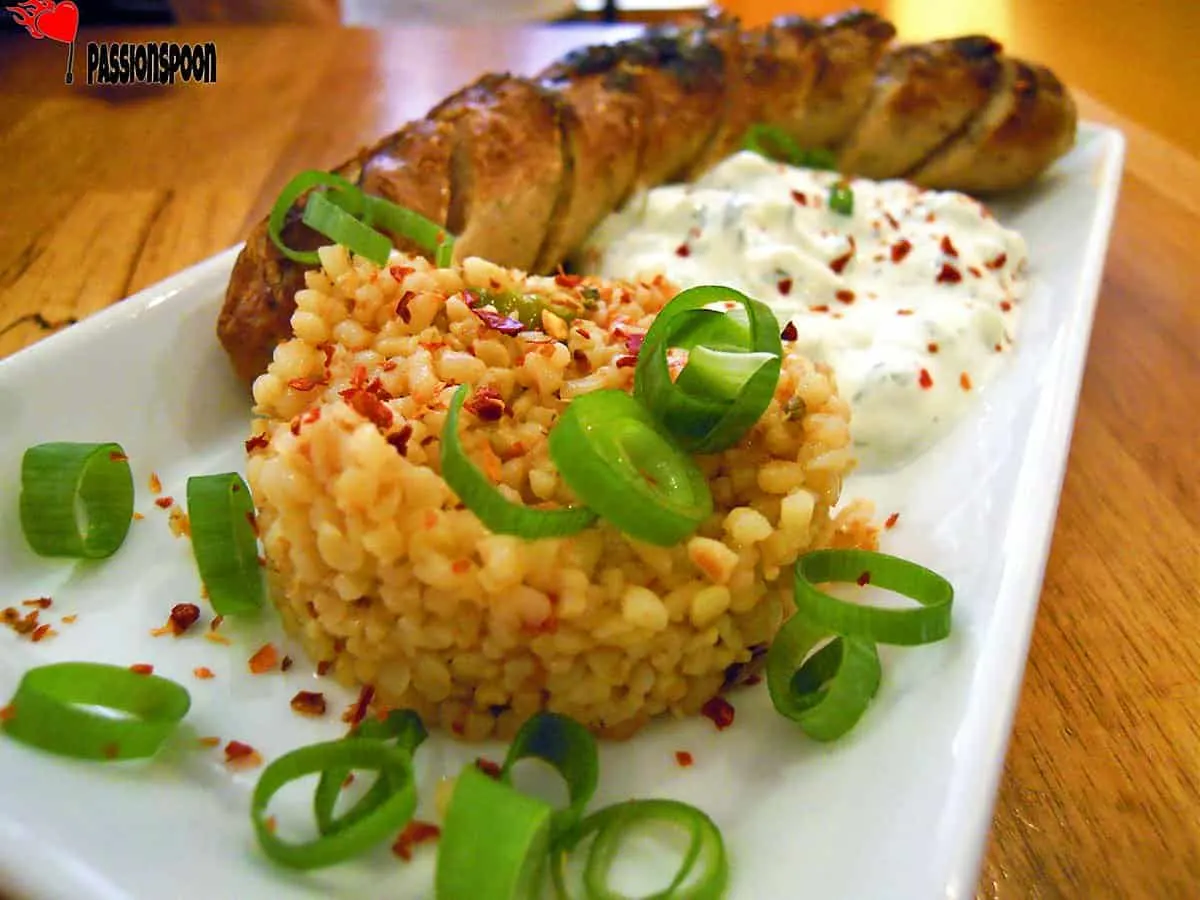 So we got the Currywurst, the weekly special and a "salsiccia" wurst. This small place gets really crowded around lunch time. However, the service is quick. And while you wait you can read all the funny names of the wursts they created over the last decade.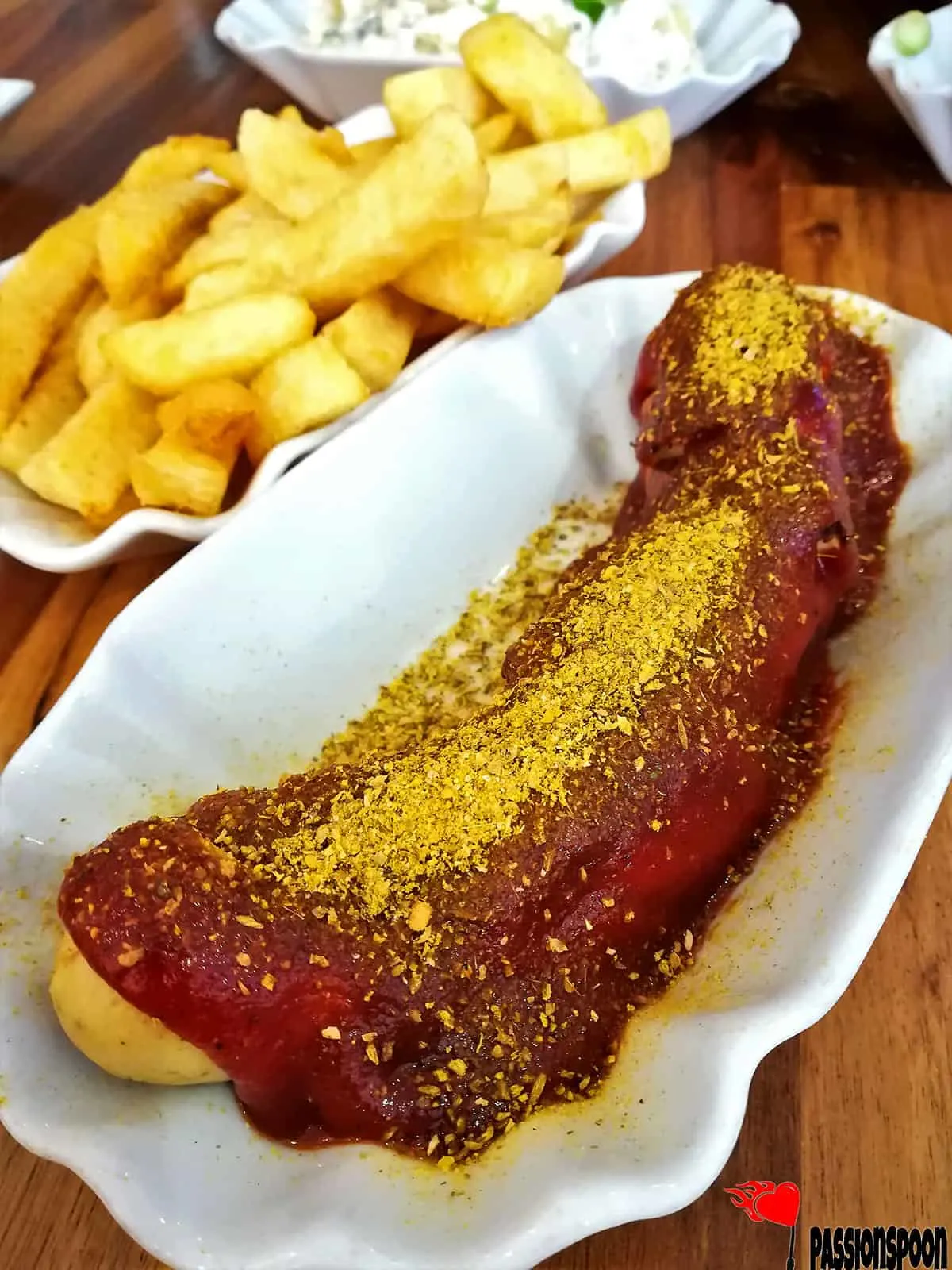 The friendly lady advised us to start with the "Greek Geek". Wow, the combo of tzatziki and wurst was just unbelievably good. Then we got the Currywurst with small pieces of dried apricot in it (that was a surprise!) and homemade curry sauce. Both amazing! The homemade fries were crispy on the outside and tender on the inside. And also the pineapple-curry sauce next to it tasted superb. The potato salad was just delicious and the "salsiccia" with italian herbs and a lovely tomato sauce was also something extraordinary. Another plus is, that you can buy all of their delicious sauces in jars to take home with you and put on your own food.
I would absolutely recommend this place to all of you who love Currywurst or any other wurst. Don't wait for the weekend to visit the Curry Pirates, because they are closed and that would be "the wurst case scenario". Arrr!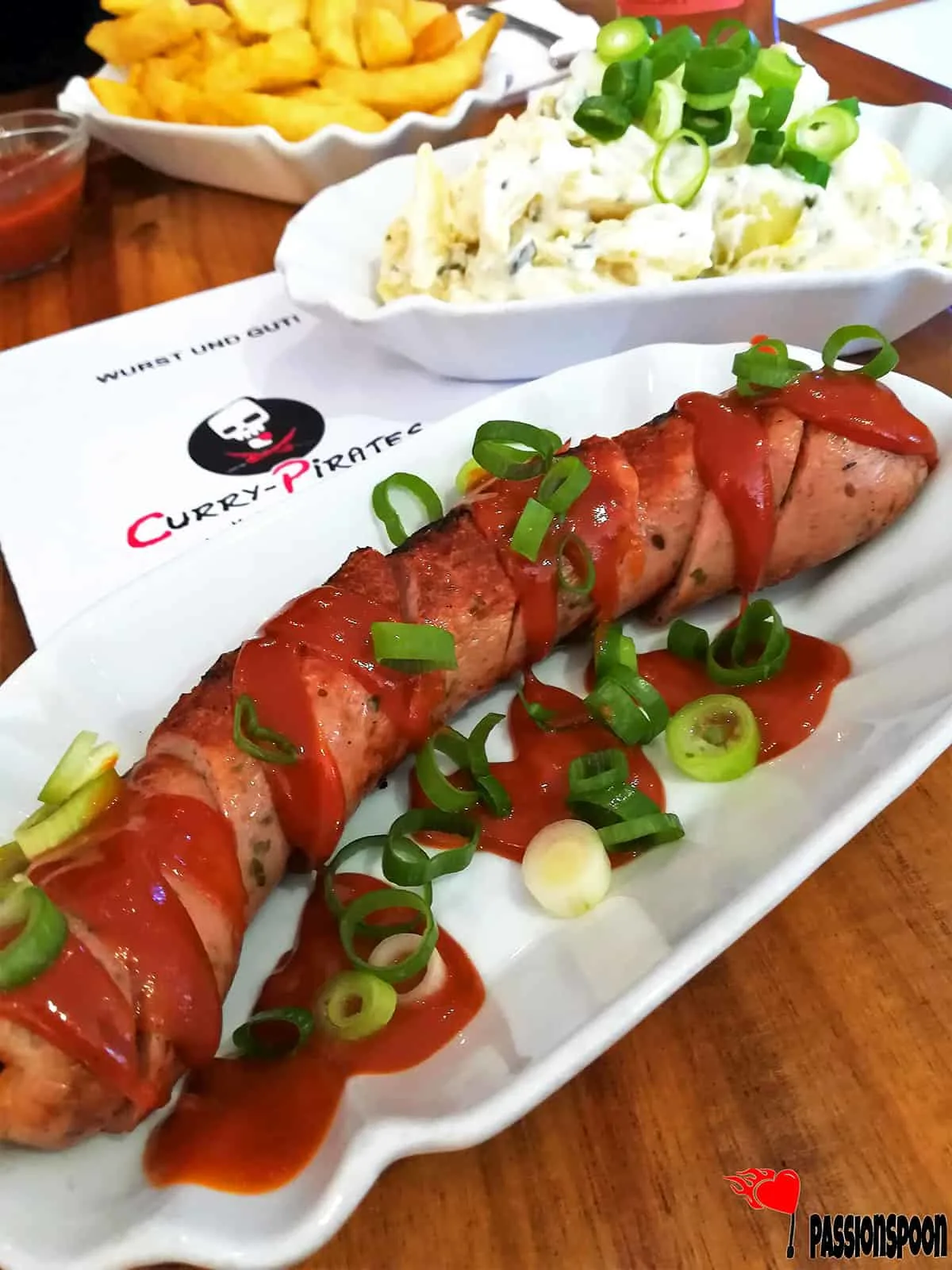 CONCLUSION
With this my Currywurst Tour has come to an end. I've never eaten so many Currywursts in such a short time. I have to thank Lennart and Wolfgang (my two Currywurst experts) for joining me on this journey and for giving me great tips where to find the best Currywurst in town. It was a real adventure! Hehehe. fun and delicious. I would definitely do it again!
Maybe you are asking yourself now: "What can be so difficult about making a Currywurst? Nothing really. It's so easy and at the same time so delicious! This is what makes it so special. I also prepared it myself and created my own curry sauce. Yeah, I was inspired after my tour.
If you ever visit Germany, you shouldn't leave before tasting a Currywurst. Try a Currywurst at any of these places and you will never regret it! Eating a Currywurst is a phenomenon in the German culture. It's neither fancy nor expensive, maybe that's why everybody loves it so much. In my opinion it's a must once in a while. I also hope, I managed to explain in simple words why is the Currywurst such a big deal. Go and get a Currywurst now! Be a part of the phenomenon!
Photos by Mateja Brescak