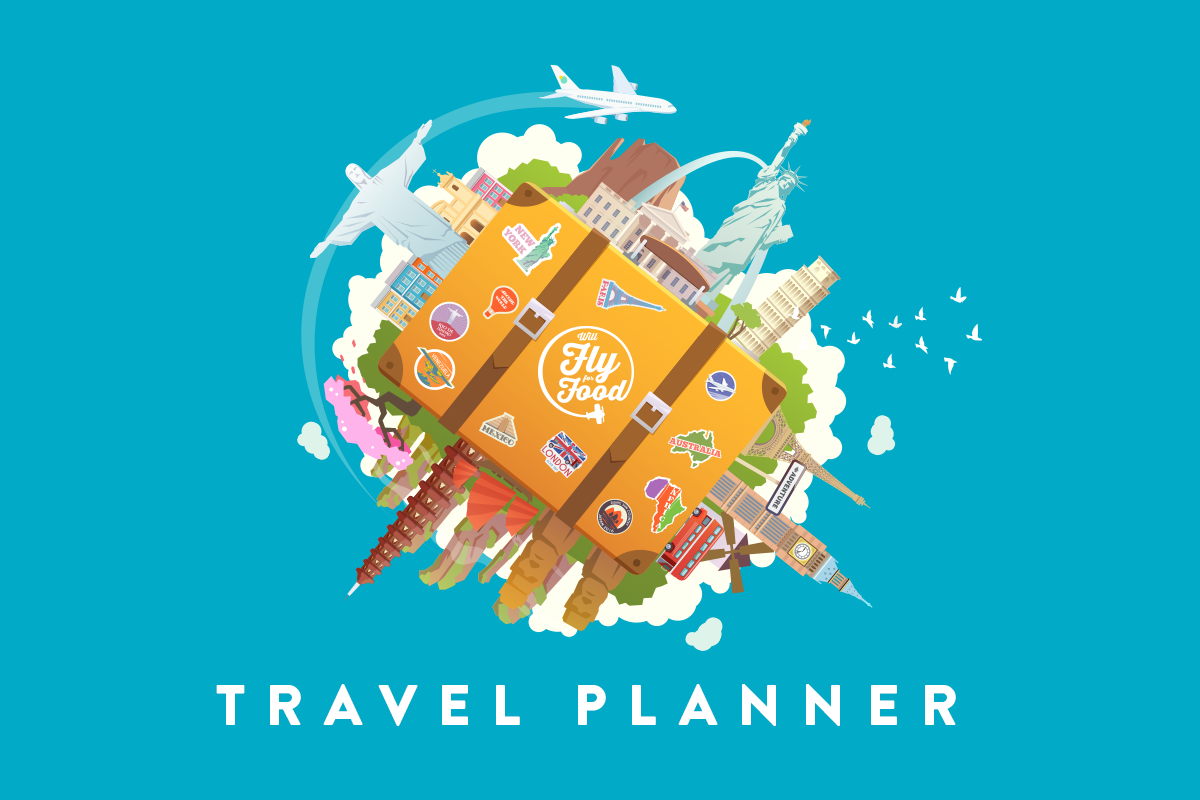 Plan Your Trip with the Will Fly for Food Travel Planner!
Trip planning has always been a big part of our blog. Whether it be finding the best restaurants or leading people to the most interesting attractions, we've always enjoyed helping travelers plan their trips. Which is why we're super excited today to launch a project we've been working on for the past several months. We partnered with our friends at Sygic Travel, Booking.com, and Viator to create the Will Fly for Food Travel Planner!
With our handy online travel planner, you can easily create your own vacation itinerary to any destination in the world. You can make day-by-day itineraries neatly laid out on an interactive map powered by Sygic Travel, as well as book hotels and tours directly from the planner. All hotel and tour bookings are powered by Booking.com and Viator respectively, two of the biggest and most trustworthy companies in the travel business.
I know how intimidating doing a DIY trip can be for some people, especially first-time travelers, so I hope our travel planner can make the process a little easier and more fun for you. The Will Fly for Food Travel Planner is free to use, just follow the step-by-step guide below and start planning your trip today!
Save This on Pinterest!
No time to read this now? Click on the red save button and pin it for later!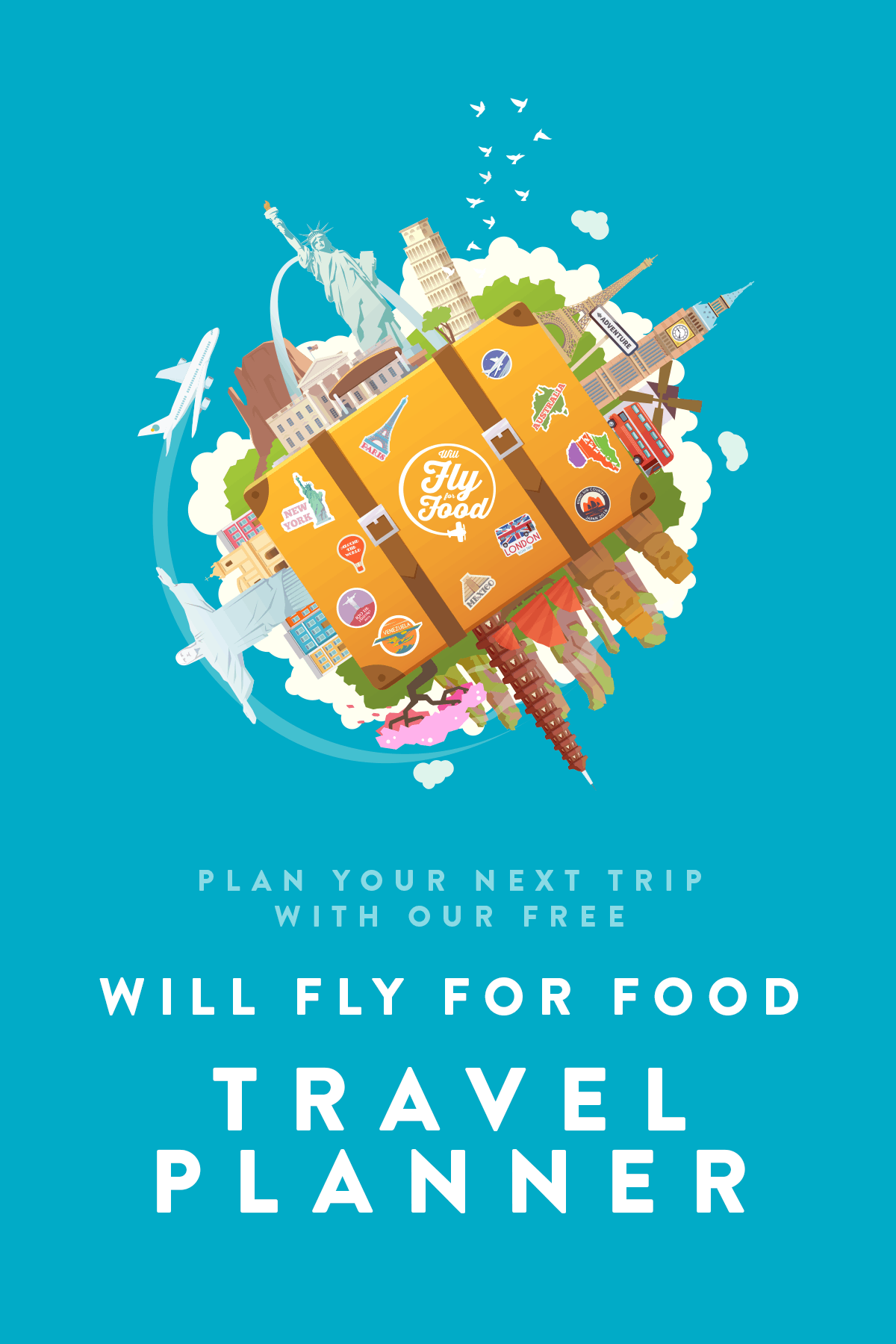 Plan a Trip
The first thing you need to do is go to planner.willflyforfood.net and create a FREE account.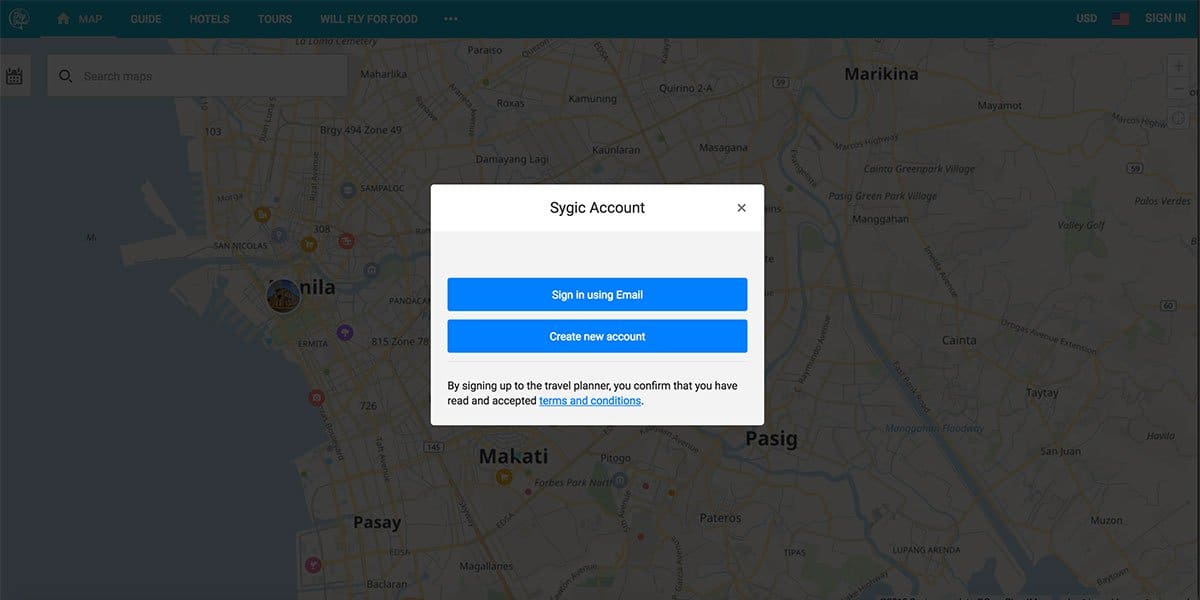 Once you'd done that, click on the icon at the upper right corner of your screen to bring up the menu. Click on My Trips.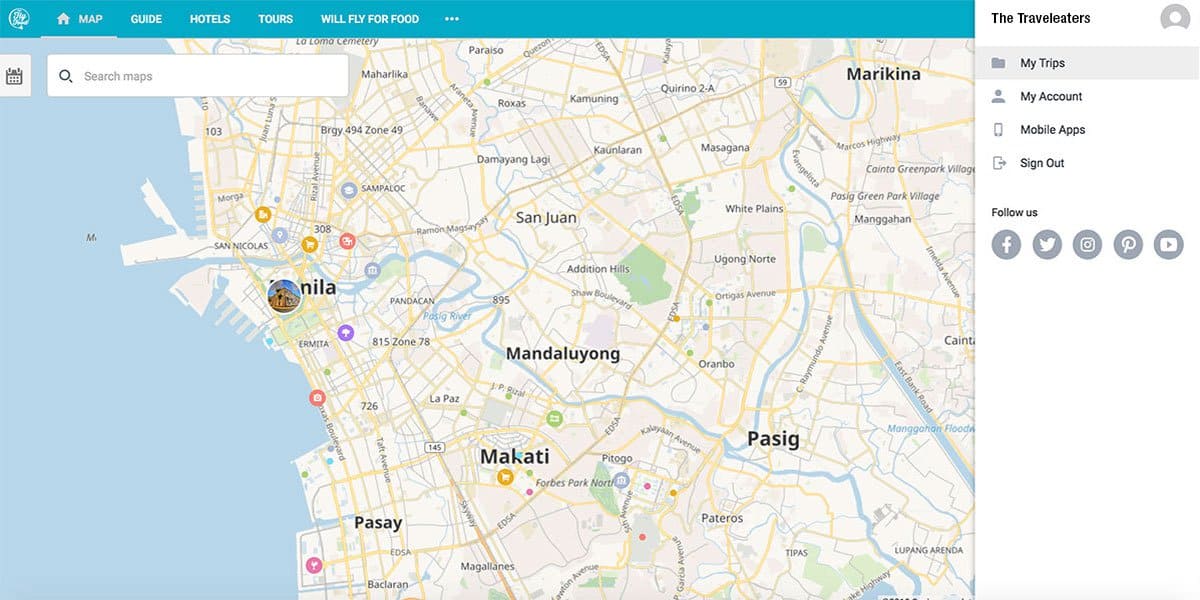 You won't have any trips scheduled yet so click on Let's plan a new trip.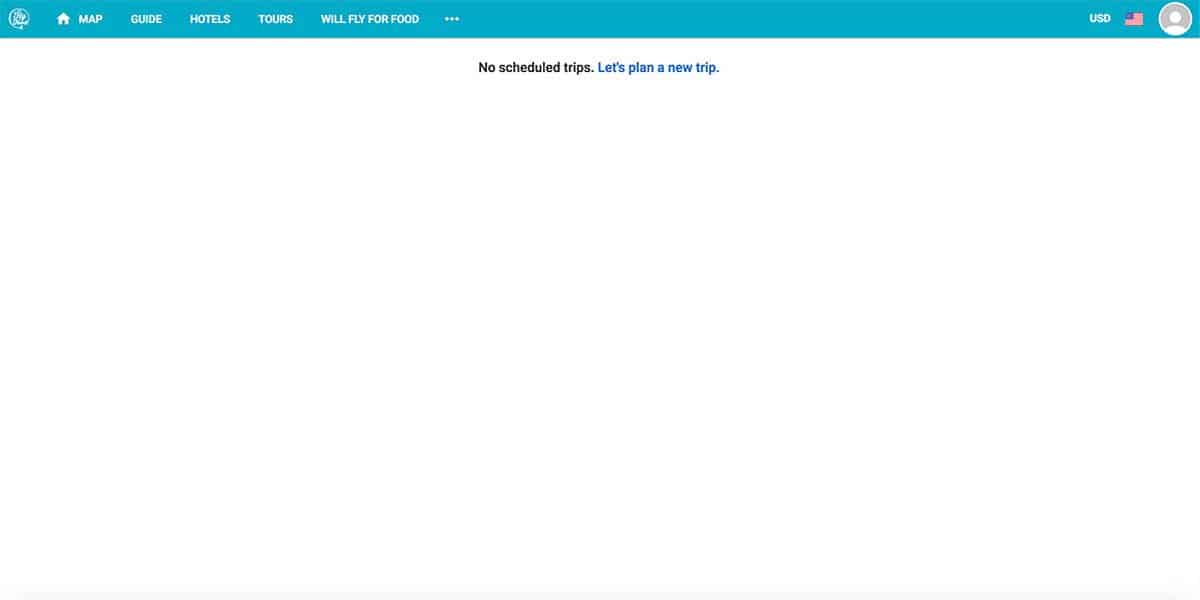 Enter your destination, a name for your trip, and your travel dates and you're ready to start creating your itinerary!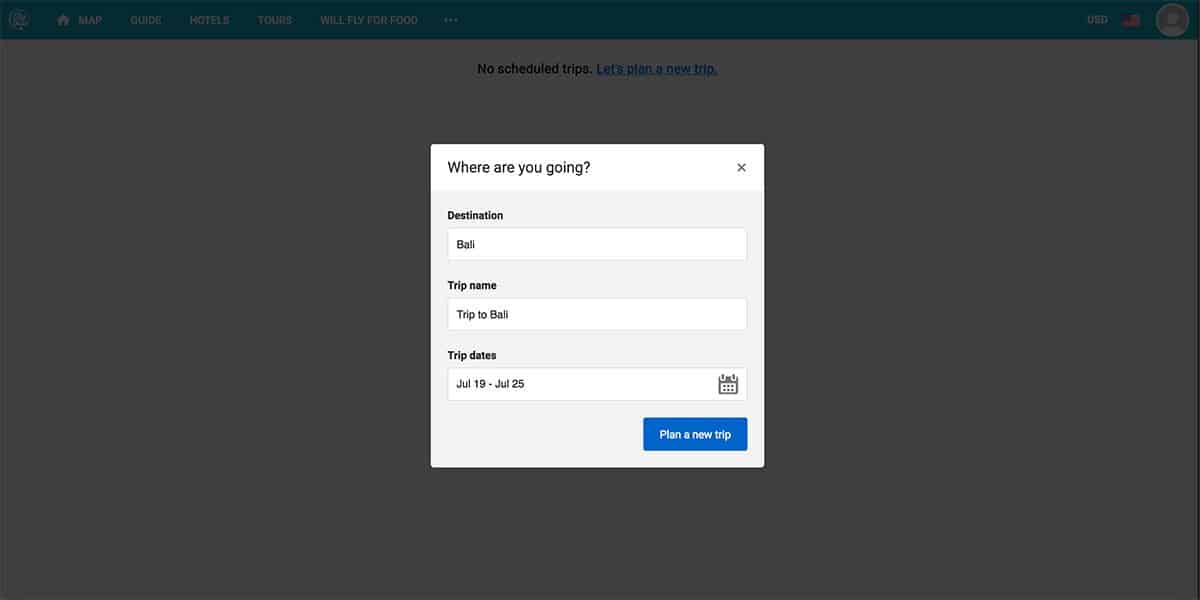 Guide
As soon as you create your trip, you'll be taken to the MAP section which is the main section of the Will Fly for Food Travel Planner. But before we get into that, let's have a look at the other tabs first.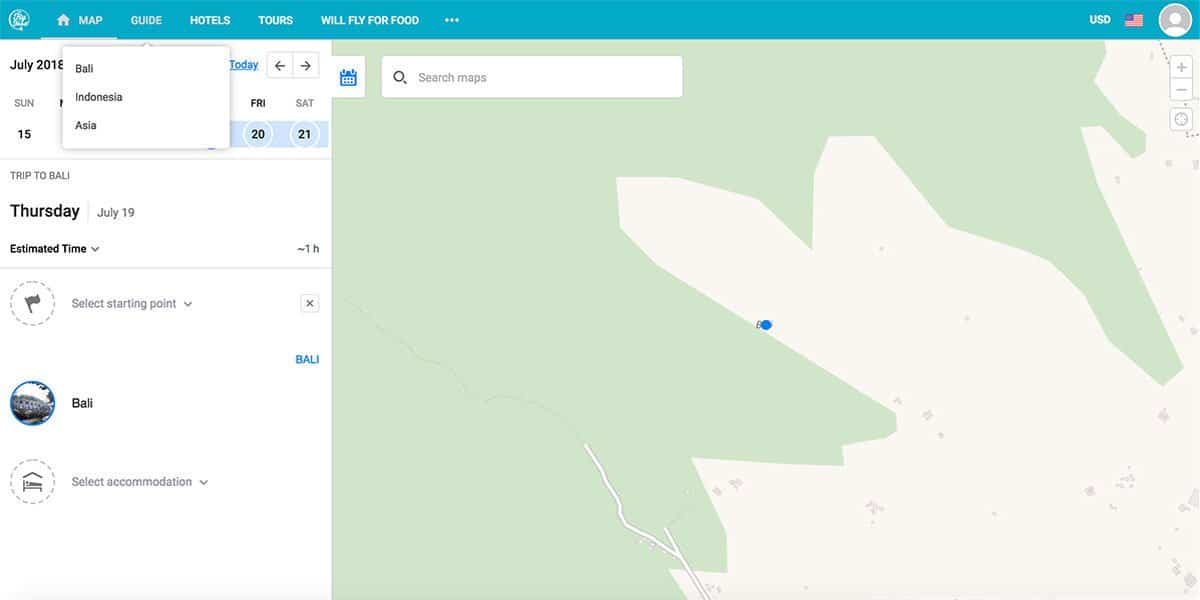 Clicking on the GUIDE tab will give you an overview of all the resources available to help you plan your trip. In this case, I created a dummy trip for Bali, Indonesia so it's showing me available tours, a video, popular attractions, and hotels in Bali. Clicking on an attraction or hotel will bring you back to your MAP to show you exactly where it is, while clicking on a tour will open up the Viator page for booking. More on that later.
If you scroll down to the bottom of the page, you'll find quick links to similar destination guides around Bali. This will come in handy if you're planning a multi-city trip.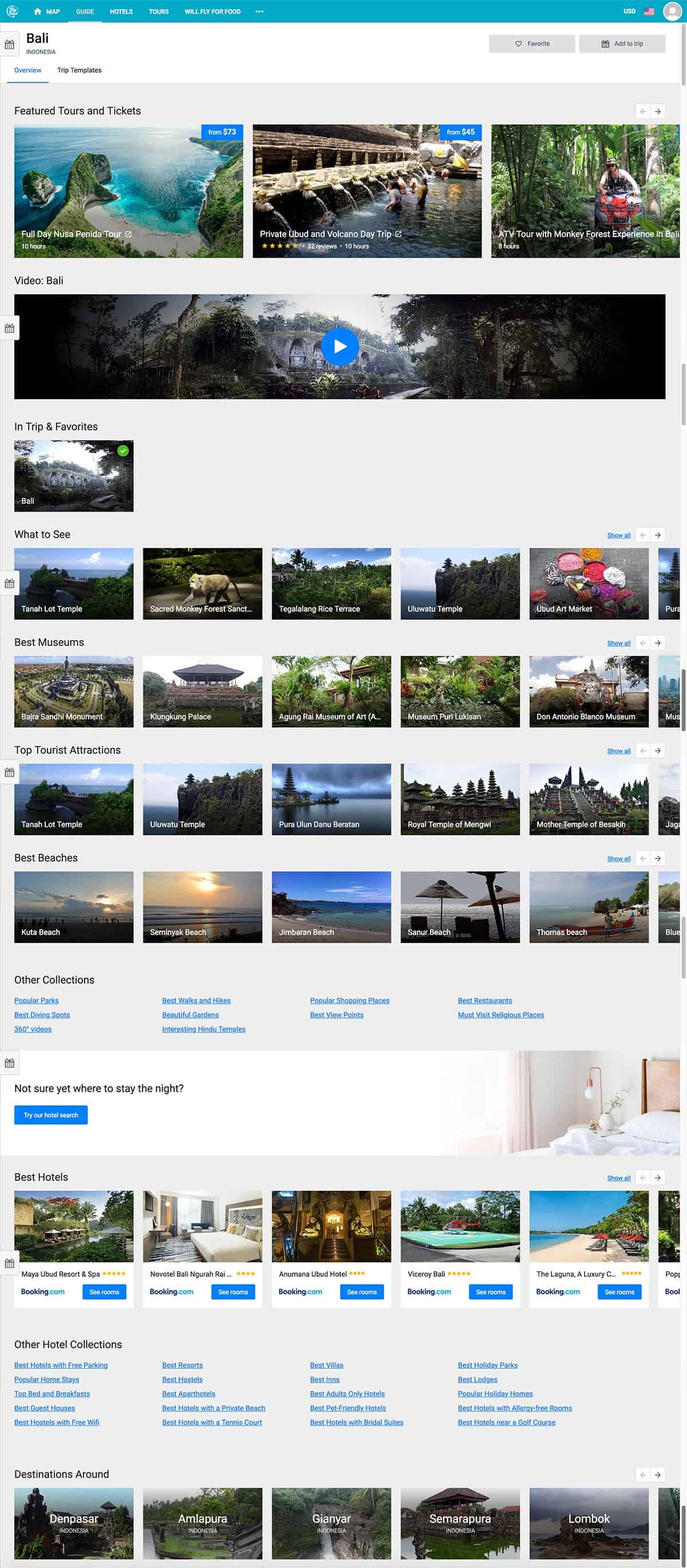 If you scroll back up to the top of the GUIDE page, you'll find a subtab called Trip Templates. Clicking on that will show you premade itineraries for your destination. In this case, there's a 7-hr itinerary to Denpasar and a 3-day itinerary to Bali. For your convenience, you can use these if you'd rather not plan your trip from scratch. Just click on Use, pick the day(s) and it'll automatically populate your map. Coolness!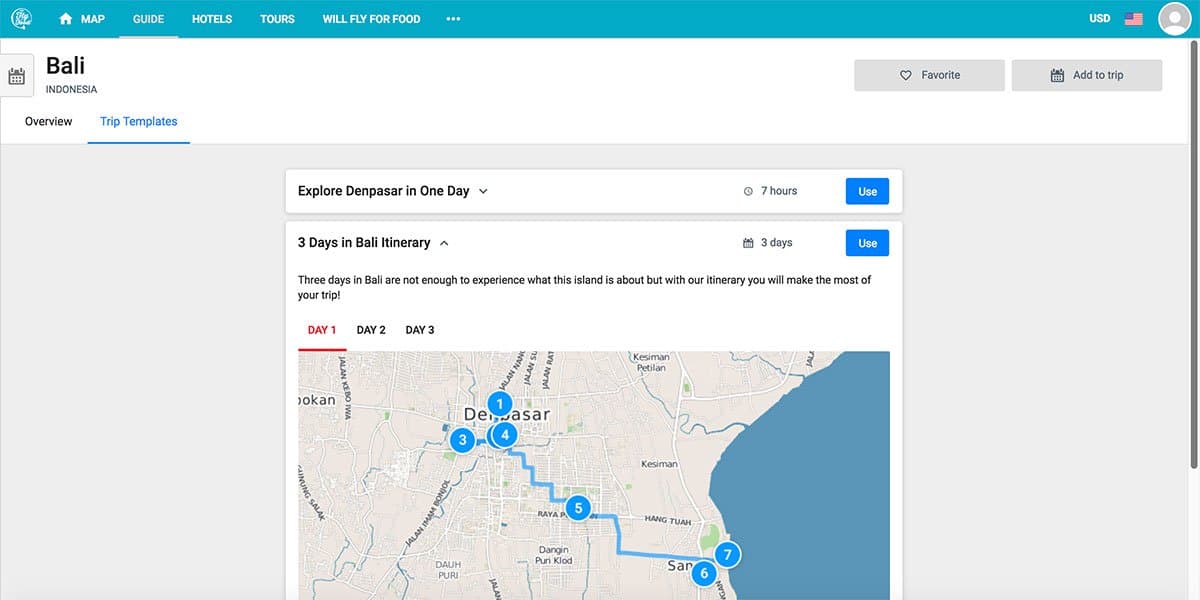 Hotels
You can make a hotel reservation through the GUIDE tab, but booking through the HOTELS tab will give you the most control. It'll allow you to filter hotels by property types, star ratings, price range, review scores, and facilities. As described, all of the hotel bookings done on the Will Fly for Food Travel Planner are powered by Booking.com, one of the biggest and most trusted hotel booking websites out there. We personally use them for many of our trips.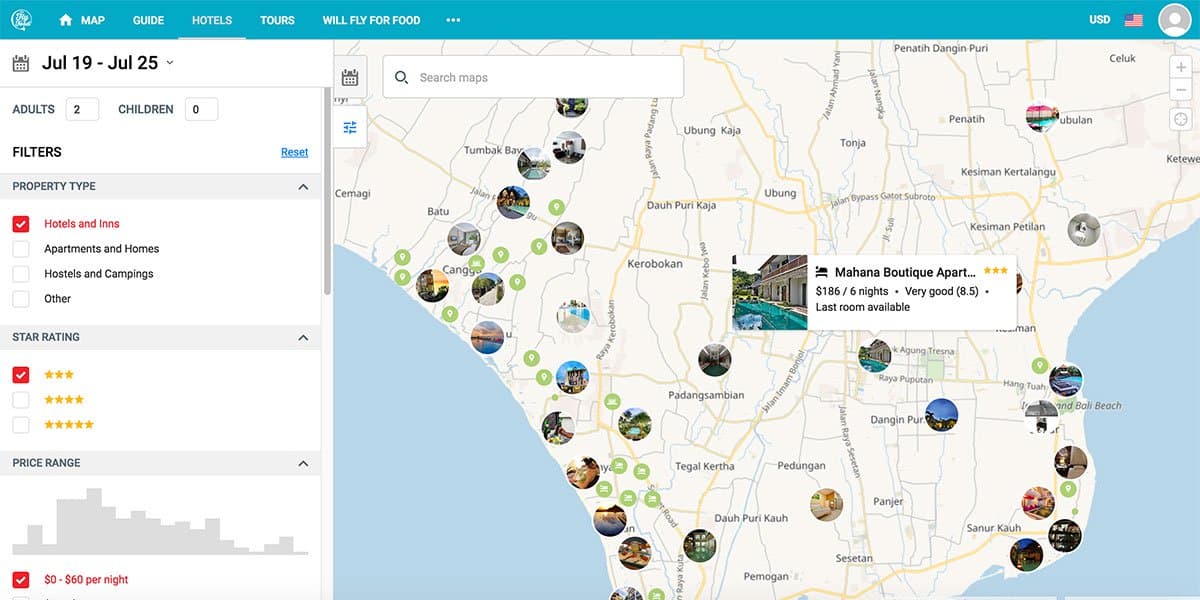 You can click on any hotel that appeals to you to bring up its profile panel on the left. There you'll find information and pictures of that property. Once you've decided on a hotel, you can then click on either See rooms or Add to trip.
SEE ROOMS: Clicking on this will open up a new window and take you to the Booking.com website where you'll find more information about that property. You can then make your booking from there.
One of the things I love most about Booking.com is that many of its listings allow you to book now and pay later without any penalties. This is very handy when you need to make a booking but aren't 100% decided on any hotel. This gives you the option of canceling or making changes later without having to pay a penalty.
ADD TO TRIP: Clicking on this will allow you to add that hotel to your trip (and map) without having to book it first. You can always book later once you've decided on a hotel.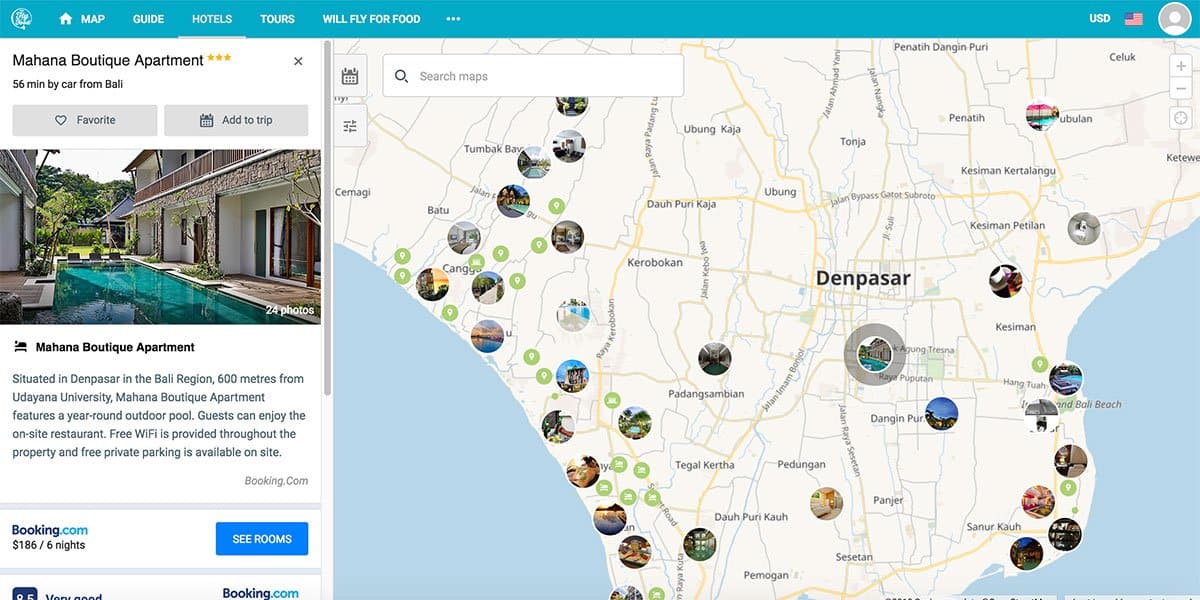 Here's a screenshot showing you what happens when you click Add to trip. The hotel you selected will be added to every day of your trip itinerary.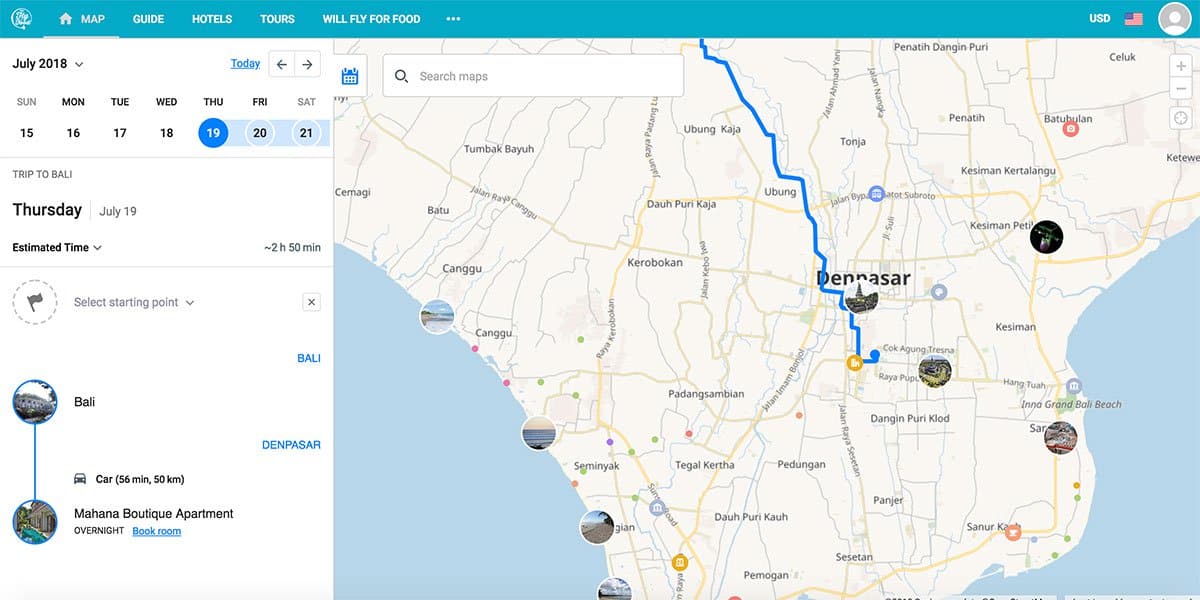 Tours
Clicking on the TOURS tab will show you all the available tours for that destination. All tours offered here are provided by Viator, a TripAdvisor company that's one of the biggest and most reliable tour providers around. Clicking on any tour will open up a new window and take you to the Viator website where you can find more information about that tour. You can then book it from there once you've made a decision.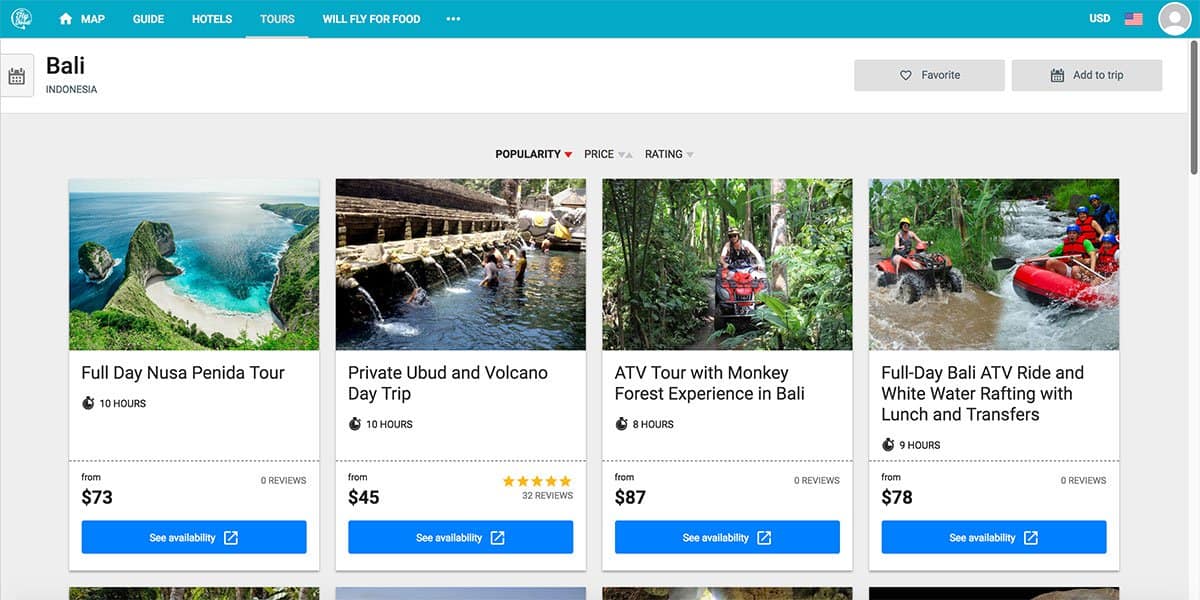 Map
Now let's go back to your MAP. Zooming in on your map will bring up popular attractions, restaurants, cafes, and hotels at your destination. Clicking on any of them will bring up its information panel on the left.
If you're looking for a specific place, then you can do a search for it. In this example, I searched for "ubud monkey" and it showed me a list of possibilities, including the one I wanted – Sacred Monkey Forest Sanctuary.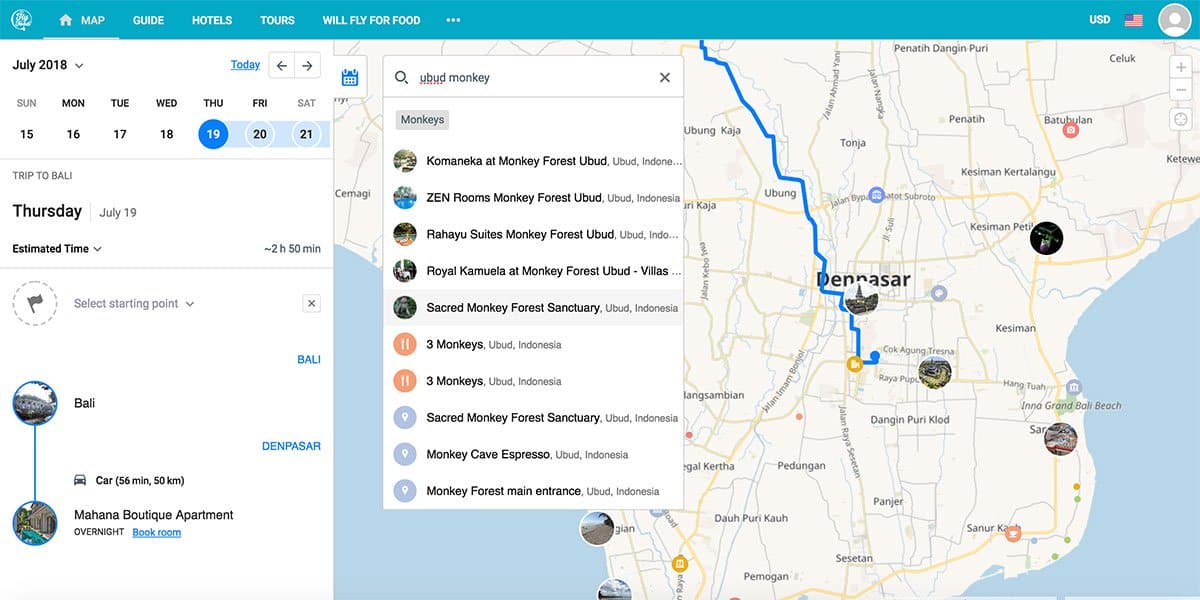 Selecting Sacred Monkey Forest Sanctuary shows me exactly where it is on the map. It also brings up its profile panel on the left which listed available tours for that attraction. Clicking on any of these tours will open it up in Viator where you can make your booking.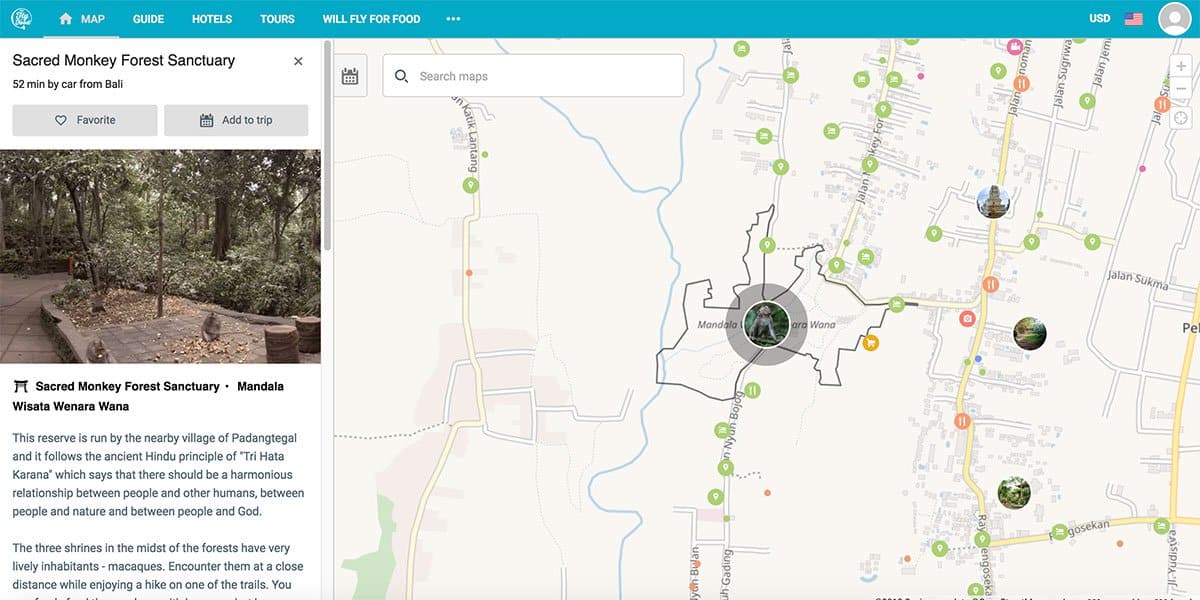 If you'd like to add this attraction to your itinerary, then you click on Add to trip and select a corresponding day.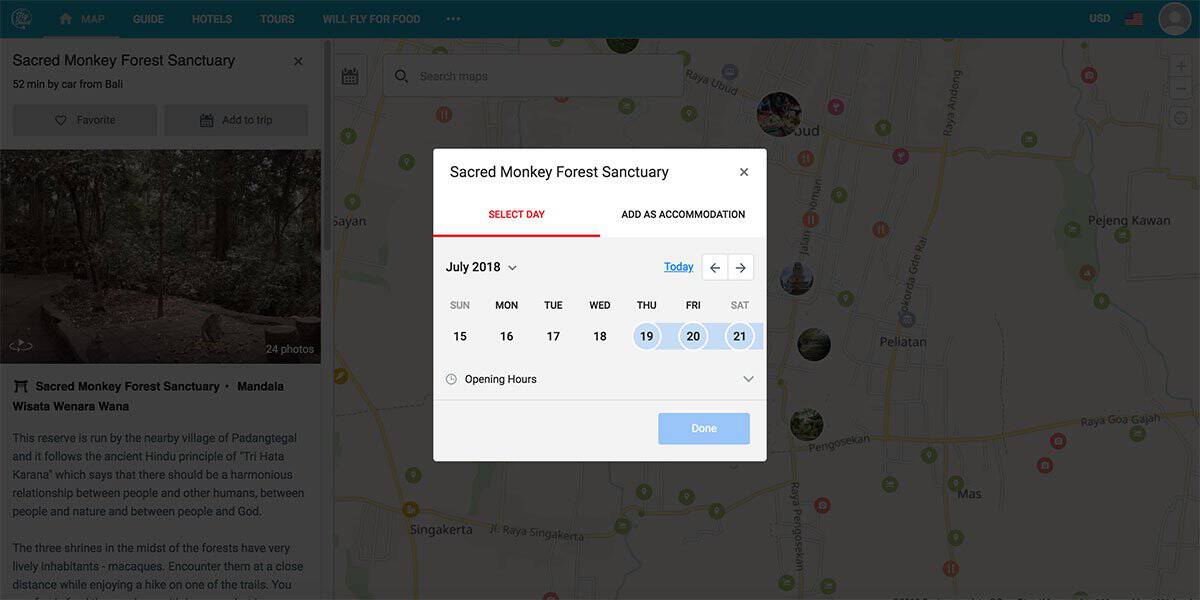 Once you've added it to your trip, it'll be pinned to your map and show up on that day's itinerary.
Mousing over any hotel/attraction will bring up two icons – a gear and a series of vertical dots. Clicking on the gear icon brings up a set of options like view, reschedule, add notes, and delete. These options will allow you to customize your itinerary even further.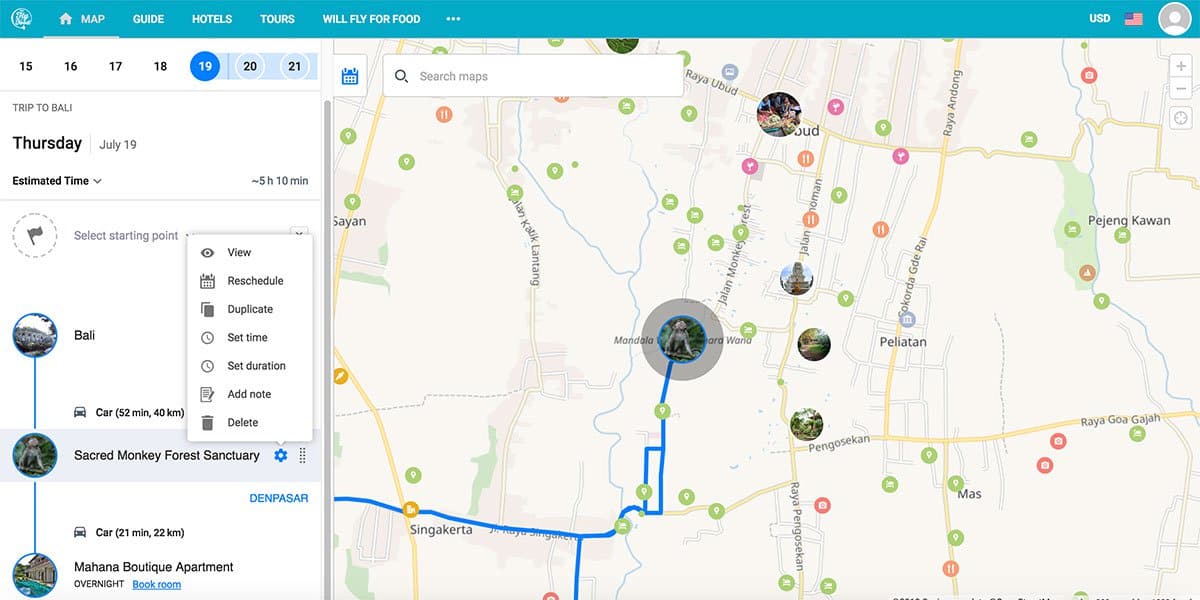 The vertical dots icon will allow you to rearrange the attractions you've added to that day. Just click and drag it to manually rearrange the attractions.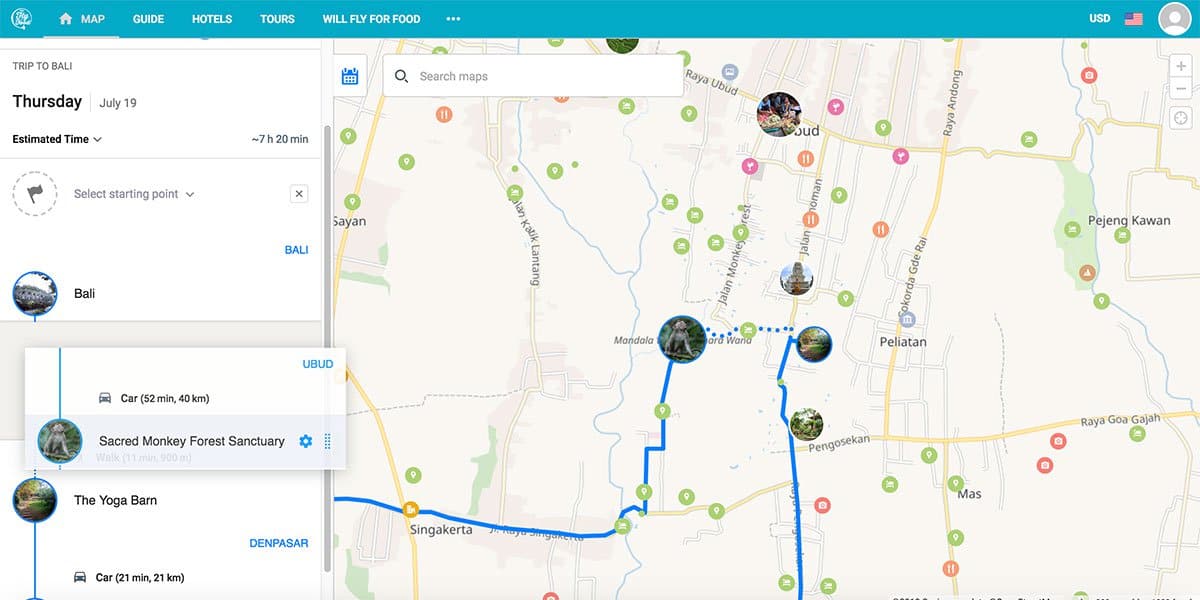 Share / Print Trip
Once you've finalized your itinerary, you can share it with a friend or download it in PDF format. To do that, mouse over your trip's name – in this case TRIP TO BALI – and click on the gear icon to bring up a set of options. To share a trip, you'll need to select Shareable from the Trip privacy and sharing dropdown after choosing the Share trip option.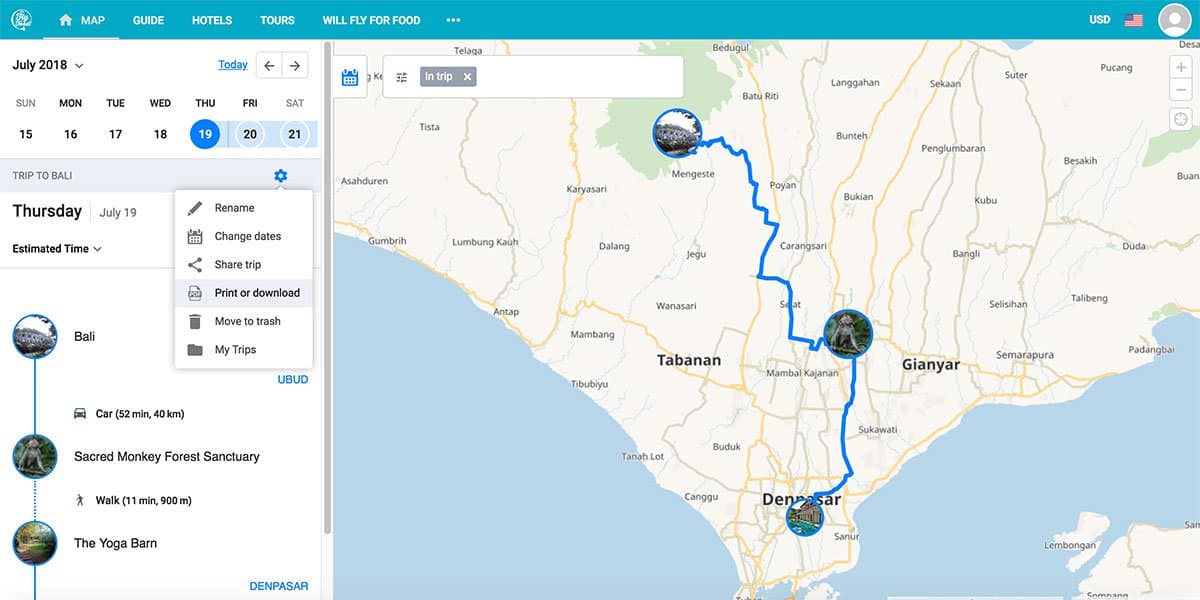 Choosing Print or download will take you to this page where you can download your itinerary in PDF format. You can keep a soft copy of your itinerary on your mobile device or print it if you like. The planner is mobile-friendly as well so you can easily access your maps while on a trip as long as you have an internet connection.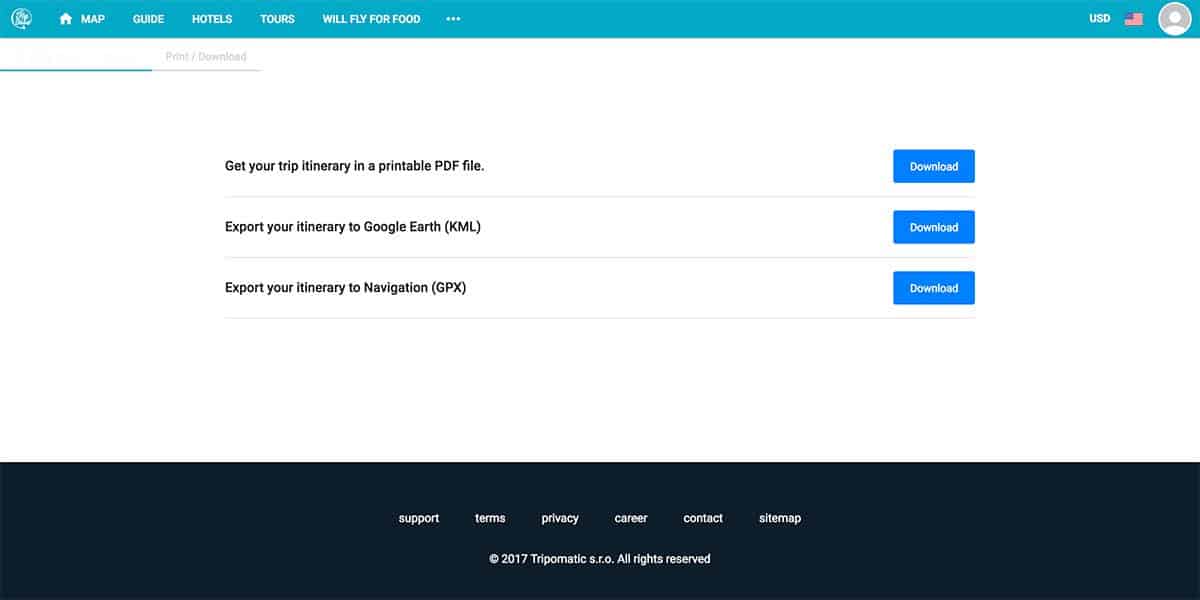 Conclusion
And there you have it! Trip planning made fun and easy with the Will Fly for Food Travel Planner. I know planning a trip to a foreign place can be daunting for some, but I hope our travel planner makes it easier and less intimidating for you.
A big thank you to Booking.com, Viator, and especially to Sygic Travel for working with us to bring this travel planner to life. We really appreciate it! As always, authenticity is of the utmost importance to us so we would never recommend or work with a product or service that we don't use ourselves. Even before we were partners, we've been long-standing customers of these amazing companies so we can vouch for them 100%.
If you have any questions or encounter difficulties using the planner, then please feel free to leave a query in the comment section below. I'll respond as soon as I can. Thanks for reading and have fun planning your next trip with the Will Fly for Food Travel Planner!
Disclosure
Some of the links in this post are affiliate links, meaning we'll get a small commission if you make a purchase or reservation at NO extra cost to you. We really appreciate your support as this helps us keep this website going. Thank you!
JB and Renée are the Traveleaters behind Will Fly for Food, a travel blog for the gastronomically inclined.  They enjoy experiencing food from different cultures so they've made it their mission to try every country's national dish.  Read more about them and their National Dish Quest here.