Accorded Geopark status by UNESCO in 2007, Langkawi is comprised of 99 tropical islands off the northwestern coast of Peninsular Malaysia. Known for its stunning landscapes, Langkawi boasts unique rock formations, karsts, caves, sea-arches, stacks, glacial dropstones, and fossils, with a geological history dating back some 500 million years.
Apart from being a natural paradise, it's steeped in folklore as well, shrouded by intriguing myths and legends featuring ogres and gigantic birds, warriors and fairy princesses, battles and romance. Legend has it that Langkawi was once cursed for seven generations, after a maiden was unjustly accused of adultery, bleeding white blood at her execution as proof of her innocence. Seven generations have passed since then, and today, Langkawi is a thriving tourist destination.
With a week to explore this mystical, enchanting island, we looked to Dev's Adventure Tours to be our guide. Recipient of TripAdvisor's Certificate of Excellence in 2013, we booked three activities with them – Nature Cycling, Jungle Trekking, and Mangrove Kayaking – each of which we enjoyed tremendously.
Spread out over two days, here are pictures from our Dev's Adventure Tours Triathlon. 😉
PART I: Nature Cycling Tour
This was a three to four hour guided bike ride through the paddy fields, river banks, and forest. With transfers to and from your hotel, the ride starts at either 8:30 AM or 3:30 PM, and goes for RM140 for adults and RM110 for children ages 10-12.
There's Ren all giddy being on a mountain bike for the first time in her life. 🙂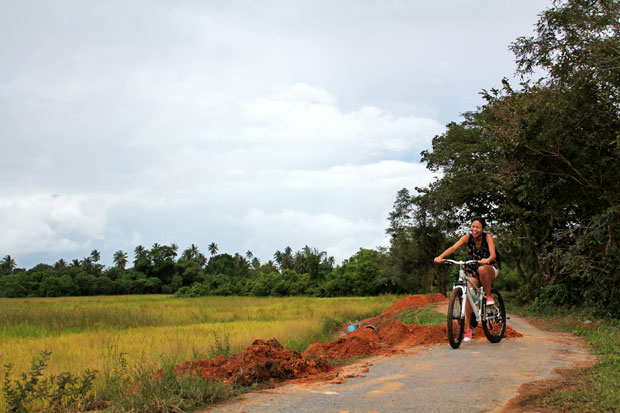 If I remember correctly, that's Gunung Raya in the distance, the highest point in all of Langkawi.

Our very affable and engaging guide Jerome, pointing out a…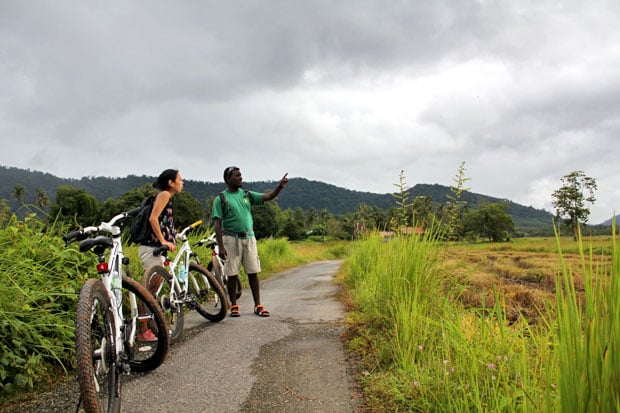 …kingfisher! You see it? Right there, that small, black, near indiscernible speck perched on the wire. Stupid short lens. 👿
Home to over 230 species, bird watching is another popular activity here in Langkawi. Dev's Adventure Tours offers guided bird watching tours as well, details for which can be found on their website.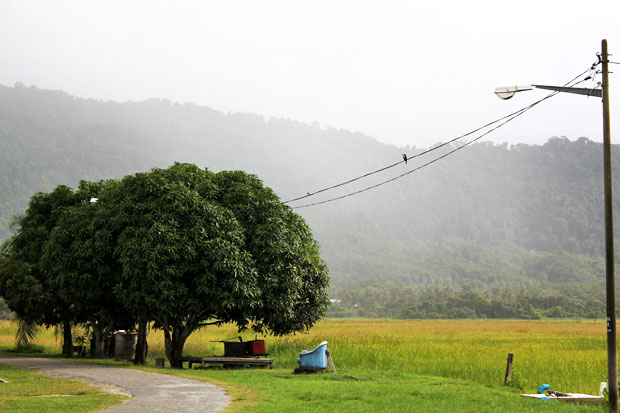 We made a quick stop at the wet market.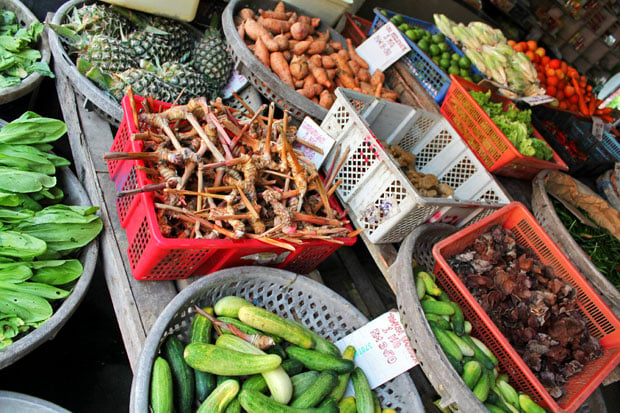 A sea of green, much of the produce sold here apparently comes from neighboring Thailand.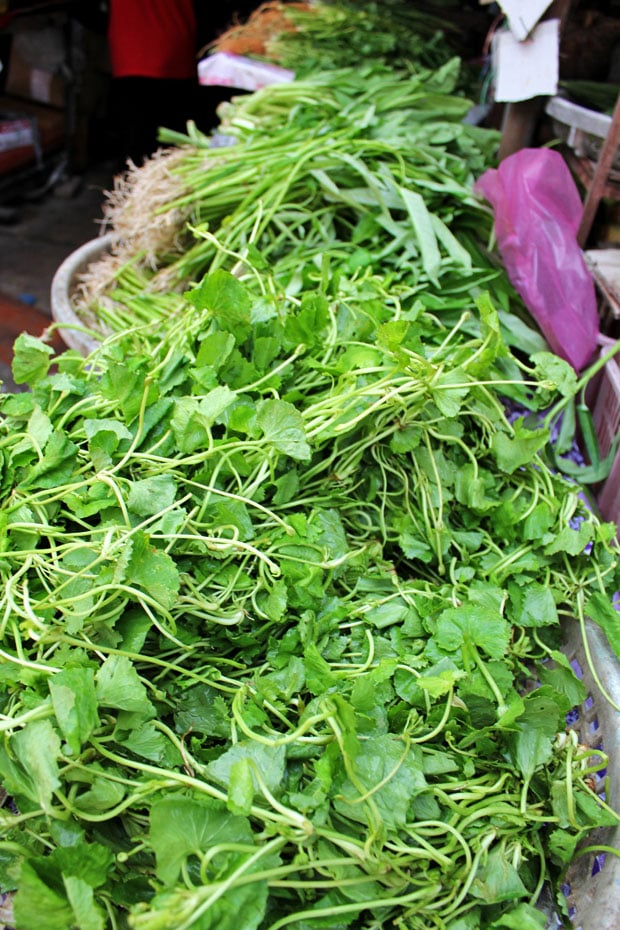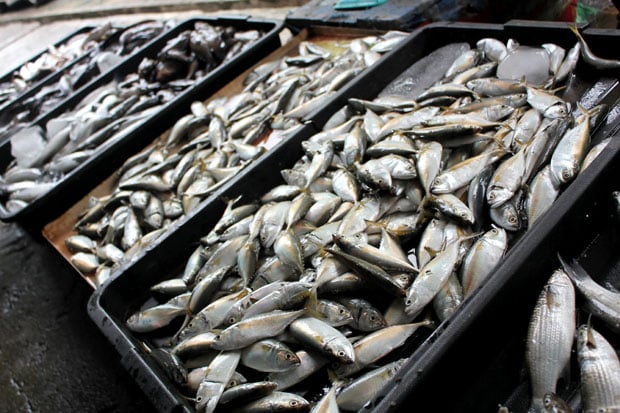 L: A nearly completed bird's nest R: Tongkat ali, great for warding off mosquitos and enhancing your libido. As a joke, stinking Jerome made me chew on a leaf, just to see how I'd react to its extreme bitterness. I would have done the same. 😆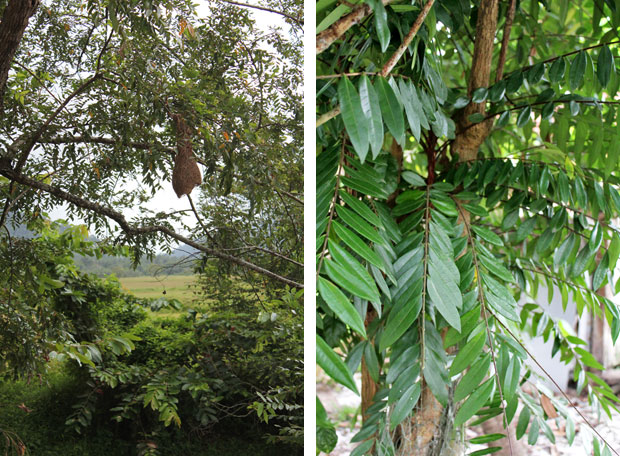 Muslim cemetery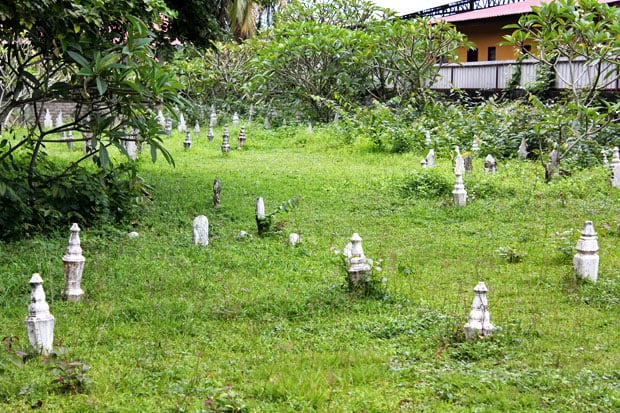 A traditional Malaysian house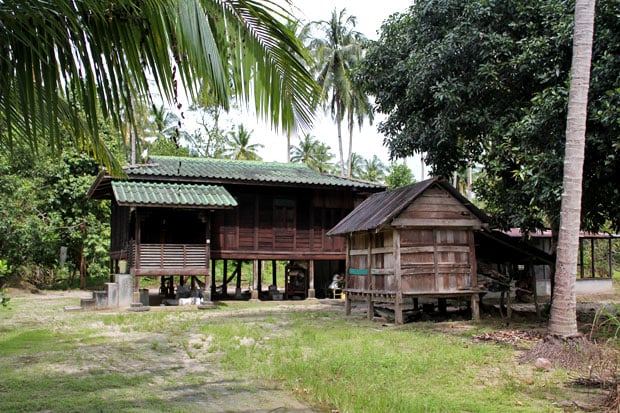 Reneelicious with a middle-aged Pharrell Williams. So hip-hop.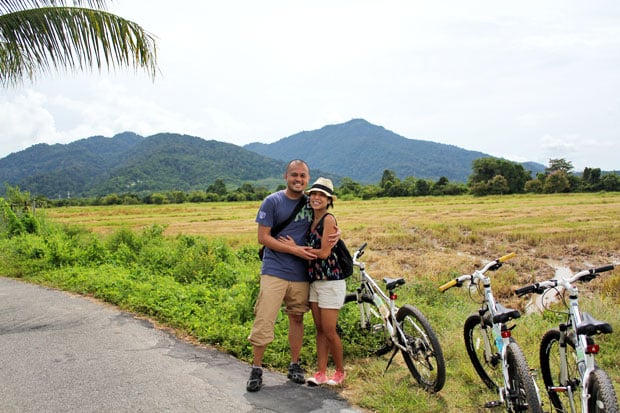 My favorite part of the tour, riding through a rubber tree plantation.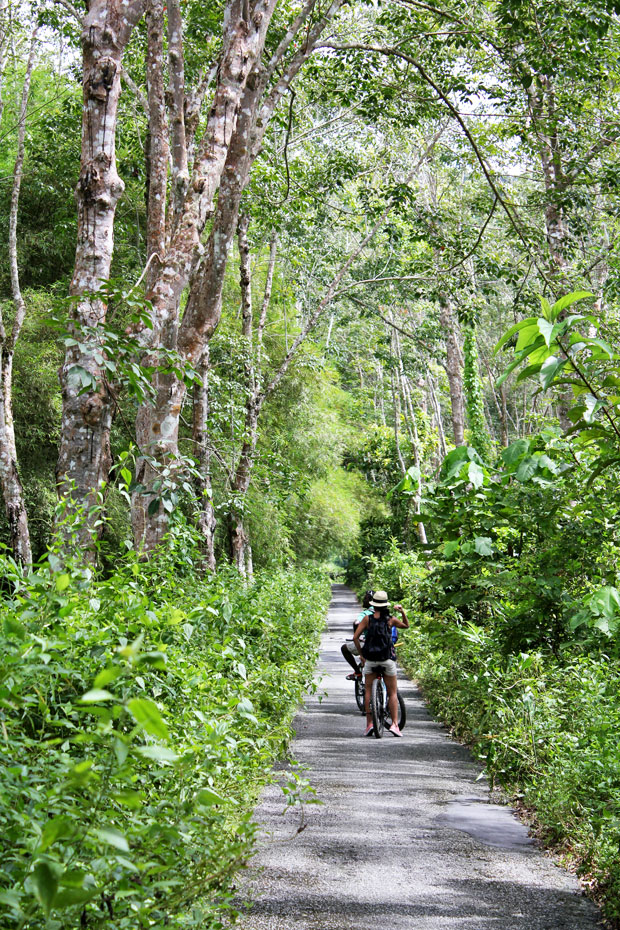 Aren't they gorgeous? Before today, I had no idea rubber trees were so beautiful.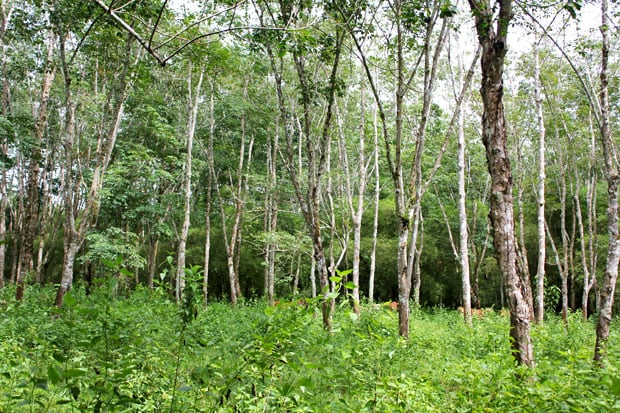 Sap catcher doing its thing, catching sap.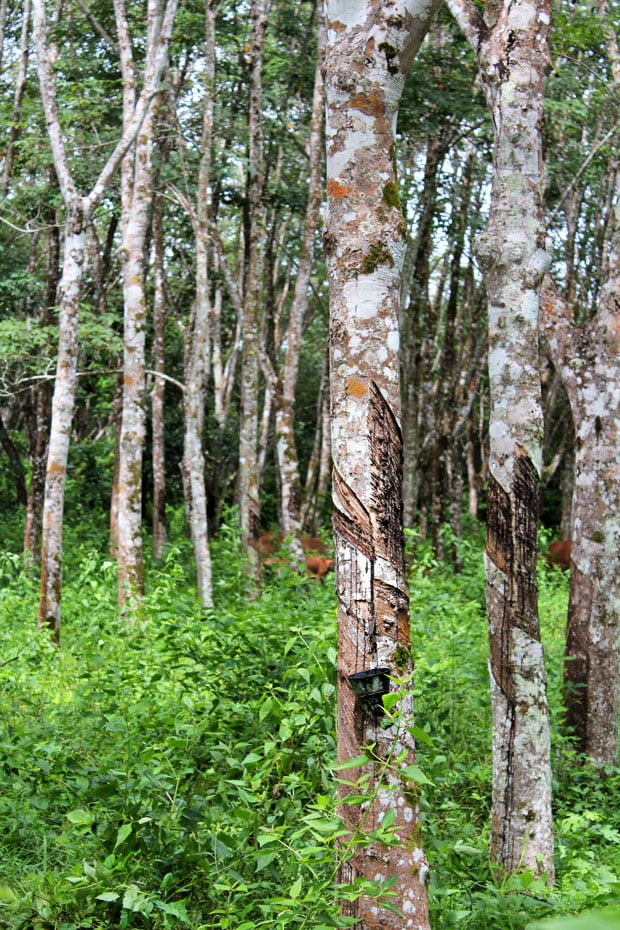 They look almost mystical to me, like a faerie playground.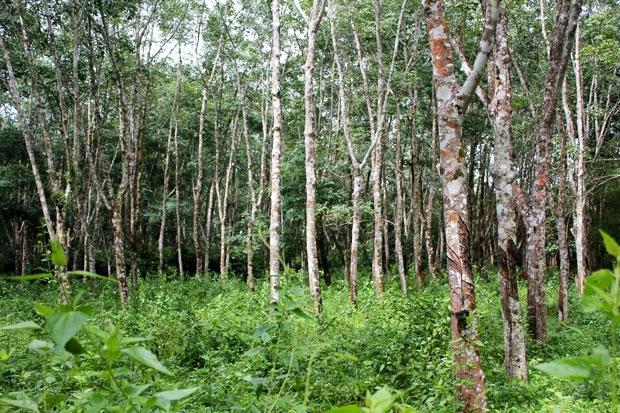 Though the tour wasn't over at this point, it was for my camera, because the rain started to come down in big, heaping buckets. Thankfully, Jerome came prepared with emergency ponchos, under which I tucked in my camera bag. This was the first in a three-part weather test that I (inadvertently) put my Crumpler and camera through during this trip. More on that later. 😆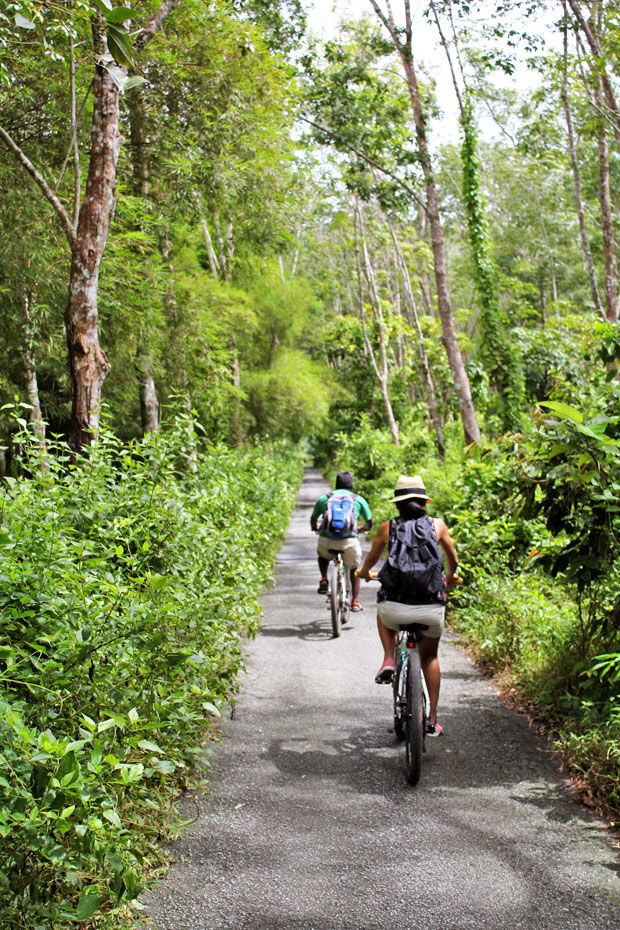 Continue reading: PART II: Jungle Trekking
More on Dev's Adventure Tours
PART II: Jungle Trekking
PART III: Mangrove Kayaking
Dev's Adventure Tours, Langkawi, Malaysia
Rumah Kedai No. 1, Tingkat 3, Lot 1556, Tanjung Mali, Pantai Cenang, Langkawi, Kedah, Malaysia
Tel: +6019-494-9193
Fax: +604-955-4892
Email: [email protected]
Website: langkawi-nature.com
Facebook: DevsAdventureTours
For more Langkawi travel tips, check out our First-Timer's Travel Guide to Langkawi, Malaysia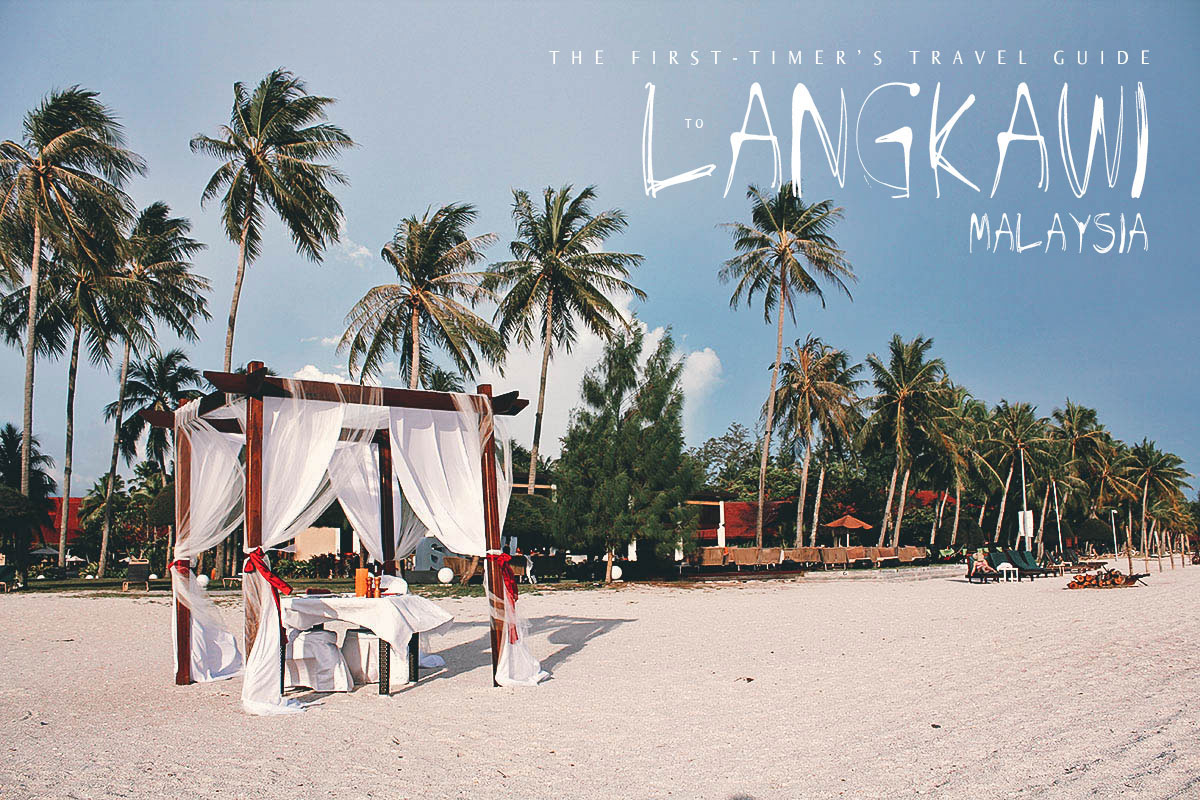 Disclosure
Some of the links in this post are affiliate links, meaning we'll get a small commission if you make a purchase or reservation at NO extra cost to you. We really appreciate your support as this helps us keep this website going. Thank you!