The Ultimate Hong Kong Food-Lover's Travel Guide
Hong Kong, for me, has always been synonymous with two things — shopping and food. Aside from Bangkok, I can't think of any other city in the world where you can have both in such abundance!
Neither Ren nor I are big shoppers anymore so this trip pretty much revolved around food. And rightfully so, because for the first time ever, Michelin Hong Kong included a street food section to their celebrated guide. We love street food, especially when traveling, so the thought of enjoying Michelin-recommended street food in a culinary city like Hong Kong was incredibly exciting. Imagine that! The bible of fine dining now has a street food section. So over the moon were we by the idea that we made it our mission to eat at all 23, and we did.
If you're planning a trip to Hong Kong and love food, then this guide was written for you. And don't worry. As much time as we spent eating, we did visit a few tourist attractions to keep us busy between meals. 😉
GUIDE TABLE OF CONTENTS
BEST TIME TO VISIT
Weather-wise, the best time to visit Hong Kong is from the end of September to early December. The weather is mild and it seldom rains. Room rates are reasonable around this time as well. March to May is probably the next best time to visit for similar reasons, though I've heard it gets a little foggy and more rainy around this time.
June to August is the hottest, wettest, and most humid time of the year so avoid those months if you can. We went in mid-September and the weather was great, though I think October would have been even better. January to February is the busiest time of the year in Hong Kong, especially around Lunar New Year, so expect more tourists and higher hotel prices around that time.
HOW TO GET THERE
Travelers to Hong Kong will be arriving at Hong Kong International Airport. There are several ways to get from the airport to wherever you're staying in the city.
BY BUS: This is probably the cheapest and most convenient way of getting into the city. We stayed at a relative's place in Jordan on our first night and the A22 bus dropped us off just a few meters from her apartment. The ride took less than an hour and cost HKD 39 one way, which we paid for using our handy Octopus cards (scroll down to the TRAVEL TIPS section of this guide for more information). To get to the bus terminal at the airport, make a right soon as you go through customs and walk all the way down. Take the lift or stairs down to the first floor and exit the building. The bus terminal will be across the street on your right. To find out which bus to take, you can use the point-to-point search feature on the Citybus website. If you can take a bus to your destination, then it's the best way to get back to the airport as well, especially if your flight is in the wee hours of the morning when the Airport Express isn't running yet.
BY AIRPORT EXPRESS: The fastest way to go downtown from the airport is by the Airport Express train. It costs HKD 90 to get to Kowloon and HKD 100 to Hong Kong island. Though the Airport Express may be the fastest, it's not necessarily the most convenient. It stops only at Kowloon or Hong Kong MTR stations so you'll need to transfer to get to wherever it is you're staying. That may not be so easy if you're carrying a lot of luggage. You can refer to this MTR map to see where your stop is in relation to Kowloon and Hong Kong stations.
BY TAXI/UBER: Going by taxi or Uber is more convenient but it's also the most expensive. You can refer to this Hong Kong taxi transport guide for fare estimates.
Klook and Kkday offer several transfer options from the airport as well, including private transfers. Follow these links to check out airport transfer options in Hong Kong on Klook or Kkday.
HOW LONG TO STAY
We stayed a full week to give us enough time to visit all 23 eateries on Michelin's Street Food Guide, but you don't have to stay that long. Hong Kong isn't that big so 3-4 full days will probably be enough. If you plan on visiting all the attractions mentioned in this guide, including a day trip to Macau, then 5 days would be perfect. It'll give you enough time to do everything at a nice leisurely pace.
HOW MUCH MONEY TO BRING
This is highly subjective since many people visit Hong Kong to shop. But if you take shopping out of the equation, then a budget of around HKD 400 per day should be plenty. This takes into account your hotel room (shared between two people), meals, transportation costs, and pocket wifi rental. I usually factor in admission fees but some of the places or activities mentioned in this guide may not be of interest to everyone (like Disneyland or a day trip to Macau), so you can just add attraction costs to the suggested budget.
Food cost in Hong Kong is highly variable as well. You can pay HKD 10 for great street food or spend HKD 250 on a seafood feast. I budgeted HKD 100 a day for food which should give you plenty of options without breaking the bank. Be sure to adjust the budget based on your own travel habits and how much you want to shop.
WHERE TO EXCHANGE CURRENCY
The exchange rate at Hong Kong airport isn't very good so change just enough currency there to get you into the city. If you're staying in Kowloon, then a good place to change your money is at Chungking Mansions in Tsim Sha Tsui (pictured below). There are many currency exchange offices inside, all of which are known to give competitive rates. If you're staying on Hong Kong island, then the money changers at World Wide House in Central are a good choice.
You can also use your ATM card to withdraw HKD. The exchange rates are comparable. This is what I intended to do but my ATM card kept getting rejected at the airport. I did notify my bank that we were going on a trip so that wasn't the issue. I've found that my ATM card works in some countries but not in others so it's always a good idea to bring cash and/or credit cards as a backup.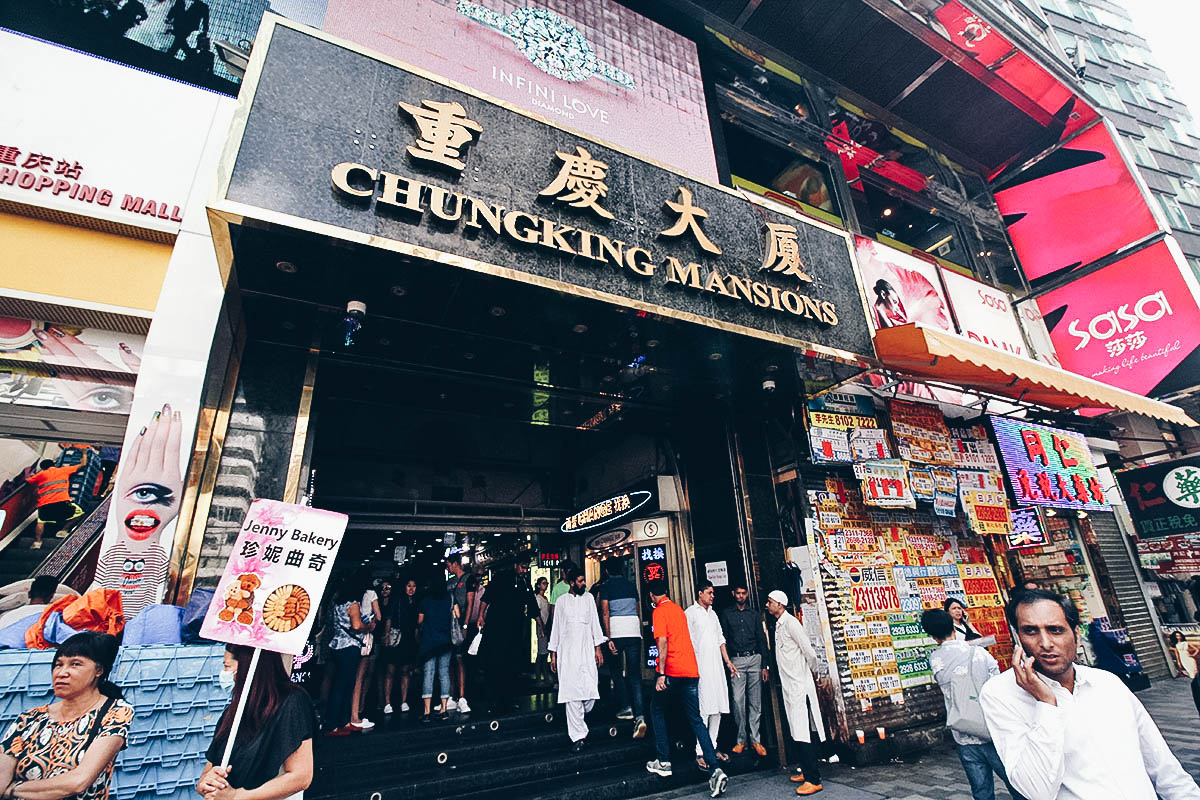 WHERE TO STAY: Mini Hotel Causeway Bay
This boutique hotel in Causeway Bay turned out to be one of the nicest hotels we've ever stayed at. It's so stylish and hip! We never spend too much on accommodations so to find a place like this in a city like Hong Kong was a treat. When traveling, all we want is a room that's inexpensive, clean, centrally located, and with its own private bathroom. Mini Hotel was all that AND it was chic. The room was a little small but based on what I've read, that's pretty much what you can expect from hotels in Hong Kong. Highly recommended.
Check out my post on Mini Hotel Causeway Bay for more pictures and information.

Approximate Room Rate: HKD 429 per night (as of September 2016)
THE MICHELIN HONG KONG STREET FOOD GUIDE
As described up top, we went to Hong Kong to seek out all 23 eateries on the Michelin Guide's first ever street food section. We accomplished our mission and this Michelin Hong Kong Street Food Guide is the culmination of our quest. It wasn't easy, but it was super fun and well worth the effort. If you enjoy good street food, then you need to check out this guide.

WHERE TO EAT
The street food stalls in the Michelin Guide should have been enough for a week's stay, but they weren't. We do fly for food so 23 eateries still didn't cut it. 😆 We needed more, so I did some research and found a few highly recommended restaurants in Hong Kong by local food bloggers. From dirty dai pai dongs to 3 star Michelin restaurants, here are a few other delicious places you can add to your itinerary on that next trip to Hong Kong.
1. Tung Po
This restaurant was practically on every "where to eat" list in Hong Kong and rightfully so. It's delicious. Anthony Bourdain ate here on an episode of No Reservations and he clearly loved it. They serve the most amazing seafood at this dai pai dong, which is a type of open-air food market similar to a hawker center in Singapore or Penang. This was one of my favorite meals from this trip and a place I would go back to on every return visit to Hong Kong.
Check out my post on Tung Po in North Point for more pictures and information.

Expect to Spend: Around HKD 200 per person with drinks
2. Yat Lok or Kam's Roast Goose
Roast goose is one of Hong Kong's core dishes and a must when visiting the city. Who doesn't love that fatty unctuousness? Many places serve roast goose in Hong Kong but only a few can claim to be the best. Yat Lok and Kam's Roast Goose — each proud owners of one Michelin star — are two restaurants that can.
To help you decide on which one to visit, check out my post on Yat Lok vs. Kam's: Two Contenders for Hong Kong's Best Roast Goose.

Expect to Spend: HKD 102 per order of roast goose leg
3. Tim Ho Wan
Before two street food stalls in Singapore were awarded Michelin stars (Hill Street Tai Hwa Pork Noodle and Hong Kong Soya Sauce Chicken Rice & Noodle), Tim Ho Wan long held the title of "The world's cheapest Michelin-starred restaurant". There you can have the most delicious dimsum for around HKD 20 an order! Everything at Tim Ho Wan is good but the star is clearly their baked buns with barbecued pork. Light and airy, they practically melt in your mouth. They're so damn good.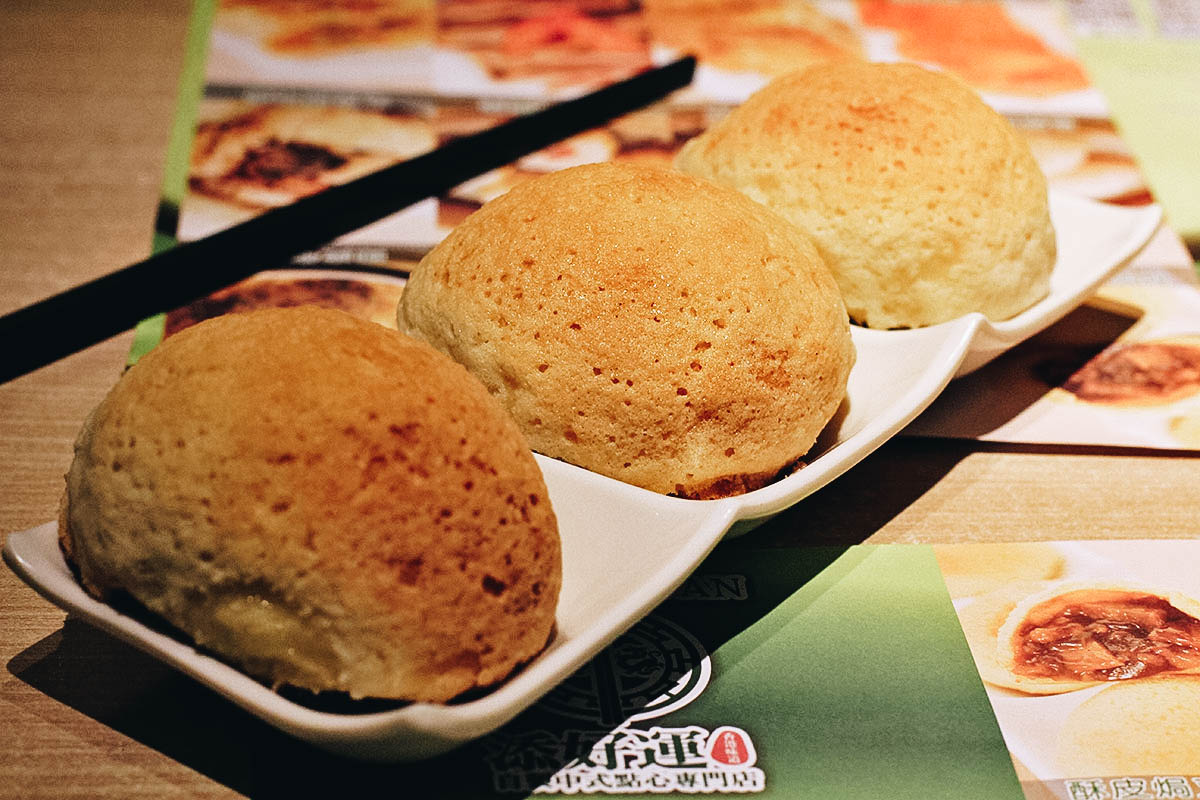 It's like eating a toasty cloud filled with barbecued pork. ♥ Tim How Wan is located at Olympian City 2, 18 Hoi Ting Rd, West Kowloon. You can take the MTR to Olympic station then walk to the restaurant.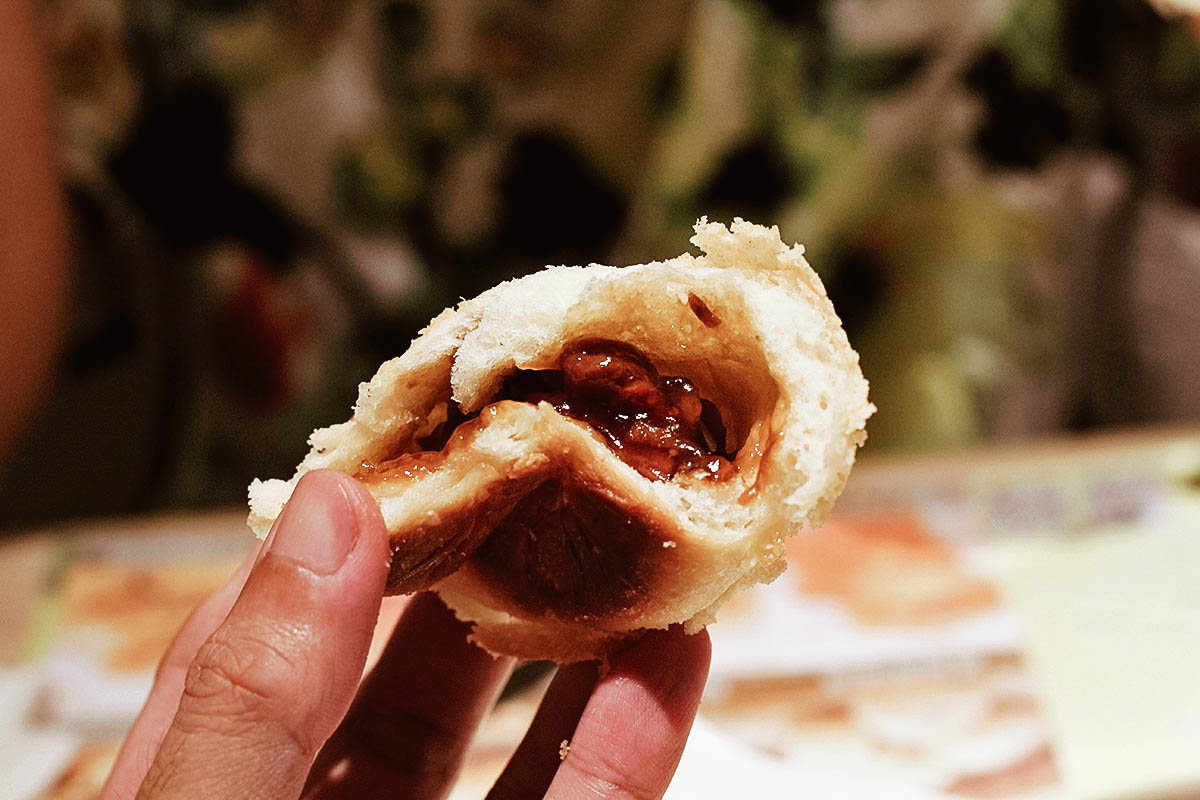 Expect to Spend: Around HKD 20 per order of dimsum
4. Bo Innovation: X-treme Chinese Cuisine
Ren and I like to eat at one fancy restaurant on every trip, and we chose Bo Innovation for this one. It's one of six 3 Michelin-starred restaurants in Hong Kong in 2016. They're known for blending Chinese food with Western ingredients to come up with a style of cooking they like to call "X-treme Chinese Cuisine." If you're looking for something really special, then Bo Innovation may be for you.
Check out my post on Bo Innovation: X-treme Chinese Cuisine for more pictures and information.

Expect to Spend: At least HKD 480++ per person
5. Choux Creme
Nearly every restaurant we went to on this trip was carefully researched. Choux Creme was one of the few exceptions. A chain of pastry shops located mostly inside MTR stations, their pastry displays kept catching my eye so I told Ren we weren't leaving Hong Kong until we tried them. I'm glad we did because their pastries turned out to be pretty good.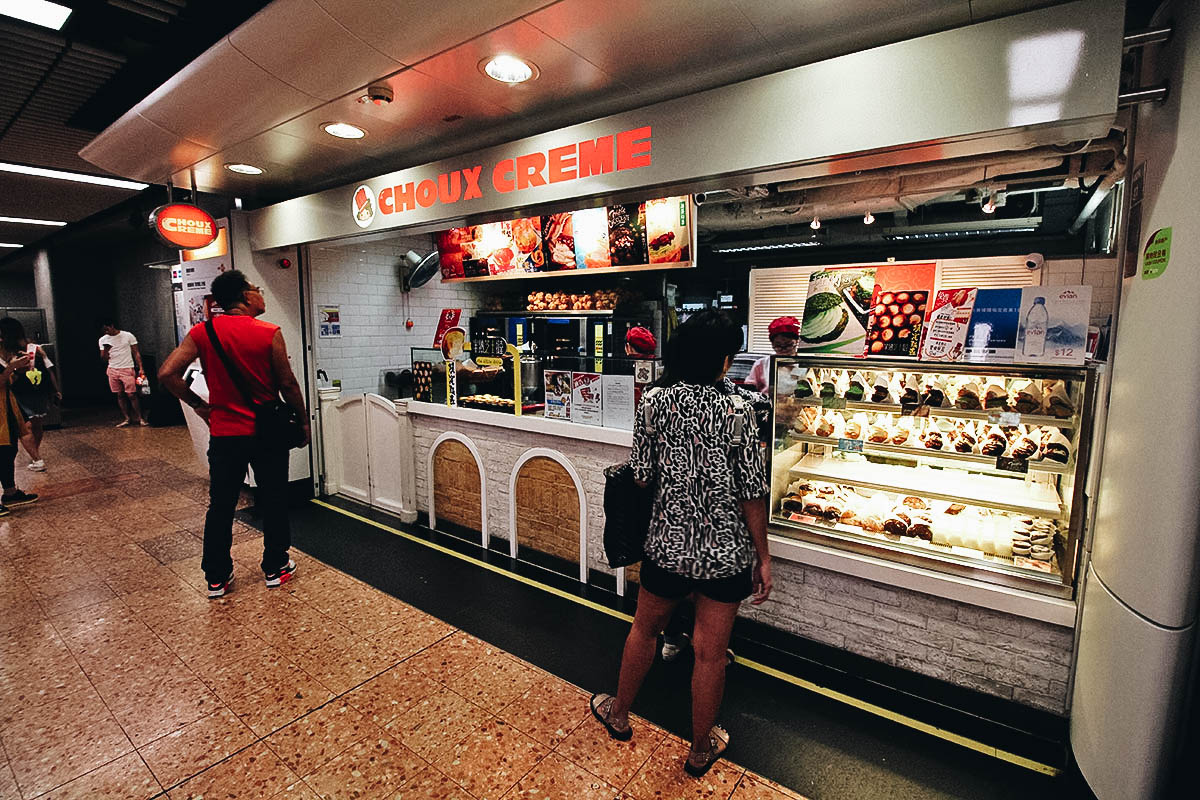 Hokkaido produces some of the best dairy in the world so we knew exactly what to get when we saw the word "Hokkaido" on two of the products' names. The one on the left is their Hokkaido Milk Choux pastry while the one on the right is the Hokkaido Milk Pudding. Both were rich, creamy, and delicious. If you're a fan of choux pastries like I am, then I suggest giving this little shop a try.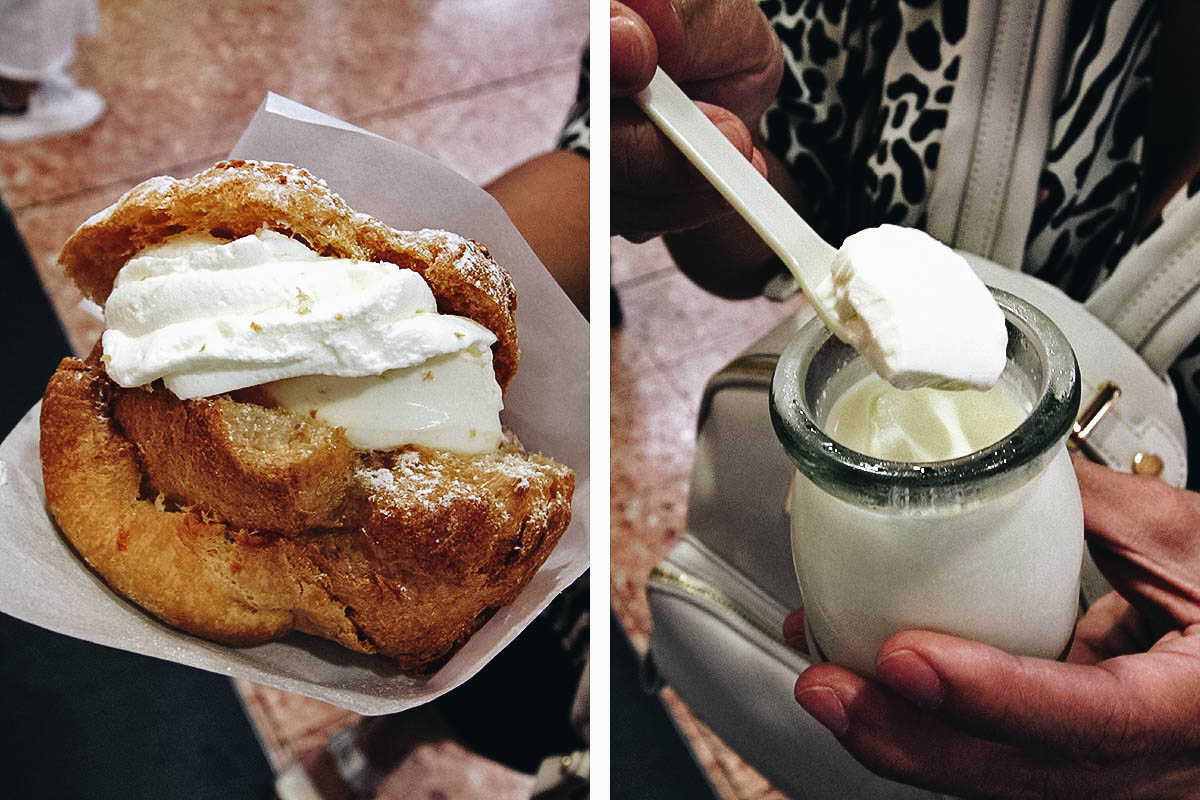 Expect to Spend: Around HKD 20 per pastry
6. Ned Kelly's Last Stand
This was another place that we didn't plan for. We don't usually go out to bars when we travel but when Ren's cousin invited us to this jazz bar in Hong Kong, we just had to check it out. As it turns out, Ned Kelly's Last Stand in Tsim Sha Tsui (11A Ashley Rd) isn't just a jazz bar, it also happens to be Hong Kong's OLDEST bar. Named after an Australian outlaw, it's a Western-style pub that plays live jazz every night and serves happy hour from 11:30AM-9:30PM. Pretty cool eh? Here's a short video I shot from the night's set.
Happy Hour: 11:30AM-9:30PM
WHERE TO GO / WHAT TO DO
As much time as we spent eating, we did leave room for a little sightseeing. 😆 Here are some of the many fun things you can do in Hong Kong that don't involve food.
1. Shop Like a Kardashian
Hong Kong is a shopaholic's paradise. Growing up, a family trip to Hong Kong meant a generous allowance from dad and lots and lots of toy shopping. 😆 Ren and I are far removed from our hyper shopping days but we did enjoy exploring some of Hong Kong's many popular shopping neighborhoods like Soho, Temple Street Night Market, Ladies' Market (Tung Choi Street), and Sneaker Street (Fa Yuen Street). We hardly bought anything but we did learn that Sham Shui Po is a good area for inexpensive fashion and tech accessories. We also learned that the popular section of Temple Street Night Market is actually its touristy part. If you keep walking down Temple Street and through the park, you'll get to a section of the market where you can find the same products for half the price. This is where the locals shop. For more insider tips, you can check out this guide to shopping in Hong Kong from China Highlights.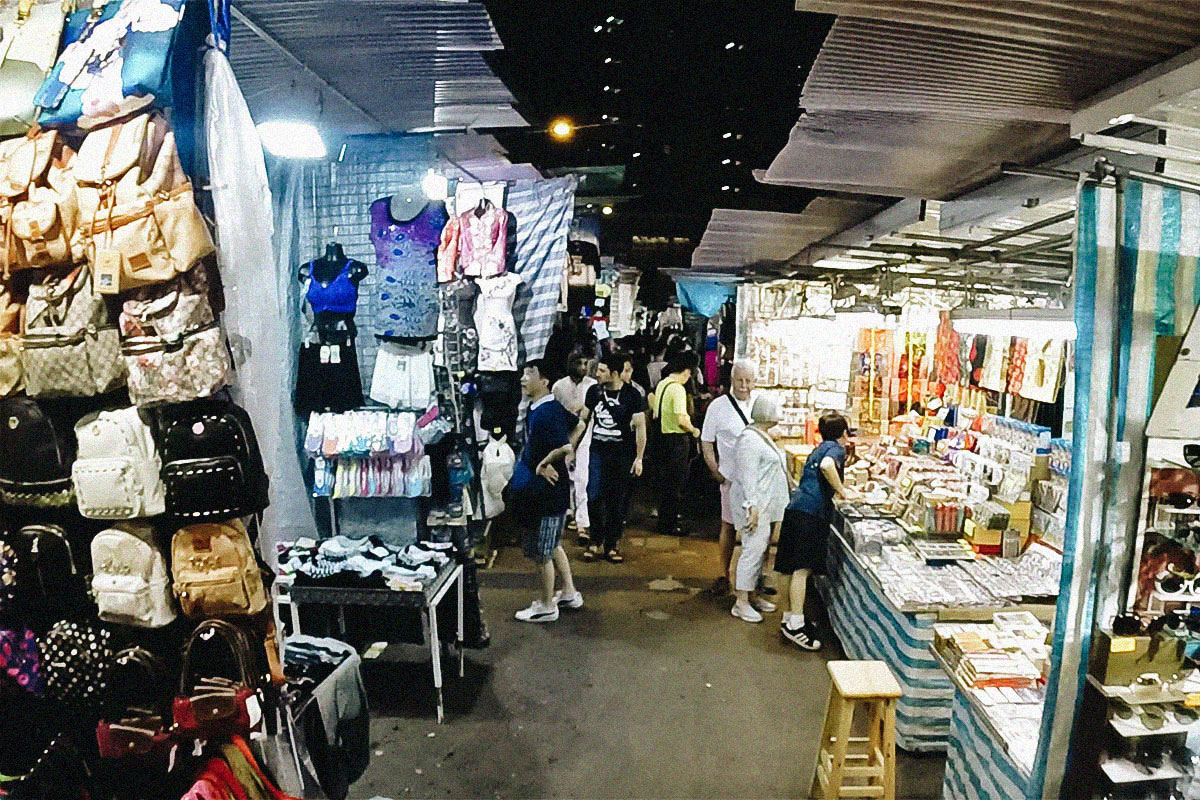 2. Ride the Peak Tram to Sky Terrace 428
The Peak Tram is the world's steepest funicular railway and one of Hong Kong's most popular tourist attractions. It takes you up to Victoria Peak and Sky Terrace 428 which boasts the most stunning views of the city. I'm usually underwhelmed by observatories like this but the view from Sky Terrace 428 was pretty spectacular. There are plenty of shops, restaurants, and other attractions at Victoria Peak so you can easily spend a few hours there. Just be sure to go on a weekday if you can because queues over the weekend can be excruciatingly long.
Check out my post on Victoria Peak for more pictures and information. You'll find tips there as well on how to get discount or fast track passes.

Time Needed: At least half a day / Cost: Check out my post on The Peak Tram and Sky Terrace 428 for ticket costs.
3. Visit the Big Buddha on Lantau Island
Like Victoria Peak, the Tian Tan Buddha on Lantau Island is one of Hong Kong's most popular attractions. It's an impressive sight at 34 meters high (112 feet). Most tourists go to Lantau Island via Ngong Ping 360 which is often cited as one of the best and longest cable car rides in the world (5.7 km). Aside from the Big Buddha, the island is also known for Tai O Fishing Village which serves as a jumping off point for Chinese white dolphin watching tours. Chinese white dolphins are a species of pinkish-white dolphins that are native to Hong Kong's waters.
Check out my post on Lantau Island for more pictures and information. You'll find tips on how to get discounts to Ngong Ping 360 cable car tickets as well.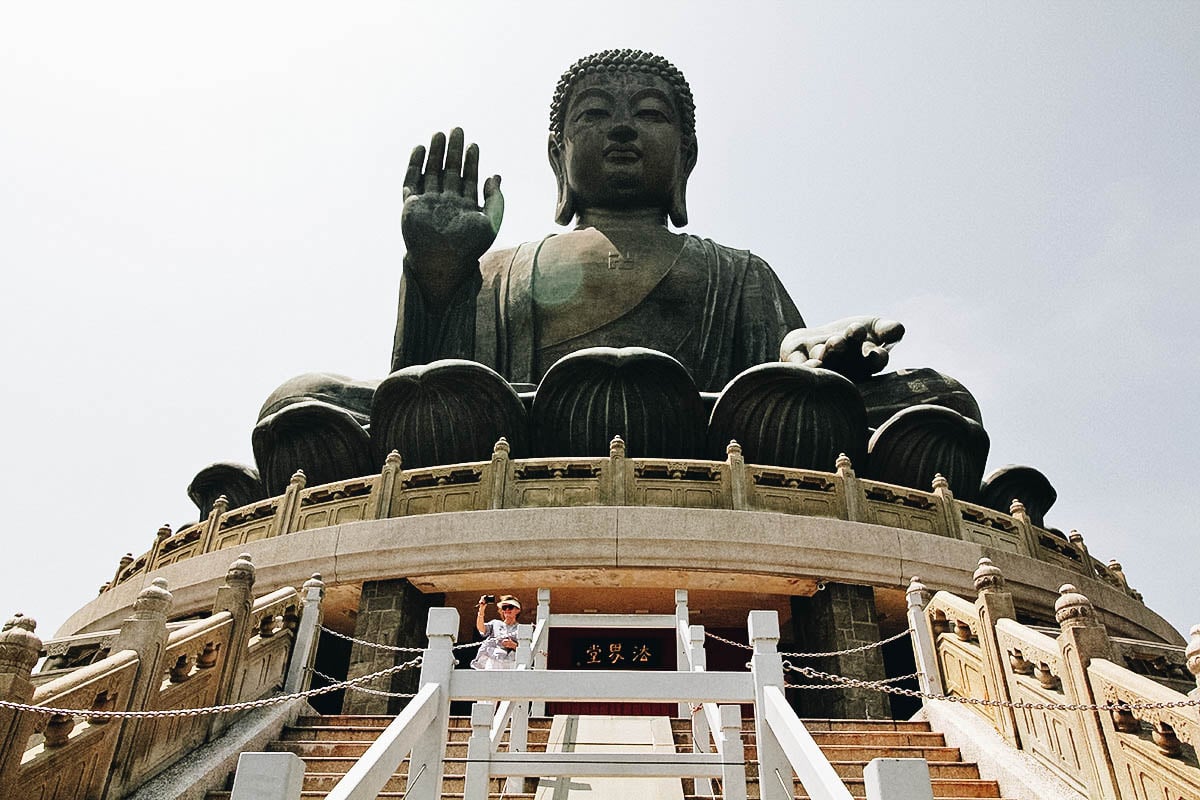 Time Needed: Almost a full day / Cost: Check out my post on Ngong Ping 360 for ticket costs
4. Watch the Light Show from Eye Bar
A Symphony of Lights is a multimedia light show that happens every night at 8PM. It's in the Guinness Book of World Records as the "World's Largest Permanent Light and Sound Show". Most people watch it from the harbor but you can catch it from the balcony of Eye Bar which is on the 30th floor of the iSQUARE building in Tsim Sha Tsui (63 Nathan Rd). Unfortunately, you can't hear the synchronized music from up there but at least you'll have a stiff drink in your hand. From 6-9PM, martini cocktails and wines by the glass are 30% off while beers are 50% off. Best of all, there's an UNLIMITED bar of pintxos (small snacks) that you can help yourself to free of charge. They had potato croquettes, breaded fish cakes, and crisscut fries when we were there.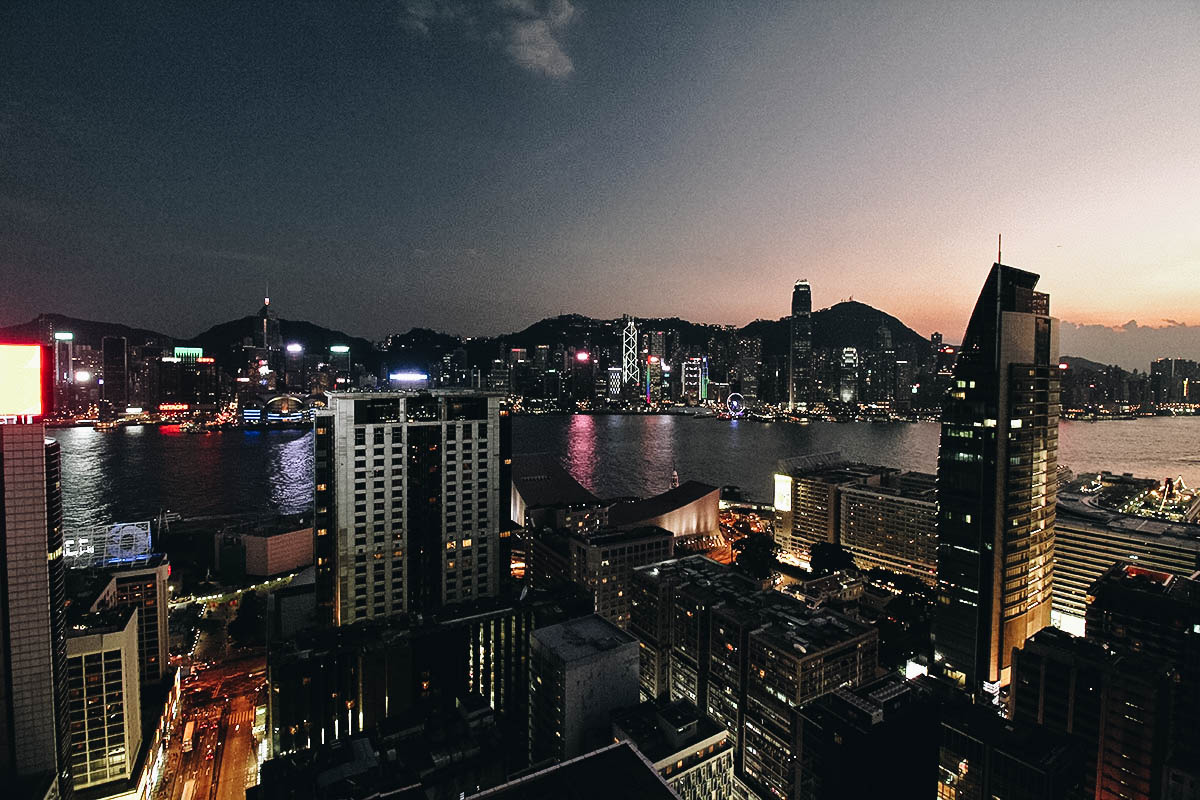 Time of Light Show: 8PM daily. The show lasts about 13 minutes.
5. Take a Day Trip to Macau
Macau is only about an hour away from Hong Kong by fast ferry, making it a great day trip destination. Though it's emerged as the Las Vegas of Asia in recent years, there's a lot more to Macau than just gambling. Take a walk through Senado Square and you'll see that the spirit of Old Macau is still very much alive. The Portuguese-influenced architecture is beautiful and the food is just delicious. In fact, we enjoyed one of our best meals from this trip in Macau.
Check out our Day-Tripper's Travel Guide to Macau for more pictures and information.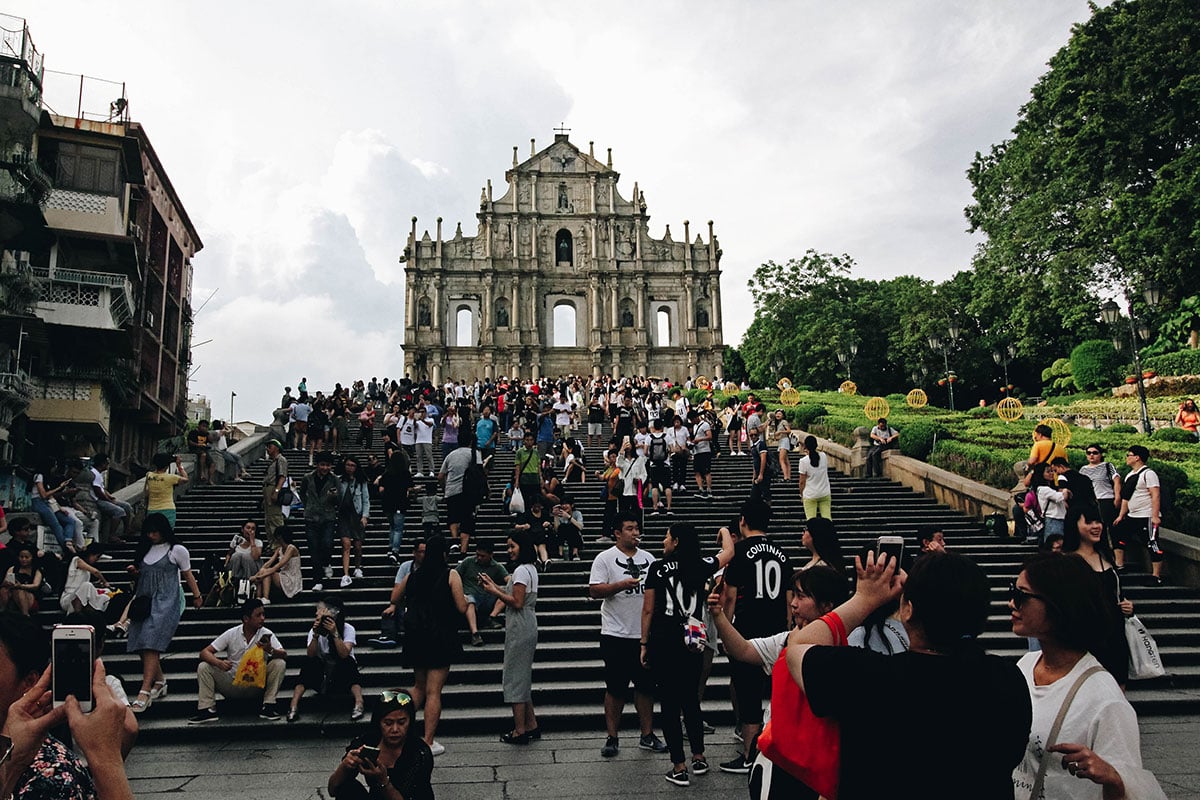 Time Needed: Full day / Fare: At least HKD 317 roundtrip
6. Take a Selfie with Mickey at Hong Kong Disneyland
We didn't go but Disneyland is obviously one of Hong Kong's top tourist attractions and a must visit for many families. You can check the Hong Kong Disneyland website for information on how to get there. One-day admission to the park is usually HKD 539 for adults and HKD 385 for kids, but you can get discounts if you purchase advance tickets on Klook or Kkday. You can follow these links to get discount tickets to Hong Kong Disneyland from Klook or Kkday.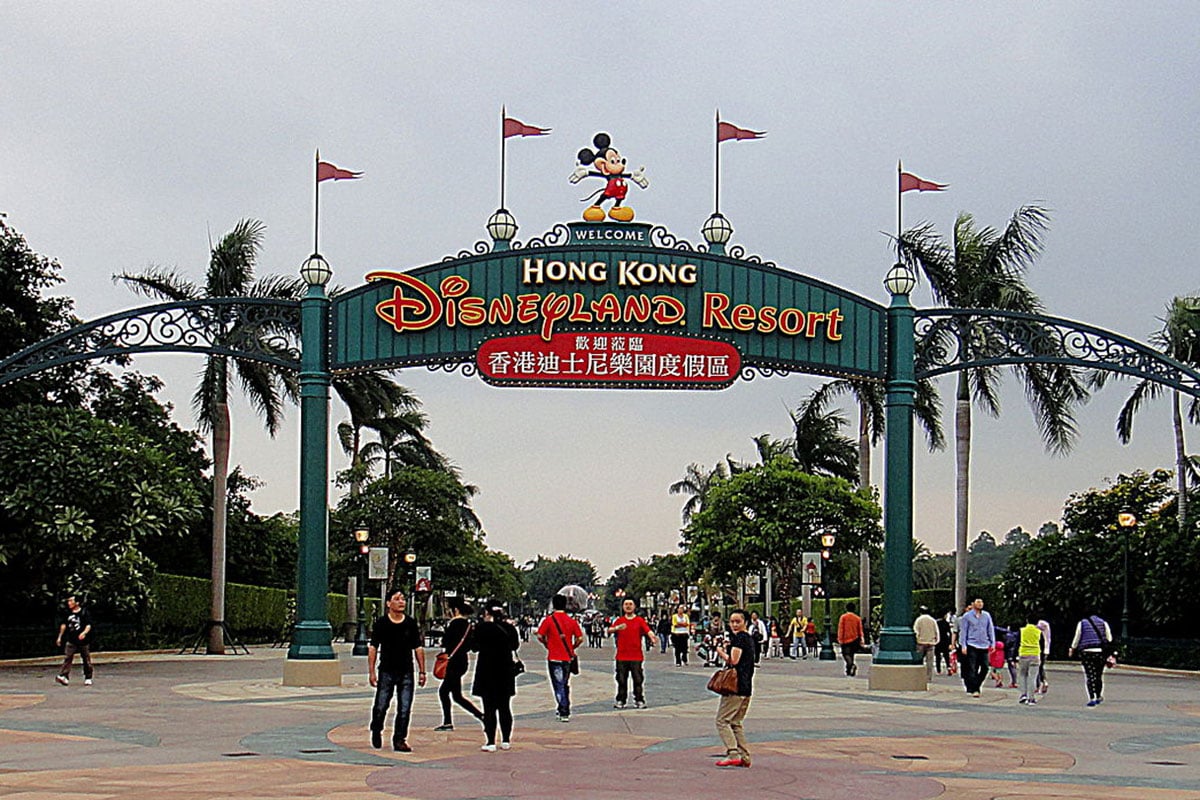 Picture by HK Arun (Own work) [CC BY-SA 3.0 (http://creativecommons.org/licenses/by-sa/3.0)], via Wikimedia Commons
INTERACTIVE MAP
To help you get your bearings, I've created this interactive map so you get a better sense of where everything is. Most of the places recommended in this guide are pinned on this map. (Tap on the thumbnail below to open up in full screen mode on mobile.)
TRAVEL TIPS
1. Plan your Trip with Sygic Travel (formerly Tripomatic)
I love this free app. It allows you to plot points of interest on a map, including your hotel, so you can see exactly how far you need to travel between points. You can then group attractions together per day based on location. With pocket wifi, it can turn your mobile phone into a GPS tracking device so people with a poor sense of direction (like me) don't get lost again. Pretty cool right? Check out my full post on the Sygic Travel app for more information.
Follow this link to check out our 7-day Hong Kong / Macau eat-inerary on Sygic Travel. You can also download it in editable Word format by signing up for our FREE newsletter below.
2. Rent a Pocket Wifi Device
A constant wifi connection is a must when traveling these days. You'll need it to do research, convert currencies, use ride-sharing apps, navigate with GPS, etc. We never go anywhere now without renting a pocket wifi device first.
We needed a device that would work both in Hong Kong and Macau. Thankfully, we found devices on Klook and Kkday. These sites offer discounts to many things like attractions, tours, transportation, and pocket wifi rental. We were able to rent a 3G pocket wifi device from Klook with unlimited data for just HKD 28 a day. The closest competitor I could find was Y5 Buddy which offered a device for HKD 60 a day (3.5G, unlimited data). That's double the price! Naturally, I had reservations considering how big the price difference was but we were completely happy with the device. It was fast, the battery life was decent (about 7 hrs), and there were no hidden charges. So awesome!
Follow these links to rent a Hong Kong / Macau pocket wifi device from Klook or Kkday. The pick up and drop off point for the device is at Hong Kong International Airport.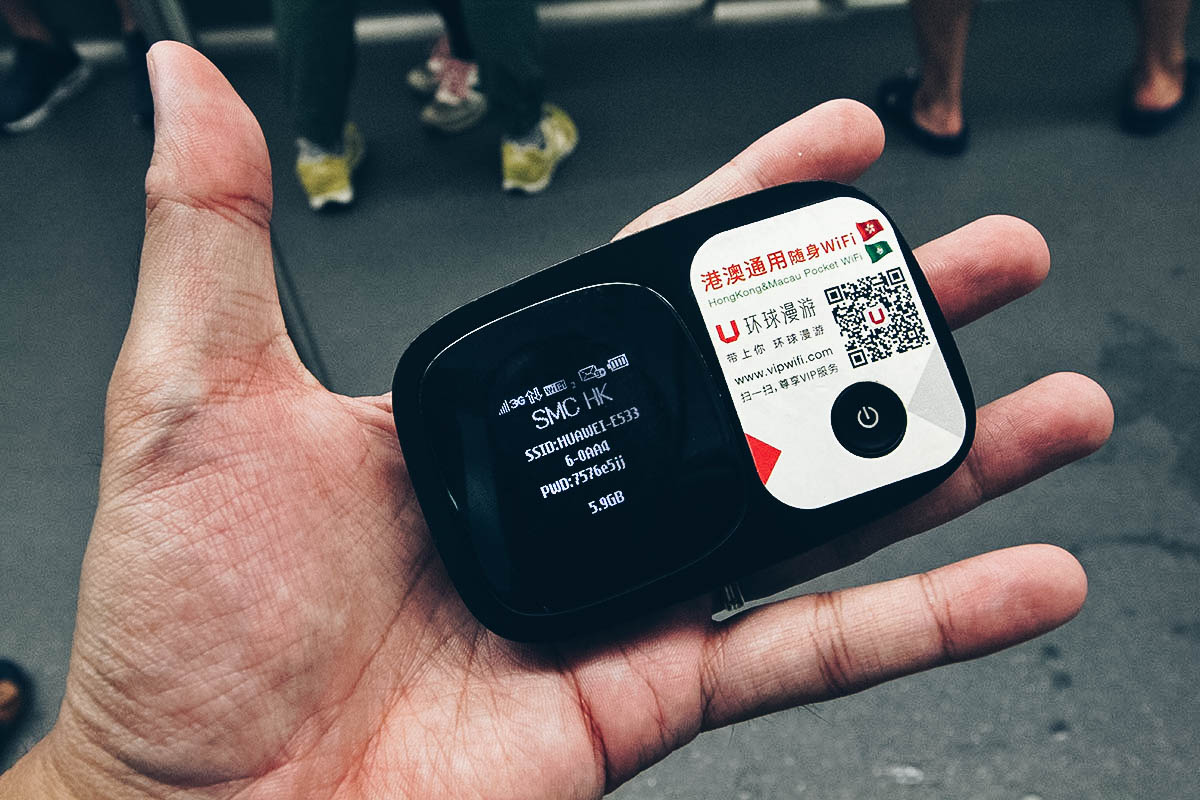 3. Get an Octopus Card
Ren's cousin tells us that all you need to survive in Hong Kong is a mobile phone and an Octopus card. She was right. This incredibly convenient card can be used for so many things in Hong Kong. We bought them primarily for public transportation but you can use it for taxis, supermarkets, convenience stores, coffee shops, even bookstores.
There are several types of Octopus cards available but we got the Standard which costs HKD 150. It's available at MTR stations and comes with HKD 100 of initial stored value and a HKD 50 deposit which you can refund at the end of your trip. Conveniently, you can have it reloaded not just at MTR stations, but at convenience stores, fast food restaurants, coffee shops, and other add value service providers as well. Octopus cards are so convenient that getting one is a must on every trip to Hong Kong. Even if you won't be using public transportation that much, it's still good to have because you can use it to pay for other things.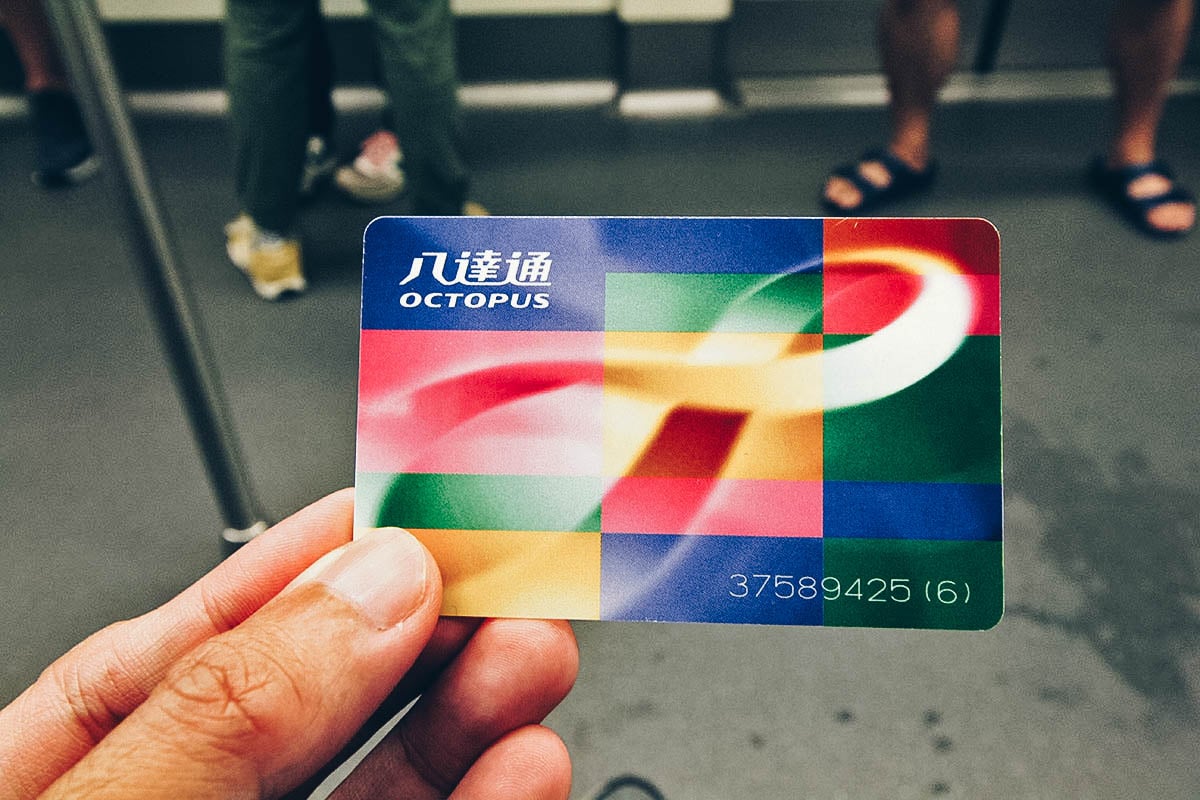 4. Get Discount Tickets
There are many websites that offer discount passes to tours and services. The websites I've used the most are Klook and Kkday. They offer deals in many cities around the world, including Hong Kong. On this trip, we bought three Hong Kong deals from Klook — pocket wifi rental, Ngong Ping 360 and Peak Tram tickets — and we were happy with all of them. As advised, they even have discount passes to Hong Kong Disneyland and helicopter tours! Follow these links for a complete list of Hong Kong deals on Klook and Kkday. You'll often find interesting activities that you wouldn't normally think of yourself so it's definitely worth a look.
Another good website to look through is Viator. I haven't used it as much (probably because of the less pleasing interface) but they're actually one of the leading online providers of tours and activities. They're owned by TripAdvisor so you know they're solid. You can follow this link to search through tours and activities in Hong Kong on Viator.
5. Get Travel Insurance
To be honest, it was only recently when we started buying travel insurance. Back when we traveled just once or twice a year, travel insurance felt like an added expense, one we didn't need. But now that we travel more, I understand how important it is to have it. Fact is, you never know what can happen on the road. It's one of those things that you hope you never have to use, but if you do wind up needing it, then you'll be thanking the gods that you had it. Or cursing them if you didn't.
Though I do find it more necessary now, it's still up to you if you think you need it. A 3-day trip to Osaka just shopping and eating may not really call for insurance but if you plan on doing more active things like bungee jumping, horseback riding, or even going on a bike ride, then I'd say travel insurance is a must.
We buy travel insurance from World Nomads because every long-term traveler I know recommends it. From the sound of it, they're the best in the industry by a mile. Not only do they provide a high coverage limit for medical expenses (up to USD 5 million with the Standard package), they also cover things like trip delays, missed flight connections, theft/loss of passport and luggage, etc. Follow the link or use the widget below to learn more and get a free travel insurance quote from World Nomads. It's super quick and easy.
6. Bring the Right Power Adapter
Hong Kong has Type G electrical outlets so be sure to bring the right power adapters for your devices. Electrical voltage is 220V and the standard frequency is 50Hz.
HOW TO GET AROUND
It's easy to get around Hong Kong using just the MTR. It's convenient and inexpensive. We never hopped into a cab or used Uber the entire week we were there. As advised, it's best that you get an Octopus card especially if you plan on using public transportation a lot. You'll never have to get single journey tickets or fish for exact change if you need to take the bus. It's accepted on the Peak Tram as well and you can use it to ride these iconic double decker trams to travel between east and west on Hong Kong Island.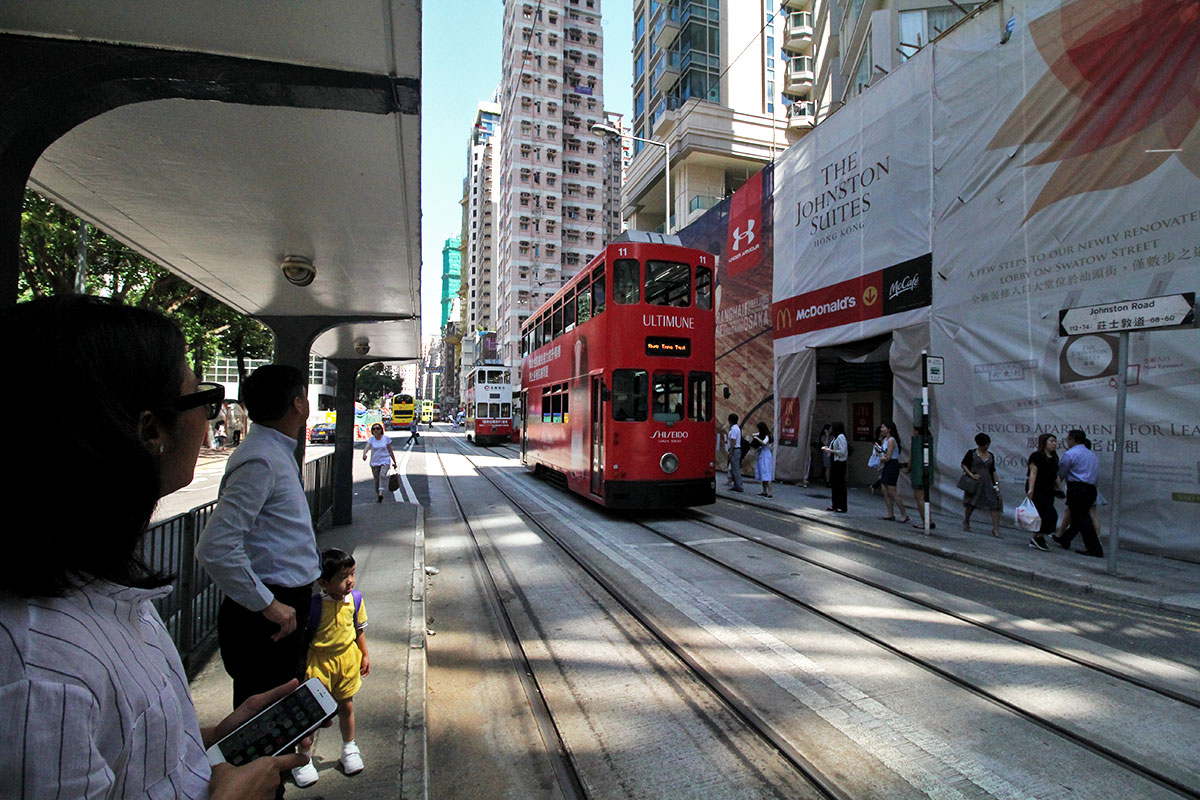 For Filipinos
VISA INFORMATION
Filipinos don't need tourist visas to visit Hong Kong for stays up to 14 days.
HOW TO GET CHEAP AIRLINE TICKETS
Ever since I scored my first piso fare from Cebu Pacific, I've been hopelessly addicted to cheap airline tickets. Our tickets to Hong Kong with a shared 20 kg baggage allowance came out to just under PHP 3,052 each roundtrip. How awesome is that?
These piso fare tickets are limited and sell fast, so you have to be quick. To give yourself an advantage, I suggest liking their Facebook page and following them on Twitter to quickly find out about these seat sales. If you check off "Get notifications" on Facebook, then you'll receive instant alerts every time they post something new.
Other airlines that have direct flights from Manila to Hong Kong are Philippine Airlines, Cathay Pacific, and AirAsia.
Have fun!
I'm not an expert on Hong Kong but I do hope that you find this guide useful. I'm only sharing some of the things I learned from our trip. If you have any suggestions or simply want to share your own experiences, then please feel free to do so in the comments section below. You're welcome to join our Facebook Travel Group as well. We'd love to hear from you.
Thanks for stopping by and have an awesome time shopping and eating your way through Hong Kong!
OUR GEAR
These are some of the things we brought with us to Hong Kong. As you can tell, I document a lot of content for this blog so most of the things I bring are photo and video equipment. 😆 If you'd like to see what other gear we use, then you can check out our "What's in Our Backpack?" post. (NOTE: The following links are Amazon affiliate links.)
Disclosure
Some of the links in this guide are affiliate links, meaning we'll get a small commission if you make a purchase at NO extra cost to you. We only recommend products and services that we use ourselves and firmly believe in. We really appreciate your support as this helps us make more of these free travel guides. Thank you!