Natureland Cave Hotel: What it's like to Stay in a Cave Room in Göreme, Cappadocia, Turkey
If you've seen the pictures, then you'll know that Cappadocia has one of the most unique landscapes on the planet. It's so unusual with its outcropping of fairy chimneys that it doesn't feel like you're on Earth at all. It looks like you're on Mars. Or the moon. In fact, so alien is Cappadocia's landscape that it served as the inspiration for the planet Tatooine in Star Wars.
If you google pictures of Cappadocia, you'll find that many of the fairy chimneys have holes carved into them. It's because people have been making homes out of these rock formations for centuries. Made from soft volcanic tufa rock, they hollow them out and turn them into cave dwellings, churches, even monasteries. Today, with Cappadocia being one of Turkey's most popular tourist destinations, many have been fashioned into hotels providing travelers with the indelible experience of sleeping in a cave.
We visited four cities on our Turkey trip and Cappadocia was the one I was most excited about, largely because of unique opportunities such as this.
Cave Room at Natureland Cave Hotel
Ranch-like in feel, Natureland Cave Hotel is a small bed and breakfast with six cave rooms. It's on the way to Göreme Open Air Museum and about a 10-minute walk from the town center. We paid a modest 30 Euros a night in November 2015.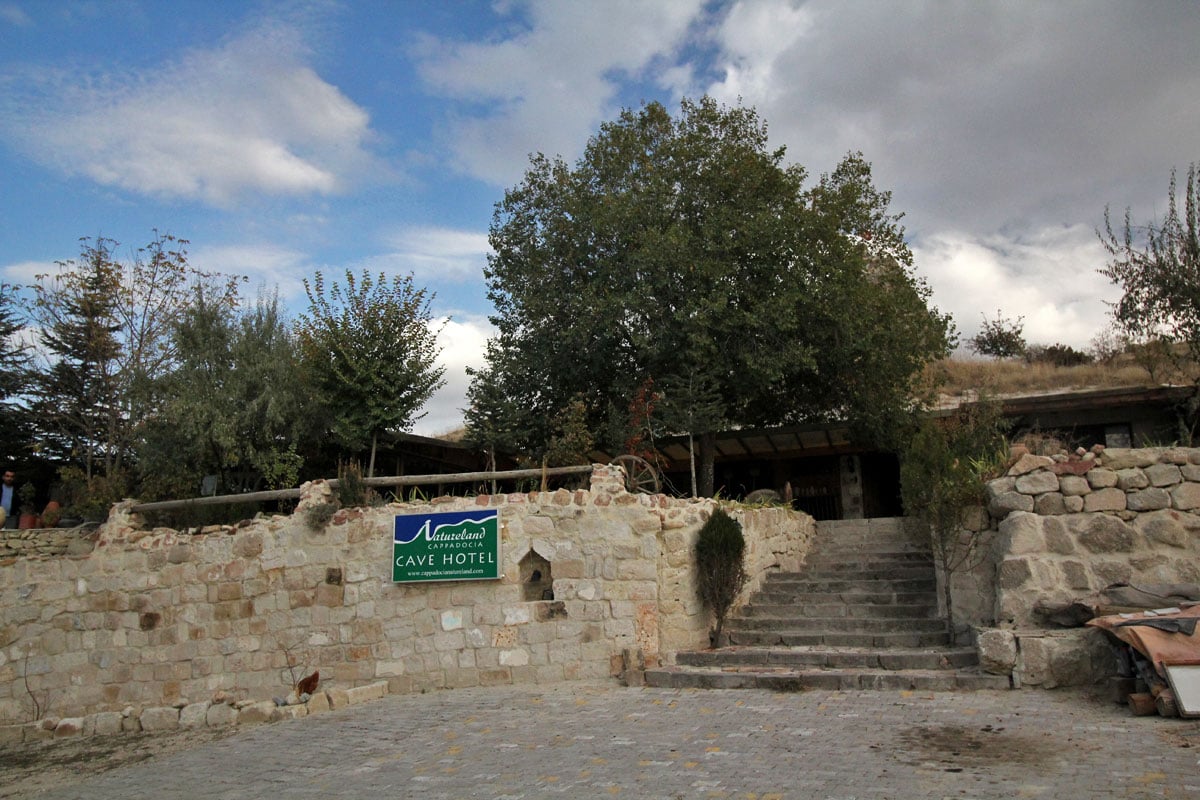 Patio leading to the reception and dining areas. It's hard to see in this picture but we stayed in the room located in that corner where the two walls meet.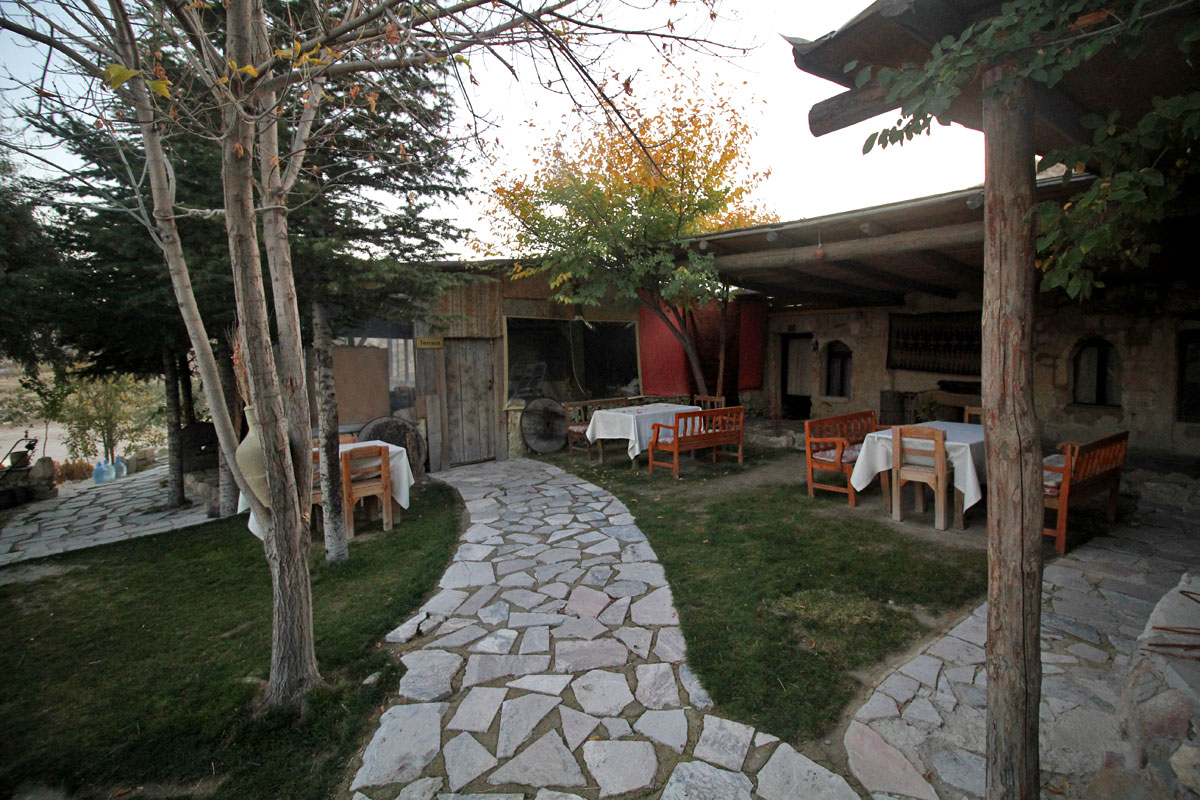 Cave Room
An inside look at one of Cappadocia's famed cave rooms. Many are outfitted with modern conveniences like a private bathroom, flat-screen cable TV, central heating, air-conditioning, wifi, and perhaps even a small kitchen. In my opinion, your Cappadocia experience wouldn't be complete without staying in one of these uniquely charactered rooms.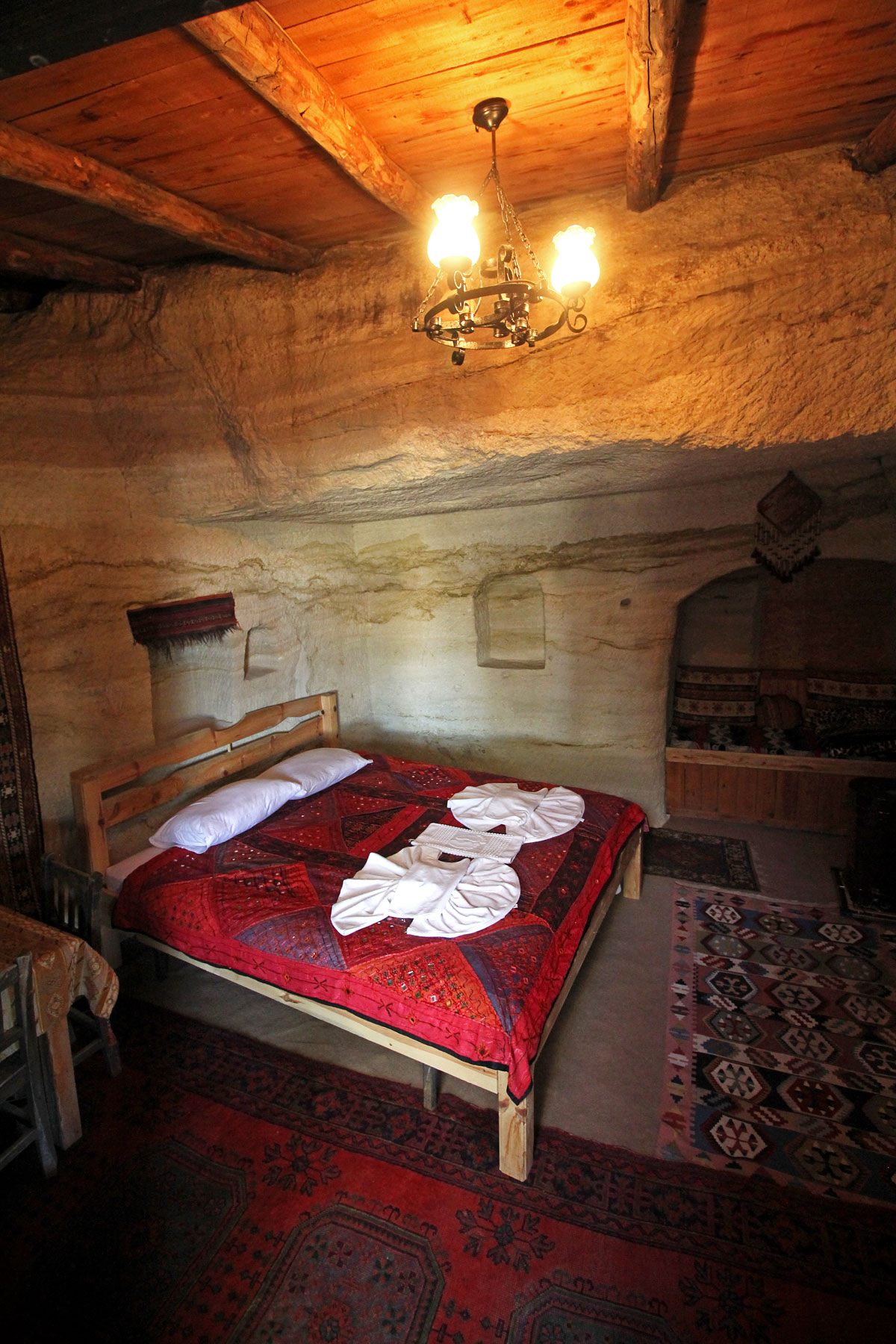 Topped with a wooden roof, our cave room at Natureland appears to be just partly constructed out of volcanic rock, though I have seen pictures of rooms that are completely cave-like. Many have windows, even a skylight, but a few have no windows at all. Ours had a window built into the front door.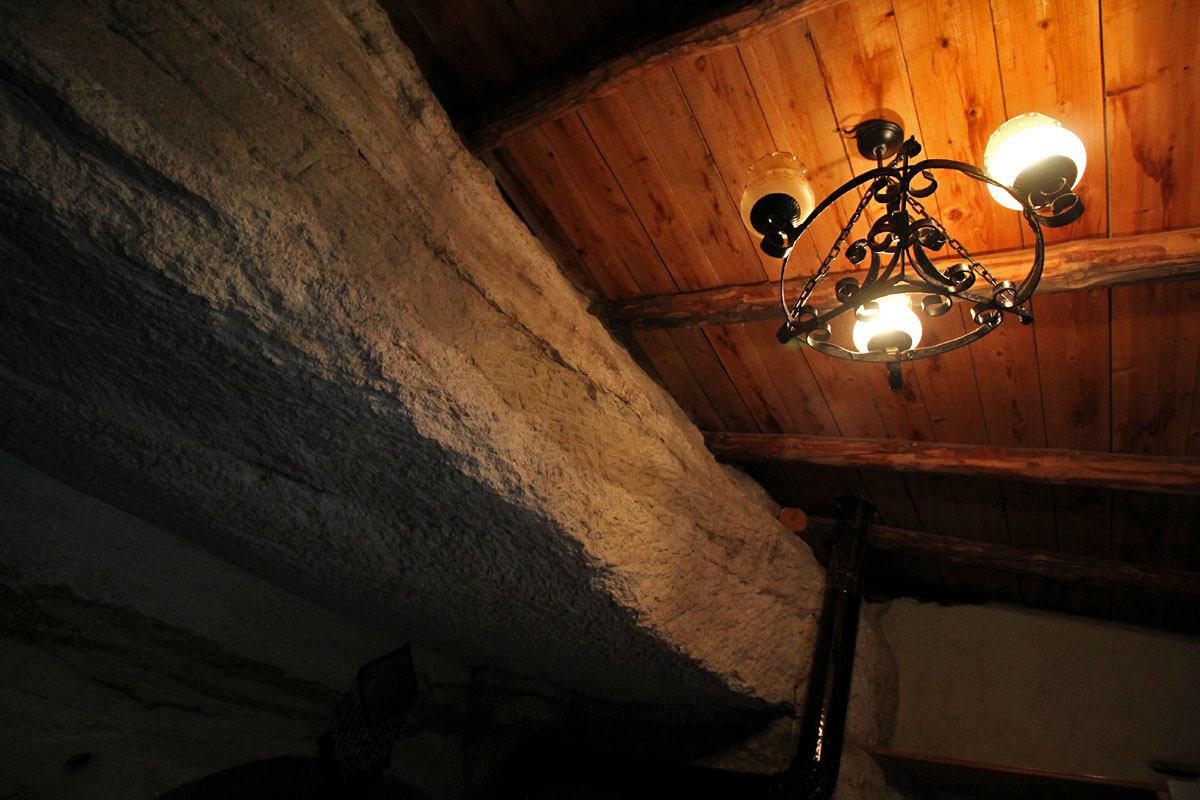 This was charming though perhaps somewhat of an inconvenience. Some cave rooms in Cappadocia have central heating but ours at Natureland didn't. Instead, we had this wood-burning stove that the caretakers would light up for us at night. I enjoyed how it imparted authenticity to the experience but it would burn out after 2-3 hours, leaving the room cold again. It made the task of going to the bathroom in the middle of the night particularly uncomfortable. The floor would be freezing! 😆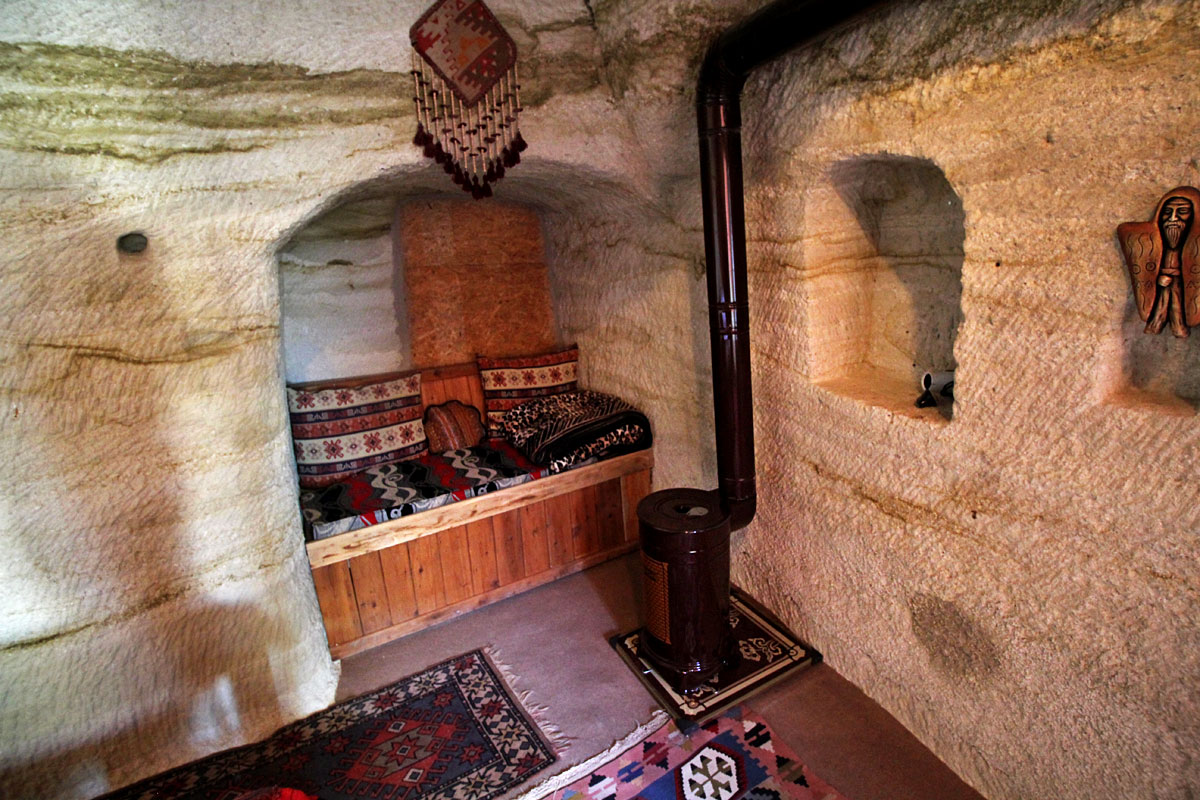 L: One of the boys firing up the furnace. Luckily for us, it was early November so it wasn't as cold yet. But temperatures in Cappadocia are known to fall to a frigid -5°C in January/February. They used only wood when we were there but I think they mix in coal during the coldest months to help the fire burn longer.
R: The bathroom. Nice as it is, there's no partition between the toilet and shower so the floor would be wet and ice cold whenever we'd go pee pee in the middle of the night. 😡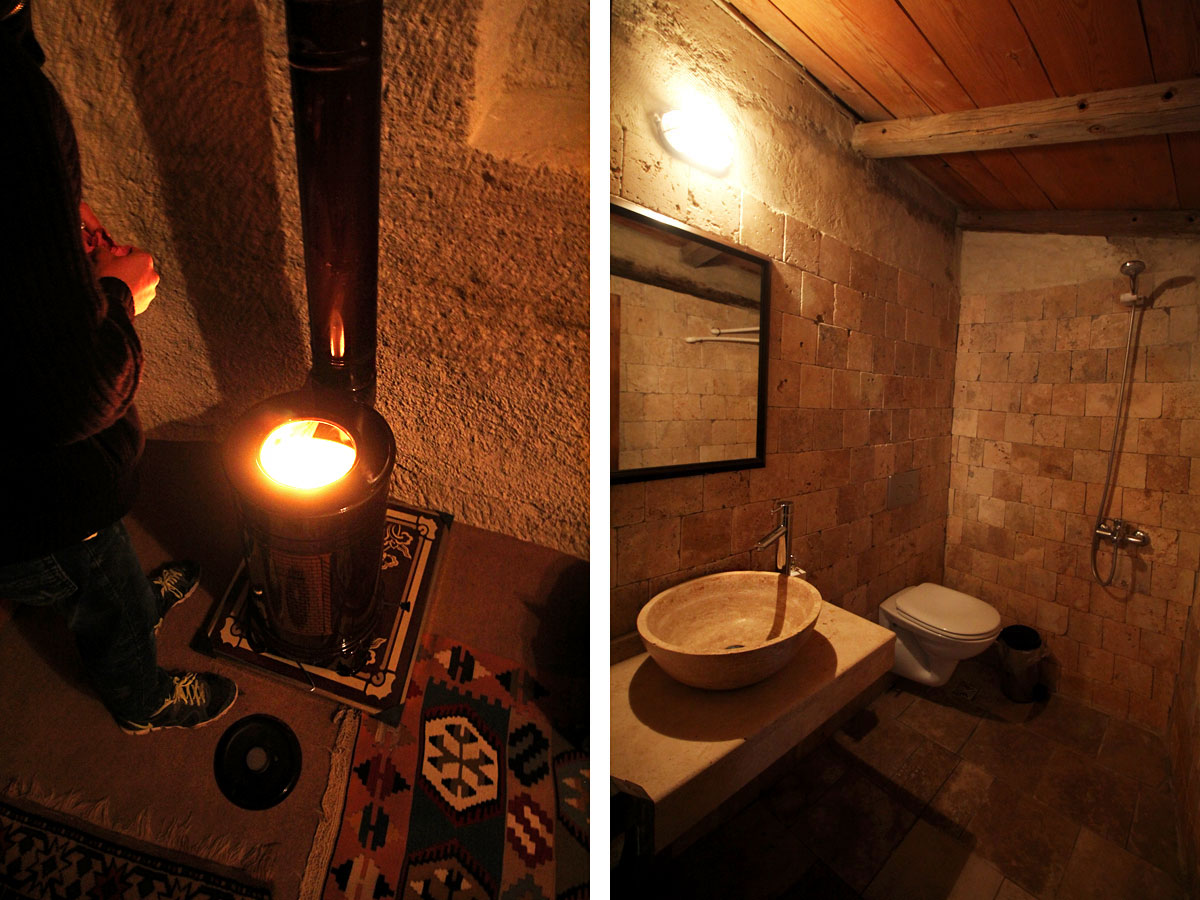 A short video I put together of the room. It's important to note that many hotels make the distinction between cave and stone-built rooms. Unlike cave rooms, stone-built rooms aren't carved out of the rock but are constructed from stone blocks. Both offer enduring Cappadocia memories though I'd personally prefer staying in a cave room. It just feels more authentic that way.
Reception / Dining Areas
Rustic reception/dining area. Feels like a genuine ranch doesn't it? Not sure if they were the hotel's property, but there was a stable with horses not too far from here.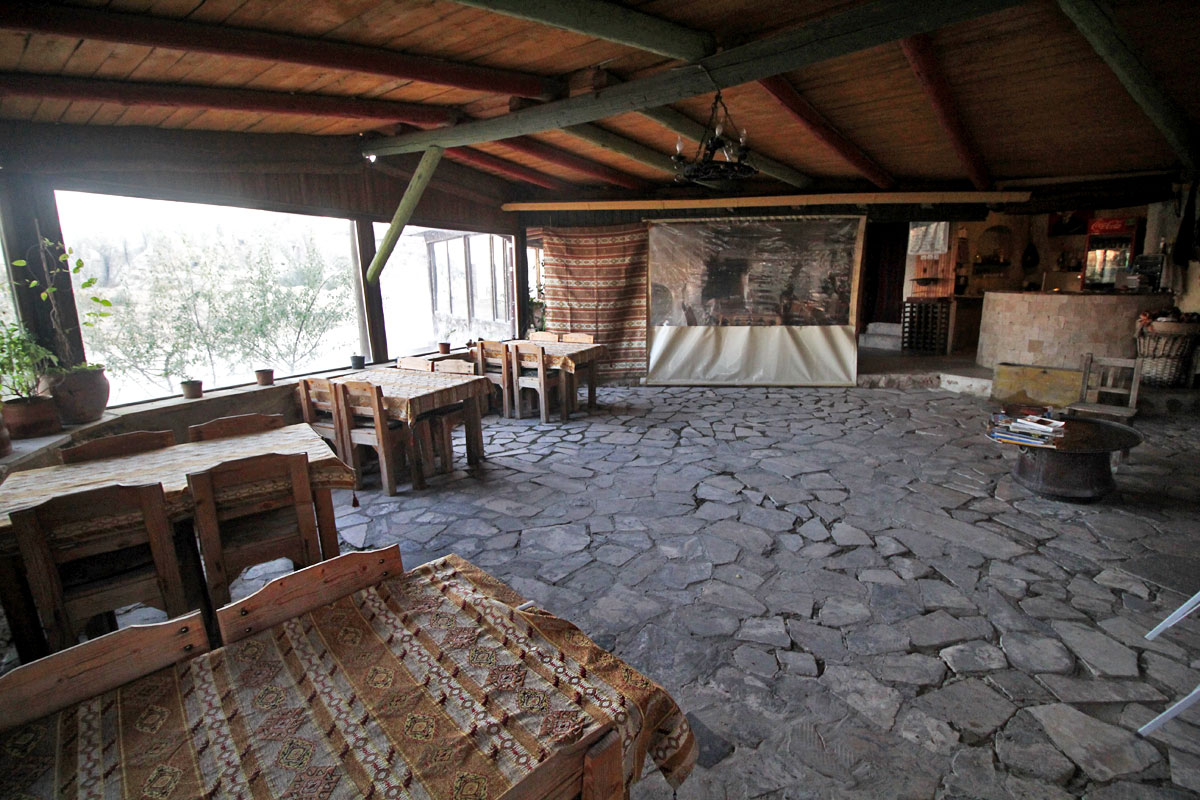 Main dining area offering panoramic views of Cappadocia's moonscape.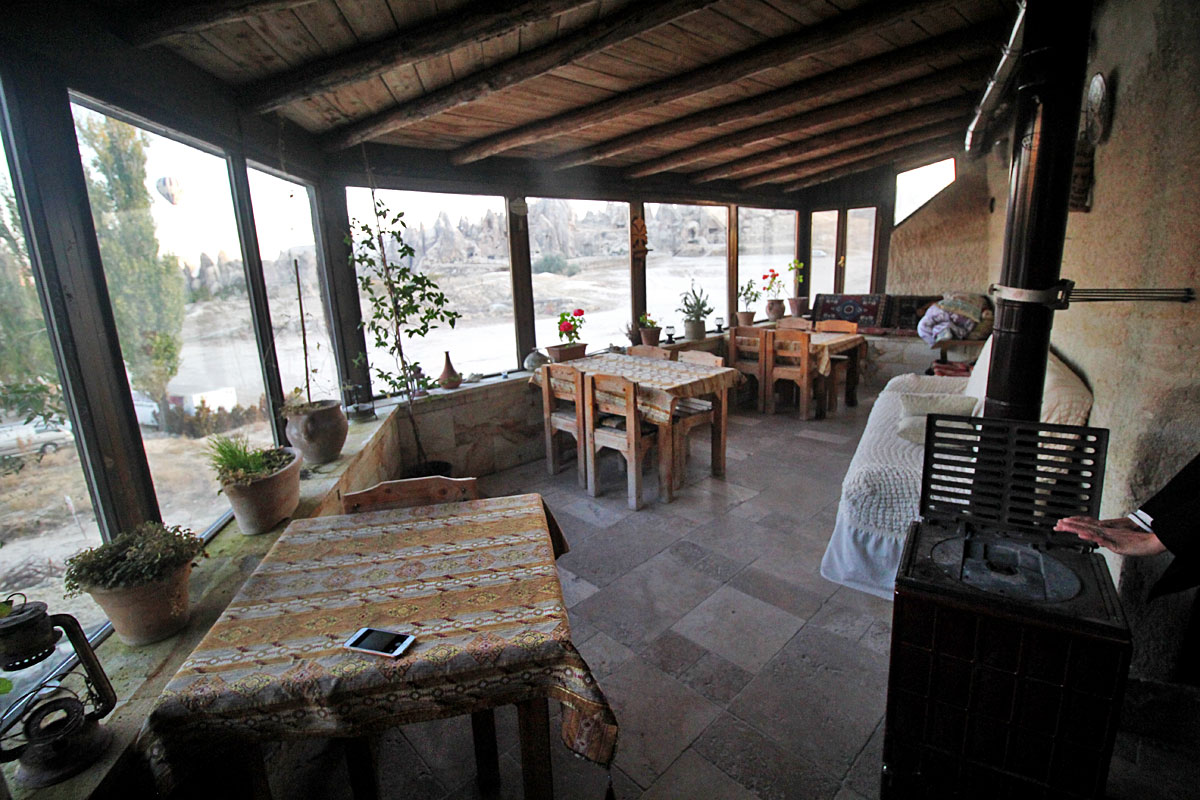 Delicious Turkish breakfast inclusive of the room rate. Turkish breakfast is comprised of many small dishes, among which you'll always find tomatoes, cucumbers, olives, cheese, and bread.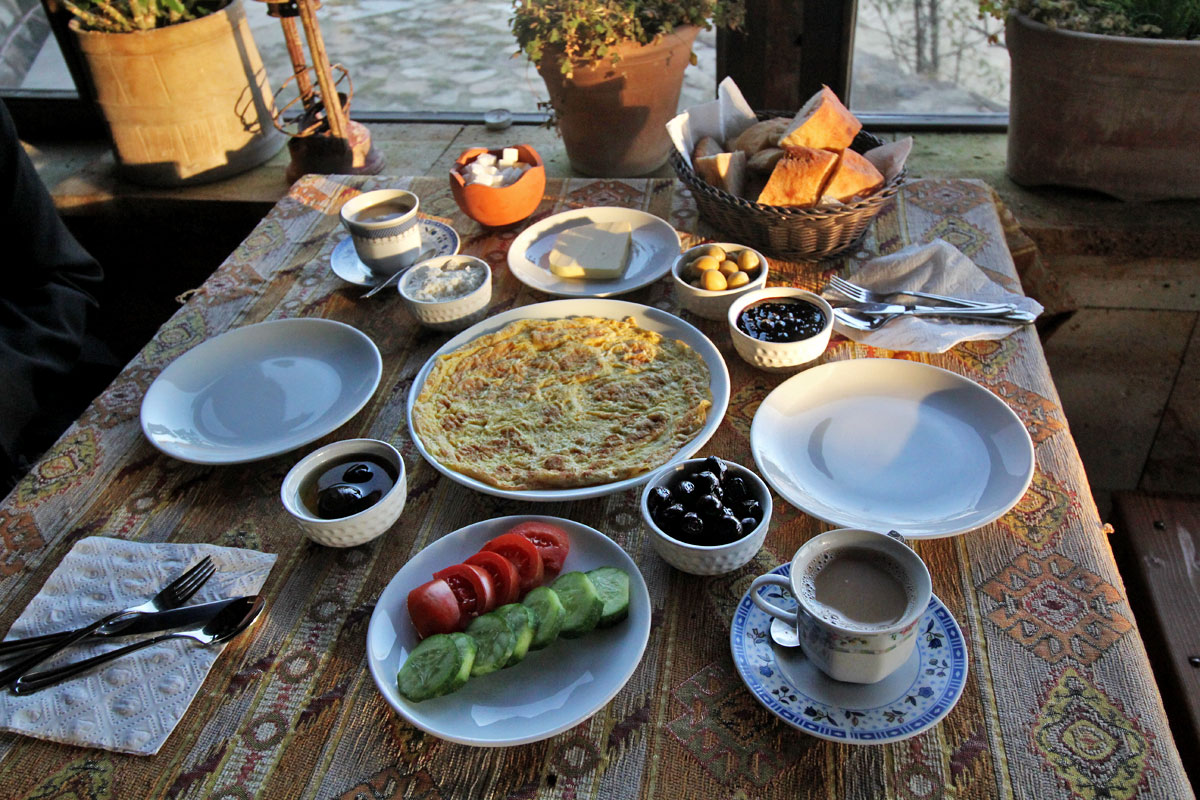 Around the Hotel
Beautiful isn't it? Natureland is in the middle of an open plain off the main road so there's nothing around it. Just dirt, fairy chimneys, and the occasional…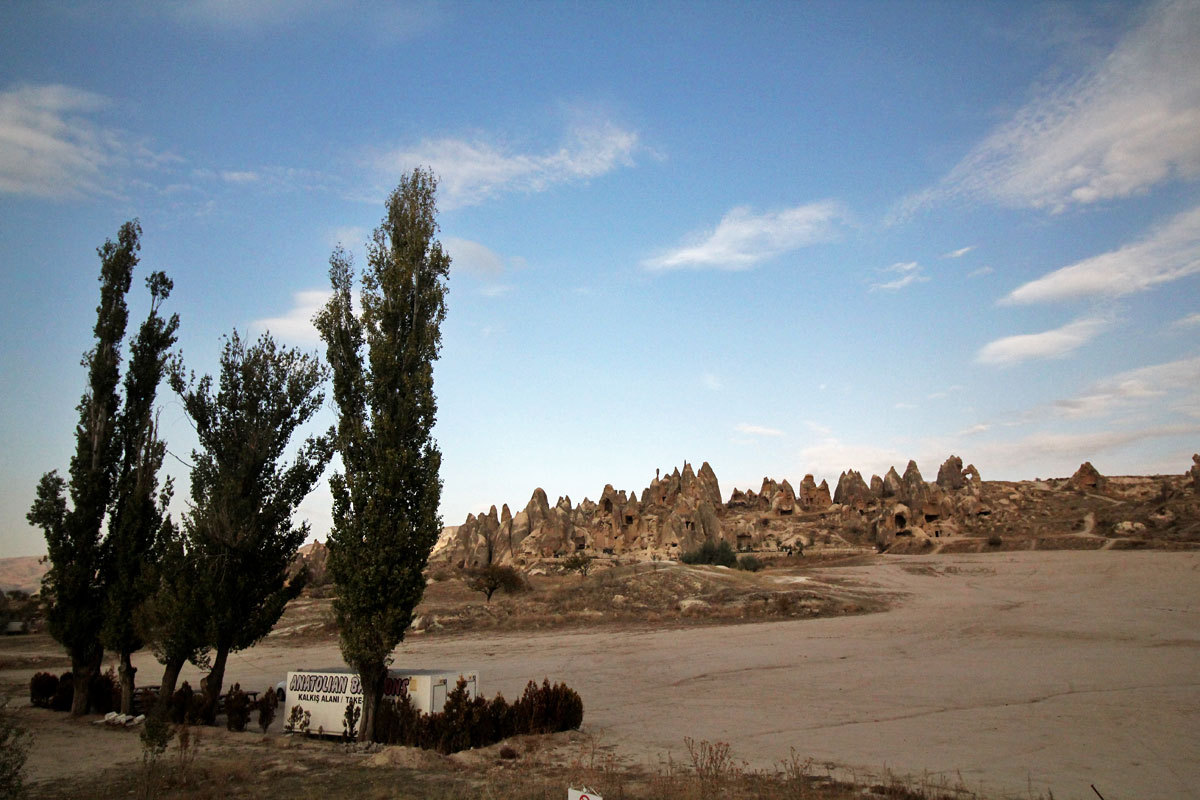 …hot air balloon! You've probably heard that balloon flights are synonymous with Cappadocia. We came back from a tour one afternoon to find this practice flight. Little did we know that it would be a precursor to something magical the next morning.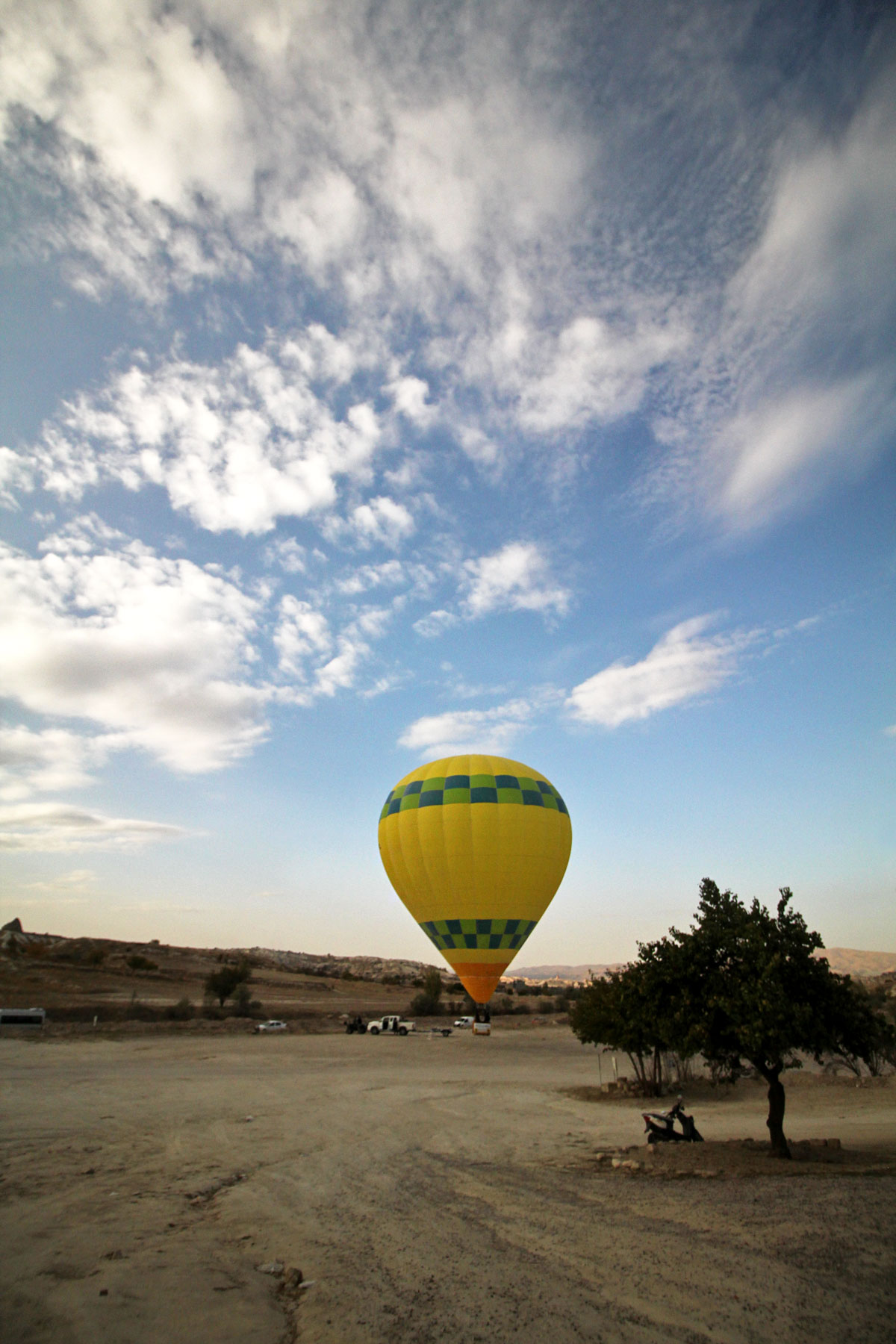 Was I exaggerating? We stepped out of our room to have breakfast and discovered this. Based on the day's weather conditions, many of the balloons decided to land in the vicinity of our hotel today. We went on a flight the previous morning so we had a feeling something was up (literally) when we heard the sound of burners firing outside. What a spectacular sight this was to wake up to.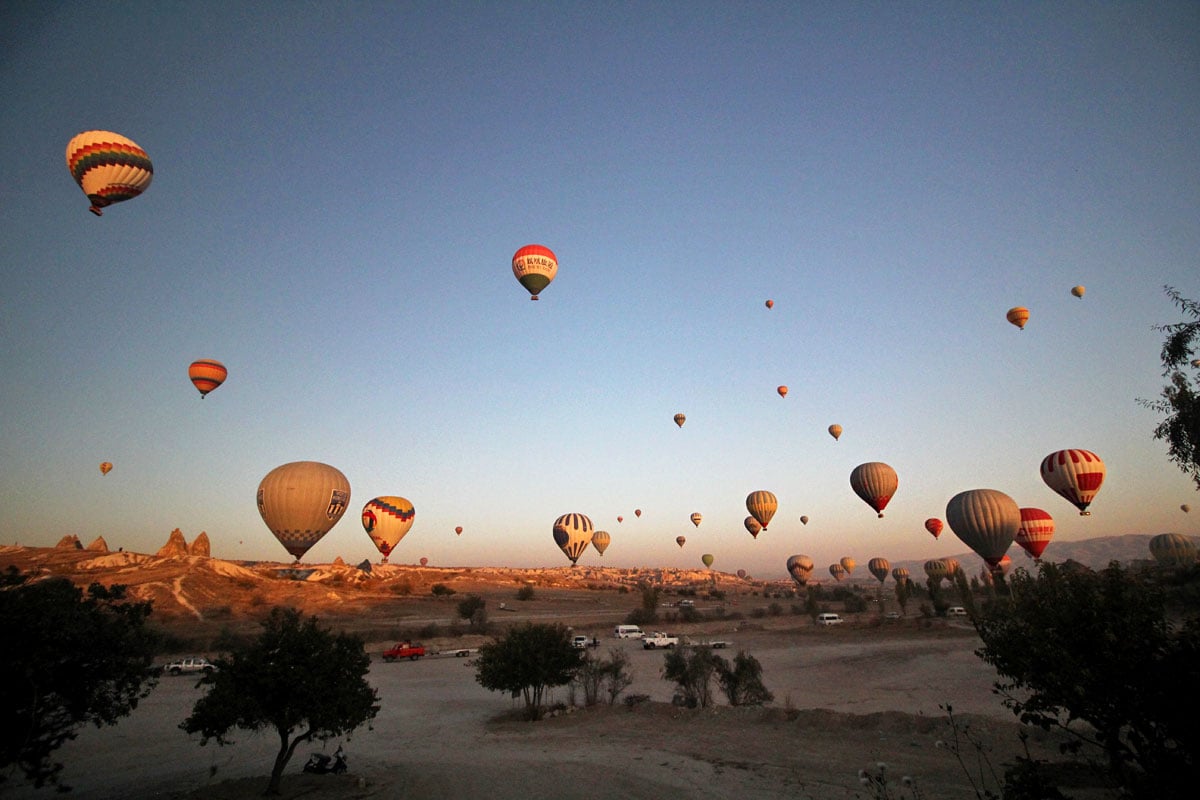 Weather permitting, flights take place in Cappadocia on a daily basis with up to 100 balloons in the air at the same time.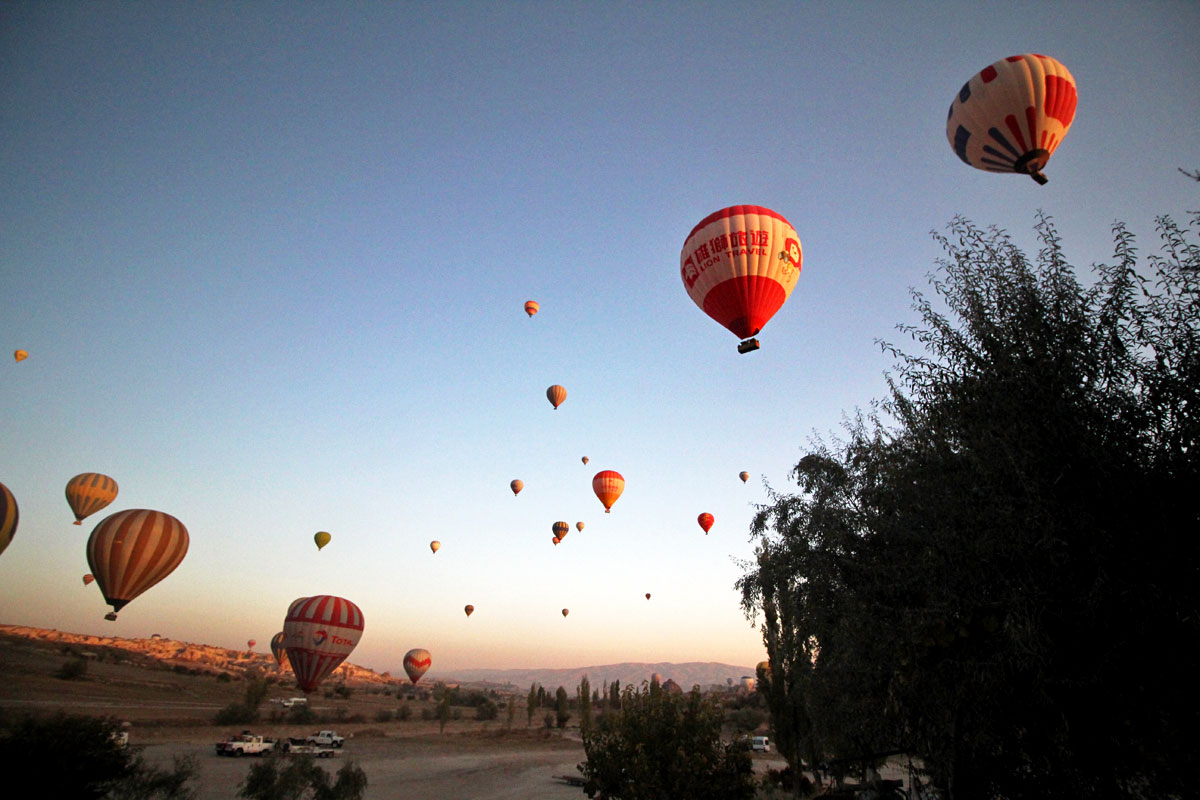 Balloons take flight around 7 in the morning and stay airborne about an hour.



As mentioned above, we went on a balloon flight ourselves and it was one of the most memorable experiences we've ever had. In fact, I fulfilled a ten-year promise to my beautiful Renée on our flight. I'll write a post about it soon. ♥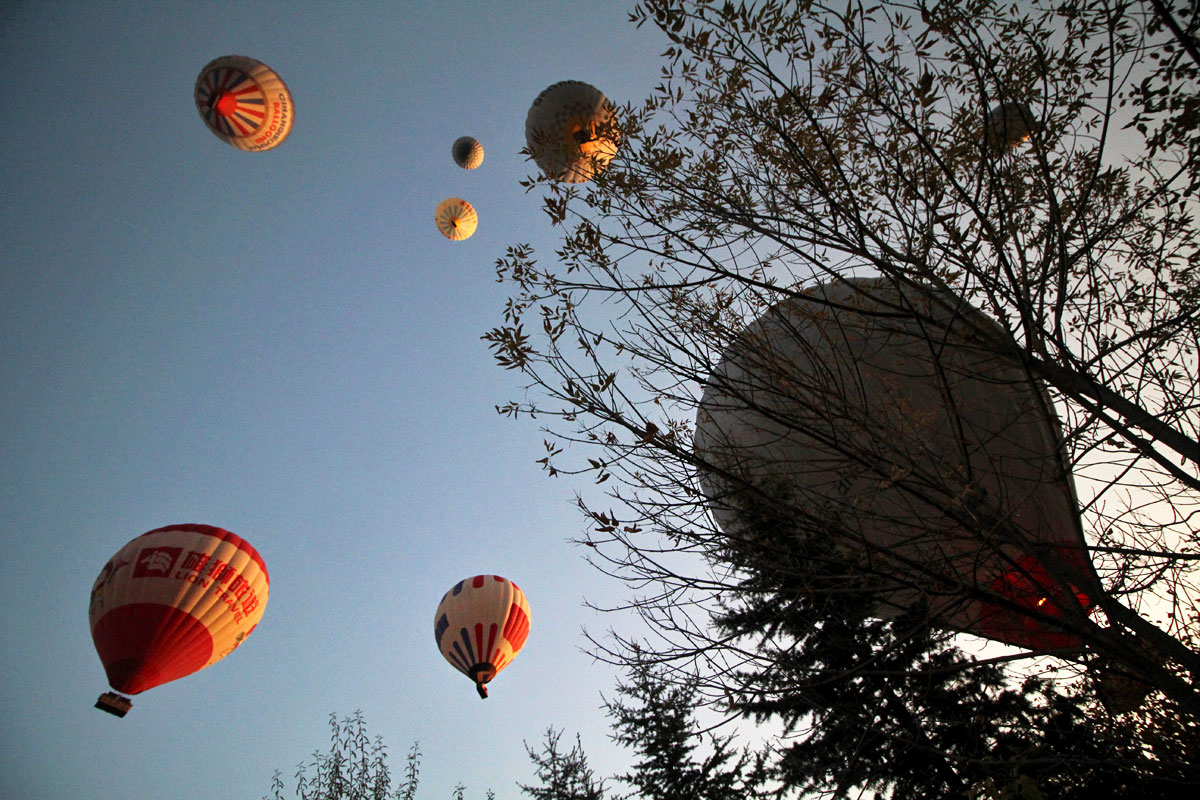 Here's one flying directly over our heads. How cool is that?! You'll see in the video that they land the basket right onto the back of a flatbed truck. #skills
As much as we enjoyed staying at Natureland, I have to be honest. It did have its shortcomings. Ren and I agree that the absence of a tv wasn't a big deal. The lack of central heating didn't bother me as much but it was an inconvenience for Ren. It would have been nice to have a portable heater as a constant source of heat at night. I can only imagine how cold the rooms must get in the dead of winter.
The ten-minute walk from the center of town wasn't so bad though I would have preferred to stay in the heart of Göreme. Apart from being closer to restaurants, I think that staying within the maze of alleyways and fairy chimneys is an important part of the experience. It makes you feel immersed in Cappadocia. I did feel somewhat detached at Natureland, but that could just be me. It wasn't an issue for Ren.
In spite of these, we did have a wonderful stay at Natureland and would happily recommend it to anyone who isn't bothered by these issues. It has a great rating on both Booking.com (8.8/10) and TripAdvisor (4.5/5), which is a testament to how much people enjoy staying here. The owner Özer is a very kind and accommodating host as well and that's always a huge positive.
You can make a reservation through Booking.com or Agoda. Be sure to check both sites to find the best deal.
Natureland Cave Hotel, Göreme, Cappadocia, Turkey
Acik Hava Muzesi Yolu uzeri 1.km., Muze Cad. No: 15, Göreme, 50500 Göreme, Turkey
Tel: 0384 271 28 49
Mobile: 0546 401 53 00
Fax: 0384 271 31 56
Website: kapadokyanatureland.com
Email: info@kapadokyanatureland.com
Approximate Room Rate: 30 Euros per night (as of Nov 2015)
HOW TO GET THERE:
Natureland Cave Hotel is on the way to Göreme Open Air Museum. If you're coming from the otogar (bus station), turn right into Muze Caddesi from the main road of Bilal Eroğlu Caddesi. The hotel will be on the left side of the road about 5-10 minutes from the intersection. If you have Sygic Travel and pocket wifi, then you can use GPS to track it down. Please be advised that the hotel is about a 10-15 minute walk from the otogar so you may want to arrange for transportation if you're carrying heavy luggage.
MAKE A RESERVATION: Booking.com | Agoda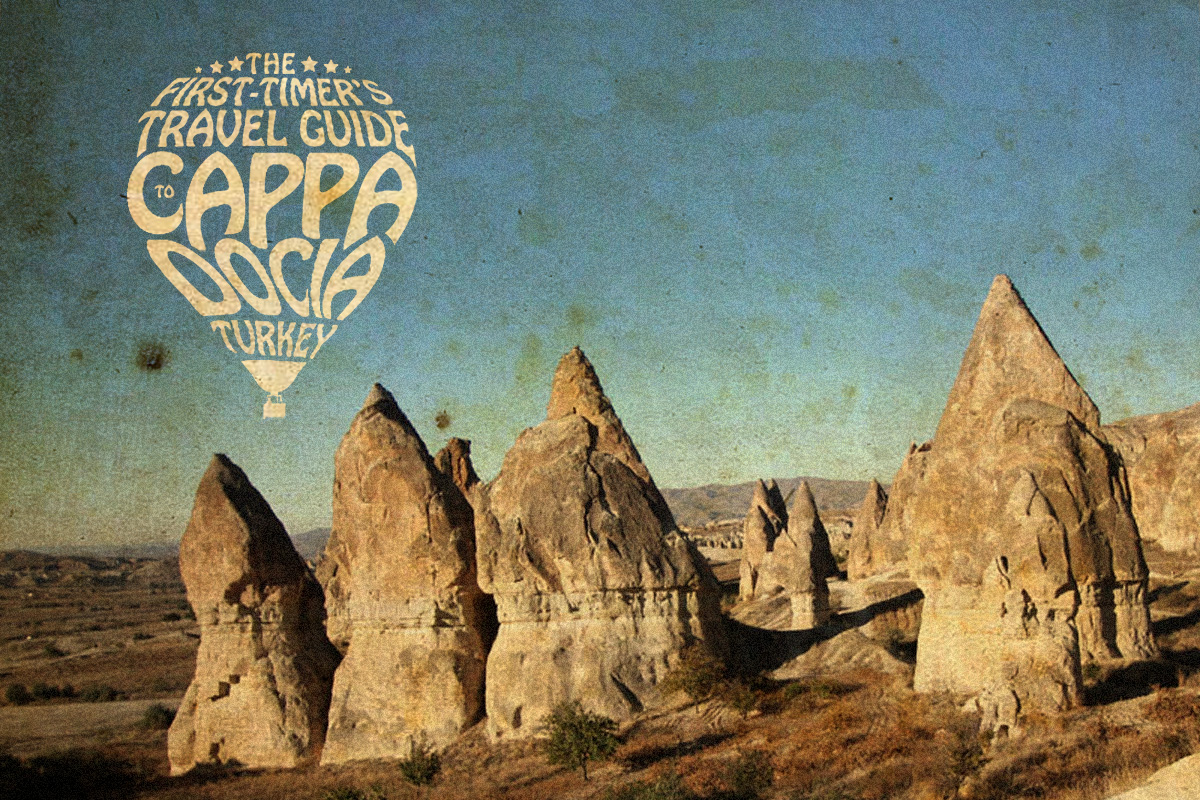 Disclosure
The hotel links in this post are affiliate links. If you make a reservation, then we'll get a small commission at NO extra cost to you. We really appreciate your support as this helps us keep this website going. Thank you!