The First-Timer's Travel Guide to Sagada, Mountain Province, Philippines (Updated October 2016)
"It doesn't feel like we're in the Philippines right now."
Taking in the cool mountain air, that's what my friend Pat said just minutes after arriving in Sagada.
"It feels like we're in a different place. It's the first time I've felt that way here in the Philippines. It's awesome."
He's right. I remember feeling the exact same way the first time I visited Sagada twelve years ago. I don't know what it is. The cooler weather, the pine trees, the atmosphere, the pace. There's just something magical about this sleepy little town. When you're there, it feels like you've been transported to a different continent. Perhaps even a different world.
"It feels a lot like Lord of the Rings actually", Pat would later add.
Being a New Zealander, he should know. Though that wasn't the first time I've heard that said about Sagada. A remote mountain town with a population of just over 11,000, here's a first-timer's travel guide to what many have described as "the Shire" of the Philippines.
GUIDE TABLE OF CONTENTS
WHEN TO GO
The best time to go to Sagada is from November to February. The weather is cool and dry. Late December brings with it the added bonus of the annual bonfire festival (Dec. 28). If you don't mind a packed town, then this would be a fun time to go. Similarly, the town fiesta is held during the first week of February so that may be another festive time to visit.
March and April gets warm and dusty so skip those months if you want to experience Sagada's cool mountain climate. The rains begin to fall more regularly from May to July, with typhoon season coming in August until October. Landslides are more frequent at that time so avoid those months at all costs. On top of that, it would be dangerous to enter Sumaguing Cave during rainy season since water levels can rise very quickly during a storm.
HOW TO GET THERE FROM MANILA
Be warned that Sagada is hard to get to. Going there entails long bus rides on mountain passes that are twisty and often bumpy. There are no direct buses to Sagada so you'll need to go through either Banaue or Baguio to get there, which is fine because Sagada is often paired with trips to those places as well. The entire trip will take around 12-13 hours.
To give you a better understanding of where all these places are in relation to one another, I've included a map below. Original map borrowed from the Bisayang Manlalakbay blog.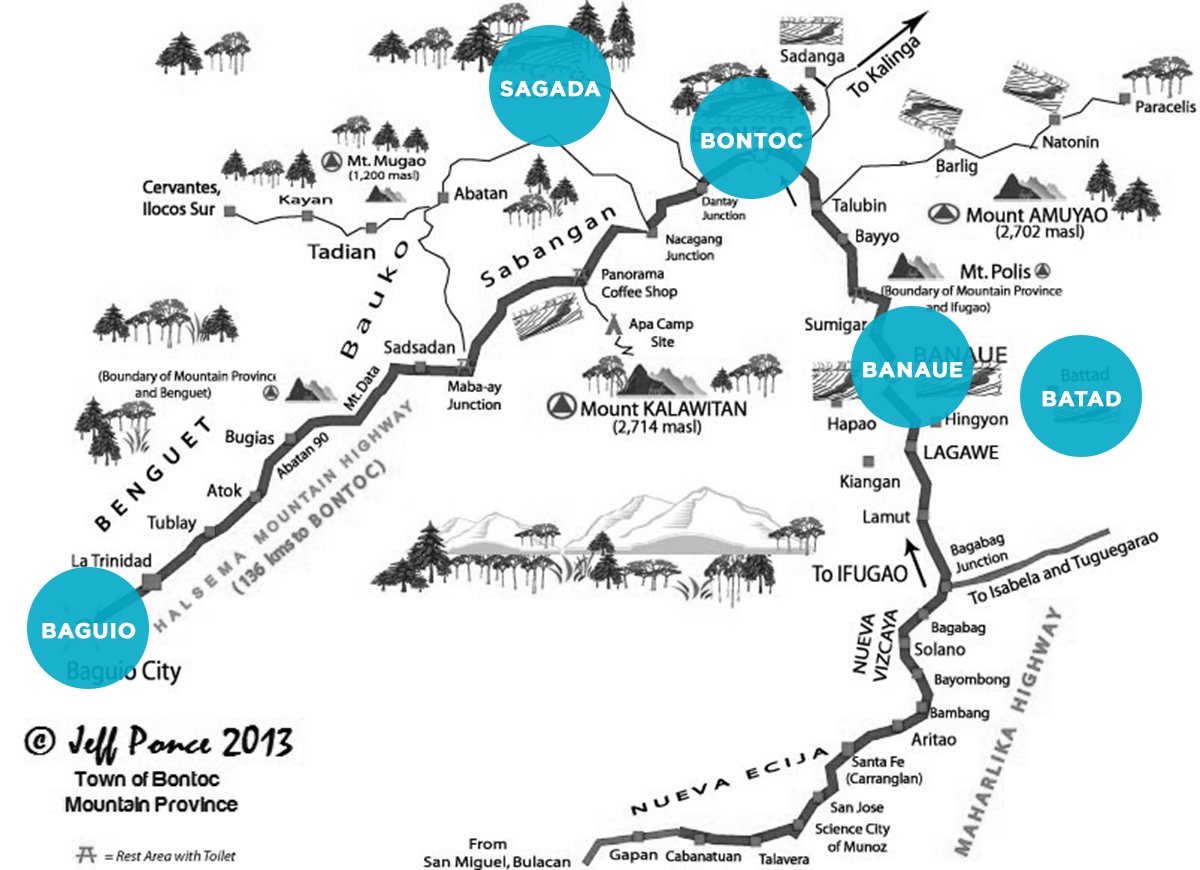 Direct from Quezon City
As of October 2015, Coda Lines has been offering direct trips to Sagada from Quezon City for PHP 720 each way. This is by far the easiest way to get to Sagada from Manila. Buses leave from their terminal near St. Luke's Hospital (277 E Rodriquez Sr. Ave, Cathedral Heights) at 9PM daily. I've never gone direct before but I'm guessing that the entire trip lasts around 13 hours.
For reservations, you can contact Coda Lines at 0927-559-2197 or 0929-521-3229. You can also visit the Coda Lines Facebook page for more information. You'll be happy to know that they offer return trips to Quezon City as well, leaving Sagada at 3PM daily.
Via Banaue
The first leg of your trip will be a 9-hr overnight Ohayami Trans bus to Banaue. It leaves at 10PM (and 9PM during peak season) from the Ohayami station near UST (Lacson Avenue cor. Fajardo Street). The fare each way is PHP 470 and it gets you into Banaue at 7AM the next day. Buses get full, especially during peak season, so be sure to reserve your ticket a week in advance to guarantee yourself a seat. You can visit the Ohayami Trans website for information on how to reserve a ticket.
From Banaue, you can take a 2-hr van to Bontoc for PHP 150. I've never taken this route personally so I don't know what time and from where the van leaves, but you can ask around and people will direct you to the stop. Based on what I've read online, you can also take a jeep or a bus to Bontoc from Banaue. The jeep leaves around 8:30AM and the fare is PHP 150, while the bus leaves at 12NN and charges PHP 120.
From Bontoc, you can take a public jeep to Sagada. A 45-min ride for PHP 45, jeeps leave every half hour or so from 8:30AM until 5:30PM.
If there are enough people in your group, it's worth noting that you can hire an entire jeep to take you straight to Sagada from Banaue. I did this over 10 years ago and it cost PHP 4,000 to rent the entire jeep. I believe it still costs PHP 4,000 today. A straight 3-hr journey, this is the fastest and most convenient way to go if you can divide the cost between enough people.
If you'd like to go back to Banaue from Sagada, then please refer to my Batad Travel Guide for more information.
Via Baguio
Many bus companies take you to Baguio from Manila, but I prefer Victory Liner. They have buses leaving for Baguio every hour for 24 hours from their four terminals in Manila (Manila, Pasay, Cubao, Caloocan). A 5-6 hr trip, one-way fare from Pasay is PHP 455. Buses get full, especially during peak season, so be sure to reserve your ticket a week in advance to guarantee yourself a seat. You can visit the Victory Liner website for terminal and reservation information.
If you plan on going straight to Sagada soon as you arrive in Baguio, then I suggest taking the 11PM from Manila. This will get you into Baguio at around 5AM. From the Victory Liner station, take a taxi to the GL Liner station in Baguio Dangwa terminal. The taxi fare should run you around PHP 70. Be sure to tell the driver that you're taking a bus to Sagada in case the terminal has moved.
Buses to Sagada leave every hour from 6:30-11:30AM, with the last bus departing at 1PM. Roughly a 6-hr ride, the fare is PHP 220. If you can catch the 6:30AM, then you should arrive in Sagada in time for lunch.
To go back to Baguio from Sagada, you can catch the bus from the lot near St. Mary's Church. The first bus departs at 5AM, then every hour on the hour from 7-10AM, with the last bus leaving at 12:30PM.
HOW LONG TO STAY
Though you'll only need a few days to visit all of its attractions, Sagada is one of those places where you can stay for weeks doing little more than soaking up the cool mountain air. It's inexpensive, even by Philippine standards, so you can pretty much stay as long as you like. I stayed for a week and a half once just reading and walking around. I loved it.
For most travelers, 3 days should be enough to see all the major sights. As previously mentioned, Sagada is often paired with a trip to Banaue, Baguio, or Bontoc, so you may want to plan your trip with those other destinations in mind. Check out my First-Timer's Travel Guide to Batad — home of Banaue's most beautiful rice terraces — for more information.
HOW MUCH MONEY TO BRING
As mentioned above, Sagada is cheap. If you're taveling with one other person and hiring guides to all the major sights, then you'll be fine with a budget of around PHP 1,500-2,000 per day. This takes into account your hotel, guide fees, 3 daily meals, and some light shopping. Adjust accordingly based on how much you want to eat, drink, and shop.
Please be advised that Sagada is a cash only town. As far as I know, establishments still do not accept credit cards nor are there any money changers around. There's just one ATM there so be sure to bring enough cash to fund your trip.
WHERE TO STAY: Lodge Labanet
At the time of this writing, Lodge Labanet was one of the newest hotels in Sagada. In fact, it was still being finished when we stayed there. Owned by the popular George Guesthouse, it's about a 5-10 minute walk from the tourism office. You'll see it on your right going towards Sumaguing Cave. A room with private bathroom goes for just PHP 300 per person.
As you can see below, rooms are basic but spacious and clean. Every room has a balcony and there's free wifi in the lobby. To reserve, call or text +63 918-548-0406 / +63 920-948-3133.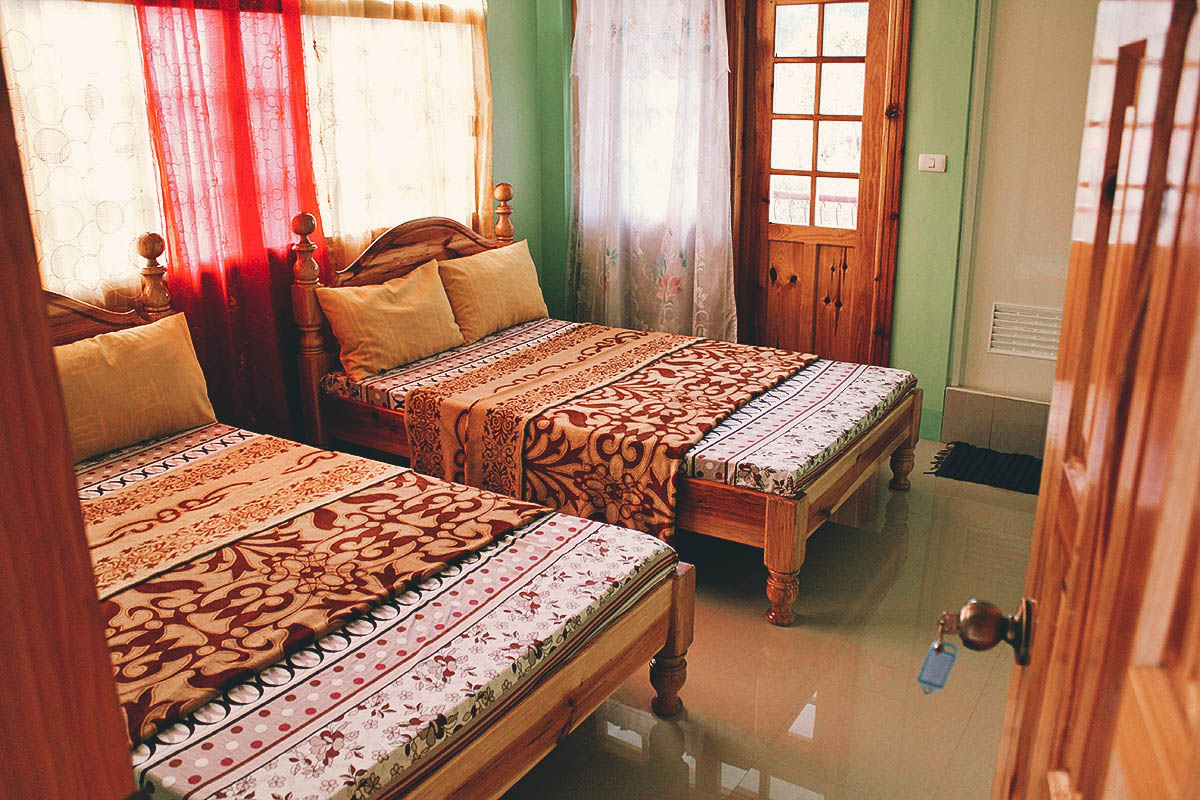 Approximate Room Rate: PHP 300 per person (with bathroom, as of Jan 2015)
WHERE TO GO / WHAT TO DO
Soon as you arrive in Sagada, the first thing you should do is register at the tourism office and pay the PHP 35 environmental fee. They'll give you a receipt which you should keep with you during your entire stay in Sagada. You may be asked to present it before entering many of the sites listed below.
1. Go Spelunking in Sumaguing Cave
Far and away the most frequented destination in Sagada, Sumaguing Cave is an awe-inspiring cave system that will simultaneously amaze and test you. Popular for its stunning rock formations and potential for danger, this cave is an absolute must-do for any first-time visitor to Sagada.
Though a lot of fun, be warned that Sumaguing Cave is dangerous so it must not be attempted without a guide. It's pitch black and many of the rocks are very slippery. Losing your balance and hurting yourself is a real possibility. Apart from keeping your balance and watching your step, it isn't the most physically demanding but it does have its challenges (ie rapelling up and down a 10-ft rope).
To go, register at the tourism office and hire a guide for PHP 500 (up to 4 pax). The entire caving experience will take around 2 hrs. You'll be wading through chest-high waters so be prepared to get wet. Flip-flops are recommended.
For the more adventurous and physically fit, you can do the advanced Lumiang-Sumaguing cave connection route for PHP 800 (up to 2 pax). This is a 4-5 hr test of endurance and flexibility that will take you much deeper into the cave system.
Check out my post on Sumaguing Cave in Sagada for more information.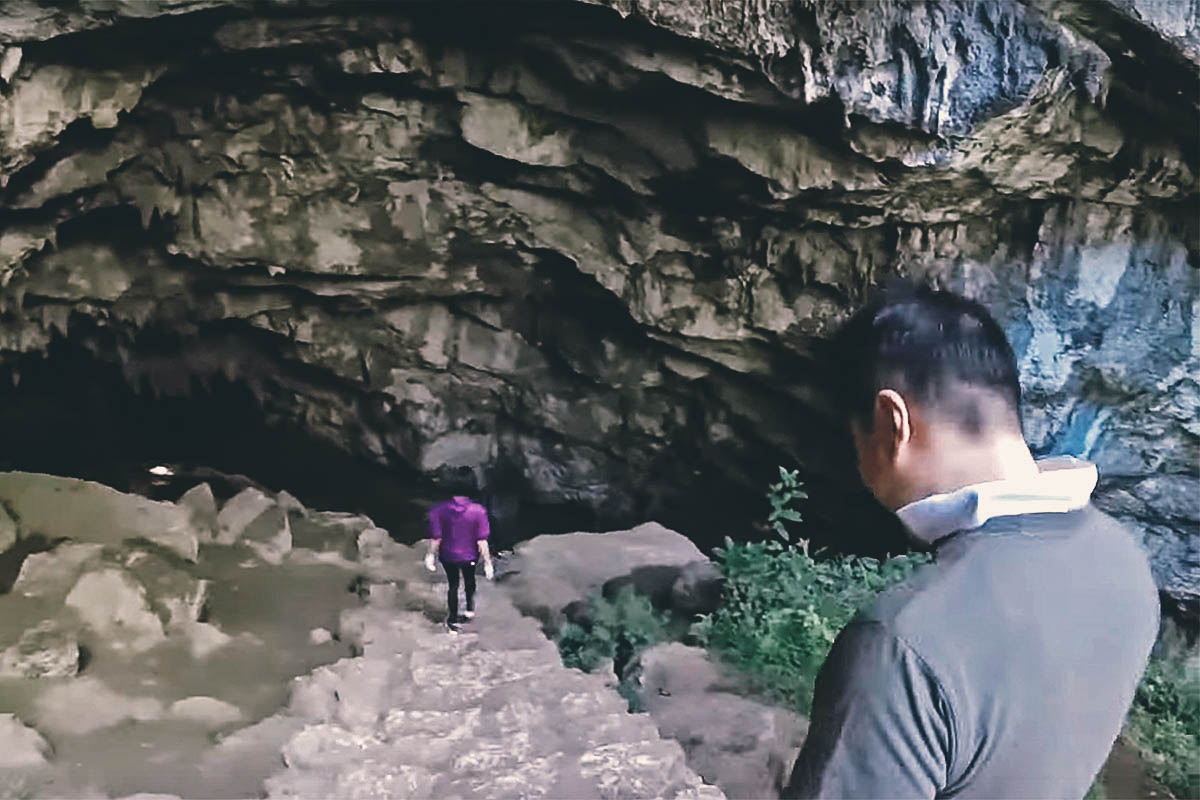 Estmated Time Needed: 1.5 – 2 hrs / Fitness Level: Moderate / Guide Fee: PHP 500 (up to 4 pax)
2. Visit the Hanging Coffins of Echo Valley
After Sumaguing Cave, the hanging coffins are the second most popular attraction in Sagada and another must-do for first-time travelers. It's pretty amazing to see them up close, especially the ones perched high up on the side of the rock!
To get to the coffins, go to St. Mary's Church and the cemetery. Walk past the cemetery and make your way down into the valley. From the top, it'll be a relatively easy 15-20 min hike to the coffins. The coffins are easy enough to find on your own, but it is possible to get lost in the valley. For your own safety and peace of mind, you may want to hire a guide from the tourism office for just PHP 200 (up to 10 pax).
Check out my post on Echo Valley and the Hanging Coffins of Sagada for more pictures and information.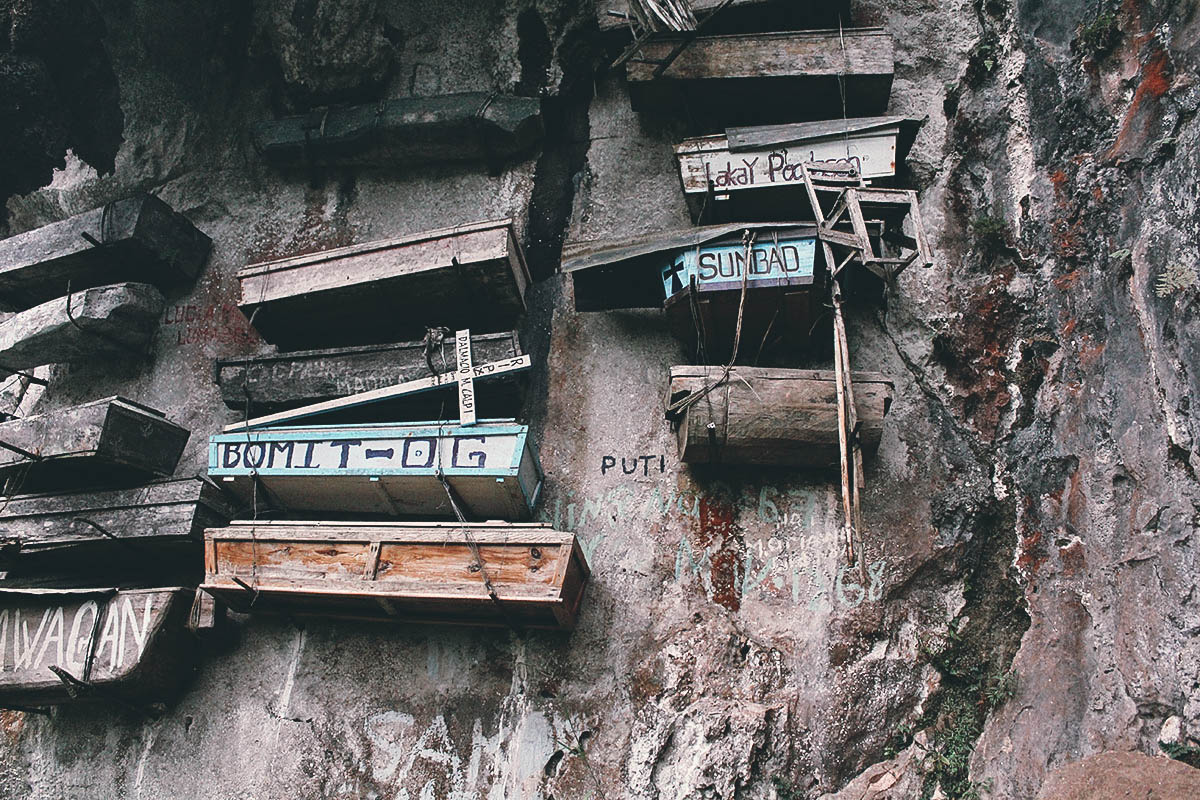 Estmated Time Needed: 1 – 1.5 hrs / Fitness Level: Low / Guide Fee: PHP 200 (up to 10 pax)
3. Go for a Swim at Bomod-ok Waterfalls
I've been to Sagada five times but I have never been to Bomod-ok Falls. I've tried twice, but both times the falls were closed for a ritual. Bummer.
Also known locally as the "Big Falls", you need to first make your way to the information center in Barangay Banga-an. It's about an hour's walk from St. Mary's Church. It's a nice, leisurely walk with good scenery, but you may want to hire a van considering that the next half of the trek involves a shitload of steps. You can arrange for a van at the tourism office for PHP 650 round trip.
Once at the Banga-an information center, you can hire a guide for PHP 600 (up to 10 pax). You'll then begin the hour-long trek down to the falls where you can go for a swim in the freezing waters if you like. I've read that the way there is fairly easy. It's the trek back up all those steps that's tough.
Picture borrowed from sarpon28's Flickr page.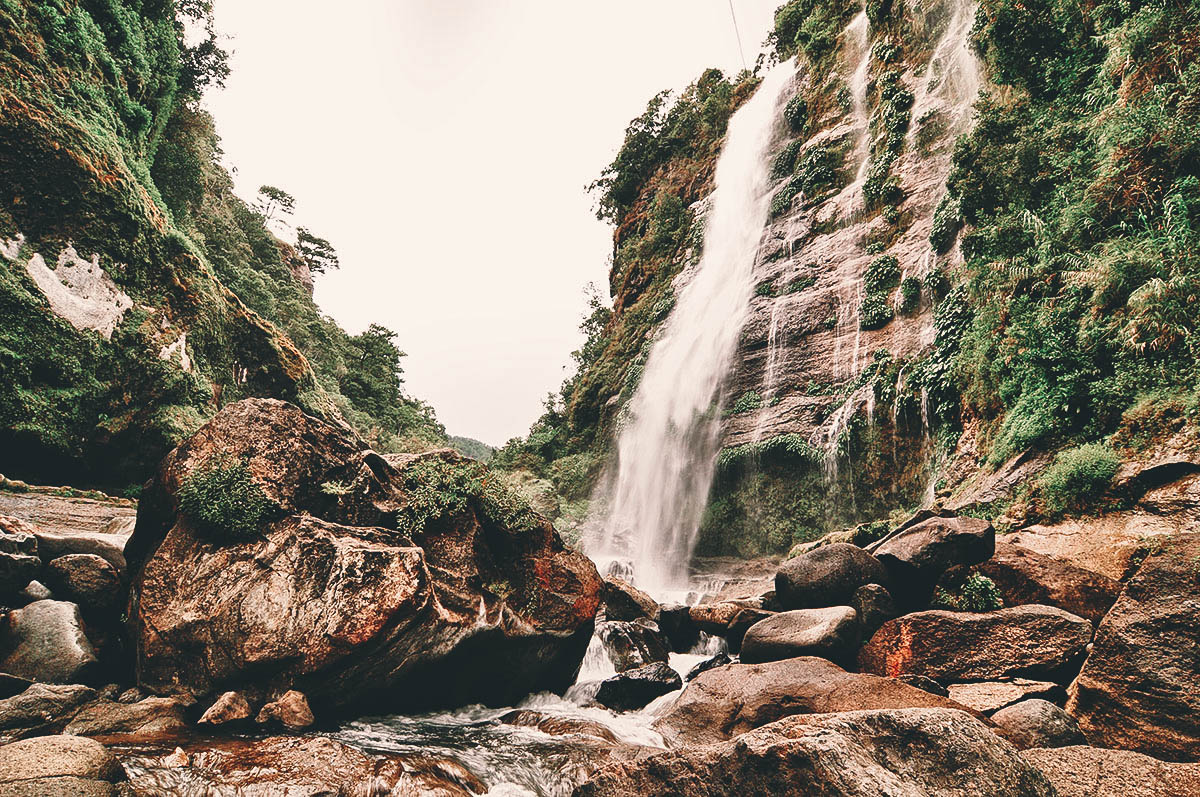 Estmated Time Needed: 4-5 hrs / Fitness Level: Moderate / Guide Fee: PHP 600 (up to 10 pax)
4. Play Tomb Raider at Lumiang Burial Cave
Lumiang Burial Cave is located just a few meters before Sumaguing Cave. At its mouth is a pile of stacked coffins that are different from the ones you see hanging in Echo Valley. Apart from the big pile on the ground, many are wedged high up in cracks that run along the cave's walls. Makes you wonder how on earth the locals got them up there!
As mentioned earlier, there's a more advanced spelunking route called the Lumiang-Sumaguing cave connection that starts here.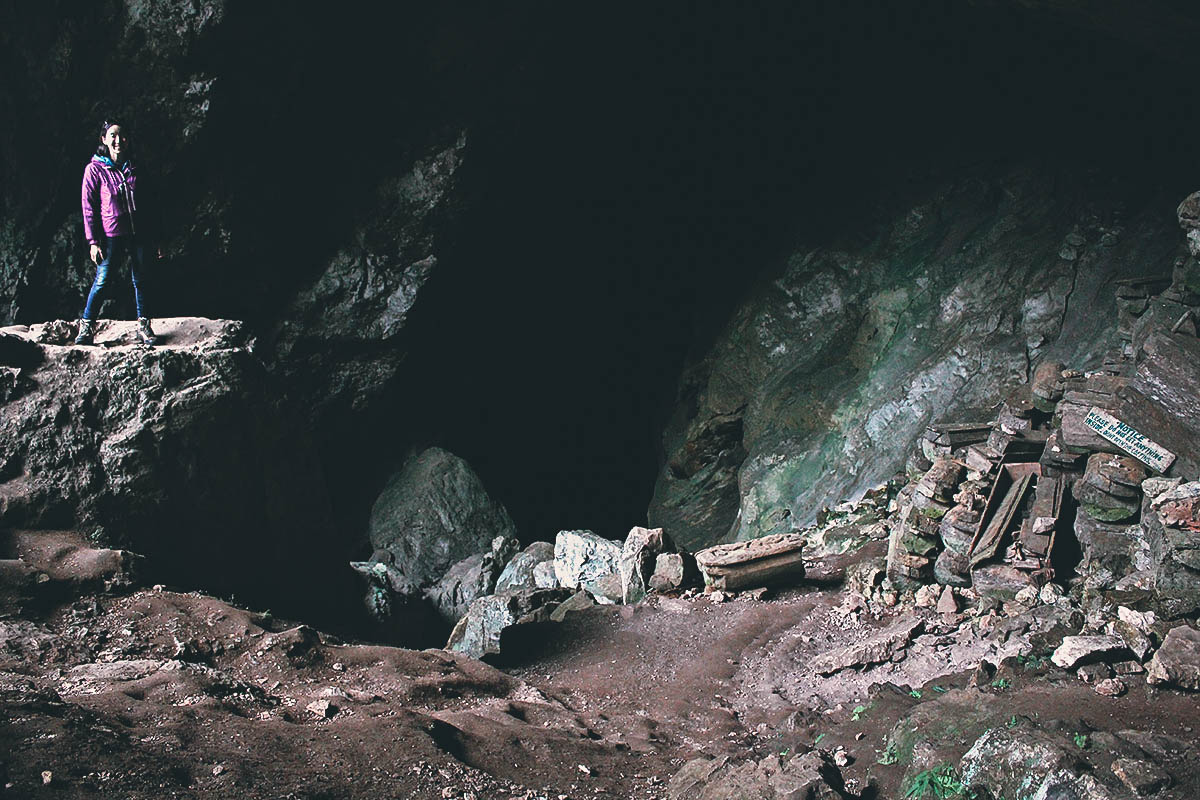 Estmated Time Needed: 30 mins – 1 hr / Fitness Level: Low / Guide Fee: None
5. Go Orange Picking at Rock Inn
I've never done this but orange picking at Rock Inn & Cafe is another popular activity in Sagada. From September to February, you can pick and eat as many oranges as you like for just PHP 50. If you want to bring them home, then you can do so for PHP 60 per kilo. The oranges are said to be at their best in December.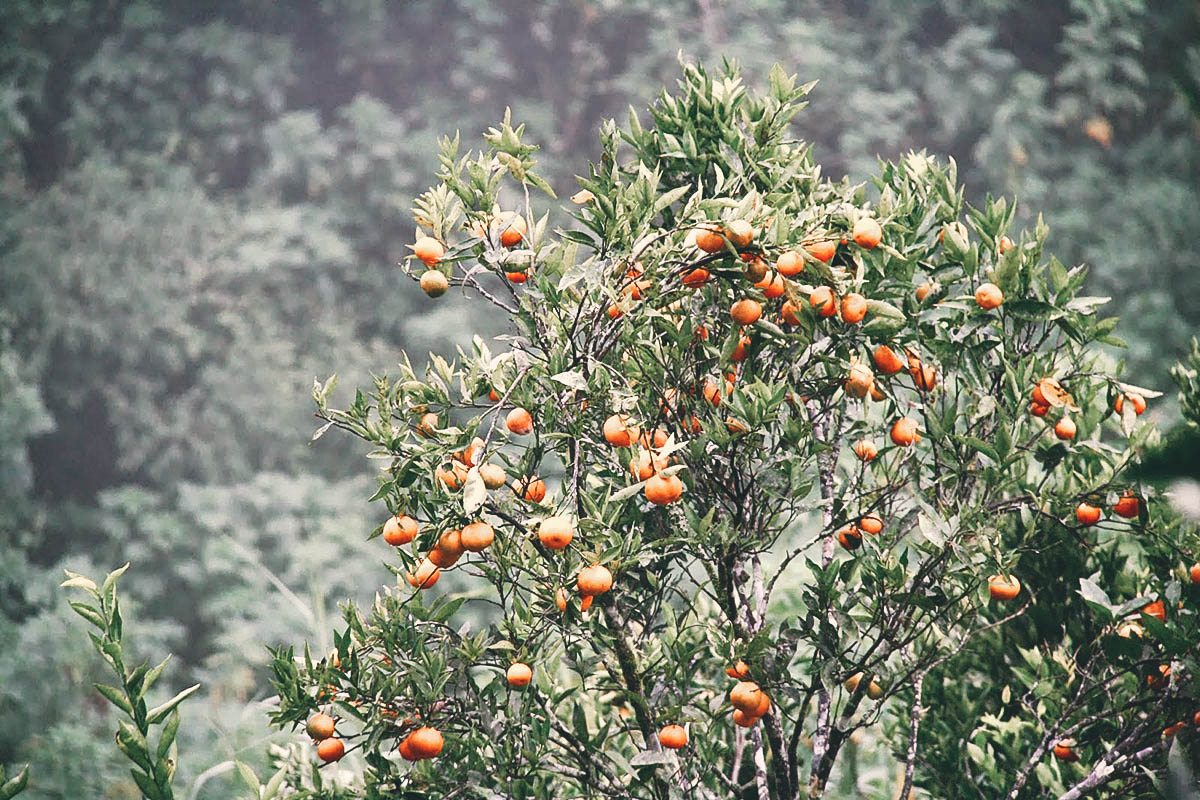 Picture borrowed from The Nomad Travels.
6. Watch the Sunrise at Kiltepan Viewpoint
Kiltepan Viewpoint is a terrific way to start your day in Sagada. The highest point in the area, it's known for its breathtaking views of the sun rising from behind the Cordillera mountains over an ocean of clouds. Made famous (or infamous) by that Tadhana movie, the spot has been flooded with tourists lately so this may be an activity best enjoyed during the off or shoulder seasons. Around 4 km from town, vans can be arranged at the tourism office for PHP 500 round trip. They'll pick you up from your hotel at 5AM.

Picture borrowed from sarpon28's Flickr page.
7. Enjoy the Trek to Lake Danum
Save this trek for last and do it only if you have time to spare. About an hour's trek each way, the lake itself is nothing to be excited about. It's pretty shitty to be honest. But the walk there is beautiful and very relaxing. I've done this trek several times just because I enjoy the walk so much.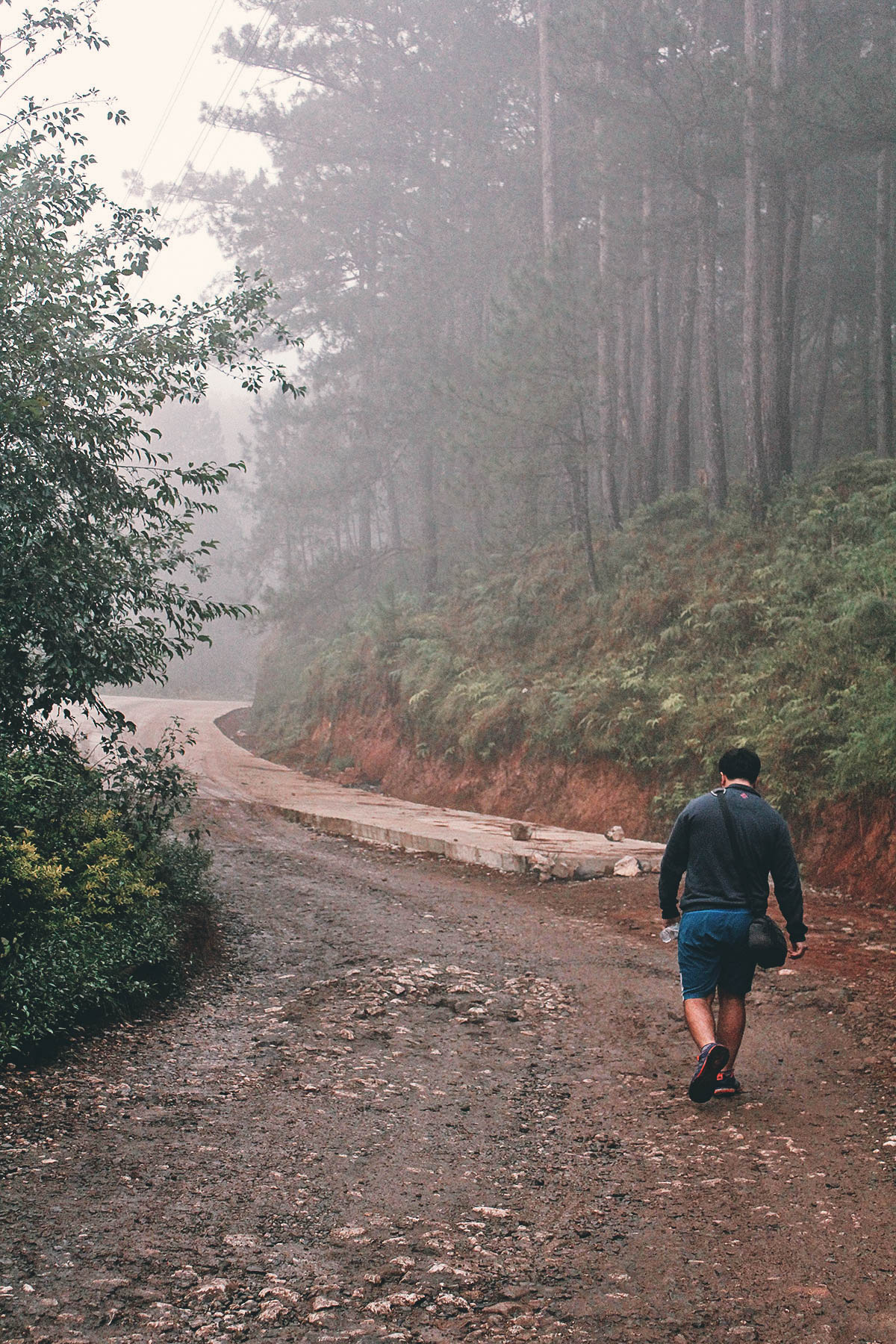 Estmated Time Needed: 2 hrs / Fitness Level: Low / Guide Fee: None
WHERE TO EAT
With Sagada being so remote, supplies are limited. Pretty much all restaurants here offer the same things so don't expect too much variety (or seafood). With that said, food is cheap and decent, and often served in big portions to satisfy hungry trekkers. Expect to spend around PHP 300 per meal with drinks.
1. Yoghurt House
Still my favorite place in Sagada. When I used to come here over 10 years ago, there was only one floor and Bob Marley's Legend was always playing on the stereo. Today, it looks more like a proper restaurant, complete with a second floor and balcony seating. Not quite the hippy hangout it used to be but still with its charms. Be sure to get one of their yoghurt lassis. They're really good.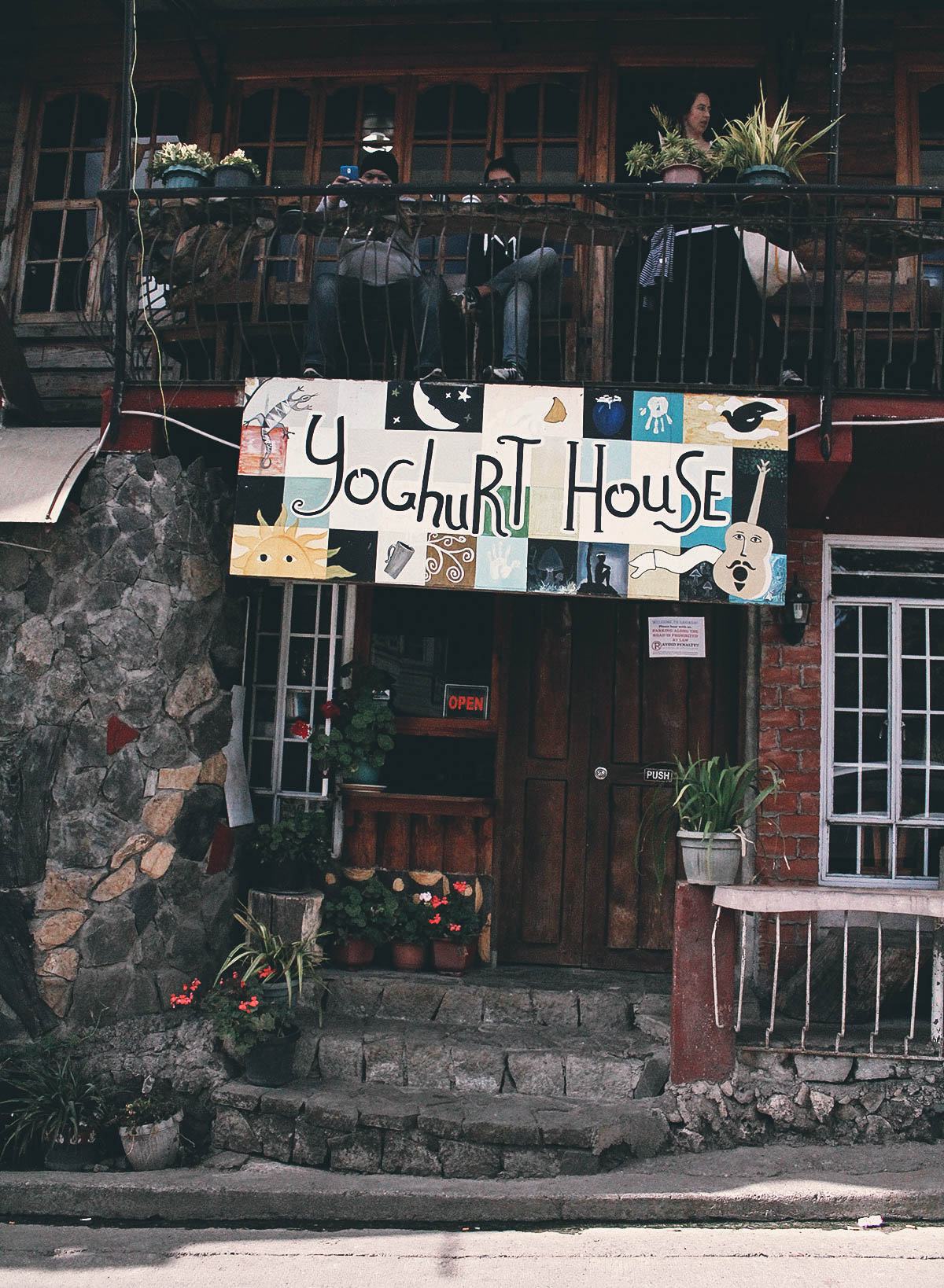 Open-faced sandwiches and their famous yoghurt lassi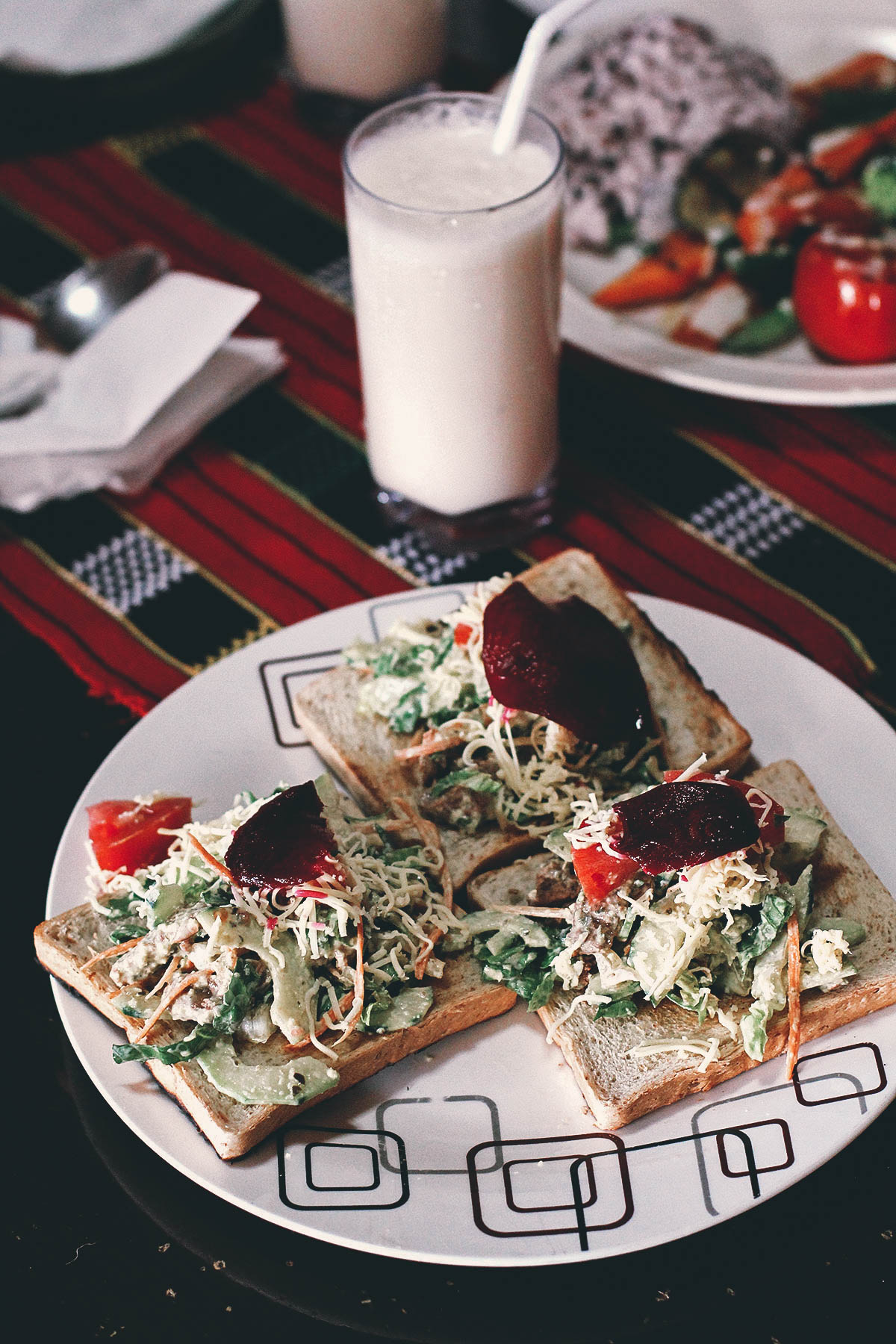 2. Salt & Pepper Diner
Located on the second floor, Salt & Pepper Diner is a little hard to spot so watch out for the sign below. Be sure to order the dinakiw (pictured below).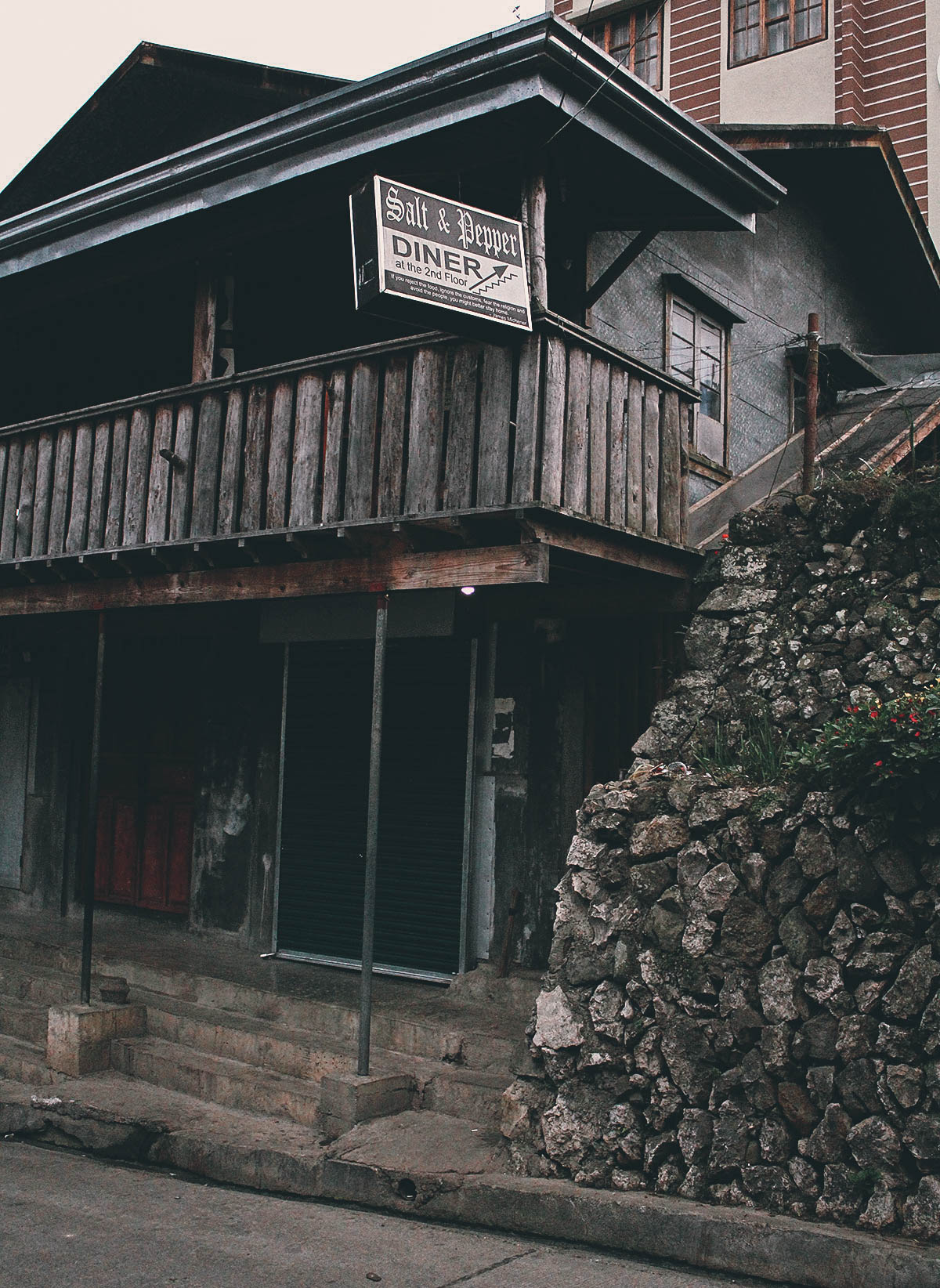 A pan-fried pork dish served with lots of onions, dinakiw is fatty and a little unctuous but very good.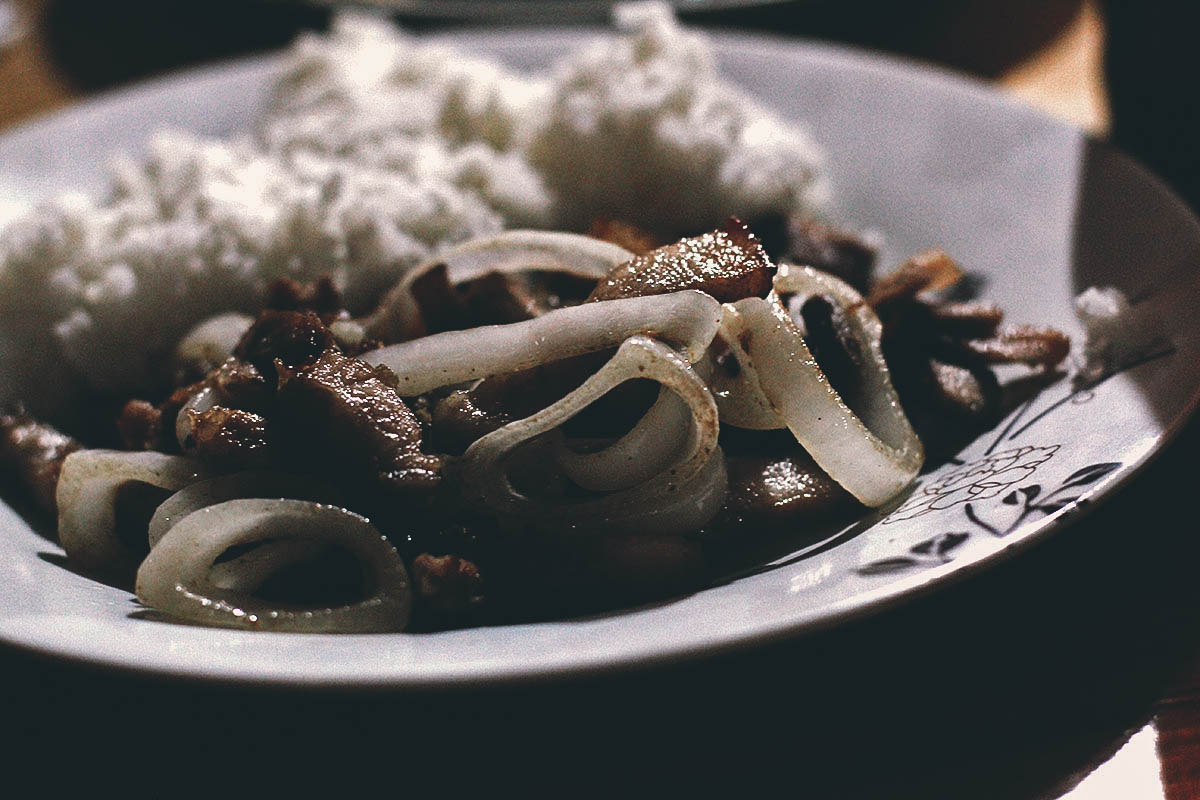 3. Sagada Brew
One of Sagada's newest and most modern-looking restaurants, Sagada Brew serves some of the best coffee and desserts in town. They offer a lot of savory items on their menu too.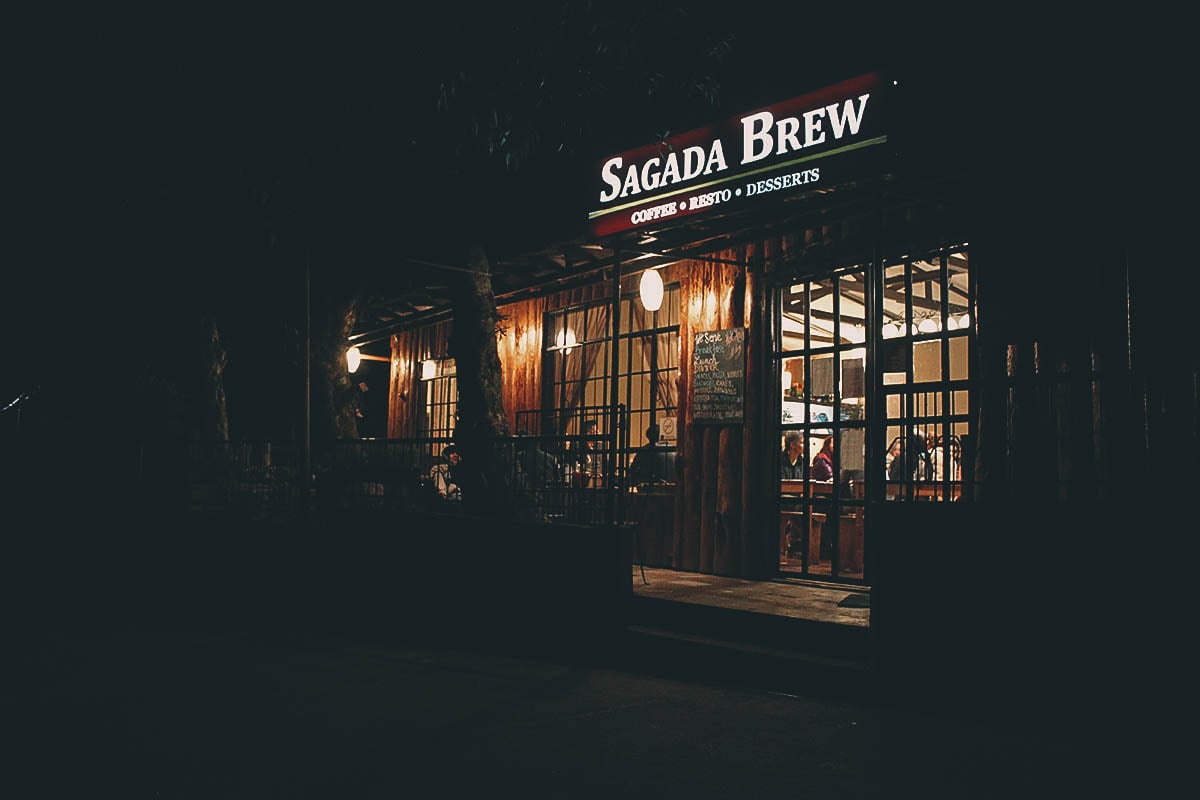 Coffee and ultra-sweet desserts. 😆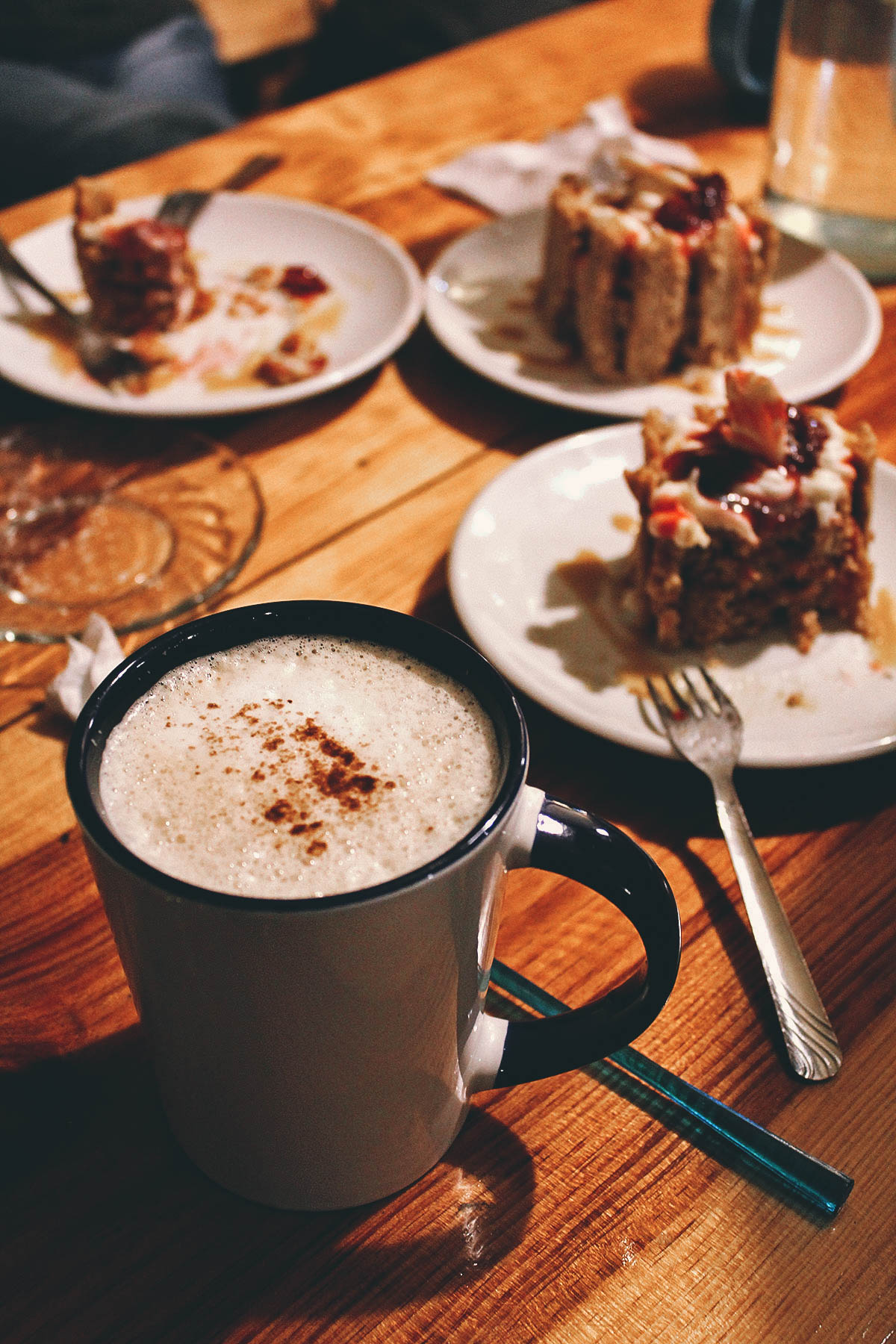 4. Sagada Lemon Pie House
The Lemon Pie House is best known for one thing. Can you guess what it is? 🙂 They offer a few savory dishes here as well but people really come here for the lemon pie. It was pretty good.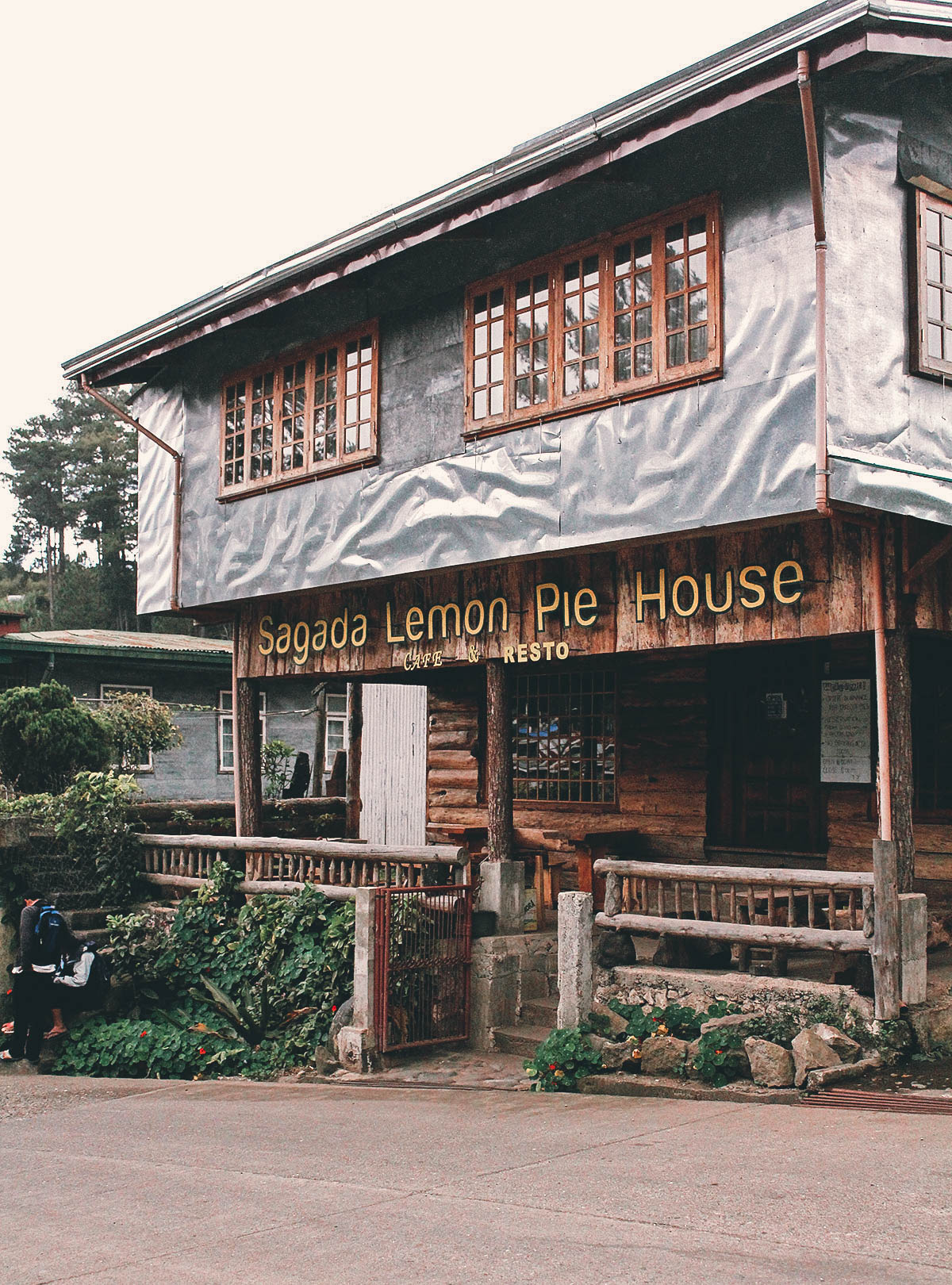 When life gives you lemons…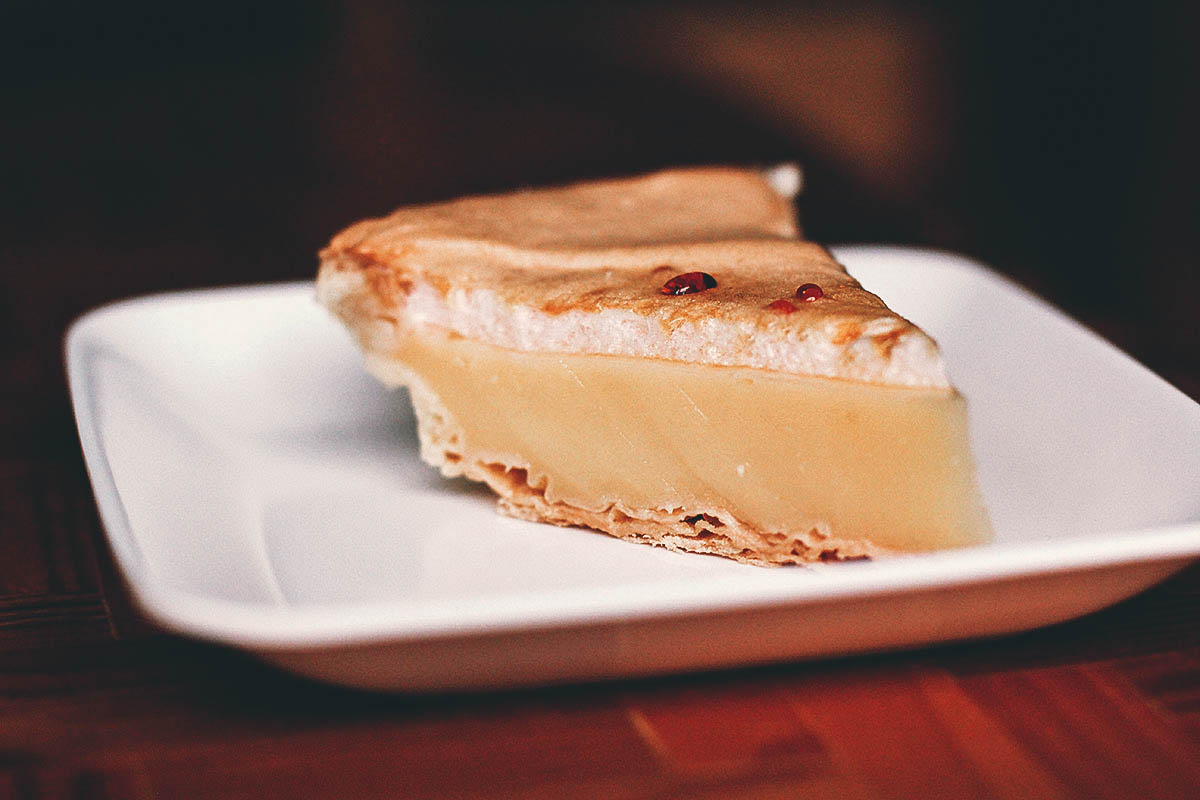 5. Masferre Country Inn & Restaurant
Like Yoghurt House, Masferre is another Sagada dinosaur. They bake their own breads here so be sure to get a sandwich. The bread is delicious.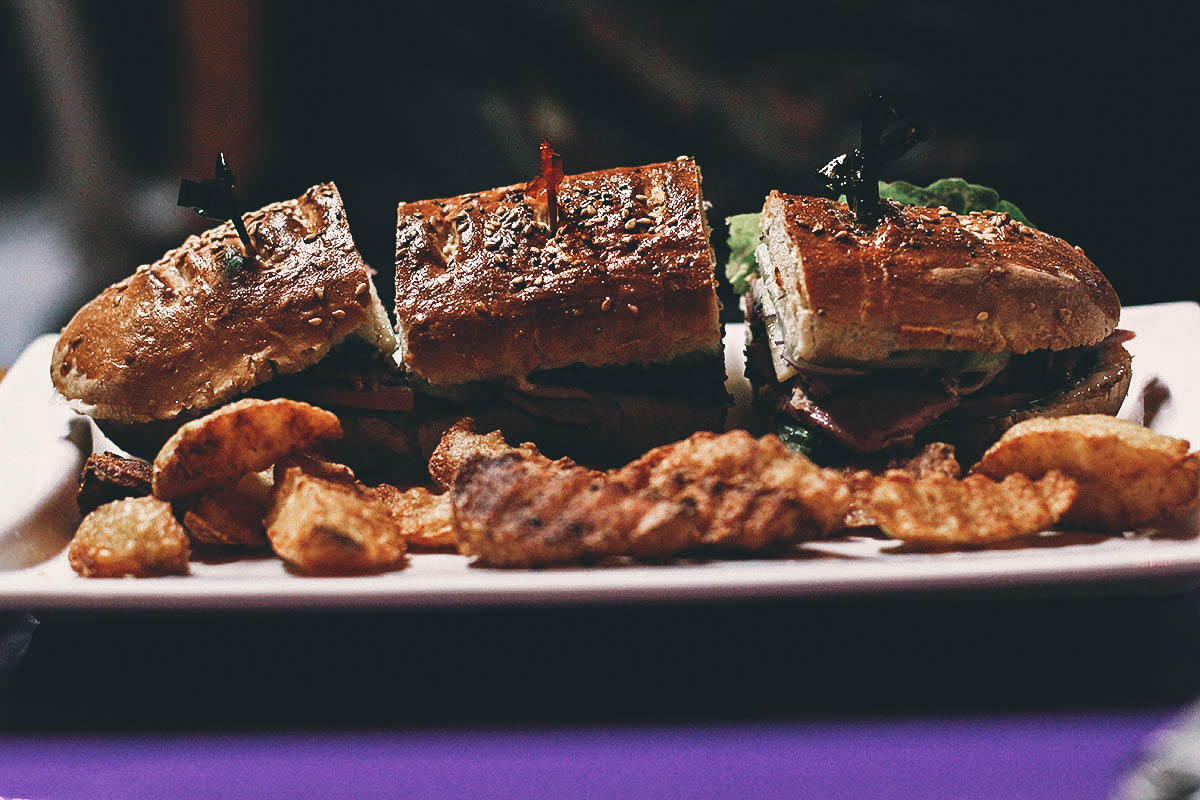 WHAT TO BUY
If you're looking to bring back souvenirs and pasalubong (homecoming gifts), then I suggest picking up a few bags of mountain tea. I'm not a tea drinker but this was really good — aromatic and soothing. If I remember correctly, the big bags went for PHP 100 apiece. Another popular gift item are Sagada Weaving bags. Made from native handmade textiles, the sling bags hanging from the ceiling below went for PHP 500 each. Bugnay wine, a fruity wine made from local berries, is another popular gift item (PHP 300 per bottle).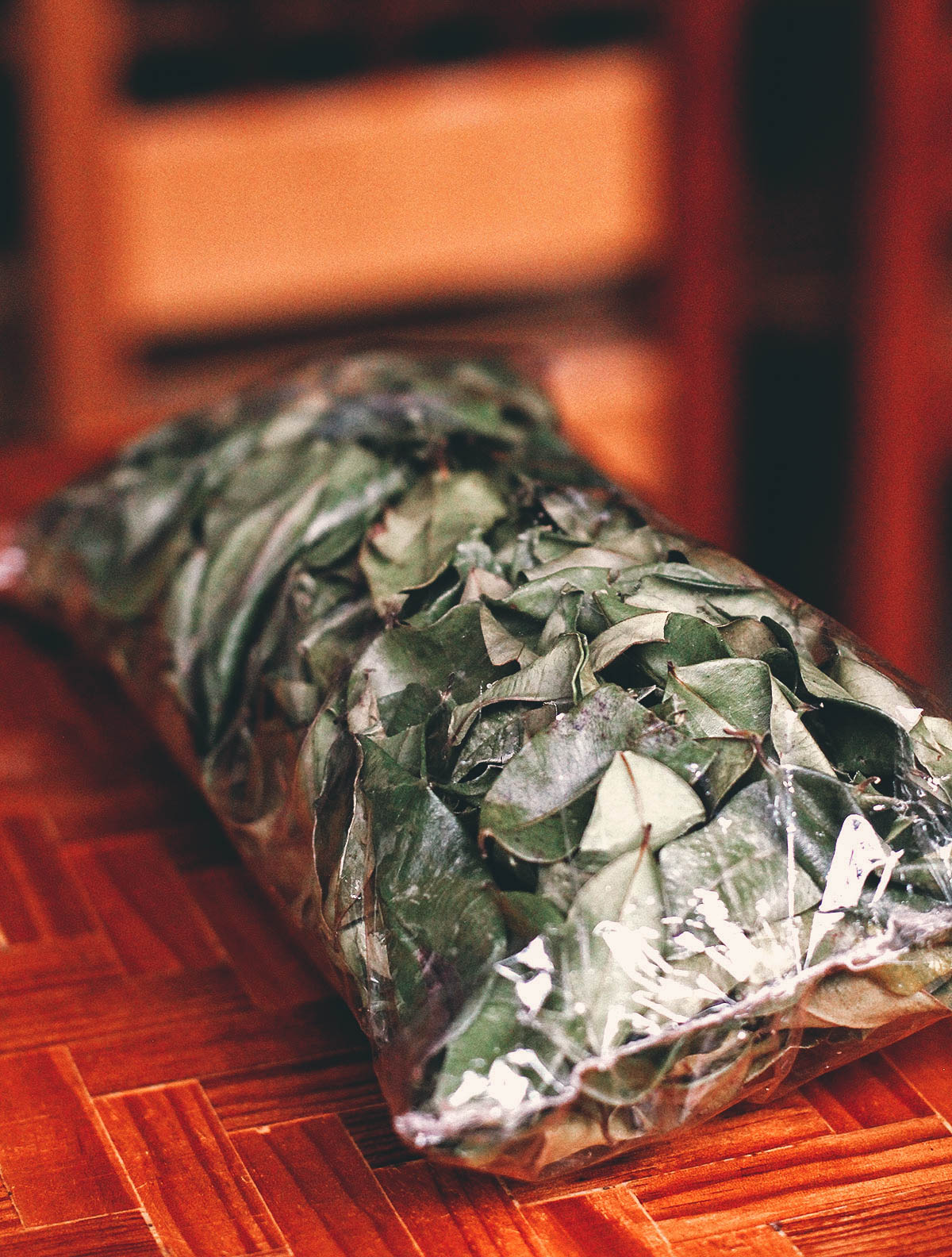 Woven bags with that signature pattern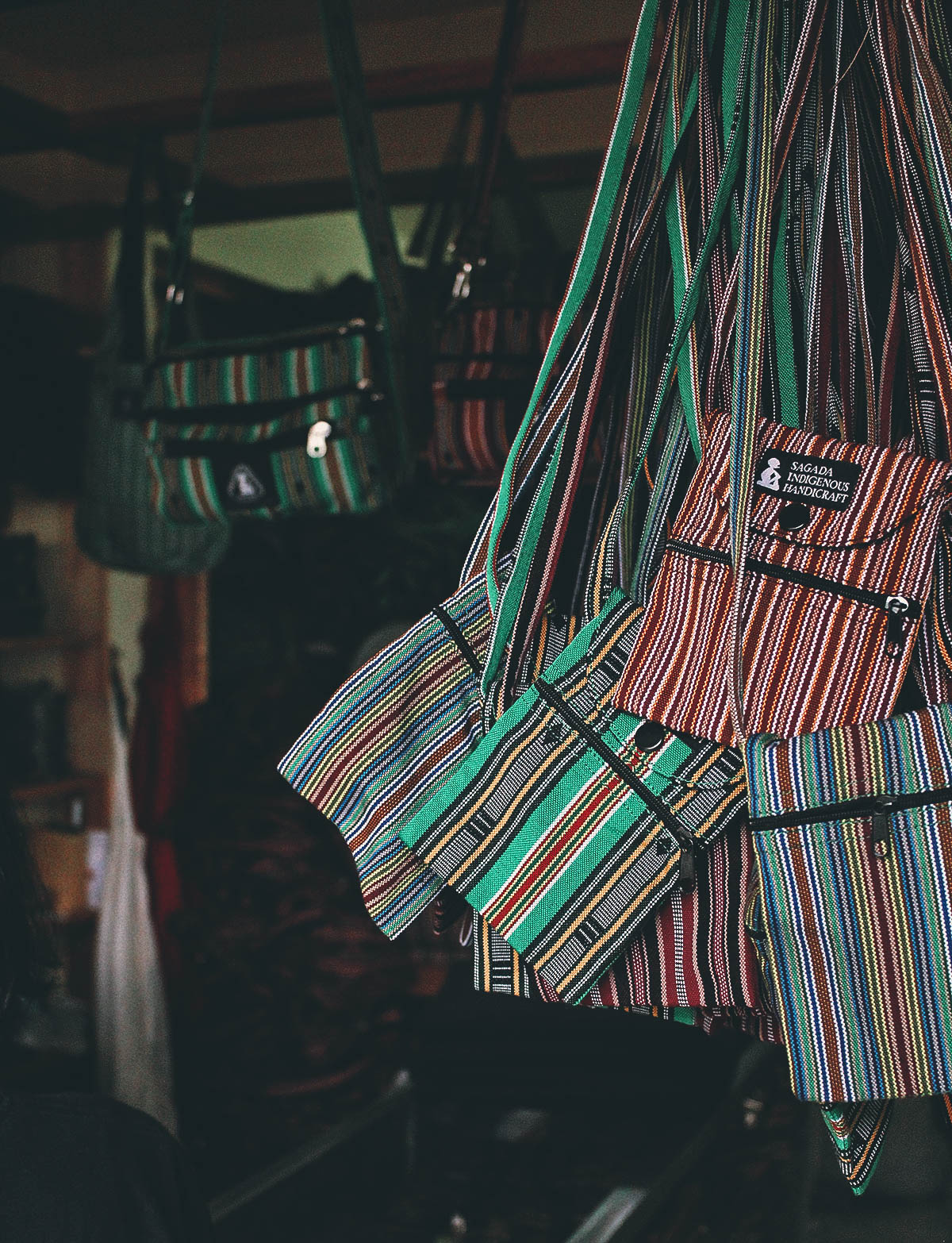 TRAVEL TIPS
1. Rent a Pocket Wifi Device
If you're a foreigner traveling in the Philippines, then a pocket wifi device will come in very handy. Many public places like your hotel and cafes do have free wifi but the connection isn't as good nor as reliable. For that reason, I suggest renting a pocket wifi device so you have uninterrupted wifi access at all times.
You can rent a device from Konbini Rentals for PHP 450/day. It'll give you wifi speeds of up to 42 mbps and allow you to connect up to 10 devices. They'll deliver the wifi device to any hotel in the Philippines a day before you arrive. The package comes with bubble wrap and a self-addressed plastic envelope so you can drop it off at the front desk of your last hotel before leaving the Philippines. Very convenient indeed. Follow the link to rent a pocket wifi device from Konbini Rentals.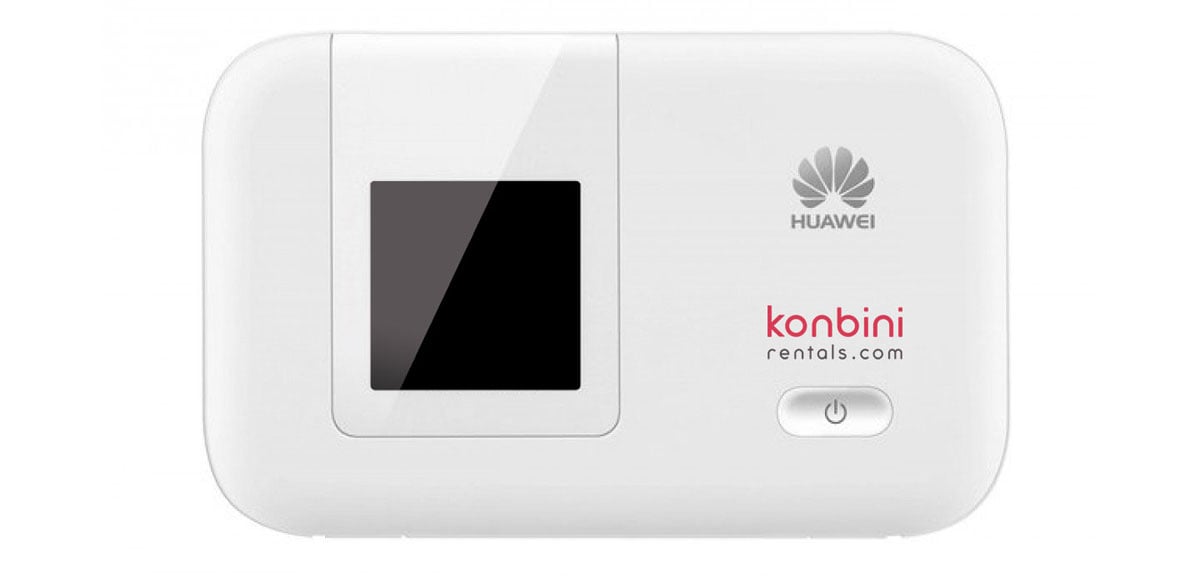 I was happy to learn that Smart Communications, one of the country's leading wireless service providers, recently started a pocket wifi rental service called GoLocal. I haven't used it yet but Smart is a good company and their rental prices are less than Konbini. They don't follow the traditional per day rental scheme either. Instead, you can rent a device in 1-day, 7-day, and 15-day bundles for USD 5.99, USD 14.99, and USD 24.99 respectively. You have up to 3 days of the end of your rental period to return the device and get your USD 45 deposit back. Conveniently, they offer airport pick-up and drop-off as well on top of Metro Manila hotel delivery. You can follow this link to learn more and rent a pocket wifi device from GoLocal.
2. Get Travel Insurance
If you're a non-Filipino, then I strongly suggest you get travel insurance before visiting Sagada or anywhere else in the Philippines for that matter. Fact is, you never know what can happen. In a place like Sumaguing Cave where you can easily lose your footing, having travel insurance will be a godsend.
We buy travel insurance from World Nomads because every long-term traveler I know recommends it. From the sound of it, they're the best in the industry by a mile. Not only do they provide a high coverage limit for medical expenses (up to USD 5 million with the Standard package), they also cover things like trip delays, missed flight connections, theft/loss of passport and luggage, etc. Follow this link to learn more and get a free travel insurance quote from World Nomads. It's super quick and easy.
3. Buy Your Bus Tickets in Advance
If you're coming from Manila, then you'll be riding an Ohayami Trans or Victory Liner bus en route to Sagada. Be sure to reserve your ticket a week in advance to guarantee yourself a seat. If traveling through Banaue, then you can visit the Ohayami Trans Website for information on how to reserve a ticket. If going through Baguio, then check the Victory Liner Website for ticket and terminal information.
4. Bring Cash, Towels, and a Flashlight
Sagada is a small town with no money changers and just one ATM. No establishment accepts credit cards or traveller's cheques either, so be sure to bring enough cash to fund your trip. Also, hotels in my experience do not provide any amenities like towels, soap, or shampoo. You can bring these or buy them in town. A flashlight could also come in handy should you find yourself still out after nightfall.
5. Prepare Properly for Sumaguing Cave
Do not, I repeat DO NOT, enter Sumaguing Cave unguided. As described earlier in this post, it's very dangerous to attempt on your own so be sure to register and get a guide at the tourism office. You'll definitely get wet so wear flip-flops and shorts. Anything valuable like your wallet or cellphone should be kept in a Ziploc bag so they don't get wet. For your safety, it's best to have both hands free since many parts of the cave are slippery.
6. Be Back Before Sunset
Be sure to start your treks as early as possible so you can make it back before nightfall. There are no lightposts along these roads and trails, making them difficult and even dangerous to walk on at night.
7. Please Don't Eat Pinikpikan
A Cordillera delicacy, the word pinikpikan stems from the Ilocano word pikpik, which means "to hit repeatedly". It entails slowly beating a live chicken with a stick to break its bones and clot its blood before dismemberment. Known colloquially in English as "killing me softly" chicken, the practice is said to tenderize the meat and make it tastier.
I went camping with a pair of Thai filmmakers I had met in Sagada once, and this was one of the dishes that their local guides prepared. To me, it tasted no different than regular chicken. I understand that pinikpikan is a local custom, but it's also a brutal practice that inflicts much suffering to the animal. I'm an advocate for the humane treatment and killing of animals for food, so tradition or not, this isn't a dish that I can easily stomach. 😥
8. Be Respectful
Many of these sites are sacred to the locals so always be respectful. For me, that's the key difference between a tourist and a traveler — respect. When visiting the hanging coffins, caves, or waterfalls, keep your voice down and pick up after yourselves.
Sagada has seen a massive influx of tourists since that Tadhana movie. While great for the local economy, it isn't for the environment. It's heartbreaking and infuriating to see how many tourists just leave their trash anywhere. Enjoy Sagada but please do so respectfully and responsibly. In short, be a traveler, not a tourist.
AROUND SAGADA
I always find it frustrating how difficult it is to capture the feel of a place in one photograph. It's so hard to do, at least for amateurs like me. I can be looking at a scene, completely overwhelmed by its beauty, only to find that my picture hardly encapsulates the essence of what I was just looking at. Sucks.
Sagada is one of those places that has a mystique and allure that goes beyond what most pictures can capture. As described up top, it feels like you're in a different world when you're there. Since I can't capture that feeling with just one picture, perhaps I can do a better job with several. I hope these pictures give you a good feel for the shire-like otherworldliness that is Sagada.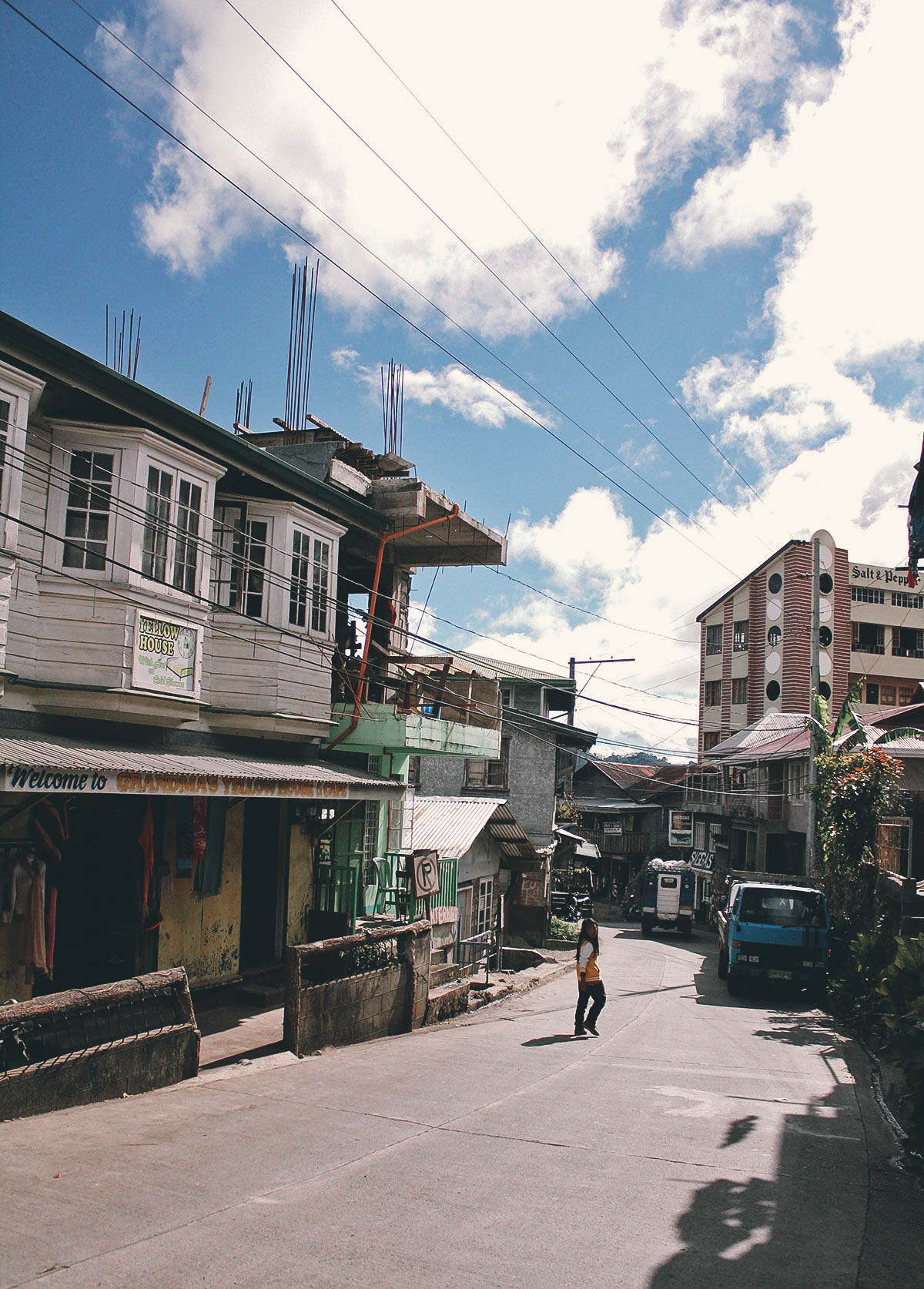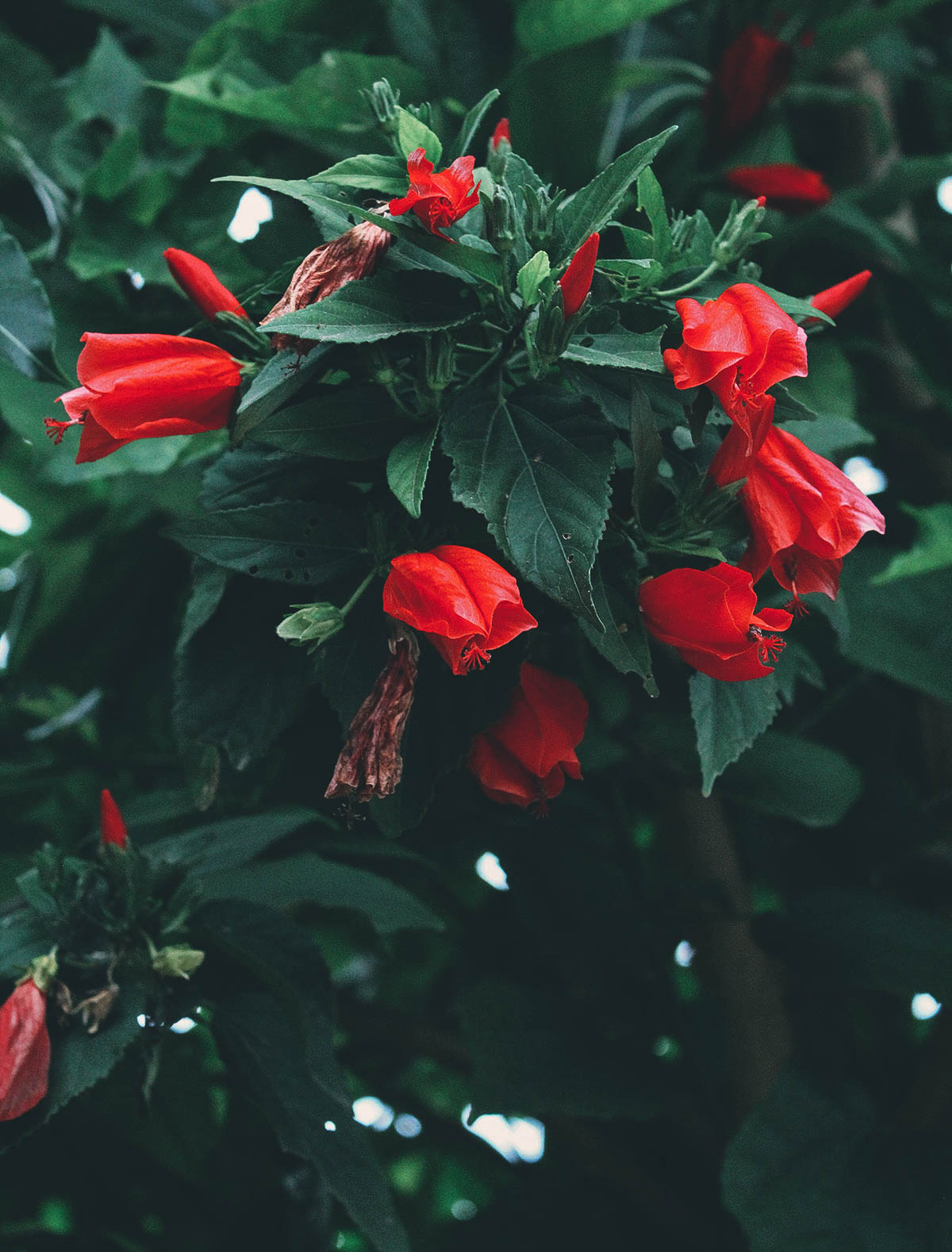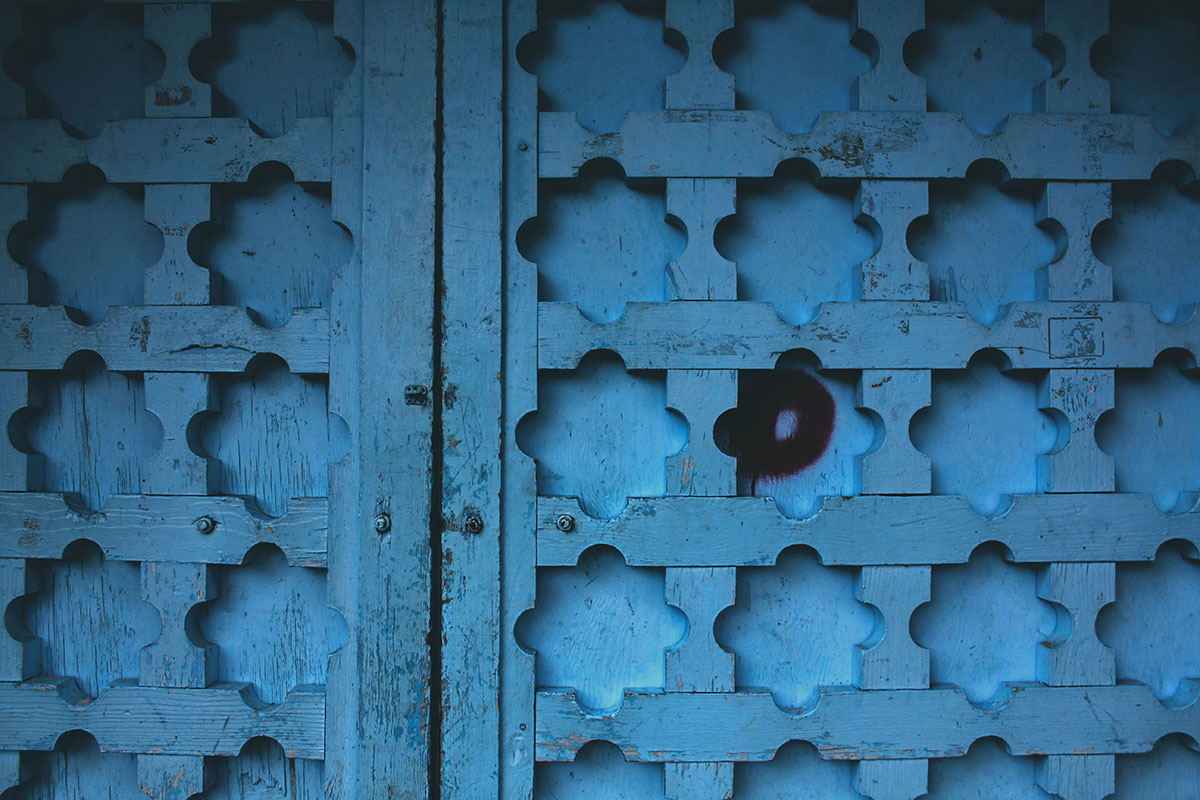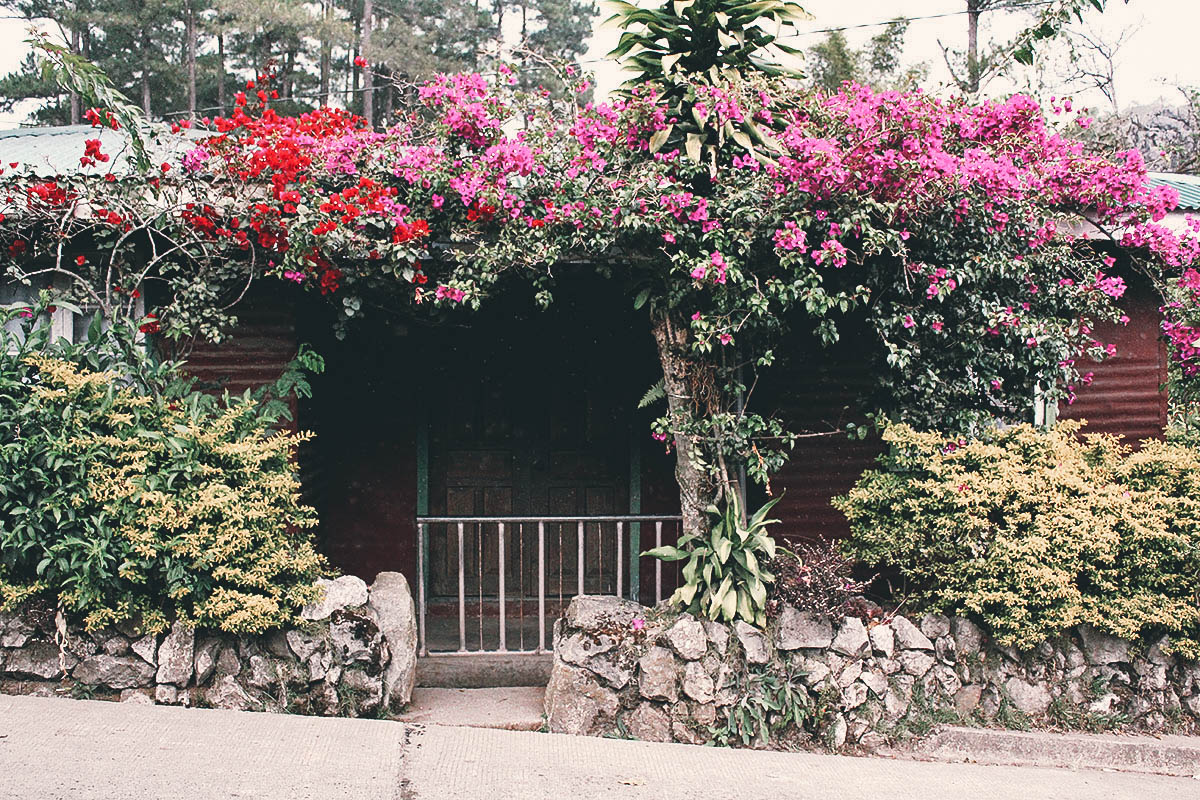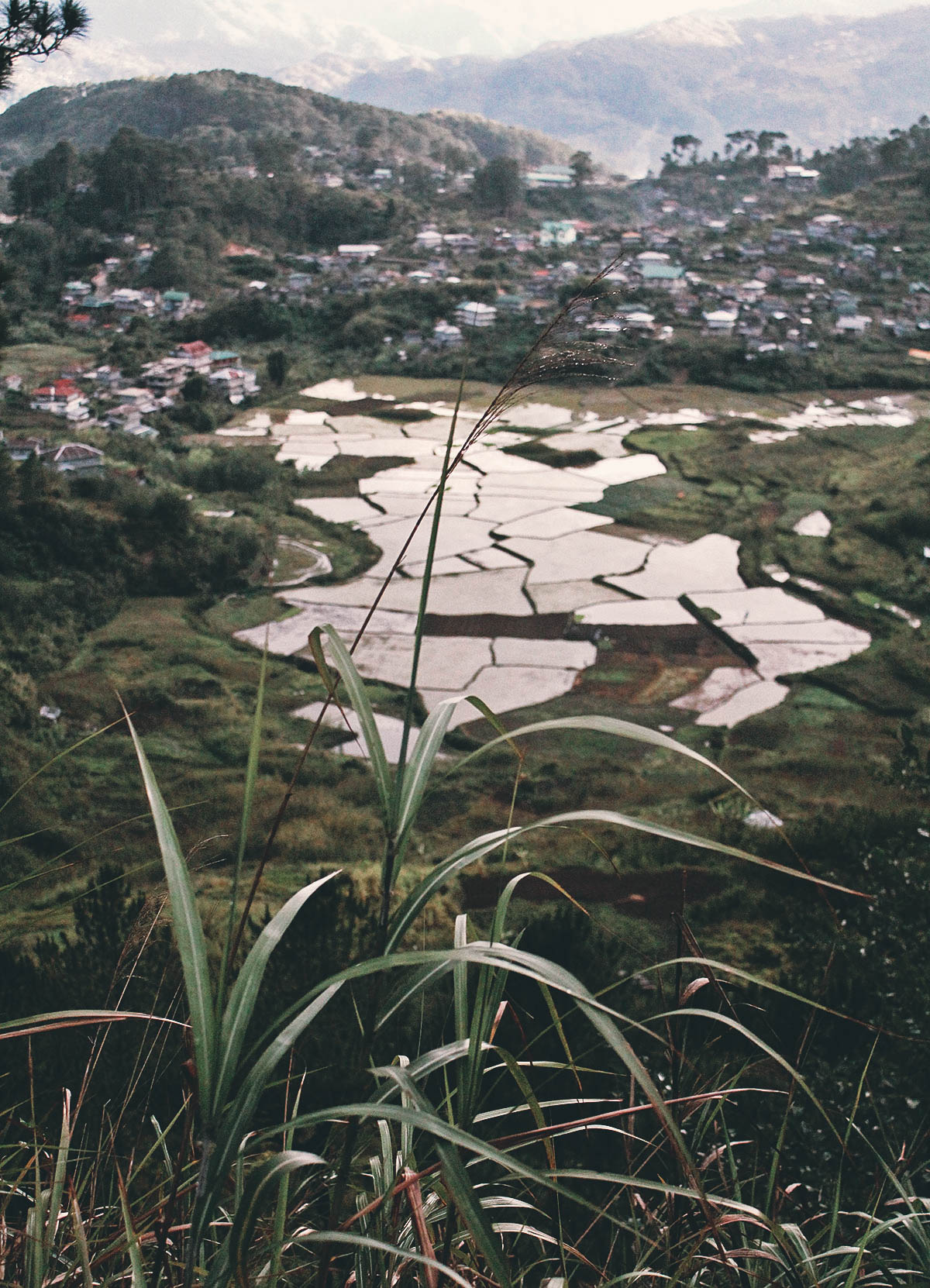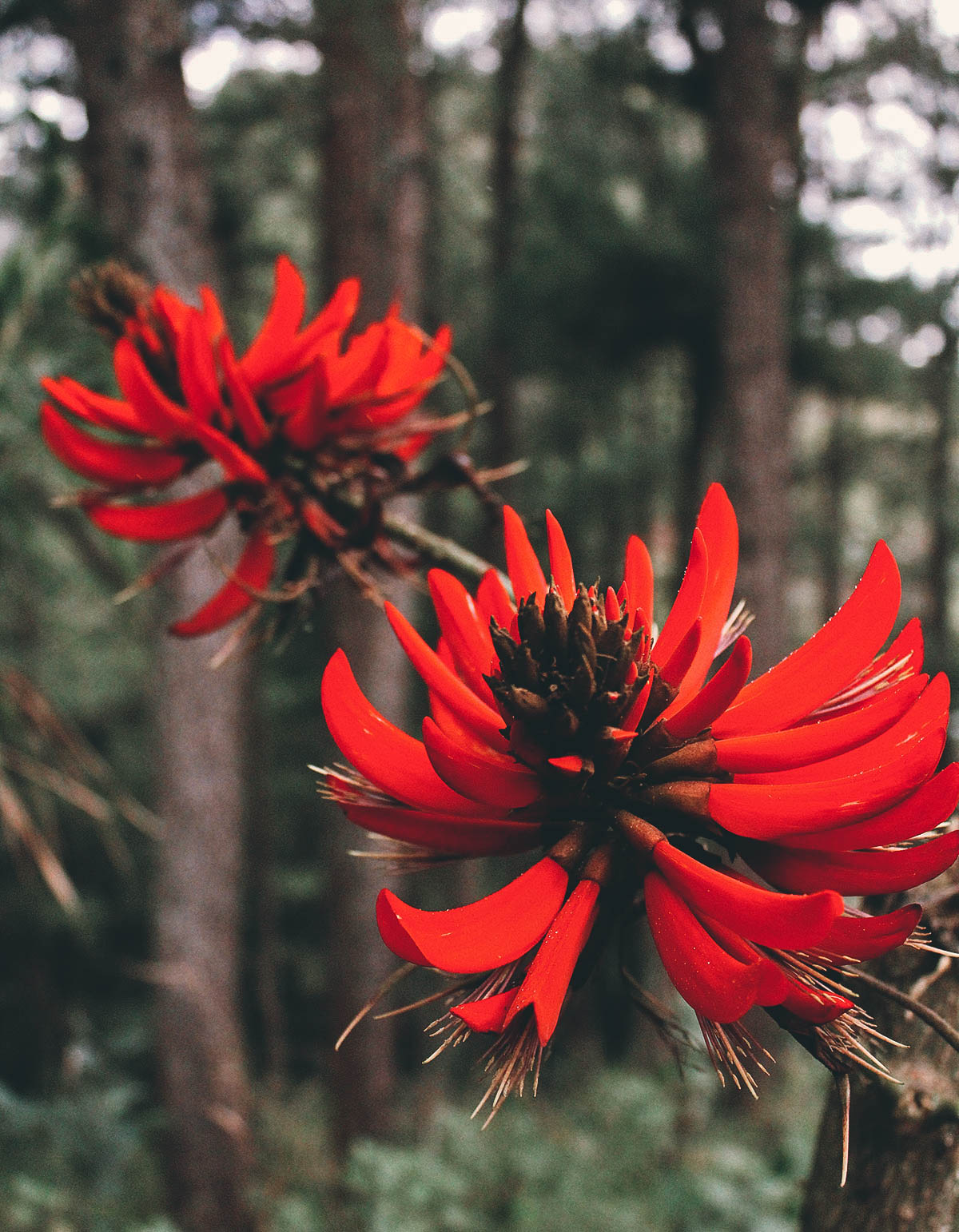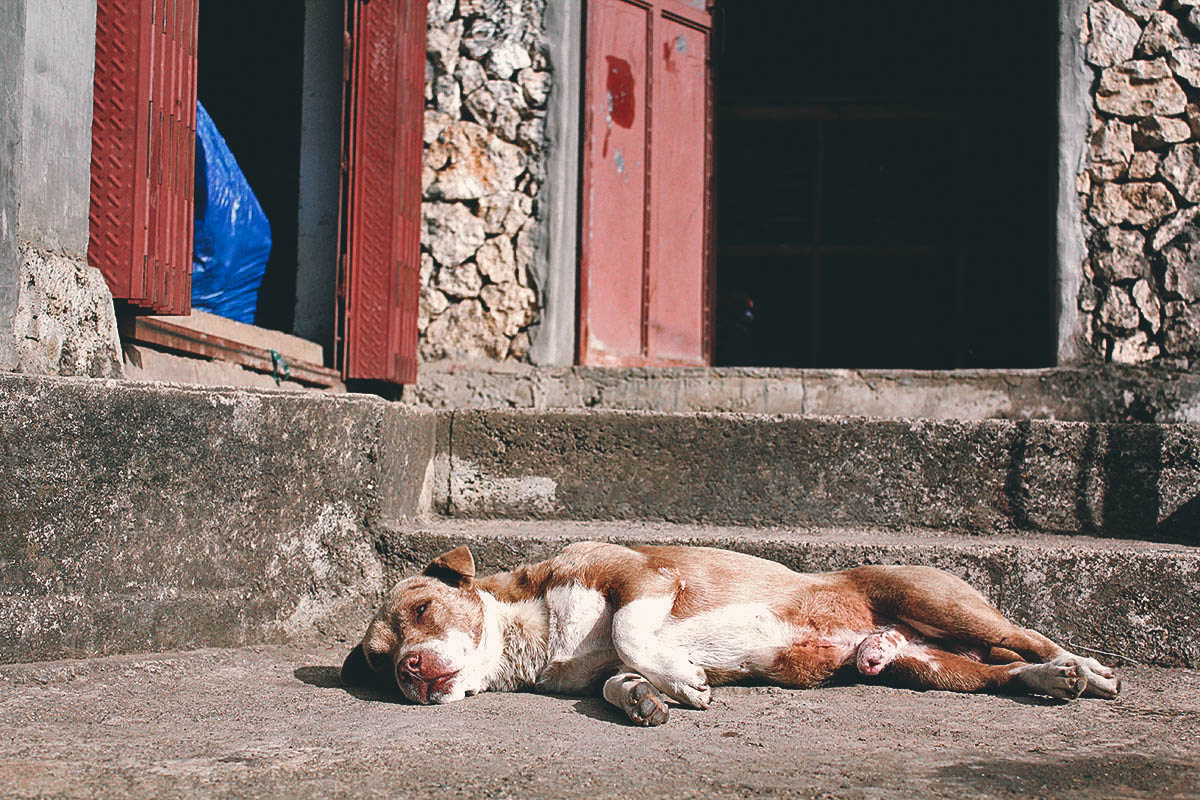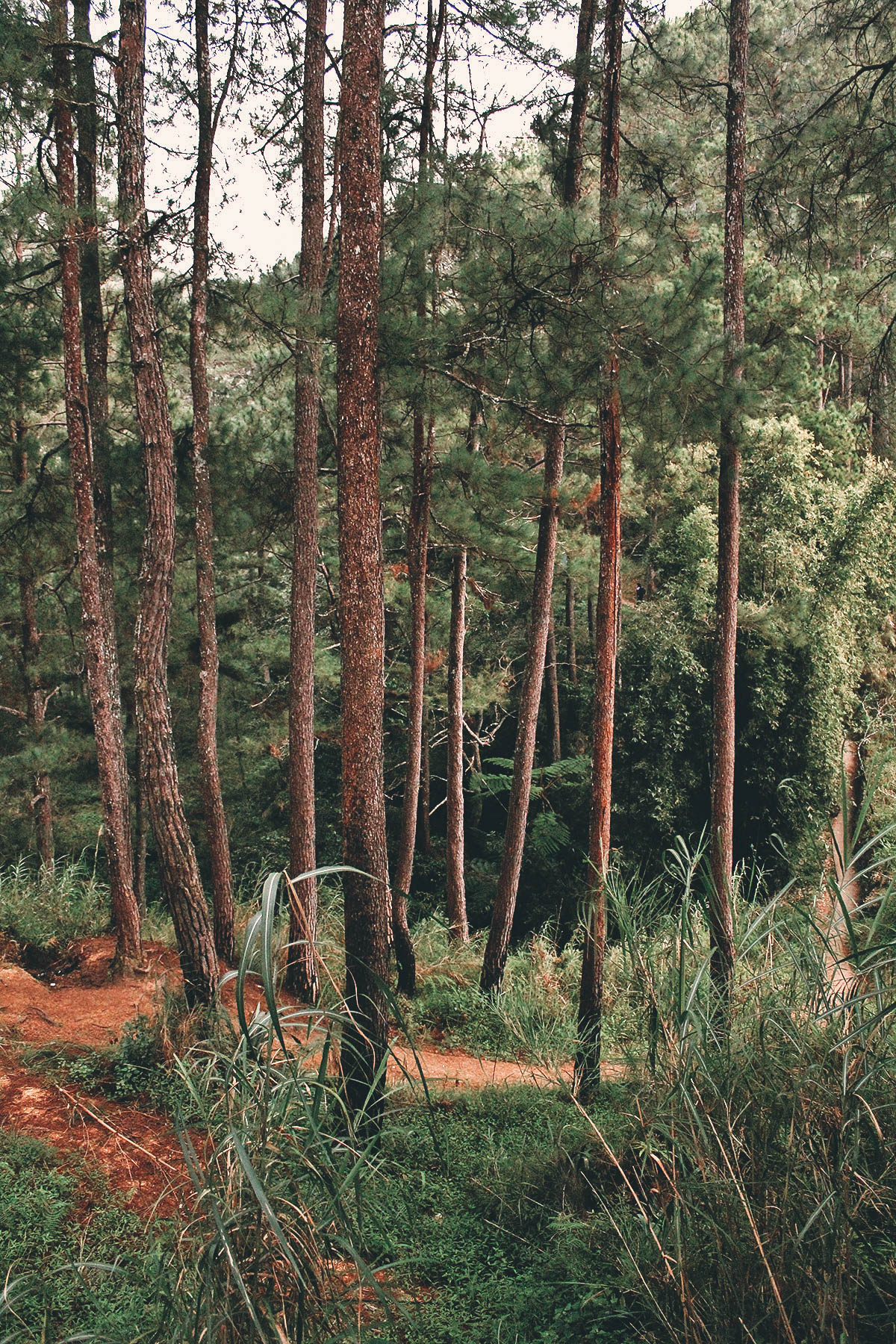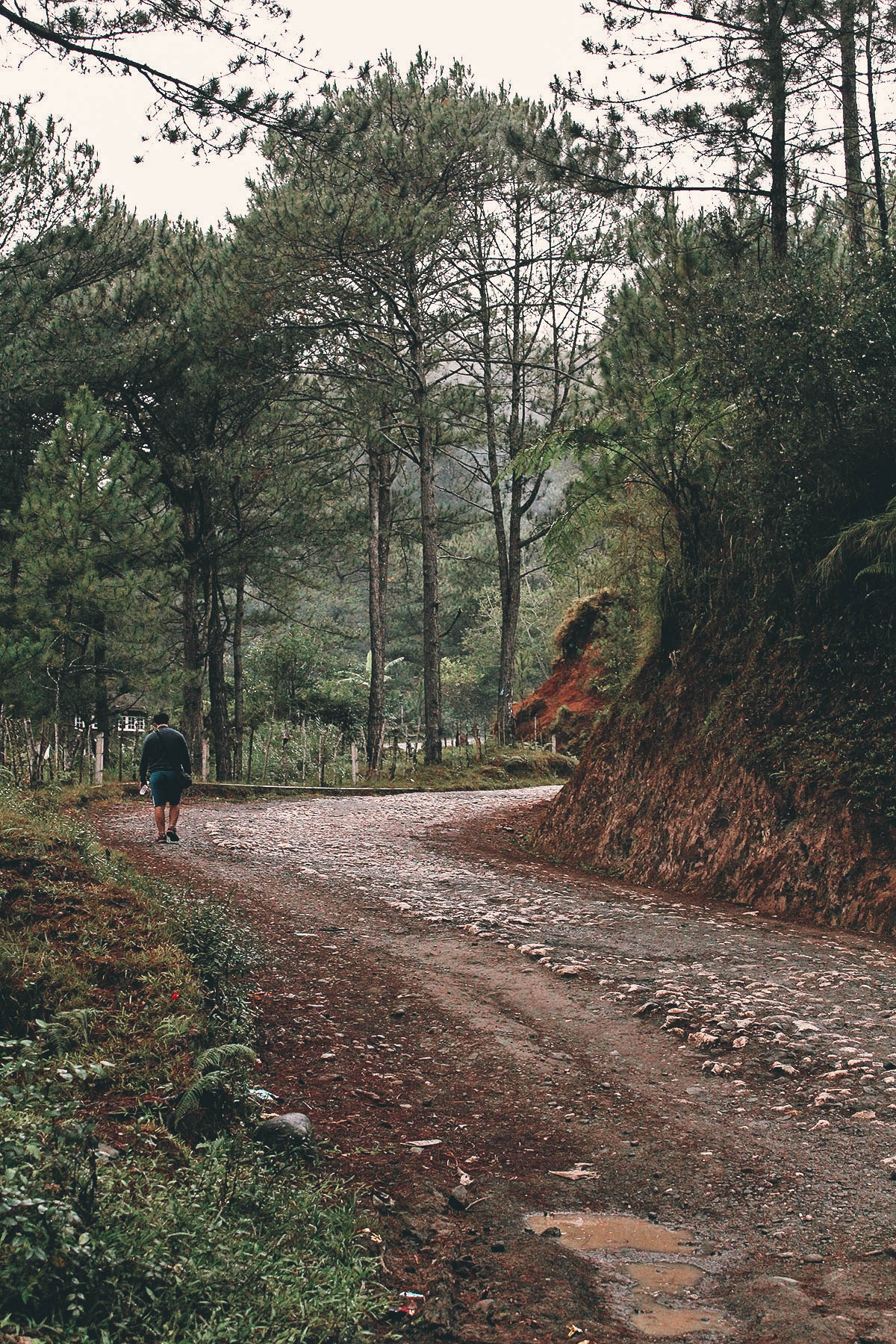 Have fun!
I'm not an expert on Sagada but I do hope that you find this post useful. I'm only sharing some of the things that I learned from our trip. If you have any suggestions or simply want to share your own experiences, then please feel free to do so in the comments section below. You're welcome to join our Facebook Travel Group as well. We'd love to hear from you.
Thanks for stopping by and enjoy the cool mountain atmosphere of Sagada!
OUR GEAR
These are some of the things we brought with us to Sagada. As you can tell, I document a lot of content for this blog so most of the things I bring are photo and video equipment. 😆 If you'd like to see what other gear we use, then you can check out our "What's in Our Backpack?" post. (NOTE: The following links are Amazon affiliate links.)
Disclosure
Some of the links in this guide are affiliate links, meaning we'll get a small commission if you make a purchase at NO extra cost to you. We only recommend products and services that we use ourselves and firmly believe in. We really appreciate your support as this helps us make more of these free travel guides. Thank you!
JB is one half of Will Fly for Food and its chief itinerary maker.  He's the one to blame for all the crappy photos and verbal diarrhea on this blog.  Don't listen to him.
Latest posts by JB Macatulad (see all)