Nasi Lemak (Malaysian Coconut Milk Rice with Anchovies Sambal)
I LOVE sambal. I love its heat, I love its depth of flavor.
Vacationing in Ubud, Bali, Indonesia a few years ago, sambal figured prominently in our diet, and it's one of the things that I remember most from that trip. Disappointed by the largely touristy fare served around town, we wanted authentic Indonesian food, so prodded our guide Kadek to take us to places frequented only by locals. One of the places that he took us to was this little dive along the side of a winding, dirt road to Lake Batur, known for offering only deep fried tilapia. Served on the side was the most delicious spicy sambal, a picture of which you can see in that link above. Simple but made with heart, I still have dreams about that sambal fish.
Another sambal dish that I'll never forget, one that's familiar to anyone who's been to Ubud, is the babi guling (roast pig) from the legendary Ibu Oka. The pig itself was absolutely scrumptious, but what really made that dish for me, was the sambal. A playground of flavor and texture, the combination was truly out of this world. I'm not even big on pork, but that babi guling with sambal was without a doubt, the single best dish that we had in Ubud. It was amazing.
It's no surprise then that I've been yearning to relive those sambal experiences, ever since that Ubud trip over three years ago. Walking down to the dinner table the other night, I finally got my wish when I found this achingly beautiful plate of Nasi Lemak staring back at me. Flanked by dried biya, ikan bilis (dried anchovies), chicken lollipops, hard-boiled egg, fresh cucumbers, and roasted peanuts, the fragrant coconut milk rice was topped by the most delicious, homemade anchovy sambal, courtesy of Reneelicious and Rasa Malaysia.
Tasting every bit as good as it looks, it's sambal just the way I remember it.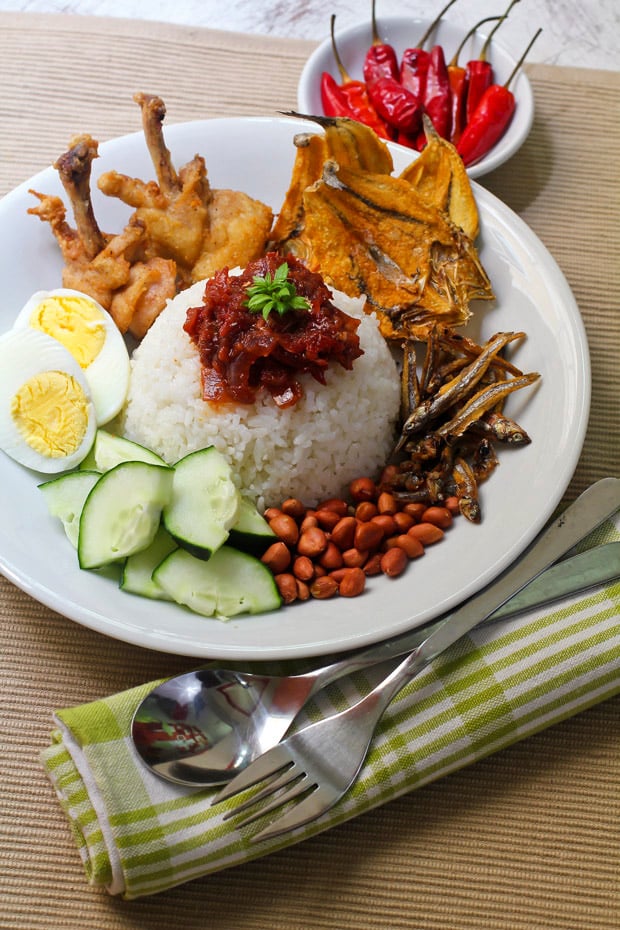 There are many varieties of sambal, this being known as sambal ikan bilis, or anchovy sambal. Phenomenal even with just the rice, it was pure heaven with all the components you see below. If you like dishes like this one, flavorful Asian dishes that look like festivals on a plate, then you'll absolutely love Ren's Khao Kluk Kapi.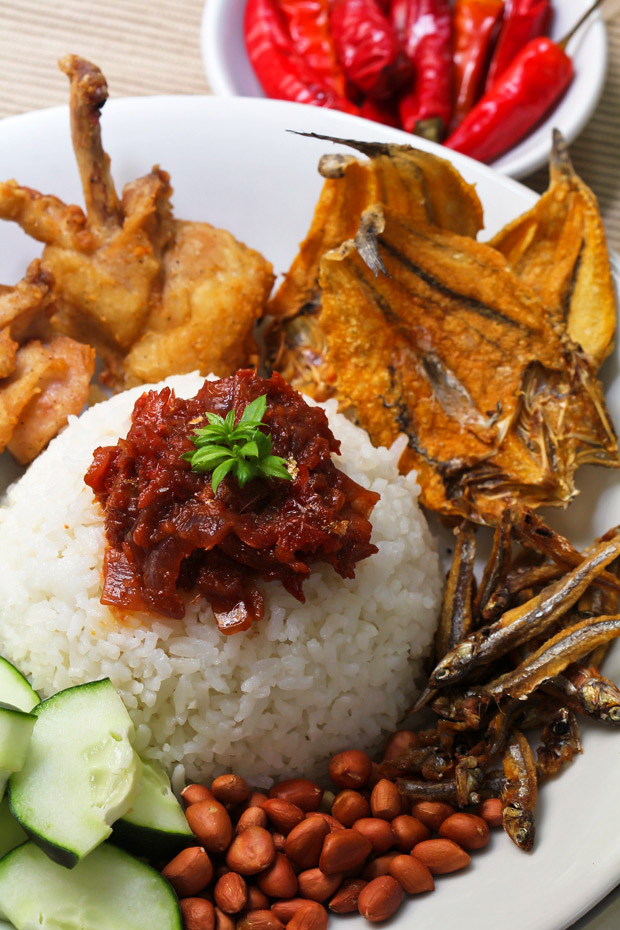 *Original recipe from rasamalaysia.com.
Ingredients
FOR COCONUT MILK STEAMED RICE
2 cups rice
3 pandan (screwpine) leaves (tied into knot)
Salt to taste
1 small can coconut milk (5.6 oz size)
Some water
FOR TAMARIND JUICE
1 cup water
Tamarind pulp (size of small ping pong ball)
FOR SAMBAL IKAN BILIS (Dried Anchovies Sambal)
1/2 red onion
1 cup ikan bilis (dried anchovies)
1 clove garlic
4 shallots
10 dried chillies
1 tsp of belacan (prawn paste)
1/4 tsp of salt
1 Tbsp of sugar
OTHER INGREDIENTS (Optional)
2 hard boiled eggs (cut into half)
3 small fish (sardines or smelt fish)
Fried chicken
Dry, roasted peanuts
1 small cucumber (cut into slices and then quartered)
Directions
Rinse rice and drain. Add coconut milk, pinch of salt, and some water. Add pandan leaves into rice, then cook rice.
Rinse dried anchovies then drain water. Fry anchovies until light brown, then set aside.
Pound prawn paste together with shallots, garlic, and deseeded dried chilies with mortar and pestle. You can also grind them with food processor.
Slice red onion into rings.
Soak tamarind pulp in water for 15 minutes. Squeeze tamarind constantly to extract flavor into water. Drain pulp and save tamarind juice.
Heat some oil in pan and fry spice paste until fragrant. Add in onion rings. Add in ikan bilis and stir well. Add tamarind juice, salt, and sugar. Simmer on low heat until gravy thickens, then set aside.
Clean small fishes, cut into halves, and season with salt, then deep fry.
Cut cucumber into slices, and then quartered into four small pieces.
Dish up steamed coconut milk rice and pour some sambal ikan bilis on top of rice. Serve with fried fish, cucumber slices, hard-boiled eggs, peanuts, and fried chicken.
JB is one half of Will Fly for Food and its chief itinerary maker.  He's the one to blame for all the crappy photos and verbal diarrhea on this blog.  Don't listen to him.
Latest posts by JB Macatulad (see all)