Aaah, the legendary, elusive laksa. A reminder for Ren and I that in life, it's often best to take matters into your own hands.
Sometimes described as the single most flavorful dish on the planet, Ren had been wanting to try it ever since our trip to Singapore over five years ago. For one reason or another however, it never happened. Almost like it just wasn't meant to be.
During our Singapore trip for example, we unknowingly went to Newton Circus at a time when most of the hawker food stalls were closed. No laksa. A couple of years later, we went to this Singaporean restaurant at a local mall, only to have an altercation with the terribly rude Singaporean owner, prompting us to walk out before ordering and vow never to come back. Still no laksa. Two years after that, we went with friends to 101 Hawker Food House in Makati with every intention of trying their laksa, only to decide at the very last minute to order all family-style, easy-to-share dishes. Again, no laksa. Then, at long last, just a few months ago on a return visit to 101 Hawker Food House, Ren finally got to order her laksa, only to find that it was so far from authentic, that she stopped eating altogether after a few uninspired spoonfuls. Not so good laksa.
Frustrated and weary with disappointment, she decided that she could no longer leave her laksa to chance and be deprived any longer. Scouring the net for interesting recipes that she could edit, combine, and reinvent in typical Reneelicious fashion, she conjured up this effusive, stunningly beautiful bowl of what by now had become a long-awaited, much-anticipated, curry laksa. Delicious beyond description, I really shouldn't be surprised anymore by the dishes that she comes up with, but I still am. Always. She's amazing.
Made with some serious panache and in my opinion, a worthy candidate for Seetoh's "Die, die, must try", how's that for seizing the day? 😉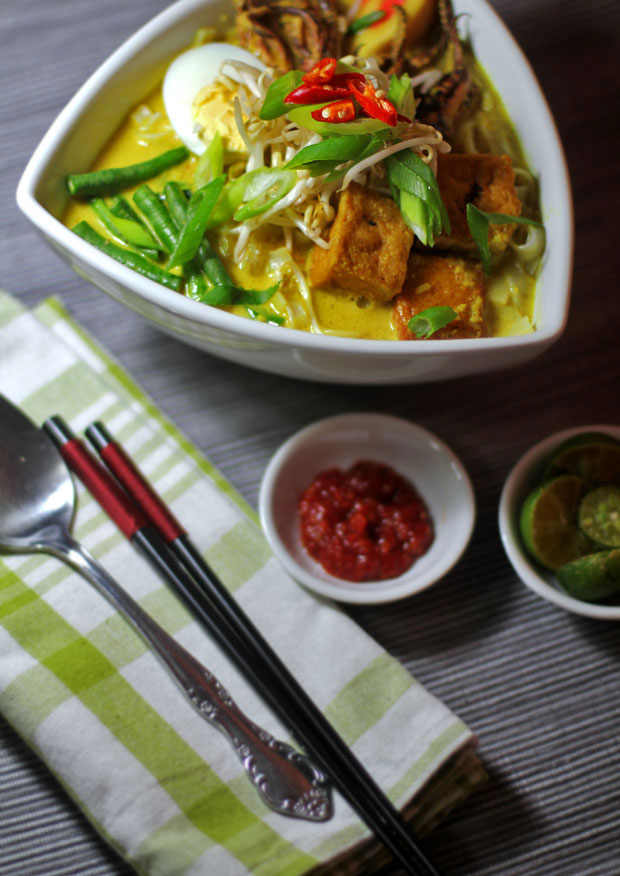 A schizophrenic medley of flavors and textures, this is truly one of the tastiest, most nuanced dishes that I have ever tried in my life. The calamansi, with its brightness, elevates the dish even more, as does the chili sambal, which if I weren't already married, I would propose to right this very second. I LOVE it.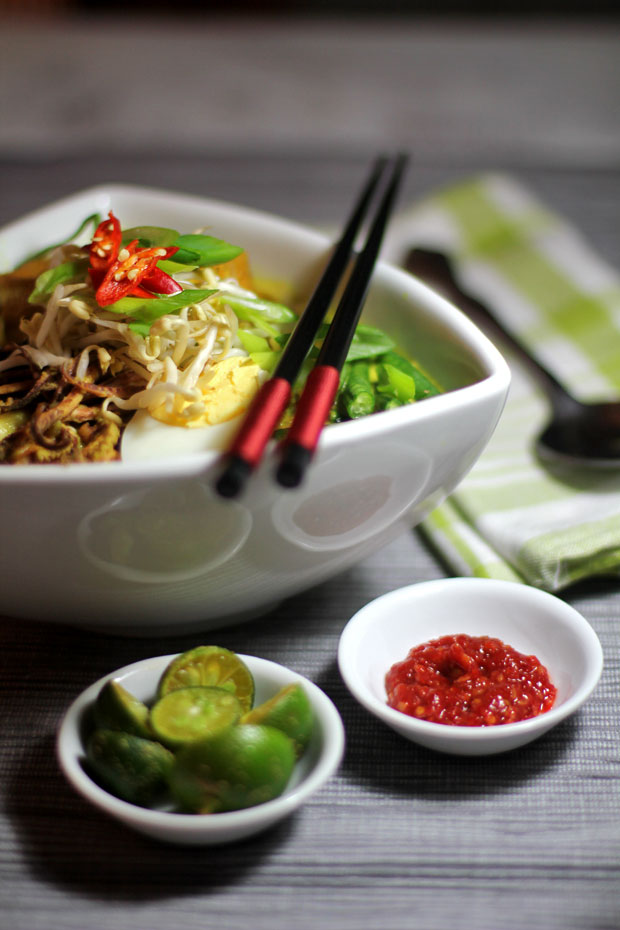 *Recipe adapted from whats4eats.com
Ingredients
FOR REMPAH PASTE
1 white onion
5 garlic cloves
3 red chilies, or to taste
1 1/2 Tbsps dried shrimp
3 candlenuts or macadamia nuts (I used macadamia)
1 Tbsp curry powder
1/2 Tbsp ground coriander
1 Tbsp sugar
1 tsp sea salt
1 tsp turmeric
1 tsp chili powder, or to taste
1 thumb-sized ginger, peeled
1 tsp toasted shrimp paste (belacan)
FOR SOUP
2 Tbsps vegetable oil
2 cups chicken or seafood stock
1 400ml can coconut milk
2 stalks lemongrass, white part only, bruised
250 g/half pound shrimp, peeled and deveined
100 g tofu squares, deep-fried
100 g pound fish cakes
250 g rice or egg noodles
FOR GARNISHES
Bean sprouts
String beans, cut into 2-inch lengths
Hard-boiled eggs
Cilantro
Limes (I used calamansi/calamondin)
Chili sambal
Directions
In food processor, grind all rempah paste ingredients until smooth. Adjust seasoning to taste with sugar and salt.
Bring large pot of water to a slow boil. Heat oil in another large pot over medium heat. Add rempah paste and cook for 3-4 minutes, or until dark and fragrant.
Stir in coconut milk, chicken/seafood stock, and lemongrass. Bring to a boil, then reduce heat to medium-low and simmer for 15 minutes. Remove and discard lemongrass.
Stir in tofu squares, shrimp, and fish cakes, then simmer slowly for another 10 minutes.
Meanwhile, cook noodles according to package directions. Drain and divide noodles evenly into serving bowls.
Adjust soup's seasoning with salt and sugar. Ladle portions of broth, tofu, shrimp, and fish cakes into bowls. Top with halves of hard-boiled egg, sprouts, string beans, and cilantro.
Serve with lime wedges (or calamansi/calamondin halves) and chili sambal on the side.
DID YOU KNOW?
That although the root of the word laksa remains unclear, several theories have been formulated to describe its origin?
The first traces it back to the Hindi/Persian lakhshah, which refers to a type of vermicelli, which in turn may be derived from the Sanskrit lakshas (लकशस्), meaning "one hundred thousand." Another theory suggests that it may be derived from the Chinese word 辣沙, which means "spicy sand", in reference to the ground, dried prawns that lend a sandy, gritty texture to the sauce. A third and final theory alleges that the name comes from the onomatopoeic Hokkien word for "dirty", which describes the dish's murky, somewhat cruddy appearance.
JB is one half of Will Fly for Food and its chief itinerary maker.  He's the one to blame for all the crappy photos and verbal diarrhea on this blog.  Don't listen to him.
Latest posts by JB Macatulad (see all)