To be honest, I didn't know if I should write this Mexico City food guide. The Mexican capital is one of the largest cities in the world so I didn't know how one article could do justice to the vast and diverse culinary landscape of Mexico City (CDMX). Roma-Condesa alone would take several articles to adequately cover.
But as is always the case with any food and restaurant guide, taste is subjective. Some people prefer fine dining, others are drawn to street food. There can never be one perfect guide to satisfy everyone's tastes so I did my best to come up with a list of what we believe to be some of the best restaurants and food experiences in Mexico City.
Although the focus of this article is on Mexican food, we tried to create as diverse a list as possible. What you'll find in this Mexico City food guide is a list of establishments that cover the gamut from fine dining restaurants to roadside stalls to cafes and dessert shops.
If you're visiting Mexico City for a few days and love Mexican food, then I hope this article leads you to many memorable meals in the Mexican capital.
If you'd like to go on a food tour, then be sure to check out our guide to the tastiest food tours in Mexico City.
MEXICO CITY RESTAURANTS QUICK LINKS
To help plan your trip to Mexico City, we've put together links to recommended hotels, tours, and other travel-related services here.
HOTELS
Top-rated hotels in Roma-Condesa, one of the best areas to stay in Mexico City.
TOURS
OTHER SERVICES
Save This on Pinterest!
No time to read this guide to some of the best Mexico City restaurants? Click on the save button and pin it for later!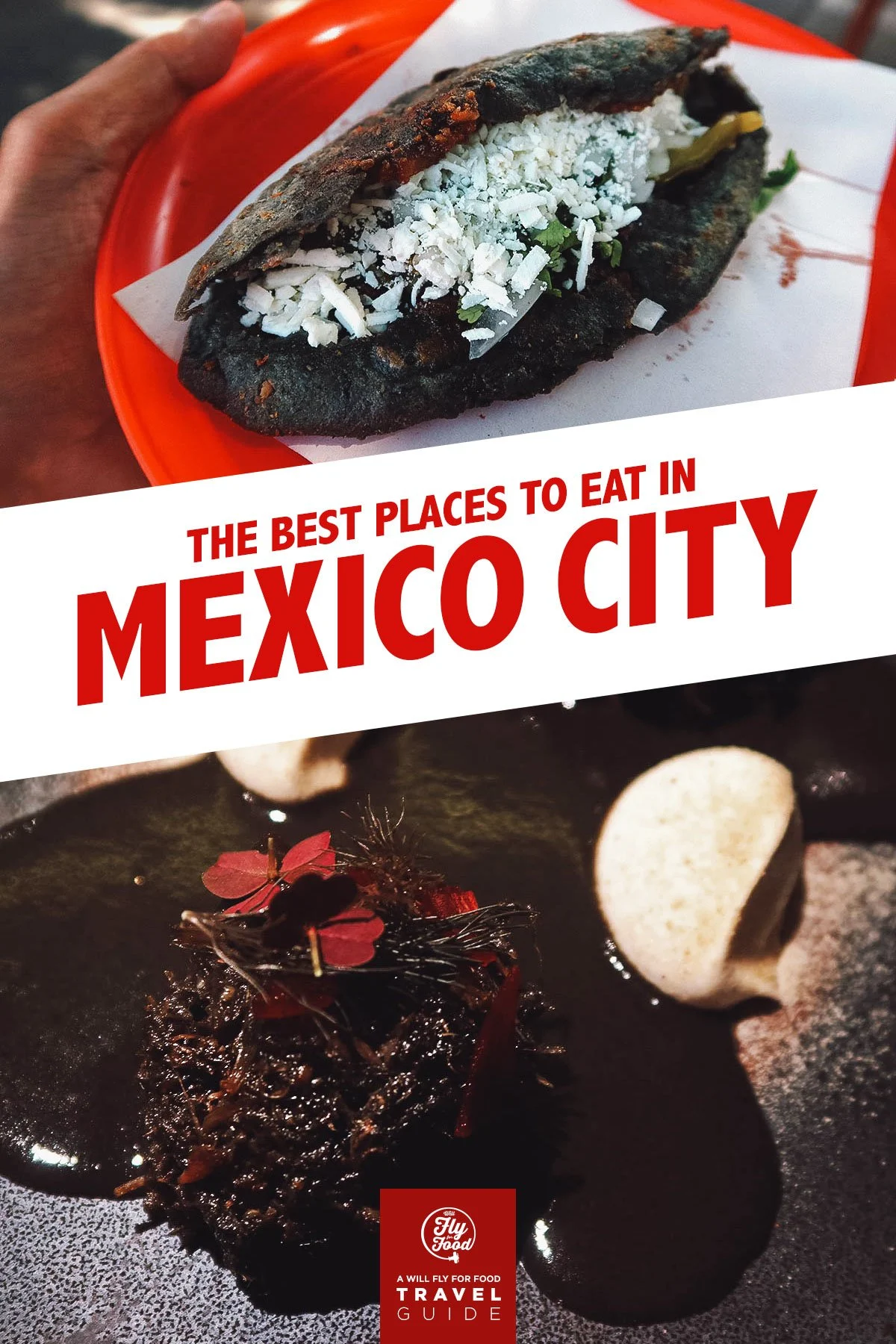 THE BEST MEXICO CITY RESTAURANTS FOR TRADITIONAL MEXICAN CUISINE
To help organize this list of the best Mexico City restaurants, I've arranged them by category. Click on a link to jump to any section of the guide.
RESTAURANTS
1. Quintonil
There's no better way to start this list of the best Mexico City restaurants than with Quintonil. Google "best restaurants in mexico city" and Quintonil is guaranteed to be on every list. As of this writing, it's number 8 on the list of the 50 Best Restaurants in Latin America and number 27 overall on the 50 Best global list.
Helmed by Chef Jorge Vallejo, what you'll find at Quintonil are modern interpretations of traditional Mexican cuisine. Dishes like spider crab in green mole with lime kaffir or braised oxtail in black recado sauce instantly jumped out at us.
Up to this point, we had been enjoying mostly street food and local fonda fare (small family-owned eateries), so seeing and tasting what a talented chef could do with local ingredients was interesting.
If I remember correctly, this dish was a cold starter made with nopales. Nopales refer to the edible pads of the prickly pear cactus plant.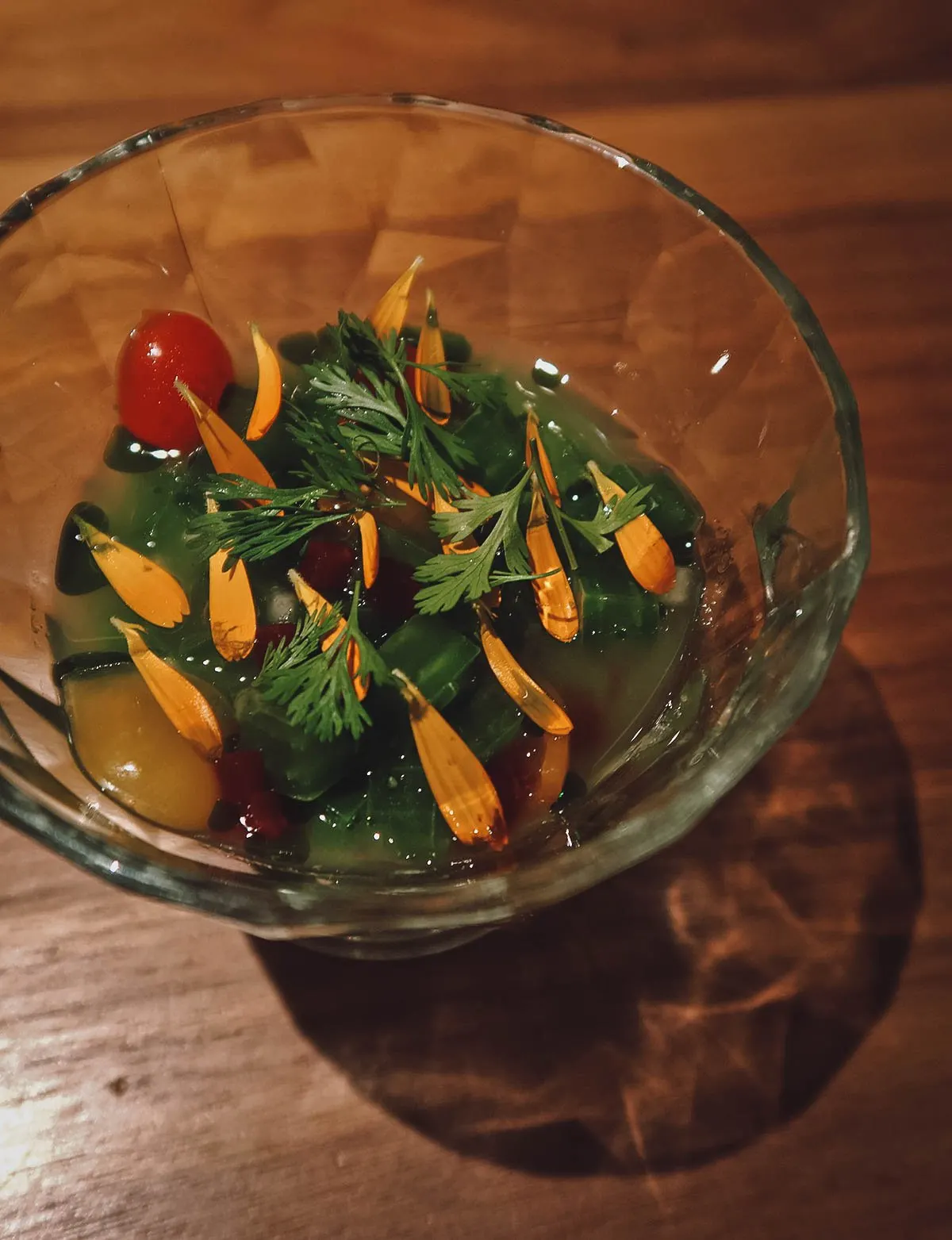 This is one of the dishes I was referring to above. What you're looking at is an appetizer of spider crab in green mole with lime kaffir, Thai basil, and blue corn tostadas. I don't know what's in it but that green sauce was delicious.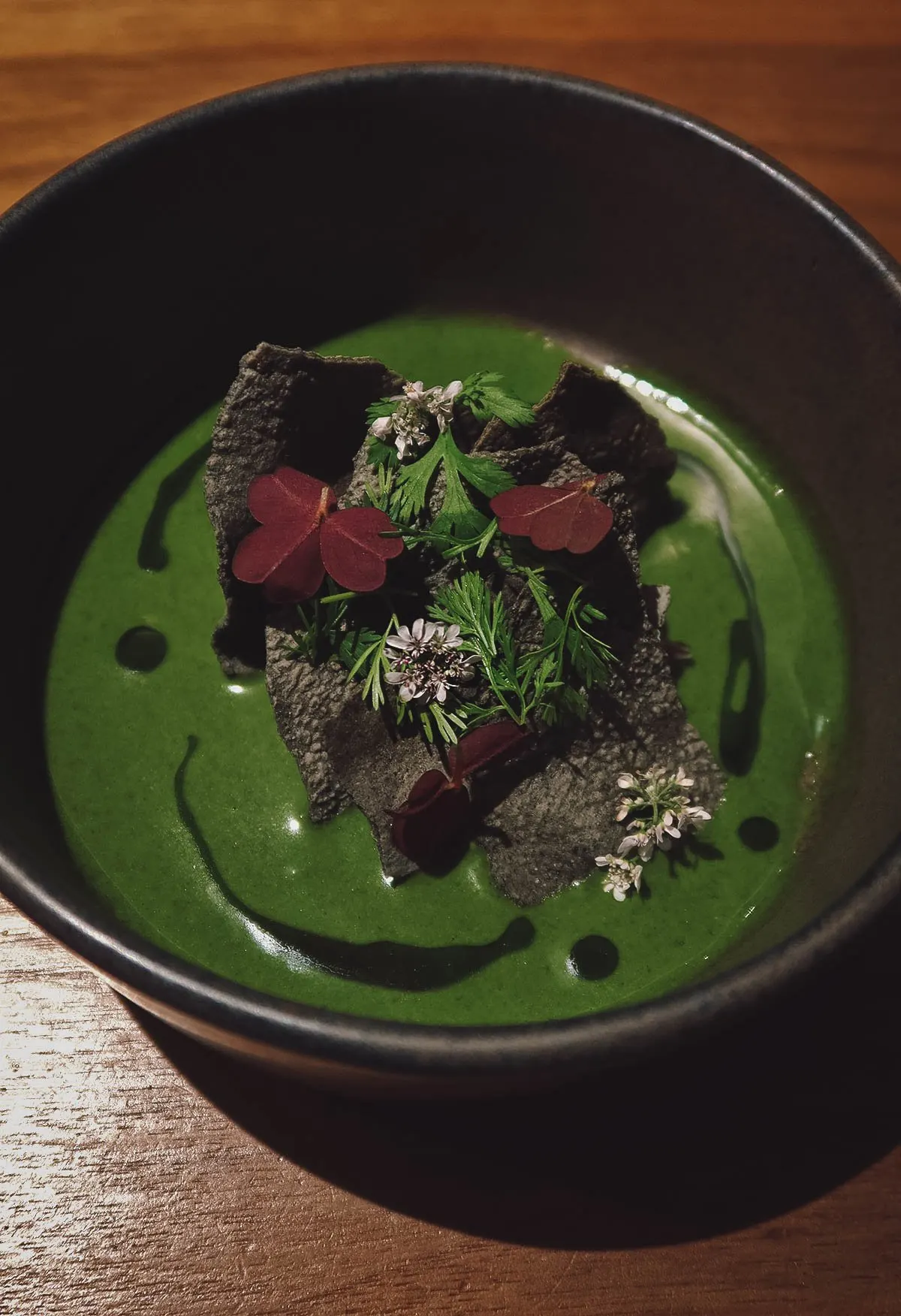 For my entree, I went with this incredibly tasty braised oxtail in black recado with almond puree and red onions. Like many traditional Mexican dishes, they serve it with a side of fresh tortillas.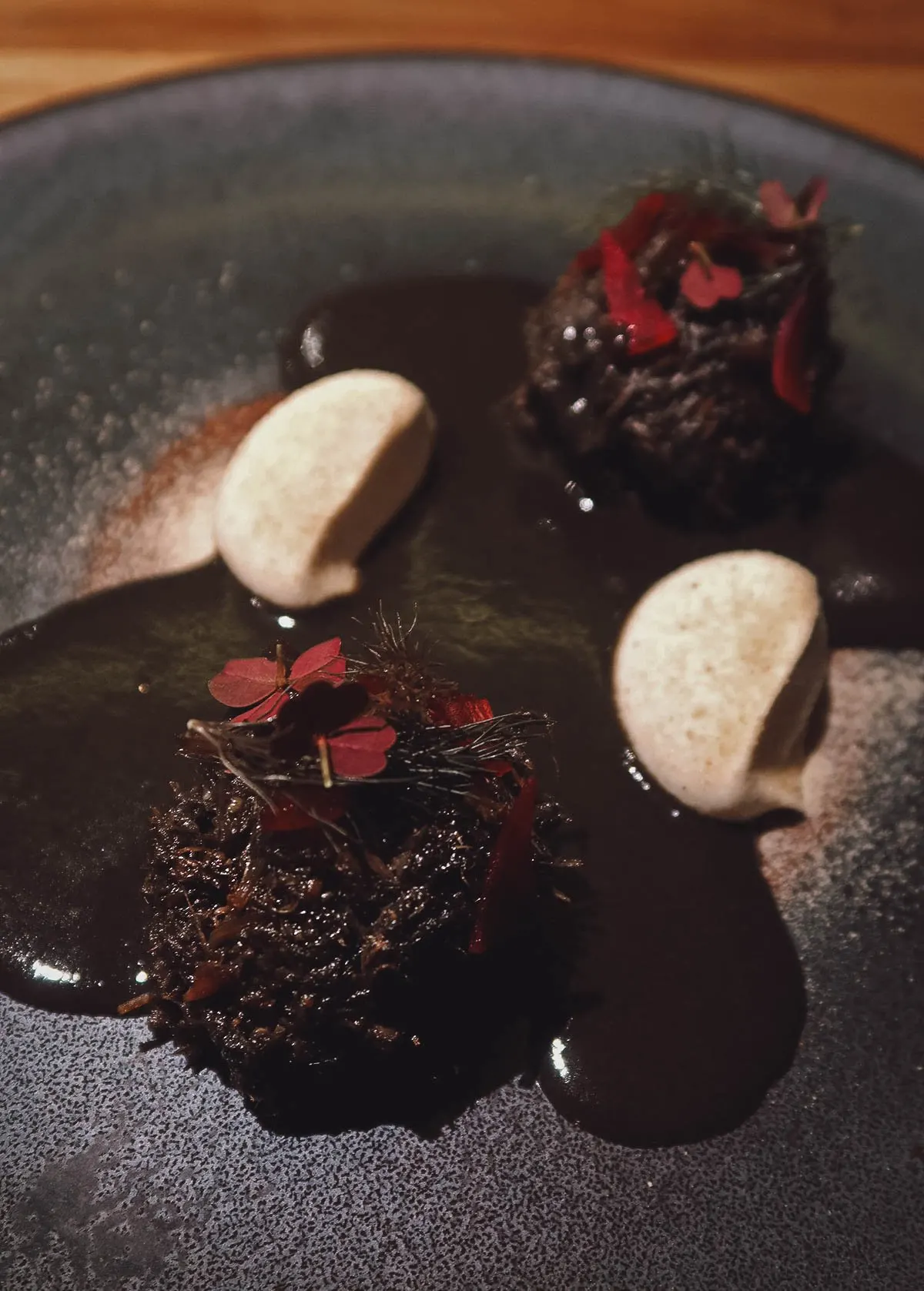 You put a little bit of everything into the blue corn tortilla and eat it like a taco. After weeks of eating street tacos, it was nice to see a more modern take on traditional Mexican food.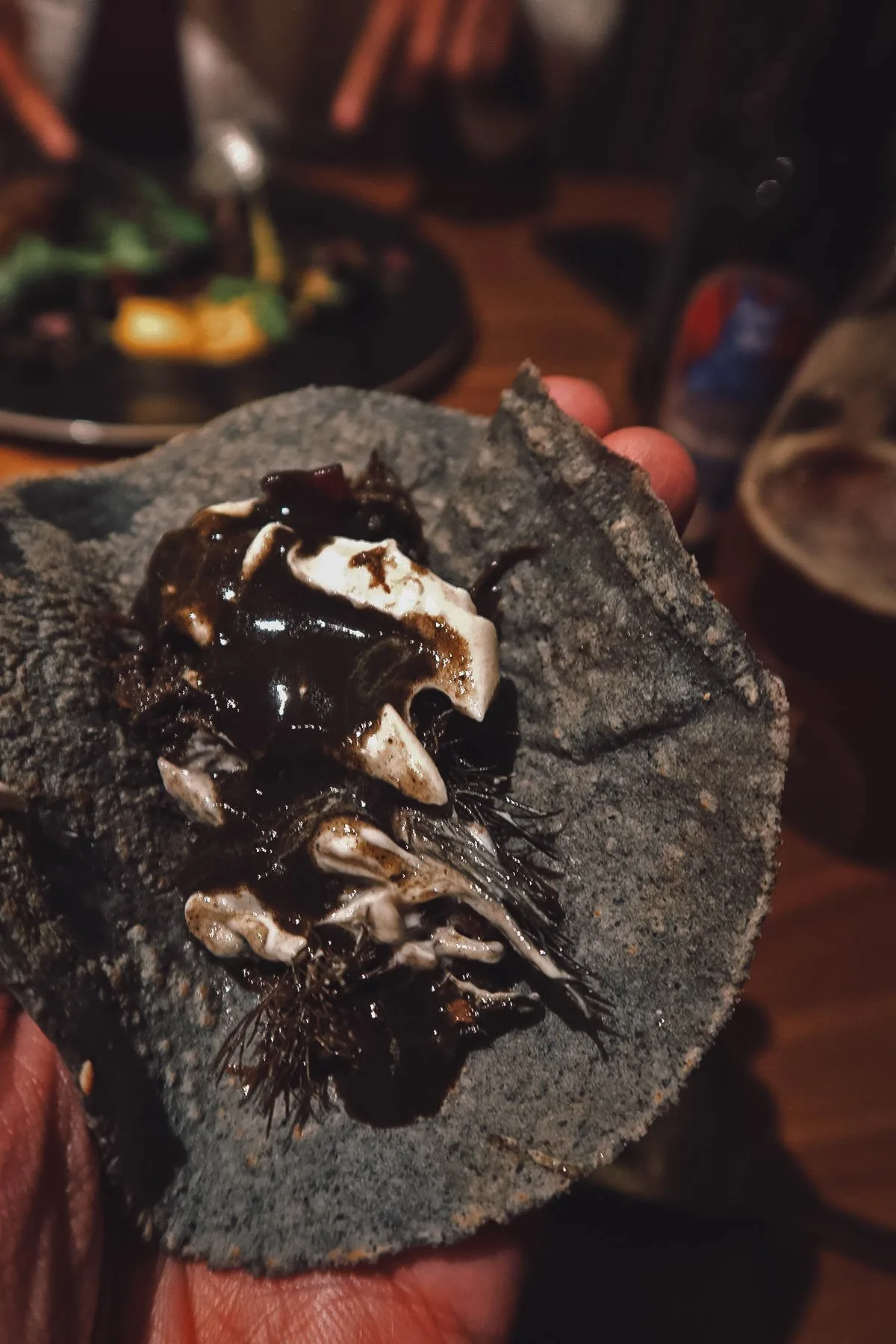 For her entree, Ren chose the striped bass in a chapulin (grasshopper) adobo with cauliflower, grilled kale, and kohlrabi dressing. Just look at the char on that bass!
We had a lot of amazing food in Mexico City, but this dish may have been the best. It was so damn good.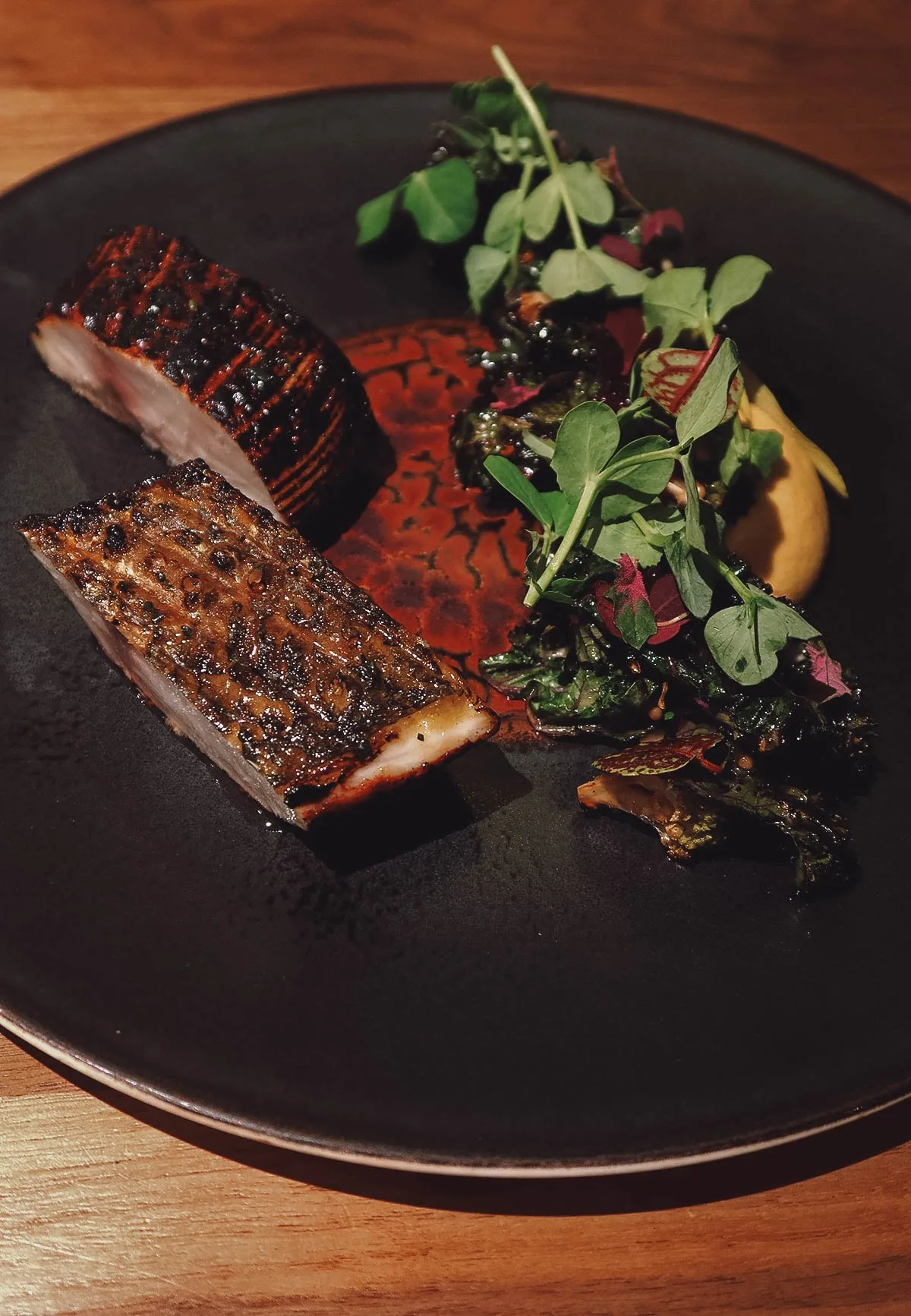 For dessert, we had this inventive dish made with guava rocks, pink pepper, and caramelized white chocolate. If I remember our server's description correctly, they call it "guava rocks" because it's made with nitrous-frozen chunks of guava. Fantastic!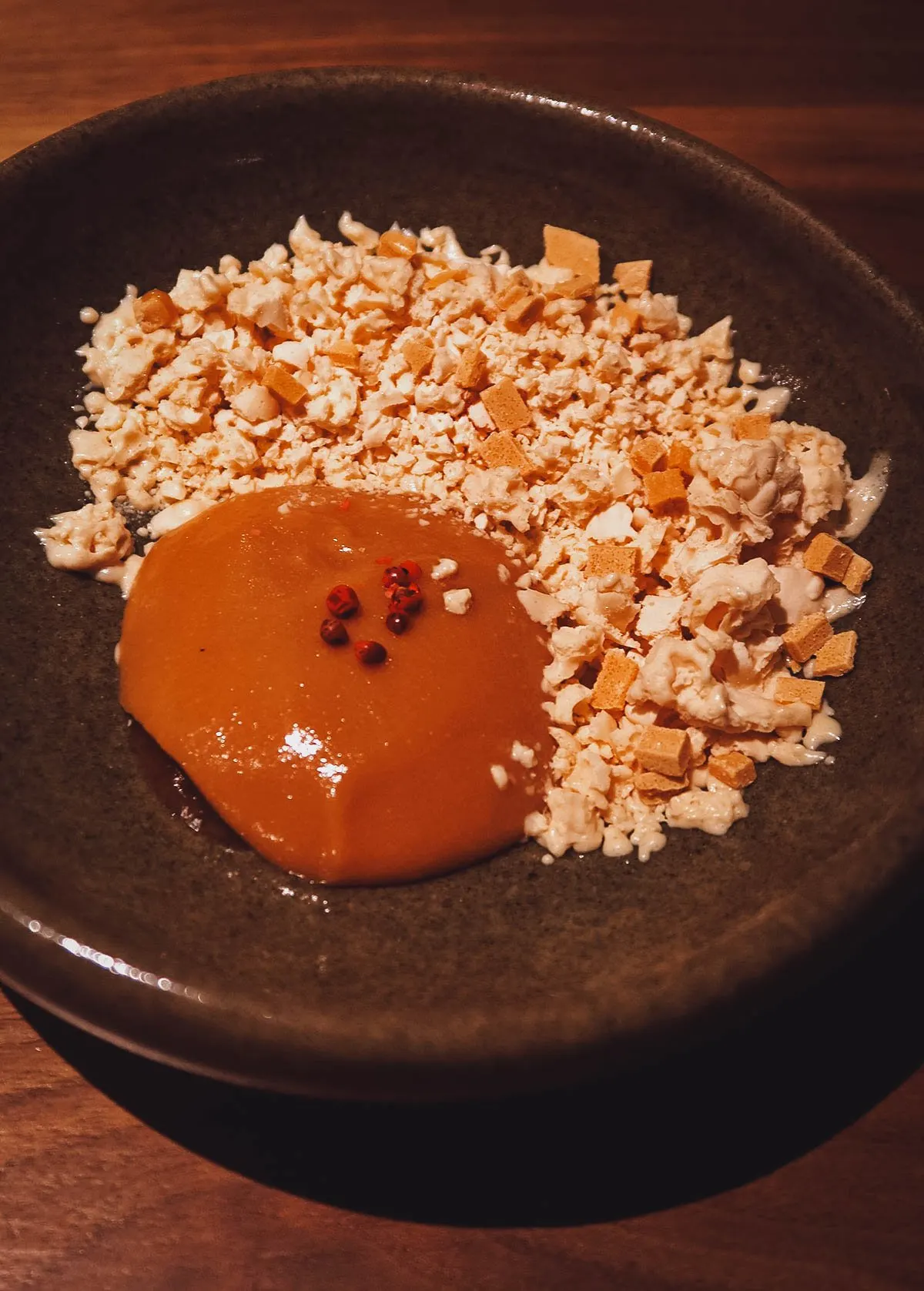 Headed by one of the most talented young Mexican chefs in CDMX, Quintonil is one of the best restaurants in Mexico City – top two or three easily – so it's a great place to go for a truly special meal in the capital. In spite of its reputation, the restaurant has a relaxed atmosphere and a warm and welcoming dining room. I sometimes feel uneasy at places like this but I felt completely comfortable here.
We ordered ala carte but if you're celebrating a special occasion, then you may want to go for the tasting menus. Dishes are seasonal so you can check the Quintonil website for the latest offerings.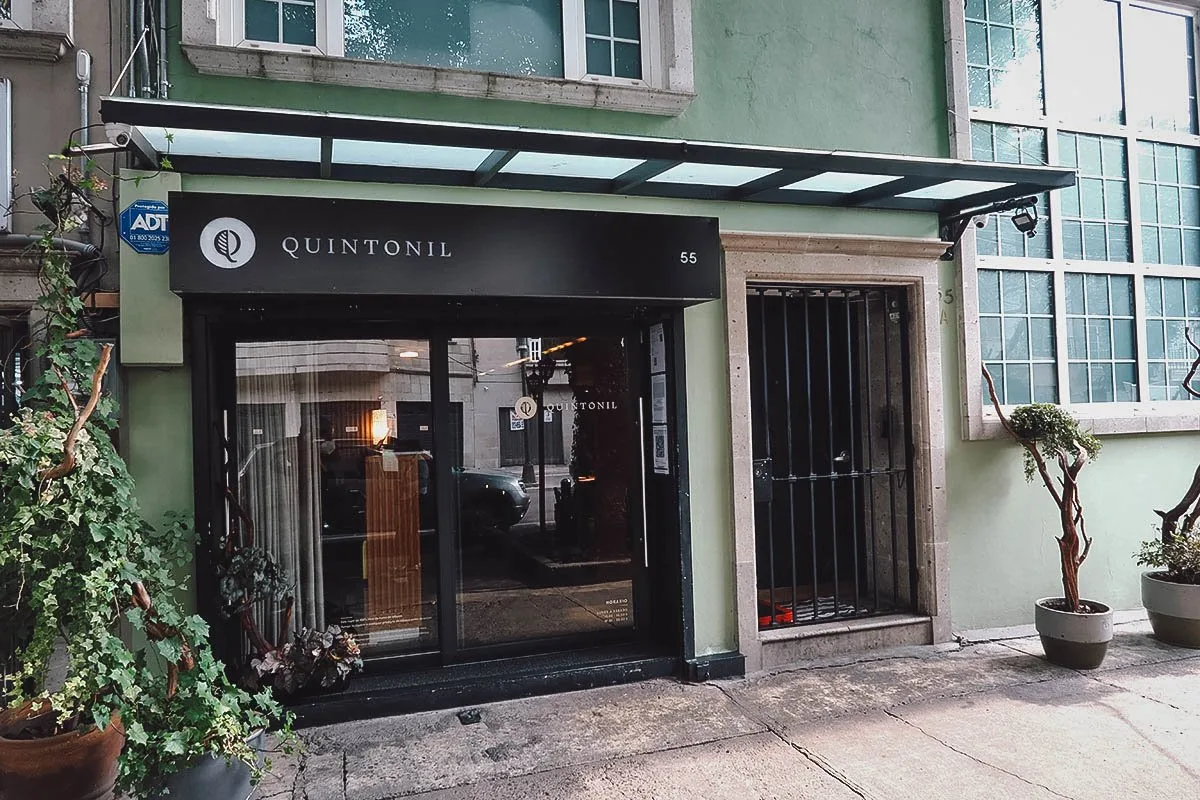 Quintonil
Address: Av. Isaac Newton 55, Polanco, Polanco IV Secc, Miguel Hidalgo, 11560 Ciudad de México, CDMX
Operating Hours: 12:30PM-12MN, Mon-Sat (closed Sundays)
What to Order: Tasting menu
2. Entremar
Headed by Chef Gabriela Cámara, Contramar in Roma Norte is one of the best restaurants in Mexico City for seafood. Unfortunately, it's also one of the most popular. We tried showing up one day without reservations and the wait, for a table for two, was over two hours. Luckily for us, there's Entremar.
Not as many tourists know this, but Chef Cámara has another seafood restaurant in Polanco called Entremar. It has a very similar menu as Contramar but you don't have to wait nearly as long for a table. In our case, we went for lunch and we didn't have to wait at all. By the time we finished our meal, the restaurant was at most half full so I suggest going here instead.
We started our lunch with this terrific appetizer of tuna tostadas. Each order comes with four pieces.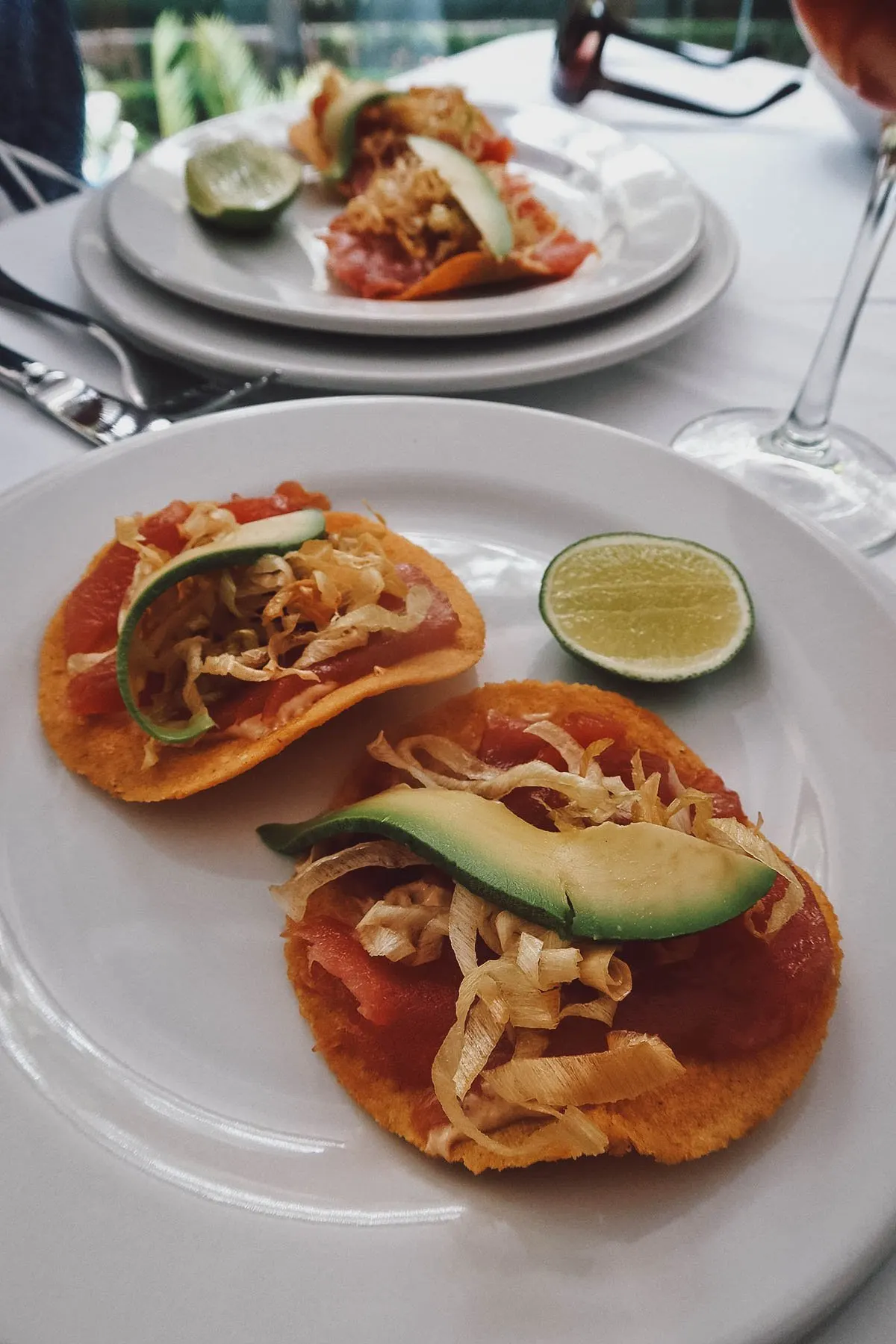 We fell in love with this dish in Spain so we followed the tuna tostadas with this beautiful pulpo a la gallega. Also known as polbo a feira, this delicious Spanish tapas dish consisting of boiled octopus served with loads of paprika is a specialty of Galicia in the northwest region of Spain.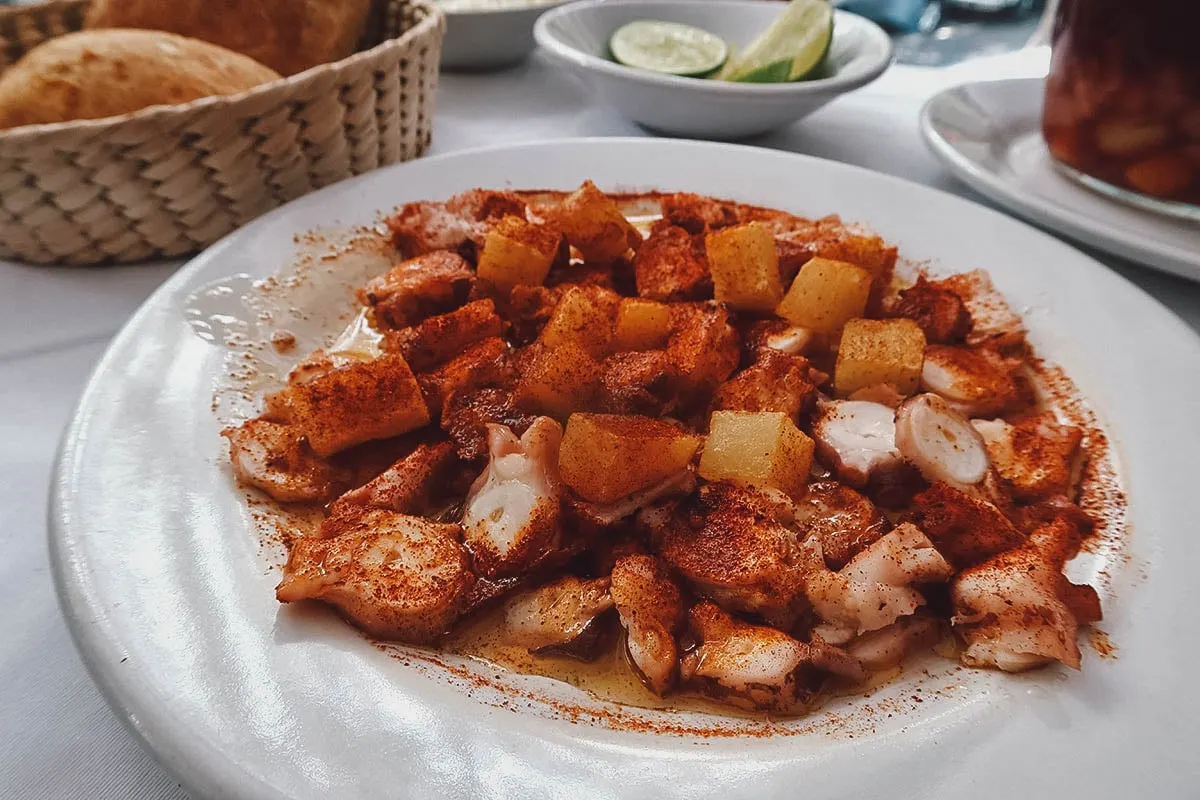 This fish dish is what we came here for. We had read about Contramar's pescado a la talla so we were thrilled to find it here at Entremar as well.
Pescado a la talla is a grilled butterflied whole fish that can be topped with a red chili sauce, a green parsley sauce, or both. The two sauces are equally delicious so I suggest getting both.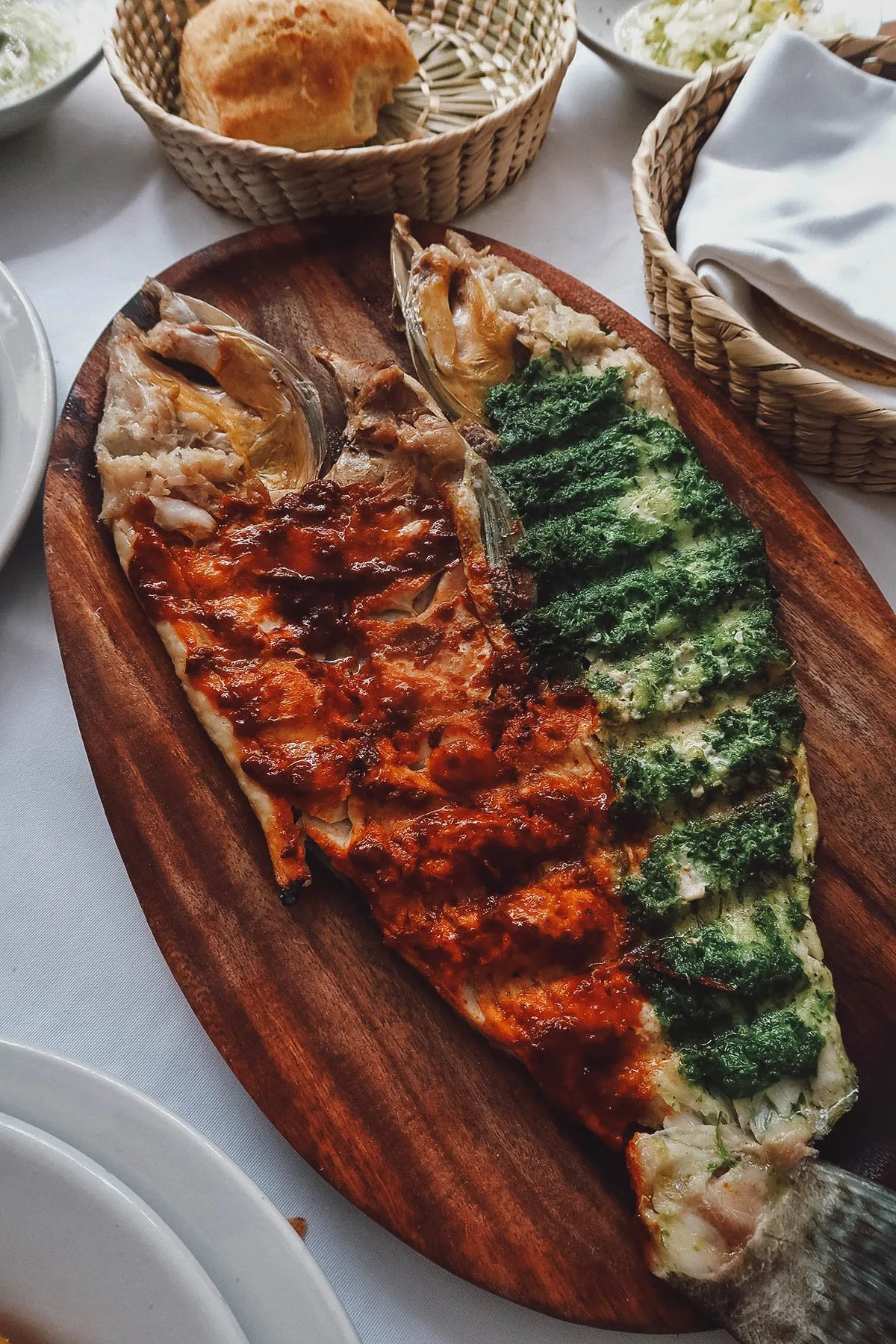 To eat, you take slivers of the grilled fish and wrap them in fresh tortillas with refried beans and avocado. ¡Riquisimo!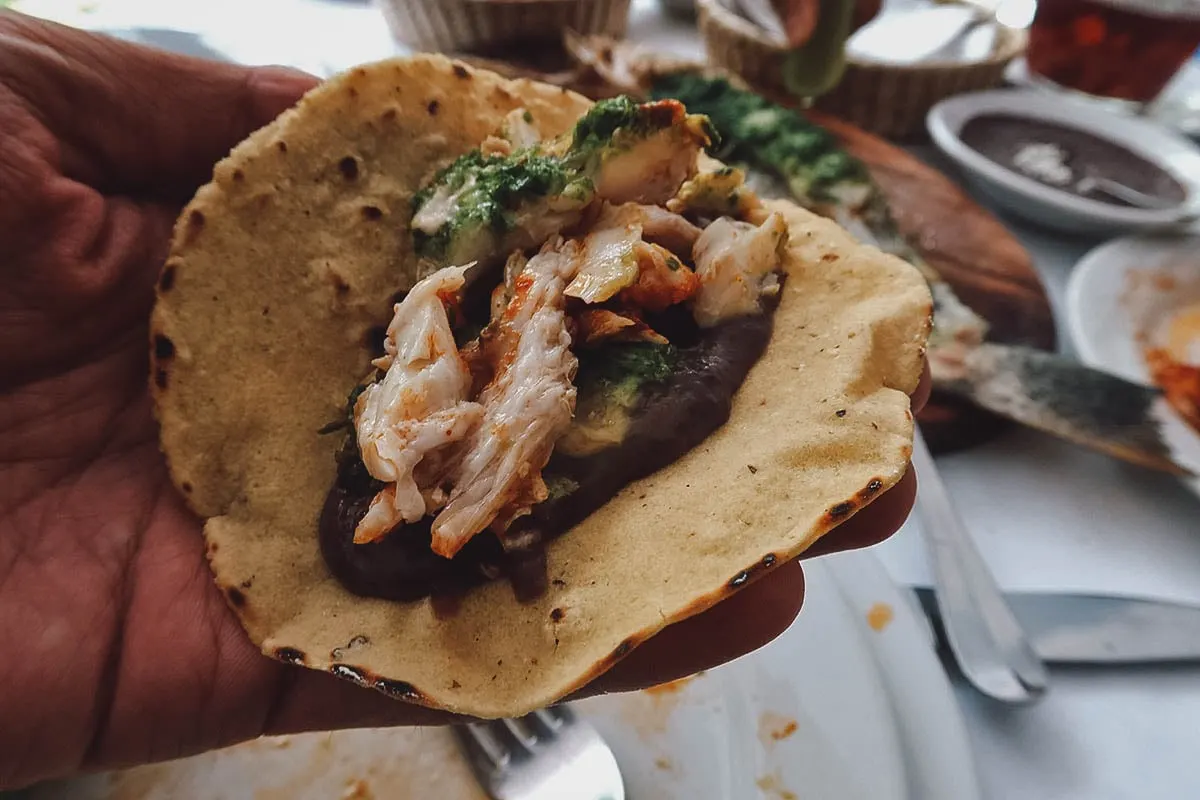 Entremar offers different types of beer on their menu but I recommend getting a pitcher of clericot instead. Available in 1- or 2-liter pitchers, it refers to a sangria-like drink that's popular throughout Latin America.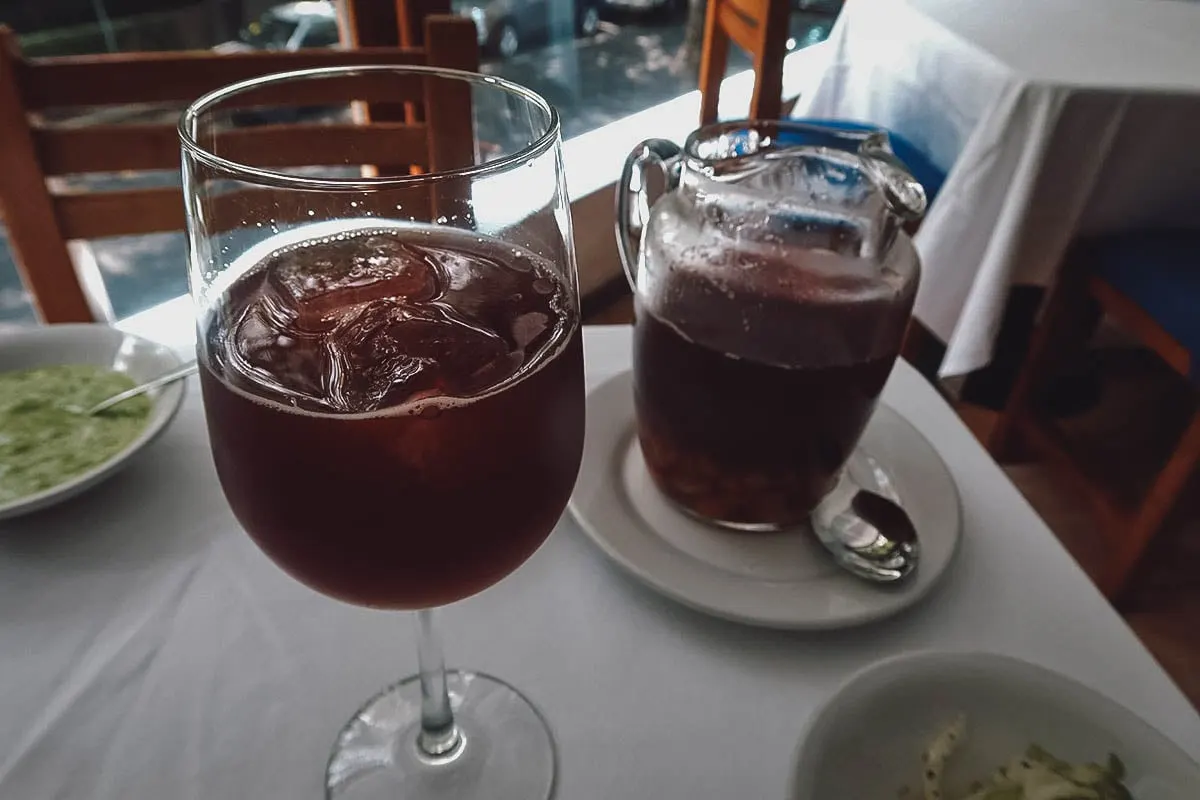 Entremar is a two-story restaurant right next to Parque Uruguay in the chic Polanco district. They have a spacious dining room but if a table is available, then I recommend sitting upstairs on the balcony. You'll have an overhead view of the park while tucking into your tasty pescado a la talla.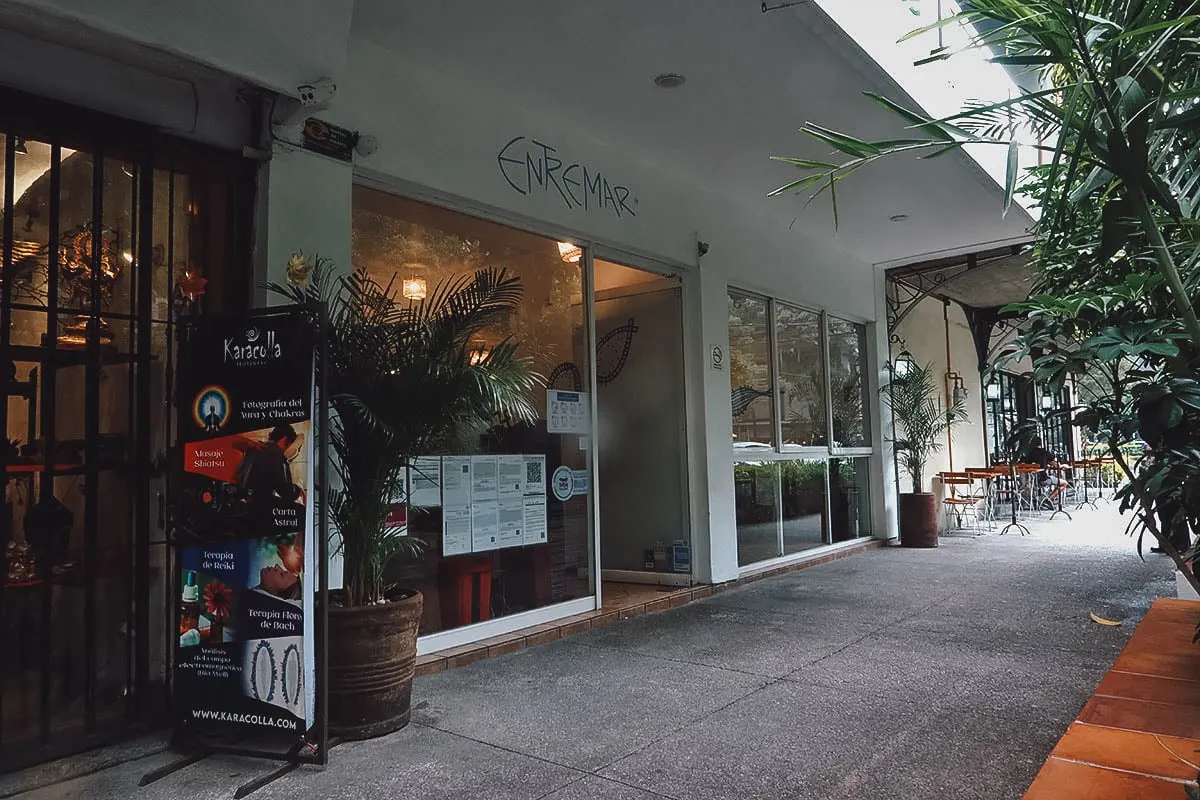 Entremar
Address: B Y C, Hegel 307, Polanco V Secc, Miguel Hidalgo, 11560 Ciudad de México, CDMX, Mexico
Operating Hours: 12NN-8PM, daily
What to Order: Seafood dishes
3. Panaderia Rosetta
Like Contramar, Panaderia Rosetta is one of the most popular restaurants in Mexico City. Helmed by celebrated Chef Elena Reygadas, it's a hugely popular bakery and restaurant in the Roma Norte neighborhood, just around the corner from Chef Reygadas' equally popular Mexican-Italian restaurant Rosetta.
La Panaderia serves mostly pastries and light breakfast dishes so they're most popular for brunch, but they do offer a few sandwiches as well. One of the pastries they're best known for is this flaky guava roll filled with creamy ricotta. It's delicious and a must-try at Panaderia Rosetta.
Behind the guava roll is a bolillo bread roll filled with asiago cheese and tomato.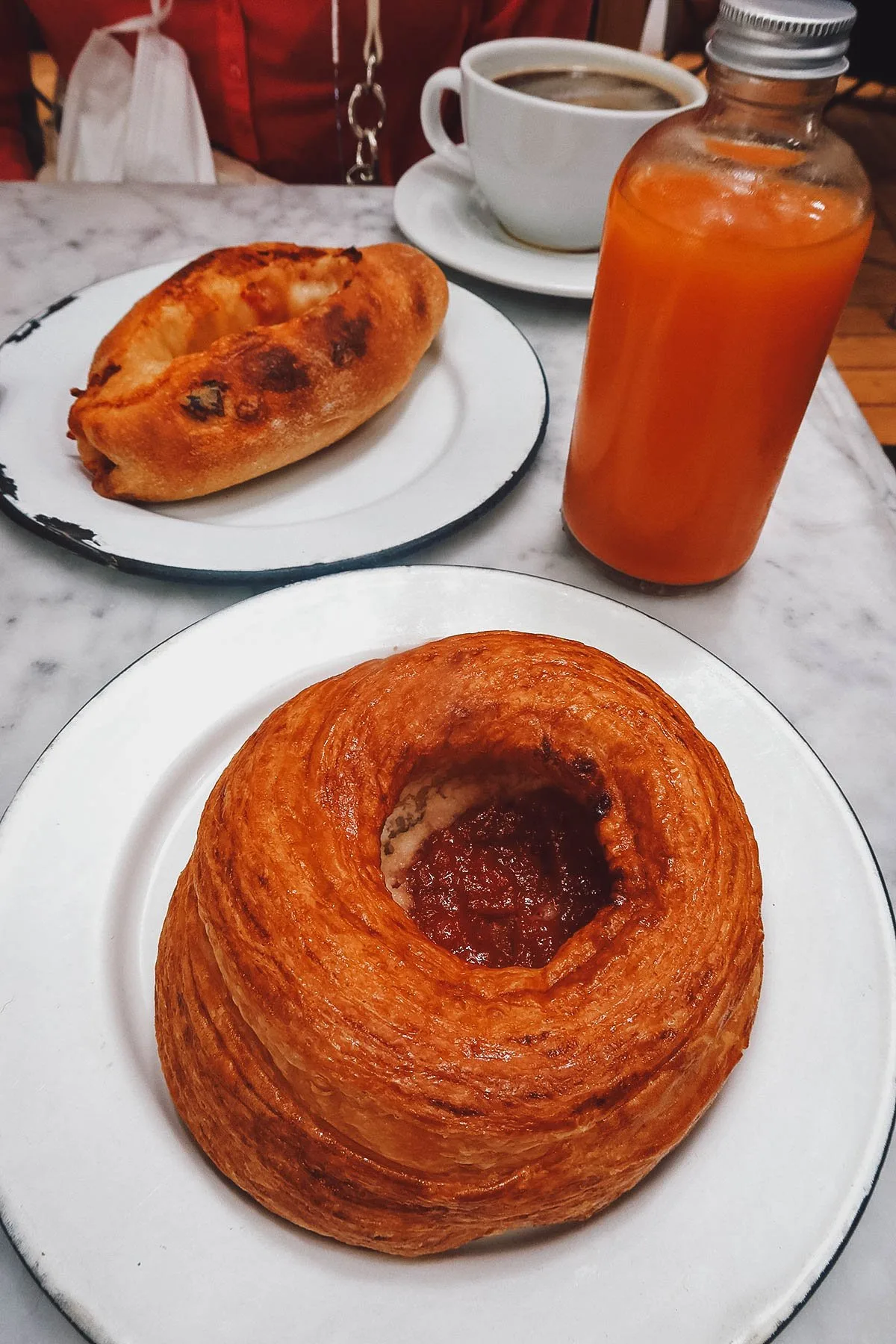 Pictured below is a pair of soft-boiled eggs served with tarragon butter and rye sourdough bread.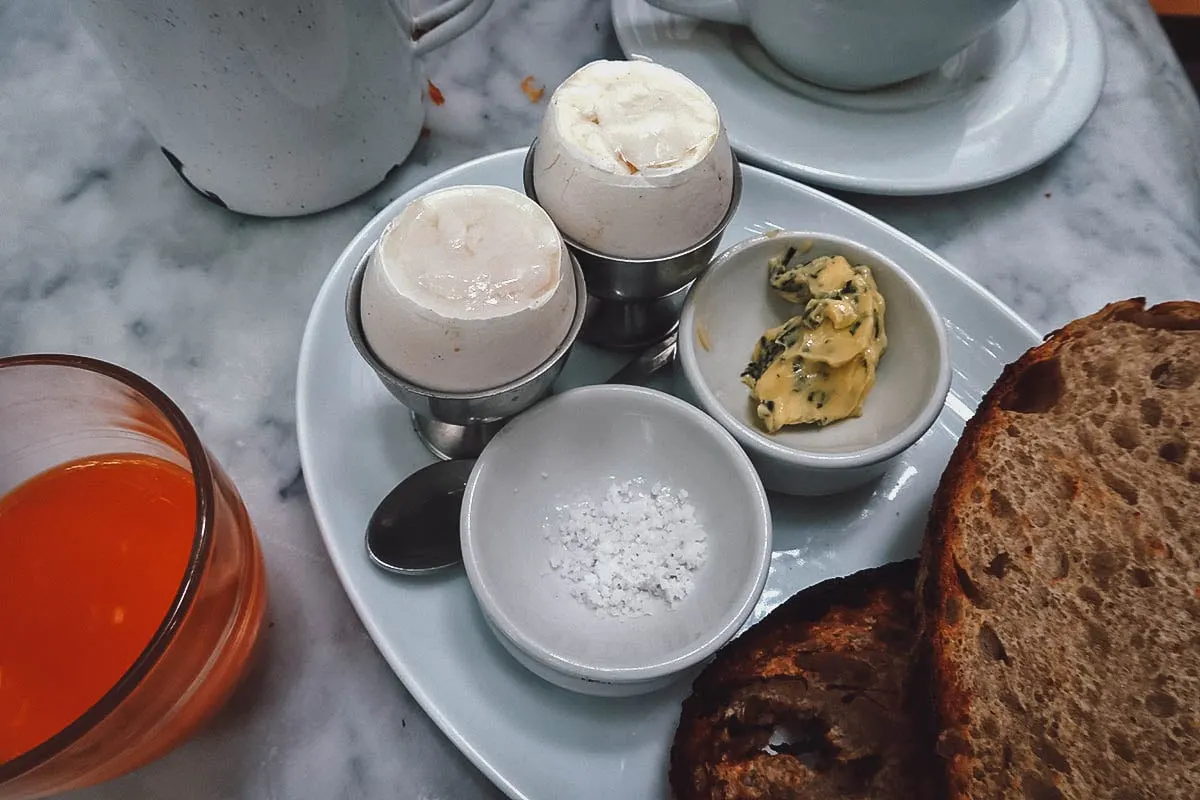 Visit Panaderia Rosetta before noon and you'll find yourself in a sea of hungry diners waiting to get their hands (and their mouths) on their delicious pastries. If I remember correctly, we waited a little over half an hour to be seated.
Chef Elena Reygadas is one of the most respected chefs in Mexico City so you may want to visit Restaurante Rosetta as well. We didn't go but from what I've read, they serve Italian dishes with a Mexican twist.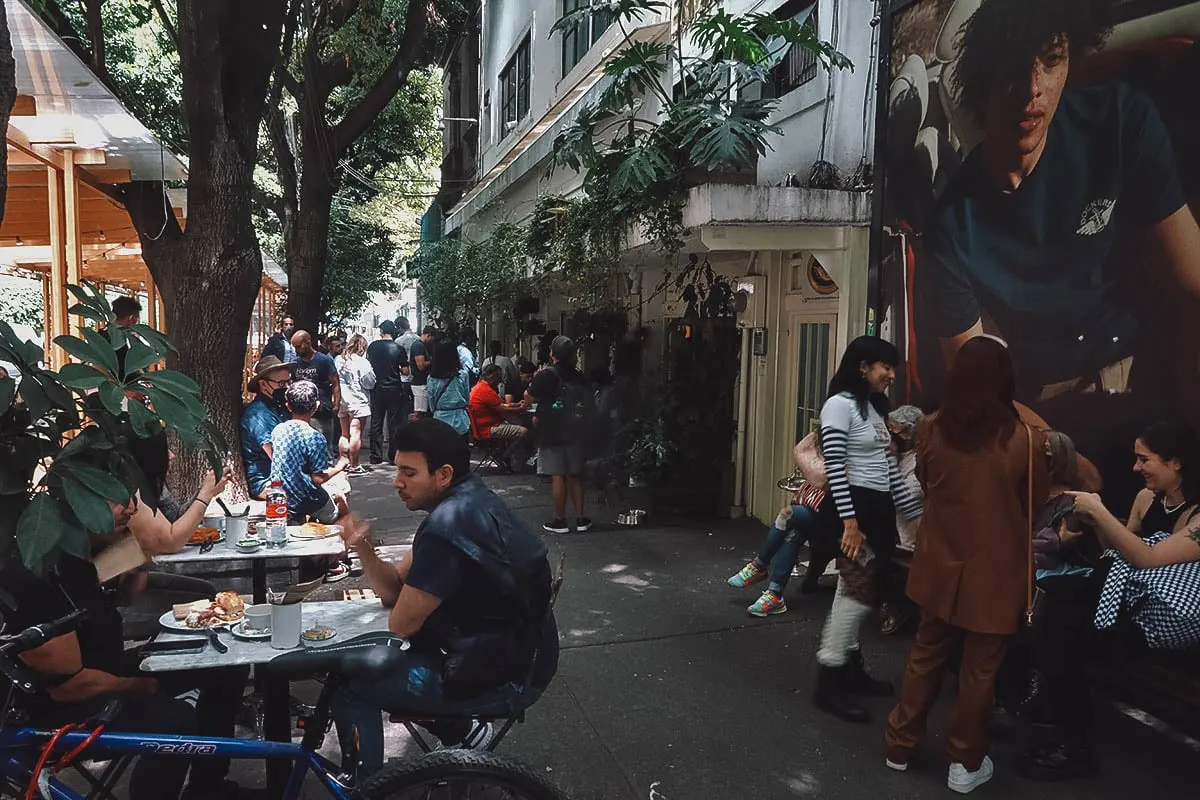 Panaderia Rosetta
Address: Colima 179, Roma Nte., Cuauhtémoc, 06700 Ciudad de México, CDMX, Mexico
Operating Hours: 7AM-10PM, Mon-Sat / 7:30AM-9:30PM, Sunday
What to Order: Pastries, light brunch dishes
4. Antolina
Antolina is a great restaurant to visit in the leafy Condesa neighborhood. They serve elevated Mexican cuisine using local ingredients sourced mostly from the chinampas of Xochimilco.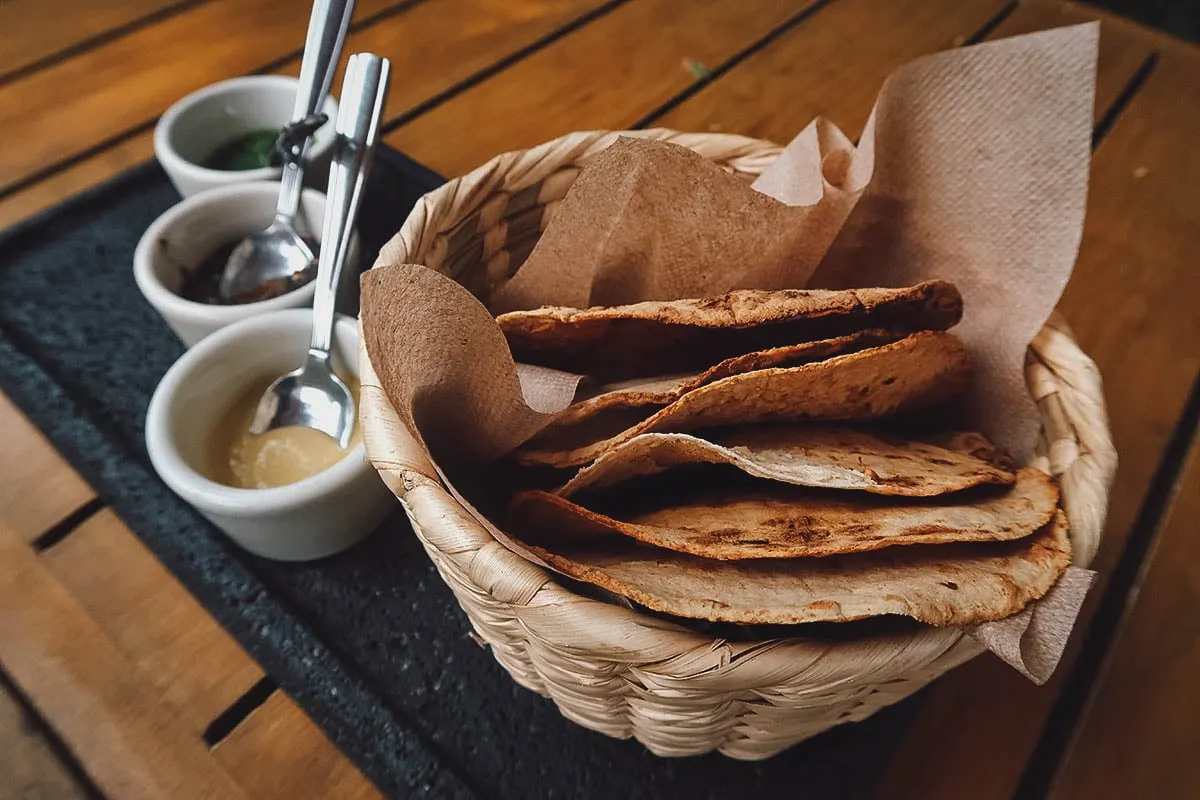 Isn't this dish beautiful? We shared this starter of molotes de platano in mole negro. Molote refers to a Mexican appetizer or snack made with fried corn masa filled with different ingredients. These were filled with cottage cheese and huazontle.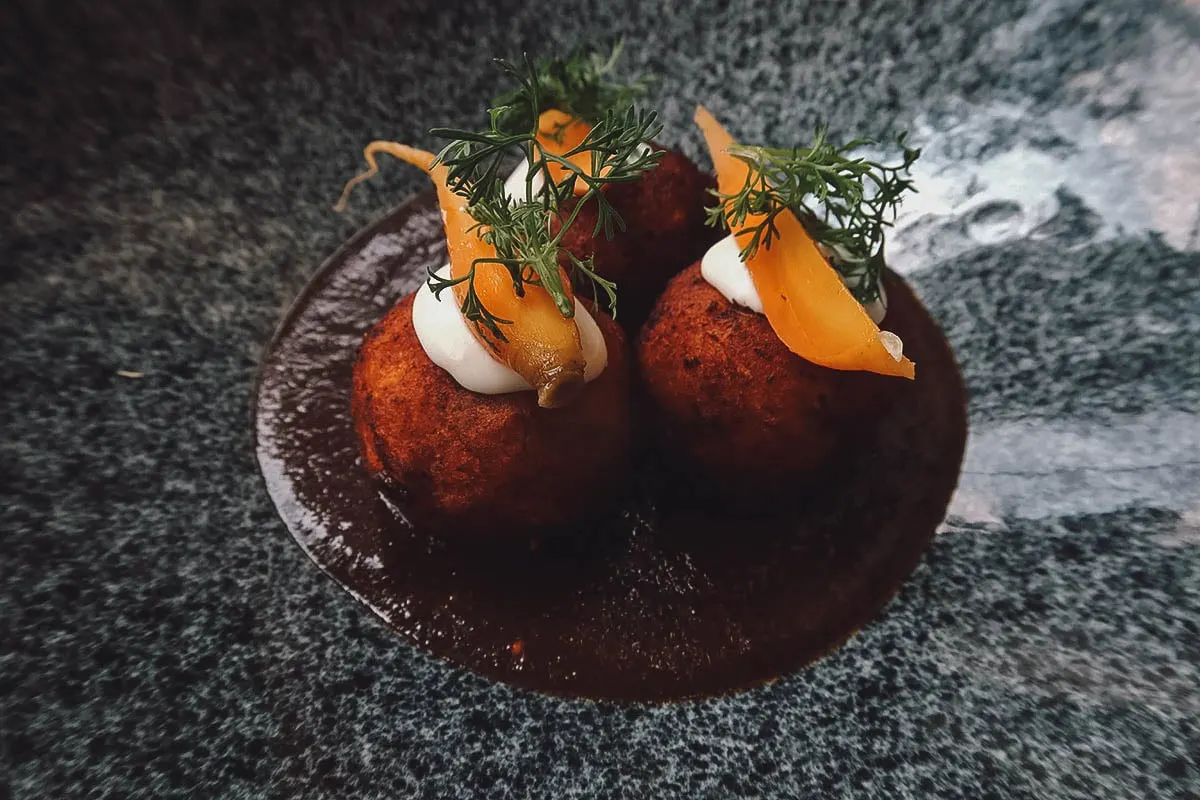 Can you ever say no to roasted bone marrow? For one of our entrees, we went with these beef flautas drenched in green salsa and served with a side of roasted bone marrow. The bone marrow was nice but a little thin.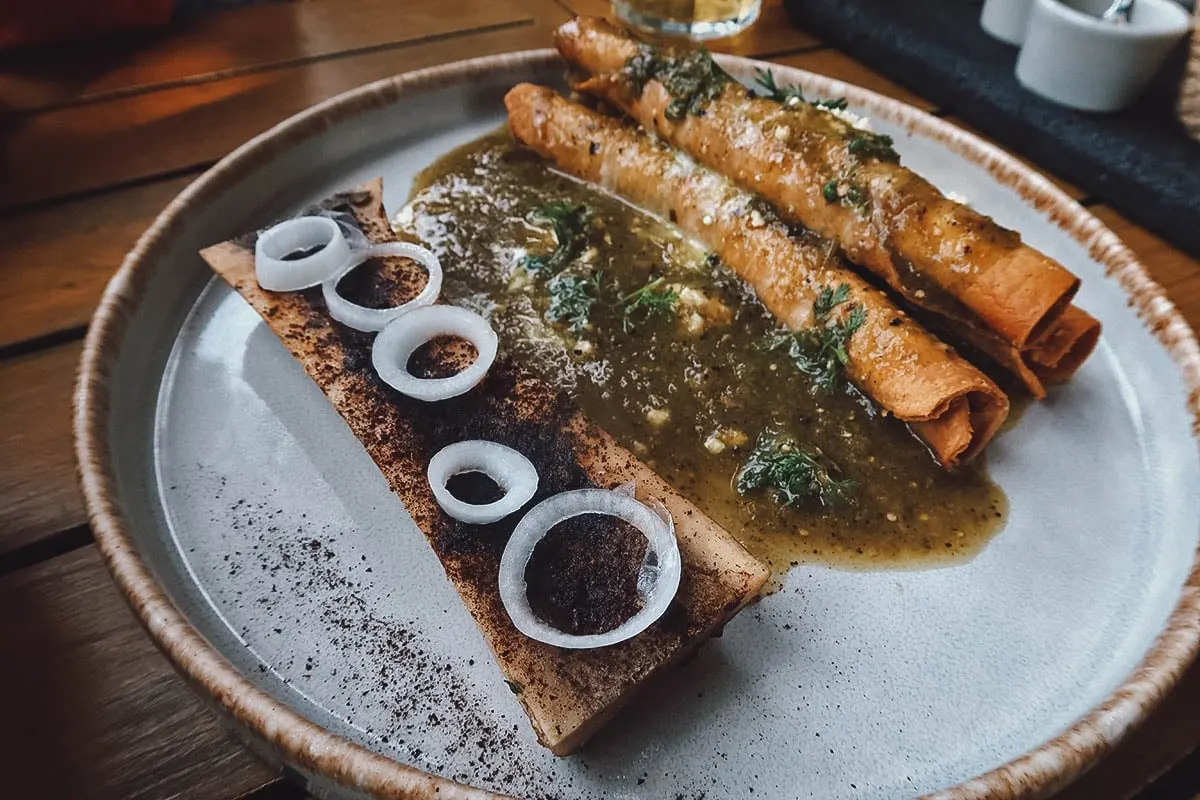 This was probably my favorite dish from today's meal. It doesn't look like it but pictured below are beef and pork short ribs served in mole manchamanteles. The short ribs are coated in a tempura-style batter and then deep-fried.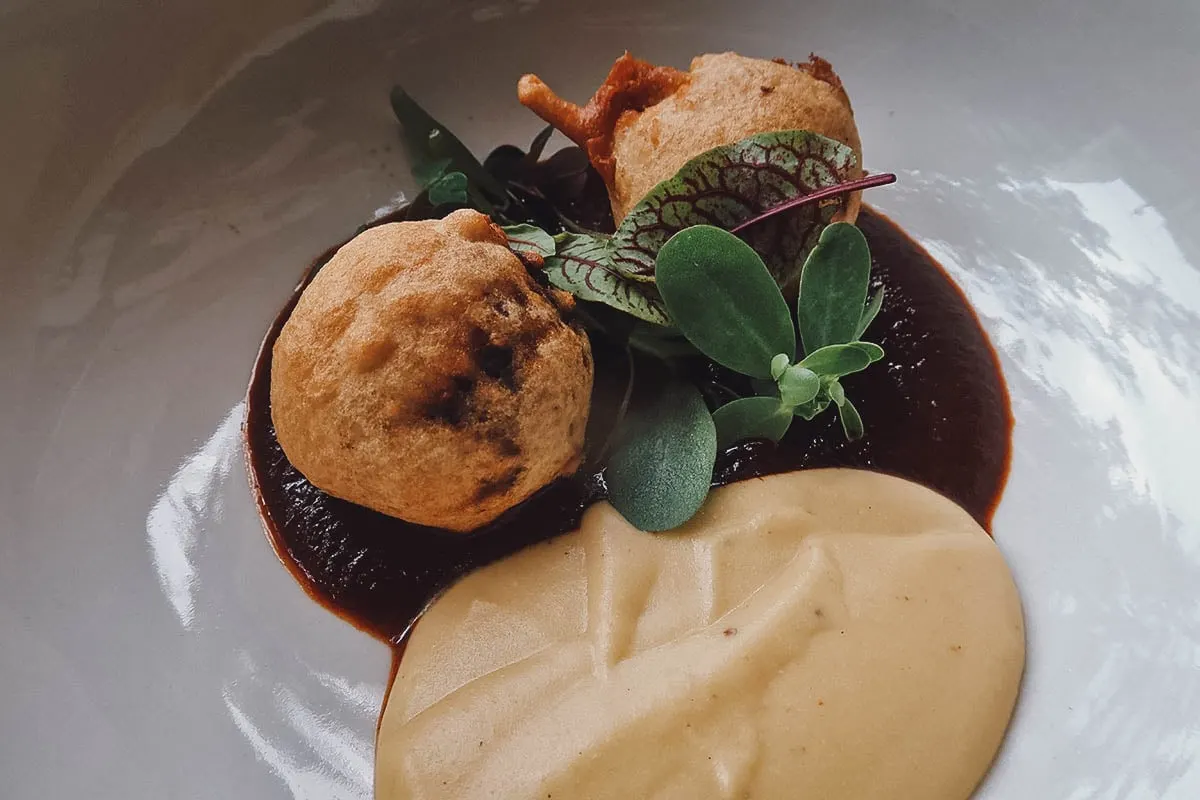 Antolina has a lovely dining room but it was a beautiful day so we opted to sit outside. The Condesa neighborhood is great for that.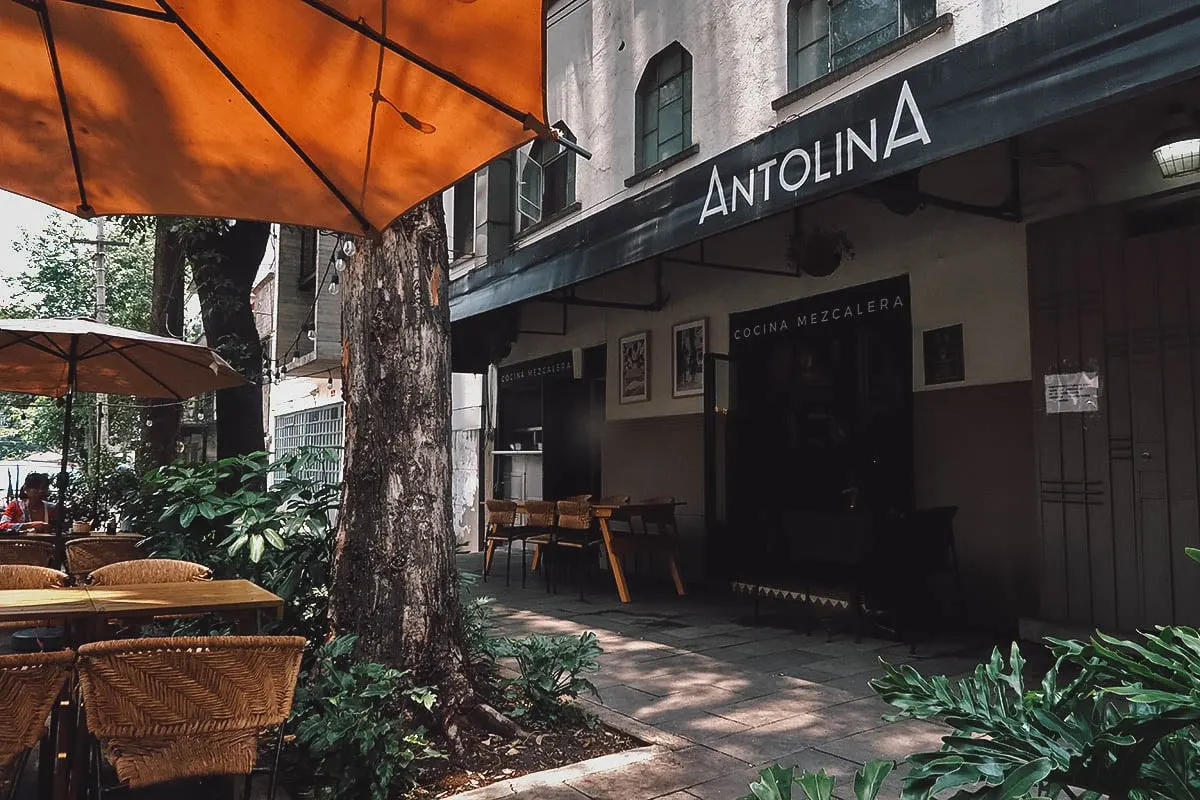 Antolina
Address: Aguascalientes 232, Hipódromo, Cuauhtémoc, 06100 Ciudad de México, CDMX, Mexico
Operating Hours: 1-10:30PM, Sun-Wed / 1-11:30PM, Thurs-Sat
What to Order: Molotes, tostadas, flautas
5. El Inicio
El Inicio is a casual restaurant in Roma Norte that serves typical breakfast fare and Mexican comfort food like enchiladas, enfrijoladas (enchiladas in bean sauce), huevos revueltos (scrambled eggs), and omelettes.
Pictured below is a delicious crepe filled with huitlacoche and drowned in a rich mole poblano sauce. Huitlacoche was one of the ingredients we were most excited to try in Mexico. It's the Mexican term for corn smut, a fungus that grows on maize. It has a taste and texture very similar to mushrooms.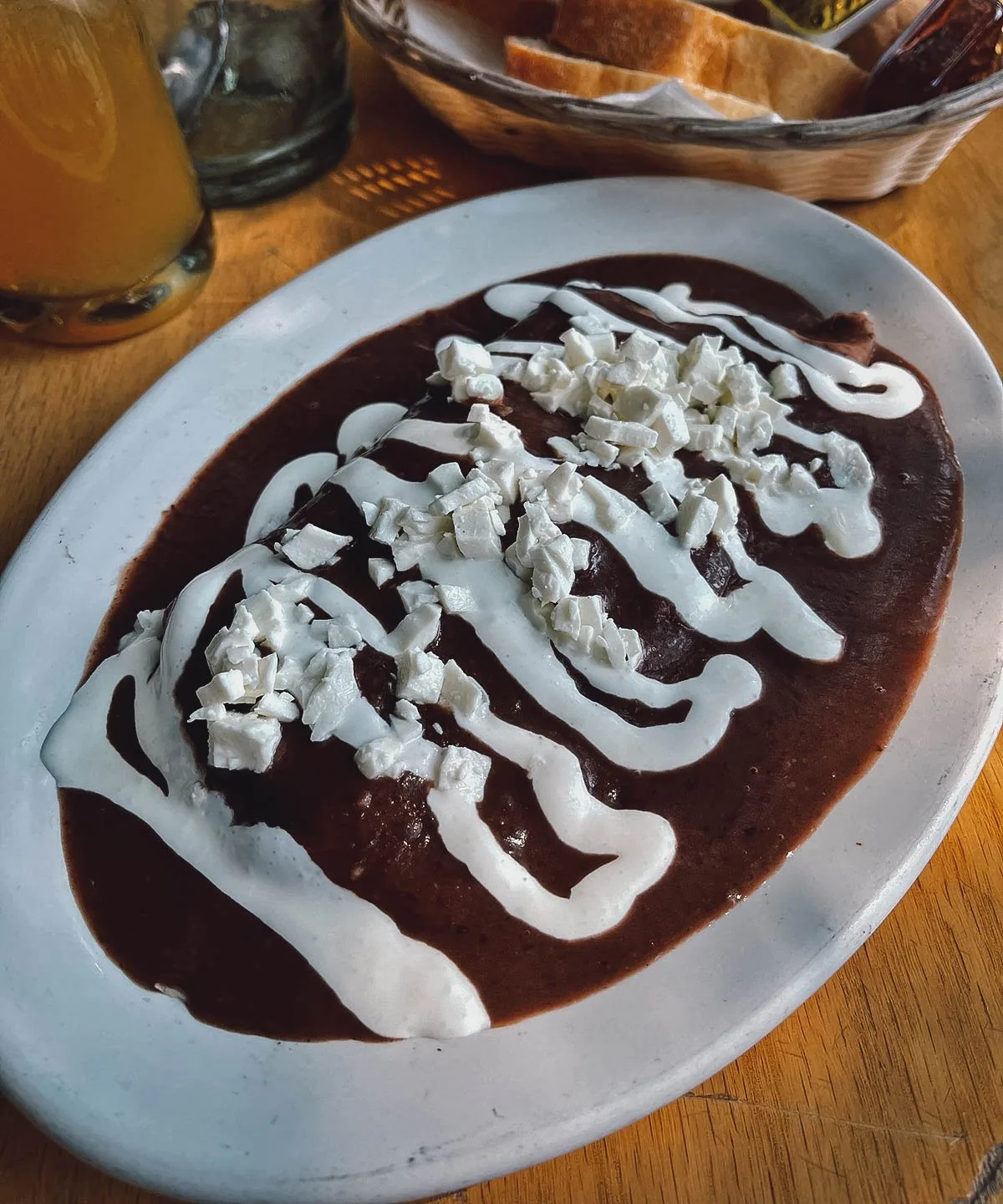 El Inicio is a great place to enjoy a casual Mexican meal in Roma Norte.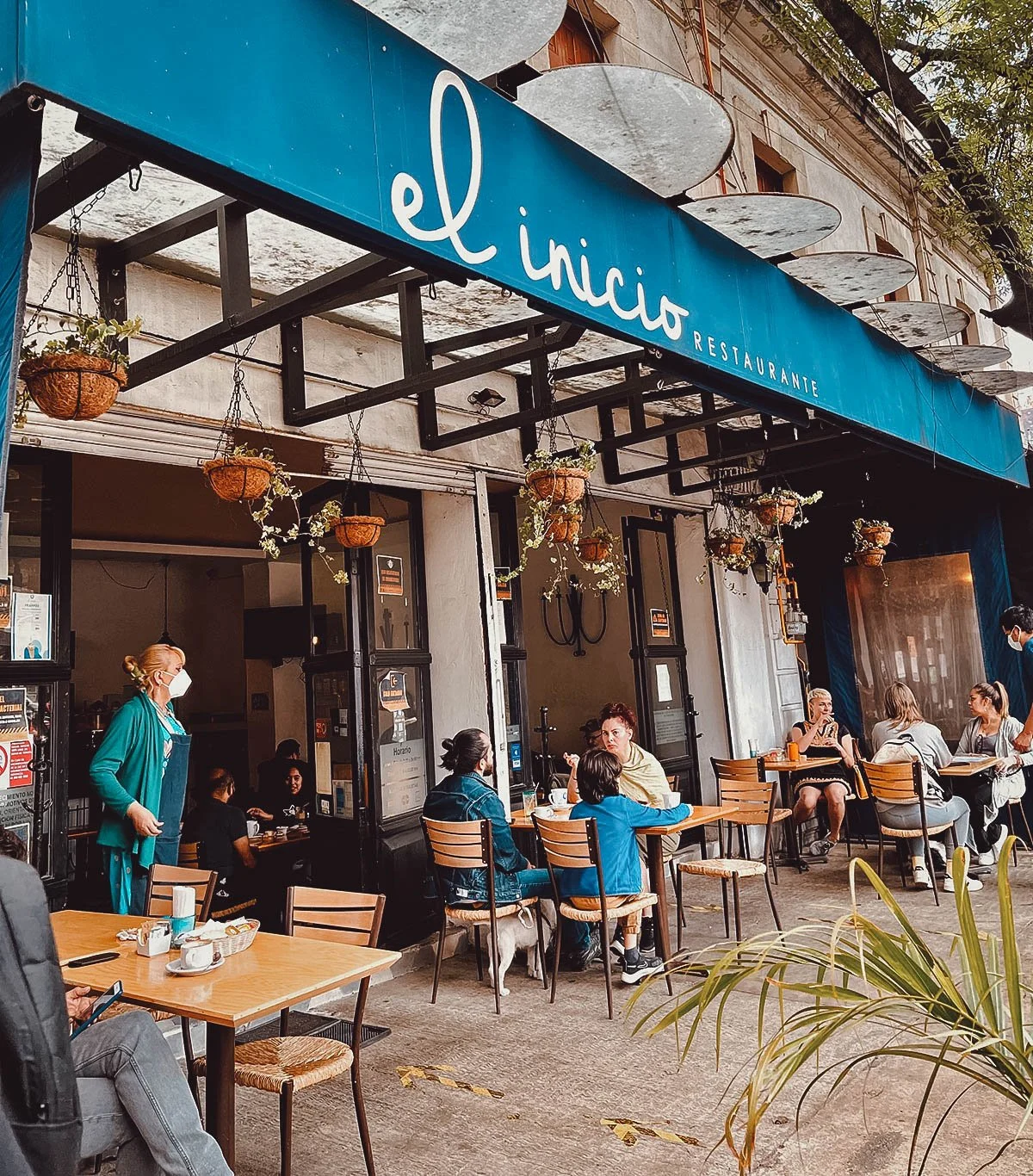 El Inicio
Address: Av. Álvaro Obregón 61, Roma Nte., Cuauhtémoc, 06700 Ciudad de México, CDMX
Operating Hours: 8:30AM-10PM, Mon-Sat / 8:30AM-6PM, Sunday
What to Order: Enchiladas, enfrijoladas, enmoladas
6. Fonda Margarita
A fonda is a small, family-run Mexican restaurant, similar to an Indonesian warung. Typically located inside a mercado (market), most offer simple menus with classic Mexican dishes made with the freshest local ingredients. I'm partial to traditional Mexican restaurants so fondas were among my favorite places to eat in Mexico.
There are many fondas in Mexico City but one of the most popular is Fonda Margarita. This place is so well-known that a relative of ours, who's never been to Mexico City, asked us about it. According to him, his Mexican co-workers are always telling him about this fantastic restaurant in Mexico City that serves the most delicious breakfast dishes.
Fonda Margarita offers just a few dishes on their menu but one of the things they're best known for are these frijoles negros con huveos, or "black beans with eggs". I believe they serve them to everyone who eats here as a side dish. They're delicious and go so well with fresh tortillas.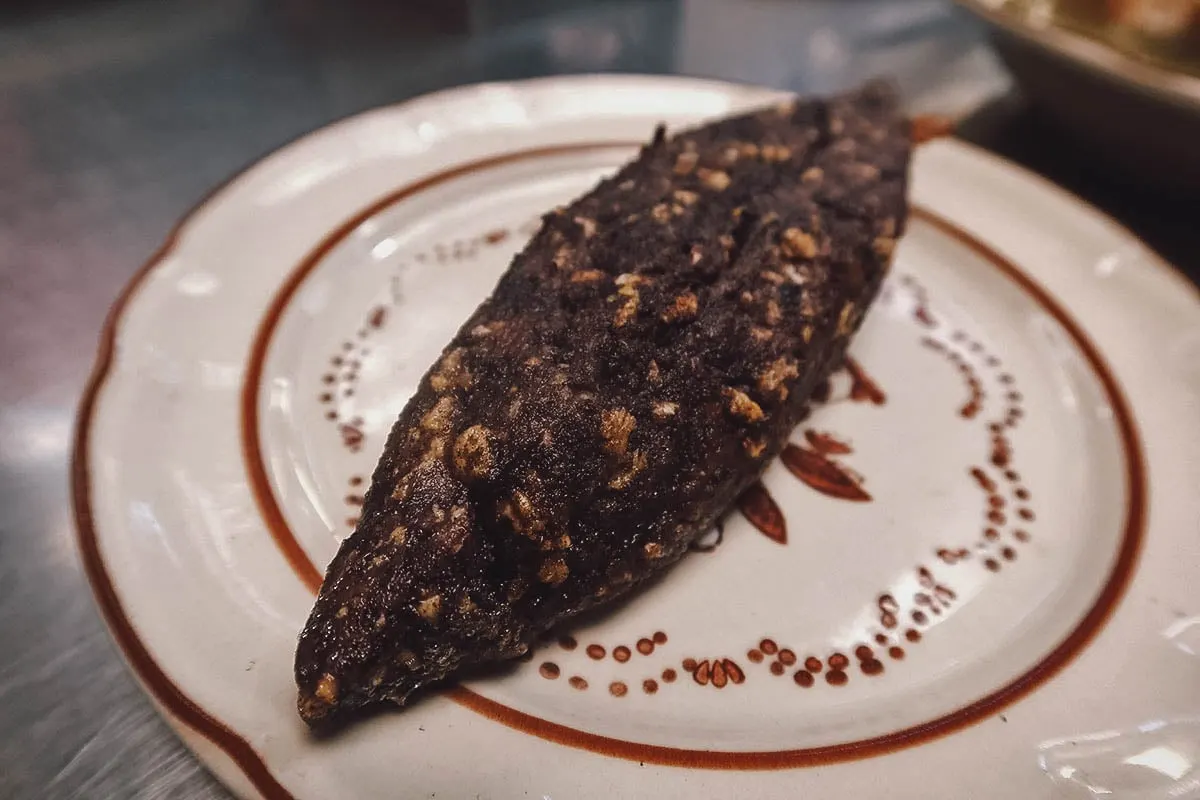 Pictured below is a shallow bowl of cerdo en salsa verde or "pork in green salsa". The green salsa in this dish was one of the best we had anywhere in Mexico.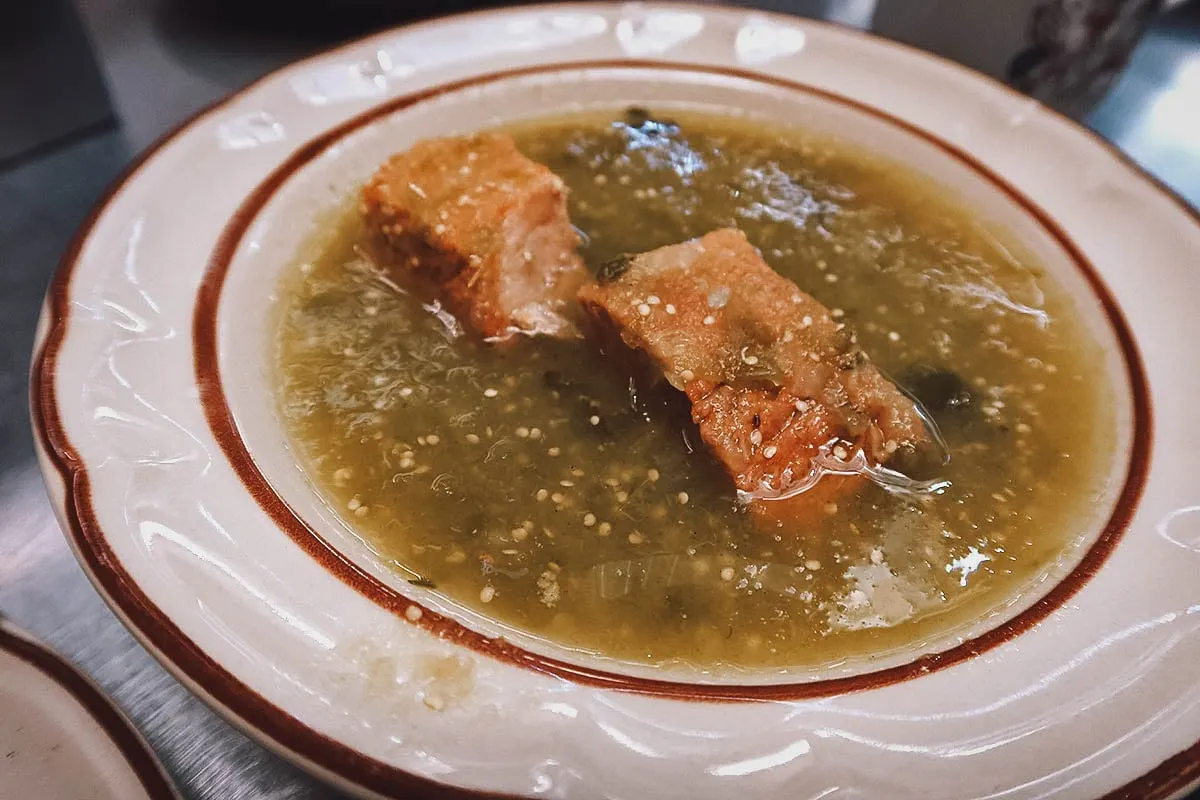 Even better than the pork dish were these fried egg tostadas served with a tasty pasilla chili sauce. The dishes at Fonda Margarita are simple but they're made with soul.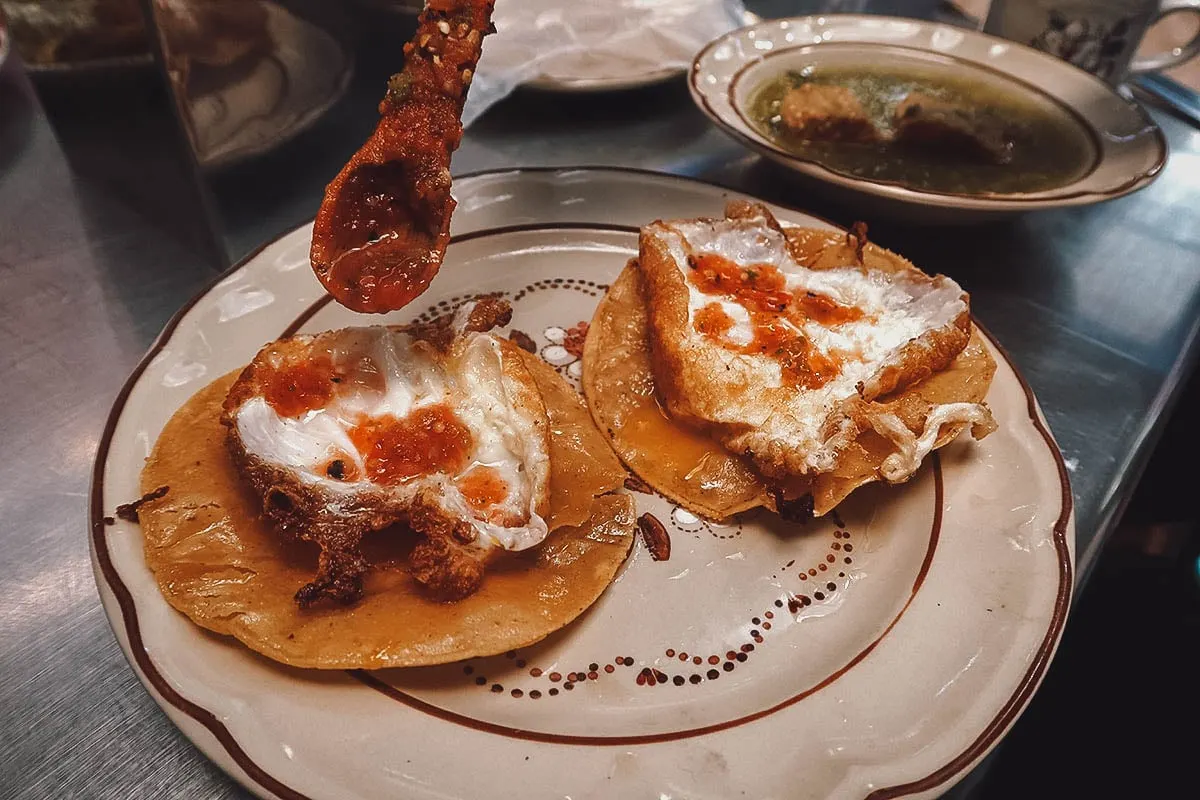 We weren't planning on having anything else but we saw many locals tucking into this flan-like dessert. I've had jericalla and other flan-like dishes in Mexico but this was our first time trying jeriqueso. As its name suggests, it's a type of flan made with cheese. So good!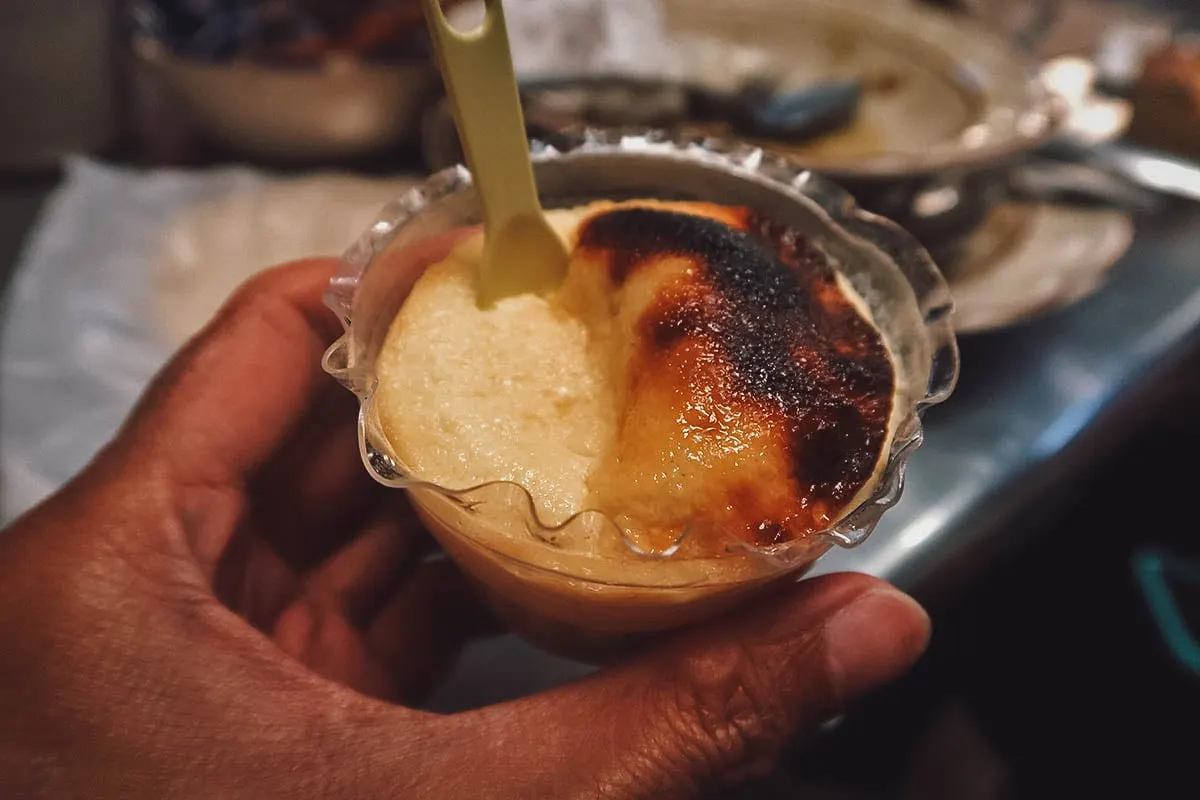 If you'd like to enjoy a simple but authentic Mexican breakfast in the city, then Fonda Margarita is a great place to go. They're open Tuesday to Sunday until noon.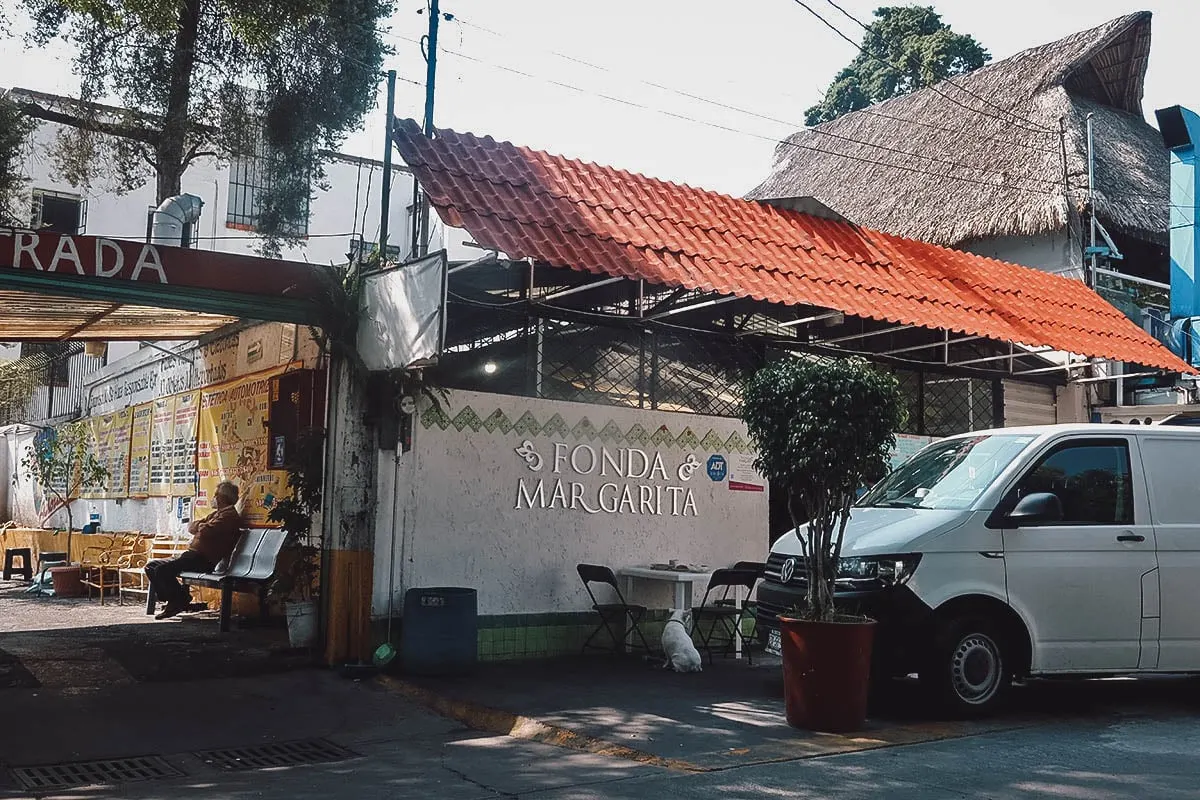 At Fonda Margarita, you'll be sharing a table with mostly locals. Authentic ad unpretentious, these are exactly the types of restaurants we look for on our trips.
I don't know if they have them everyday but there was a three-person band playing live bolero music while we were there. We loved the atmosphere of this place.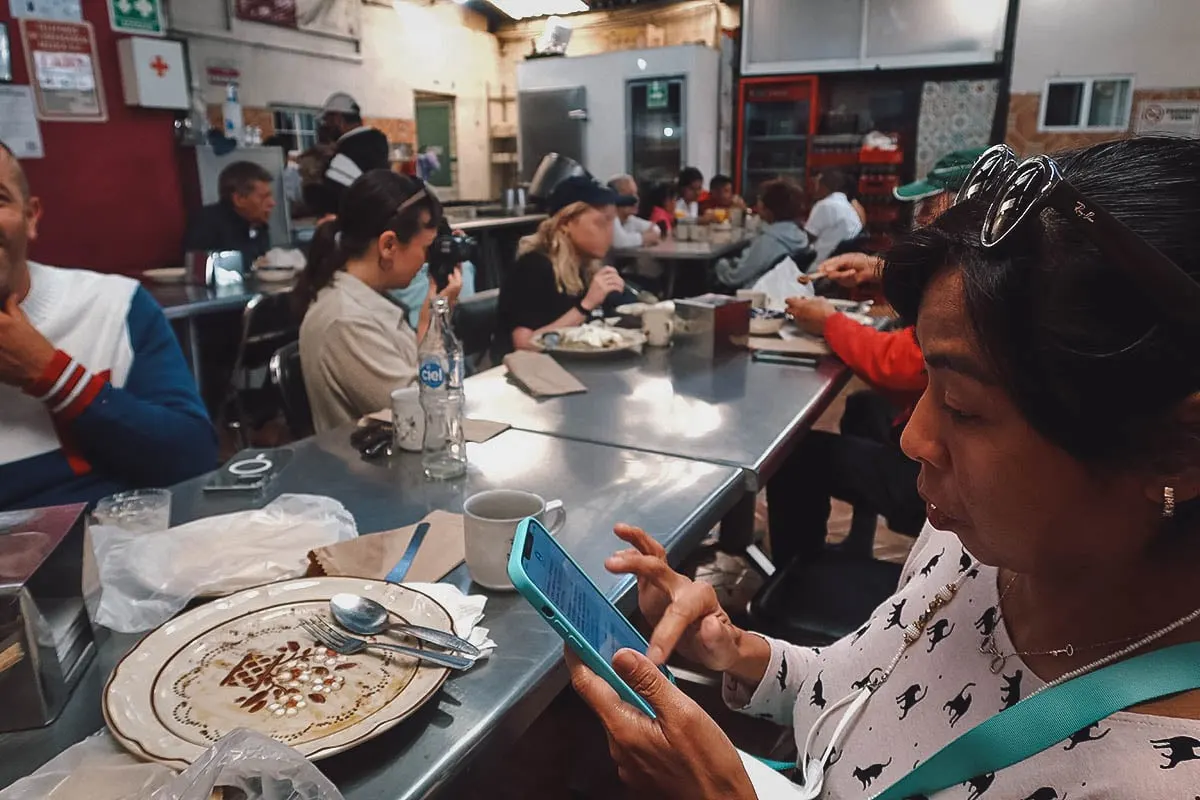 Fonda Margarita
Address: Adolfo Prieto 1364 B, Tlacoquemecatl del Valle, Benito Juárez, 03100 Ciudad de México, CDMX, Mexico
Operating Hours: 6:30AM-12NN, Tue-Sun (closed on Mondays)
What to Order: Traditional Mexican breakfast
TAQUERIAS / STREET FOOD STALLS
Mexican food is terrific in general but I'm partial to street food so tacos are one of my favorite things about Mexico City. It's known as the "taco capital of the world" for a reason.
I've listed our favorites taquerias below but be sure to click through to our article on the best tacos in Mexico City for more recommendations.
7. Tacos Don Juan
With all the delicious tacos in Mexico City, you'd think we'd have a hard time picking a favorite but we didn't. Tacos Don Juan in the upscale La Condesa neighborhood was our hands-down favorite taqueria in Mexico City. We enjoyed this place so much that we wound up eating here five times in two weeks.
Tacos Don Juan is a casual neighborhood joint that serves a wealth of tasty tacos made from suadero, lengua, carnitas, pastor, and more. We never had a bad taco here. Everything we ate was absolutely delicious, especially the quesabirria which they serve only on weekends.
Tacos Don Juan gets a steady stream of customers during the week but on weekends, the place gets jam-packed with peole pining for those delicious quesabirria tacos. Be sure to arrive early because they do run out.
Pictured below is a tasty pair of tacos made with suadero (meat from between the belly and leg) and lengua (tongue). Suadero is already one of the best tacos you can eat in Mexico City but Tacos Don Juan makes it even better. They have a version with toasted cheese as well (suaqueso or suadero con queso). Don't miss it.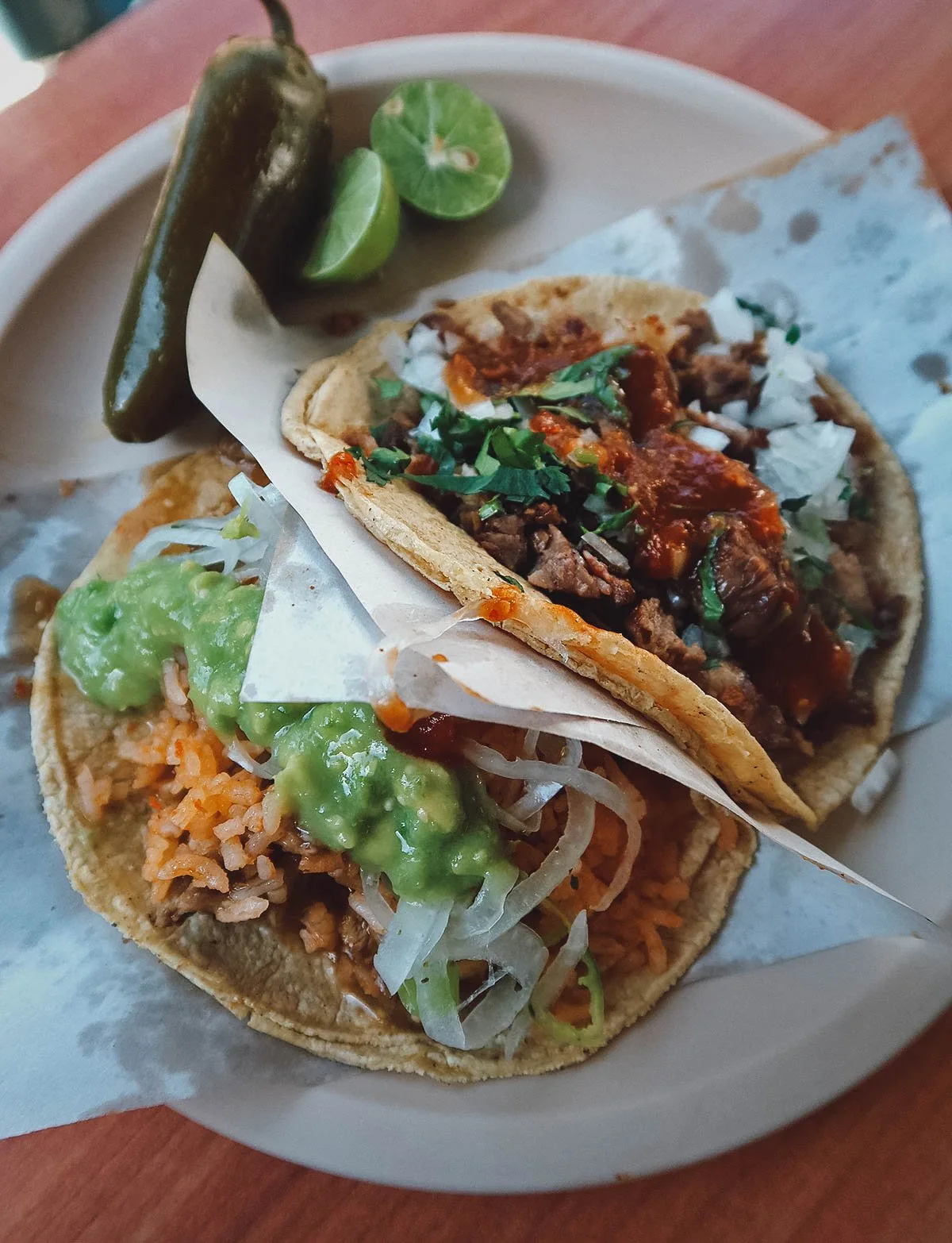 This is the line to Tacos Don Juan on a weekday. It gets way more crowded than this on Saturdays and Sundays.
The humble taco is the flag-bearer for Mexican street food and Don Juan is one of the best taco spots to visit in Mexico City.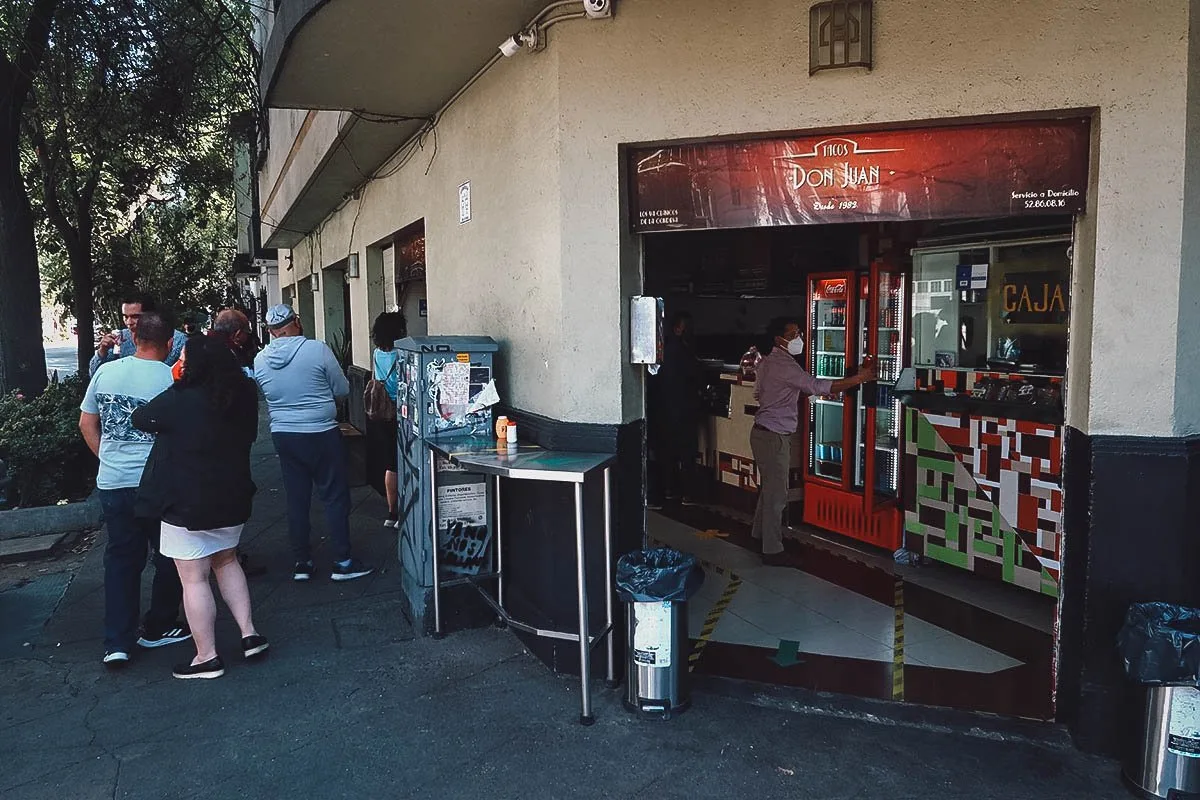 Tacos Don Juan
Address: Calle Juan Escutia 35, Colonia Condesa, Cuauhtémoc, 06140 Ciudad de México, CDMX
Operating Hours: 10AM-4:45PM, Mon-Fri / 10AM-3PM, Sat-Sun
What to Order: Suadero, quesabirria, carnitas
8. El Pescadito
You think Tacos Don Juan is a good enough reason to visit La Condesa? How about two good reasons? El Pescadito is another great taqueria in Mexico City that's located directly across the street from Don Juan. How's that for convenience?
Unlike Don Juan which serves tacos topped with different meat fillings, El Pescadito is known for its fish and shrimp tacos. It's one of the best seafood restaurants we visited in Mexico City. Because they have such different offerings from Don Juan, you can easily visit both on the same day, one after the other.
Pictured below is what they call the que-sotote, a taco made with a shrimp- and cheese-stuffed chili pepper served with even more shrimp and cheese. Like Don Juan, El Pescadito serves loaded tacos so be careful not to overorder.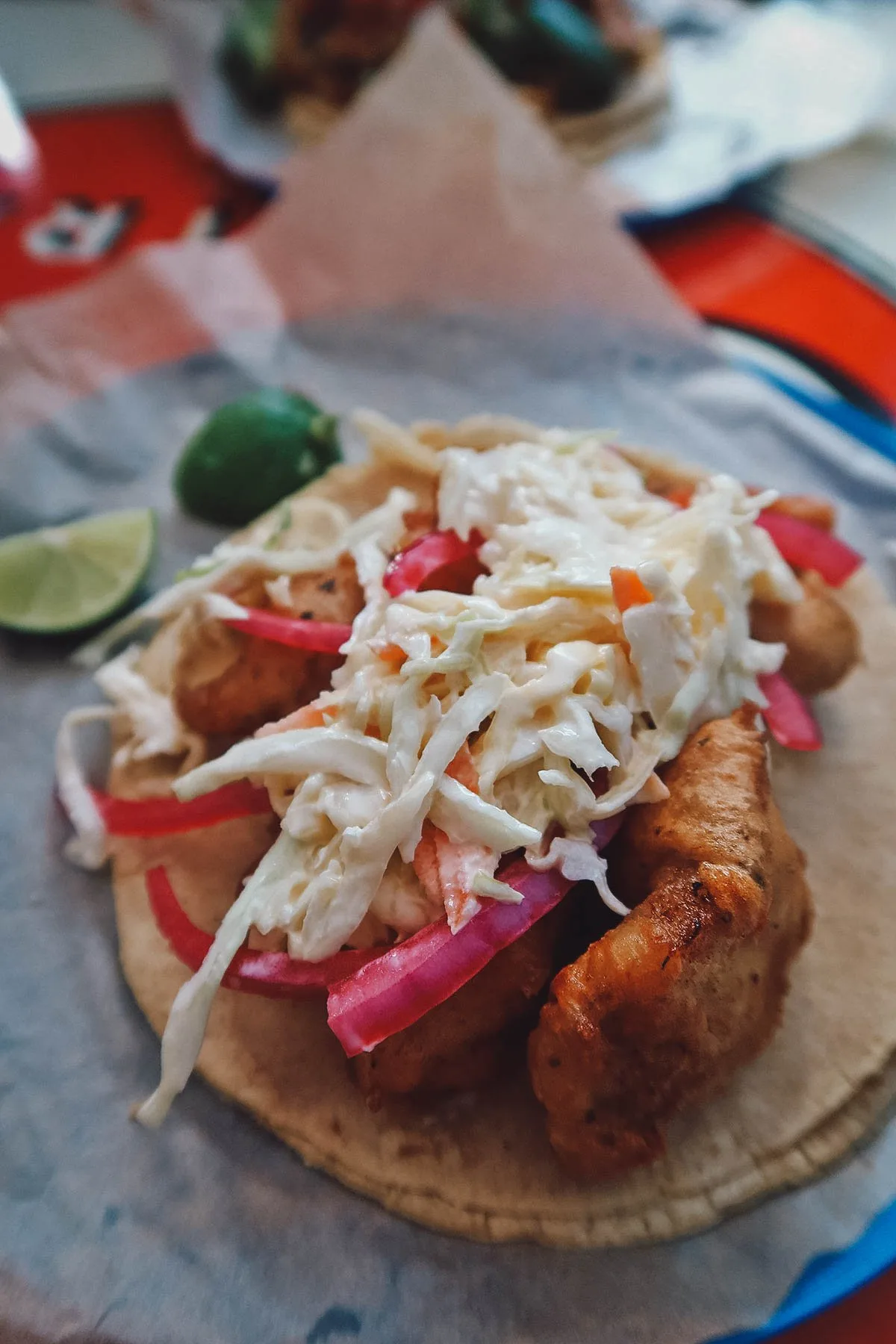 As much as I love seafood, I'm not as big a fan of fish or shrimp tacos but the offerings at El Pescadito are some of the best we've had anywhere in Mexico. They're absolutely delicious.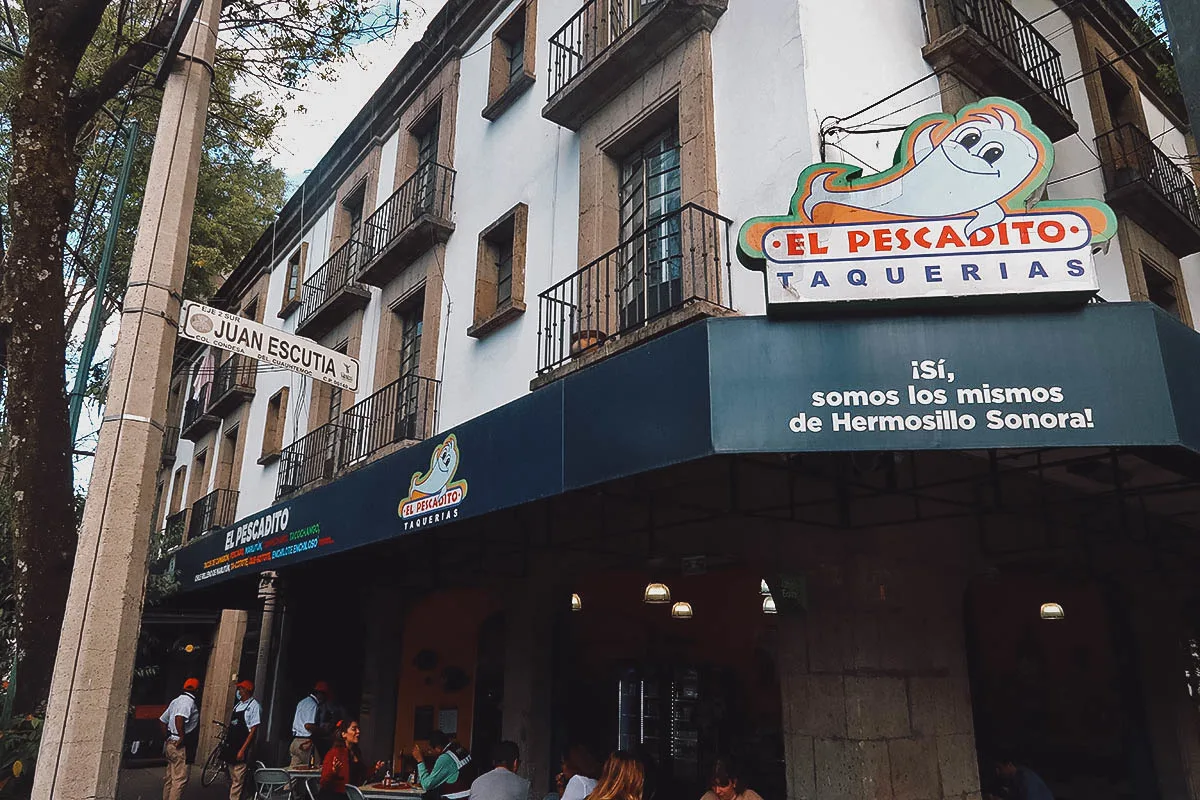 El Pescadito
Address: C. Atlixco 38, Colonia Condesa, Cuauhtémoc, 06140 Ciudad de México, CDMX
Operating Hours: 10AM-6PM, daily
What to Order: Pescado, camaron
9. El Vilsito (The Best Tacos al Pastor!)
When it comes to tacos in Mexico City, there's nothing more iconic than tacos al pastor. It's arguably the most popular taco in the capital and something you'll find in every neighborhood in Mexico City.
If you've never had it, tacos al pastor are made with corn tortillas topped with thin shavings of spit-roasted pork sliced from a vertical rotisserie. It evolved from tacos arabes in Puebla, a dish that was introduced to Mexico by Lebanese immigrants who migrated to the country after the First World War. You can think of tacos al pastor as the Mexican version of Lebanese shawarma.
We enjoyed many tasty tacos al pastor in Mexico City, so it's hard to pick a favorite, but El Vilsito is definitely one of the best. It's the unique garage/taqueria featured in the tacos al pastor episode of Taco Chronicles on Netflix.
Pictured below is a beautiful pair of tacos al pastor from El Vilsito. They load them up with lots of al pastor meat, chopped onions, cilantro, and a slice of grilled pineapple. This truly is Mexican street food at its most delicious.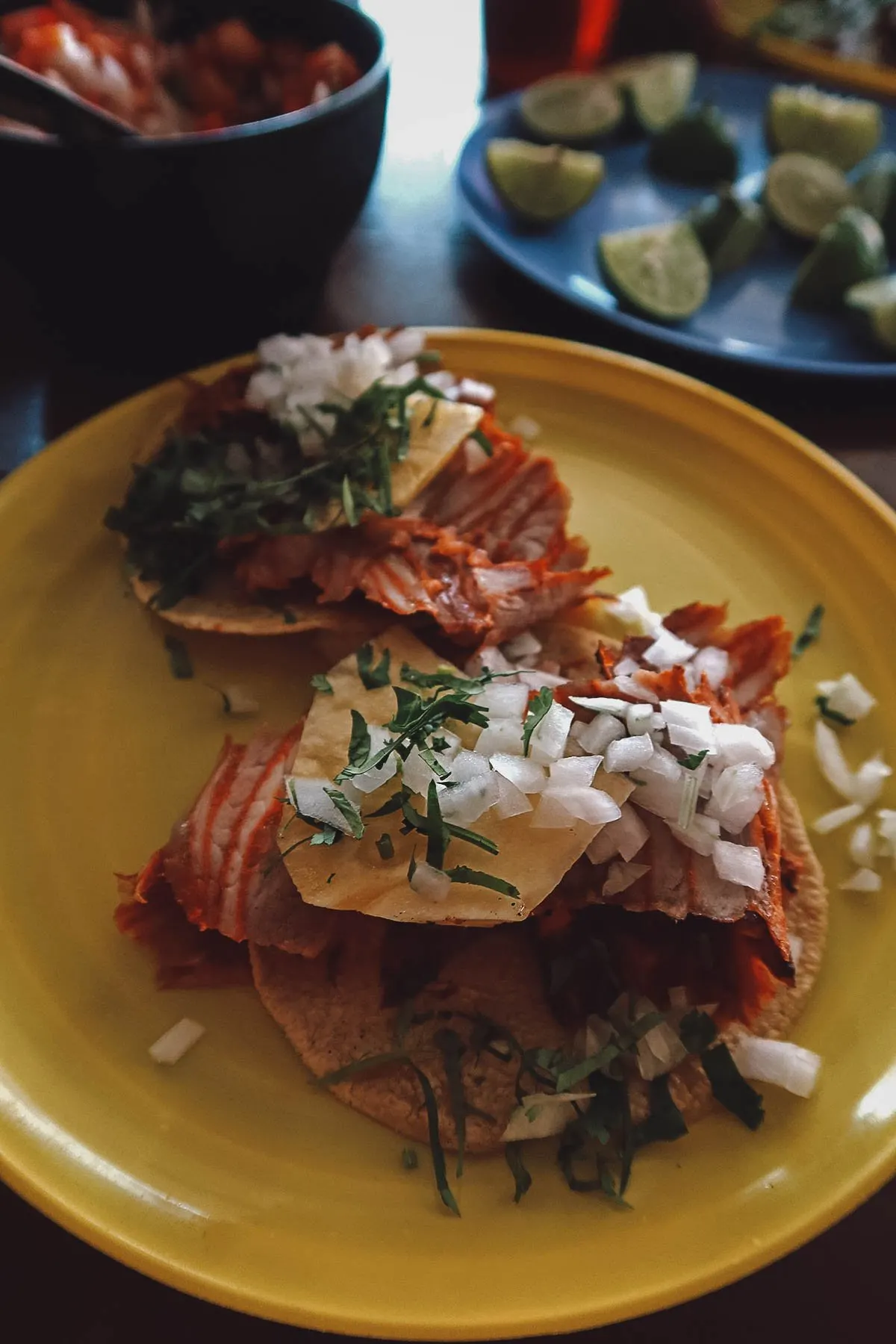 El Vilsito is definitely one of the more unique restaurants we visited in Mexico City. It operates in the same space as an auto repair shop.
One customer drove in with his Kia and stopped to get some tacos while he waited for an estimate. Why can't we have a taqueria like this at our car repair shop? Ha!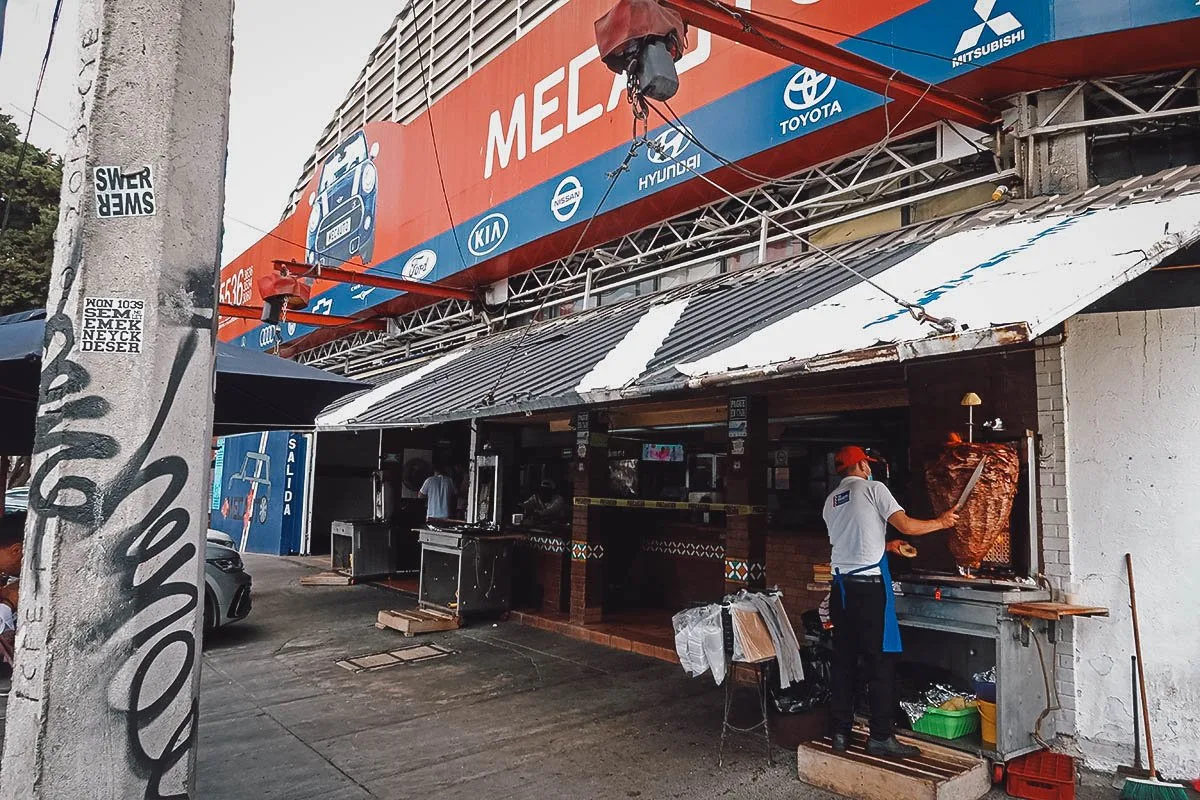 El Vilsito
Address: Petén 248 y, Avenida Universidad, Narvarte Poniente, 03020 Ciudad de México, CDMX
Operating Hours: 2PM-3AM, Mon-Thurs / 2PM-5AM, Fri / 3PM-5AM, Sat / 3PM-12MN, Sun
What to Order: Tacos al pastor
10. Tacos Hola El Güero
Tacos Hola El Güero is another terrific taqueria in La Condesa. Like the previous two, it's exceedingly popular with locals. We walked by this place a lot and it was almost always full no matter what time of day.
Tacos Hola El Güero specializes in tacos de guisados, a type of taco filled with a variety of stewed meats and vegetables like chicharron (pork skin), higado (liver), picadillo (hash), and calabazitas (pumpkin). If you're a vegetarian, then meatless tacos de guisados are a great option for food in Mexico City.
What you're looking at below is a quartet of tacos de guisados topped with higado, chorizo with potatoes, picadillo, and chicharron with salsa.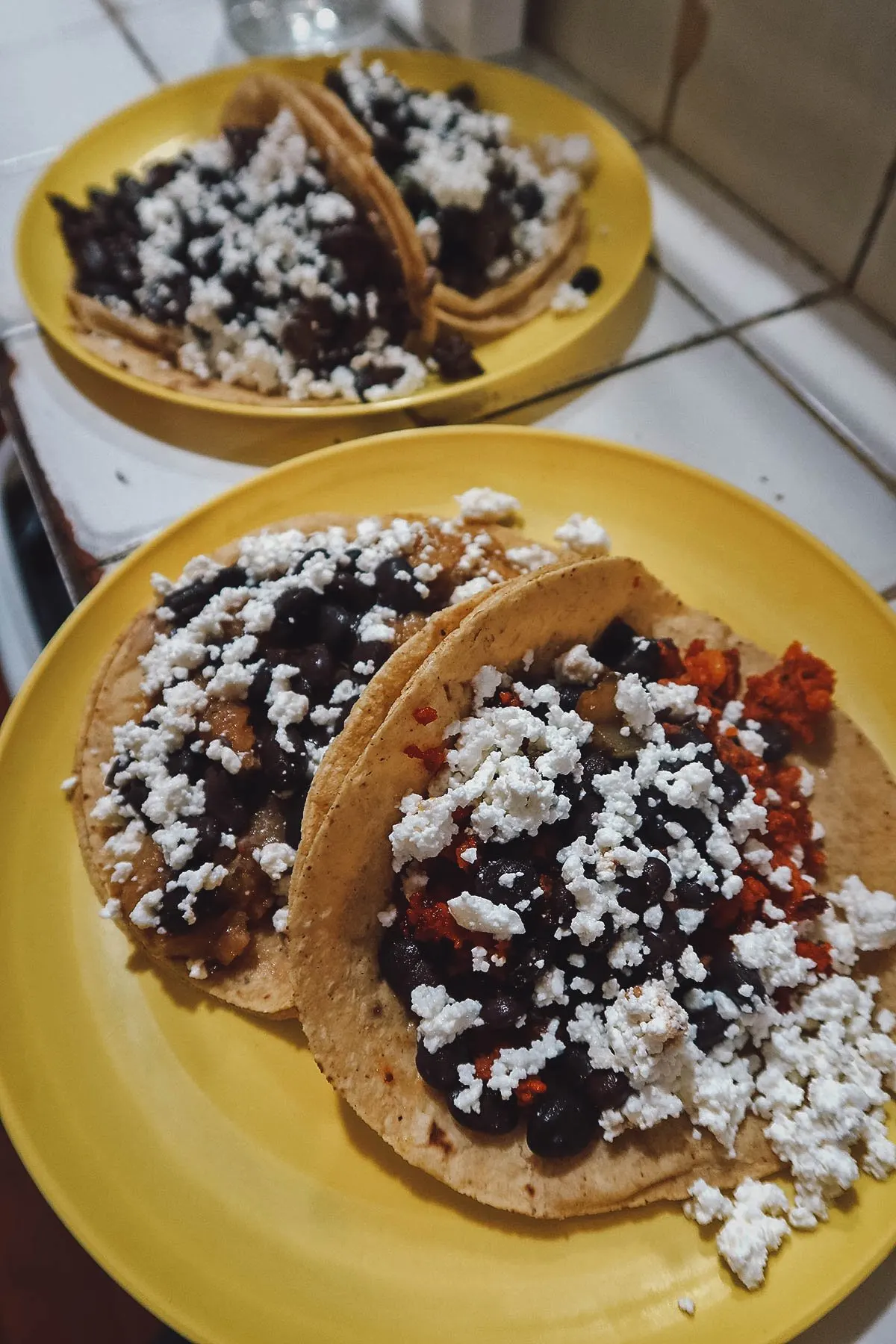 This is the scene you can expect to find at Tacos Hola El Güero – just a bunch of locals enjoying their tacos de guisados on the sidewalk. I absolutely love Mexican street food.
As expected, Hola El Güero gets especially crowded at peak times so I suggest going during off-hours if you can. Tacos de guisados can get a little messy so they're best eaten while sitting down.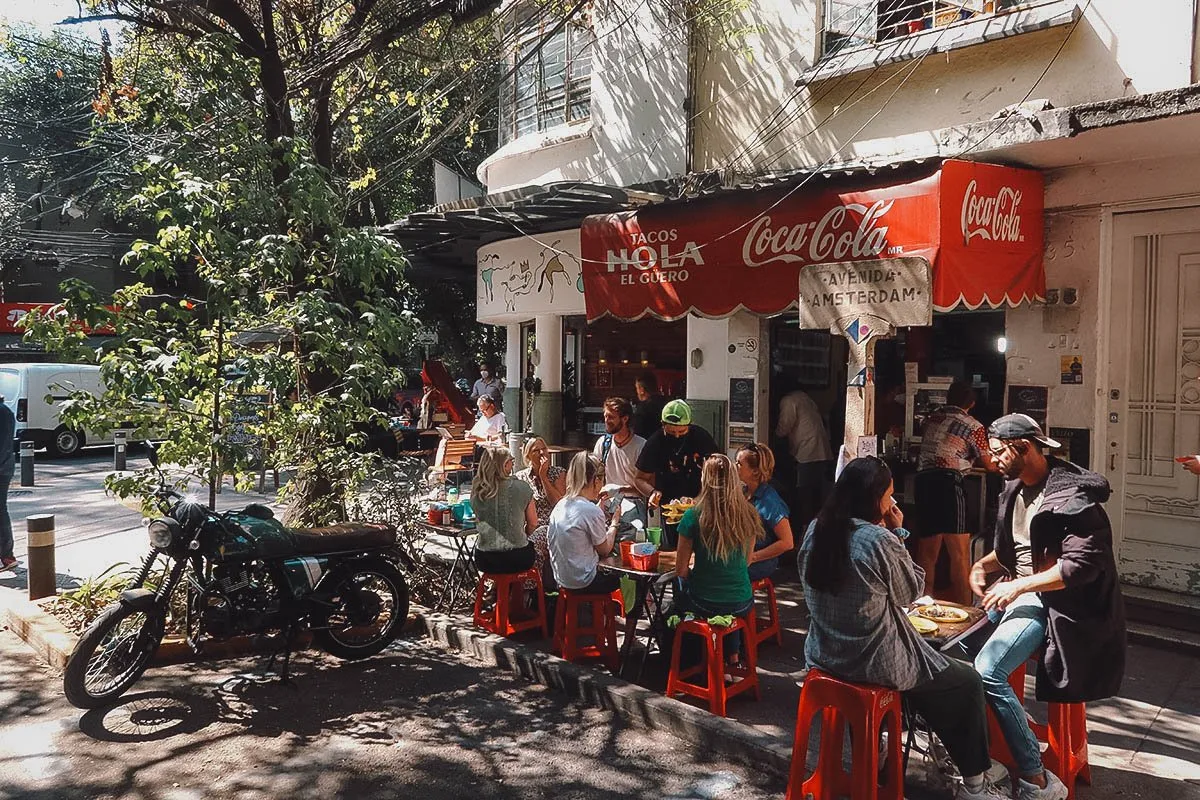 Tacos Hola El Güero
Address: Amsterdam 135, Hipódromo, Cuauhtémoc, 06100 Ciudad de México, CDMX
Operating Hours: 9AM-9PM, Mon-Fri / 9AM-7PM, Sat / 8:30AM-3:30PM, Sun
What to Order: Tacos de guisado
11. Tacos de Canasta Los Especiales
Tacos de canasta or "basket tacos" is another type of taco that you should try in Mexico City. They consist of tacos filled with various stews and ingredients like shredded chicken with tomatoes, chorizo with potatoes, refried beans, and more. The tacos are bathed in oil or butter and sold from baskets to keep them warm, hence the name "basket tacos".
Tacos de canasta are usually sold as street food but in the Historic Center (El Centro) of Mexico City, you can enjoy them at the ultra-popular Los Especiales restaurant. This place is like an assembly line for tasty tacos de canasta.
The line at the restaurant was too long at the time so I picked up an assorted order of five to go. These were some of the best-tasting tacos de canasta we've had anywhere in Mexico.
Located in the busy city center, the line to dine inside Los Especiales is always long. If you'd rather not wait, then you can get them to go and enjoy them on a bench somewhere.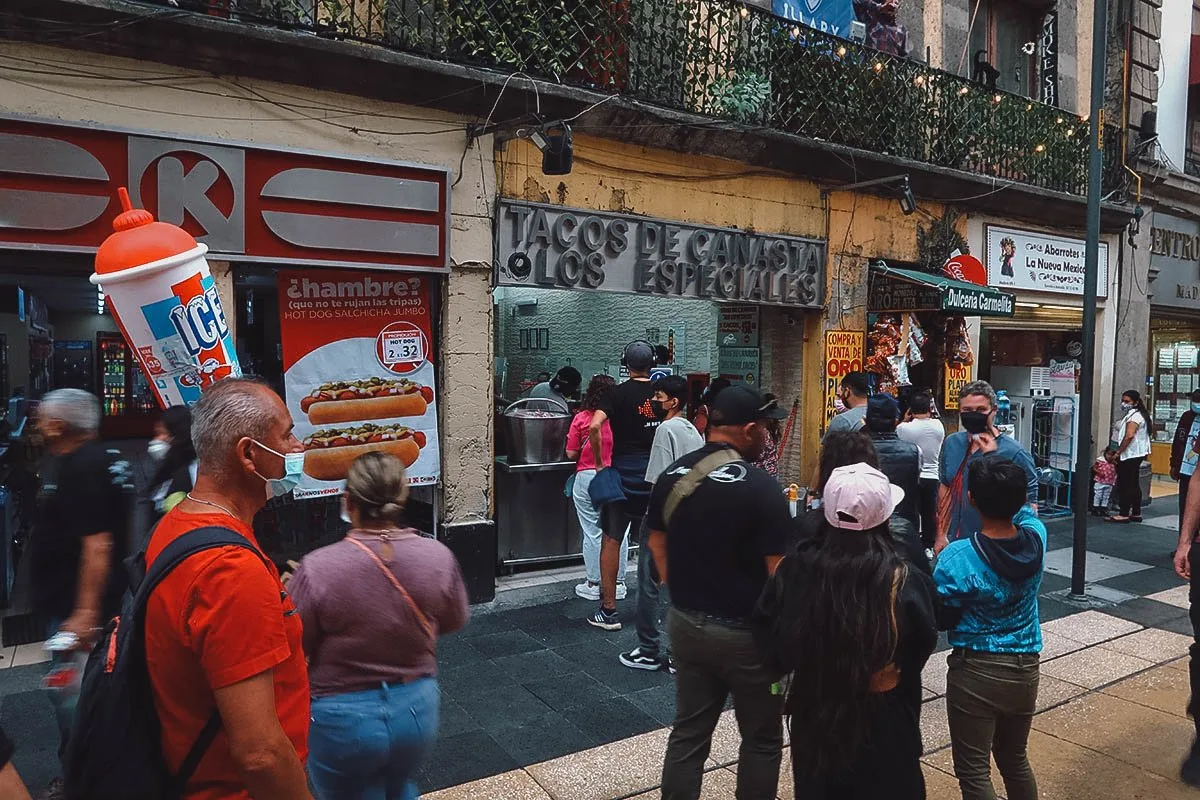 Tacos de Canasta Los Especiales
Address: Av Francisco I. Madero 71, Centro Histórico de la Cdad. de México, Centro, Cuauhtémoc, 06000 Ciudad de México, CDMX
Operating Hours: 9AM-10PM, Mon-Sat / 9AM-6PM, Sun
What to Order: Tacos de canasta
12. Tlacoyos at Mercado Medellin
When you hear the phrase "pre-Hispanic Mexican dish", what's the first thing you think of? For many people, it's tamales. But explore the streets of Mexico City and you'll find another pre-Columbian dish commonly sold as street food – tlacoyo.
Tlacoyo refers to a sandal-shaped Mexican dish made of corn masa. It can be stuffed with a variety of ingredients like beans, cheese, huitlacoche (corn smut), and chicharron before being toasted or fried.
We were about to enter Mercado Medellin in Roma Norte when we found this tlacoyo and quesadilla stall surrounded by customers. Among the customers waiting for their tlacoyo was a local guide leading a food tour. From her shirt, I could see she worked for one of the top food tour companies in Mexico City so I knew we had stumbled onto something really good.
Pictured below is our tasty tlacoyo filled with squash blossom, soft cheese (queso fresco), and beans. There were a lot of customers ahead of us so we had to wait a bit to get this, but it was definitely worth it.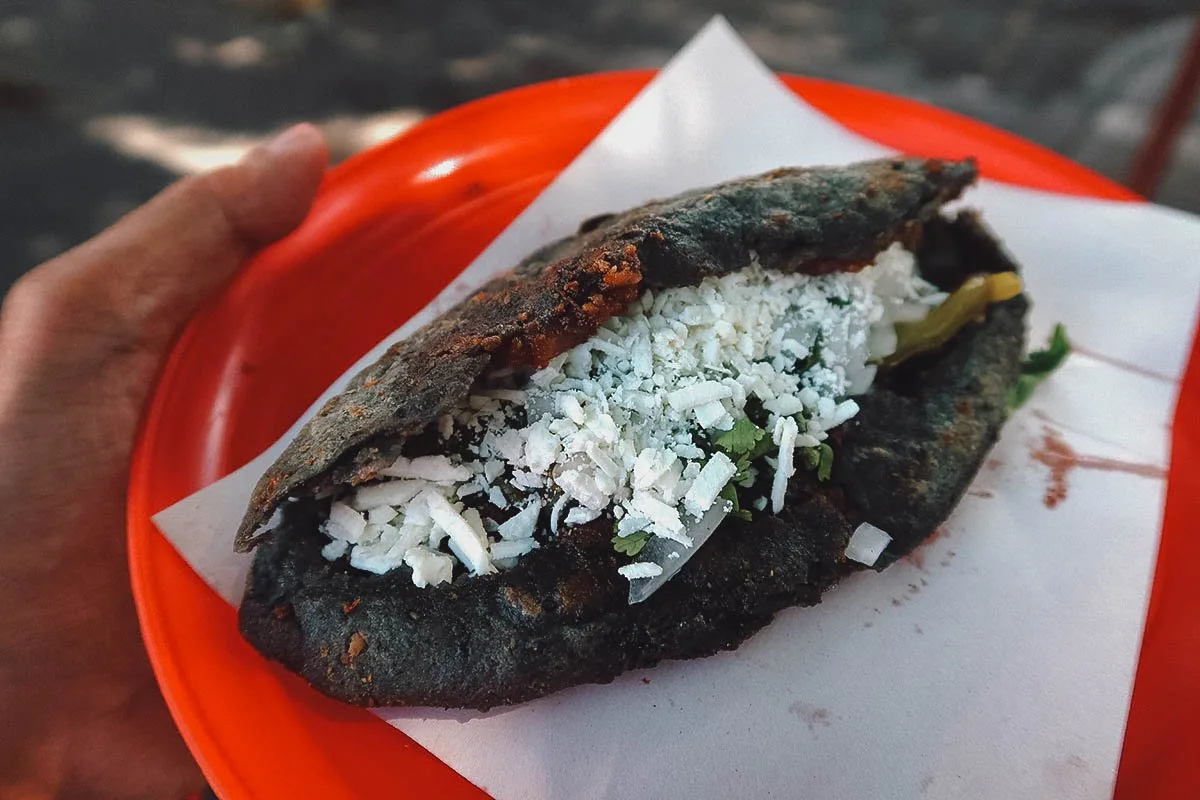 The same street vendor sells excellent quesadillas as well. The masa gets it dark color from blue corn kernels.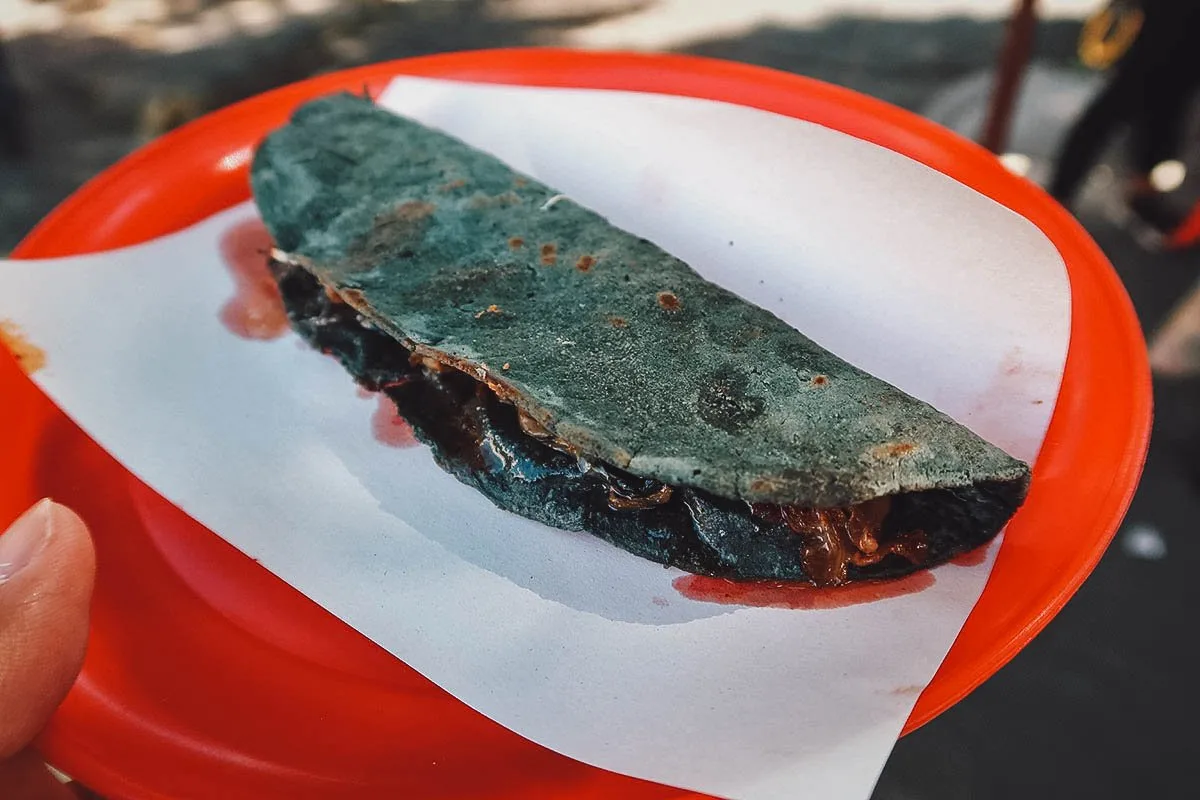 Here's a look inside the quesadilla. We wanted huitlacoche but they were out of it so we got it filled with mushroom, onion, and quesillo (Oaxaca cheese) instead. It was delicious.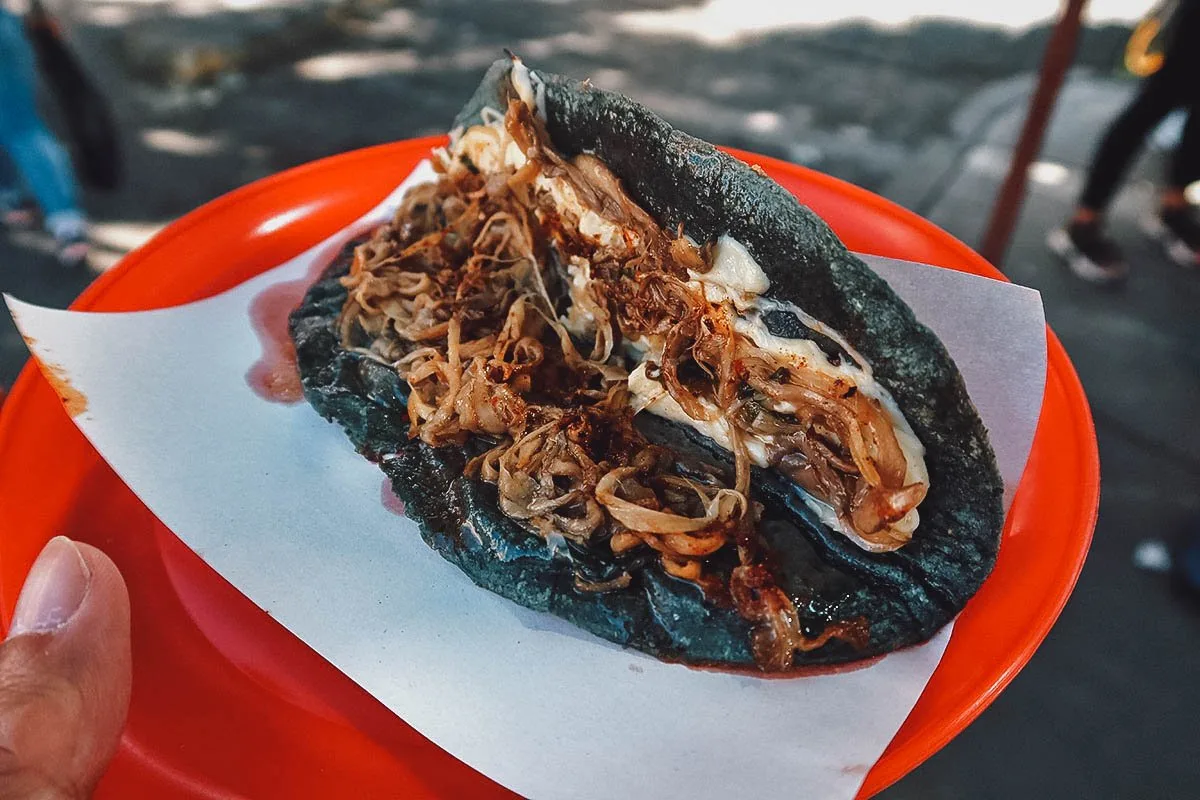 It's amazing to watch these ladies at work. Some of them have been making the same dish for decades so it's no surprise that some of the best food in Mexico City can be found at places like this.
I don't believe it has a name but you can find this stall on the corner of Campeche and Medellin Streets in the Roma Norte neighborhood, just outside Mercado Medellin.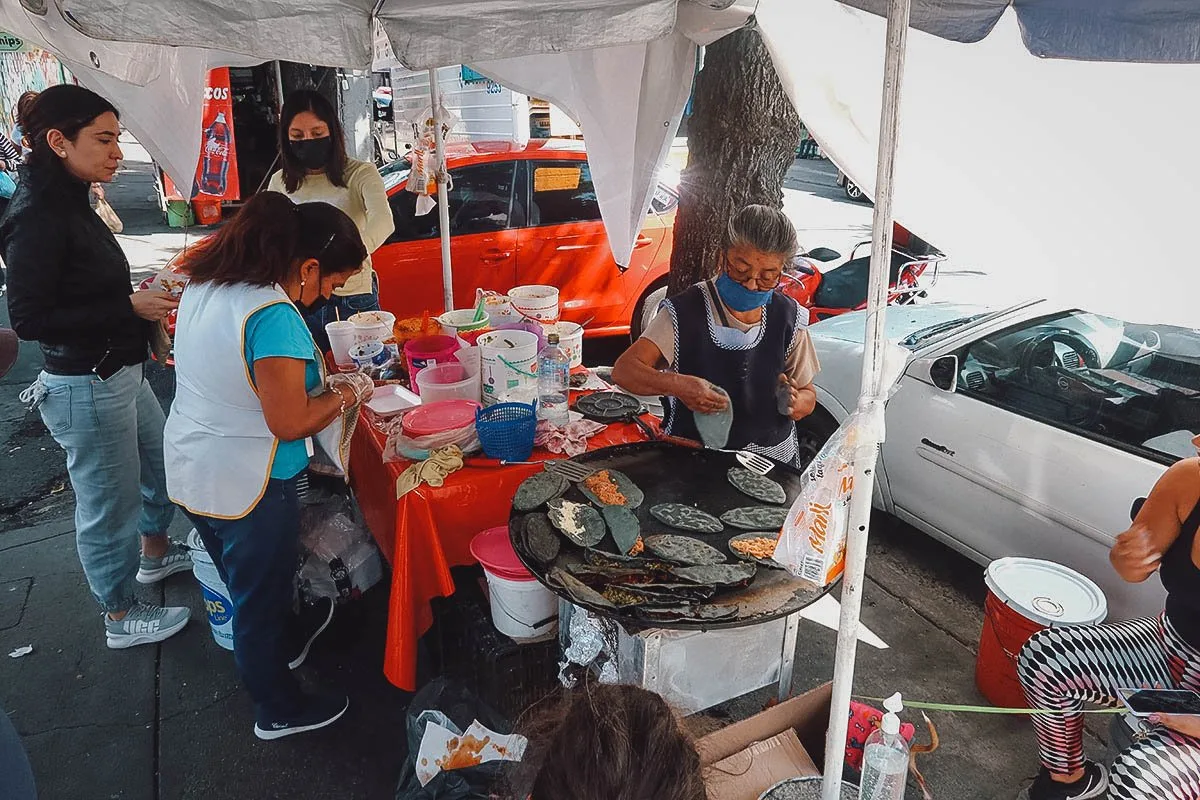 Tlacoyos at Mercado Medellin
Address: Corner of Campeche and Medellin, Cuauhtémoc, 06760 Ciudad de México, CDMX
What to Order: Tlacoyos, quesadillas
13. La Esquina del Chilaquil
If you've done research on the best street food in Mexico City, then you've probably read about La Esquina del Chilaquil. It's little more than a tent on a corner in La Condesa but they're one of the most famous street vendors in Mexico City.
As its name suggests, La Esquina del Chilaquil is famous for its tortas (Mexican sandwiches) made with chicken milanesa, chilaquiles (lightly fried tortilla strips), and salsa. Chilaquiles is a popular breakfast dish throughout Mexico but I believe this is the only time we've ever had it in a sandwich.
These tortas are a street food classic in Mexico City and a must-do for any Traveleater. They're quite heavy so you may want to split one sandwich between two people first, just to get a taste.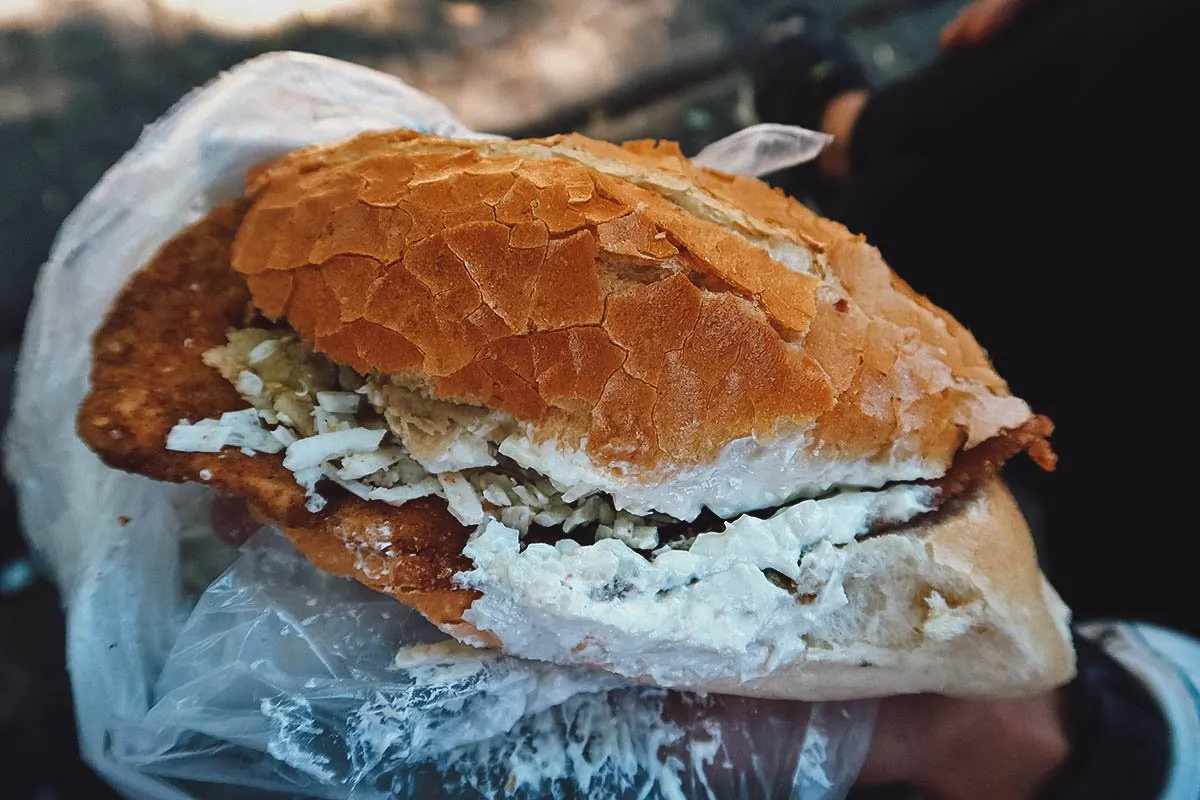 Here's what the filling looks like. Not the prettiest sandwich in Mexico City but one of the tastiest. This one was filled with salsa verde (green sauce).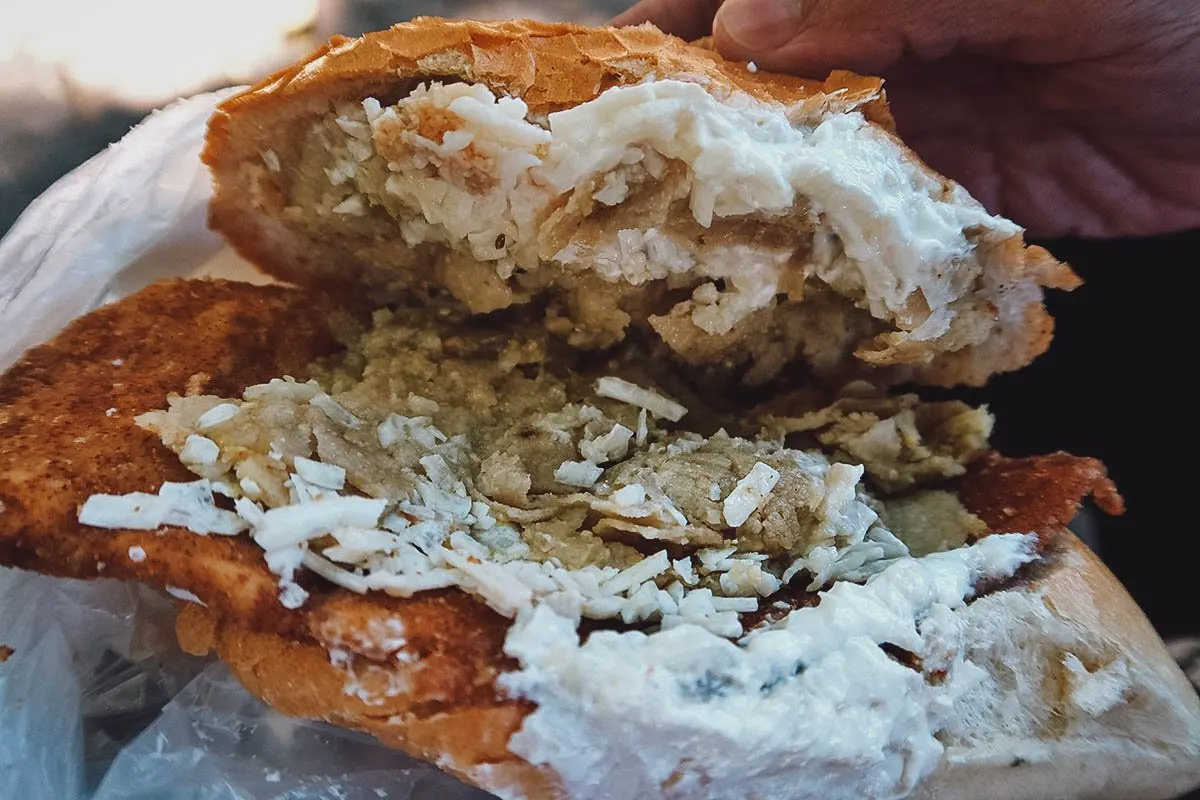 We had read reviews from people having to wait up to 40 minutes for a sandwich. Luckily, we didn't have to wait that long as the line moves fairly quickly. La Esquina del Chilaquil serves up their tasty sandwiches from 8AM till 1PM daily.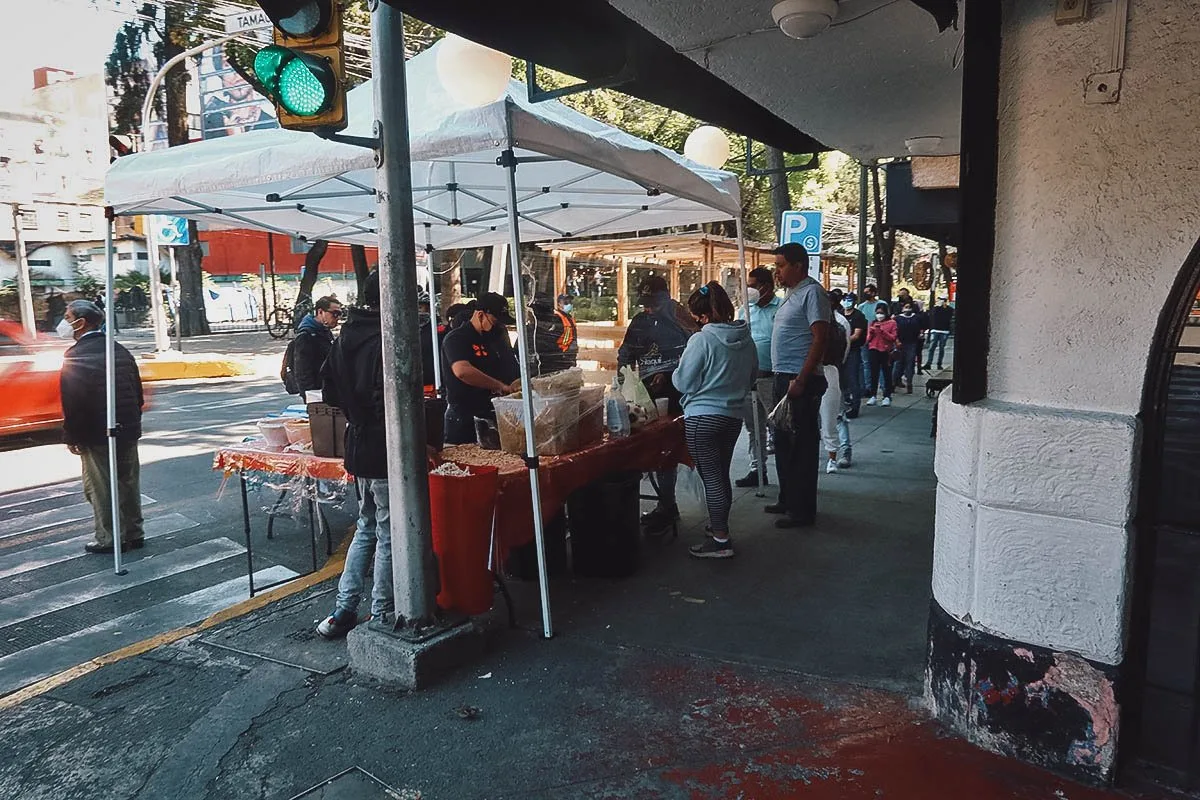 La Esquina del Chilaquil
Address: Alfonso Reyes 139, Hipódromo, Cuauhtémoc, 06100 Ciudad de México, CDMX
Operating Hours: 8AM-1PM, daily
What to Order: Torta de chilaquiles
14. Las Escaleras
We learned about this hole-in-the-wall called Las Escaleras from a chef we follow on Instagram. They serve Mexican street foods like tacos, tostadas, and gorditas but what they're really known for are their quesadillas.
Unlike typical quesadillas in Mexico, these bad boys are much bigger and deep-fried. They can be filled with various ingredients like potatoes, squash blossoms, or huitlacoche before being topped with salsa, shredded lettuce, and queso fresco.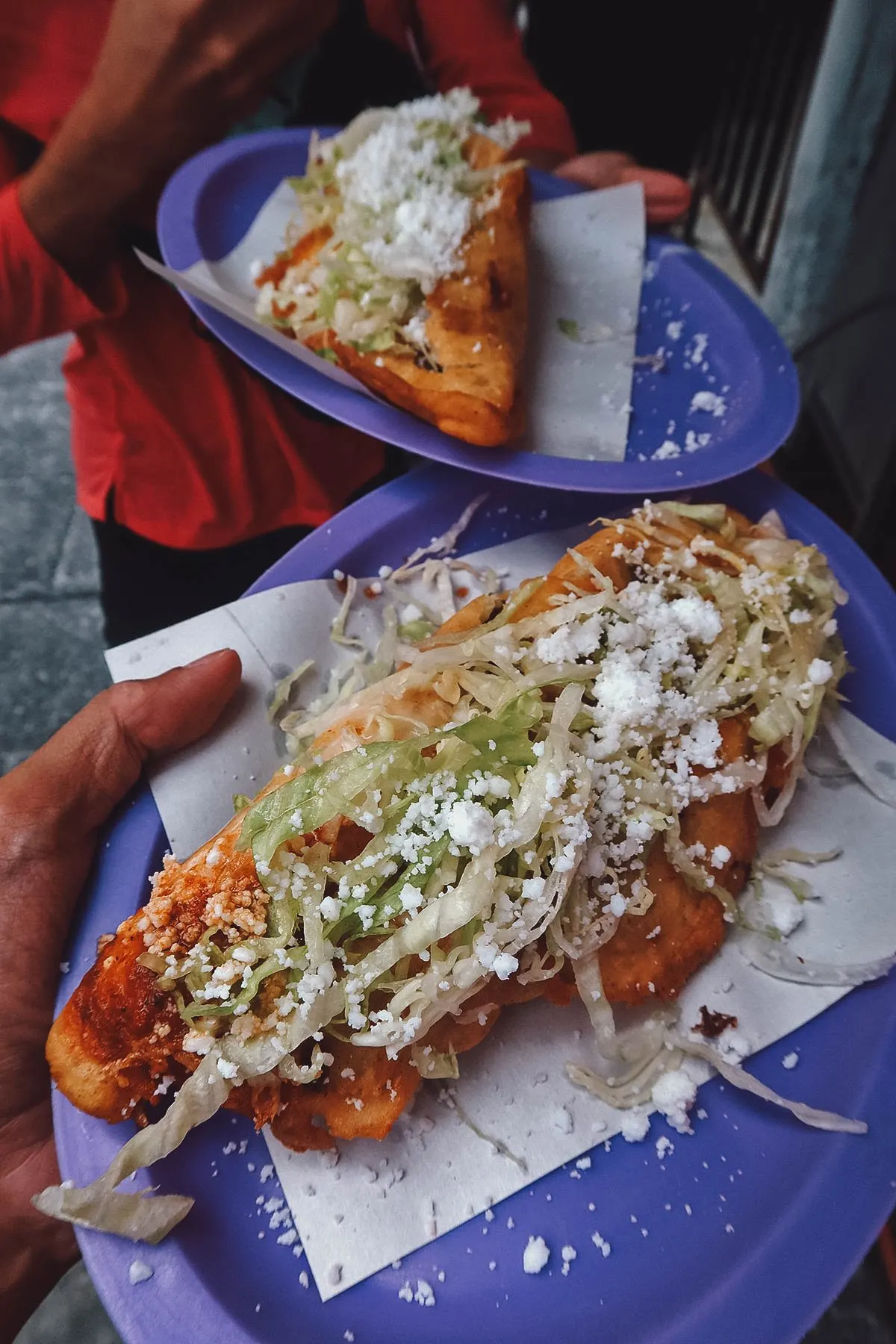 Located in the Centro district, Las Escaleras is literally a hole-in-the-wall. You could probably walk by this stall dozens of times without ever noticing it.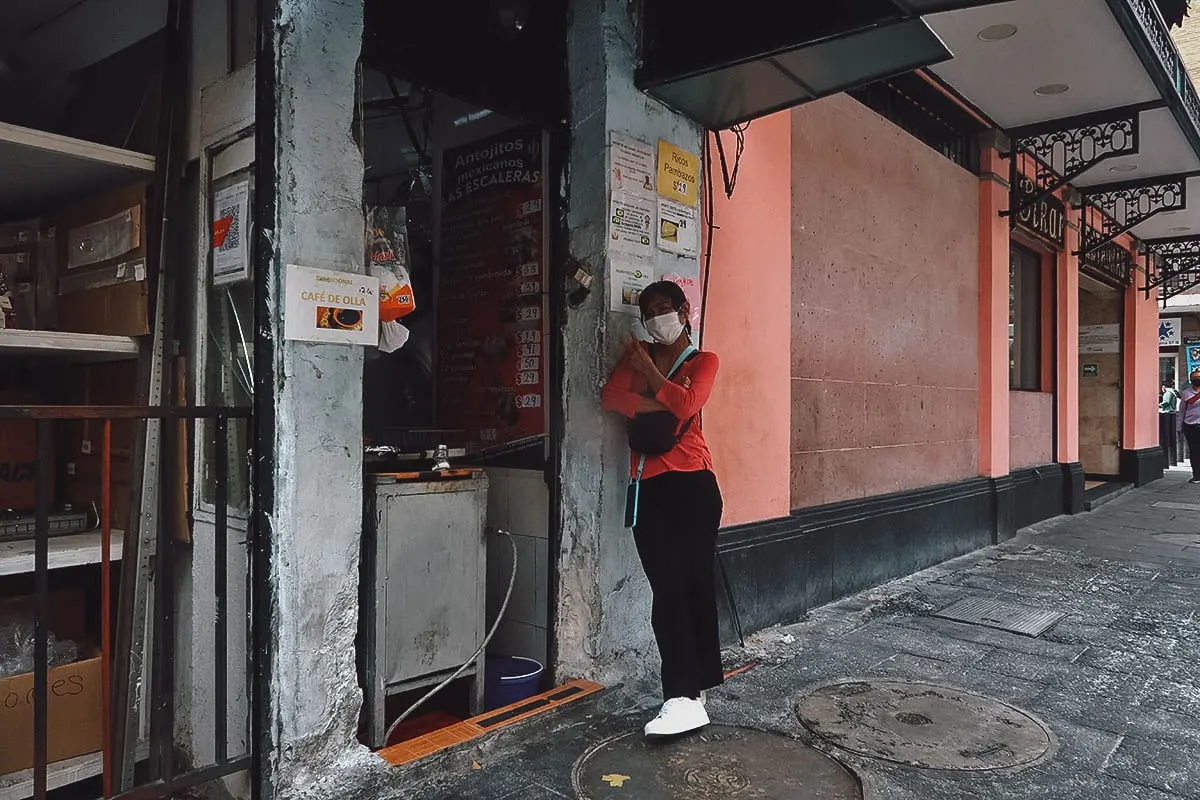 Escaleras means "stairs" in Spanish. When you peer into this tiny space, it becomes clear why the stall is called Las Escaleras. There's a set of steps right behind this gentleman who makes the quesadillas. I have no idea where it goes but a woman comes down and he passes orders to her.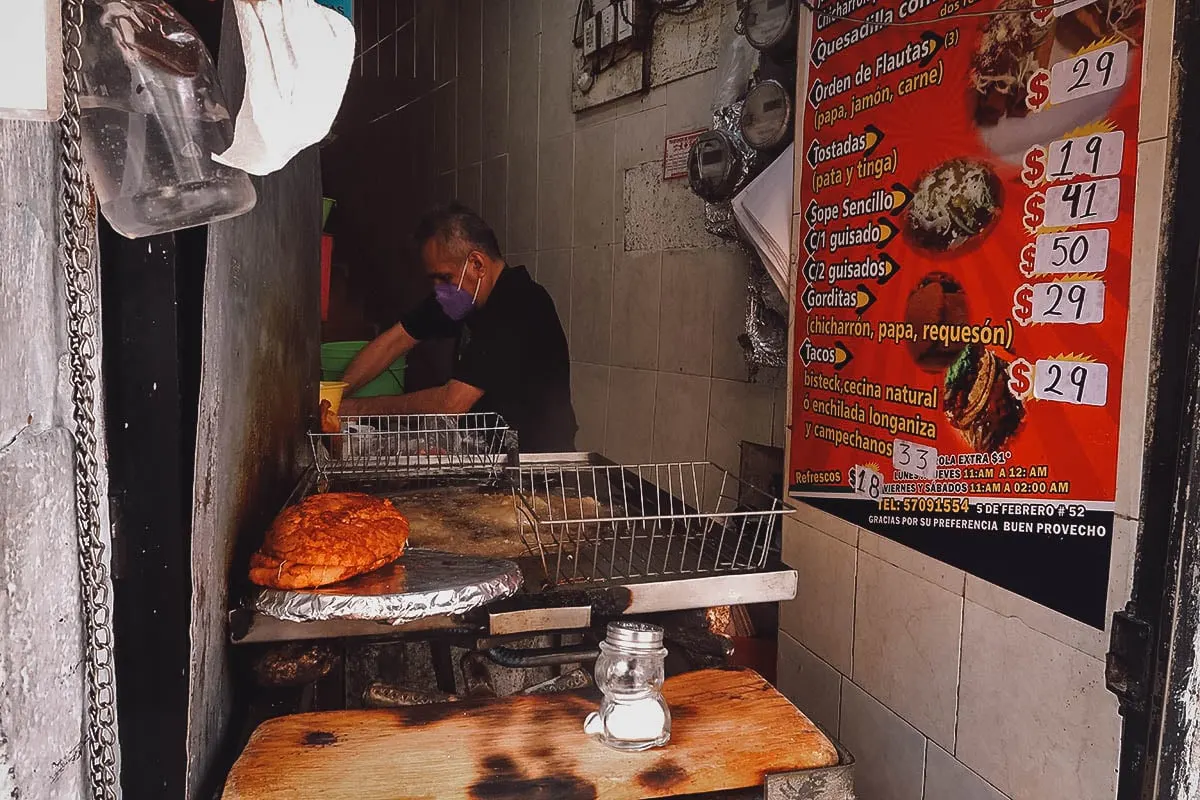 Las Escaleras
Address: Centro, C. 5 de Febrero 52, Centro, Cuauhtémoc, 06090 Centro, CDMX, Mexico
Operating Hours: 11AM-2AM, Mon-Sat (closed on Sundays)
What to Order: Quesadillas
PASTELERIAS / CAFES
15. Quentin Cafe
I was chatting with a barista in San Miguel de Allende and he was telling me that Mexico, as a whole, doesn't have a strong coffee-drinking culture. It's true. Aside from a few cities like SMDA and Oaxaca, you don't see that many coffee shops around. Thankfully, in Mexico City, there's a cute cafe to satisfy your caffeine cravings on almost every block.
Quentin Cafe is located about a couple of blocks from our AirBnb in La Condesa. We walked by this cafe every day, at least twice a day, and it was never not packed with locals. Their coffee is good but their pastries are incredible.
The kouign-amann hiding behind the cup of coffee below was the best kouign-amann we've ever tasted in our lives. It was flaky and buttery and oh so good. We got a croissant to go because of this kouign-amann and it was terrific too.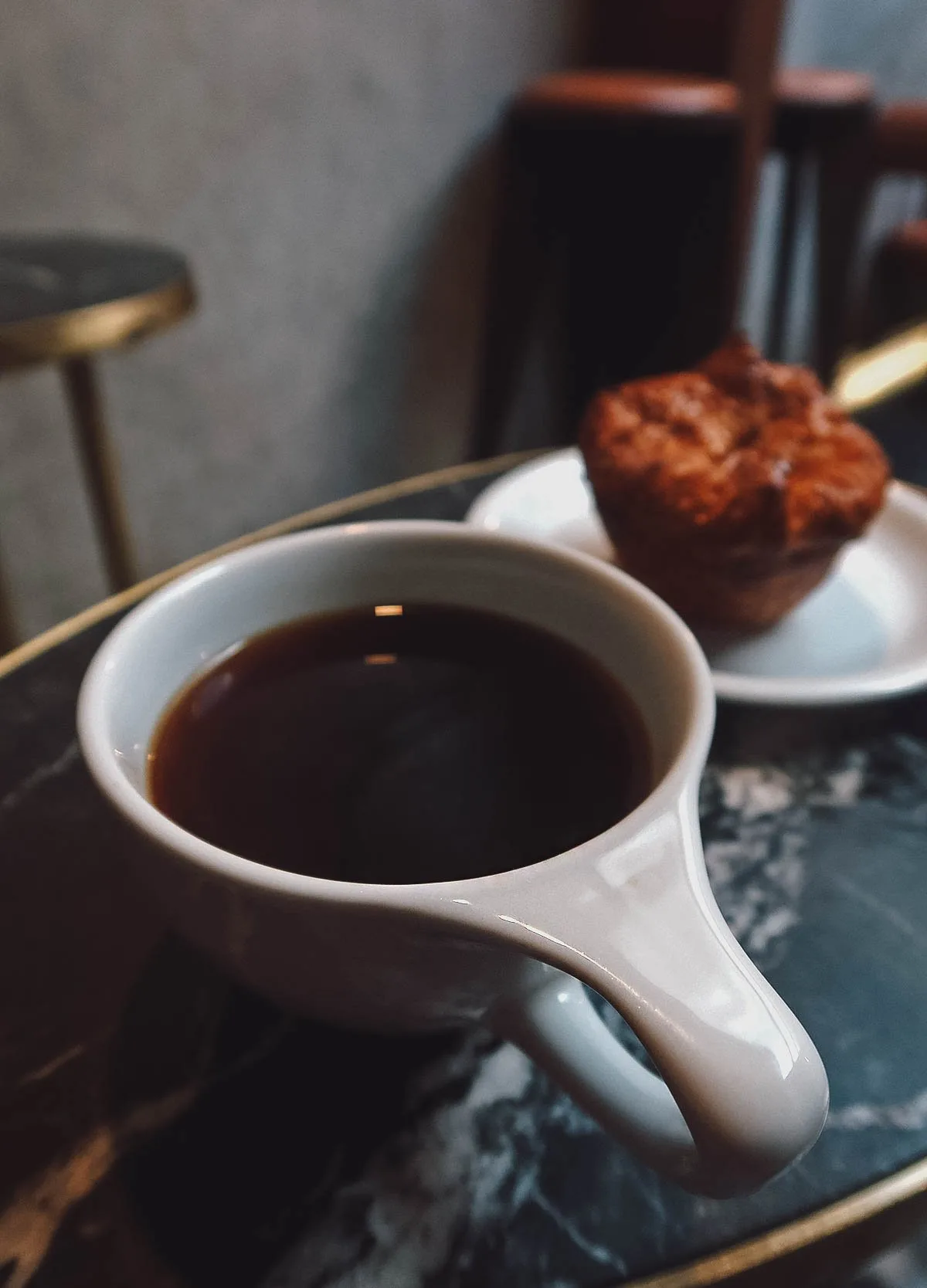 This is pretty much the scene you can expect to find at Quentin Cafe at any time of day. It's hugely popular with locals who live in the area.
They have a small indoor seating area but most people enjoy their coffee outside in this lovely makeshift al fresco space. Surrounded by trees and the sound of birds, it's a great place to enjoy coffee and while away the time in Mexico City.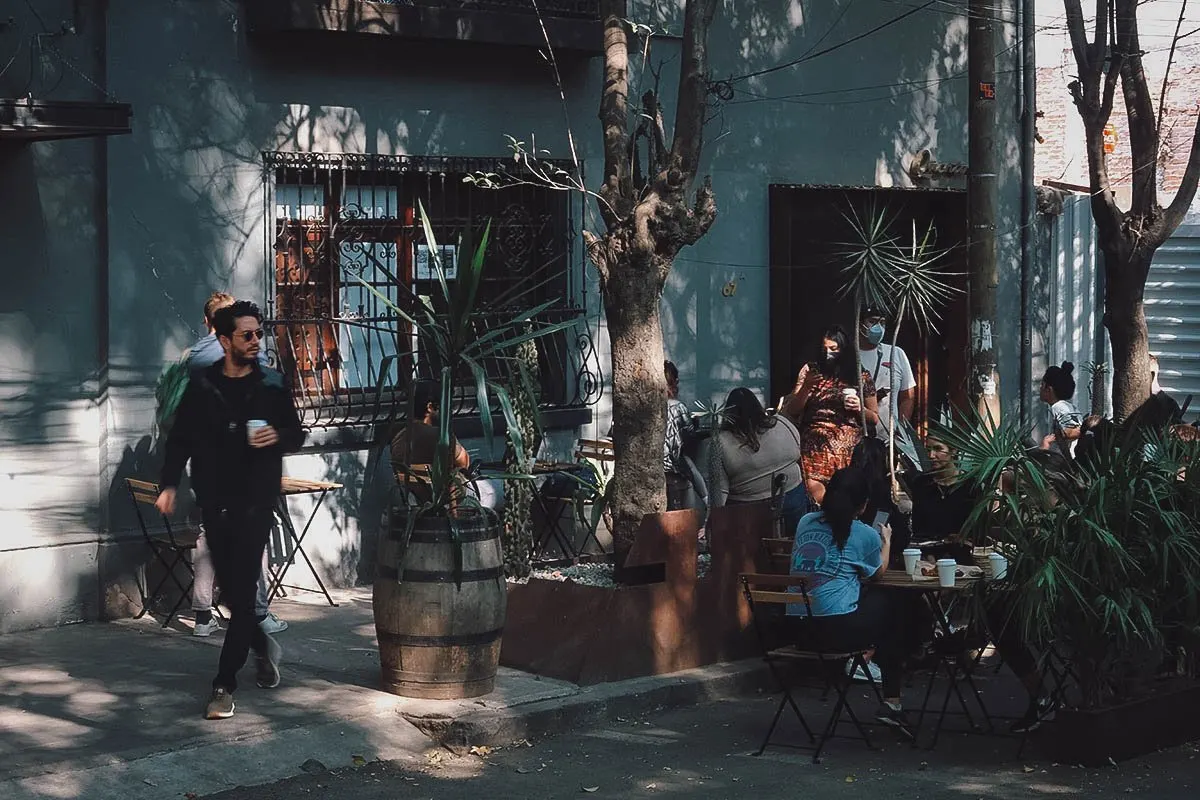 Quentin Cafe
Address: Amsterdam 67a, Hipódromo, Cuauhtémoc, 06100 Ciudad de México, CDMX
Operating Hours: 7AM-10PM, Mon-Fri / 8AM-10PM, Sat / 8AM-9PM, Sun
What to Order: Coffee, pastries
16. Pasteleria Ideal
Speaking of pastries, Pasteleria Ideal is the place to go for traditional sweets in Mexico City's Historic Center. I was walking near the zocalo (main square) when a Mexican tourist walked up to me and asked where the shop was after spotting my Pasteleria Ideal bag.
Pasteleria Ideal seems to be one of the most successful pastry shops in Mexico City. This becomes clear when you walk into their stores and see the horde of customers clearing the pastries off their shelves.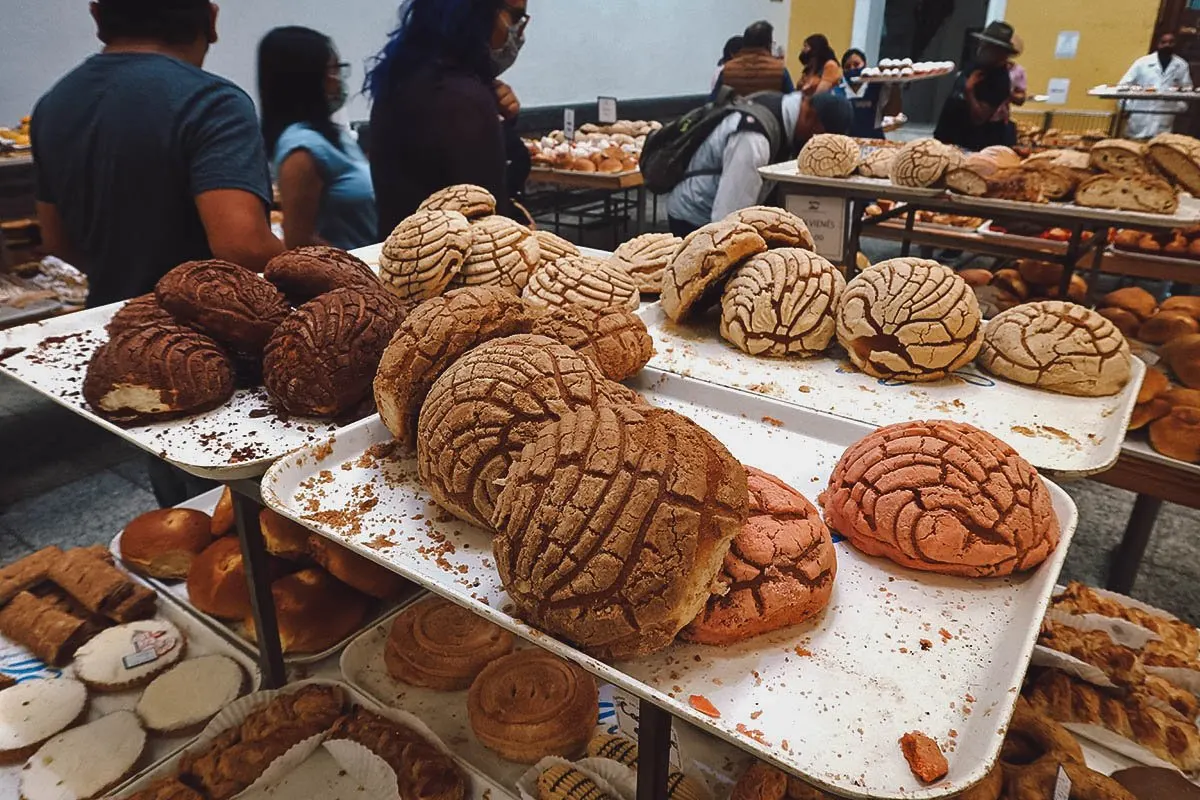 One of the things that surprised me the most about Pasteleria Ideal was how big it is. I know they have two or three branches in El Centro but the one I went to along Republica de Uruguay is massive.
I was expecting a cute little pastry shop but this is more like a pastry supermarket. Aside from the dozens and dozens of pastry varieties they have on display, they have dozens and dozens of cakes and cookies too!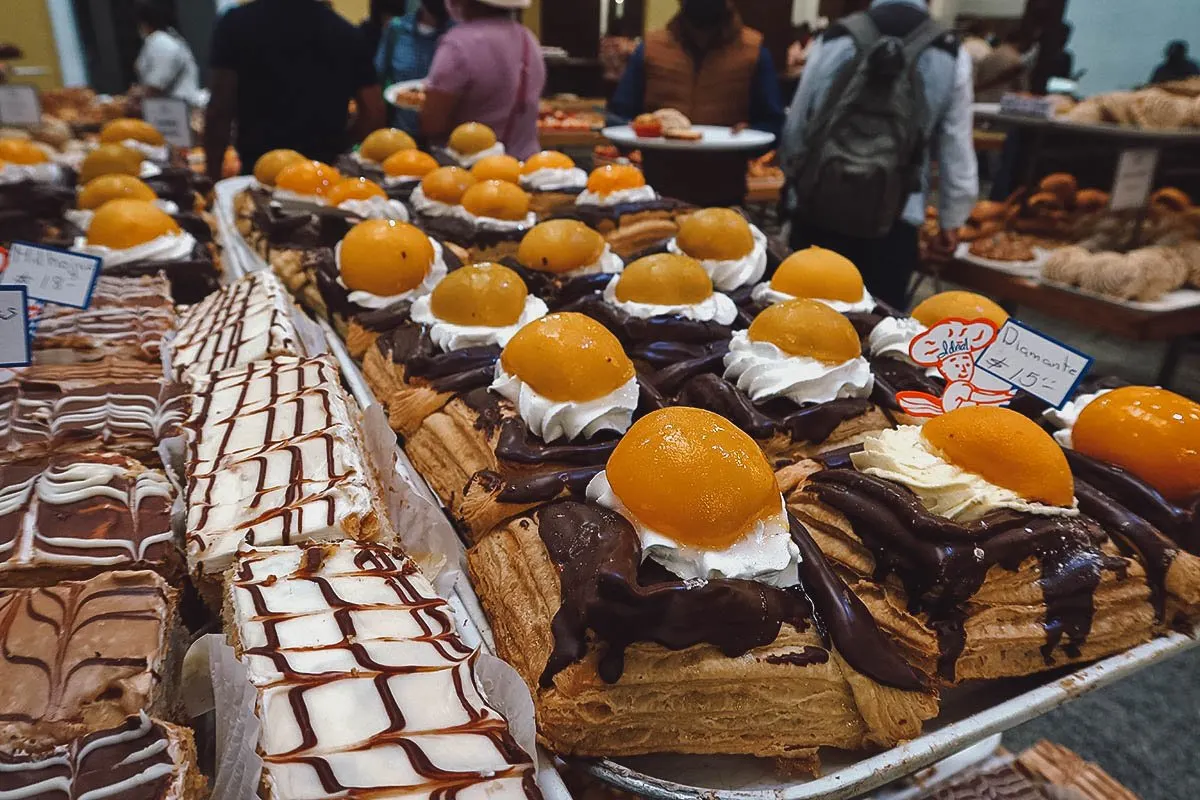 If you have a sweet tooth, then you definitely need to make a stop at Pasteleria Ideal after going sightseeing in El Centro. They're strictly a takeaway shop. There's no dining area so you'll need to get everything to go.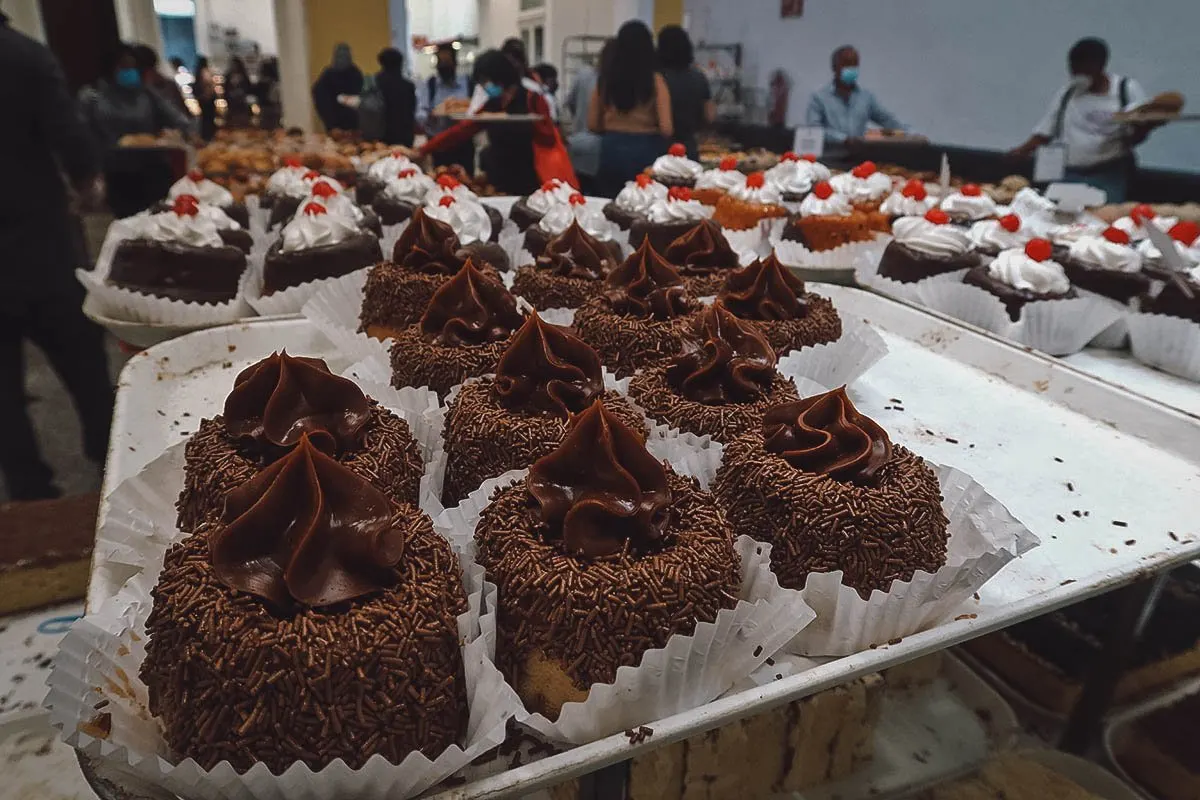 This is what I brought home with me that day – a slice of guava dulce de leche cake. It was delicious and just one of many tasty treats you can bring home from Pasteleria Ideal.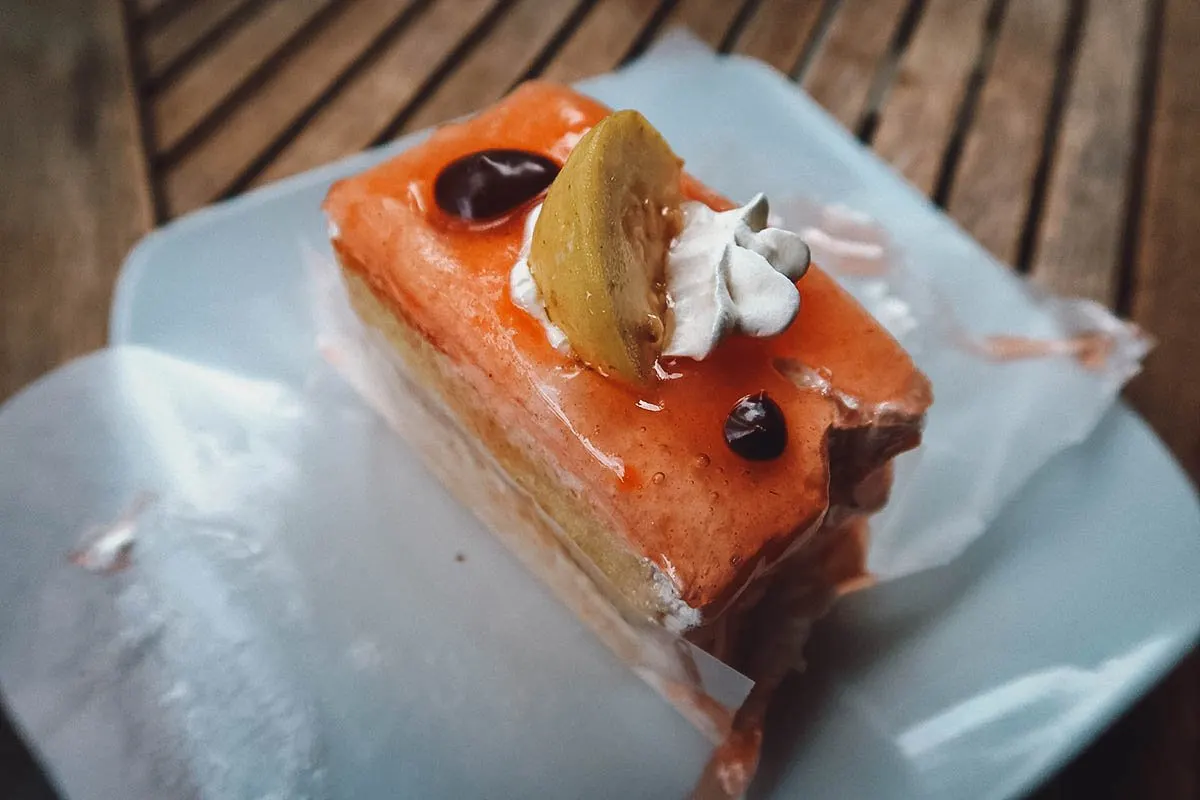 Pasteleria Ideal
Address: República de Uruguay 74, Centro Histórico de la Cdad. de México, Centro, Venustiano Carranza, 06000 Ciudad de México, CDMX
Operating Hours: 5AM-8PM, daily
What to Order: Pastries, cakes, cookies
17. Churreria El Moro
Google "where to eat in mexico city" and many articles will mention Churreria El Moro. It's a popular chain of churrerias that could very well serve the very best churros in Mexico City.
I don't know if this is a permanent item on their menu but aside from the usual churros, they were offering red velvet churros. Aren't they pretty? Like the regular variety, they're coated in a sugar-cinnamon mix but instead of hot chocolate, they come with a cream cheese dip.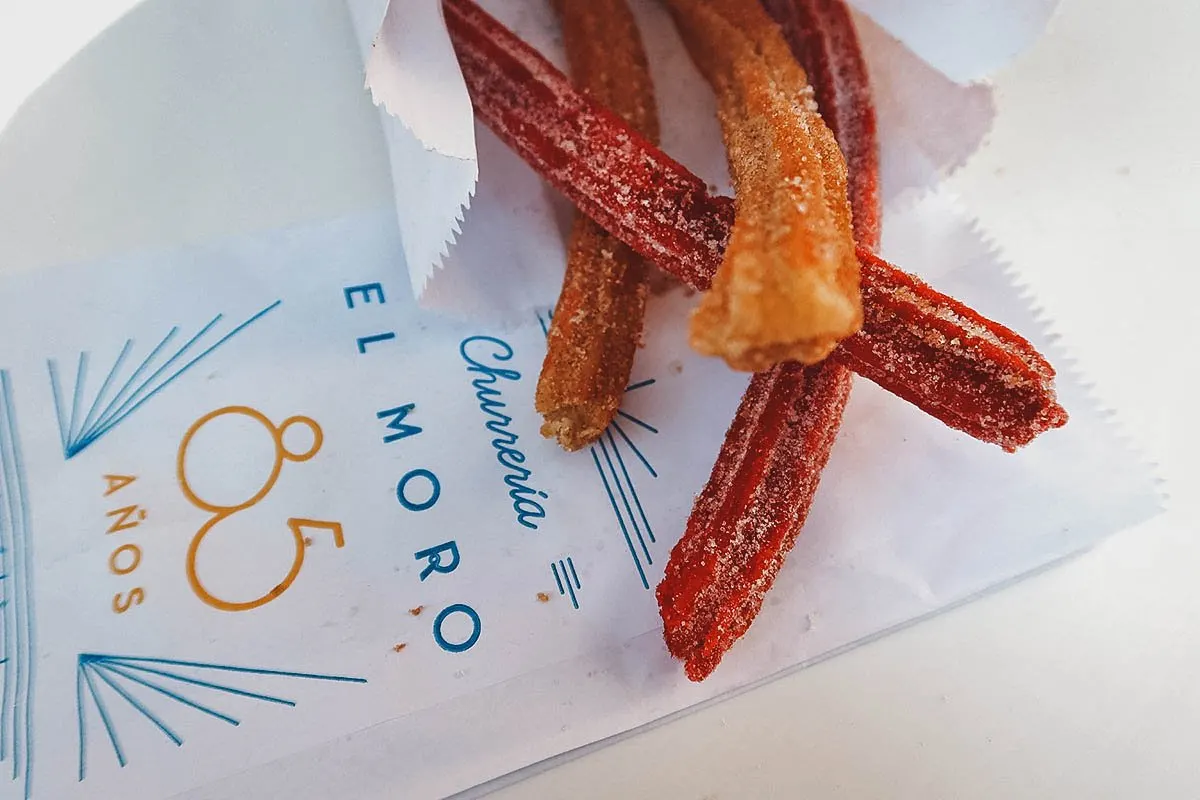 El Churreria El Moro also offers churro ice cream sandwiches. These were ok. I suggest sticking to the churros with hot chocolate.
If you're a vegan, then you'll be pleased to know that El Churreria El Moro makes 100% vegan churros as well.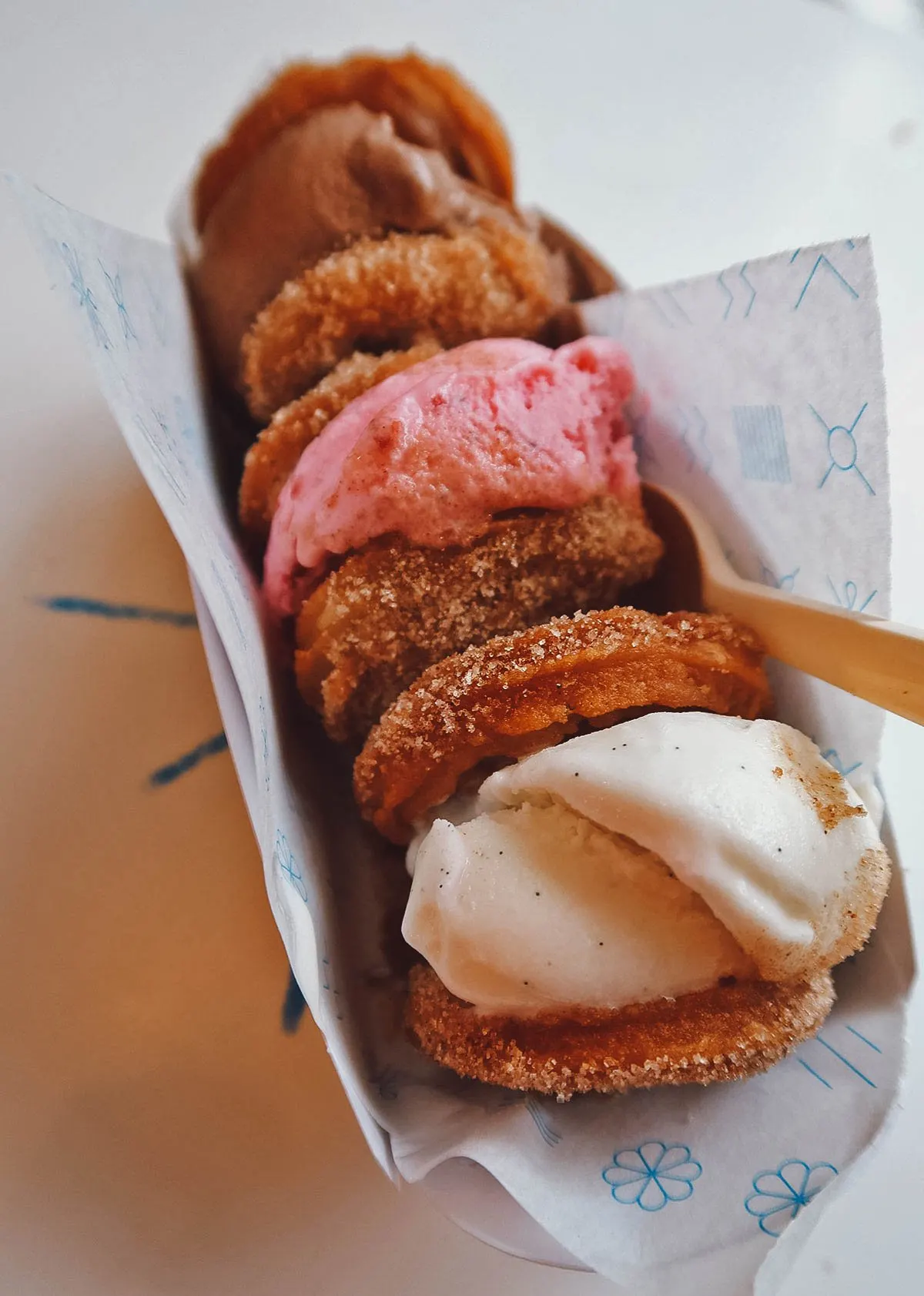 Aside from their delicious churros, what I loved most about Churreria El Moro is their branding. Every shop looks like this – minimalist with a clean white and blue color palette. We went to their branch in La Condesa but they have several outlets throughout Mexico City.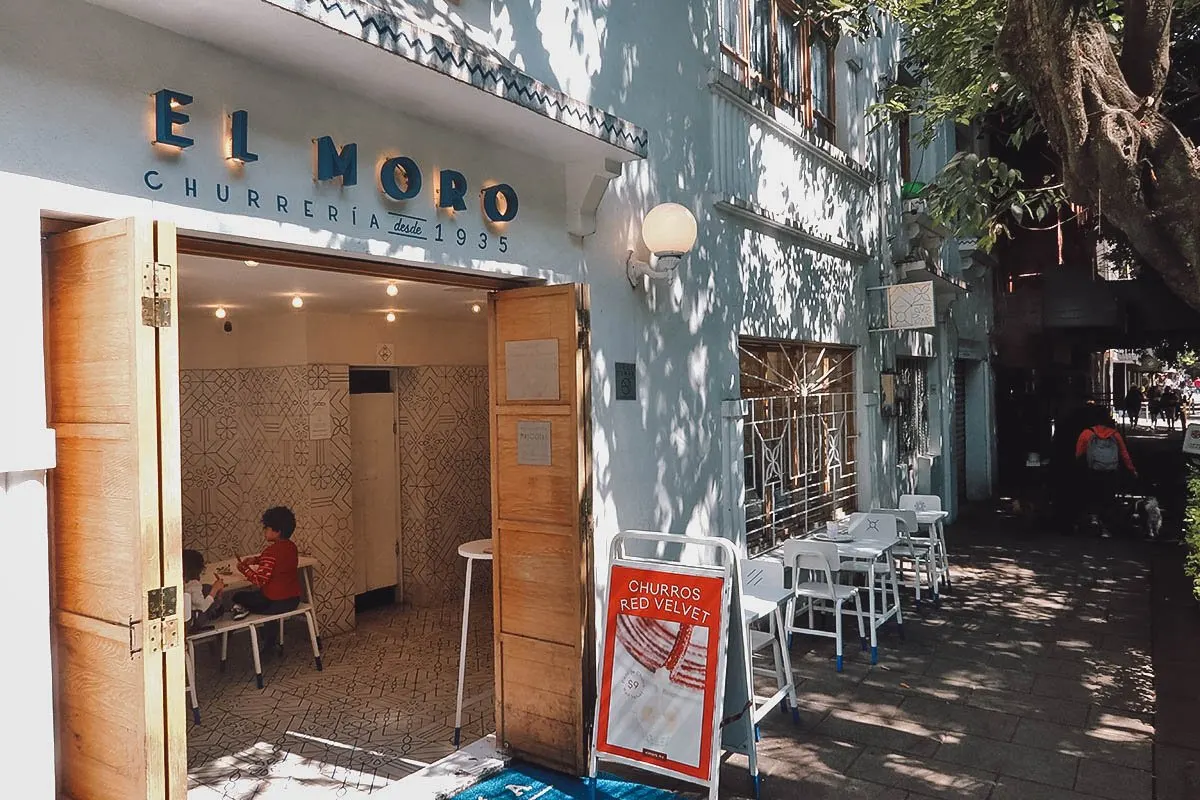 Churreria El Moro
Address: Multiple locations
Operating Hours: Varies per branch
What to Order: Churros con chocolate
18. Chocolateria La Rifa
Coffee from Oaxaca, Vercaruz, and Chiapas is good, but do you know what's even better in Mexico? Chocolate.
Mexican chocolate has been an important commodity in the country for thousands of years. It dates back to the times of the Mayans and the Aztecs when cacao beans were used not just for consumption, but for religious reasons and as a form of currency.
Today, about 99% of cacao in Mexico is produced in the states of Tabasco and Chiapas. We wanted to find a good chocolate place in CDMX and our research led us to Chocolateria La Rifa, a small cafe and chocolateria in the trendy Juarez neighborhood of Mexico City.
In Mexico, you can get chocolate drinks made with different intensities and mixed with either water or milk. Personally, I prefer milk but water is more traditional.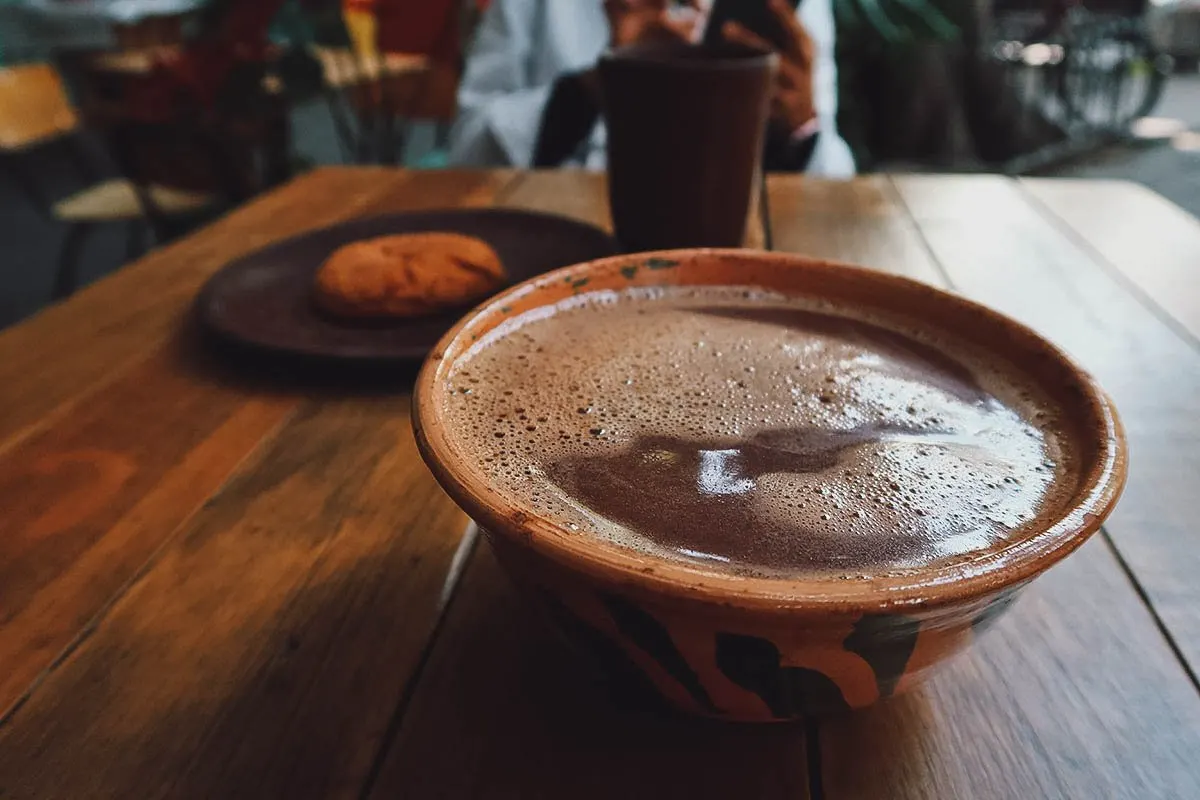 The Juarez neighborhood is one of our favorite areas in Mexico City. Similar in feel to La Condesa or Roma Norte, it's a trendy tree-lined borough with lots of interesting restaurants and cafes like Chocolateria La Rifa that you can visit.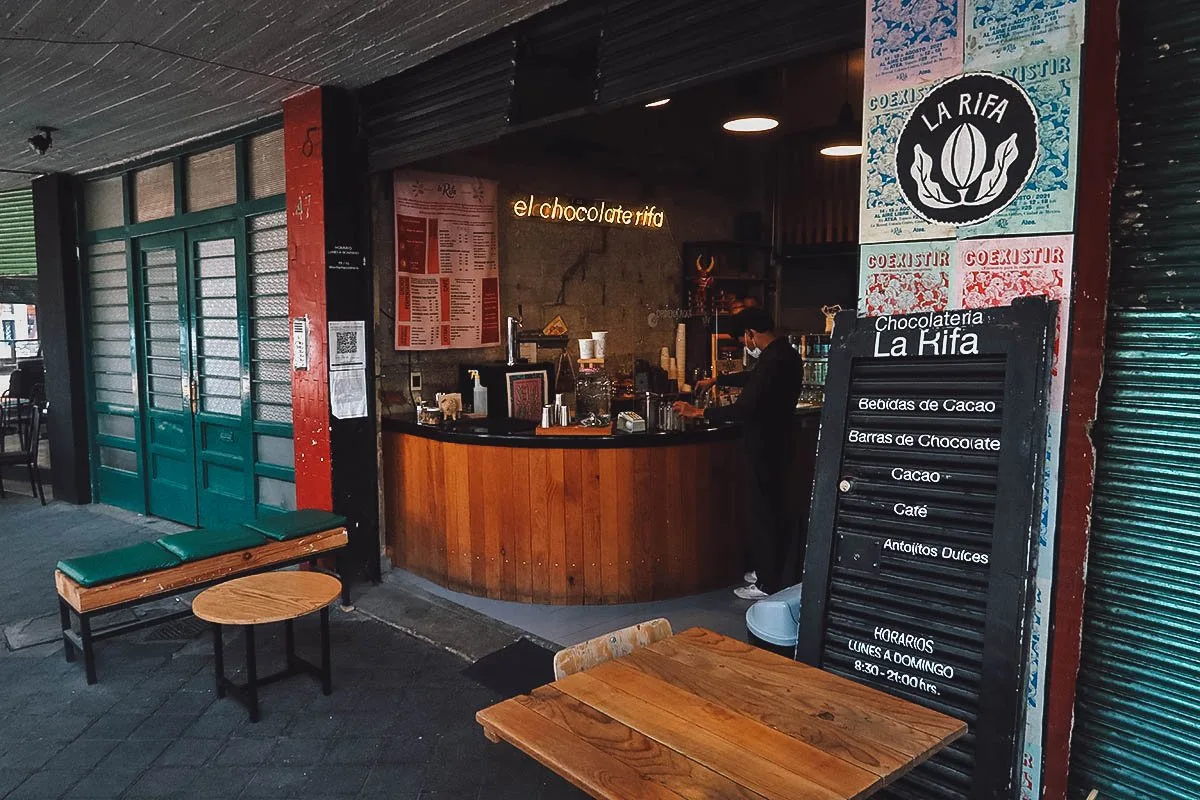 Chocolateria La Rifa
Address: C. Dinamarca 47, Cuauhtémoc, 06600 Ciudad de México, CDMX
Operating Hours: 8:30AM-9PM, daily
What to Order: Mexican chocolate
MARKETS / FOOD HALLS
We love markets and food halls in Mexico because they offer a wealth of food options. Mercados are home to fondas that make some of the most delicious traditional Mexican dishes. In contrast, food halls are trendier, more Instagram-worthy establishments that offer modern global fare. You'll find plenty of both in Mexico City.
I didn't include them in this list but two of the most famous traditional markets in Mexico City are Mercado de San Juan and Mercado La Merced. If you'd like to eat insects in CDMX, then I suggest going to Mercado de San Juan. I ate a chocolate-covered scorpion there.
19. Comedor de Los Milagros
Comedor de Los Milagros is a fun food hall in the Roma neighborhood. It's technically in Roma Sur but it's right on the border with Roma Norte, not too far from Mercado Medellin. It's home to about a dozen stalls offering both international and Mexican food.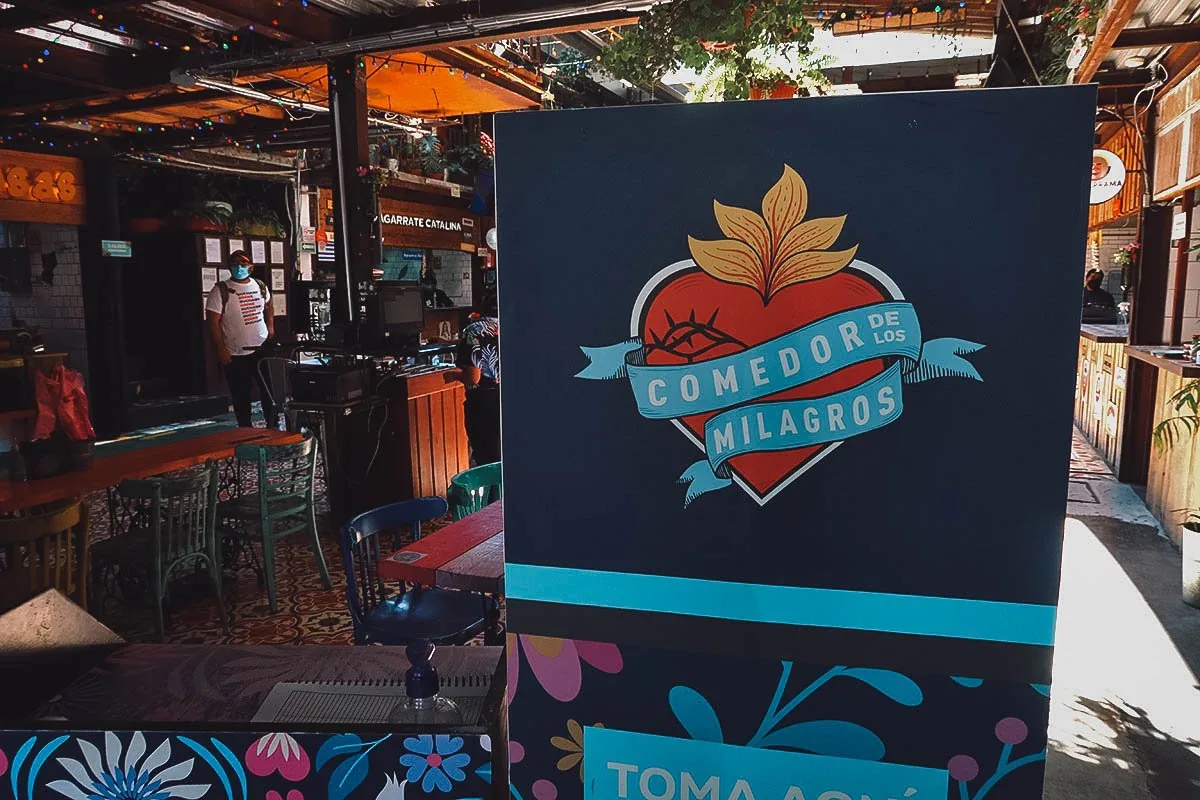 If you're traveling in a group, then food halls like this one are always a great choice. With all the choices available, there's usually something for everyone.
I don't remember the name of the stall but we spent the afternoon eating mollejas de res (beef gizzard) and washing it down with giant mugs of ice-cold Mexican beer.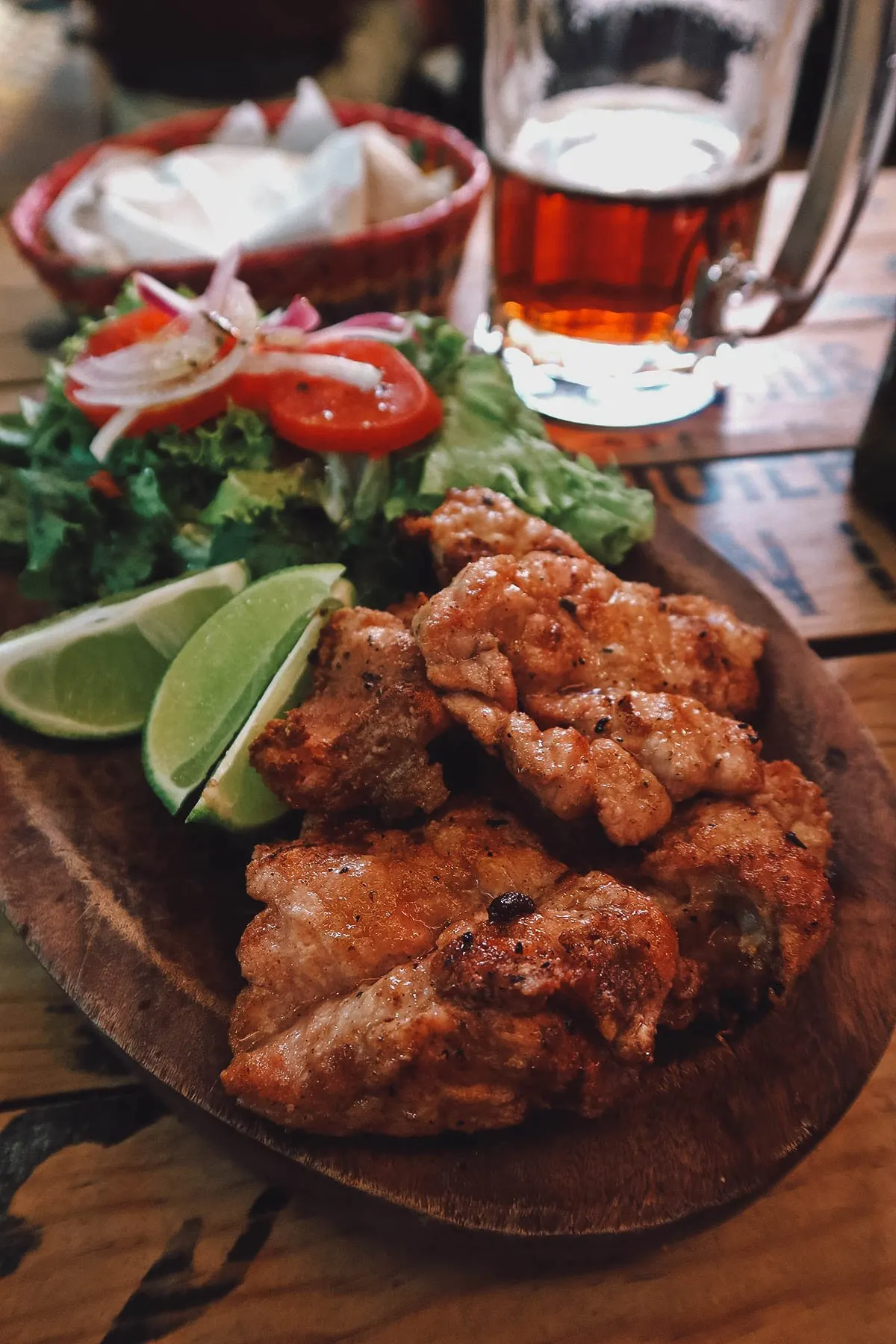 Don't you just love the vibe at these trendy food halls? They're always fun and the energy is great. They're not necessarily known for serving the best or cheapest food but you're guaranteed to have a good time every time.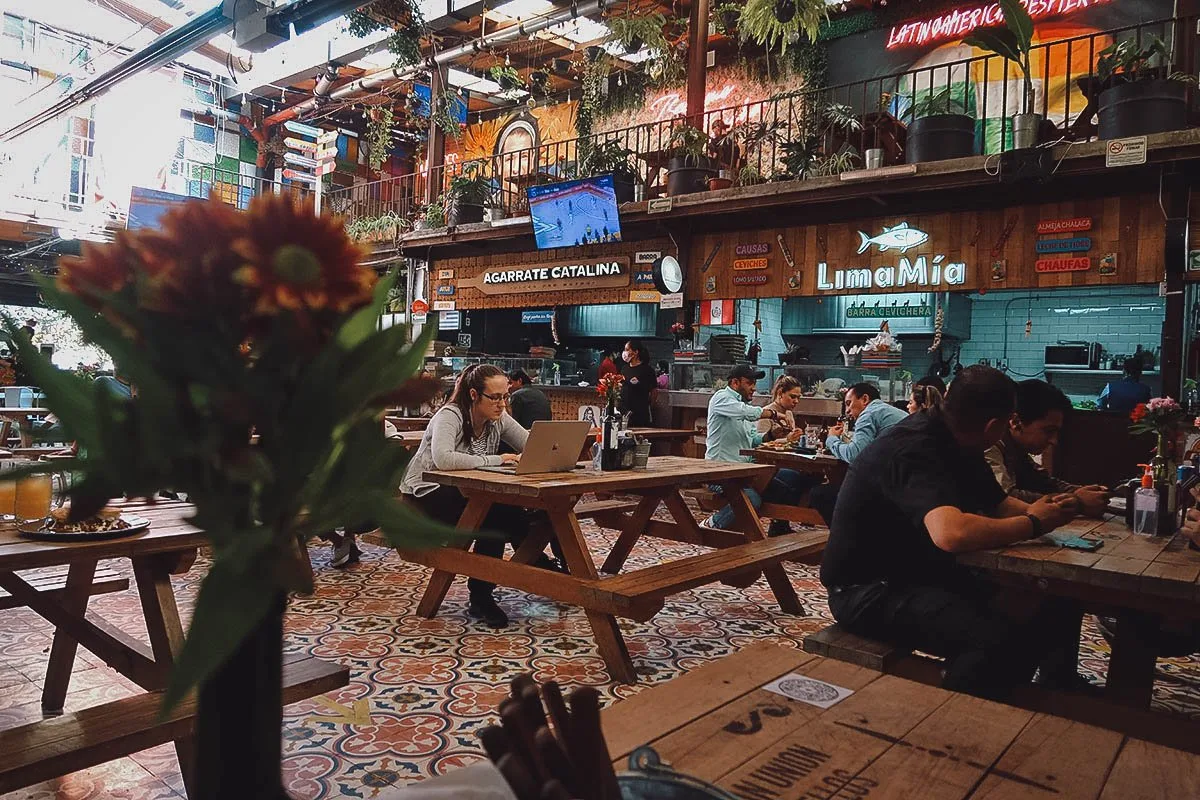 Comedor de Los Milagros has two floors. The first floor has all the food kiosks while the second floor, which is mostly a balcony with a few tables, has these fun Instagram backdrops.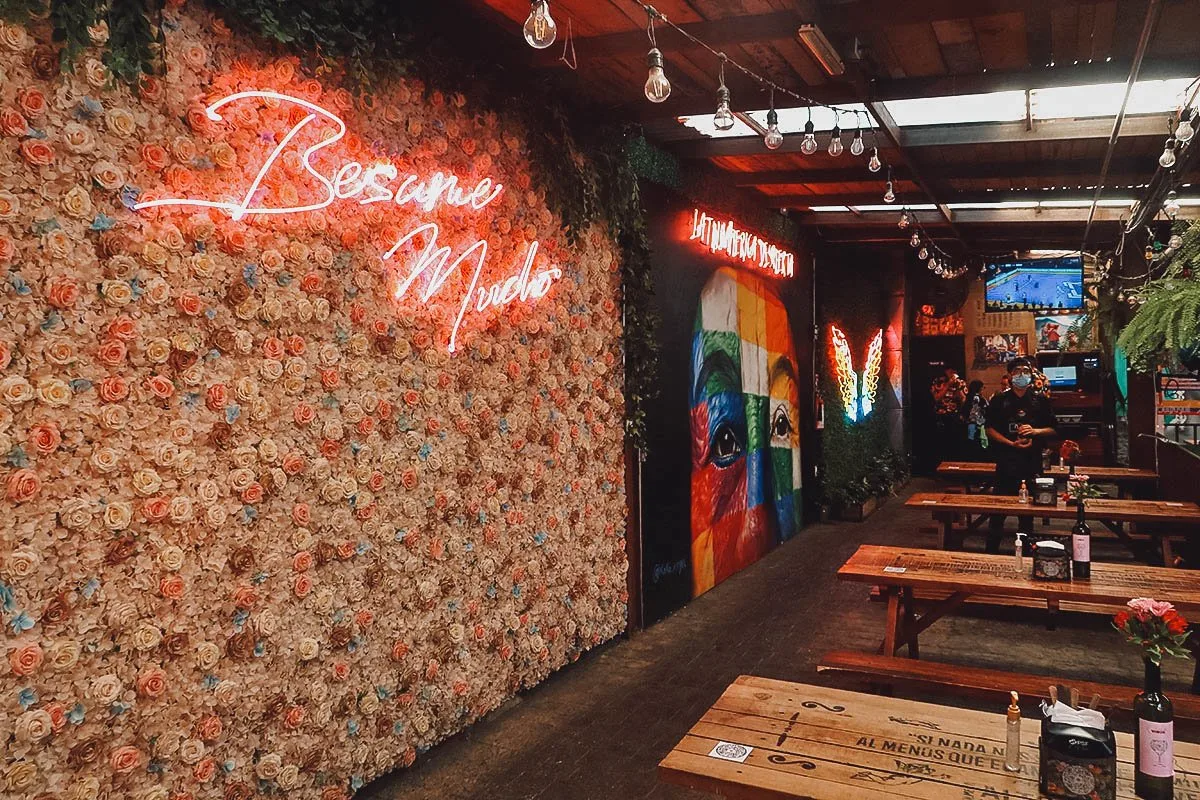 Comedor de Los Milagros
Address: Medellín 221, Roma Sur, Cuauhtémoc, 06760 Ciudad de México, CDMX
Operating Hours: 11:30AM-11:30PM, Mon-Wed / 11:30AM-2AM, Thurs-Fri / 10AM-2AM, Sat-Sun
20. Mercado Roma
I had read about Mercado Roma in an older article on the best things to do in Mexico City. If I remember correctly, it's one of the first if not the very first food hall that opened in the Roma Norte neighborhood.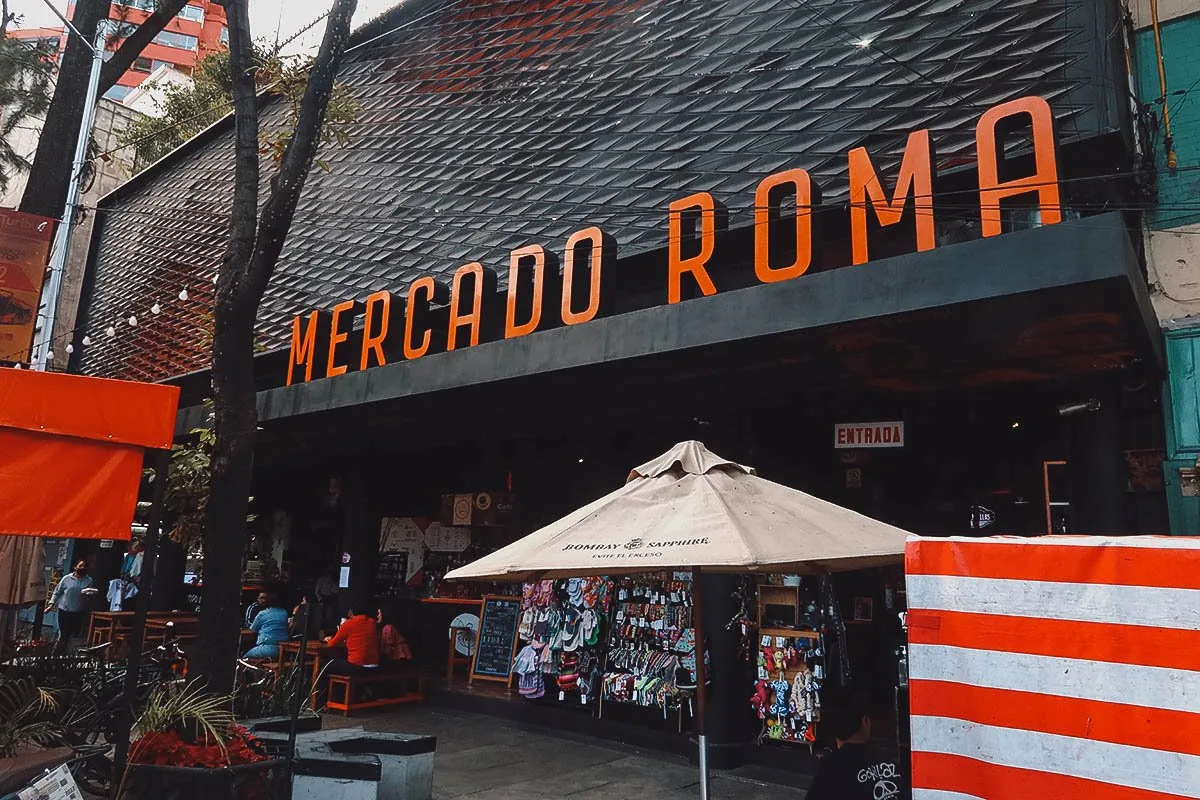 Mercado Roma looks just as cool as it did in that article but the vibe here felt quite different from Comedor de Los Milagros. The people working at the various stalls were so much more aggressive. They were all trying to get us to eat their stall, which I didn't like at all. It was a massive turn-off so we wound up leaving and going somewhere else.
I have a pet peeve about overly aggressive touts but if that doesn't bother you, then you'll probably enjoy Mercado Roma. It looks like a good place to get a drink.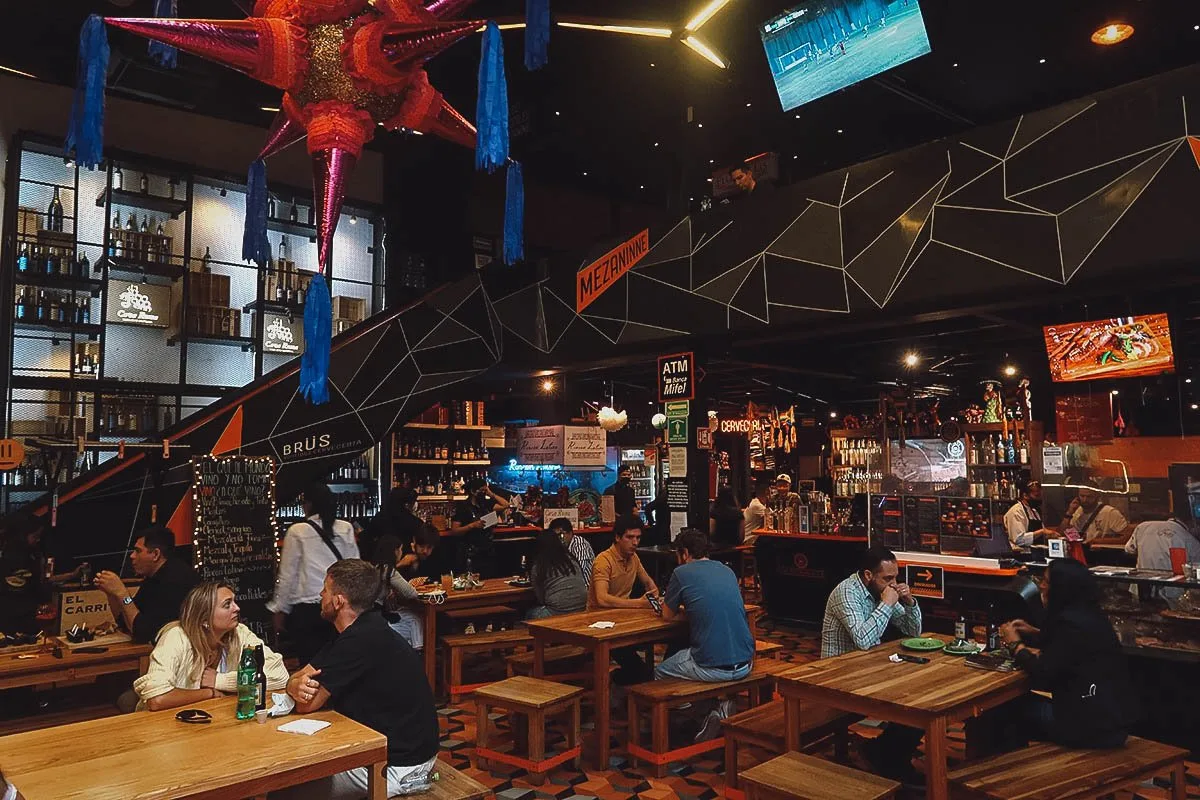 Aggressive touts aside, Mercado Roma is a cool-looking food hall with plenty of choices for food and drink. It has a second floor, occupied by a restaurant/bar if I remember correctly, and a nightclub somewhere upstairs.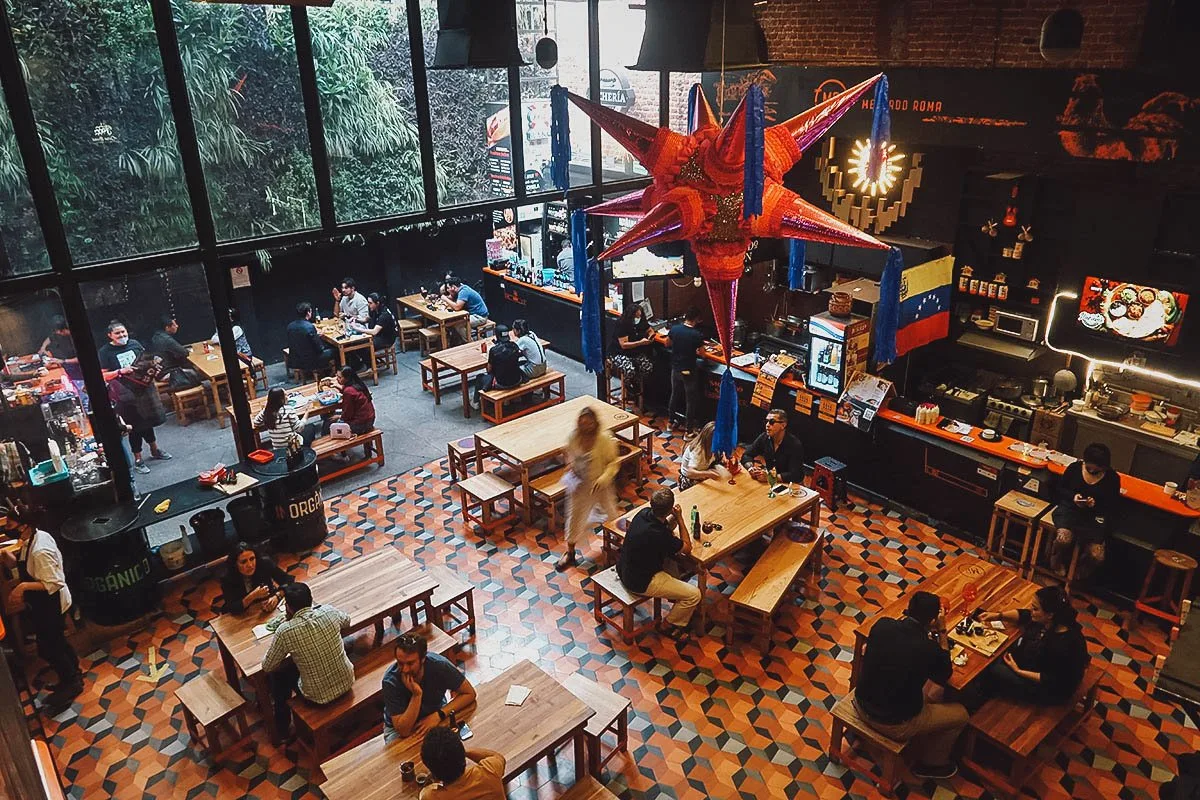 Mercado Roma
Address: C. Querétaro 225, Roma Nte., Cuauhtémoc, 06700 Ciudad de México, CDMX
Operating Hours: 10AM-10:30PM, Mon-Wed / 10AM-12:30AM, Thurs / 10AM-1AM, Fri-Sat / 10AM-7:30PM, Sun
21. Comedor Lucerna
Located in the Juarez neighborhood, Comedor Lucerna is similar in feel to Comedor de Los Milagros except it's a little smaller with fewer food stalls.
We were here in the middle of the afternoon on a cloudy weekday so we had the place pretty much to ourselves, but it may get busier at night or on weekends.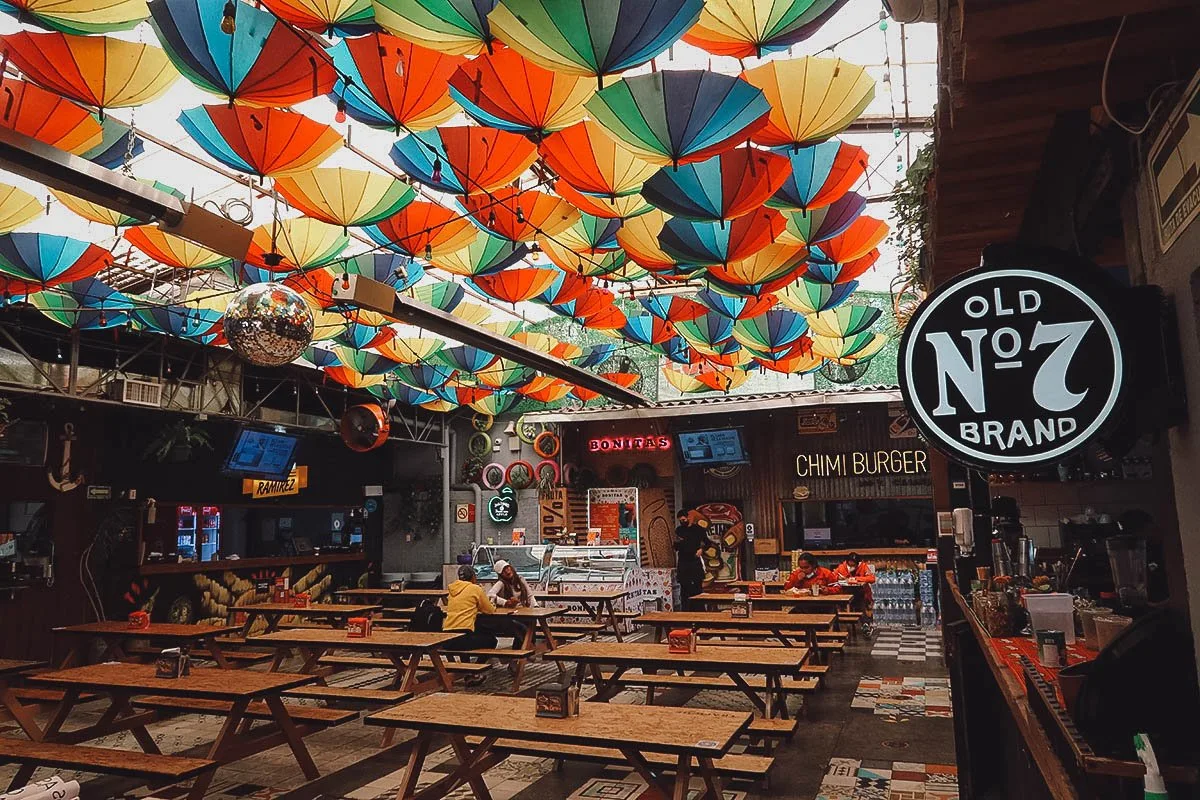 We wanted a little break from Mexican food so we went with a stall that served American comfort food like hot dogs and burgers. They were ok.
Burgers are my ultimate comfort food. What's yours?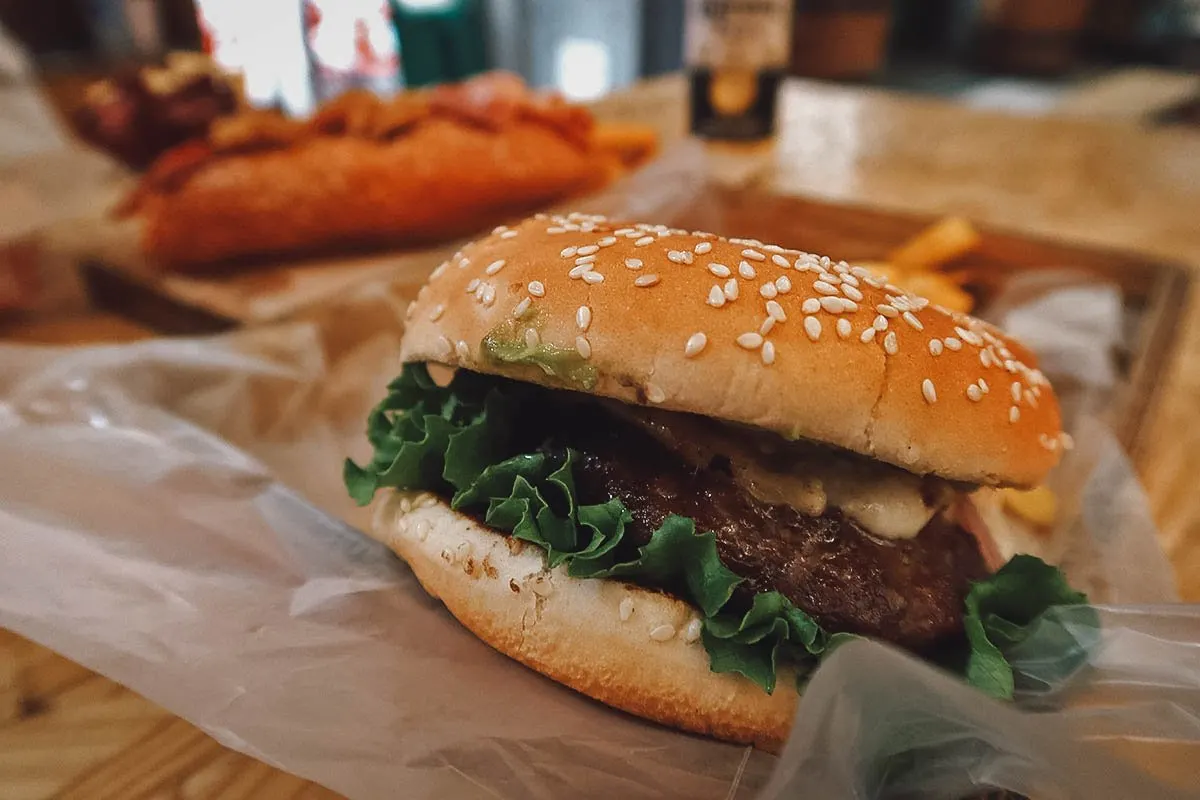 Comedor Lucerna is a colorful food hall that's hard to miss. If you explore the Juarez neighborhood, then you may want to stop here for a quick bite and a drink.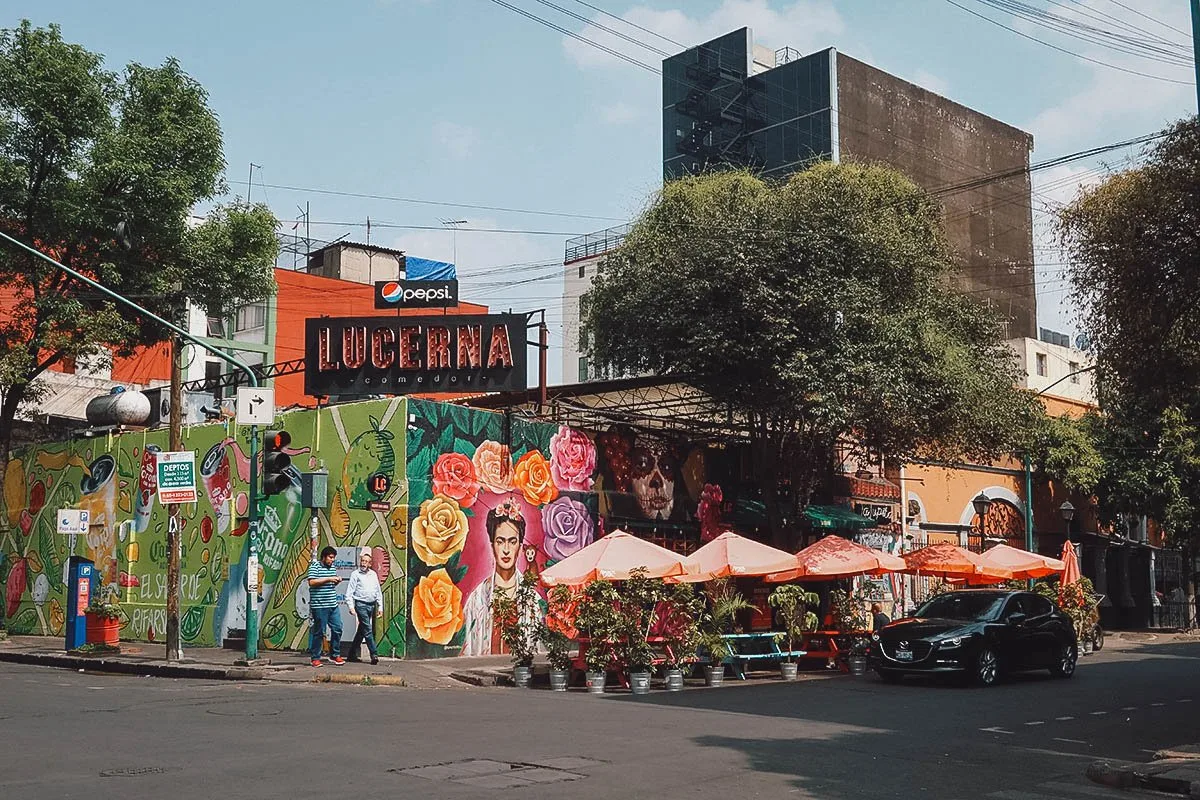 Comedor Lucerna
Address: C. Lucerna 51, Juárez, Cuauhtémoc, 06600 Ciudad de México, CDMX
Operating Hours: 12NN-11PM, Sun-Wed / 12NN-1AM, Thurs-Sat
22. Mercado de Coyoacan
The Coyoacan neighborhood is a must-visit in Mexico City. Located towards the south of CDMX, it's far enough and different enough that it feels almost like a separate city.
The Frida Kahlo House Museum is arguably the top attraction in Coyoacan but one place that you shouldn't miss, especially if you're hungry, is Mercado de Coyoacan. It's home to one of the best market stalls we visited anywhere in Mexico City.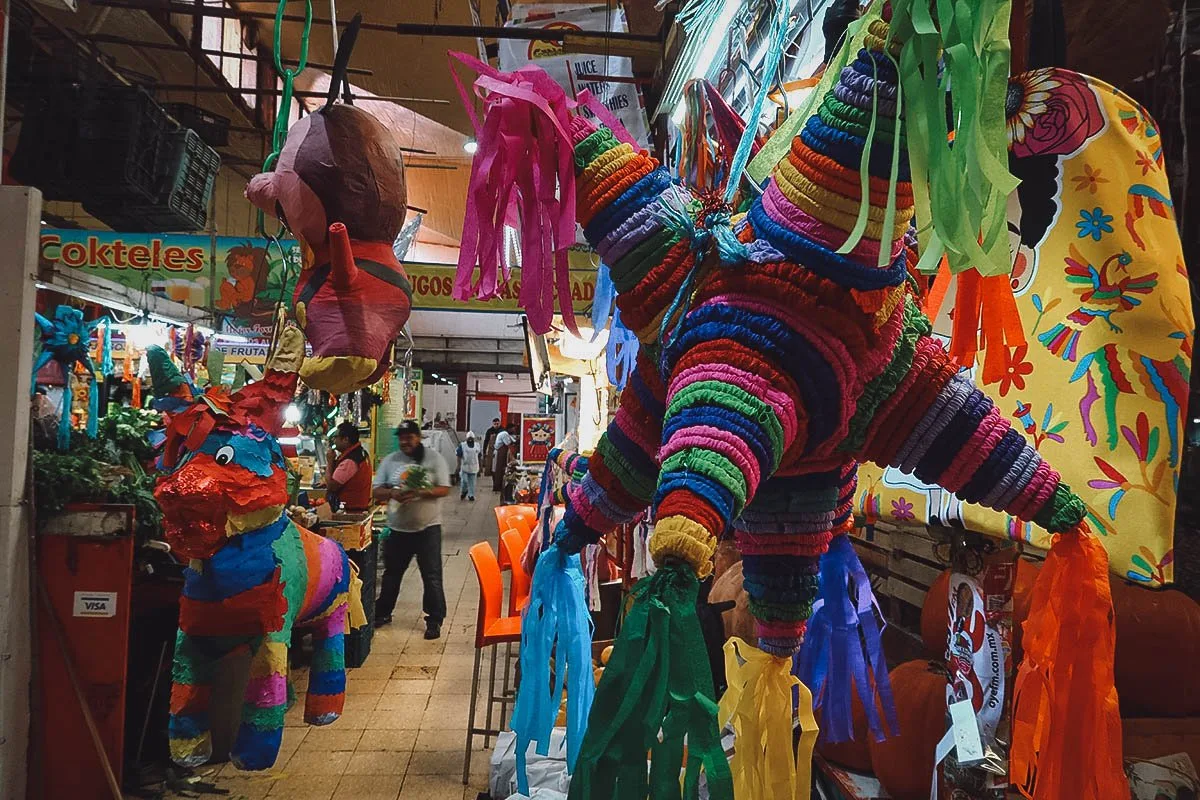 Tostadas Coyoacan is clearly the most popular stall at Mercado de Coyoacan. They occupy four or five stalls so they're kinda hard to miss!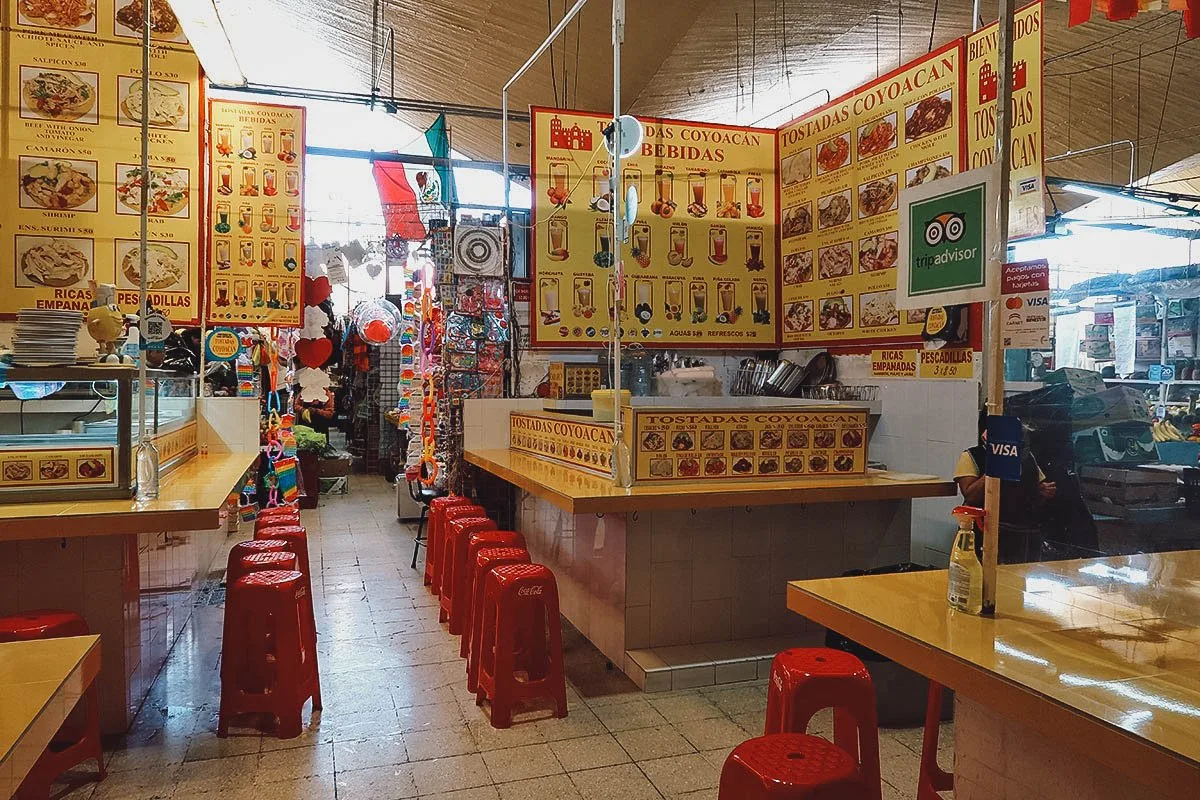 As their name suggests, Tostadas Coyoacan is known for its tostadas. They're basically crunchy deep-fried tortillas topped with a variety of ingredients.
This tostada was topped with tinga de pollo or shredded chicken cooked in tomato sauce. Delicious!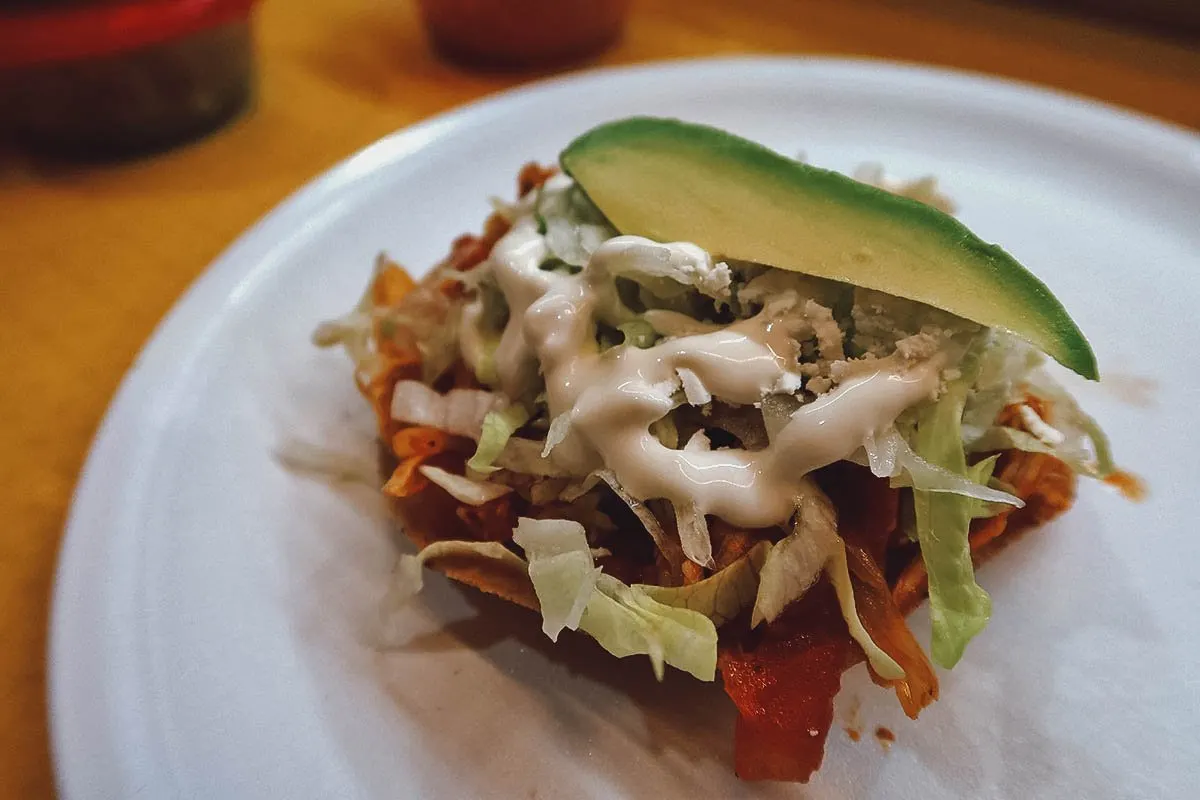 Can you tell what those translucent chunks are peeking out from underneath the mound of lettuce? It's called pata and refers to cartilage/tendon made from pork feet.
If you've never had tendon before, it has a soft and chewy texture that's sort of similar to pork ear, but with less snap. We love it.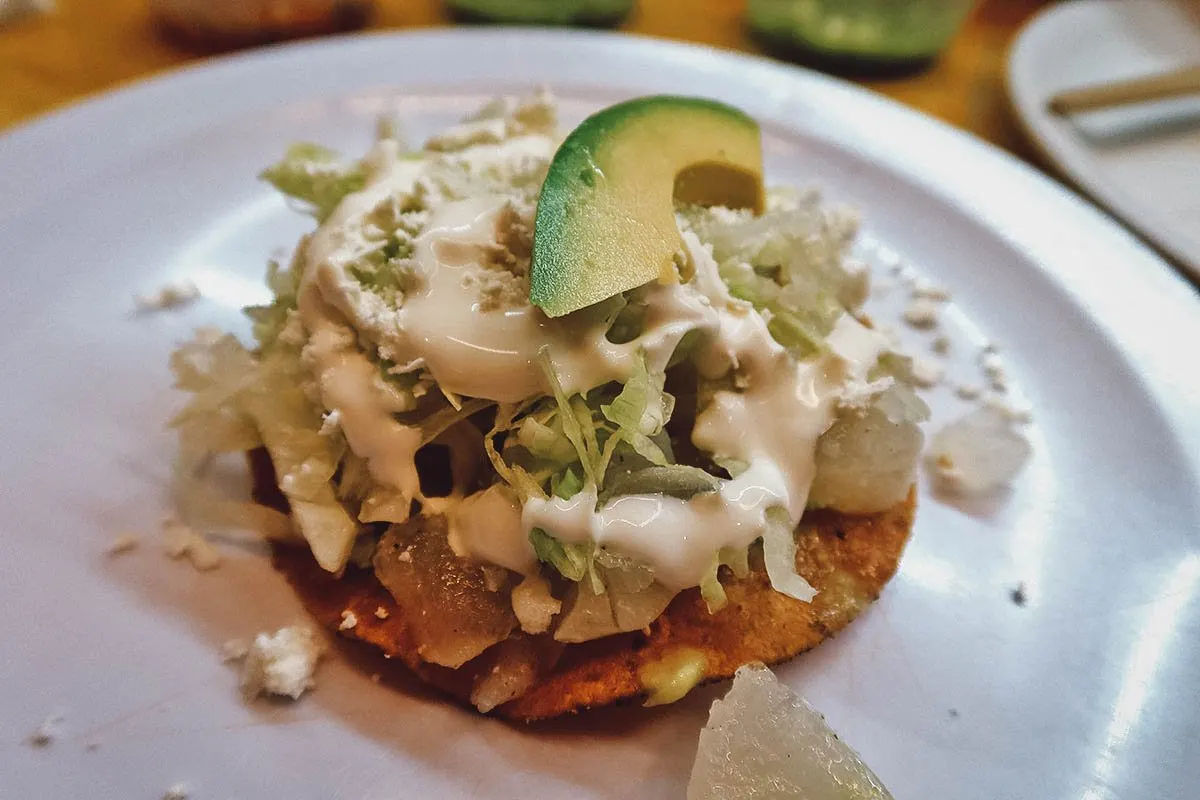 This tostada was topped with octopus…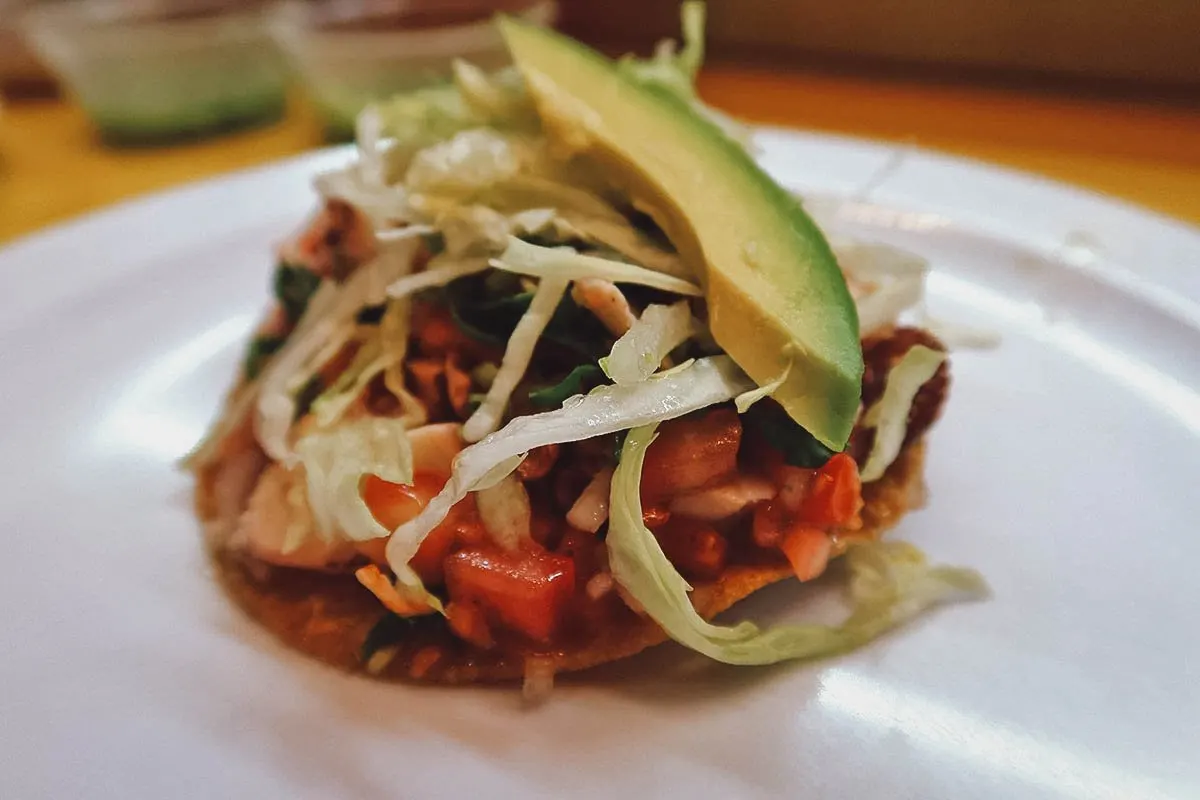 …and this one with spicy shrimp. I forgot to take a picture of it but we had tuna tostadas as well. Every single one of these tostadas was delicious and among the best we had anywhere in Mexico.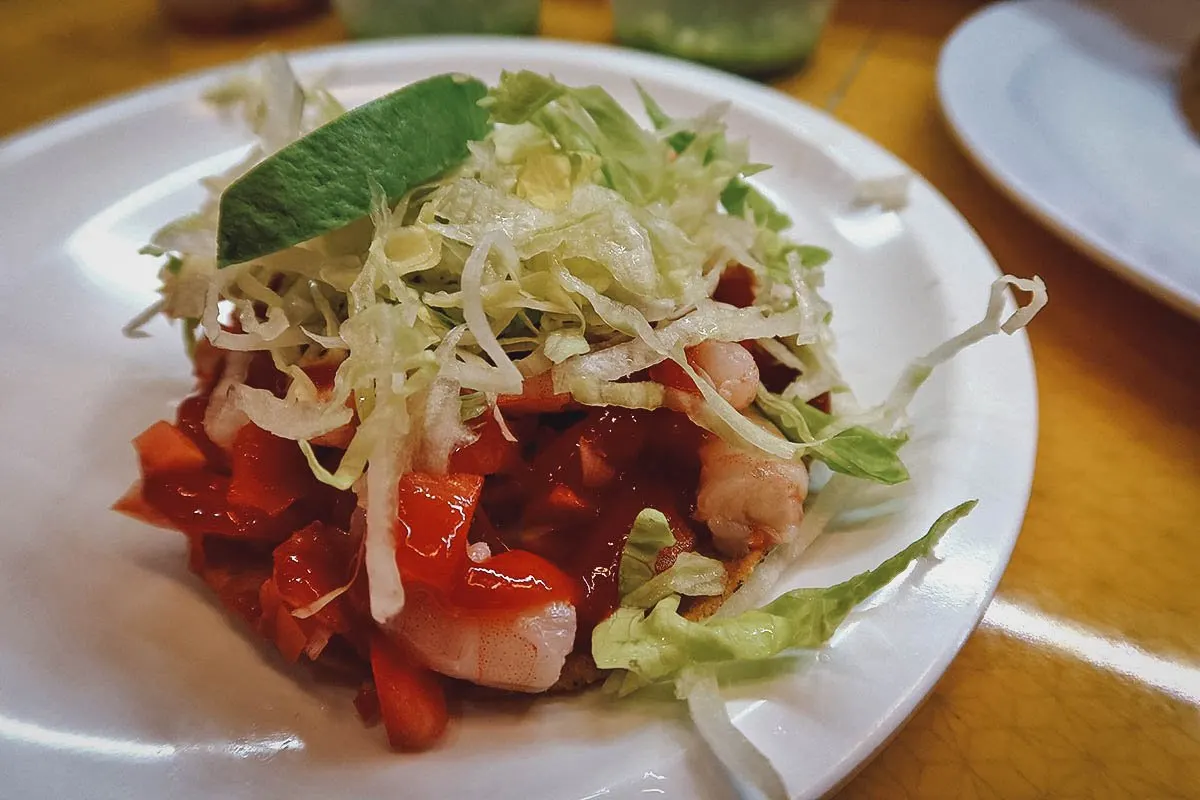 Mercado de Coyoacan
Address: Ignacio Allende s/n, Del Carmen, Coyoacán, 04100 Ciudad de México, CDMX
Operating Hours: 8AM-8PM, daily
LOCATION MAP
To help you navigate to these Mexico City restaurants, I've pinned them all on the map below. Click on the link for a live version of the map.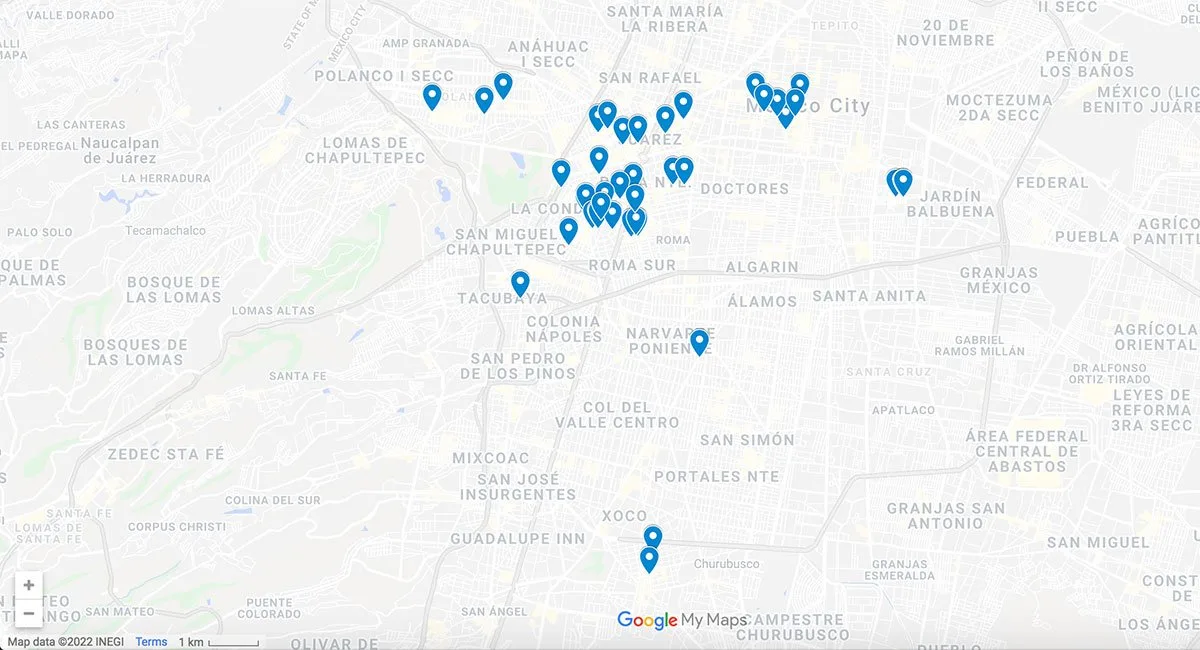 FINAL THOUGHTS ON THIS MEXICO CITY FOOD GUIDE
Mexico City is a food lover's paradise. You can't visit Mexico City and not be overwhelmed by its many restaurants and street stalls offering an endless variety of Mexican food.
We absolutely love tacos which is one of the main reasons why we enjoyed Mexico City so much. It's home to the best and biggest variety of tacos in Mexico. I've already talked about tacos de suadero, guisado, canasta, and al pastor, but another taco you may want to try is cochinita pibil.
A specialty of Mayan cuisine, cochinita pibil tacos are made with Yucatan-style pork marinated in sour orange juice and then slow-cooked in an earthen oven. It's common in Merida and Valladolid but not so much in Mexico City. One of the best places to have it in CDMX is at the popular El Turix taqueria in swanky Polanco.
Lastly, I know how in-demand vegetarian food is these days. We're meat eaters so we didn't try any, but if you'd like to have vegetarian or vegan tacos in Mexico City, then one of the most recommended places is the Por Siempre Vegana taqueria in Roma Norte.
And with that, I'll end this Mexico City food guide and wish you many unforgettable meals in this vast, frenzied, sometimes confusing, but always delicious city. ¡Buen provecho!
Disclosure
Some of the links in this guide to the best Mexico City restaurants are affiliate links. What that means is that we'll get a small commission if you make a booking at no additional cost to you. As always, we only recommend products and services that we use ourselves and firmly believe in. We really appreciate your support as this helps us make more of these free travel guides. ¡Muchas gracias!