For people who travel for food, Oaxaca needs little introduction. It's home to some of the best food in Mexico.
Tasty regional dishes like tlayuda, mole negro, and memelas await you on every visit, but do you know what else you can find in Oaxaca? Amazing coffee and some of the finest mezcal in the country.
Oaxaca accounts for over 70% of total mezcal production in Mexico. To say that it's the epicenter of the mezcal universe would be an understatement.
I've always eschewed hard liquor in favor of beer but the unique smokiness of mezcal made me a convert. That first tasting experience turned us on to the magic of mezcal and inspired us to compile this list of the best mezcalerias in Oaxaca.
If you're visiting Oaxaca City and want to know where to go for mezcal tasting, then this article will point you in the right direction.
MEZCALERIA OAXACA QUICK LINKS
To help you plan your visit to Oaxaca, we've put together links to recommended hotels, tours, and other travel-related services here.
HOTELS
Top-rated hotels in Centro, one of the best areas to stay for first-time visitors to Oaxaca.
TOURS
OTHER SERVICES
Save This on Pinterest!
No time to read this guide on the best mezcalerias in Oaxaca? Click on the save button and pin it for later!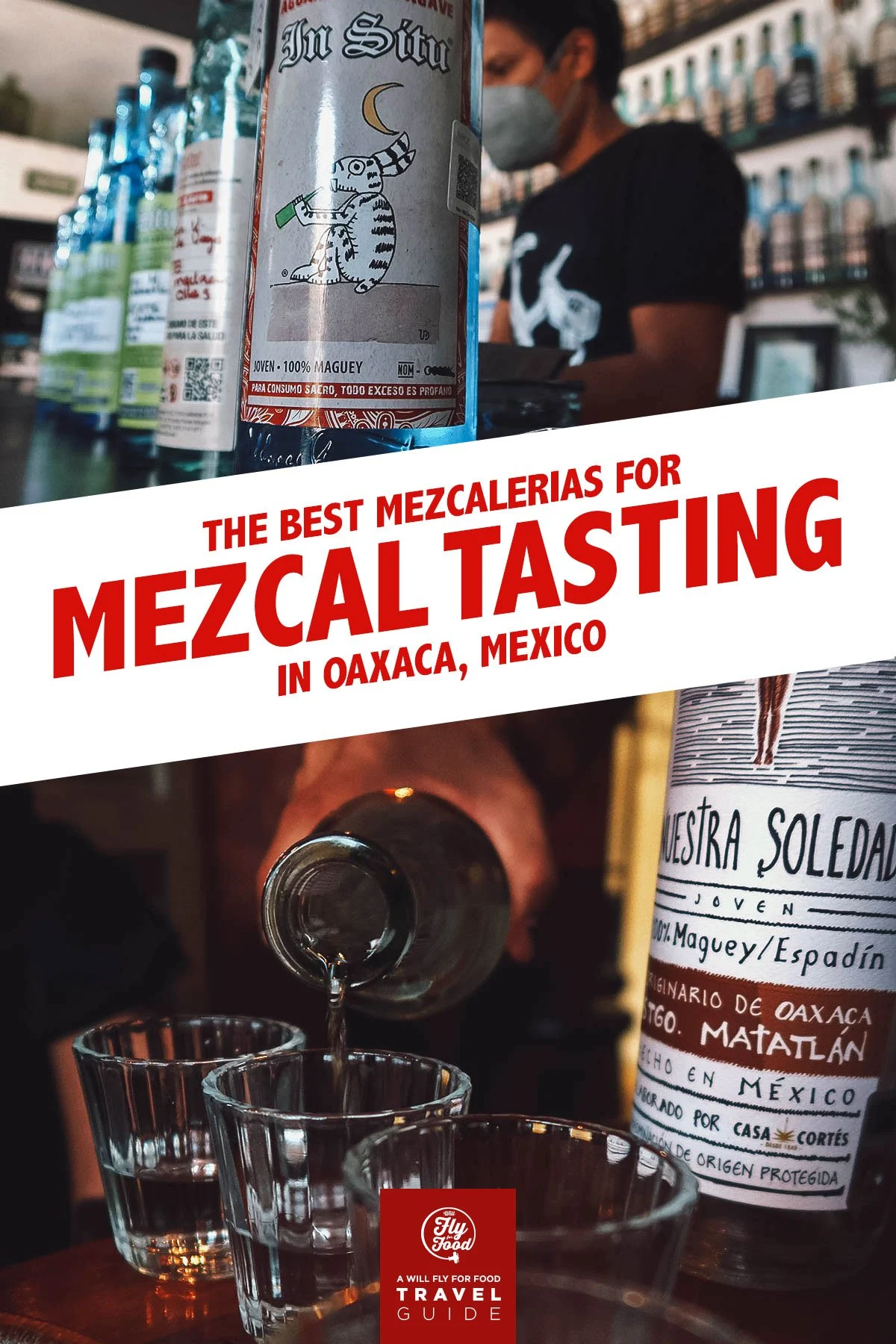 WHAT IS MEZCAL?
Mezcal is a distilled beverage (up to 55% alcohol content) produced from the maguey (agave) plant. Maguey refers to a family of plants native to the arid and semiarid regions of the Americas and the Caribbean. There are about 270 recognized species of Agave plants, of which 30+ are used to make mezcal.
Mezcal is made by roasting the heart of the maguey plant – called the "piña" – and then crushing and fermenting it in large vats. This is where the spirit gets its name. The term mezcal comes from the Nahutal word mexcalli meaning "cooked agave". Mezcal is known for its strong smokey flavor derived from this underground roasting process.
Mezcal enjoys Appellation of Origin (AO, DO) and Geographical Indication (GI) status. What this means is that for bottles of agave-distilled spirits to carry the "mezcal" label, it needs to be produced in the Mexican states of Oaxaca, Guerrero, San Luis Potosí, Zacatecas, and Durango.
According to Wikipedia, similar distilled beverages are made in Jalisco, Guanajuato, Michoacan, and Tamaulipas. However, since they haven't been included in the mezcal DO, bottles produced in these states cannot legally be sold as mezcal.
AGAVE VS. MAGUEY
You'll often read that mezcal is produced from maguey or agave plants. So what exactly is the difference between agave and maguey? This was one of the first things that confused me about mezcal.
There is no difference. Agave is the same as maguey. Agave is the scientific term while maguey is the common name. For example, maguey espadín (common name) refers to the exact same plant as Agave angustifolia (scientific name).
I'll be using the terms agave and maguey interchangeably in this guide.
HOW IS MEZCAL MADE?
Of the 30+ agave species used to make mezcal, by far the most common is maguey espadín (Agave angustifolia). This species of Agave accounts for about 90% of total mezcal production in Mexico.
Other common varieties used to make mezcal include maguey arroqueño (Agave americana), maguey cirial (Agave karwinskii), maguey barril (Agave rodacantha), maguey mexicano (Agave macroacantha), and maguey cincoañero (Agave canatala Roxb). Most mezcal is made from cultivated plants but the most famous wild agave used to make mezcal is maguey tobalá (Agave potatorum).
Mezcal is produced from the heart of the maguey plant, called the "piña". The process begins by harvesting mature plants which can weigh up to 88 lbs (40 kg) each. The plant's leaves and roots are chopped off before roasting the piña over hot rocks in pit ovens for about three days. The roasted agave is then crushed, mashed, and mixed with water before being left to ferment in large vats or barrels.
After fermenting, the ensuing liquid is distilled in clay pots to further enhance its flavor. Like tequila, mezcal is double-distilled to increase its alcohol content. The first distillation, known as ordinario, produces an alcohol content of about 37.5%. The liquid is then distilled a second time to raise its alcohol content to as high as 55%.
The double-distilled liquid is then bottled and sold immediately – as unaged mezcal – or kept in barrels where it's left to age for up to 12 years.
TYPES OF MEZCAL
There are two basic types of mezcal – mezcal made with 100% agave and mezcal made with 80% agave and 20% other sugars. Each type has four categories – joven, dorado, reposado, and añejo.
Joven
Also known as blanco (white), joven refers to mezcal that's clear and unaged (or hardly aged, 0-2 months).
Dorado
Meaning "golden", dorado refers to unaged mezcal that's been mixed with a coloring agent. This is done more often with mixed mezcals (80% agave).
Reposado
Reposado refers to mezcal that's been aged in wood barrels for anywhere between 2-12 months.
Añejo
Añejo refers to mezcal that's been aged in barrels for at least 12 months. The best añejo mezcal is typically aged between 18 months and 3 years. If it's made with 100% agave, then it's usually aged for about 4 years.
HOW TO DRINK MEZCAL
Mezcal has become increasingly popular in recent years, especially in the US, so there's no shortage of trendy mezcal cocktails. But in my opinion, enjoying it straight is the proper way to drink mezcal. You can really appreciate its smokiness that way.
Because pure mezcal is typically served in small amounts, your initial reaction is to drink it in the tiniest sips. According to the bartender at one mezcal bar, this is not the right way to do it.
First, you're supposed to hold the glass of mezcal under your nose and sniff it in three stages. Start by sniffing the far rim of your glass, then the center, then the near rim. According to our bartender, smelling it in this way helps you appreciate the aroma and character of the mezcal. I'm not nearly experienced enough to sense the differences but I'm sure mezcal aficionados can.
You then take an ample sip – enough to swish the liquid in your mouth a few times – before swallowing. If you drink it in this way, then each small glass of mezcal should be good for about 2-3 sips.
POPULAR MEZCAL COCKTAILS
Personally, I think drinking it straight is the best way to enjoy mezcal but you'll find an endless variety of mezcal cocktails at the many restaurants and bars in Oaxaca. Each place will have its own unique concoctions but these popular mezcal cocktails (or some version of it) should be available at most mezcal bars.
Mezcal Mule: A spin on the classic Moscow mule made with mezcal, lime juice, and ginger beer.
Mezcal Margarita: Instead of tequila, mezcal is mixed with orange liqueur and lime juice to make this classic cocktail that's typically served in a rim-salted glass.
Mezcal Negroni: A mezcal cocktail based on the Italian classic. Instead of gin, it's made with mezcal mixed with semi-sweet red vermouth and Campari garnished with orange peel.
Mezcal Paloma: Mezcal takes the place of tequila in this popular Mexican cocktail flavored with lime juice and grapefruit juice.
Mezcal Old-Fashioned: If you'd rather not choose between mezcal and tequila, then the mezcal old-fashioned is for you. Instead of whiskey, it's made with mezcal and tequila mixed with bitters, simple syrup, and an orange peel.
MEZCAL VS. TEQUILA VS. RAICILLA VS. PULQUE
Tequila and mezcal are the most well-known outside of Mexico but there are other alcoholic beverages made from the maguey plant. Here are some of the most common.
Tequila
Arguably the most famous alcoholic beverage from Mexico, tequila refers to a distilled spirit made from agave. But unlike mezcal which can be made from any type of maguey plant, tequila is produced specifically from the blue agave plant (Agave tequilana). It's basically a type of mezcal.
Tequila is produced mainly in Jalisco state and in limited municipalities within Nayarit, Guanajuato, Michoacan, and Tamaulipas. The actual town of Tequila, where the drink was born, is located in Jalisco.
Pulque
If you'd like to try a pre-Hispanic alcoholic drink in Mexico, something that's been around for thousands of years, then look no further than pulque. It's a milky, viscous beverage made from the fermented sap of the maguey plant.
Sour and yeast-like in flavor, you can find pulque throughout Mexico. I had my first taste of it on this cocktail and food tour in Puerto Vallarta.
Raicilla
I tried this interesting distilled spirit on the same tour in Puerto Vallarta. Made from the maguey plant, it's a potent distilled spirit hailing from the southwestern part of Jalisco. It's existed for over 300 years and like mezcal, it enjoys protected Denomination of Origin status.
Though not as enjoyable as mezcal, I found raicilla to be the most complex-tasting of all the maguey-based alcoholic beverages I've tried so far in Mexico.
BEST MEZCALERIAS FOR MEZCAL TASTING IN OAXACA
To be clear, I'm by no means a mezcal expert but we did meet a local Oaxaqueño who is. These are some of the mezcalerias he recommended to us.
1. Mezcaleria In Situ
There's no better way to start this guide to mezcal in Oaxaca than with In Situ, one of the city's most respected mezcal bars. Together with La Mezcaloteca, it's arguably one of the two most highly-regarded mezcalerias in Oaxaca.
According to the founders of In Situ, they have the largest collection of artisanal mezcal anywhere in Mexico.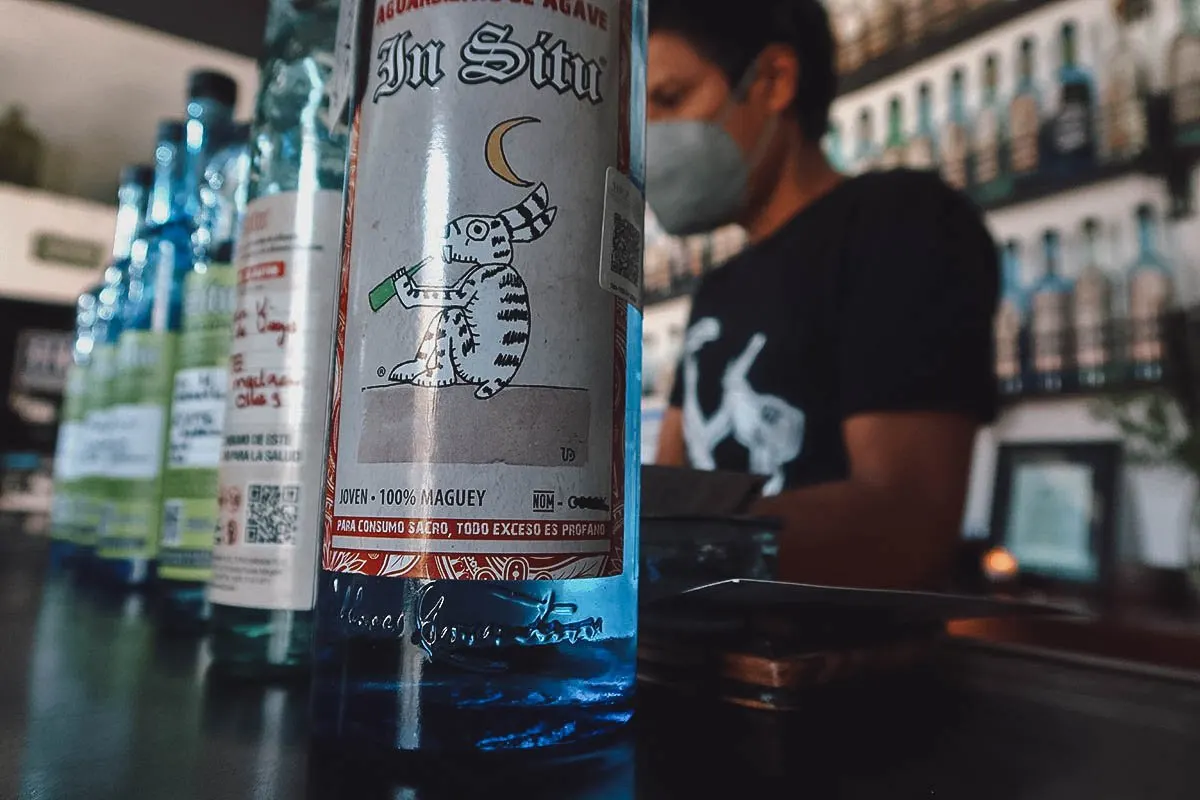 Mezcal tastings in Oaxaca typically consist of 3-4 glasses of any mezcal of your choice. If you're a beginner like us, then you can ask the bartender to choose for you. Since there were two of us, we always got 6-8 different glasses of mezcal.
At each new mezcaleria, we'd tell the bartender exactly how many tastings we had done so he'd pick out less common mezcal brands. If you plan on doing multiple mezcal tastings in Oaxaca, then I suggest doing the same.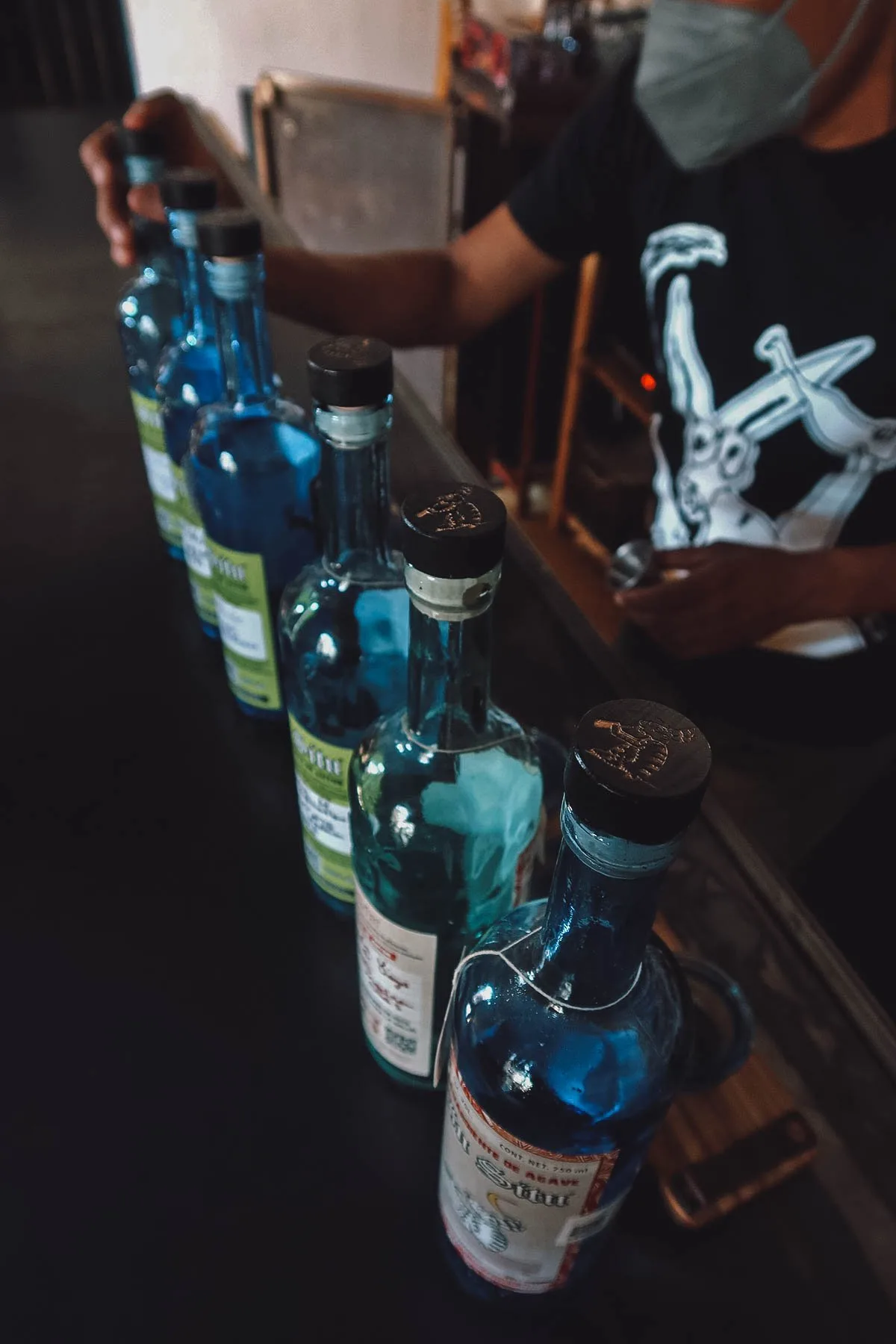 They serve mezcal in these shallow blue cups that match their blue bottles. Aren't they cute? We liked them so much we bought a pair as souvenirs.
At In Situ, tastings cost MXN 450 for three glasses. That's around double the cost at other mezcalerias. In Situ does have a reputation for being one of the very best mezcalerias in the city so their mezcal comes at a premium.
Of all the mezcalerias we went to, only In Situ offered these cards that provided information on each type of mezcal. The bartender does a good job of explaining the mezcals to you but it was still nice to have these cards for reference.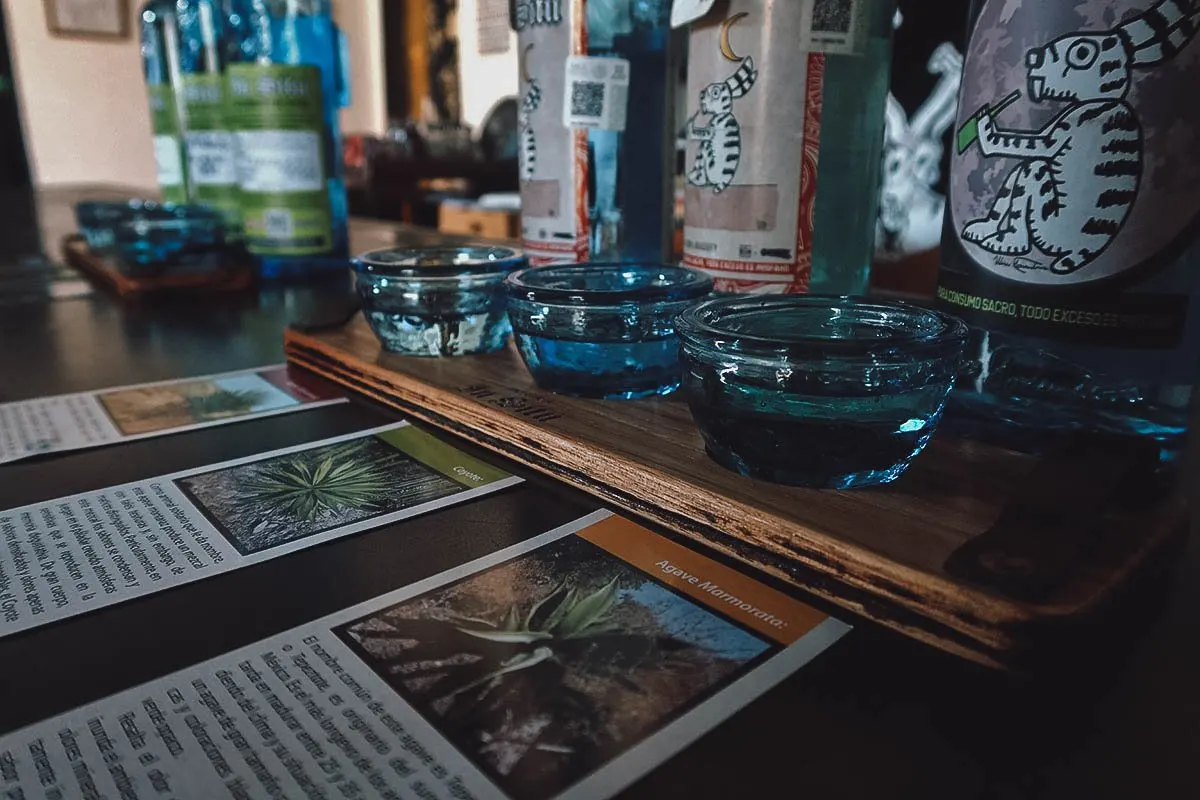 Mezcaleria In Situ is open from 2-11PM, Monday to Saturday. It's a lot more expensive than most other places on this list but according to the mezcal experts, it's definitely worth it. Try it if you want to know what the best mezcal tastes like.
Mezcaleria In Situ
Address: Vicente Guerrero #413, Zona Feb 10 2015, Centro, 68000 Oaxaca de Juárez, Oaxaca
Operating Hours: 2-11PM, Mon-Sat (closed Sundays)
What We Paid: MXN 450 (March 2022)
2. Mezcalillera
Mezcalillera was probably my favorite mezcal bar in Oaxaca. I'm too green to have anything meaningful to say about any of the mezcal but I liked this bar because of its vibe. It's a small, well-designed bar with two floors and we had the tasting room on the second floor all to ourselves.
Plus, I really liked their bottles. Unlike the other mezcalerias on this list that keep their spirits in uniform bottles, Mezcalillera serves theirs in the original mezcal bottle. Not that it has any bearing on taste, but it's nice seeing each Oaxaca mezcal brand lined up together like this. You know, for Instagram.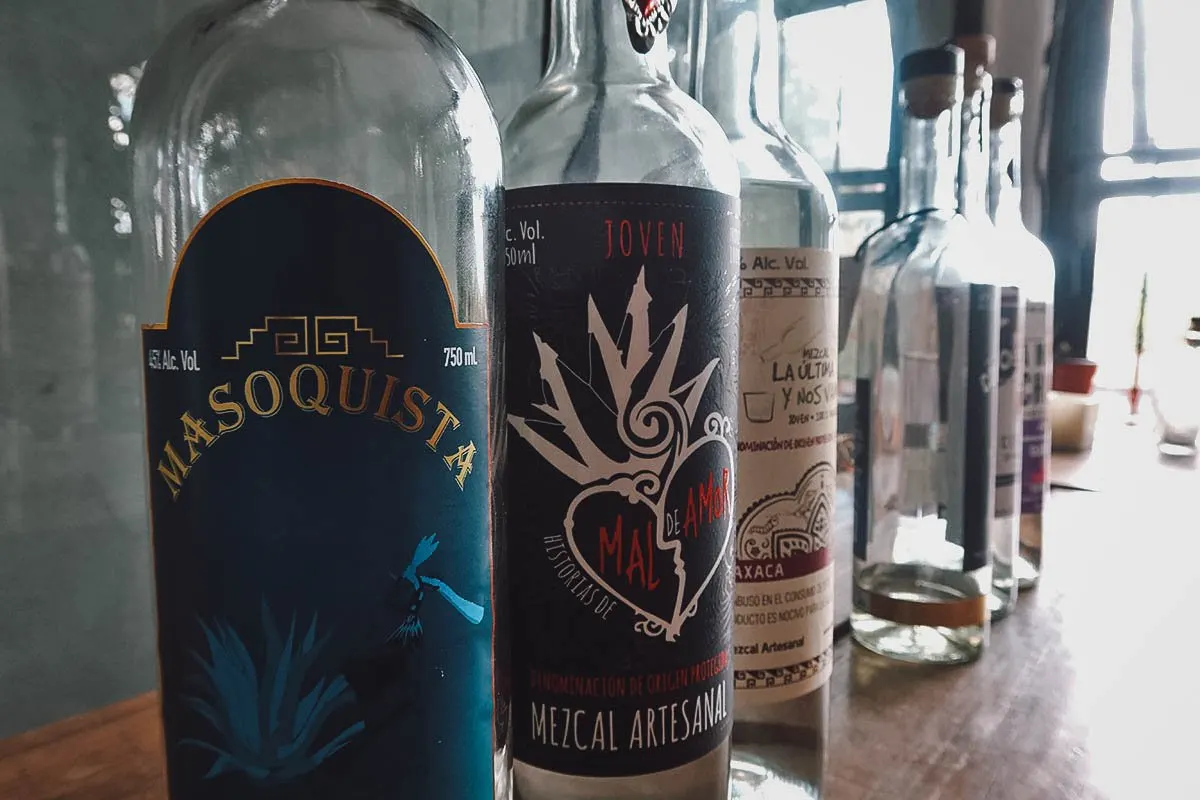 At just MXN 250 for three glasses, Mezcalillera is considerably cheaper than In Situ.
Again, I'm too much of a noob to comment on the mezcal itself but I'm assuming the price correlates with the quality. Personally, I enjoyed these very much.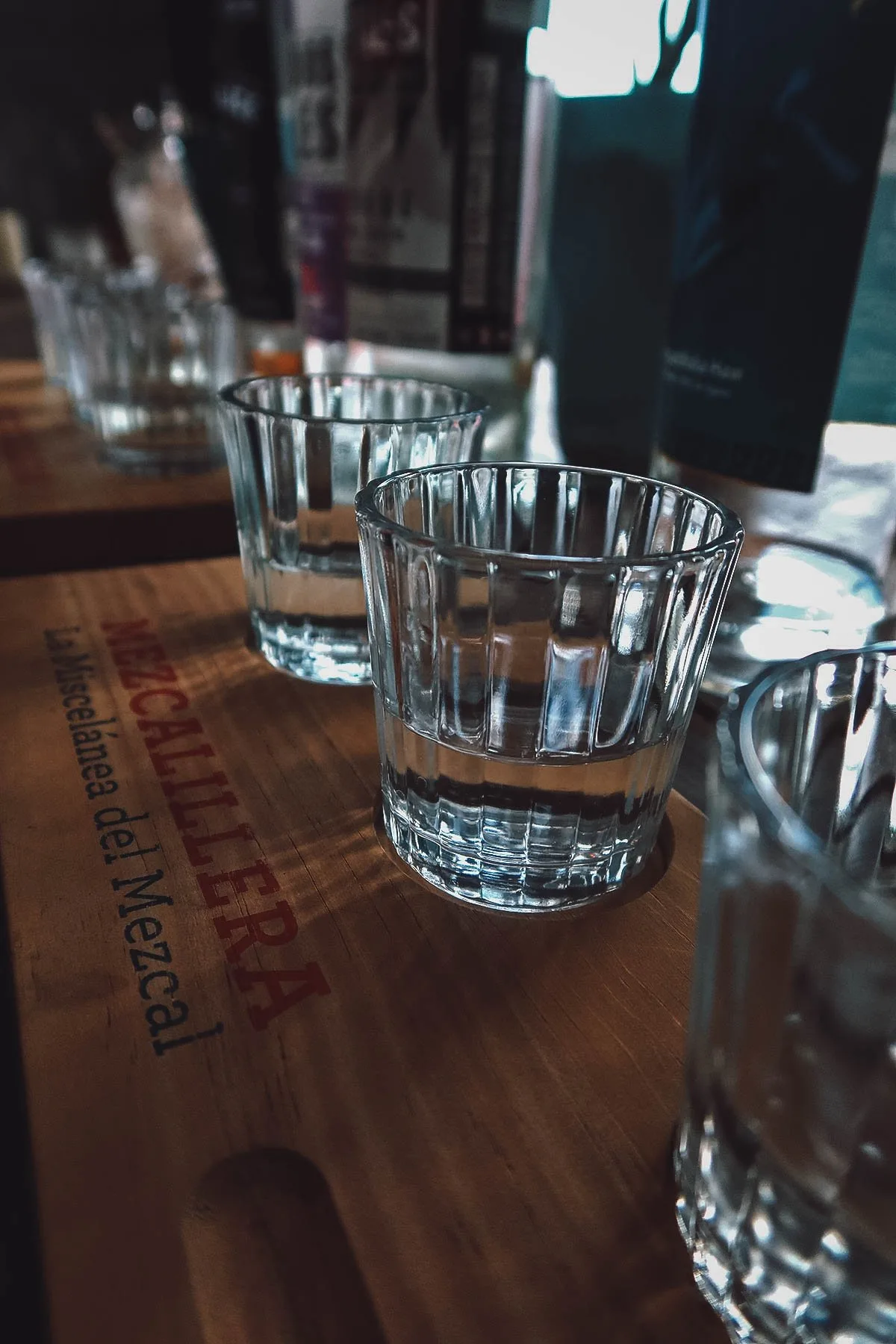 Don't you just love this mezcal cabinet display? It was built beneath the staircase leading up to the second floor. Very cool!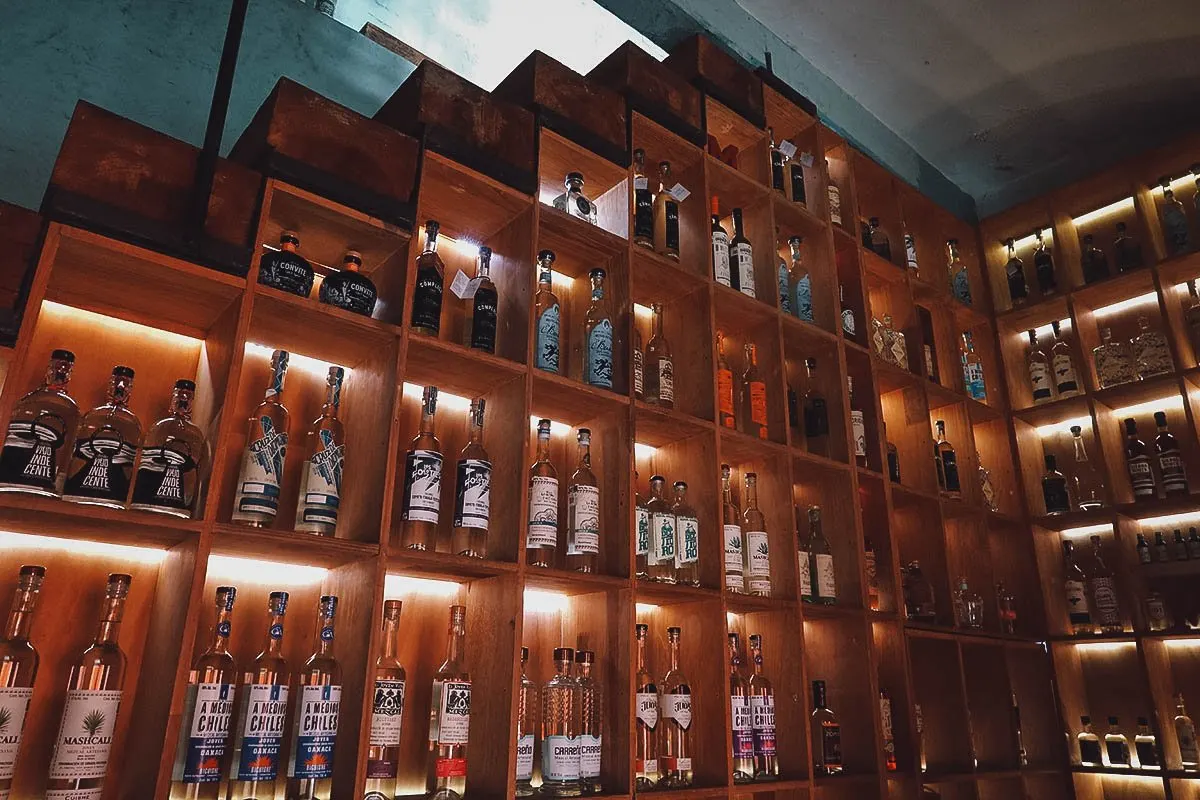 This is what the tasting room on the first floor looks like. It's basically just this one small bar with four stools. If I remember correctly, there are no tables here.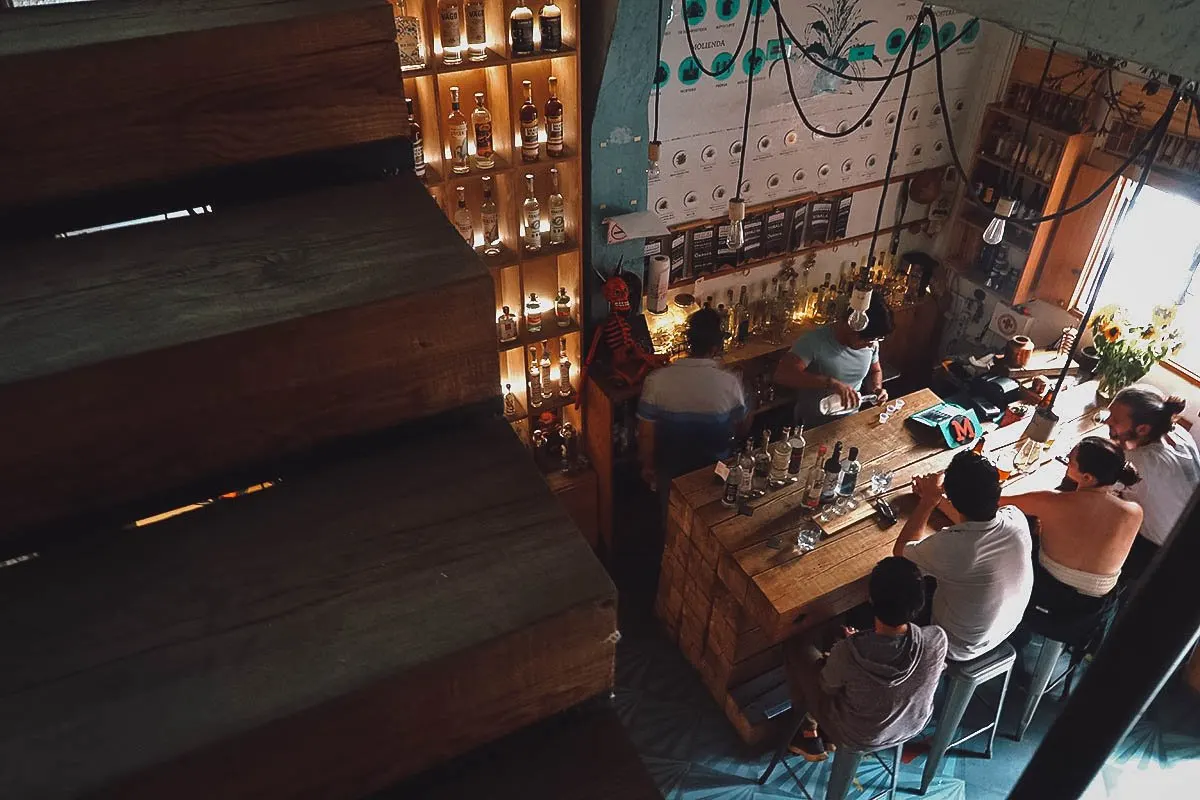 Mezcalillera is a fun local mezcal bar in downtown Oaxaca. I highly recommend checking this place out if you care as much for the vibe as the spirits themselves.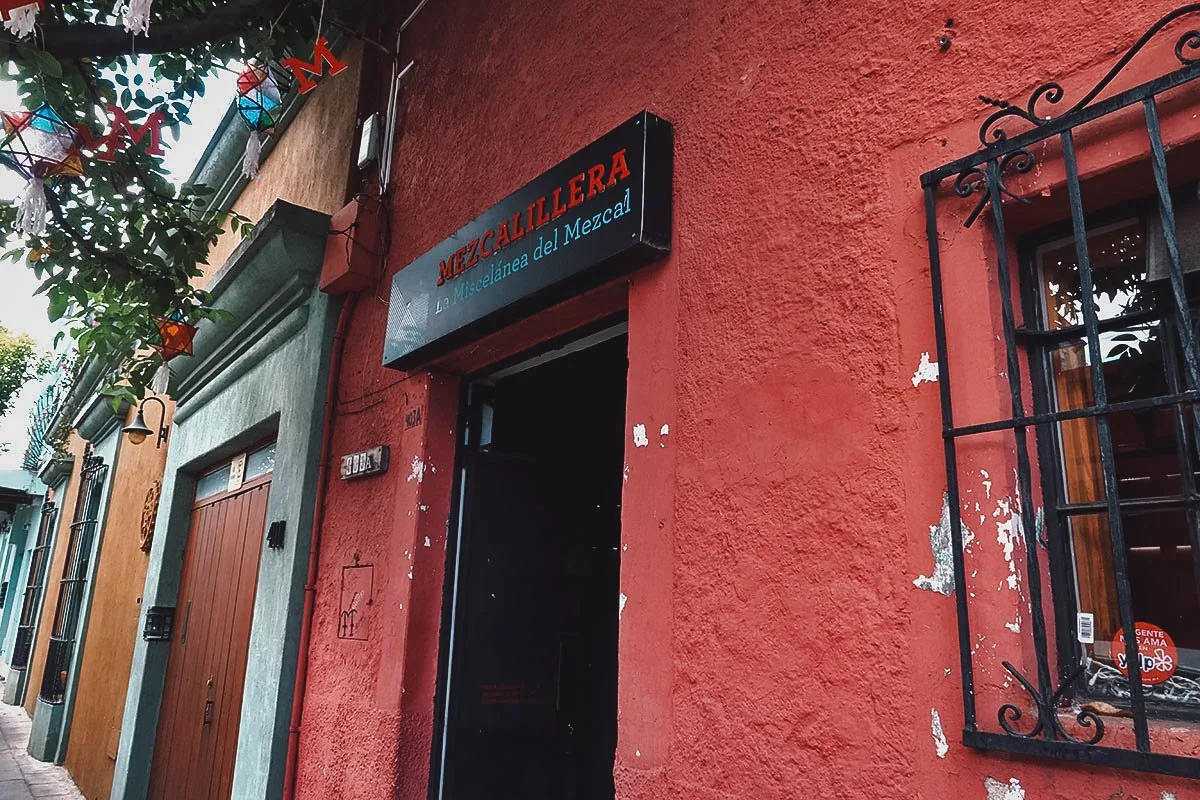 Mezcalillera
Address: Murguía 403a, RUTA INDEPENDENCIA, Centro, 68000 Oaxaca de Juárez, Oaxaca
Operating Hours: 12NN-9PM, Mon-Sat (closed Sundays)
What We Paid: MXN 250 (March 2022)
3. Expendio Cuish
This was the very first mezcaleria we went to in Oaxaca. We loved Expendio Cuish for its intimate space, its relaxed vibe, and its very helpful bartender. He did a fantastic job explaining the different mezcal brands to us and patiently answering all our questions.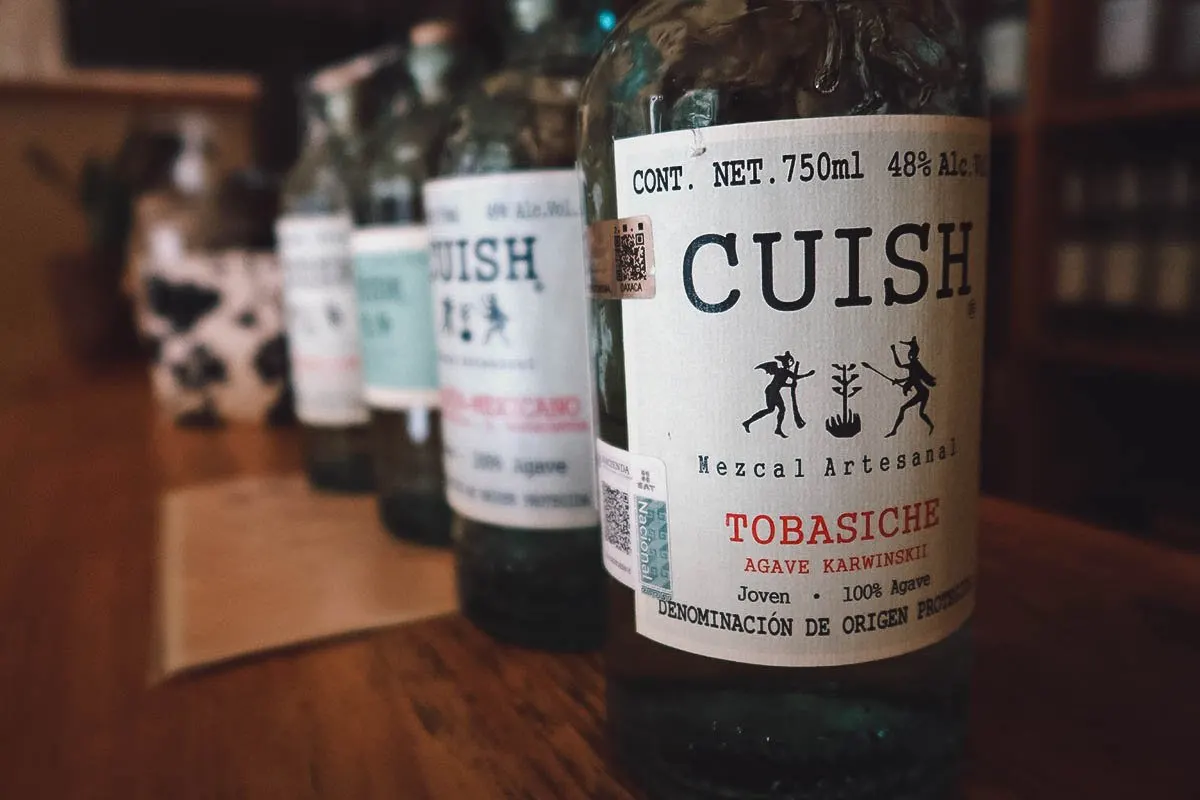 Don't you just love these vintage glass bottles? At just MXN 220 for three glasses, Expendio Cuish offered the cheapest mezcal tasting of any bar we visited in Oaxaca. We'd definitely go back to this place.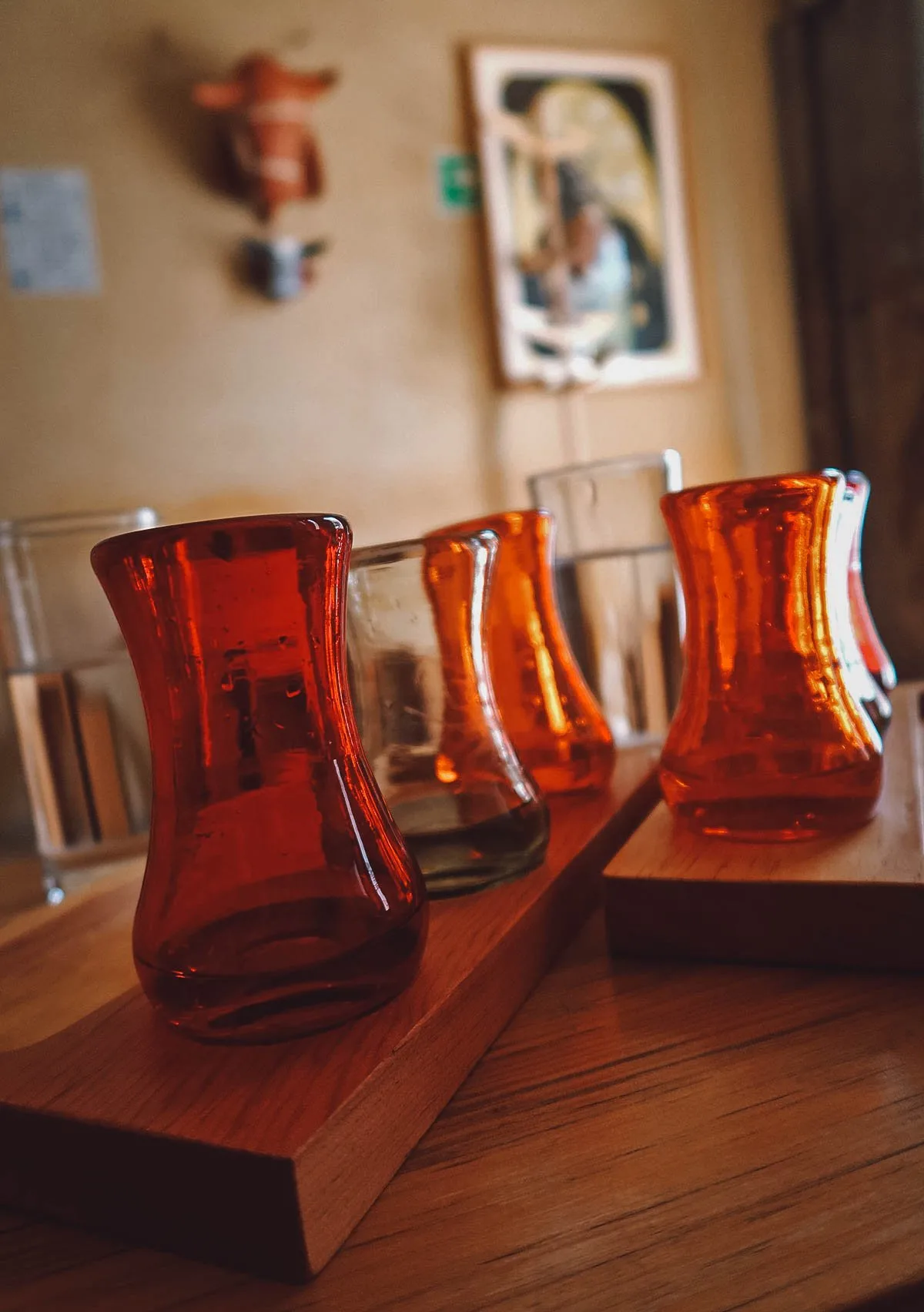 This is what their tasting room looks like. It's basically just this bench and another on the opposite side. Expendio Cuish is a tiny mezcaleria that can accommodate up to four small groups at a time.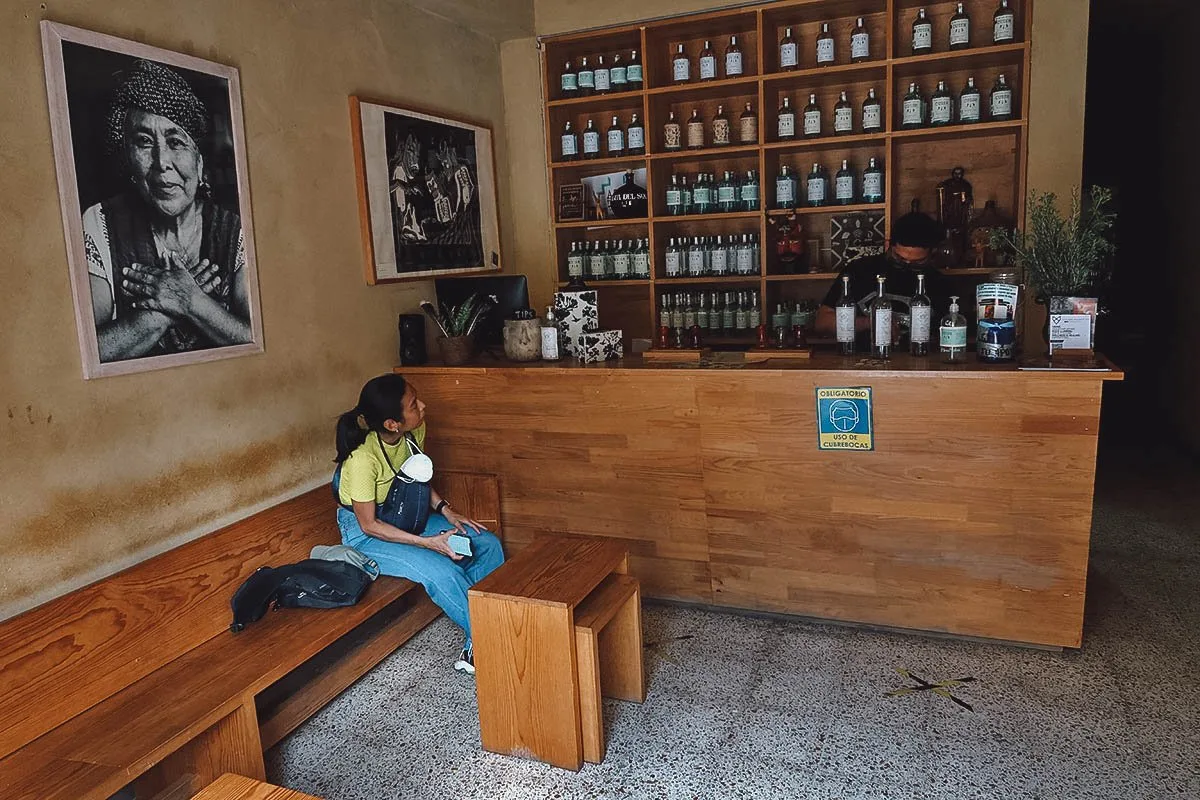 Cuish has two locations. This one is called Expendio Cuish while the other branch is called Mezcaleria Cuish. The latter is located towards the south of downtown Oaxaca so I suggest going to this one instead. It's much more centrally located.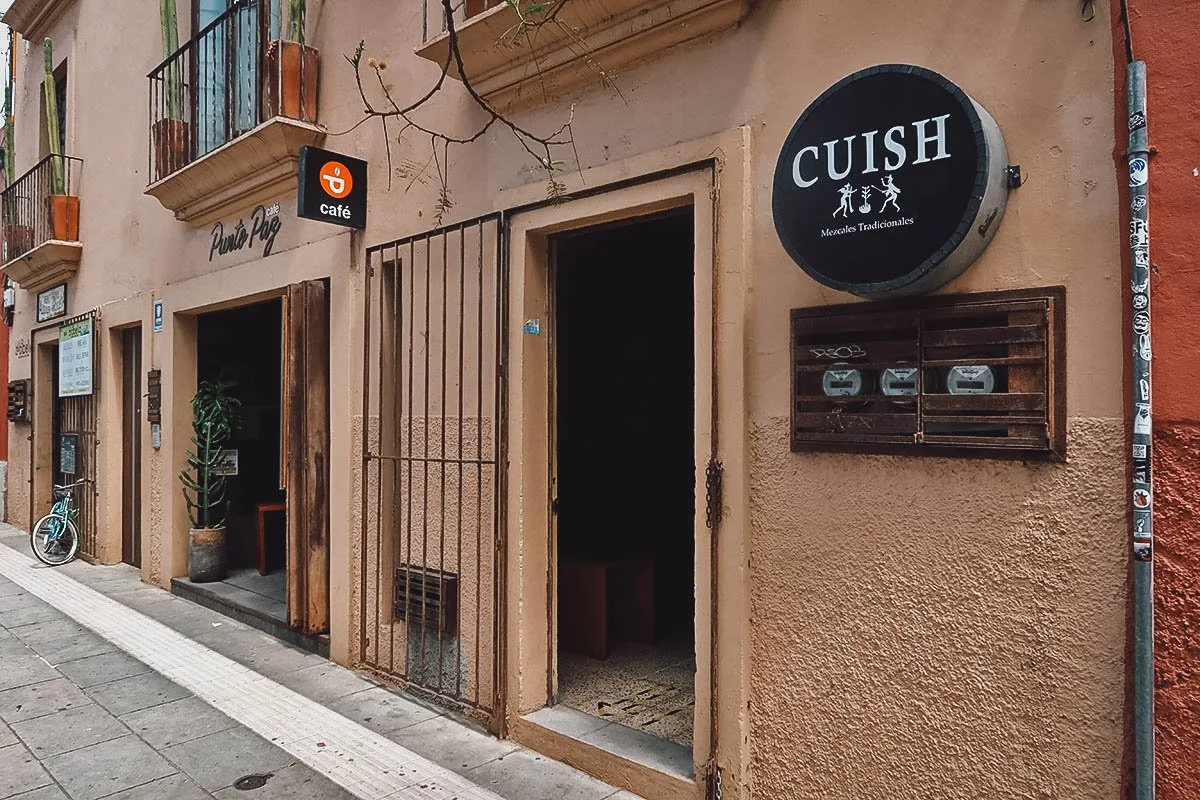 Expendio Cuish
Address: C. Macedonio Alcalá 802, RUTA INDEPENDENCIA, Centro, 68000 Oaxaca de Juárez, Oaxaca
Operating Hours: 1-9PM, Tue-Sun (closed Mondays)
What We Paid: MXN 220 (What We Paid)
4. Mezcalogia
We loved Mezcalogia for its mezcal and its bartender. Most of our bartenders were friendly and helpful but the bartender at Mezcalogia explained things in a way that was easiest to understand.
Do you remember what I said earlier about the proper way to enjoy mezcal? We learned all that from the bartender at Mezcalogia. He has an excellent command of English and can give you a crash course on all things mezcal without being drawn out or boring.
Plus, he was honest too. We initially tried to order two mezcal tastings like we always do but he told us that one tasting was an ample amount for both of us. A big tip for you sir!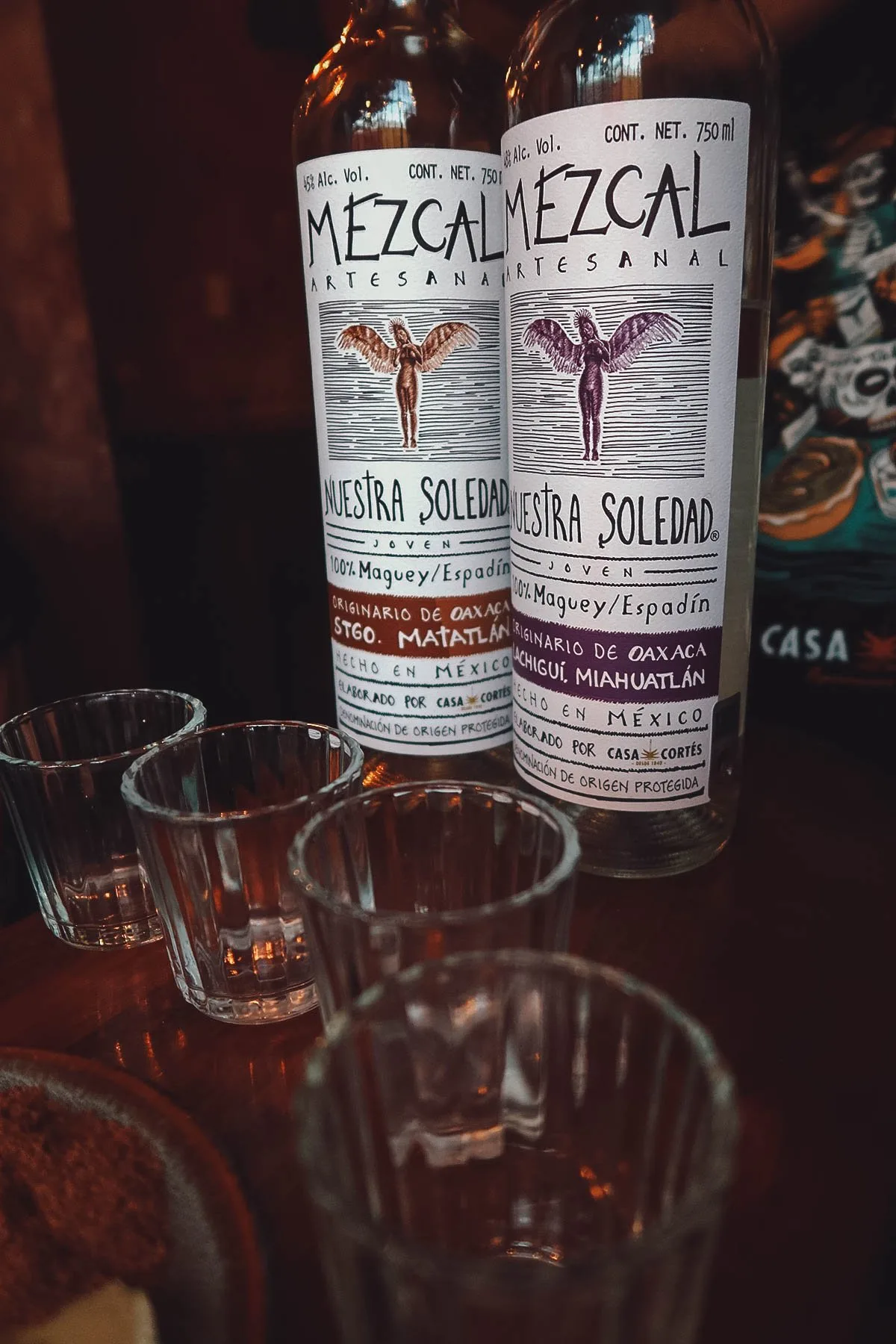 Our bartender pouring us four glasses while explaining to us the ins and outs of this magical drink called mezcal. If you want to truly understand mezcal, then Mezcalogia is a great place to go.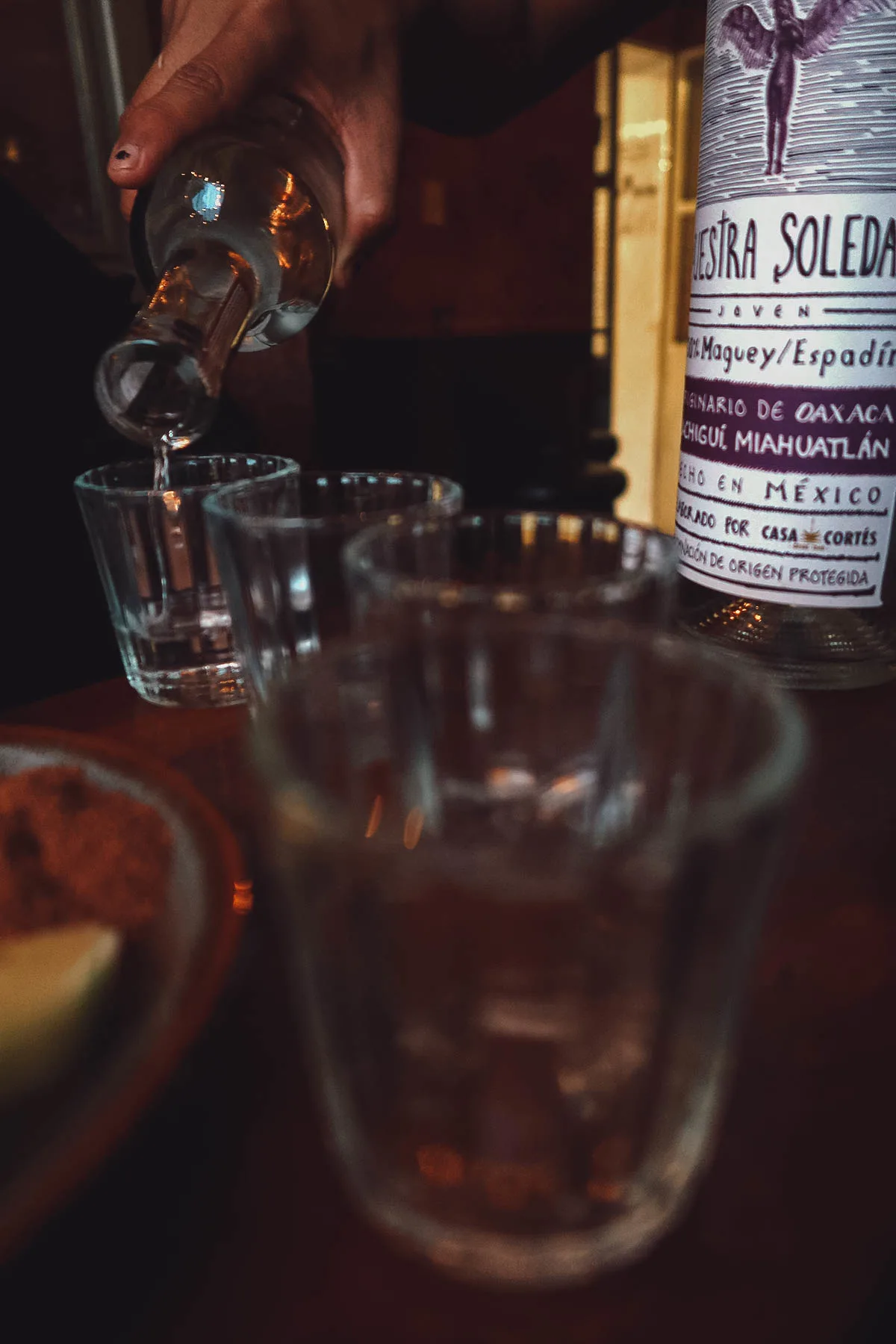 As our awesome bartender advised, one tasting of four glasses at MXN 300 was more than enough for both of us. ¡Muchas gracias señor!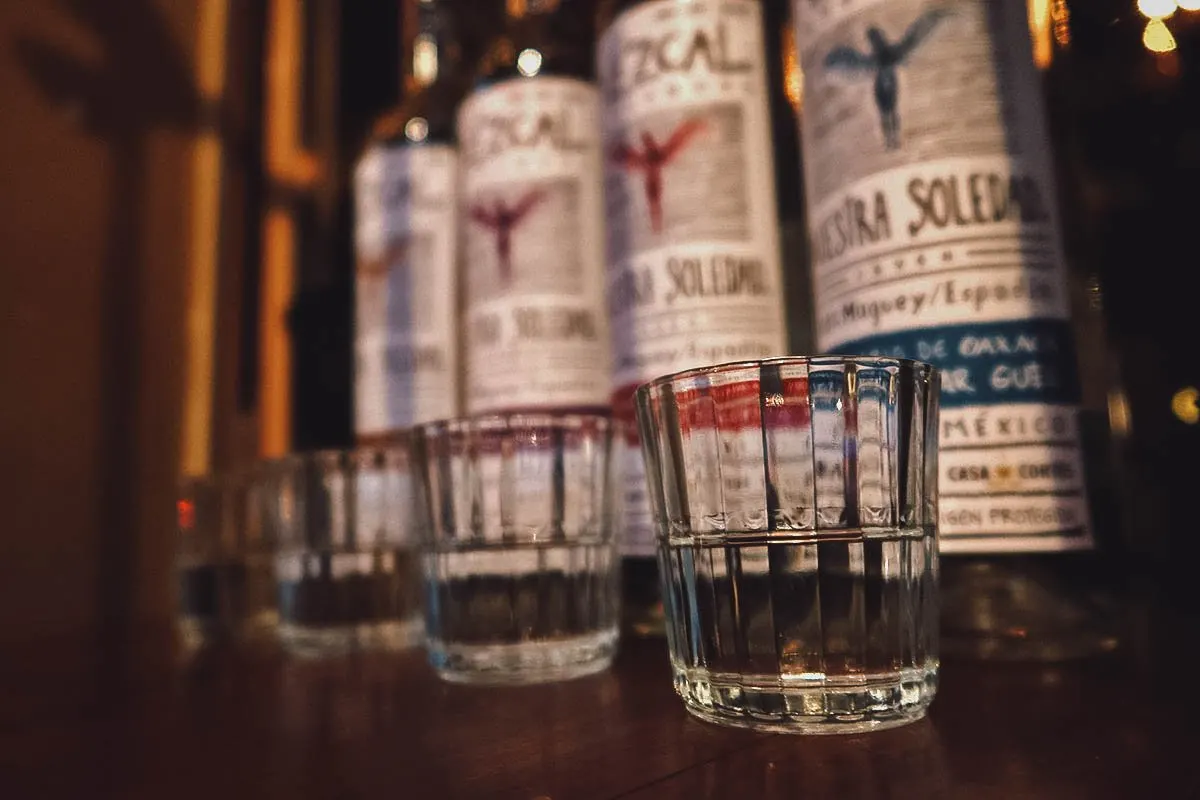 Like most of the mezcalerias on this list, Mezcalogia is an intimate space with just a few tables.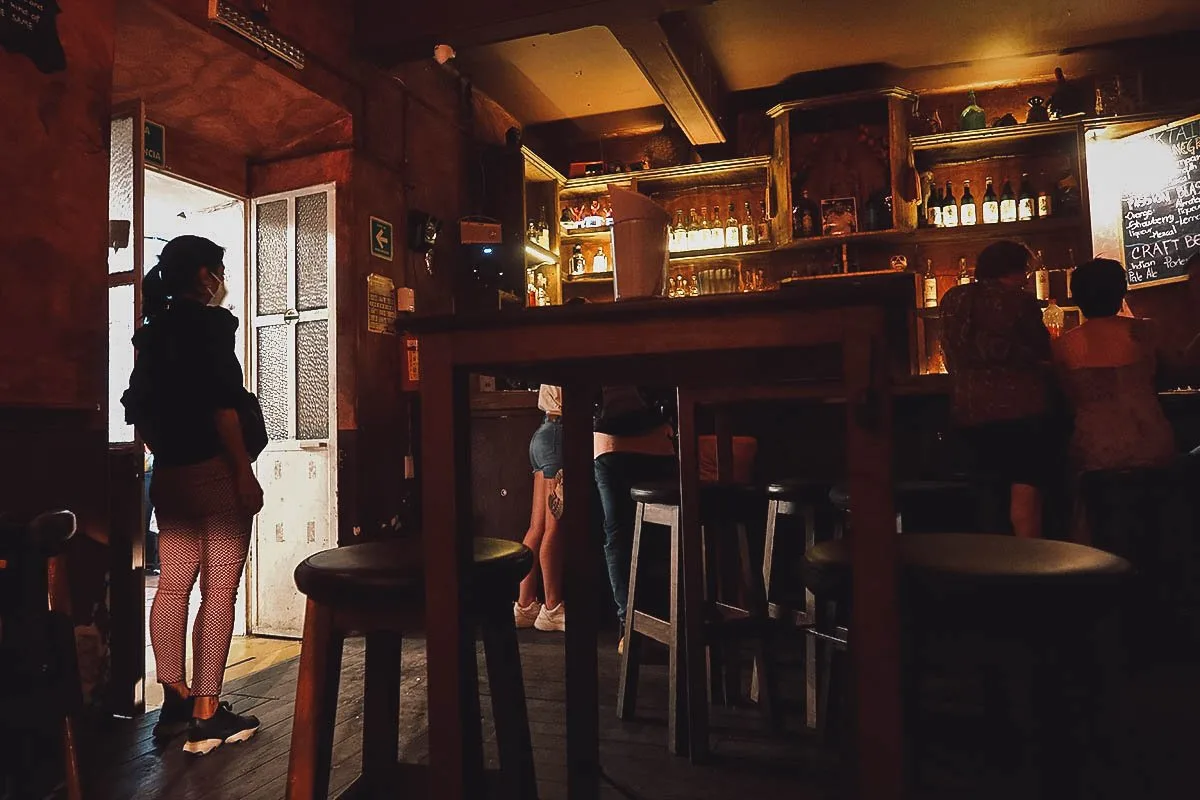 Mezcalogia is located in the heart of Oaxaca's central tourist area, about a 3-minute walk from Templo de Santo Domingo de Guzman.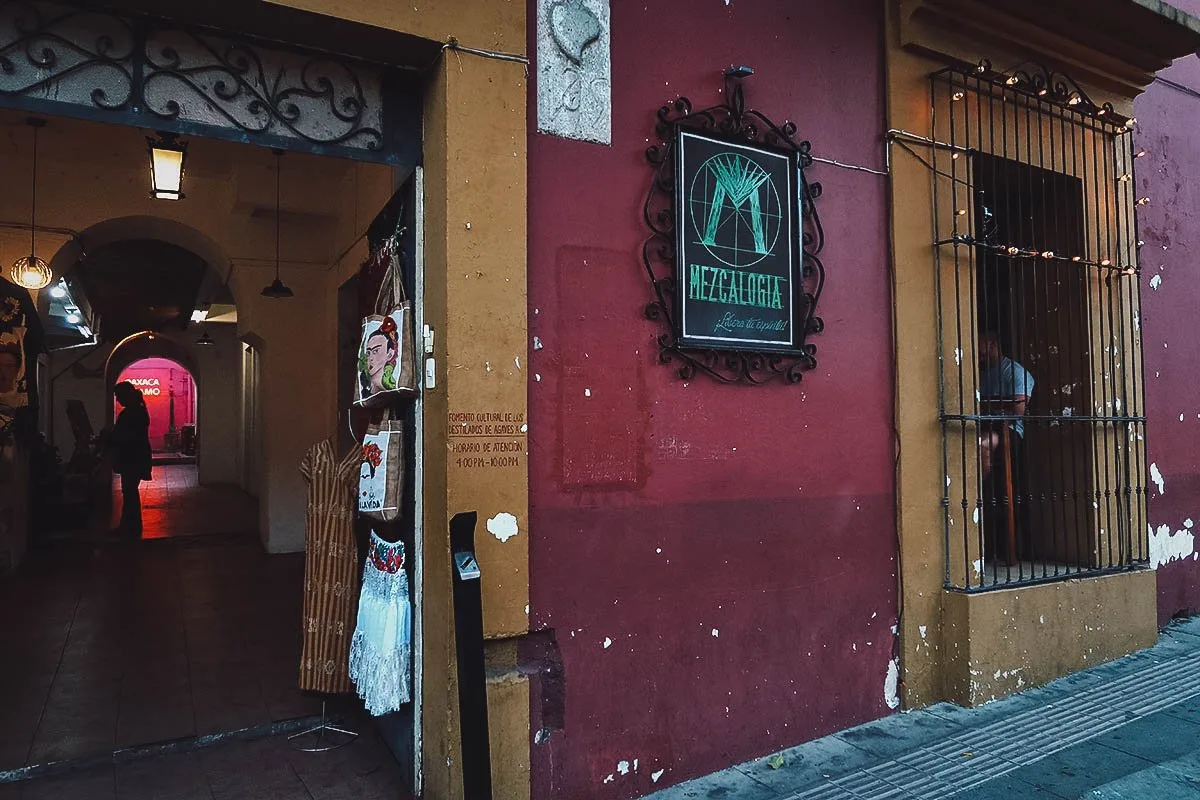 Mezcalogia
Address: C. de Manuel García Vigil # 509, RUTA INDEPENDENCIA, Centro, 68000 Oaxaca de Juárez, Oaxaca
Operating Hours: 2PM-12MN, Sun-Tue / 2PM-2AM, Wed-Sat
What We Paid: MXN 300 (March 2022)
5. La Casa Grande
La Casa Grande is one of the newer mezcalerias in Oaxaca. Based on its 5-star Google rating and gushing reviews, it's already making waves in the mezcal game.
Unlike the other mezcalerias on this list, La Casa Grande doesn't offer true mezcal tastings. By that, I mean you can't order a set of three or four small glasses of mezcal for a fixed fee. You need to order each glass ala carte. This was the last mezcaleria we visited in Oaxaca so we didn't mind doing that.
As always, we asked our bartender for recommendations so he picked out three of his favorites for us. And as usual, they were all fantastic.
La Casa Grande's mezcal ranges in price from MXN 125-200. These three glasses came out to MXN 540.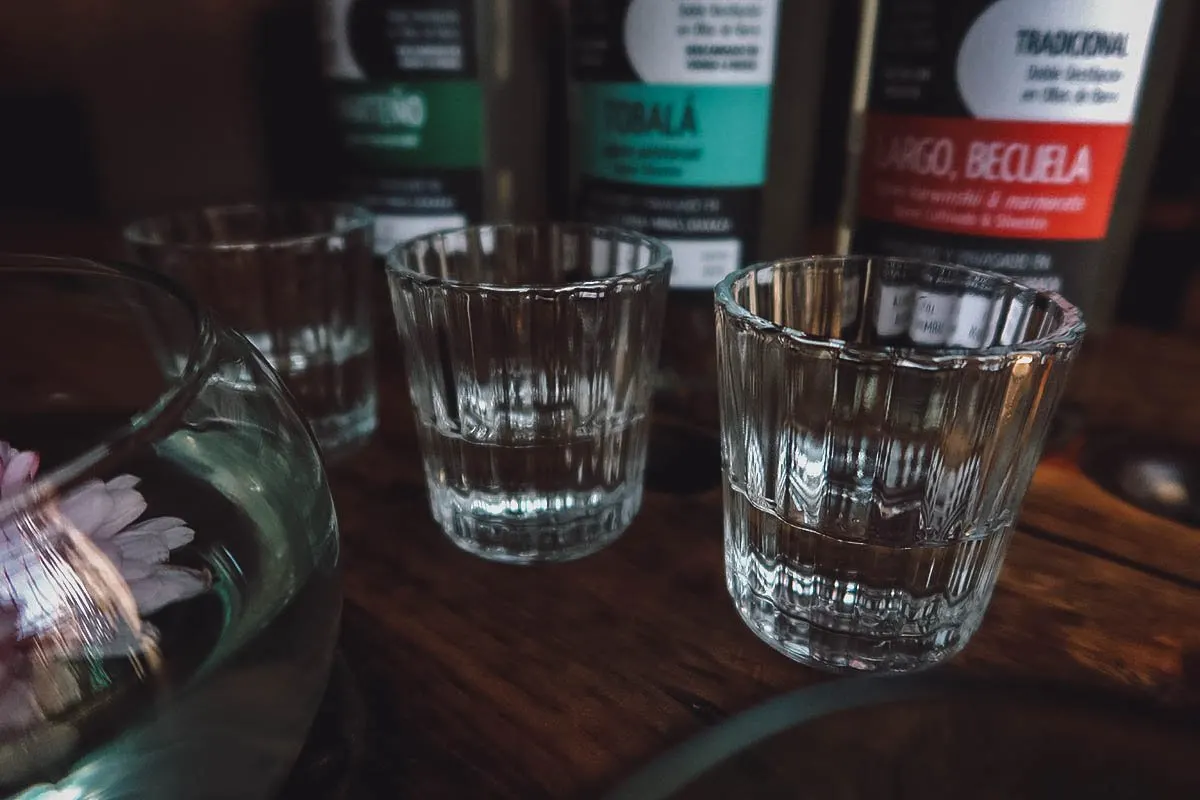 As described, La Casa Grande is a relatively new mezcaleria in Oaxaca. The space is cozy and well-designed and much bigger than many of the mezcalerias on this list.
In spite of La Casa Grande not having true mezcal tastings, we chose to come here based on people's comments about the bartender Roberto. Everyone was right. He was gregarious and engaging and made our final mezcal tasting experience in Oaxaca that much more enjoyable. ¡Muchas gracias Roberto!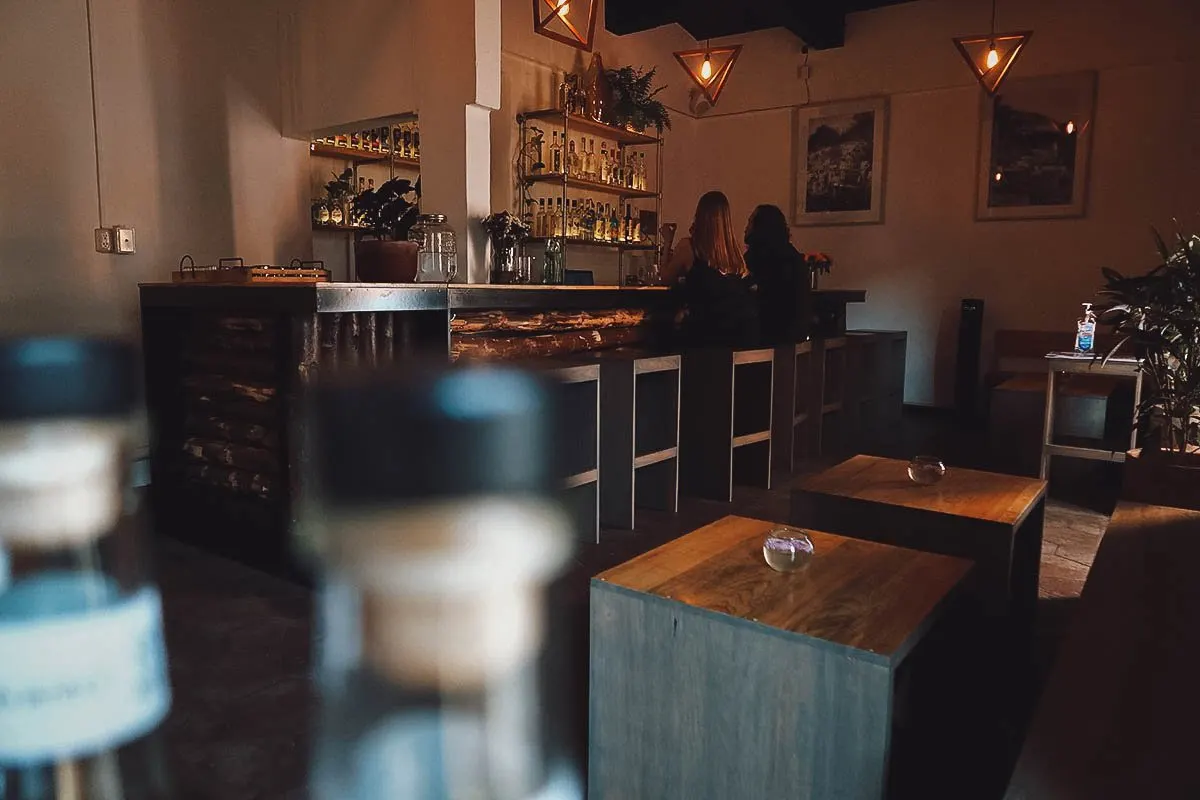 La Casa Grande is located right next to Mezcaleria In Situ. For the sake of convenience, I'd advise you to go to both bars one after the other but that probably wouldn't be the best idea.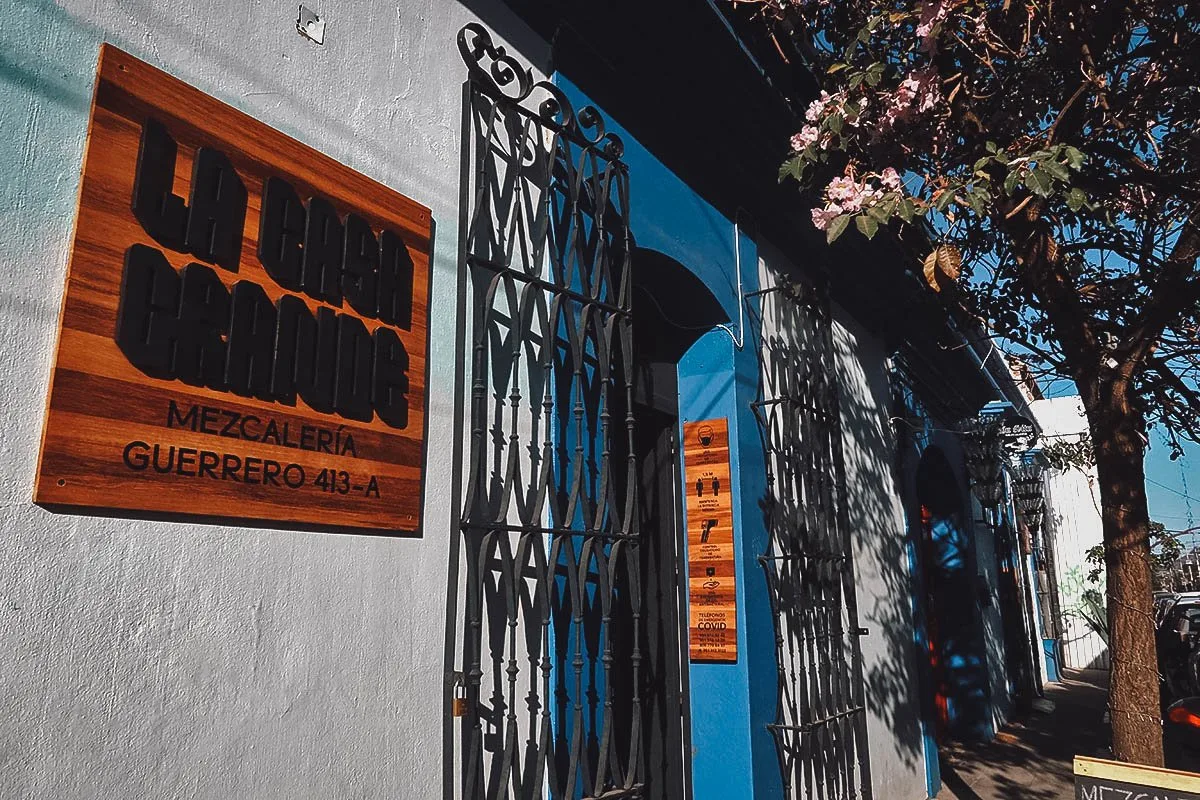 La Casa Grande
Address: Vicente Guerrero 413-A, Zona Feb 10 2015, Centro, 68000 Oaxaca de Juárez, Oaxaca
Operating Hours: 3-10PM, Mon-Sat (closed Sundays)
What We Paid: MXN 540 (March 2022)
6. La Mezcaloteca
Like In Situ, La Mezcaloteca has a reputation for being one of the best mezcalerias in Oaxaca. However, it's also one of the most exclusive. It's the only mezcaleria we came across that requires advanced reservations.
Unfortunately, I didn't know of their reservation requirement until a couple of days before we planned on coming here. We found out through our bartender at Mezcalogia. Based on people's Google reviews, you need to make a booking through their website months in advance. I tried to make a booking anyway but never received a response. Oh well.
According to their website, mezcal tastings at La Mezcaloteca cost MXN 450 per person, same as In Situ. Picey yes, but probably worth it if you'd like to taste some of the very best mezcal in Oaxaca. Just be sure to make a reservation months in advance.
La Mezcaloteca
Address: Reforma No. 506, RUTA INDEPENDENCIA, Centro, 68000 Oaxaca de Juárez, Oaxaca
Operating Hours: 3-8PM, Mon-Sat (closed Sundays)
Expect to Pay: MXN 450
LOCATION MAP
To help you navigate to these mezcalerias in Oaxaca, I've pinned them all on the map below. They're all located in downtown Oaxaca so you shouldn't have any trouble getting to them on foot. Click on the link for a live version of the map.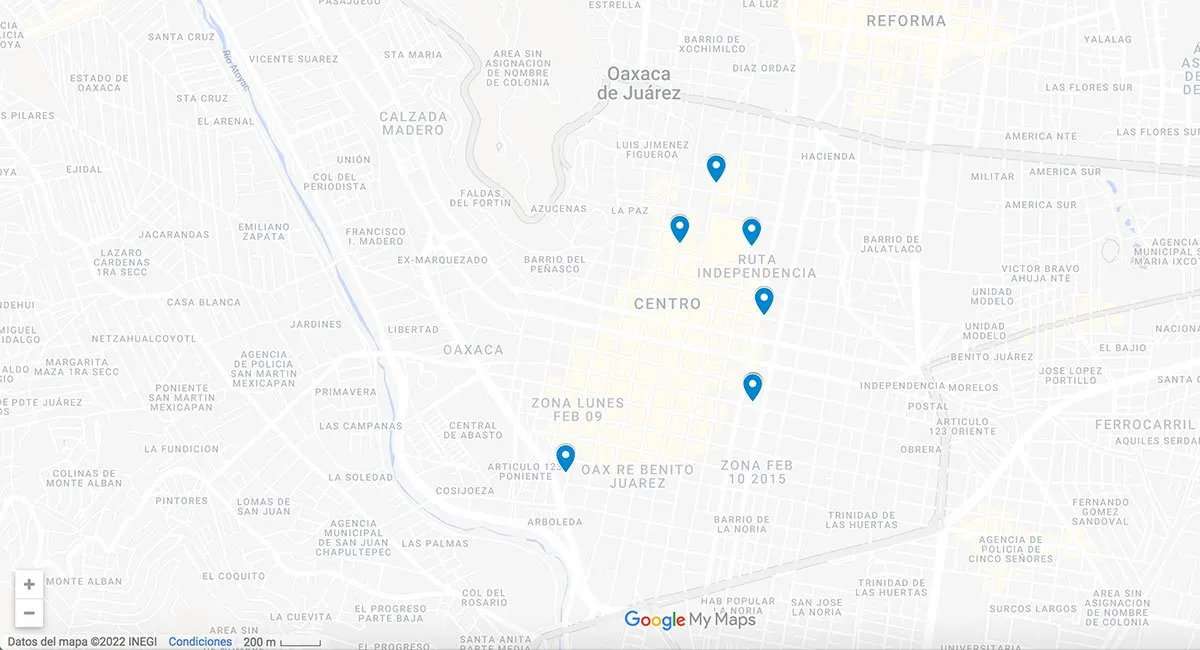 FINAL THOUGHTS ON THE BEST MEZCALERIAS IN OAXACA
As described, we're hardly experts on mezcal. I can't give you a meaningful description of each mezcal brand but I can say that we enjoyed them all very much. Unless you're a snob, I don't think you'd be unhappy with any mezcal here. This is Oaxaca after all, the center of the mezcal universe.
If you're a novice like us, then you don't need to go to the most expensive bars to have a good mezcal tasting experience. I think you'll be more than happy at places like Expendio Cuish and Mezcalillera. We didn't go but another often-recommended bar is La Casa del Mezcal near Benito Juarez Market.
While there are discernible differences between the different mezcals – even for novices like us – we aren't experienced enough to truly appreciate them yet.
Aside from doing tastings at mezcalerias, people with a keen interest in the spirit may want to go on a mezcal distillery tour. If you'd like to learn more about the mezcal tradition, then one of the best ways you can do that is to visit one of the many mezcal distilleries just outside the city. The tour we went on took us to three distilleries of varying sizes.
In any case, I hope you enjoyed this article on traditional mezcal in Oaxaca. I'll end it with a Oaxacan saying attributed to this magical Mexican potion that's uniquely smokey, a little mysterious, and oh so easy to love:
"Para todo mal, mezcal, y para todo bien, también; y si no hay remedio litro y medio" (For all bad, mezcal, and for all good, as well; and if there is no remedy, liter and a half).
¡Salud!
Disclosure
Some of the links in this article on the best mezcalerias in Oaxaca are affiliate links, meaning we'll earn a small commission if you make a purchase at no added cost to you. As always, we only recommend products and services that we use ourselves and firmly believe in. We really appreciate your support as this helps us make more of these free travel guides. Muchas gracias!