I had never heard of Shanxi cuisine until our most recent trip to Taipei. But based on what I read, it sounded like something we would enjoy.
I was doing my usual restaurant research when I chanced upon Shao Shao Ke, a place that specialized in Shanxi cuisine. It's the culinary style of Shanxi Province in China. Two words from the cuisine's description jumped out at me – lamb and cumin. Not only did the words "lamb" and "cumin" rarely appear in the same sentence as "Chinese food", but they're two of Ren's favorite things in the world.
A Chinese cuisine that specialized in lamb sounded intriguing and not something we see everyday. For that reason, Shao Shao Ke was the one restaurant I was most excited about in Taipei. And as I suspected, it turned out to be one of the best and most memorable meals we had in our two weeks in Taiwan.
Save This on Pinterest!
No time to read this now? Click on the red save button and pin it for later!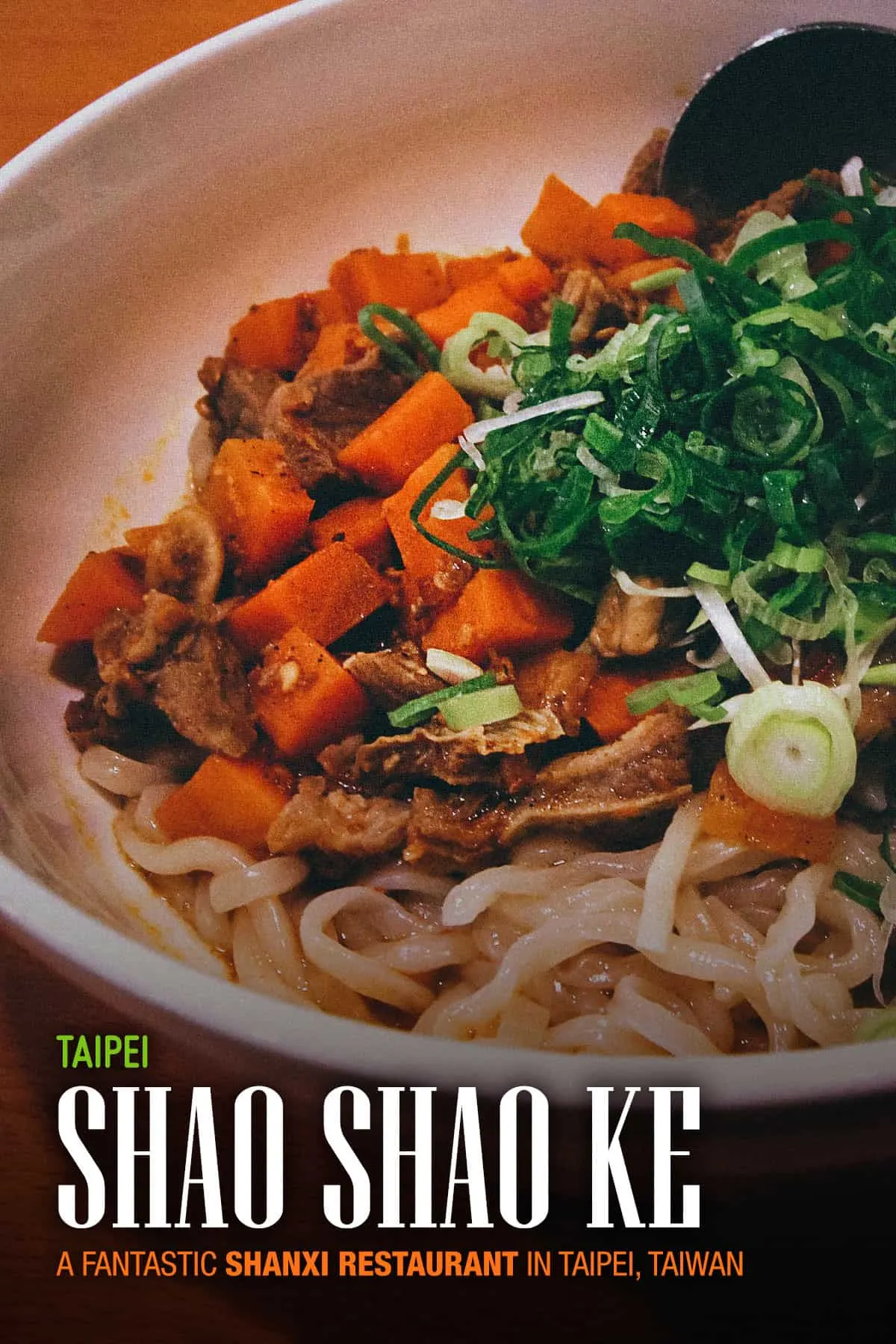 What is Shanxi Cuisine?
Shanxi or Shan cuisine is the cooking style of Shanxi Province in China, just west of Beijing. Famous for its noodles and fried flatbreads, there's an old saying in Shanxi that goes like this: "China has the best flour-based foods in the world, and Shanxi province has the best flour-based foods in China." While noodles are regarded as a staple food in other parts of the country, in Shanxi province they're often treated as the main attraction.
Although chicken and pork are staples, Shanxi cuisine's most popular ingredient is lamb, a reminder perhaps of the region's strong cultural ties with nomadic Northwest Asia. It's characterized by salty flavors with a hint of sourness, as imparted by a locally produced vinegar called Shanxi lao chencu or "Shanxi mature vinegar". This prized vinegar is so important to the local culture that some of the methods used to brew it have been considered intellectual properties and are protected by Chinese law. You can even visit a museum dedicated to Shanxi mature vinegar in Qingxu County.
Some of the most popular Shanxi dishes include knife-cut noodles, kao lao lao (oat flour noodle rolls), and an orecchiette-like noodle called cat's ear noodles. Its most common dumpling filling is minced lamb with carrots, a filling that's said to be difficult to find outside of the region.
Lamb, Noodles, and Fried Soy Cheese at Shao Shao Ke
Restaurants offering Shanxi cuisine may not be as common, but there seem to be a few in Taipei. Shao Shao Ke, located just a short walk from Shandao Temple MRT Station, is one of them.
When we walked in, one of the women inside asked us if we had reservations, which was surprising because the restaurant was pretty big and almost empty! But not for long. The restaurant was packed within an hour with more and more people streaming in through the front door. Shao Shao Ke is popular so if you don't have much time in Taipei, then it's probably a good idea to make reservations (+886 2 2351 7148).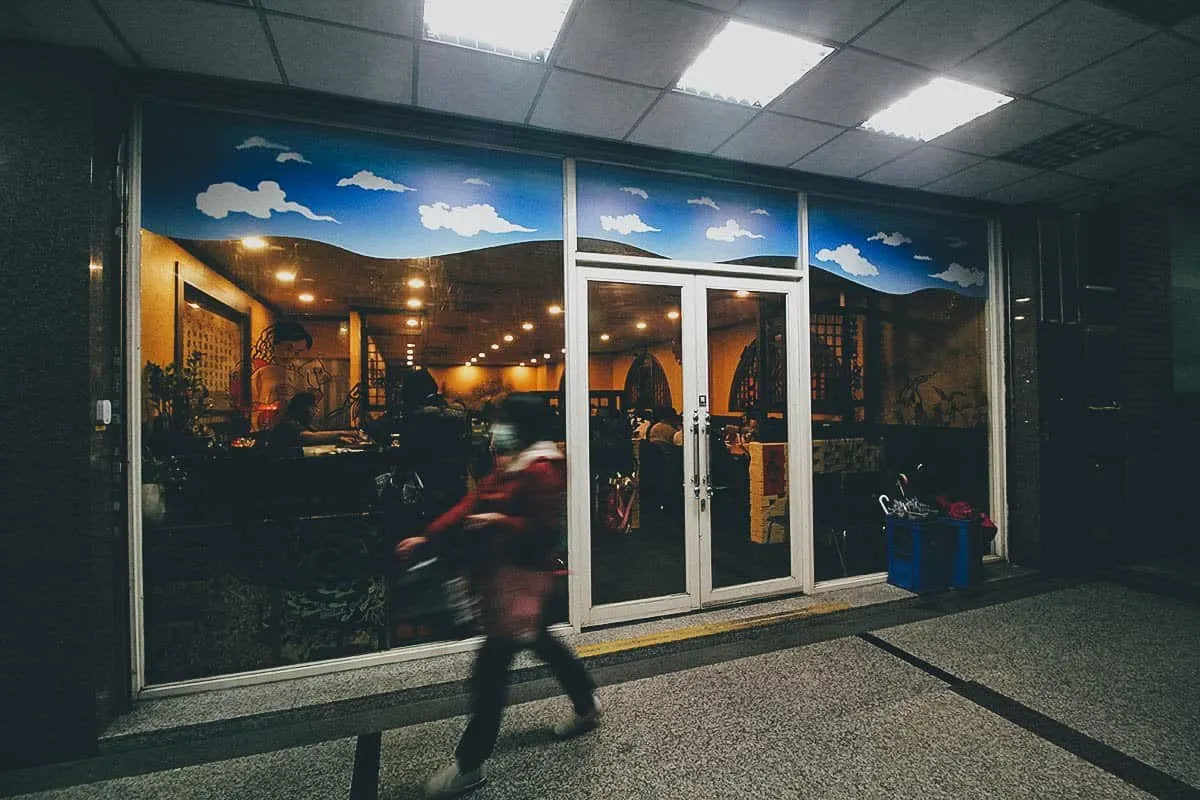 We didn't know what to get as a starter so our server recommended these stir-fried potato strips with vinegar and dried chili (Suan Chiang Tu Tou Szu, NTD 140). The dish doesn't look or sound very exciting but it was delicious – a little sour, not too spicy, with some nice crunch to the potato strings. That hint of sourness must have been from the famed Shanxi mature vinegar.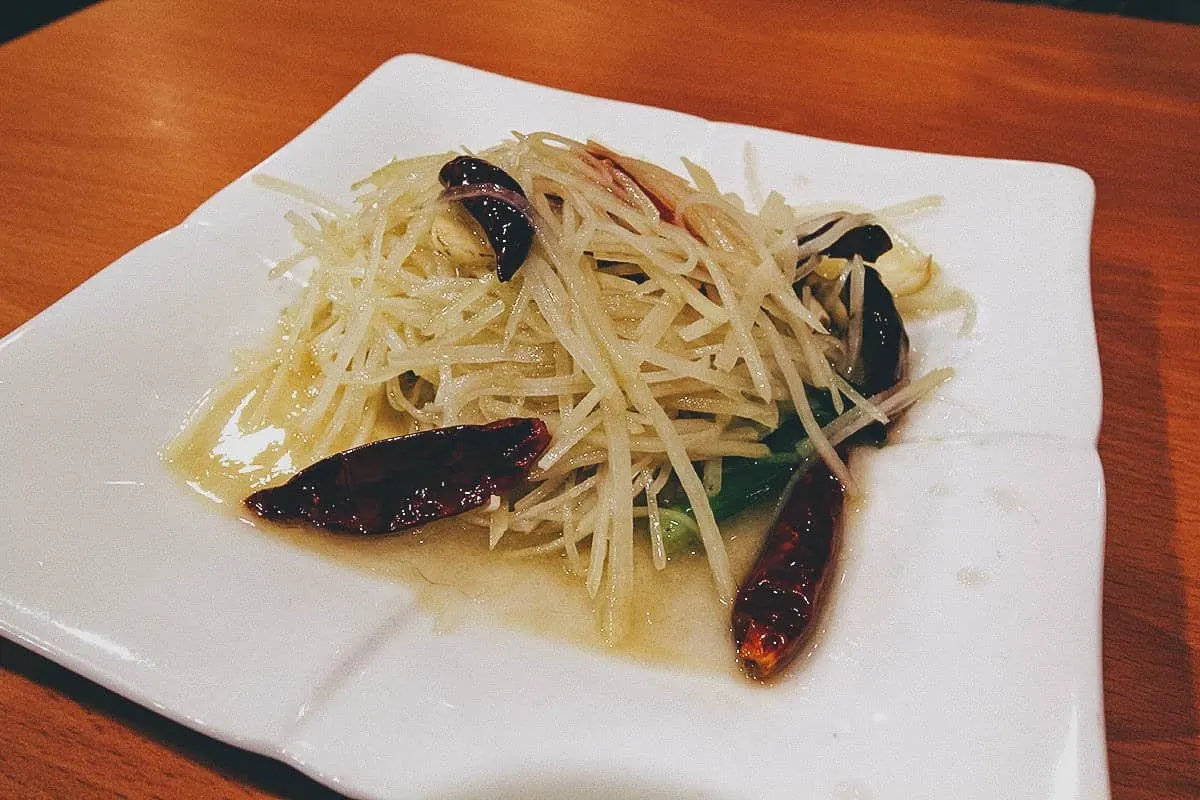 These skewers of deep-fried lamb with cumin (Hsin Chiang Hsiang Su Jou Yan Chuan, NTD 160) were fantastic. I know it looks dry but it was surprisingly tender with a light crisp coating and a potent cumin flavor. As described, Ren loves lamb and orders it whenever she can, but this was the first time we've ever had it prepared this way. It was absolutely delicious. Aside from these deep-fried lamb skewers, they had other lamb dishes on their menu as well, like stewed lamb and different types of stir-fried lamb.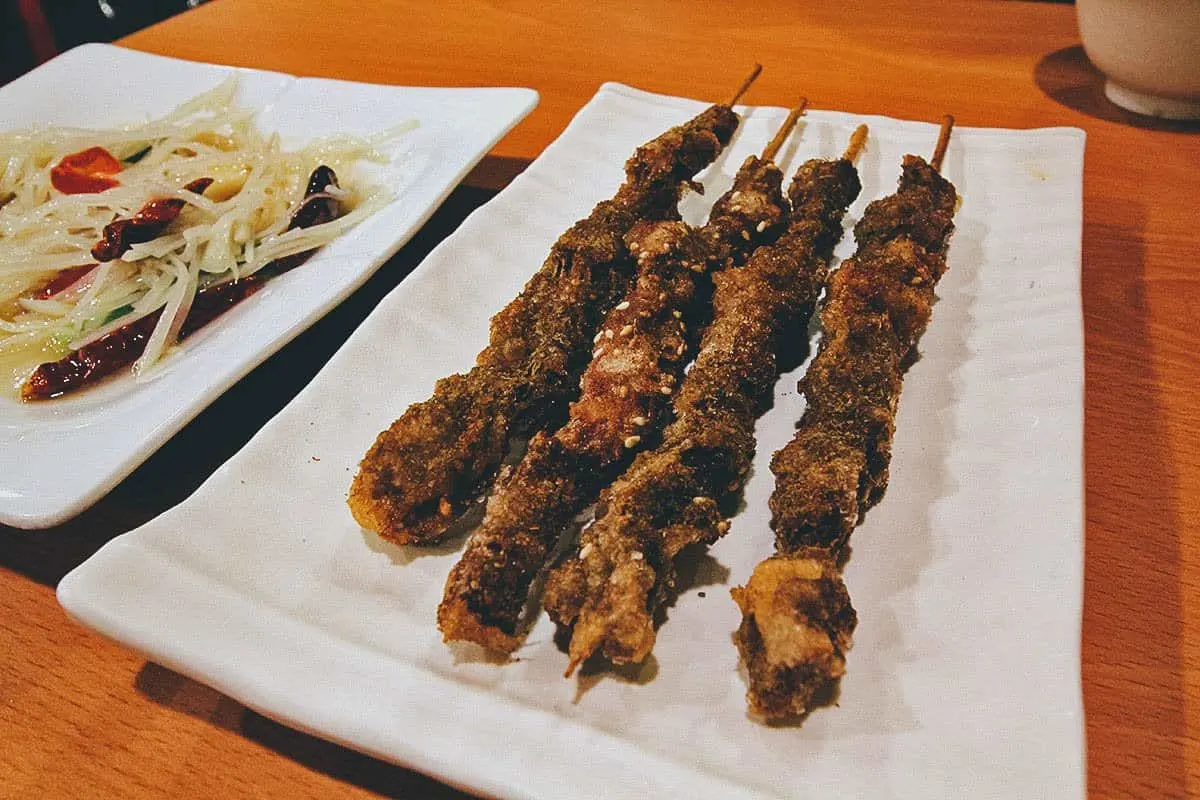 A couple of skewers wouldn't be enough to silence Ren's craving, so she ordered these handmade noodles topped with green onion, carrot, and more lamb (Hsiao Tsun Yang Joi Pan Mien, NTD 120). As advertised, the noodles were wonderful – springy and elastic with bite. I think this was an example of the knife-cut noodles that Shanxi cuisine is famous for.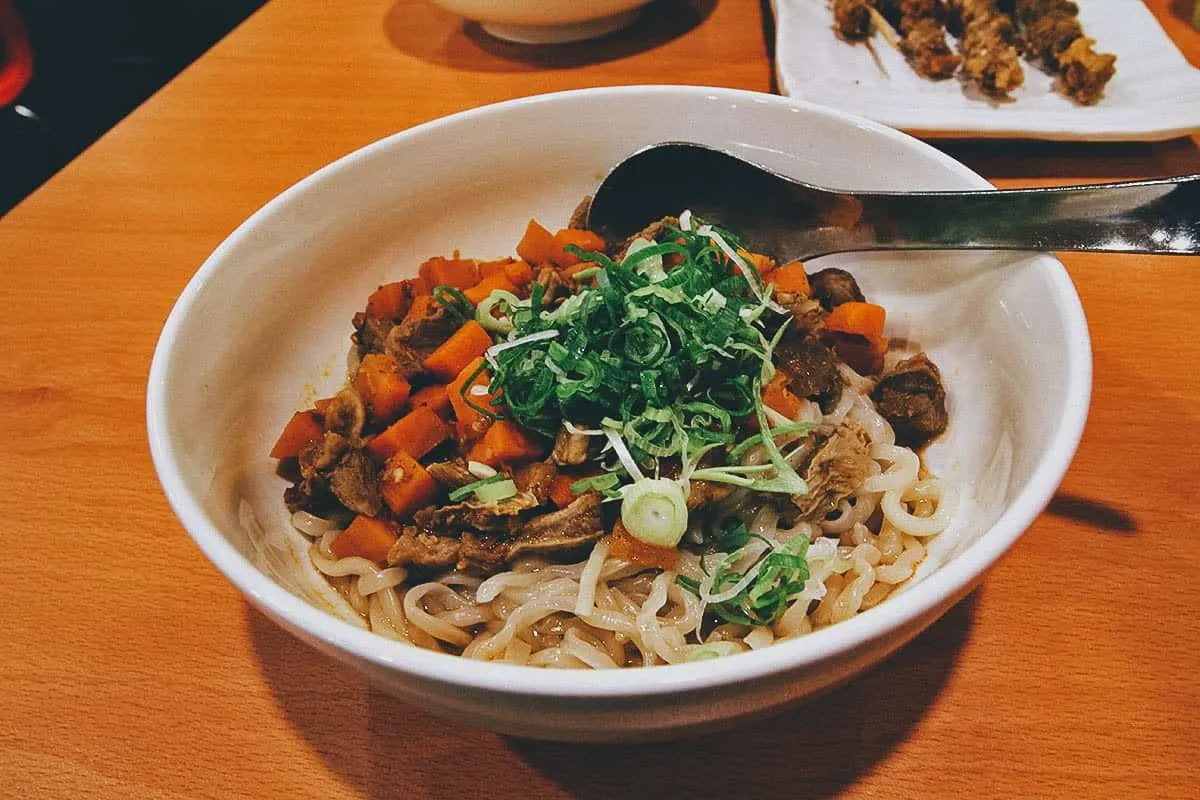 My warm soba noodles with chili oil sauce (Yu Po La Tzu Wen Ho Lo, NTD 90) were just as good, if not better. They were thicker and had a similarly springy texture as Ren's bowl of noodles.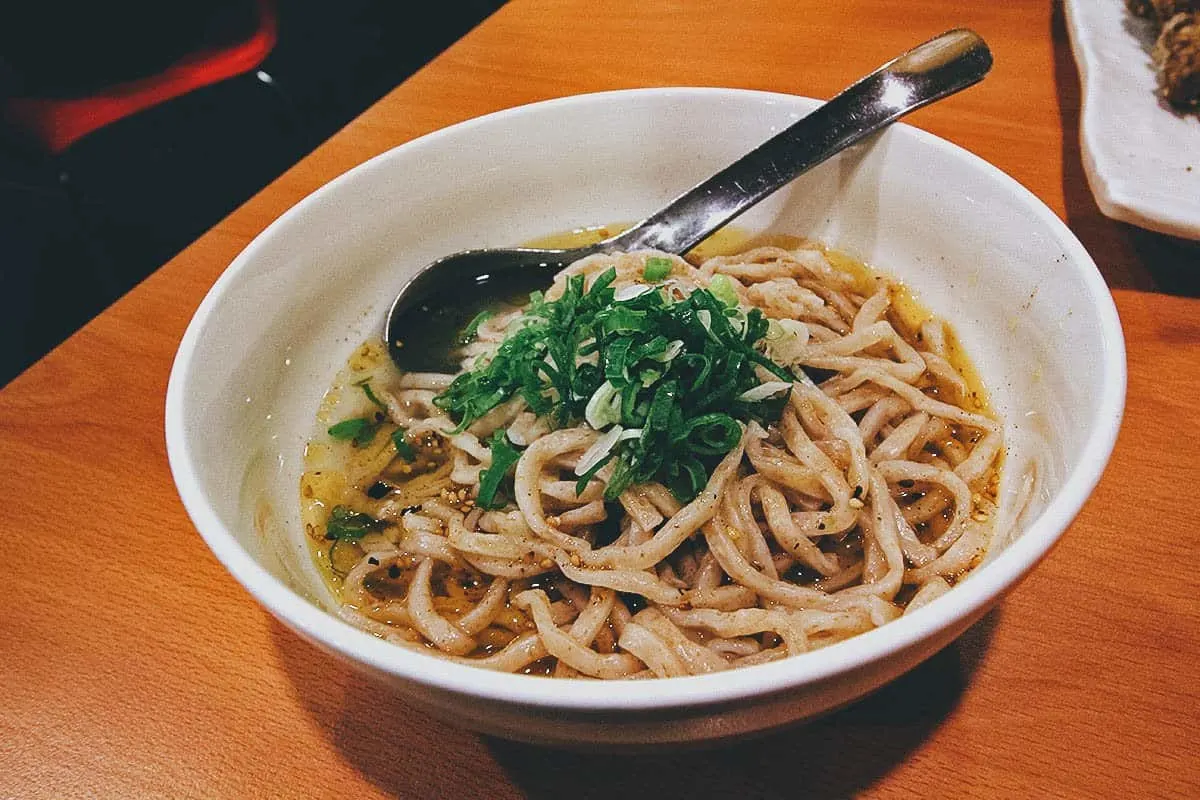 These deep-fried soy cheese pastries with powdered sugar (Meng Ka Cha Mai Tou Fu, NTD 60) are a must-try at Shao Skao Ke. I read that they're popular so customers are advised to put in an advanced reservation for them since they only churn out a limited amount per day. We didn't but thankfully, we were able to get some anyway.
The English translation on their menu described the dish as "deep-fried mozzarella cheese", which I think is a mistake. Based on what I've read, they're made with soy tofu cheese which is a specialty of Shanxi cuisine. I'm not an expert but that sounds about right based on the dish's Chinese name – tou fu.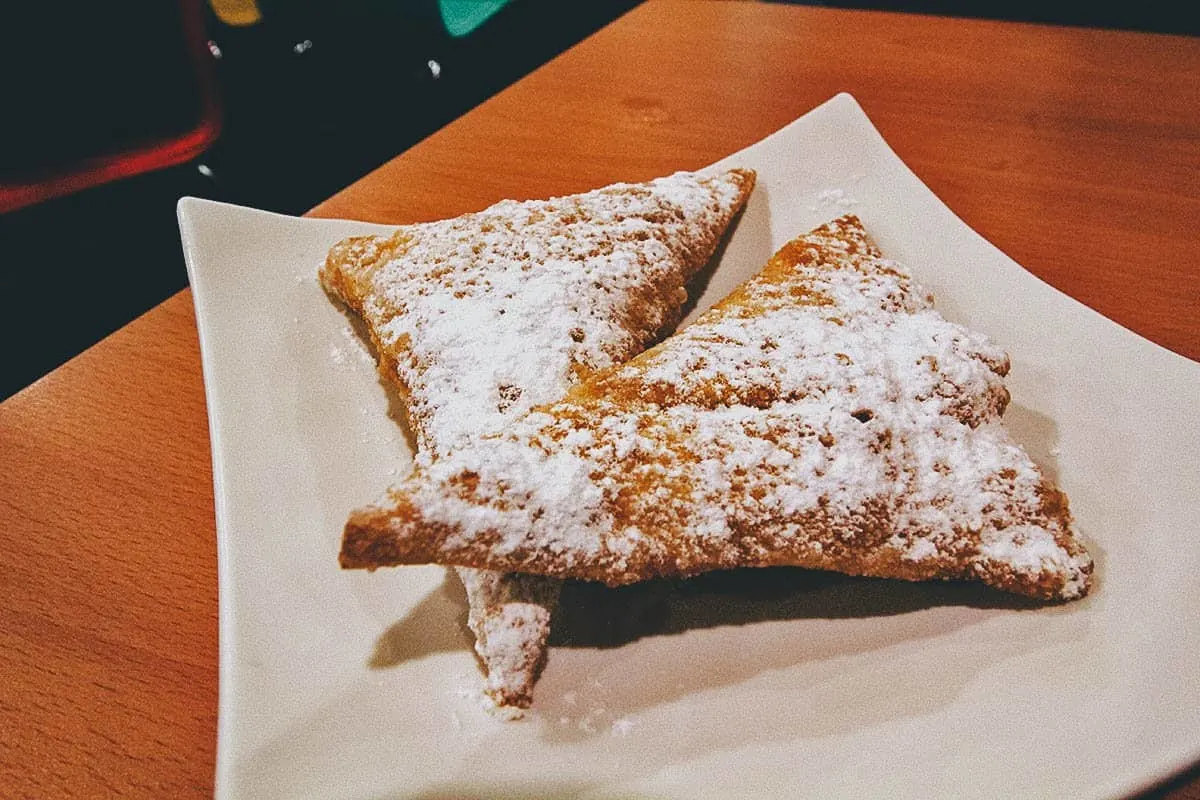 Whatever they're made with, they're fantastic and extremely addictive. Deep-fried inside a triangular puff pastry, gooey cheese comes away in strings with every bite, which is why I guess they referred to it as mozzarella on the menu. I wanted to order more but I didn't want to be greedy, knowing how popular and limited they are. Suffice to say, don't even think of eating here without ordering a plate of these.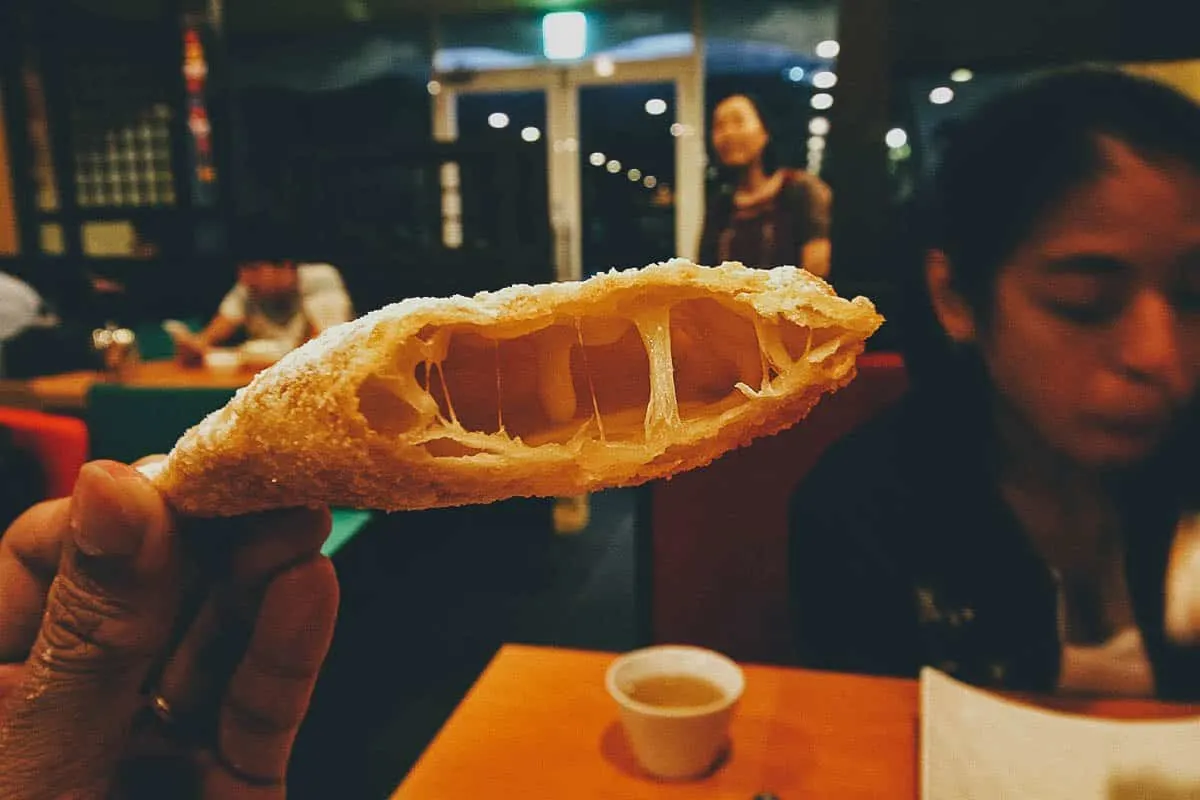 Shao Shao Ke didn't seem to have the more unique Shanxi noodle dishes like kao lao lao or cat's ear noodles, but it didn't matter. What we had was delicious and enough to turn us into fans. This was our one and only experience with Shanxi cuisine but we're dying to have more.
There's a lot about this cuisine that resonated with us – the lamb, the tartness from the vinegar, the use of cumin. I've always been more of a rice man but the unique-sounding Shanxi noodles are intriguing, especially kao lao lao. Instead of the more commonly used wheat flour, oat flour is used to make the dough which is kneaded and moulded into tube-shaped noodles. They're then placed side by side and served in a bamboo steamer with one or more sauces. When viewed from the top, the noodles resemble a honeycomb. Have you ever had noodles like that before? It looks and sounds so interesting!
Considering how uncommon Shanxi cuisine seems to be outside of the region, I don't know how authentic Shao Shao Ke is, but I'm not sure it even matters. This place is obviously popular with the local Taiwanese. Apart from the lamb, noodles, and deep-fried soy cheese pastries, you may want to get the pao mo as well which is another Shanxi specialty. It consists of flatbread which you tear apart and mix into your choice of noodle soup. Nearly every table we saw had it so it's something we'll definitely be getting on our next visit to Taipei.
Shao Shao Ke
No. 27, Section 1, Hangzhou South Road, Zhongzheng District, Taipei City, Taiwan 100
Tel: +886 2 2351 7148
What We Spent: NTD 704 for two with drinks
Reservations: Recommended
Operating Hours: 11:30AM-2:30PM / 5:30-9:30PM, Tue-Sun (closed Mon)
HOW TO GET THERE: Take the MRT to Shandao Temple Station (Blue Line, Exit 3). Walk east on Zhongxiao East Road Section 1 then make a right on Hangzhou North Road. Walk straight and the restaurant will on on your left.
For more restaurant suggestions, check out our post on 13 Must-Eat Restaurants & Night Markets in Taipei.