EDITOR'S NOTE: A trip to Jeju Island is high on our list of priorities so Traveleater Eunice Tan of eunicetan.co came up with the perfect 3-day Jeju itinerary. Kamsahamnida!
Jeju Island has long been revered for its enthralling natural sceneries and beautiful coastlines. It's not surprising that Jeju Island is also a popular spot for domestic tourism; there are multiple domestic flights from Seoul to Jeju every hour! It is not a big island at 1,849 sq km and you can make the best of it with this 3-day Jeju itinerary!
JEJU ITINERARY QUICK LINKS
To help you plan your trip to Jeju Island, I've compiled links to hotels, tours, and other travel-related services here.
HOTELS
Top-rated hotels in Jeju City, one of the most convenient areas to stay on Jeju Island.
TOURS
OTHER SERVICES
Save This on Pinterest!
No time to read this Jeju Island itinerary now? Click on the save button and pin it for later!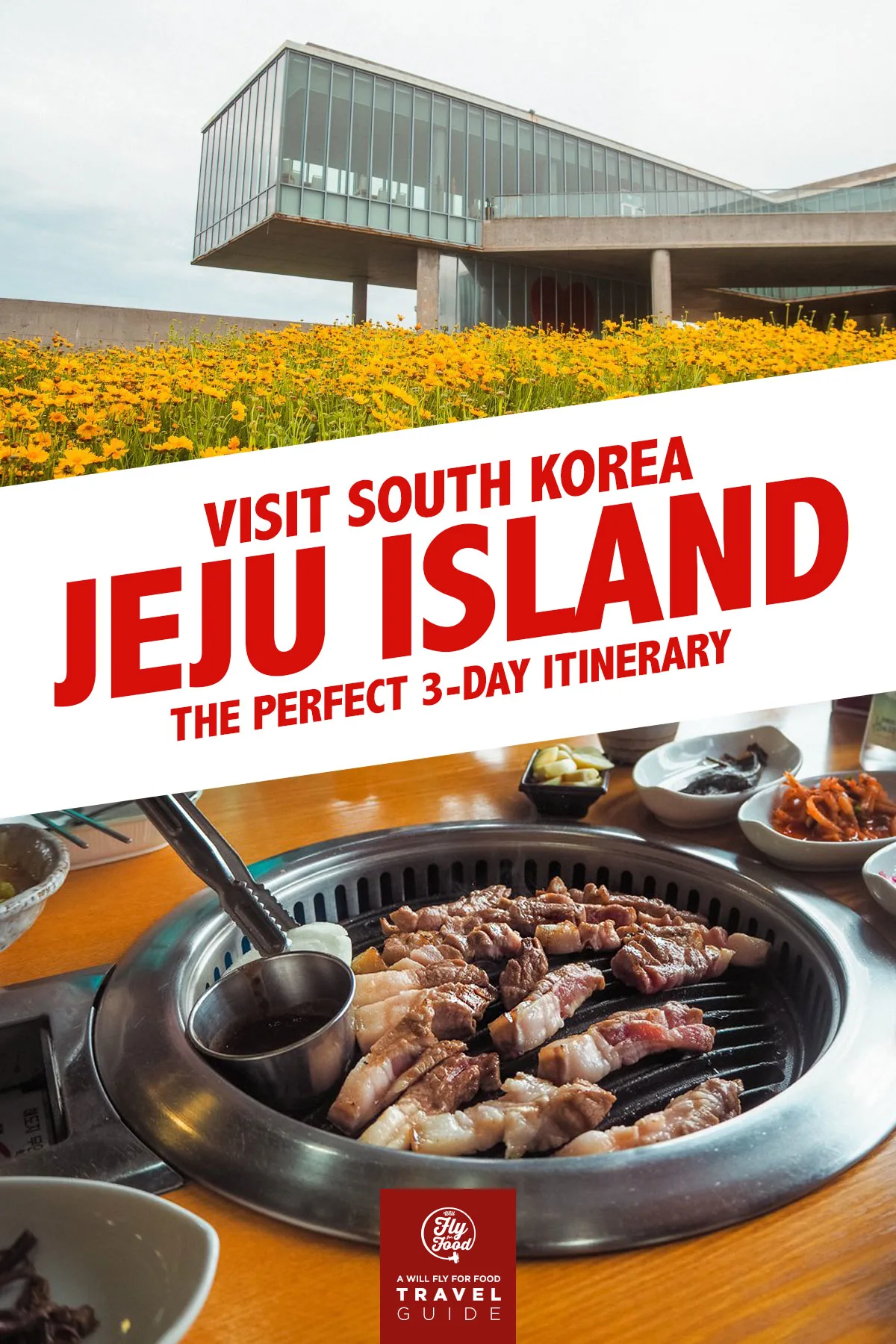 HOW TO GET TO JEJU ISLAND
First things first, find your way to Jeju island! If you're visiting Jeju from other cities in South Korea, then you can take one of the ubiquitous domestic flights from those cities into Jeju.
However, if you're planning to fly straight into Jeju, I'd recommend a transit at international airports such as Shanghai, Beijing, and Tokyo. These international airports allow you to transit directly to the Jeju flight within the same airport.
However, for domestic flights, you'll usually need to travel to the domestic airport. I visited South Korea for 10 days and Jeju was my first stop before I spent time in Seoul and Busan. I flew into Incheon airport in Seoul, took a 50-minute train ride to Gimpo airport and caught the domestic flight to Jeju. Not smart.
HOW TO GET AROUND IN JEJU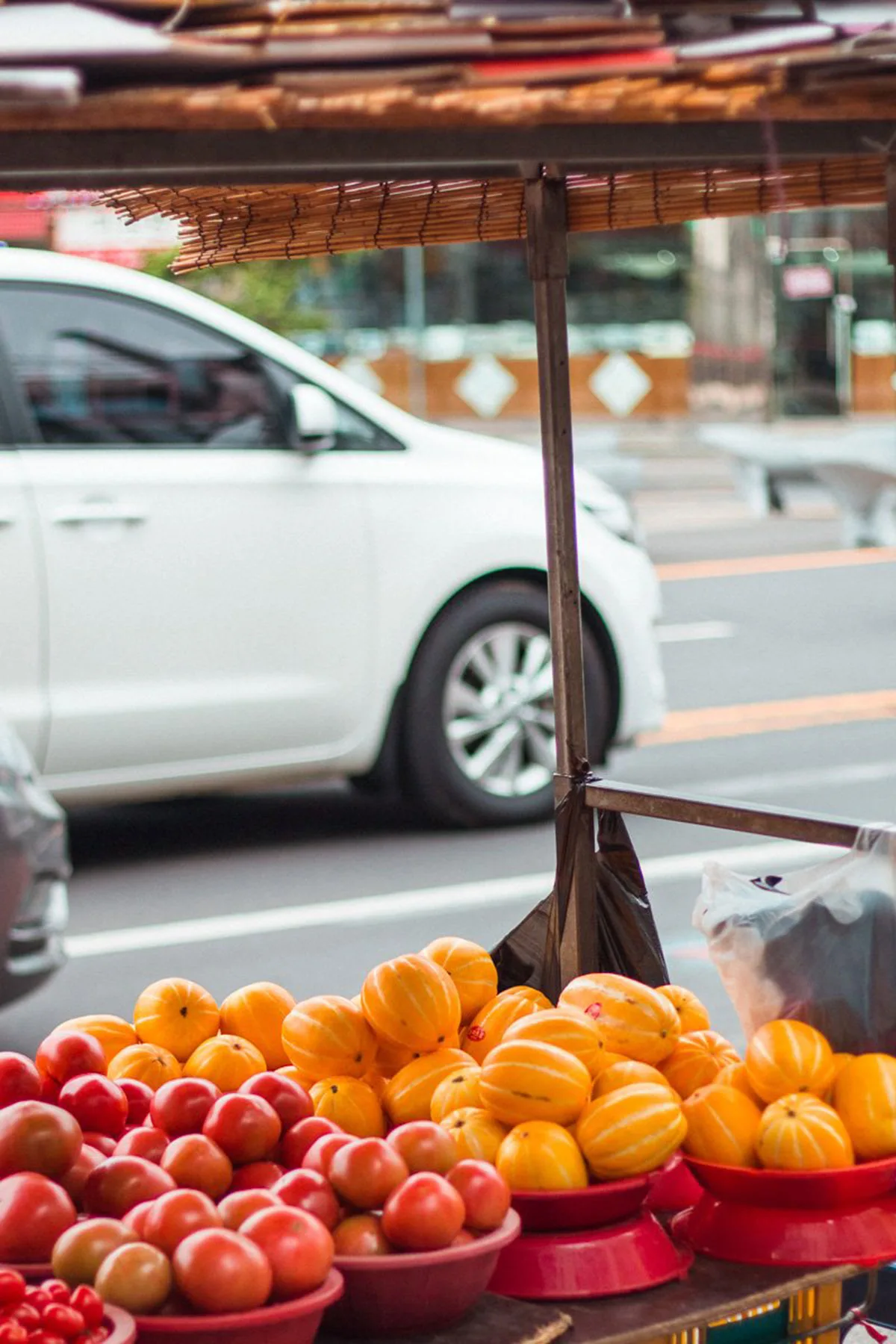 The only forms of public transport I've seen in Jeju are buses and taxis. Traditionally, hired cars and self-driving have been the way to go.
Public Buses in Jeju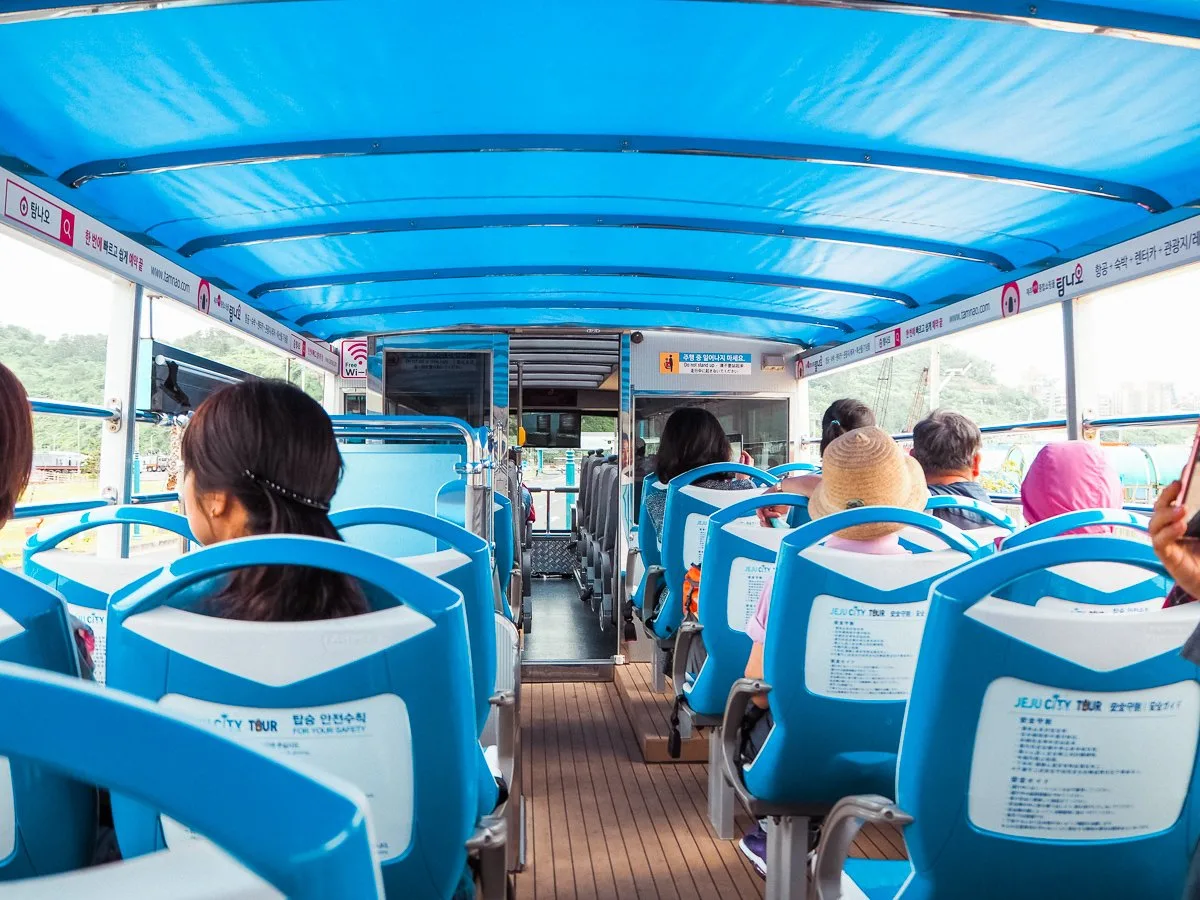 However, in the past few years, Jeju has beefed up its public bus system to include more routes. You can get detailed information on the Jeju buses here.
The intervals are usually 30 minutes and the tourist buses start at 8:30AM with the last bus departing at 5:30PM. This short schedule works since most of the must-see places in Jeju only operate till 6PM with the last admission at 5 or 5:30PM.
You can pay for the bus rides with a T-Money card that you can get at the airport, bus terminal, or any convenience store. If you're a big K-pop fan or pop culture fan, look out for limited edition T-money cards! They did runs with BTS in the past few years.
Taxis in Jeju
It's difficult to flag a cab at most of the attractions but it'll be easy to get one from the airport. If you're thinking of traveling by cabs, you'll be better off hiring a private car or booking a taxi for the entire day.
One thing to note though, it seems like cabs in Jeju have limited capacity for luggage. We were traveling in a group of three and went to our hotel concierge for help to book a cab from the hotel to the airport. They actually informed us that it was not possible to fit all of us and our luggage in one cab!
We were really doubtful since we arrived in one but he mentioned that those cabs were only available from the airport. Ended up taking two separate cabs.
Driving/Private Hire in Jeju
If you have an international driving license, you can rent a car and drive around the island. Since we couldn't drive, we engaged a driver to bring us to the scenic spots for two days. It cost us KRW 300,000 for two days between 8AM to 6 PM.
Naver Maps in South Korea
Sorry Google but Naver maps is far more accurate in South Korea. Google maps is slowly catching up but it's still not as accurate as Naver. Naver is available in English, and you can search most of the popular destinations with the English name.
If you are unable to get a hit when searching in English, google for the Korean name and enter it into the app. Other than this slight inconvenience, Naver was a huge lifesaver during our entire South Korea trip.
WHEN TO GO TO JEJU ISLAND
We visited in May, and the weather was great. May has little rain and the temperatures are comfortable at the mid-10s to low 20s°C (50-68°F). I've also visited in winter and though it was chilly, there wasn't much snow and the skies were clear. In general, I find Jeju to be a great destination all year round.
If you prefer warmer temperatures, you can visit Jeju Island during July and August where temperatures reach 30°C (86°F). For those who favor the cold, visit during the months of December to February when temperatures drop below 10°C (50°F).
WHERE TO STAY IN JEJU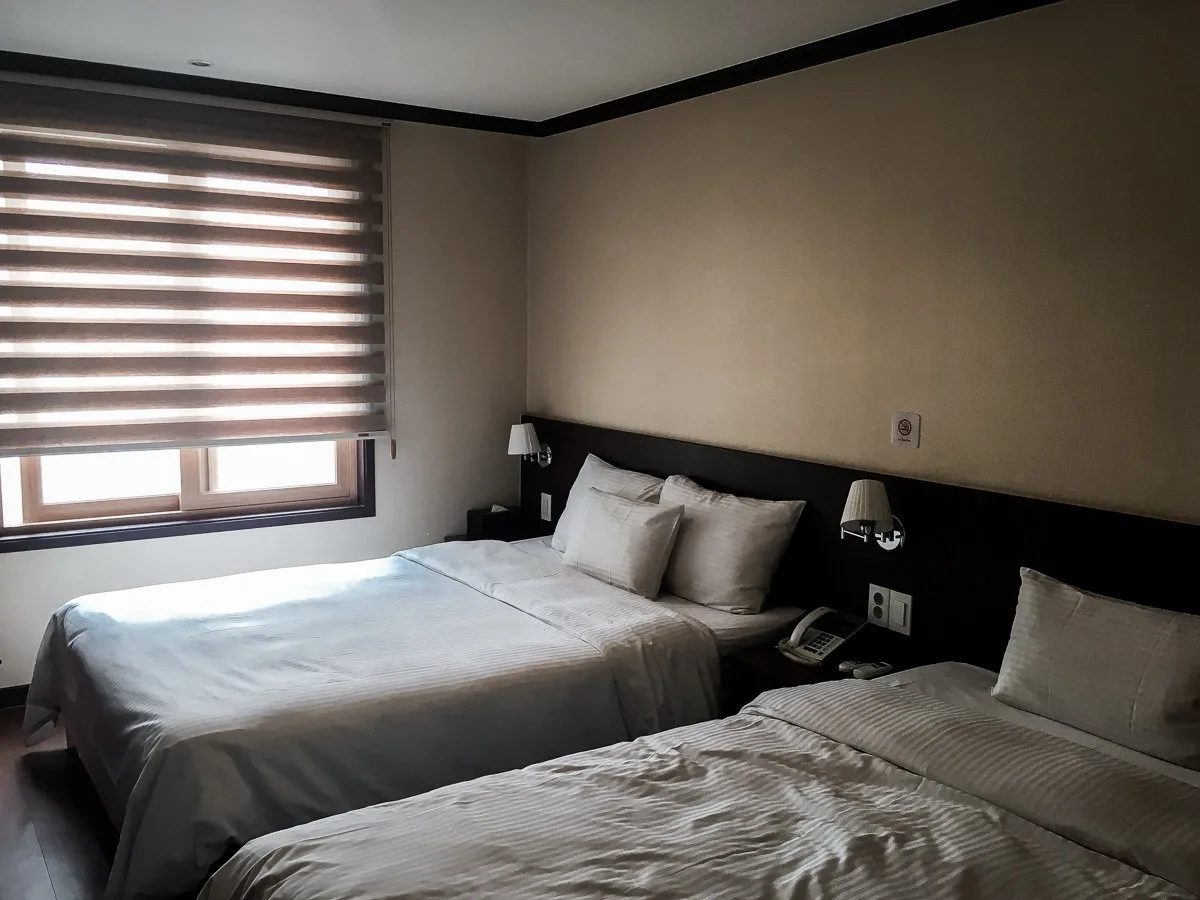 Since we already hired a driver to bring us around the island, we stayed in the city center to make it easier to commute to and from Jeju airport on our own. Our choice of accommodation is a small but cozy budget hotel, Four Seasons, near Shilla duty-free shopping. The hotel was less than USD 60 per night for the three of us!
There was nothing fanciful, but the rooms were clean and the service was great. We could also easily walk to hypermarts (large multi-story supermarkets) to get snacks and drinks. If you prefer to maximize your resort vacation, there are also tons of hotels and Airbnbs near the coastal areas with excellent vistas.
TIP: Hypermarts are closed on the last Saturday of each month in Jeju! We learned this the hard way.
WHAT TO PACK FOR A 3-DAY TRIP TO JEJU ISLAND
Always check the weather beforehand and prepare for 5 to 10°C lower! In Jeju, you will go around hills, coasts, and caves and the temperatures at these places will be much lower. Also, expect to do a fair amount of walking so make sure your clothes and shoes are appropriate.
We wore pants and covered shoes throughout our trip in Jeju. Dressy pants and jeans are fine so you don't really need to invest in running pants or trekking gear.
KOREAN FOOD TO TRY IN JEJU
1. Black Pork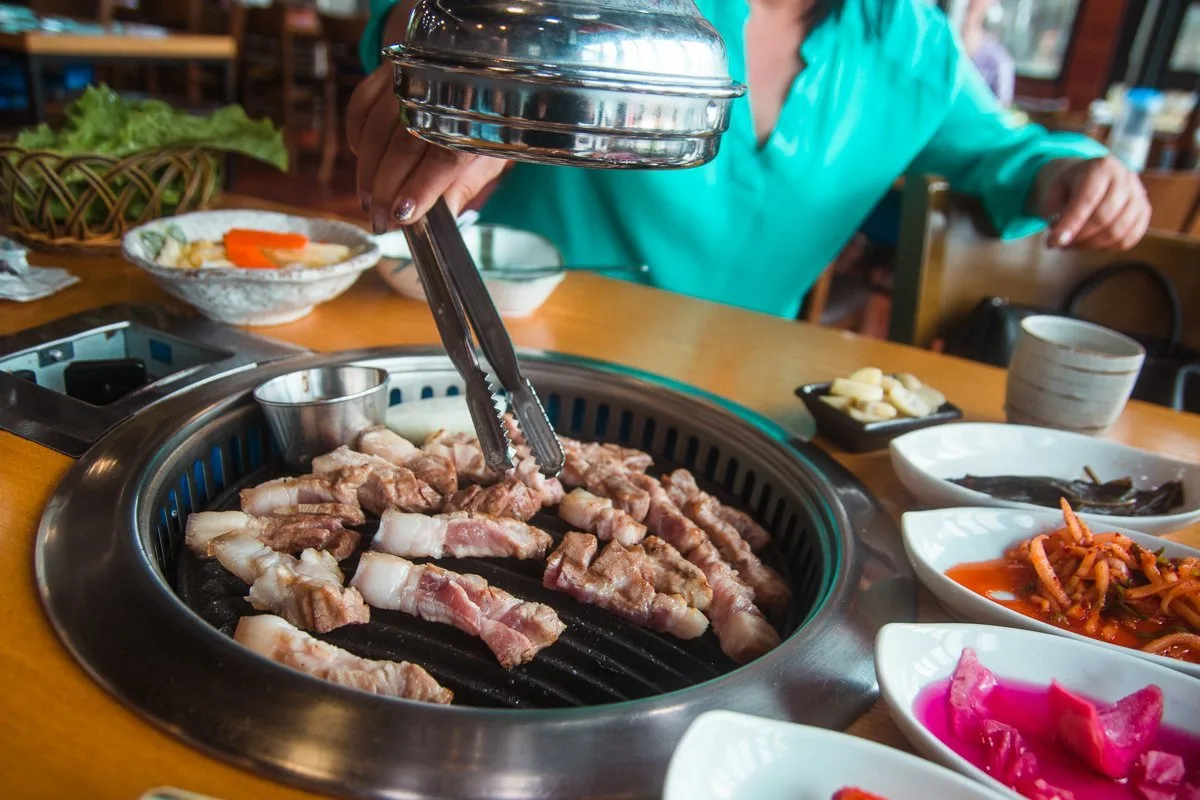 Black pork is definitely first on this list. It is the best grade of pork available on the island and is unique to Jeju. Most restaurants will serve it in a barbecue setting, where each table has its own grill to cook the pork slices.
It is so famed that they even have a street dedicated to it – Black Pork Street (Heuk Dwaeji Street).
2. Abalone Stew or Abalone Porridge
Enjoy a flavourful stew or porridge with fresh abalone caught in the waters around the island. It's an incredibly nutritious dish! Opt for the porridge version to get a taste of the abalones while keeping the meal wallet-friendly.
3. Hallabong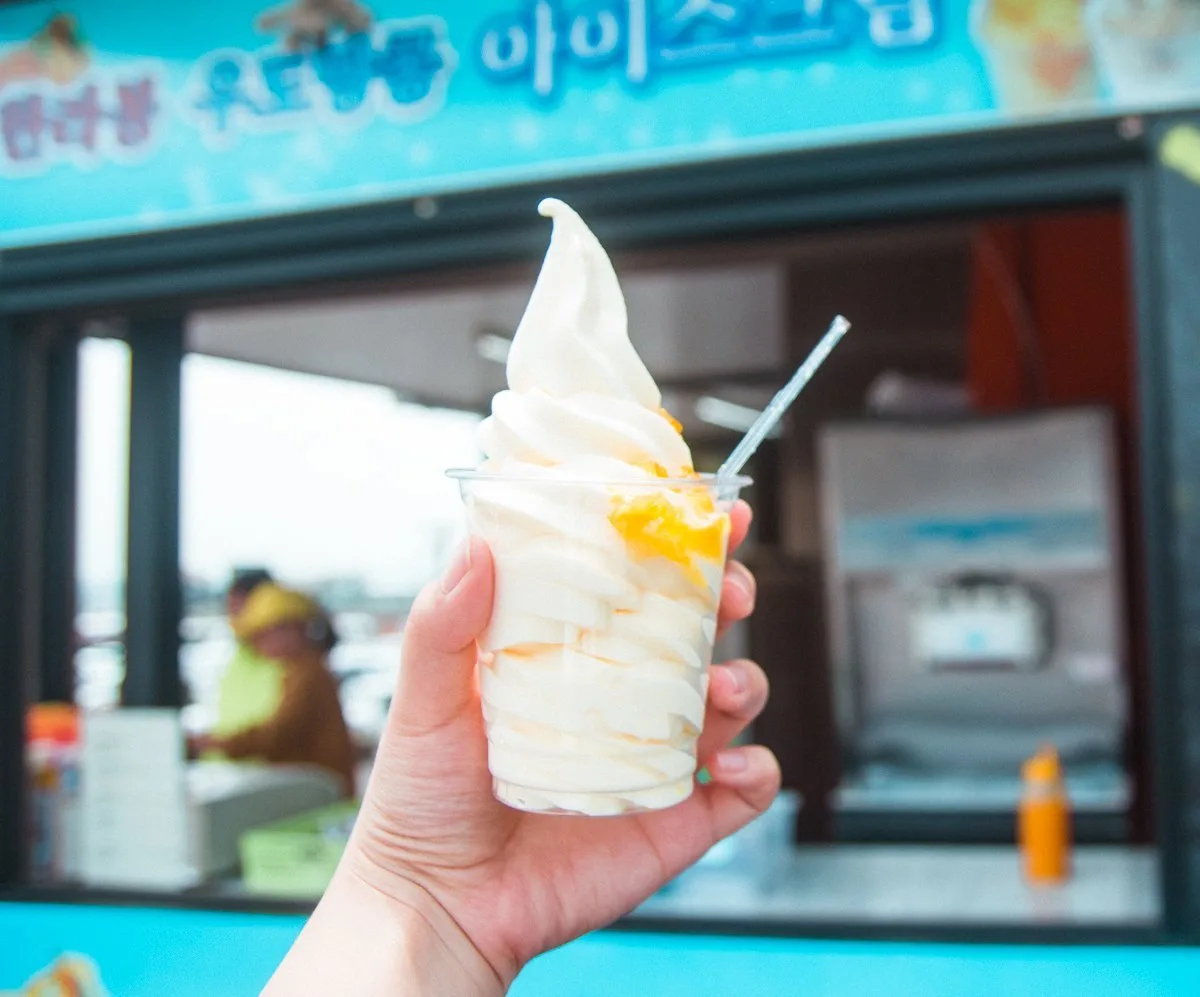 Hallabong is a kind of mandarin orange named after Hallasan, the tallest mountain in the country that's located in the center of Jeju Island, where it is primarily grown. You will find boxes and boxes of these oranges in their markets and also many Hallabong-flavored desserts around. We tried Hallabong ice cream and Hallabong juice and both were great!
4. Samgyetang (Ginseng Chicken Soup)
This is probably one of my favourite Korean dishes. Chicken is boiled together with ginseng and other herbs to create an aromatic soup. There's also glutinous rice inside the soup which makes it a filling meal. The meat is unbelievably tender and locals usually have the warm soup during summer as they feel that it is good for the body.
HOW TO SPEND 3 DAYS ON JEJU ISLAND
JEJU ITINERARY QUICK GLANCE
DAY ONE: Jeju City Tour
• Dong Mun Traditional Market
• Black Pork Street (lunch)
• Halla Arboretum
• Sunset at Dobu-Dong Rainbow Coastal Road
• Sashimi Restaurant (dinner)
DAY TWO: East of Jeju Island
• Sunrise at Seongsan Ilchubong
• Manjanggul Lava Tube
• Seopjikoji
• Sangumburi Crater
• Seongmi Garden (dinner)
DAY THREE: West of Jeju Island
• O'sulloc Tea Museum and Innisfree
• Sanbang Mountain
• Cheonjeyeon Falls
• Jusangjeolli Cliffs
• Yakcheonsa Temple
• Nene Chicken (dinner)
JEJU ITINERARY DAY 1: Jeju City Tour
Take it easy for the first day around Jeju city. To get around the city, we bought the one-day pass for the Jeju city cyclic route, also known as the Jeju city hop on hop off bus. The one-day pass costs KRW 12,000 per person, and the bus plies popular spots in Jeju city.
Alternatively, you can choose to pay KRW 3,000 per ride. There's one bus every hour, and each cycle takes 2 hours to complete.
Dong Mun Traditional Market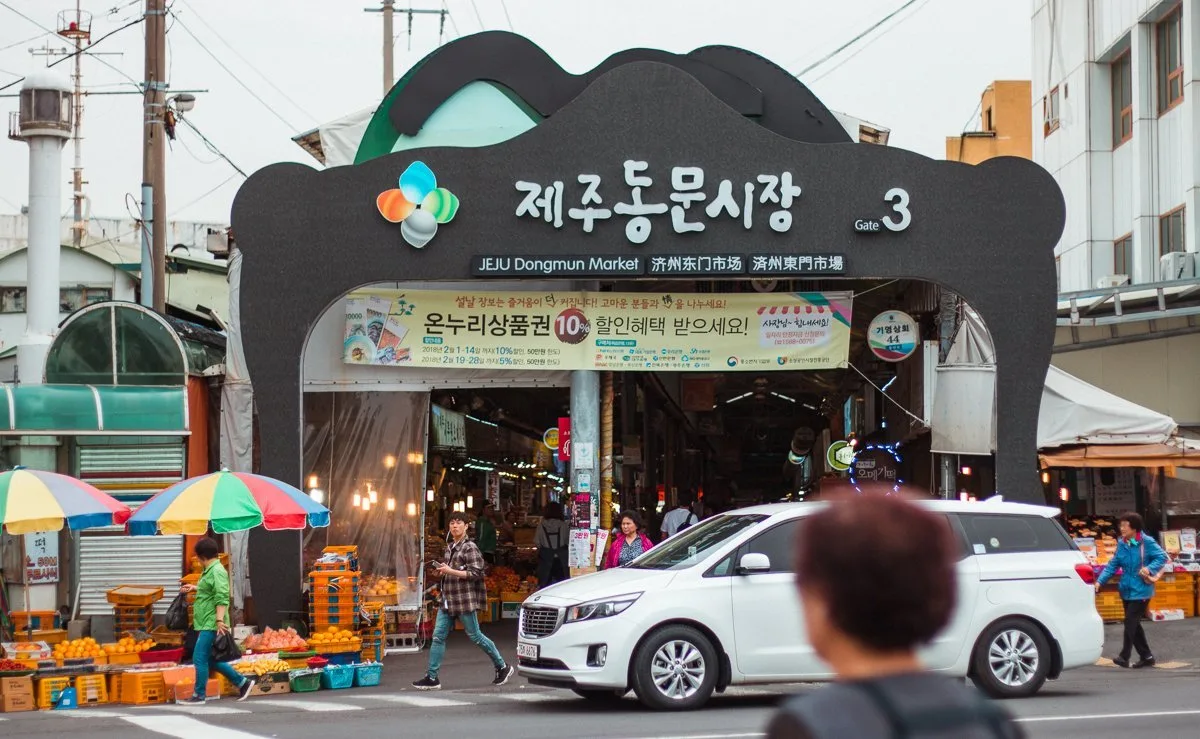 Start the day at Dong Mun Market, the oldest traditional market on Jeju island. From Jeju International Airport, you can take the first bus at 9AM to reach the market at 9:40AM. Our hotel was near one of the last stops on the route so it meant that our first bus would only come at 10:40AM. It may make sense to make your way there to the market via cab or other buses if you want to start your day earlier.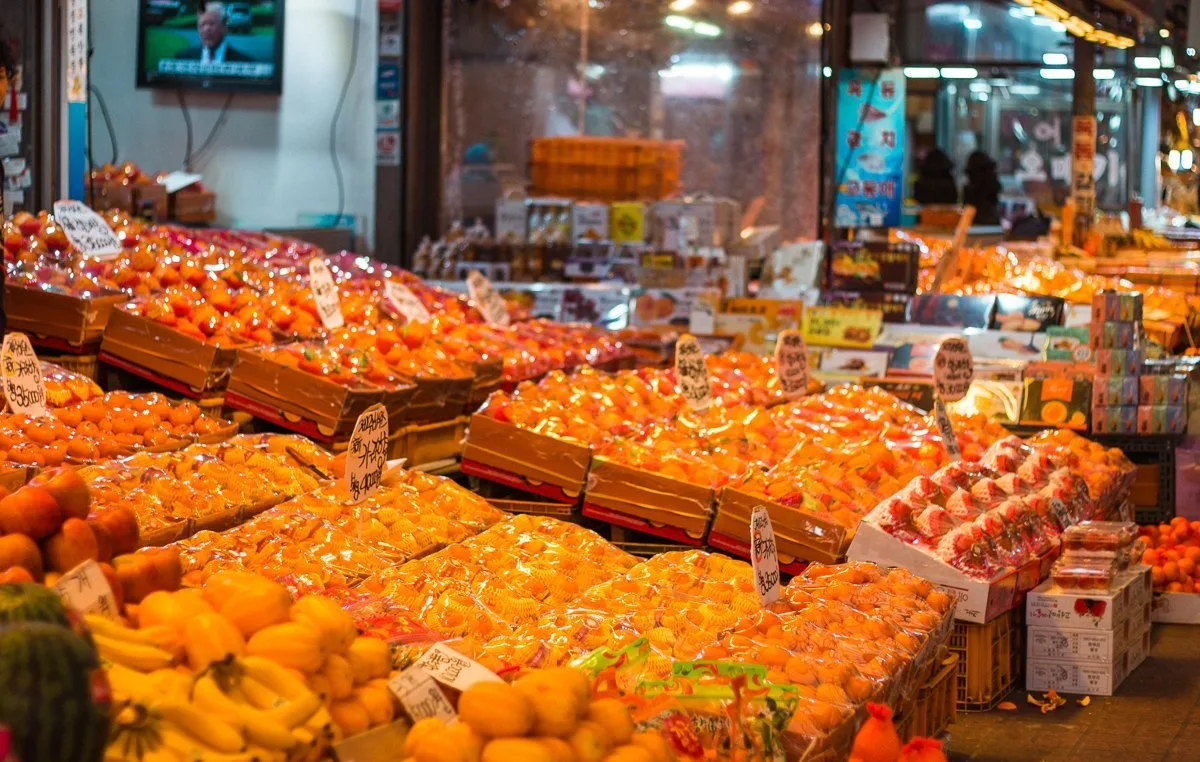 Immediately as you enter, you will notice many stalls selling hallabong oranges; the amount of which leads me to wonder if there's really that much a demand for the oranges. On top of this, there are lots of fresh produce and seafood since this is where the locals shop for their groceries too.
We grabbed a large box of fresh strawberries (I love Korean strawberries because they are usually sweeter than the Australian or USA ones) for less than KRW 10,000.
While you're there, don't miss snacks like Omegi-tteok, which are round rice cakes filled with red beans or other fillings, and gimbap, korean rice rolls.
Lunch at Black Pork Street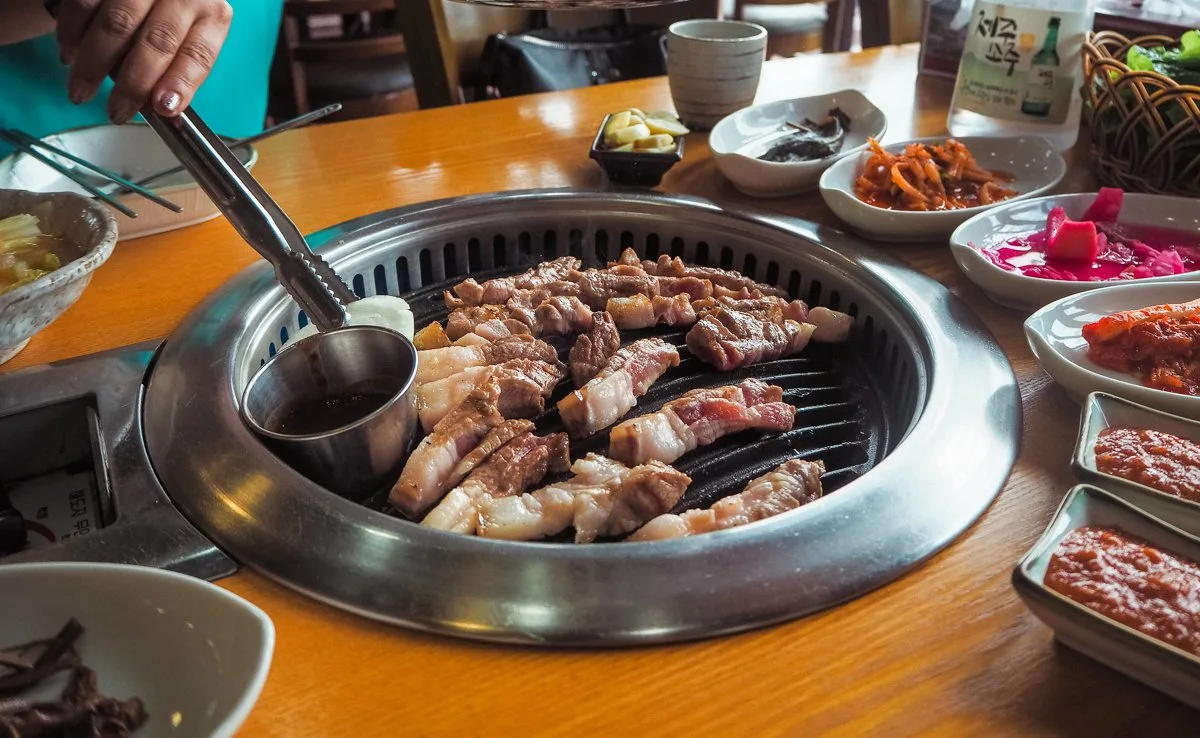 Catch the 10:40/11:40AM bus from Dong Mun Market to Black Pork Street. Make yourself comfortable in a restaurant and have a hearty grilled black pork lunch.
Halla Arboretum
After the heavy meal, make your way to the next stop on the city bus route to Halla Arboretum. Established for the purpose of nature conservation, the park houses over 1,300 rare and endangered species and 100,000+ different plants. The park will make for a good walk with some beautiful coastal scenery as you digest your meal.
Sunset at Dobu-Dong Rainbow Coastal Road
You'll need the Korean name to search in the app for this location: 도두동 무지개 해안도로.
Watch out for the time as you will want to be at Dobu-dong Rainbow Coastal Road for sunset. Sunset in South Korea is around 6PM though it's always best to search for the sunset timing for the day you're there. You can take the 4PM+ bus at Halla Arboretum back to reach the coastal road at 6PM+ but it may be easier to just take a cab there.
The coastal road is known for its instagrammable rainbow-colored seats that look out to a beautiful ocean view.
Dinner at Sashimi Restaurant
If you're a fan of sashimi, head over to the highly rated Sashimi Restaurant at 2615-4 Doduil-dong. Reviewers liked that the seafood was fresh and service was great despite the language barrier, which honestly, is not common in Jeju. The locals usually are colder towards people who don't speak Korean.
JEJU ITINERARY DAY 2: East of Jeju Island
Sunrise at Seongsan Ilchubong
Rise and shine! It's your second day in Jeju. Hit Seongsan Ilchubong to experience an amazing sunrise.
Sunrise in South Korea can be anytime between 5:10AM to 7:05AM so plan ahead. You can enter the park an hour before sunrise. It takes about 20-45 minutes to reach the peak depending on your speed. Note that there are a lot of steps leading to the peak! Spend some time up there to take in the fresh air and the enthralling scenery.
After you descend, you can watch the female divers (haenyeo) as they show their diving capabilities at the beach. Recognized as an intangible cultural heritage of humanity, these divers often have to go 10 meters deep into the ocean to gather food with no breathing equipment.
Manjanggul Lava Tube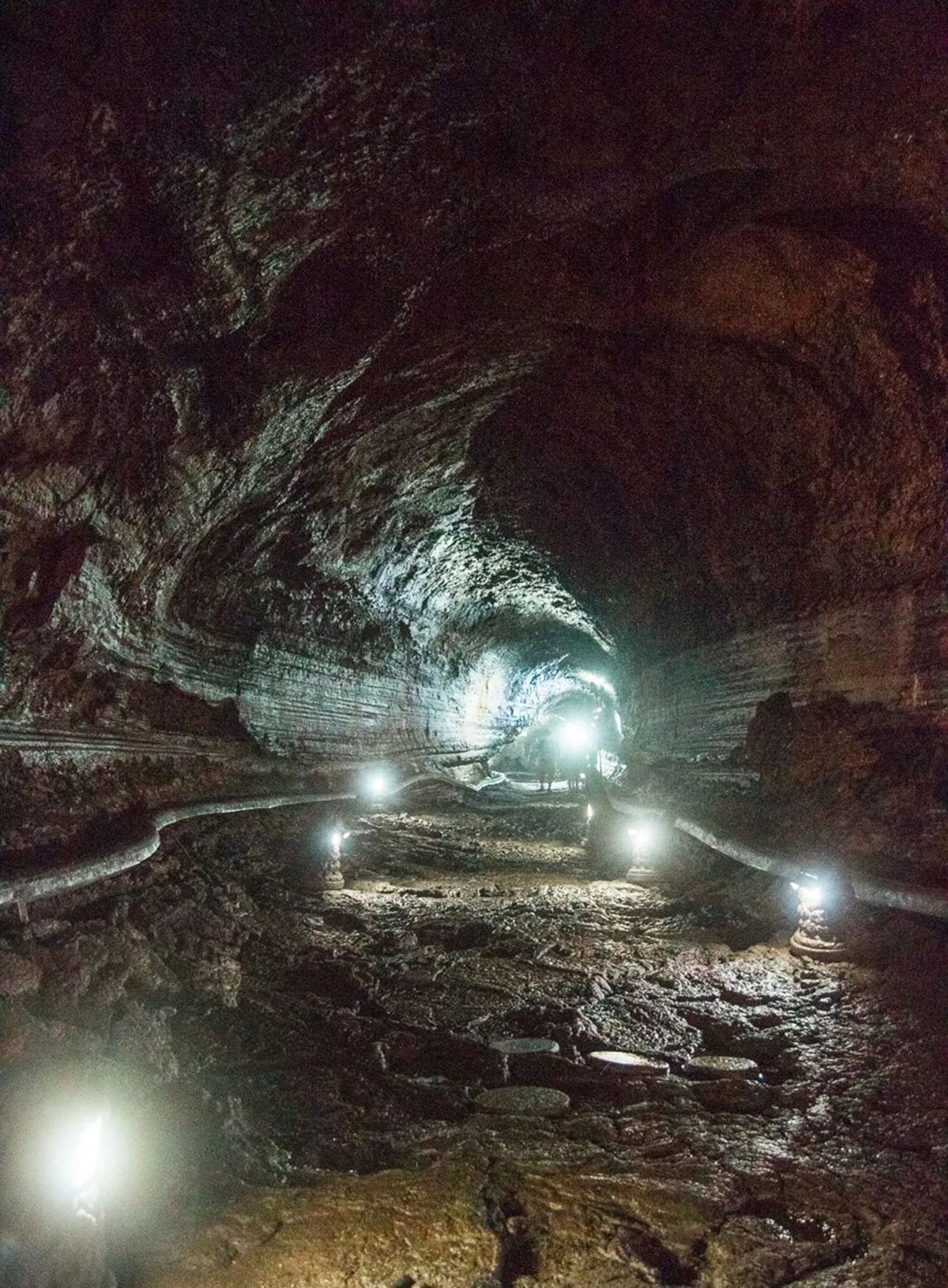 The Manjanggul Lava Tube is one of the longest lava tubes in the world and also a UNESCO World Heritage Site.
Although the cave is more than 13 km long, only about 1 km is open to the public. Be prepared to spend an hour to walk the full length and back. The temperature in the cave can go as low as 11°C (51.8°F) and I imagine it would be an excellent respite for the locals and travelers during summer.
At the end of the path was a lava column, which unfortunately came across as slightly underwhelming for us. People into geography or just more knowledgeable than us will know that this is the tallest lava column in the world, standing at 7.6 meters.
Seopjikoji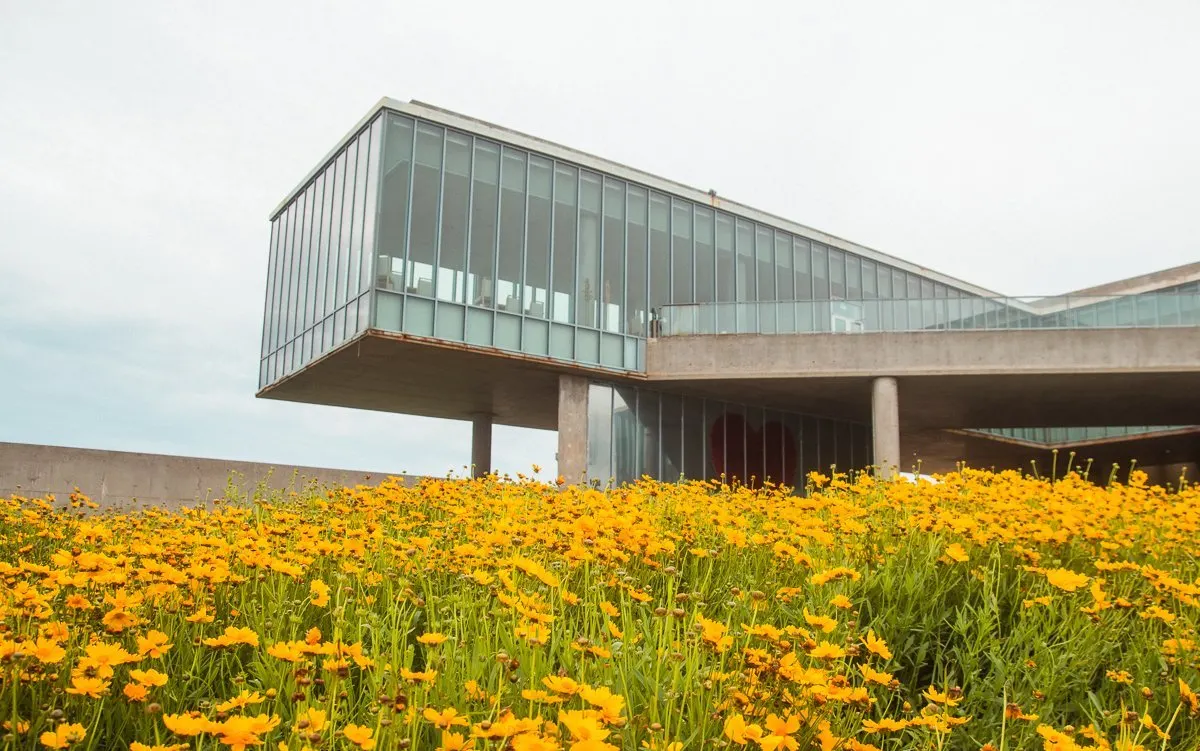 We requested our driver to drop us at a restaurant for a simple lunch before we headed to Seopjikoji. Seopjikoji is located at the east coast of Jeju and features a beautiful basalt coastline and clear waters.
If you're an architecture lover, don't miss the opportunity to visit the Glass House and Genius Loci. Both buildings are designed by the famed architect, Tadao Ando, known for his minimalism designs favoring materials such as concrete and glass.
Sangumburi Crater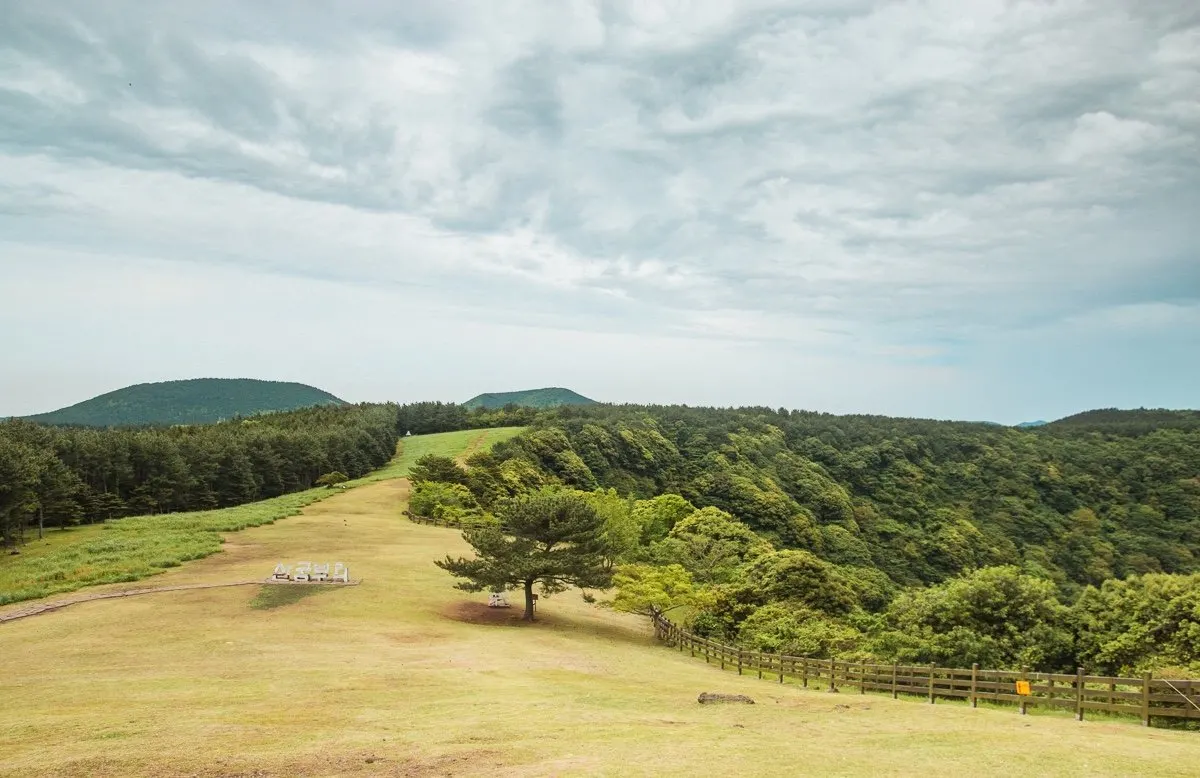 Our next and last stop for the day was yet another volcanic island wonder; Sangumburi is a crater that's more than 2 km wide and home to a diverse amount of plants and animals. The park extended into endless green fields and made for a serene stroll with the most gorgeous, uninhibited scenery.
TIP: Visit in autumn to see a breathtaking silver field of pampas!
Dinner at Seongmi Garden
We didn't manage to visit this restaurant which is just a short distance away from Sangumburi as our engagement with the driver ended at 6PM. If you are renting a car, don't miss this. Seongmi Garden is known for their chicken shabu-shabu and other chicken dishes.
JEJU ITINERARY DAY 3: West of Jeju Island
O'sulloc Tea Museum and Innisfree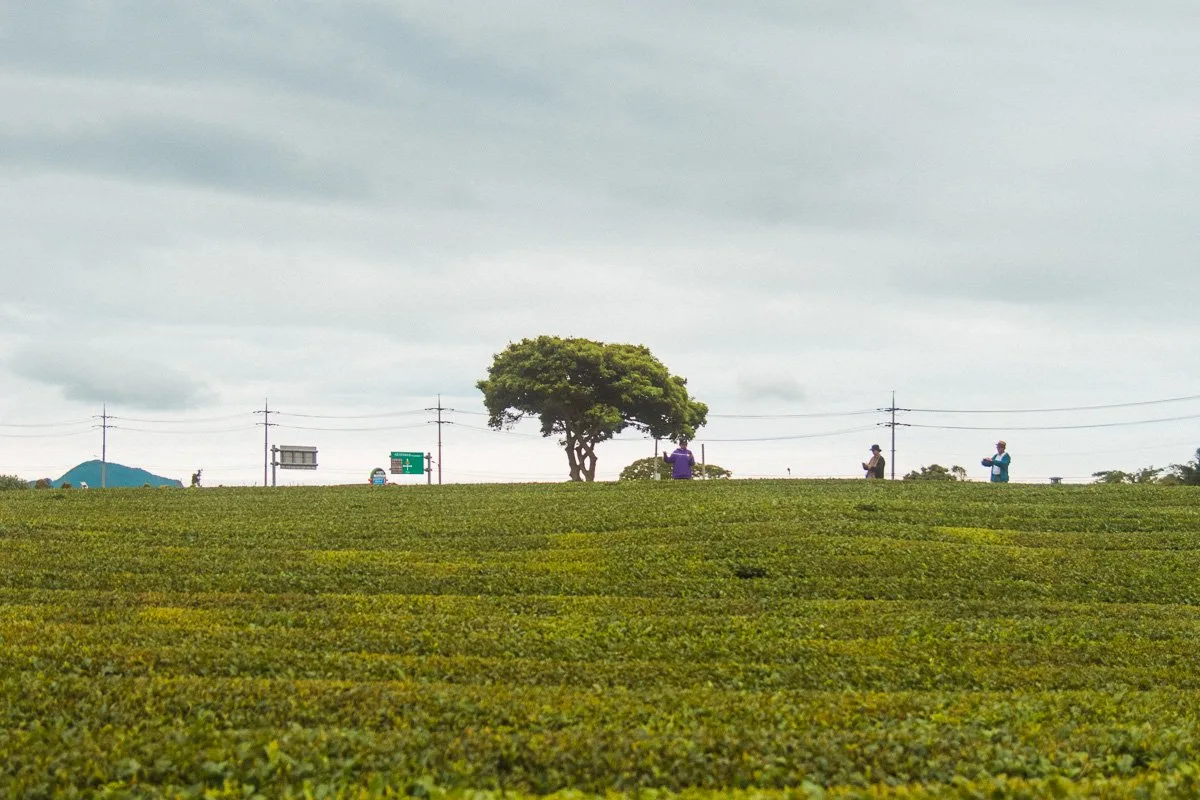 Our first stop was the O'sulloc green tea fields which made for a great photo op. While there was quite a crowd there, the fields were large, and it was easy to find an isolated spot for photos.
We then made our way opposite to the O'sulloc Tea Museum. There was a cafe in the museum which unsurprising, offered mainly tea-flavored items. You've got to try the milkshake there!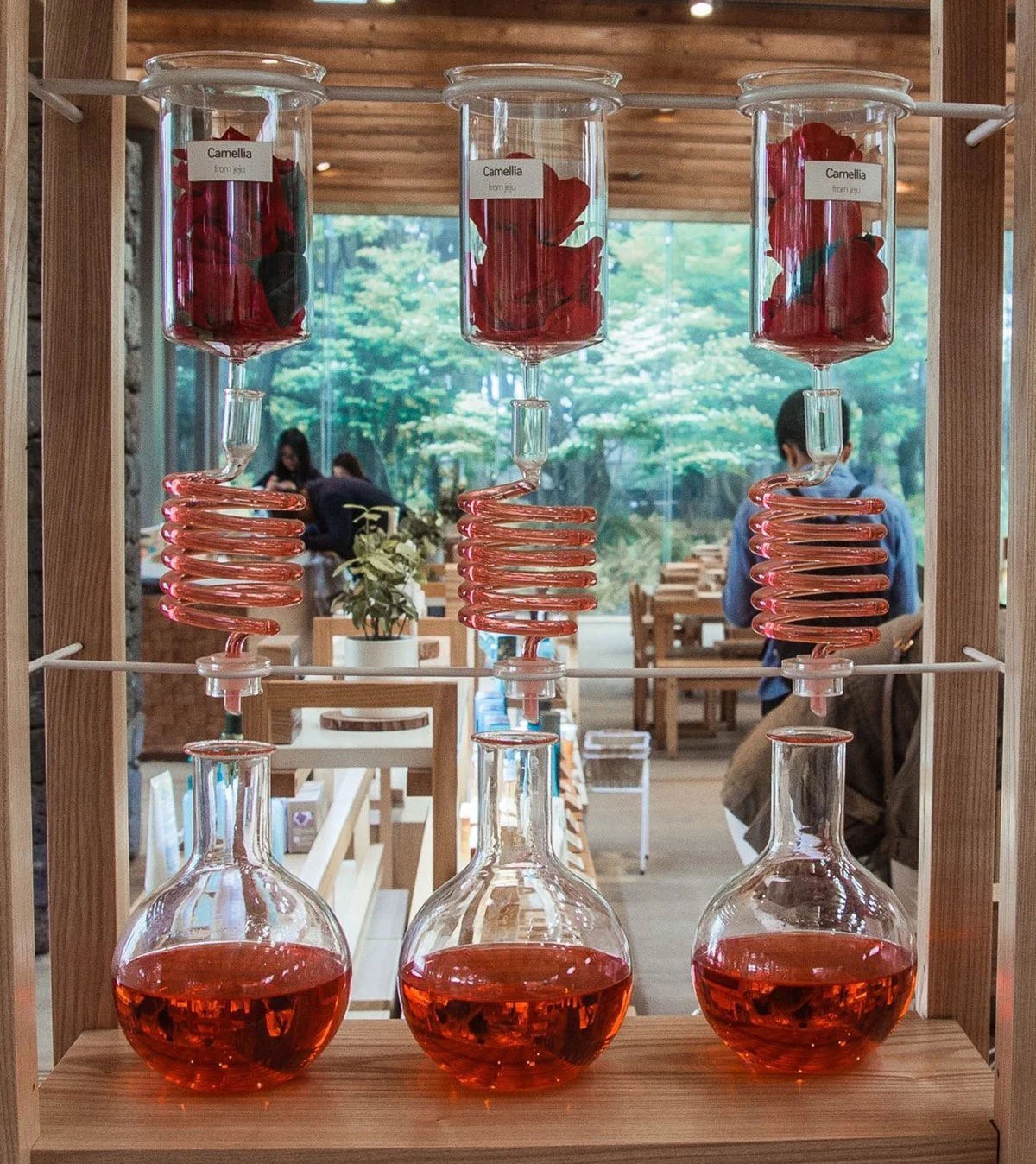 The Innisfree flagship store was also just a stone's throw away. For those who are not familiar with Korean brands, Innisfree is a well-known Korean skincare and cosmetic brand that offers an affordable range of products. I highly recommend their volcanic clay mousse mask!
Sanbang Mountain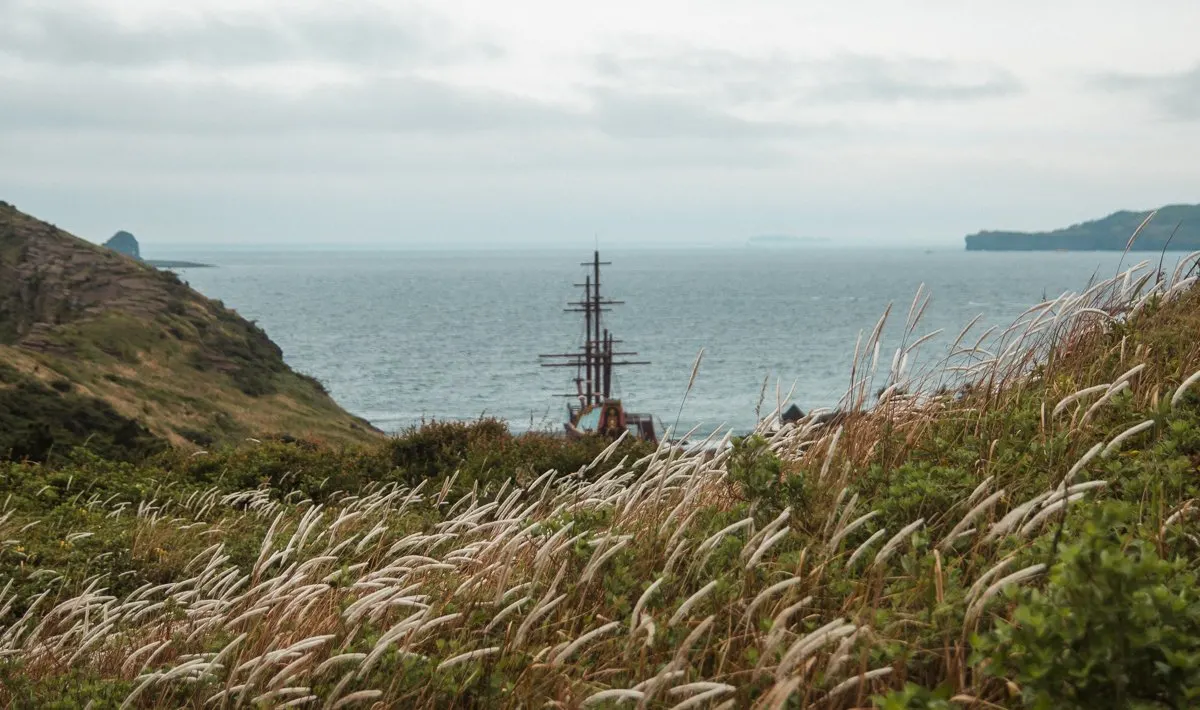 After leaving the Innisfree Jeju house with our loot, our plan was to head to the Yongmeori coast next. However, our driver advised us against going down to the beach as it was perilously windy that day. Instead, we went about a manageable trek up to a signal beacon on the Sanbang mountain to catch beautiful coastal views.
Cheonjeyeon Falls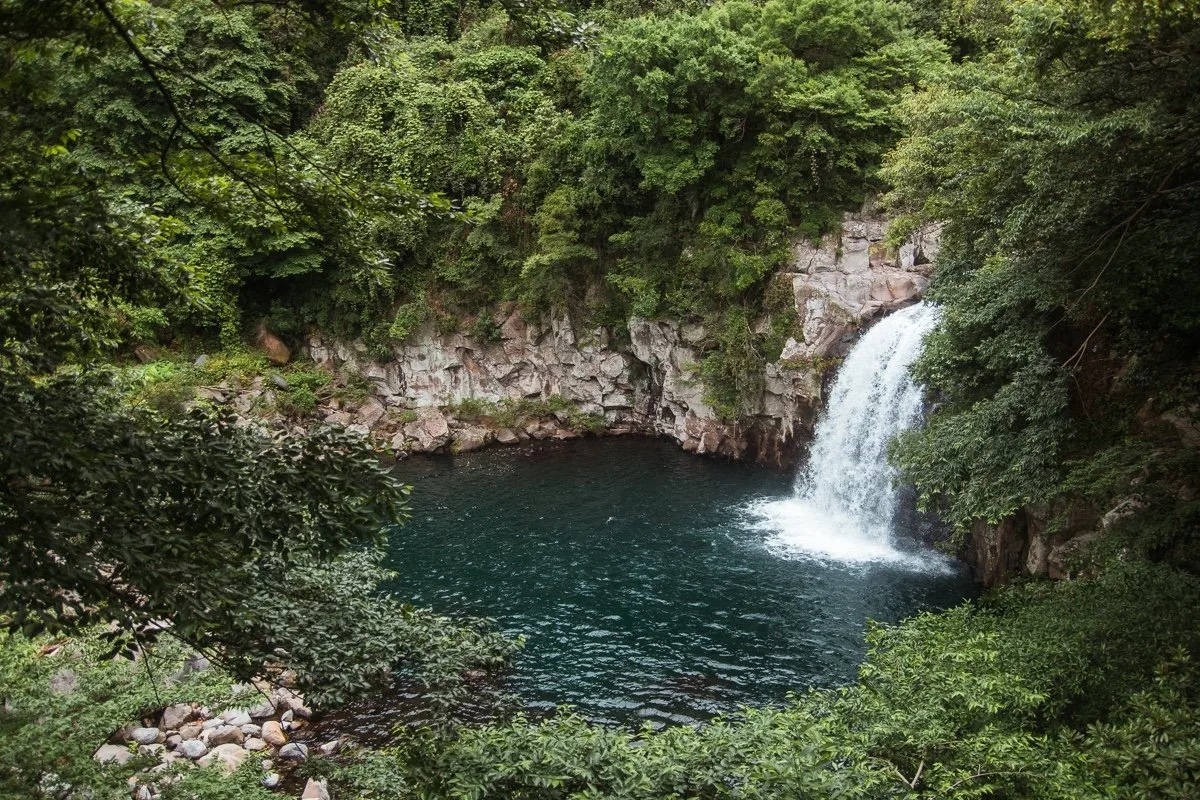 Our next stop was the Cheonjeyeon Falls. The falls are located in a garden-like complex and there are three main falls to visit. The first is a small cascade but also the most accessible. You can literally put your hand into the azure waters. You can only appreciate the second and third falls from a distance but are they are definitely more magnificent than the first.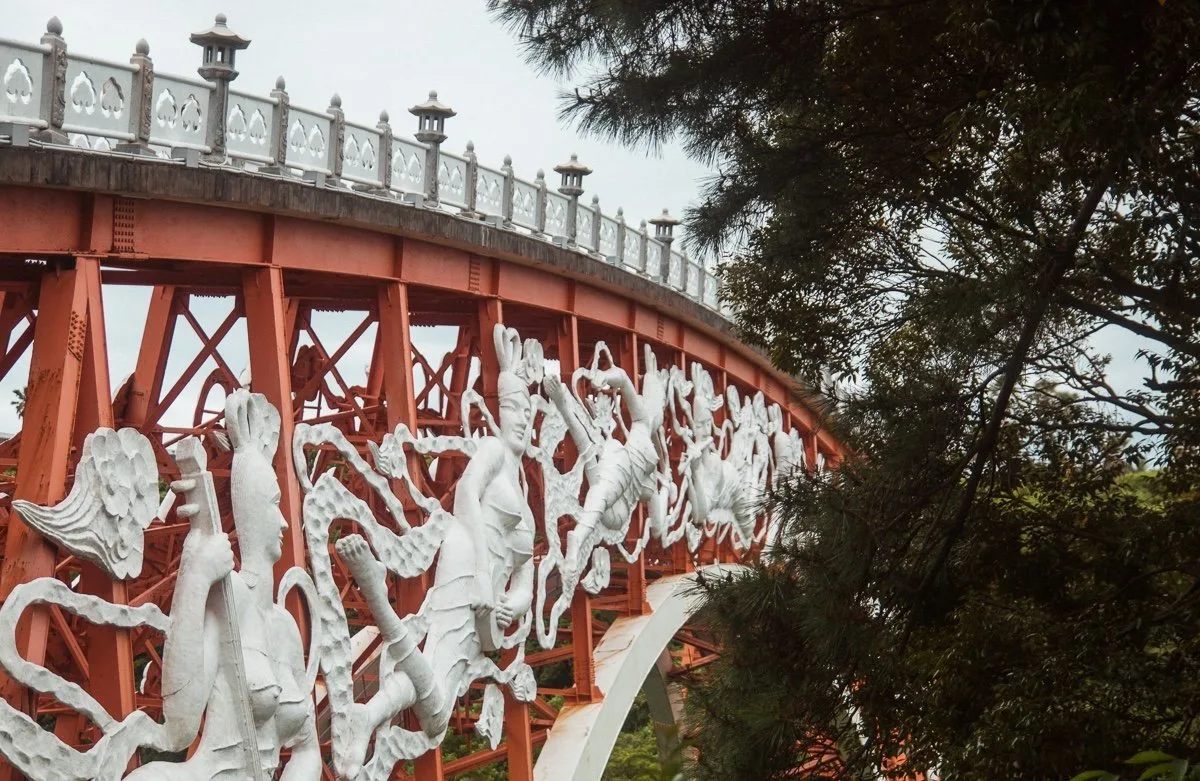 To get to each waterfall, we climbed countless flights of steps back and forth. A review on TripAdvisor was titled "too much climbing too much walking" so be warned! Other than the falls, the Seonimgyo Bridge was another sight to behold.
Jusangjeolli Cliffs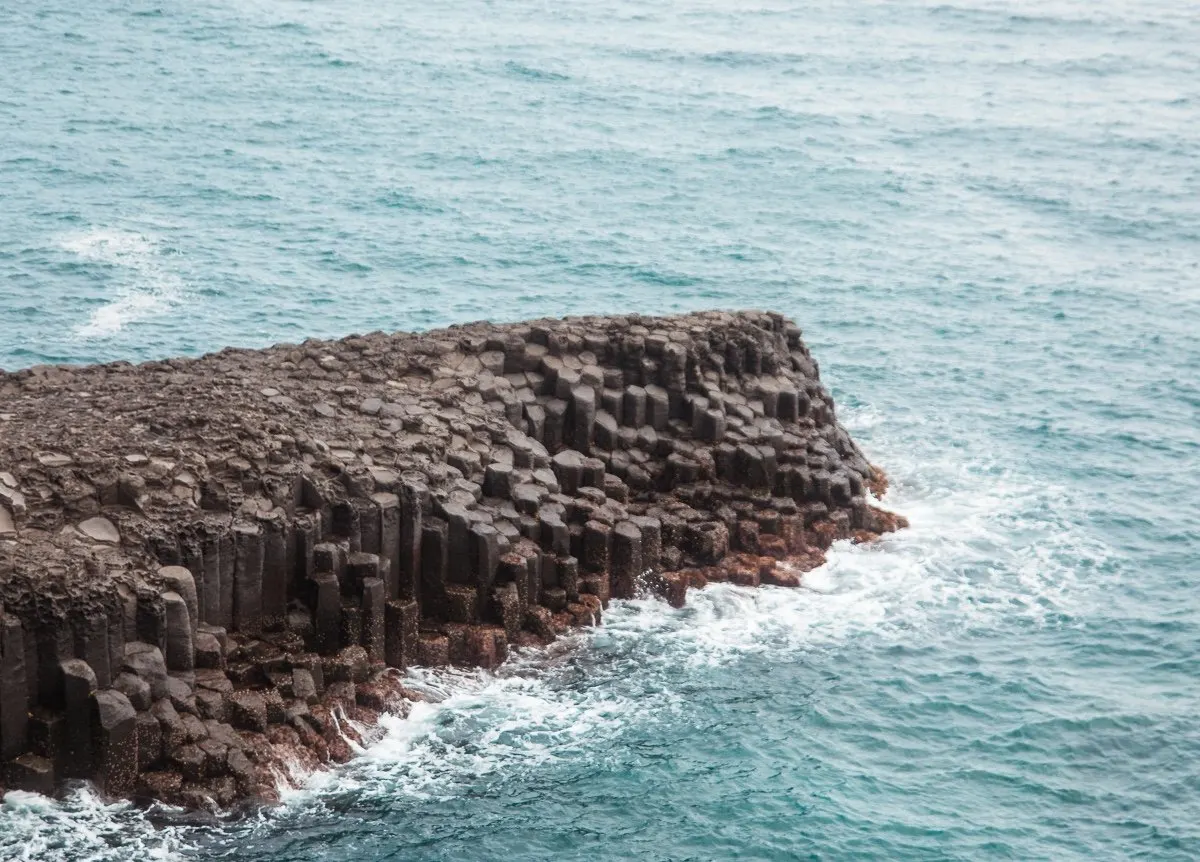 After lunch, we headed to Jusangjeolli to see the hexagonal basalt cliffs. To get to the cliffs, we had to enter a resort-like complex. As you walk further in, there were wooden bridges and observatory decks that allowed visitors to view the magnificent basalt columns from afar.
Yakcheonsa Temple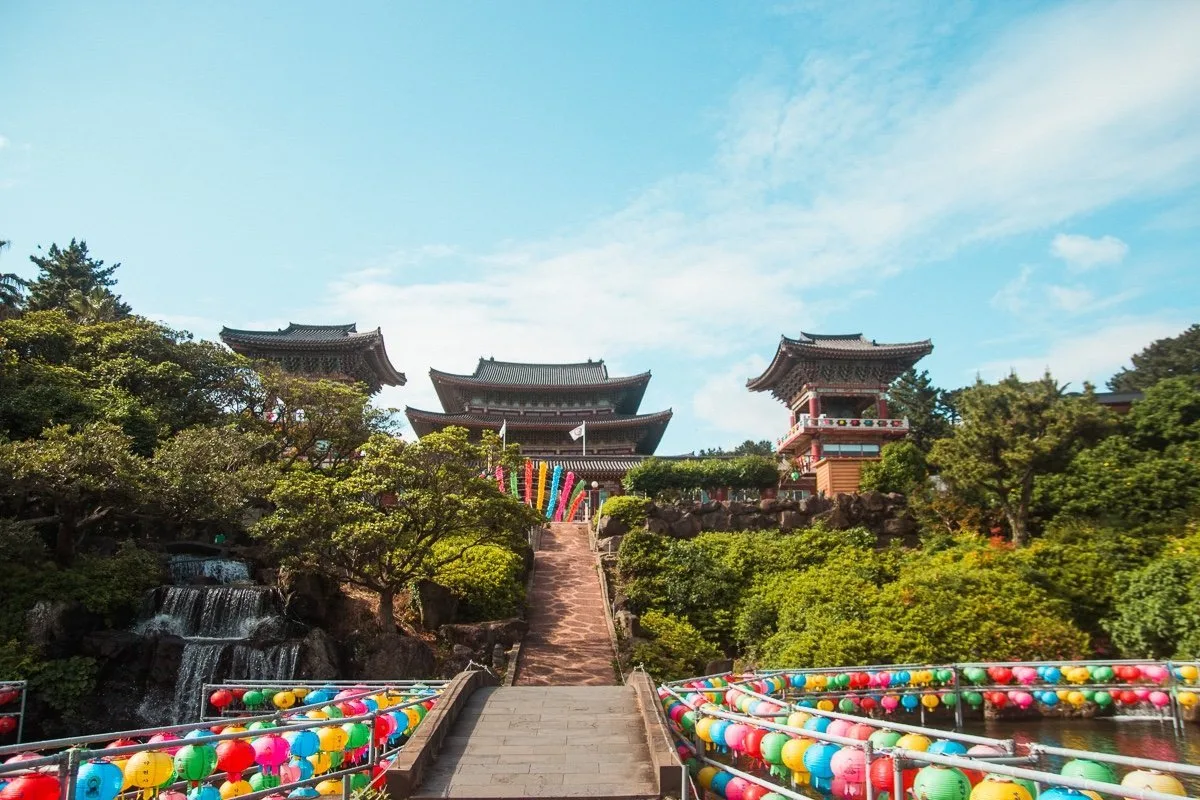 Despite making multiple stops on day 3, we still had time to spare before our time with the driver ended. We asked the driver to bring us anywhere of interest nearby. And we're glad he brought us to Yakcheonsa Temple.
The temple was expansive and beautifully decorated with colorful lanterns. The walls, beams, and roofs were painted in gorgeous hues and the interior was also simply magnificent.
Fried Chicken for Dinner
Our driver sent us back to the hotel slightly before 6PM and we were fretting over what to eat. A fried chicken advert came up on the television and before we knew it, we got the reception's help to order a three-flavor platter set from Nene Chicken!
Nene Chicken is one of the most popular fried chicken restaurant chains in South Korea and needless to say, the fried chicken was sinfully delectable. Food delivery is a life-saver everywhere!
And that's it! 3 days in Jeju. This Jeju itinerary may look packed but I promise that it's absolutely manageable.
Disclosure
Some of the links in this Jeju itinerary are affiliate links. We'll get a small commission if you make a purchase at no extra cost to you. As always, we only recommend products and services that we use ourselves. We really appreciate your support as it helps us make more of these free guides. Thank you!
Photos by Eunice Tan