EDITOR'S NOTE: Traveleater George J. Newton shares with us twelve traditional dishes to try on your next visit to Liechtenstein.
People will travel for good food. Whether that is to another town, city or even country. On our travels there is always that great restaurant or that amazing meal that we cannot wait to share with other people who are visiting the area.
Liechtenstein is one such country that has many traditional dishes just waiting to be tasted. Its location in Europe has meant that dishes here are quite diverse and some say unique.
Much of the food in Liechtenstein has been influenced by the adjoining countries of Austria and Switzerland and the country boasts a mixture of high-end restaurants and local, traditional eateries.
Save This on Pinterest!
No time to read this article on the food in Liechtenstein? Click on the save button and pin it for later!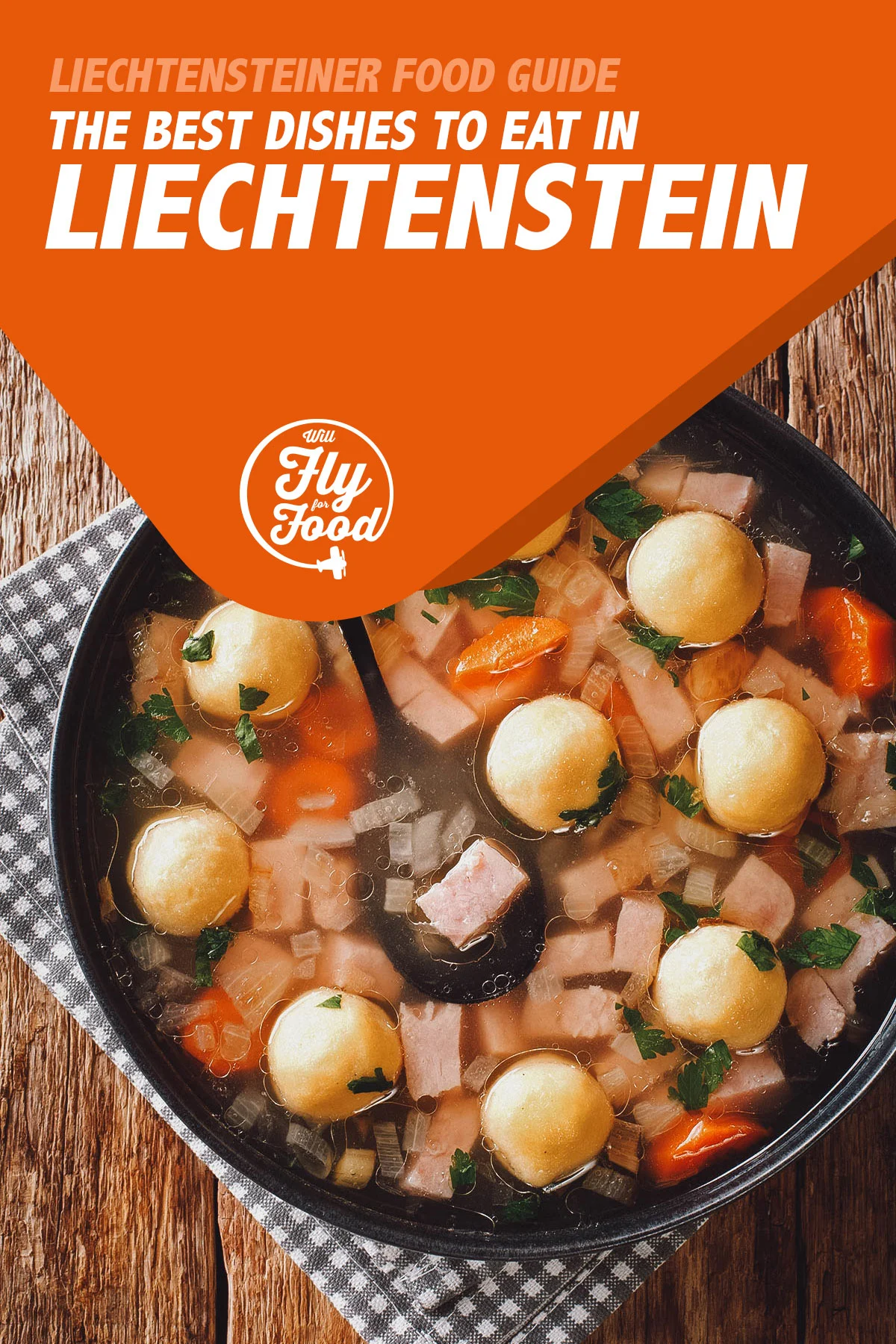 Photo by lenyvavsha
WHAT IS TRADITIONAL LIECHTENSTEINER FOOD?
A good place to start when describing a country's cuisine is tradition. Germany, we think of schnitzels and sauerkraut, Italy brings images of pasta, but what would be the Liechtenstein answer?
Liechtenstein cuisine is often described as simple, rich, and hearty. In fact, the winter months are the best months to visit Liechtenstein for its food due to the array of stews and broths that are often served as sides to larger dishes.
Its national dish is called käsknöpfle which is a simple dough made of flour, eggs, water, salt, and pepper. These are then served with local cheeses, onions, and apple purée. Another traditional dish, this time a breakfast option, is something called ribel. Ribel is a mixture of corn and wheat not dissimilar to porridge.
Corn was a valuable source of energy hence its use in a breakfast dish. Traditionally, the corn and wheat were cooked in milk to create a creamy, smooth taste and then gently roasted until golden brown. This could then be dipped into coffee or eaten with an apple purée.
Couple these with some of the best wine the country has to offer, and some local cheese and you can't go wrong.
THE BEST FOOD IN LIECHTENSTEIN
You'll be pleased to know that Liechtensteiner food is not all stews, purées, and porridges. There is a rich variety of dishes to enjoy and here, in no particular order, are twelve that you have got to try when visiting Liechtenstein.
1. Käsknöpfle
There's no better way to start this list than with the aforementioned käsknöpfle, a national dish of Liechtenstein. Known in Germany as käsespätzle, it consists of small noodles or dumplings layered with cheese and topped with fried onions.
Käsespätzle is often enjoyed with fresh salads or potato salad but in Liechtenstein, käsknöpfle is usually served with an apple purée.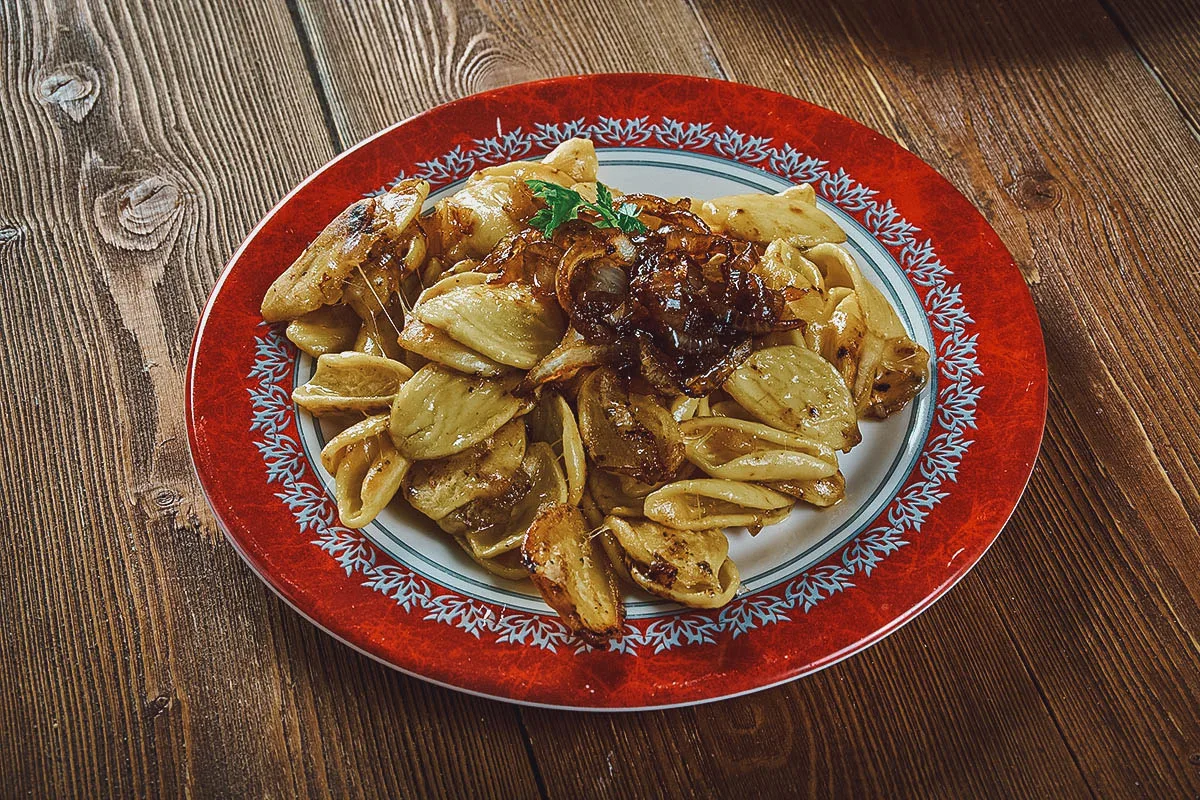 Photo by fanfon
2. Ribel
Until the 1970s, ribel was a poor man's dish in Liechtenstein. Today, you'll find many restaurants serving this traditional Liechtensteiner breakfast dish.
As described, it's made from corn and wheat cooked in boiling water and milk before being roasted with butter. It's often enjoyed with an apple purée or other fruit sauces and compotes.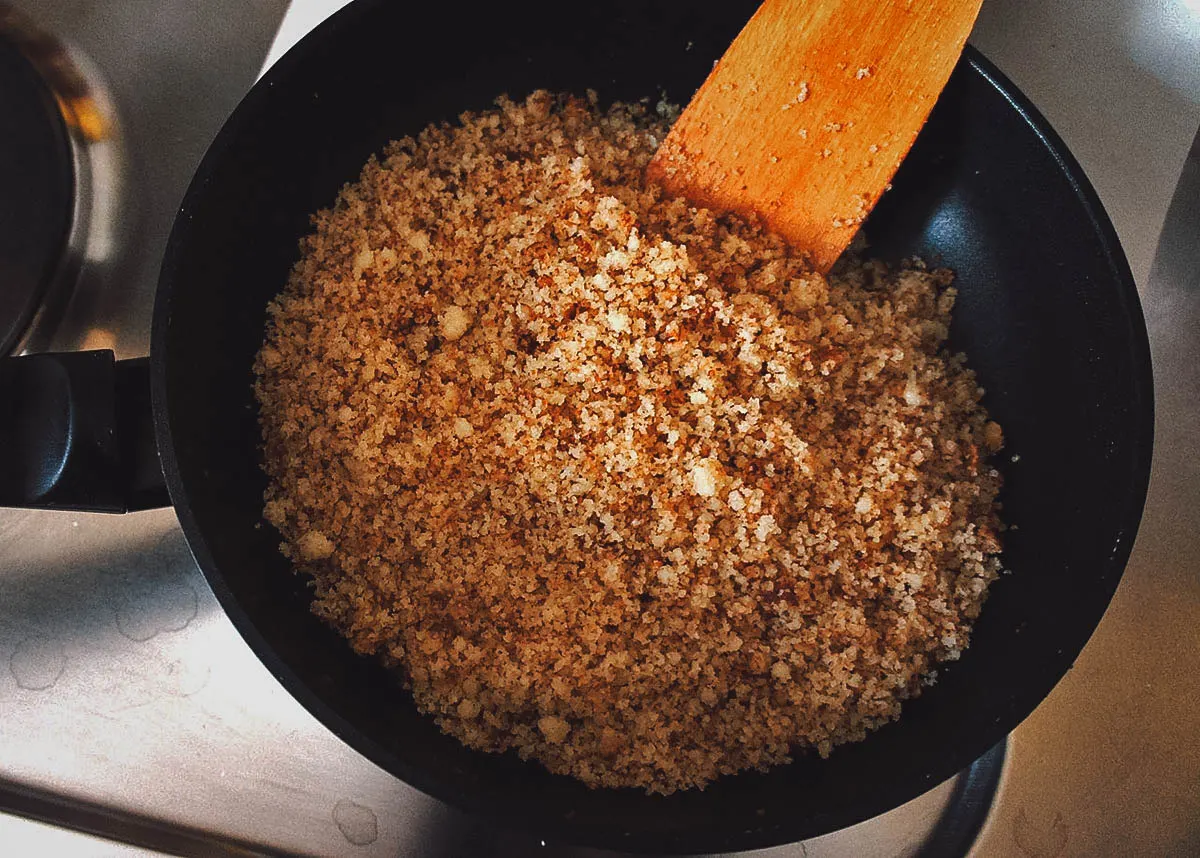 Photo by Schofför, CC BY-SA 3.0, via Wikimedia Commons
3. Dreikönigskuchen
Think big and think cake! Dreikönigskuchen is known as "the king cake" and the recipe does vary across Liechtenstein, but size is always a constant. It is commonly found in bakeries and can also have a figurine hidden inside. It's great for a party!
The cake dough is sweetened and then studded with raisins and chocolate chips before baking. Traditionally, this would be shaped into a crown shape and a paper crown was made to accompany it. The "king" of the party or gathering would then wear the hat.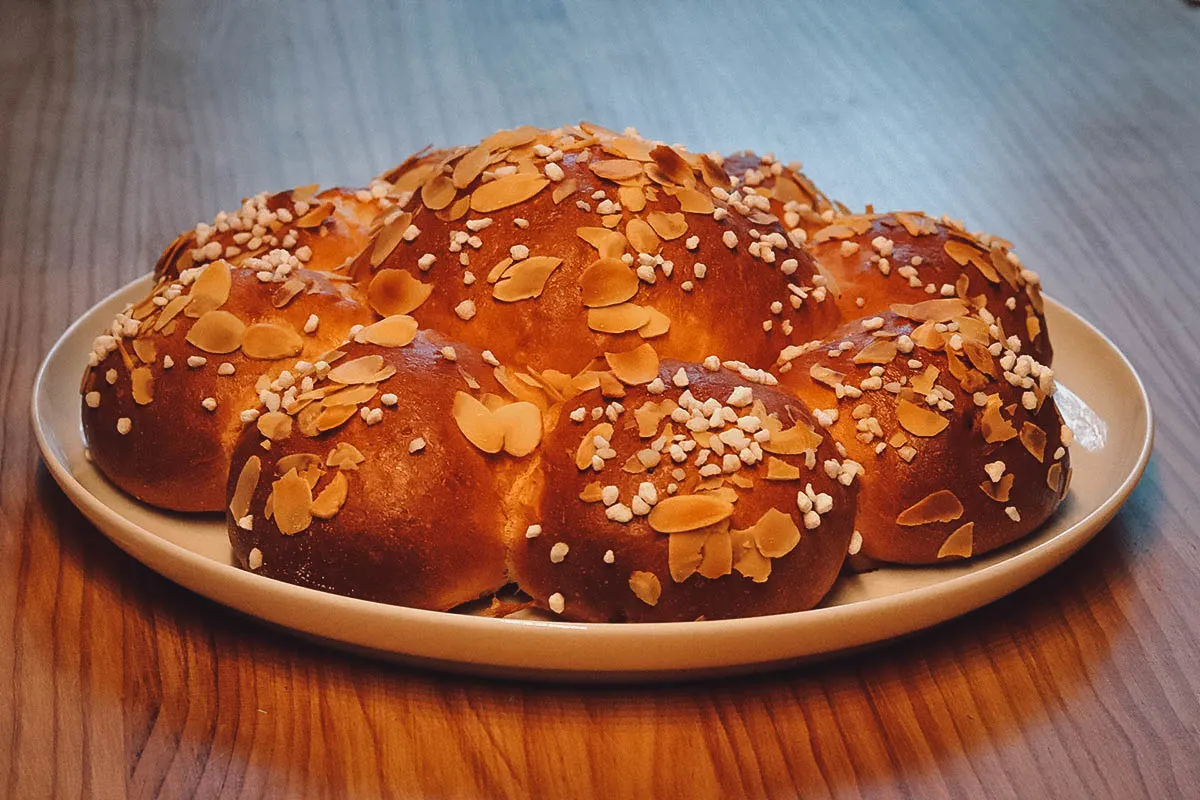 Photo by IvanM77
4. Schnitzel
Schnitzel refers to a Liechtensteiner dish made with thin slices of meat that are often fried with onions. The meat is either cut really thinly or hammered flat with a tenderizer. Once hammered or sliced, the meat is breadcrumbed or covered in flour before frying.
Traditionally, the meat used for a schnitzel was veal but don't be surprised to find mutton, chicken, or pork being used too. This is no longer a meat-only offering as vegetarian versions are starting to pop up all over Liechtenstein.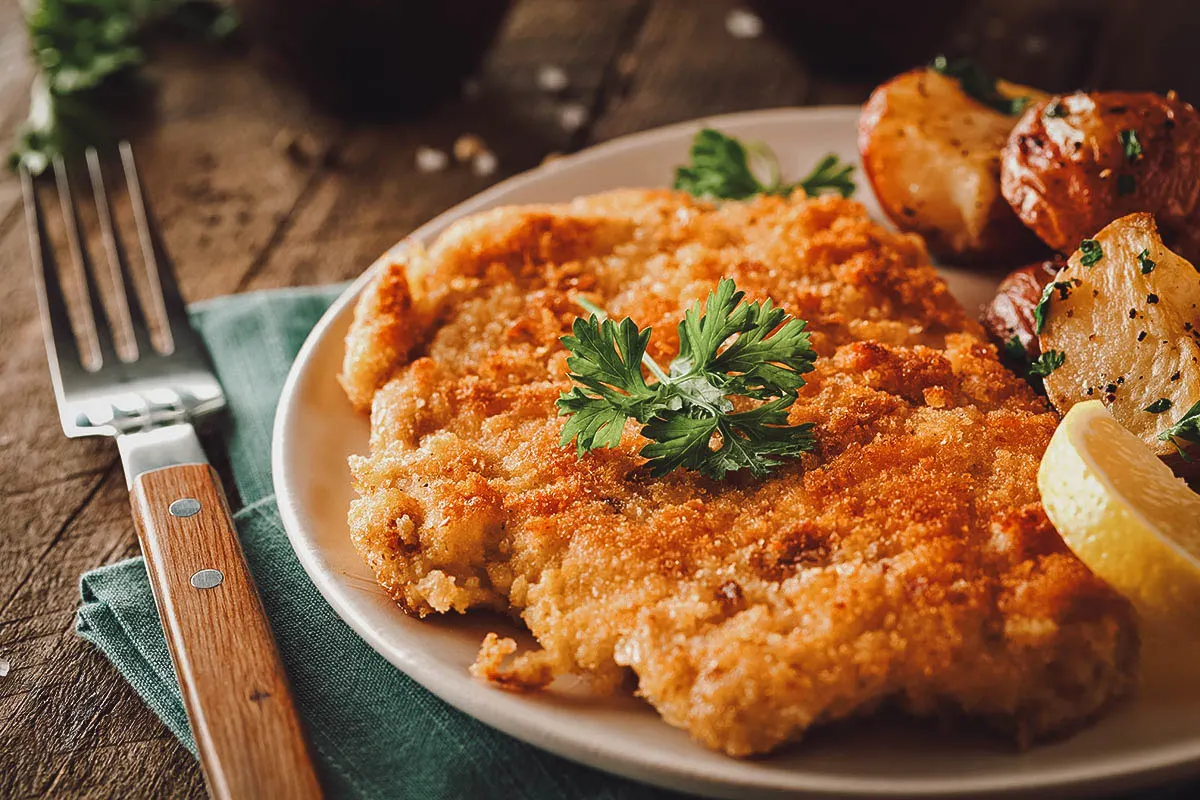 Photo by bhofack2
5. Kratzer
Therre is no English equivalent to this so it is best compared to the Austrian dish known as Kaiserschmarrn (the Emperor's mess). Usually this is a side dish, popular in northern Liechtenstein, and is a sweetened and shredded pancake.
It is said that Franz Joseph I was a fan of this desert. If the emperor thought it was worth eating, then it must be worth a try by you too!
6. Hafalaab
Hafalaab is a traditional dish of Liechtenstein and is found in restaurants up and down the country. It is quite simply a soup or broth which contains dumplings made from wheat and cornmeal. The soup is flavoured with smoked bacon or ham. Like ribel, this is a traditional poor man's dish which is a speciality of Liechtenstein.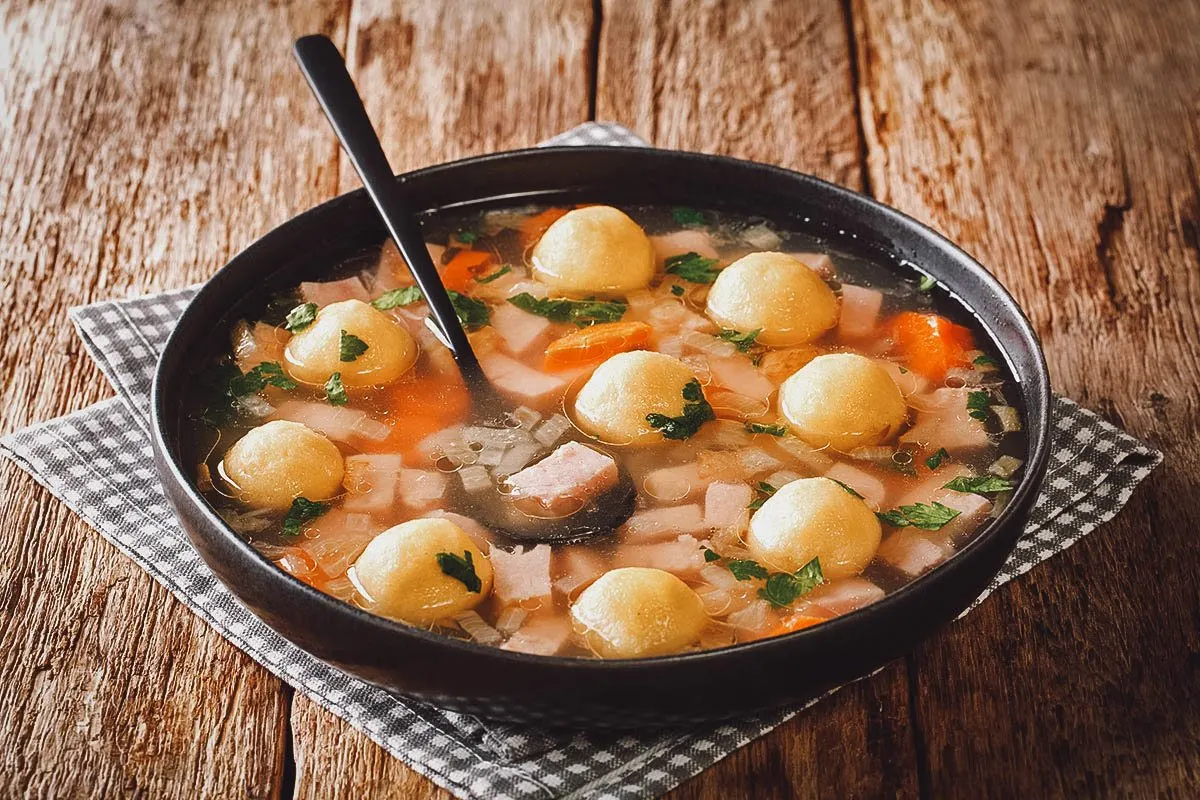 Photo by lenyvavsha
7. Torkarebl
Torkarebl is another traditional Liechtensteiner dish. This is made from a mixture of corn flour, salt, milk, and water. The mixture should have a consistency somewhere between a dumpling and porridge. It should not be overly watery.
Usual accompaniments to this comforting dish are elderberry jam and a cup of coffee or milk.
8. Liechtensteiner Fish Stew
No prizes for guessing what goes into this one! This is a very popular, traditional food of Liechtenstein. The stew can contain any fish such as snapper or cod and then an array of other ingredients such as potato, onion, tomatoes, garlic, celery, paprika, parsley and olive oil.
The stew cooks for a long time to allow the vegetables to become soft and for the fish to cook properly. To truly appreciate this dish, you top a slice of rye bread with the broth and pieces of the fish. It is important to get all the stew's components on the bread to enjoy all its flavors.
9. Muesli
Museli is a dish that's always served cold. The main ingredient is oats and then any number of other ingredients can be added such as dried fruits, fresh fruits, seeds, nuts, and grains.
Because there is no set recipe, you will find that it has various twists in different regions. It can also be combined with liquids such as fruit juice, milk, water, yogurt, or plant milk. Museli is a Swiss dish that has become popular throughout Europe, including Liechtenstein.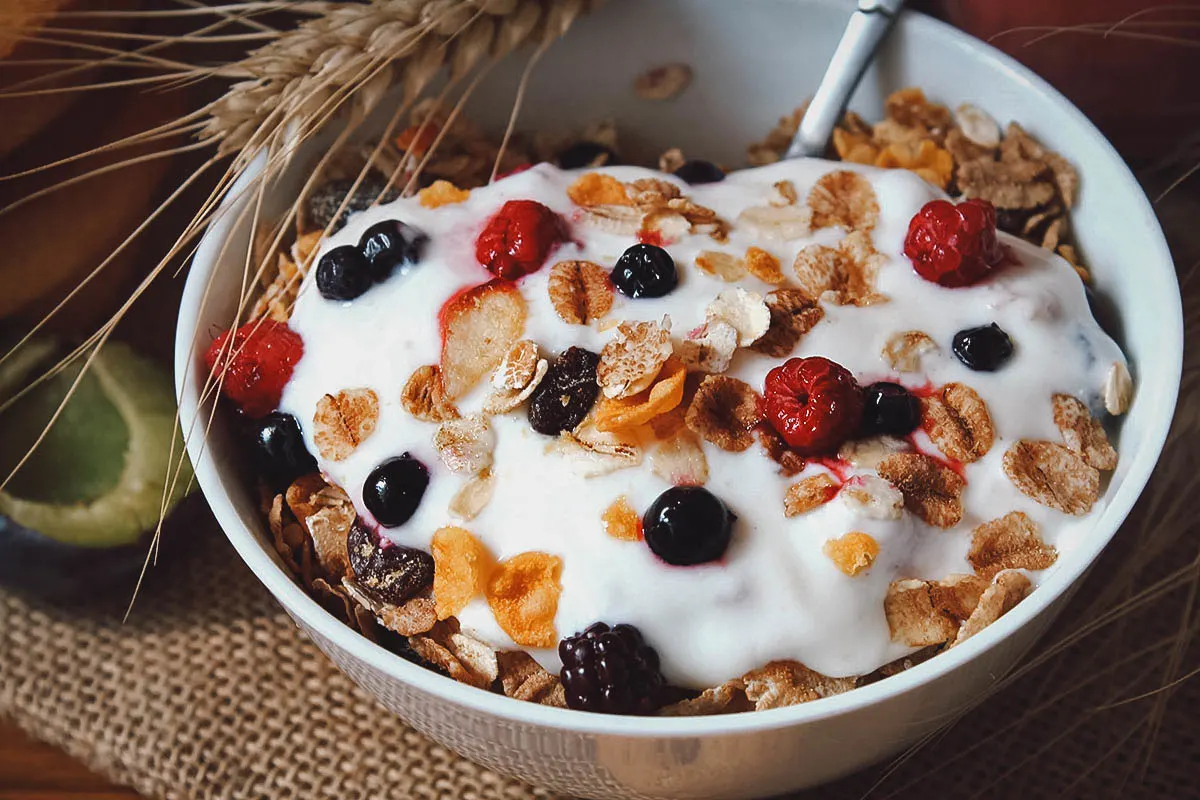 Photo by marrakeshh
10. Geschnetzelte
Geschnetzelte is another dish with Swiss roots but has become very popular in Liechtenstein. This is a meal based on veal, with kidney and champignon mushrooms. Everything is served dipped in cream and accompanied by a potato rosti. The term geschnetzelte translates into English as "sliced" or "shredded" which is exactly how the veal is prepared.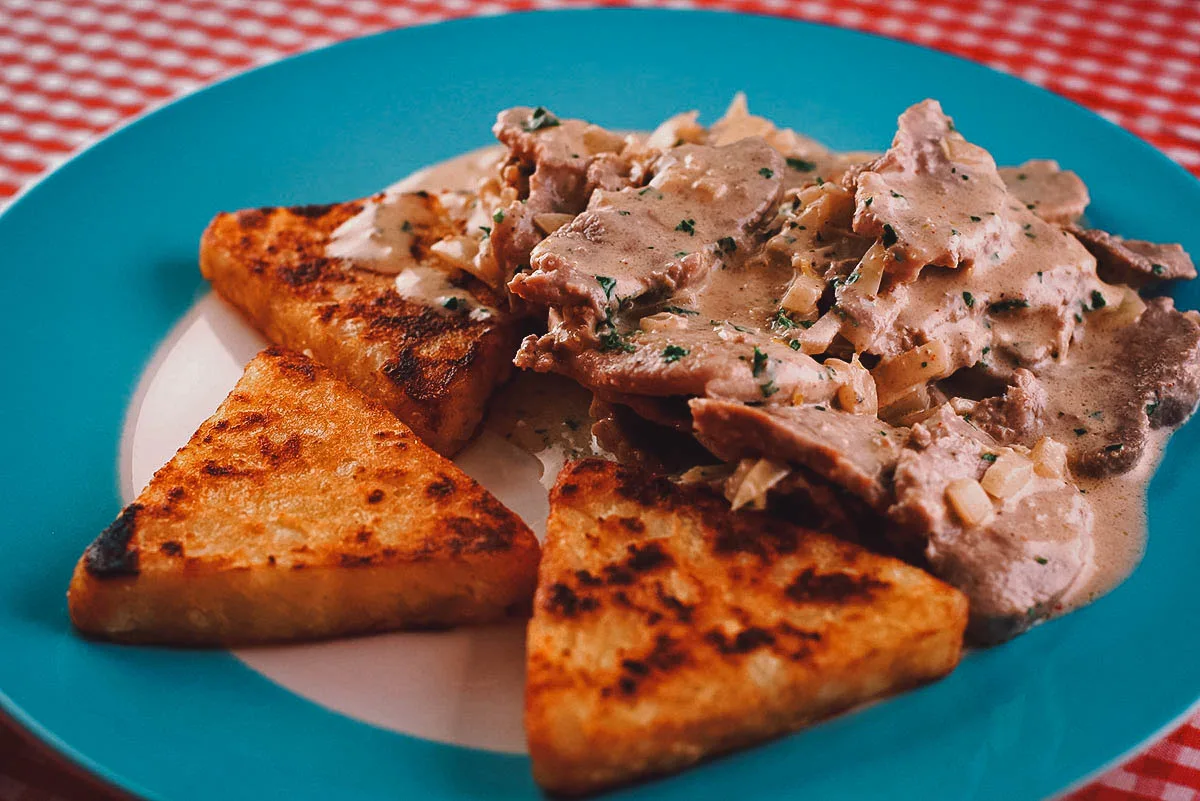 "Geschnetzeltes Züricher Art" by Katrin Gilger, used under CC BY-SA 2.0 / Processed in Photoshop and Lightroom
11. Schwartenmagen
Schwartenmagen is a sausage made with offal (usually pork) and spices. These are coarsely chopped and boiled for a long time and then stuffed into a casing.
In Germany, a schwartenmagen is known as jelly meat due to the type of casing used. It is served in thin slices and used as a filling for sandwiches, together with vegetables in vinegar or in oil.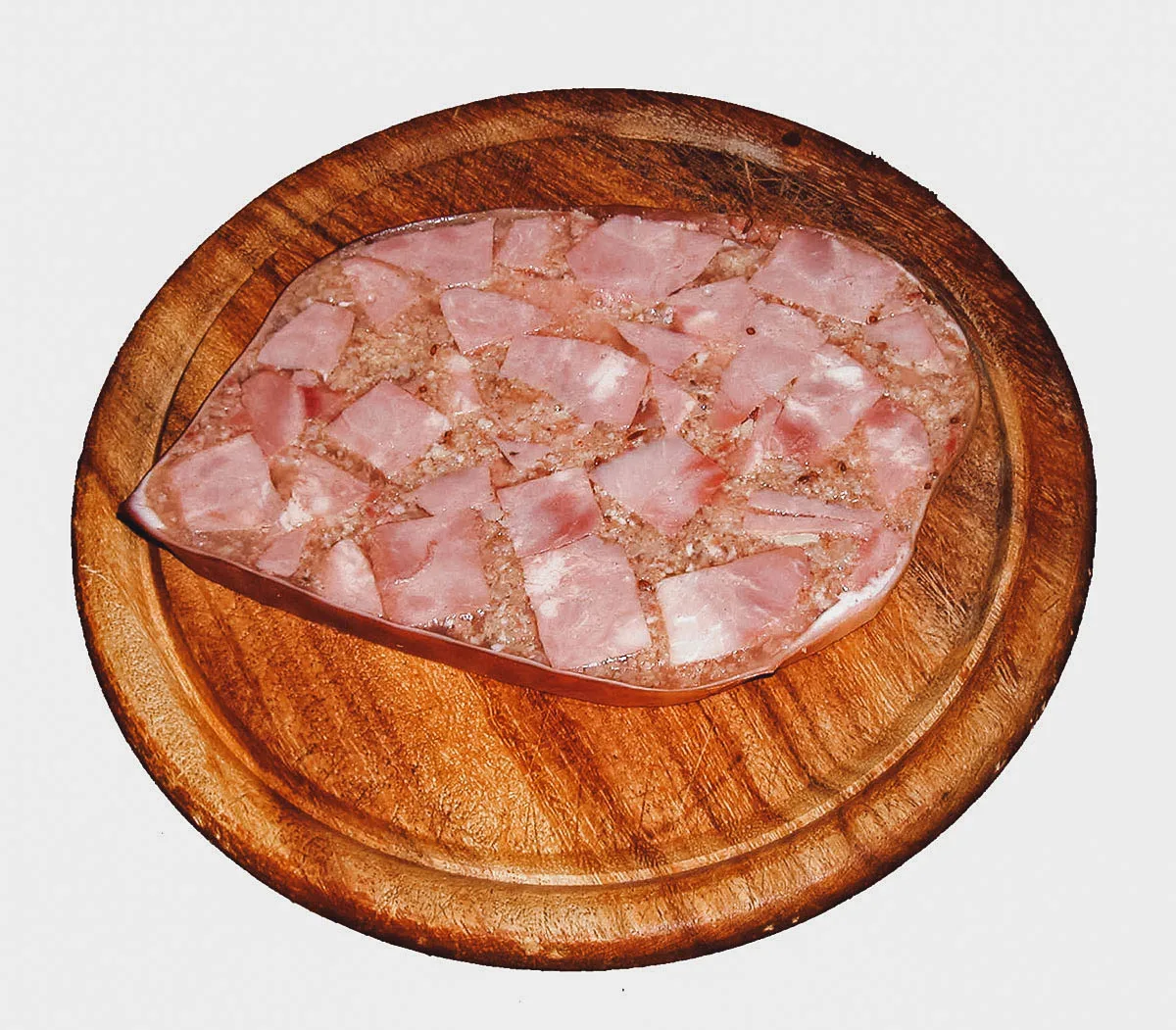 The original uploader was Schorle at German Wikipedia.(Original text: Schorle), CC BY-SA 3.0, via Wikimedia Commons
12. Wurst
Wurst is a great snack that is often accompanied by sauerkraut. It takes its roots from German cuisine, but this hot and tasty sausage is worth a try in Liechtenstein. You can enjoy this is in a sandwich or on its own. Either way it is delicious.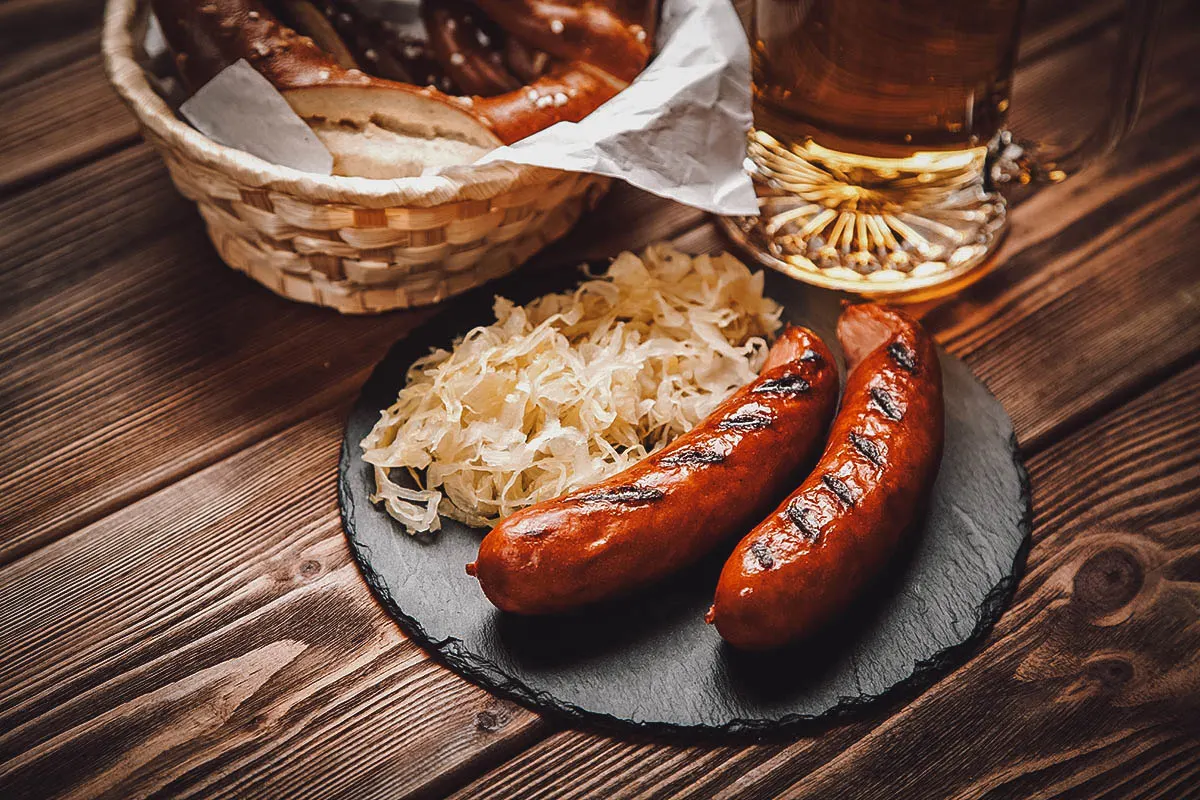 Photo by gdolgikh
BONUS: Prinzenbräu
Prinzenbräu is a beer and not a food but it is also worth sampling. It has gained a good reputation because of its consistency and exceptional taste. The locals usually enjoy their meals with a glass of beer, and it is because of this that different beers are available around the country.
FINAL THOUGHTS ON THE FOOD IN LIECHTENSTEIN
Hopefully this article on the traditional food in Liechtenstein has whetted your traveling taste buds and literally given you food for thought related to Liechtenstein cuisine. Some dish's names are tricky to pronounce but well worth mastering if you're intent on sampling all the tasty food the country has to offer.
About the Author
George J. Newton is a business development manager and content writer. Primarily, he writes for Write My Thesis and Coursework Help, but he also contributes to websites such as Buy Coursework. His biggest supporter is his wife who he says has given him a decade of patience and understanding.
Cover photo by lenyvavsha. Stock images via Depositphotos.