EDITOR'S NOTE: Traveleater Christian Vollmert talks about one of his favorite dishes – the German Bratwurst.
A mild and calm spring day…Hamburg…Germany. It's 1 pm, the first sunbeams of the year come out and everyone is outside enjoying the beautiful weather.
But what are you gonna eat? What's the snack that makes you happy on a day like this?
You could go for a delicious ice-cream cup, have a good old coffee with a slice of cake, OR you can have a typical German dish.
Save This on Pinterest!
No time to read this now? Click on the red save button and pin it for later!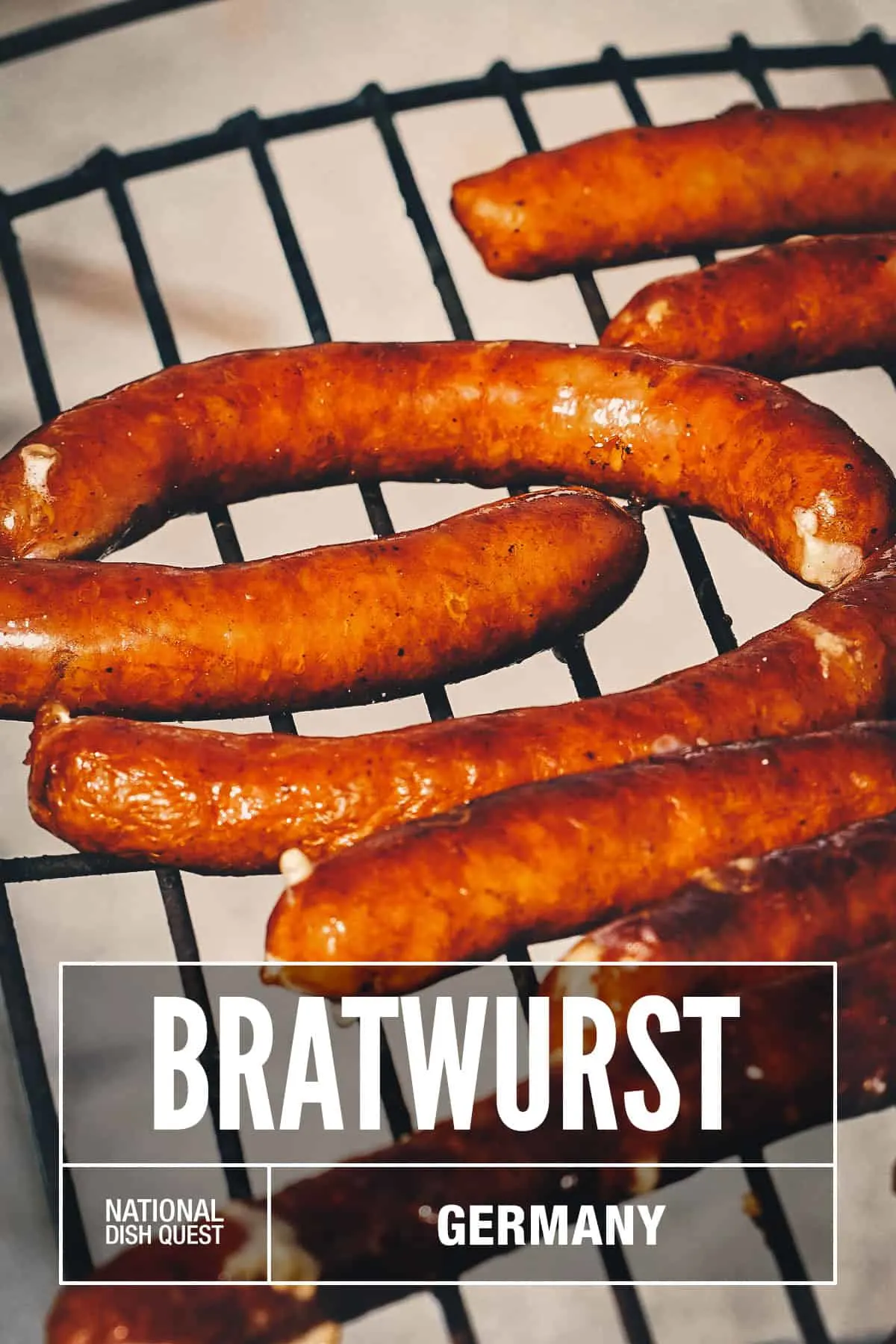 Photo by webandi via Pixabay
WHERE & WHEN TO EAT BRATWURST
One of our favourite dishes is the German bratwurst. You can have it for lunch, on your small midday break, as proper dinner with some veggies and potatoes on the side, or just put it on the grill. A German bratwurst is fit for every occasion. 😉
You will also find it at every event/meeting, in football stadiums, at festivals, or wherever you go. It is everywhere! Germans love their bratwurst. We even have a bratwurst museum in Holzhausen!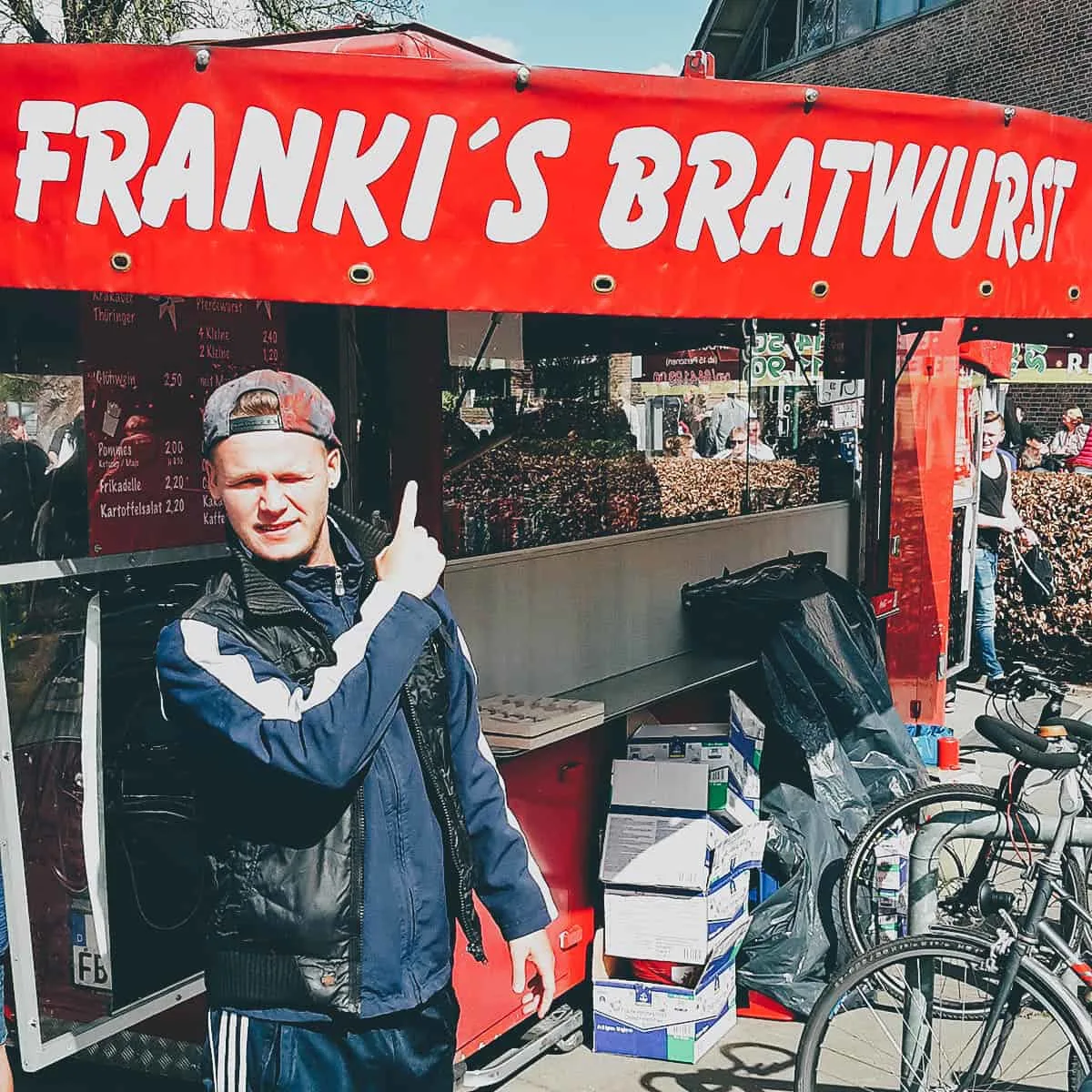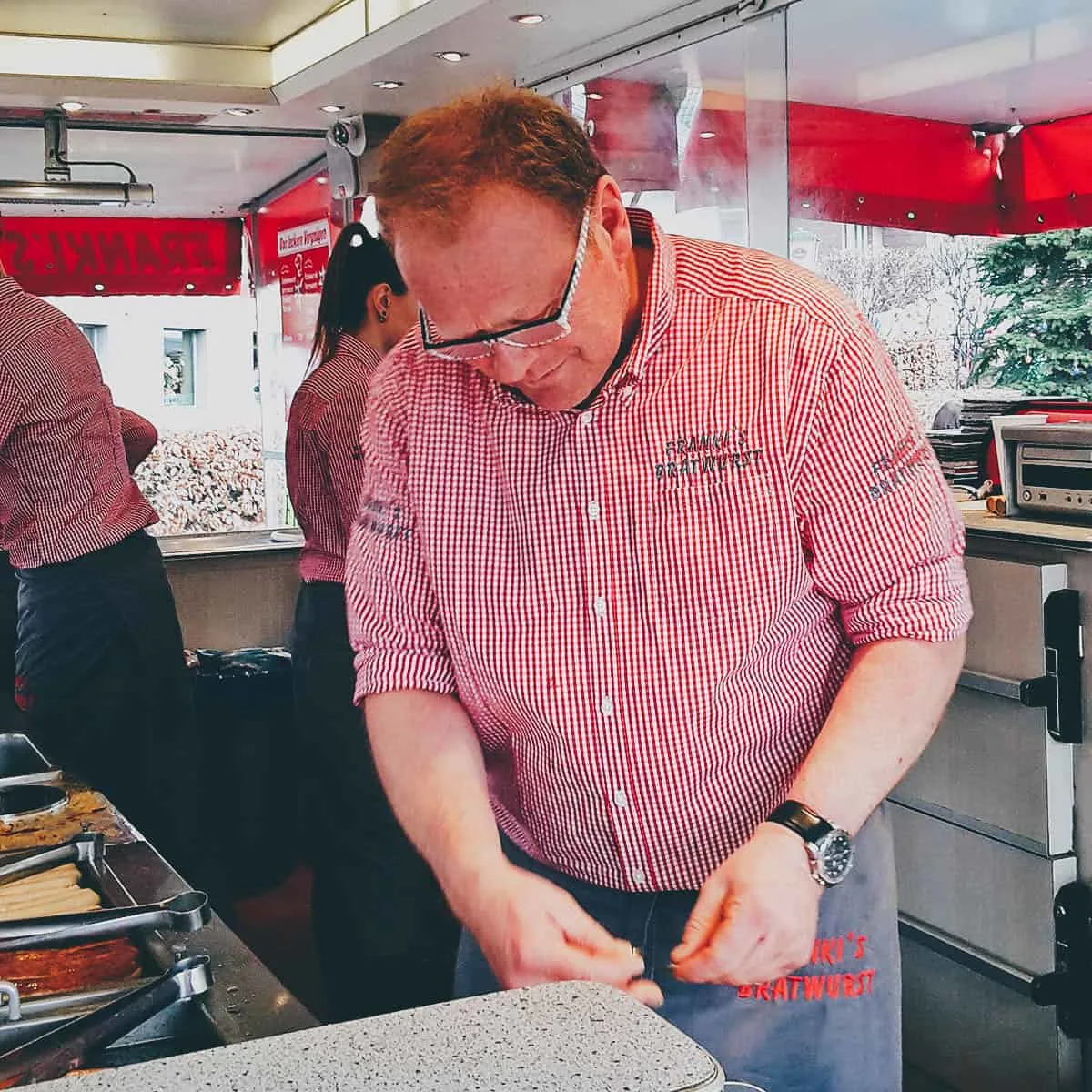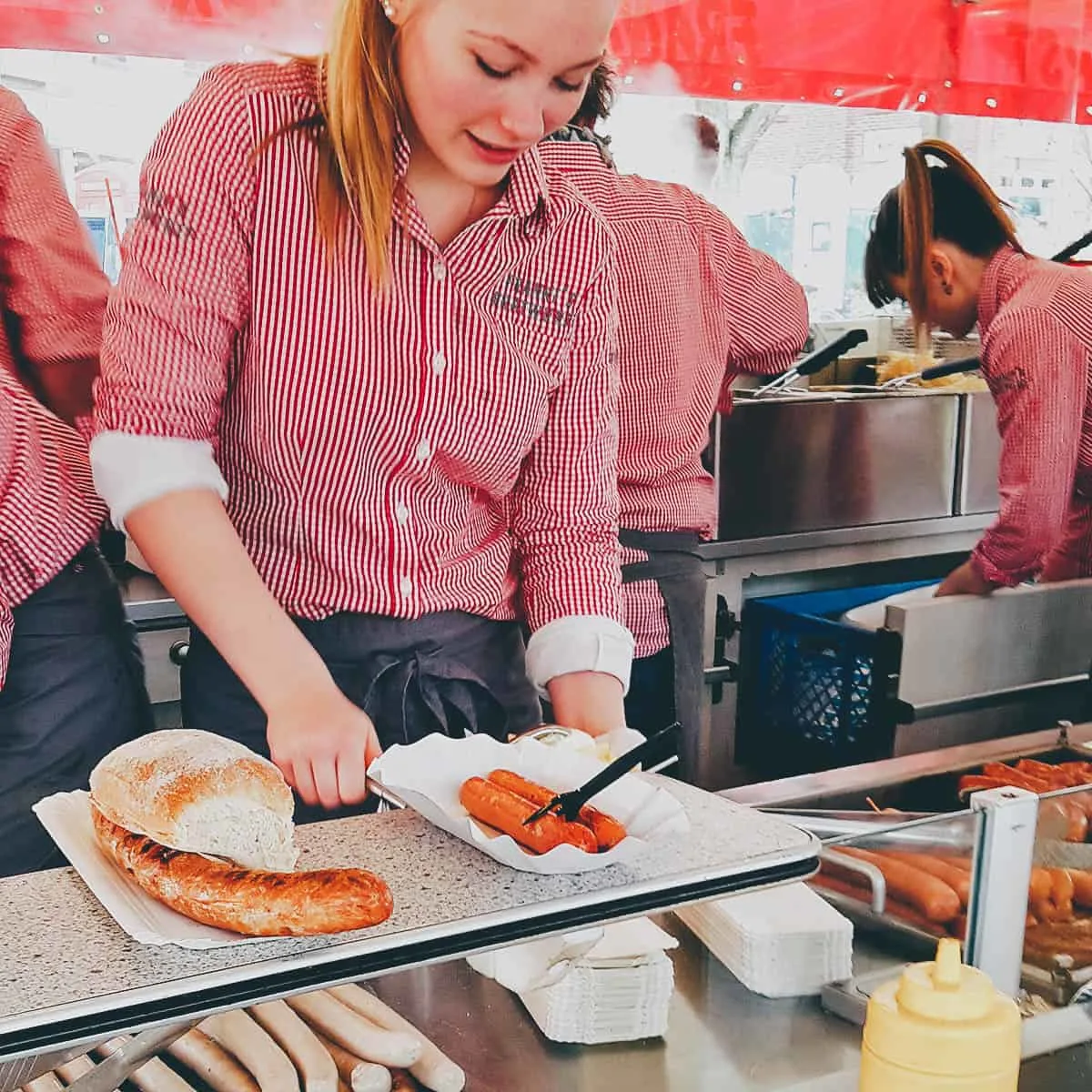 TASTE, SIZES, & INGREDIENTS
Today I had a good one at a flea market. "Franki's Bratwurst" was the hotspot. The queue was very long, which proves how much we love our German bratwurst. We generally have it in all kinds of sizes and forms – more than 50 variants in total.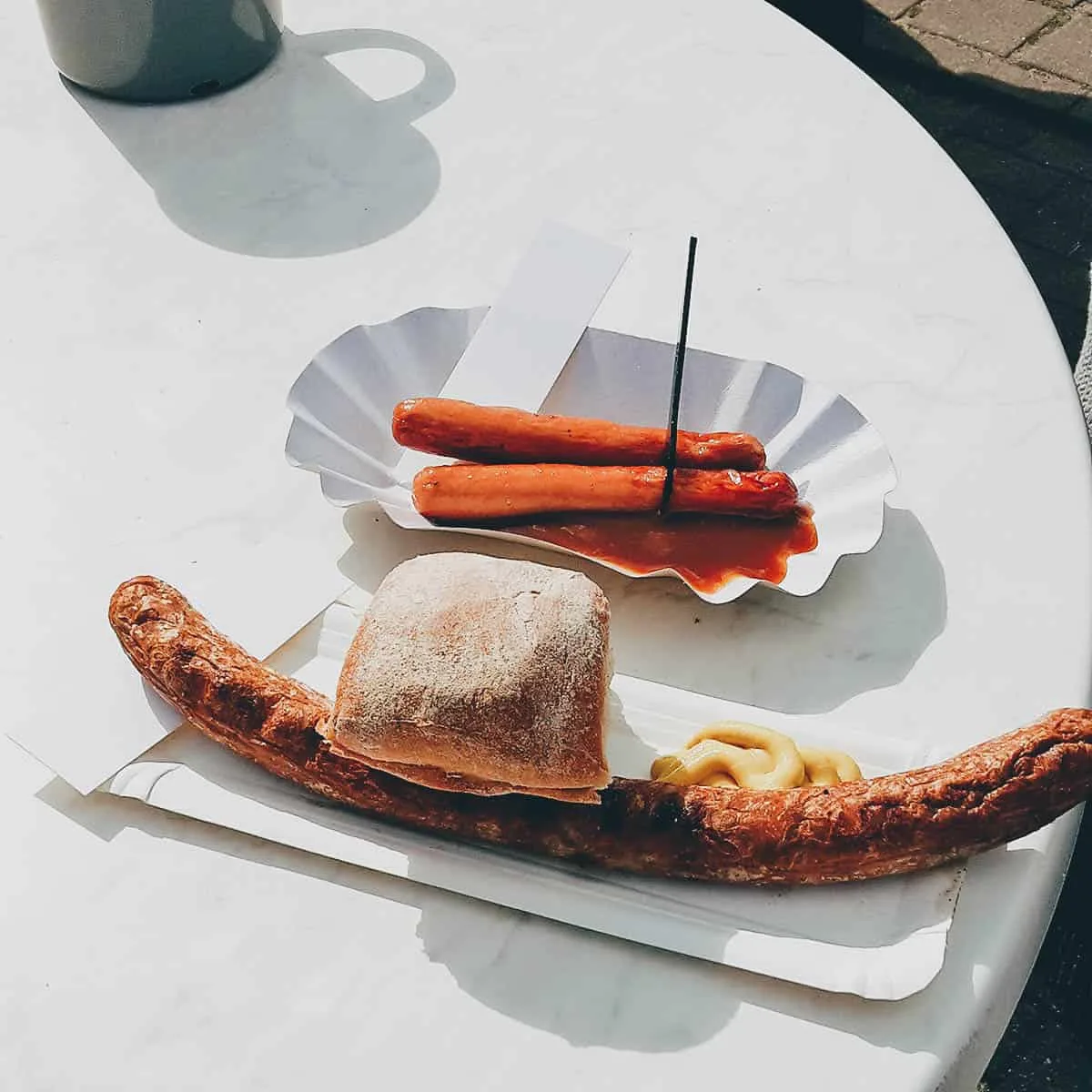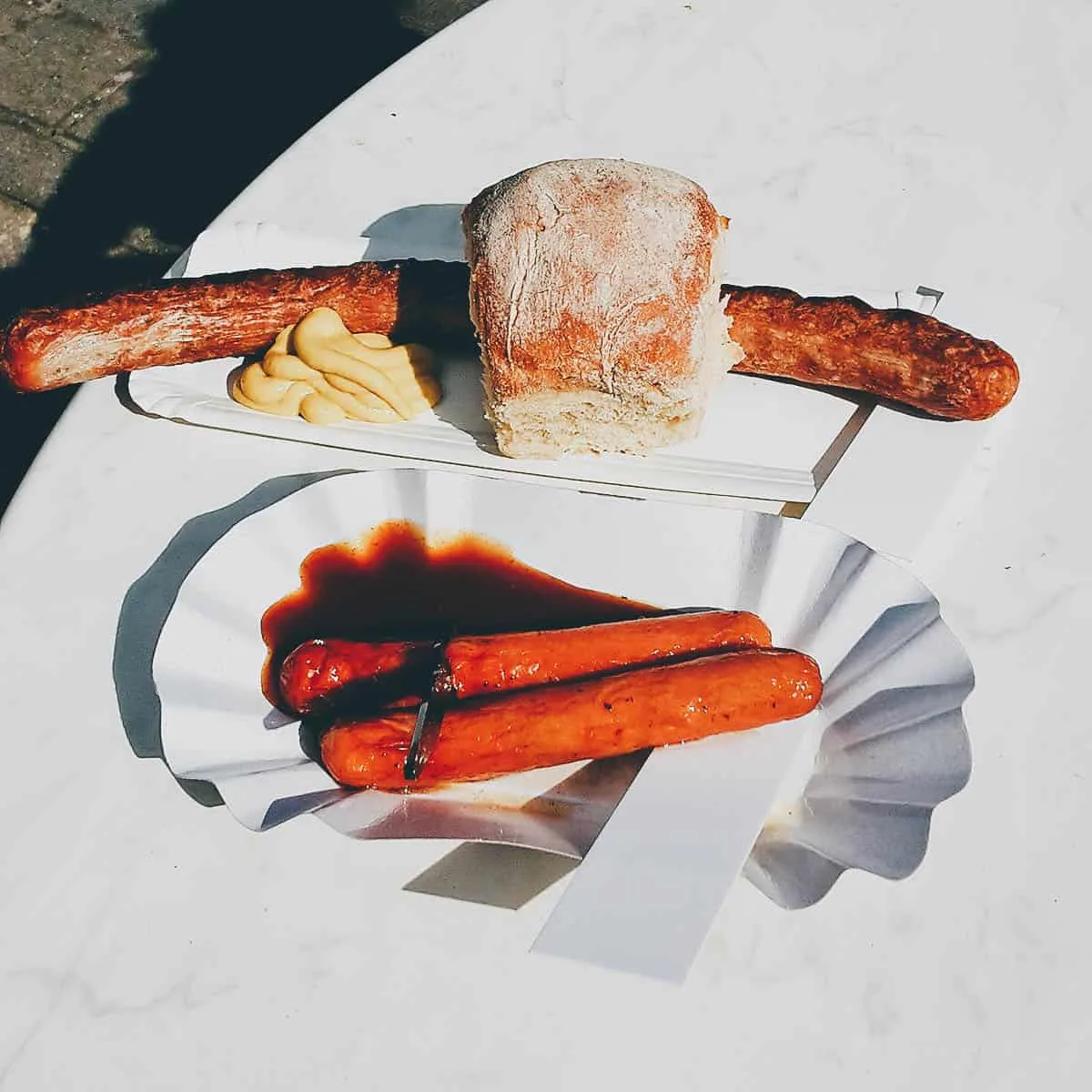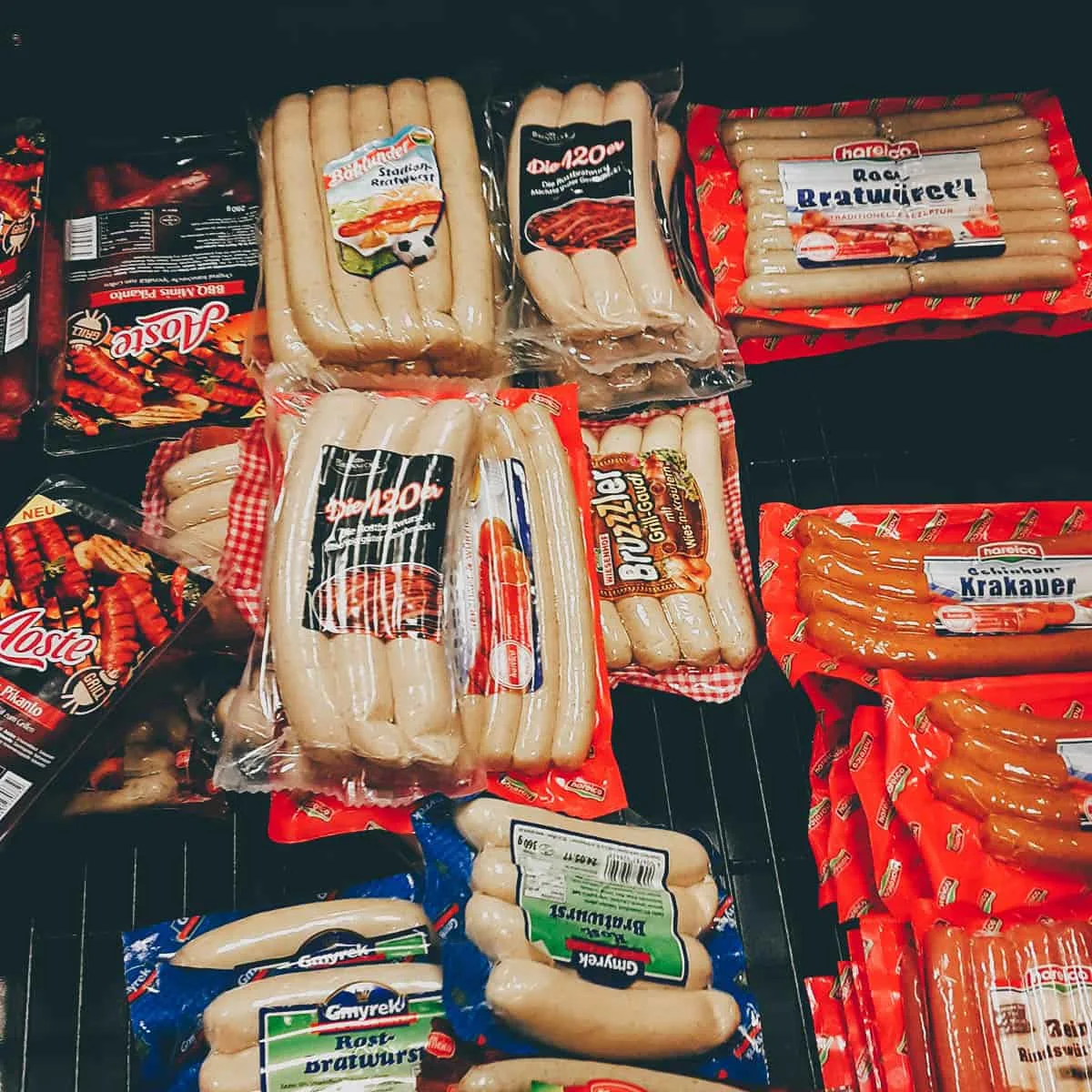 They are always made out of poultry and pork. They can be coarse, semi-fine, or very fine. Furthermore, the ingredients vary. It depends on the supplier and the brand. All these details make an impact on the taste and everyone likes it differently. But there are some favourites for Germans, that always work.
We had two of them at "Franki's Bratwurst" today. Some small dark ones, which were quite nice. They are a variation of the typical "Nürnberger Bratwurst", which are usually bigger and longer. And we had the "Thüringer Bratwurst". An all-time favourite. Germans love the "Thüringer". Especially because it has a mild taste compared to others, but there are still some lovely spices in it. It is pretty fine and the taste is not too strong. Most people prefer that to a coarse sausage with a strong taste. I don't mind personally.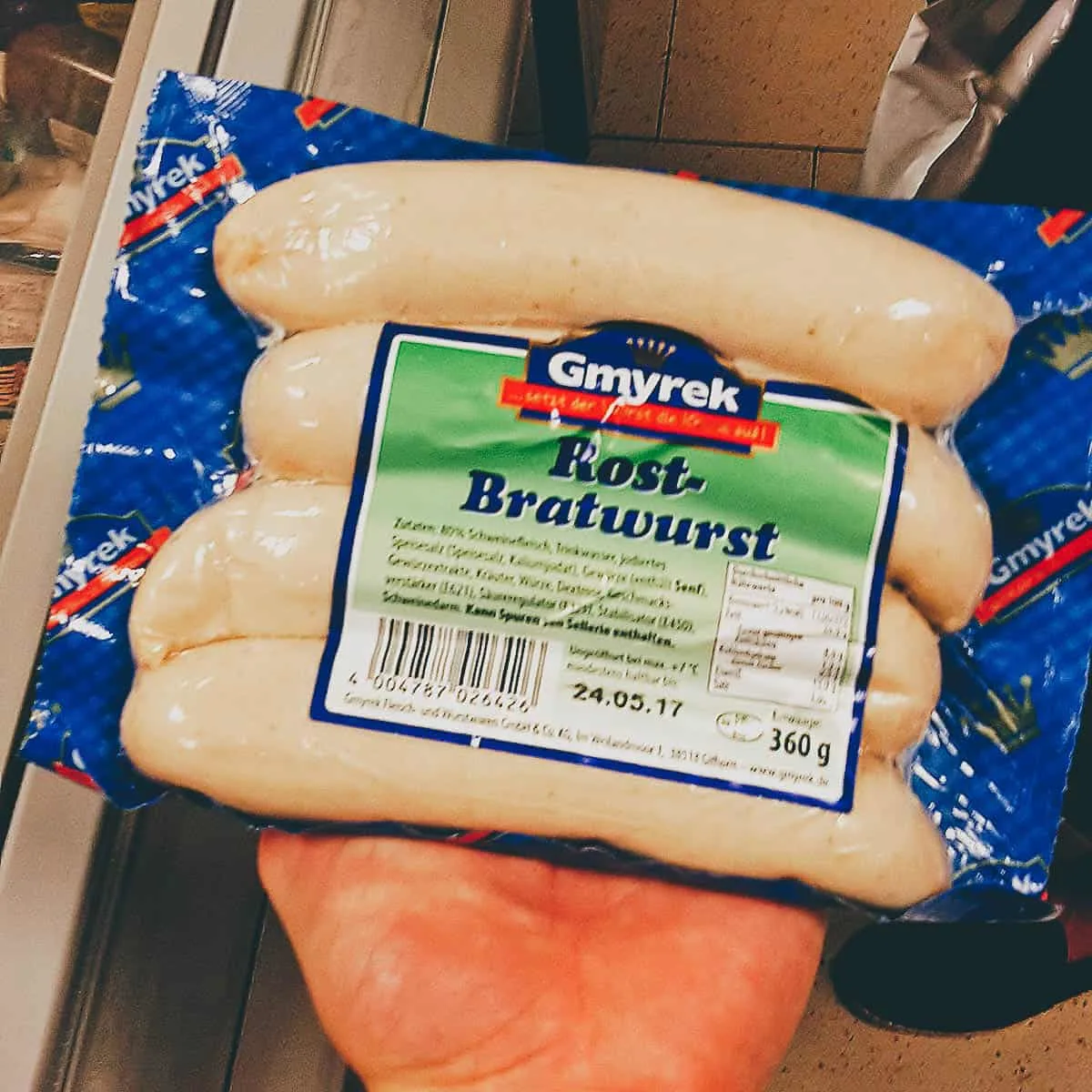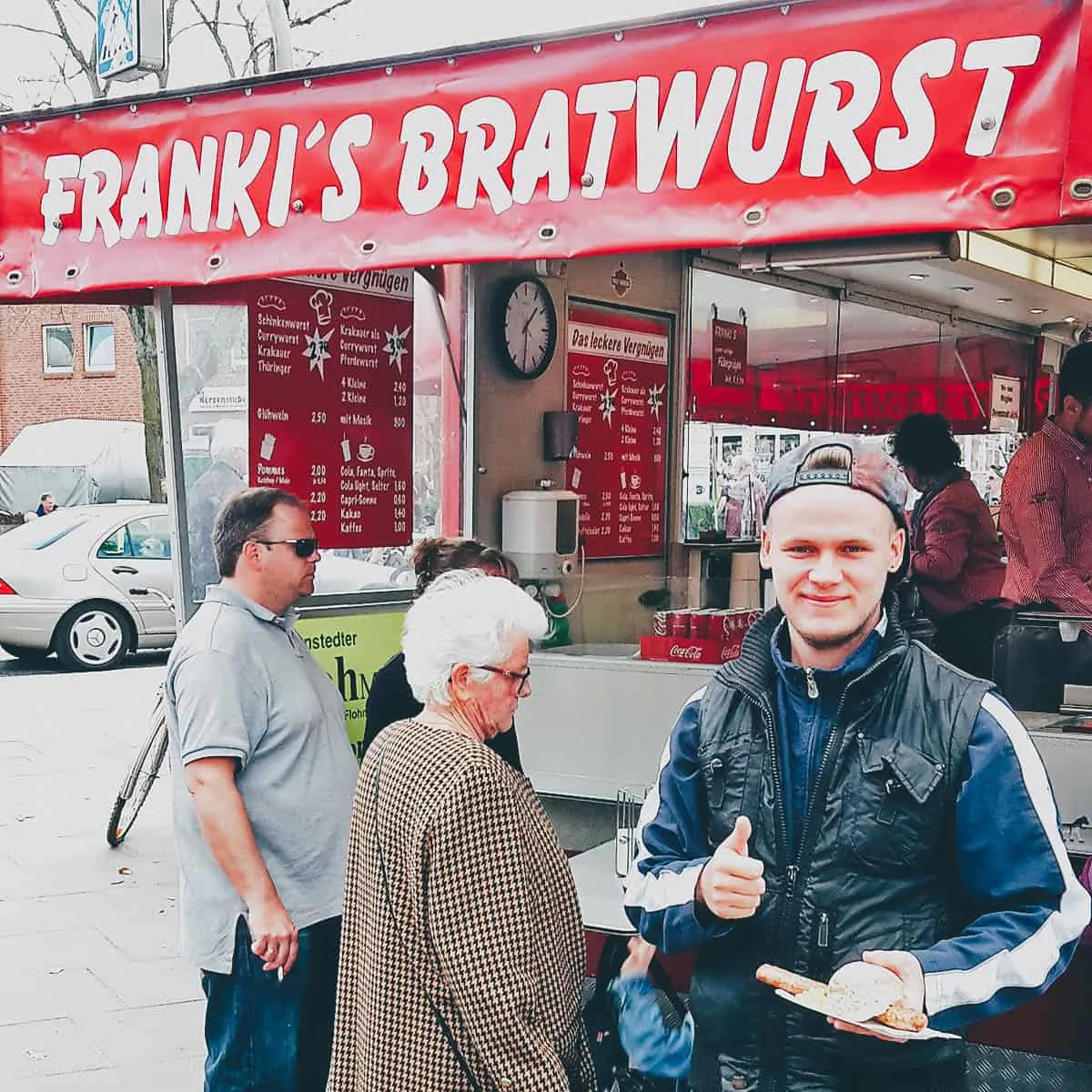 The third one, that can be considered as a German favourite, is a Butcher's Bratwurst. They are normally thicker than other ones. They also look different. But they are very, very nice. Definitely a small speciality in Germany.
HOW TO PREPARE GERMAN BRATWURST
You can either prepare them in a pan with veggies and rice for example, or put them on the grill until they are roasted. They need to have a lovely brown tone. You should always eat them with mustard and/or ketchup. But they have to be "gebraten" – roasted. "Brat…" means roasted in German. Never cook them. That would be a shame. 😉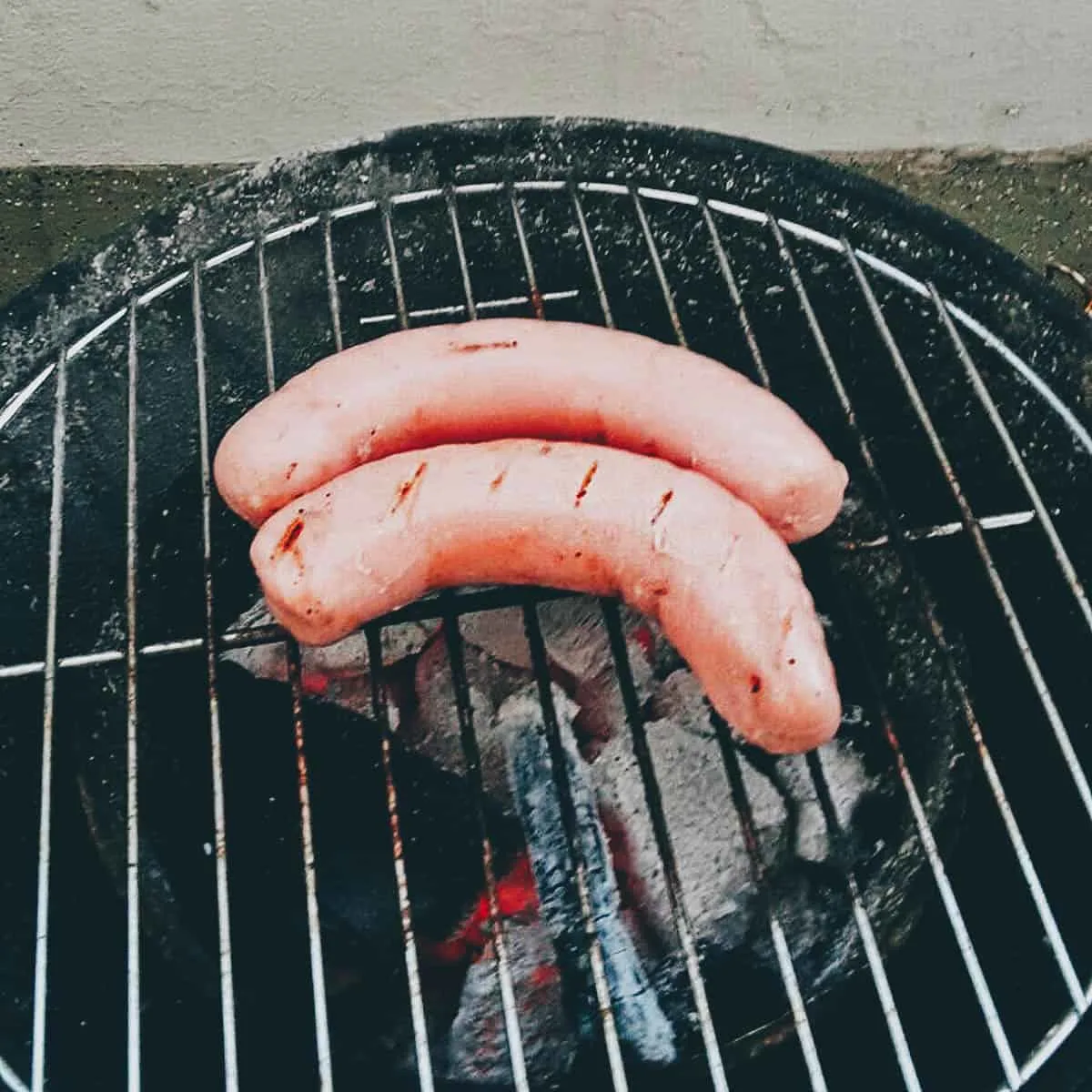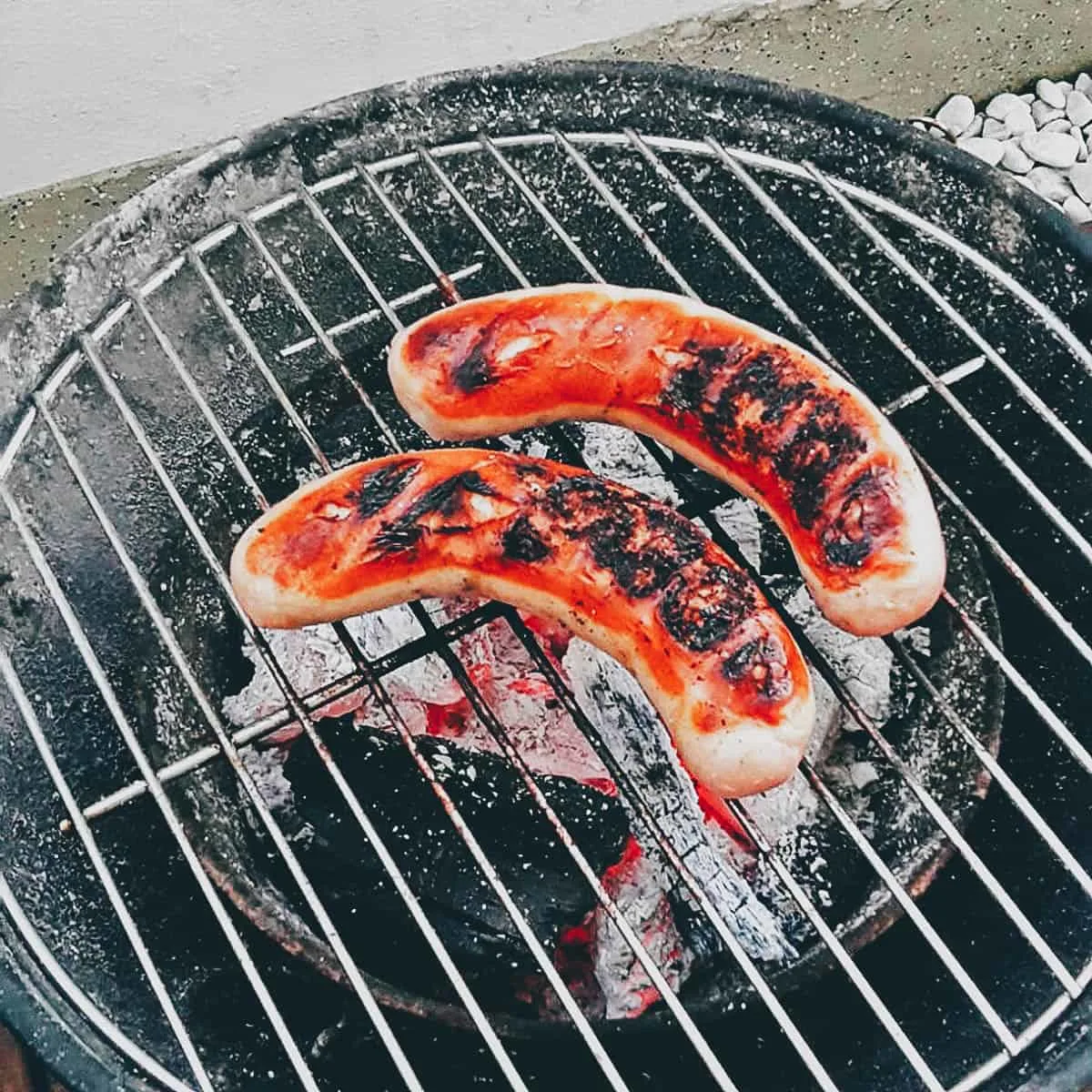 By the way, if there is one thing that I miss when I am traveling for a longer term, it is German sausages (and beer). Really, without showing off right now – German sausages are just the best ones in my opinion. And all travelers, who have tried them already, mostly agree with this.
It is hard to say though, which Bratwurst is the best one. Even for us Germans. I guess you have to visit and just try out yourself.
Photos by Christian Vollmert