EDITOR'S NOTE: Please be advised that this San Juan, La Union travel guide hasn't been updated to reflect 2023 prices and travel guidelines. We'll update it as soon as we can. Thanks for your patience.
Oh what good food can do.
San Juan has been making waves lately as a hip surfing destination in Northern Luzon. Its proximity to Manila makes it a popular weekend getaway, especially for people looking to do a little more than lay around on a beach.
I've been hearing the buzz about San Juan for several years now but it wasn't until it started emerging as a foodie destination did I start becoming seriously interested in it. And I'm not alone either.
More and more people like me, who weren't as interested in surfing, are being lured by the promise of good food and making the 5-7 drive to San Juan to give it a go.
If you're one of those people, then I hope this first-timer's La Union travel guide can help you plan your trip. It focuses mainly on the surfing town of San Juan, but there are a few points of interest in neighboring La Union towns as well.
Save This on Pinterest!
No time to read this La Union travel guide now? Click on the save button and pin it for later!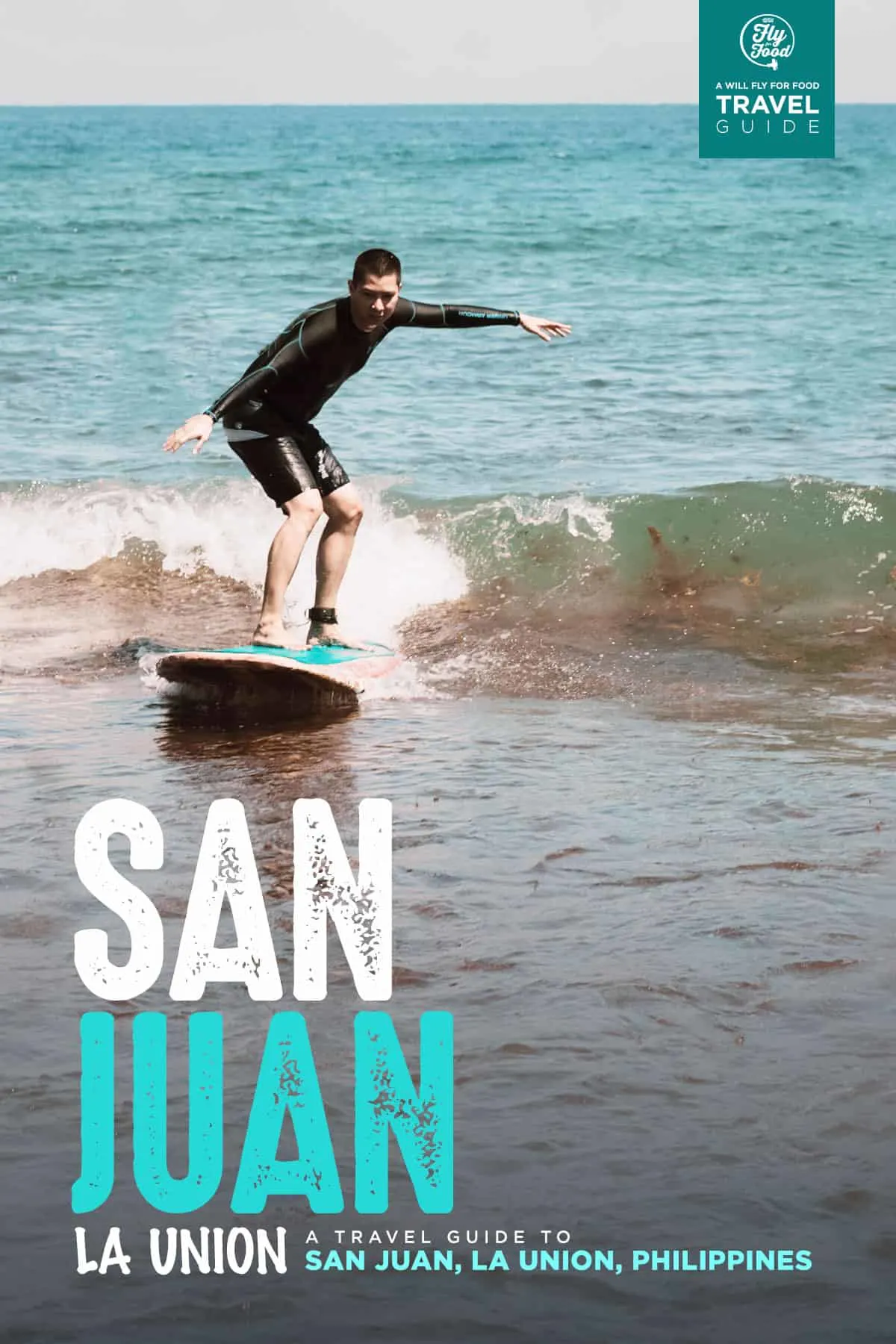 GUIDE TABLE OF CONTENTS
LA UNION TRAVEL RESTRICTIONS
Because of the current global situation, La Union travel guidelines can change frequently. Listed below are the latest set of requirements (as of 5 March 2021), but it's important to confirm this with the proper authorities before you go.
La Union Health Declaration Form or NAPANAM QR Code
Government-issued ID
Travel authorization from the Philippine National Police
Negative RT-PCR test results. The results need to have been issued within 72 hours of your arrival in La Union.
Hotel/AirBnB booking confirmation
If you plan on traveling to the Philippines from a foreign country, then be sure to check Booking.com for information on the latest travel restrictions to the Philippines. If travel is indeed possible for you, then you may want to seriously consider getting travel insurance with COVID coverage.
PHILIPPINES VISA
You may need a visa and other documents to visit the Philippines depending on your passport. Check out iVisa.com to learn about the requirements and to apply for a visa (if necessary).
SAN JUAN AT A GLANCE
San Juan is a small town in La Union province. It's considered the surfing capital of Luzon because of its consistent and favorable surfing conditions. It boasts two surfing seasons – the South Swell from July till October and the North Swell from November till March.
While drifting on my surfboard between waves, I was talking to my instructor Jerry and he was telling me about the history of surfing in San Juan. According to him, Brian Landrigan – father of Filipino-Australian pro surfer Luke Landrigan – was one of the people who brought surfing to San Juan in the early 90s.
Before then, no one had been coming to Urbiztondo Beach to surf, not even the locals. He recognized the area's promise as a surfing destination and opened the San Juan Surf Resort in 1992, starting with just three rooms. From what I understand, it was the only resort in the area at the time.
Surfing in the area has boomed since then, with many Filipinos making the trip to San Juan for weekend surfing excursions. San Juan Surf Resort has remained one of the best resorts in the area, growing from its three rooms in 1992 to thirty-five today.
BEST TIME TO GO SURFING IN SAN JUAN
As described, there are two surfing seasons in San Juan – the South Swell from July till October and the North Swell from November till March. Both periods are considered the best time for surfing, though the North Swell is preferred by many because there's less rain.
JUL-OCT: The South Swell is caused by the southwest monsoon, known locally as habagat. It produces ideal waves though this is the height of rainy season. This is a good time to go if you don't mind surfing in bad weather.
NOV-MAR: The North Swell is caused by northeast trade winds known locally as amihan. This is the best time to go surfing in San Juan because the waves are ideal and there's less chance of rain.
The North and South Swell seasons may produce the best waves but if you're a beginner, then I don't think it really matters when you go. We went in June, which is outside of peak surfing seasons, and the waves were big enough. If it's your first time surfing, then you can go pretty much any time of the year.
Climate: Annual Monthly Weather in San Juan, La Union
To help you better understand the weather in San Juan, I've created the average temperature and annual rainfall graphs below. Suggested months to visit are highlighted in orange.
Average Temperature

Annual Rainfall

TRAVELING TO SAN JUAN
You can get to San Juan by driving or taking the bus. Please note that bus companies plying routes to San Juan may not be operational at this time. I checked biyaheroes.com and the usual bus from Manila to San Juan doesn't seem to be operating yet (as of 5 March 2021).
By Car (Self-Drive)
It took us around 5 hours to get to San Juan from Quezon City. If you live farther south like Makati or Alabang, then it may take 6-7 hours.
From Manila, take the North Luzon Expressway (NLEx), then the Subic-Clark-Tarlac Expressway (SCTEx), then the Tarlac-Pampanga-La Union Expressway (TPLEx). Exit at Pozorrubio to McArthur Highway and continue to the bypass road of San Fernando, La Union until you reach the San Juan-San Gabriel Road.
That's it. It's pretty easy and straightforward, especially if you have a wifi connection and Waze. The total amount we pad for toll was PHP 610.
By Bus
There are several bus companies that can take you to La Union from Manila, either to the neighboring town of San Fernando or en route to Vigan or Laoag. If your goal is to go surfing, then it's easiest to go directly to San Juan.
As far as I know, the Partas Transportation Company is the only bus line that offers direct routes from Manila to San Juan. It departs at 1AM and 6AM daily – from either Cubao or Pasay – and will drop you off at Sebay Surf Central in Urbiztondo in about 5-7 hours. The fare is PHP 541 each way, and return trips to Manila depart at 3PM and 10PM daily.
To book tickets, go to biyaheroes.com. Select "Land", choose "Sebay, San Juan, La Union" as your destination and either "Cubao, Quezon City" or "Pasay" as your origin. Fill in the rest of the information to proceed with your booking.
I'm sure you can purchase tickets at the bus station directly, but I believe in getting transportation tickets in advance to guarantee yourself a seat.
WHERE TO STAY IN SAN JUAN
Flotsam & Jetsam Artist Hostel
Flotsam & Jetsam is one of the best places to stay in San Juan. At the very least, it's one of the most famous. I've been hearing about this place even before I had any real desire of visiting San Juan. Flotsam & Jetsam paints itself as an artist hostel and you can see why. It's lively, it's vibrant, it's fun, and it's hip.
It's one of the coolest places to stay in San Juan so if you're looking for accommodations with lots of character, then this is the place to be. Partiers will be happy to know that Flotsam & Jetsam's bar and restaurant is the hottest place to hang out at night in San Juan. You can book a room here through Booking.com or Agoda.
Plaza de Castiel Hotel
If you're an oldie like us and want to be a bit farther away from the action, then the newly opened Plaza de Castiel Hotel is a good choice. It's simple but inexpensive and clean. It's located along the main road about a 10-15 minute walk from the central hub of restaurants.
If you don't feel like doing too much walking, then it's probably best to stay here only if you have a car. You can book a room at Plaza de Castiel Hotel through AirBnB.
If you don't think that either one of these hotels is the right place for you, then you can check these links for alternate listings in San Juan: Booking.com | Agoda.
You can also book hotels and AirBnBs in San Juan, La Union using the handy map below.
THINGS TO DO IN LA UNION
1. Learn How to Surf
This is the number one reason why people go to San Juan, to go surfing. If you already know how to surf, then you can bring your own board or rent one from one of the many rental places along Urbiztondo Beach. It costs PHP 200 per hour to rent a surfboard.
If you're a beginner and want to take lessons, then it'll cost you PHP 400 per hour (surfboard rental included). When I did it, that one hour gave me about 7-8 attempts to stand up and ride a wave. I think most people can do it.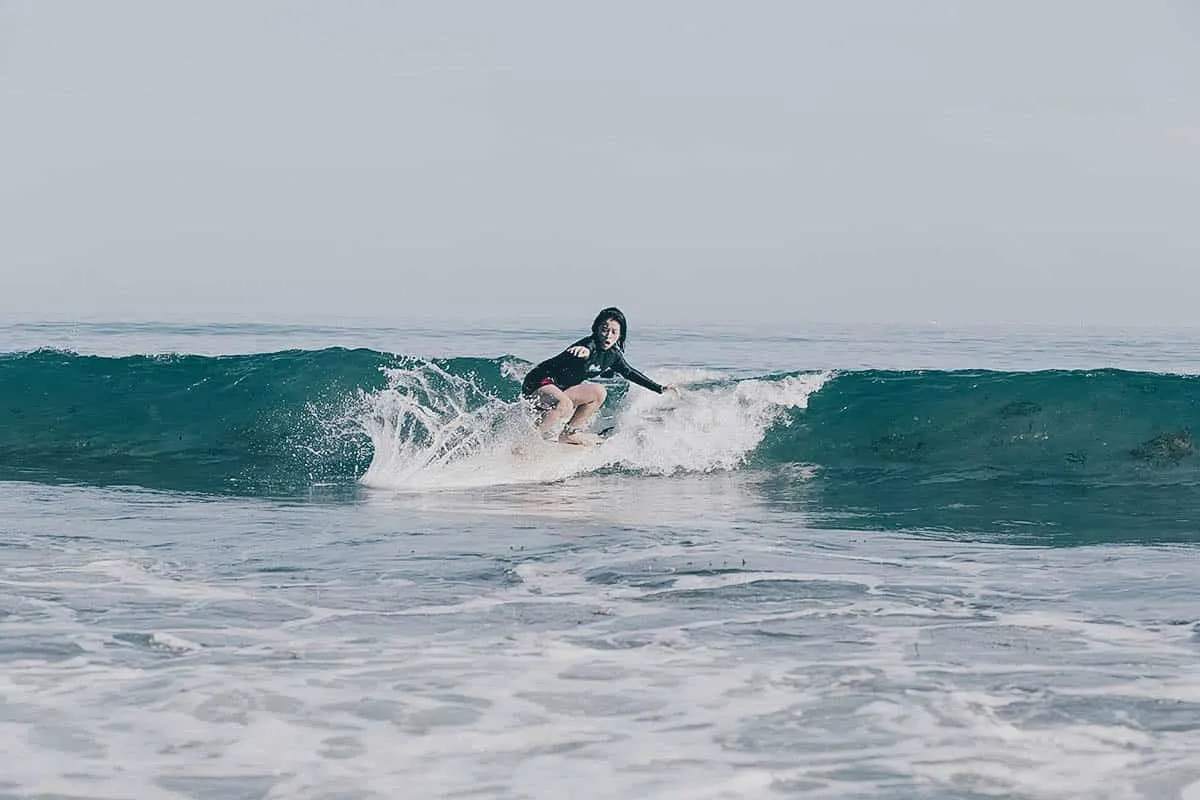 Cost: PHP 400 per hour for surfing lessons, PHP 200 per hour for surfboard rental
2. Visit Tangadan Falls
Tangadan Falls in San Gabriel is about a 20-minute drive from Urbiztondo Beach. We tried to drive there ourselves but failed.
To get to the falls, you have to drive up a steep and narrow mountain pass, which at the time was being cemented so only one side of the road was available. We couldn't get any closer after our wheels got stuck in the gravel so we turned back.
It was a good decision because a car just like ours got stuck farther down the road and had to be jacked to get free. Until the road work is done, or unless you have an SUV-type vehicle, then I wouldn't recommend driving to the falls yourself.
To get to the falls by public transportation, you can catch a jeepney bound for San Gabriel from People's Park in San Juan. The fare is PHP 15 each way. Once you've reached San Gabriel, you'll need to trek for about an hour to get to the falls. I read it's a relatively easy and scenic trek that involves crossing a river.
Whether you go by car or by jeepney, you'll need to pay an entrance fee of PHP 30 per person and a guide fee of PHP 500 for up to 5 people. As you can see below, people who do make it are rewarded with a beautiful, two-tiered waterfall with a 50 ft drop.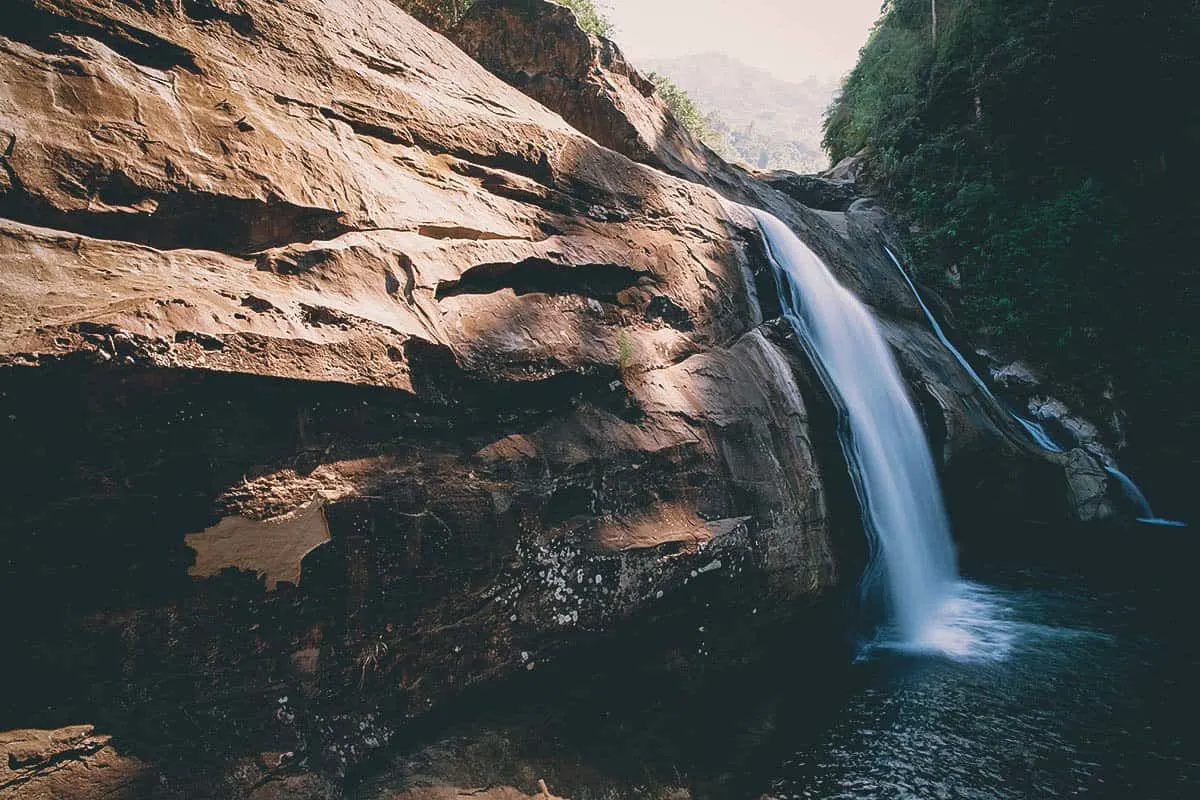 Photo by Roel Paulme via Shutterstock
Cost: PHP 30 entrance fee per person, PHP 500 guide fee (up to 5 people)
3. Party at Flotsam & Jetsam
This is THE place to party in San Juan. As described, Flotsam & Jetsam is a trendy hostel with a restaurant and full bar. It's a fun and lively environment so most people vacationing in San Juan will be here getting drinks every night.
Drinks are pricier here than most other places in San Juan, but as you can see in the picture below, people don't seem to mind.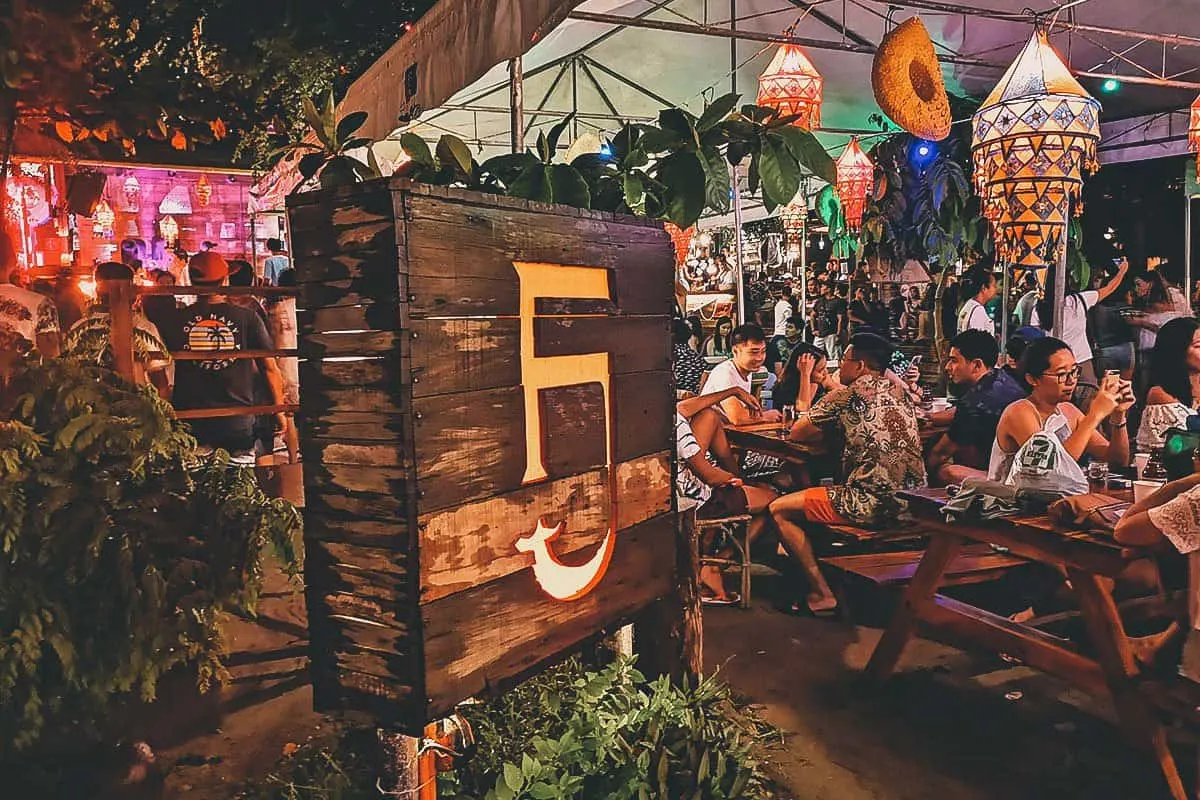 Price of Local Beers: PHP 90 per bottle of San Mig Light, PHP 500 per bucket of 6
4. Pick Grapes in Bauang
We saw a few people along the National Highway holding up signs for grape picking en route to San Juan. The town in Bauang in La Union has a few vineyards where you can pay a fee to pick some grapes. We didn't do it but based on my research, it costs about PHP 250 to pick a kilogram's worth of grapes.
If you have enough time, then this may be something fun to do if you've never been to a vineyard before. Bauang is about 45 minutes from San Juan so keep an eye out for people holding up grape picking signs on either side of the road. (NOTE: The picture below wasn't taken in La Union, but you get the idea)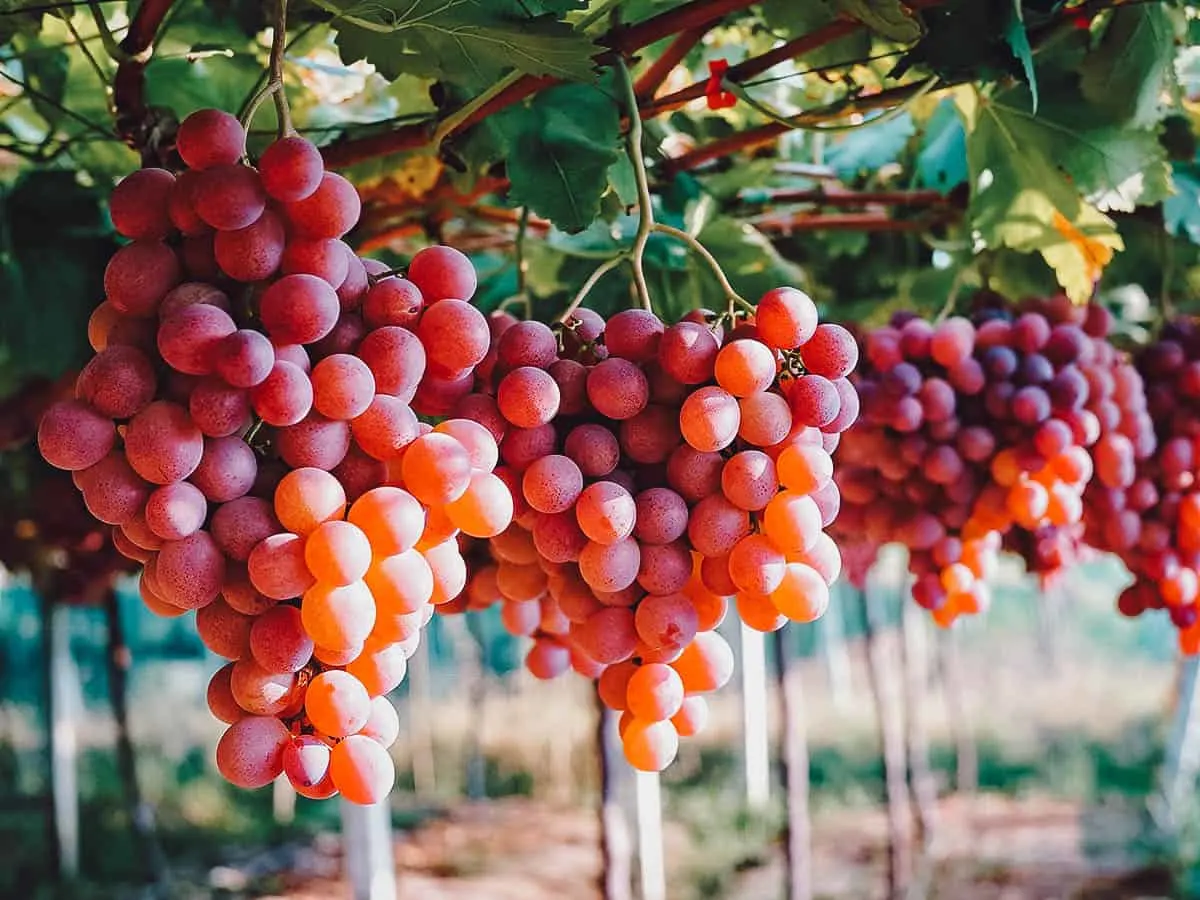 Photo by ilovehz via Shutterstock
Cost: About PHP 250 per kg of grapes
FILIPINO FOOD GUIDE
Thanks to social media and travel food shows, Filipino food has become more mainstream over the years. There are many delicious things to eat in the Philippines but in my opinion, these are the dishes that you need to try.
Check out our Filipino food guide for a list of the best dishes to eat in the Philippines.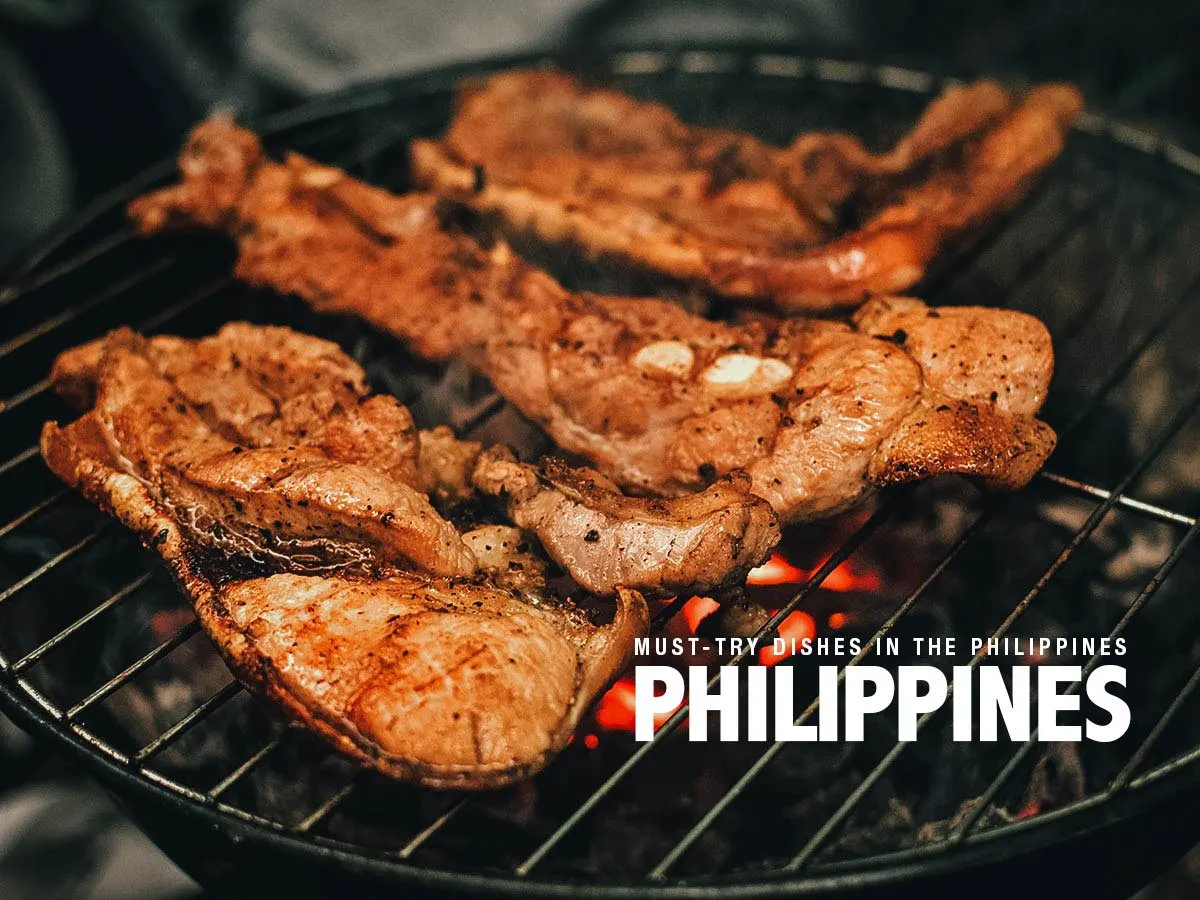 Photo by MikeEdwards via Deposit Photos
FILIPINO DESSERTS
Filipino desserts like halo-halo, leche flan, and anything made with ube are some of my favorite dishes in Filipino cuisine. If you have a sweet tooth, then be sure to check out our guide on Filipino desserts for more sweet suggestions in the Philippines.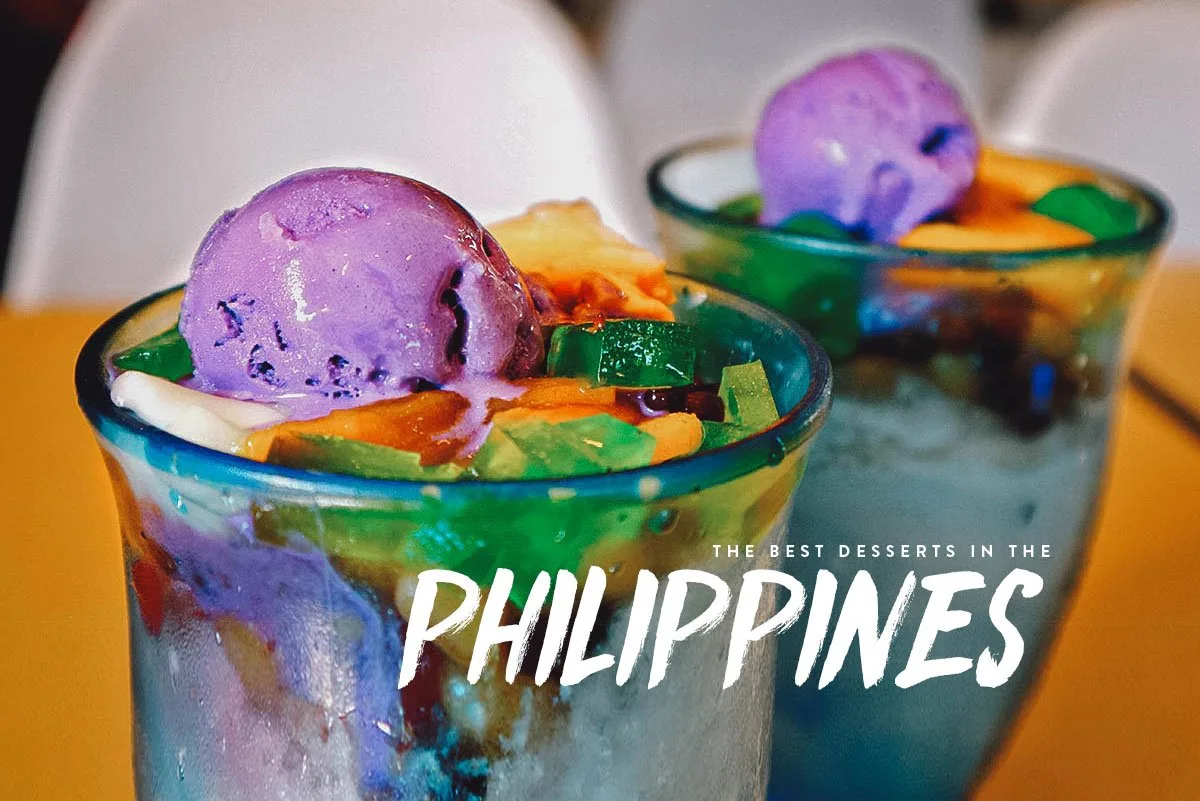 Photo by junpinzon via Deposit Photos
WHERE TO EAT IN SAN JUAN
San Juan has become almost as synonymous with food as it is with surfing. For me, it was the main reason why I went. There are many trendy restaurants and food stalls in San Juan, twenty-six of which you can read about in our La Union Food Guide.
Twenty-six is way too much for a weekend trip so I've narrowed it down to my five favorites. If you have limited time, then you may want to start with these three.
1. Tagpuan
Tagpuan is a hole in the wall that offers a few Filipino rice bowls. One of their bestsellers is their bagnet rice bowl.
If you've never had it, bagnet is a supremely crispy deep-fried pork belly dish that hails from the Ilocos region, which is the province just north of La Union. It's probably one of the crispiest pork belly dishes you'll ever have in your life. It's a must-try, especially if you're interested in sampling regional Filipino cuisine.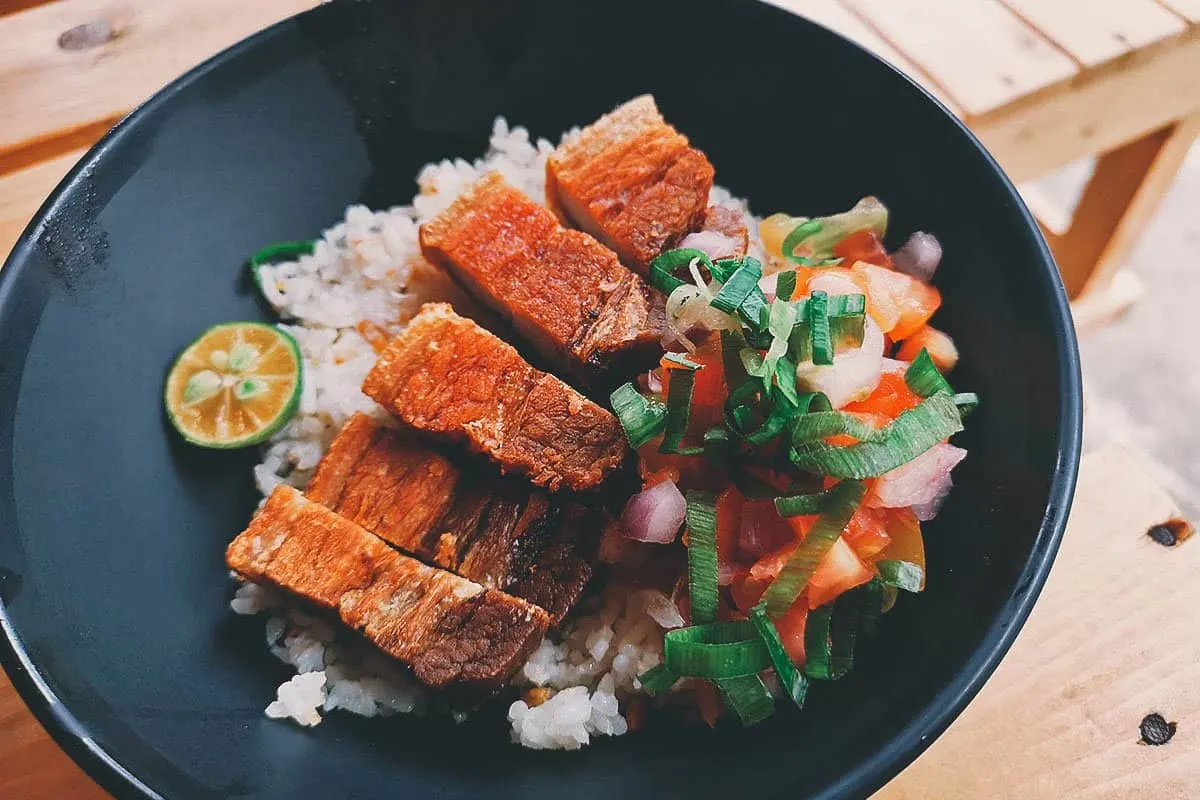 Expect to Spend: Around Around PHP 100-150 per person
2. Sabong La Union Fried Chicken
If you like fried chicken, then this is the place to get it in San Juan. They offer different types of fried chicken, from Korean soy chicken to chicken glazed with honey and bagoong (fermented shrimp paste).
Pictured below is the Elyu Original, which is served with rice, handcut fries, and their own house-made banana ketchup.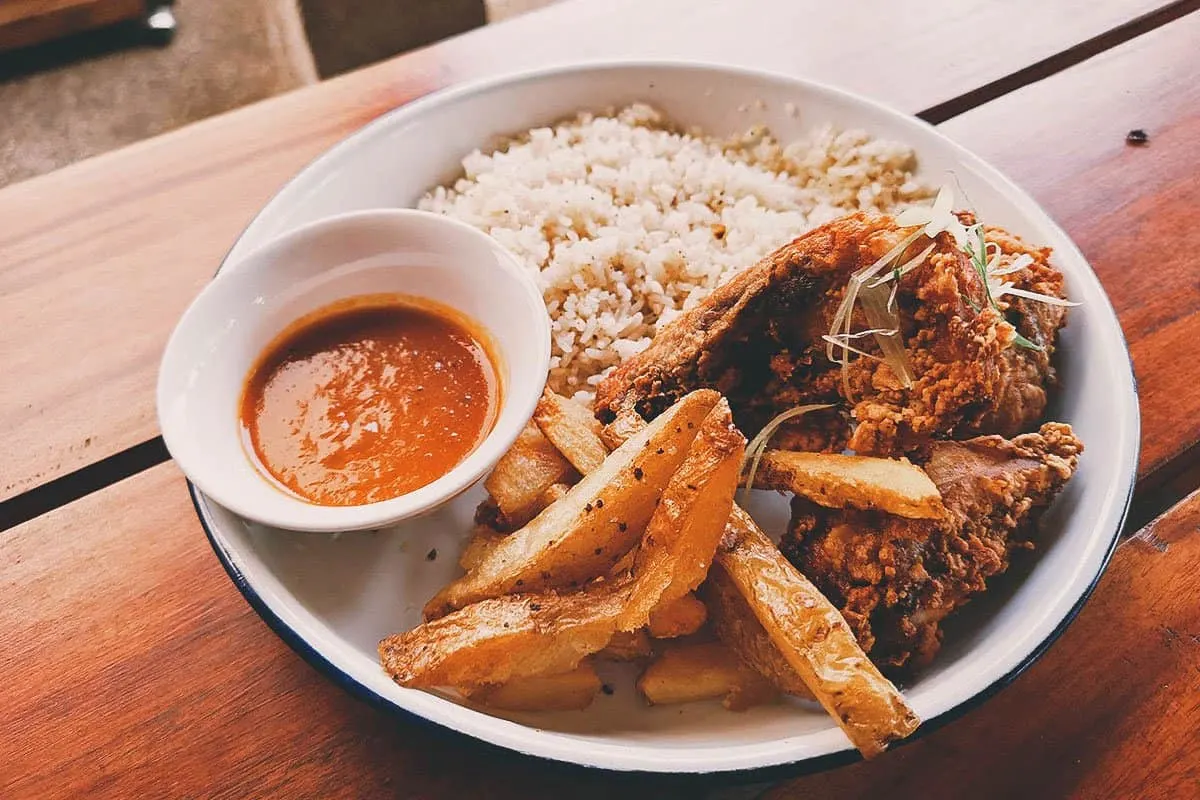 Expect to Spend: Around PHP 200-300 per person
3. El Union Coffee
El Union Coffee is an LU pioneer. From what I understand, they're one of the very first establishments in the area and helped make San Juan a foodie destination.
They've become such an institution that your trip to La Union wouldn't be complete without enjoying a cup of their cold brew coffee or horchata. If you have a sweet tooth, then you may want to get the indoor s'mores as well.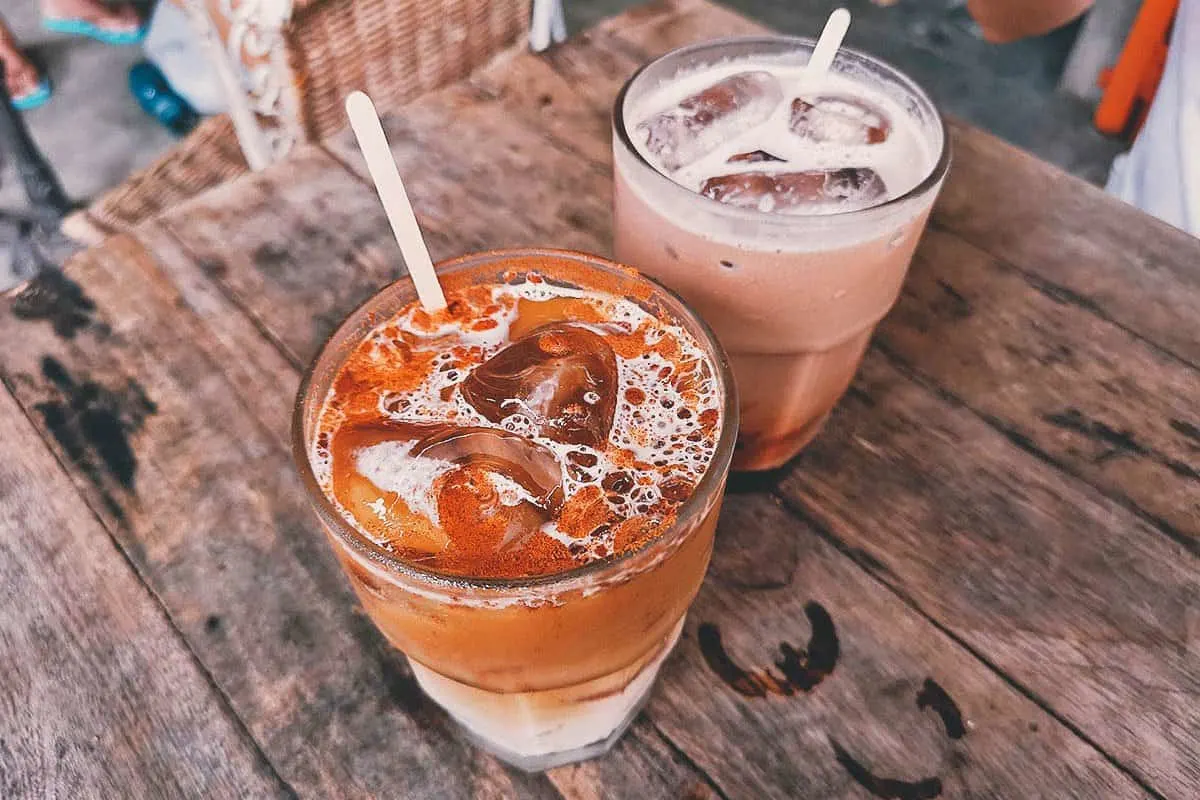 Expect to Spend: Around PHP 150-300 per person
POINTS OF INTEREST IN LA UNION
San Juan is small. There's the main road and a stretch of beach so you shouldn't have any problems getting around. To help you get your bearings, I've created this map to give you a better feel for the place. Click on the link for an interactive version of the map.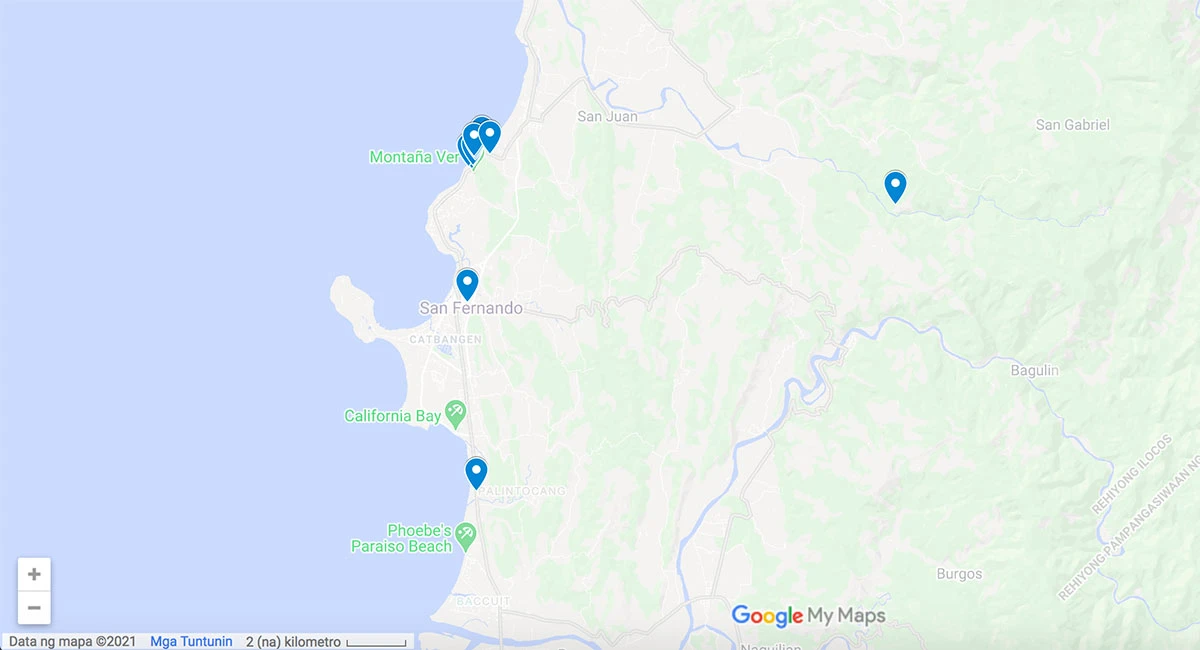 HOW TO GET AROUND IN SAN JUAN
As described, San Juan is small so you can easily get around on foot. To walk from one end of the commercial beach area to the other will take you around twenty minutes or so.
If you have a car and don't feel like walking everywhere, then you can easily park it on one side of the road. There's ample parking along the national highway. If you arrived in San Juan by bus, then you can hire a tricycle to get around.
HOW MANY DAYS TO STAY / LA UNION ITINERARY
There isn't much to do in San Juan other than to surf and eat. It's proximity to Manila makes it a popular weekend destination so I'd say an overnight trip is enough.
Provided you arrive before noon and leave at around 3PM the next day, then you should have enough time to do everything in this guide. Here's a sample overnight San Juan itinerary to help you plan your trip.
DAY ONE
• Arrive around noon
• Have lunch
• Go surfing
• Relax on the beach
• Have dinner
• Enjoy a few drinks at Flotsam & Jetsam
DAY TWO
• Visit Tangadan Falls
• Go surfing
• Have lunch and hang out at the Great Northwest Philippines Travel Stop and Viewing Deck
• Pick grapes in Bauang
• Head back to Manila
BUDGET / SUMMARY OF EXPENSES
Assuming you're taking public transportation, staying overnight, and sharing a moderately priced hotel room with one other person, then a budget of around PHP 5,000 for the entire trip should be plenty.
This takes into account your hotel room, transportation, meals, drinks, surfing lessons, attraction fees, and pocket wifi rental.
ACCOMMODATIONS
This depends on several factors like hotel preference and number of travel companions. We booked a room at Plaza de Castiel Hotel for about USD 46 a night.
MEALS & DRINKS
This is subjective as well but I budgeted PHP 1,000 per person for food and drink for the entire trip. This will give you plenty of options. You can get by with less but why would you want to? San Juan is fast becoming a foodie destination so you may as well enjoy yourself.
POCKET WIFI RENTAL
If you're a foreigner and renting a pocket wifi device, then you'll be paying PHP 450 per day.
TRANSPORTATION
Roundtrip Partas bus tickets from Manila will cost you around PHP 1,082.
SURFING LESSONS & ATTRACTION FEES
Surfing lessons will cost you PHP 400 per hour. If you go to Tangadan Falls by public transportation, then two people traveling together will be spending about PHP 310 each. If there are more of you, then the cost will be lower. If you pick grapes in Bauang, then you'll spend about PHP 250 apiece.
TOTAL


This comes out to about PHP 4,720 per person for the entire overnight trip. Ren and I are middle of the road travelers who enjoy good food and drink, so this is a budget that works for us. Feel free to adjust based on your own travel habits.
LA UNION TRAVEL TIPS
1. Rent a Pocket Wifi Device
If you're a foreigner traveling in the Philippines, then a pocket wifi device will come in very handy.
Many public places like your hotel and cafes do have free wifi but the connection isn't as good nor as reliable. Plus it's good to be able to connect to the internet no matter where you are. Personally, we prefer renting pocket wifi devices but a sim card will be fine as well.
Regardless of your preference, you can arrange for them in advance and pick them up from Ninoy Aquino International Airport or have them delivered to your hotel in Manila. Follow the links to purchase a sim card or rent a pocket wifi device through Klook.
2. Surf Only If You Know How to Swim
This is self-explanatory. If you're not a strong swimmer, then don't attempt to surf. The water is deep, the waves are strong, and you can't surf with a life vest on. If you don't know how to tread water, then don't even think about getting in the water.
3. Wear a Rash Guard
I learned on this trip why a rash guard is called a rash guard. Aside from protecting your skin from UV rays, it's to keep you from getting cuts and abrasions.
Surfboards aren't perfectly smooth. In fact, they can be quite rough, especially the older boards. They're covered in scratches and abrasions that can cut your skin if you aren't wearing protection.
If you're a novice surfer, then it's best you wear a rash guard or at least a shirt to give you some measure of protection from the board. You have enough to worry about learning how to surf. Scraping bits of skin off shouldn't be one of them.
4. Tip Your Instructor
A surfing lesson costs PHP 400 per hour so give him a total of PHP 500. PHP 100 makes for a good tip but try to give more if you can. I gave mine a PHP 200 tip because I was happy with the lesson. It goes a long way in helping them out.
5. Get Travel Insurance
If you're a non-Filipino, then I strongly suggest you get travel insurance before going to San Juan or anywhere else in the Philippines for that matter.
The fact is, you never know what can happen. If something happens to you while surfing, like getting whacked on the head with a surfboard, then having travel insurance will be a godsend.
We buy travel insurance from SafetyWing. They're a popular travel insurance company used by many long-term travelers. You can follow the link to get a free quote from SafetyWing.
Have Fun!
I may be Filipino but I don't consider myself an expert on San Juan. With that said, I do hope that you find this guide useful. I'm only sharing some of the things I learned from our trip.
If you have any questions or suggestions, then please feel free to leave them in the comment section below. You're welcome to join our Facebook Travel Group as well.
Thanks for stopping by and have an awesome time surfing and food tripping in La Union!
OUR GEAR
These are some of the things we brought with us to San Juan. If you'd like to see else we bring on trips, then you're welcome to take a peek inside our backpack. (NOTE: The following links are affiliate links.)
Disclosure
This San Juan, La Union travel guide contains affiliate links, meaning we'll get a small commission if you make a booking or purchase at no extra cost to you. We only recommend products and services that we use ourselves and firmly believe in. We really appreciate your support as it helps us make more of these free travel guides. Thank you!